Finding the perfect pair of leggings can be difficult, but when combined with a pregnant belly or post-pregnancy belly, finding the best maternity leggings can be even more challenging. Take it from this mom of 3!
You have to consider different factors in maternity leggings, and you don't necessarily know what those factors are early in your pregnancy.
When you're pregnant or recovering, you'll need leggings that can stay in place and fit well as your body continues to change. On top of fitting well, they still need to feel comfortable and not limit your movement. Plus, you want them to be within budget, especially since you're not going to be able to wear them forever.
Maternity clothes are so much cuter (and there are so many more options!) than our moms' generation had to choose from. You're not limited to primary colors and patterns anymore, even for leggings. You can be comfortable and fashionable at the same time with the various designs and colors available in leggings these days.
What a dream, right? I'm so happy to have found comfortable leggings for my pregnancies, and I'm hoping I can help you find the perfect ones for you!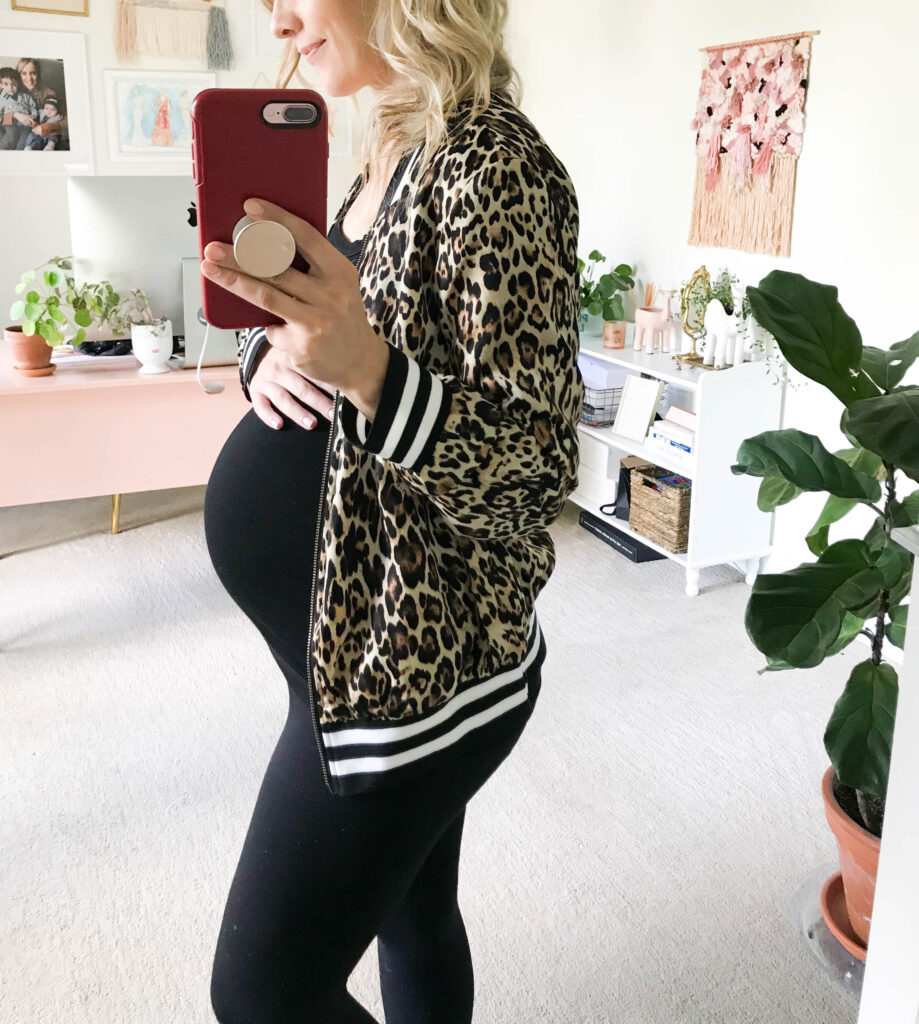 Types of Maternity Leggings
Before you start looking into various brands, styles, and colors, it's essential to understand the difference between maternity leggings, so you can buy leggings that feel the most comfortable for your body. When you go shopping for maternity leggings, you'll typically see a few different styles to choose from, including over the bump, under the bump, and non-maternity.
1. Over The Bump Maternity Leggings
This is a trendy leggings choice for pregnant moms in their third trimester because that's when they need that extra support for their growing belly. Over the bump maternity leggings have a very stretchy belly area that can cover your belly comfortably without cutting into your bump.
These are great for pairing with a funny maternity shirt for a casual day just bumping around. 😉
2. Under the Bump Maternity Leggings
These leggings are intended to sit underneath your baby belly instead of sitting on your baby belly. The waistband on these leggings are designed to expand with your stomach so you can wear them throughout your entire pregnancy.
3. Non-Maternity Leggings:
You may not be able to get away with wearing normal jeans very far into your pregnancy (hello, maternity jeans), but because leggings are made of stretchy fabrics all over, being pregnant doesn't mean you have to buy maternity leggings.
Many women prefer regular leggings during their pregnancy and feel that their regular support and comfort are enough. You may even be able to wear your pre-pregnancy leggings for all of the first trimester.
If you choose to order non maternity style, you might want to consider going up a size or two to ensure they will fit as you grow.
Regardless of which one you choose, the most crucial part of choosing your leggings is that they are comfortable and supportive without being too restrictive. You want a lighter, breathable pair of leggings that will help you as you go through different trimesters. It's not going to be helpful or cost-effective to purchase leggings that are uncomfortable or don't fit by the second trimester.
10 Best Maternity Leggings 2021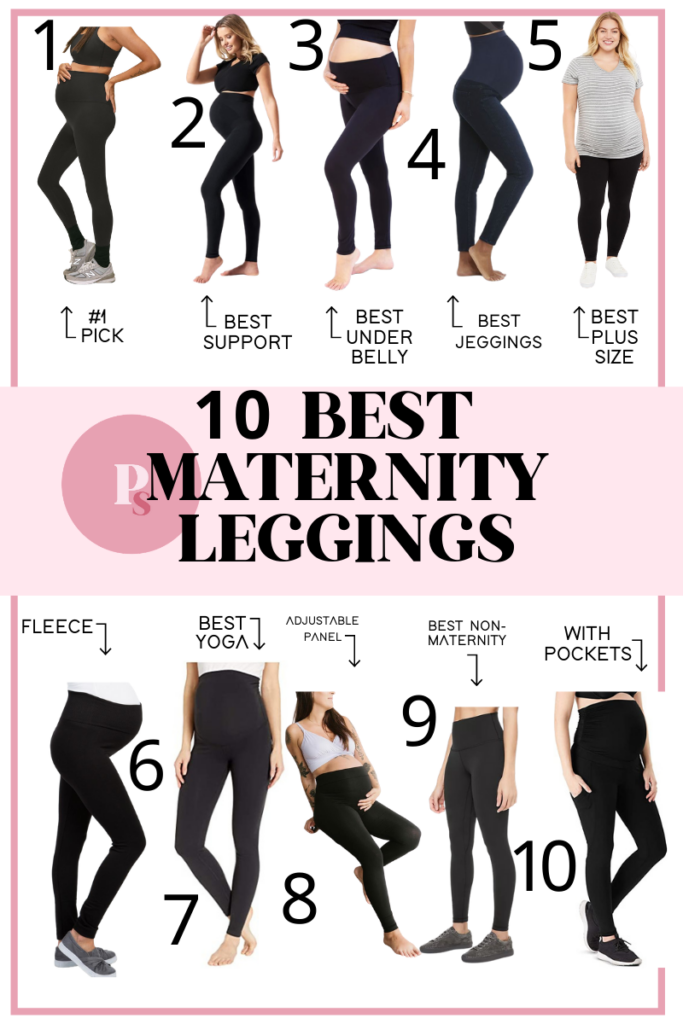 Paisley + Sparrow is a participant in the Amazon Services LLC Associates Program. This post may include affiliate links which means I may earn a small commission if you shop using the links below at no additional cost to you.
The best part of maternity leggings is the ability to choose your leggings type, color, and style. Check out my recommendations to purchase the best pair of maternity leggings.
Hands down, the best maternity leggings on the market are from the Girlfriend Collective. These leggings are a little on the expensive side, but it's worth it because you're supporting an eco-friendly brand.
They make their leggings from recycled water bottles and fishnets! There are so many colors and sizes available to fit every type of body type. Their moisture-wicking fabric allows for a light compression that allows you to exercise while still being comfortable.
I actually never owned their baby bump leggings (they launched them after my 3rd was born!) but I have had a pair of their regular leggings for 5 years and they're still a favorite. They're on my Hospital Bag Checklist and what I bring to the hospital for post delivery (and great for the postpartum period).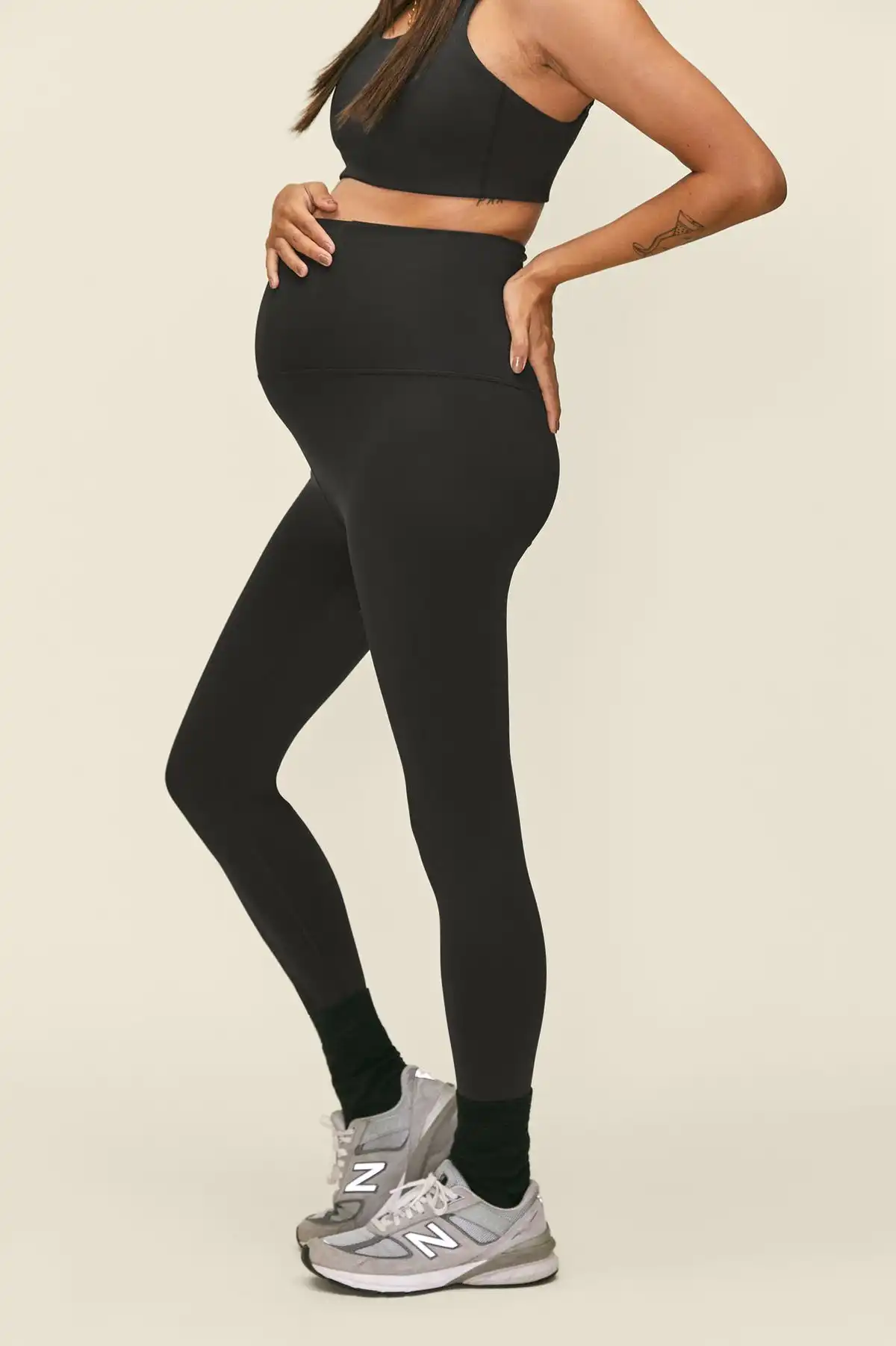 We earn a commission if you make a purchase, at no additional cost to you.
Pros: Both bike shorts and regular leggings available, eco-friendly, extensive selections of colors and sizes
Cons: Will not always stay up, not flexible, sizes run big
2. Best Support Maternity Leggings: Blanqi
Having support on your belly is so important during pregnancy, especially when you get closer to your due date and can feel the weight more than ever.
Blanqi leggings are breathable and stretchable, which will adjust nicely throughout your entire pregnancy. They are made to stretch over the belly, which will help redistribute the weight of your belly and hug you in all the right places.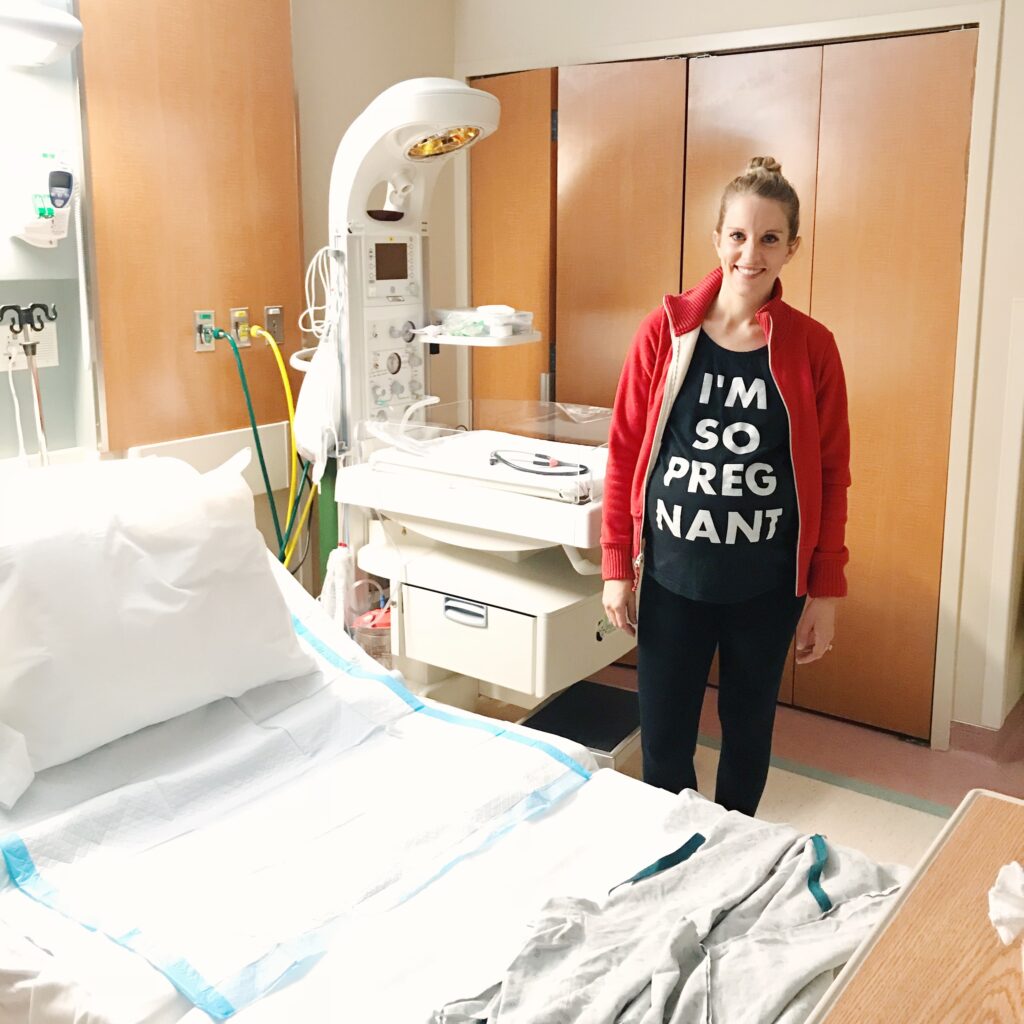 I had these and wore them for two pregnancies. They were absolutely amazing but I did have one pair that pilled quite a bit on the inside of my thighs. They said that shouldn't happen but something to keep in mind.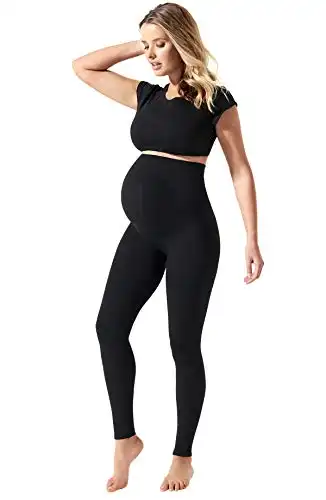 We earn a commission if you make a purchase, at no additional cost to you.
Pros: Comfortable fit, full belly coverage,
Cons: Thin material, material pills quickly in my own experience
3. Best Under-Belly Maternity Leggings: Ingrid & Isabel
Ingrid & Isabel have the best under-belly maternity leggings available on the market. Their maternity leggings provide flexibility so you can find the best fit, allowing you to wear them either over or under the bump by adjusting the band built into the leggings.
Ingrid & Isabel leggings are unique because they are designed with breathable fabric, chafing control and provide ankle zippers for when your ankles are feeling a little swollen, a great relief as your body changes in so many different ways.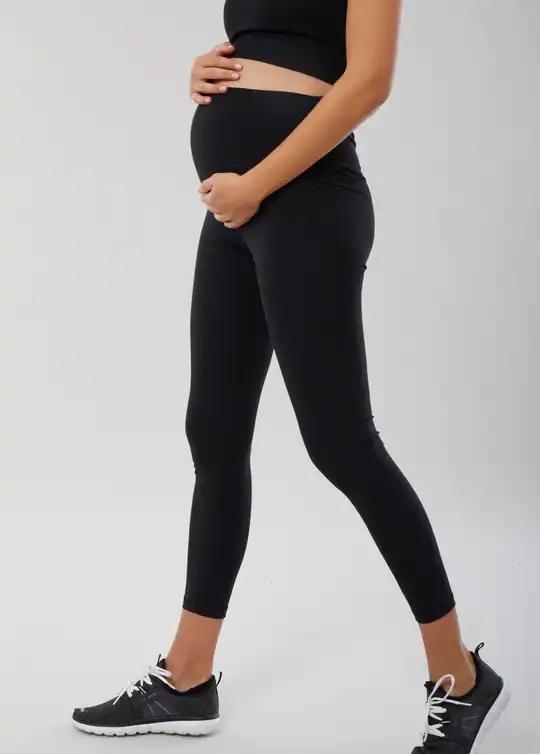 We earn a commission if you make a purchase, at no additional cost to you.
Pros: Doesn't lose shape, sturdy back support, flexible to fit your needs
Cons: Material pills quickly, tight on the thighs
4. Best Maternity Jeggings: Spanx
These are the most stylish jeggings you could wear during your pregnancy. They look like a real pair of jeans in case you need something with a more put-together look for everyday wear, but with all the comfort of leggings.
The fabric is nice and smooth, which looks flattering and leaves you feeling supported throughout the day. The material can easily stretch over the belly with very gentle compression. You can count on Spanx for the good quality, but be aware they come with a higher price tag than many others on the market.
Spanx Mama Ankle Jean-ish Leggings
With our Mama Magic® waistband built in, Jean-ish® Mama leggings keep you supported before, during and after pregnancy! The seamless waistband comfortably supports your baby bump all 9 months and beyond. Now, that's what we call magic. Made by mamas, for mamas.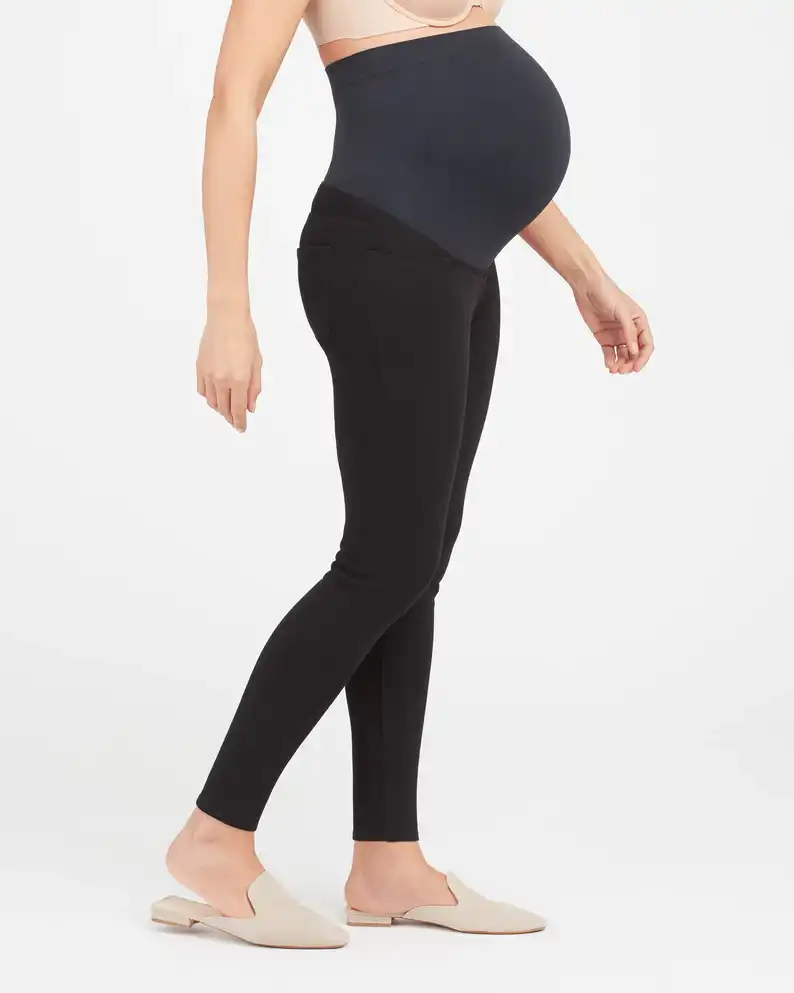 We earn a commission if you make a purchase, at no additional cost to you.
Pros: Center-free seam, looks dressier, high waisted
Cons: Easily falls, lack of compression, pricier
If you need various sizes to choose from when it comes to your maternity leggings, then look no further than motherhood maternity. The sizing includes 1x to 3x, which is excellent for ladies who need more sizing options.
Not only are these leggings inexpensive, but they also have such a wide range of colors and styles available to choose from. These leggings are comfortable and built with a band to adjust to your growing bump.
Motherhood Maternity Plus Size Essential Stretch Leggings
Mama, the snuggle is real in these super-soft, almost impossibly comfortable maternity leggings. These oh-so flattering leggings are made to support you through every day of your pregnancy and into motherhood. The patented Secret Fit Belly can be pulled over your bump or folded below. If you need a legging that can do it all, you need the Plus Size Essential Stretch Secret Fit Belly Maternity Leggings!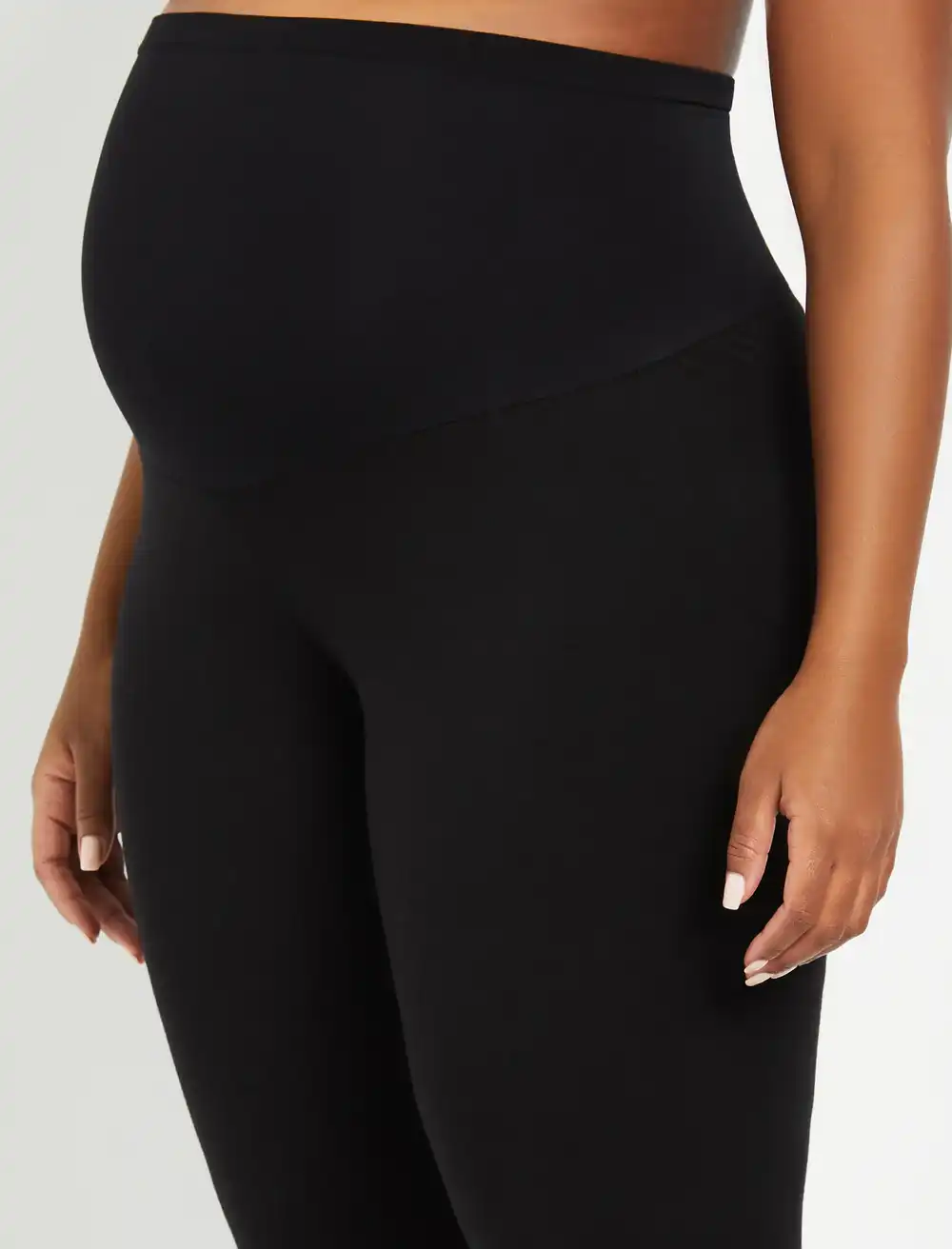 We earn a commission if you make a purchase, at no additional cost to you.
Pros: Available in many sizes, stays intact through multiple washes, Inexpensive
Cons: Slides down easily
6. Best Fleece Lined Maternity Leggings: Pink Blush
Known for its classic pattern and ultimate comfort, Pink Blush maternity leggings are great to wear year-round. Pink Blush leggings are unique because they have a fleece lining that provides warmth whenever you feel cold.
They are super flexible and conform to your body shape for the perfect fit, so you can go about your day without worrying about your leggings squeezing or falling down.
I had a ton of Pink Blush clothes in my maternity wardrobe for all 3 pregnancies and loved it all! They make some of the best maternity clothes.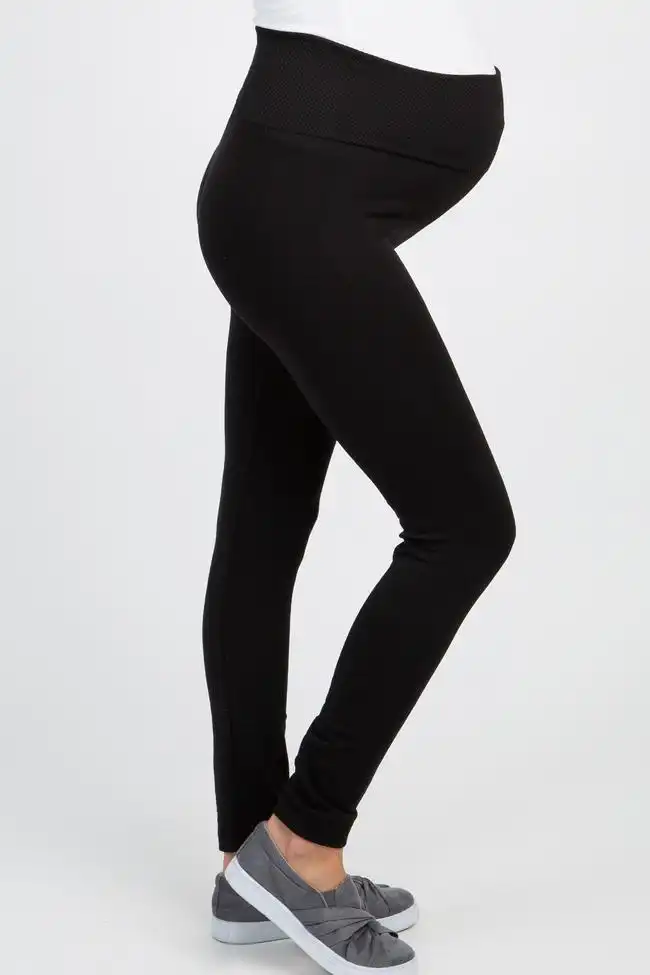 We earn a commission if you make a purchase, at no additional cost to you.
Pros: Inexpensive, warm
Cons: Run small, limited color selection
7. Best Yoga Maternity Leggings: Beyond Yoga
If you're looking for a pair of leggings to support you through workouts, walking, or yoga, Beyond Yoga should be your go-to pair of maternity leggings.
Beyond Yoga's leggings are made of stretchy material that effortlessly fits over your bump and provides comfort while you move and meditate. The leggings' material is moisture-wicking, which means it's perfect for keeping you sweat-free during periods of cardio. Definitely some of the best maternity workout clothes.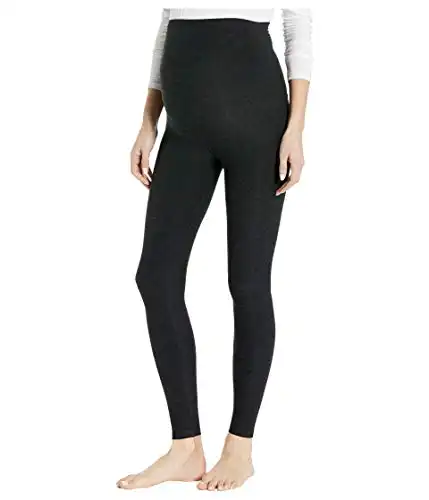 We earn a commission if you make a purchase, at no additional cost to you.
Pros: Moisture-wicking, various color options
Cons: No full length for winter
8. Best Adjustable Panel Leggings: Storq Signature
It can be tough to find leggings with an adjustable panel. Storg Signature leggings provide adjustable panels that allow you to wear your leggings either over the belly or under the belly.
Storq Signature maternity leggings are perfect to wear for the entire duration of your pregnancy. They're well known for their comfort, softness, and lack of seams.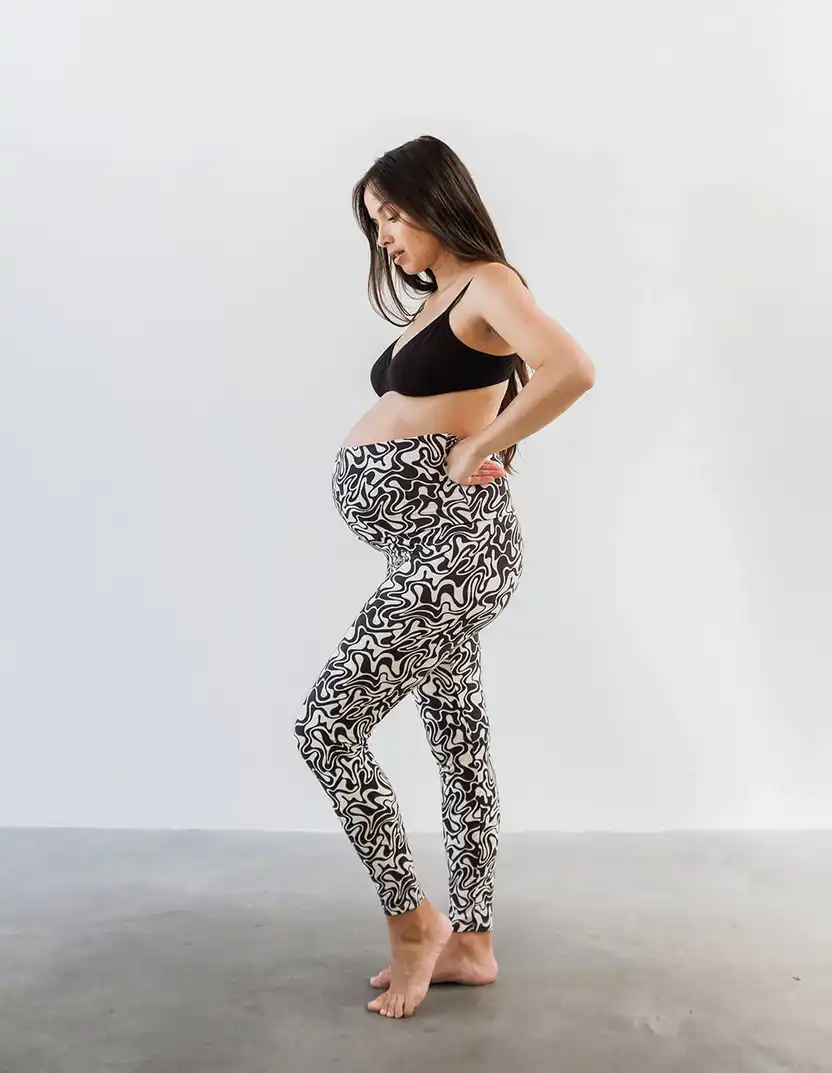 We earn a commission if you make a purchase, at no additional cost to you.
Pros: Great for tall people, adjustable panel
Cons: Expensive, thin material
9. Best Non-Maternity Leggings: Lululemon Align
Lululemon leggings are the best non-maternity leggings you can purchase while you're pregnant. Lululemon Align leggings collection is created with a lightweight, soft fabric.
They are perfect to wear during a long day at work or an event and will never lose their shape. Lululemon offers a variety of prints and colors to choose from, so you're sure to find the perfect design to accompany your everyday wardrobe.
Lululemon Aligns are a mama's best friend before, during, and after pregnancy!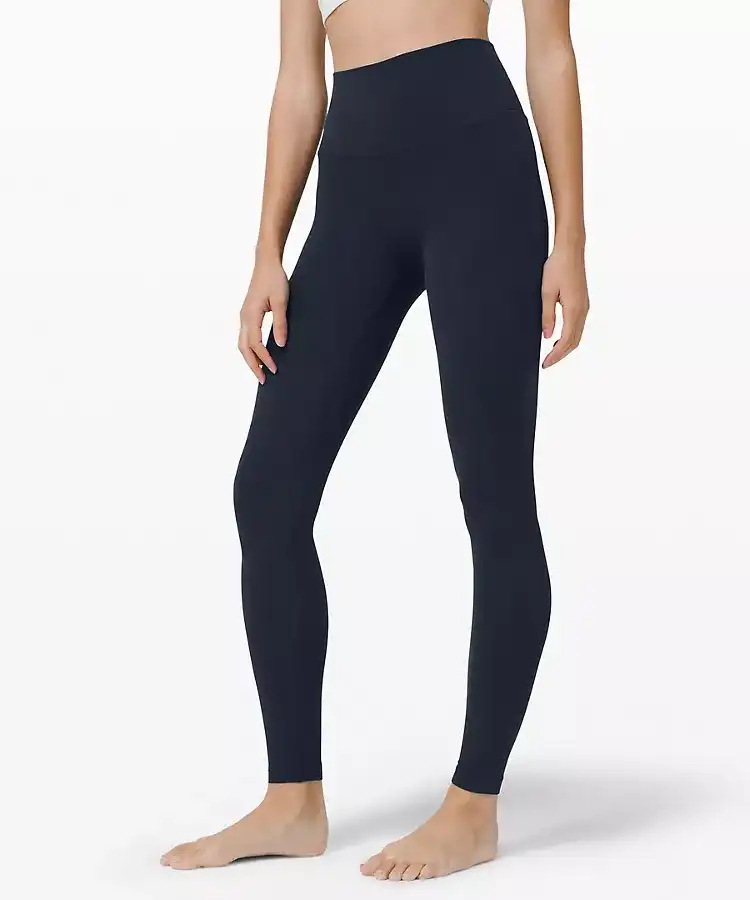 We earn a commission if you make a purchase, at no additional cost to you.
Pros: Hidden pocket, easy to move around in
Cons: May pill, expensive
10. Best Maternity Pocket Leggings: Belly Bandit
Leggings that contain pockets are famous because of the flexibility it allows to store your phone or credit card. However, they can be challenging to find in maternity wear.
Belly Bandit creates comfortable maternity leggings that contain large pockets to allow you to store your phone or credit cards. Besides the pockets, these leggings are also comfortable and flexible with a high-rise panel.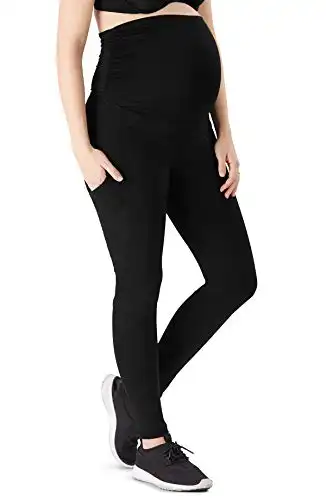 We earn a commission if you make a purchase, at no additional cost to you.
Pros: High waist, multiple colors available
Cons: Constricting compression
And there are the 10 best maternity leggings! I hope this helps you choose the right pair (or pairs) for you and your pregnancy!
Can I wear regular leggings during pregnancy?
Yes! Because leggings are made of stretchy material, you don't necessarily need maternity leggings. Especially before your belly has grown very big, you can probably fit into your pre-pregnancy leggings.
At a certain point, you may need more support or your regular leggings might be too constrictive or compressing. But if you buy regular leggings a size or two bigger than your normal size, they may fit for most of your pregnancy and will be useful in postpartum!
Are maternity leggings worth it?
In my opinion, yes. It's worth it to have clothes that fit you well during a time when your body is changing and you have plenty of other things to worry about. And it's worth it because you may need belly support to be more comfortable during a really uncomfortable time.
Since there are lots of options out there, you're sure to find some that fit your budget.
Does Lululemon make maternity?
No, Lululemon doesn't carry a maternity line of clothes. BUT the Lululemon Align leggings are widely regarded as the perfect leggings to wear while pregnant because of the way they stretch with you. The stretchy material used in a lot of their clothing makes them work for your maternity wardrobe.
When should I start wearing maternity leggings?
Whenever you outgrow your normal clothes! There's no right time to start wearing maternity clothes, but many women start switching to mostly maternity clothes between 4 and 6 months pregnant.
If you are looking for more maternity fun, check out these summer maternity outfit ideas, second trimester style tips, and the best postpartum pajamas!