We all love our Converse sneakers because they're one pair of shoes that's so easy to pair with essentially everything in our wardrobe.
However, nothing is more frustrating than pulling out your favorite pair of Chuck Taylors, or any white canvas shoes for that matter, and noticing it's covered with stains or smudges. It's easy to dirty them up if you wear them frequently.
Thankfully, there are plenty of ways how to clean white converse to ensure you have almost brand-new-looking white shoes again, so you don't have to go and buy a new pair of white sneakers.
Even if you've had a pair of converse for years, it's possible to clean them up to look like a fresh set of shoes.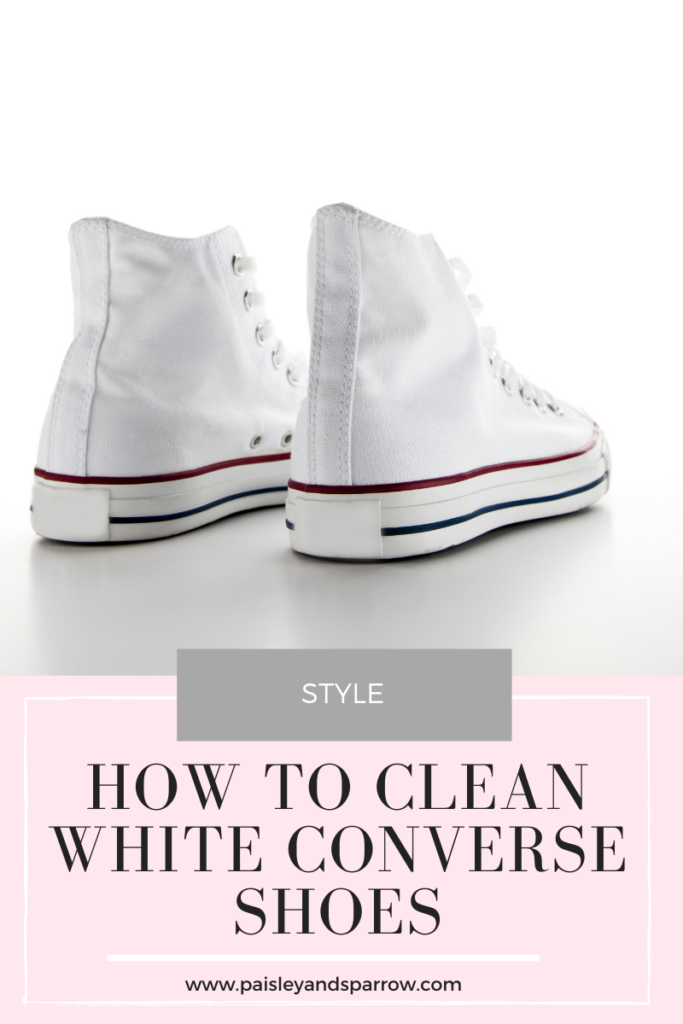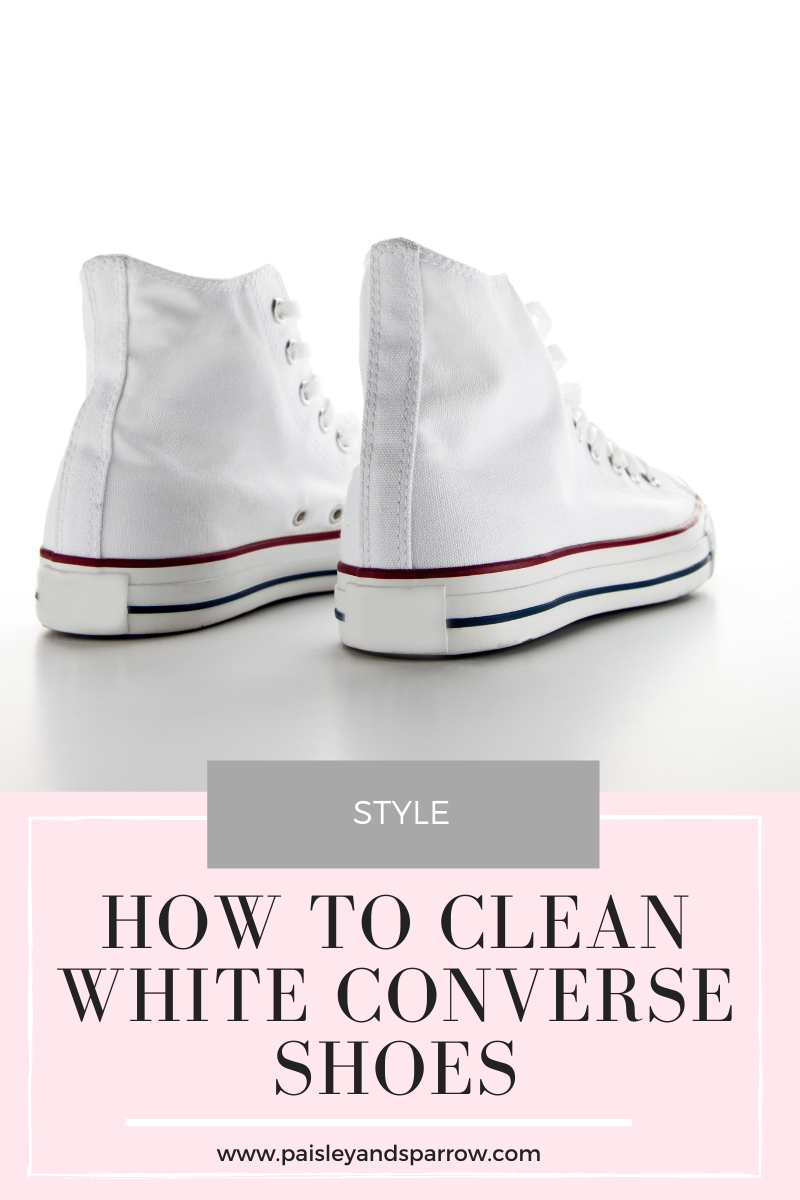 This post contains affiliate links.
First things first, regardless of the method you choose how to clean white converse shoes, it's essential to remember to remove the laces.
This allows you to clean around the tongue and eyelets with no problem. The following tips aren't only for Converse shoes, they're effective ways to clean any white canvas shoes!
How to Wash Converse in the Washer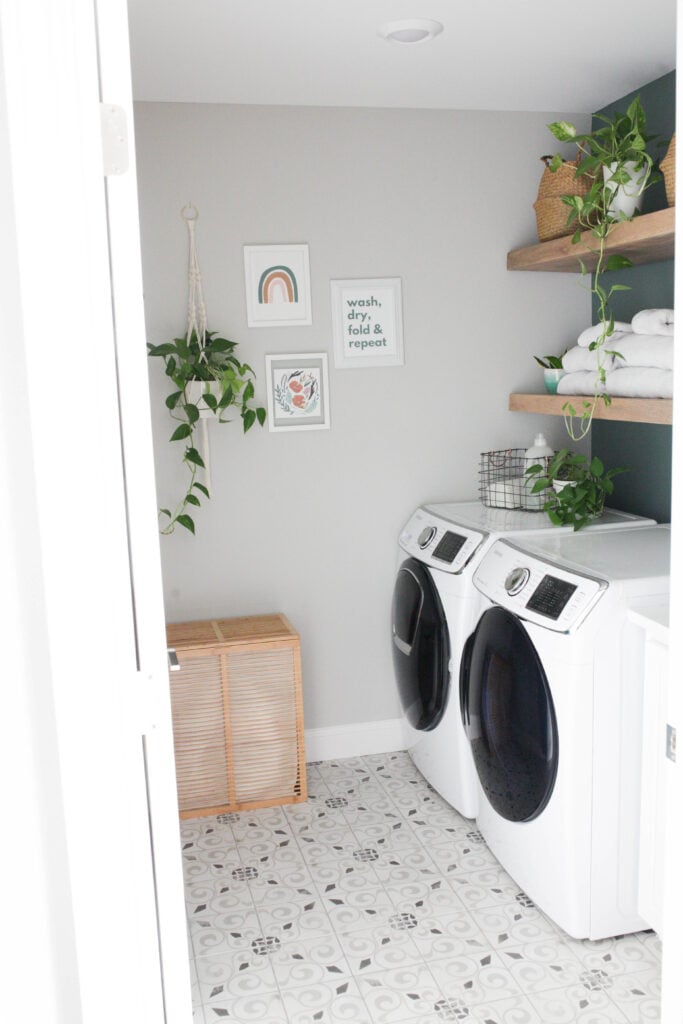 (find laundry room details here)
It's important to note that Converse does not recommend putting its shoes in the washing machine. You can always check the care label for tips on washing!
However, many still claim that cleaning their sneakers with a washing machine works just fine. If you want to clean your shoes using the washer, follow these easy steps:
1. Rinse
Run your sneakers under warm water and remove any visible debris as it can clog up your washing machine.
2. Spray with Stain Cleaner
Make sure to use some type of stain cleaner on the shoes before putting them into the wash. If you have one you like to use on your clothing stains, it can also be used on your sneakers.
Apply it all over your sneakers and let it sit according to the cleaning products instructions.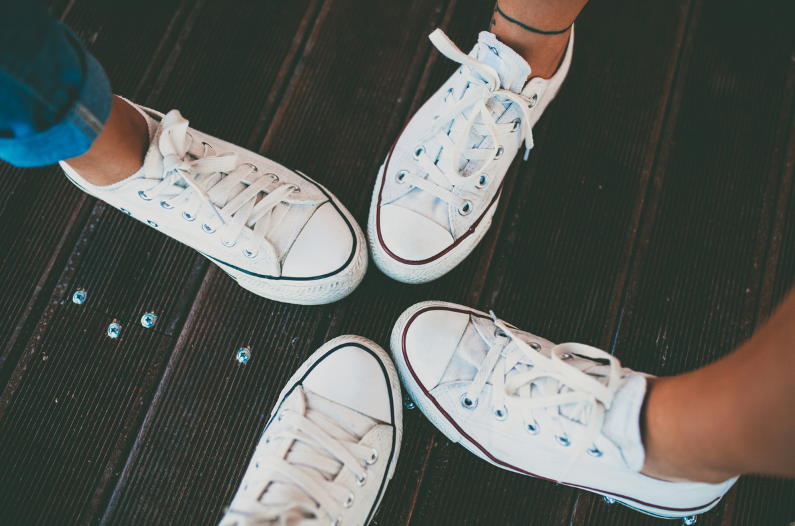 3. Put Sneakers in A Protective Bag
Use a bag to store your shoes, inserts, and laces before placing them into the washer. The bag you use could be either a pillowcase that is tied at the top or a garment bag.
4. Choose A Gentle Wash Cycle
Put your shoes in the washer and put it on the gentle cycle, so it doesn't hurt your sneakers. Use cold water if you want to keep your converse bright or the warm setting to help loosen stains or dirt.
Don't use hot water because it can damage the glue that holds your shoes together.
5. Let Them Dry
After the wash cycle has finished, let them sit out to dry for a few hours. However, you don't want to put them in direct sunlight! This can cause them to turn a yellowish shade due to the sun's natural bleaching effects.
Once done, they should be good as new! You also should fill the shoe with paper or a couple towels to help it keep its shape. You'll want to stay away from newspaper since the ink can bleed through to your shoe. Instead use white tissue paper or paper towels.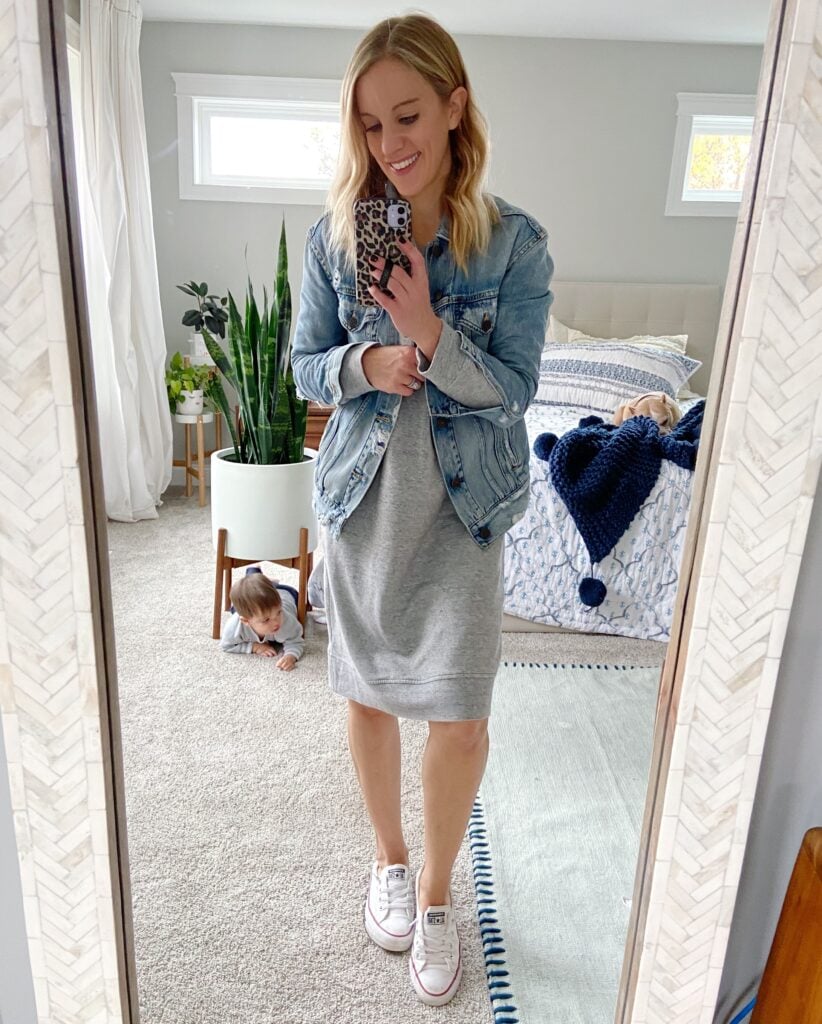 (find sweatshirt dress outfit details here)
How to Wash Converse with Baking Soda
One of the easiest ways to clean your converse is to use a little vinegar and baking soda. If you want to try this method out, follow these steps:
1. Create Your Mixture
First, you need to create your mixture. Mix one tablespoon of baking soda, one tablespoon of white vinegar, and one tablespoon of hot water together until you start to achieve a paste-like substance.
2. Get your Sneakers Wet
Fill a basin of water with cold water and submerge your Converse shoes in it getting them completely wet all over.
3. Clean with a Toothbrush
Using an old toothbrush to distribute the paste around your sneakers is the easiest way to make sure you've covered your entire shoe.
4. Rinse Them off
Using a white paper towel or damp cloth, work out all of the dirty suds out of the shoe while rinse the shoes off in warm water.
5. Set Them Out to Dry
Like before, let them sit out to dry, stuffing them with a couple towels to help them hold their shape!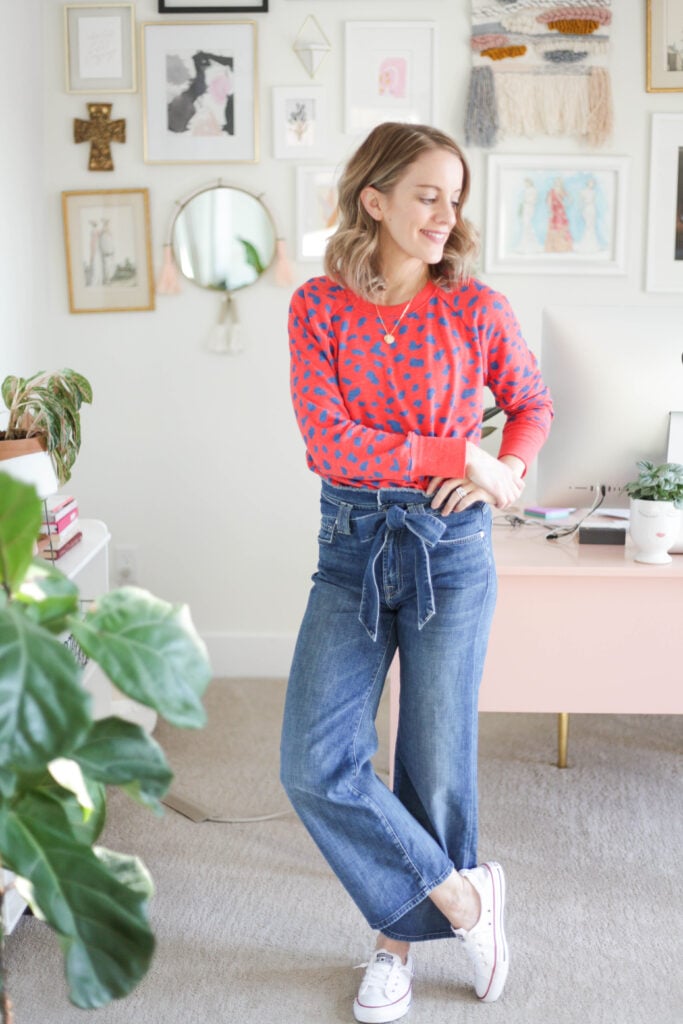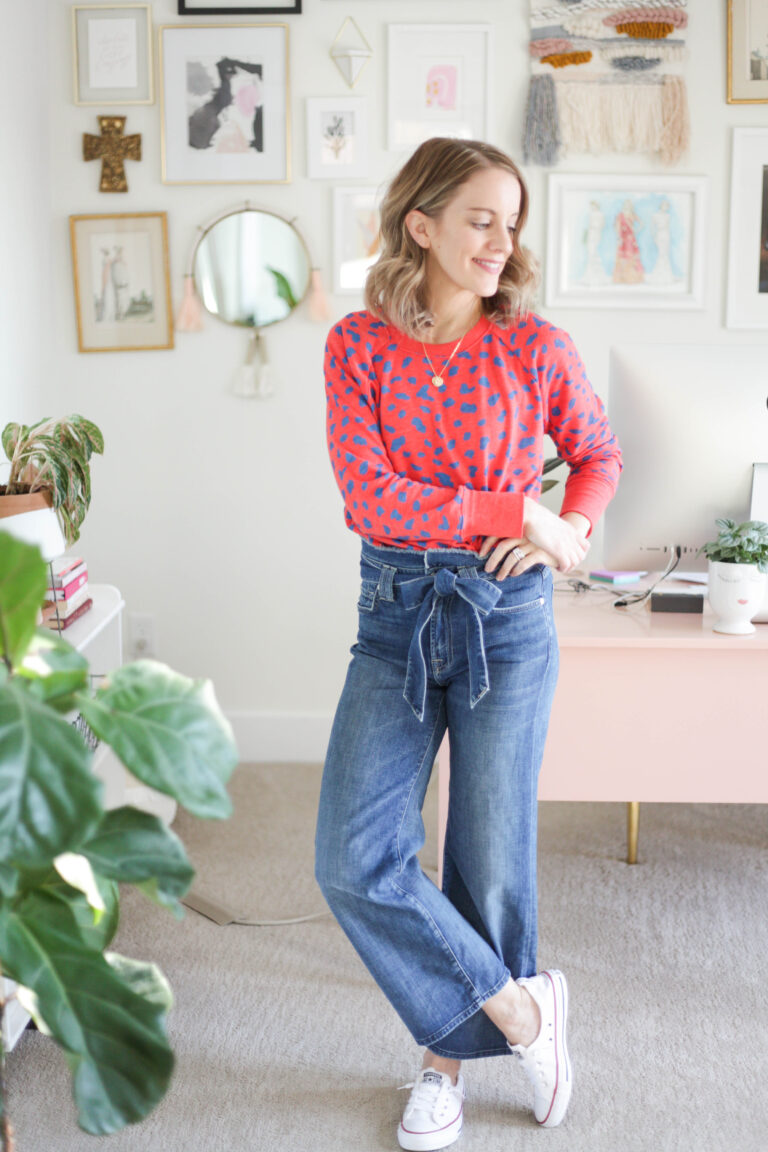 (find outfit details here)
How to Wash Converse with Toothpaste
Surprisingly, the same hack that works to clean jewelry can also be applied to your converse. If you want to try the toothpaste cleaning trick, follow these steps:
1. Grab Your Supplies
You'll only need two things to clean your sneakers, an old toothbrush and a non-gel white toothpaste. (Pro Tip: Make sure not to use any colored toothpaste, as it can stain your shoes).
2. Work in Your Toothpaste
Use enough toothpaste on your sneakers to cover all the dirty spots. You'll need to let the toothpaste sit for at least ten minutes.
3. Rinse it off
Either rinse your sneakers off with warm water or use a damp soft cloth. Let them dry completely, and they're ready to wear!
How to Wash Converse Laces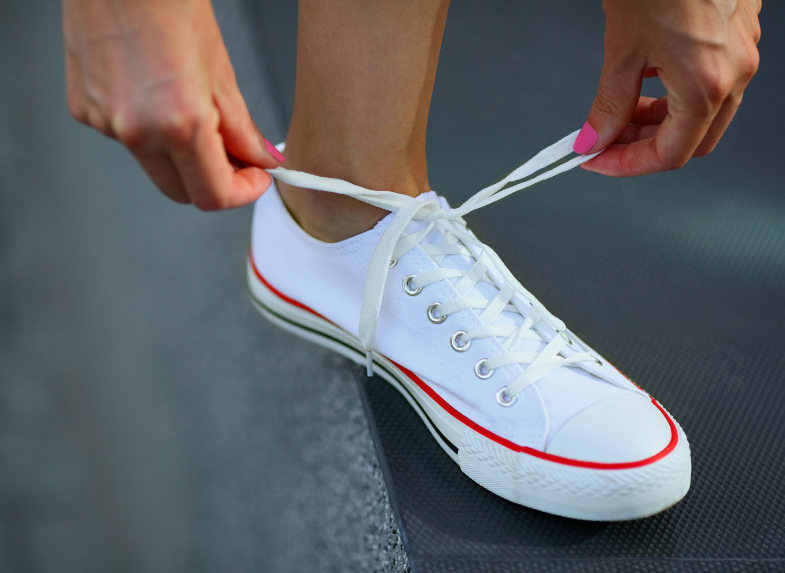 You can't clean up your shoes and leave your shoe's laces dirty and gross! Now for best results, we recommend just buying new laces (they're just a few dollars on Amazon!). However, cleaning them first is always a good option! you can always try to wash them first to save yourself a few dollars.
Here's a few ways to try:
1. Wash them!
One easy way to clean your laces is to wash them! All you need to do is put them in the washing machine on cold using mild detergent. Pro tip: use a mesh laundry bag so you don't end up with a knotted mess in your laundry. This should get them clean in no time. Don't put them in the dryer though! This could shrink them.
We've all seen the commercials for this miracle worker and let us tell you – it works! It's active ingredient is hydrogen peroxide which helps remove even the toughest stains from your white laces.
All you need to do is mix a scoop of OxiClean with warm water until you get soapy water. Soak your laces in the mixture for about 30 minutes (or until they look clean), rinse them and let them dry.
How to Clean the Rubber on White Sneakers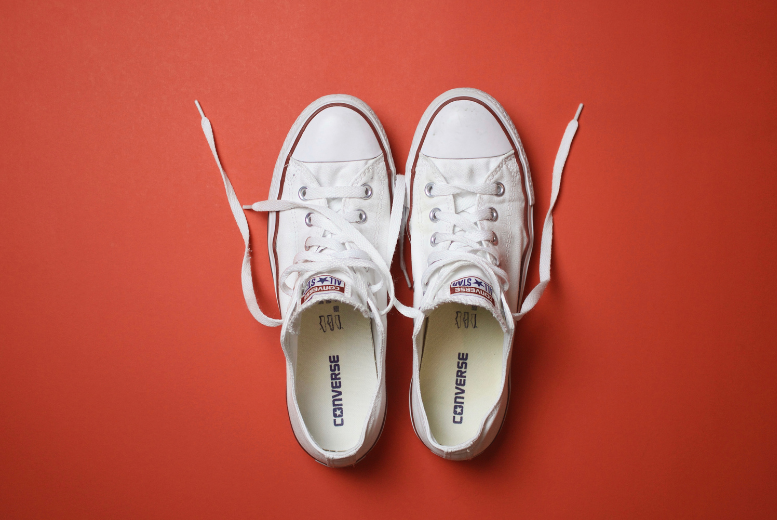 One part of your shoe that can get dirty much quicker than the rest is the rubber outsole and toe cap. Is there anything worse then heading out in your freshly washed sneakers only to get a big scuff right on your toe the second you leave your home?
Well good news – these dirty areas aren't a huge deal to clean and there's 3 different ways to get them looking new again.
1. Use a Mr. Clean Magic Eraser
I use a Mr. Clean Magic Eraser on my white converse sneakers and my kids shoes ALL THE TIME and it works! This is probably the quickest and best way to clean up rubber shoes to get them looking good again. You may not be able to get into spots that are grooved or scratched but to get it mostly clean, this works great.
2. Use All-Purpose Cleaner and an Old Toothbrush
Spray a little bit of all purpose cleaner (whatever you have on hand is great) and wipe it clean using either a paper towel for smooth spots or an old toothbrush for ridged spots.
3. Use Rubbing Alcohol and Q-Tips
For those extremely tough stains and scuff marks, try using rubbing alcohol! We put this one last simply because it's the hardest on your shoe. Using rubbing alcohol over and over can cause your shoes to get brittle and worn out quickly.
If you do go this route, put a little bit of rubbing alcohol on your q-tip. Wipe it on your stains gently like you're erasing them. It should come off pretty quickly!
Tips for Keeping Your Converse Clean
One of the easiest ways to avoid having to clean your converse is to keep them as clean as possible, to begin with. Easier said than done, right? We've put together a few tips you can use to protect your shiny white converse to reduce the number of times you need to clean them.
1. Watch the Weather
One of the easiest ways to get your converse dirty is to walk around in the rain, mud, or other unfavorable conditions to muddy up your shoes. Make sure to check the weather before putting on your favorite pair of converse.
If it looks like it won't be ideal outside, opt for leather shoes instead. Save your favorite converse for sunny, dry days.
2. Use a Sneaker Protector
Using a sneaker protector, which can be purchased at any retail, grocery, or online store, will help to keep your sneakers white and clean as long as possible.
Plus, if you get any marks or stains on your converse, it will make cleaning a little easier. Most sneaker protectors work the same, requiring you to spray the entire surface of your sneaker before wearing them.
3. Wipe Down After Every Use
If your sneakers aren't dirty, you might not be in the habit of wiping them off. However, taking a few minutes after every use to lightly wipe them down with a wet cloth or toothbrush can help protect your sneakers and keep them nice and clean.
4. Keep an Eraser on Hand
Instead of having to deep clean your shoes, keep a pencil eraser on hand to help clean up any tiny scuffs you may notice on your shoes. Make sure to use a white eraser, not a pink, because it will leave marks behind.
Cleaning Your Converse Shoes
There are so many ways how to clean white converse sneakers. If you're looking to clean your sneakers, try one of our methods listed above.
Remember to try to be as proactive as possible to protect your sneakers so that you don't have to spend so much time cleaning your shoes. Following these tips will ensure your white converse shoes will stay bright and look good as new.
Need more cleaning tips? Check out our tips on how to wash your down jacket or how to wash a weighted blanket!