Fine hair girls, this one is for you!
Are you tired of spending the time curling your hair for a day at the office or a date night only to have to fall flat before you even walk out the door? Trust me, I've been there.
I spent years trying to figure out why some girls' curls last all day (and into the next day!) while mine consistently went from perfectly curled to sadly sort of wavy in a matter of a couple of hours. But I tried different products, tools, even curl patterns to find things that work. And guess what, I've learned a few things along the way!
Now my hair can stay curled for 2, sometimes even 3 days with a little touch up when I take the extra care and time to prep my hair and curl it correctly.
One thing you need to understand though – those of us with fine, thin or naturally straight hair need to work a bit harder to get curls that last! But it is possible! You can have curls that hold even if your hair isn't naturally curly. Here's some things to know.
9 Tips to Help Your Curls Last on Fine Hair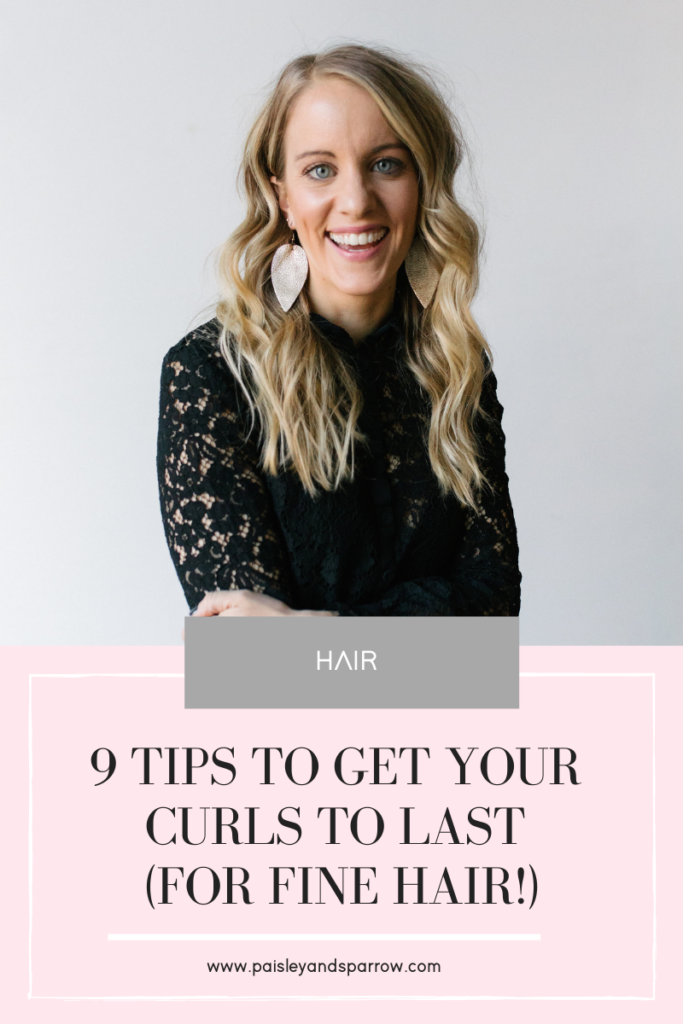 This post contains affiliate links.
1. Use the Right Tools
Spending the money on a good quality curling wand or curling iron (or even a flat iron if that's what you use) gives you a step up in having curls that last. You want to choose a curling with ceramic plates (like the T3 curling iron). Ceramic heats up from the inside out rather than titanium that heats up on the surface first.
Ceramic is much more gentle on fine hair while a titanium can be fine for thick hair (although I do recommend a quality curling iron for all hair types!).
You also want to choose a tool that you can adjust the heat on. Fine hair requires lower heat setting than thick hair. You don't want to use to high of heat and case heat damage to your hair!
2. Don't Wash Your Hair
The best thing you can do is to start on second or third day hair. Freshly washed hair is usually extra soft and shiny making it hard for curls to last. Second day hair has more natural oils which makes it more grittier with more texture. This helps the curls hold and last longer.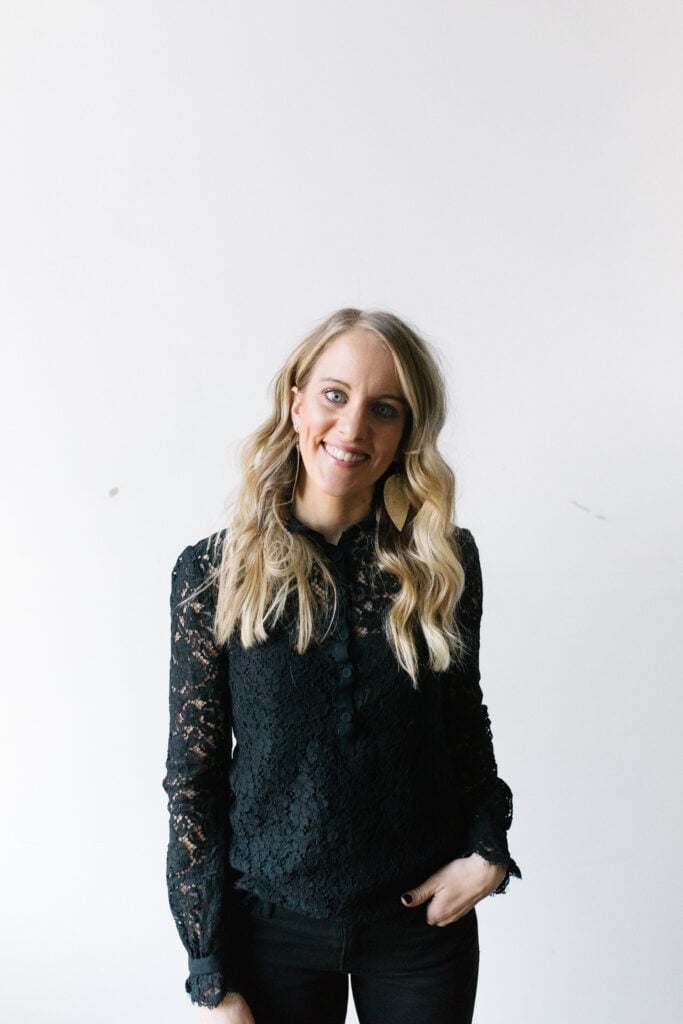 First things first, if you have super oily hair, you can use a dry shampoo to soak up excess oil a little bit. That will help your hair feel fresh and clean before curling it.
If you need to wash your hair, try using a light-weight shampoo as well as a light-weight conditioner. This will prevent your hair from being weighed down or too soft and shiny that makes it harder for the curls to last.
If you have dry hair, you'll want to make sure that you don't skip the conditioner a lot but from time to time when you really need your curls to last a long time, try skipping the conditioner and using a lighter weight shampoo!
If you're someone who curls your hair a lot and notices your hair getting really dry, try using hair masks from time to time. This will help give your hair some extra TLC so the heat won't cause too much damage to your hair.
3. Prep Your Hair
There are two ways that you need to prep your hair. The first is when it's damp and the second is right before you curl it when it's dry.
After you wash your hair is the perfect time to add some product in that will help hold your curl. The right products can have a big impact on your curls – just be sure to use them the right way!
Don't go crazy and use a million different products or too much of one! Too much product can weigh your hair down and have the opposite effect.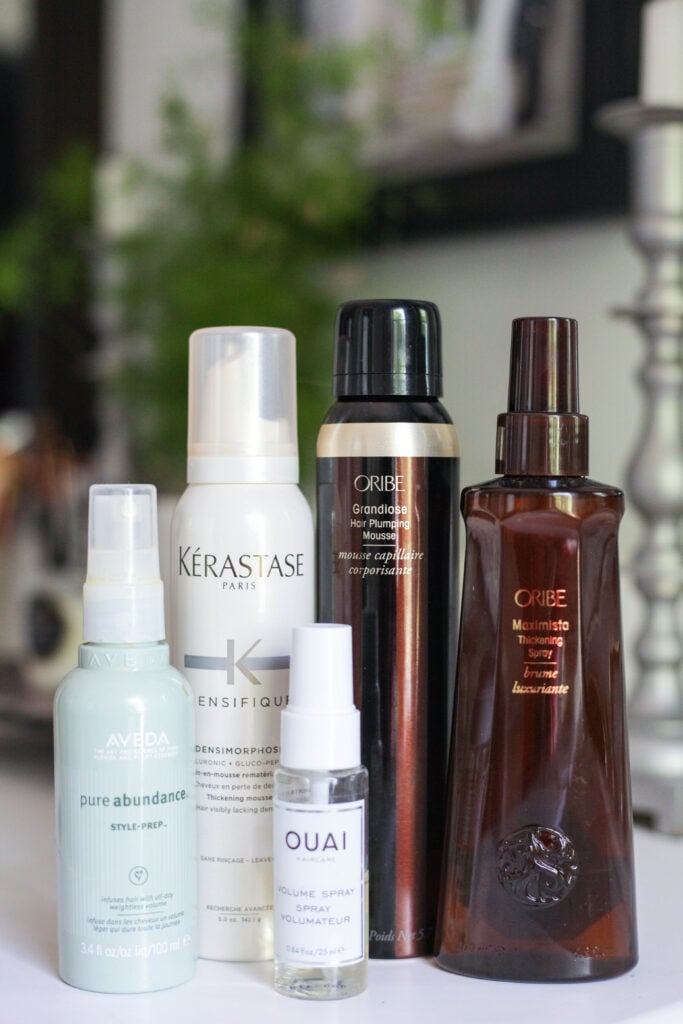 (Here are some of my favorite products to prep my hair for added volume.)
Try using a hair mousse that is volumizing (like Oribe's mousse) on damp hair. Apply it starting at the roots, making your way down through your hair. This will help give your hair some lift as well as some hold!
One thing my stylist taught me that made a world of difference is to prep my hair using a setting spray! She recommends Kevin Murphy Anti Gravity Spray. After drying your hair, or before curling your hair on 2nd day hair, spray your hair with a setting spray.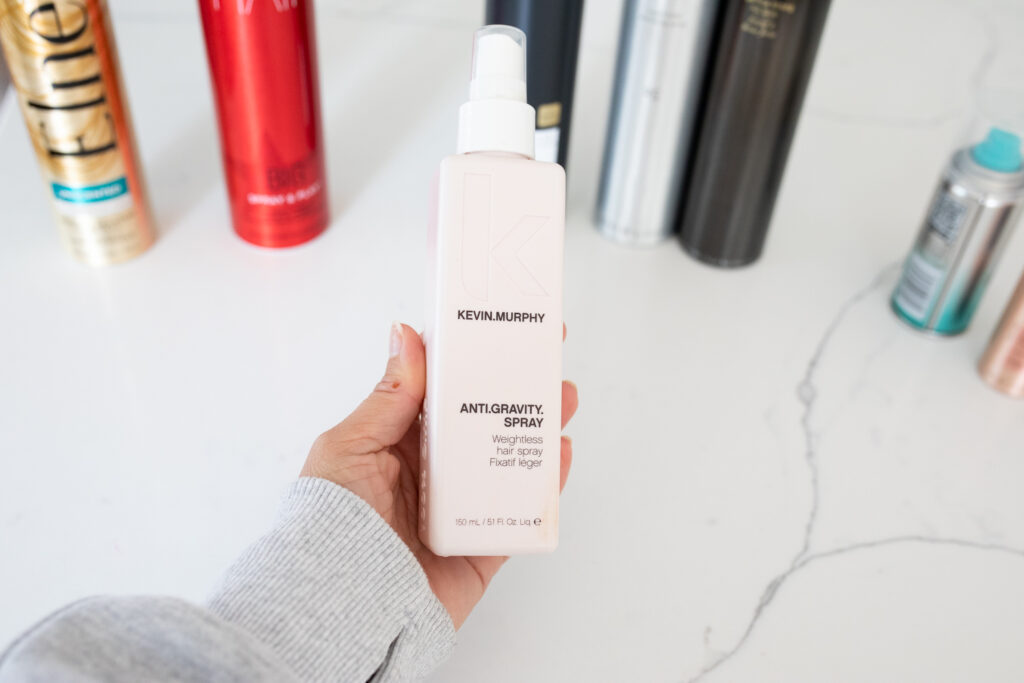 Many setting sprays also double as a heat protectant (if yours doesn't, be sure to use a separate heat protectant like Olaplex to protect your hair). This will give you extra hold.
4. Section Your Hair
Curling all of your hair all at once isn't the best idea. Instead, section your hair off in layers, clipping them up with clips. I have very fine, thin hair and I do this is 3 sections.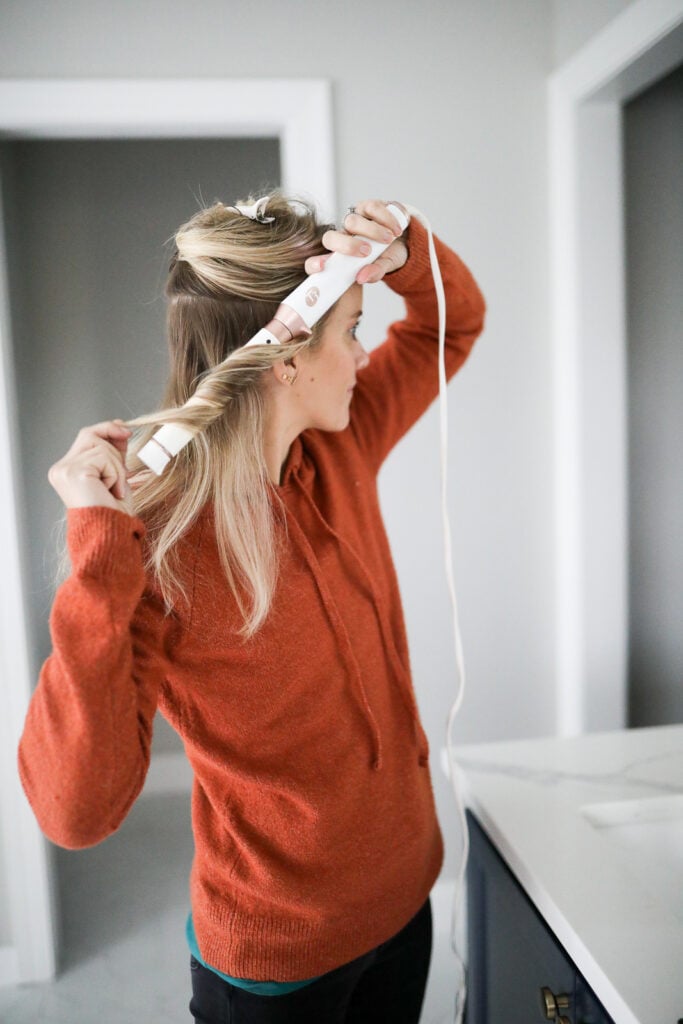 I section off the top half, spray it with my setting spray, and curl it (DON'T TOUCH IT YET). Then I let down another layer, spray, curl, don't touch. Finally I do the very top.
If you have enough time, let each layer thoroughly cool off and then spray with a texturizing spray before moving on. Otherwise just spray your entire hair, ensuring you get the bottom layer with a texturizing spray.
5. Let Your Curls Cool
Like mentioned above, don't touch your curls! I know you'll likely want to immediately run your fingers through them to loosen them up but resist the urge. The longer you can wait the better results you'll have.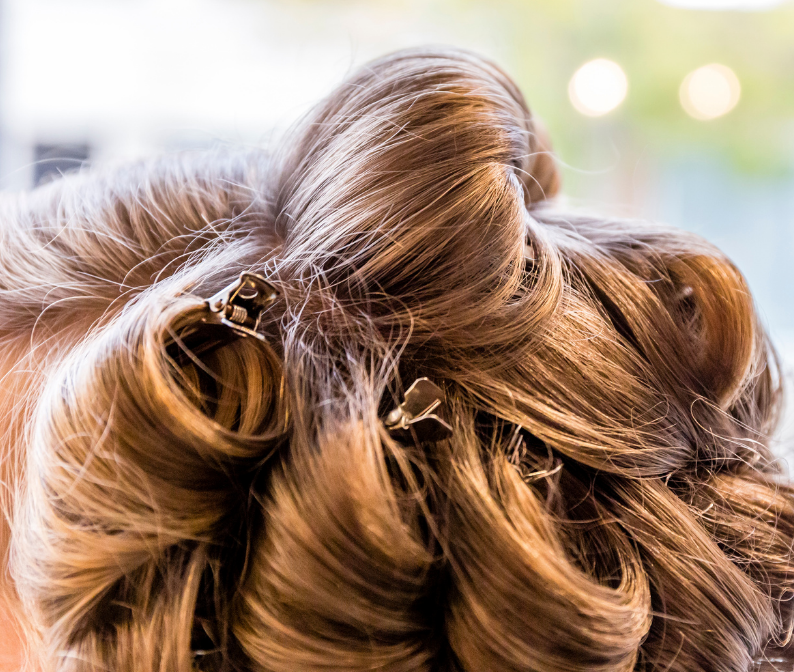 What I like to do is to curl my entire hair. When I'm done, I apply my make up. Once I'm done with my makeup I go back to my hair. This gives them ample time to cool off!
Once they're cool I add a texturizing spray throughout my hair. This helps gives them a bit more hold and volume.
6. Use the Right Barrel Size
When it comes to curling your hair, size does matter! A smaller barrel size will give you tighter curls which will hold longer. A large barrel size will give you loose curls.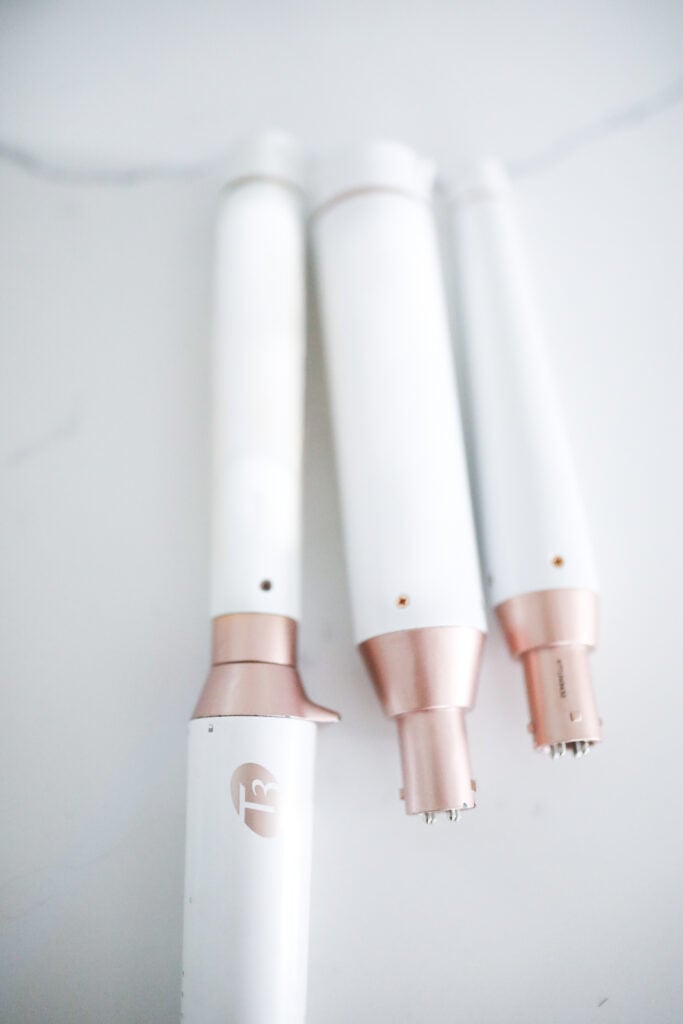 If you have short hair, you'll definitely want to use a smaller barrel size since a bigger barrel won't give you much curl at all. Likewise, long hair can weigh itself down quite a bit so using a smaller barrel will help give your hair some lift rather than flattening it out right away.
Start out with a 1″ curling iron. If your curls still fall, go down a 1/4″ to get even more tight curls to see if a smaller barrel helps.
7. Pin Your Curls
Are your curls still not lasting as long as you want or do you have a big event where you need perfect curls? Try pinning them!
After curling, careful roll them back up and use a hair clip or bobby pin to hold them in place as close to your scalp as possible. This helps your curls to cool off in a curled position giving them extra hold.
8. Try Hot Rollers
If you have seriously fine or limp hair, try using hot rollers instead of a curling iron! (I own these hot rollers.) These can take a bit of practice so don't get frustrated if they don't look perfect the first time.
Let the hot rollers sit on for as long as you have time for and allow them to cool off before removing the roller.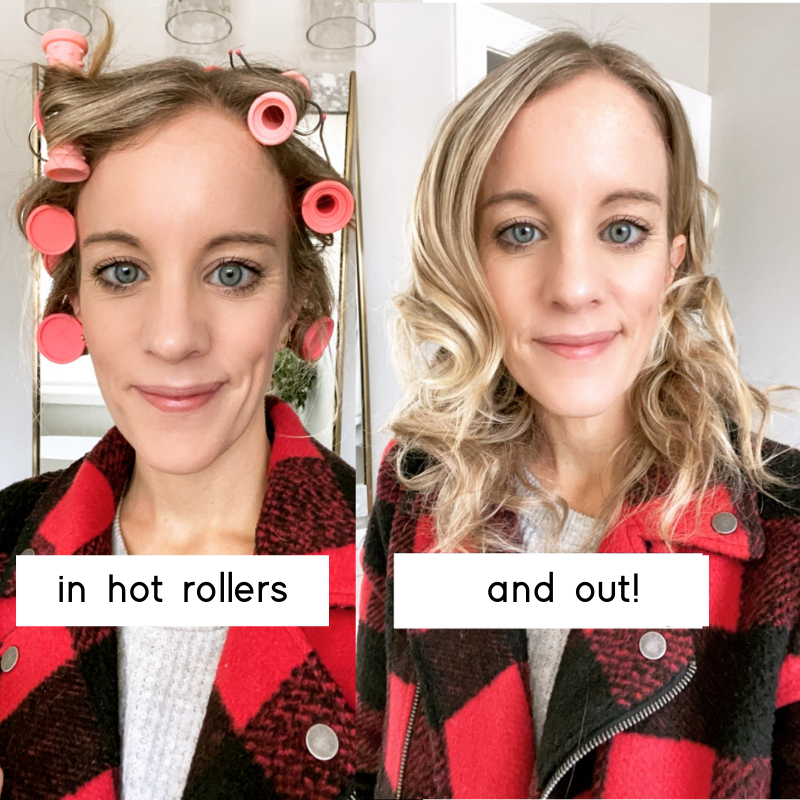 9. Use Hair Spray
Lastly, another thing to try is hair spray! Again, don't use too much, especially if you want touchable curls. The longer you need them to stay in, the more firm hold you want to get. You can apply your hairspray one of two ways.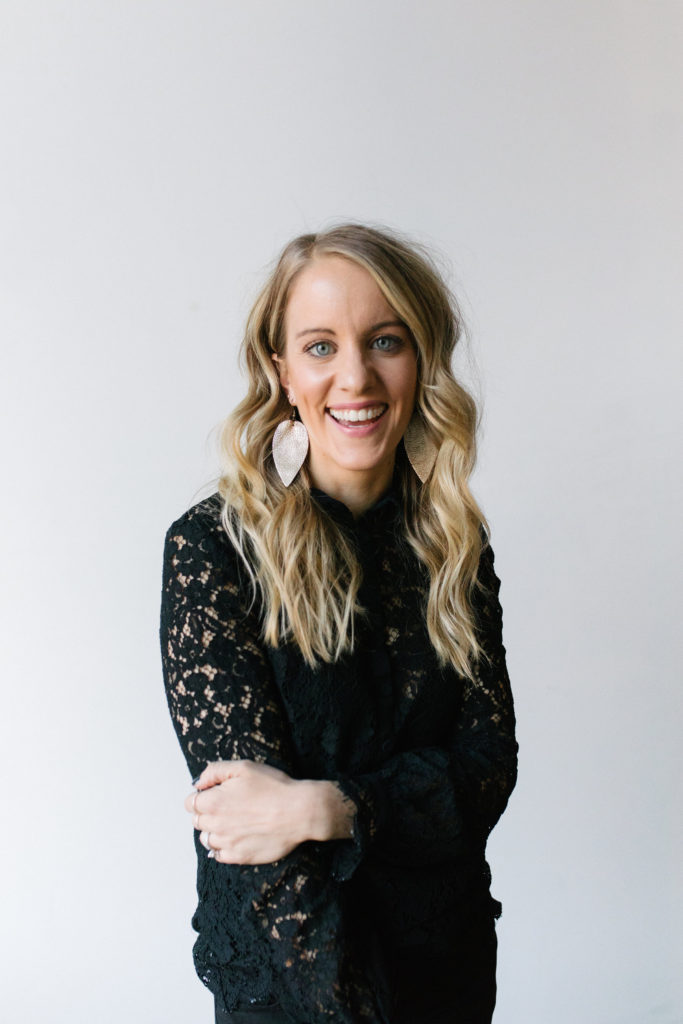 The first is to spray your hairspray on a hairbrush and then gently brush through your curls. Just one single pass is enough, don't over brush!
The second is to gently spray your curls from about 10-12 inches away. Don't spray too much – remember, you can always add more but you can't take it away! This will help keep your curls in tact even longer.
I have a whole post on 11 different hairsprays to hold your curls here.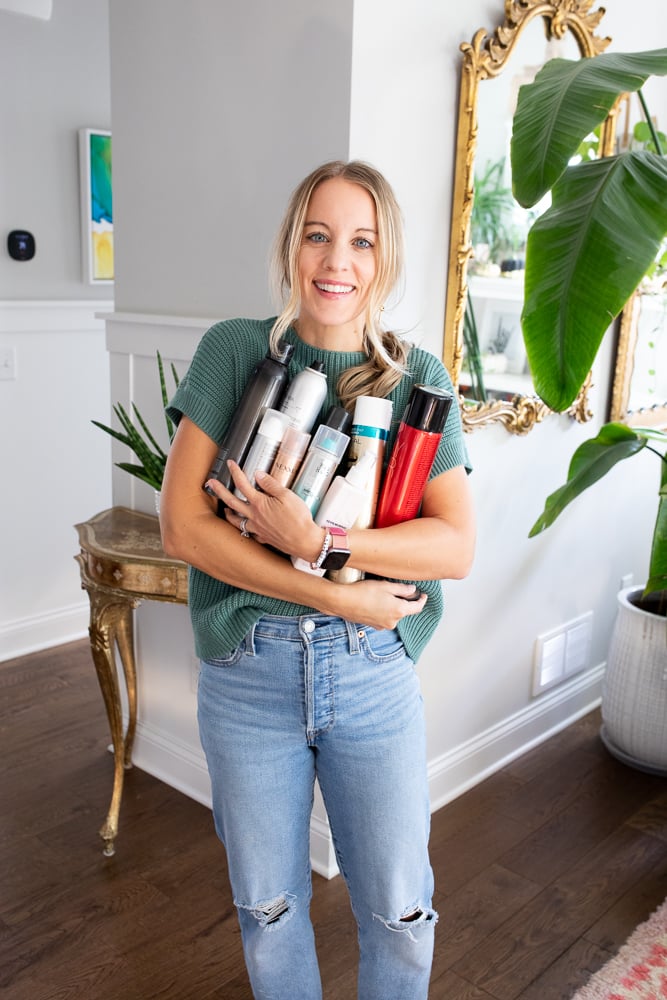 And there you have it! I hope these tips help you learn how to get long lasting, beautiful curls. And don't forget, it can take time to perfect your hairstyle! Try different things and see what works best for you.
Want more hair tips? Here's how to use dry shampoo the right way and the best blow dry brushes for fine hair!
If you love hair powders, be sure to check out the best hair powders for volume and texture!