Ever achieve the perfect curl in your hair only to find out it's 70% humidity or super windy outside? It feels like this always happens to me, and with my fine hair, it's hard enough to get curls to stay without tricky weather! That's where a good quality hair spray comes in.
After spending time in front of the mirror working to get the perfect curls, you'll want to make sure they'll last all day. Hairspray is the finishing touch you'll need to keep your curls intact all day.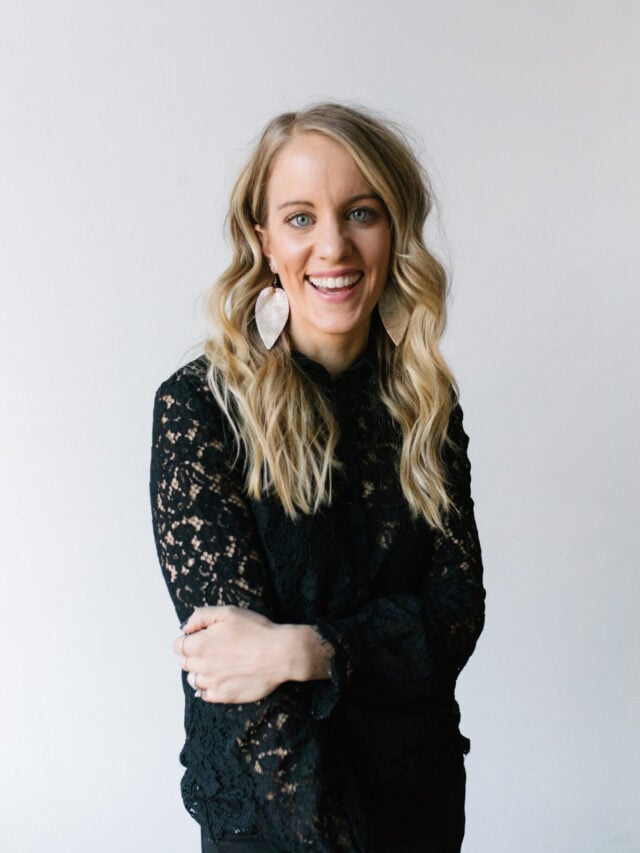 There are so many different hairsprays out there, it's important to consider all your options and select the right hairspray that will be best for your hair type and daily activities.
These are some of the best hairsprays to hold curl — even in straight hair — and will give you touchable, beautiful style.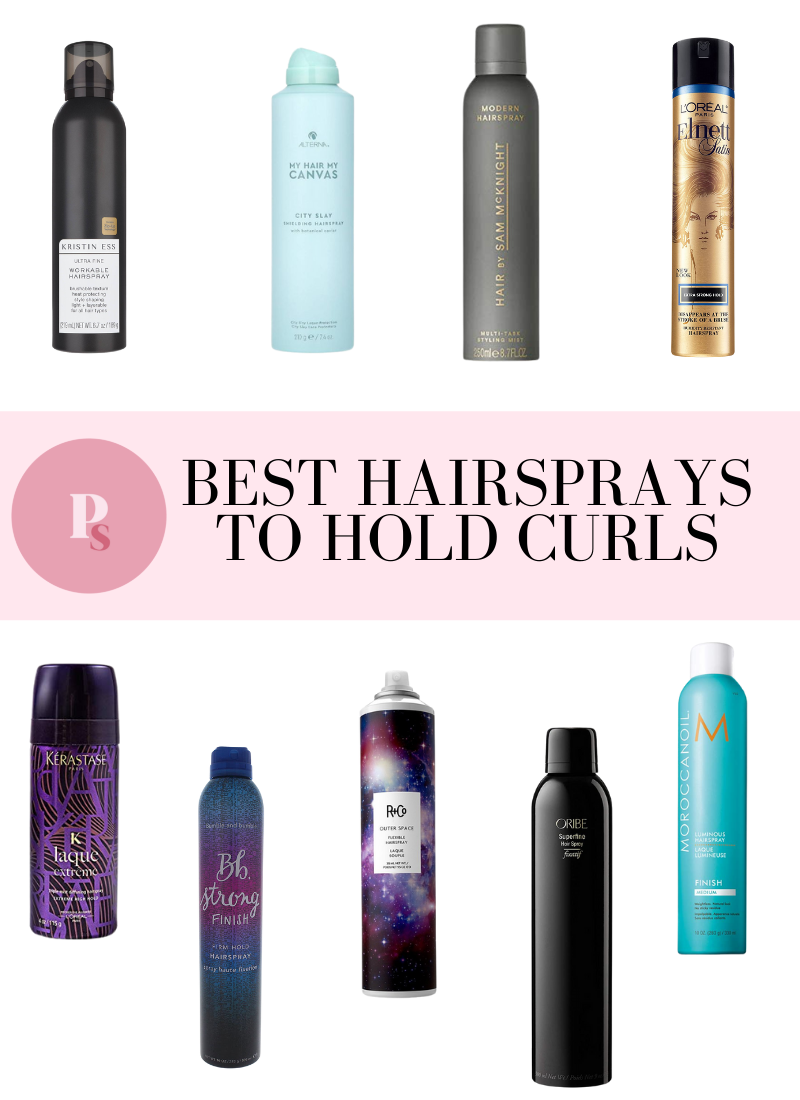 Paisley + Sparrow is a participant in the Amazon Services LLC Associates Program. This post may include affiliate links which means I may earn a small commission if you shop using the links below at no additional cost to you. 
Best Hairspray to Hold Curls — All Hair Types
L'Oreal Paris Elnett Satin Extra Strong Hold Hairspray is one of the best options for any type of hair if you're looking for a stronger hold! It has an extra strong hold that will withstand humidity and will keep your hair in place all day.
Pros
Won't leave hair crunchy
Comes in different sizes and formulas for different hair types
Cons
Some people don't like the smell
This hairspray works well with all hair types and textures, making it an excellent choice for anyone. It provides a light to medium hold with a soft, brushable finish and even lightly scents the hair.
Pros:
Cons:
This lightweight hairspray gives a medium hold. It brushes out easily and fights frizz and humidity. Best for updos, blowouts, and natural styles.
Pros
Made with argan oil
Soft finish
Cons
Some people had difficulties with the spray can nozzle
This hairspray promises a 24-hour hold and to resist humidity. It locks volume into place and offers a very extreme hold.
Pros
No flaking or stiffness
Best for all hair types
Cons
This hairspray will give you a light to medium hold and is great for all hair types. Just like the name suggests, the sky's the limit with this hairspray!
Pros
Vegan and cruelty-free
Builds volume
Light to medium hold flexible hair spray
Cons
A great budget option at only $5 that will truly get the job done! This strong hold hair spray lasts for 24 hours while also protecting against frizz. It will also smooth and soften your hair since it's infused with bamboo extract.
Pros
Strong, flexible hold
Humidity protection
Cons
This Bumble and Bumble hairspray works great with all hair textures and thicknesses. It is non-slip, brushable, and gives you a clean finish. It's a strong-hold hair spray and will keep your hair in place with no buildup or flakes left behind.
Pros
Cruelty-free
Good for all hair types
Cons
Sprayer gets clogged/doesn't always work well
Expensive
This fresh, nature-scented hairspray has a variety of uses. It can be sprayed before straightening hair, onto the roots for added volume, into mid-lengths to add texture, or to set a style.
Pros
Brushes out easy
Won't leave hair crispy
Cons
This Redken hair spray is a great product for hairstyles that need a super strong hold and is sure to hold your curl through whatever the day throws at you. Beauty benefits include anti-frizz protection, volumizing strength, and a shine finish.
Pros
24 hour humidity resistance
8 hour control
Cons
This is another great hairspray that offers maximum hold. It's wind-resistant up to 25 mph, has humidity resistance for up to 24 hours and has a super hold for up to 120 hours — one of the best on our list of hairsprays if you're looking for something long-lasting.
It works with all hair types but is best for thick hair. If you have fine hair, just use less!
Pros
Flake free and fast drying
Gives extra volume
Cons
This medium flexible hold hairspray is packed with some wonderful benefits. It includes Hi-Shine Micro-light reflectors to help add a healthy glow to your hair. It's also made with avocado oil, which helps to hydrate the hair.
Pros
Brushable without being crunchy
Offers heat protection
Medium hold flexible hairspray
Cons
This hairspray is made with a heat protectant up to 450 degrees. It's actually recommended to spray first before straightening or curling your hair to better hold the style.
It's also designed with "zip-up" technology to help with split ends, smoothing hair, and protecting it.
Pros
Lightweight and brushable
Best for all hair types
Cons
Some extreme hold to conquer whatever your day holds! It's the strongest that the brand makes and works for all hair types. Plus, it has a citrus smell you're sure to like!
Pros
Easy to control
Good in humidity
Cons
This is a more expensive option, but it says it will keep your curls intact no matter the condition or the weather. It also has a copolymer formula that helps you get the frizz-free curls you want.
Pros
Humidity resistant
Light hold, but has a buildable formula
Cons
This is a buildable vegan hairspray that has some great benefits. It protects hair from pollutants, offers humidity protection for 72 hours, and heat protection for temperatures up to 450 degrees.
Pros
Flexible hold
Adds shine and hydration
Cons
Best Hairspray for Thin or Fine Hair:
This is one tough hairspray! It has a medium to high hold level that will last for 120 hours. But it doesn't stop there. The best part is that this hairspray claims to give six times the amount of volume and lift to give you the big hair you want!
Pros
Humidity resistant
Thermal protectant
Cons
Smells of rose and jasmine are infused in this hairspray specifically designed for fine hair. It has a medium hold, natural finish and movement, helps to give you some added volume, and will keep your hair in place.
Pros
Won't leave your hair feeling stiff
Adds extra volume
Cons
Some don't love the smell or say it's too strong
This lightweight hairspray will help to give your curls some bounce and texture. It's great with all hair types but is extra good with oily hair since it absorbs oil and helps to refresh your hair.
Pros
Good for fine hair
Adds texture
Cons
Some loved the smell, but others found it to be too fragrant
This volumizing hairspray is one of the best hair spray options for fine hair. It's made with wheat protein to build body and volume, which helps to make hair look thicker.
Pros
Flexible hold
Humidity resistant
Cons
Some say it made hair feel stiff
If you have thin hair, be sure to check out these posts:
Best Hairsprays for Curly Hair:
Deva Curl is a good hairspray for curly hair that provides a strong hold. It has a great fragrant scent and is made without any bad ingredients.
Pros
Specifically designed for curly hair
Not crunchy
Cons
Some people dislike the new formula
This is a medium hold hairspray that is specifically designed for naturally curly hair. The Ouidad hairspray will help to hold your curl in place and lock curls in as they dry.
Pros
Long-lasting
Helps hydrate hair with jojoba oil and hydrolyzed silk protein
Cons
Some found the scent to be strong
FAQ
For more information on how I get my curls to last, check out this blog post.