Looking for the best hairspray to hold your curls in? Whether you have fine hair like me and curls just don't like to stay in in general, dealing with humidity or windy and just need something to keep those curls perfectly curled, I have options for you!
A good quality hair spray can make a world of difference in your hairstyle and how long your curls last. Without it, mine will last a few hours but with it, I can go a few days!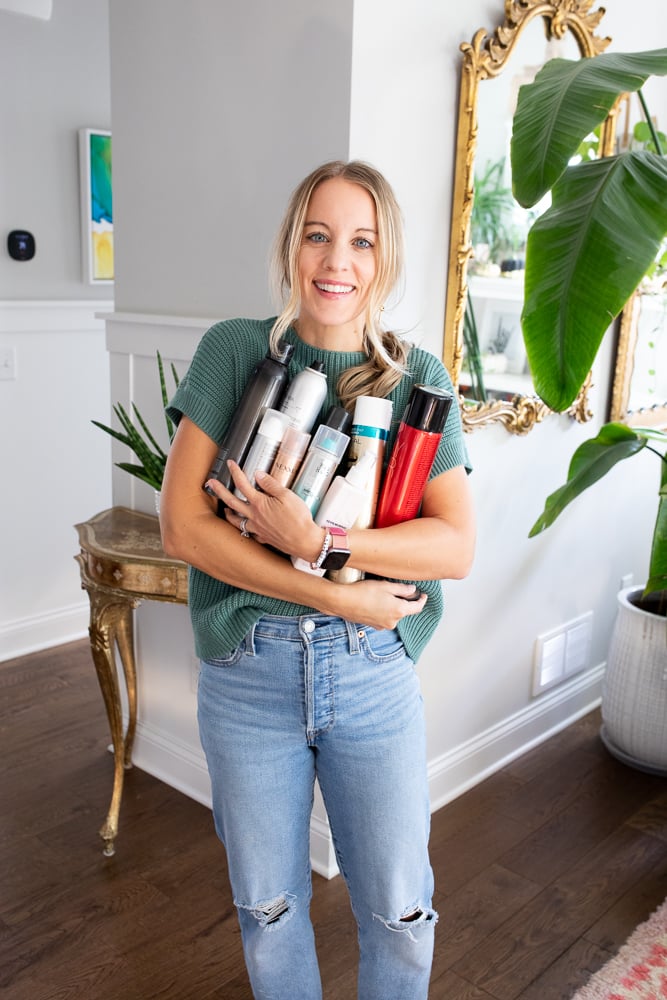 There are so many different hairsprays out there, it's important to consider all your options and select the right hairspray that will be best for your hair type and daily activities.
I've personally test 11 different hairsprays to help you decide which one is right for you. From non-aerosol to aerosol to lightweight hold to super strong hold, I'm sharing what it feels like, what it smells like and how well it holds.
These are some of the best hairsprays to hold curl — even in straight hair — and will give you long lasting curls.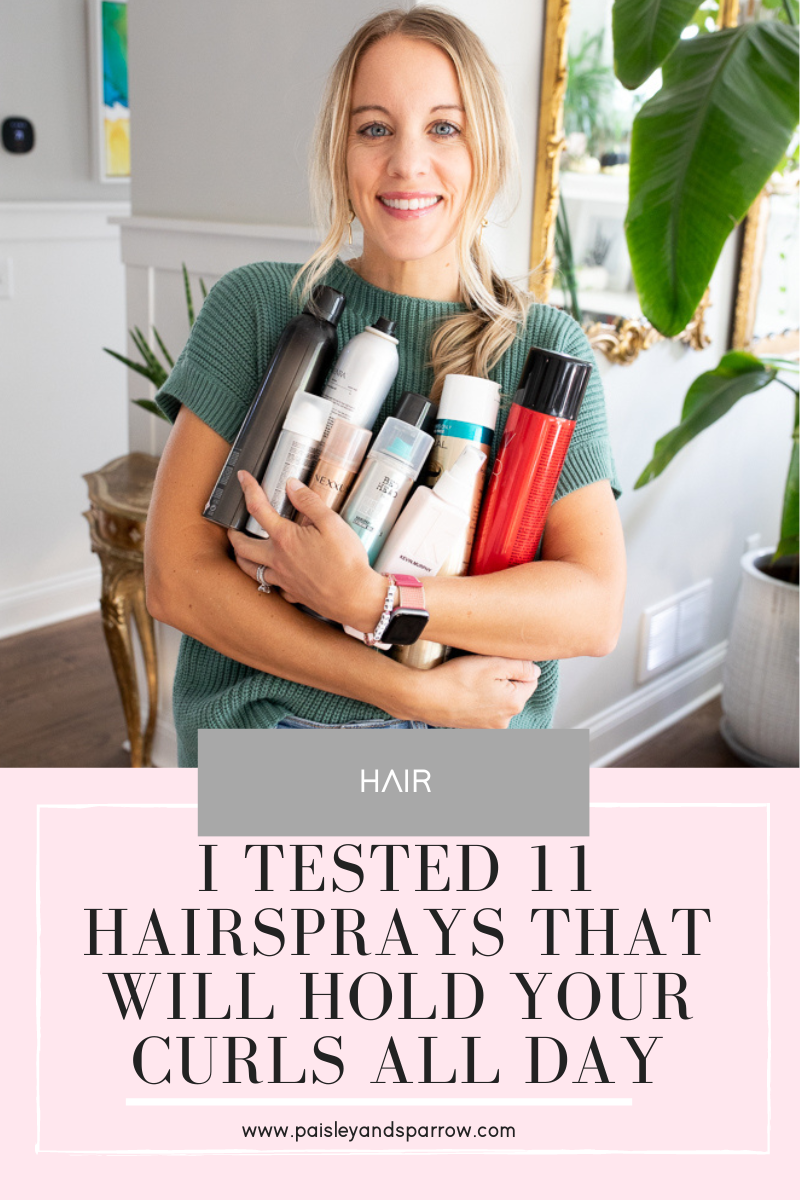 This post contains affiliate links.
11 Best Hairspray to Hold Curls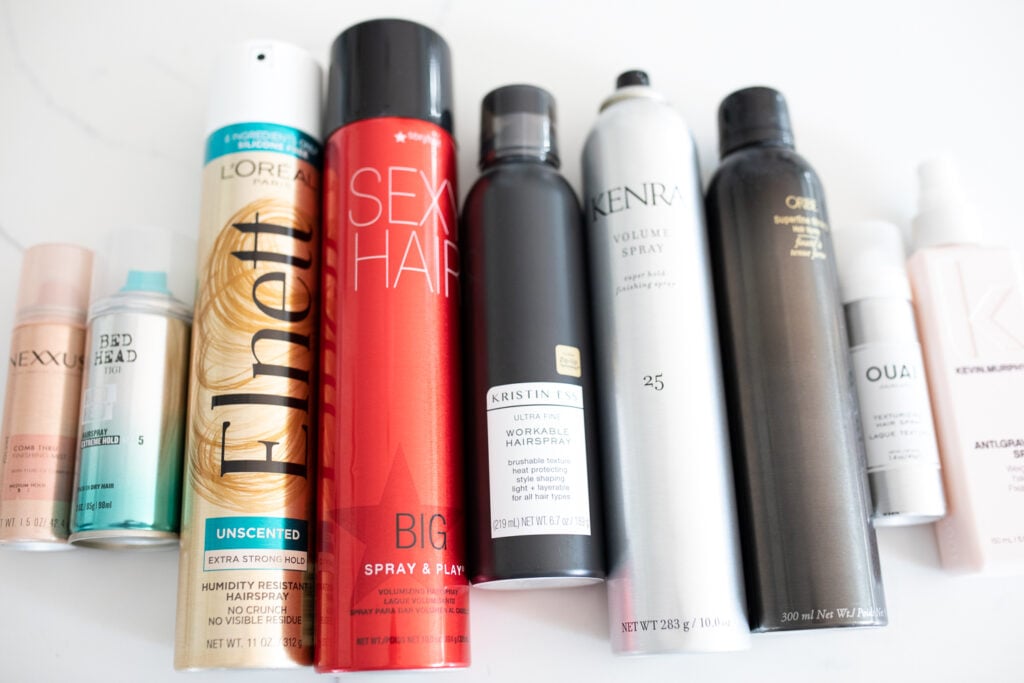 Here are some of the best hair spray to hold your curls in place!

We earn a commission if you make a purchase, at no additional cost to you.
This Kevin Murphy spray has been my personal go to ever since my hairstylist used it on my hair years ago! The smell is truly amazing and it won't leave your hair sticky or stiff.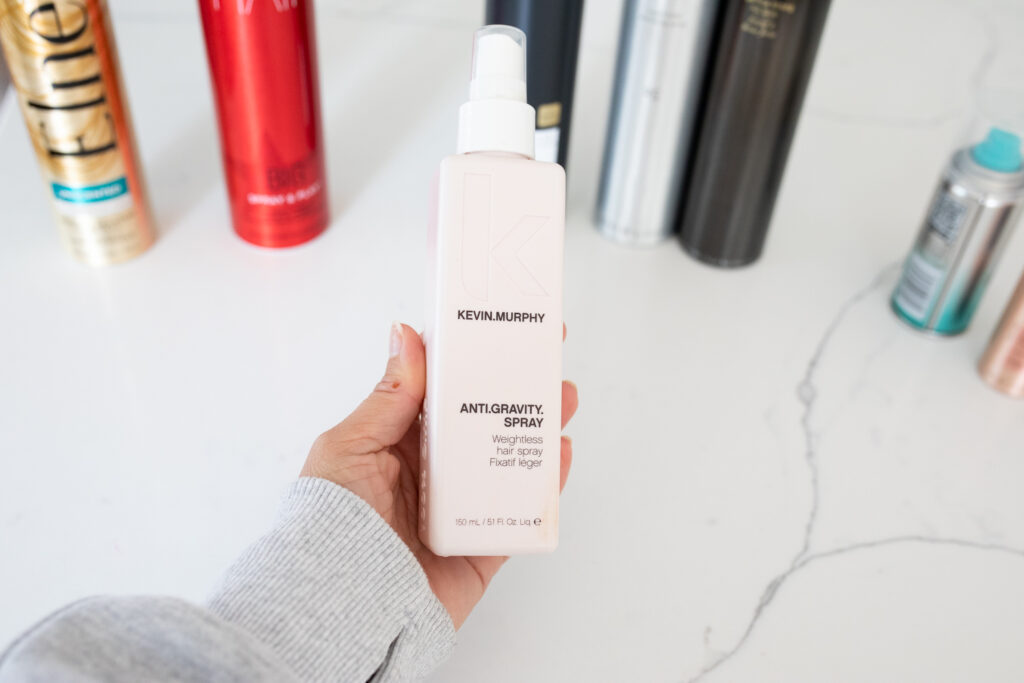 I will use this on my hair prior to styling (it doesn't have a heat protectant so I'll also add some Olaplex to it for the heat protection) and sometimes add a little extra afterwards for extra hold if I feel like I need it.
If you're at all sensitive to aerosol or that typical hairspray smell, or you just want a lightweight hold, get this one!
Pros
Non-aersol
Smells amazing
Great hold without feeling stiff
Good for all hair types
Cons

We earn a commission if you make a purchase, at no additional cost to you.
This is another great hairspray that offers maximum hold. It's wind-resistant up to 25 mph, has humidity resistance for up to 24 hours and has a super hold for up to 120 hours — one of the best on our list of hairsprays if you're looking for something long-lasting.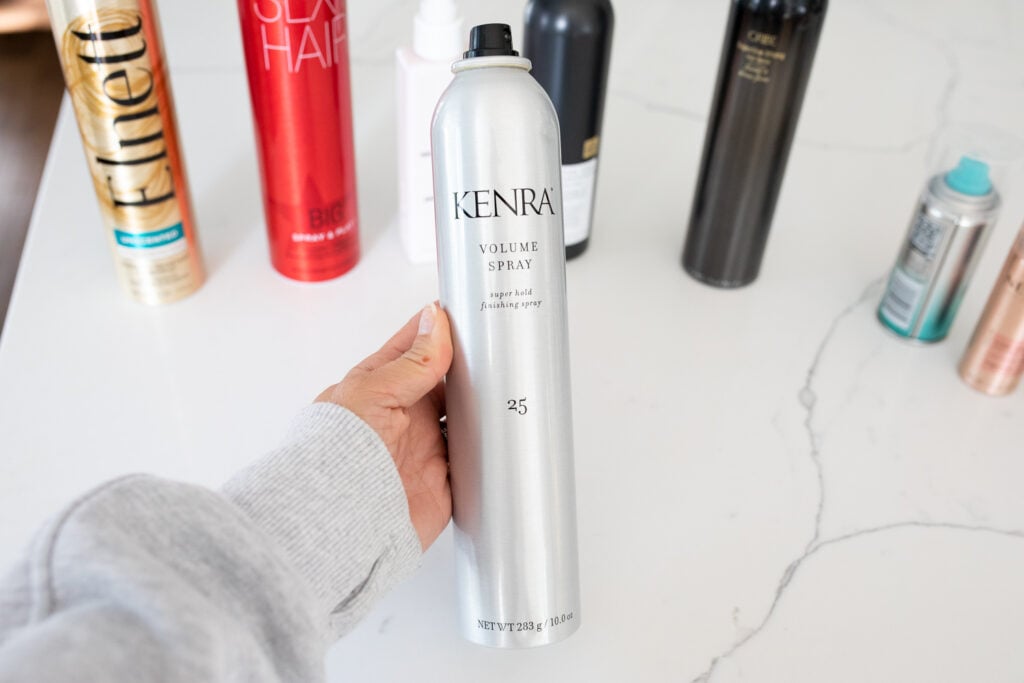 It works with all hair types but is best for thick hair. If you have fine hair, just use less! This one has a very limited smell, if any which is plus for anyone sensitive to smell.
When you first put it on it definitely feels a bit more stiff than some of the others on this list. Can you always brush it out a bit to loosen it up or if you like that maximum hold and don't mind it feeling more stiff you could always leave it! This is a great spray for updos or special occasions to really keep your hair in place.
If you use this one to help build volume, spray it in between sections of your hair. I like to split my hair up into 3 sections and spray a bit throughout each section. Don't use too much though or it will leave you with a tangled mess!
Pros
Flake free and fast drying
Gives extra volume
Minimal smell
Cons
Some users report their can not spraying after a while
Makes your hair a little stiff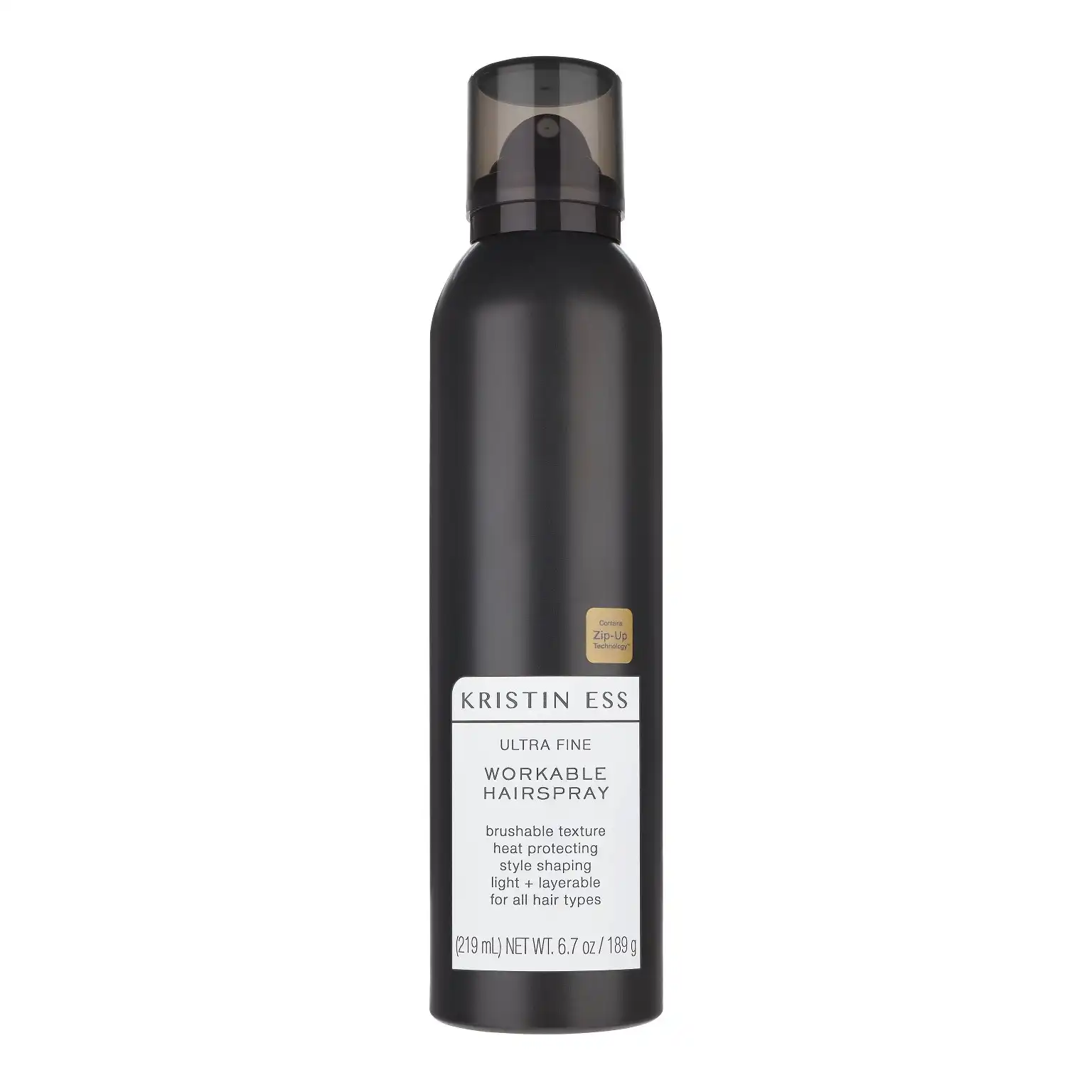 We earn a commission if you make a purchase, at no additional cost to you.
This ultra-fine mist hairspray is made with a heat protectant up to 450 degrees. As mentioned above, this is one that I actually spray on my hair first before straightening or curling to get a better hold. Just be sure to let it dry before putting a hot curling iron or flat iron to your hair!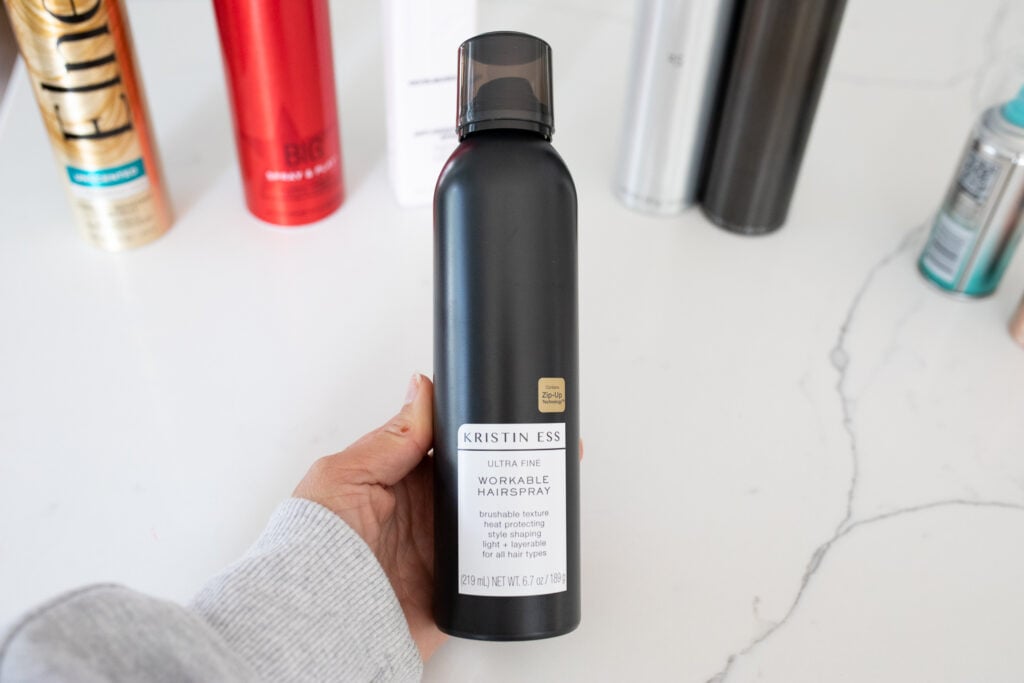 It's also designed with "zip-up" technology to help with split ends, smoothing hair, and protecting it. It does have a scent, the same scent that all Kristin Ess products I've used in the past have. It not overpowering but you can definitely smell it.
This one does not leave your hair stiff or sticky but does a great job of holding your curls all day. If you're not using a heat protectant yet, than I highly recommend this one!
Pros
Includes a heat protectant
Lightweight and brushable
Best for all hair types
Cons
SexyHair Big Spray & Play Volumizing Hairspray
Workable, medium to high hold finish that lasts up to 120 hours providing up to six times the volume and lift with a flake-free finish. Formulated for fine, medium and coarse hair types.
Delivers up to 6x the Volume & Lift
Provides Humidity Resistance up to 72 Hours
Provides Thermal Protection up to 450˚F
Provides Shine Finish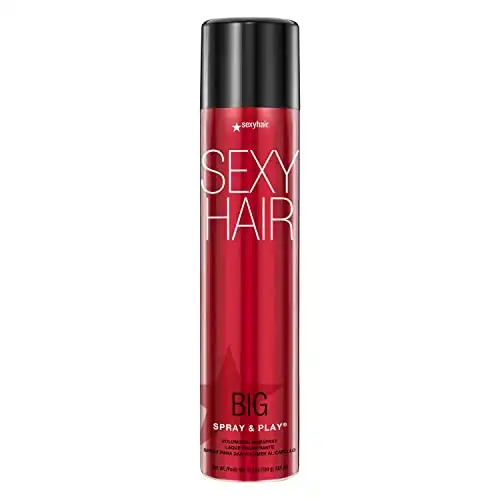 We earn a commission if you make a purchase, at no additional cost to you.
This is one tough hairspray! It has a medium to high hold level that will last for 120 hours. It also is another hairspray with heat protectant which allows you to put it on before you style your hair.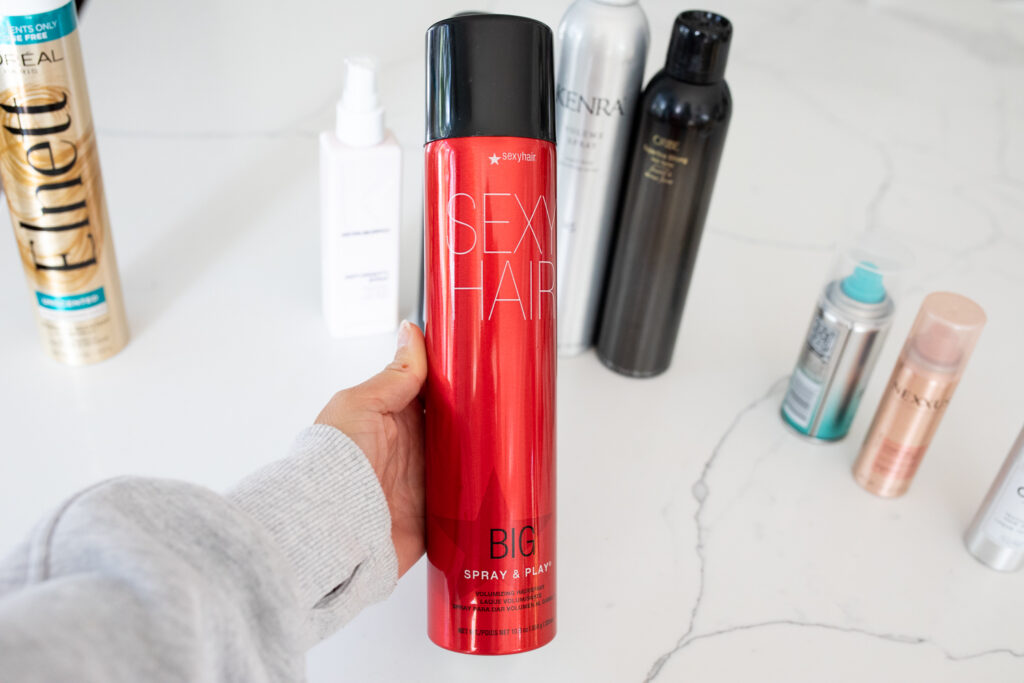 This hairspray claims to give six times the amount of volume and lift to give you the big hair you want! While I don't think it gives me 6x the amount of volume, it definitely gives it some lift when you spray it between the layers of your hair.
This one goes on slightly sticky with a distinct hairspray smell that quickly dissipates. It leaves your hair just slightly stiff but not helmet hair like the Bed Head one. I've found that it definitely holds curls but haven't found that it gives you the shine that it claims.
I like using this one before I curl my hair, allow it dry and then brush it out a bit. This helps it to not be sticky or hard and really keeps the curls in well.
Pros
Humidity resistant
Thermal protectant
Cons
Sticky and heavy
Smell isn't great when you put it on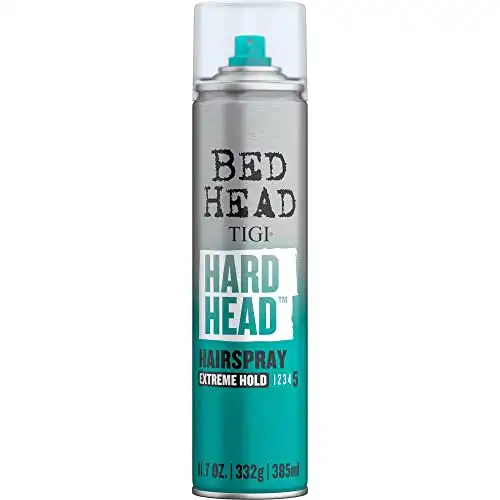 We earn a commission if you make a purchase, at no additional cost to you.
This strong-hold hairspray has enough hold to conquer whatever your day holds! It's the strongest that the brand makes and works for all hair types.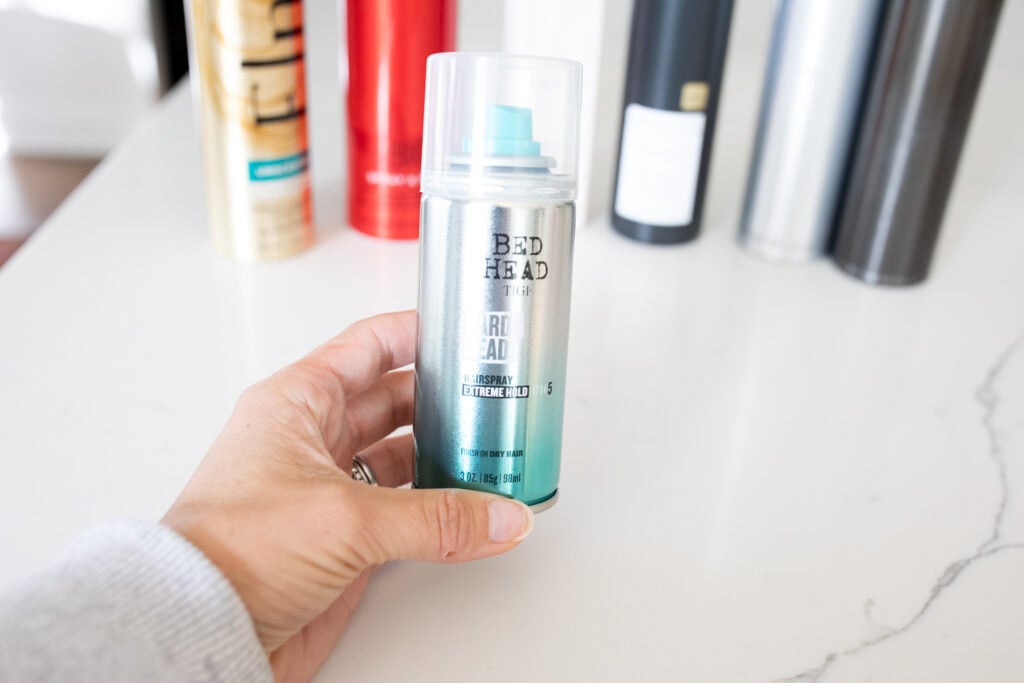 Like the Kenra, this one will leave your hair feeling stiff but if you bought a hairspray with the name "Hard Head" I would imagine you would expect that. 😉 This one is a great option for keeping updos in place or really holding those curls in for the whole day.
When it comes to smell, this one has a minimal citrus smell that isn't bad at all.
Pros
Easy to control
Good in humidity
Cons
Nexxus Comb Thru Finishing Spray Hair Spray
Volume: Lightweight hair spray for fine hair gives superior hold
Infused with Fluid-Fix Complex for a flexible hold
Salon-quality, micro-fine hair mist keeps hair fresh throughout the day
Comb thru hair spray helps control hairstyles
Gives hair a touchable, flexible hold
Refreshingly fragrant with Rose and Jasmine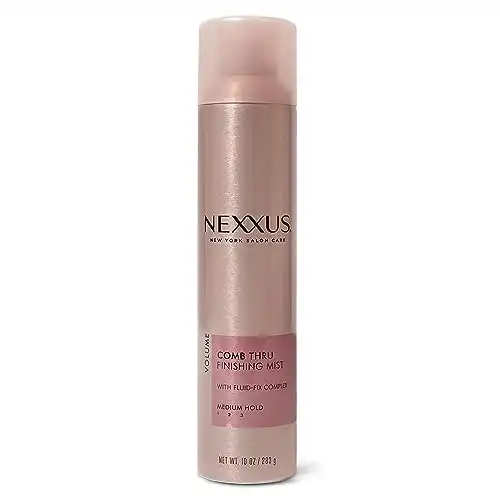 We earn a commission if you make a purchase, at no additional cost to you.
This hairspray has a medium hold, natural finish and movement, helps to give you some added volume, and will keep your hair in place. It won't go on sticky and helps your hair still be touchable along with some hold!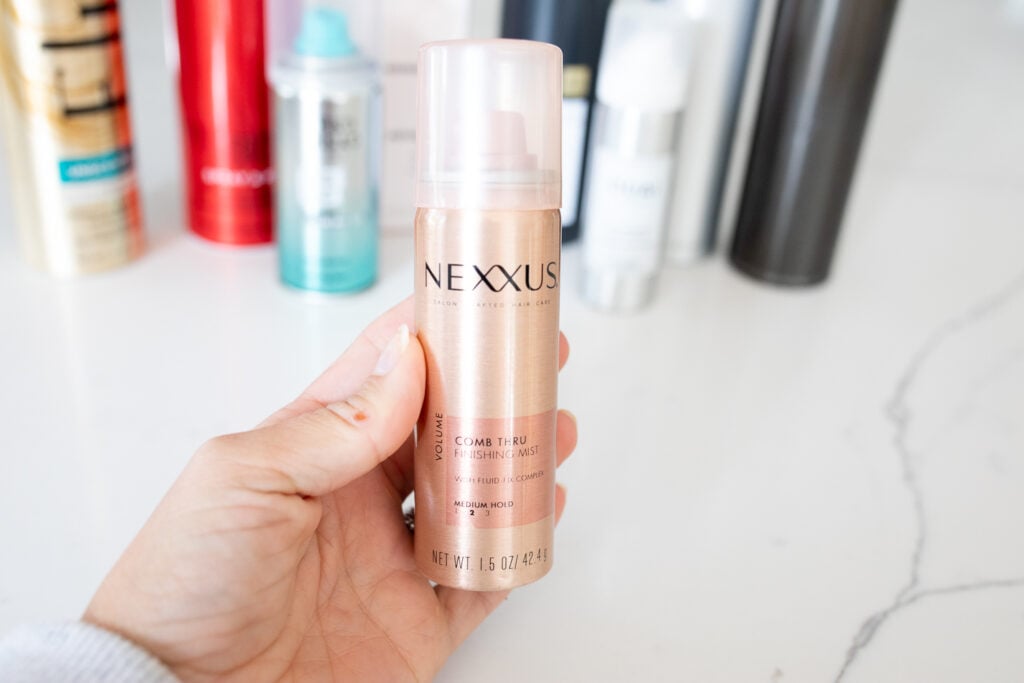 It says it smells of rose and jasmine but I feel like it's just a more gentle hairspray smell than most. If you're sensitive to smells, this is one of the least overpowering one on this list.are infused in this hairspray specifically designed for fine hair. It
Pros
Won't leave your hair feeling stiff
Adds extra volume
Cons
Some don't love the smell or say it's too strong
OUAI Texturizing Hair Spray
Ultra-lightweight product

Combines the best parts of dry shampoo and hair spray, to build incredible volume and texture

Packed with volcanic minerals to absorb oil and refresh hair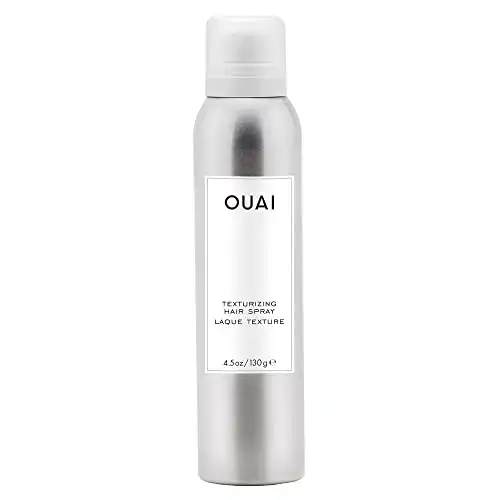 We earn a commission if you make a purchase, at no additional cost to you.
This lightweight hairspray will help to give your curls some bounce and texture. It's great with all hair types but is extra good with oily hair since it absorbs oil and helps to refresh your hair. It says that it's like a dry shampoo combined with a hairspray but I definitely don't recommend you spraying this on your roots!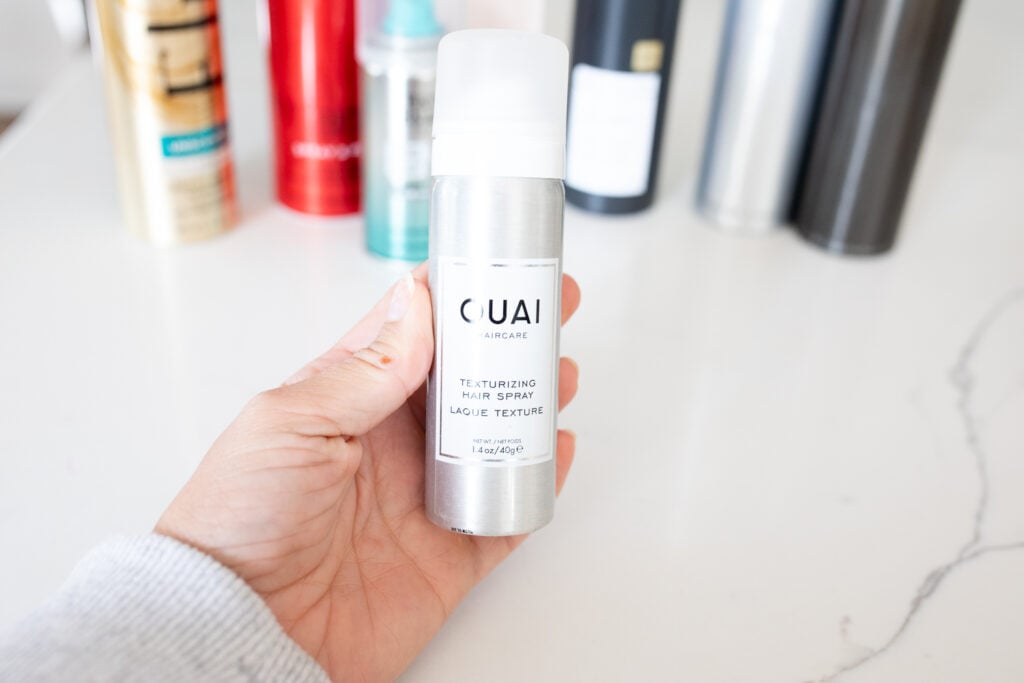 This is another hairspray that says it has a floral scent but to me it just smells like a less chemical version of a hairspray but still pretty intense. This hairspray adds texture to your hair without making it feel sticky which I really love!
Pros
Good for fine hair
Adds texture
Cons
Some loved the smell, but others found it to be too fragrant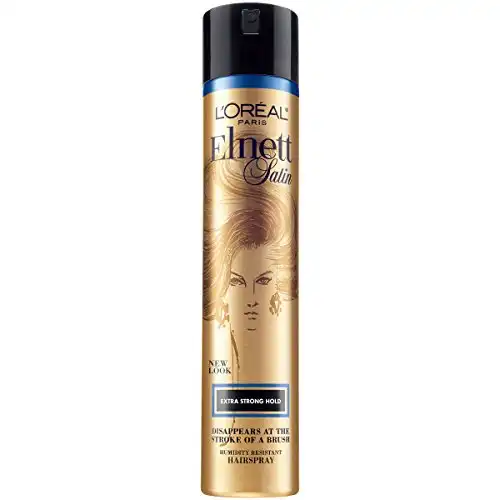 We earn a commission if you make a purchase, at no additional cost to you.
L'Oreal Paris Elnett Satin Extra Strong Hold Hairspray is one of the best options for any type of hair if you're looking for a stronger hold! It has an extra strong hold that will withstand humidity and will keep your hair in place all day.
It says it is unscented but it does have a bit of a "typical" hairspray smell to it (if you've ever used hairspray in the past you know what I'm referring to).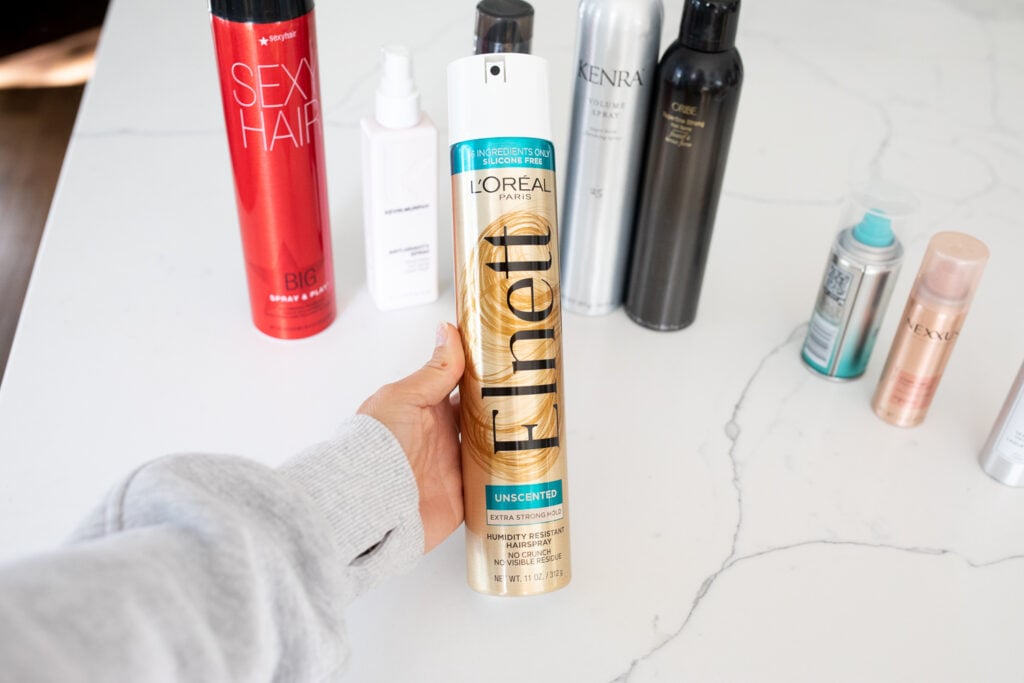 It also doesn't have a regular cap on it, instead it has a security tab. To be honest, the first time I used it I was very confused by the tab since it looks like you should be putting your finger through the gap to press the lever down to dispense the hairspray.
In actuality, you need to remove the security tag. This does make it a little hard to travel with since there's no cap but there is a big enough divot that hopefully the button won't get pressed!
Pros
Won't leave hair crunchy
Comes in different sizes and formulas for different hair types
Cons
Some people don't like the smell
No cap which can cause issues when traveling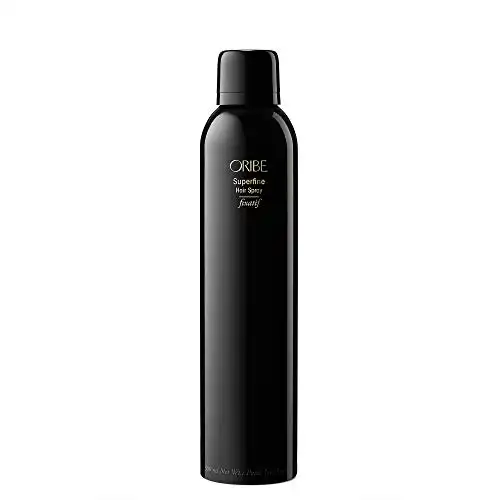 We earn a commission if you make a purchase, at no additional cost to you.
This hairspray works well with all hair types and textures, making it an excellent choice for anyone. It provides a light to medium hold with a soft, brushable finish and even lightly scents the hair.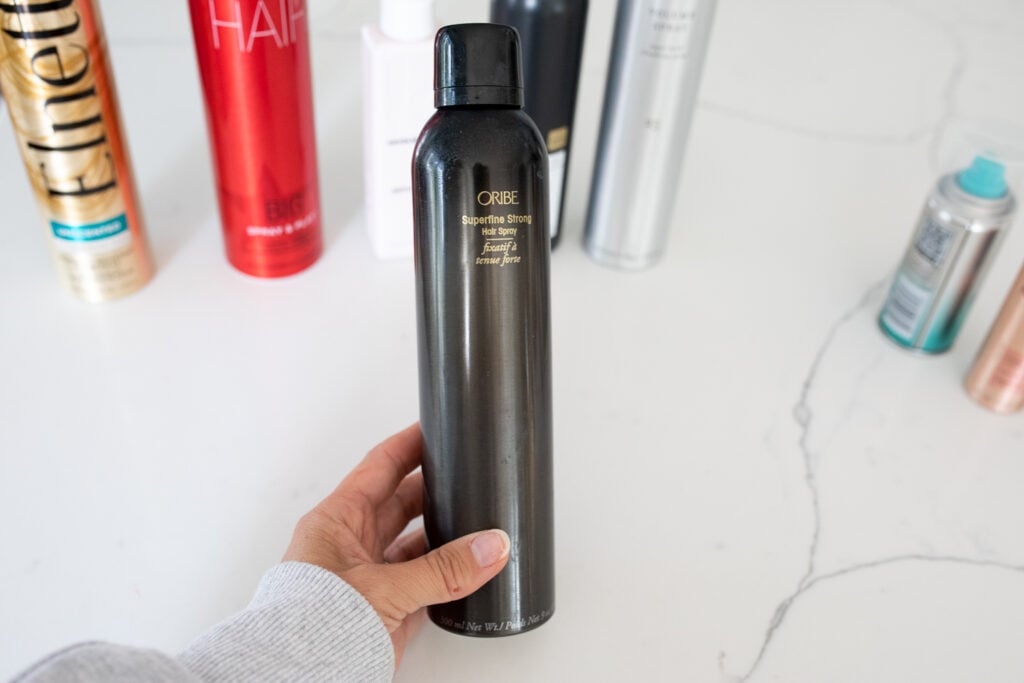 This is a hairspray I have used for 5+ years. I always use at the end of styling to hold everything in place (a few of these I actually use before styling). It has a great smell like all Oribe products. It really is a super fine hold – you would never know that you have hairspray in the way your hair feels!
Pros:
Cons:
Expensive
The spray nozzle can get sticky which can affect the spray after using it for a while
Moroccanoil Luminous Hairspray
Medium hold

Lightweight and workable hairspray

Fights frizz and humidity, yet brushes out easily

Infused with a combination of advanced ingredients, including nourishing antioxidant-rich argan oil.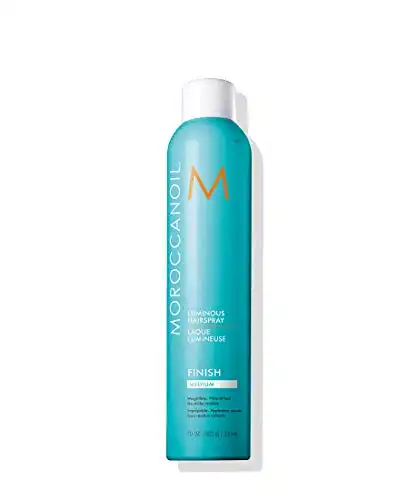 We earn a commission if you make a purchase, at no additional cost to you.
This lightweight hairspray gives a medium hold. It brushes out easily at the end of the day or the next day and fights frizz on even the most humid days.
It has a slight smell to it that's not as bad as many of the typical hairspray smells that others have. It goes away fairly quick so even if you don't like it (although many people love this one) it doesn't last too long.Best for updos for a special occasion, blowouts, and natural styles.
Pros
Made with argan oil
Soft finish
Cons
Similar to the Oribe, the nozzle can get sticky and plugged which can affect the spray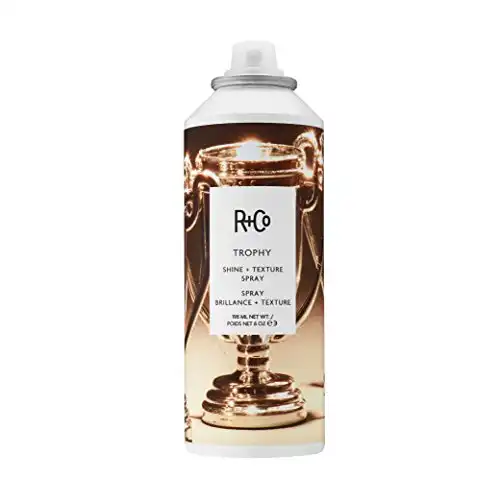 We earn a commission if you make a purchase, at no additional cost to you.
I'm a huge fan of R+Co and have used this Trophy spray for years! This is what they call their "Selfie Hair Spray". I would say that it's a little less hair spray than they others but it still has a great flexible hold with a lot of texture and shine.
This spray has a heat protectant so I will use this one prior to styling. It's actually my favorite pre-curl spray to use because of the texture it adds.
This spray is vegan, gluten free and will give you a flexible hold all day long.
Pros
Vegan and cruelty-free
Adds texture
Flexible hold
Cons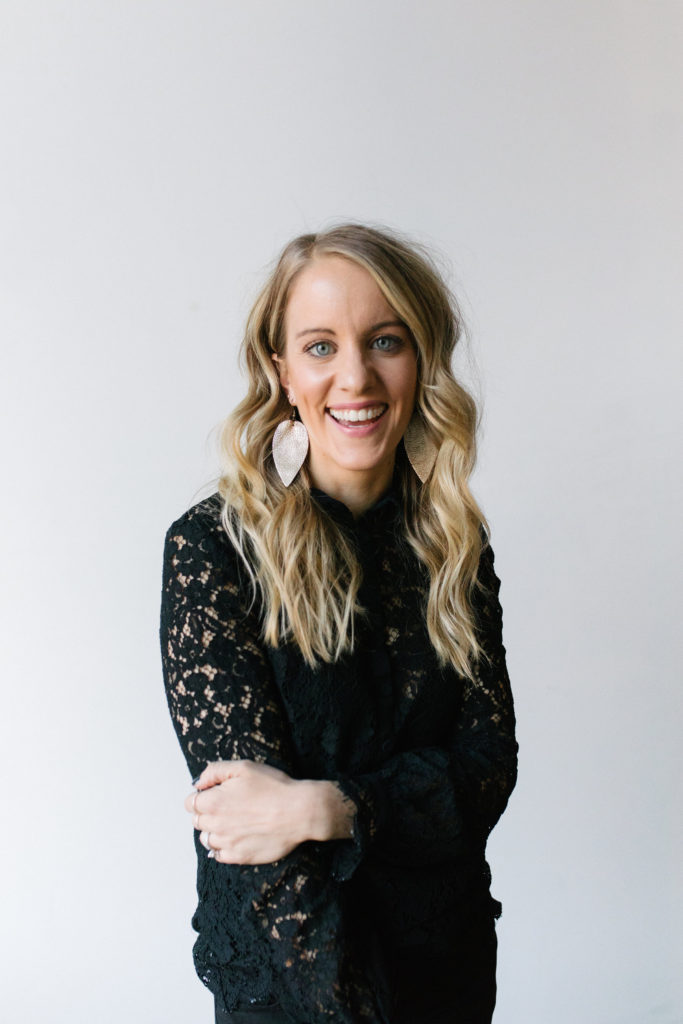 If you have thin hair, be sure to check out these posts:
FAQ
What can I spray on my hair before curling it to hold it?
Yes, you can spray a little bit of hairspray on your dry hair before heat styling it with a curling iron. Be sure to let it dry before styling it though.
Why does my hair not hold a curl?
It could be genetics or that your hair is too healthy or too clean! If you have super straight hair, your hair is going to be more resistant to changing shapes.

Healthy hair makes the outer shaft of your hair smooth, which won't allow it to hold curls or styles. To clean hair also can be difficult to hold curl. Curling on second-day hair will leave more natural oils in place, which will create more texture in your hair.
How do I keep my curls from falling out overnight?
The first rule of thumb is to never sleep on your curls directly. Instead, sleep with your hair in a loose braid or loose bun at the top of your head. It's important to keep these styles loose so that the curls do not stretch out.
How do you get natural curls to stay?
Try using a serum or styling cream to help curls hold their shape. You can also use a leave-in conditioner or conditioning spray if your hair is getting dried out or looking frizzy. Try using a curling wand as a final step to help fine-tune any curls!
For more information on how I get my curls to last, check out this blog post.