If you've got fine hair, you know that you can spend lots of time and money on products, hair tools and salon visits trying to get that big, beautiful blowout look you want. It can empty your wallet and fill up your bathroom cabinets pretty quickly!
But with the right blow-dry brush, you can recreate the look at a fraction of the cost. You just need one tool to get volume and texture at home.
What Is a Blow-Dry Brush?
Basically a blow-dry brush is a corded round brush that blows heat from the inside out. They've been around for decades but have recently seen an uptick in popularity.
Also known as a hair-dryer brush or hot air brush, this tool dries your hair as you brush, twist and style your tresses. In simple terms, it's both a blow-dryer and round brush, so you only need one tool to add some volume to your hairdo.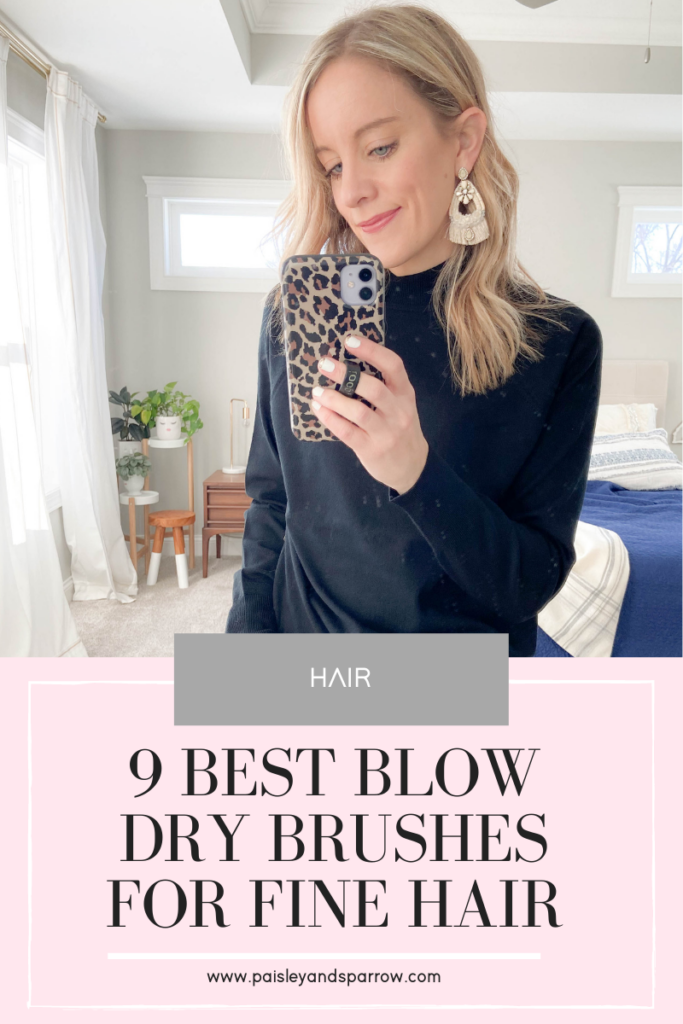 Paisley + Sparrow is a participant in the Amazon Services LLC Associates Program. This post may include affiliate links which means I may earn a small commission if you shop using the links below at no additional cost to you. 
Are Hot Air Brushes Good for Fine Hair?
Hot air brushes are actually great for those blessed with fine, limp hair. They can get really close to your scalp to lift the roots and add the right amount of oomph to your hair.
If you have super fine hair, it's best you choose a hair-dryer brush with soft to medium bristles to ensure it won't damage your hair.
How Do I Choose the Right Blow-Dry Brush?
To make sure you don't waste money on yet another styling tool that doesn't work for you, you need to consider a few factors before pressing that Buy Now button.
First, you need to choose what kind of brush you're getting. Most people go for the classic round brush. Why? It allows for great control and can create any style or shape you're going for.
This is why a lot of pros prefer to have this in their arsenal. If you're not that experienced in hair styling though, a paddle brush is your best bet. It's a bit easier to maneuver than its round counterparts.
Next, you need to factor in the length of your hair. Different sizes of barrel work better for different lengths.
Smaller brushes are best for those with shorter hair or those looking to make tighter curls. A larger brush works for many hair lengths, making it a good choice for those with longer hair.
You also have to look into the types of bristles and barrel. To keep your fine hair healthy, it's best to go for the type of brush with soft to medium bristles. Ceramic brushes are known for holding heat really well, while vented barrels speed up your drying time. A mixture of nylon or natural boar bristles is a good gentle option for thin or fine hair.
How Do I Protect My Hair?
Since a hair-dryer brush uses heat, you'll want to make sure you keep your hair from getting heat-damaged. You just need a good heat protectant. This protects your tresses from the heat your hair is exposed to with a blow-dry brush, and you can find options from most beauty brands.
Aside from this, you can apply some hair serum to your locks once you've finished styling your hair. This will add some shine to your whole look.
The Best Blow Dry Brushes for Your Hair
I've waded through all the hot air brushes out there to find the ones that will work best for your hair (and mine, a fellow fine-hair girl!). Here are 9 of the best blow dry brushes on the market!
$49.97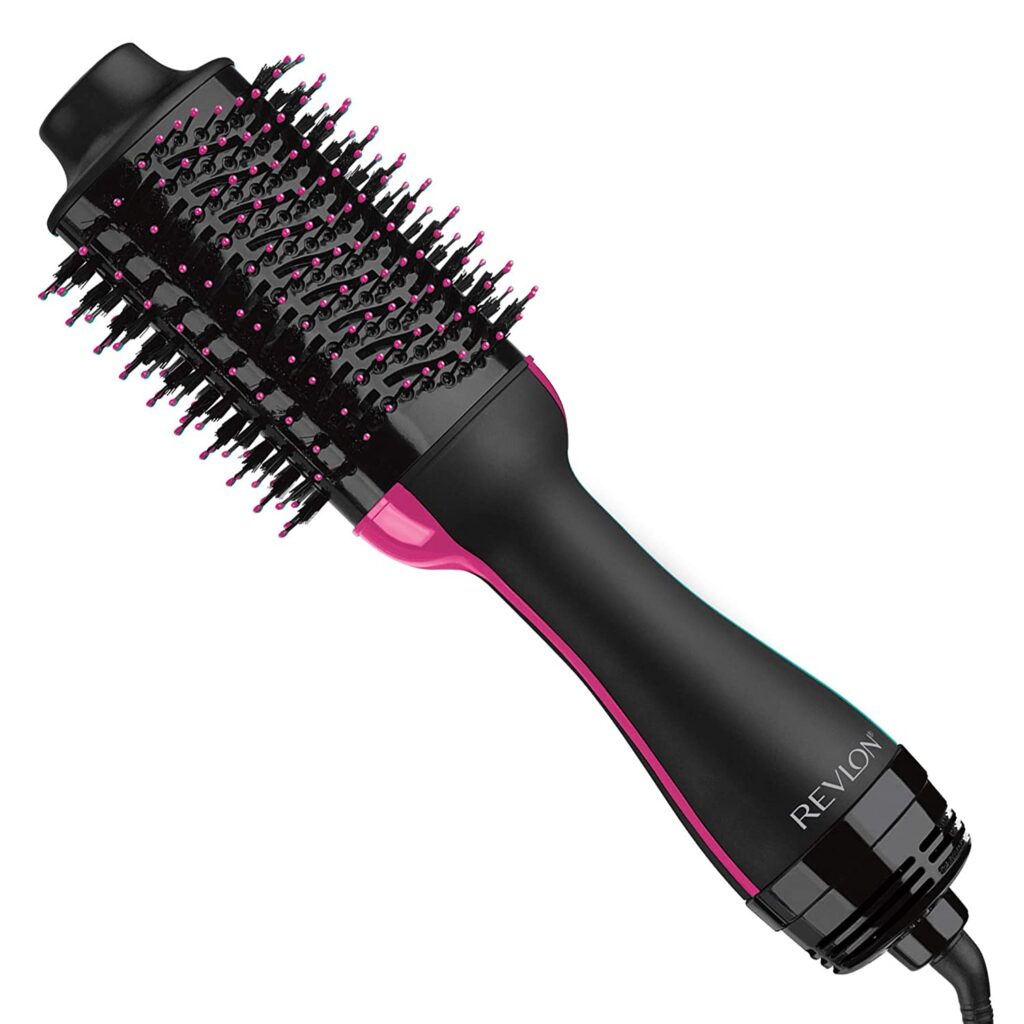 One of the most popular hair dryers out there, this pick has the power to style, dry and volumize your hair. Its round edges help create a voluminous look, while its nylon pin and tufted bristles add even more volume, making it a nice choice for those with fine hair.
What's great about this one-step product is that it's easy to use. With three speeds and three temperature settings, it's easy to control as well.
On the downside, there have been complaints that it heats up very fast. Be careful not to leave it on for too long because you might end up burning up your tresses.
$39.99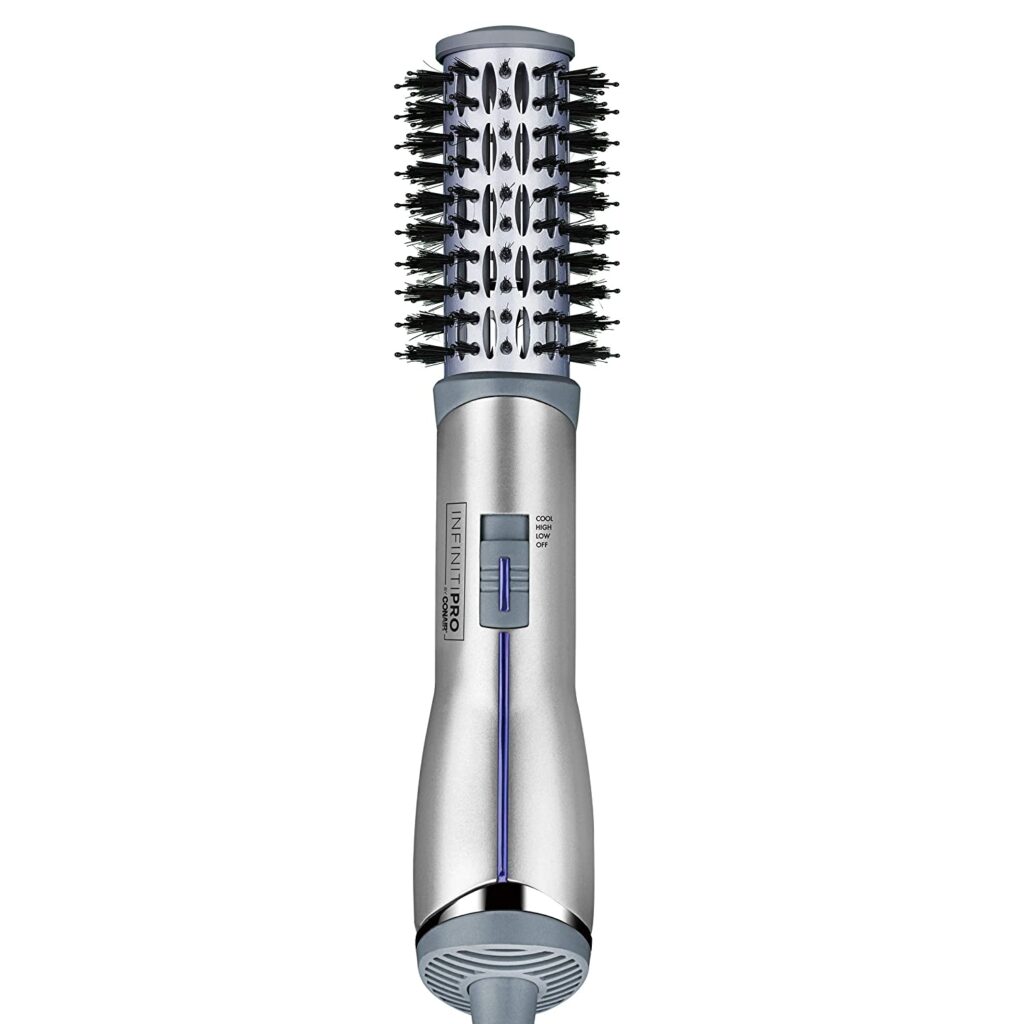 Made with advanced ion technology, this particular product gives you a ton of shine while containing any frizzy hair. Conair has been in the business since 1959, making it a trusted brand in the hair care industry.
What makes this product so popular is that it's designed to cause less damage than your average hot air brush. Plus, the ease of use for the price is unmatched.
On the other hand, its bristles don't rotate. This means you have to do all the twirling yourself.
$189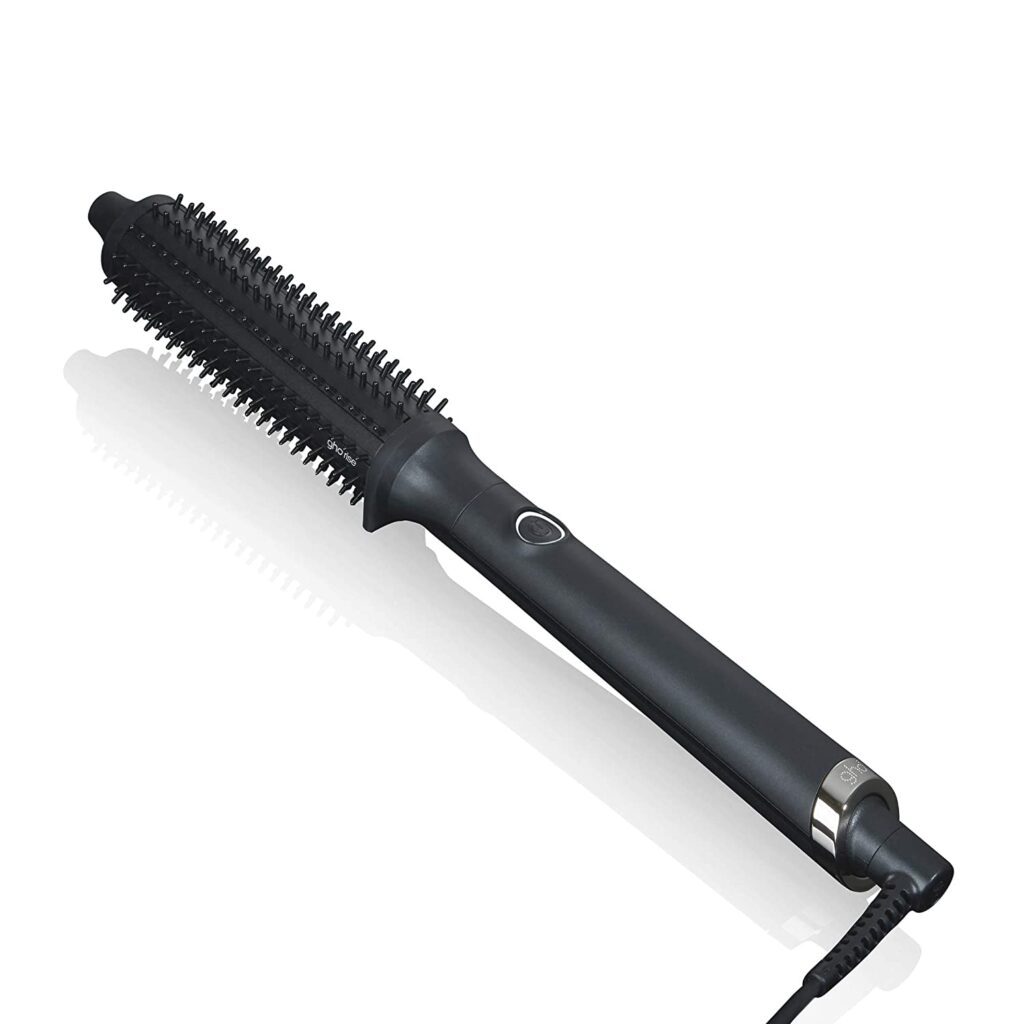 This hot air brush adds volume from the roots, making it a great pick for those with very fine hair. Plus, it feels very well-balanced in your hand, making it easy to maneuver.
The ghd Rise hot round brush is specially crafted to be used pain-free. With a cool tip and smooth nylon bristles, there's no risk of burning your fingers or scalp or pulling out hair as you brush.
It is, however, costlier than your average hot air brush. If budget isn't an issue in your book, this is my top pick.
$37.99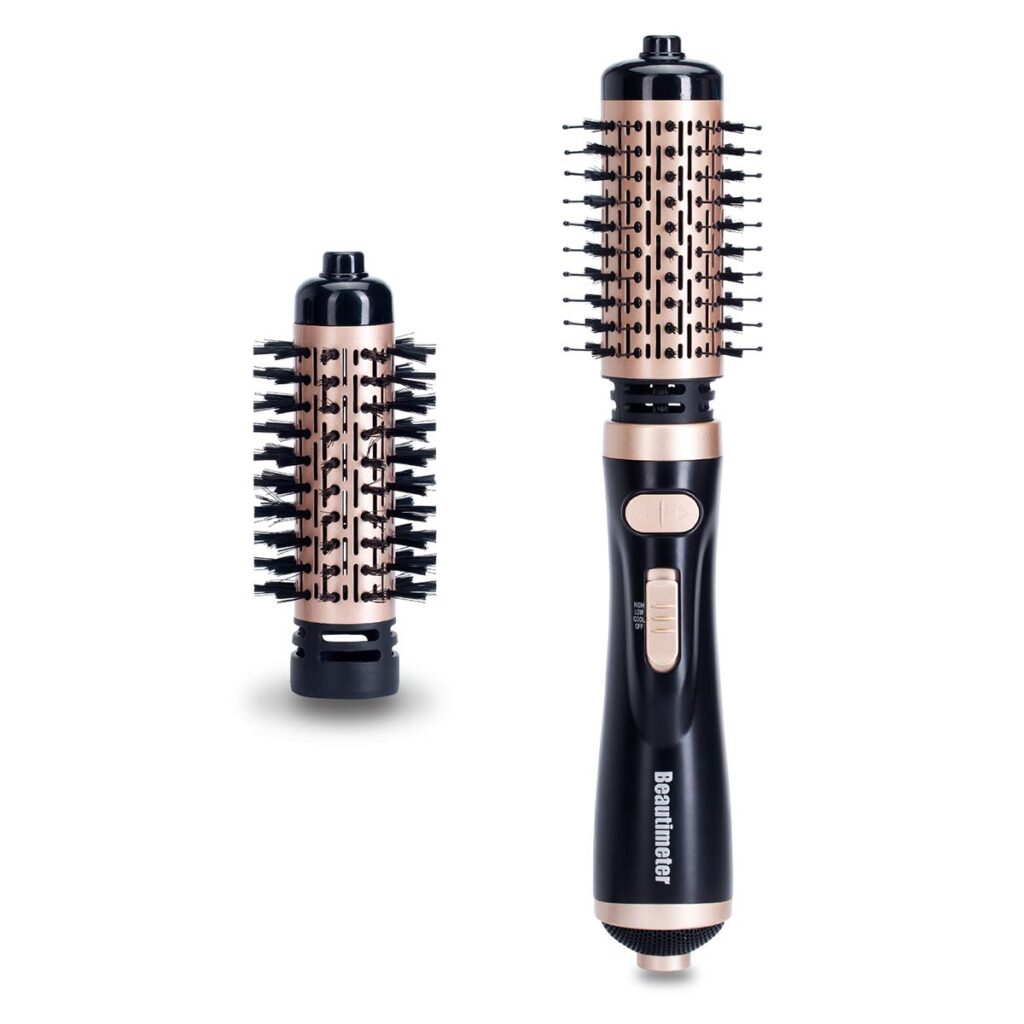 This thoughtfully designed product can create a variety of styles, making it a nice tool for home and professional use. With its super heat transfer, your hair volume lasts longer than usual.
What's awesome about the Beautimeter is its friendly price tag. In addition to curling your tresses to maximum volume, it can also straighten your hair.
The thing about this particular pick though is that it's made for people with thin hair. This means your friends with thick hair would take longer to use this product.
$549.99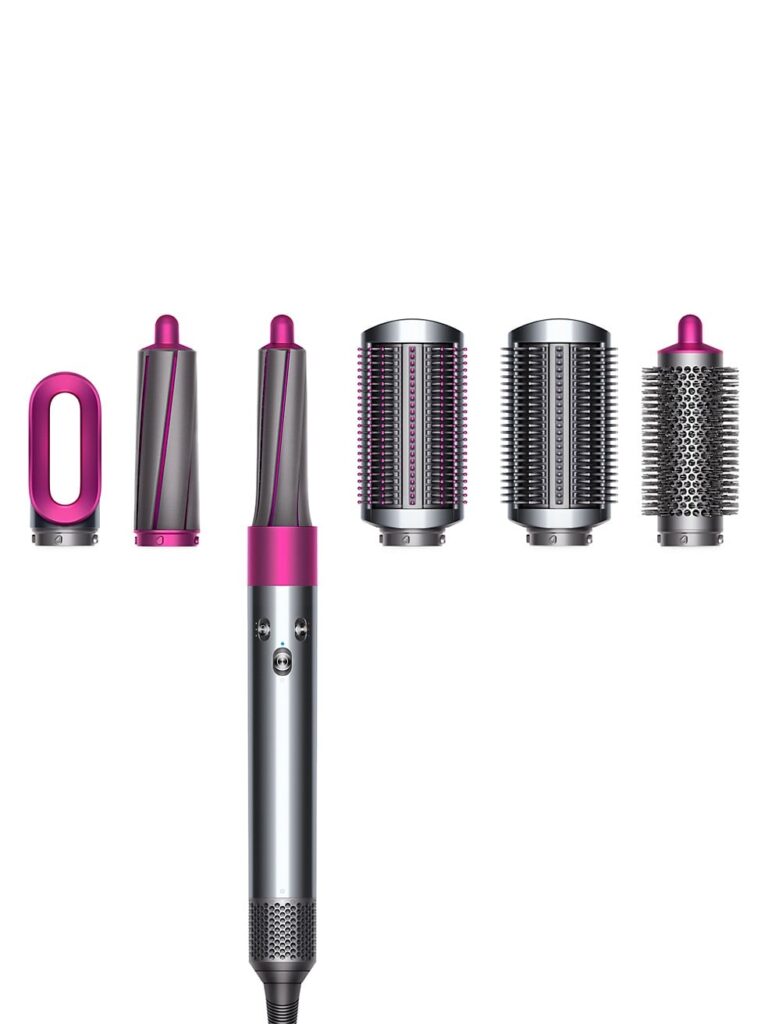 This high-tech tool can fulfill all your hairstyling dreams. Featuring Coanda air styling and propelled by the Dyson digital motor, you can change up your hairdo with no extreme high temperature. The smart heat control takes the device's temperature almost constantly so it can adjust and give your hair the right amount of heat.
Because it uses the Coanda effect, the Airwrap is a very easy tool to use — your hair curls itself around the barrel. The science behind it ensures smooth hair and prevents tangling.
What makes this such a great blow-dryer brush is the possible styles you can pull off without the heat damage many tools inflict. It can basically do your hair any way you want it with the different attachments.
On the other hand, this is a very expensive hairstyling tool and probably not a good investment if you don't style your hair often.
$41.99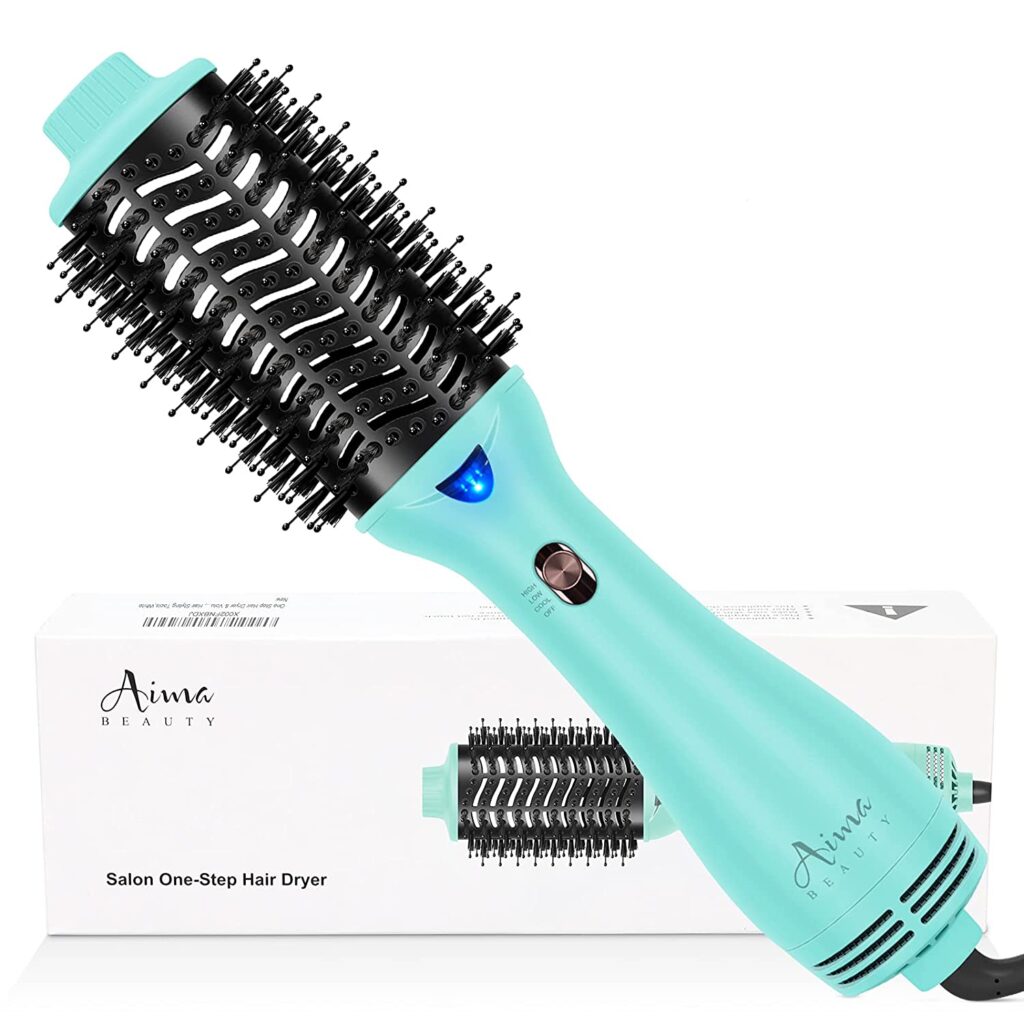 This hot air brush gets the job done in just one step, making it a great pick for busy people who want to make the most of their time. Its oval brush can style from your roots, so it's a good choice for fine-haired women.
This Aima Beauty brush is very easy to use, so you can style your hair and get out the door, even if you aren't an expert stylist. Plus, it doesn't come with a hefty price tag.
This may not be the right brush for you if you have short hair — this hot air brush barrel is pretty big, so you may have trouble getting your hair around it if you don't have long hair.
$89.99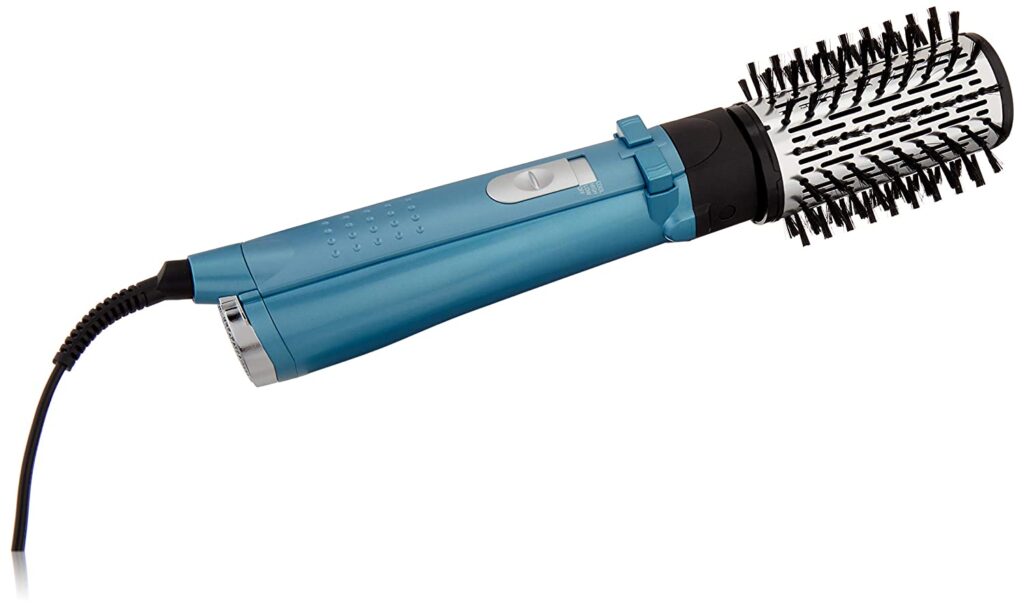 With its ionic technology and anti-static bristles, this particular hot air brush reduces frizz and increases shine with every brush. Plus, it's easy to navigate, making it a good buy for newbies of hairstyling.
This pick is well-loved both by amateurs and professionals, so you know it delivers. Plus, the brand is huge in the hairstyling industry, assuring you of its superior quality.
On the downside, you can only use this product once your hair is 80% dry, which means you can't use it straight out of the shower on wet hair.
$50.99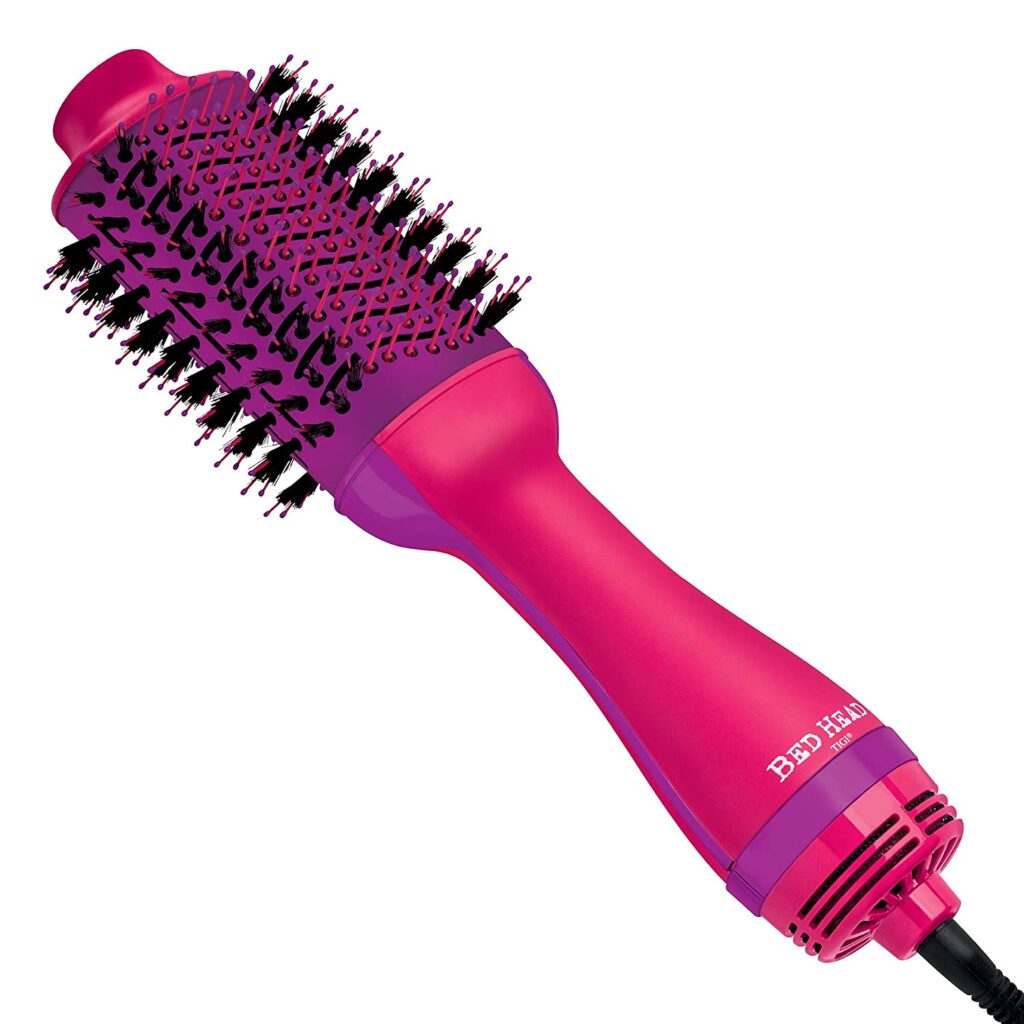 This hairstyling tool is designed to add volume from the roots and creates great volume in no time. If you're looking to amplify the oomph, this is your best bet to do so.
This is one of the best hot air brushes for giving a lot of life to your fine hair. So if you're looking for the most dramatic effect, this is a good choice for you.
However, you have to pay close attention while using this product. You wouldn't want your hair to turn brittle by too much heat.
$49.99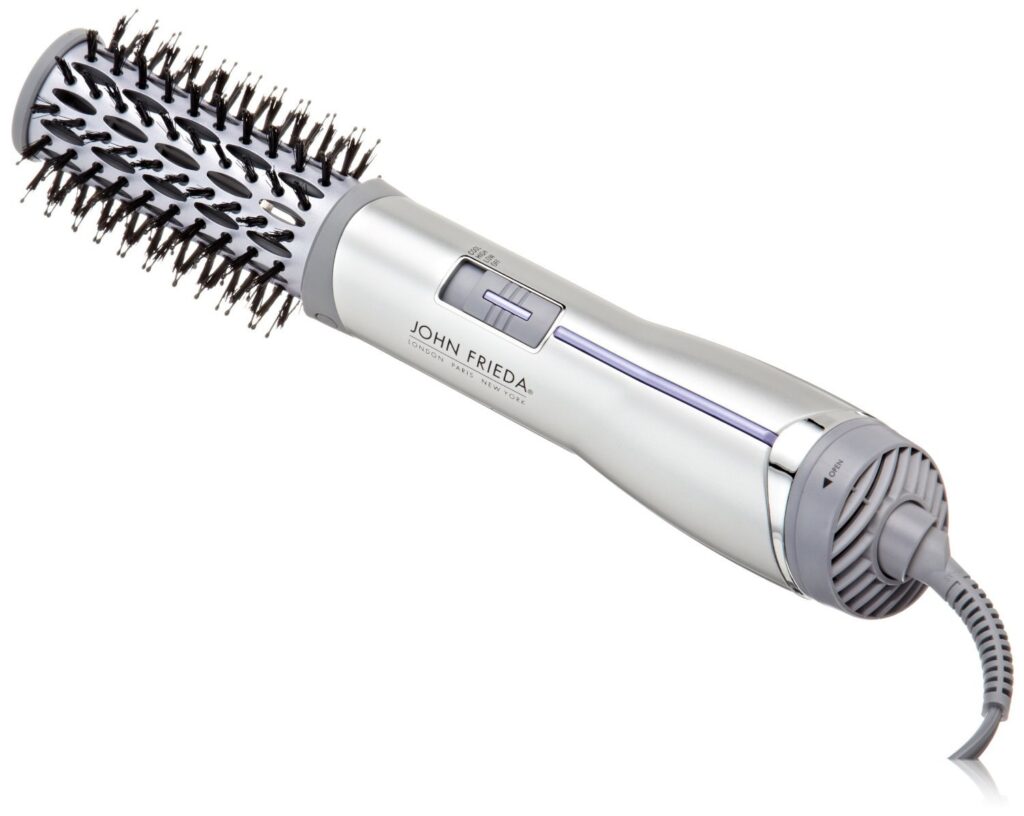 With a ceramic barrel that evenly distributes heat, this styling product features ionic power and gives you all the volume your fine hair needs.
This hairstyling pick fixes your frizz while fixing your style at the same time, making it a good hardworking styling option.
On the flip side, it can take a bit of time to create the hairdo you're going for, so if you're normally in a rush to do your hair, this might not give you the results you need given the time constraint.
Which One Will You Choose?
Every styling tool has a small learning curve and you'll have to take a little time to figure out how best to use whichever one you choose, but I hope this has helped you narrow down the best brushes for your fine hair!
In the end, all the effort will be worth it because you'll be able to give your fine hair extra volume for maximum confidence.
Looking for more hair tools? Check out the quietest hair driers or some of the best curling irons for long hair!