If you've got a lot of hair, you know getting through those gorgeous thick locks of yours can be quite the hassle. That's why you want to ensure you are using the best tools for your hair for effortless (or at least lower effort!) and effective styling.
Styling thick hair doesn't have to be hard or take hours of your time. It's amazing how hair technology has progressed, and there are fantastic options out there.
Knowing what features your hair needs is the first step. If you have coarse or thick hair, this list has some of the best flat irons for thick hair types!
What to Look for in a Flat Iron
There are flat iron options in a variety of price points, so your budget will dictate some of your choices. Consider how often you plan to straighten your hair. If you will use it all the time for years, you'll want to invest in a higher quality flat iron so it will last longer.
Straighteners can be used to curl your hair too. For a more versatile flat iron, go for one with slightly curved edges. This will give you a gentle curl rather than creating accidental stark creases in your hair.
Plate size can make a difference if you have thick hair (especially if it's also long!). Wider plates will cut down on the time it takes to straighten your hair.
While thin haired women need to worry about damaging their strands with high temperature and take more care when choosing a hair straightener, your thicker hair can withstand higher heat.
As long as your hair isn't prone to heat damage or frizz, shop for an iron with a higher temperature to make your styling process easier and faster.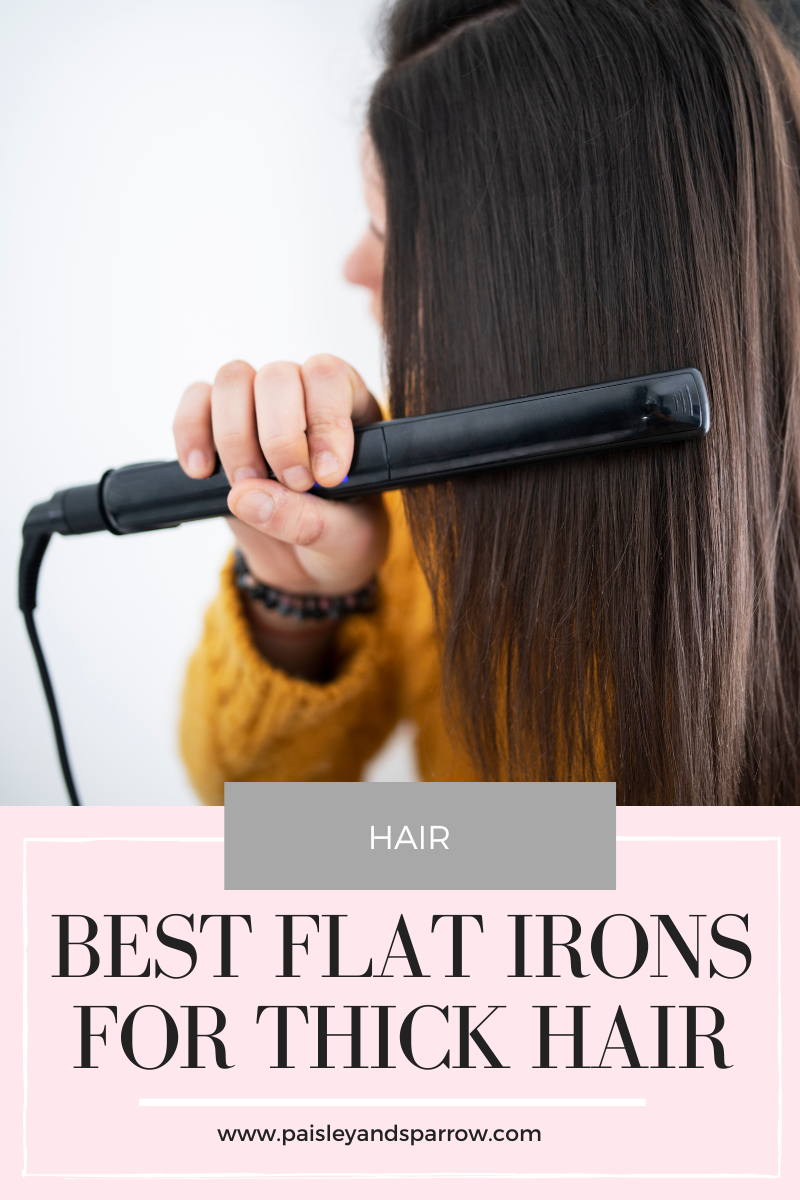 Paisley + Sparrow is a participant in the Amazon Services LLC Associates Program. This post may include affiliate links which means I may earn a small commission if you shop using the links below at no additional cost to you. 
What Type of Styling Iron Will Give You the Best Hair?
Are titanium or ceramic flat irons better for thick hair?
A titanium iron is one of the hottest irons you can use. This heat is what is going to permeate your hair and give you the desired hairstyle you want with a hot tool.
That's why titanium over ceramic is the best choice for thick hair types when it comes to styling with flat irons.
Is a titanium or ceramic iron better for frizzy hair?
If your hair tends to be frizzy, a higher heat produced by a titanium iron may cause more frizz and damage. This is why a ceramic iron is the best pick for frizzy hair.
If you have thick and frizzy hair, a ceramic iron with a high-heat setting is the best for that hair type. There are also irons made with both ceramic and titanium plates, and you can find an iron like this at the end of my best flat irons list, so stick around!
Like all things, your hair is unique to you! If the first flat iron you try doesn't do the job, don't be afraid to try another one!
12+ Best Flat Irons for Thick Hair
This flat iron comes in a bright and beautiful turquoise color and extra-long titanium plates that covers more hair surface with better heat distribution.
It also has a 9-foot cord, which makes it an accessible styling tool for most areas in your home. If you have thick hair, this is a fantastic pick for styling with a flat iron.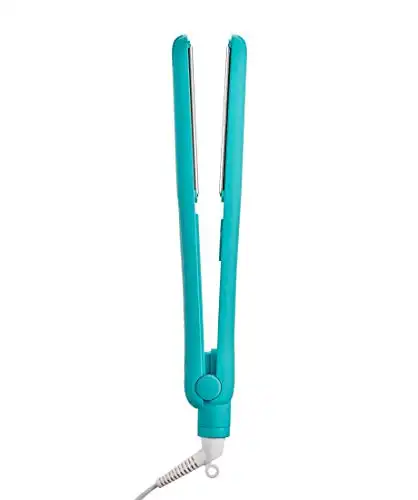 We earn a commission if you make a purchase, at no additional cost to you.
Pros:
Extra-long floating plates
Ergonomic grip
9 ft cord
Max temperature: 430 degrees F
Cons:
May not keep hair style for a long time
As a close runner up and more affordable titanium flat iron option is this Kristin Ess flat iron that also uses ionic technology on your hair.
Because titanium plates heat up faster and better, this iron works amazingly on hair types that have more styling needs and outperforms ceramic plates in this category.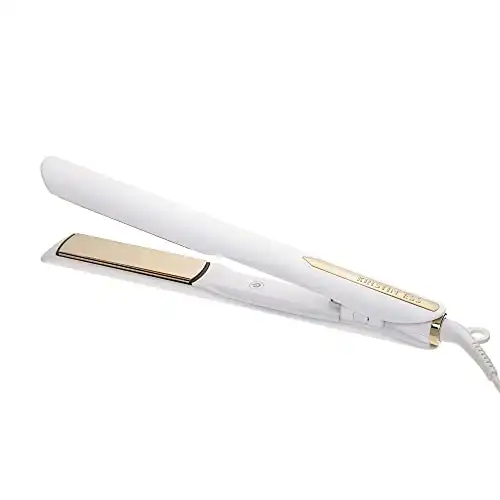 We earn a commission if you make a purchase, at no additional cost to you.
Pros:
Great price
Automatic shut-off
Ionic technology
Max temperature: 440 degrees F
9 ft cord
4 heat settings
1 minute heat up time
Cons:
Can't set temperature to anything other than the 4 temperatures programmed
3. Best Ceramic Flat Iron: NuMe Megastar Flat Iron
Made with tourmaline ceramic, this flat iron uses ion conditioning technology for added shine and floating plates for easy hair styling. It shuts off automatically after 60 minutes, uses dual voltage, and comes in three different color choices on Amazon. You will get salon-quality styling with this ceramic flat iron.
I own this one and let me tell you, it's magic! It gives you the most flawless finish, has kept my hair healthy, and heats up quick.
NuMe Megastar Hair Straightener
The Megastar is a versatile hair styling tool that will give you the results you crave, without the damage!
*Use the code Paisley for 10% on Nume's website!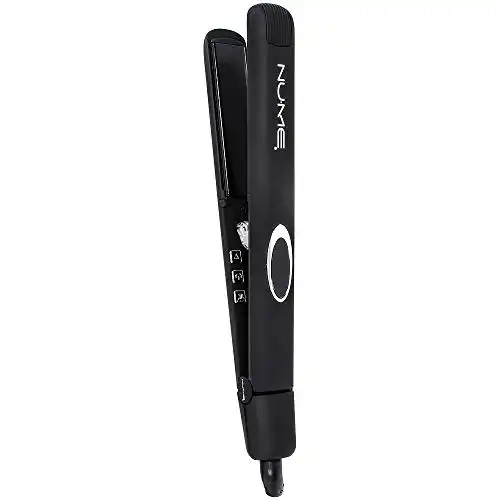 We earn a commission if you make a purchase, at no additional cost to you.
Pros:
Ion conditioning technology
Infrared heat
Dual voltage
Floating plates
Automatic shut-off
Cons:
There is nothing more frustrating than combating frizzy hair, especially when you're trying to get sleek smooth hairstyles. Finding a styling tool that actually works to reduce that frizz is essential, but a tricky task. That's why I've done the homework for you.
This one comes highly rated and for good reason! It effortlessly glides over your strands, adding shine and reducing frizz. This iron works on all hair types but is especially great on thick and coarse hair.
HSI Professional Glider
The HSI Professional Glider creates dramatic results on even the frizziest coarsest hair; to quickly straighten, flip, and curl with minimal effort. Simple & fast.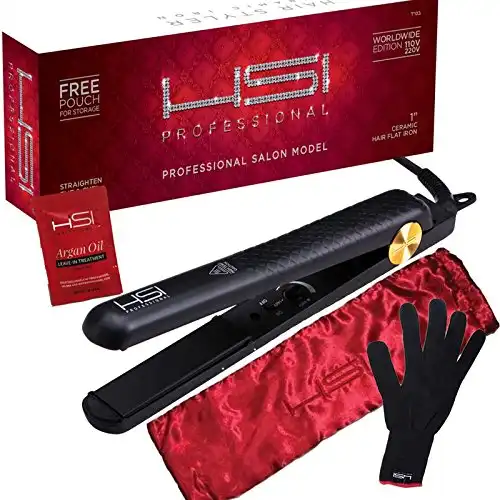 We earn a commission if you make a purchase, at no additional cost to you.
Pros:
Adjustable heat
Doesn't snag
Micro-sensors
360 swivel cord
Dual voltage
Cons:
CHI flat irons have been some of the most reliable flat irons for years, and this one is a great budget hair straightener for quality styling and durability. Seriously, some CHI users have said their irons lasting up to 10+ years if used properly!
CHI gives you a bang for your buck, which is why it's my best budget pick. It's a fantastic ceramic flat iron for thick and curly hair, straightening one section with just one swipe. The curved floating plates give you the option to straighten or curl with this flat iron.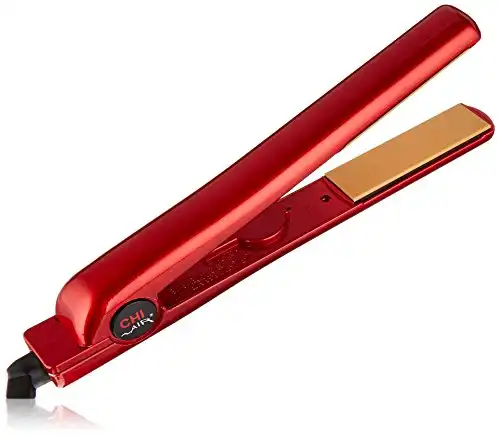 We earn a commission if you make a purchase, at no additional cost to you.
Pros:
Comes in fun fire red color
Adjustable heat setting dial
Dual voltage for travel
9 ft swivel cord
Curved floating plates
1 hour auto shut-off
2-year warranty
Cons:
If you're wanting to splurge on a styling tool, this one from T3 is amazing! Most flat irons are made with 1-inch plates, but this one has 1.5-inch plates, which adds greater heating and styling power, covering more of the hair's surface.
It's designed with thick and coarse hair types specifically in mind. Wider plates mean your hair will be straight faster!
T3 Singlepass Styling Iron
Internal microchip maintains ceramic plates at even temperature, sealing the cuticle for a smooth, shiny finish.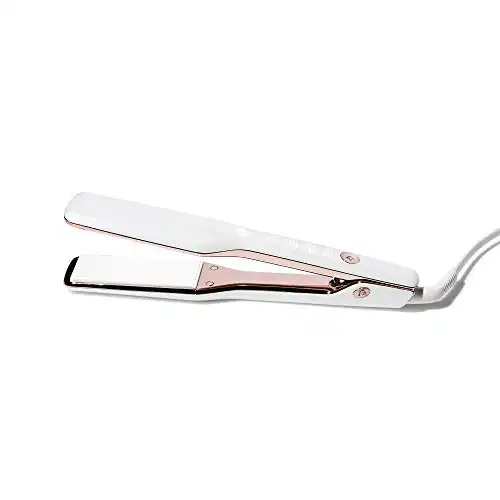 We earn a commission if you make a purchase, at no additional cost to you.
Pros:
Great for thick hair
Wide plates
1 hour automatic shut-off
5 adjustable heat settings
World voltage for travel
Ergonomic grip
2-year warranty
8 ft swivel cord
Cons:
For super demanding, coarse, coiled, or thick hair, opting for an iron with wider plates will give you better and easier results. This iron is made with extra wide plates to give you a sleek and straight finish, for even the unruliest of hair.
Some users have reported this iron lasting up to a decade, so it's a worthy investment for the price.
Pros:
Wide plates
Auto shut-off
Long swivel cord
One control button
Max temperature: 450 degrees F
Cons:
Like the concept of wider plates, longer plates also cover larger amounts of the hair without having to go over the same surface multiple times, which causes damage and breakage over time. This iron has extra-long titanium plates, and is great for thick and fine hair.
INFINITIPRO BY CONAIR
This flat iron has 1 inch extra long, floating titanium plates for better contact and faster styling. Ceramic and titanium technology protects against heat damage and controls frizz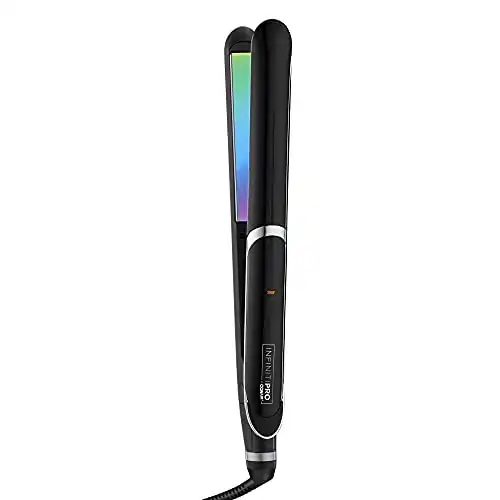 We earn a commission if you make a purchase, at no additional cost to you.
Pros:
Long plates for better surface coverage
Beautiful rainbow plates
Auto shut-off
Max temperature: 455 degrees F
6 ft cord
Cons:
May snag hair more easily
Harder to style with short hair
For on the go and travel, or even just for convenience at home, a cordless flat iron is a must! This iron gives you 45 minutes of cordless styling and can easily be plugged in for later use.
Because it's made with titanium plates, its heat distribution will cover any of your thick hair needs, and with a whopping 25 heat settings, you can have full control over your hair's styling.
Lunata Cordless Flat Iron
Combining luxury, design and innovative technology, we present the first full-size cordless flat iron to reach 450 degrees, engineered to move effortlessly with you from home to work, to the gym, when travelling or on the go.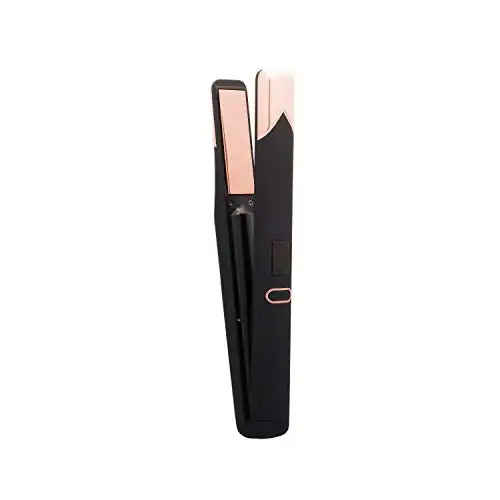 We earn a commission if you make a purchase, at no additional cost to you.
Pros:
1″ titanium plates
45 minutes of cordless styling
25 adjustable heat settings
Max temperature: 450 degrees F
1 minute heat time
Dual voltage
Cons:
Plates are shorter than normal
A bit pricey
This a cult classic flat iron with many positive reviews for all hair types providing sleek and shiny results. The ceramic plates hold a steady heat, creating smoothness and shine for your hair. Comes with several features and in a chic black or soft pink color.
Ghd Original Styler
Single-zone™ ceramic technology pre-set to the safer-for-hair temperature of 365°F holds style with no extreme heat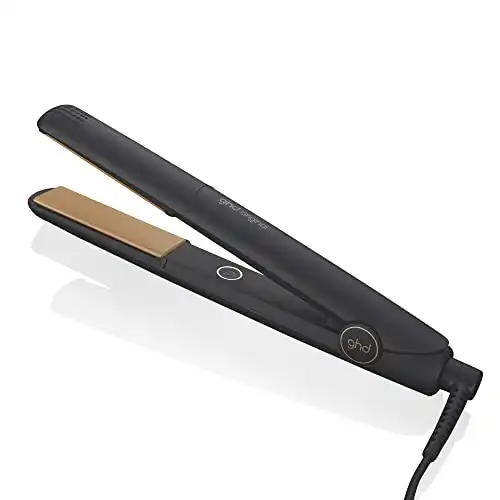 We earn a commission if you make a purchase, at no additional cost to you.
Pros:
Round barrel
Floating plates
Ceramic heat
8.8 ft cord
Heats up in 30 seconds
Automatic sleep mode after 30 minutes
Universal voltage
Long-lasting flat iron
Cons:
11. Best Iron for Styling: T3 Lucea
This iron is amazing for styling and creating frizz-free results. It's made with curved ceramic plates, which help with snag-free styling, and it will give your locks a gorgeous and glossy finish. It's suitable for all hair types, but it especially tackles frizzy and thick hair.
T3 Lucea 1.5" Professional Flat Iron
T3 Rapid HeatIQ® Technology delivers advanced heat precision in 9 digital heat settings to straighten or style long, thick or coarse hair in just one pass. Less frizz. Less damage. More style.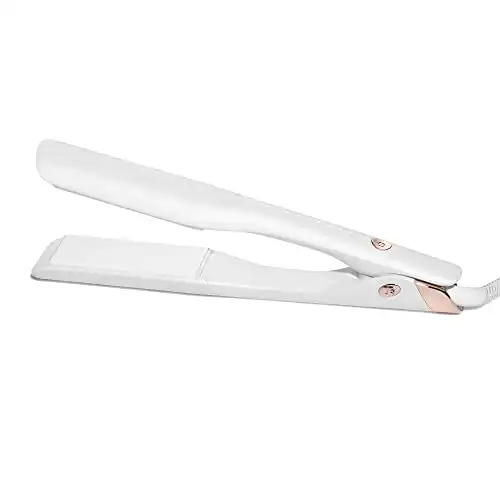 We earn a commission if you make a purchase, at no additional cost to you.
Pros:
9 heat settings
Curved ceramic plates
Salon quality
HeatIQ
CeraSync Heaters
2-year warranty
Cons:
Too thick for short and thin hair
This one has a mix of both ceramic and titanium plates, so you get the best of both worlds! The titanium gives your thick hair the heat intensity it needs, while the ceramic will give shine and sleekness to your hair and reduce any frizziness.
It's also designed with 1.5″ wide rounded plates, so this will make styling easy and also keep your hair from snagging. The price is fabulous for a Hot Tools flat iron and for what it offers. Definitely a high quality and effective pick for thick hair!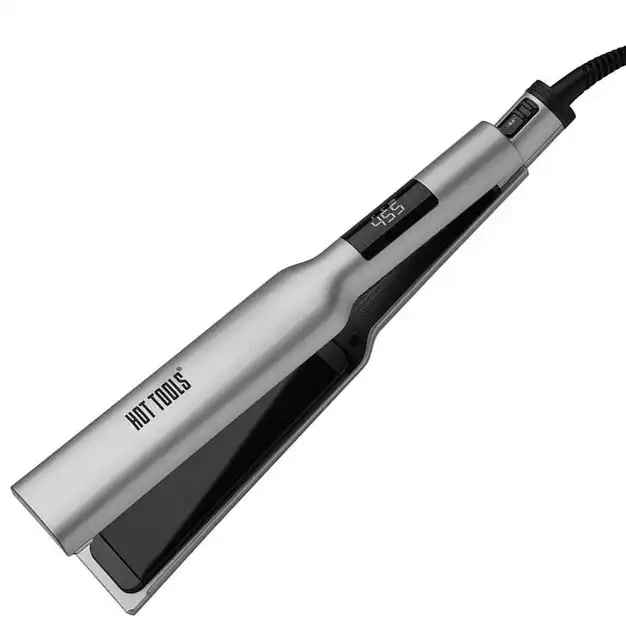 We earn a commission if you make a purchase, at no additional cost to you.
Pros:
Ceramic and Titanium plates
Auto shut-off
Dual voltage perfect for travel
1.5″ wide plates
Amazing price
26 adjustable heat settings
6 ft swivel cord
Rounded plates for effortless styling
Cons:
Could dry out and damage hair if heat settings are not used properly
When you're straightening your hair, you want to be sure you use a good product to help you get that sleek, smooth style! Here are the best hair straightening products to use before you grab your flat iron.
And here's how to use your straightener to curl your hair.
Just want to mix up your color? Try hair chalk!