Feeling a little dreamy? Bring your manicure along for the ride with a cloud nail design! Cloud nails are fun and whimsical and will fit any daydreaming mood.
If you need some inspiration for your next cloud manicure, I've got you covered! We've rounded up some of the most unique designs for both short nails, long nails and acrylic nails. as well as to DIY or show at your next nail appointment!
The best part about doing your nails is you can constantly switch them up! Bookmark this page and reference it every time you want to switch up your nails.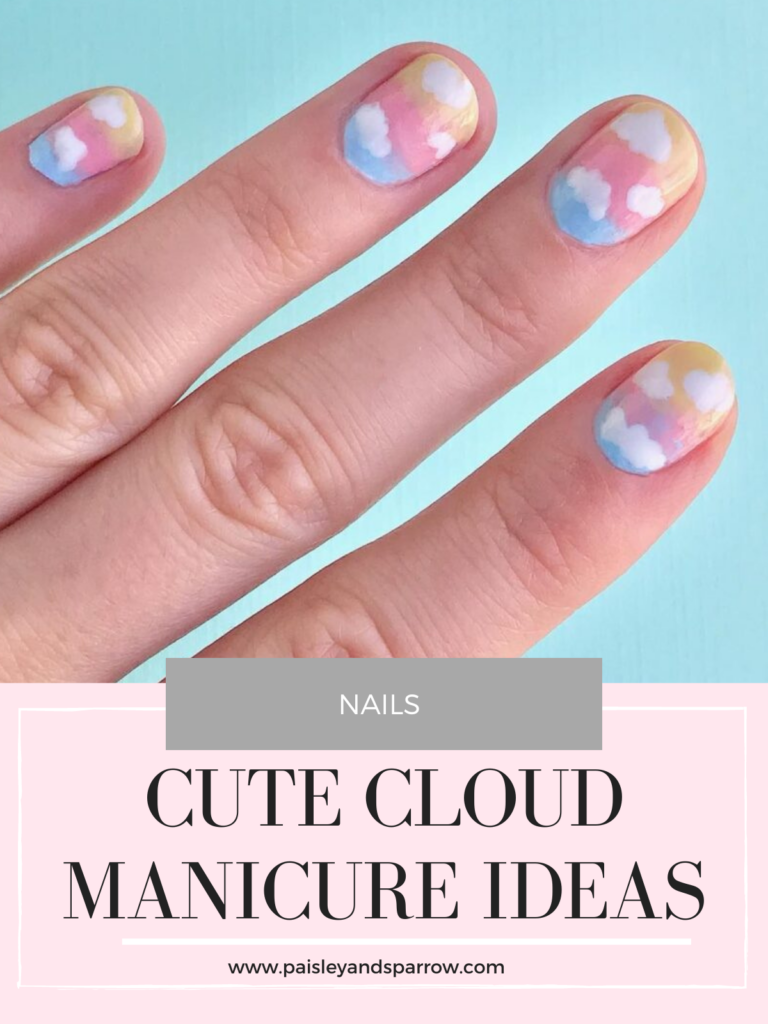 17 Cloud Nail Designs
Many of the designs below use Olive and June nail polish colors. Check out my Olive & June review with a coupon code here! If you don't use their polish, I definitely recommend trying out their top coat. It's the best top coat I've used for a chip-free manicure!
1. Wispy Iridescent Clouds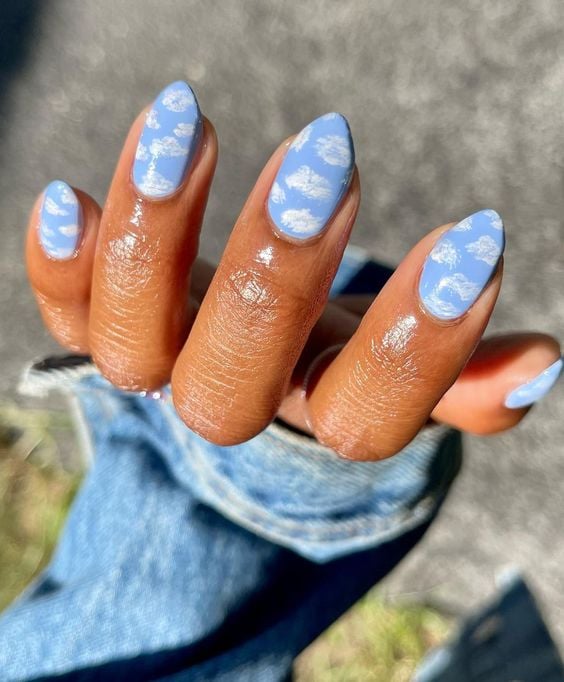 Have the perfect sky blue nail polish? Turn it into a cloudy sky! Paint your blue as the base and use an older brush to dab on little clouds.
2. Grey Clouds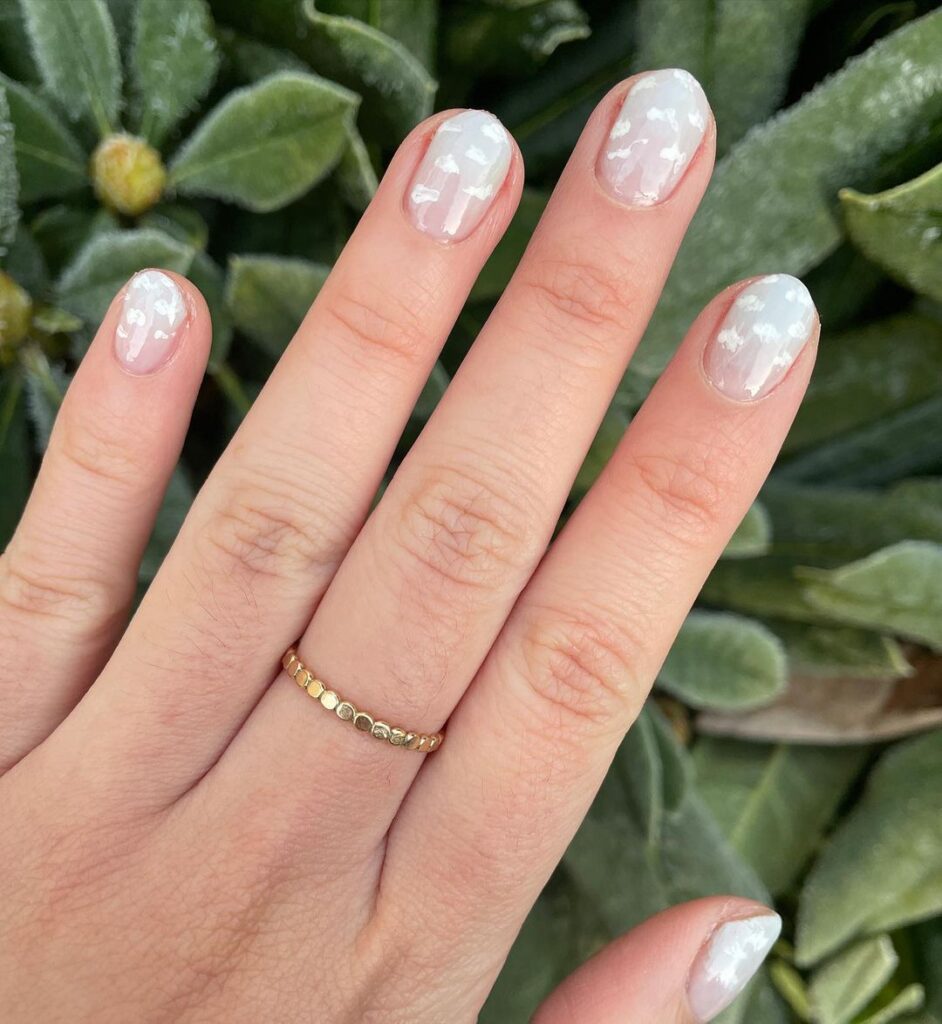 Make a subtle gray ombre for your cloud background to give it a bit of a foggy look. This is a great neutral nail with just a little twist.
3. Classic Blue and White Clouds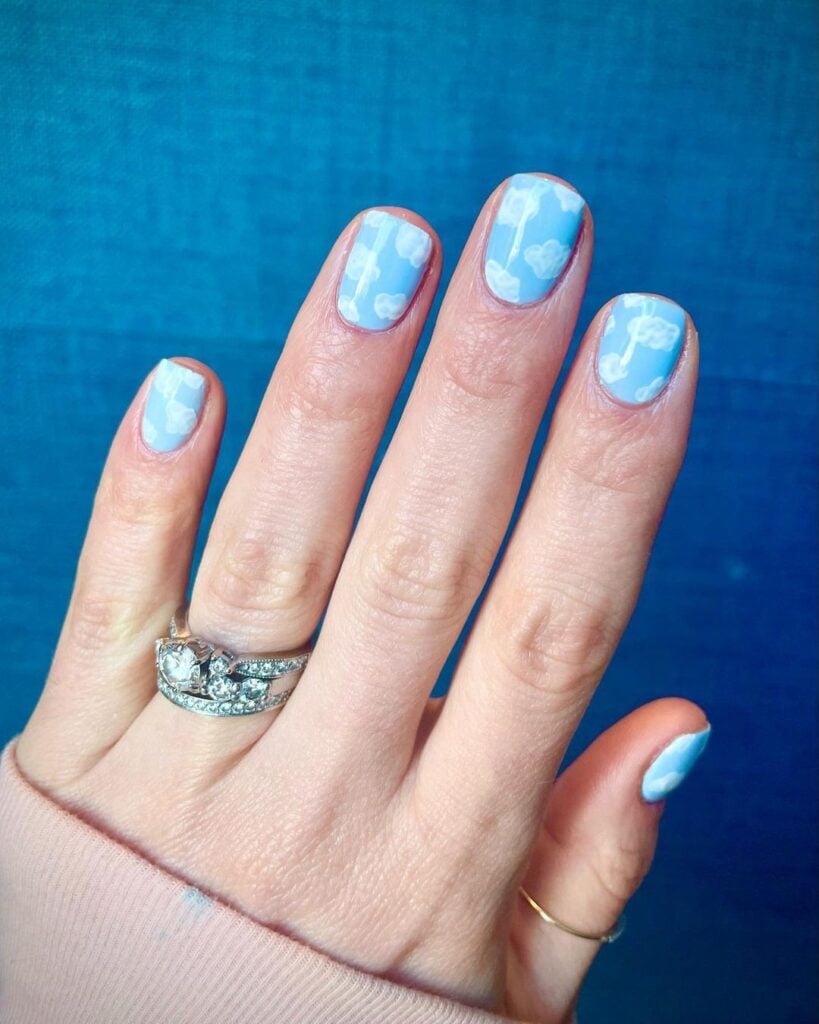 image via paintbynaptime
Do more heavy dots than lights strokes with your white polish to get big fluffy clouds. These have me dreaming of blue-sky spring days.
Colors Used: Blue Sky Global – 80596 Creeksidem Paint 02- White, Base 01, Top 01, BN 012
4. Ombre Clouds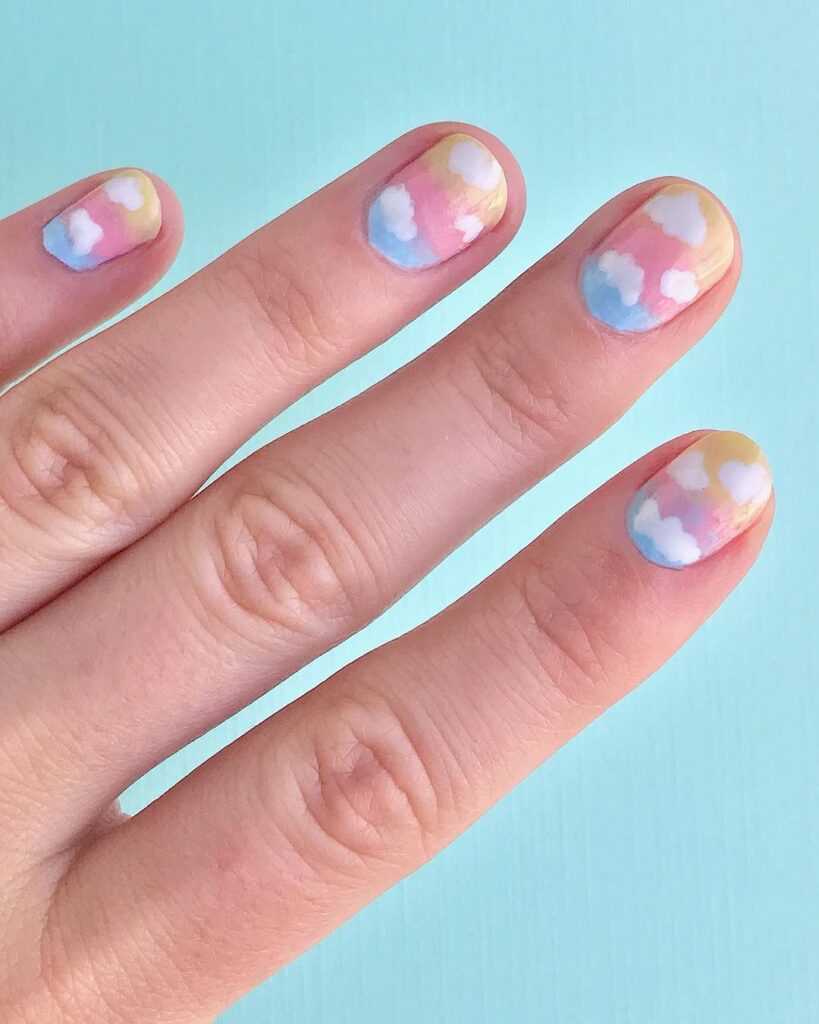 Capture your favorite sunsets on your nails by making an ombre with blue, pink and orange. This dreamy cloud manicure will brighten your day!
5. Clouds and Rainbows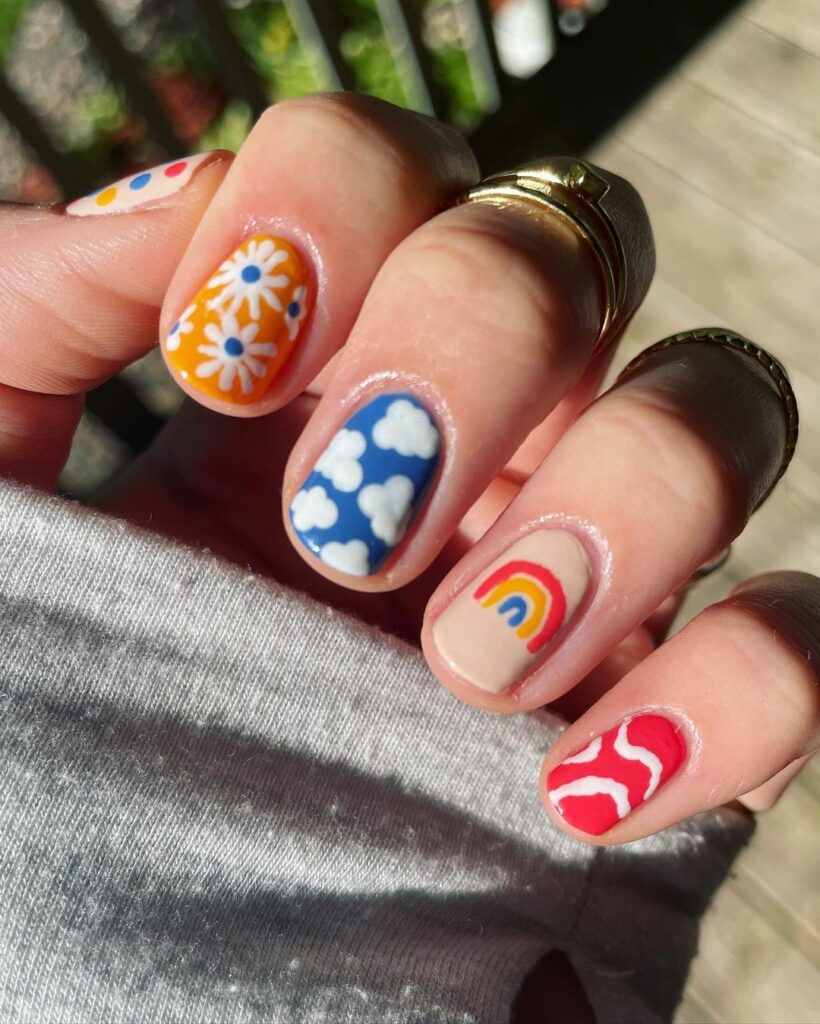 What goes better with bright blue skies than rainbows and flowers? This funky retro mix of nails is so much fun, and you can do it with whatever color scheme you want.
6. Cotton Candy Clouds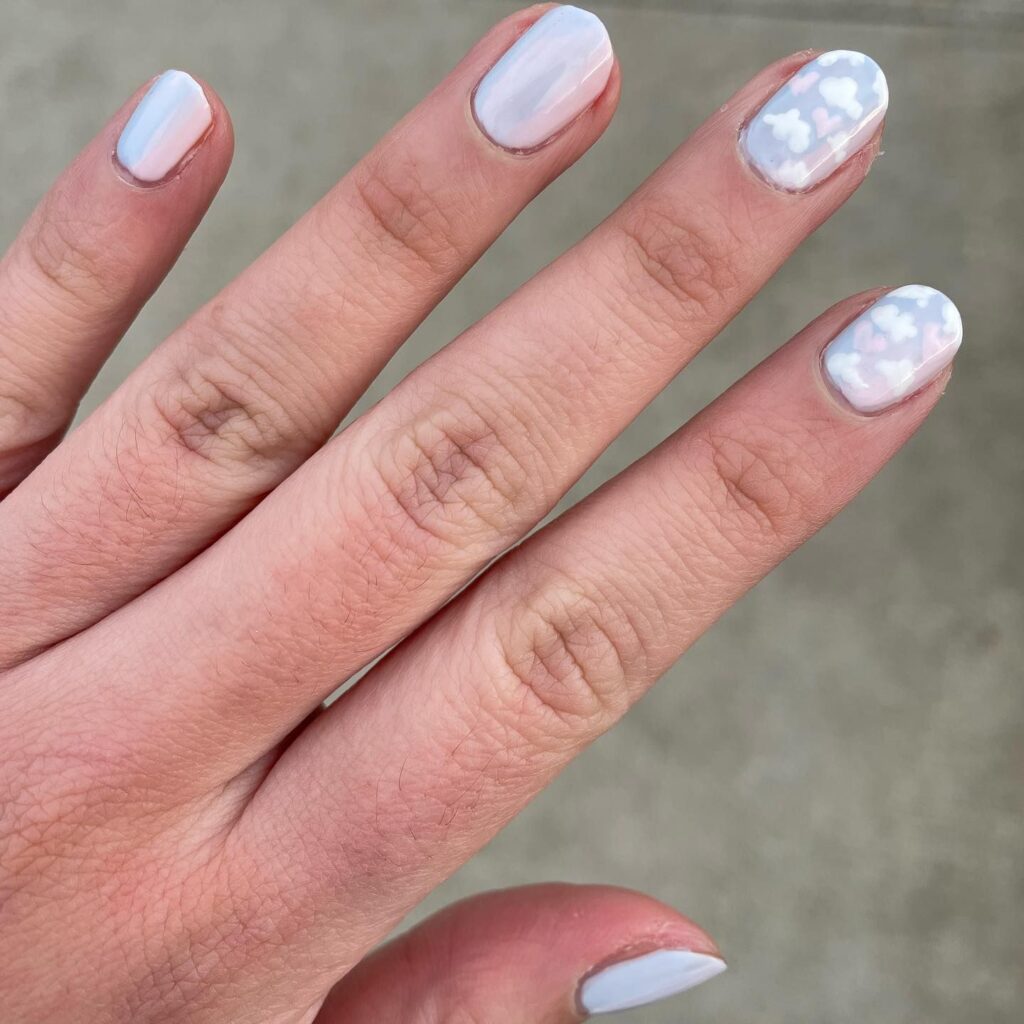 Mix a few hearts in with your fluffy clouds on a pink-purple background. This is a good reminder you don't have to do clouds on every nail and you don't need a sky blue base for the perfect cloud mani.
7. Rainbow Ombre Shimmer Clouds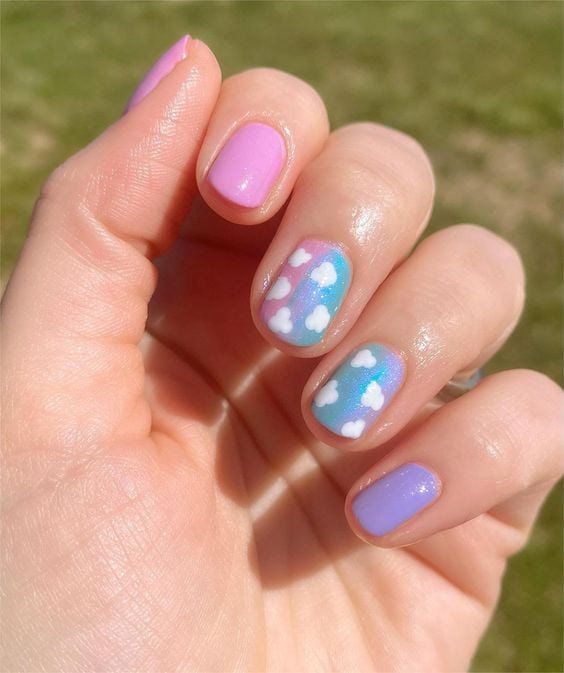 Talk about cotton candy skies! Use pink and purple along with blue to create the sweetest cloud manicure possible.
Colors: Olive and June Fierce & Loving, Yes Please, Bold & Unshaken, Pink Goldfish layered on middle and ring, and then all topped with Cosmic
8. Pink Skies and Clouds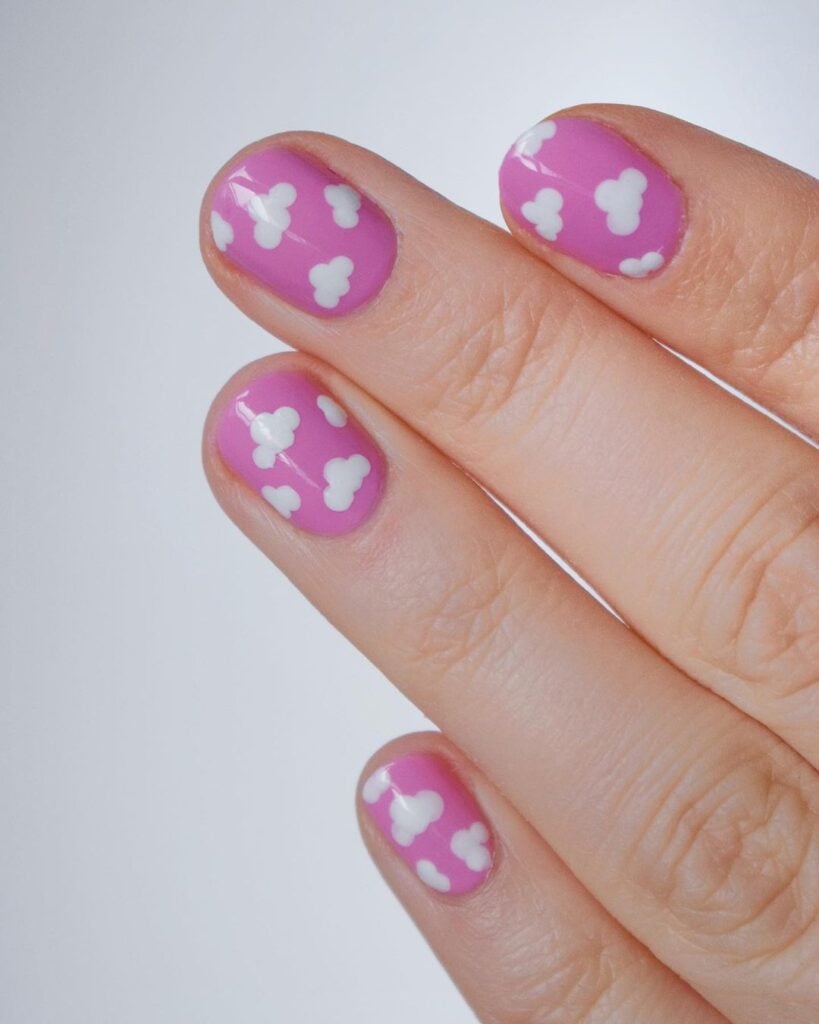 You don't have to feel stuck with blue polish! Use any color you love. Then you can use a Q-tip or dotting tool to make your clouds.
9. Blue Tip Cloud Nails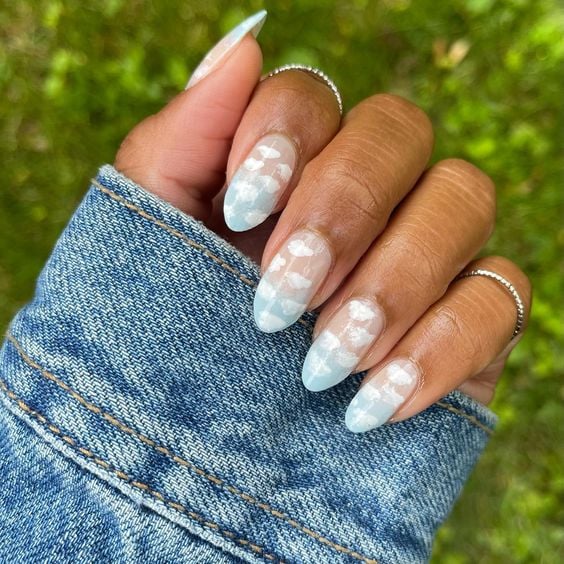 Give yourself a light blue French tip for a fun twist. The simple cloud design looks classic and stylish next to the French tips. This is great for long nails especially.
10. Clouds and Sun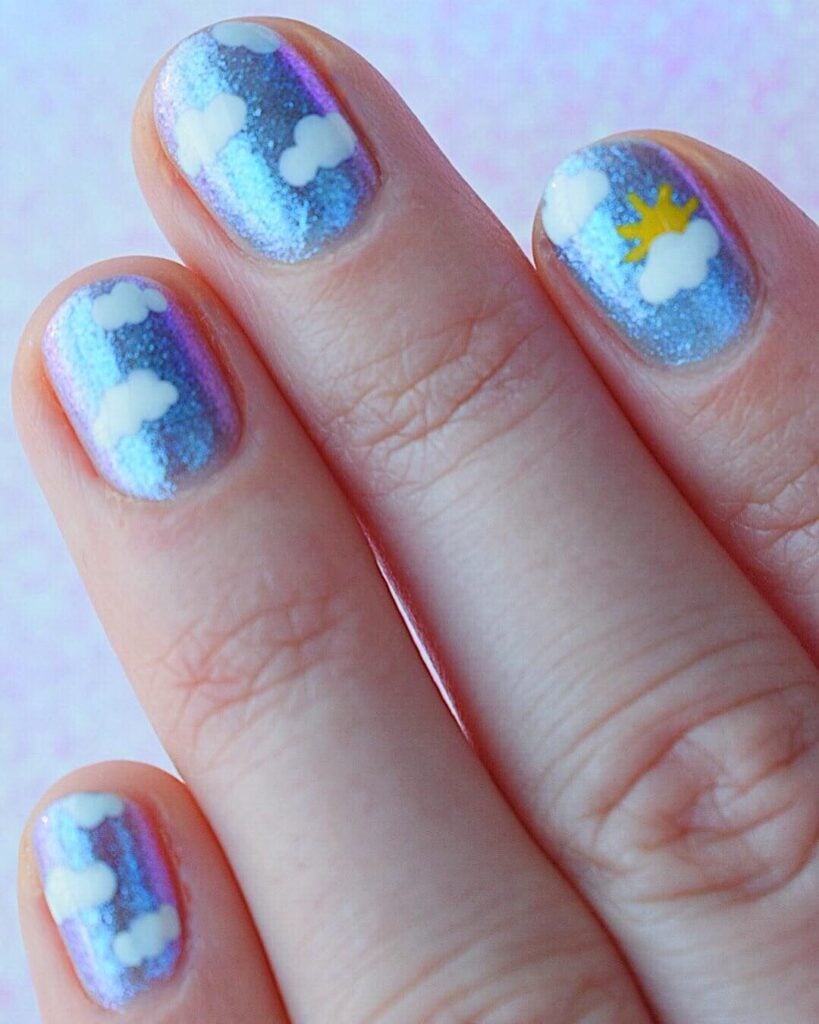 Don't forget a little sunshine in your cloudy day! Use your nail tools to add a small sun peeking out from behind one of your clouds. Make the mani even brighter with a cute glitter nail polish base!
11. Shimmer Clouds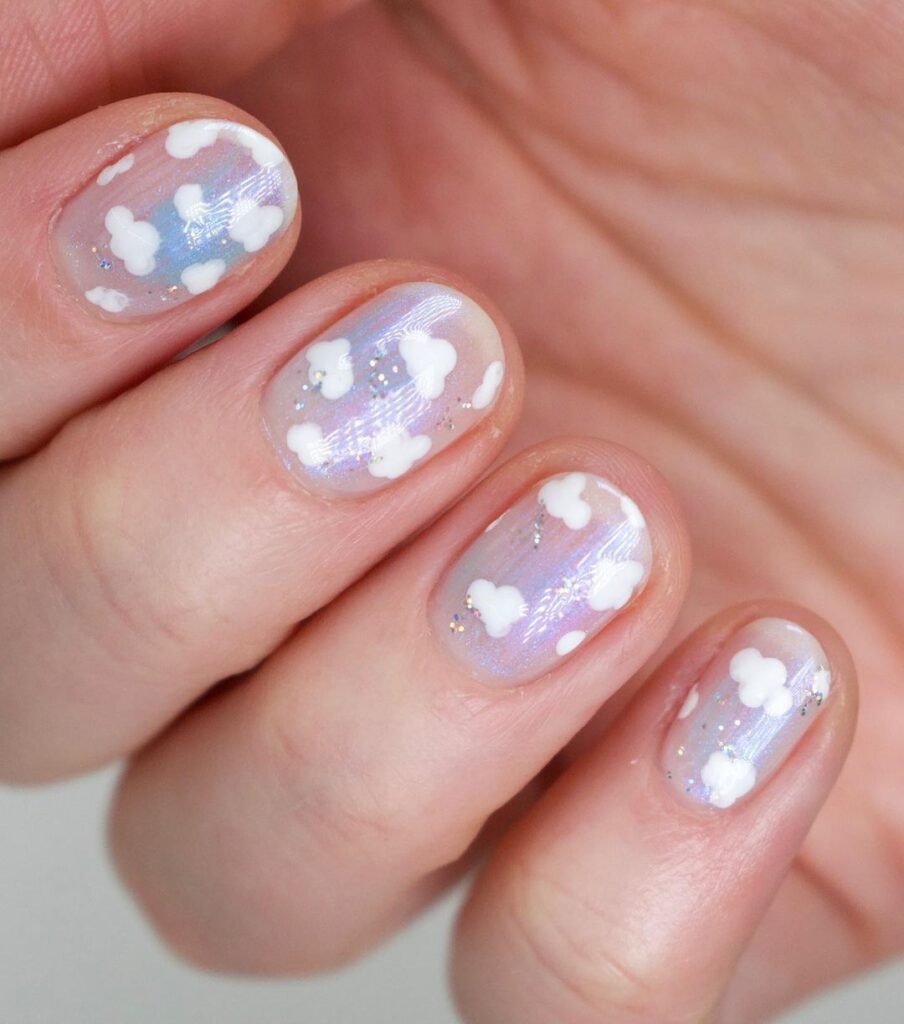 A little glitter and some hints of your favorite colors make a magical manicure. I feel like a unicorn could pop out from one of the clouds at any moment.
This is a great option for short nails as you can see. If you want other short nail designs head here!
Colors: Olive and June – ridge filler, BEB, Yes Please, Fierce and Loving, Pink Goldfish, HD, Exclamation Point
12. Accent Nail Rain Cloud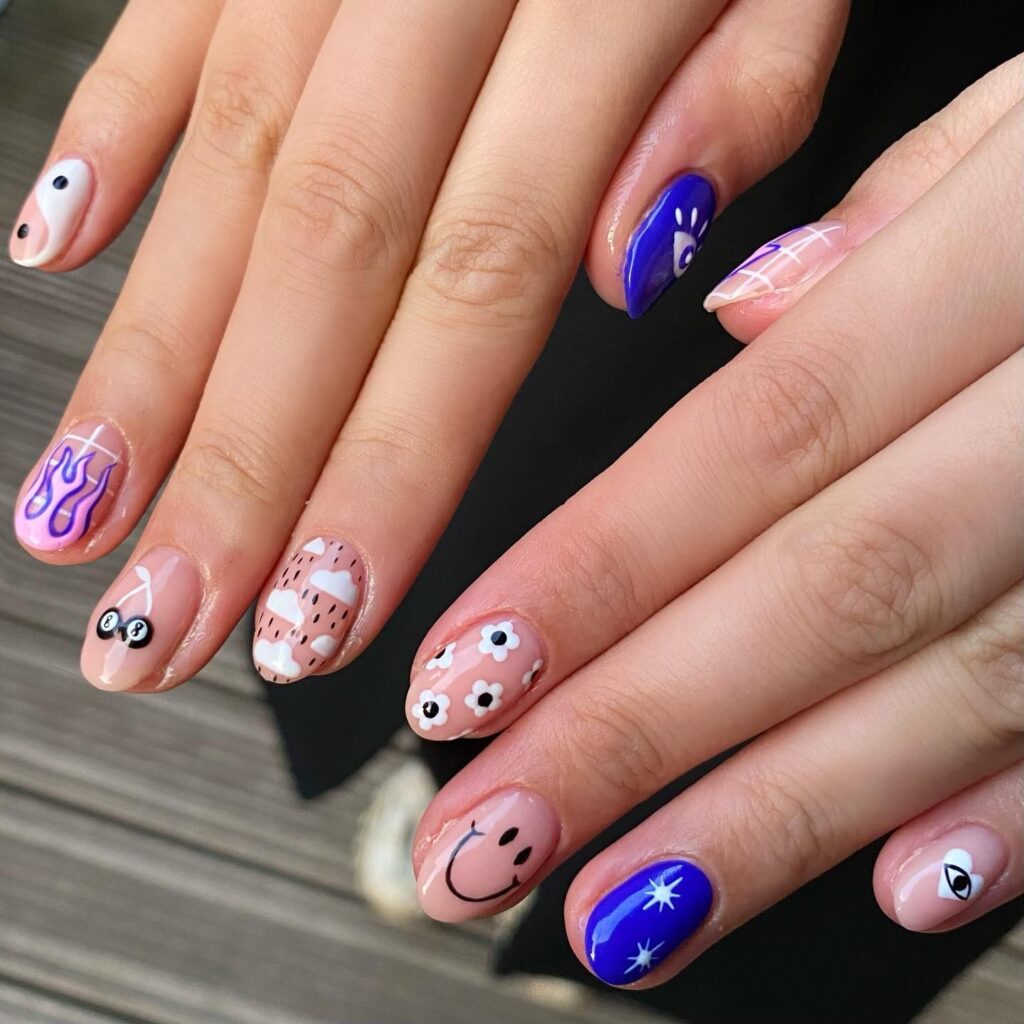 Your cloud nail art designs can be just one design among many! You can paint rainy clouds on a nude background if you want only a few pops of color on your other nails. I love all the adorable nail designs on this one manicure!
If you love nude nails, check out other nude nail designs on this post.
13. Ombre Cloud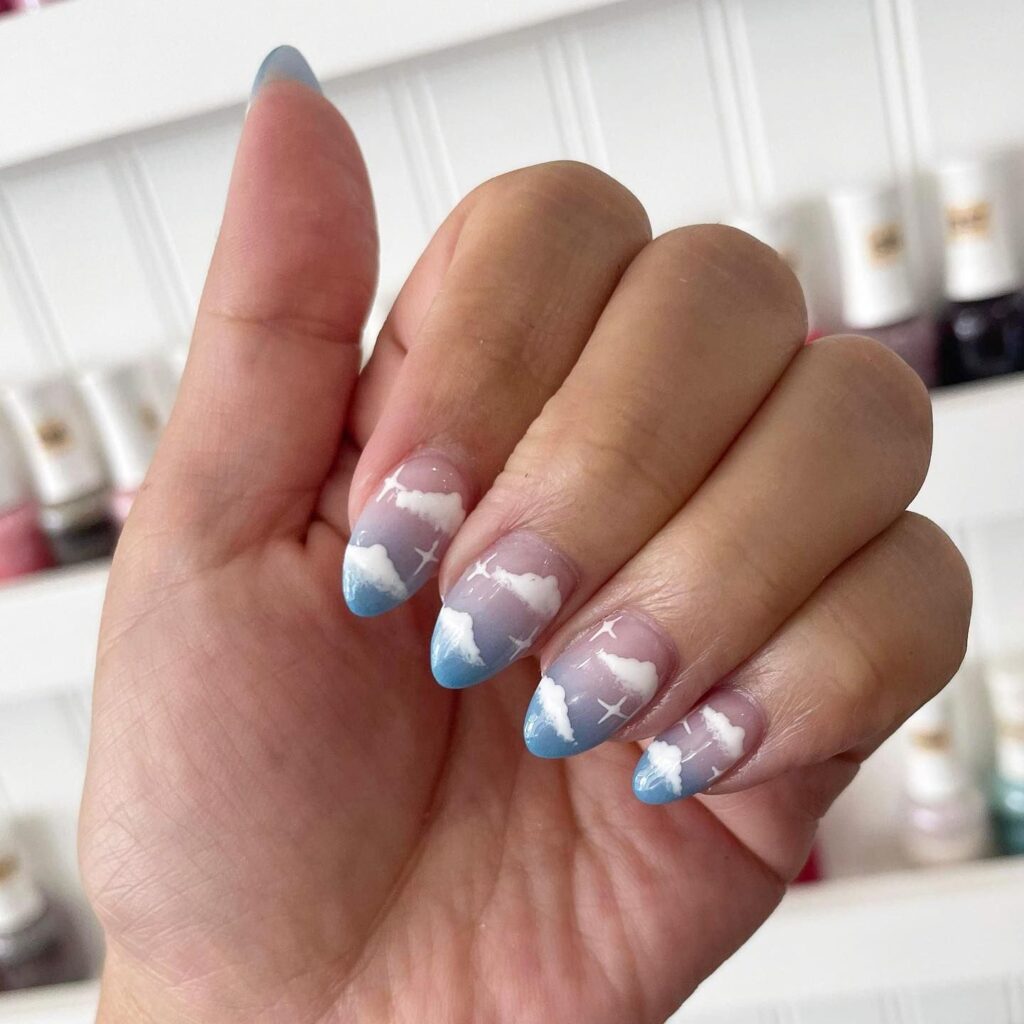 This ombre blue nail makes a dreamy background; it reminds me of twilight falling. Add some easy star designs to complete the look: Use a dotting tool to make a small dot, then pull it with a toothpick or tool to make a cross shape.
Ombre is always a fun option for nail designs – you can check out other ombre nail designs here!
14. Raincloud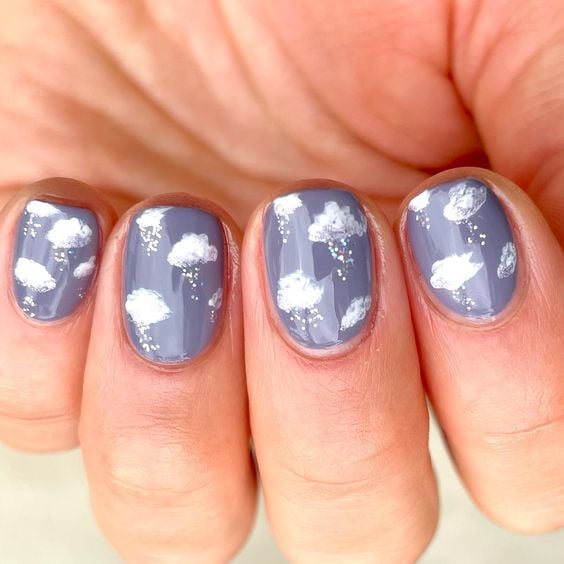 Rain clouds don't have to be gloomy! Make it rain glitter! Paint your nails a solid blue-gray color and brighten it up with some silver glitter rain.
Colors Base: lunar by Olive Ave Polish, Clouds: HD by  Olive and June, Cloud accent: every cloud has a sparkle lining by Huella Beauty (use code paisleysparrow for a discount!), Rain: exclamation point by Olive and June
15. Summer Clouds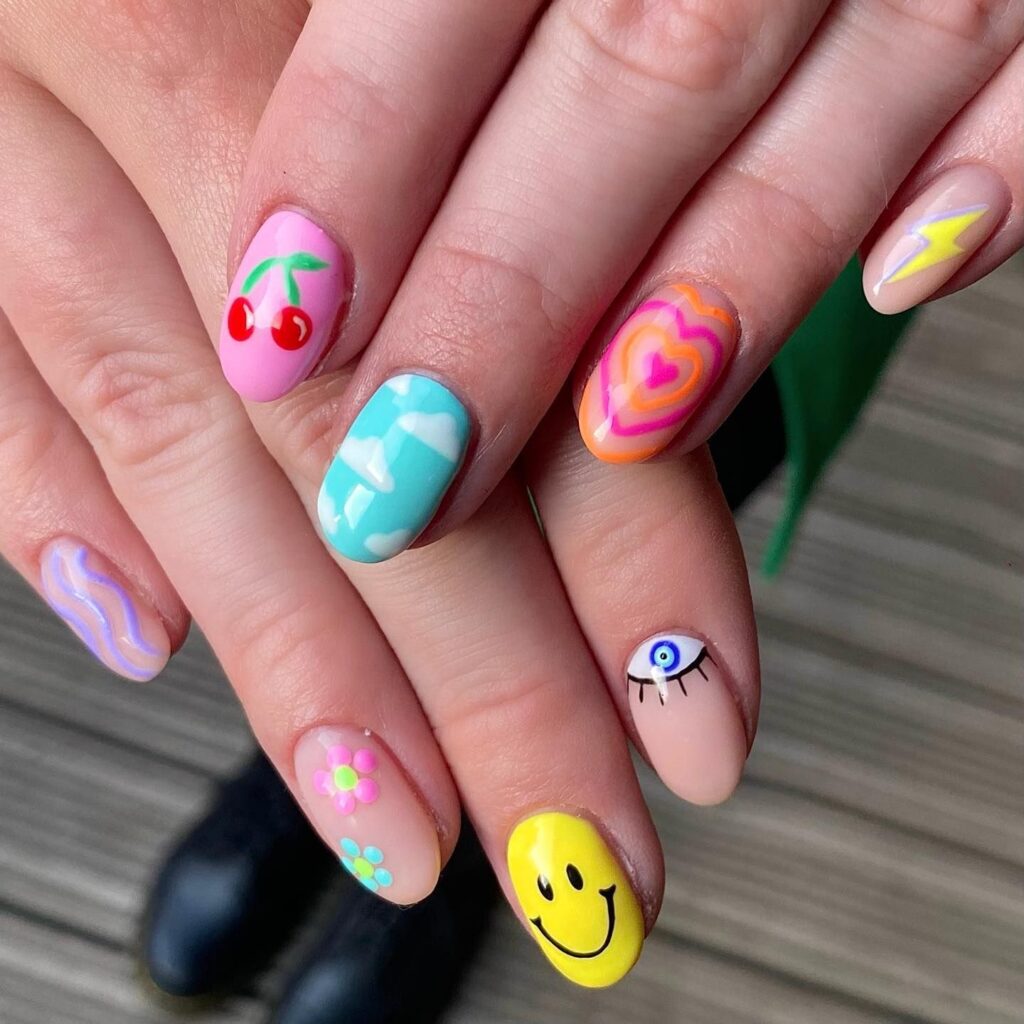 Giving yourself an eclectic summer mani? Include some bright blue skies with a few cute clouds!
These summer nails are likely one to be done by professional nail artists to get that perfect cloud shape. (I also love the lightning bolt to go with the clouds!)
Love these? Check out other fun neon nail manicure ideas here!
16. Ombre Clouds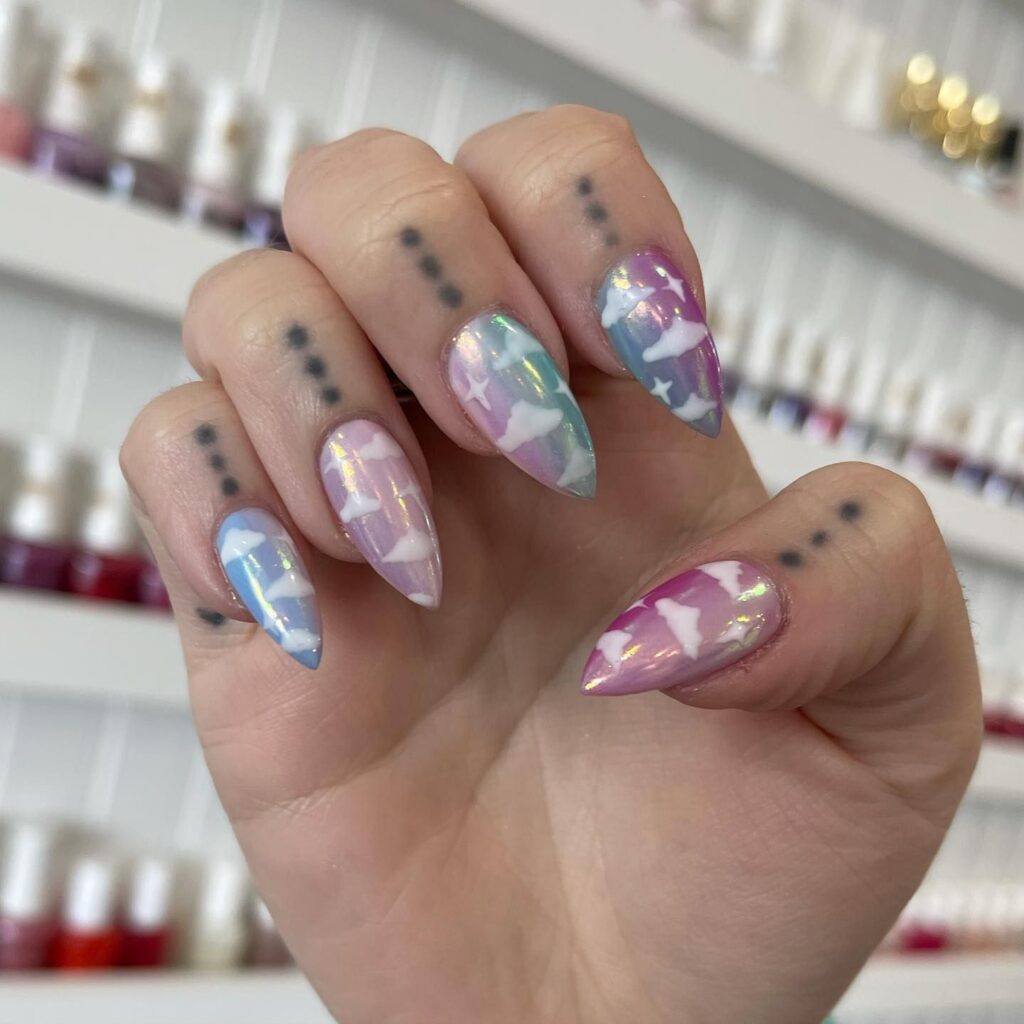 Clouds look great on any background and nail shape! This iridescent ombre is such a fun take on the clouds nail trend.
17. Purple Cloud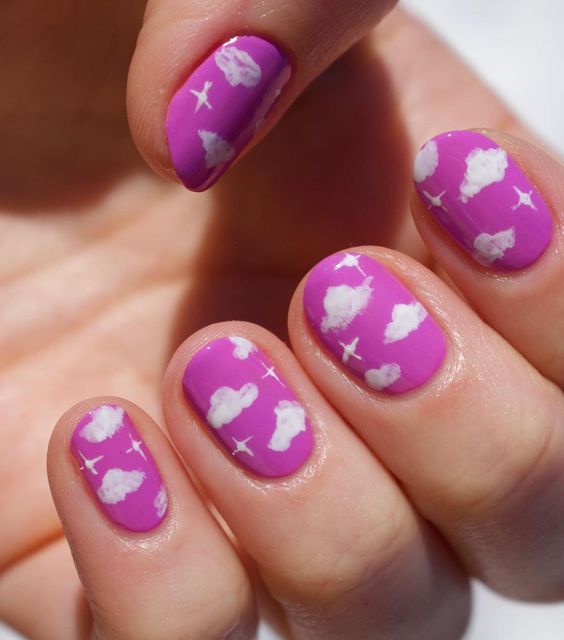 Brighten up your puffy clouds mani with a bright pink sky! You can choose the color of your base nail polish to fit your mood, style, or outfit — it's a really versatile style of manicure. There's no wrong way to do it.
Colors from  Olive and June: Jam Please and Hd
I hope you've found some dreamy inspiration that'll keep your head (and hands) in the clouds!
Want a full review of Olive and June nail polish? Head here!
Looking for more nail ideas? Try these: