Looking for ideas on how to wear a blazer with jeans? You've come to the right spot. Today I'm going to share a variety of outfit ideas to help you get dressed in the morning and rock that blazer and jean combo with confidence.
I used to hate blazers. I worked in the finance world for (very) short time and all the women there wore suits. But they weren't the chic suits like you see today. They were stuffy and boring and I really didn't love it.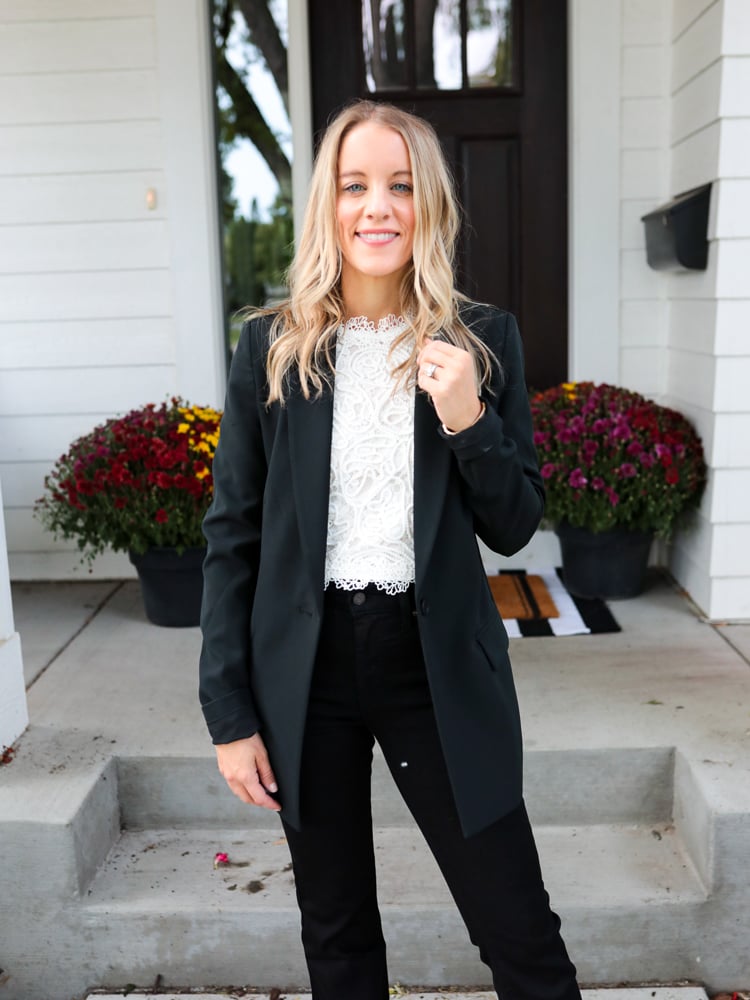 Fast forward a few years and lucky us, blazers aren't just for the office any more! I absolutely this fresh new way to wear blazers whether it's for a coffee hang with friends, a date night with my husband or yes, even a professional meeting with a brand I'm working with.
Here's 12 different ways for you to wear your blazer with jeans. I hope it helps!
How to Wear a Blazer with Jeans – 15 Outfit Ideas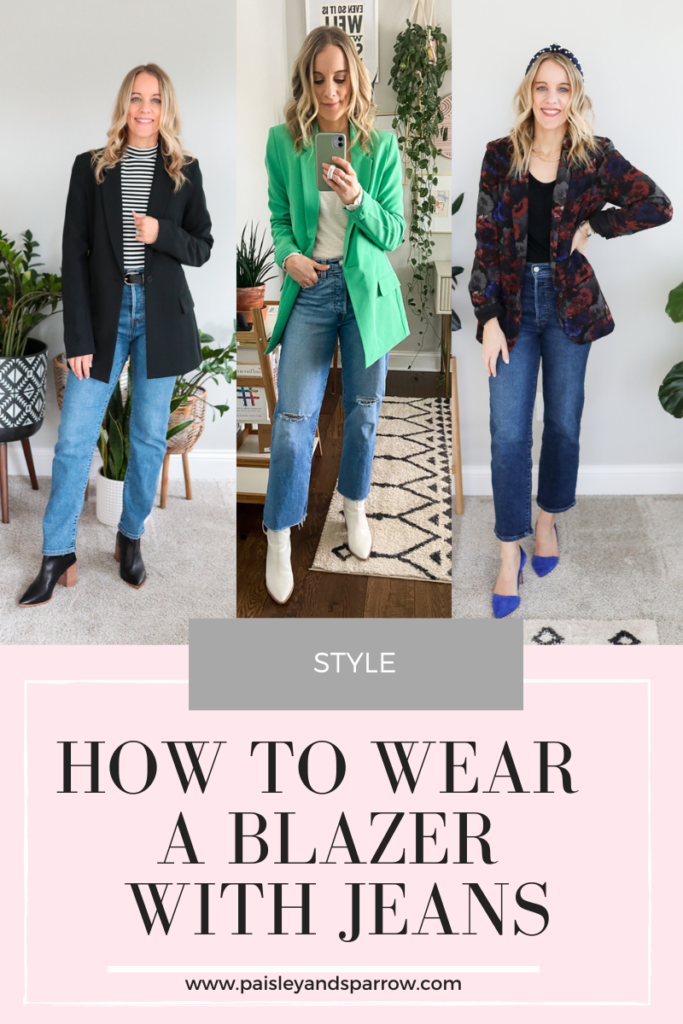 This post contains affiliate links.
1. With Straight Leg Jeans & Clogs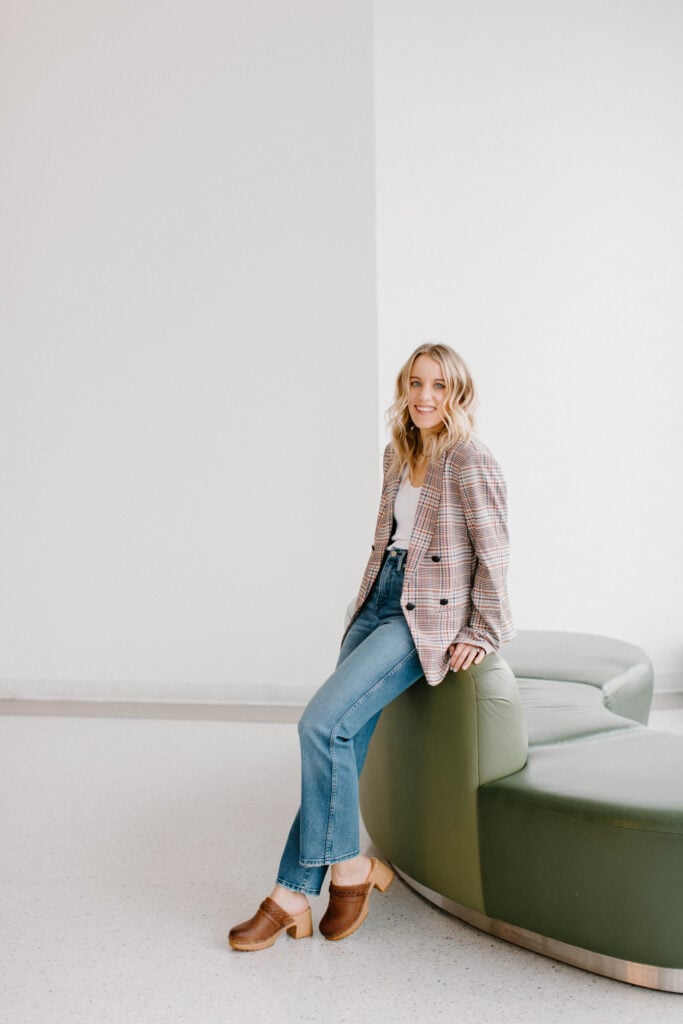 Put two fun trends together for a super stylish look! These heeled clogs are perfect for the workplace but also fun enough for a dinner date. The plaid blazer is the statement in this outfit and rightfully so! It's chic and classic and such a great look.
2. White Top & White Sneakers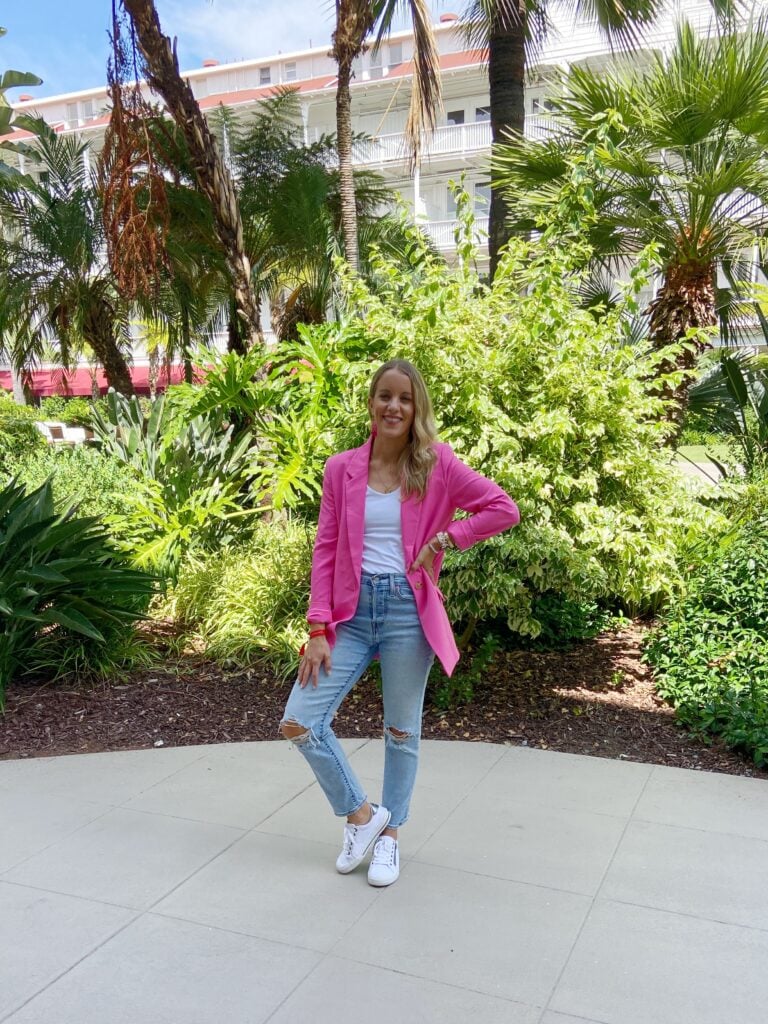 Shop the Look: Jeans | Tank | Blazer | Sneakers
This casual look is one of my favorite ways to wear blazers with a pair of jeans. Simply pair your favorite white t-shirt or tank and a pair of white sneakers! I love these distressed denim jeans – they're super comfortable and I always get tons of compliments on them.
The pink casual blazer makes quite the statement against the white shirt and blue jeans and is a fun way to rock a blazer in style!
3. Stripe Top & Booties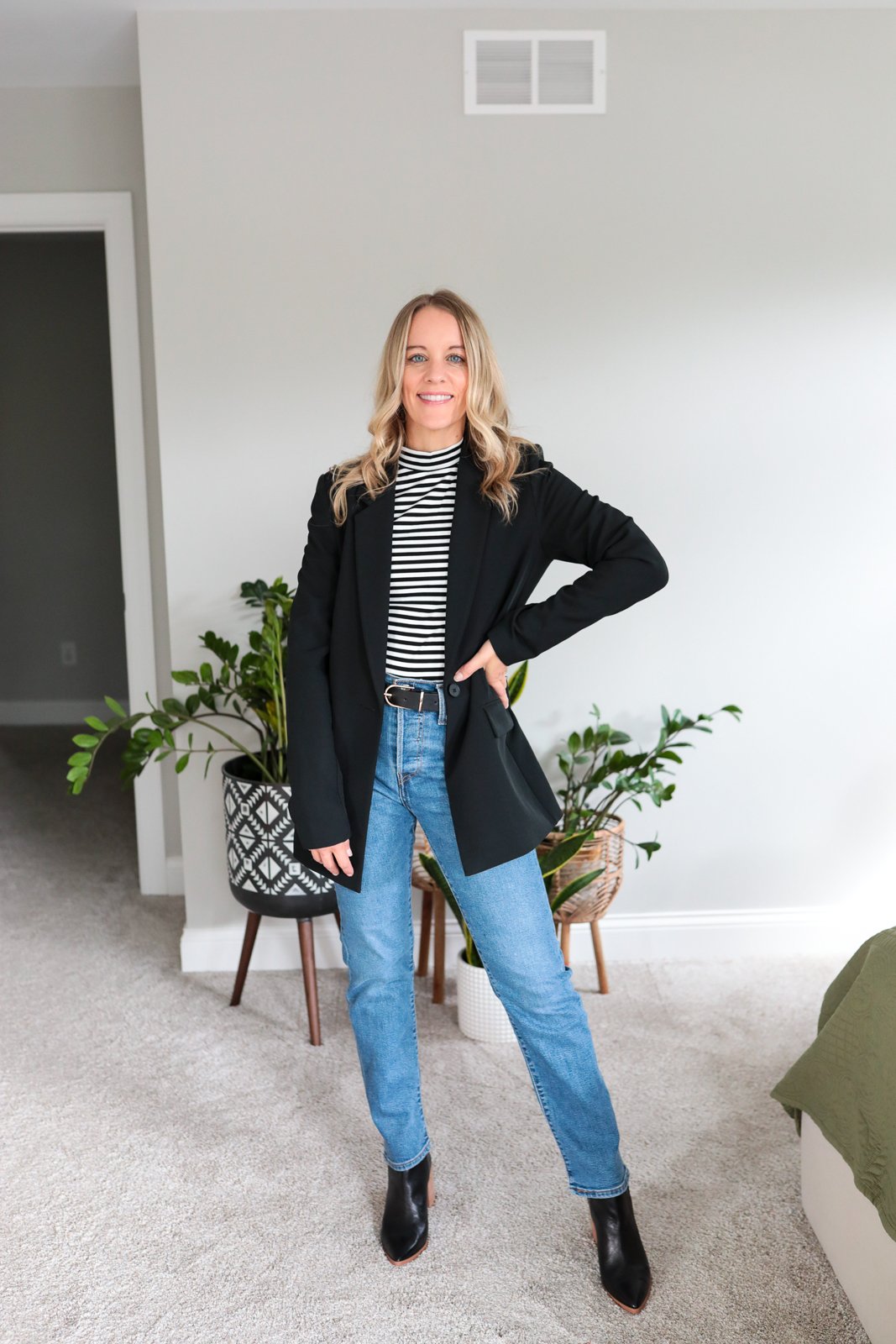 Shop the Look: Blazer | Jeans | Stripe Top | Boots (sold out, similar here)
This look is definitely one that is a bit more professional. The stripe top is more fitted and tucking it in defines your waist. The black belt and the black boots tie in the black blazer well!
4. Flare Jeans and Button Up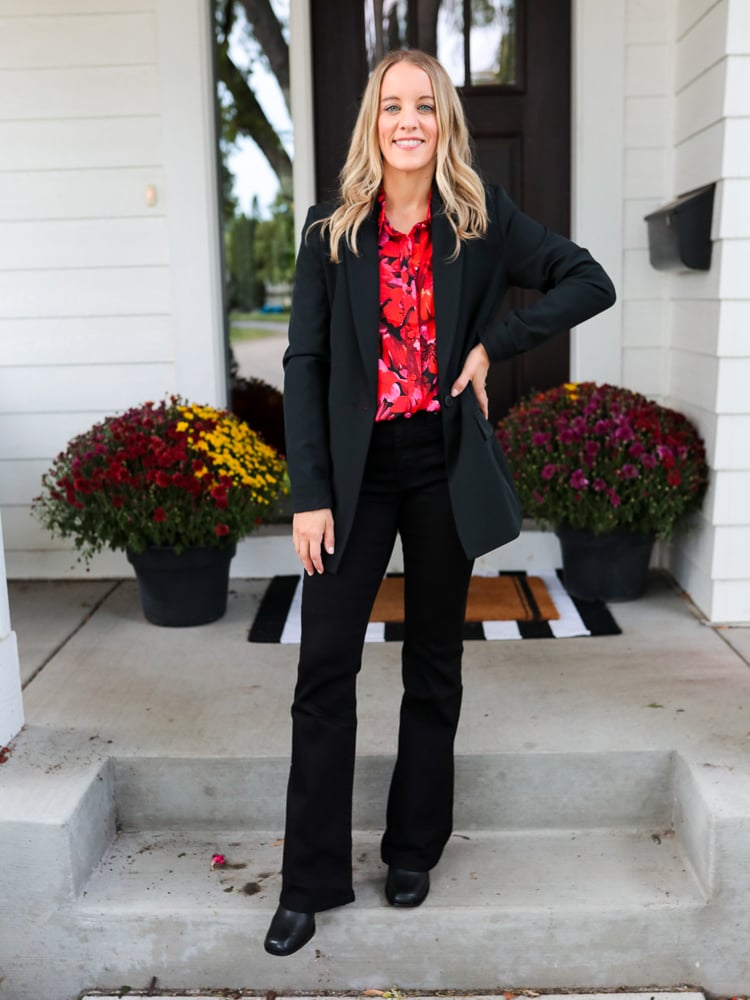 Shop the Look: Blazer | Jeans | Red Top | Black Boots
If you want a more professional look for business meetings or work, this black blazer and dark jeans look is a great one. This bright colored button down dress shirt gives the look some style will the all black jeans, blazer and boots combo keeps you grounded and professional.
A navy blazer with dark navy jeans would also be a great option for a more dressier look.
*Find this outfit and other flare jean outfits here.
5. Cowboy Boots & Crocheted Top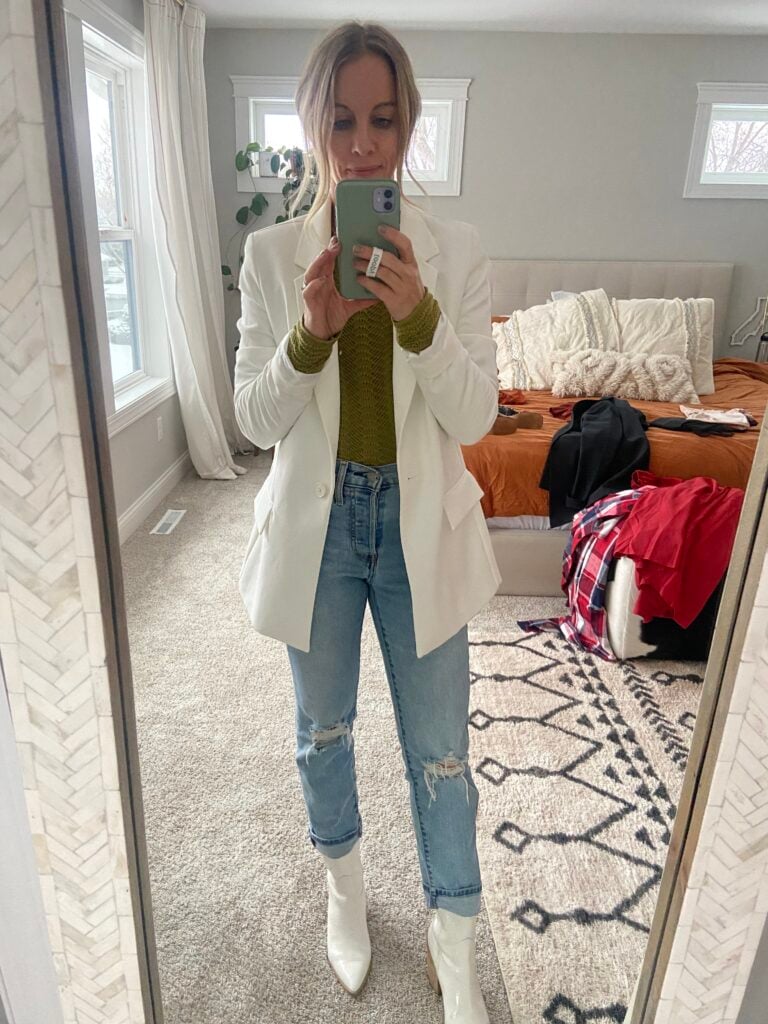 Shop the Look: Jeans | Blazer | Crochet Top | Boots
Mixing textures is one of my favorite ways to look and feel more styled and this one is so fun! The leather texture of the boots with the crochet top and distressing on the jeans are all fun textures to mix together.
It's works well because the white boots tie in the white blazer and the fun color of the long sleeve base peeks through ever so slightly.
6. Blazer and Sweater Combo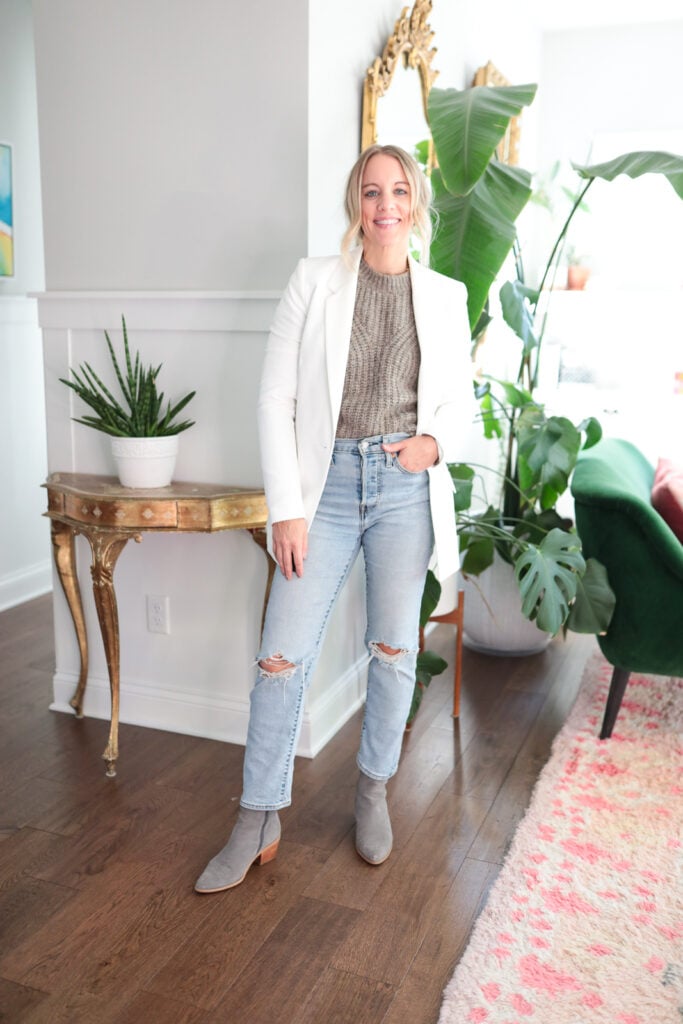 Shop the Look: Jeans | Blazer | Sweater (old from Abercrombie) | Boots
On those really cold days, try layering your blazer over a sweater! You'll either want a looser blazer or a thinner sweater to make sure you're not too stiff but you can definitely make this work!
The little front tuck on this sweater keeps my waist defined to not make me look heavier than I am which could definitely happen with this type of outfit.
7. Cropped Straight Leg Jeans and Boots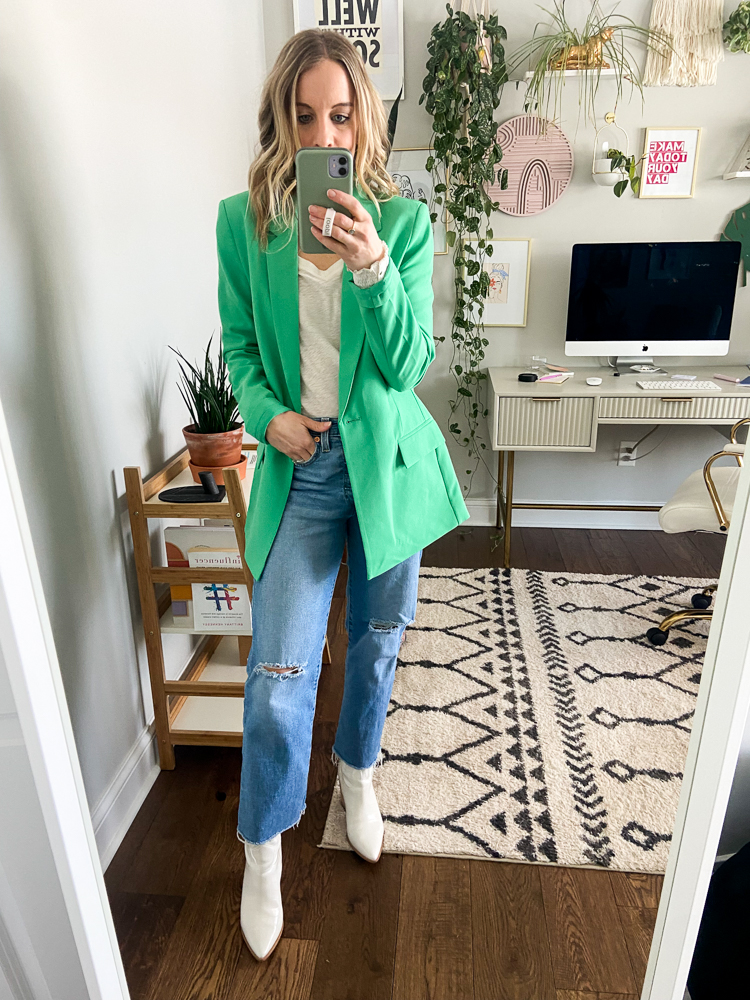 Shop the Look: Blazer | Jeans | Boots
This one is casual chic in all the right ways. The wide leg cropped jeans look perfect with the high shafted white cowboy boots that ties in the white long sleeve. The tucked in shirt gives the waist some definition and the green blazer shines!
*Find cropped jean outfit ideas here.
8. Flare Jeans and Lace Top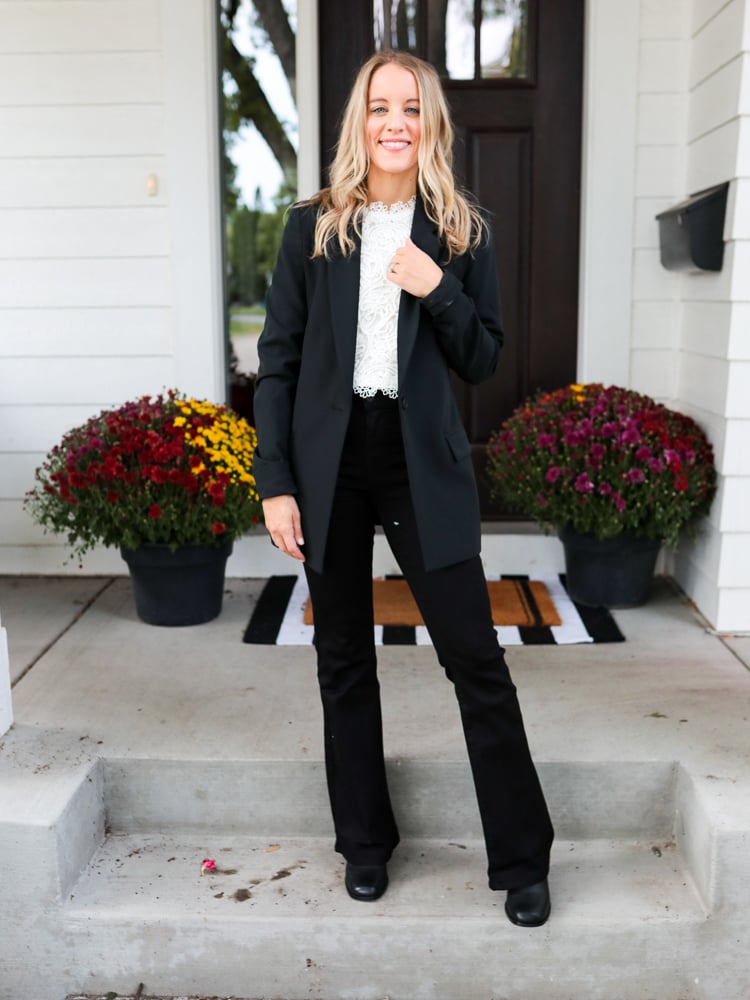 Shop the Look: Blazer | Lace Top | Jeans | Black Boots
If you're not the color loving gal from the suit jacket outfit above, or just want a less formal shirt, swap the colored button down for a lace top! I love the variety of texture you get when pairing lace with a more formal blazer. It softens the look and gives you a more feminine vibe.
*This lace top is from Chicwish – find my honest Chicwish review here.
9. Blazer and White Button Down with Blue Blazer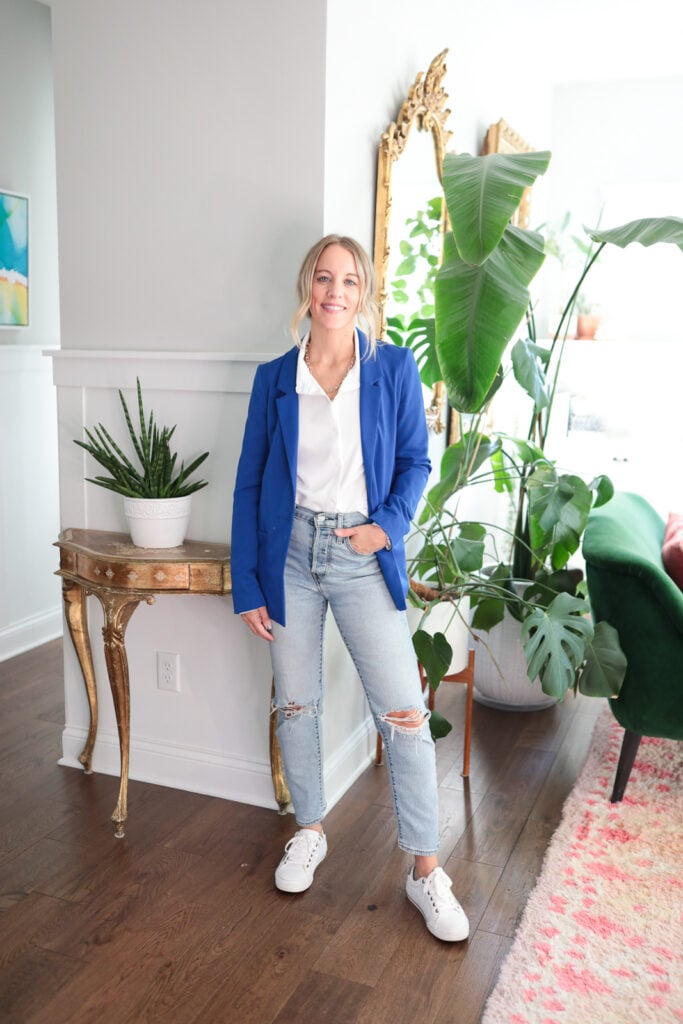 Shop the Look: Jeans | Blazer | Sneakers
Can you go wrong with a white button down and blazer? This might look a little to professional or too much of a classic look but when you keep the rest of your outfit more casual it will be perfect for everyday.
One idea is the wearing pairing it with the right jeans like some casual distressed straight leg ones in lighter shades to keep it more casual. Throw on some white sneakers and ready for everything from school drop off to coffee with a friend.
10. Floral Blazer, Cropped Jeans and Pumps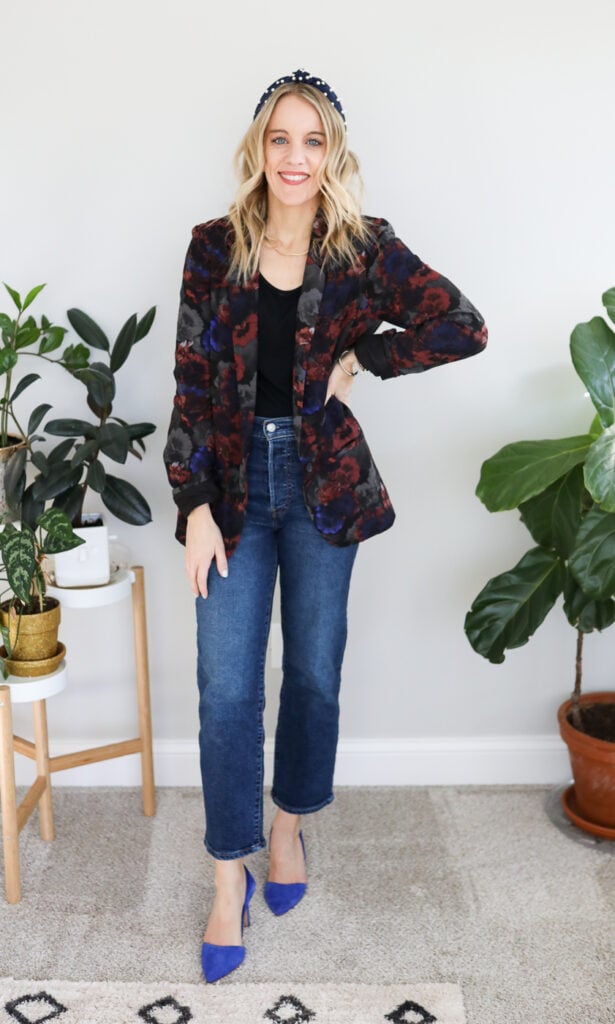 Shop the look: Jeans | T-shirt | Blazer (sold out similar here and here) | Heels (sold out, similar here)
The fun in a blazer outfit doesn't need to be in the base layer, it can also be in the blazer itself! I found this floral blazer at a thrift store years ago and it has been in constant rotation ever since.
The cropped straight leg jeans keep the look fun and trendy while the pop of color in the shoes gives you that stylish feel. Top it off with a pearl headband and you'll be the trendiest gal around.
11. Grey Jeans, Blazer, and Graphic Shirt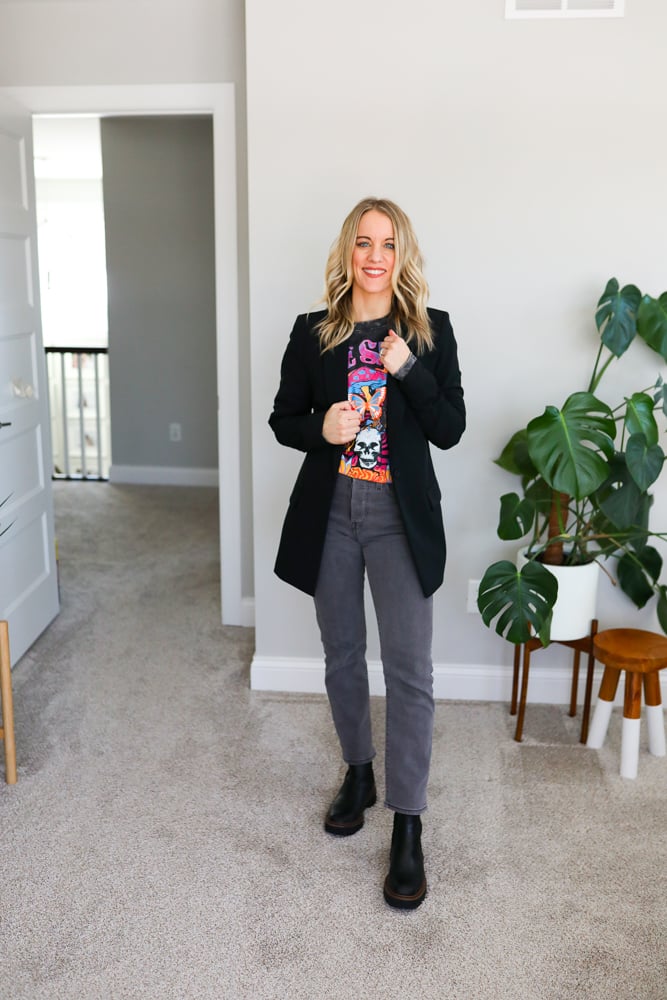 Shop the Look: Jeans | Graphic Sweatshirt | Blazer | Chelsea Boots
Love graphic tees and graphic sweatshirts? They're a perfect base layer for under your blazer or sport coat! I love how the bright colors pop out ever so subtly from under the blazer.
Keep the blazer and jeans combination cohesive by wearing the same color shoes as your blazer and a neutral pant.
Find more grey jean outfit inspiration here!
12. Skinny Jeans and Blazers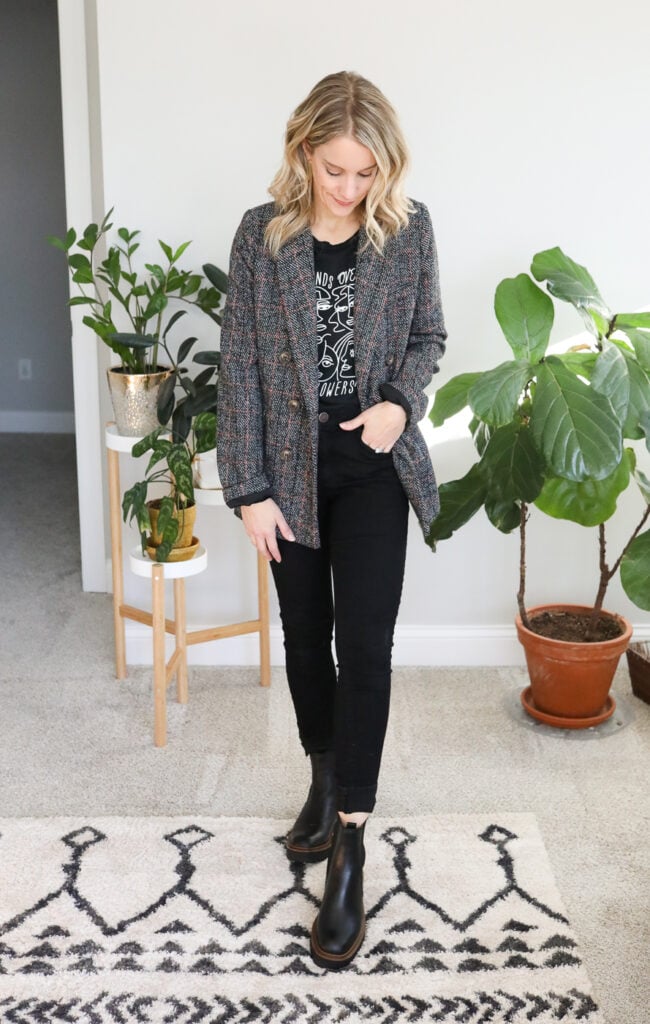 Shop this outfit: Blazer (sold out, similar here and here) | Graphic Tee | Pants | Boots
You can do all black on the outside like the flare jeans above, or do it as the base and let the plaid grey blazer do the talking. The subtle white graphic in the tee adds an extra flair to this simple outfit. The Chelsea boots are a great option for lots of walking or a commute and the black skinny jeans will never go out of style.
Find other fun Chelsea boot outfits here!
13. With a Graphic Tee & Distressed Jeans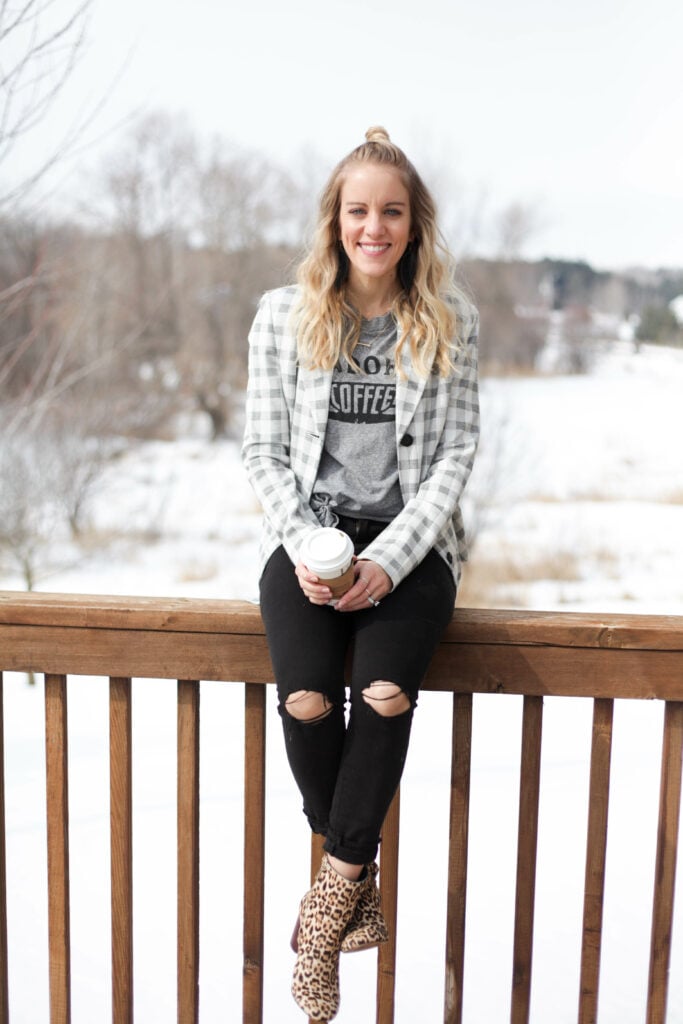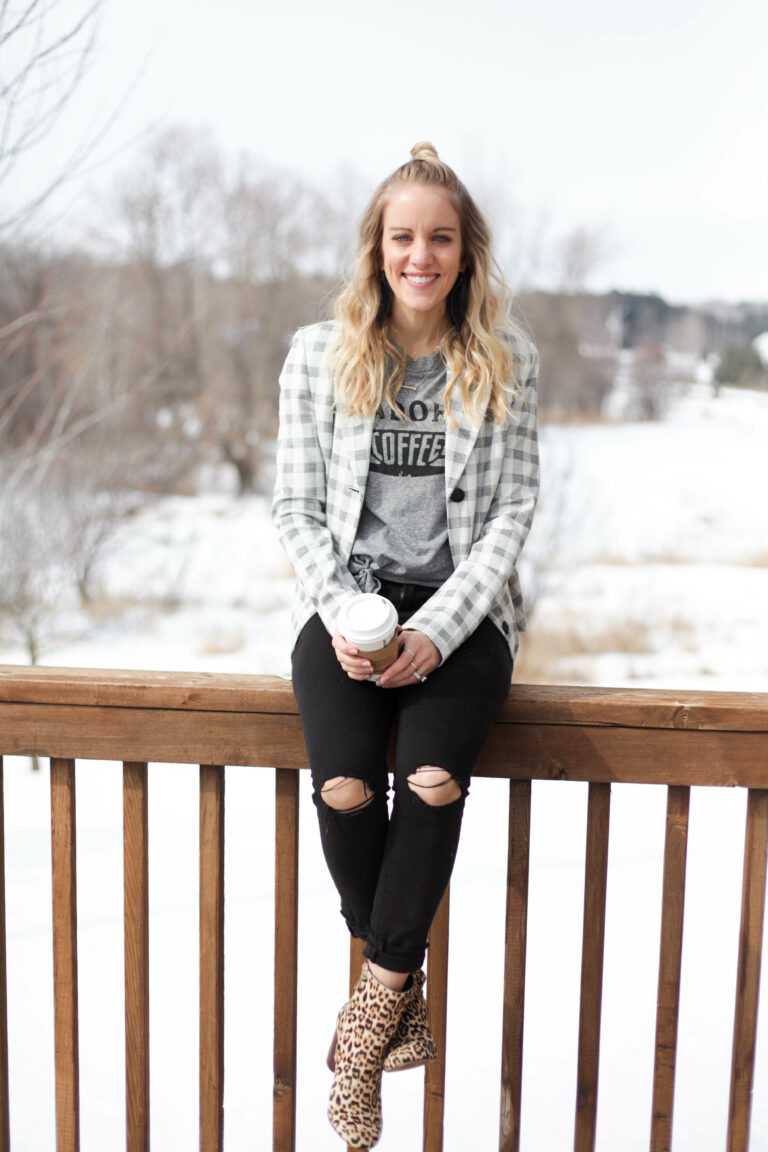 One super easy way to make your blazer feel more fun and less professional is to pair it with a graphic tee! Whether it's a brightly colored tee or something just one or two colors, there are tons of fun graphic tees to try!
I complimented my check blazer from Cabi with some slightly distressed dark denim. The fun leopard boots give this a totally different look.
Find more black jeans outfits here!
14. With Distressed Denim + Heels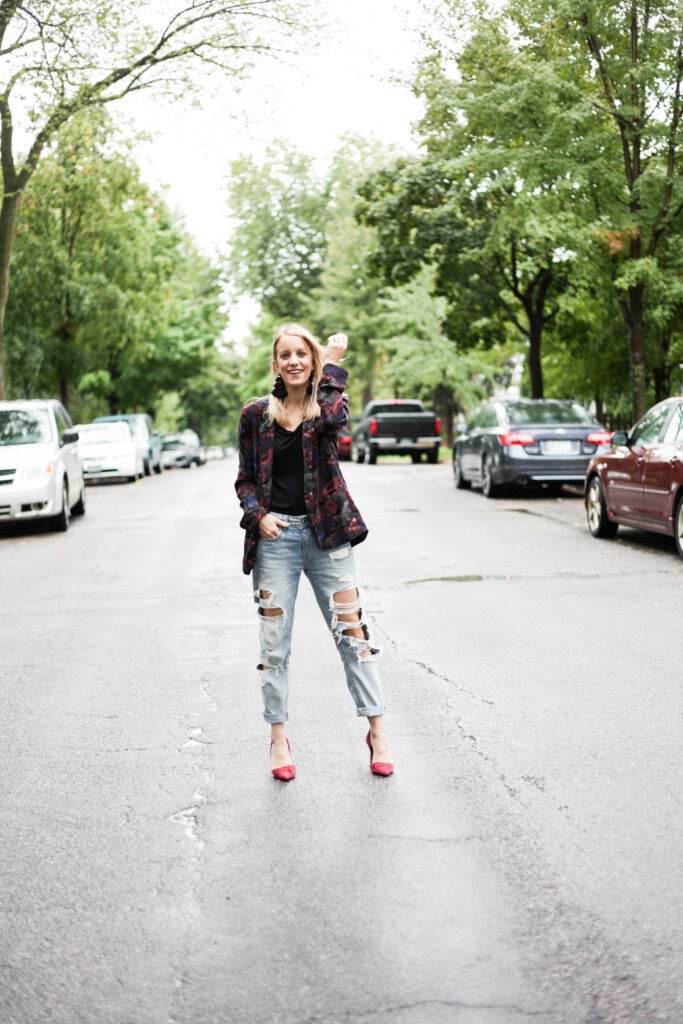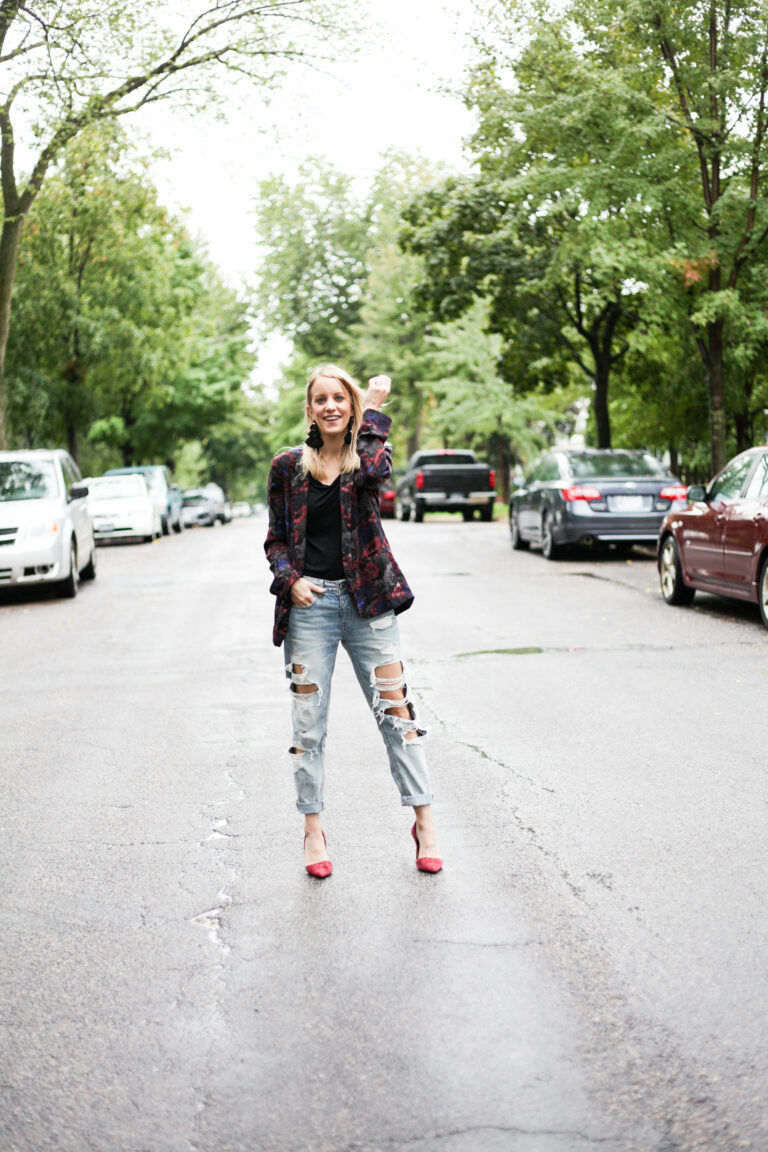 When you wear denim has distressed as these, you're clearly not heading in to the office for a day of meetings (unless you get to work in a super creative field!).
I love wearing heels with distressed denim and a blazer can keep it looking cohesive. You have 2 parts professional + 1 part fun!
15. With a Fun Button Down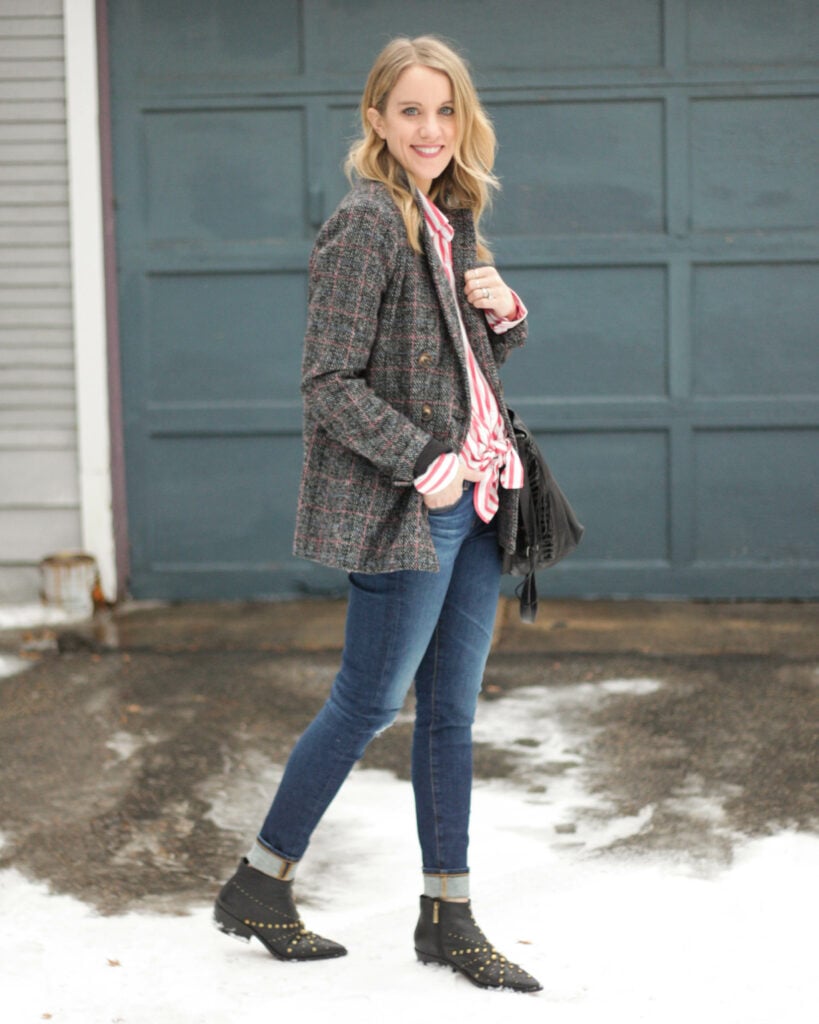 Shop the Look: Similar blazer | Similar button down
To be real, you could totally wear this one to the office but it's still fun enough for a dinner out! A brightly colored button down either tucked in or knotted at the bottom takes the seriousness away from your typical button down. You could swap out the boots for bright colored heels to jazz it up even more!
I hope these different jeans and blazer outfits help you the next time you're getting ready! There are so many different types of blazers out there that will fit every body type (and dress code!), I'm confident you'll be able to find one that works for you!
I'd love to know your favorite outfit! Which one would you wear?