I bought a pair of grey jeans… Now what do I wear with them?
If you find yourself asking this question, no worries! Grey pants are one of the most underrated, versatile clothing items out there. But if you've never styled them before, you might be feeling stumped about what to pair them with.
That's why I created this list of some of my favorite outfits featuring grey jeans. Of course, there are no hard and fast rules in fashion, and it's all about expressing your own unique style.
You'll notice there's tons of different shades
But here are some outfit ideas to wear grey jeans and some tips and guidelines to help you create your own stunning outfit!
What to Wear With Grey Jeans: 23 Outfit Ideas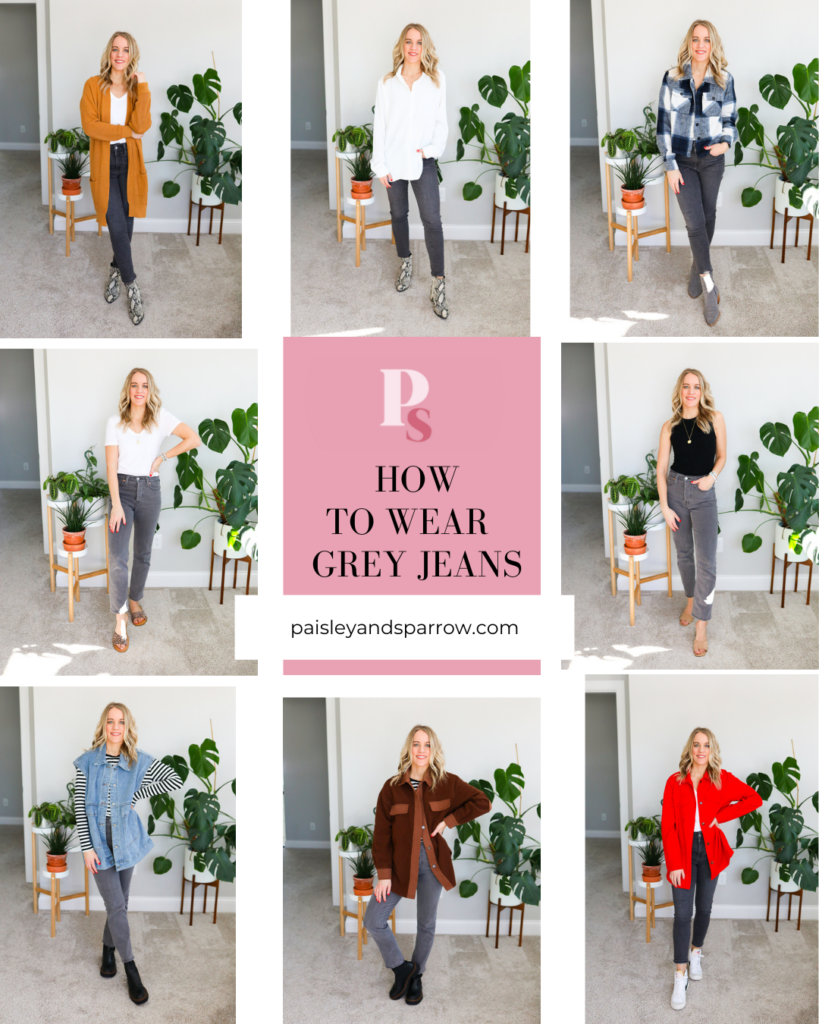 This post contains affiliate links.
Grey Jeans Outfits to Wear During Winter
1. Grey Jeans and a Cowl Neck Sweater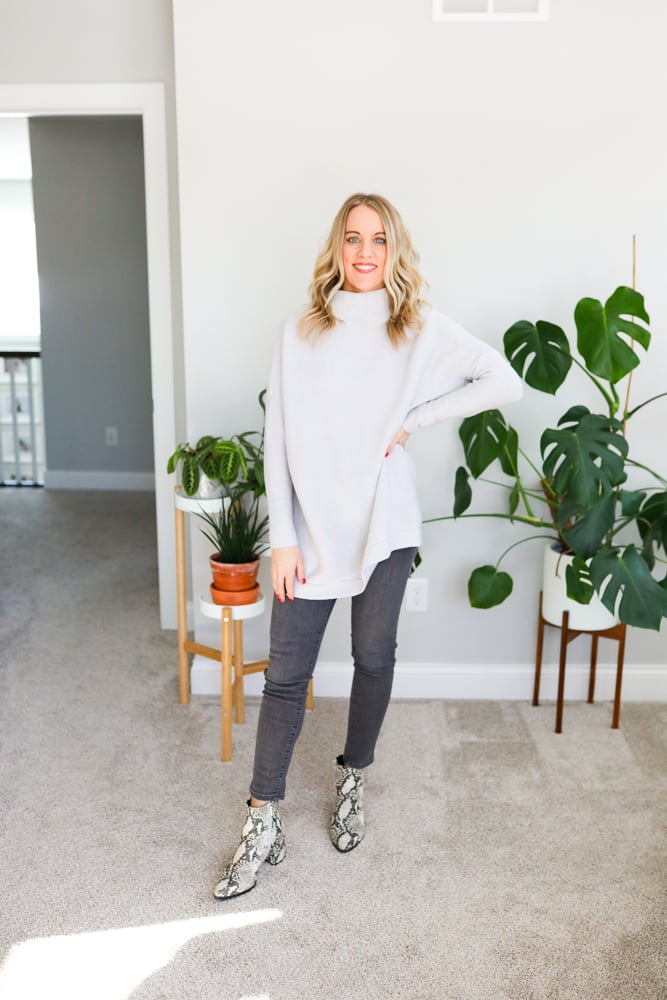 Oversized, drapey cowl neck sweaters are so fun for winter! I love the look of this comfy sweater paired with skinny grey jeans and printed booties.
2. Black Top, Grey Jeans, Black Booties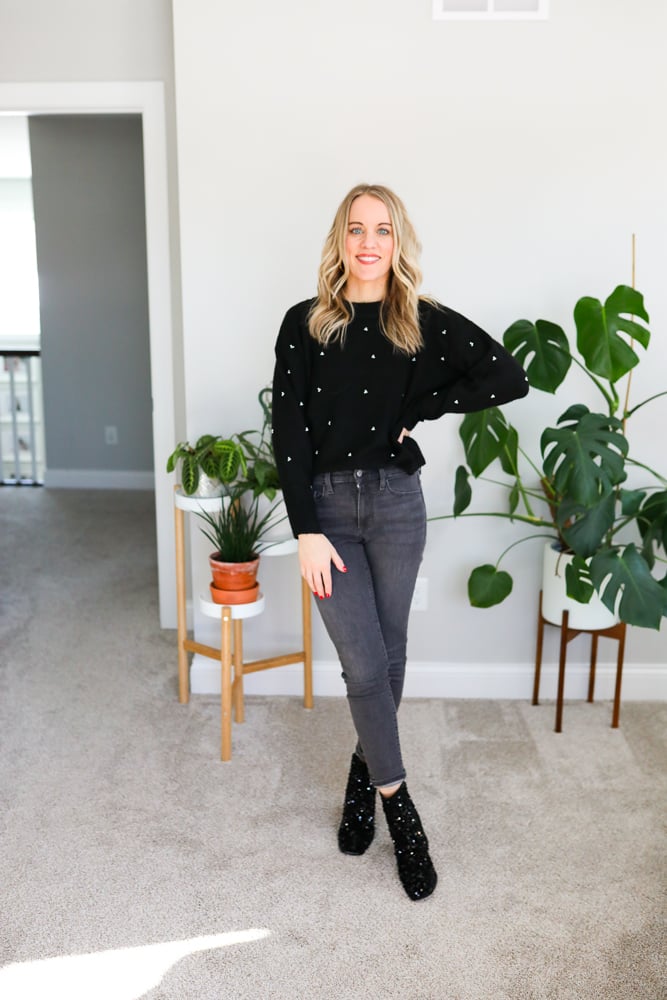 You can't go wrong with black and grey! This classic combo is perfect for date night with the fun sequin boots and bedazzled top.
3. Grey Jeans, Blazer, and Graphic Shirt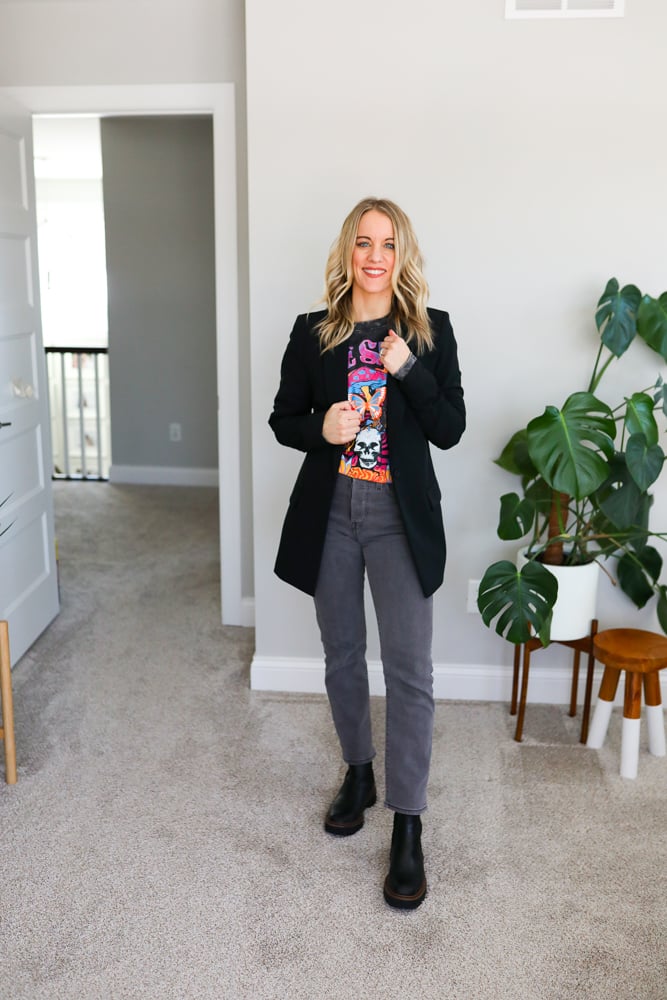 Jeans | Graphic Sweatshirt | Blazer | Chelsea Boots
This sleek autumn look is simple to achieve. Wear a classic black blazer over your favorite tee shirt, and wear a belt bag (otherwise known as a fanny pack) over your grey jeans.
4. Moto Jacket and Grey Jeans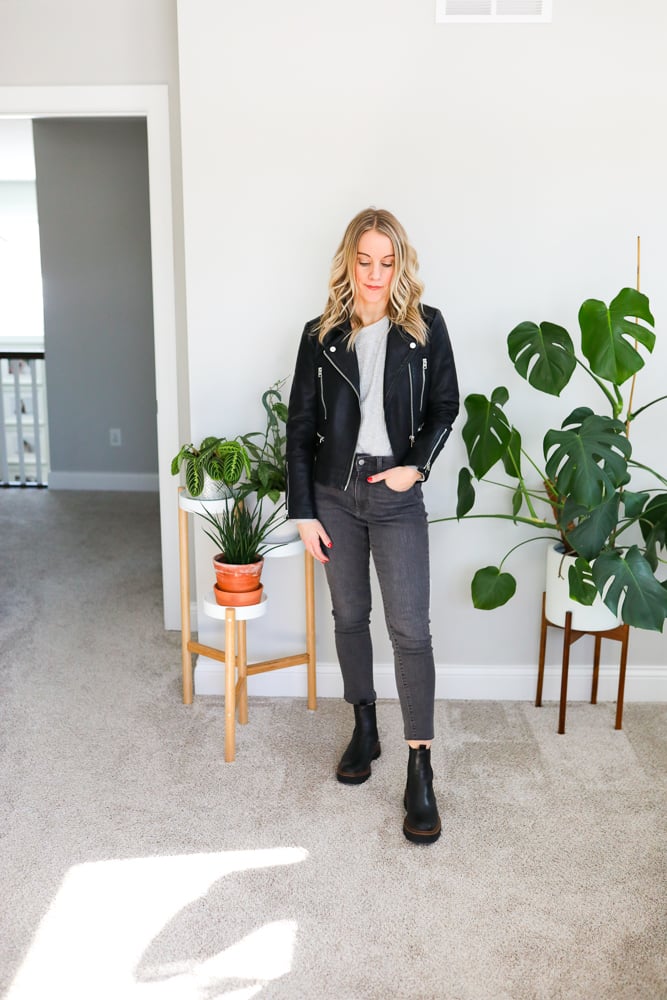 Jeans | Moto Jacket (sold out – similar moto jacket here) | Chelsea Boots
Moto jackets and leather jackets are the perfect compliment to a good pair of grey jeans. Throw on a grey shirt in a lighter color for a more monochromatic look and add some matching Chelsea boots to complete this edgy look.
5. Fleece Jacket and Grey Jeans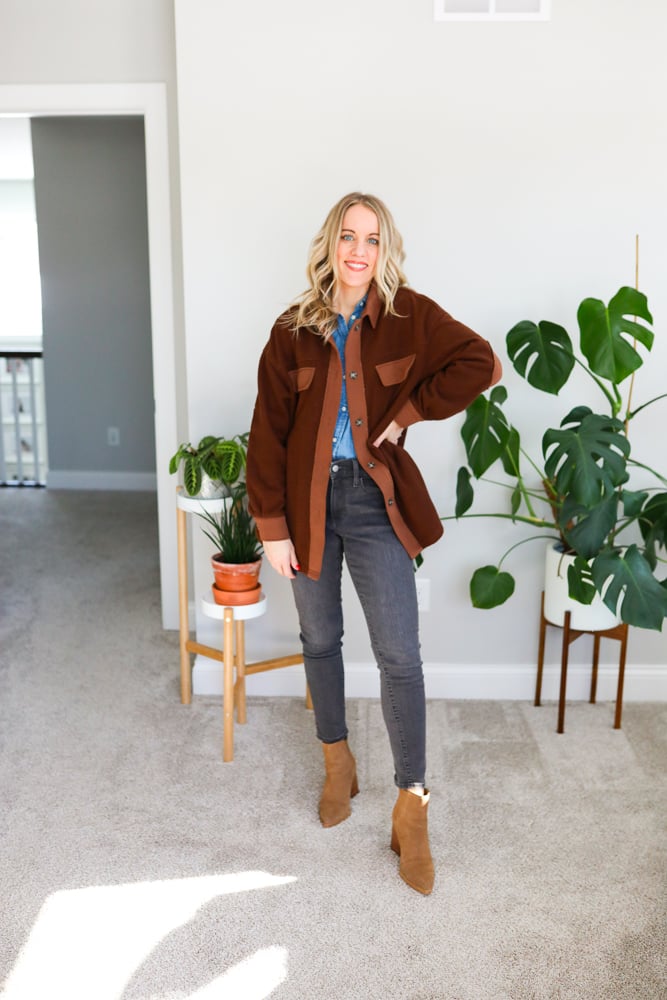 Jeans | Chambray Shirt | Shacket
A fleece shacket is a fun addition to your closet! Pair it over a chambray top and finish it off with a pair of coordinating brown boots. You'll be the most stylish gal around!
6. Grey Jeans and Tan Booties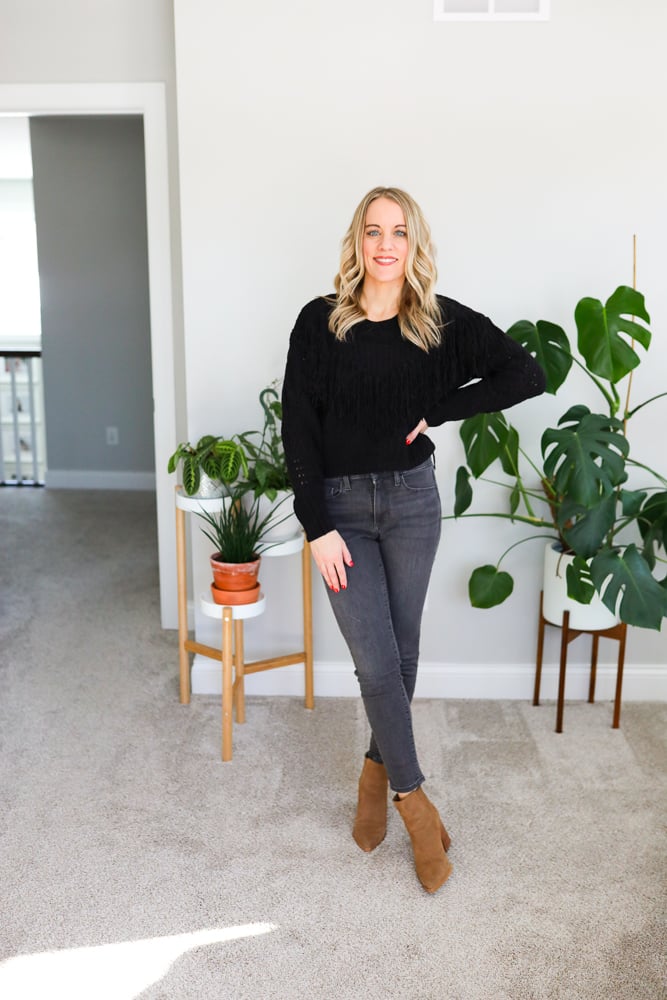 You can't go wrong with a good pair of neutral-toned boots. A good pair of light grey jeans goes perfectly with a pair of tan colored booties.
Grey Jeans Outfits to Wear During Spring
7. Oversized Vest and Sneakers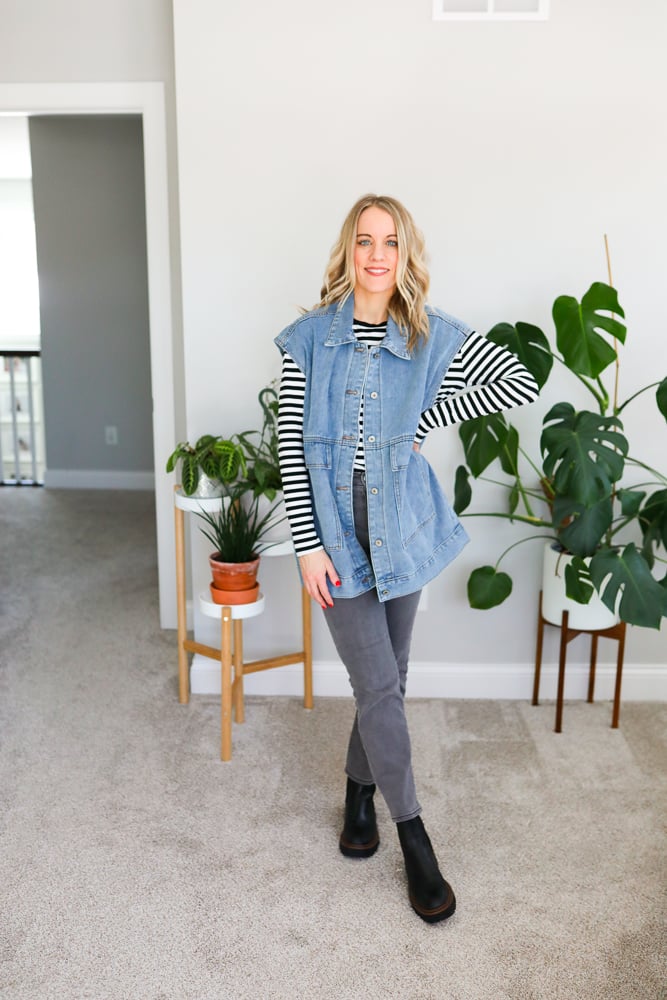 Jeans | Stripe Shirt | Vest | Chelsea Boots
As the weather starts to warm up, skip the full denim jacket and opt for an oversized denim vest! Pair it with a long sleeve with black and white stripes shirt and straight leg jeans, throw on some black shoes and you'll have the perfect spring day look.
8. Grey Jeans and a Button Down Shirt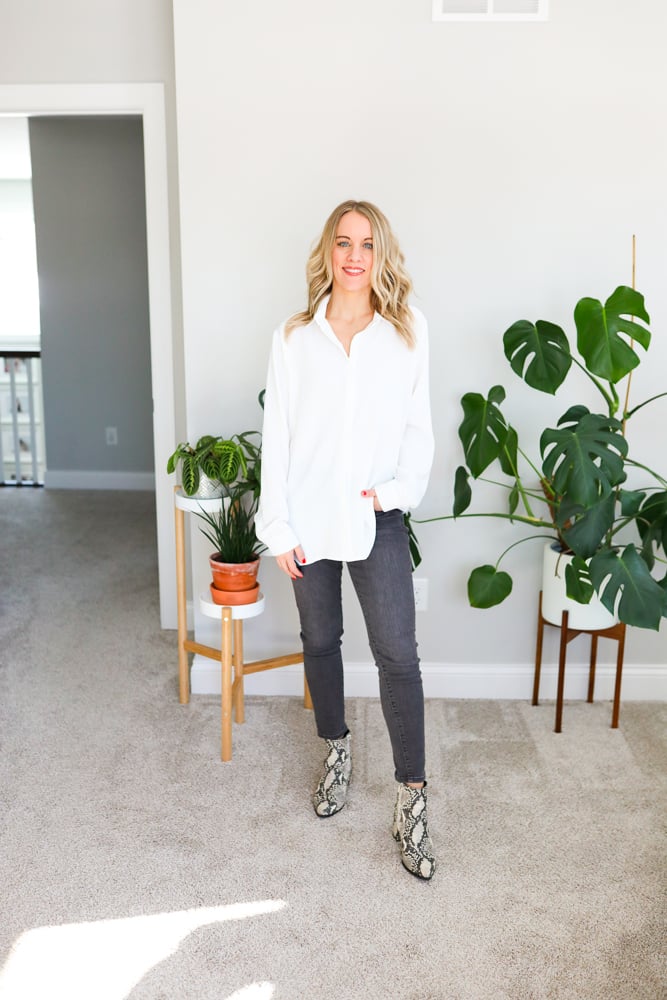 In my opinion, a basic button-down shirt is a highly overlooked staple. Adding this classic top with a pair of casual grey jeans and sneakers will make you instantly look put together this spring.
This can also be a great work wear look!
9. Cropped Jeans, Floral Top and Booties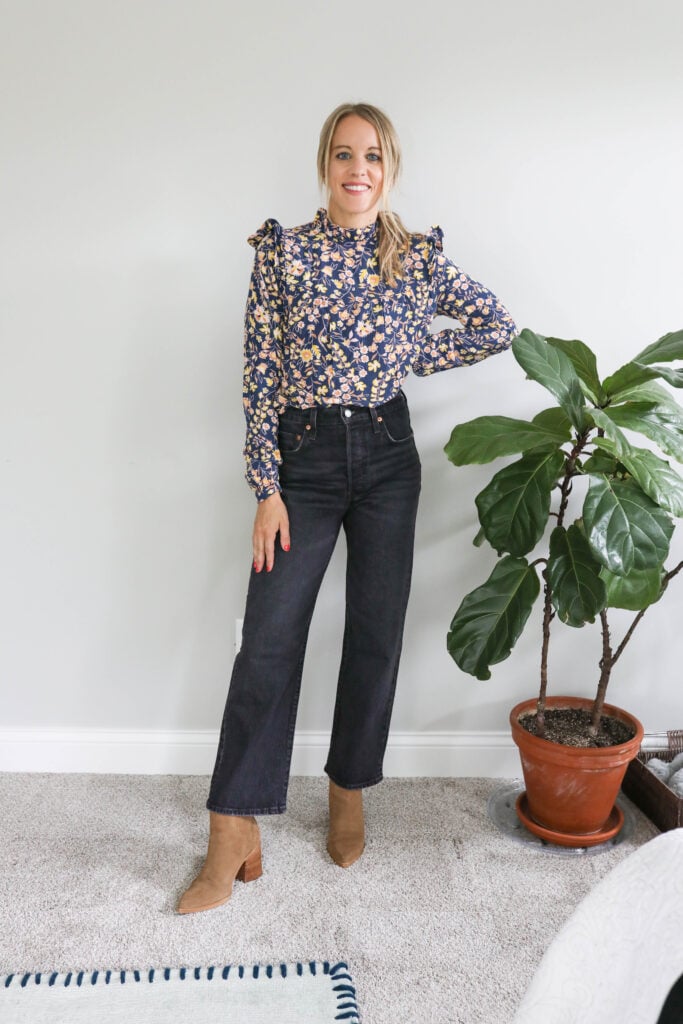 Jeans | Long Sleeve |
Floral for spring? Shocking! Give your grey jeans a little spring lift with a long sleeve floral top! Pair it with booties on a colder day or mules for a warmer day.
10. The Grey Jeans, Shacket, and Nikes Combo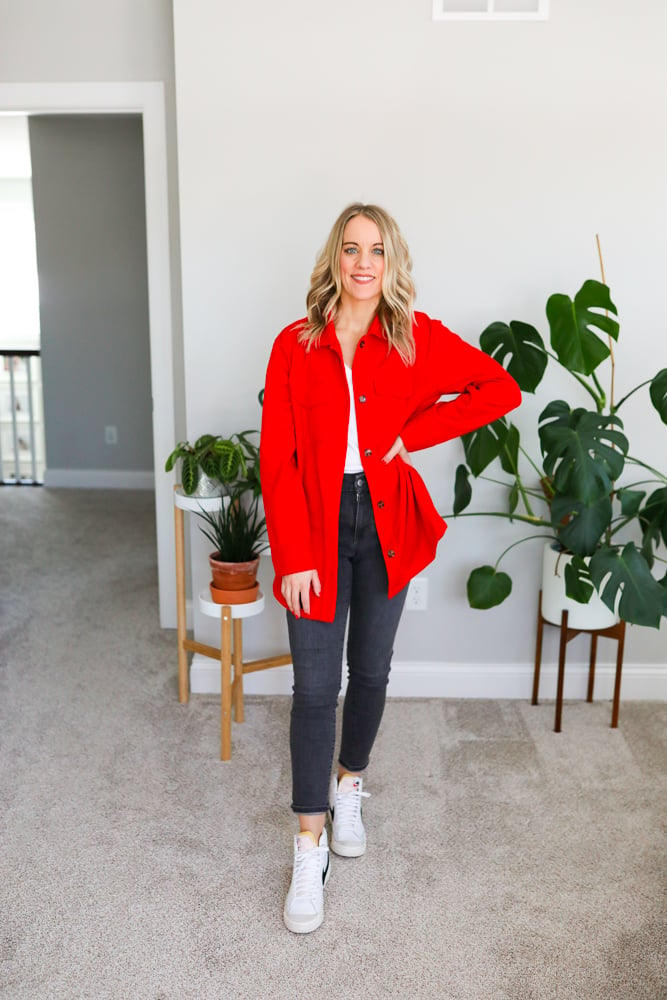 Jeans | White Tee | Shacket | Nikes
This is one of my favorite ways to wear grey jeans! There's nothing quite like a classic pair of Nikes to top off an outfit. Wear your grey jeans with these cute sneakers and a fun colorful shacket (this one comes in different colors!) over a slim fit white tee.
This is the perfect everyday look!
11. Grey Jeans and a Denim Jacket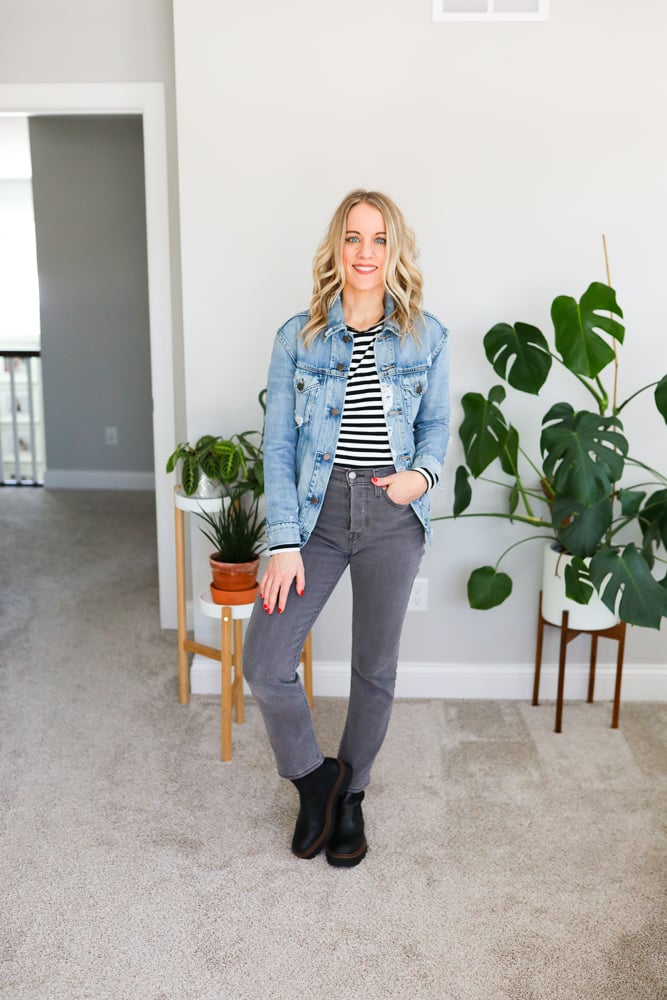 Jeans | Stripe Shirt | Jacket | Chelsea Boots
Denim jackets with grey jeans are always a great option! On days when it may still be a little chilly outside, throw a denim jacket over a long sleeve t-shirt and you're good to go! This look compliments grey jeans perfectly.
*Find more denim jacket outfits here!
12. Mixed Prints and Grey Jeans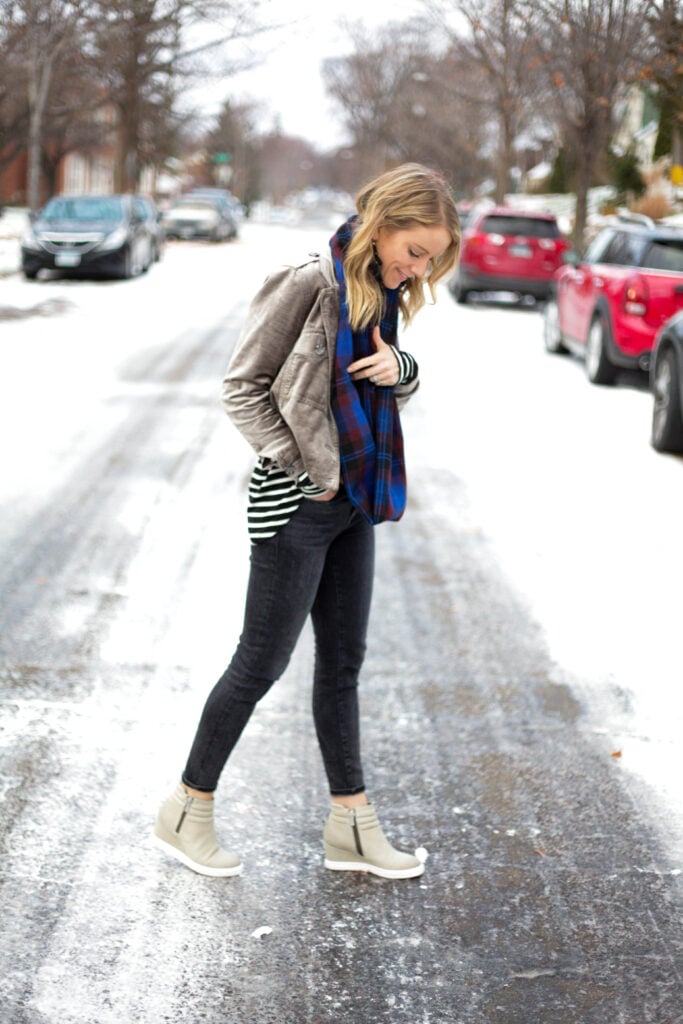 Throw together two different prints with your grey jeans: for example, a plaid scarf with an adorable striped top.
Grey Jeans Outfits to Wear During Summer
13. Dark Grey Jeans and a Black Bodysuit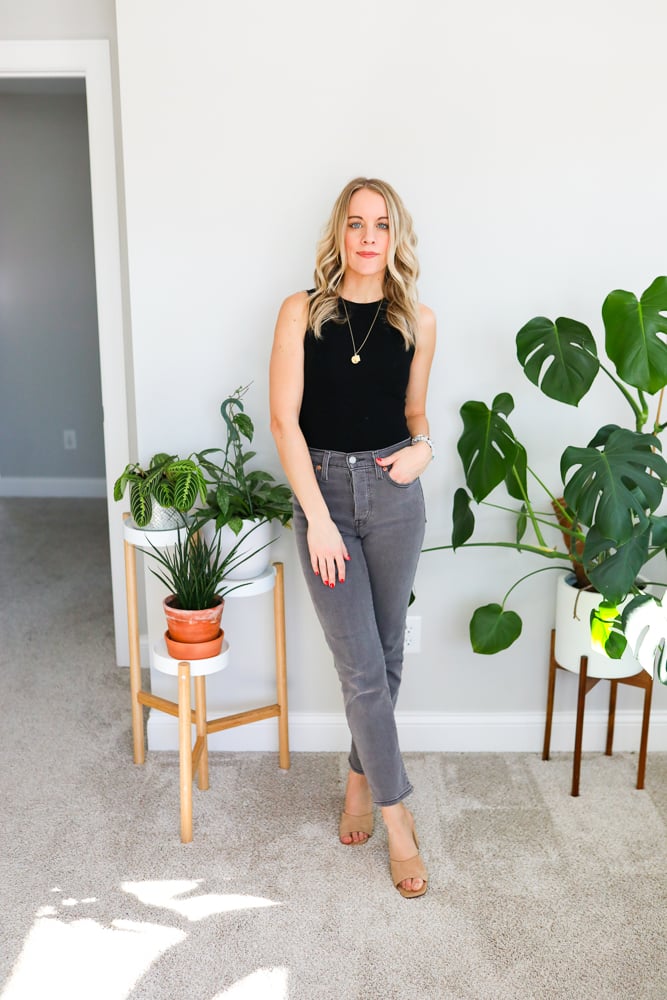 Sometimes you've just got to keep it simple. Pull on your dark grey jeans over the top of a basic black bodysuit and you've got a chic outfit!
14. Grey Jeans and a Graphic Tee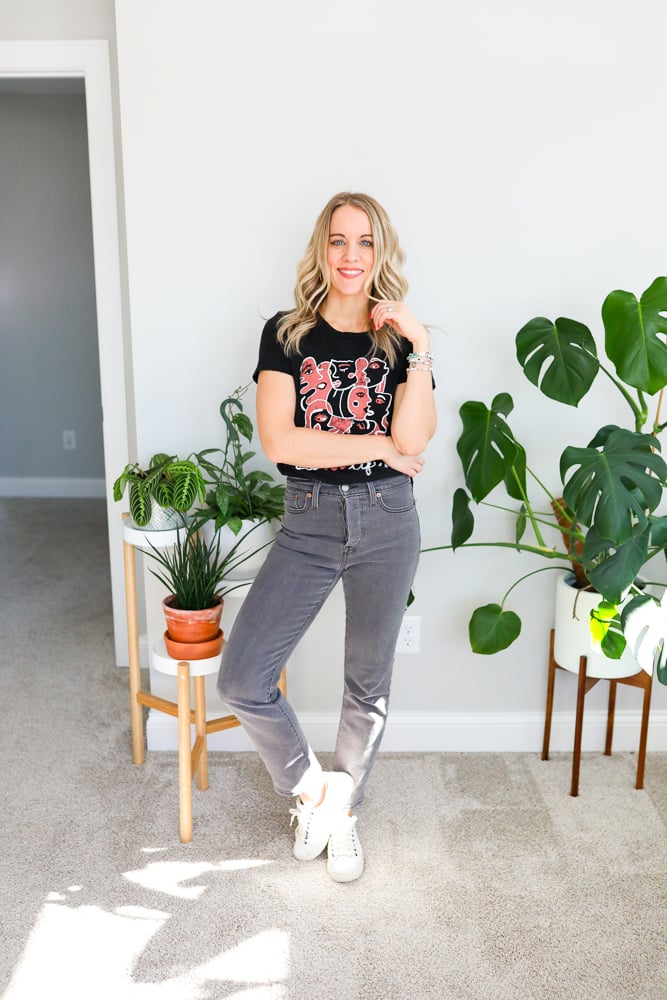 Jeans | Graphic tee (from Dazey LA) | Sneakers
There's nothing quite as cool as the band tee and jeans combo. Tap into your edgy side by rocking a printed black shirt with your dark wash grey jeans.
15. Cutoff Grey Denim Shorts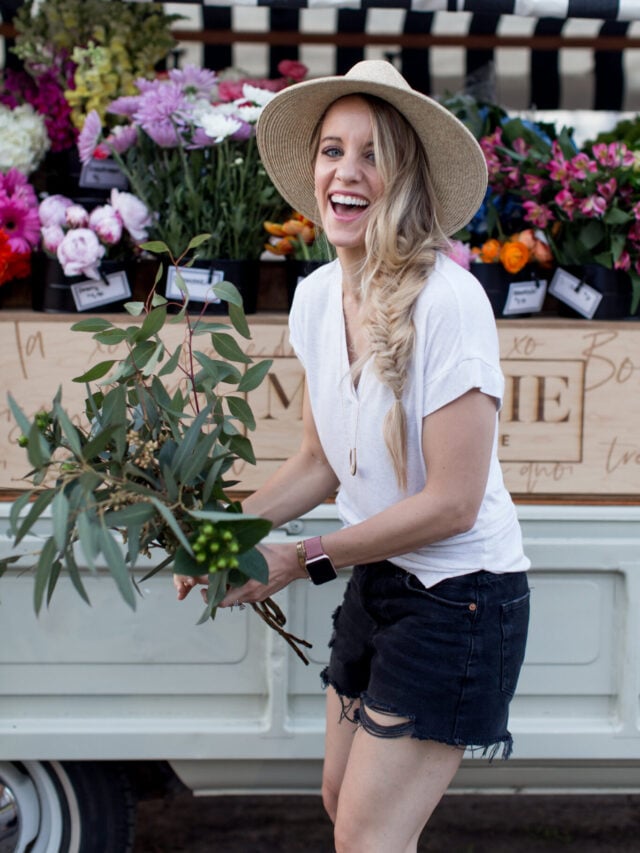 Keep it cool during summer with some distressed grey cutoffs. Pair your shorts with a neutral color top and fun hat to complete the look.
16. Green Top and Gladiator Heels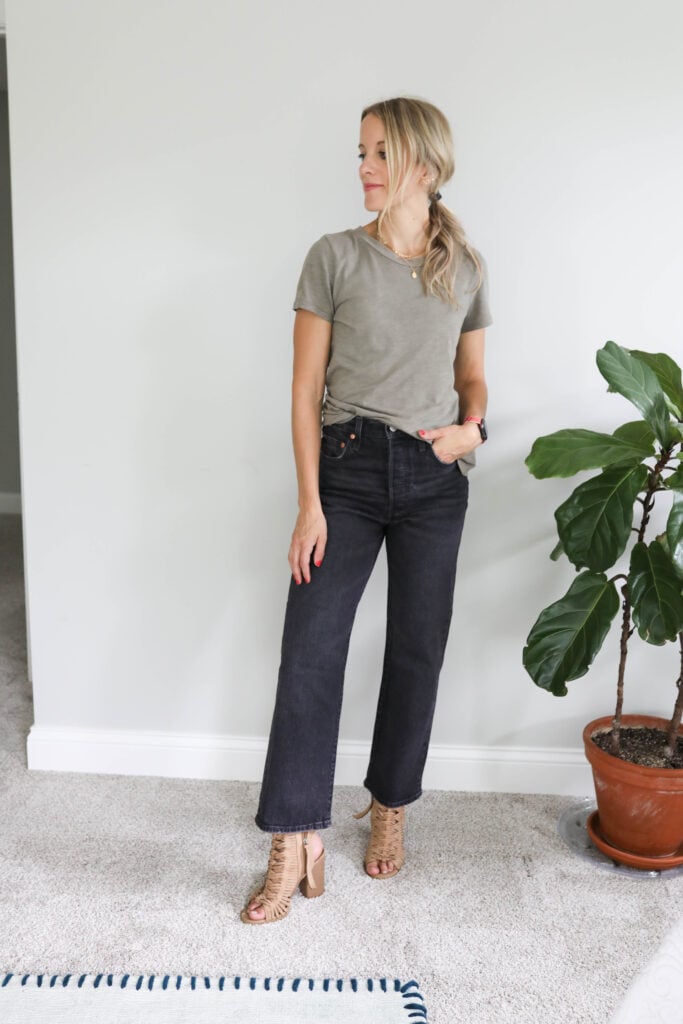 Jeans | T-shirt (sold out – similar here) | Heels (sold out – similar here and here)
Throw on a plain t-shirt and a pair of gladiator heels with some boyfriend jeans for an effortlessly cool outfit. This is a great neutral look for coffee with the girlfriends!
17. White Shirt, Sandals, and Grey Jeans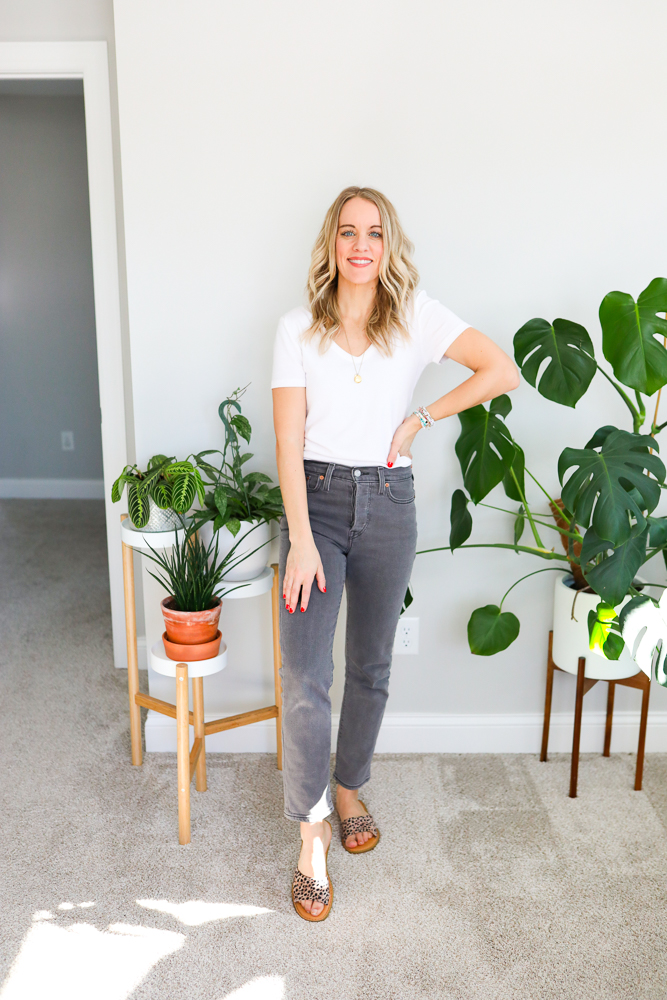 Nail this casual look by tucking a plain white t-shirt into your grey jeans. Add a pair of sandals and a statement bag to add summer flair.
Grey Jeans Outfits to Wear During Fall
18. Grey Jeans and Loafers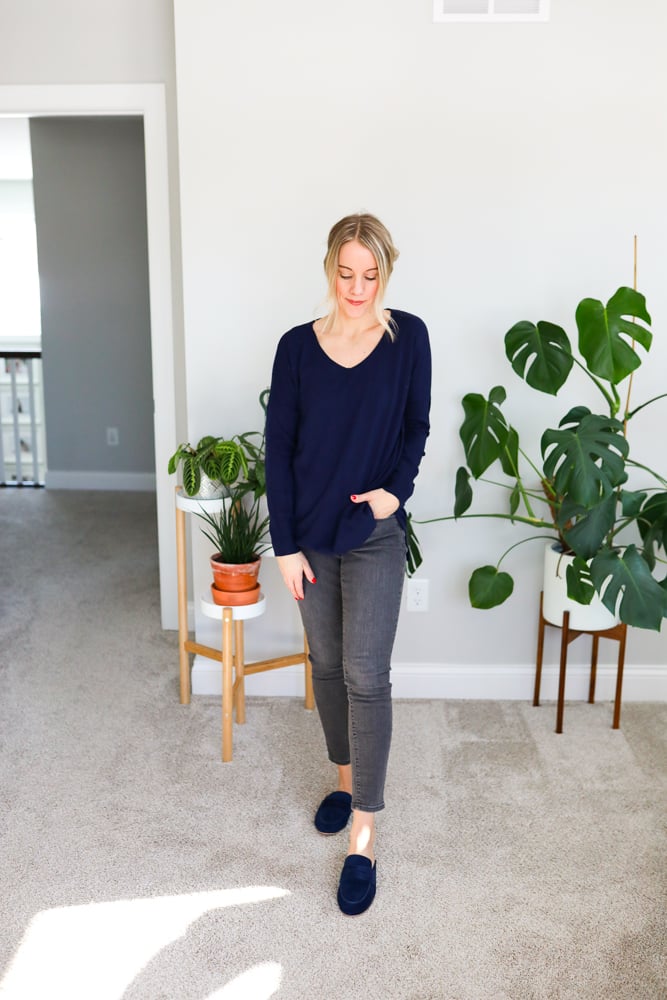 Nothing says classy quite like a pair of slip-on loafers. Add a matching sweater, in this case navy blue, and throw on your grey jeans and you've got a gorgeous fall outfit.
19. Long Cardigan and Straight Grey Jeans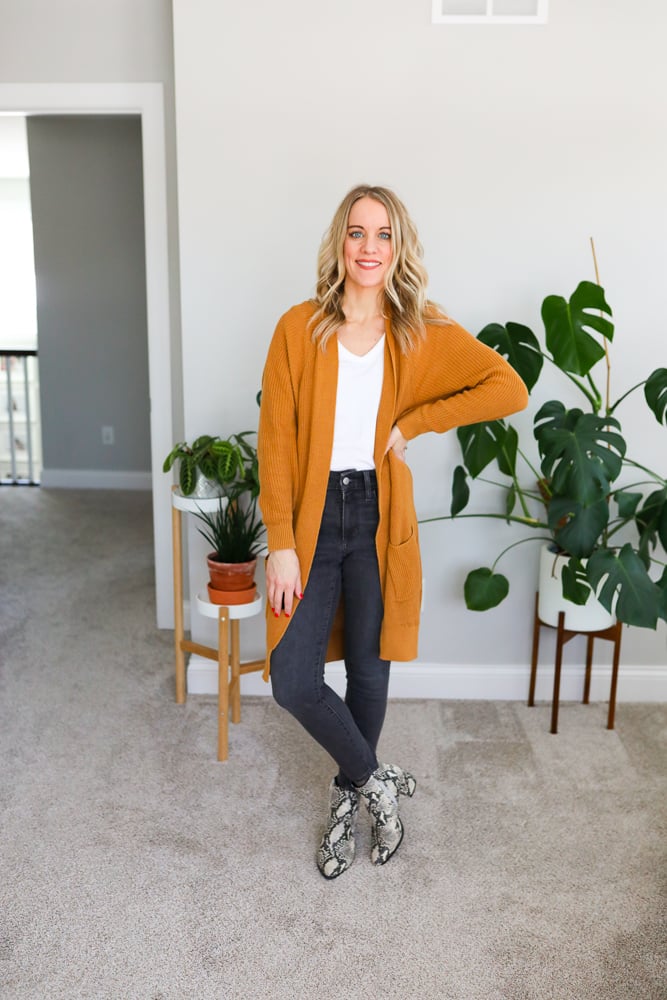 Gear up for cooler weather with a cozy long cardigan over a white tee. Wear your favorite skinny gray denim jeans underneath to round out the look.
20. Grey Jeans and a Flannel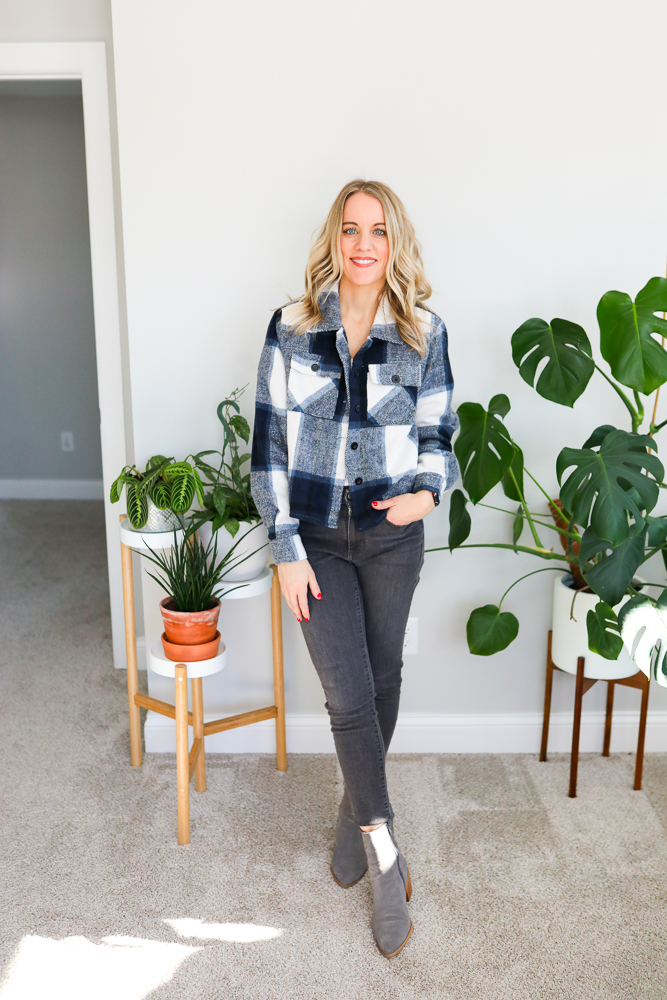 Nothing says fall quite like a flannel shirt! Pick a plaid that has some grey in it to compliment the color of your jeans.
21. Grey Skinny Jeans and a Cropped Cardigan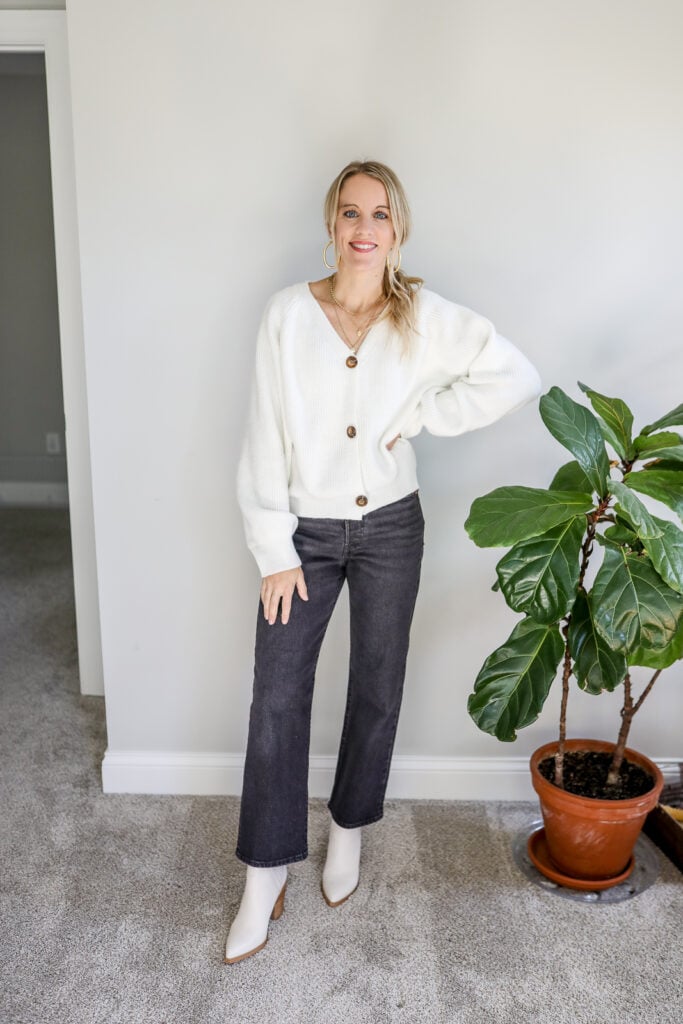 A duster cardigan should be a staple in any girl's wardrobe. This lightweight sweater is the perfect transitional piece to wear over a tank top.
*Check out more cropped jean outfit ideas here!
22. Layered Sweater, Heels, and Grey Jeans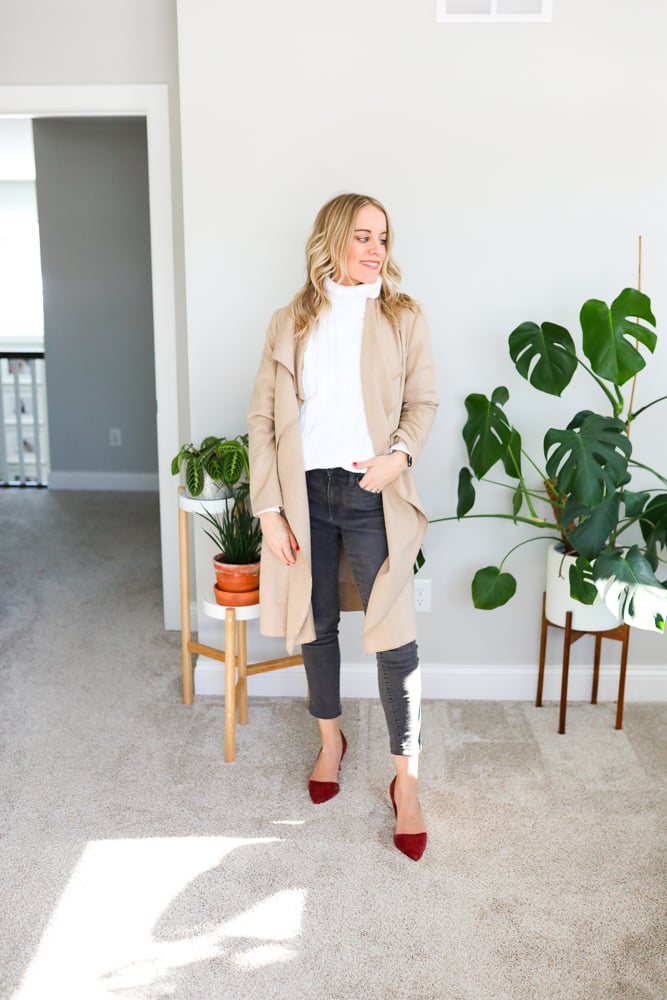 Fall styling is all about layers, layers, layers. Wear a knit sweater with your grey jeans, and bring a neutral-colored overcoat that you can shed later in the day if it gets a little too warm.
This overcoat is from Chicwish! Want to learn more about Chicwish? Head here!
23. Denim Shirt and Dark Grey Jeans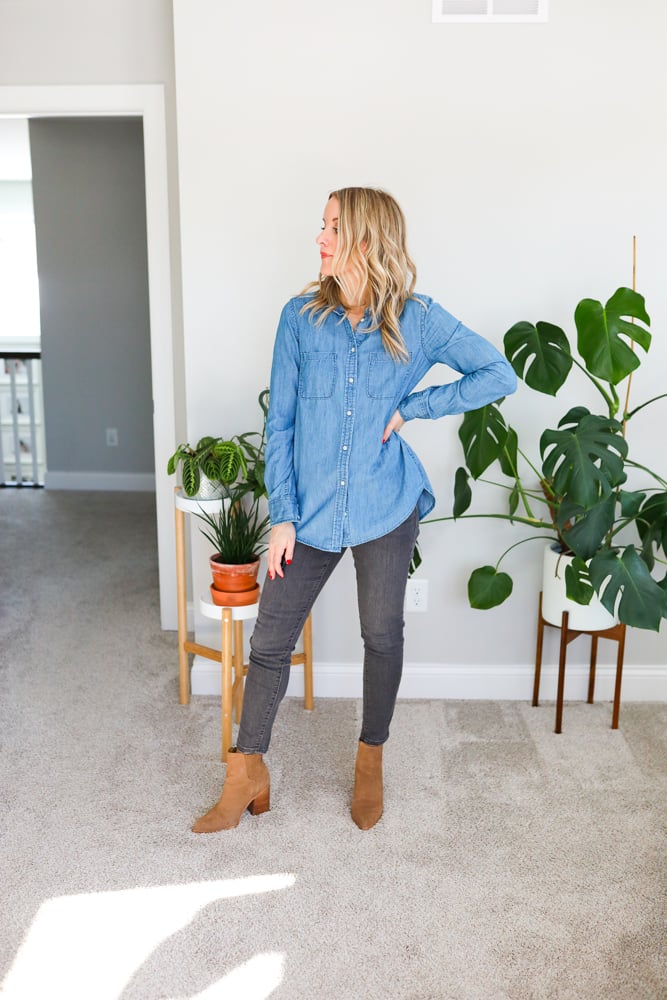 A blue denim shirt and a good pair of grey jeans are a match made in heaven. Tuck in your top and add a classy pair of heels to complete the perfect fall outfit.
Shop My Favorite Grey Jeans
What color shirt goes with grey pants?
As I've mentioned before, there aren't any laws when it comes to constructing outfits. But there are definitely some things to keep in mind when styling an outfit around a pair of grey jeans. Here are some of my top suggestions when deciding what color top to wear with your grey pants:
Neutrals are your safest bet. It's hard to go wrong when pairing neutrals with grey. Think tans, creams, browns, and whites.
Monochrome is in. Combining varying shades of grey is an easy way to style your grey jeans. If you're wearing darker shades of jeans, try adding lighter shades of grey on top – or vice versa.
Add an accent color. Since grey is such a muted shade, you don't want to go overboard with bright hues. That being said, adding a pop of color in one or two brightly colored items to your outfit can be a fun way to liven up your look. Adding a bright shirt and/or a bright colored pair of shoes instantly makes your grey jeans look much more fun.
What shoes go with grey jeans?
There are tons of different shoe options that you can wear with grey jeans! If you're feeling stuck on what to choose, check out this list of shoe styles that are tried and true with grey pants:
Ballet flats. You can almost never go wrong with a good pair of flats. Choose from round toe, square toe, or pointed toe to finish off your look. And better yet, choose a flat with a fun print to add some extra oomph to your outfit.
Ankle boots. Booties and grey jeans go hand in hand! Go for a comfortable pair of flat boots, or kick it up a notch and add a heel. A classic black leather or tan ankle boot is always a safe choice when wearing grey jeans.
Heels. Elevate your outfit (and your height) with some high heels. A pair of strappy black heels adds instant sophistication to your grey jeans.
Black boots. If you're feeling edgy, go for a pair of black boots. Whether you're sporting black riding boots or a pair of lace-up Doc Martens, a black leather boot is an awesome compliment to any outfit that includes grey pants.
Try the grey jeans trend for yourself!
If you haven't felt comfortable wearing grey jeans before, I hope this post helped you! There are millions of different ways to style your grey pants, you just have to get creative and get in touch with your own unique style.
Do you have a favorite way to rock grey pants that I didn't mention? Be sure to let me know in the comments!
If you want even more outfit inspiration, check out one of these posts!