Happy birthday to your special lady! Turning 40 is a huge milestone. Your wife has probably been thinking about her 40th birthday since she turned 39, and you want to make her big day as memorable as possible!
If you're stuck on what to get her for her special day, I've come up with the best 40th birthday gifts for your wife, whether she'd appreciate special jewelry, a unique gift or a practical gift.
The most important thing is that you make her feel loved and appreciated as she heads into the coming year!
40 Gift Ideas for Her 40th Birthday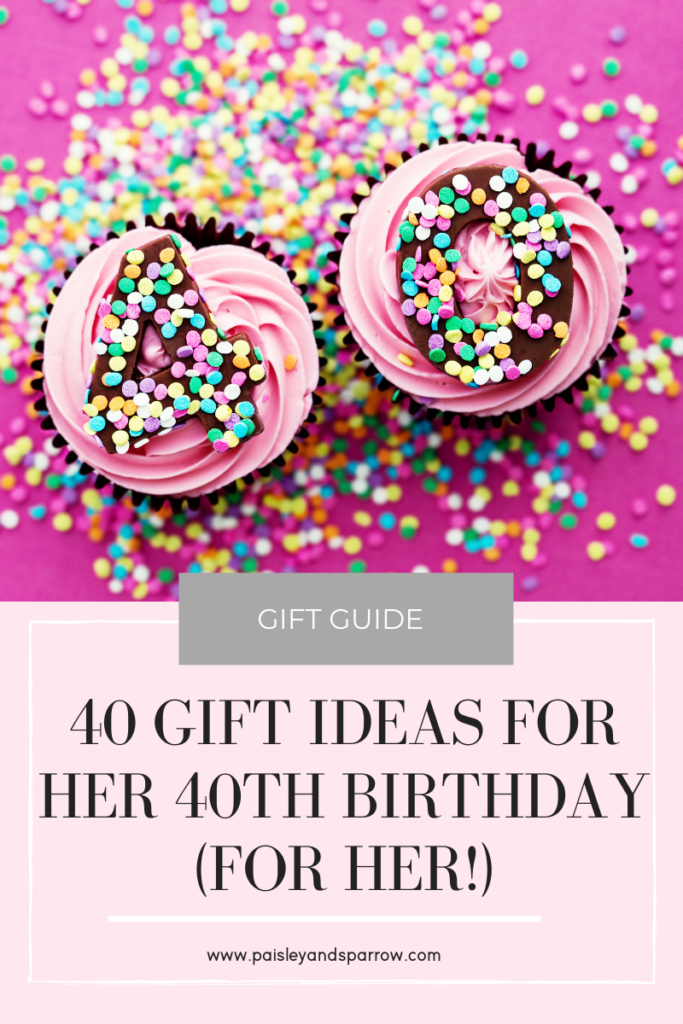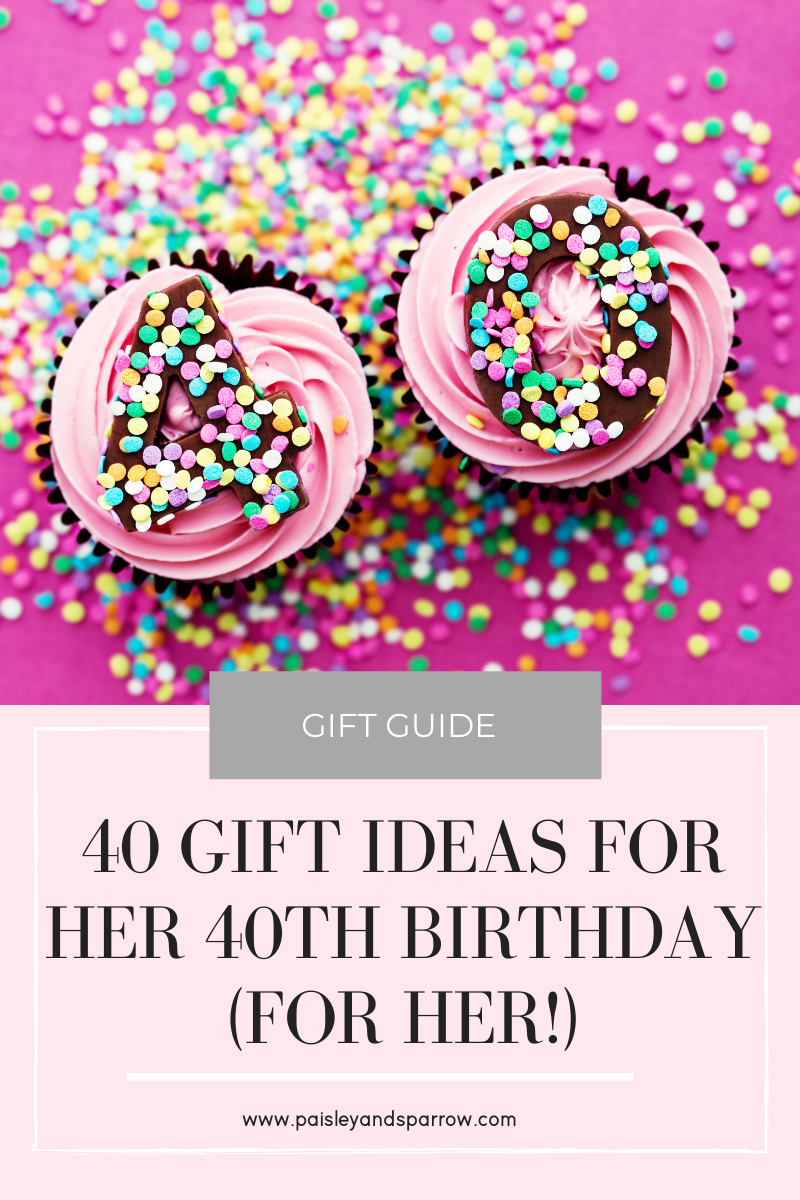 This post contains affiliate links.
Make her feel like a kid again with the most iconic patterns from her childhood: Lisa Frank! These nail polishes and wraps from Orly are the closest feeling she'll get to that Trapper Keeper she loved so much.
They make a fun gift for the young at heart!
If you want the best nail polish (in my honest opinion!), try out Olive & June!
If someone in your wife's life is an artist or if your wife is a mom, this necklace will be an incredibly special gift. This Etsy seller makes personalized necklaces out of drawings, even kids' doodles!
The lines of the drawing are made from sterling silver, rose gold, or 18K gold, and you can choose the chain length to make it the perfect gift.
Have your child draw a family portrait, and make it into a custom piece of jewelry she can keep with her!
Nostalgia and practicality in one! The Caboodle is a great trip down memory lane for your wife, and it can hold a large collection of makeup and accessories.
Fill it with small gifts like her favorite or most coveted makeup or nail polish brands! If you aren't sure where to start, try Charlotte Tilbury, Urban Decay, MAC, Pat McGrath Labs, and Olive and June.
Take this milestone birthday as an opportunity to buy her a piece of jewelry nice enough that she'll have it for decades and classic enough that she can wear it daily. Choose your diamond size (trust me — even a small diamond is dazzling on a necklace) and whether you want 14K yellow gold, rose gold or white gold.
If you didn't already know, I am a firm believer that every home should have plants! A houseplant is a wonderful gift for any birthday girl. It's a fulfilling hobby, warms up a home, and can be a lovely reminder of how we're all growing.
Keep the gifts coming for her whole 40th birthday year! There are so many different subscription boxes out there you are sure to find one that fits her perfectly. Some of my favorites to consider would be a self-care box, a succulents box, or the Alltrue subscription.
There's nothing more important than sleep! Upgrade your wife's sleepwear with some cute and luxuriously soft pajamas.
8. Custom Birthday Cake
Whether you're having a big 40th birthday party or you're celebrating at home, you have to have a cake for this important birthday!
A custom cake is a great idea for the woman who has everything — you can really show how well you know her by highlighting her favorite things or make her laugh with an inside joke perfect for her sense of humor.
This is a piece of jewelry your wife will cherish forever. Take a handwritten message from you, your children or another family member, and have it made into a beautiful necklace. Whether it's a 40th birthday message or simple "I love you," be prepared for some happy tears.
Women used to be coy about getting older, never wanting to reveal their age. But today, women know that turning 40 is something to be celebrated!
This cute and simple sweatshirt lets her show off her birth year — and all the growth and wisdom that comes from being 40 years young.
11. Playlist/Mix Tape
Not only does a mix tape (or a playlist or a mix CD depending on what kind of media players you have available!) bring back memories of her teenage years, it's also an opportunity to share special memories and messages with your wife.
Include her favorite songs, songs that make you think of her, and songs that show how much you value your time together. And some throwback boy band or hip hop (or whatever she used to wait to come on the radio) wouldn't hurt either!
Whether your wife is superstitious or not, she'll love this keychain made from a penny from her birth year! It'll be her good luck charm to carry around for the next 40 years.
13. 40th Birthday Party
The sky's the limit when it comes to planning a big bash for your wife's 40th birthday! You know her best, so you get to decide: would she prefer an intimate backyard gathering with her closest friends or an over-the-top event with a big guest list? Would she like a funny '80s or '90s themed party or something more dressy and sophisticated?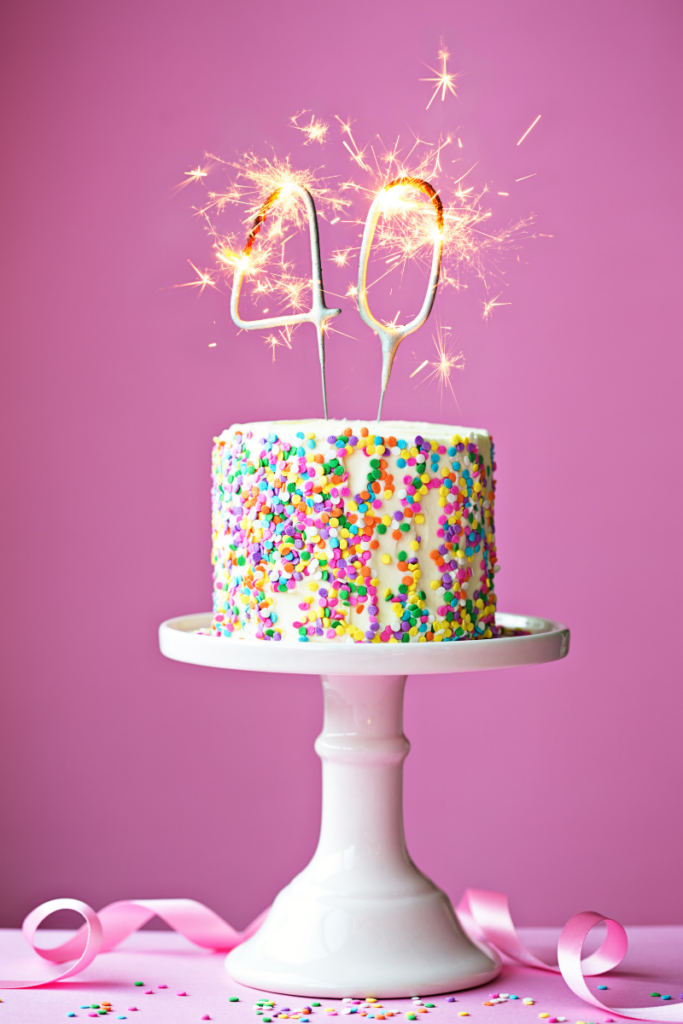 You also know whether she'd like a surprise party or to be in on the planning. There's no wrong way to throw a party as long as you take her preferences into account and have plenty of food, good music, and best friends.
These four circles represent each of the decades your wife has been alive and can serve as a reminder of all the wonderful things she has done and ways she has grown in that time. They're each made from sterling silver and you can choose her birthstone (or just her favorite color).
For the creative woman, the one who loves trying new things, or the woman who could use a little relaxation and me time in her life, pottery is a great hobby to pick up. This pottery kit gives her everything she needs to try out this calming art — and she'll hopefully create some beautiful pieces out of it.
16. Girls Weekend
Help her get away with her best girlfriends for a relaxing weekend! Whether they go out of town or have a staycation locally, it'll make the new 40-year-old feel so special to have her people take a whole weekend to spend time with her. Think a spa day, winery tours, nice dinner reservations, a concert, etc.!
This beautiful but practical Amish sewing basket makes a perfect gift for the maker in your life. It has a nested basket and dowel rods for organizing spools of thread, and is made of high-quality wicker so she can pass it on to the next generation.
If your wife is always cold (or you just live somewhere the cold weather seems to last forever), rechargeable hand warmers are a practical and loving gesture. It's almost like you're there to hold her hand even when you can't be.
These hand warmers will stay hot for three to four hours on a single charge and take less than two minutes to heat up. Warm hands, warm heart!
A milestone birthday is the perfect time to set new goals, and if your wife is into hiking and being outdoors, a hiking bucket list is a sweet idea for her present. An even better gift is helping her check off each hike through the coming years!
20. Art Class
It gets harder and harder to find time for hobbies and creative endeavors as you get older. All those adult responsibilities take up so much time! So for her big 4-0, send her to an art class (or sign her up for an online course) to let her tap back into that creative part of her brain.
I love our Stagg electric kettle! It's aesthetically pleasing and a practical addition to our kitchen that we use every day for tea and oatmeal. It's a great gift idea for a tea drinker, pourover coffee lover or just someone who loves having the prettiest things in their home.
22. Spa Day
She spends so much time taking care of everyone else, her birthday is a perfect opportunity to let her take care of herself! Book her a day full of spa treatments that she'll love: massage, facial, and manicure/pedicure. Or give her a gift certificate so she can choose exactly what she wants to do.
You've probably heard of the Ember mug that keeps your drink warm for hours (and that's a great option too), but this mug ups the ante if your wife is on the go a lot. Or if she's just prone to spilling!
It's got a leak-proof lid and will keep your wife's coffee or tea hot for up to three hours on the battery or all day on the charging pad. It even has a mobile app for adjusting the temperature!
Leather is always a good choice for an important present. It feels luxurious, it ages well, and it can be used for all kinds of practical gifts.
This gorgeous leather tote will become her go-to bag for carrying anything and everything. It's got a zipper to keep everything important inside and can be carried multiple ways so it goes with every outfit.
25. House Cleaner
For her birthday, take the huge task of cleaning the house completely off her plate (and off yours too so you can properly celebrate her!). Hire a house cleaner for a deep clean or for a certain number of cleanings. You'll be giving her the gift of time and improving her mental health!
I love the idea of buying your wife something she'd never buy for herself but you know she will absolutely love. For me, a hot tub is one of those items! She can soak away any muscle aches while having a glass of wine at the end of the day.
And bonus, you get to enjoy it too!
27. Staycation
While a long trip to a faraway destination sounds like an exciting way to spend a birthday, it can always be stressful, expensive and take a lot of planning. A staycation can be just as amazing!
It's the perfect chance to try that trendy restaurant you keep reading about or act like tourists for a few days! Stay at a swanky downtown hotel or pick an area of town that you hardly ever visit and just explore. Remember: room service is a must!
If you and your wife like to drink wine to unwind at the end of the day, a wine membership is a perfect gift for her. You can buy a membership for something like Bright Cellars or Winc, where they send wines each month based on her preferences so she can find new wines she loves.
Or get a membership from a winery you've visited for wine tastings in the past as a sentimental nod to your time together!
This Etsy shop makes custom posters that list all the things you know and love about your wife. Her 40th birthday is the perfect chance to tell her exactly what she means to you and let her know she's one of a kind!
(This is a digital download that you print yourself, so take that into account when ordering.) Here's another style to choose from!
There are so many reasons a Peloton bike or treadmill is a great gift! It's a hobby, it's self-care, it gives her endorphins, it helps her set new goals, and it connects her with her body if that's something she's been missing.
I'm always singing Peloton's praises, so this is a gift I can get fully behind. Here's my full review if you're interested!
(Need a promo code? Use SMPC9C for $100 off any accessories!)
This quiet hair dryer is sure to be a hit with your wife. It has different attachments for different hair types so whether she's a styling novice or an expert, she'll find it easy to use.
32. A Fancy Date Night
Make her feel extra special with a date night out to a really nice restaurant (and maybe a rooftop bar or the theater afterward!).
Want to up the ante? Have some new dress options ready for her to wear — buy some and return the ones she doesn't choose, or use a service like Rent the Runway.
There's so much you can do on an Apple Watch, she won't know how she lived without one for so long! For her 40th birthday, give her a practical piece of jewelry that can help her meet fitness goals, dictate text messages, check the weather at a glance, find her phone and more.
Make it even more stylish by buying her an alternate watch band or two!
A milestone birthday is ideal for sentimental gifts that highlight some of your wife's favorite memories. Create a beautiful photo book to get those memories off your phones and into your hands so she can easily look at them anytime the mood strikes.
Use pictures from her lifetime, from the past year, or just all your favorites of her to make her feel special and loved.
An amazing gift for any crafty person, the Cricut Maker 3 can cut hundreds of materials for all kinds of projects, from labels to decorations to toys. She'll enjoy playing around with all the design possibilities and it might even spur a new passion project!
If your wife spends much time in the kitchen, she's probably had her eye on a Le Creuset dutch oven. They're beautiful, last forever and work incredibly well because of their enameled cast iron. Plus they come in a ton of colors.
Don't let the price tag scare you off! It will become a family heirloom.
For the woman who loves beauty and skincare products, a skincare fridge is a luxurious gift that helps her get the most out of her collection of creams, mists, oils and more. Find my top skincare fridge recommendations here.
Even better, add a gift basket full of beauty supplies to really impress her!
Pair a plush robe with breakfast in bed, and you've got a great gift. This Eberjey robe from Anthropologie is so soft, has pockets and a removable belt, and will become her new favorite thing to wear around the house.
Make her bedroom a sanctuary by upgrading your bedding. It can change the whole feel of the room, as well as the quality of her sleep!
40. Hire an Organizer
Having a place for everything (and everything in its place) seems like such a boring grown-up gift, but it is a huge stress relief and can last years! A professional organizer will go through every room with you to clean out and create systems to keep your house in order long after they're gone. It's almost like getting the gift of extra storage!
Looking for more ideas for what to get your wife? Check out my gift guide for women or my picks for fair trade gifts!
Celebrating another special occasion? I've got perfect gift ideas for bachelorette parties.