We're all working out from home a lot more these days, right? Well if you love spin classes or have heard about the good ole Peloton bike, this article is for you!
If you want options of spin, yoga, strength, boxing and more? Today let's talk about the Peloton bike! I get so many questions about it so I wanted to share a full Peloton bike review to help answer the burning question – Is the Peloton bike worth it?
We've owned our Peloton bike for 5+ years and also invested the Peloton tread. We've fallen in love with not only the equipment but the classes and community as well.
What is a Peloton bike?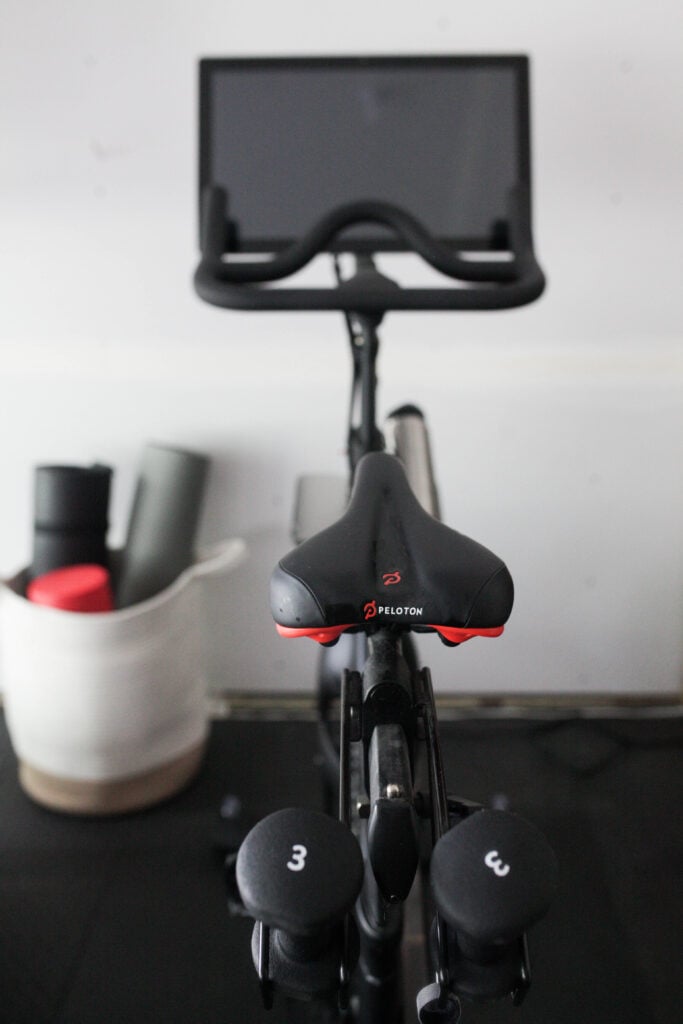 Paisley + Sparrow is a participant in the Amazon Services LLC Associates Program. This post may include affiliate links which means I may earn a small commission if you shop using the links below at no additional cost to you. Thanks so much for supporting me and this blog!
Peloton is a private, indoor cycling studio in your own home.
"The Peloton bike brings you the most convenient and immersive indoor cycling experience, streaming daily live classes from our NYC studio directly into your home. You'll have 24-hour access to studio cycling classes available to your entire household." (via the Peloton website)
In basic terms, it is a stationary bike with a screen attached where you can stream live or pre-recorded classes.
If you tune in live, the instructors can see your name and your total output (among other things). You'll frequently hear them give shout outs to online riders oftentimes congratulating participants on milestone rides or wishing them a Happy Birthday!
I find doing live classes to be extremely motivating because I like to hear my name being called out and high five-ing other riders! My husband, however, rarely does any live classes. It's all personal preferences!
Is Peloton Worth It? Peloton Bike Review
In short, YES the Peloton is 100% worth it. Between the variety of classes you get from the Peloton app, the amazing instructors, the ability to ride whenever you want as well as ride in a live class alongside thousands of other people and new classes constantly being added, the Peloton is worth it!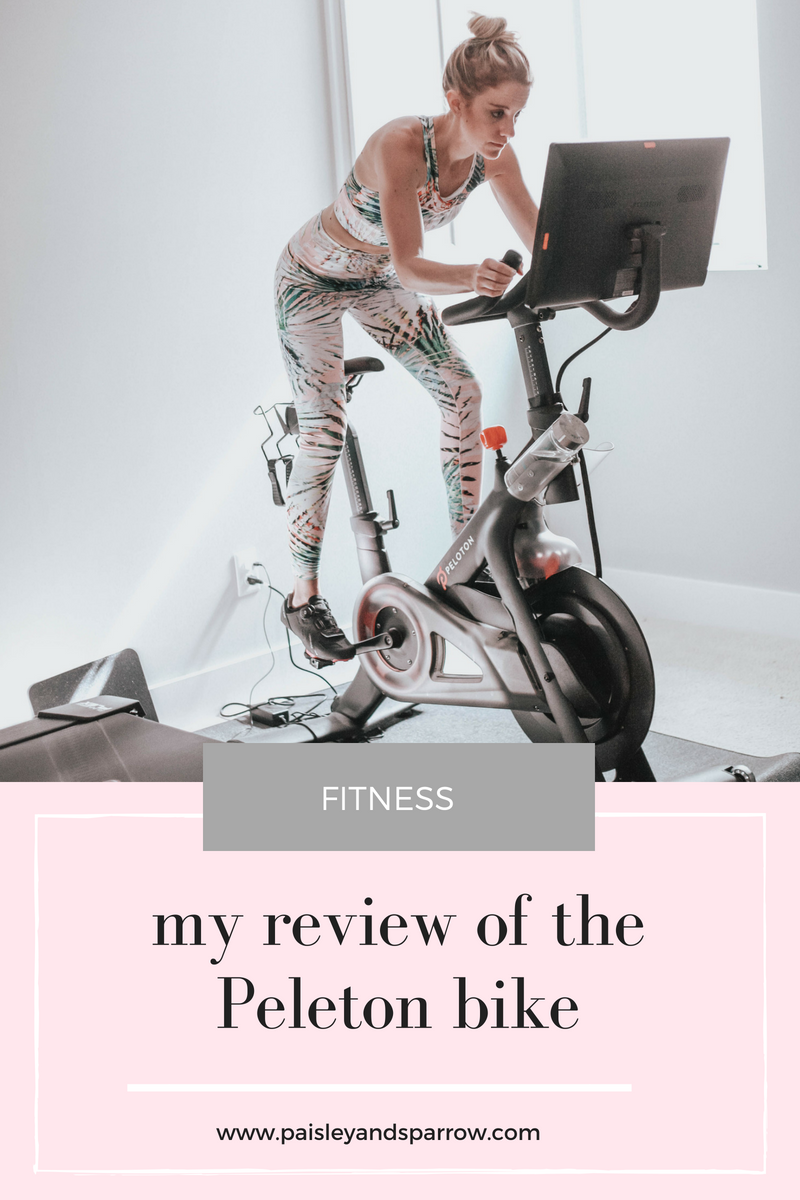 Here's a little bit of back story to why I think it's worth it. We first got our Peloton bike shortly after having our first born back in the summer of 2016.
We knew our life was going to be turned upside down once a baby joined the family and that included easily heading out for a run or going to the gym like we were used to.
Rishi (my husband) loves cycling and has done a few classes in his day as well as loves outdoor cycling. I truthfully hate it but we got the bike. I've never done a "real" cycle class though so I was open to trying it out.
We originally turned our basement bedroom into an "at home gym". It had a treadmill, some weights and the Peloton bike.
We've since moved so now we turned the 3rd stall in our garage into our home gym! We have everything in there as well as the Peloton tread.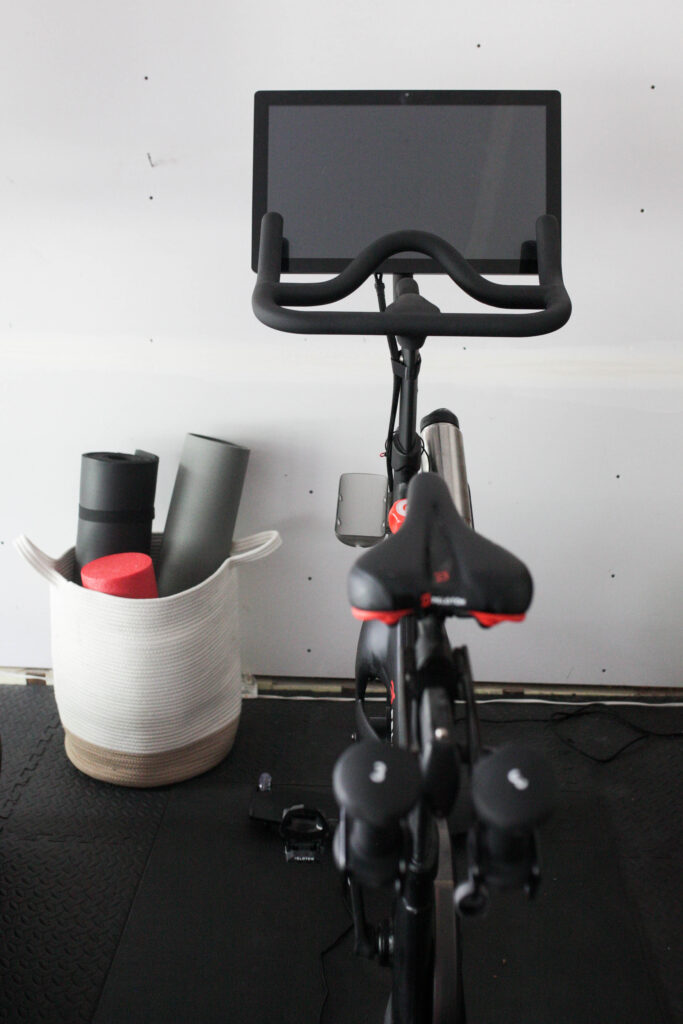 I used to do the bulk of my training in a gym and outside running. But I have to admit, is so nice to have the option to do a workout class at home! And now with 3 kids, it's really nice to be able to get a workout in while the kids sleep and not have to find a babysitter or anything.
Rishi convinced me to try it out the Peloton bike when we first got it. It took some getting used to (and I was really out of shape from being pregnant) but I loved it!
It's a really good workout and the instructors keep me super entertained, so I'm not bored 5 minutes into my ride.
I typically only do a 20 or 30 minute ride but since they're tough workouts I feel like I accomplished a ton in a short amount of time.
They have 20, 30, 45 and 60 minute classes. The classes are all different types (HIIT, pop, intervals, low impact, etc).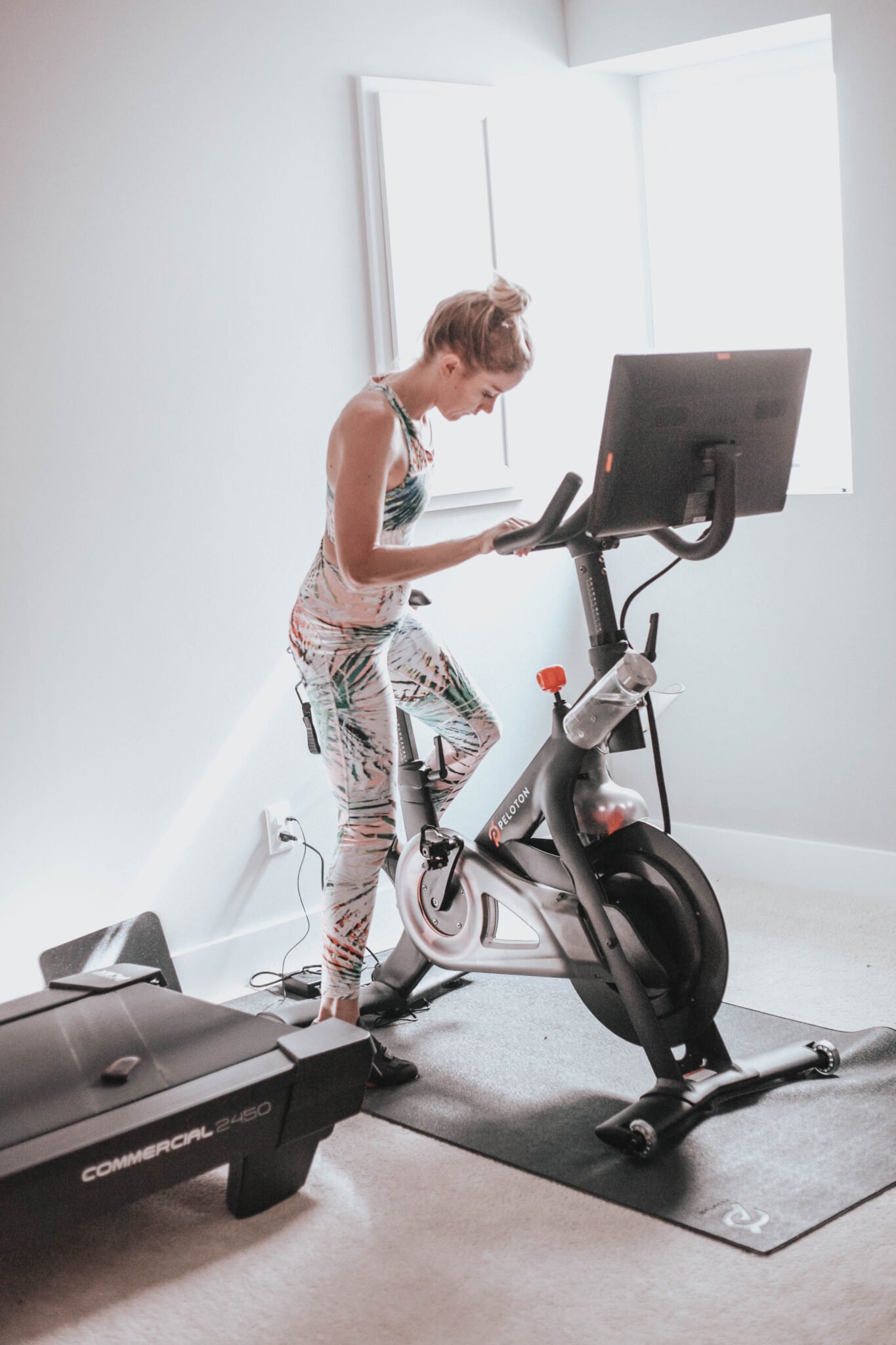 Peloton Bike+
NEW to Peloton is the Bike+! The new Bike+ has a 24″ HD touchscreen (compared to the 22″ on the original bike). It also has 4 channel audio with 2×3 watt tweeters in addition to the original 2×10 woofers.
There's also 2 front facing and 2 rear facing speakers and one of the best things is the rotating touchscreen with 360 degrees of movement!
One other amazing feature is the auto-follow resistance. I know many of us zone out while working out (ok, maybe it's just me?). The auto-follow follows along to any of the cue the instructors call out so you can stay on track. It's genius!
The cost of the original bike went down (it's now $1,495) and the bike+ costs $2,495.
The Peloton All-Access Membership Subscription
The Peloton Bike membership is how you stream all of the classes for the bike. In order to continue taking classes from all of the amazing instructors (Robin Arzon, Matt Wilpers, Tunde Oyeneyin and my favorite Alex Touissaint) you need to keep your Peloton Access Membership.
This costs $39/month if you have the bike. However, not only can you do the bike classes but this will also allow you to do the tread workouts, strength workouts, yoga and everything else they offer!
Peloton Classes
One thing I love about the Peloton classes is there are options for all skill levels. I'm terrible at biking so I usually stick to beginner and intermediate. On the other hand I'm a pretty good runner so I do intermediate to advance.
There's also music themed classes, HITT classes, recovery classes, warm up classes, cool down classes and everything in between.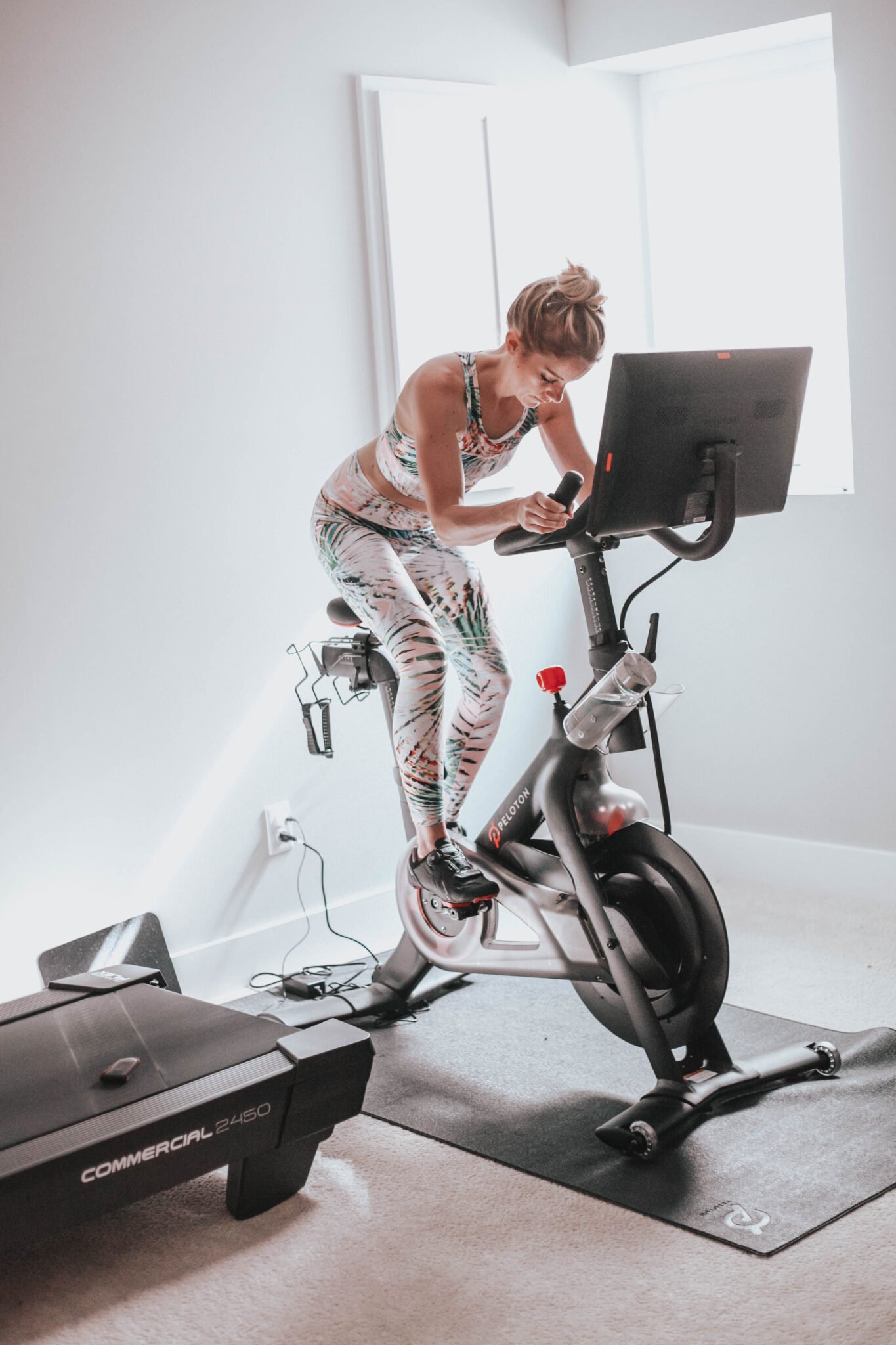 However, each class can be tailored just to you! The instructors typically give ranges of where they want you to be but you can go easier or harder depending on your ability.
You also have options to do ALL of the Peloton classes! Here are all of the different types of classes that are included in your All-Access Membership:
Strength
Yoga
Cardio
Meditation
Running
Outdoor Running
Cycling
Bootcamp (for both bike and tread!)
Walking
Pilates
Boxing
Family Fun
The also have programs like core, total strength and the power of sleep! They recently added Peloton boxing and have a program for that as well as an introductory "You Can Ride" program to help you understand your new tread
The Peloton classes through the All-Access membership is one of the biggest perks of the Peloton bike.
Peloton Family
One amazing thing that Peloton has recently launched is Peloton Family! They have "fit family fun" for the whole family.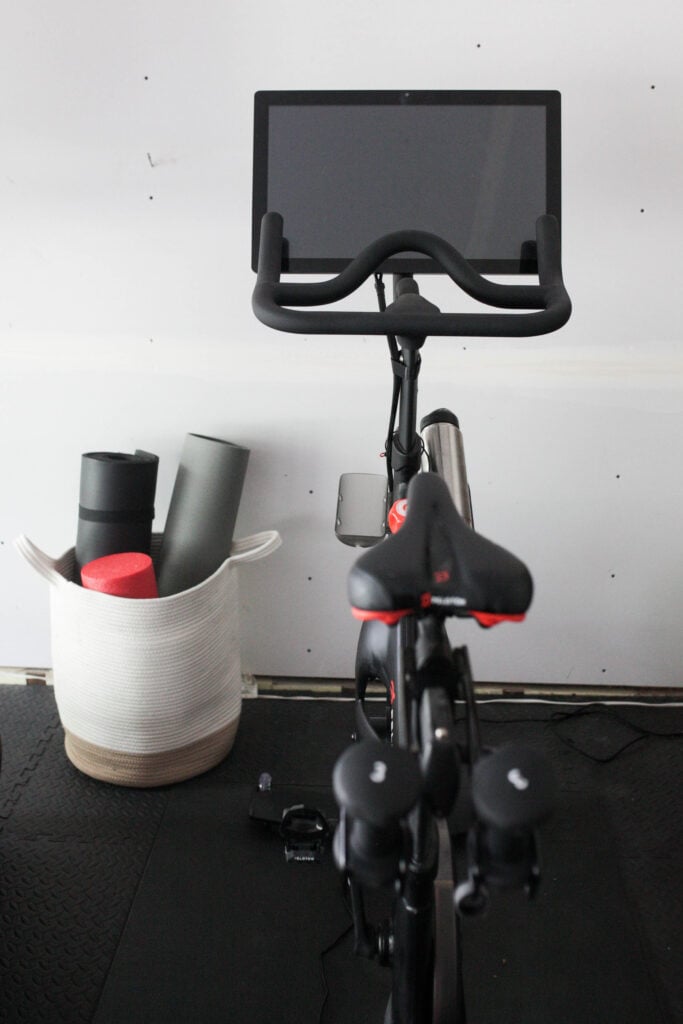 One of my favorite instructors, Jess Sims, was a former teacher and has created a lot of the classes which I love!
There's 15 minute "Fit Family Fun" cardio and strength classes (ideally for kids 5 and up), 20 minute "Fit Family Strong" with 20 minute class (for kids 10 and up), "Fit Family Brain Breaks – think musical chairs and Freeze! games and lastly, family meditations!
I love that they're doing things for the entire family to get everyone loving health and fitness! Our kids love doing the family fun workouts!
Peloton Digital + App
You can also get the Peloton app and stream classes on your own bike or treadmill and it costs $19.49/month.
I used to stream the treadmill classes on the treadmill we've had for years before getting the tread. It definitely not the same as using a Peloton treadmill but it's nice to have the option to switch up my workouts!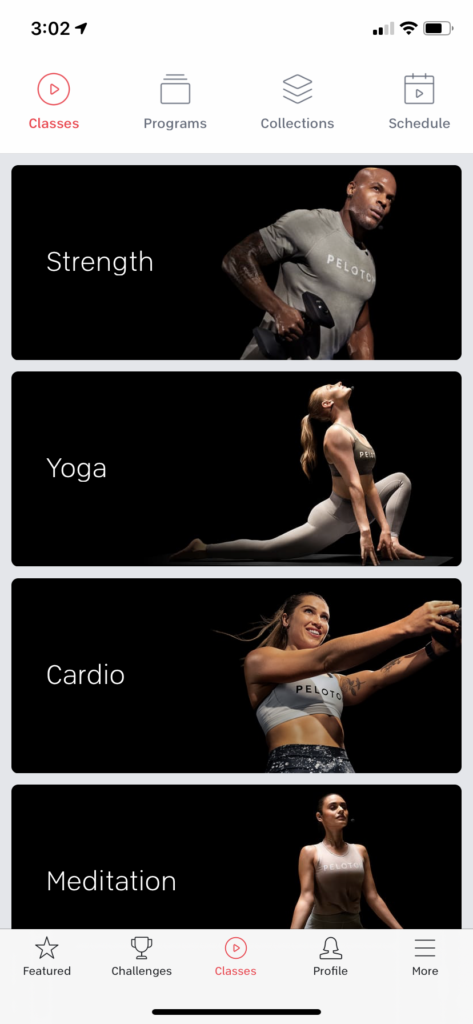 The app also has lots of added classes like stretching, core, total body, legs, etc. I should do more of the stretching ones pre or post class but admittedly I've only done a few. I've done quite a few of the strength classes though!
I love their bootcamp classes which is a mix of tread and floor work. You get both cardio and strength in as little as 20 minutes. These workouts always leave me exhausted! 🙂
Peloton has also recently added in yoga as well as pilates! There's a variety of styles of yoga and pilates classes that you can do. They're constantly adding new classes and new types of classes which makes this a great option for anyone who likes variety in their workouts.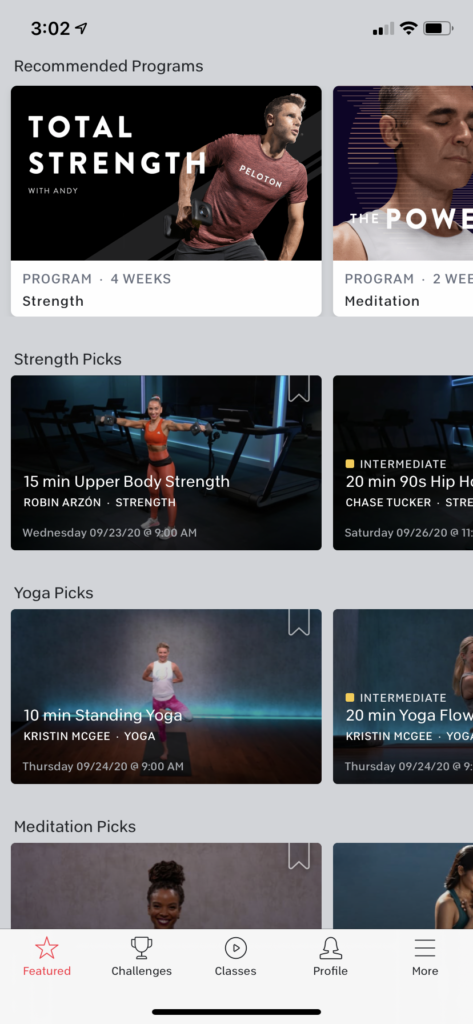 I try to do 5-6 classes each week. Since there are 20 minute options, it's super easy to fit a class in first thing in the morning (and bonus, there's zero commute time)!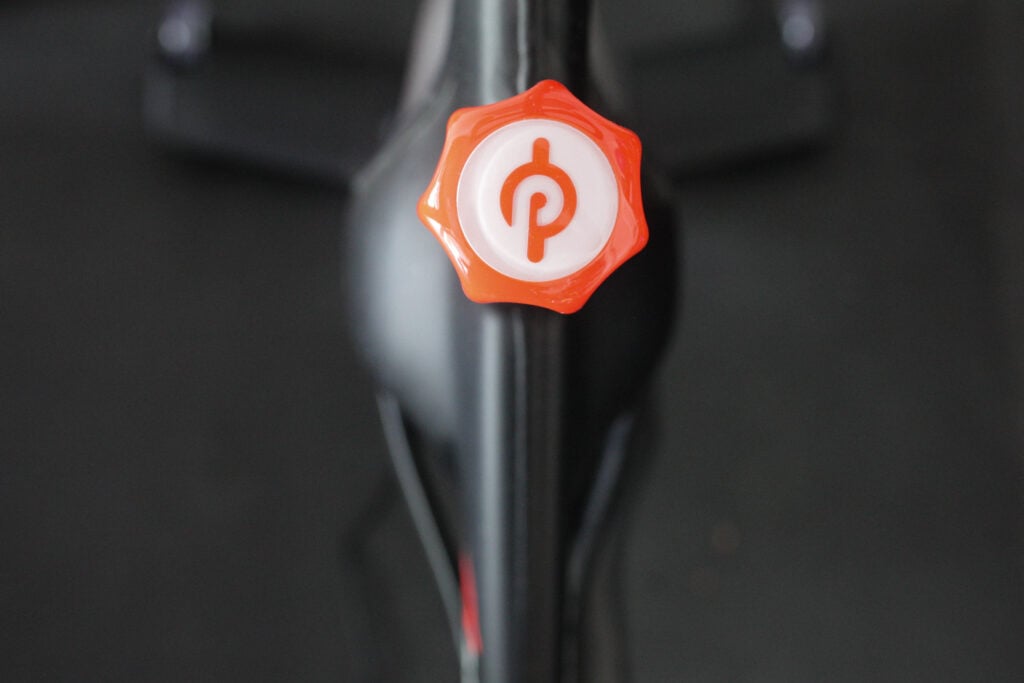 There's also new ones added every week so I've never taken the same class twice! There's definitely months when neither one of us touch the bike (I sadly couldn't bike when I was pregnant with Penelope) but we try to keep it in rotation for our workouts.
Peloton Bike FAQs
1. How Much Does it Cost?
The bike starts at $1,495 which includes the bike, 30 day at home trial, and delivery and set up.
There's also different packages which includes shoes, weights, headphones, heart rate monitor, bike mat, etc. Yes, it's a lot more expensive than most stationary bikes but I think it is definitely worth every single penny!
We opted to just get the basics package when we got our bike. We did, however use a friends promo code to get a mat and some weights.
We both actually purchased spin bikes from amazon and they work perfect! Rishi got these men's bike shoes.
2. How big is the Peloton bike?
The bike is pretty compact and definitely not an eyesore being sleep black, white with a splash of red. It has a 4′ x 2′ foot print.
3. Is there bluetooth?
Yes! Most (but not all) headphones and speakers are compatible.
4. Can you use a heart rate monitor?
Yes! My husband is a huge advocate of using a heart rate monitor during rides. The bike will also display your real-time heart rate when you use any ANT+ compatible heart rate monitor.
5. Are there speakers or do I use headphones?
There are speakers! The Peloton bike's touchscreen has 2 10 watt speakers. When my husband is on the bike and I'm on the tread he plugs in speakers into the screen to keep the noise at a minimum. It works great!
6. Can other people use my All-Access Membership?
Yes! You can also allow friends and family to use this so you won't need numerous memberships for your whole family. We also let our babysitters use it as an added perk. 😉
7. Is spinning a good way to lose weight?
The simple answer is yes! Most spin classes are said to burn between 400-600 calories.
Doing just a couple spin classes each week will help you burn calories, improve your cardiovascular health and build muscle (which in turn burns more calories!).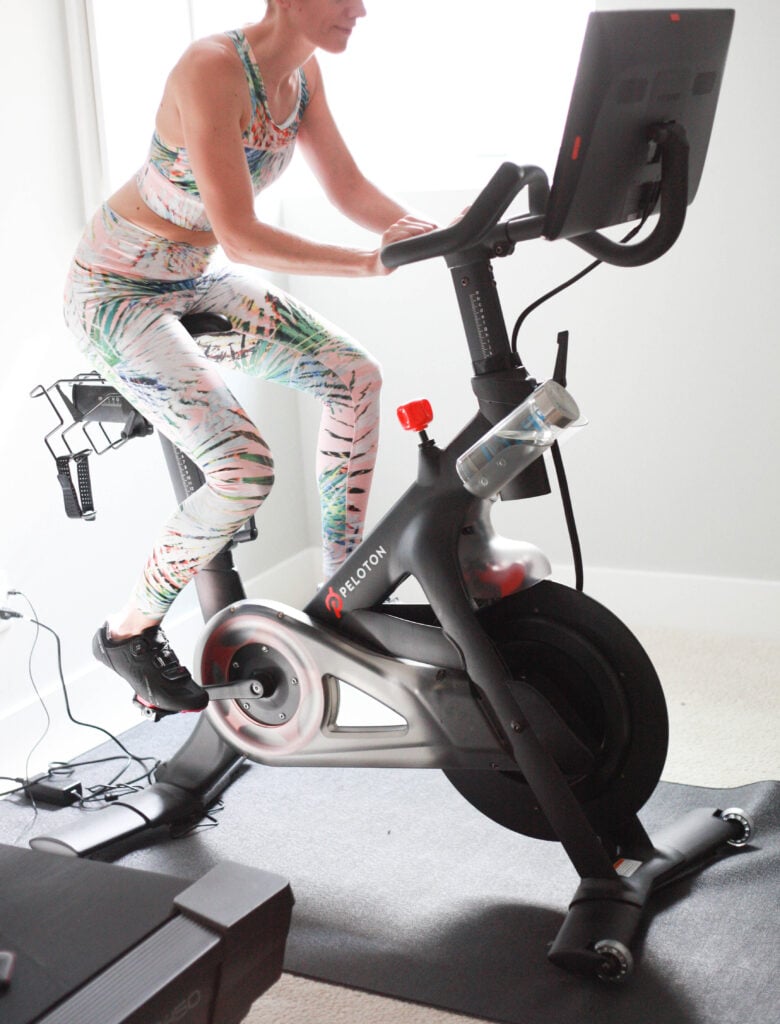 Peloton Tread
Lately I've been loving Peloton bike classes over going for a run outside since there is someone yelling at me and telling me what to do during the Peloton classes but not when I'm running.
However, they recently released their treadmill so I've started streaming their tread workouts from their app while using our treadmill! This has by far been my favorite bonus of the Peloton workout since I love running so much.
Now most weeks I do one treadmill workout and one cycling workout a week with one or two strength workouts.
In true Peloton fashion, their treadmill workouts are amazing! They're super good (and HARD) workouts that fly by. If you're a runner you need to try these workouts out!
**Update! We now have the treadmill. Find my full review here.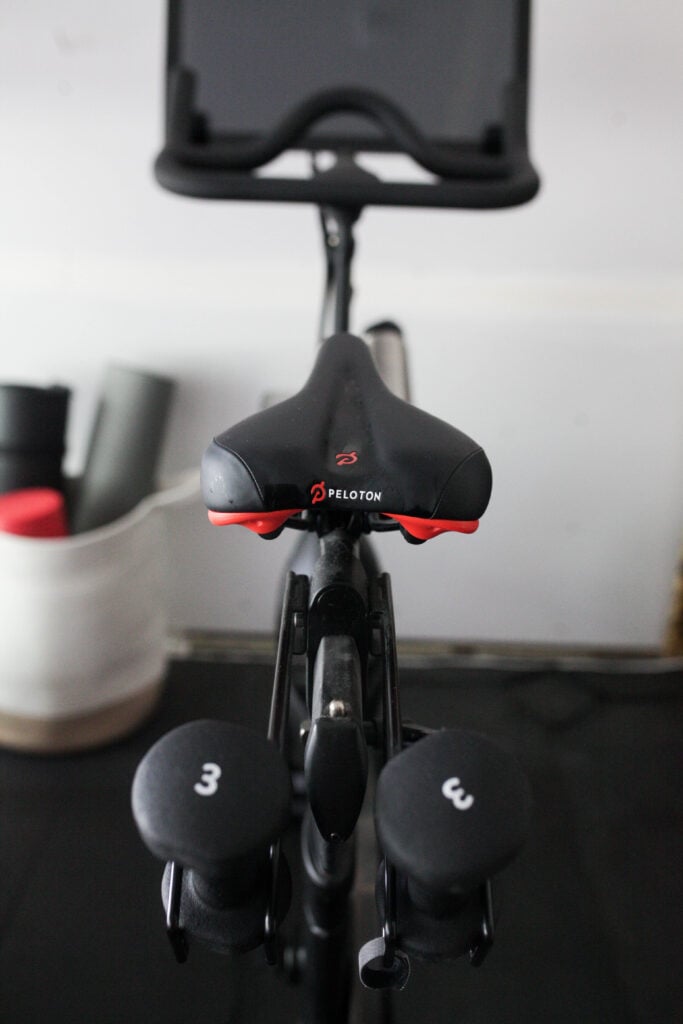 Should you get one? Peloton Pros and Cons
There are pros and cons when it comes to determining the big question – is the Peloton worth it?
Peloton Pros:
The subscription is multi-purpose – being able to stream so many additional classes like the tread workouts, strength workouts, yoga classes definitely adds value to the cost of the membership.
There's zero commute time to get to the gym.
You can workout any time!
The instructors are highly motivating.
There's new classes add daily.
The whole family can work out with just one membership.
Complete challenges to keep yourself motivated and challenged – or challenge other riders!
See how many calories you've burned, your output and how you compare to others right on your screen. Even see your heart rate if you use a heart rate monitor!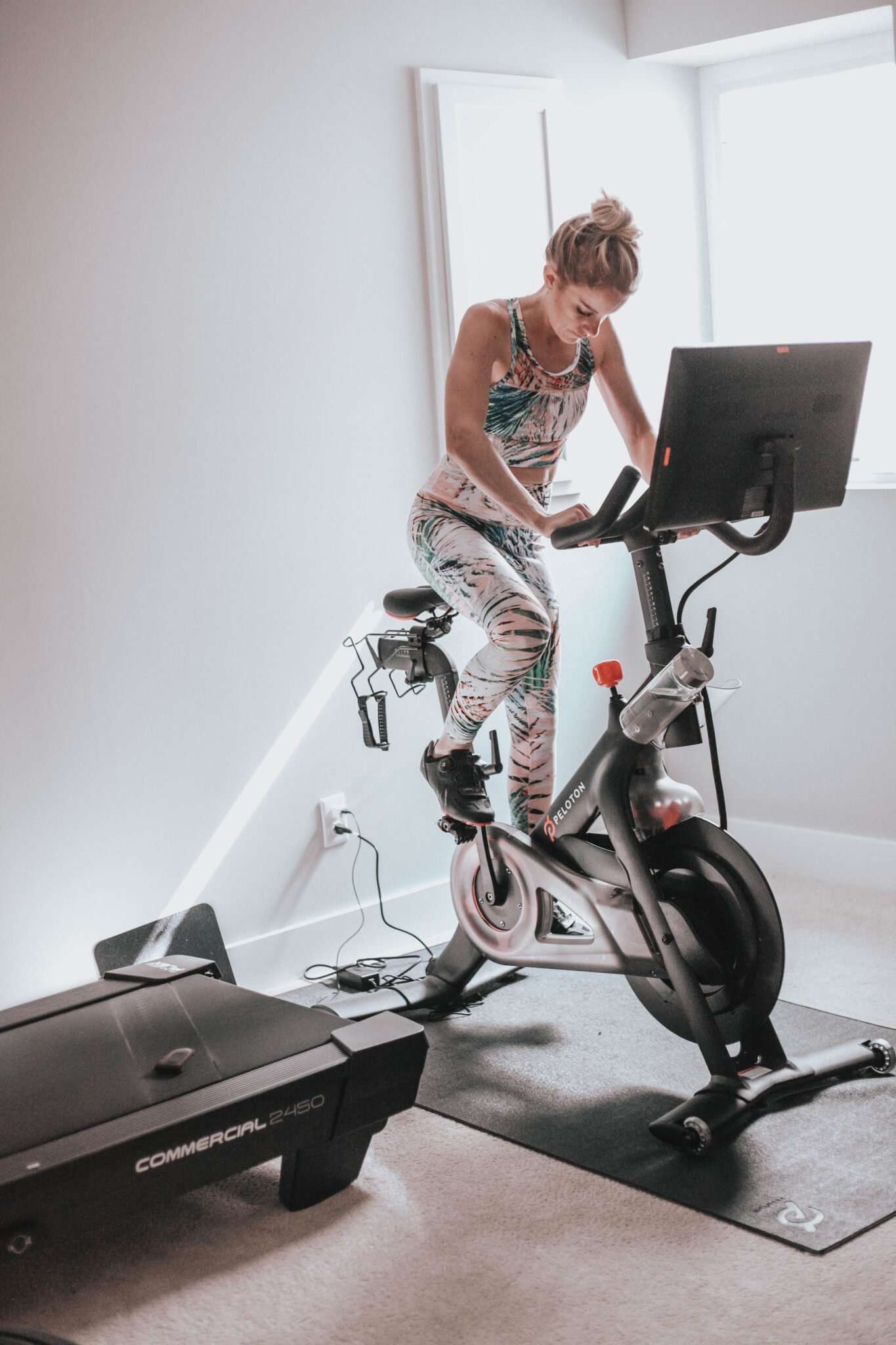 Peloton Cons:
The Peloton bike itself is an investment. It's an expensive bike!
There's a monthly cost. You need the monthly membership to stream classes.
There's less of an opportunity to meet other people like you could at a gym but they do give you ways to communicate with other riders.
It takes up space in your house. No, not a lot, but something to take into consideration if you have a small house or apartment.
Questions to ask yourself: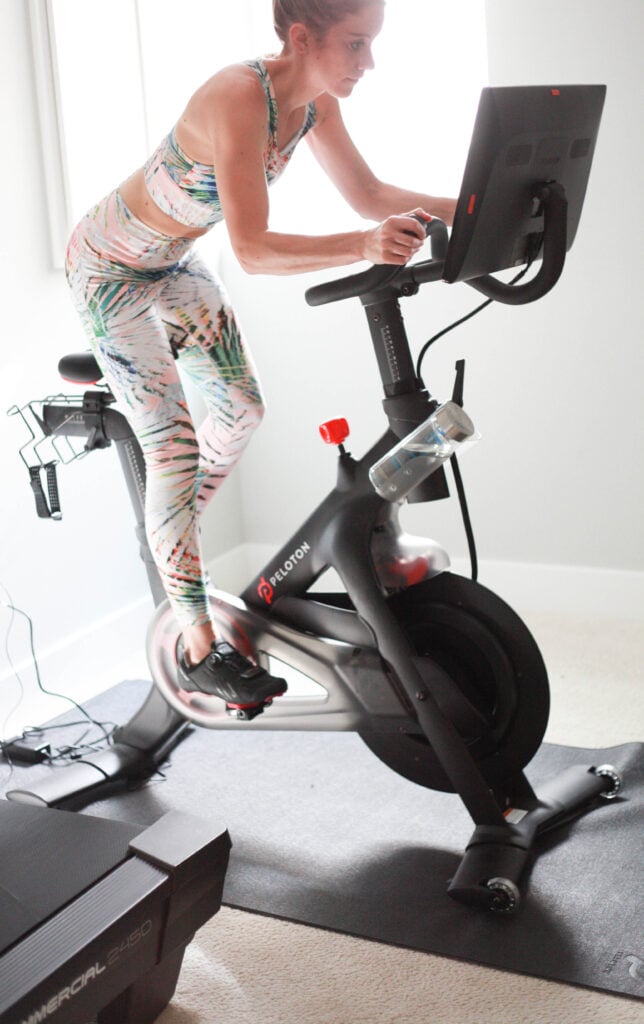 1. Do you like to workout at home?
If not, this is not the thing for you. 😉 However, I wouldn't totally take this out of consideration! I used to love going to the gym but now love my at home workouts.
2. Are you competitive?
You can be super competitive not only with yourself but other riders during a Peloton class. You don't need to be a competitive person to like this workout but it definitely helps if you are one!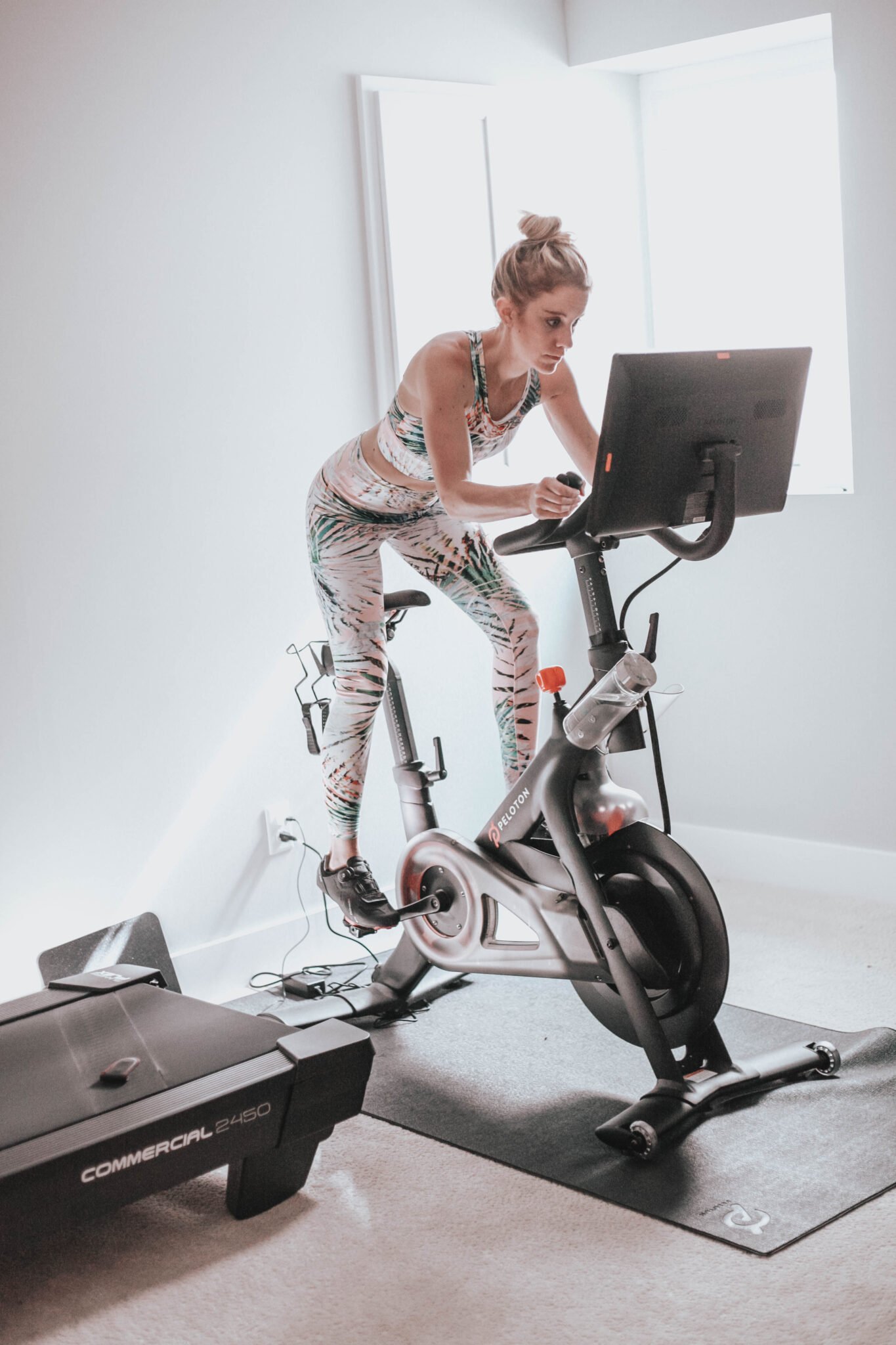 3. Do you like to do spin classes?
If you've never taken one I suggest going to your local gym and trying out a few classes. Rishi already knew he liked spin classes where I was unsure – had it been just me I definitely would have tried out a class or 2!
I hope this helps you decide for yourself: Is the Peloton worth it?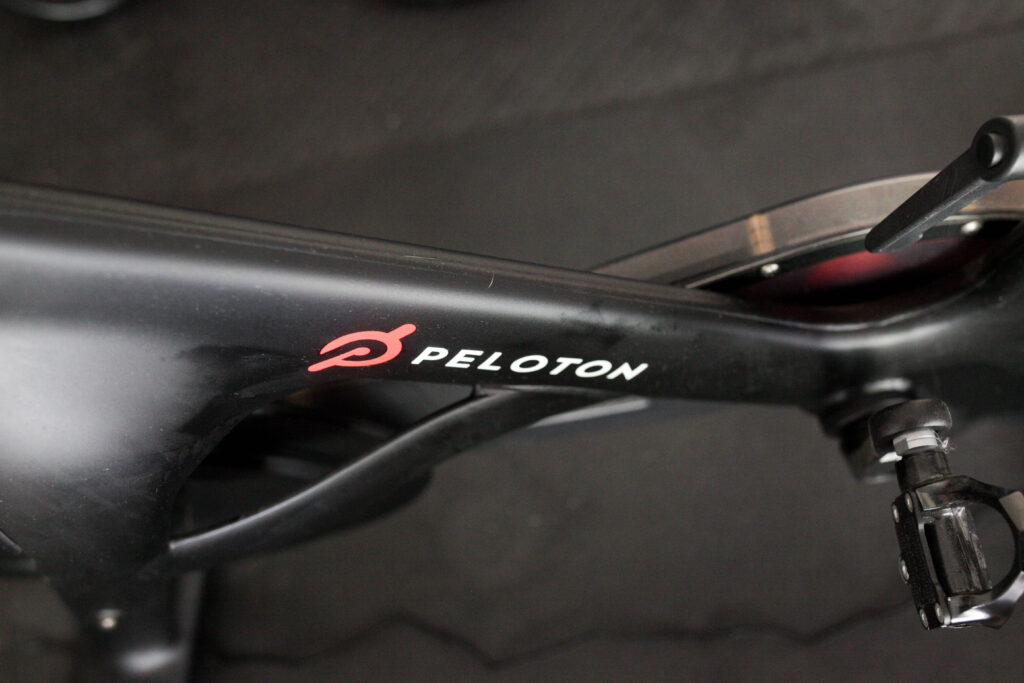 Being someone who wasn't a huge biker before getting the bike, I'm pleasantly surprised with how much I love it. I'm also a pretty competitive person so this type of workout speaks to me.
Let me know what questions you might have! If you decide to get one, use the code SMPC9C for $100 off accessories!
Thanks so much for reading my Peloton review! Be sure to check out my Peloton Treadmill review, everything you need to know about all the Peloton instructors or My Kayla Itsines' BBG Workout Review if you want to read other workout reviews!