Updated April 2020
Last week I shared one of my morning workouts on Instagram Stories – a Peloton class! So many of you had questions about it so I thought I'd share a full Peloton review to help answer the burning question – Is the Peloton worth it?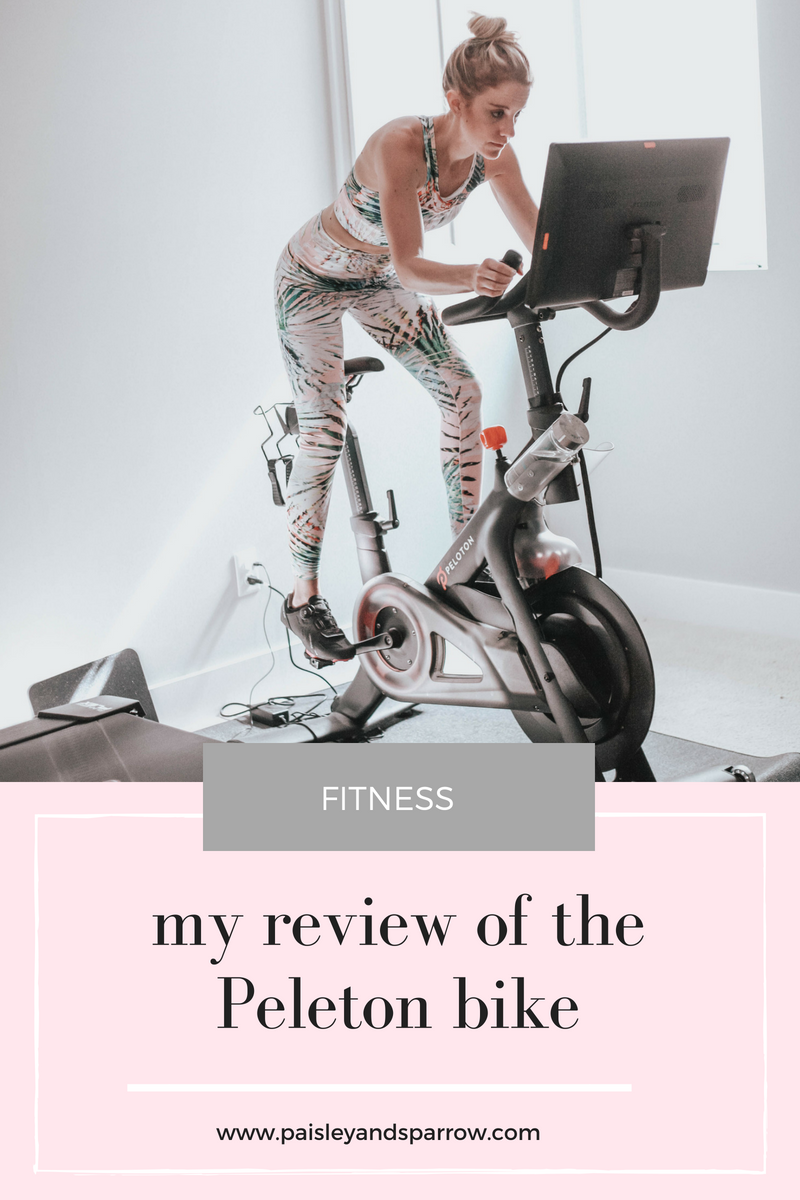 There are a lot of reviews out there so definitely check out others – I'm sure not everyone loves it as much as me!
Paisley + Sparrow is a participant in the Amazon Services LLC Associates Program, an affiliate advertising program designed to provide a means for sites to earn advertising fees by advertising and linking to Amazon.com.This post may include affiliate links which means I may earn a small commission if you shop using the links below at no additional cost to you. Thanks so much for supporting me and this blog!
Peloton is a private, indoor cycling studio in your own home.
"The Peloton bike brings you the most convenient and immersive indoor cycling experience, streaming daily live classes from our NYC studio directly into your home. You'll have 24-hour access to studio cycling classes available to your entire household." (via the Peloton website)
In basic terms, it is a stationary bike with a screen attached where you can stream live or pre-recorded classes to attend.
If you tune in live, the instructors can see your name and your total output (among other things).
You'll frequently hear them give shout outs to online riders. I rarely do live classes so sadly I've never gotten a shout out. 😉 I have had friends who've gotten shout outs though! It's always fun to hear a familiar name while taking a class.
My Peloton Review
We first got our Peloton bike shortly after having Roy, our first born back in the summer of 2016. We knew our life was going to be turned upside down once a baby joined the family and that included easily heading out for a run or going to the gym like we were used to.
Rishi (my husband) loves cycling and has done a few classes in his day as well as loves outdoor cycling. I truthfully hate it but we got the bike. I've never done a "real" cycle class though so I was open to trying it out.
We have our basement bedroom converted into an "at home gym". It has a treadmill, some weights and the Peloton bike.
I go back and forth between liking workouts at a gym and workouts at home. But I have to admit, is so nice to have the option to do a workout class at home! And now with 3 kids, it's really nice to be able to get a workout in and not have to worry about getting home in time for Rishi to leave for work.
Rishi convinced me to try it out when we first got it. It took some getting used to (and I was really out of shape from being pregnant) but I loved it!
It's a really good workout and the instructors keep me super entertained, so I'm not bored 5 minutes into my ride.
I typically only do a 20 or 30 minute ride but since they're tough workouts I feel like I accomplished a ton in a short amount of time.
They have 20, 30, 45 and 60 minute classes. The classes are all different types (HIIT, pop, intervals, low impact, etc).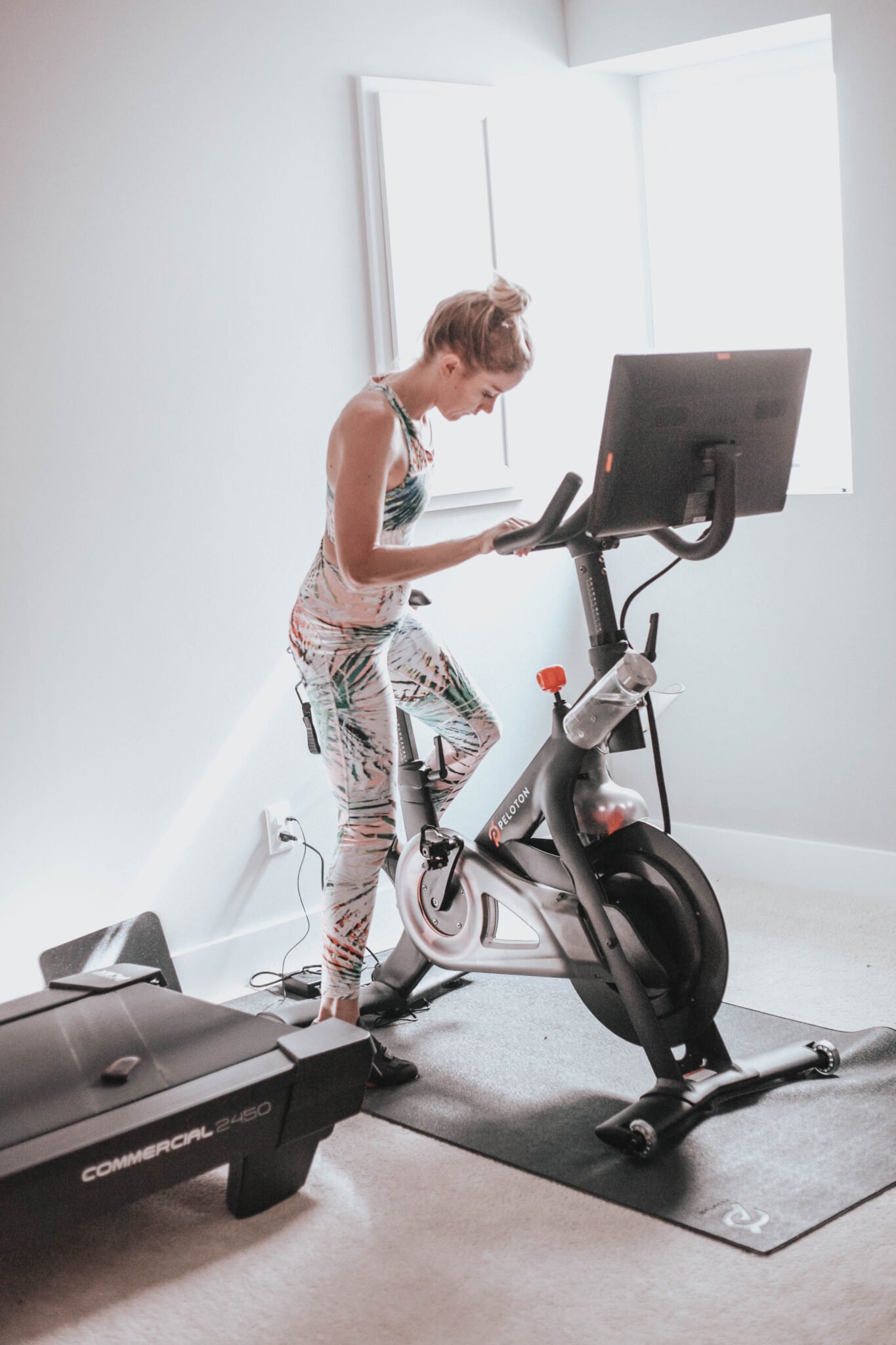 Peloton Family
One amazing thing that Peloton has recently launched is Peloton Family! They have "fit family fun" for the whole family.
One of my favorite instructors, Jess Sims was a former teacher and has created a lot of the classes which I love!
There's 15 minute "Fit Family Fun" cardio and strength classes (ideally for kids 5 and up), 20 minute "Fit Family Strong" with 20 minute class (for kids 10 and up), "Fit Family Brain Breaks – think musical chairs and Freeze! games and lastly, family meditations!
I love that they're doing things for the entire family to get everyone loving health and fitness!
How Much Does it Cost?
The bike starts at $2,245 which includes the bike, a 1 year limited warranty and delivery and set up.
There's also different packages which includes shoes, weights, headphones, heart rate monitor, bike mat, etc. I think it is definitely worth every single penny though!
(Looking for a peloton treadmill review? The treadmill is my go to workout so I have a very robust review on the tread too!)
I spoke to a rep recently who said Peloton is making the treads in batches so you need to put down a deposit and when the next batch is made (typically every couple of months), then your tread would be made and delivered.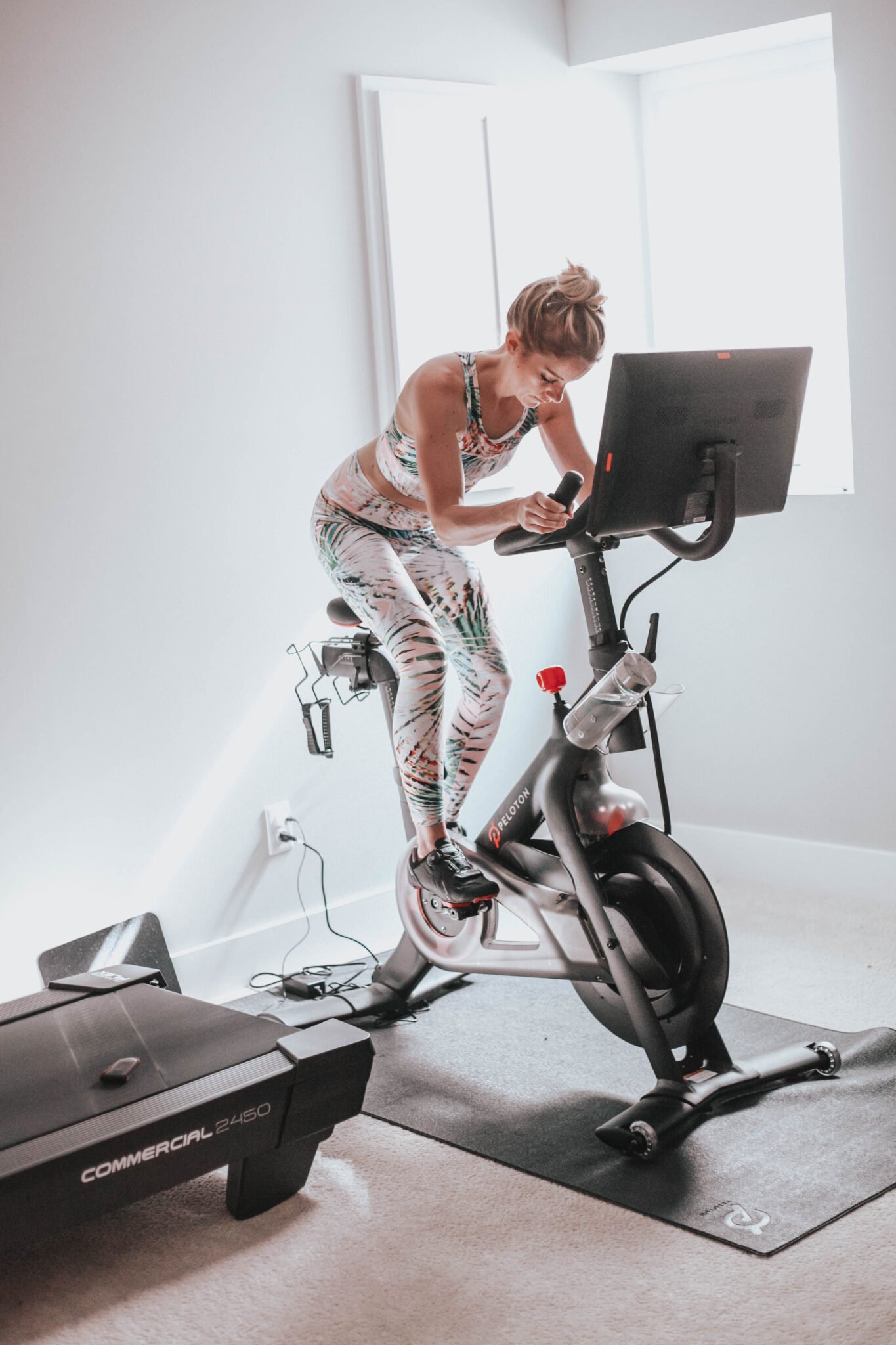 The Subscription
The Peloton Bike membership is how you stream all of the classes for the bike. This costs $39/month if you have the bike.
Peloton Digital
You can also get the Peloton app and stream classes on your own bike or treadmill and it costs $19.49/month.
I used to stream the treadmill classes on the treadmill we've had for years before getting the tread. It definitely not the same as using a Peloton treadmill but it's nice to have the option to switch up my workouts!
The app also has lots of added classes like stretching, core, total body, legs, etc. I should do more of the stretching ones pre or post class but admittedly I've only done a few. I've done quite a few of the strength classes though!
I love their bootcamp classes which is a mix of tread and floor work. You get both cardio and strength in as little as 20 minutes. These workouts always leave me exhausted! 🙂
Peloton has also recently added in yoga! There's a variety of styles of yoga classes that you can do. I'm not a huge yoga person but I love doing a quick class every now and then.
I try to do 3-4 classes each week. Since there are 20 minute options, it's super easy to fit a class in first thing in the morning (and bonus, there's zero commute time)!
There's also new ones added every week so I've never taken the same class twice! There's definitely months when neither one of us touch the bike (I sadly couldn't bike when I was pregnant with Penelope) but we try to keep it in rotation for our workouts.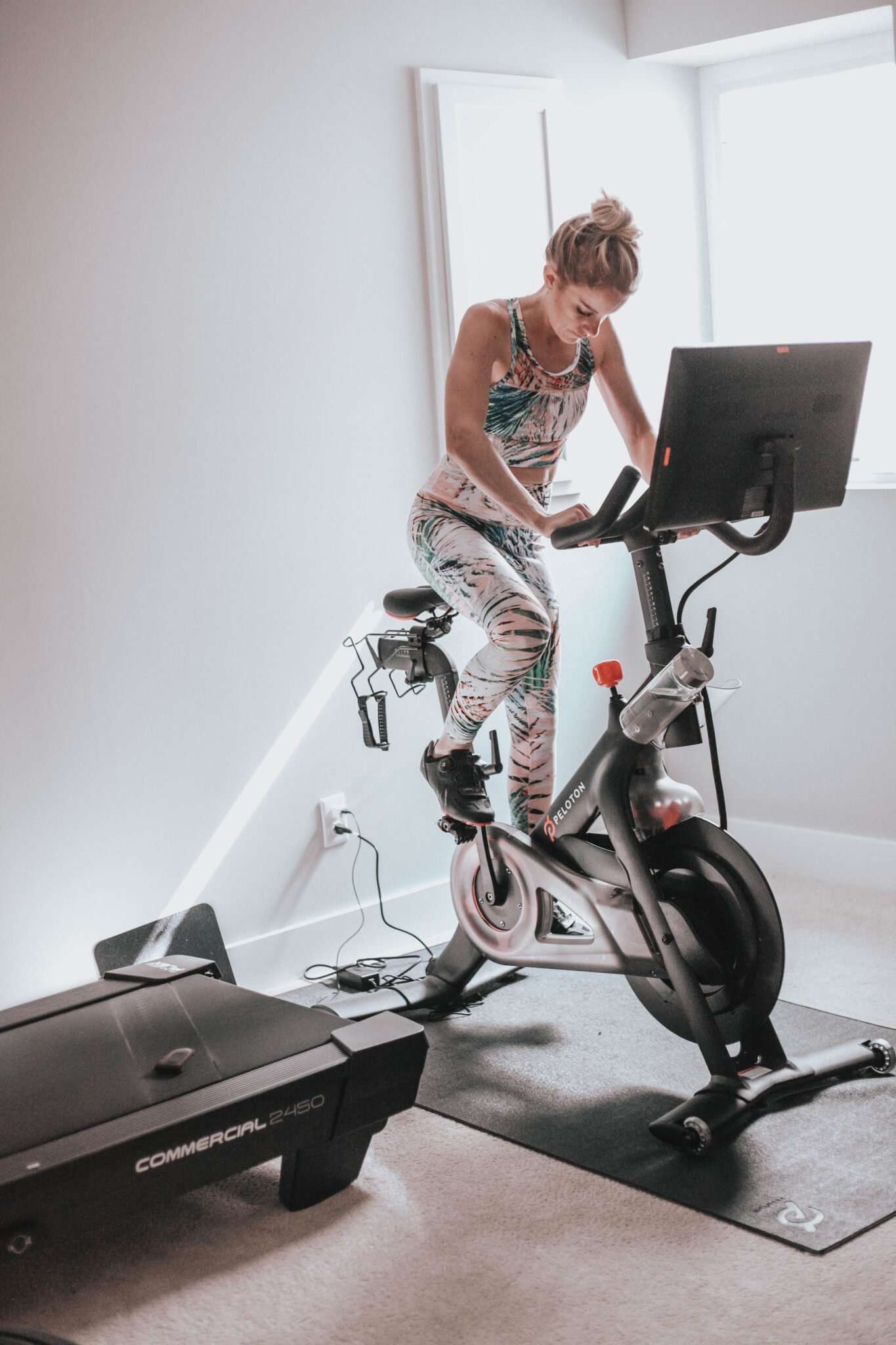 Peloton Tread
Lately I've been loving Peloton bike classes over going for a run outside since there is someone yelling at me and telling me what to do during the Peloton classes but not when I'm running.
However, they recently released their treadmill so I've started streaming their tread workouts from their app while using our treadmill! This has by far been my favorite bonus of the Peloton workout since I love running so much.
Now most weeks I do one treadmill workout and one cycling workout a week with one or two strength workouts.
In true Peloton fashion, their treadmill workouts are amazing! They're super good (and HARD) workouts that fly by. If you're a runner you need to try these workouts out!
The nice thing about the subscription is that it's not just bike workouts! You can get all of your workout needs met with just one subscription (which is likely cheaper than your gym membership)!
**Update! We now have the treadmill. Find my full review here.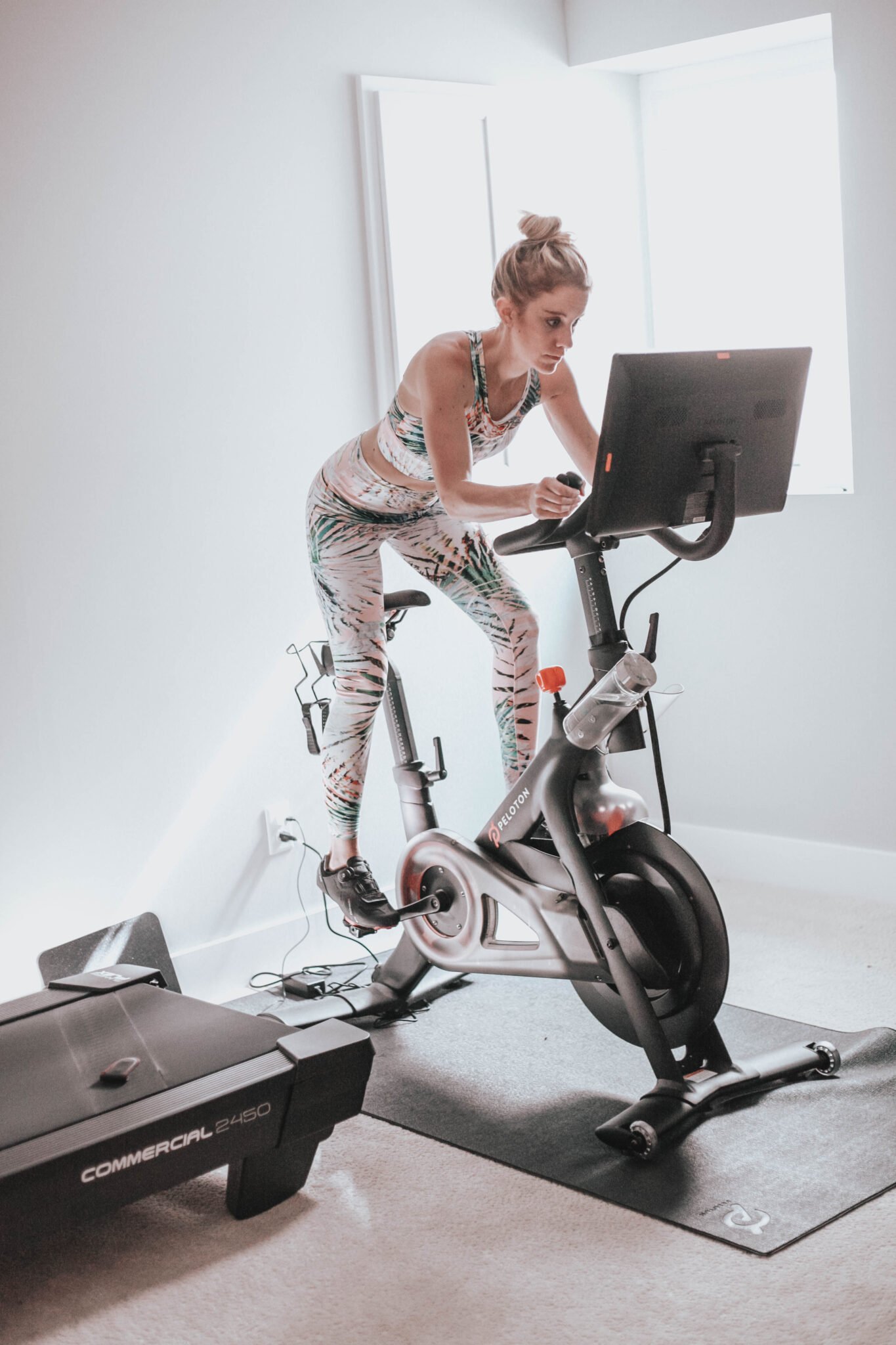 Should you get one?
There are pros and cons when it comes to determining the big question – is the Peloton worth it?
Cons:
The Peloton bike is an investment. It's an expensive bike and you need the monthly membership to stream classes. There's less of an opportunity to meet other people like you could at a gym but they do give you ways to communicate with other riders.
Pros:
The subscription is multi-purpose – being able to stream so many additional classes like the tread workouts, strength workouts, yoga classes definitely adds value to the cost of the membership. There's zero commute time to get to the gym.
Questions to ask yourself:
1. Do you like to workout at home?
If not, this is not the thing for you. 😉
2. Are you competitive?
You can be super competitive not only with yourself but other riders during a Peloton class. You don't need to be a competitive person to like this workout but it definitely helps if you are one!
3. Do you like to do spin classes?
If you've never taken one I suggest going to your local gym and trying out a few classes. Rishi already knew he liked spin classes where I was unsure – had it been just me I definitely would have tried out a class or 2!
Equipment
If you choose to get the tread or bike or even if you simply get the app to do on your own, there's a bit of equipment that could be helpful for you to complete the workouts!
Peloton has a variety of this in their store but below are some more inexpensive options as well.
Other less critical things that I use are a yoga mat, water bottle and foam roller.
I also pick up this Gym and Fitness Equipment Wipes to wipe down both the bike and our treadmill after workouts. We spent a ton of money on these machines so I want to make sure that they stay in good shape!
I hope this helps you decide for yourself: Is the Peloton worth it?
Being someone who wasn't a huge biker before getting the bike, I'm pleasantly surprised with how much I love it. I'm also a pretty competitive person so this type of workout speaks to me.
Let me know what questions you might have! If you decide to get one, use the code 42P48H for $100 off accessories!
Thanks so much for reading my Peloton review! Be sure to check out my Peloton Treadmill review or My Kayla Itsines' BBG Workout Review if you want to read other workout reviews!
With love,
Jen