A bachelorette party is often one of the most important and unforgettable experiences a girl can have. Naturally, this calls for an equally amazing gift!
When you go shopping for bachelorette gifts, you'll usually be met with tons of items emblazoned with words like "Bride-to-Be" and "Mrs." as well as more raunchy-themed products.
While these ideas are definitely fun and great for livening up a party, most of these gifts don't have much use once all of the wedding festivities are over. Not to mention that the bride will likely receive tons of these bridal-themed gifts. So why not go for something a bit more unique?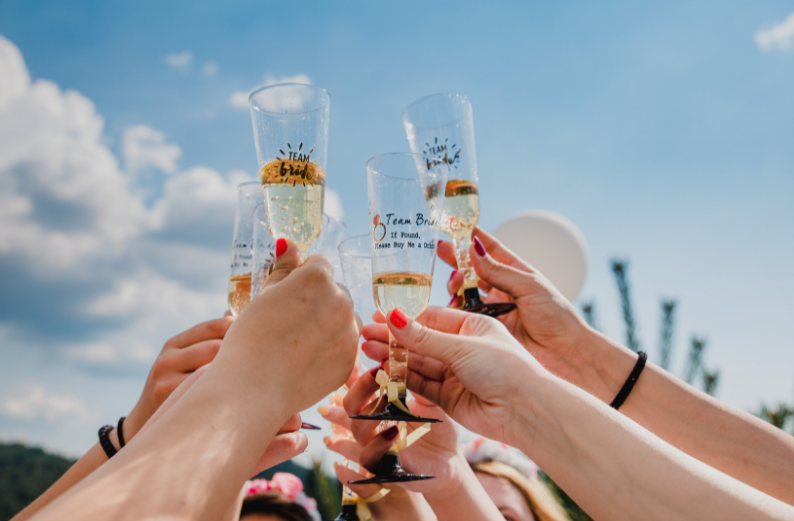 How to Choose Good Bachelorette Gifts
Consider how much longer the bachelorette has before the wedding. If the party is just weeks or days before she ties the knot, bachelorette gifts that say bride or are otherwise very bridal themed won't get much use.
On the other hand, if the party is several months or more before the wedding (or better yet, it's an engagement celebration at the beginning of a long engagement), the bride may want to bask in her special status while she can! You know your friend best!
Some of the best gifts I received were ones that were timeless that could be used well after the wedding. Gifts like ring dishes are great ideas. I use them on the regular, and I'm often reminded of the amazing friend who gifted it to me.
Keep in mind your friend's style, lifestyle and all her favorites. You don't have to go too bridal or too wild. Something useful or thoughtful may not scream party, but it will mean the most to the bride.
Today, I'll be sharing some of the best bachelorette party gifts for the bride that she'll be able to appreciate for years to come.
Best Gifts for a Bachelorette Party For the Bride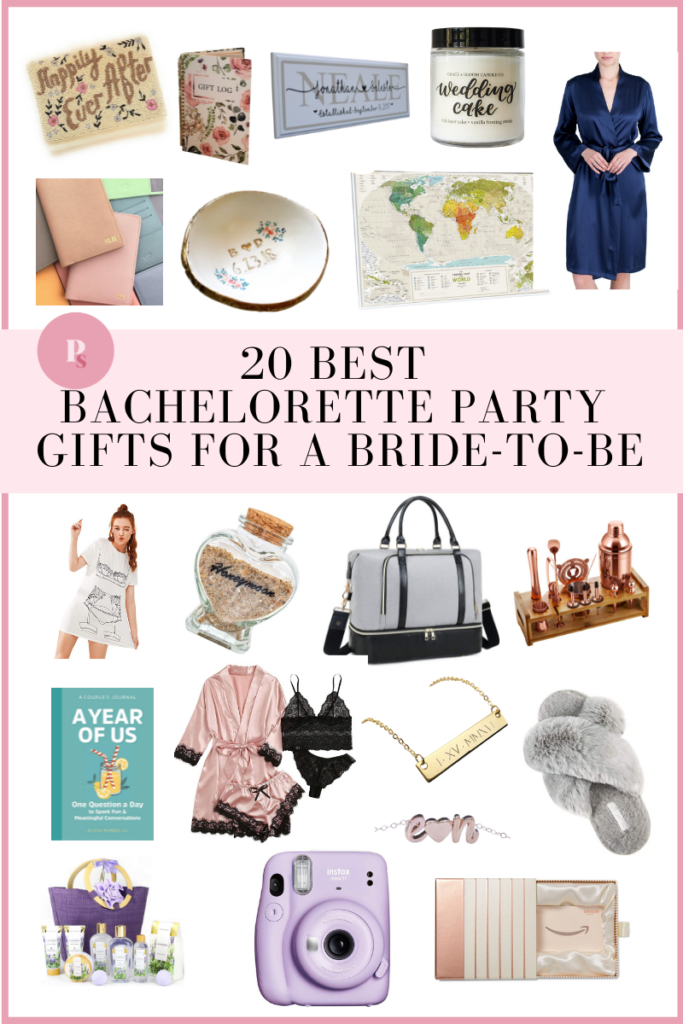 Paisley + Sparrow is a participant in the Amazon Services LLC Associates Program. This post may include affiliate links which means I may earn a small commission if you shop using the links below at no additional cost to you. 
Paisley + Sparrow is a participant in the Amazon Services LLC Associates Program. This post may include affiliate links which means I may earn a small commission if you shop using the links below at no additional cost to you. 
Steer clear from a gag gift and buy something a bit more long lasting for the bachelorette! Here's 20 of the best thoughtful gifts the bride will love to receive.
1. Happily Ever After Clutch Bag
For the honeymoon or any other occasion that calls for a clutch bag, this beautiful hand-beaded clutch will be a go-to option even when she's no longer a bachelorette! This envelope-style clutch comes with a gold chain strap and is intricately beaded with a floral pattern and the words "Happily Ever After".
While the "Bride" option is also a great pick for the bachelorette party, she'll be able to get way more use out of the other variations while still being reminded of this important time in her life.
2. Gift Log
Between the bridal shower gifts, bachelorette party gifts, and wedding presents, the bride can often get pretty overwhelmed when it comes to keeping up with the gifts she's received. Thankfully, this gift log will make her life a lot easier.
This book will keep track of all of her received gifts, who they're from, and whether a thank you note has been sent out. It even has a pocket for gift receipts!
This is a great gift from the maid of honor since she's the one who often helps with keeping track of all the gifts from each guest!
3. Last Name Sign
One of the highest-rated products on this list is this beautiful personalized sign on Etsy. This sign is completely personalized with the couple's name and wedding date and is available in different stains and sizes.
The happy couple is sure to love hanging this sign in their home as a reminder of their most special day.
4. Fujifilm Instax Mini Camera
If you want fun ways to document the bride's bachelorette party and wedding, this is a great option! There are likely few things more valuable to the bride than capturing the special memories of these times.
With the Fujifilm Instax Instant Camera, you can take that literally and give her everything she'll need in order to remember her wedding festivities forever.
She can use this at her wedding, honeymoon, or even whip it out at the bachelorette party right after she receives it. This set includes the camera, case, three packs of instant film, photo album, and more.
5. Personalized Necklace
If you're looking for just the right bachelorette party gift, a little extra effort will go a long way, trust me. And a personalized gift shows you put in extra effort for the bride!
A dainty piece of jewelry is always a welcome gift. The bride can wear it alone for a little bit of sparkle or layered with other necklaces for a bolder look. This necklace can be customized with the initials of the couple's first names and is available in a variety of metals and lengths.
This could also be a wonderful engagement gift to celebrate the couple's engagement! The bride will want to wear it to all of her pre wedding events.
6. Passport Cover
Gifts for the honeymoon are always great ideas, and the bride will absolutely love this monogrammed leather passport holder. These passport holders are made from high-quality Saffiano leather and are the perfect extra little luxury she can enjoy while on her honeymoon (and any future getaways).
Choose from a variety of different colors and don't forget to have it monogrammed with her new initials!
7. Amazon Gift Card
Sometimes, it's best to go with the safe choice. While an e-gift card is great, Amazon offers this beautiful satin-lined box that makes for the perfect gift, especially for picky brides. You can fill these gift cards with any amount between $50 and $2,000.
8. Ring Dish
I can think of no better way for the bride to store her new wedding ring set than with this sweet personalized ring dish. This dish is handmade from glazed clay and features a hand-painted floral pattern and gold engraving of the couple's initials and wedding date.
This will be a beautiful addition to any vanity and a lovely way for her to keep her new rings safe.
9. Silk Robe
Nothing can compare to the feeling of 100% silk. If you have a bit more money to spend, this silk kimono robe is a luxurious choice of gifts. Not only can the bride wear this gift while she's getting ready on the day of her actual wedding, but it's perfect for the honeymoon and any other day she's looking to add a bit of luxury to her life.
This is also a great gift for the whole bridal party (maybe bachelorette party favors?)! Having all of the bridesmaids in coordinating bridal robes or floral robes creates beautiful photos of the bride and all her closest friends for her to treasure.
10. Funny Nightgown
If you find yourself with the kind of bride who has a sense of humor (but you don't want to go for anything too X-rated) this shirtdress is sure to please. She'll definitely get a laugh out of the printed lacy lingerie graphic that's perfect for those days when she's just looking to relax.
I like that this gift is on theme with a bachelorette party, but still more cute than raunchy like some bachelorette party gifts can be.
11. Keepsake Jar
If the bride will be enjoying her honeymoon at the beach, then this is a great gift idea! This heart-shaped glass jar is designed to hold a handful of sand from the beach where she celebrates after her wedding.
The cork stopper keeps everything secure while the heart shape makes it the perfect décor piece. The bride will love sitting this on a shelf, vanity, bedside table, or anywhere else where she can look back on the happy memories.
12 Weekender Travel Tote
An avid traveler can't have enough great luggage and this bag hits every mark. The CAMPTOP Weekender Bag is the ultimate carry-on tote for her honeymoon or any other vacation.
The bag features a laptop sleeve, shoe compartment, adjustable strap, and many other features that make traveling a breeze and make it one of the best.
13. A Year of Us
Weddings are a time to celebrate the love between the special couple. This book will ensure that they continue to bond even long after the wedding is over.
The A Year of Us Couple's Journal is filled with a year's worth of insightful and lighthearted questions that will spark laughs, new discoveries, and bonding between the newly married couple. What's more special than that?
This would also make a wonderful wedding gift for the wedding day for the couple to enjoy together. And then it acts as anniversary gifts for the couple when they get to review it at the end of their newlywed year!
14. Satin Pajama Set
This gorgeous satin set is probably the best deal on the entire list. You'll receive a matching silk and lace lingerie set, shorts, and a robe for under $30.
It will be perfect for taking her sleepwear game to the next level. This set also comes in several colors! She'll find herself reaching for them all the time after the wedding.
15. Roman Numeral Necklace
This dainty necklace is a subtle and stylish way for the bride to keep her special day close to her heart wherever she goes. The seller engraves this bar necklace with the wedding date in minimalist roman numerals and comes in silver, gold, and rose gold variations.
This stunning and personalized gift will be well loved and worn for a long time after the bachelorette weekend ends!
16. Fuzzy Slippers
These fuzzy crisscross sandals will be the best friend (and best gifts) for the bride when it comes to getting ready on her wedding day. These slippers easily slide on and off and are so comfortable and soft on the feet.
These are also sure to get plenty of use on the honeymoon. They would even be a great addition to have in the carry-on bag during the flight.
I own these and love them!
17. Wedding Cake Soy Candle
Let's face it — hardly anyone can resist the smell of a delicious cake, and a wedding cake is one of the best cakes you'll get.
This wedding cake-scented soy candle features the scent of freshly baked vanilla cake and buttercream frosting and is sure to make the bride and groom's home smell like a dream. This is perfect for adding to a gift box or on its own for a more affordable bachelorette gift idea.
18. Cocktail Shaker Set
Few bachelorette parties or bridal event are really complete without something alcohol-related, right? Well, set aside the wine glasses and bust out the cocktail tumblers! This beautiful rose gold bar set allows you to be right on theme with the party, but with a little extra class.
The 24-piece set comes with a shaker, spoon, tongs, cleaning brushes, and everything else the bride will need for whipping up some fabulous cocktails. It even includes a cocktail recipe book for inspiration and a good time!
The bride can use it at the bachelorette party or after the wedding for her newlywed life!
19. Spa Gift Basket
While weddings are always exciting, things can get a bit stressful for the bride. The week before the wedding can be particularly nerve-wracking making the bride in need of a good relaxation session.
This lavender-scented spa gift set will be the perfect way for the bride to relax and enjoy a spa day at home before the big day arrives.
This set is the most recommended on Amazon. It includes essential items like body cream, bath salts, bath bombs, and plenty more.
20. Scratchable Travel Map
For any couple that's passionate about traveling the world, this scratchable map will be a useful and beautiful addition to their home. This map of the world features countries covered in gold foil.
Once the bride and groom have visited that country, they can scratch off the foil with a coin to reveal the color underneath. This is a great visual of what countries they've visited and the perfect way to log their adventures together both before and after the wedding.
Giving bridal-themed gifts is a great way to have fun and make the most of the current moment. But it can be even more special to give the bride a gift that she can enjoy long after the wedding is over!
These bachelorette party gift ideas are fashionable, functional, and everything in between, making them ideal for any bachelorette party.
I hope this gift guide helps you find the perfect gift that fits your bride's personality. She'll feel extra loved on her special weekend!
As you prep for wedding season here are some beautiful navy dresses to wear to any wedding you're attending and shoes to wear with them! And if you want ideas for decorating for the bachelorette party or wedding showers, try a balloon garland!