Love July 4th? Me too! There's just something so fun and festive in the air. The fireworks! The barbecues! The time with family!
Bring the celebration to your fingernails too! I've rounded up the best Fourth of July nail art to inspire your next patriotic manicure. Which one are you wearing for your big plans?
Many of the nail designs below are using Olive and June nail polish. They're my go to nail brand for long lasting, chip free nails!
Love Olive and June? Use this link and the code jenb20 for 20% off your order of any of their systems.
20 Best 4th of July Nails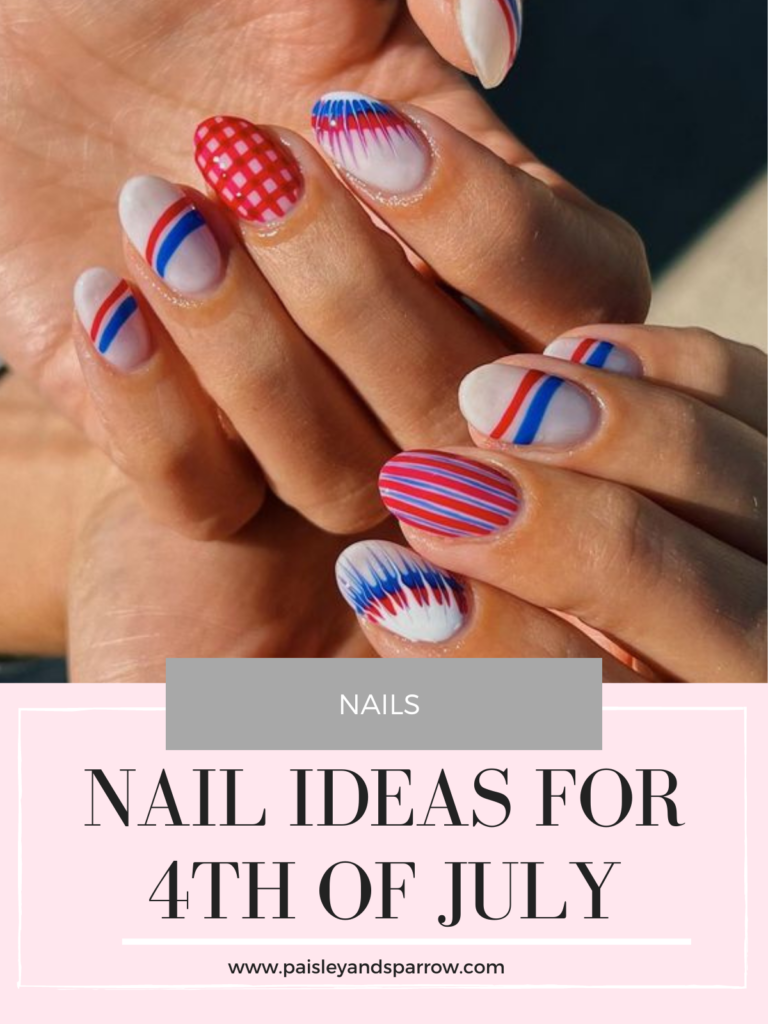 1. Festive Fireworks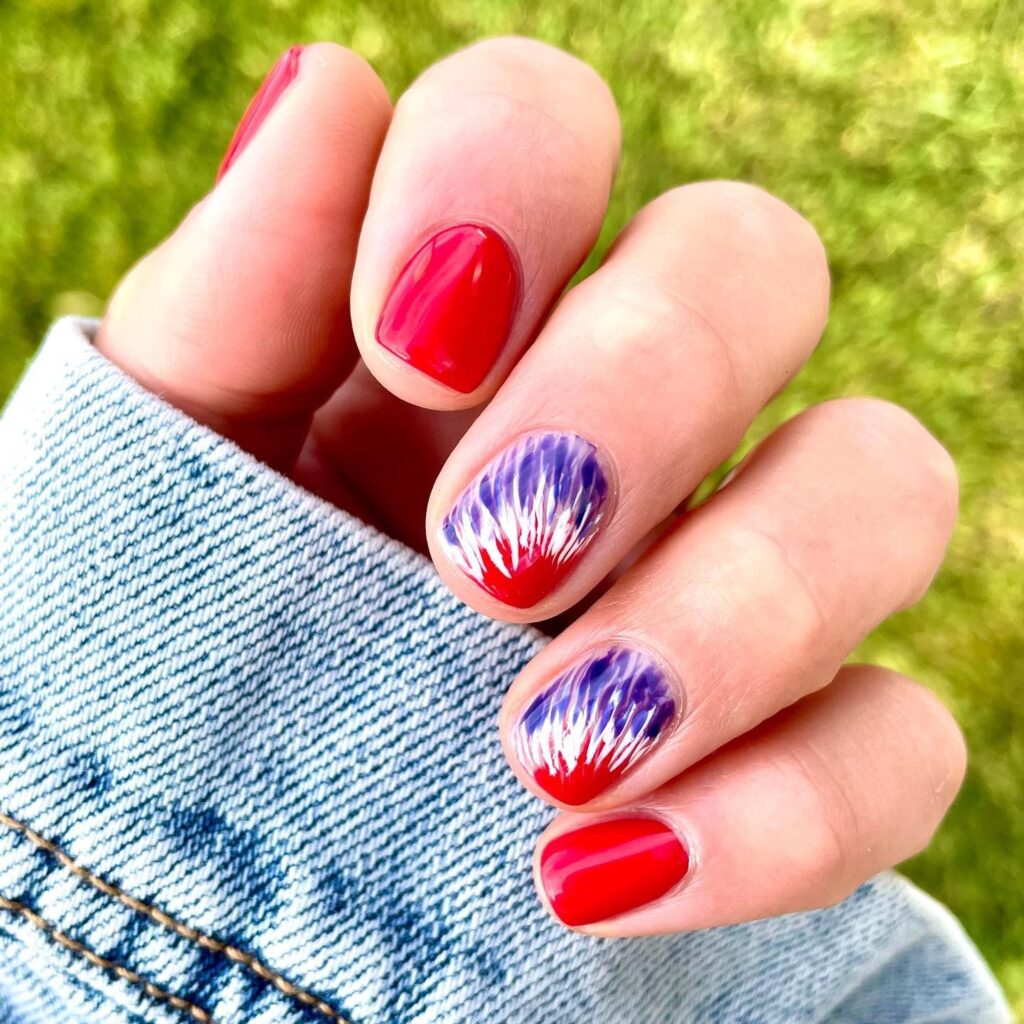 Love fireworks? Then you'll love these! Start with a solid red on a few nails and add some firework style or tie-dye nails on a few nails using white and blue. Using a toothpick will help blend the the colors together for a shooting effect!
2. Red White and Blue Cheetah Print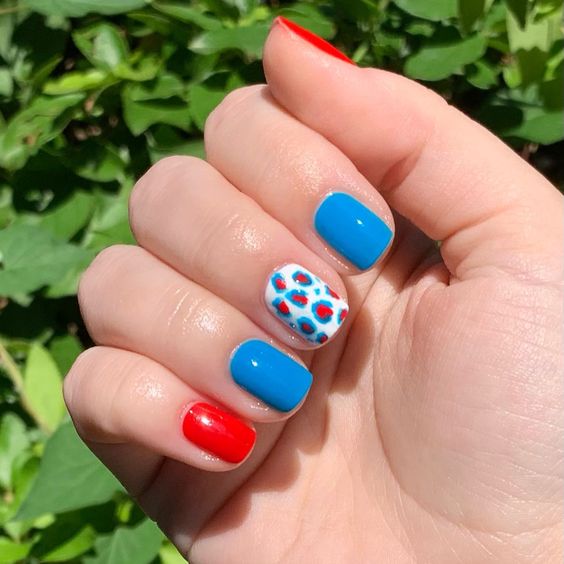 Image via @happinessbythebottle
If your love for cheetah runs deep don't let it stop at the 4th! Just incorporate some red, white and blue into your animal print instead of the classic brown and white. I love that you don't need a steady hand for these — a great way to get a fun look even as a beginner!
3. Classic Red White Blue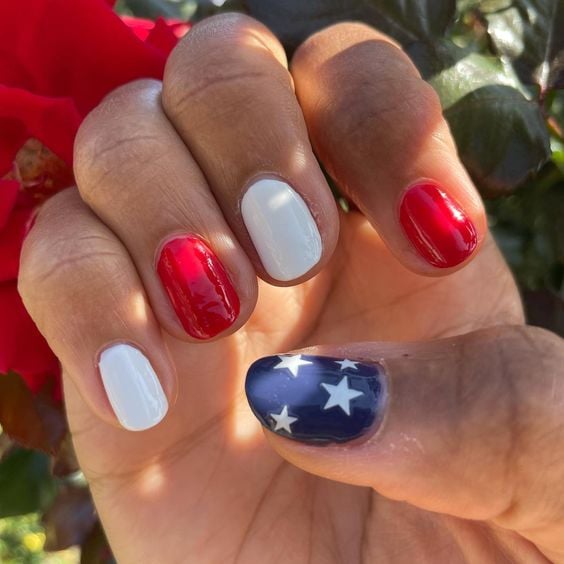 Image via @mynailfielife
Want a classic look for your Fourth of July nails? These are for you! They're also perfect for beginners since the white stars are actually stickers! Be sure to cover the stickers with a clear top coat to ensure they stay on.
Olive and June: CV, HD, OMG with star sticker accents
4. Half Stars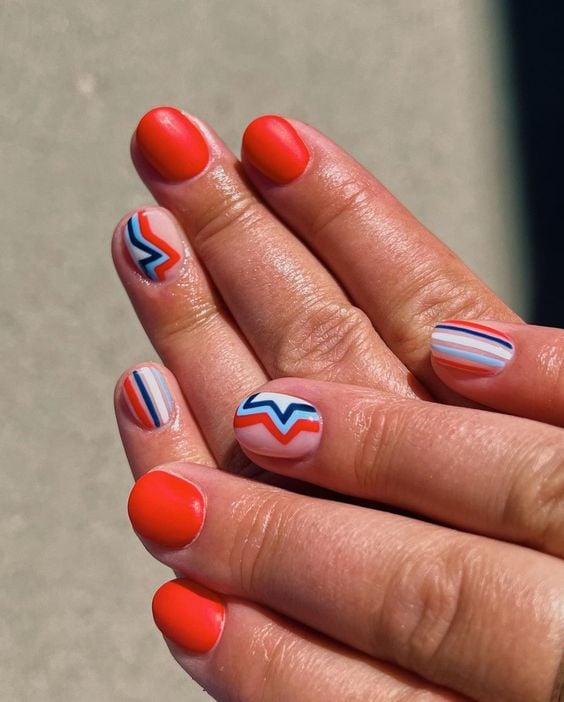 Image via @estheticsbyjayde
These are giving me retro All-American roller-skating vibes! I love them!
Paint some of your nails in a solid red nail polish, and then do a neutral base on the others. Make straight blue, red, and white stripes on one nail, and then make part of a star shape on the other.
Since it's not a full star, you don't have to make it perfect! (If you want an easy way to get the shape right, you could use a star shaped sticker as a guide and then take it off before your top coat.
5. Red & Blue Stripes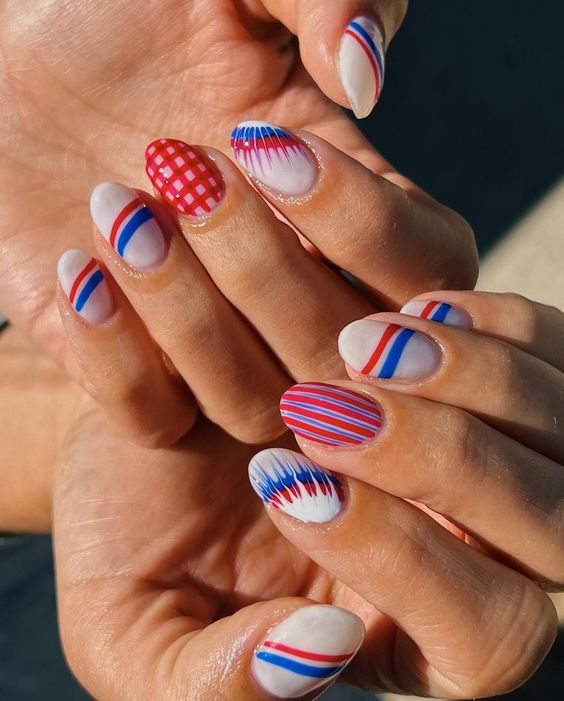 Image via @estheticsbyjayde
This manicure is full of cute 4th of July nails ideas! Any one of these designs would make great accent nails if you wanted to just choose one and do the others in solid colors.
All of the designs together though is a true wow moment! Use the same patriotic colors on each nail to keep it cohesive.
6. Plaid & Flowers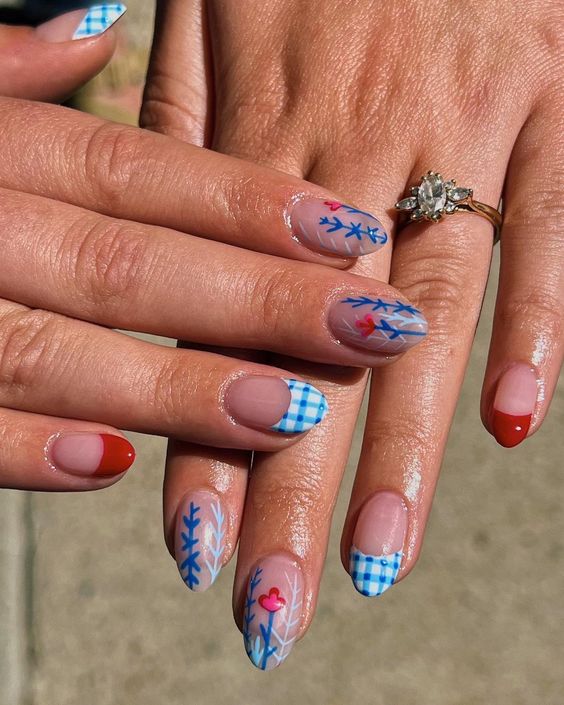 Image via @estheticsbyjayde
A gingham pattern on french tips is so cute! This fun nail design combines some of the sweetest parts of summer — flowers and picnics. And the colors tie it together for that patriotic look.
7. Fireworks and Ice Cream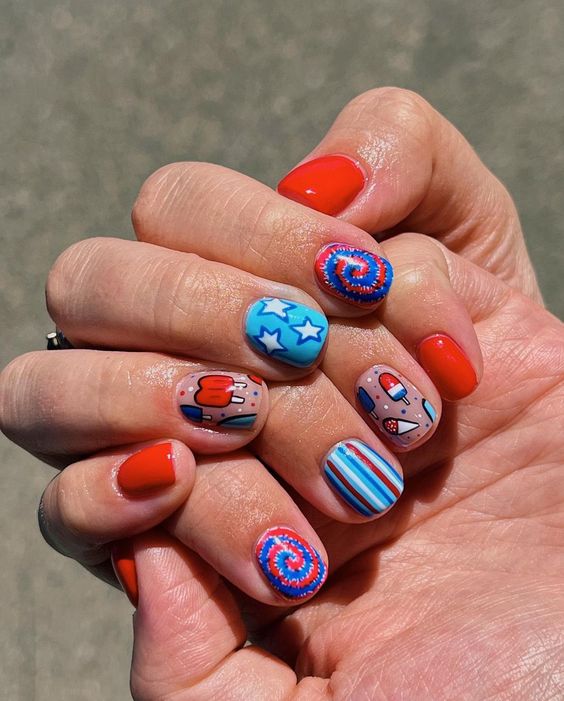 Image via @estheticsbyjayde
You scream, I scream, we all scream for ice cream! There's few things better than an ice cold popsicle or ice cream cone to celebrate the 4th of July so why not put some on your nails!
Adding a few twisted firework-like designs and stars complete the festive look.
8. Retro 4th of July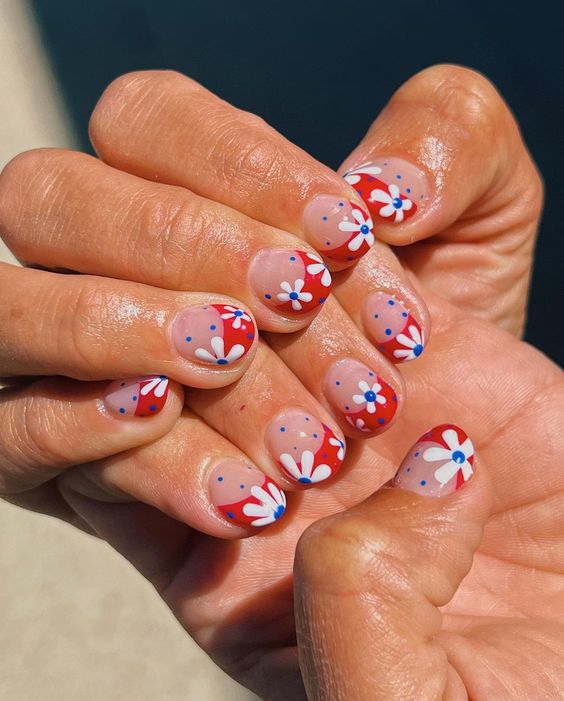 Image via @estheticsbyjayde
Love the retro look but still want to a festive take on the holiday? Start with red French manicures and add in some white flowers. Use a blue polish and a dotting tool for the flower centers and to make blue dots. Voila! The perfect red, white and blue look.
9. Red and White Checkered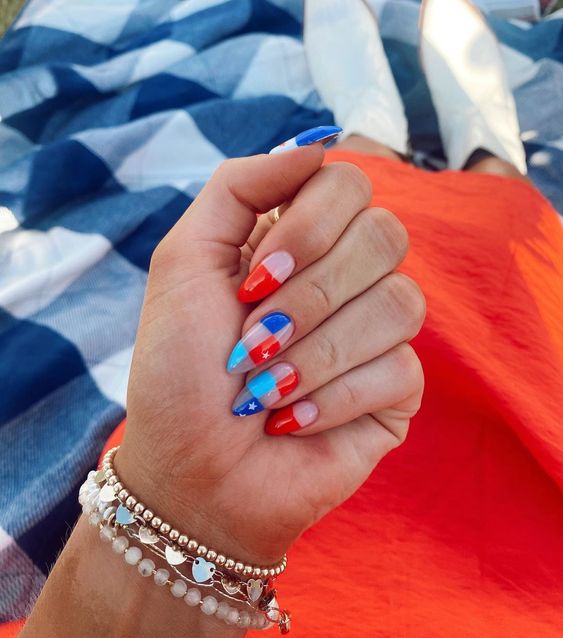 Image via @nailsby.hails
Give yourself an abstract American flag with this color blocking manicure, perfect for long nails. Use two different blue colors to really make it stand out.
10. 4th of July Daisies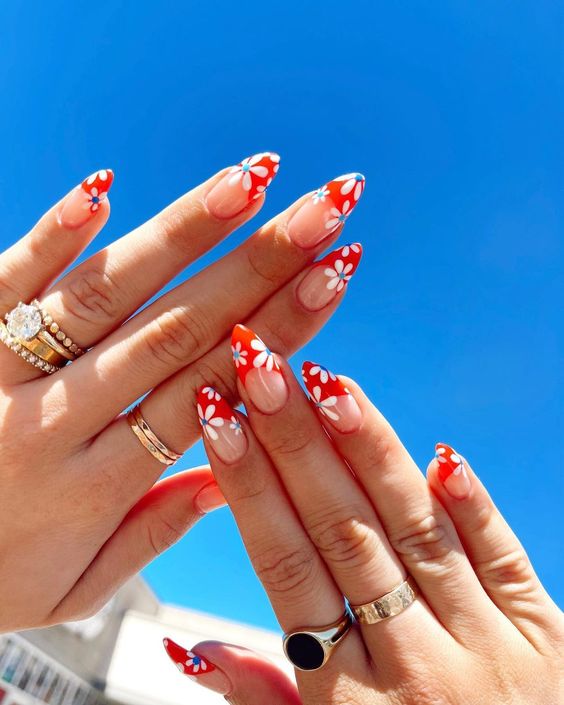 Image via @nailsby.hails
These easy 4th of July nails are perfect to wear the whole summer! Whether you have short nails or long nails, this manicure will work for you since you can do as many daisies as you want. You can even switch around the colors — think white tips with red daisies or blue tips with white daisies.
11. 4th of July Tips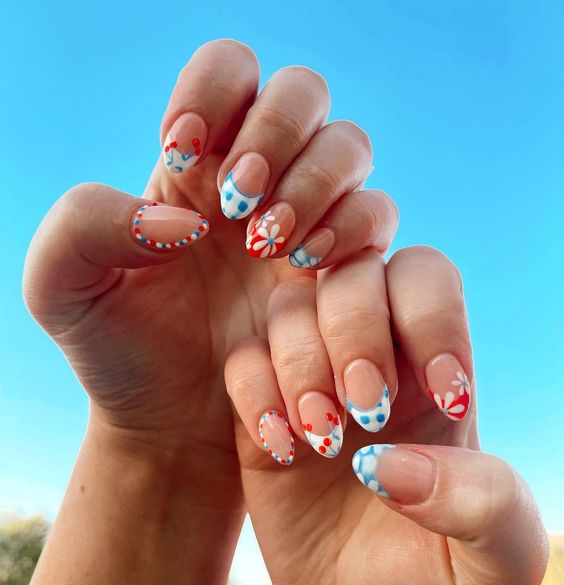 Image via @nailsby.hails
There's so much room for creativity in that little half moon tip of a French manicure! You can combine all your patriotic nail designs in this one — flowers, cherries, gingham, red, white and blue!
12. Plaid Stripes & Watermelon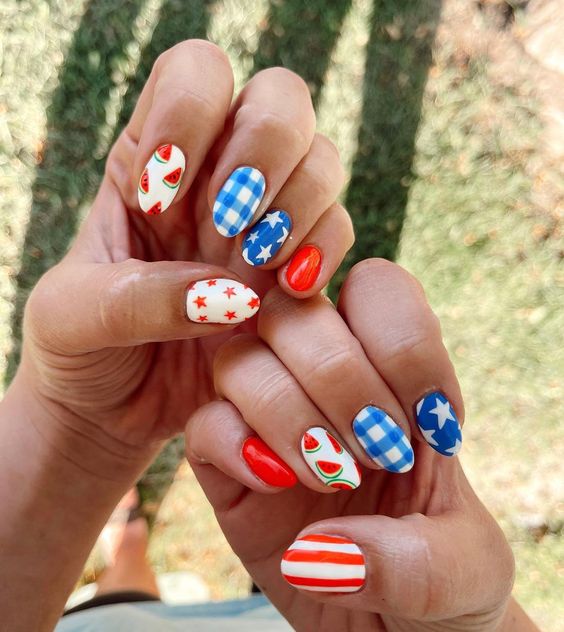 Image via @nailsby.hails
Summertime provides lots of inspiration for your Independence Day nails — stars and stripes (and picnics and watermelon!).
I love how you can take elements of the American flag for each nail. Red and white stripes on one nail, blue background and white stars on another, even red stars on a white base. All of these flag-inspired patterns work together for a great July 4th manicure.
13. 4th of July Picnic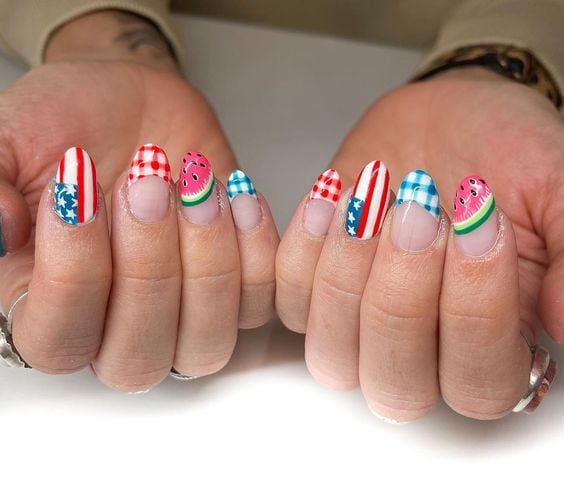 Image via @nailsby.hails
This whole look is giving July 4th barbecue! The gingham table cloths, the juicy slices of watermelon and an American flag to top off the whole thing!
14. Red Plaid and Daisies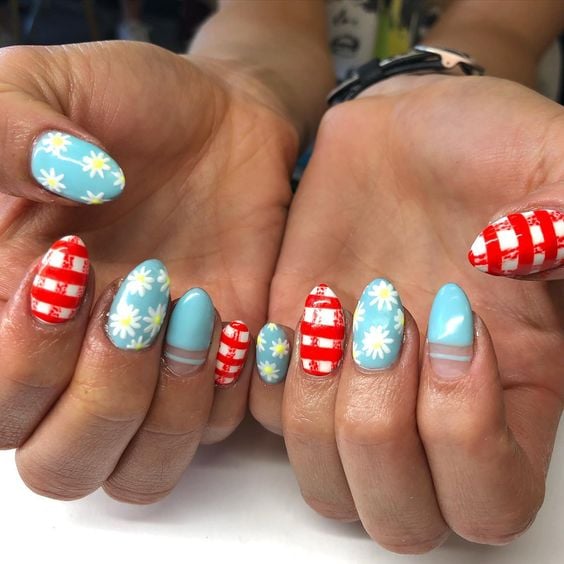 Image via @nailsby.hails
If you only have light blue polish, you can still get that patriotic look! As long as you've got red and white too, even light blue can work. This pretty sky blue works great as the background for white flowers and for an abstract design. Combined with the red and white plaid, it feels like summer!
15. American Flag Tongue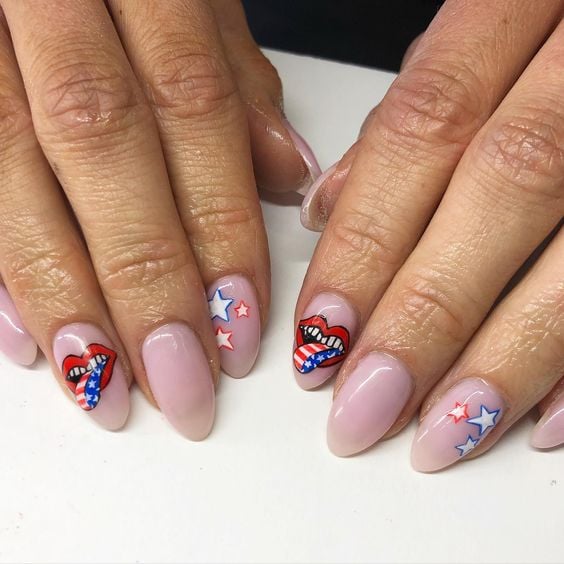 Image via @nailsby.hails
This fun Rolling Stones-inspired manicure is on trend. Bring this photo to your next nail appointment for a festive but mostly neutral mani!
16. Silver and White Stars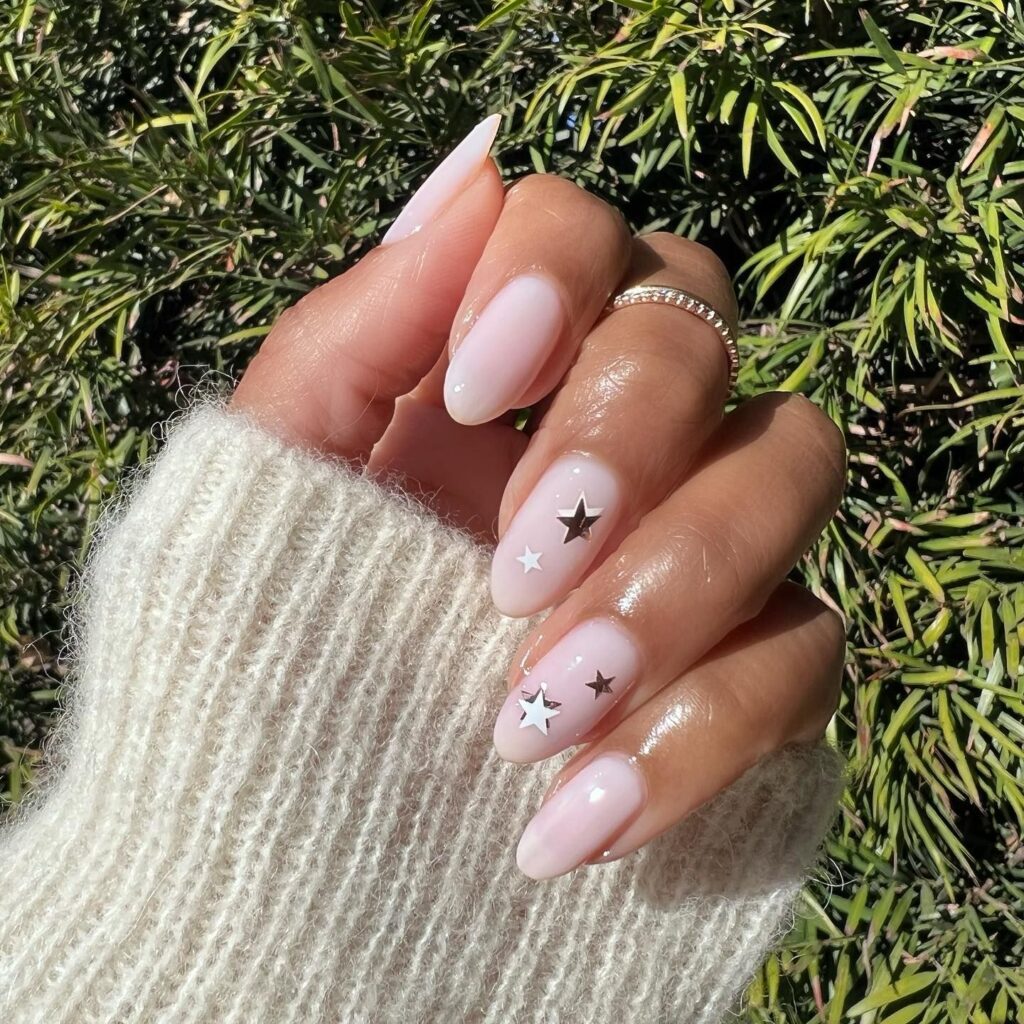 Want a neutral take on 4th of July nails? These are perfect! Paint a light base and use silver and white stickers to complete the look.
17. Patriotic Gnomes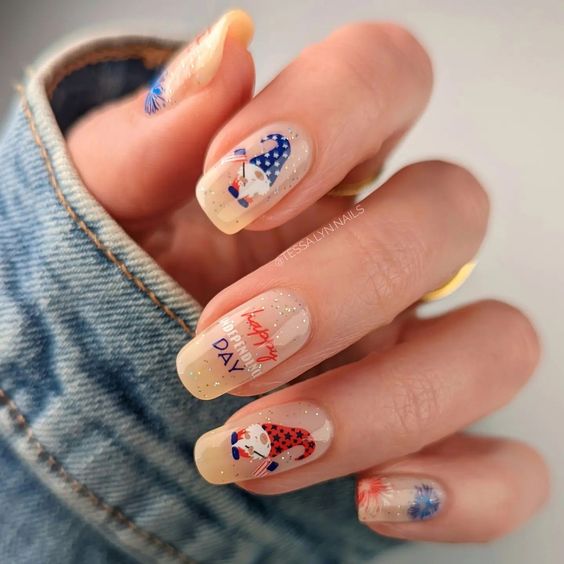 Image via @tessa.lyn.nails
Gnomes are just about the cutest summer garden sculptures but on your nails? SO adorable! I love the fun star hats and the fact that they're waving flags.
This may be hard to DIY but a great inspiration piece to bring to a salon!
18. Red White And Blue Ready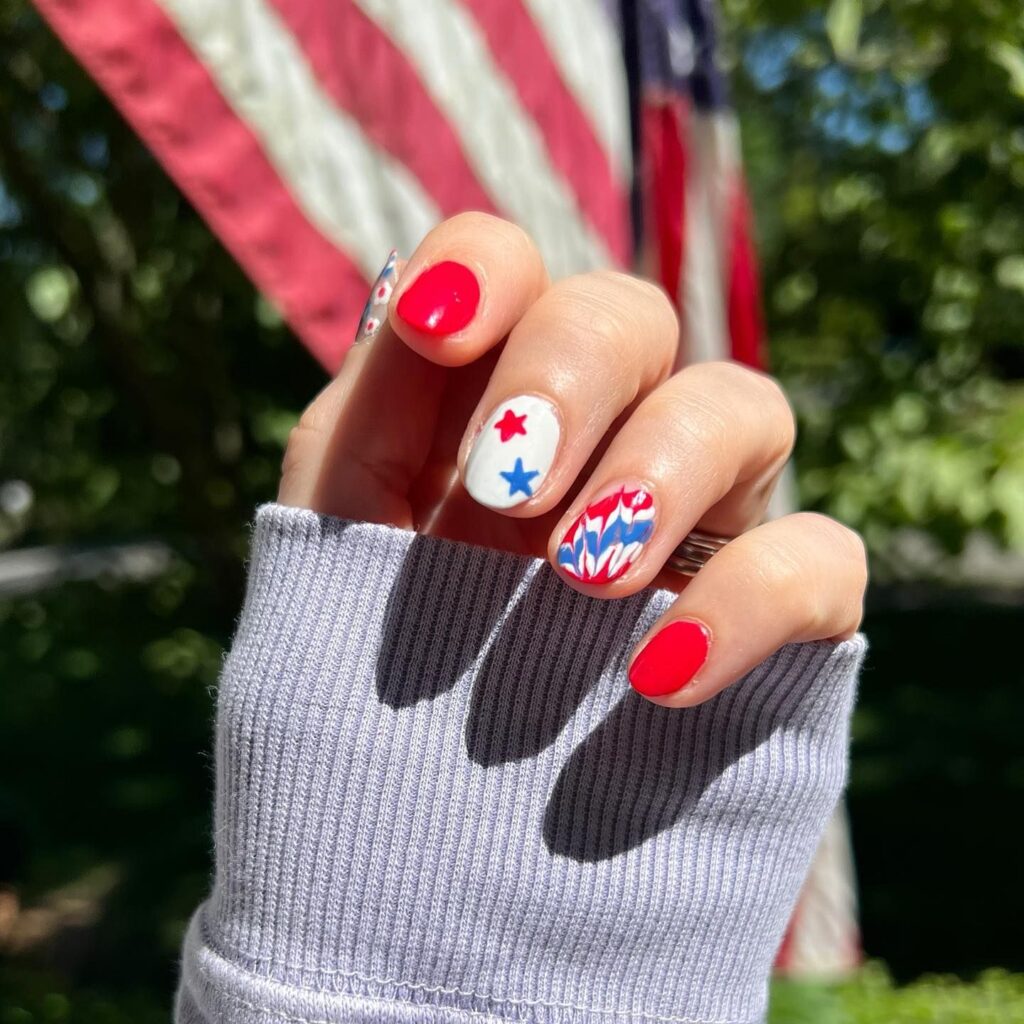 If you love the bunting look, here's a super cute optoin! Paint red, white and blue stripes; then while they're still wet, use a toothpick or tool to drag the polish.
Use star stickers or a toothpick to create small stars on the other finger and paint the rest red!
Colors: Olive and June Blue Canoe, Hibiscus and HD
19. Waving American Flag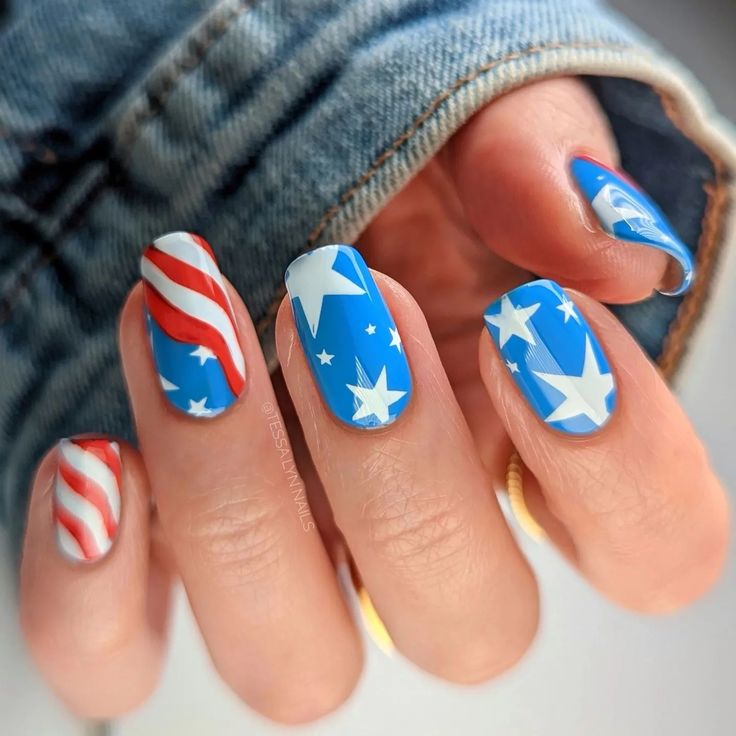 Image via @tessa.lyn.nails
This amazing nail design was created using a stamper. I love the illusions that the flag is flying in the air!
You can always use stickers for the stars to make things a little easier.
20. Exclamation Point 4th of July Nails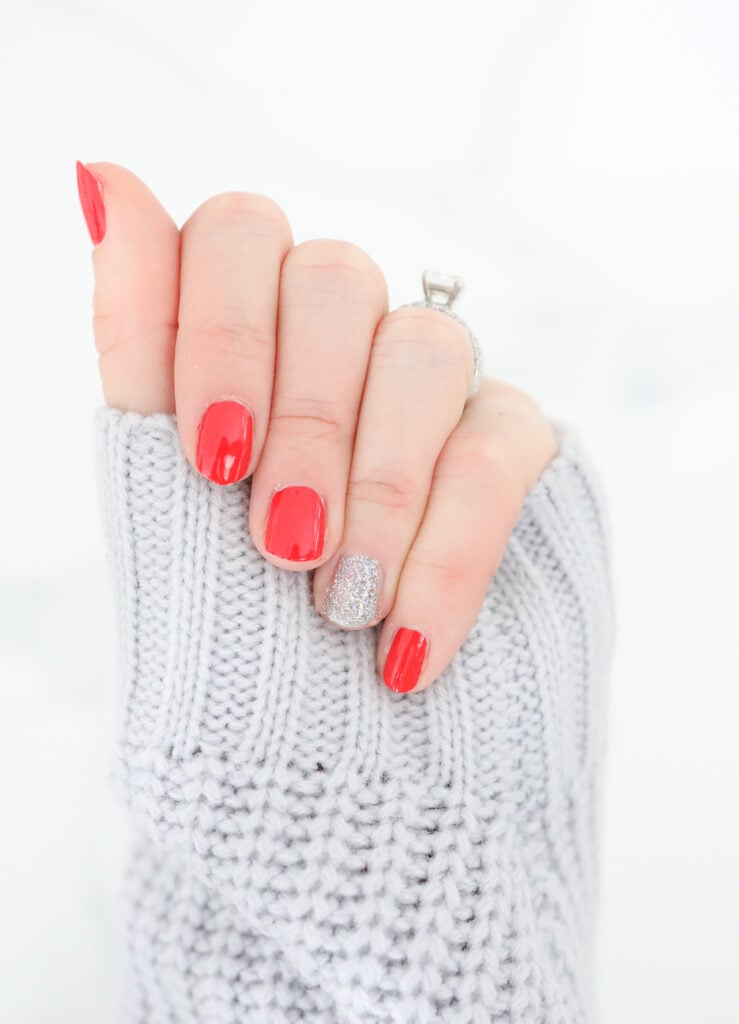 Fourth of July manicures need a little sparkle like the fireworks! Start with a classic red manicure and then add a glitter accent nail.
For this mani, the red is ES and the glitter is Exclamation Point (probably one of the best glitter polishes I've ever used!) from Olive and June.
I've got even more ideas in my patriotic nails post, perfect for July 4th, Memorial Day, or all summer long!
Need more manicure inspiration? Try one of these posts: