There are a lot of questions when it comes to packing for any kind of travel: What will the weather be like? How many pairs of underwear do I really need? Am I overpacking? (Almost definitely yes for me!)
While I can't tell you if you really need to pack 3 outfits for every day you'll be gone, I can help you figure out what travel outfits suit you best on your way to your destination.
Whether you're driving or flying or some other mode of transportation, you'll want to make sure that you're comfortable. That might be enough! Or, you might want to be comfy while still looking stylish.
Here are 30 ideas for putting together travel outfits so you have one less thing to consider while getting your suitcase packed.
Travel Outfits
This post contains affiliate links.
1. White Sneakers, Distressed Denim & White Top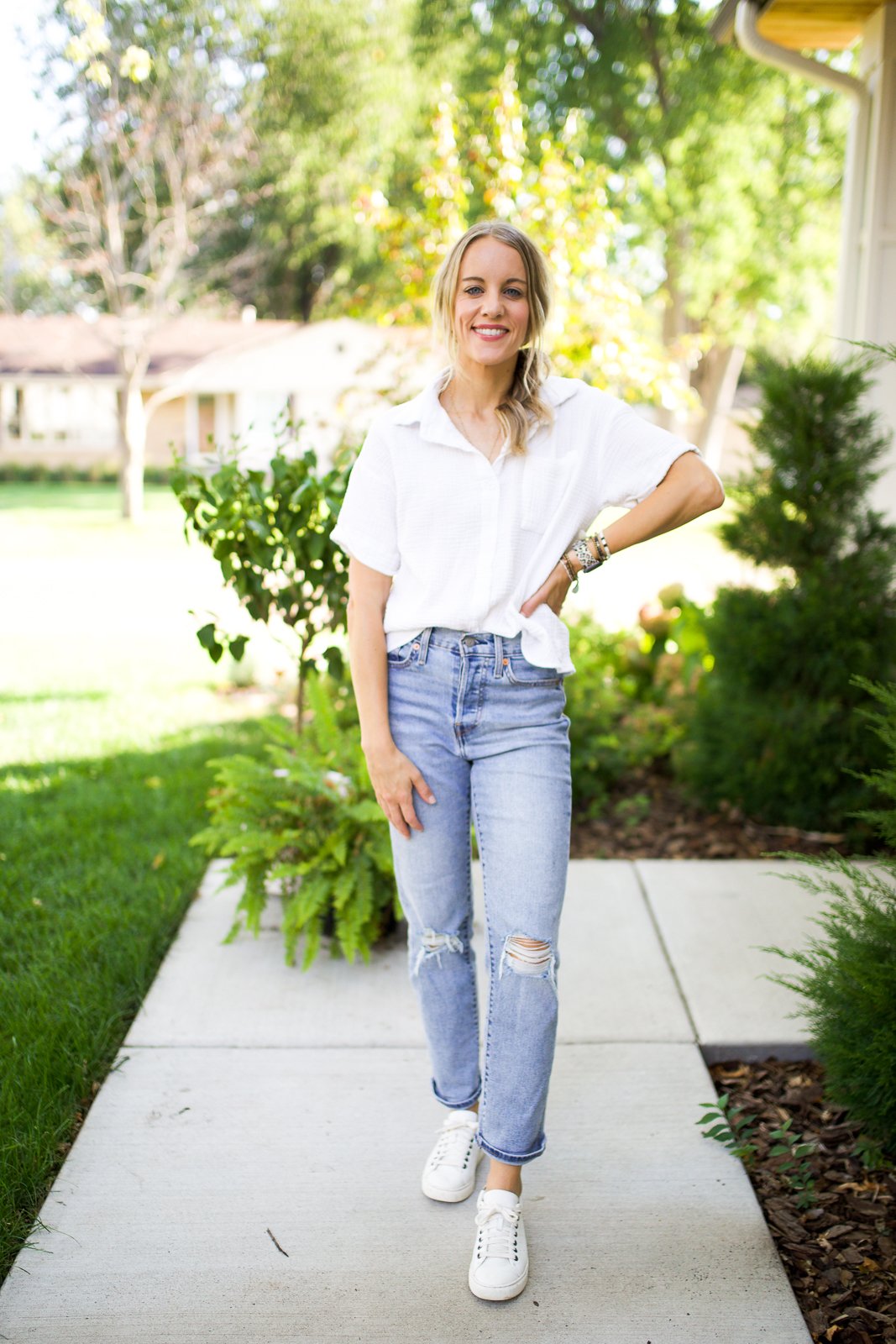 Jeans | Button Down Shirt | Sneakers (Sold out, find white sneaker options here)
White sneakers are so trendy and can go with any outfit for travel. Step off the plane and you'll be ready to go and start exploring your destination.
Plus, wearing sneakers (likely one of the bulkier pairs of shoes you're bringing) on the plane or in the car will take up less room in your suitcase. Look cute, be comfortable, and have more room to pack. Win-win!
2. Crop Top and Leggings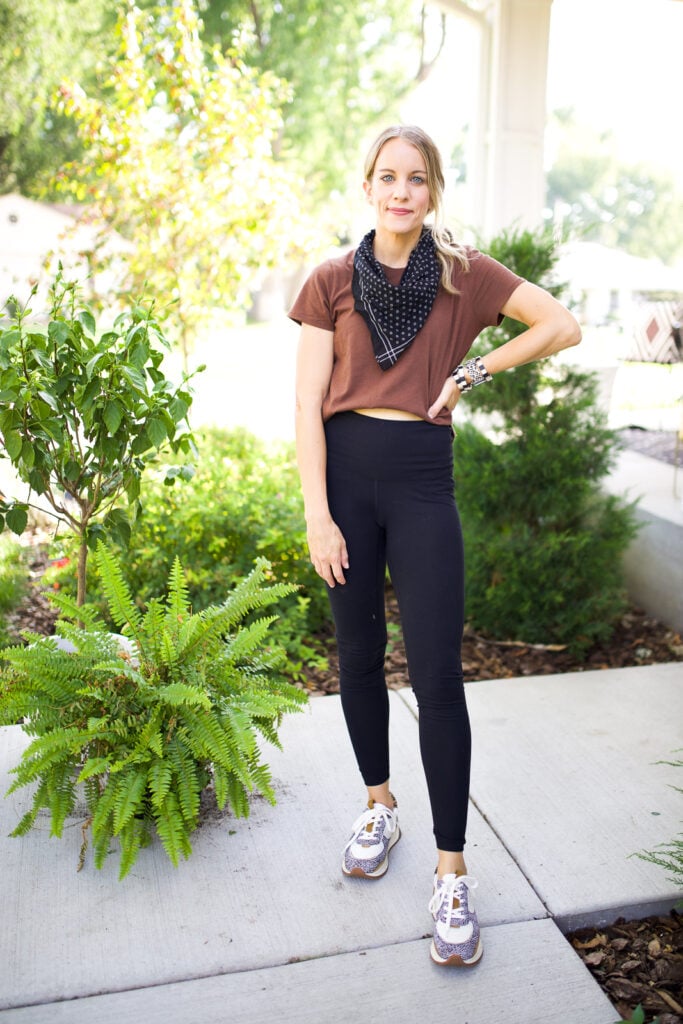 Leggings | T-Shirt | Bandana | Shoes
If comfort is your main travel goal, opt for a crop top, high-waisted leggings, and sneakers. You'll be comfortable without looking sloppy.
3. Biker Shorts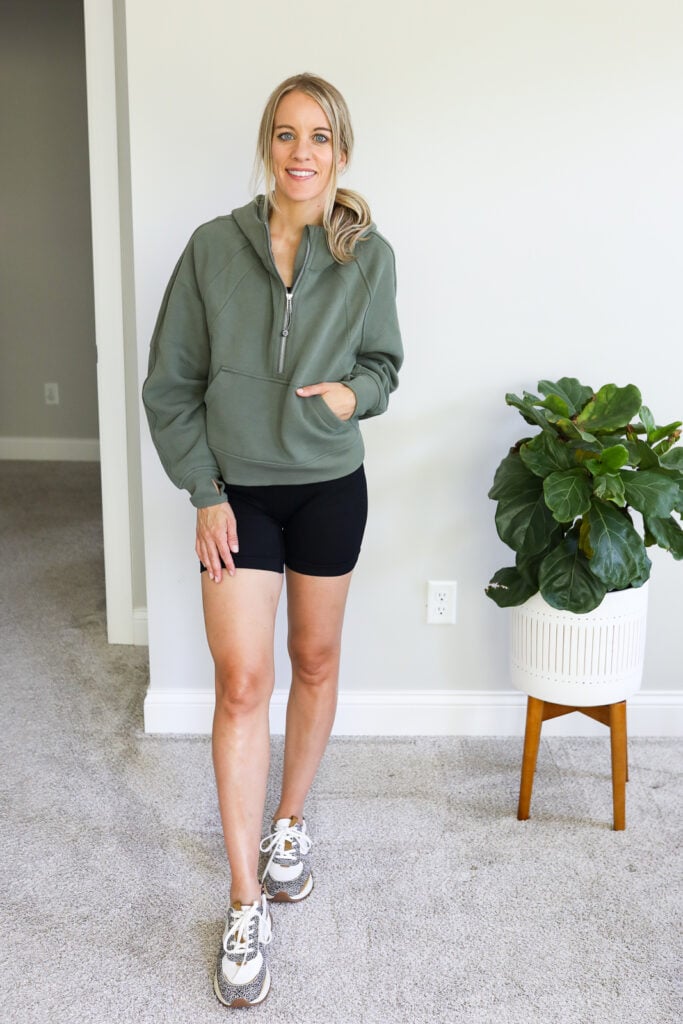 Shorts | Sweatshirt | Shoes
Biker shorts are a great option for summer travel. Wear bike shorts with a crop sweater or sweatshirt if you're traveling between locations with different temperatures.
Biker shorts will keep you comfortable during the process of waiting in lines and sitting in the terminal. And you never know if the airport or plane will be chilly. That's where having a sweater or sweatshirt will come in handy!
*Find other bike shorts here and other workout sets here!
4. White Pants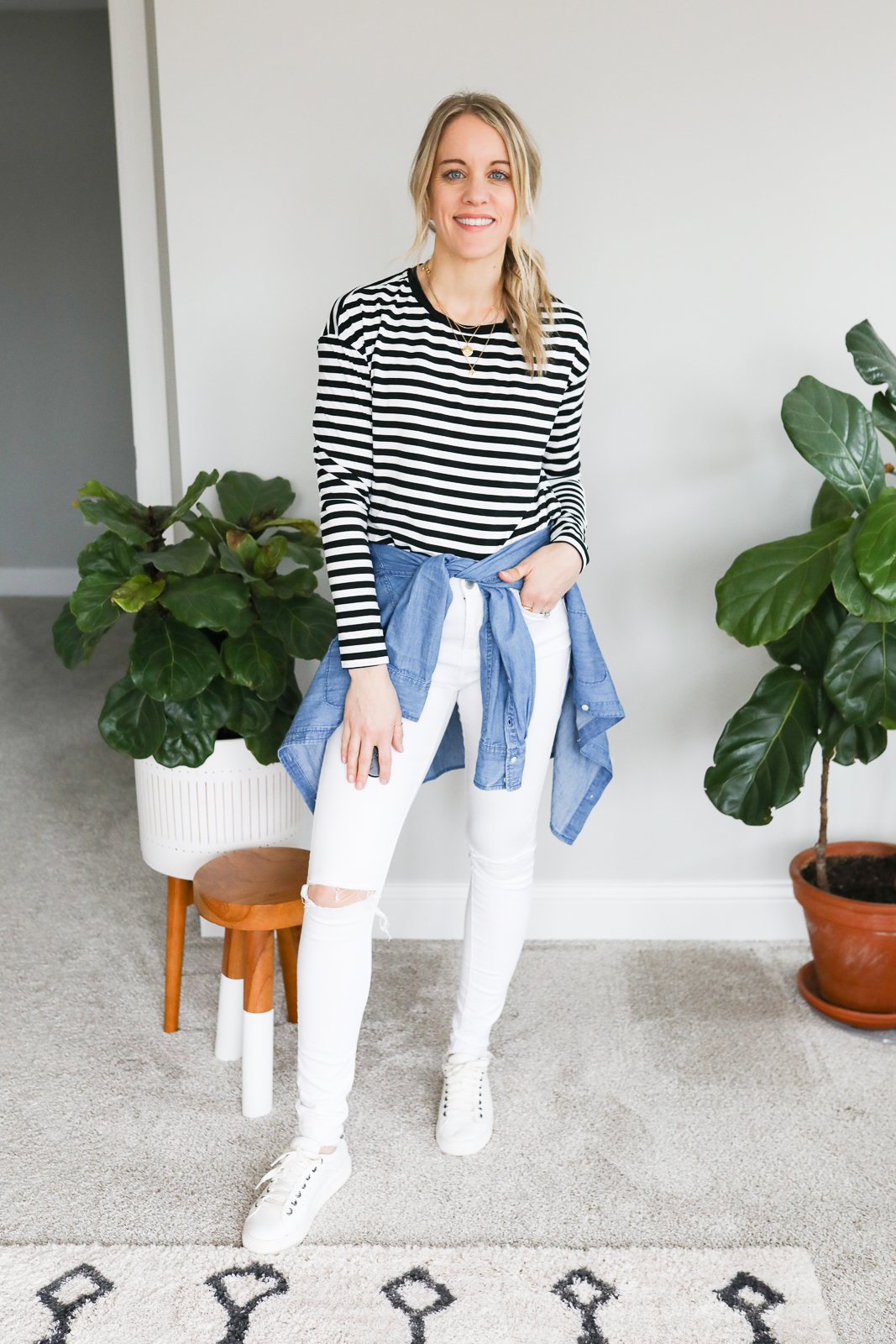 White Jeans (Sold out – Similar here) | Stripe Top | (Sold out – similar here) | Sneakers (sold out – similar here)
White pants can easily elevate your travel wardrobe. (Though they're probably best if you're not traveling with messy kids!)
If you want a style that's a little more chic, wear a black and white striped shirt, white pants, and white sneakers. Add a silk scarf and bold sunglasses to tie it all together.
5. Graphic Tee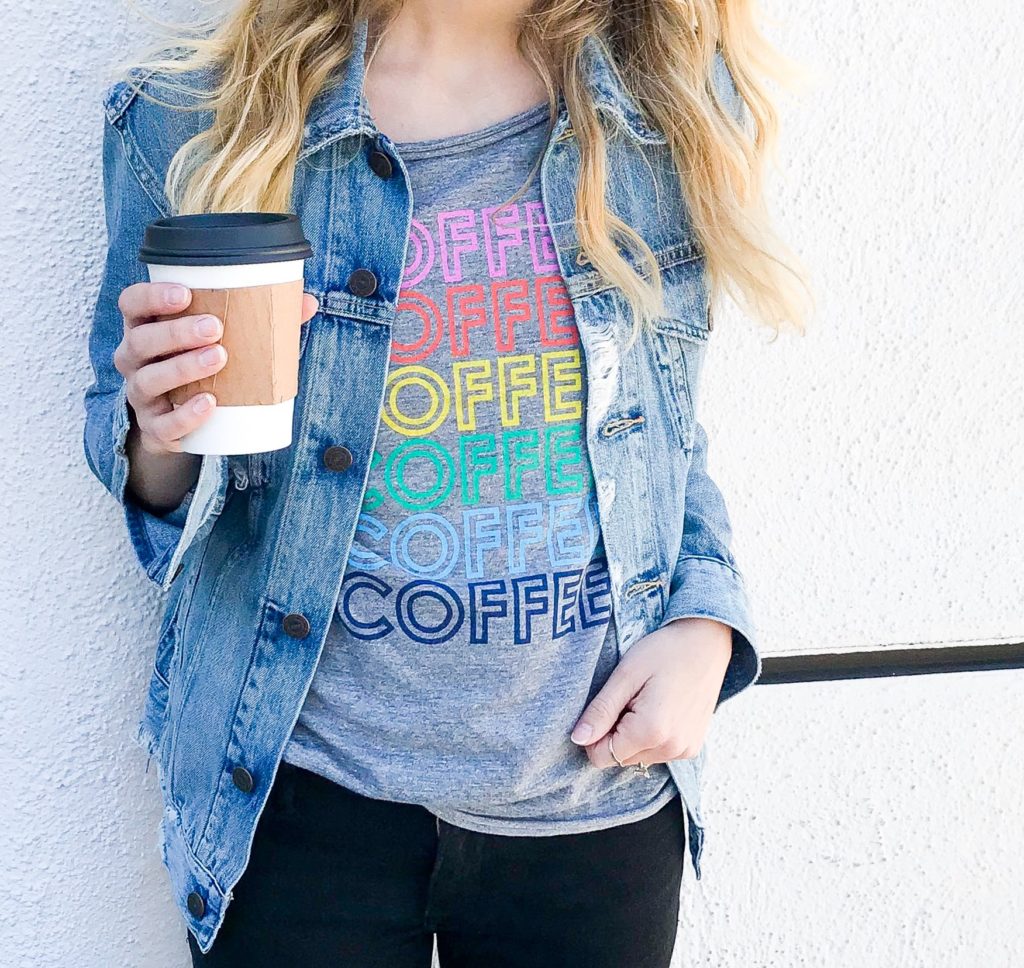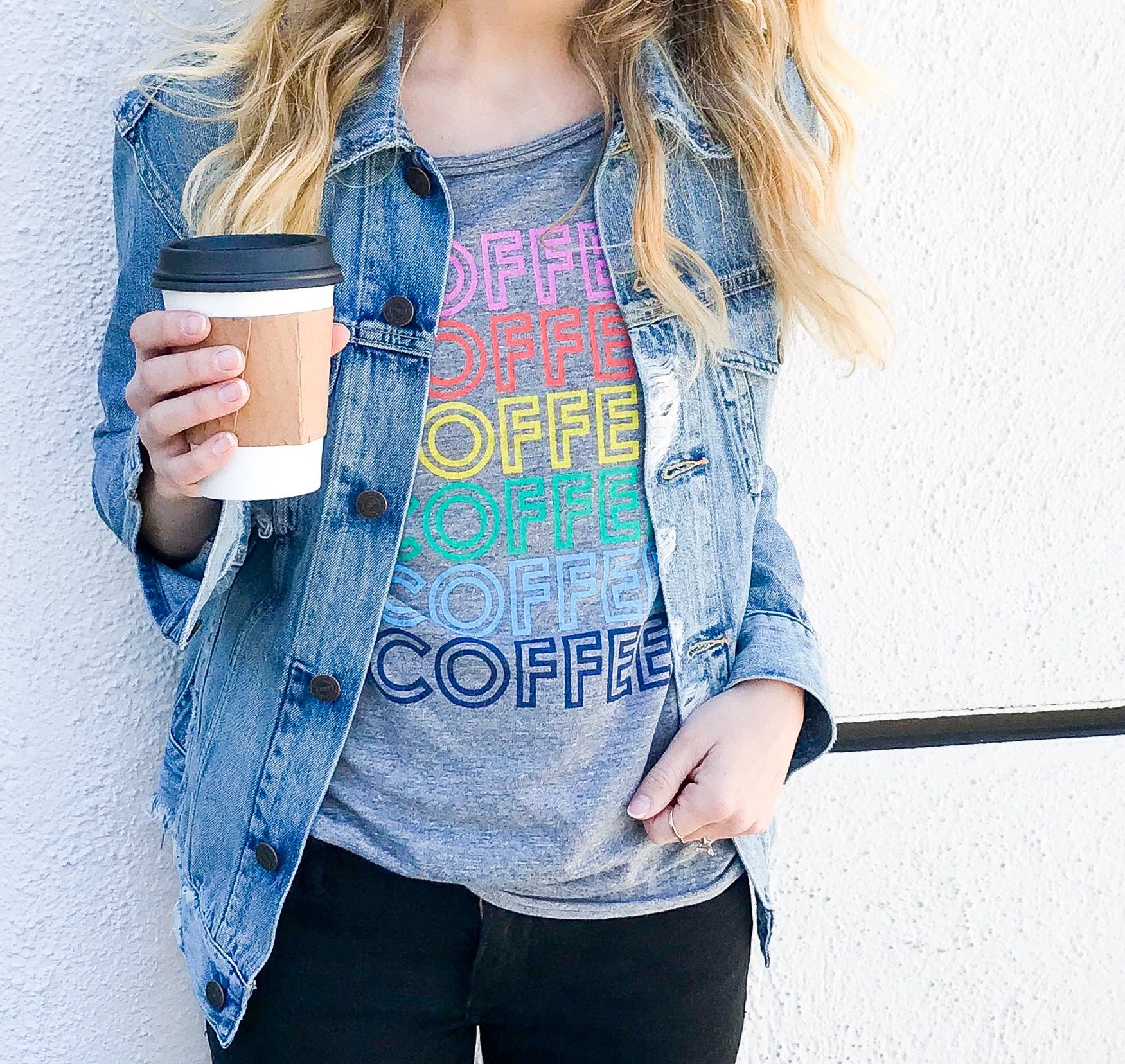 Want to look hip without feeling uncomfortable? Wear a vintage graphic shirt paired with black distressed jeans. Add a leather jacket or denim jacket to your outfit for some warmth if you'll get cold while traveling.
These are my 9 favorite places to shop for graphic tees!
6. Cardigan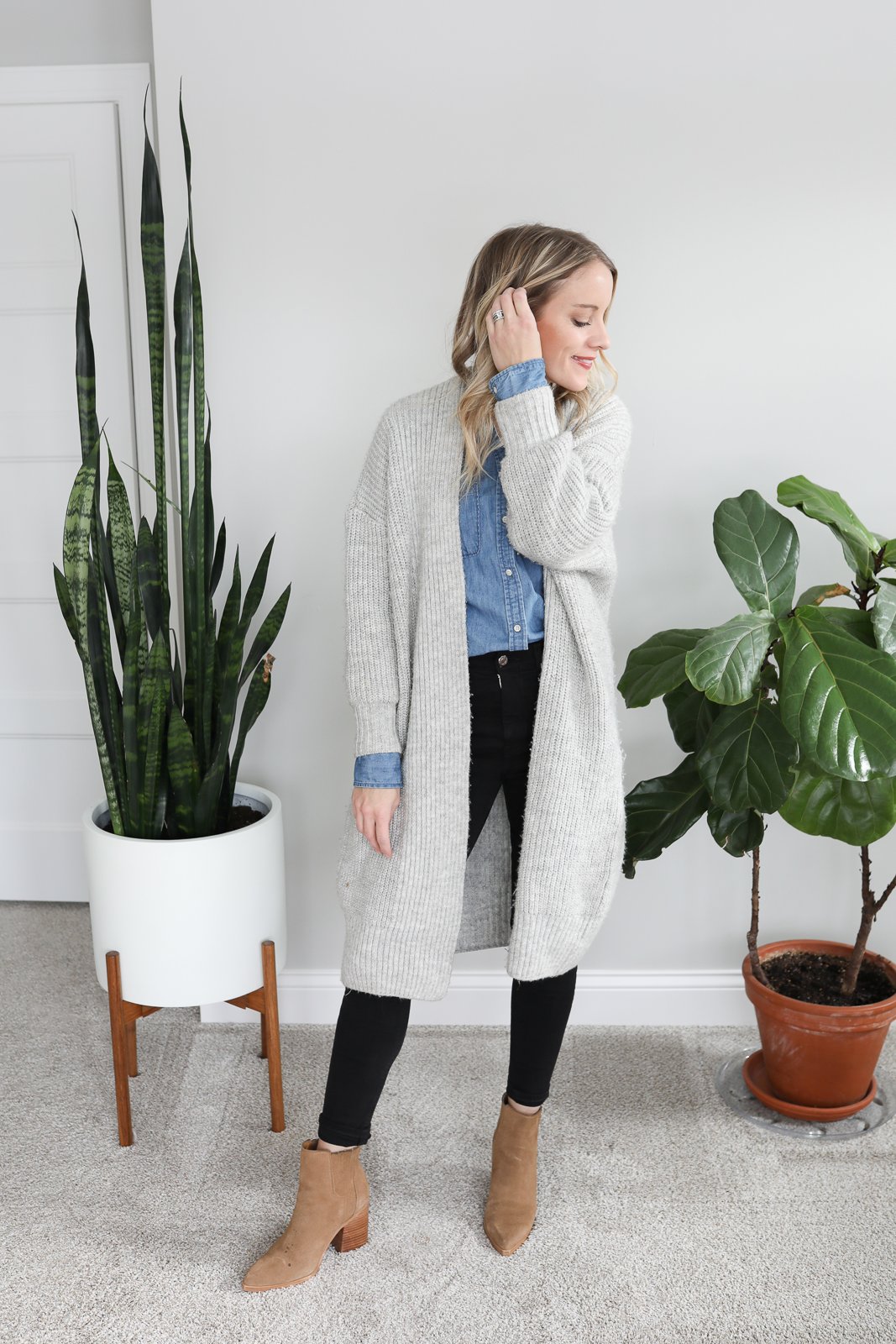 Denim Shirt (Mine is super old – this one is similar) | Pants | Cardigan (Old, similar here) | Boots
Cardigans are a must for all your travel outfits. Not only can a cardigan change the vibe of any outfit, it's also an easily packable item that helps you adapt to any temperature changes while you travel.
If the outfit above isn't up to your style, try pairing a cardigan with a white tee and jeans or leggings. Add some sneakers for a cute and casual look.
7. Oversized Sweater Dress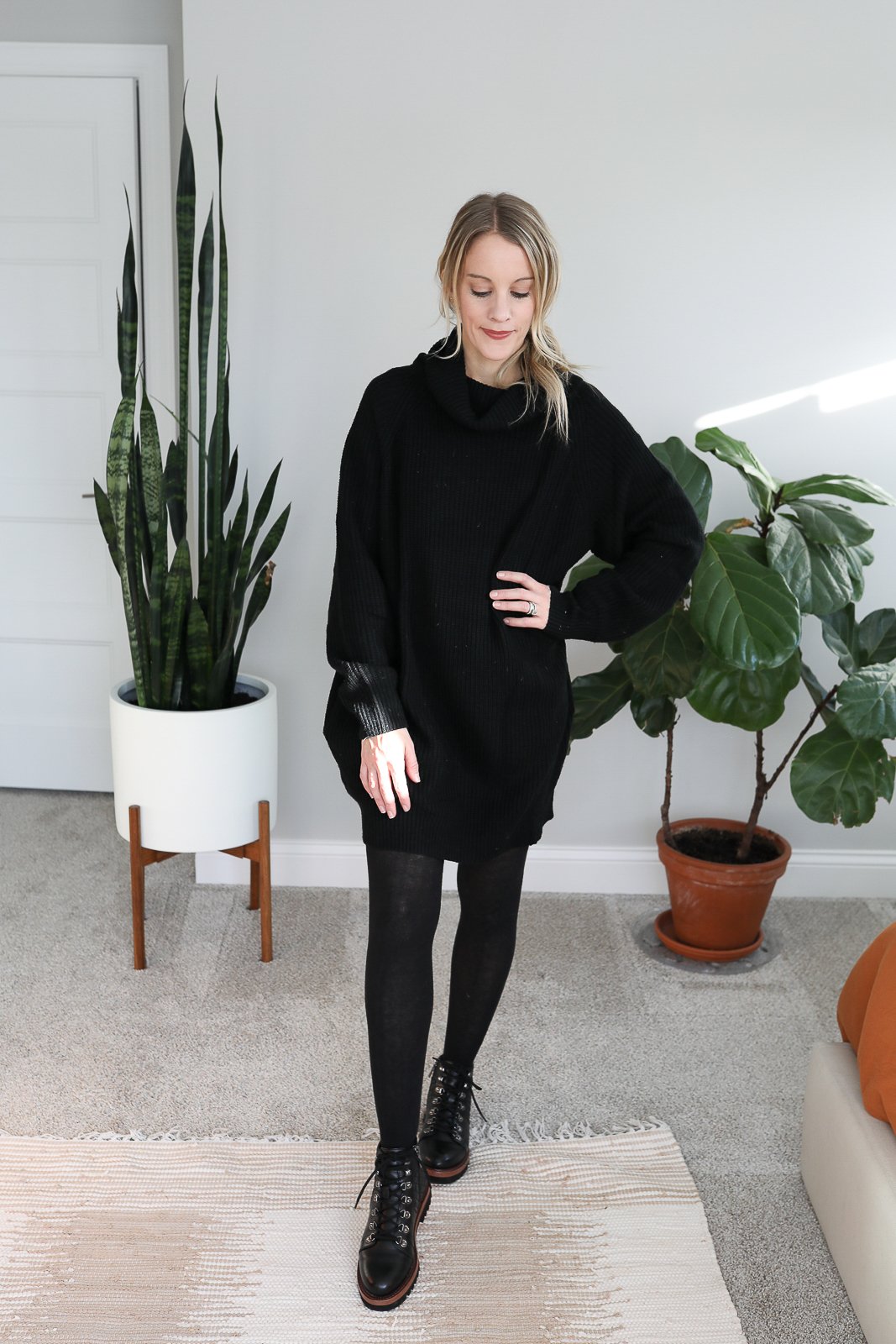 Sweater Dress | Boots (sold out – similar here)
If it's cold at the time of travel, wear an oversized sweater dress for a comfy and warm outfit. Wear leggings or tights underneath if the weather ends up being colder than you expected on the day of your trip.
This 'fit is also a great opportunity to wear boots that you want to bring on the trip, so you can save room in your suitcase.
*Find more sweater dress outfit ideas here!
8. Sweatshirt and Sweatpants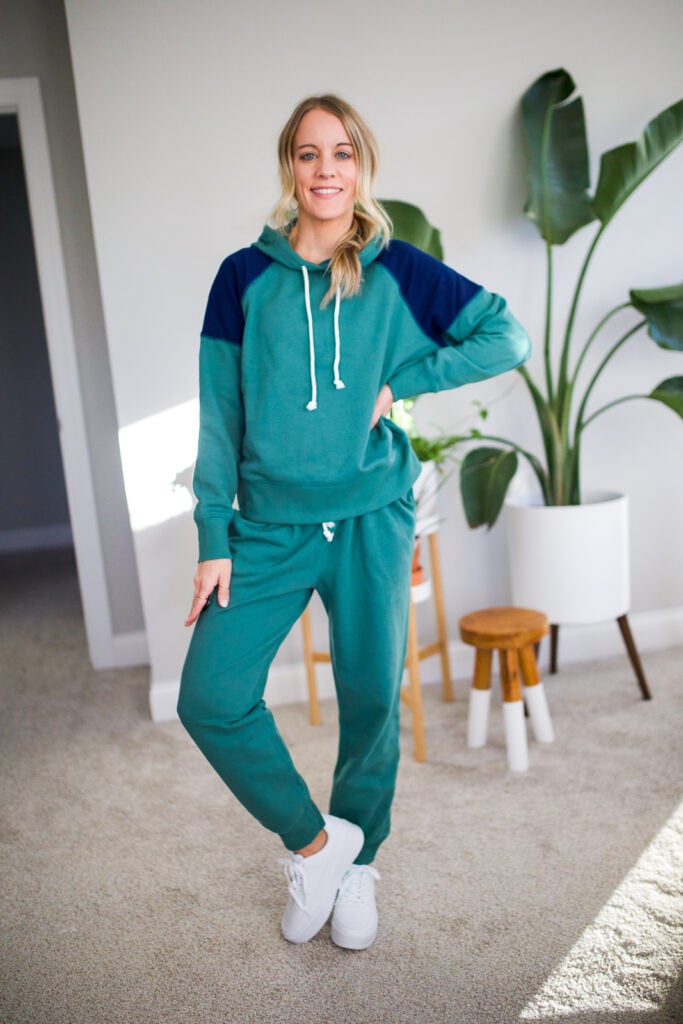 Pants | Sweatshirt | Shoes
Grab a matching sweatshirt and sweatpant set for a sporty and stylish look. This is a great option for fall or winter travels. You'll be comfortable the whole time and look put together.
9. Joggers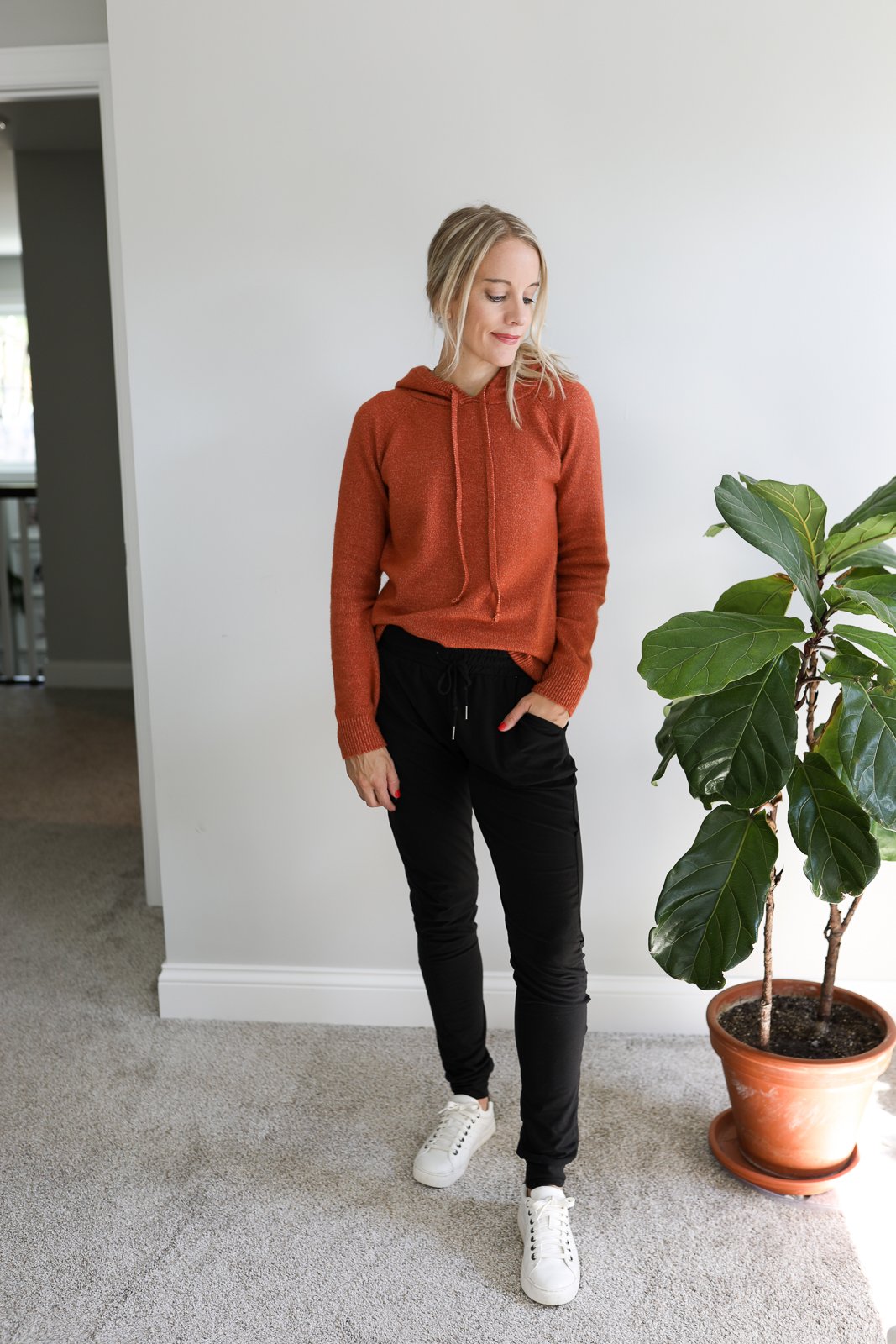 Hooded Sweater | Joggers | White Sneakers (Sold out – find more white sneakers here)
Are joggers the best and most versatile item in your travel arsenal? I'd argue they just might be, especially if you invest in high-quality ones.
Dress up some joggers for a comfy look! Pair with a black tee, denim jacket, and some white sneakers for a casual travel outfit.
10. Sporty Casual Travel Outfits
I love a sporty style for the airport or car! You can make it both fashionable and easy.
Wear some Adidas pants with a white cropped tee and white sneakers. It's very little effort for you but won't come across that way to everyone else!
11. All Black Travel Outfits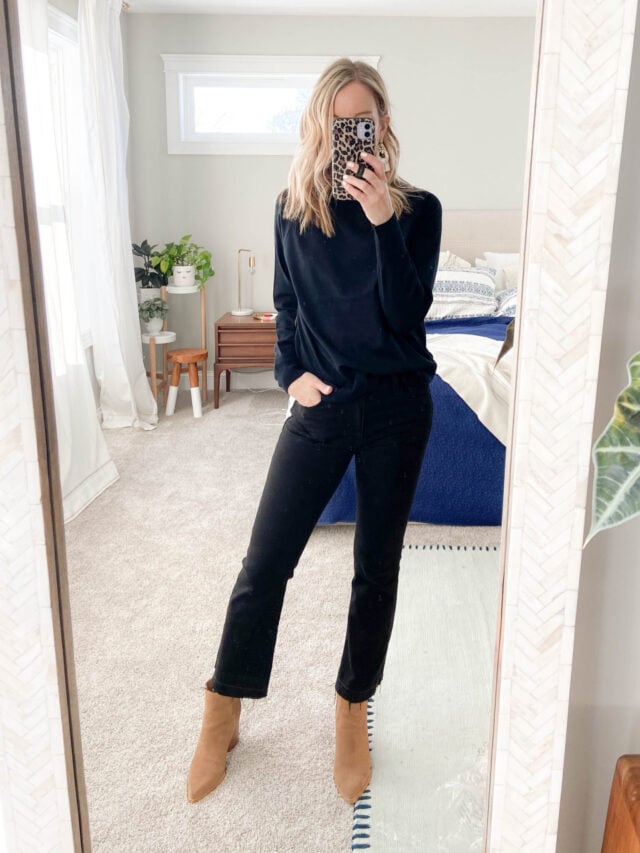 Sweater | Jeans (old)
Wearing all black is chic and hip. Go with black leggings, a black tee, and a leather jacket. Accessorize with some sunglasses, a black hat, or a black purse.
Soften your all black aesthetic with some white sneakers or tan boots and you'll be set!
12. Jeans and a Sweater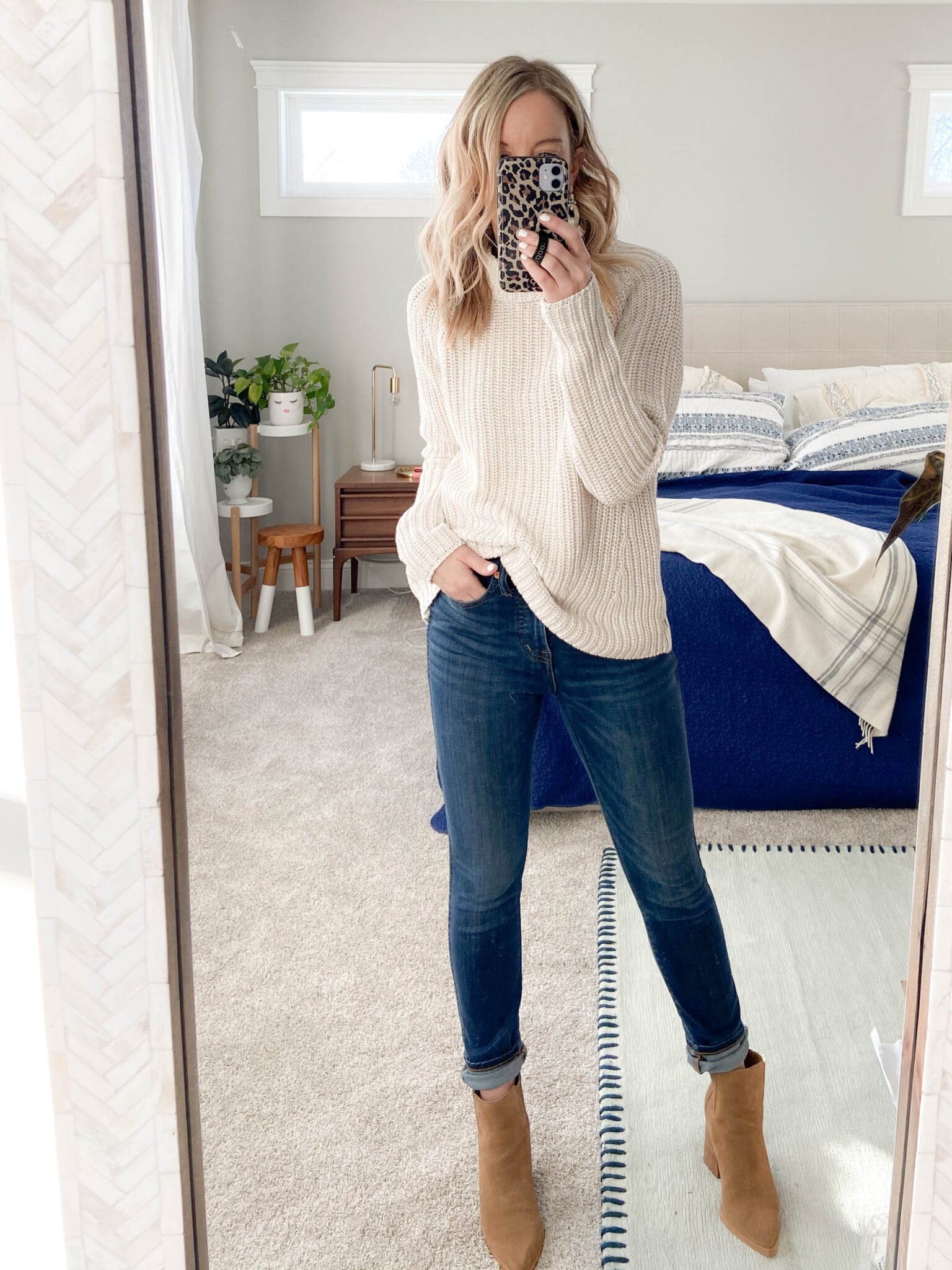 Mock Neck Sweater | Jeans (Sold out)
Such a simple look, but it'll give you effortless style (and you can easily wear the pieces on your trip too)! Pair your favorite jeans with a cute sweater and some loafers or boots. This is a great look if you're traveling during the fall!
13. Shift Dresses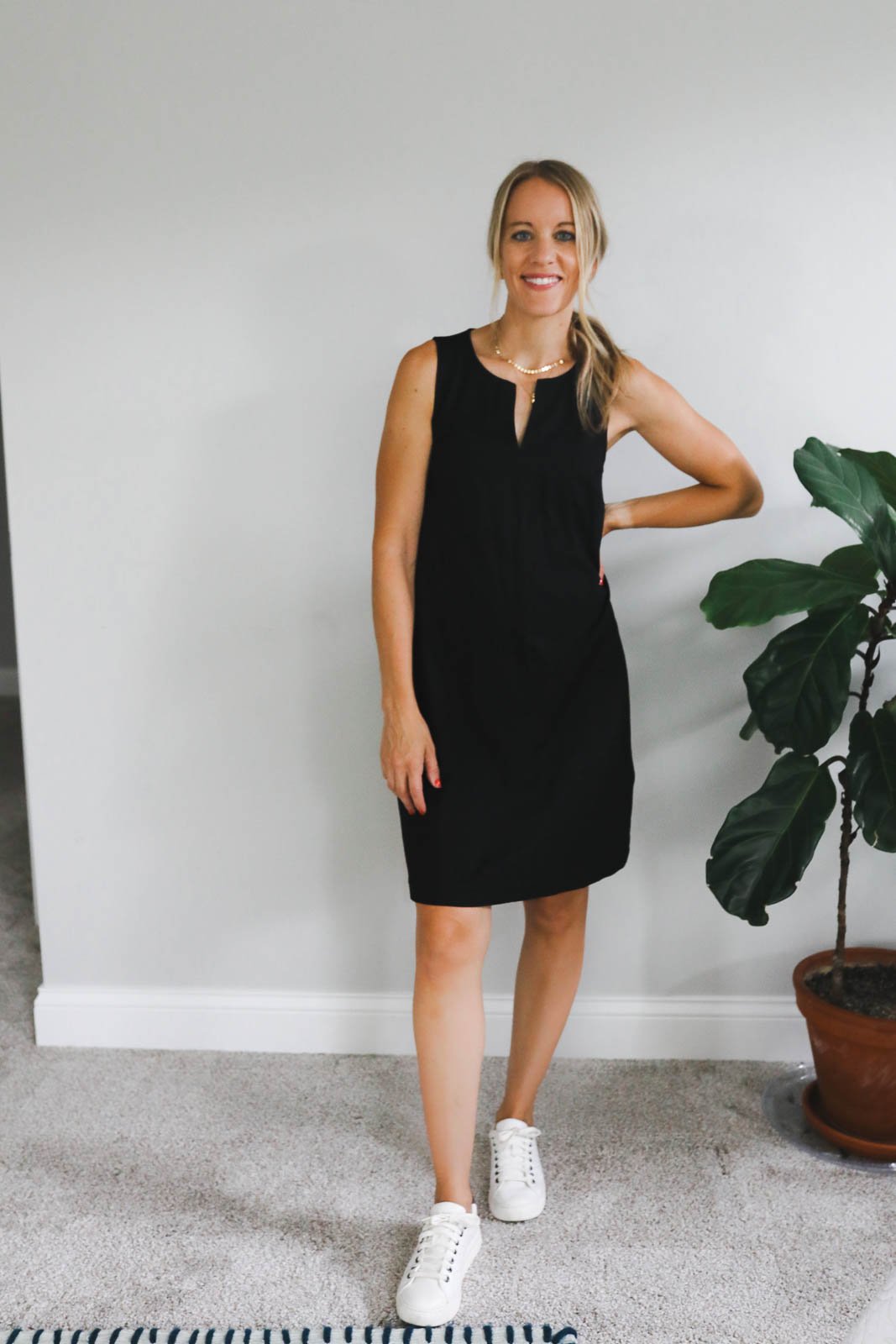 Dress | White Sneakers (Sold out – find more white sneakers here)
If you'll be rushing directly to a meeting after the plane lands, you'll want something professional but comfortable enough for traveling. Wear a shift dress, and light sweater, and flats or leather loafers for the perfect business casual look.
*Find more shift dress ideas here!
14. Midi Dress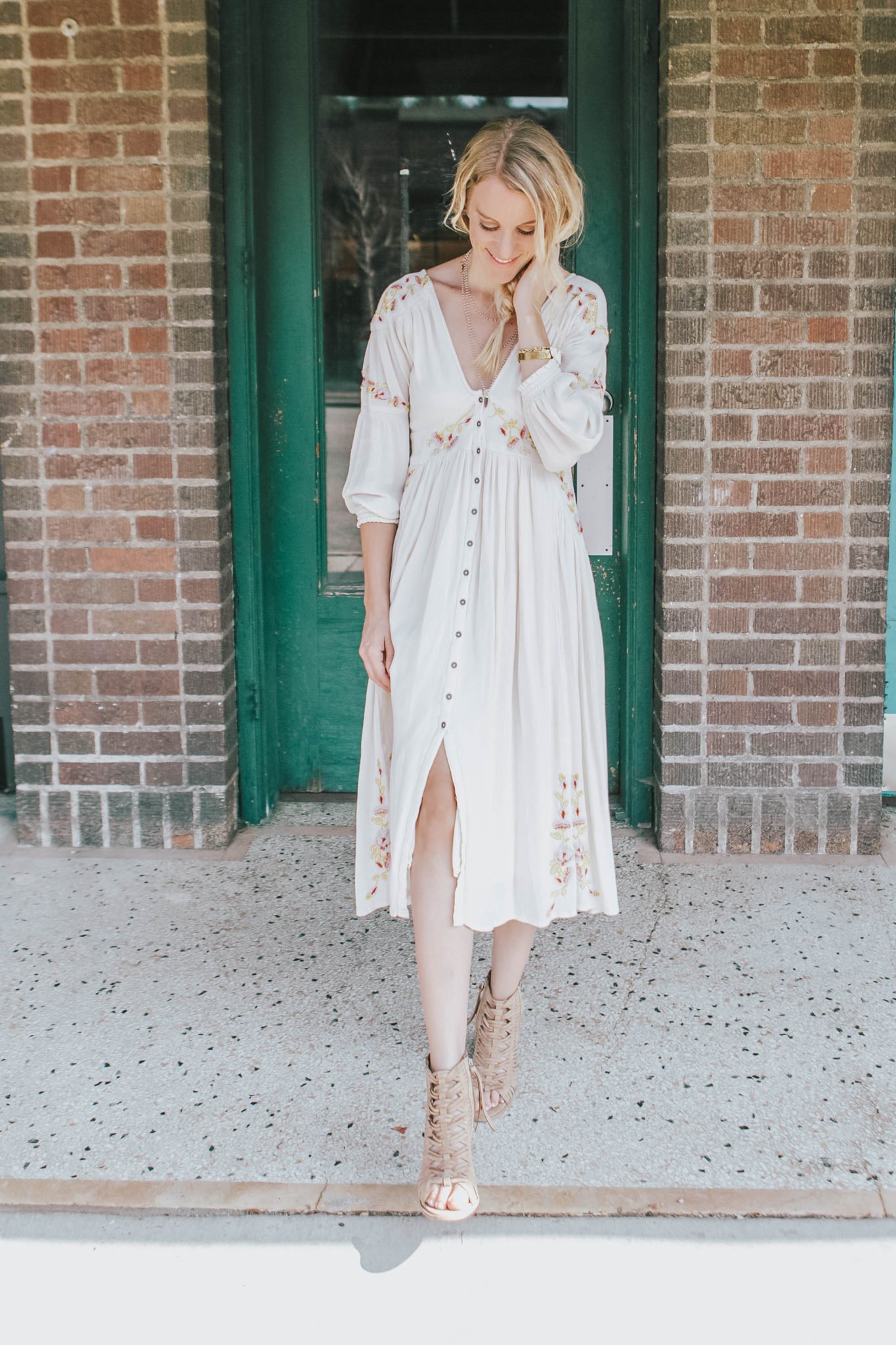 I always notice the chic women wearing midi dresses in the airport — and these dresses are so easy to pull off! Wear a midi length solid color dress with a printed scarf. Pair with some nude strappy sandals and some sunglasses.
15. Linen Pants
For a beach destination, wear some white linen pants. They're lightweight enough for warmer weather, but will also keep your legs covered in case the plane is cold. Wear with a bright colored or patterned top to evoke tropical vibes.
16. Leggings & T-shirt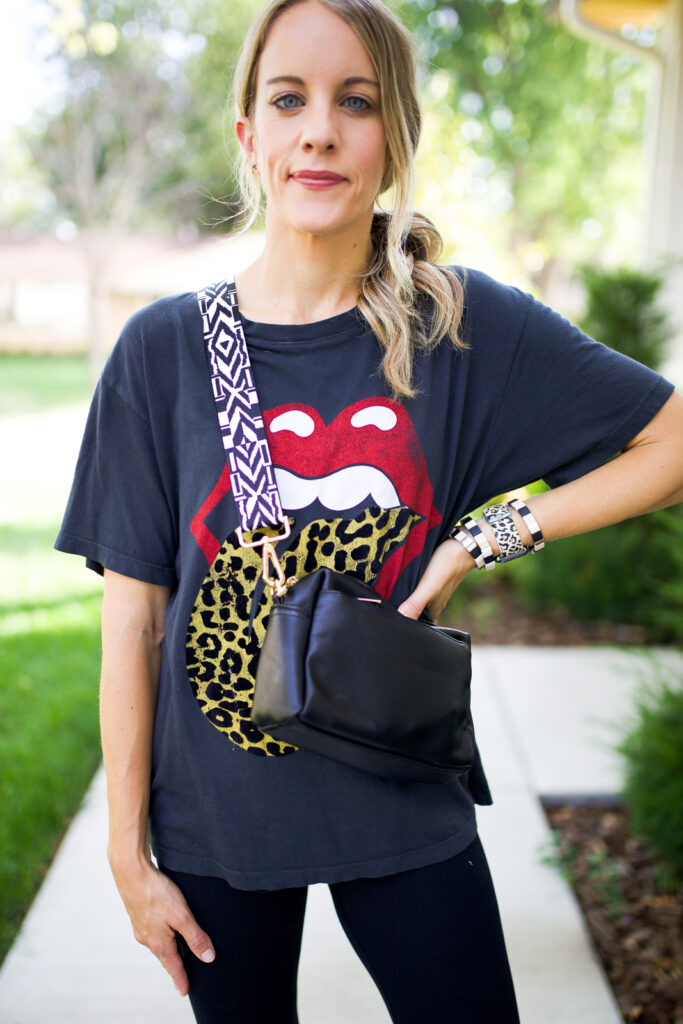 T-shirt (Sold out, similar here) | Bag | Bag Strap
Leggings and a T-shirt: what could be better than that! Sometimes basic is best!
Pair with a cardigan or have a pullover with you just in case. You can never go wrong with basic neutrals!
17. Statement Jacket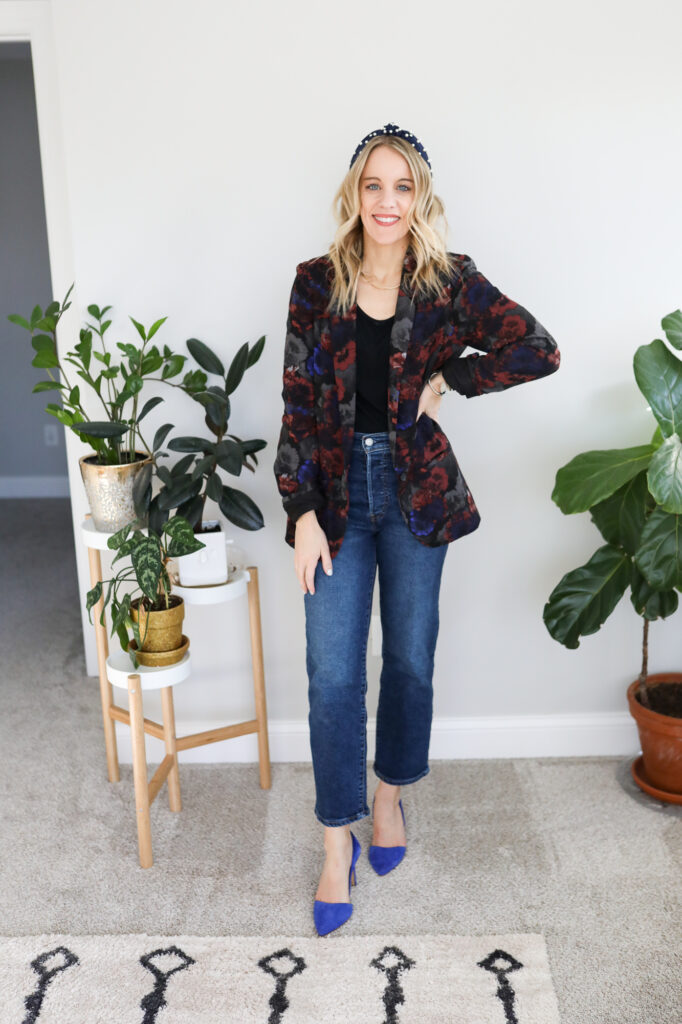 Jeans | Blazer (Sold out similar here)
Give your classic neutrals a little more style! Start off by wearing jeans (in any color), a solid shirt, and black boots. Then, add a statement coat or blazer over top. It's a great stylish outfit for traveling during the cold weather months.
18. Boho Cozy Outfits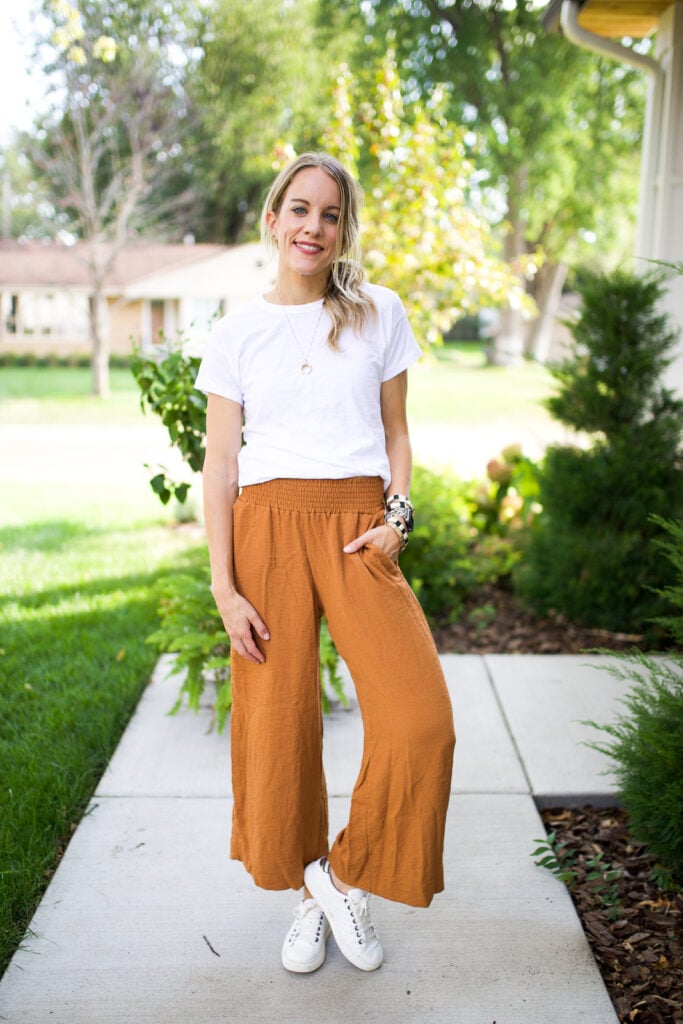 T-Shirt | Pants (sold out, similar here) | White Sneakers (Sold out – find more white sneakers here)
Keep some style while staying cozy! Wear some loose, wide-leg, boho pants with a loose fitting top. It'll feel like you're wearing pajamas — perfect for a long flight where you'll be trying to catch some sleep!
19. Faux Leather Leggings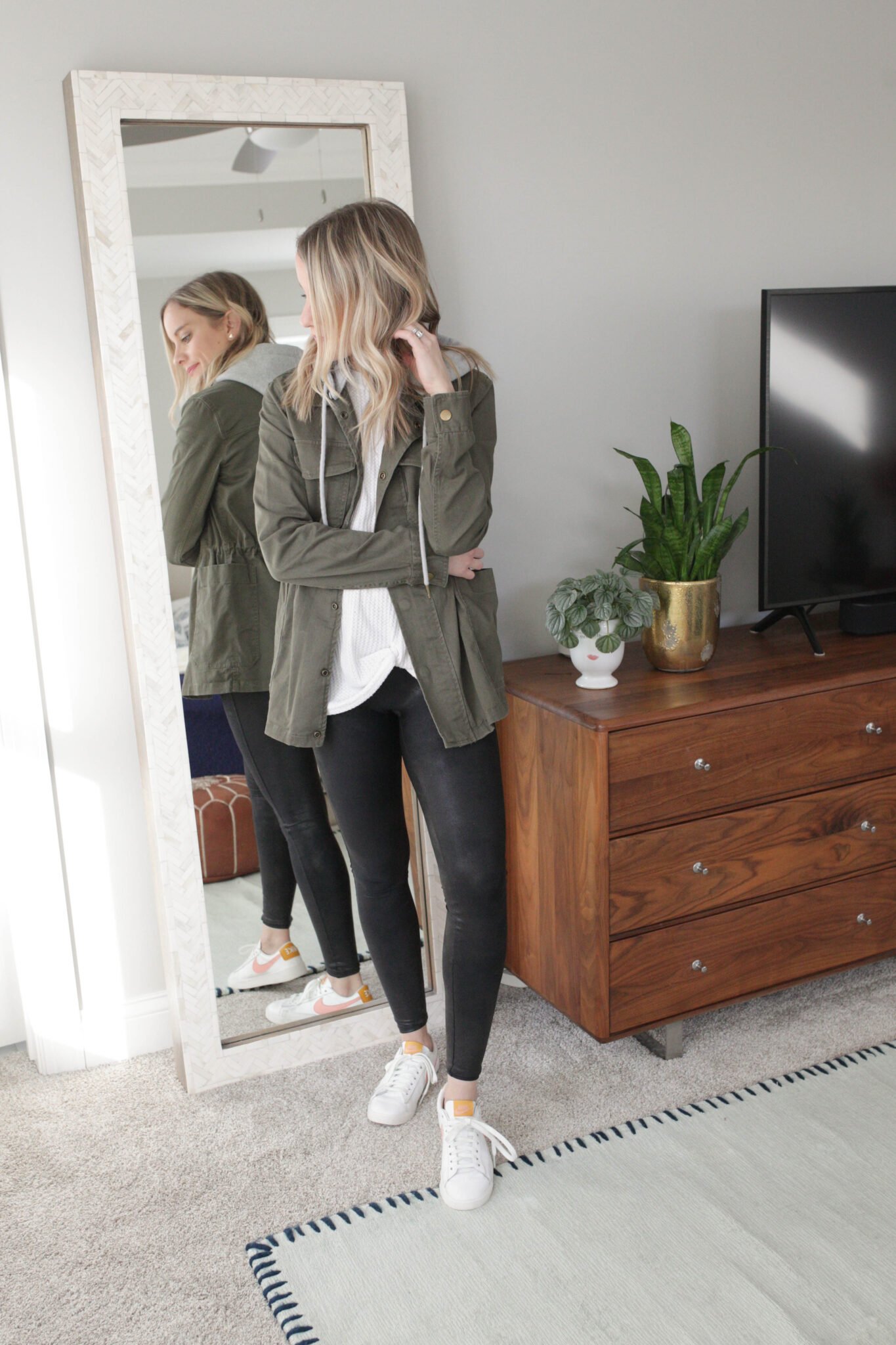 Spanx | Tank Top | Utility Jacket (Similar here and here)| Sneakers (sold out, similar Nikes here)
A nice sleek look is great for spring or early fall. Achieve this look by wearing faux leather leggings, a neutral color top, white sneakers and a jacket to keep you warm. It'll be stylish and comfortable!
20. Loungewear
There are so many loungewear matching sets out there, which makes putting together an outfit so much easier! Throw a headband on your hair, and you're ready to go!
21. Blazer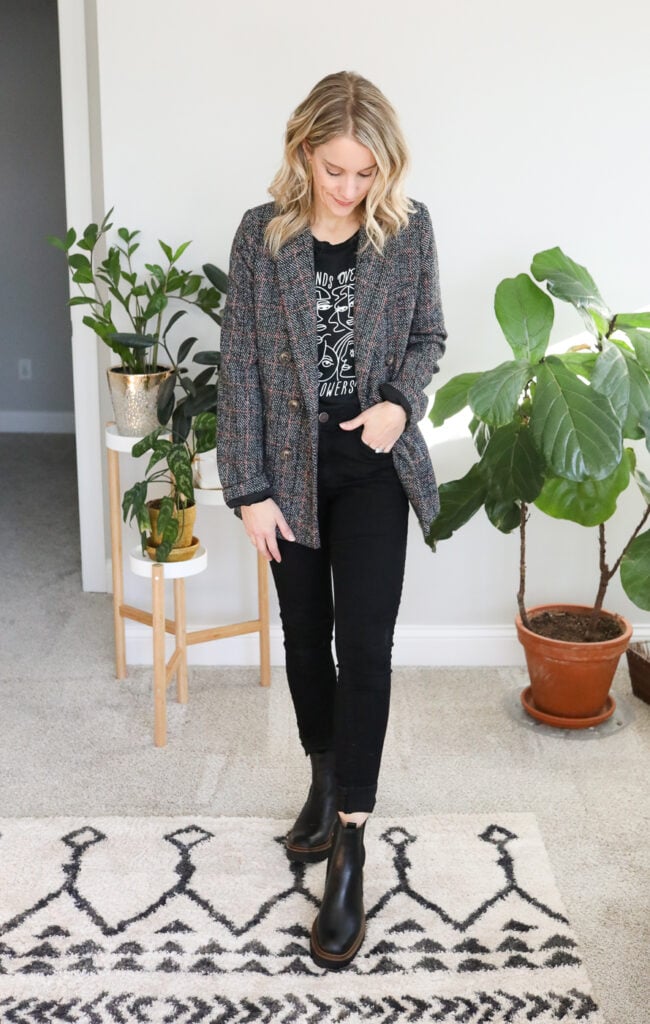 Blazer (sold out, similar here and here) | Graphic Tee | Pants | Boots
Wearing a blazer can make your look a lot more formal, but you don't have to give up on comfort. Wear it with jeans or leggings for a sophisticated yet comfy look.
22. Maxi Dresses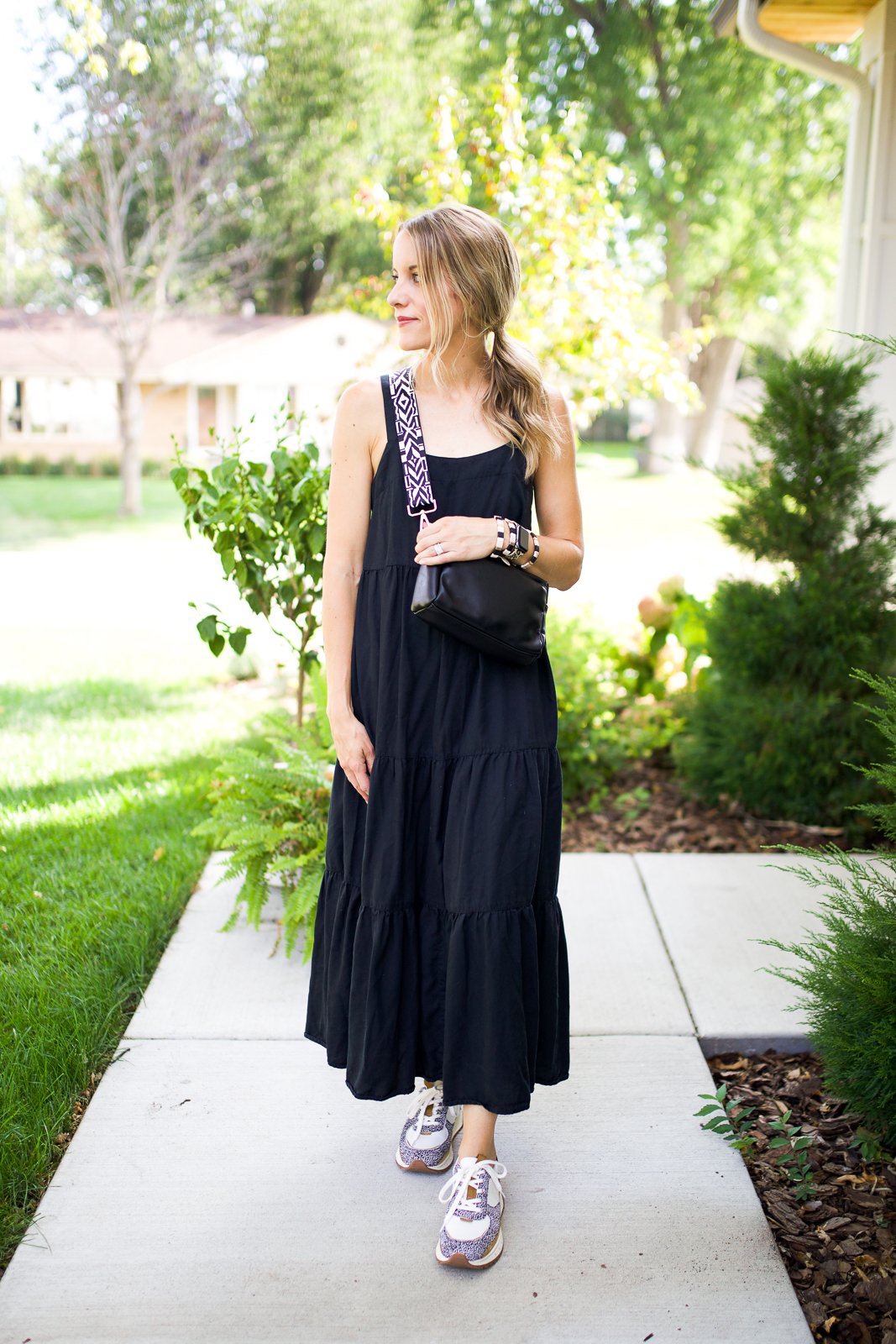 Dress | Bag | Bag Strap | Shoes
All kinds of dresses can be comfortable for traveling! Try a maxi dress with some sandals or boots, depending on the season. Dresses are easy to throw a cardigan over and can easily be reworn on your trip.
23. Long Jacket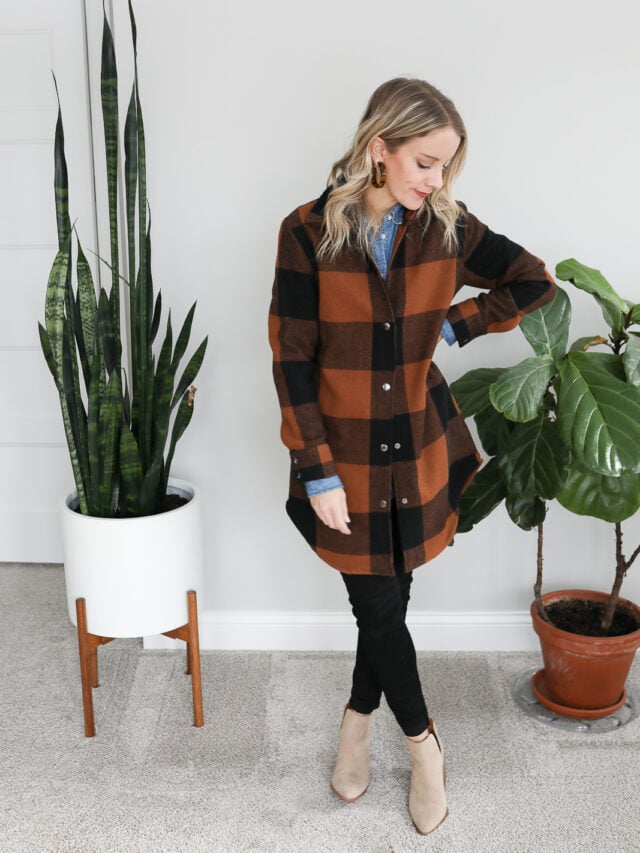 Denim Shirt (Mine is super old- this one is similar)| Pants | Jacket | Boots
Wearing a long jacket can instantly turn any basic outfit chic. If you're traveling during warmer months, wear a cotton or polyester trench coat. For colder months, go with something that'll give you more warmth, such as wool.
24. Long Cardigan (aka Long Flight Travel Outfit)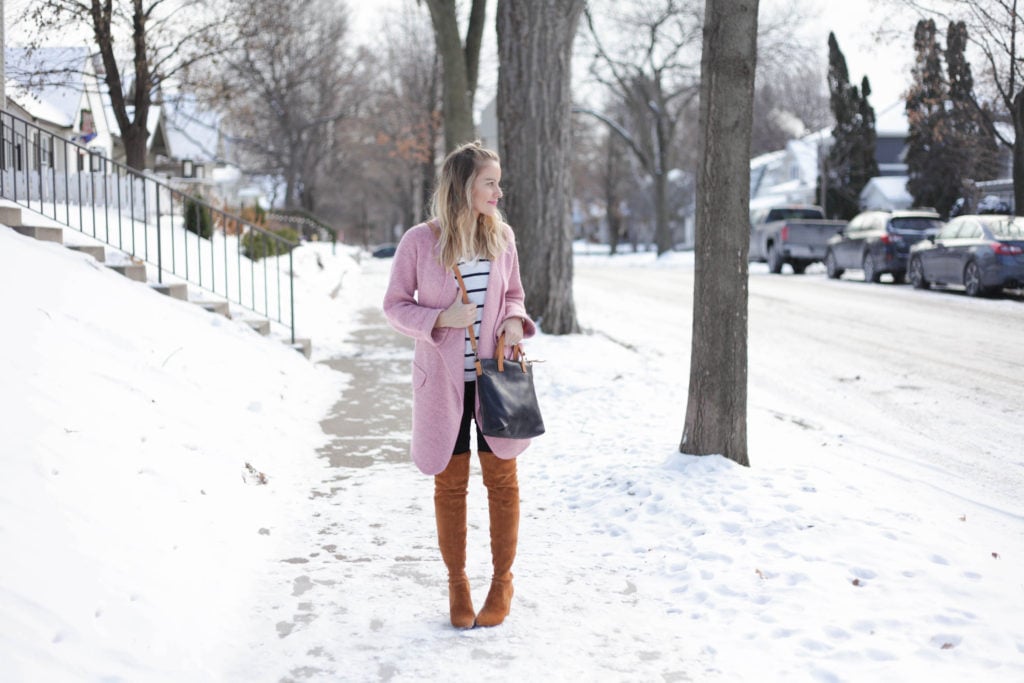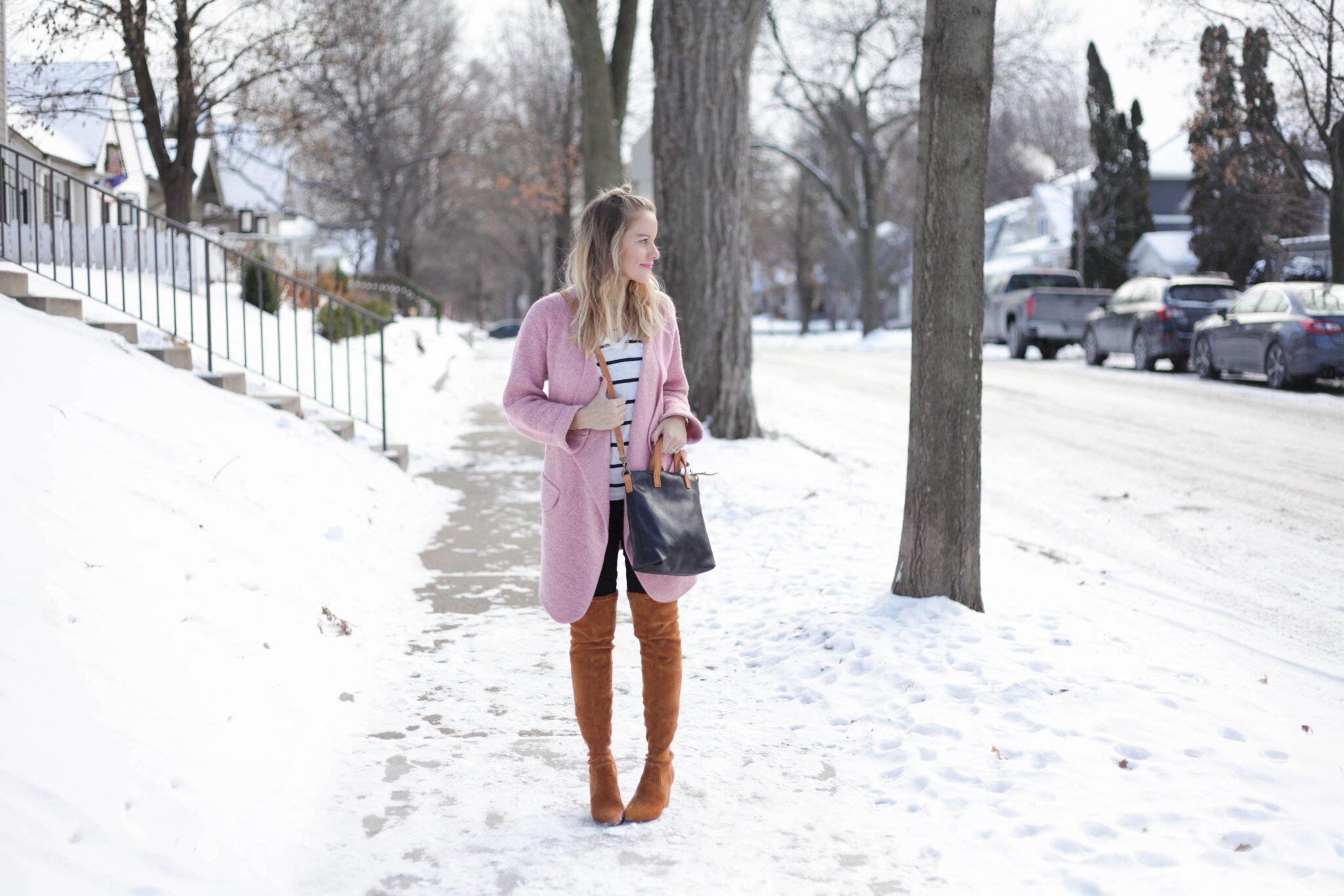 For any long haul flight, you'll want to incorporate a pullover or long cardigan (or at least bring one with you). It'll give you some warmth, or you can use it as a blanket or makeshift pillow when you're trying to sleep.
25. Athleisure Outfit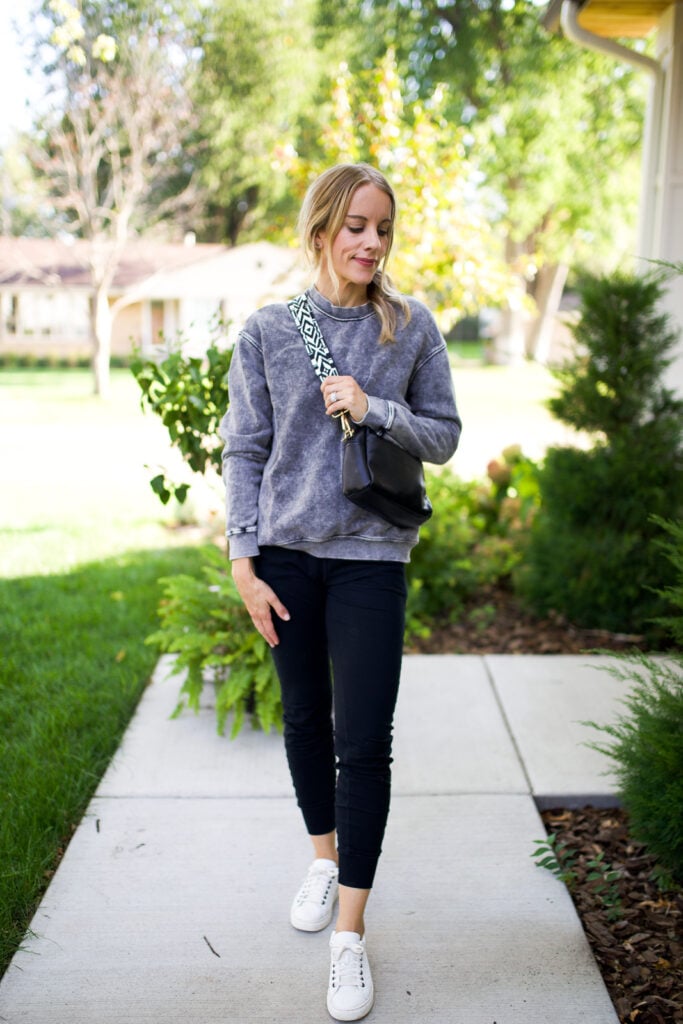 Athleisure is trendy, and there are so many cute sets out there! Plus, athletic clothes are lightweight and comfortable, perfect for traveling.
26. Leggings and a Tunic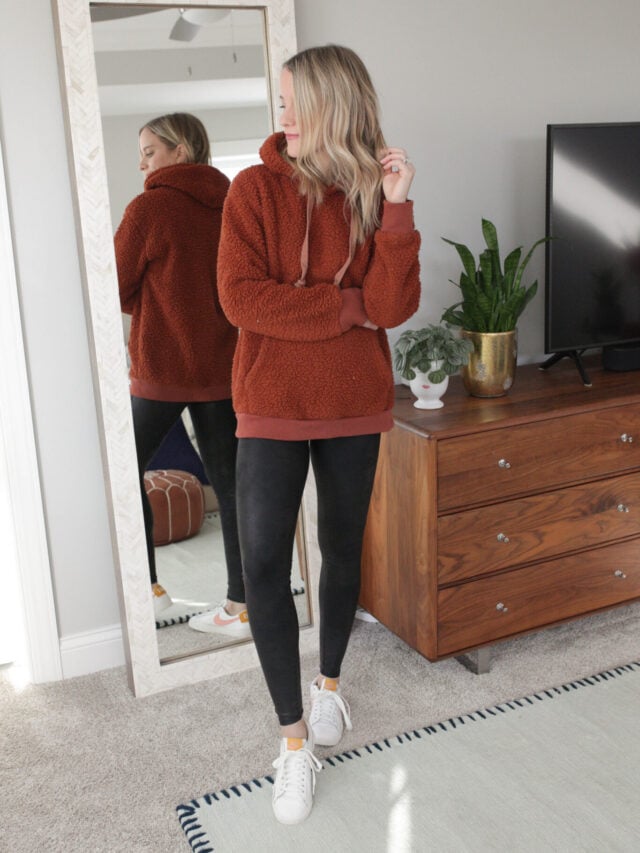 Spanx | Fleece Sweatshirt | Sneakers (sold out, similar Nikes here)
A simple and comfortable outfit might be all you need! Choose a pair of leggings that aren't too flimsy and will feel soft. Pair with a tunic top or dress for a little bit of coverage.
27. Jeans and White Tee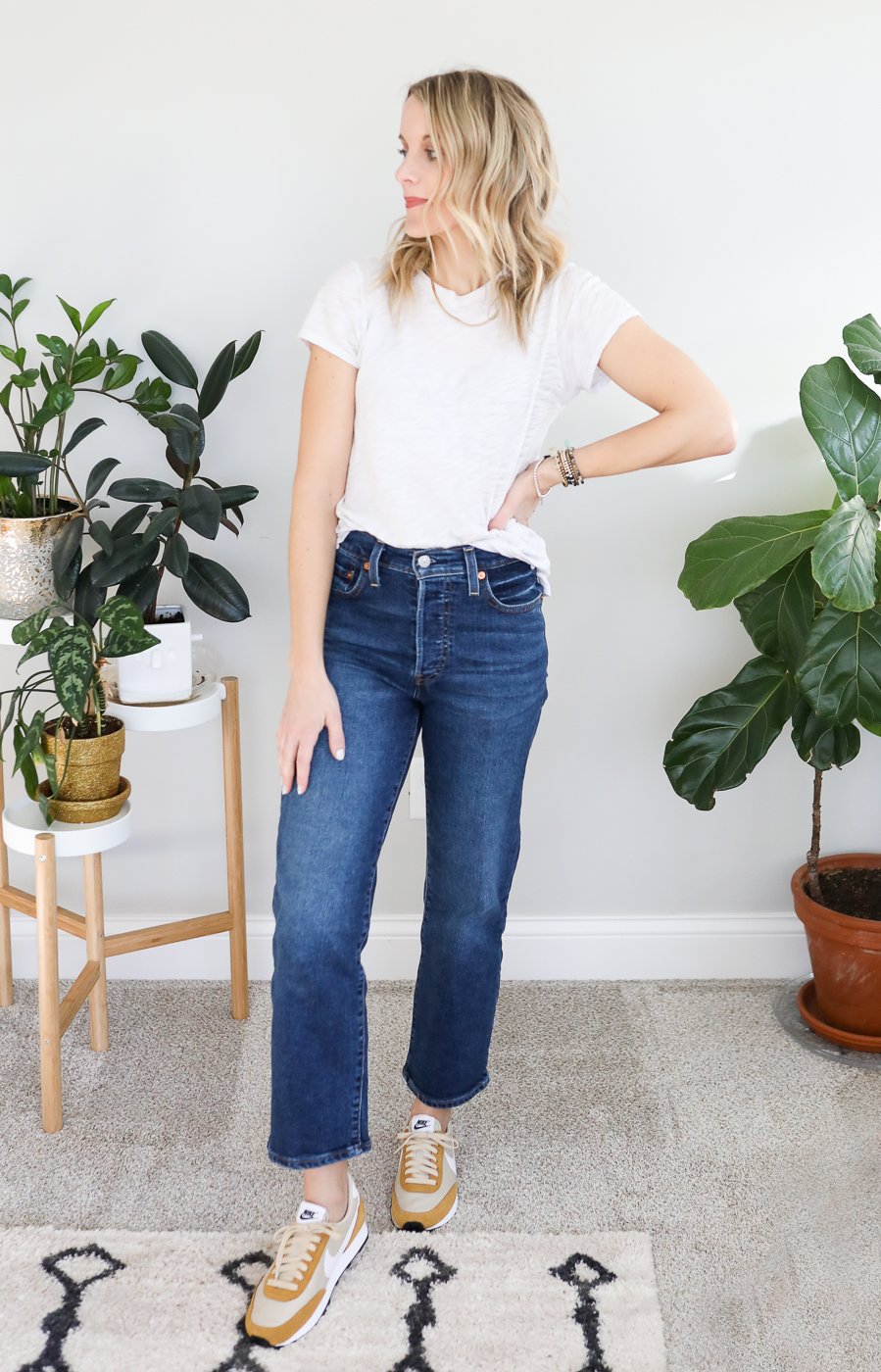 Jeans | T-shirt | Sneakers (sold out, similar here)
Jeans and a white tee shirt are a classic look of simplicity. Pair with your favorite sneakers for a relaxed, casual outfit. You can always throw on a cropped trench or other jacket if you are usually chilly when traveling!
28. Oversized Sweater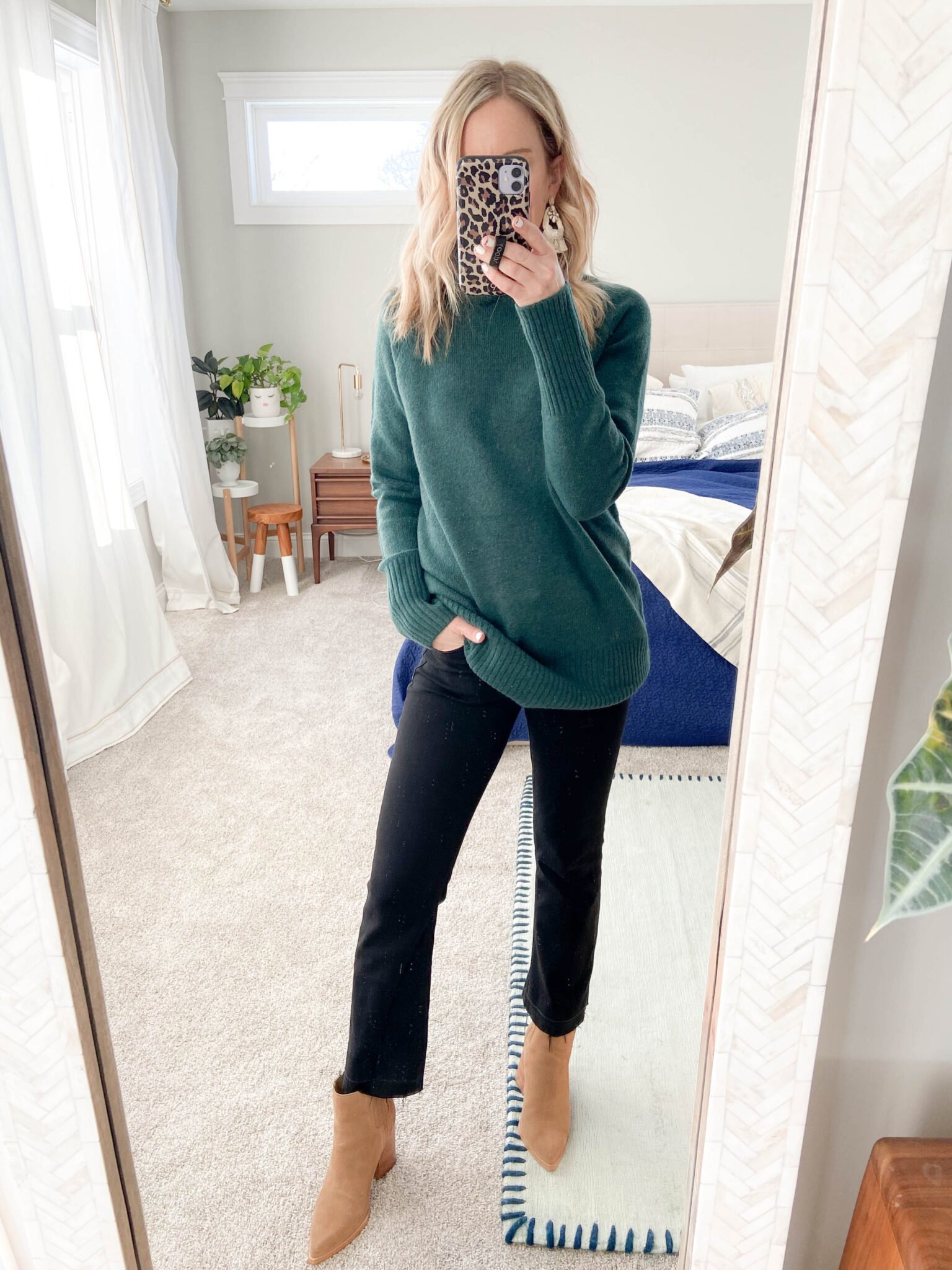 An oversized sweater is like being bundled up in a blanket — it really can't get much better than that! Wear with leggings or a comfortable pair of jeans.
29. Jumpsuit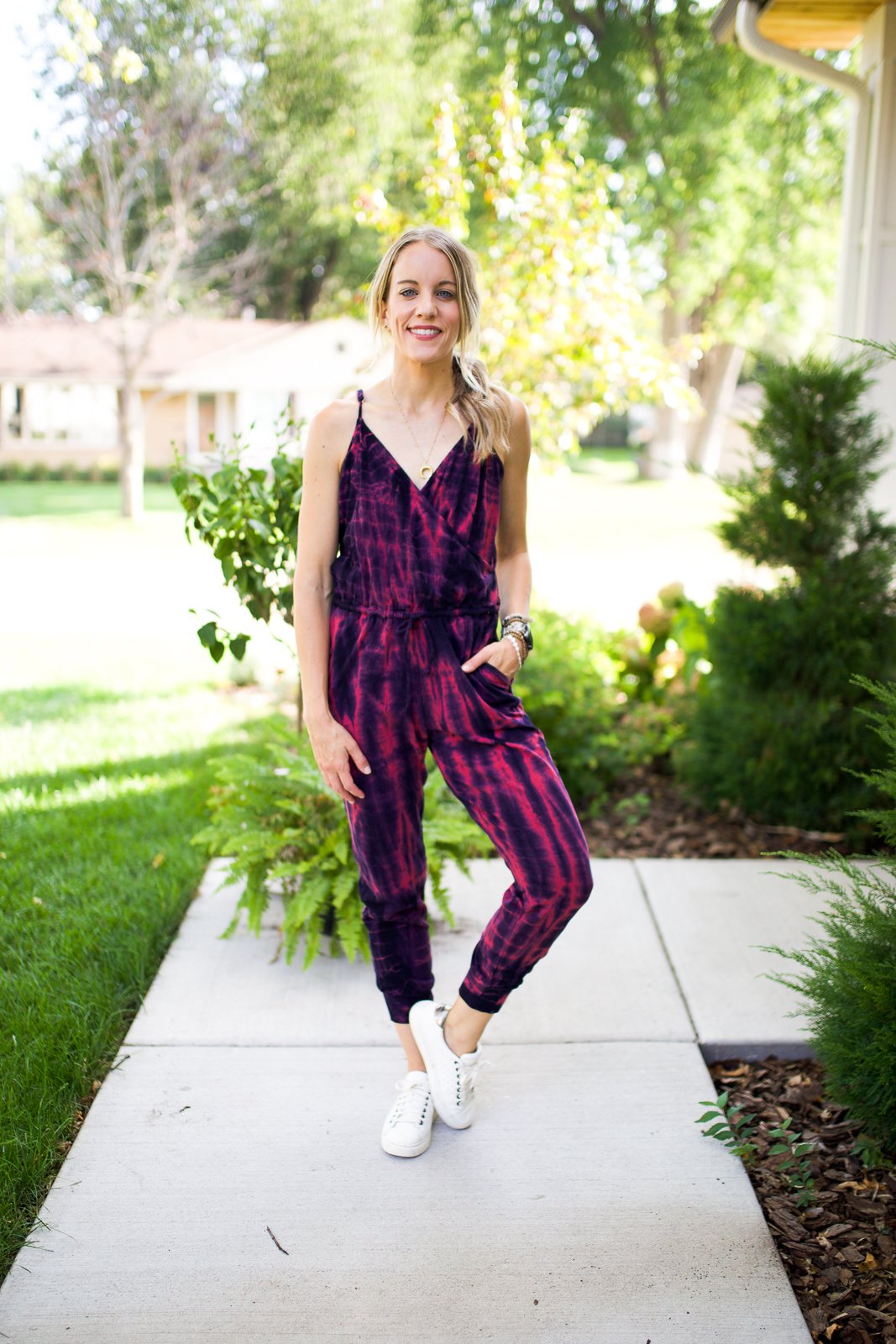 Jumpsuit (Sold out, similar here)
A soft and stretchy jumpsuit can be an easy and comfortable outfit. It's easy to accessorize and throw a cardigan over it.
30. Striped Dress
For a nice traditional look, wear a striped dress with a jean jacket. Give it a bit of a casual flare by wearing Vans. It's also a cute European chic style!
Packing Tips
It can be hard to get everything into a suitcase and stay under the weight limit! Roll your clothes instead of folding them — they'll fit better and be less prone to wrinkles. Packing cubes are also a nice way to keep your items organized.
If you know you'll be shopping or buying souvenirs while traveling, take that into consideration! Leave a little extra room in your suitcase or your carry on for everything you collect.
When packing for your carry on, remember TSA's 3-1-1 rule. All your liquids must be 3.4 ounces or less and be in a clear bag (one quart-sized bag per one passenger). Having those already packed and stored correctly will make getting through security so much easier.
As far as security goes, have an empty reusable water bottle on you. You can fill up inside the airport terminal and then you'll have a water bottle to use throughout your travels.
FAQ
How can I look stylish while traveling?
Looking stylish while traveling doesn't have to be a headache or make you uncomfortable. A lot of stylish outfits can be created from basic staple pieces.

Basics can be reworn and styled in different ways. Pack dark jeans, solid colored shirts, a dress or two, and a few blouses. Depending on the weather, pack some shorts or a jacket that can be worn with anything. The key is to pack items that can be mixed and matched rather than statement pieces.
Should I fly in jeans?
It depends on the type of jeans! Stay away from skinny jeans, as they can start to feel tight on your legs. Go with your most comfortable pair of jeans or ones with a relaxed fit if you do choose to fly in jeans.
Is it ok to wear leggings on a plane?
There is no dress code for a plane, so if you will be most comfortable wearing leggings then go for it! As long as they aren't too tight on your legs since you will be sitting for a long period of time, you will be ok!
What should you not wear on a plane?
Stay away from excessive jewelry or bulky accessories. They'll weigh you down and could get you flagged during TSA security.
You'll also want to avoid wearing anything too tight. Your body naturally swells during flying, so anything tight will be quite uncomfortable once you're up in the air. On the flip side, avoid wearing anything too skimpy. It's no fun when you're freezing on the plane and your legs are sticking to the seat.
Once you've found your perfect flight outfit, there are a few other little things to think about. Avoid flying in a bra that's uncomfortable. Think about your outfit and figure out which bra will be best to wear.
When it comes to shoes, avoid heels or open toe shoes. Pick ones that will be comfortable and easy to slip off during security, but also won't lead to you having to stand barefoot!
Lastly, avoid any strong fragrances. In such a small space, the smell can become overwhelming and bother those with allergies or sensitivities.
There are so many options when it comes to traveling outfits. Wear whatever fits your style most and will leave you feeling comfortable. Don't forget to consider the weather of where you're going, too! With the right travel outfit, you're bound to have a great trip. Happy travels!
Looking for more outfits ideas? Find inspiration for how to wear sweater dresses, white jeans, and faux leather leggings.