In the ever-changing world of fashion, there are timeless classics and modern interpretations of those classics. One reinvented gem that's making waves in the fashion scene is the cropped trench jacket.
With its mix of sophistication and contemporary flair, this must-have item has captured the hearts of fashionistas worldwide. Let's explore what cropped trench jackets are and how to rock them (and I'll share my top picks for this cropped style!).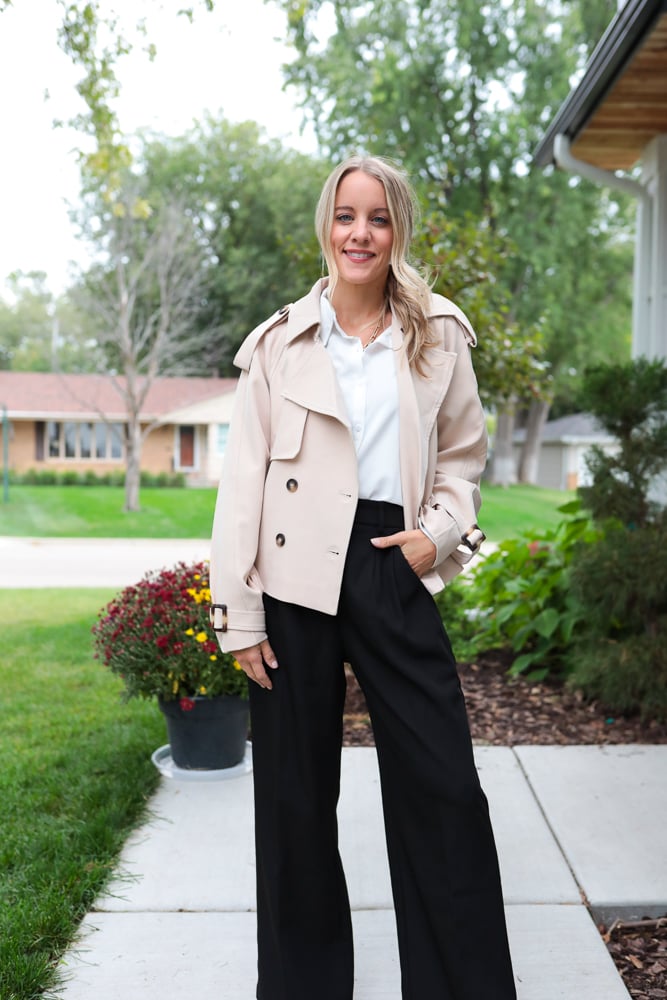 What Are Cropped Trench Jackets?
To fully understand and appreciate the allure of cropped trench jackets, you've got to understand the backstory.
Originating as military gear during World War I, trench coats have a rich and fascinating history. Initially designed for practicality and protection, they have since transformed into timeless fashion staples.
And now, with the emergence of cropped trench jackets, we have a trendy and modern twist on the classic design. These shorter versions offer a fresh and contemporary take on the iconic style, making them a must-have addition to any fashion-forward wardrobe.
Key Characteristics of Cropped Trench Jackets:
Length: Unlike traditional trench coats that often reach below the knee, cropped trench jackets typically end around the hip or waist area, creating a more relaxed and contemporary silhouette.
Belted Waist: Many cropped trench jackets retain the iconic belted waist of their predecessors, allowing wearers to cinch the jacket for a flattering fit.
Classic Details: These jackets often feature classic trench coat elements such as epaulets, a storm flap, and double-breasted fronts, giving them a timeless feel.
Versatile Colors: While beige is the classic trench coat color, cropped trench jackets come in a wide range of colors, from muted neutrals to bold hues.
How to Style a Cropped Trench Jacket
The beauty of a cropped trench jacket lies in its versatility. It seamlessly transitions from casual to formal occasions. Whether you're going for a chic street-style look or a polished office ensemble, this will be a great addition to your wardrobe. Here's how to style this piece and create fashion statements that reflect your unique sense of style.
1. Casual Chic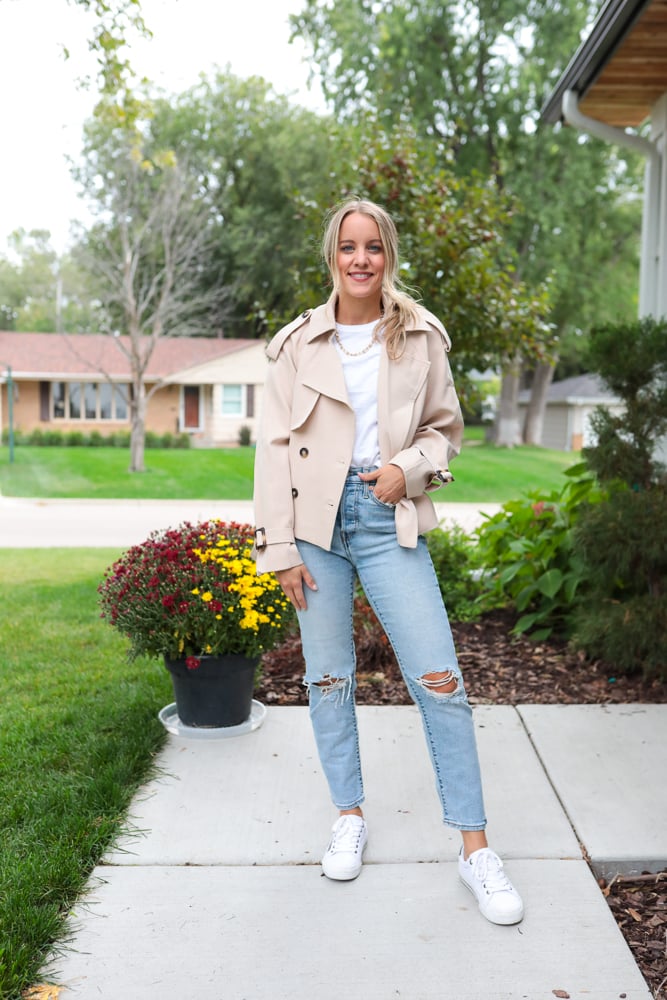 Shop the Look: Jeans | T-Shirt | Trench Coat | Sneakers
Want a chic and trendy outfit? Pair your cropped trench jacket with a classic white tee, distressed jeans, and white sneakers. It works for so many occasions!
Take your style up a notch by adding oversized sunglasses for a little something extra and a crossbody bag for functionality. These little details will make your outfit stand out.
2. Office Ready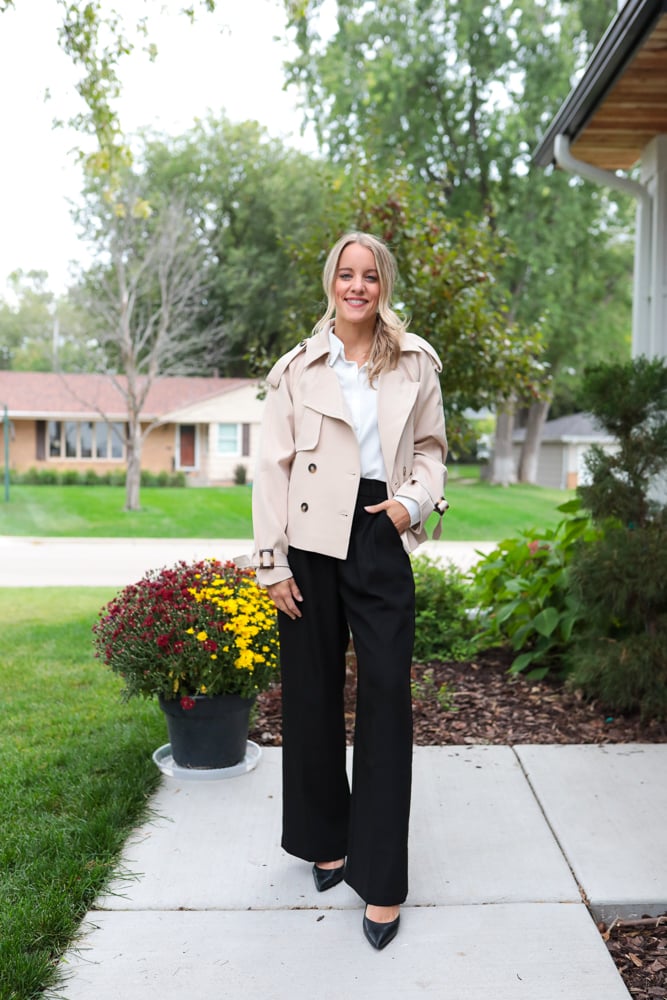 Shop the Look: Trousers | Button Down | Trench Coat
To achieve a more polished look, try layering a trench jacket in a different color over a nicely tailored blouse and pair it with high-waisted slacks. This combo brings out your style while still looking professional.
To complete your outfit, go for classic pumps in a neutral shade and accessorize with minimal yet elegant jewelry. Paying attention to these small details will elevate your overall look, making it suitable for almost any work environment.
3. Date Night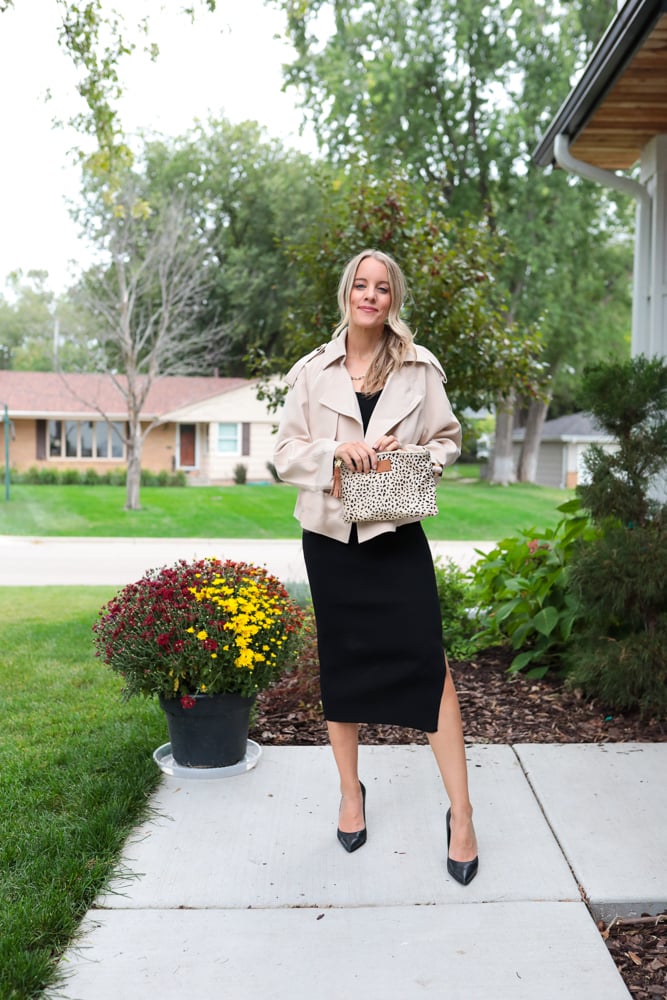 Shop the Look: Dress | Trench Coat
For a romantic night out, create a chic look by layering your cropped trench jacket over a silky slip dress. Complete the ensemble with a pair of sleek and stylish strappy heels and black pointed toe pumps that elongate your legs and exude elegance.
To elevate your outfit, accessorize with a statement clutch that adds a pop of color or texture, and adorn yourself with delicate jewelry pieces that bring a touch of sparkle and refinement to your overall look. These finishing touches will ensure you radiate timeless and effortless beauty throughout the evening.
4. Weekend Warrior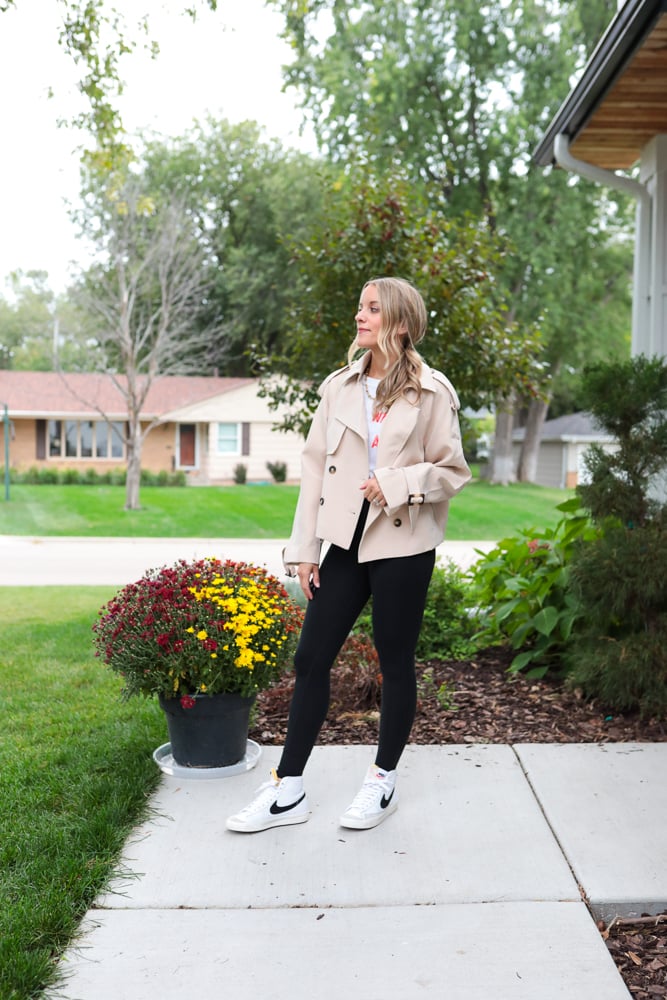 Shop the Look: Leggings | Trench Coat | Sneakers
For a chill and easy weekend outfit, rock a laid-back look by pairing your fave jacket with a cool graphic tee, comfy leggings, and trendy kicks. This combo mixes comfort and style, giving you that casual yet fashionable vibe.
To take your outfit to the next level with a touch of urban coolness, complete the look with a beanie and a chic backpack. These additions add an extra layer of style and functionality, making sure you're ready for any adventure that comes your way.
5. Layered for Fall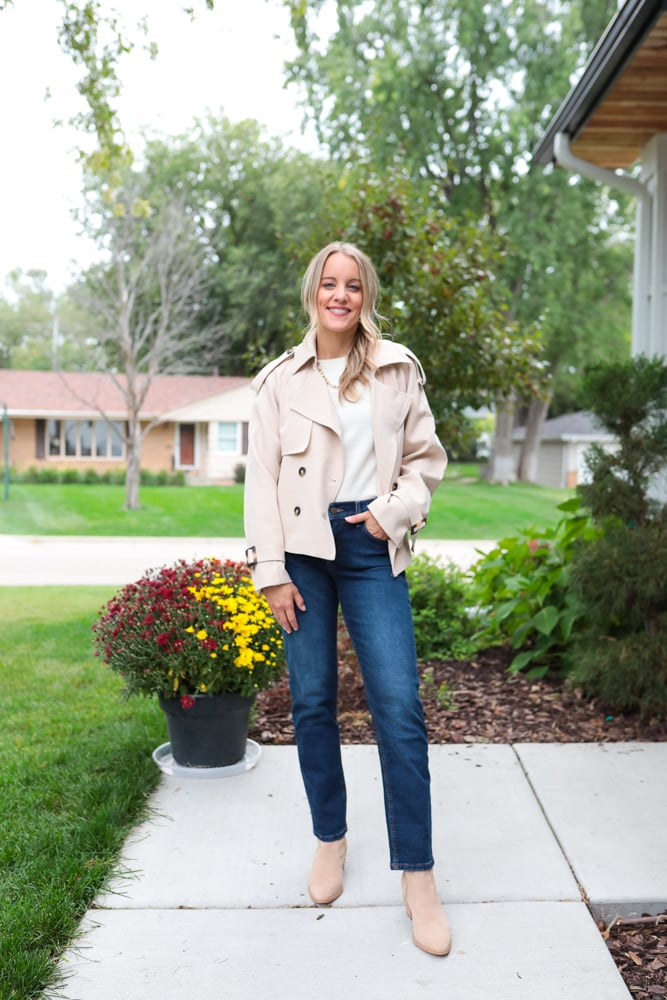 Shop the Look: Jeans | Sweater | Trench Coat | Boots
As the temperature drops and the cool autumn air sets in, it's time to layer up in style and comfort. Just grab your favorite cropped trench jacket. Pair it with a cozy sweater in a matching color and your trusty straight leg jeans for a chic but easy look.
To complete the look, slip into a pair of ankle boots that not only keep your feet warm but also up your style game. And don't forget to wrap a chunky scarf around your neck for extra warmth and a trendy statement. With this outfit, you'll be all set to conquer the changing seasons with confidence and flair.
Now that you know how to style a cropped trench jacket, let's explore some top picks from various brands to help you find the perfect addition to your collection.
Top 5 Picks
The best part about jumping on a trend is that there are lots of options (and plenty of price points) to join in on the fashion. Add one of these great trenches to your cart or wish list!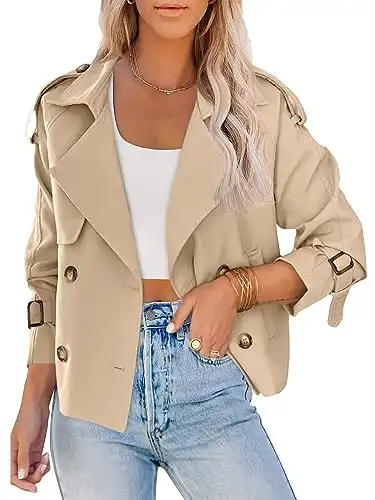 We earn a commission if you make a purchase, at no additional cost to you.
This is the cropped trench jacket in the outfit photos that I'm wearing! It fits a bit wider so keep that in mind if you're petite like I am. It has 2 pockets and comes in 4 different colors.
With a double-breasted front, wide lapels, and belted arms for a customizable fit. This affordable jacket offers both style and durability. Whether it's a business meeting or a casual day out, this jacket elevates your attire.
We earn a commission if you make a purchase, at no additional cost to you.
The Madewell Double Breasted Crop Trench Coat is a classic trench coat with a modern twist. It features a double-breasted front, a belted waist, and a cropped length for a contemporary look. The coat comes in a neutral shade that goes well with any outfit.
Made with high-quality materials and meticulous attention to detail, it combines style with durability. Whether for a formal occasion or to elevate a casual ensemble, this coat is a perfect choice.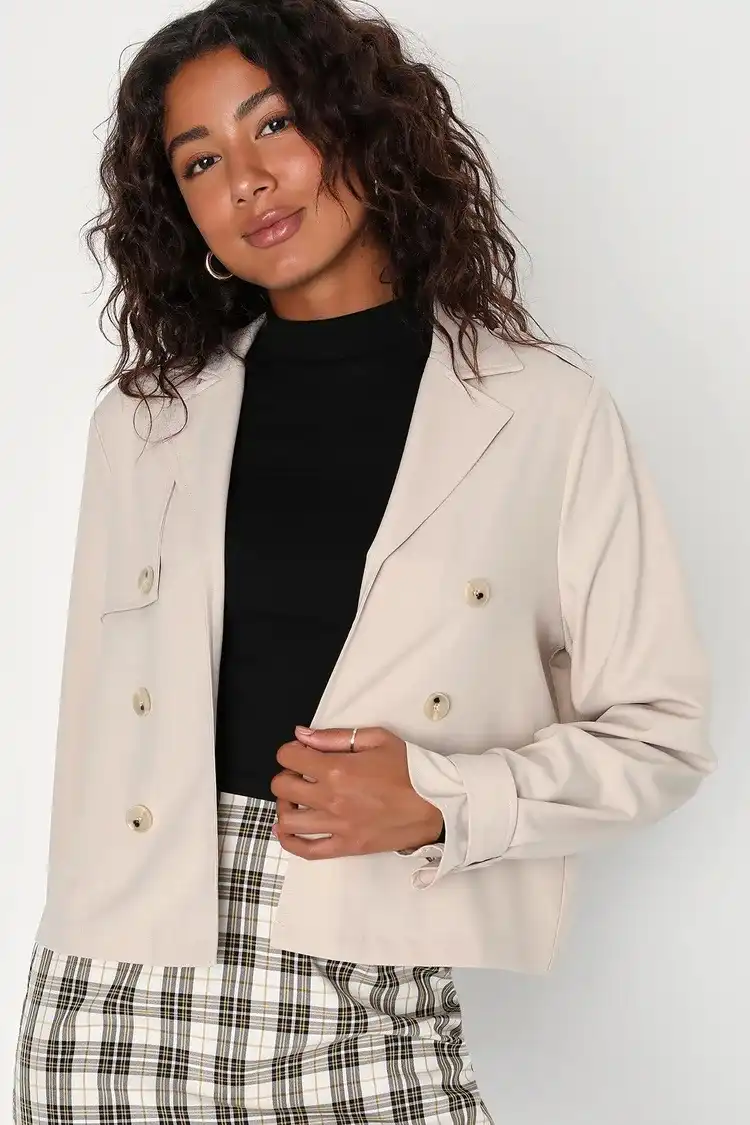 We earn a commission if you make a purchase, at no additional cost to you.
The Trending Charm Beige Cropped Trench Coat from Lulu's is a chic and simple beige trench coat. With its cropped length, double-breasted front, and belted waist, it exudes a classic trench design. The light taupe shade complements various looks, from minimalistic to bold.
The high-quality construction makes it durable for multiple seasons. Perfect for a relaxed weekend or an office-ready ensemble, this trench coat is a stylish addition to your wardrobe.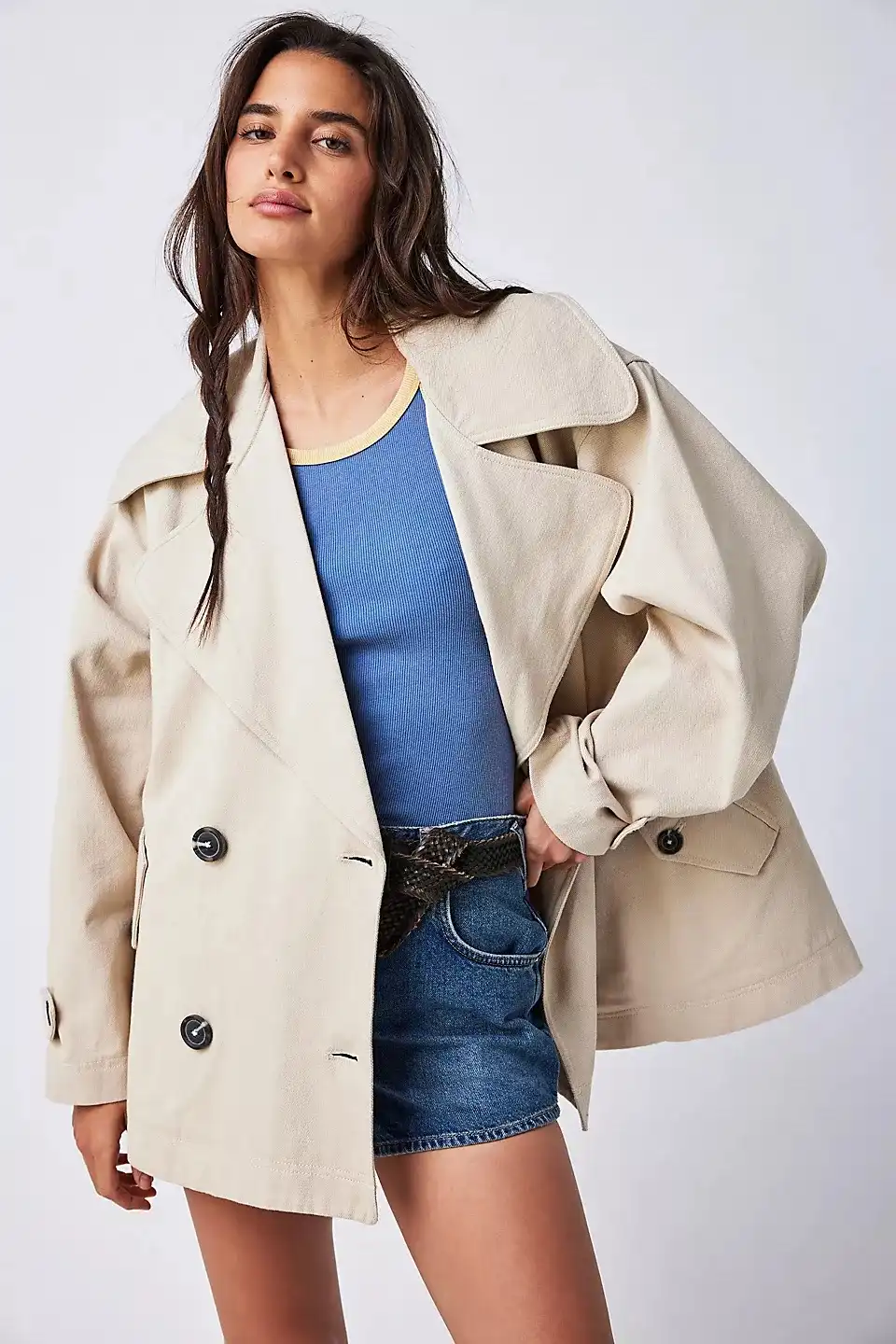 We earn a commission if you make a purchase, at no additional cost to you.
The Highlands Solid Peacoat from Free People combines style and comfort. This cropped pea coat, available in various shades, adds a contemporary touch to a classic design. With a wide collar, double-breasted buttons, and a belted waist, it exudes chic style.
Made from a durable, ultra-soft fabric blend, it promises a comfortable fit for chilly days. Whether paired with jeans or a classy dress, this versatile piece is a wardrobe staple.
We earn a commission if you make a purchase, at no additional cost to you.
The Faux Suede Cropped Trench Coat from Zara blends urban chic with timeless elegance. Made from high-quality faux suede, this coat is sophisticated, comfortable, and durable. Its rich brown shade adds a stylish contrast to any outfit, perfect for both casual and formal occasions.
With its double-breasted front and belted waist, it stays true to the classic trench design while adding a contemporary touch with its cropped length. Whether it's a night out or a day at the office, this Zara coat is a stylish and practical addition to any wardrobe.
The cropped trench jacket is a super versatile and timeless piece that definitely deserves a spot in your wardrobe. It effortlessly goes from casual to formal, making it a perfect choice for any occasion.
Whether you go for a high-end brand or a more budget-friendly option, you'll find a cropped trench jacket that perfectly suits your style. So go ahead, embrace this modern classic, and let it become a must-have in your fashion collection.
Need more jacket styling ideas? Try this inspiration for denim jackets and sherpa jackets!