If you're like me and have a husband and kids in the house, you know that there's few things worse than blow drying your hair after washing it and waking up the whole house. If you're on the hunt for an effective yet quiet hair dryer, I'm your girl!
I've rounded up the top 5 quietest hair dryers on the market to give you 5 great options of great hair dryers that are much less likely to wake up your entire house whether that's kids, spouses or roomates!
Most of us likely have and use a hair dryer to get dry hair no matter our hair type. Whether you have long hair or short hair we bet you've used one!
Even my own husband uses mine every once in a while! If you want to style your hair effectively, you most likely need to use a hairdryer at some point.
However, depending on the time of day you decide to wash your hair, you could end up waking up your kids or significant others with the noise that your blow dryer produces.
To find the solution to your blow-drying issues, it's essential to find a quiet hair dryer that can make styling your hair manageable and sound free. While there's not such thing as a silent hair dryer, today I'm going to share 5 of the quietest blow dryers on the market!
Why Are Hair Dryers So Loud?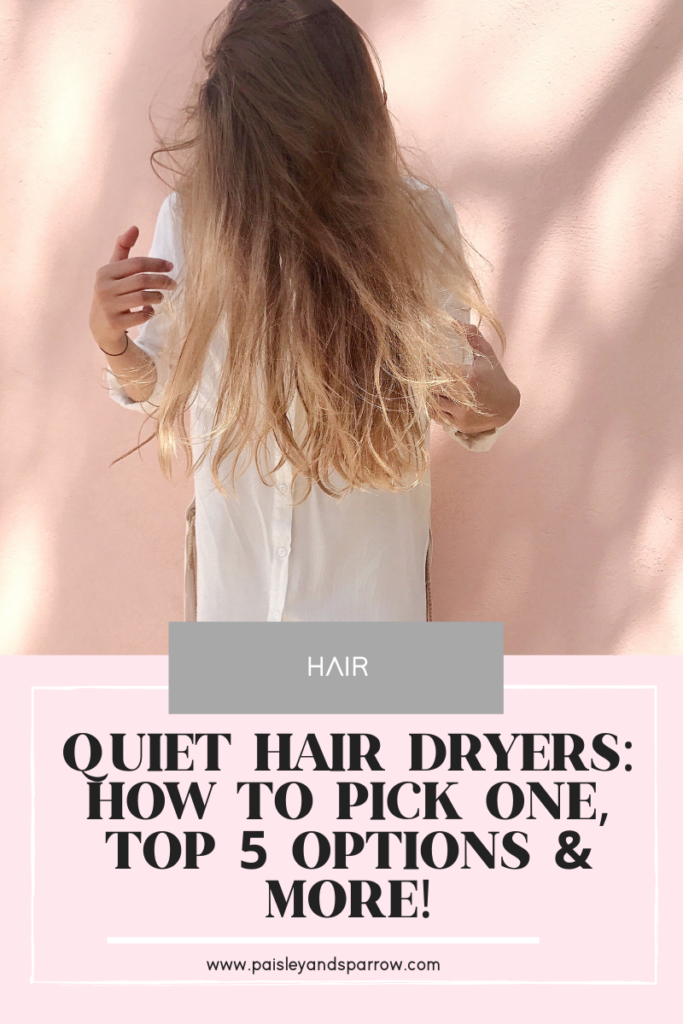 Paisley + Sparrow is a participant in the Amazon Services LLC Associates Program. This post may include affiliate links which means I may earn a small commission if you shop using the links below at no additional cost to you. Thanks so much for supporting me and this blog!
You might be wondering why your hairdryer is so loud to begin with. It has a lot to do with airflow. Hairdryers often have a bulky fan in the back, which is located behind the heating wires.
However, the motor of the fan is a lot larger than the dryer's opening. When you use your hairdryer, the air will try to pass through this narrow air vent while also having to go around heating wires, which results in a loud noise.
If the hairdryer has a blade-less body design or other built-in buffer materials, the airflow will come out smoothly without a loud sound.
The material used in a hairdryer is very delicate, which can also impact the sound of your hairdryer. If your hair dryer manufacturer used cheaper components or low-quality motors in your hairdryer, you'll often hear loud sounds.
That's why you can usually find louder hairdryers in your standard hotel rooms because they are bought in bulk and use standard materials.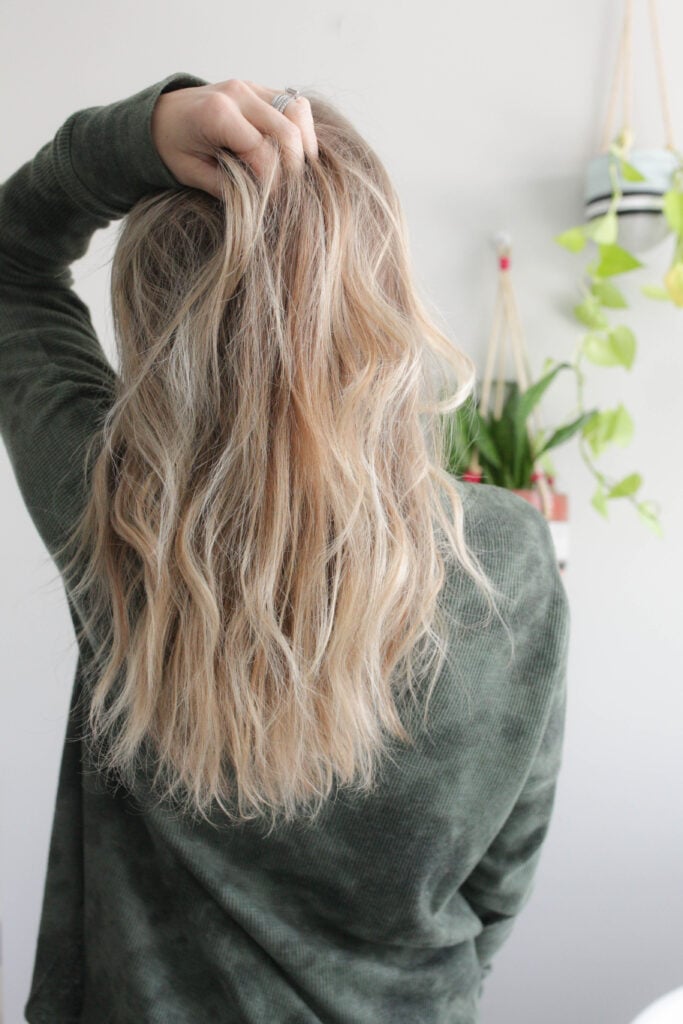 One last reason why your hairdryer might be loud could have to do with the type of motor in your hairdryer. Most hair dryers are created with DC motors because they're smaller and lightweight.
However, they cause a lot of noise to be emitted when using the hairdryer. If the manufacturer uses an AC motor, your hairdryer will be quieter, more powerful, and long-lasting. Choosing a high-quality, well-made hair dryer will help ensure you're drying your hair in a quiet environment.
Understanding the Noise Level of Hair Dryers
Before jumping into your hairdryer search, it's essential to understand the differences between the different sound levels, called decibels, so that you can make the best sound efficient choice for your hair.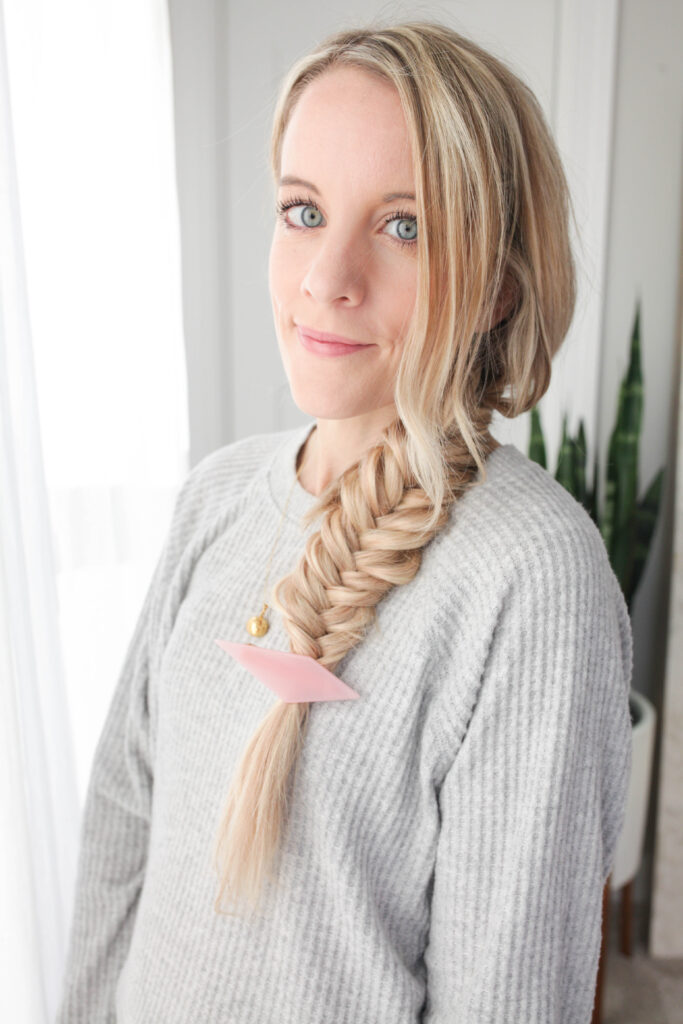 Generally, there are five noise levels to compare when you're looking for hair dryers. The different levels include:
Faint – From 0 to 30 decibels. This sound range is typical of the sound you might hear in a testing room, quiet library, or art museum.
Moderate – From 31 decibels to 60 decibels. The sound between these two ranges can vary. Many appliances fall in this range, including laundry machines and dishwashers.
Loud – From 61 decibels to 90 decibels. The level of sounds you might hear with this level could include things like food processors, vacuum cleaners, blenders, and outside sounds like heavy traffic. Hairdryers typically fall in this decibel range.
Very Loud – 91 decibels to 110 decibels. Power tools, lawnmowers, and chainsaws produce sounds at these levels.
Extremely Loud – Any sound over 110 decibels. A siren, fireworks, or an airplane engine can make this level of sound.
How to Choose a Quiet Hair Dryer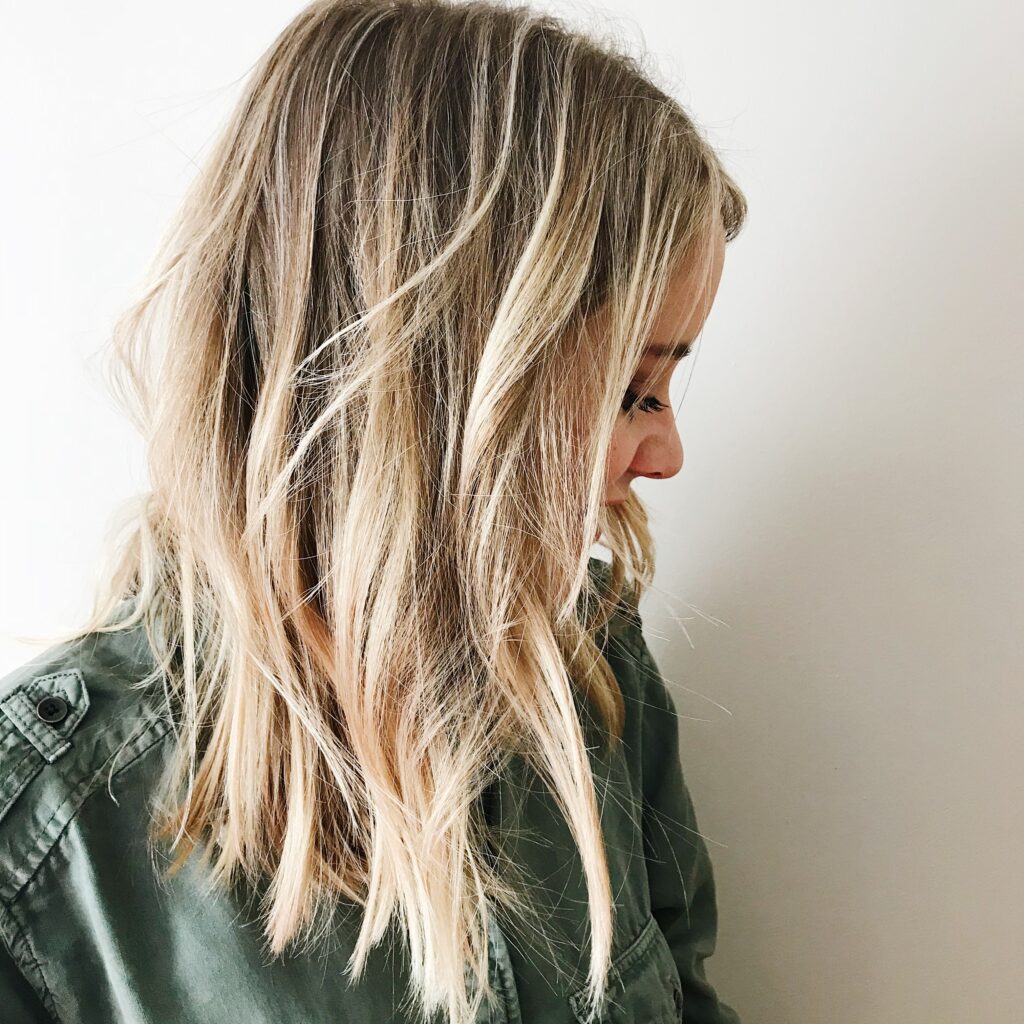 When you're searching for the best quietest hair dryers, there are a few things you need to consider when comparing brands.
1. The Decibel Level
As we talked about in the decibel section, this noise can be comparable to the sound of traffic or a loud vacuum and typically between 70 decibels to 90 decibels.
The lower decibel the hairdryer is, the less noisy it will be. The quietest sound doesn't necessarily mean the best quality, so you want to make sure that it performs efficiently.
2. Check the Motor Type
Most hair dryers are created with DC motors because they're smaller, lightweight, and less expensive. However, hairdryers with DC motors tend to be very loud dryers.
If the manufacturer uses an AC motor, your hairdryer will be quieter, more powerful, and long-lasting. Generally, AC motors are heavier, which should be a consideration if you need to use your hairdryer for long hours during the day.
3. Includes a Diffuser
If your hairdryer includes a diffuser attachment, this can help reduce the amount of noise it makes. Diffuser attachments silence the noise by allowing more room for the air to pass through. The problem with diffusers is that it can make your hair wavy and curly, not straight.
4. The Hair Dryer Material
The materials inside your hair dryer will make a difference in performance and sound. If you're looking for an affordable choice that consistently performs well and minimizes damage to your hair, look for a ceramic hair dryer. An alternative would be a tourmaline hairdryer. This material helps with frizzy hair and reduces the risk of hair damage.
5. Warranty
If you're going to invest in a hairdryer, you should know what the manufacturer's warranty is. A less restrictive warranty signifies that the manufacturer is confident in their product. The longer the warranty is, the better it is for your purchase.
Top 5 Quiet Hair Dryers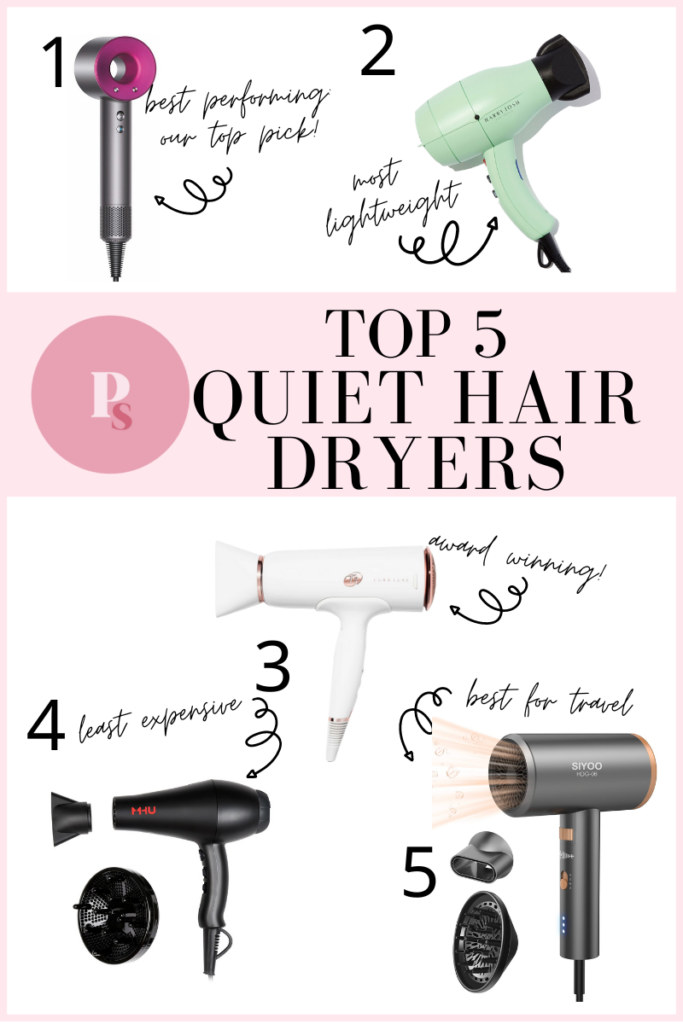 MHU Professional Salon Grade 1875w Low Noise Ionic Ceramic Ac Infrared Heat Hair Dryer
1875-watt AC Motor - reduces drying time up , as it ensures lower noise than others and vibration.
2 Speeds, 3 Heat Settings - for controlled airflow and heat, ensuring amazing results for all hair types and textures.
Far-Infrared Heat and Negative Ion Technology - to dry hair faster while eliminating frizz for a perfect smooth style and reducing the risk of damage.
Airflow Concentrator and Diffuser - For styling and touch-ups, we've included two smart attachments that help you accelerate drying, add volume and minimize frizz.
Ready And Able - an easy grip, 6 foot cord made of heat-proof, and a professional hook makes use and storage simple.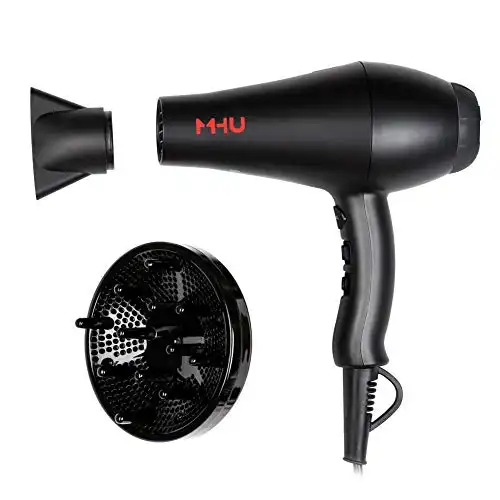 We earn a commission if you make a purchase, at no additional cost to you.
The MHU Professional Salon Grade Hairdryer measures in at 78 decibels. This lightweight design combines infrared heat with negative ion technology. This means that it releases negative ions which helps speed up the drying time by breaking down the water molecules without damaging your hair.
While it is a little louder if you choose the highest of the speed settings and heat settings, it's still a great hairdryer with less noise.
The MHU Professional Salon Grade Ionic Dryer includes two different attachments, an airflow concentrator and a diffuser to offer multiple options of styling your hair. This hair dryer is right under $60, providing high quality on a budget.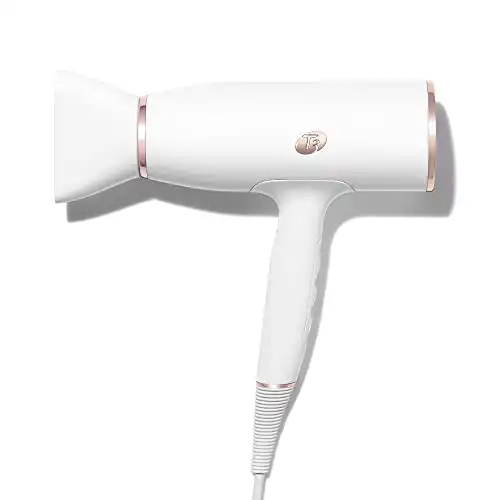 We earn a commission if you make a purchase, at no additional cost to you.
The T3 AireLuxe measures in at 74 decibels. This beautiful award-winning quiet dryer is a well-made, powerful hairdryer.
There are multiple control options, including two-speed adjustments, five heat settings, and a cool shot button. The appliance is quiet, even at full blast.
The T3 AireLuxe has multiple safety features, including an automatic turn off if it detects your hand has been moved from the handle. The T3 AireLuxe is pricy, with the cheapest model starting at $179.
I bought this hair dryer to prevent further hair damage on my fine hair! It kept my hair healthy!
*If you love T3, check out my T3 curling iron review!
Dyson Supersonic™ Hair Dryer
Made in USA
Helps prevent extreme heat damage to protect natural shine; Air temperature is measured 20 times every second, keeping the temperature under control
Ultra fast drying; For fast drying you need controlled, high velocity airflow. Rated power 1600watts
Includes: Magnetic attachments Dyson smoothing noozle, styling concentrator, and diffuser
Lightweight and balanced; We've turned convention on its head and put the motor in the handle
Acoustically tuned; The powerful motor is tuned to produce one inaudible frequency
Cool to touch; With heat shield technology, the surfaces of the attachments stay cool
Includes: 4 precise heat settings fast drying & styling, regular drying, gentle drying, and constant cold
Includes: 3 precise speed settings fast drying, regular drying and gentle drying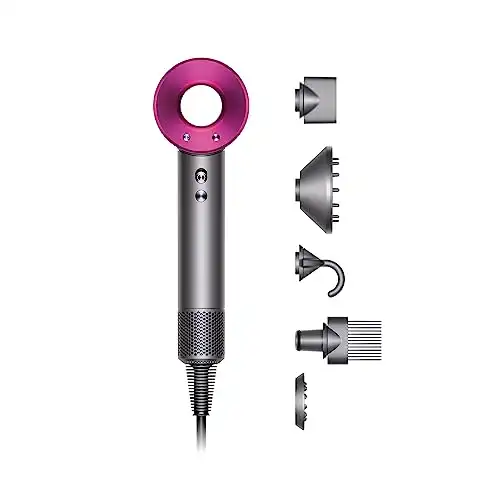 We earn a commission if you make a purchase, at no additional cost to you.
The Dyson Supersonic Hairdryer measures in at 79 decibels. If you're looking for the most comfortable and best hair dryers, this hairdryer is the one to choose.
The one drawback is it comes with a hefty price tag. Each model will cost around $400. The Dyson is well known for keeping your hair healthy with any heat damage!
Dyson hairdryers are unique because they have a low noise, brushless motor that no other blow dryer features. There are four different temperature settings and speed options to choose from.
The Dyson hairdryer helps air flow spread out, so you can run it at the highest heat and a high speed and not hear the loud drying sound.
Harry Josh Pro Tools Pro Dryer 2000
Lightweight, ergonomic design with curved handle for comfort & control
Adjustable for sleek or voluminous styling
3 settings for maximum versatility
Convenient speed settings for finishing touches
Additional patented nozzle
Stainless steel filter ensures hair dryer runs efficiently
9-foot extension cord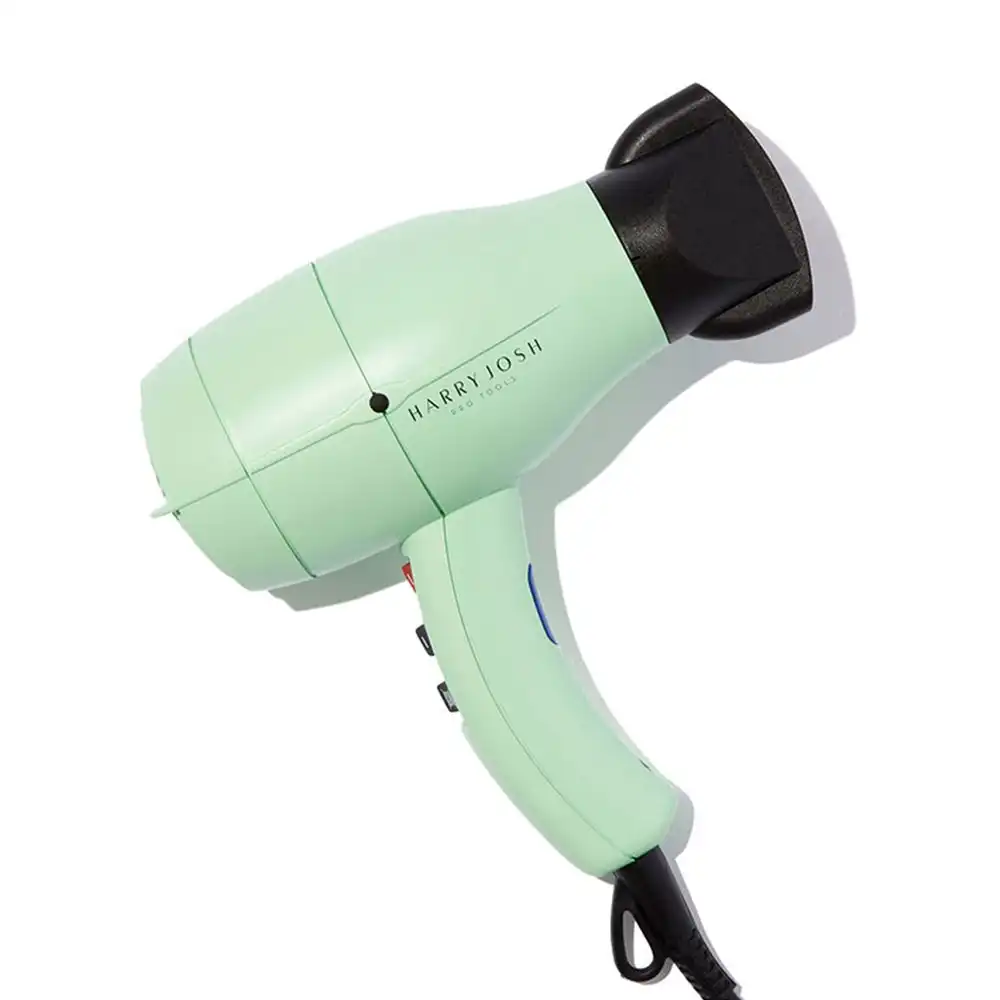 We earn a commission if you make a purchase, at no additional cost to you.
The Harry John Pro Tools hair dryer is not only a quiet hair dryer but also one of the lightest hair dryers on the market! If you're looking for something quiet and light, this is the perfect one for you.
This hair dryer has tons of features including 12 heat, speed and ion settings and and extra long (9 foot) extension cord.
It's handmade in France and even has a a patented nozzle on it! The nozzle help direct the airflow of the air and also stays cool so you can hold the nozzle directly making it easier to use and easier to dry your hair.
SIYOO Lightweight Travel Hair Dryer with Diffuser
Our professional hair dryer comes with the ionic low noise technology, to reduce frizz and enhance shine, so that your hair will be ultra smooth for that classy look and feel for any occasion.
Our hair dryer comes with a double safety removable filter, so that your hair will not get sucked into the dryer and you can use it as a travel hair dryer too, as it is lightweight portable.
Magnetic accessories are more convenient to use.
Our ionic hair dryer is equipped with ALCI safety plug to ensure the safety of you and your family, this safety plug is for 125 volts only. Low noise, will not wake up your family even in the morning.
The hair dryer is built with 1600W, with 3 heat (COOL/WARM/HOT) settings,
Be it curly, straight, thin or thick hair style, 1 diffuser and 1 Double layer anti-scald concentrator nozzles, precisely meet the needs of all the hair styles. 5.3Dx2.5Wx7.8H INCH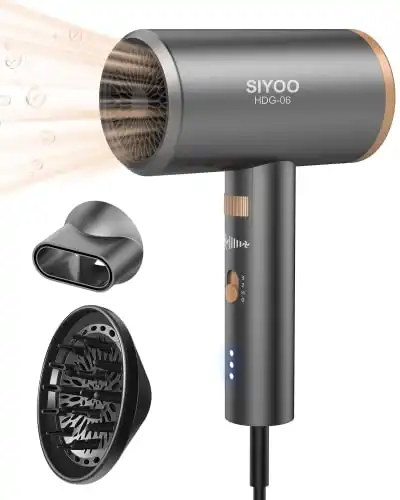 We earn a commission if you make a purchase, at no additional cost to you.
The Siyoo Hair Dryer is a great lower price option for the girl on the go! This compact style is great for travel! It's styled after the Dyson and helps reduce frizz and enhance shine.
This hair dryer has 3 settings – cool, warm and hot. It's great for curly hair, straight hair, thin or thick hair styles!
Check out other travel hair dryers here!
Invest in A Quiet Hair Dryer
Investing in a quiet hair dryer has multiple benefits that should be considered. Here are a few crucial reasons you need to look for a quiet hairdryer:
Avoid Bothering Others – You won't have to worry about waking up your significant other, family members, pets, or children with a quiet hairdryer. A quiet hair dryer allows you to take care of your hair at any time of the day or night, instead of planning your day around your hair needs.
Talk with Others – If you've used a hairdryer, you know it's impossible to have a conversation or chat with someone while using it unless you want to be screaming. By investing in a quieter hairdryer, you're able to hold a conversation during the drying process.
Reduce Hearing Damage – If you're always using a hairdryer, the sound can hurt your hearing in the long run. Using a quieter hairdryer will preserve your hearing. If you're someone who wears an Apple Watch you can keep track of how loud your hair dryer is because it will notify you of a loud environment! Having a loud hair dryer by your ears for a long time is not a good idea.
Finding a quiet hair dryer doesn't need to be a complicated process. By deciding what is important to you based on your hair goals and budget, you can find the perfect quiet hair dryer to meet your needs.
To extend your blown out hair, master the art of dry shampoo! Or check out these tips for beautiful air dried hair! And if you're looking to make the switch to non-toxic shampoos, here are 15 natural organic brands to check out.