Looking for the best brush for fine hair? Keep reading, I'm here to help!
Adding life and volume to your fine hair is nothing short of a full-fledged struggle. To make the styling process easier, we invest in all types of products, from hair mousse to the good old volumizing hair spray. And when they do little to help, we invest some more.
That's where things go wrong.
Investing in many different hair products is a great solution, as long as they work well for your hair type. But they're not the only difference makers when it comes to styling your delicate locks.
The hairbrush you use to detangle and tame your hair can dictate the success of your fine hair styling. You want to avoid damaging your hair and keep all the benefits of the styling products you're using.
So let's talk more about the challenges of fine hair and the 10 best brushes to try!
Need the quick answer? My go to brush for fine hair is the Bsisme Boar Bristle Hairbrush!
What is Fine Hair?
When you go in for a salon appointment, your stylist will recommend haircuts and styles based on your hair texture. In fact, texture dictates most hair care requirements.
Fine hair lacks the inner structure called the medulla. This makes the hair much thinner in diameter and gives it a "sparse" appearance. This is ironic, as it's possible for people with fine hair to have more individual strands on their scalp than those with thick hair.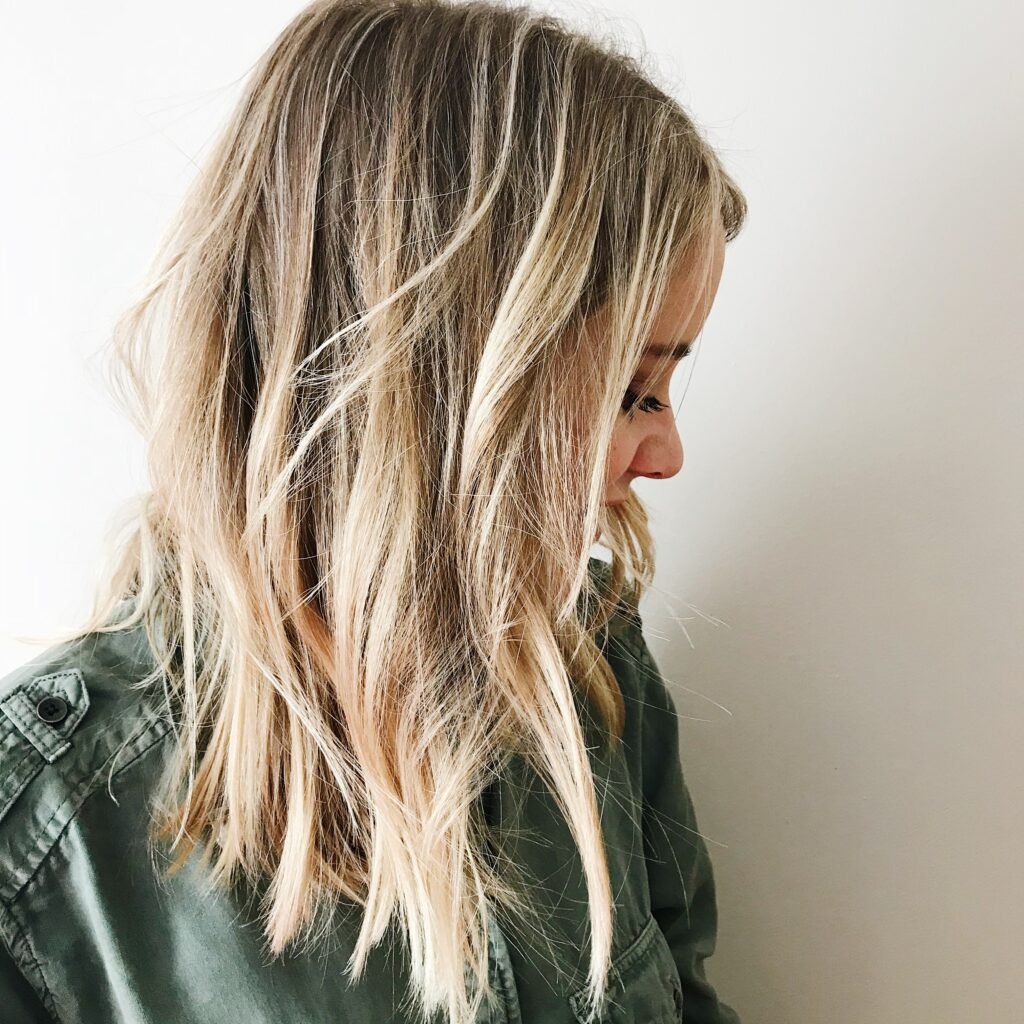 Fine hair is generally considered low maintenance owing to its wash-and-go approach to styling. That's not to say that you will not face any problems. Let's explore some of them.
Common Problems for Fine Hair
Fine hair is susceptible to breakage. And as regular brushing is required to maintain and style your hair, you may risk hair thinning every time you do a quick brush over. That, unfortunately, is not the end of it.
Every individual strand has its own oil gland. This means the more hair you have on your head, there is a greater risk of your hair acquiring moisture.
And the more moisture your head accumulates, the flatter it will rest against your scalp. This will undo all the effects brought on by your hair volumizing products and styling techniques.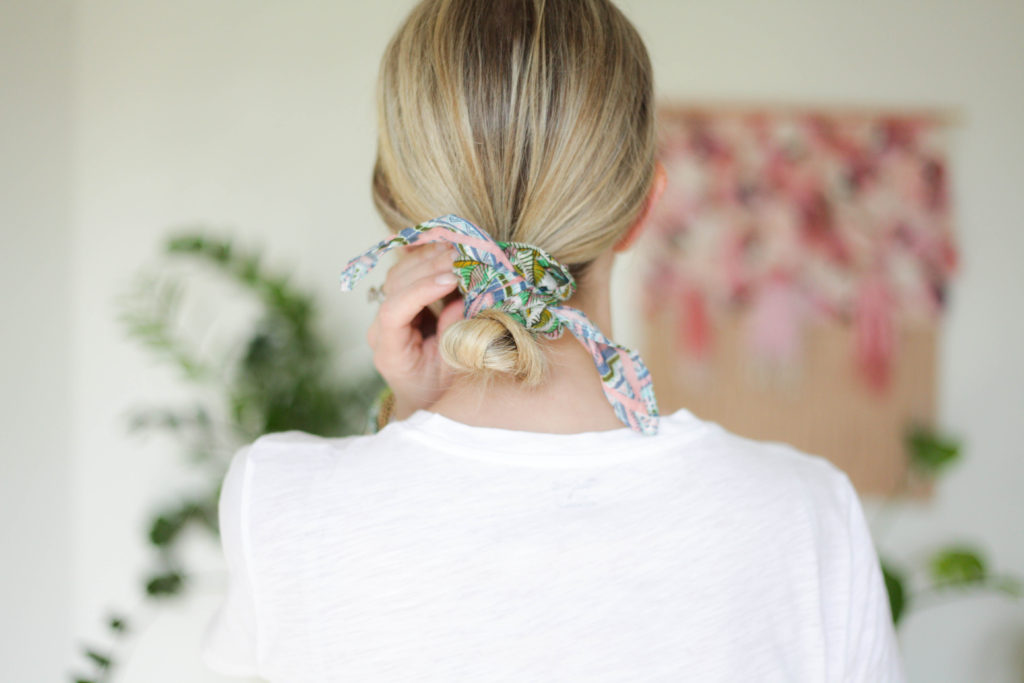 In essence, fine hair can pose quite a challenge when it comes to styling. Luckily, the right hair tools can make everything so much easier.
Benefits of the Right Brush
The hairbrush you use plays a significant role in adding life (literally!) to your hair. The best one will add volume to your hair, boost blood circulation in your scalp, and make hair care a breeze.
It will also gently detangle knots, stimulate the scalp through massage, and distribute natural oils evenly throughout the strands. The right hair brush will also remove any loose hair from your head to give it a more smooth finish.
The right hairbrush can offer so many benefits, and it is important to do your research before you click purchase. Here's a list of some of my top picks on the market today that can ensure beautiful and healthy hair:
Best Hair Brushes for Fine Hair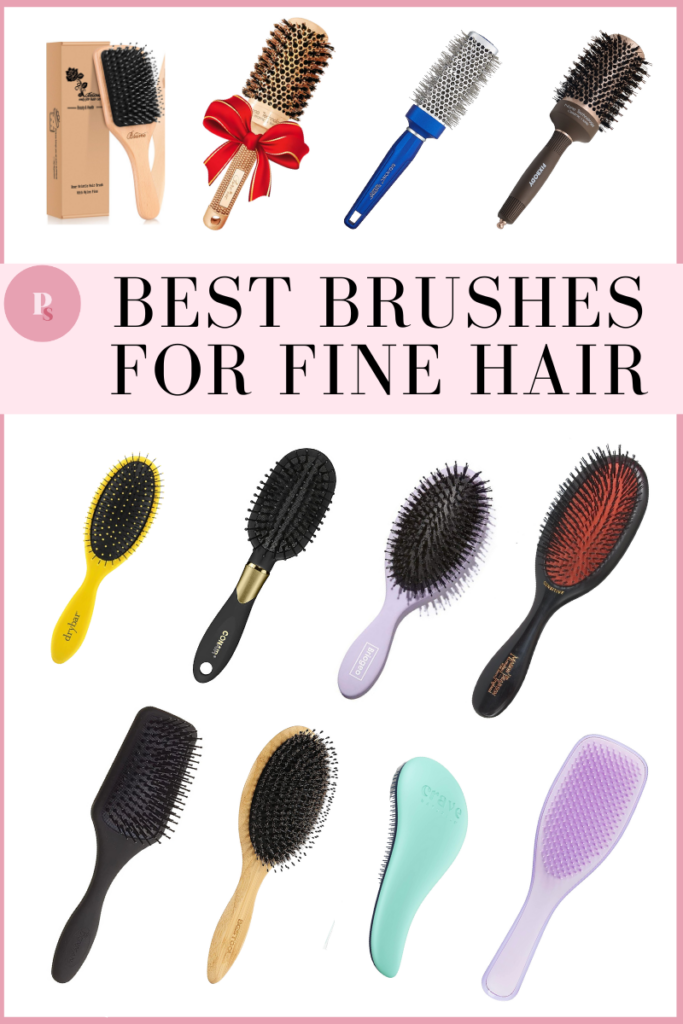 Paisley + Sparrow is a participant in the Amazon Services LLC Associates Program. This post may include affiliate links which means I may earn a small commission if you shop using the links below at no additional cost to you.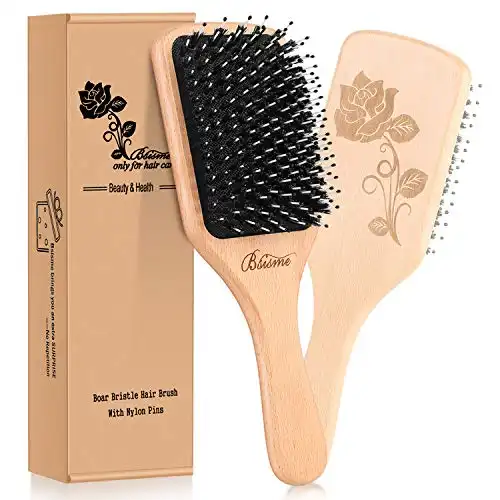 We earn a commission if you make a purchase, at no additional cost to you.
The Brisme Boar Bristle Hairbrush with Nylon Pins is designed to improve the texture and health of your locks. It also works to minimize frizz and split ends to give your hair a smoother appearance.
The boar bristle brushes efficiently removes dust, dirt, dandruff, and excess oil from the strands to avoid build-up and blockage. The innovative design includes nylon bristles that effortlessly detangle your hair, stimulate blood flow, and initiate hair growth.
If you struggle with fine, dry hair, you'll find the Brisme Boar Bristle Hairbrush with Nylon Pins to be just the perfect hair tool for your styling needs.
Pros:
Works well for all hair types.
Comes with a hairbrush cleaner that makes it easier to remove hair, fluff, and dandruff from the brush.
Conditions and moisturizes the hair by evenly distributing natural oil throughout the strands.
Prevents hair breakage and stimulates growth.
Cons:
Does not have an ergonomic handle.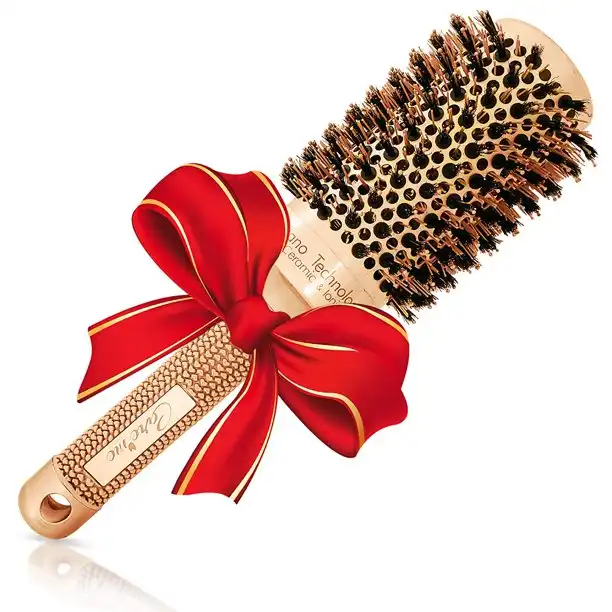 We earn a commission if you make a purchase, at no additional cost to you.
The Care Me Blow Dry Round Hair Brush distributes your scalp's natural oils to give your hair smooth conditioning treatment. It also effectively lifts the roots for excellent volume. It features nylon pins that add to the boar bristles' effectiveness and can help straighten, curl, or blow-dry your hair.
The round brush also minimizes frizz thanks to its ion-infused natural boar bristles design. The best thing? It does that without tugging or snagging hair strands!
It's vented ceramic barrel design helps the air from the blow dryer to circulate, thus picking up the pace of the hair drying process by as much as 50%. It also comes in three different barrel sizes to give you the desired styling result.
Pros:
Affordable.
Handles thick, coarse hair effectively.
Pairs well with blow dryers on low heat settings.
Cons:
Some reviewers mention to keep your heat on low so the brush won't damage your hair.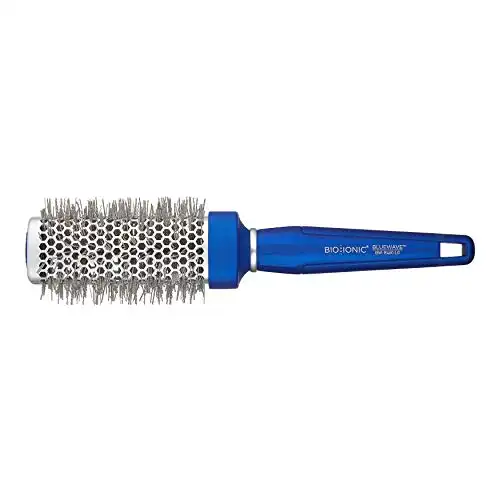 We earn a commission if you make a purchase, at no additional cost to you.
Bio Ionic specializes in top-tier heating products, so you know you will get great results even before trying them out.
The Bio Ionic Bluewave adds volume to hair by increasing tension where it matters the most—the roots. Its nano ionic mineral-infused bristles prevent flyaways and static and add shine to the hair.
The round brush features honeycomb vents that encourage airflow while styling. The best thing? It's available in 4 different sizes and is suitable for all hair types and hair lengths. Its square-round barrel and medium-sized diameter make for a great, easy-to-handle grip. Accidental slips, who?
Pros:
Nano ionic mineral technology conditions and adds shine to hair strands.
Suitable for all hair types.
Comes in multiple sizes.
Honeycomb vents increase airflow.
Cons:
The FIXBODY Boar Bristles Round Hair Brush creates volume, handles curly hair, and straightens fine hair. It features a retractable section needle that helps pick loose hair. The design also features boar bristles that lubricate hair and reduce frizz. It can enhance the overall appearance by adding a subtle texture to hair.
The hairbrush features a rubber handle and a high heat-resistant ceramic-coating barrel to offer maximum ease of use.
Pros:
The boar bristles do not heat while blow-drying.
Uses nano ionic technology.
Has a retractable section needle.
Has an ergonomic design.
Cons:
The smallest version is over 2 inches in diameter.
We earn a commission if you make a purchase, at no additional cost to you.
Is your hair susceptible to annoying knots? The fan-favorite Drybar Super Lemon Drop Detangling Brush has got you covered. This brush will eliminate all knots without damaging your fine hair strands, giving you full reign to create salon-worthy hairstyles at home.
The flexible bristles glide easily through all hair types. It's so gentle that it can even be used on extensions! It also features a lightweight body with a slip-free handle for ease of use.
Pros:
Can be used on all hair types and textures.
Detangles hair easily without causing damage.
Cons:
Does not have a long-lasting design.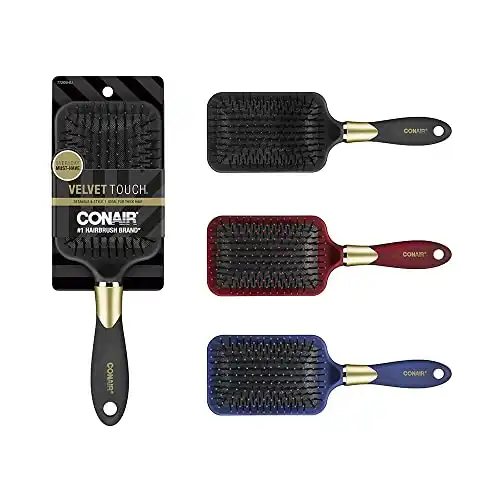 We earn a commission if you make a purchase, at no additional cost to you.
The Conair Velvet Touch Hair Brush does the work of a high-end professional brush at an affordable price. It has an extra cushioned design that adds comfort to the brushing and styling process. It has plastic bristles with ball tips for less pulling, tugging, and breakage.
The Conair paddle brush makes it easier to manage unruly locks. Its soft-touch grip and flexible cushion base ensure ease of use. It works wonders on all hair types and is best used for fresh-out-of-the-shower styling.
I use this one on my daughter's hair! Definitely one of my picks for best hair brush for fine hair.
Pros:
Affordable.
Cushion design makes it easier to hold and use.
Gentle on the hair.
Cons:
● Small size.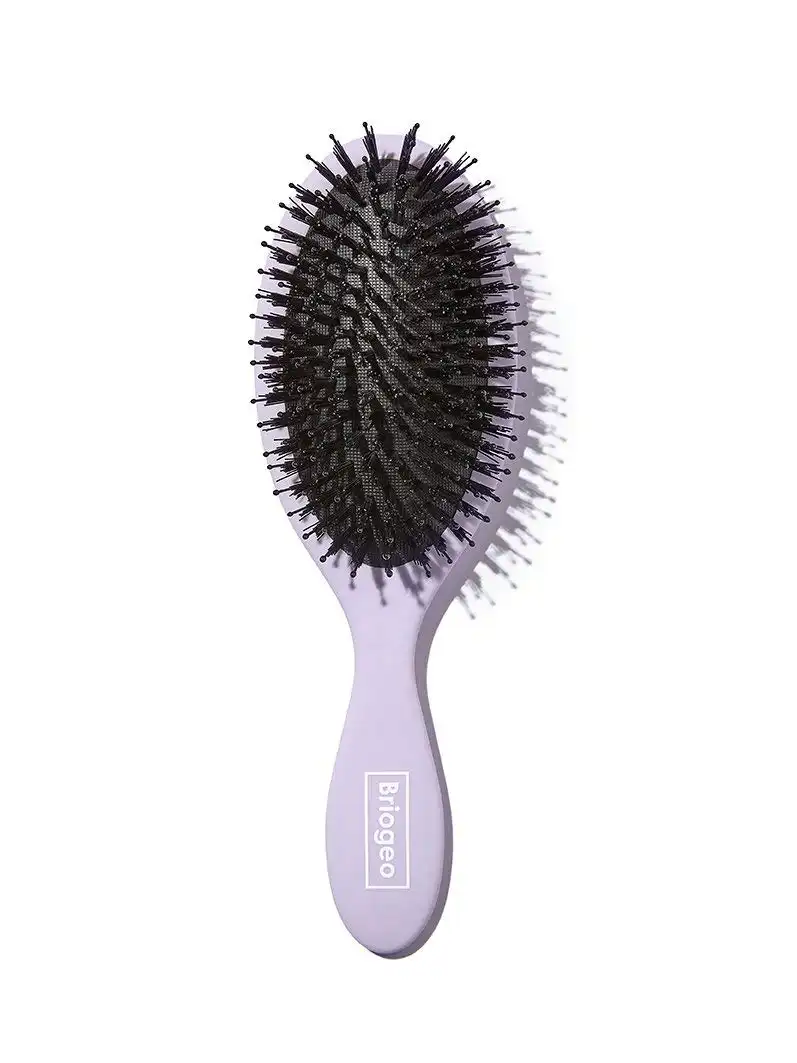 We earn a commission if you make a purchase, at no additional cost to you.
The Briogeo Vegan Boar Bristle Brush works best on fine, straight hair. Its construction includes ballpoint tips that massage the scalp gently. This initiates thorough oil distribution throughout your hair to prevent it from looking greasy. The bristles promote circulation and stimulate the hair follicles too.
The brush has a vegan and cruelty-free construction that delivers the same benefits as real boar bristles without animal-derived fibers. The bristles glide effortlessly through the hair without pulling or snagging.
Pros:
Versatile and works well for all hair types.
Detangles gently.
Ergonomic and lightweight design.
Cons:
High maintenance and difficult to clean.
The Denman Cushion Brush with Nylon Bristles works beautifully on fine hair and curls. Its flexible bristle design effectively detangles and separates wet hair without causing damage. It also works pretty well on dry hair.
The cushion brush also boasts static-fighting properties that work to give your scalp a gentle massage while shaping and smoothing out your hair. It reduces frizz, adds volume and shine to make styling fine, long hair easier than ever. It also features a soft rubber base that won't pull on the strands during the styling process.
Pros:
Durable, ergonomic design.
Lightweight.
Value for money.
Cons: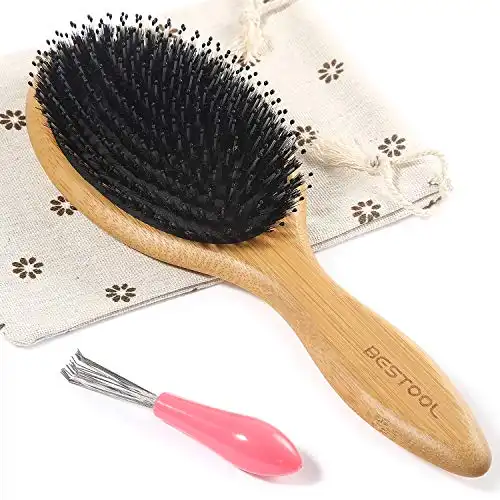 We earn a commission if you make a purchase, at no additional cost to you.
The Bestool Hair Brush is a top-tier combination of boar bristles and ball-tip nylon pins. It smoothes hair, massages the scalp, and detangles knots with ease, making it one of the best hair tools for frizzy hair. It works on dry and wet hair to create shinier, softer, and healthier locks.
This hairbrush provides a spa-like experience by relaxing muscles, stimulating blood circulation, and promoting growth. It also distributes your hair's natural oils evenly through the hair strands. This prevents blockage from oil accumulation which keeps your hair from looking greasy and minimizes damage.
Pros:
Massages the scalp and detangles with ease.
Distributes oil throughout the strands to tame frizz.
Offers a comfortable grip while brushing hair.
Cons: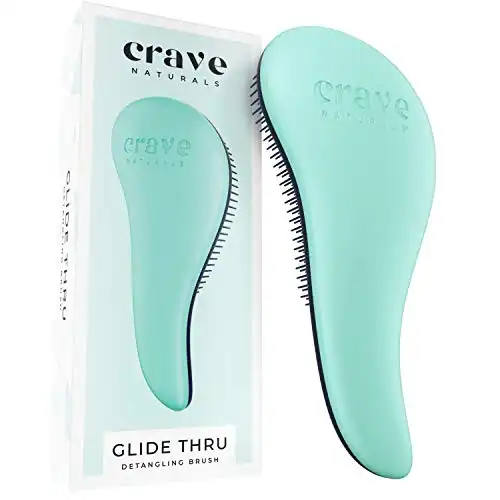 We earn a commission if you make a purchase, at no additional cost to you.
Fine hair is very susceptible to breakage, especially when you brush it wet. Luckily, Crave Naturals Glide Thru Detangling Brush came through with a solution. The Glide Thru detangling brush works on both wet and dry hair. It is designed to effectively detangle knots without pulling, thus minimizing breakage.
The brush also gently massages your scalp and works to smoothen the hair's cuticle layer. This boosts healthy growth and gives your hair a smoother, shinier appearance. Made with flexible bristles, this brush is a good choice for children and adults.
Pros:
Detangles knots without pulling or yanking.
Works on both wet and dry strands.
Ergonomic handle.
Cons:
Short bristles that may not work well on very fine hair.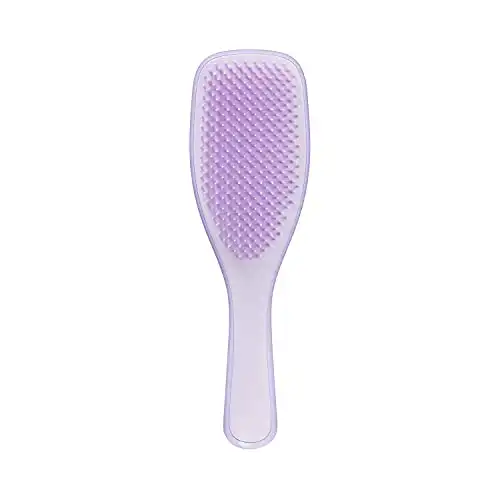 We earn a commission if you make a purchase, at no additional cost to you.
Because this brush is designed specifically for fine hair, you can expect to see less breakage and damage when using it to get the tangles out of your hair. The bristles on the Tangle Teezer Fine and Fragile are a full grade softer than the Original Tangle Teezer to make sure they're gentle and won't yank out more strands.
The two lengths of bristles help with both detangling (the long bristles) and reducing frizz (the short bristles), and the brush is gentle for sensitive scalps.
Pros:
Detangles with less breakage
Good for sensitive scalps
Can be used wet or dry
Cons:
May not work as well on thick hair even if it's fine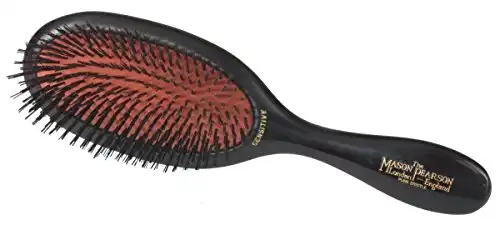 We earn a commission if you make a purchase, at no additional cost to you.
This is by far the most expensive brush on my list, but if you've got the budget and fine hair, you may never need another hairbrush! The Mason Pearson brushes have a cult following, and the sensitive version is great for fine hair, particularly straight hair. The boar bristles prevent breakage, it's easy to use, and its high quality means you'll be able to use it for years.
Pros:
Massages scalp
Soft bristles reduce breakage
Cons:
Expensive
May not work as well on curly or very long hair (the stronger bristles of the Original Mason Pearson may work better)
Frequently Asked Questions (FAQs)
Is a comb or brush better for thin hair?
A soft, bristle brush won't rip out your thin hair when you use it. This makes it better than a comb.
How often should you brush fine hair?
Experts recommend brushing your hair once in the morning and once at night. This will help distribute your scalp's oil throughout the strands for natural deep conditioning.
How can I improve my fine hair?
Using a volumizing shampoo and a clarifying conditioner paired with the right tool such as the best blow dry brush for fine hair and the right flat irons for fine hair. Minimal heat styling and regular hair brushing may improve your fine hair.
What brush is best for knotty fine hair?
A soft bristle brush, like a natural boar bristle brush, is gentle but effective.
Fine hair is susceptible to damage. And while heat styling tools and hair products certainly raise concerns, sometimes changing your hairbrush is all it takes to solve recurring issues.
If you're in the market for a quality hairbrush that reduces static, frizz, prevents breakage, and promotes healthy blood circulation, this guide will help you make the best decision!
Love hair powders? Be sure to check out the best hair powders for volume and texture!
Want more fine hair product recommendations? Check out these: