Is your office full of papers and clutter? Never able to find what you need? Today let's talk all about home office organization ideas!
(New to Paisley + Sparrow? Check out my original 10 Day Decluttering and Organizing Challenge post.)
Your home office is one place that needs to be the most organized. For me, it's the place I do the bulk of my work and also all of our "home" tasks like paying bills, kids' school and doctor stuff and other important things that come with having a home and family!
There's nothing worse than having a document that you need to take care of and misplacing it in a drawer full of tons of other papers and unnecessary items.
Let's chat through purging.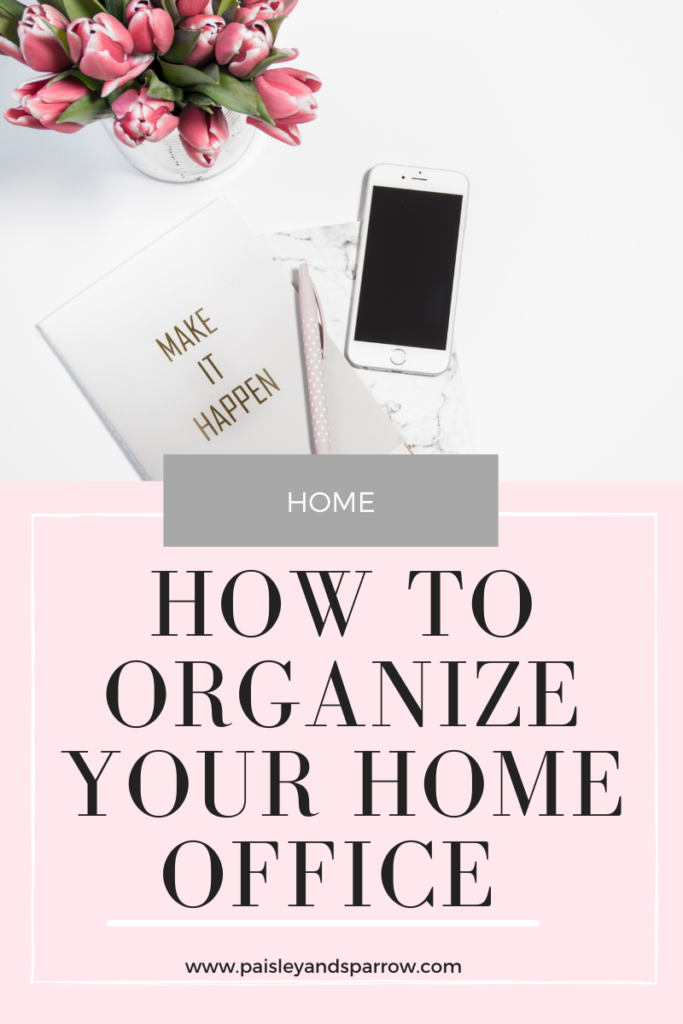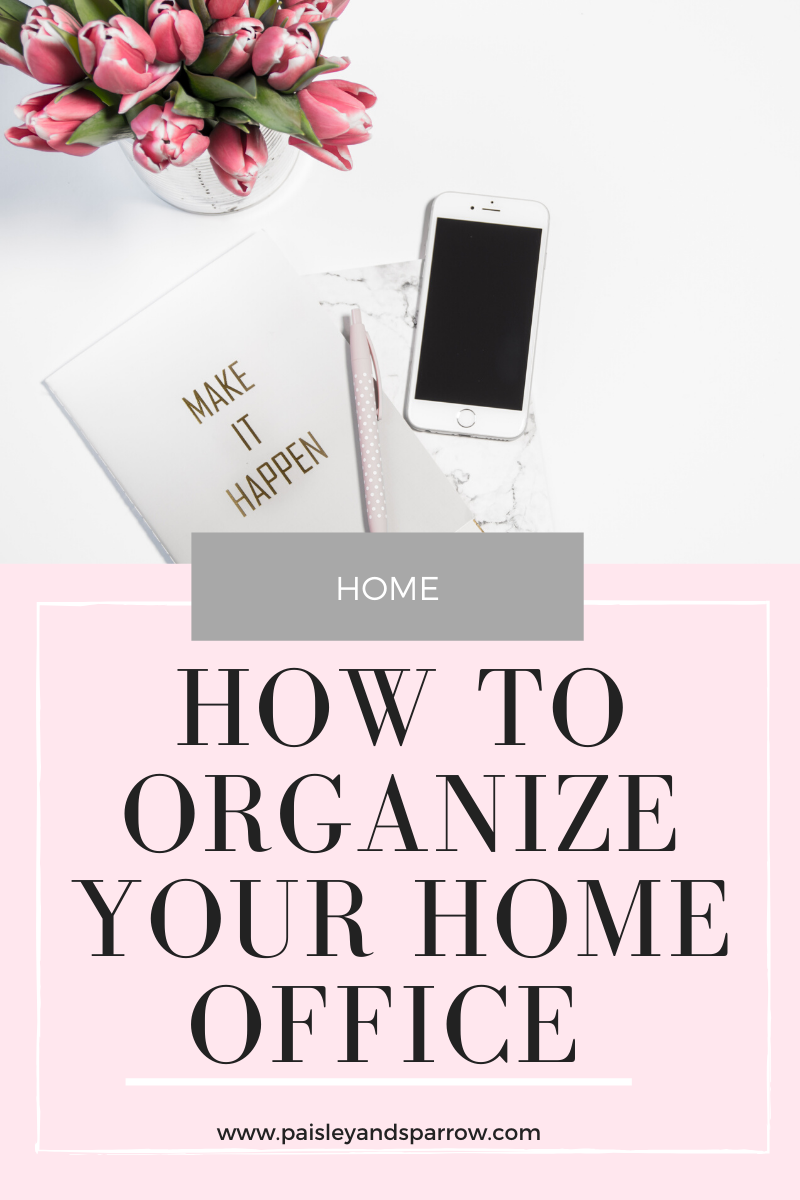 How to Declutter Items from your Home Office
Similar to every area of your home, start with taking everything out of the space you're organizing. If you're starting with your desk, take everything out of it. Decluttering your bookshelf? Remove all items AND everything inside boxes, bins, etc.
Once everything is out of boxes, drawers, etc., begin going through each item and putting them in to categories:
Things that you'll want to toss (that you'll like find in your office) are things like bills you've already paid, past statement, old magazines, receipts, etc. If you haven't used it in the last 6 months, can find it online (bank statements, etc) and don't need it for legal purposes (tax documents, etc), get rid of them!
Go through all of your pens, markers, and all writing utensils to make sure that they're in all good working order. If you have 20 pens and you hate how 3 of them write, get rid of them! If you have duplicates of items donate them! Nobody needs 5 staplers. 😉
Once you've gone through all your items and gotten rid of things you don't use, have duplicates of, etc. it's time to organize them!
Home Office Organization Tips
Organizing items will really depend on what kind of office you have so I have 17 different products below that will help.
The biggest thing you need to do is have a home for all your items! Have a spot for your pens, markers, business cards, etc. When everything has a home you're able to find them easier, be more productive, and find more joy in your office!
If I can give one piece of advice no matter what your office set up is, is to have a file cabinet (or some sort of filing system!). One of the best tips my my mom taught me was to keep things filed. Having a set folder for each of the kids, important house documents, makes things so much easier when I need to important documents.
Below are 17 products to help all kinds of offices get (and stay) organized.
17 Products to Organize Your Office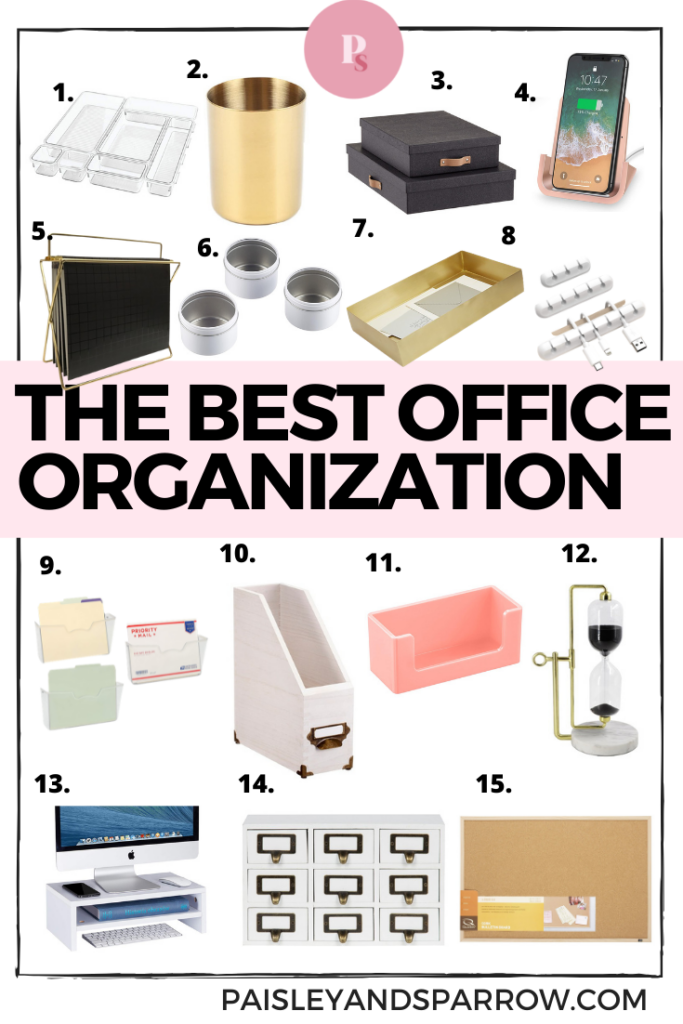 *this post may contain affiliate links which means I may earn a small commission on something you purchase at no additional cost to you. Thank you for helping me support my family through Paisley + Sparrow!
1. Drawer Organizers | 2. Gold Pencil Cup | 3. Pretty Bins | 4. Wireless Charger | 5. Hanging Files | 6. Round Magnetic Tins | 7. Solid Brass Tray | 8. Cord Organizer | 9. Hanging File Holder | 10. Wood File Holder | 11. Business Card Holder | 12. Hourglass | 13. Computer Stand | 14. Apothecary Supply Organizer | 15. Bulletin Board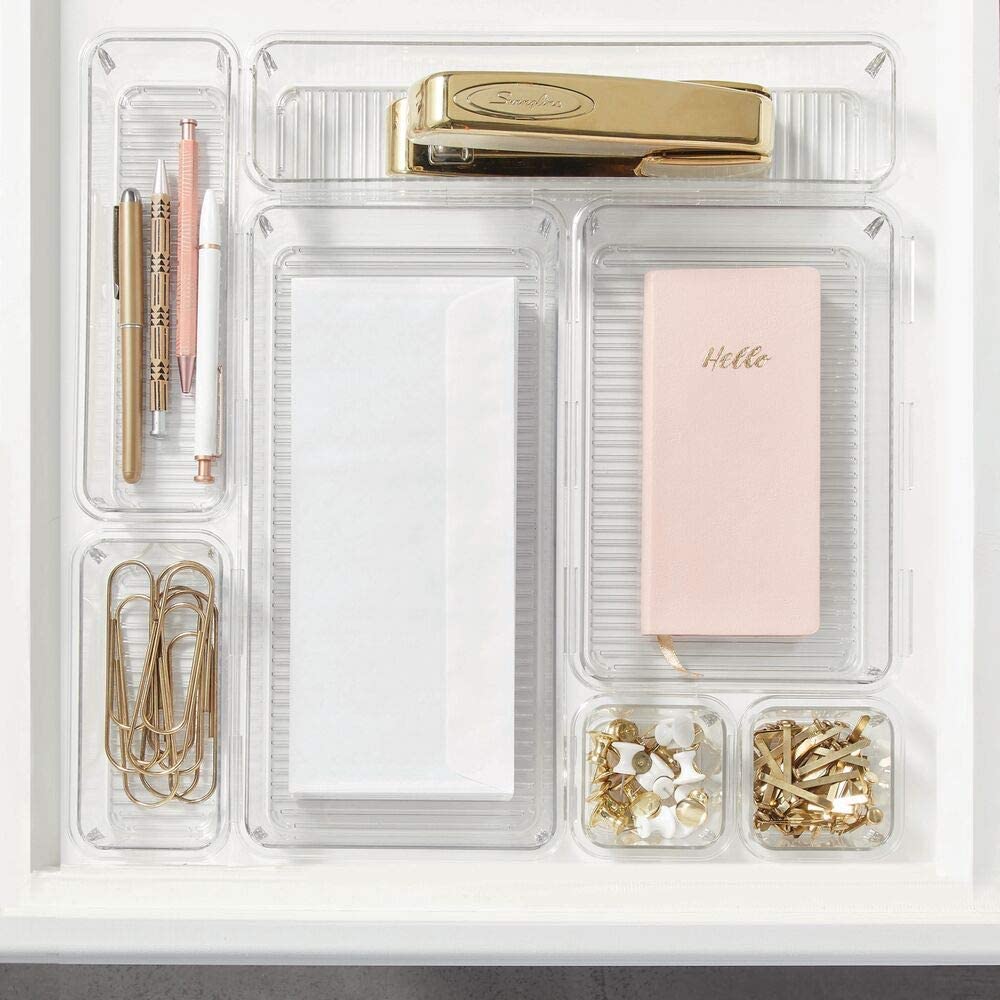 I feel like I've talked about this item in every single area of your home. I love this drawer organizer pack from mDesign that has a variety of different sizes and I bought a few of these to mix and match in a couple drawers.
When you go to organize your drawers, always keep like with like (just like we do in other areas of our home)! Keep pens together, markers grouped and a specific spot for paper clips. Making sure everything has a home prevents you from losing things!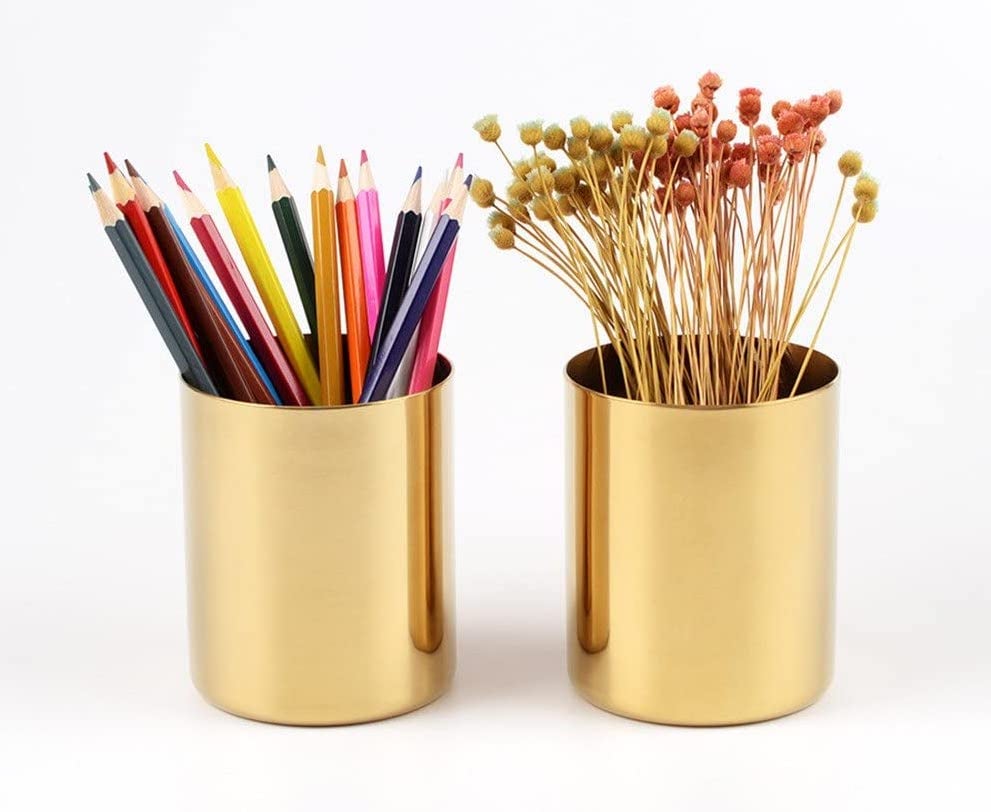 I love this cute pen/marker/pencil cup from Amazon! Having a dedicated space for your go to pens, markers and possibly something like scissors is much needed!
This comes in a 3 different colors so it can match any decor!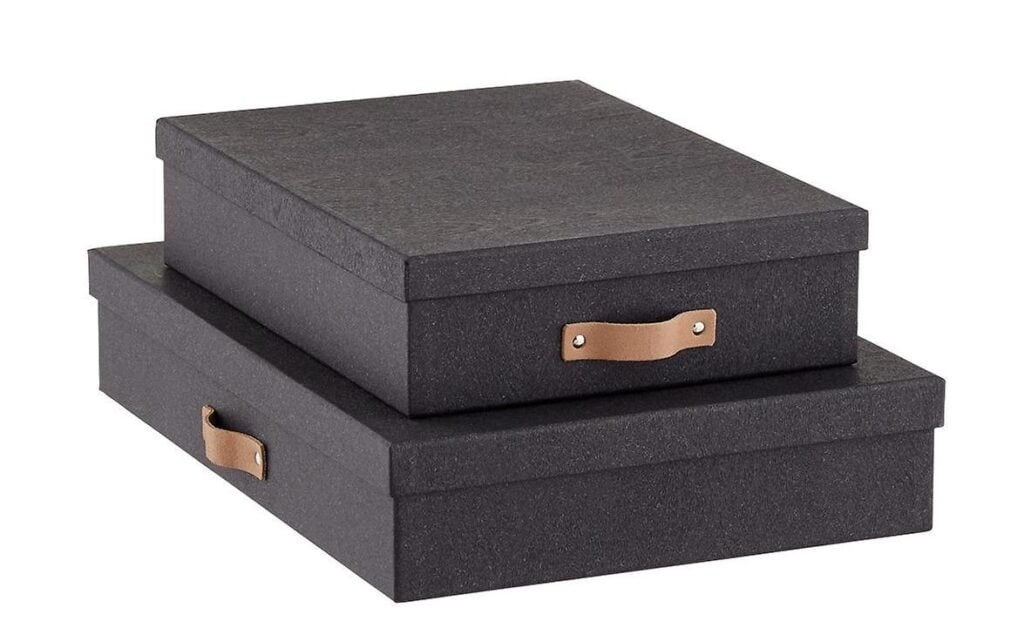 Keep necessary items like stamps and envelopes or checking info handy but also looking nice! These boxes look like canvas and the real leather adds a beautiful element to them.
They will not only keep your important items safe but they'll look amazing on any shelf or desk!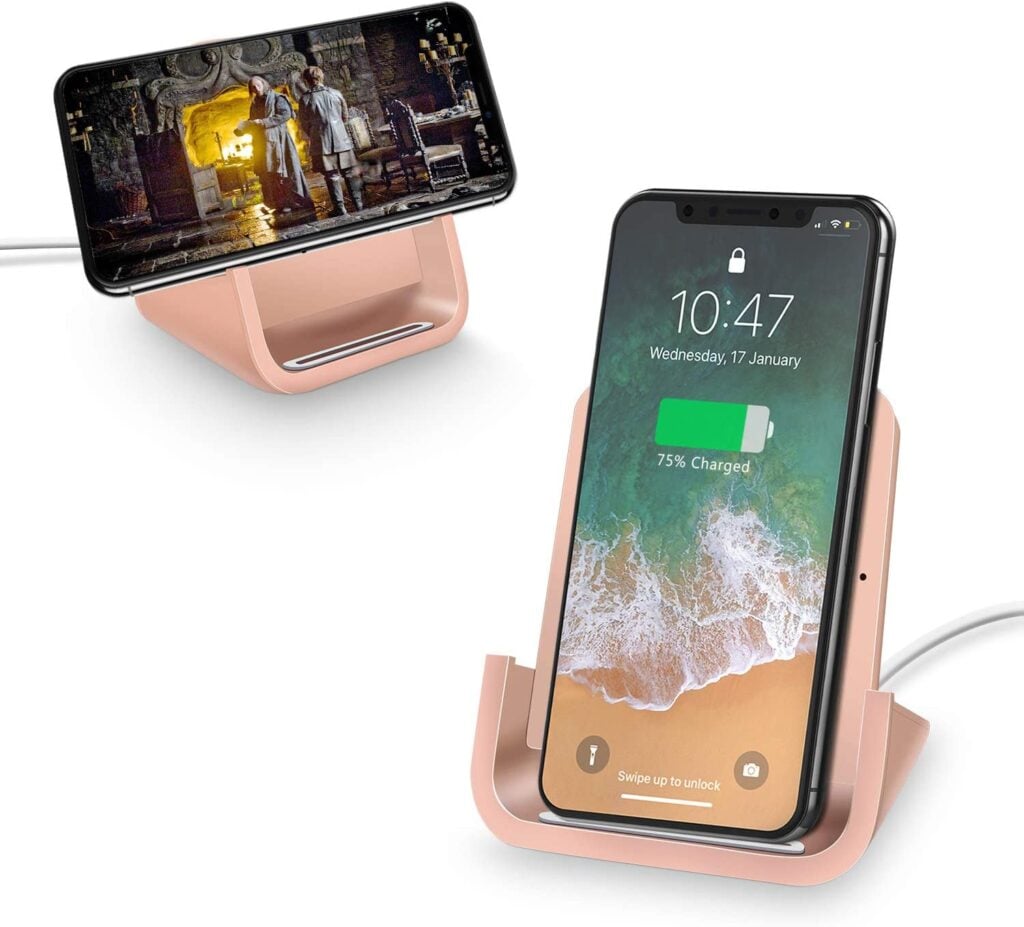 A beautiful option to have a set place for your phone AND charge it at the same time! This gorgeous Rose Dock Wireless Charger will not only be the perfect spot to keep your phone but when you put it on your shelf it will help you to stay focused on your work! 🙂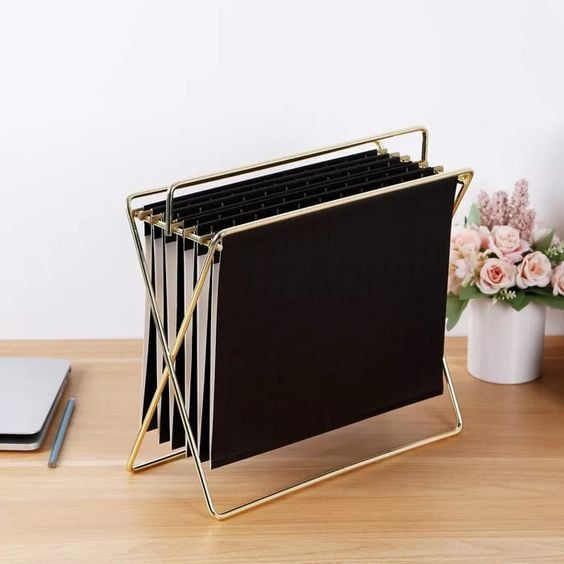 Have loose papers hanging out on your desk? Keep then tidy and never lose them with this gorgeous hanging file storage!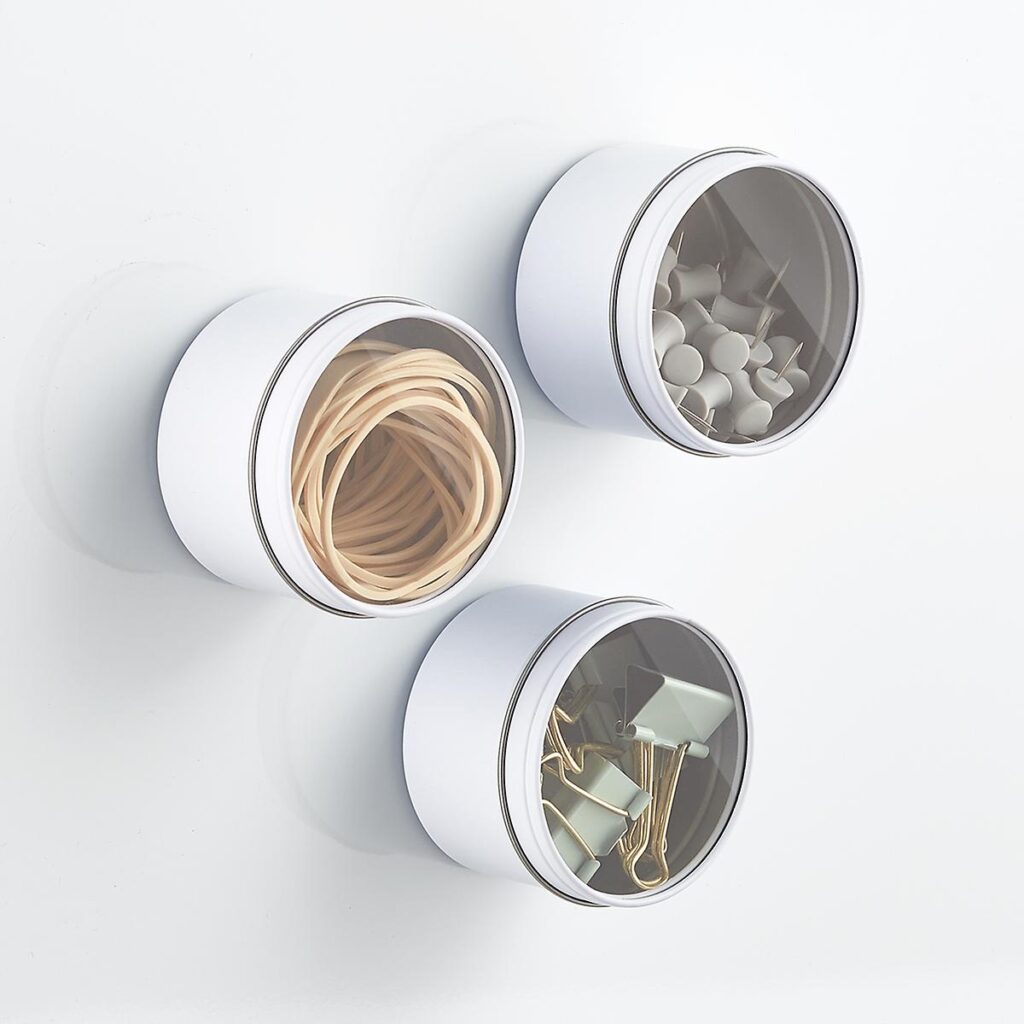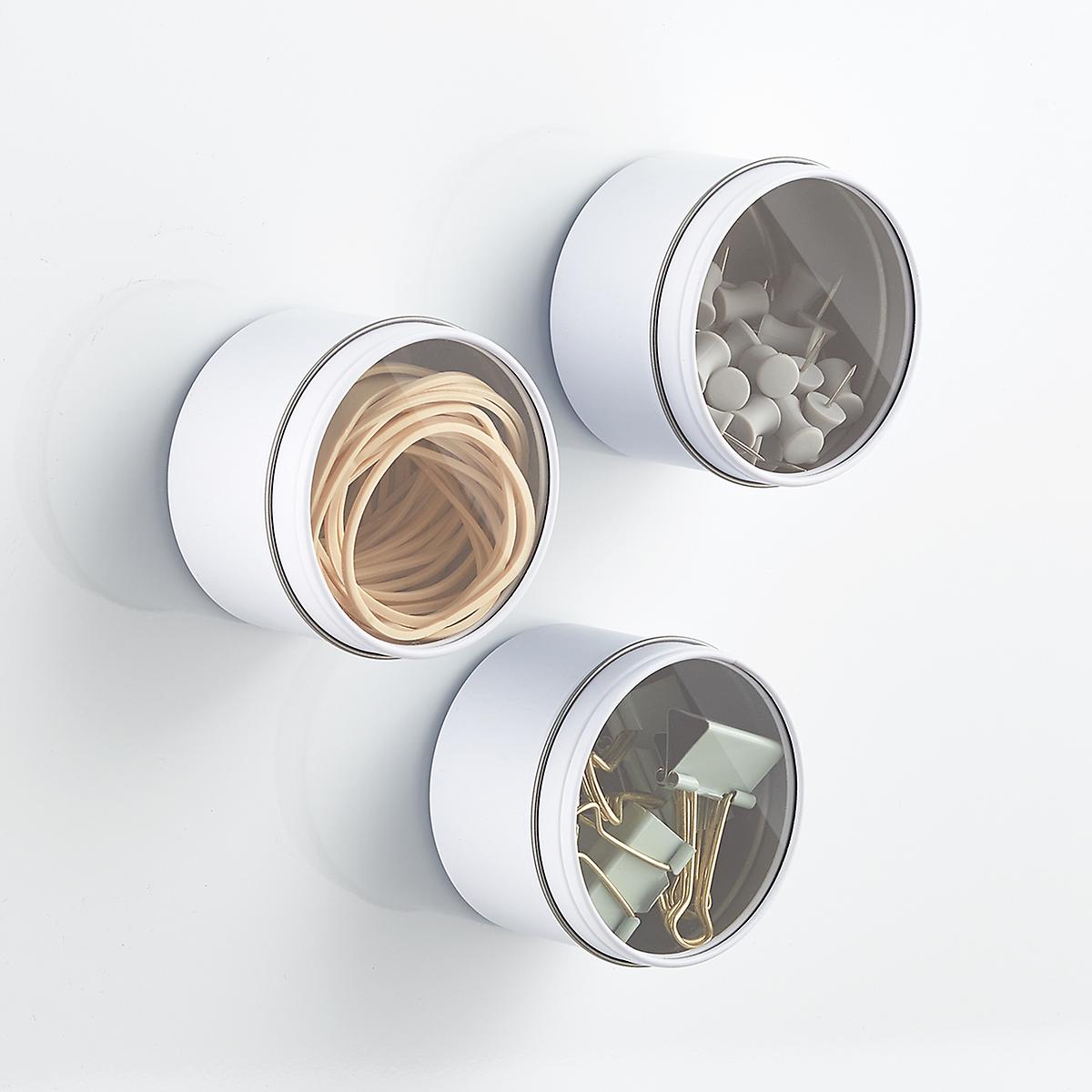 Don't have a lot of drawer space? These magnetic tins are perfect. Fill them with smaller items like paper clips, rubber bands, etc. Then simply hang them on your desk or file cabinet or anything that's steel.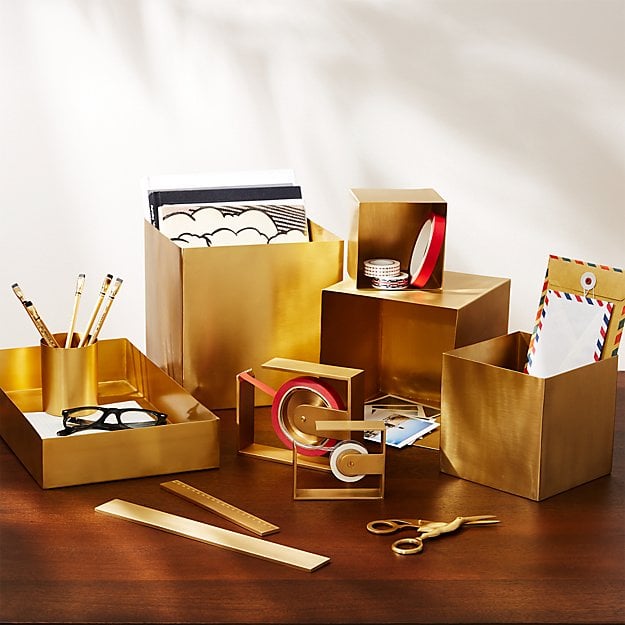 If you have the space for this beautiful tray, get it! It's a perfect way to keep track of documents that need to be taken care of. I personally like to keep a tray like this for papers that need to be taken care of so they don't get misplaced.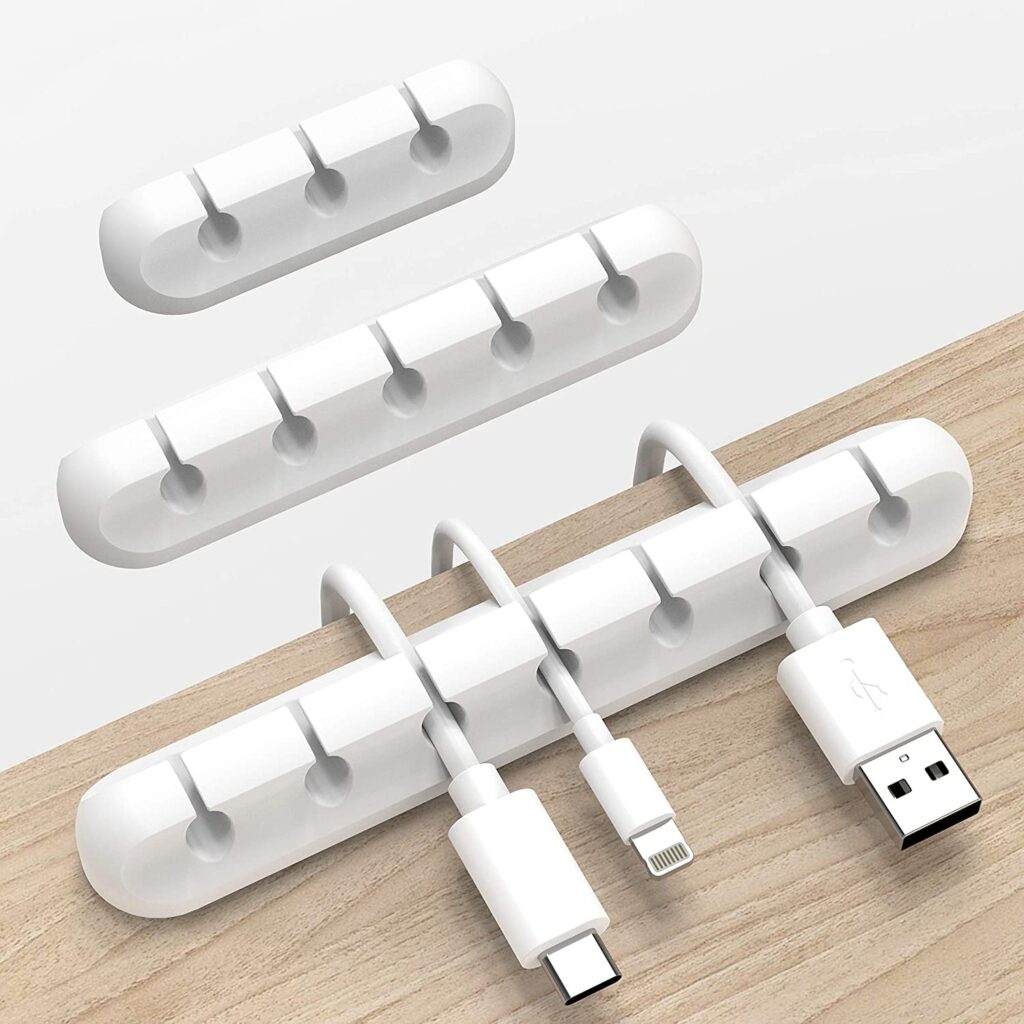 Keep your cords organized with this cord organizer! Use these to your keep your desk clutter free and know exactly which cord is which. This is perfect to keep phone cords, camera cords, etc. tangle free and ready to use.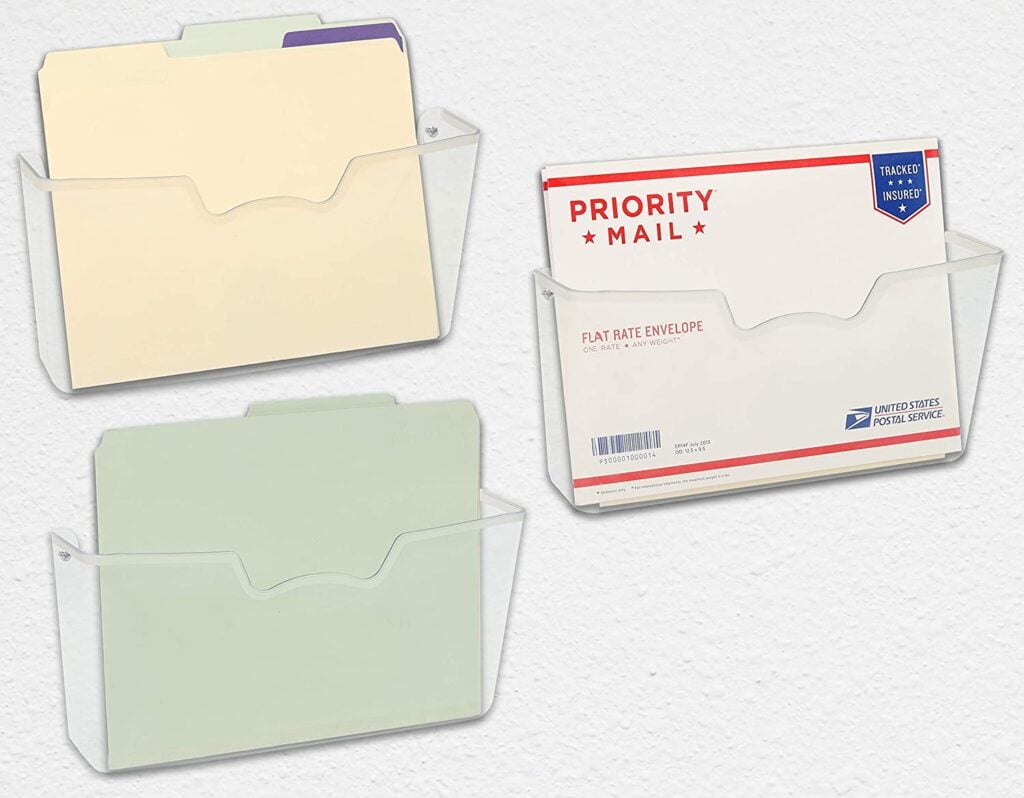 If you're someone who's short on shelf or desk space, this simple hanging file holder can be hung on your wall! Hang a few side by side for to do items, magazines and mail.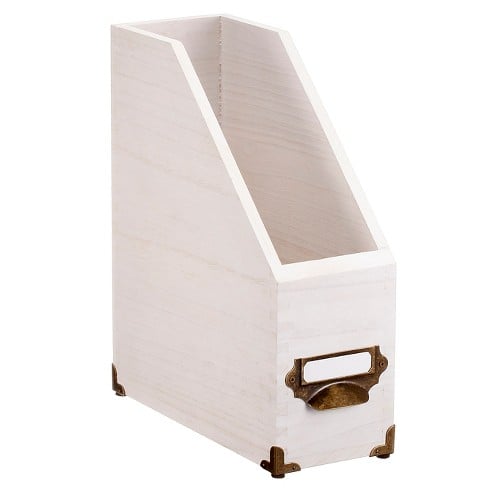 One thing that is a must is having a place for your papers. Whether it's a tray or this wood magazine holder, find something that works for you!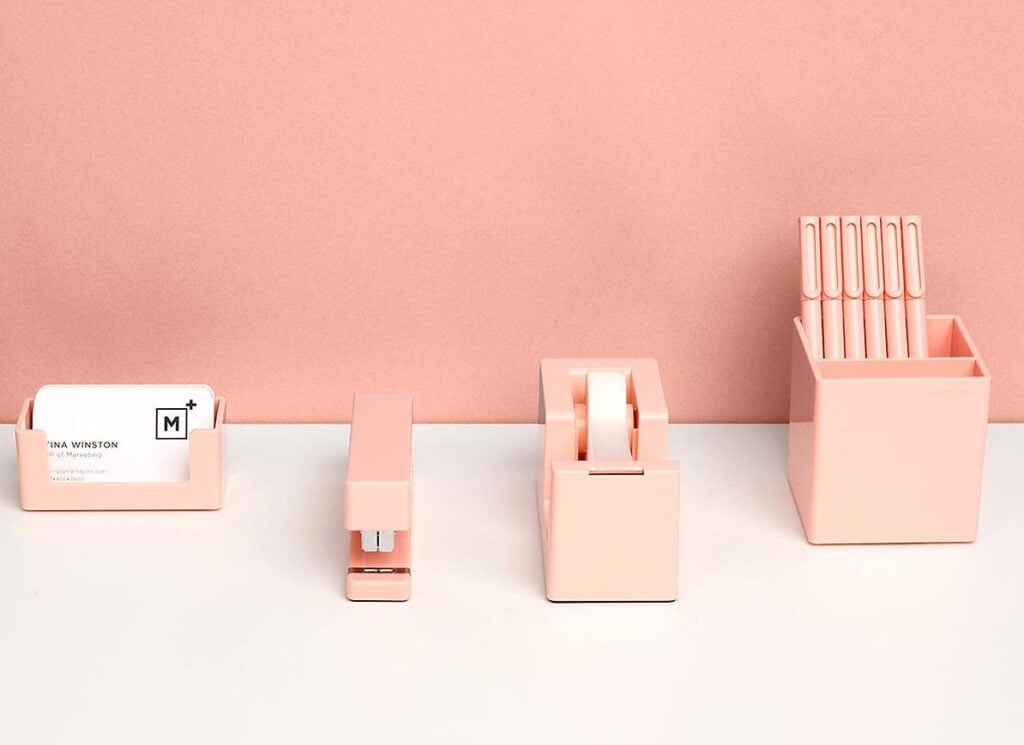 For under $4 you can finally keep all of those business cards organized with this perfect business card holder! It comes in a variety of colors to match any decor!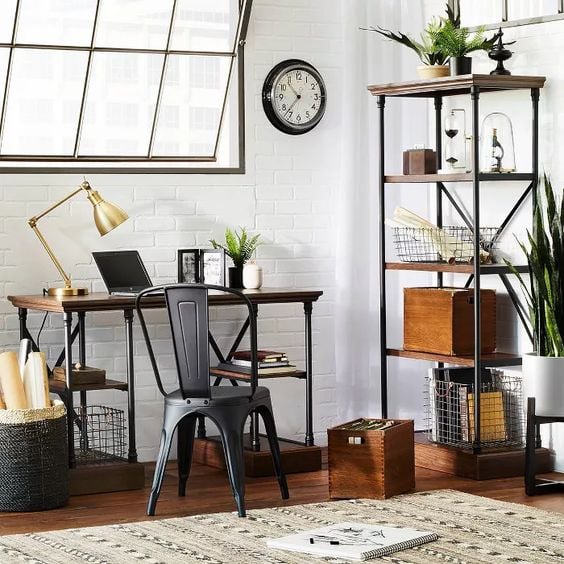 Are you someone who doesn't focused on one thing for very long? Always want to grab your phone to check social media? Use the simple hourglass to help you stay on task! It runs for about 15 minutes so set yourself mini goals to complete before it runs out.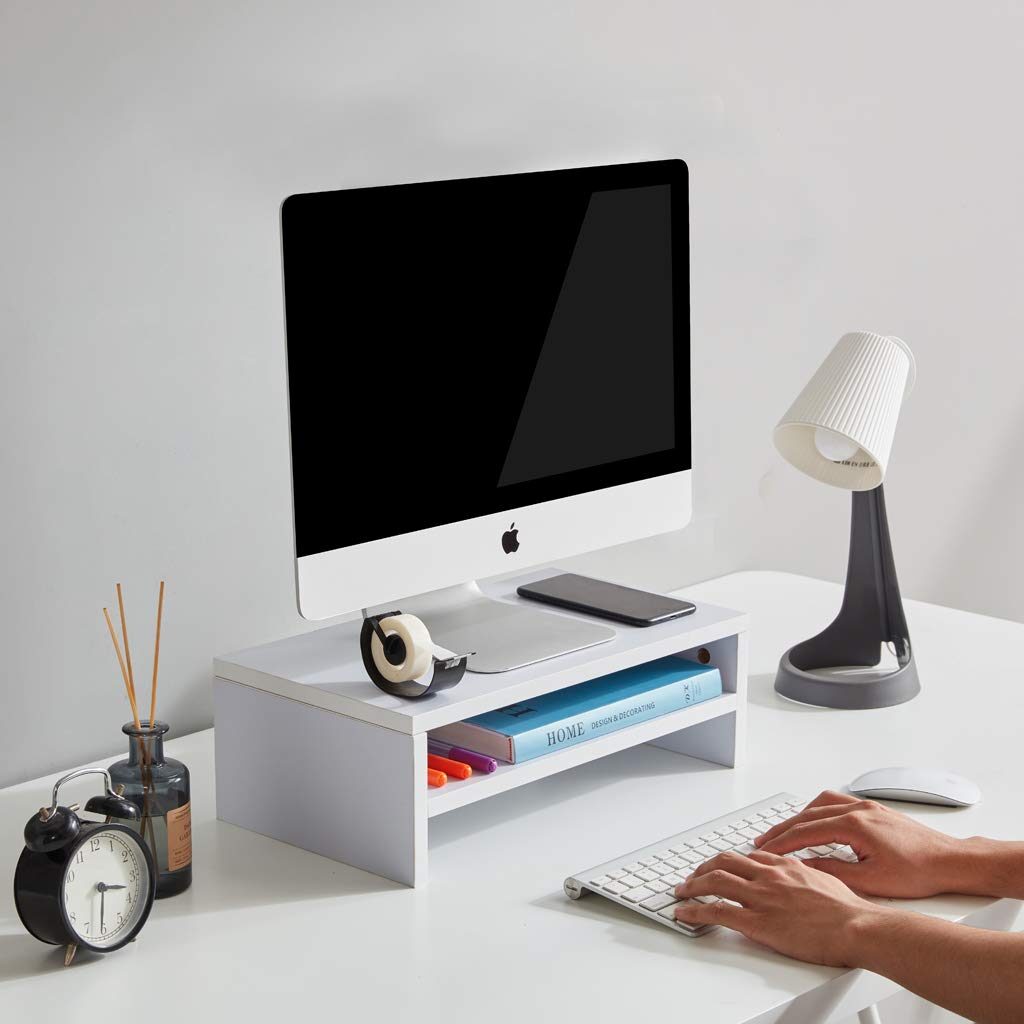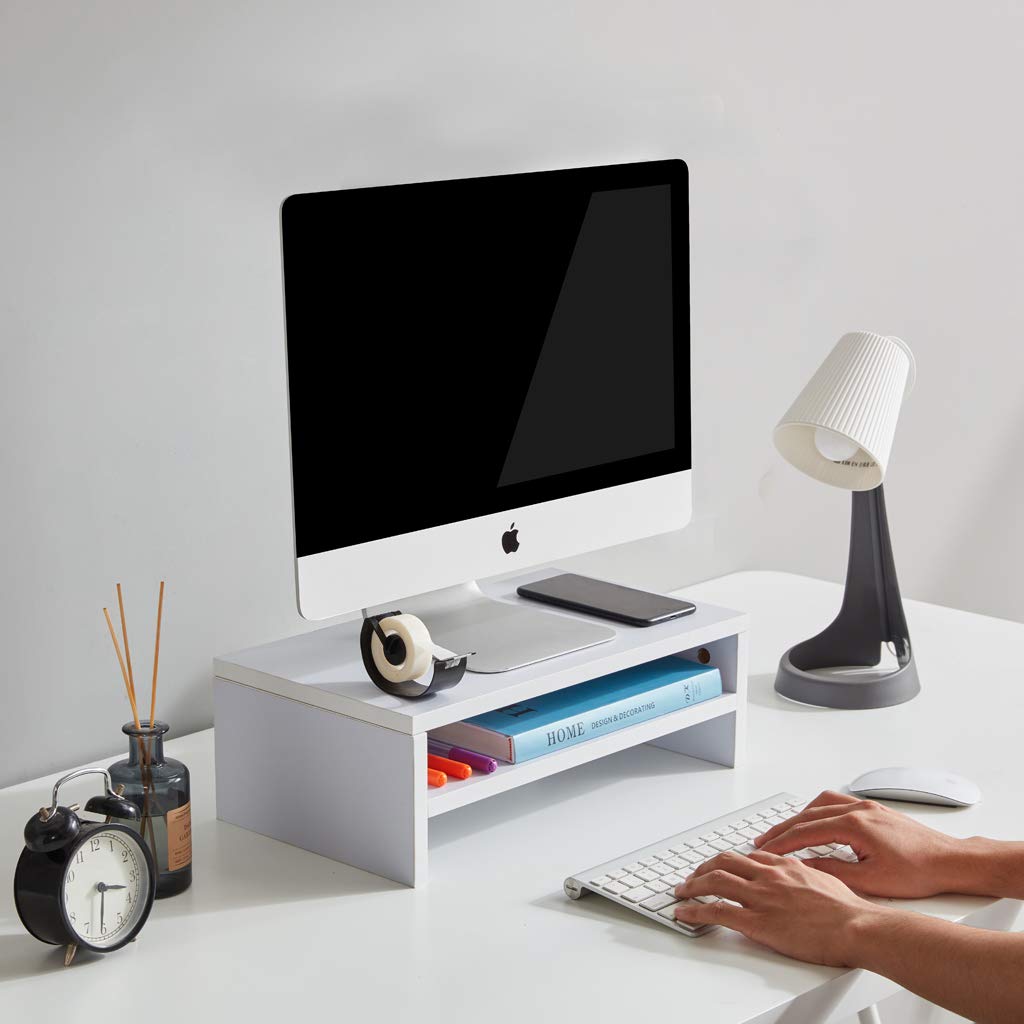 If you need to maximize your work space, get a stand for your computer! Easily store your planner, some small bins from #1 with your favorite pens, etc underneath.
Bonus, you'll be sitting a bit more ergonomically friendly with one of these!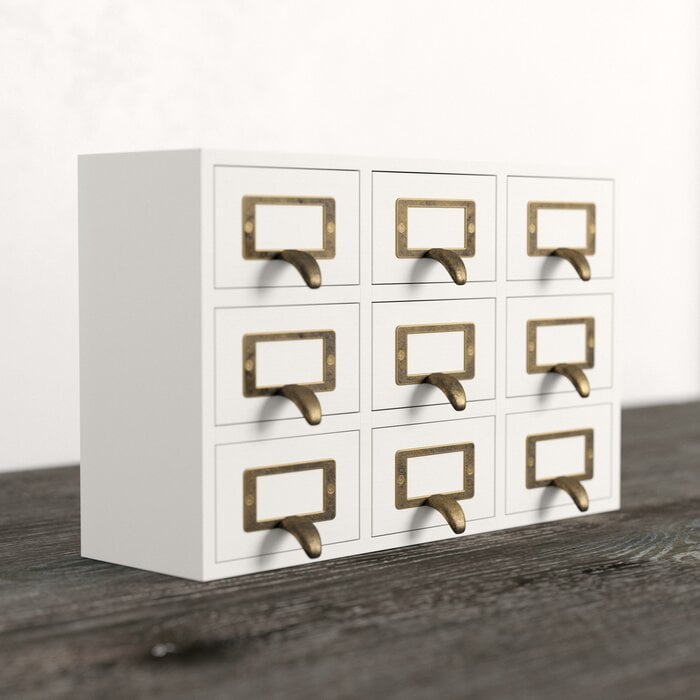 This simple supply organizer is a beautiful way to store those smaller items like push pins, paper clips or other odds and ends!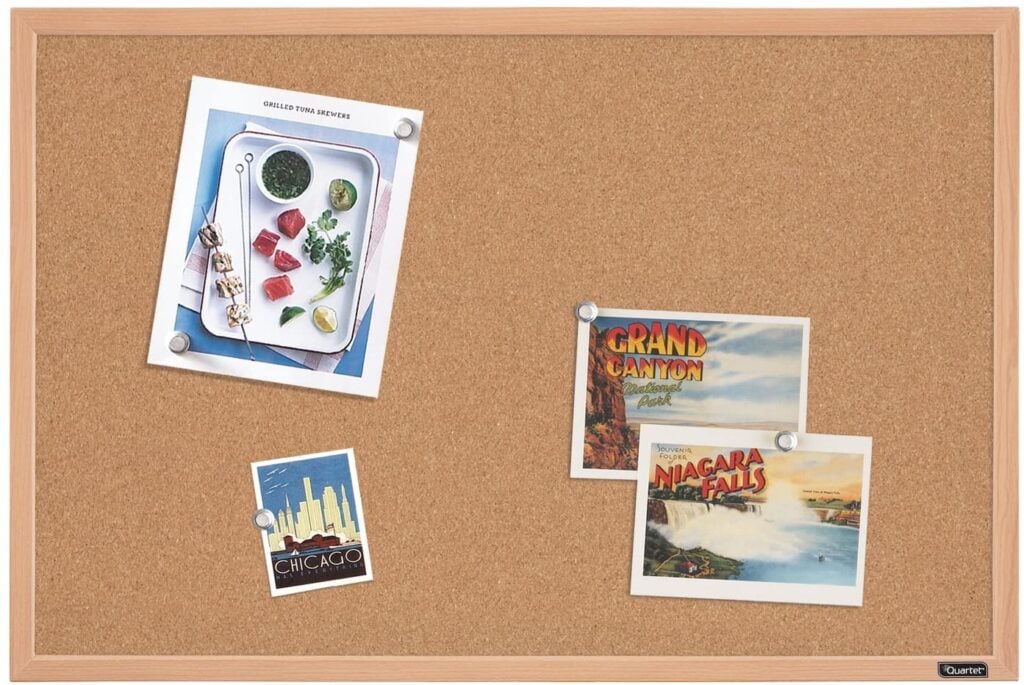 This simple bulletin board is a true classic. Is there anything more simple to tacking up your to do list or your vision board on a bulletin board? Bulletin boards are especially helpful if you don't have a lot of desk or shelf space!
Want to declutter your whole home? Join the 30 Day Declutter Challenge! You can download and print off your calendar below!
And in the meantime, check out these declutter and organizational posts: