Have a white button down shirt that's not getting a lot of love? I love finding new ways to wear things so I was excited to figure out how to wear a white button down shirt!
I was a server at Red Lobster in college and we had to wear a white button down shirt as part of our uniform. We would all buy cheap ones from the boys department at Walmart since I would eventually stain it with cocktail sauce so I didn't want to invest in nice ones.
I had never figured out how how to wear a white button down shirt without black pants and a blue apron! 😉 Well, Gap was running a major sale so I picked up this one and got to styling it. Here's a few of the outfits I put together!
3 Ways How to Wear A White Button Down Shirt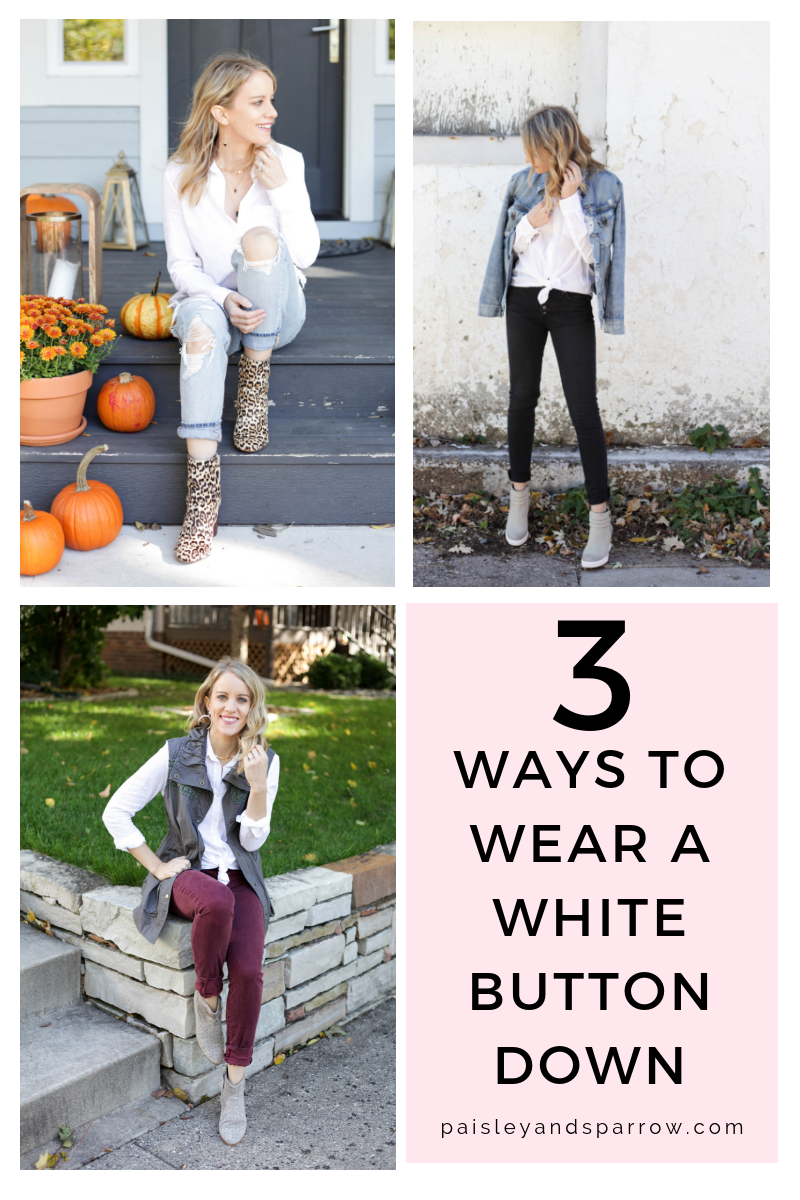 Dark Denim + Denim Jacket + White Button Down Shirt
The first and one of the easiest ways to wear a white button down is with dark or black denim jeans. I added in a denim jacket and immediately fell in love with this shirt!
How you can replicate this outfit:
Pants – I wore a pair of very dark grey jeans. You can wear black, grey or even a dark blue. Sticking with non-distressed pants to keep this outfit looking clean and chic.
Jacket – I am obsessed with this jacket so I wear it all the time. You could swap out a regular denim jacket for black and dark denim. You could also do a blazer – printed or colored, whatever you choose!
Shoes – I added a pair of Linea Paolo wedges but you can easily wear cognac boots, over the knee tan boots or even a classic black bootie!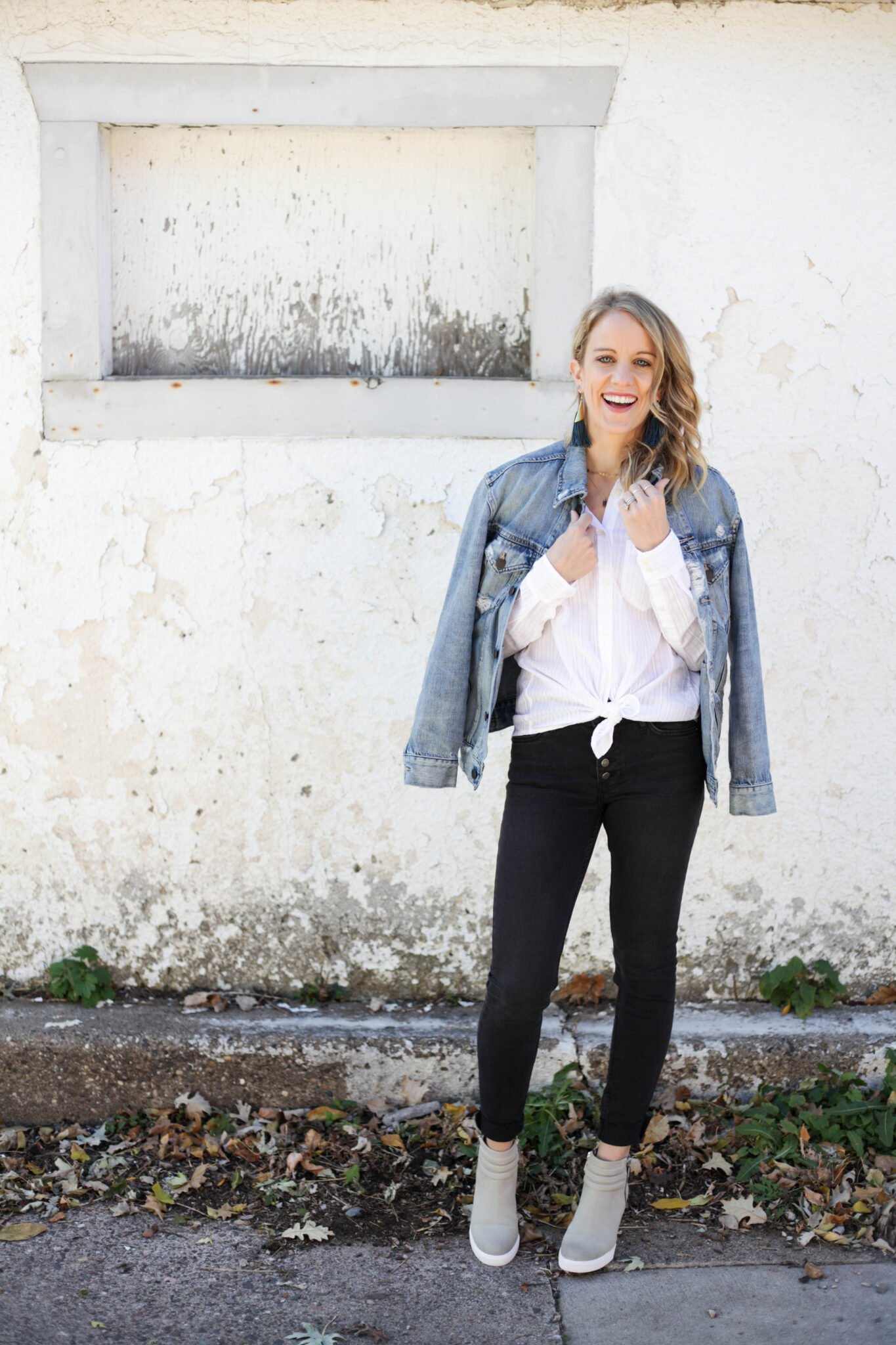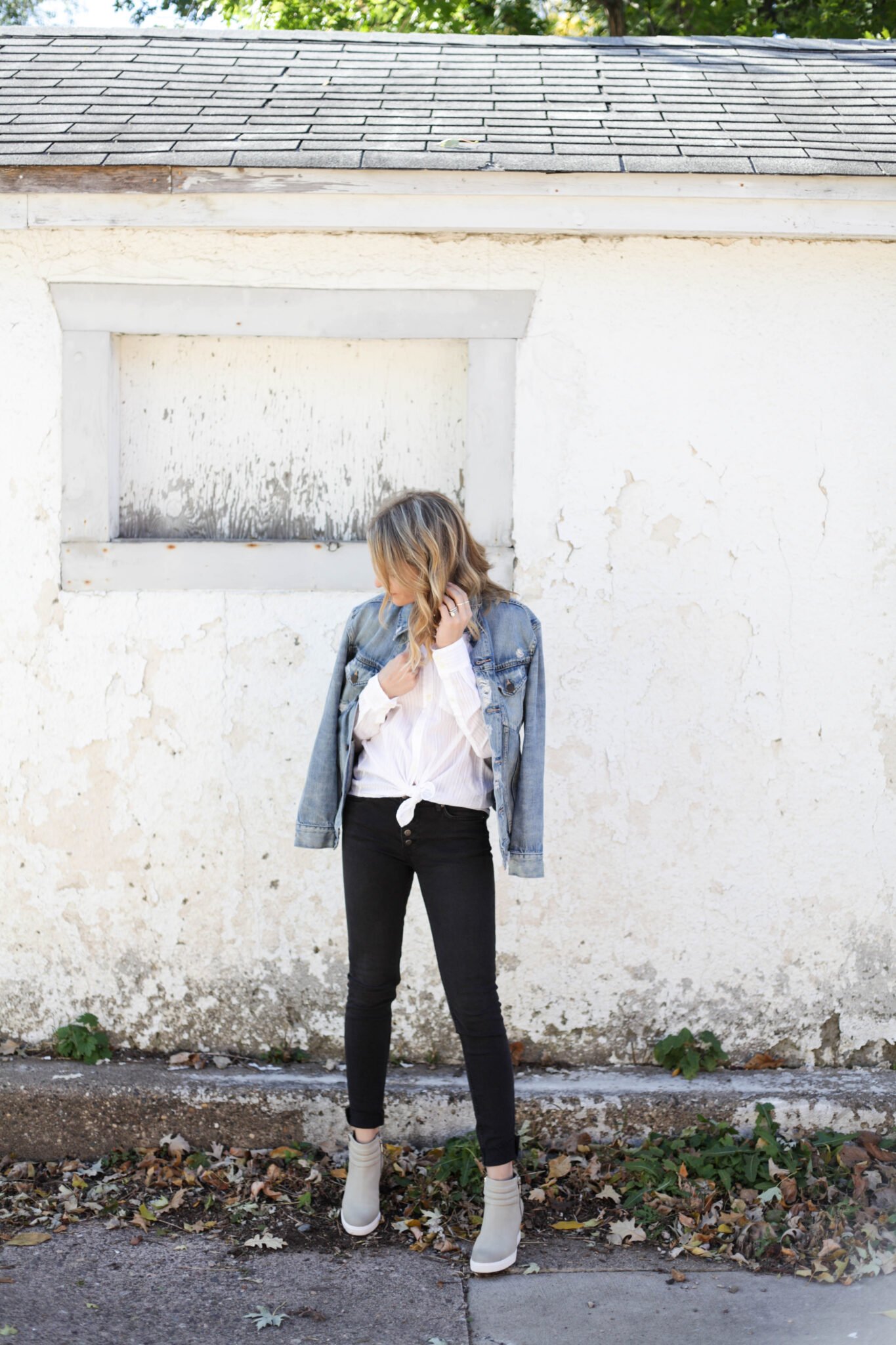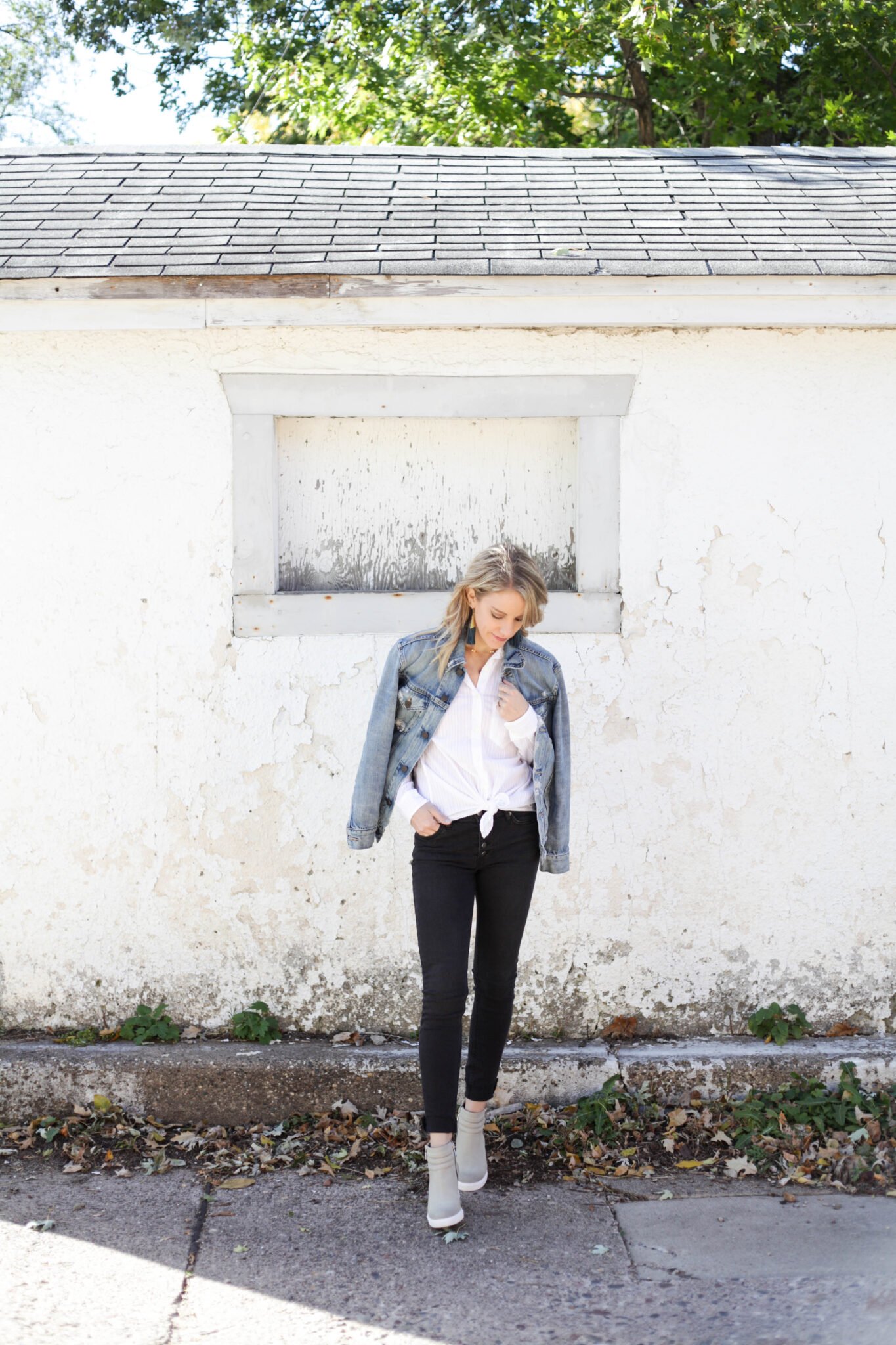 *Find more denim jacket outfit ideas here!
Distress Denim + White Button Down Shirt
Next up was probably the most "out there" style. I paired my white button down with super distressed denim and leopard boots.
I love how the distressed denim makes the white button down feel a little less "stuffy" and the leopard booties really make the outfit fun! My biggest issue with crisp white button down tops is how formal they feel. This completely tears that apart and makes this top casual and fun.
How you can replicate this outfit:
Pants – If crazy distressed denim freaks you out, go with something a little less distressed. I typically always wear skinny jeans so something more boyfriend style was a good way for me to break out of my comfort zone little bit.
Shoes – Leopard shoes are pretty much a staple in my wardrobe and I'm convinced they should be in yours too. Try something full leopard like these or a little less wild like these! Or if you just really hate leopard, try another type of printed shoes!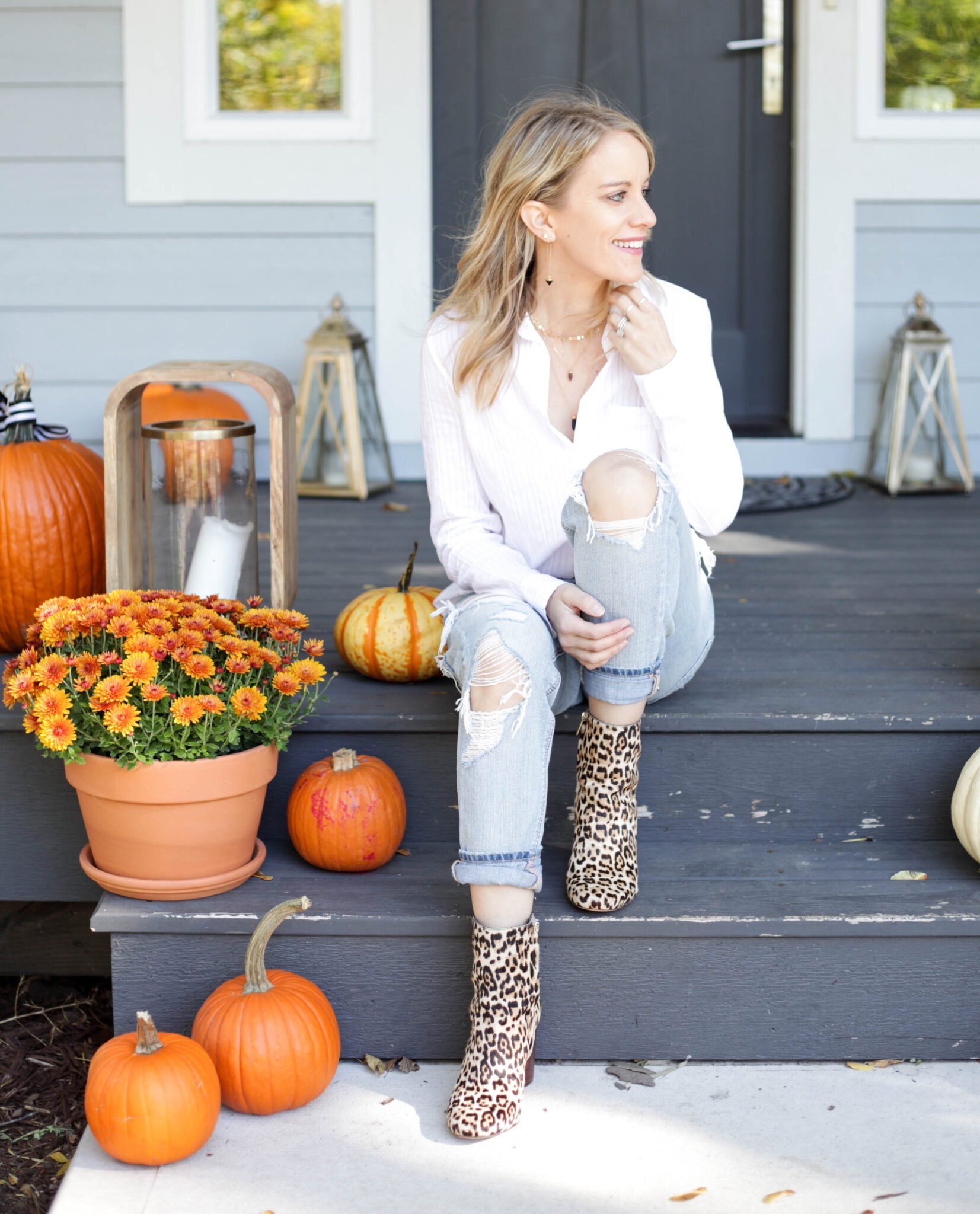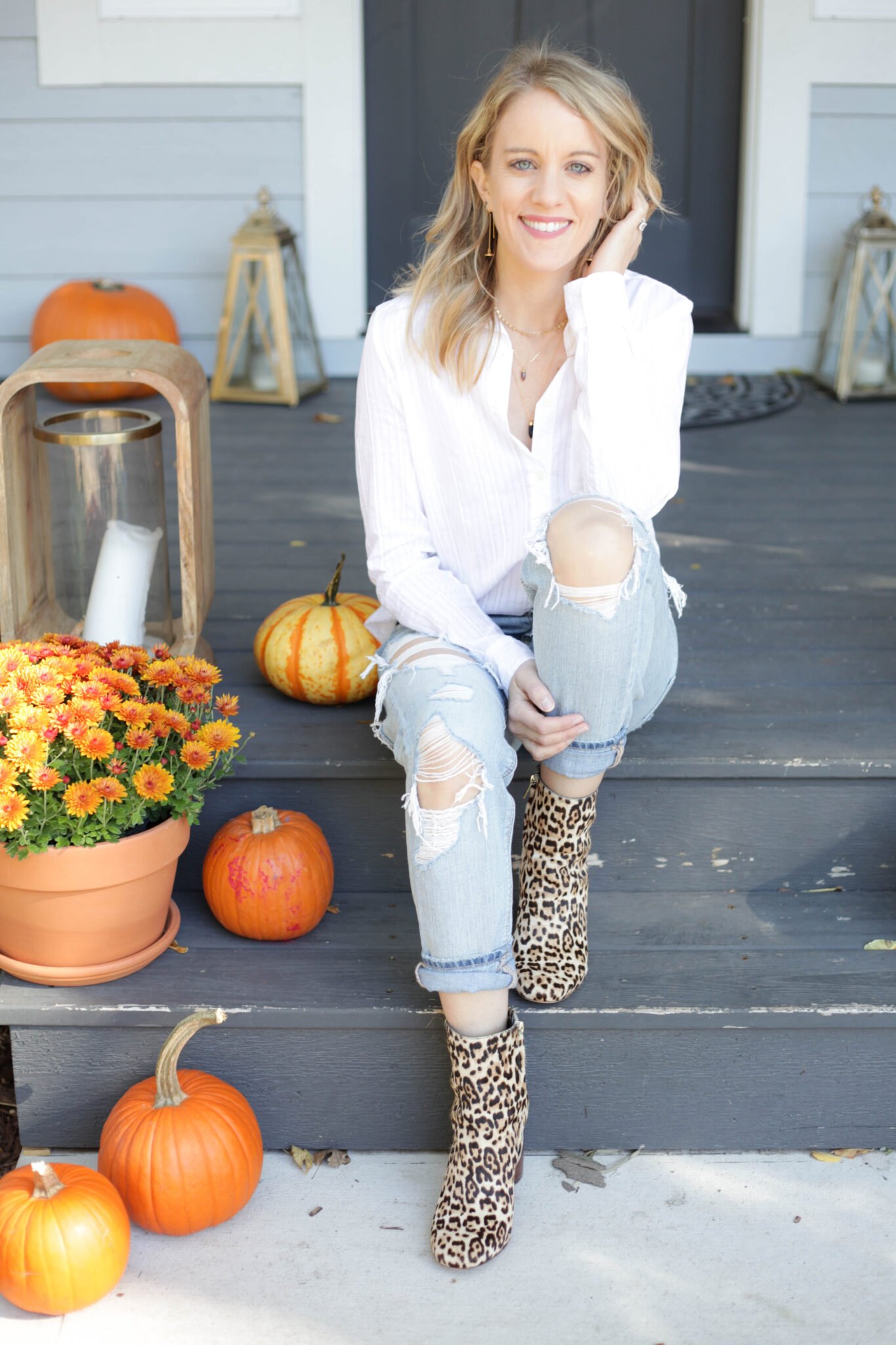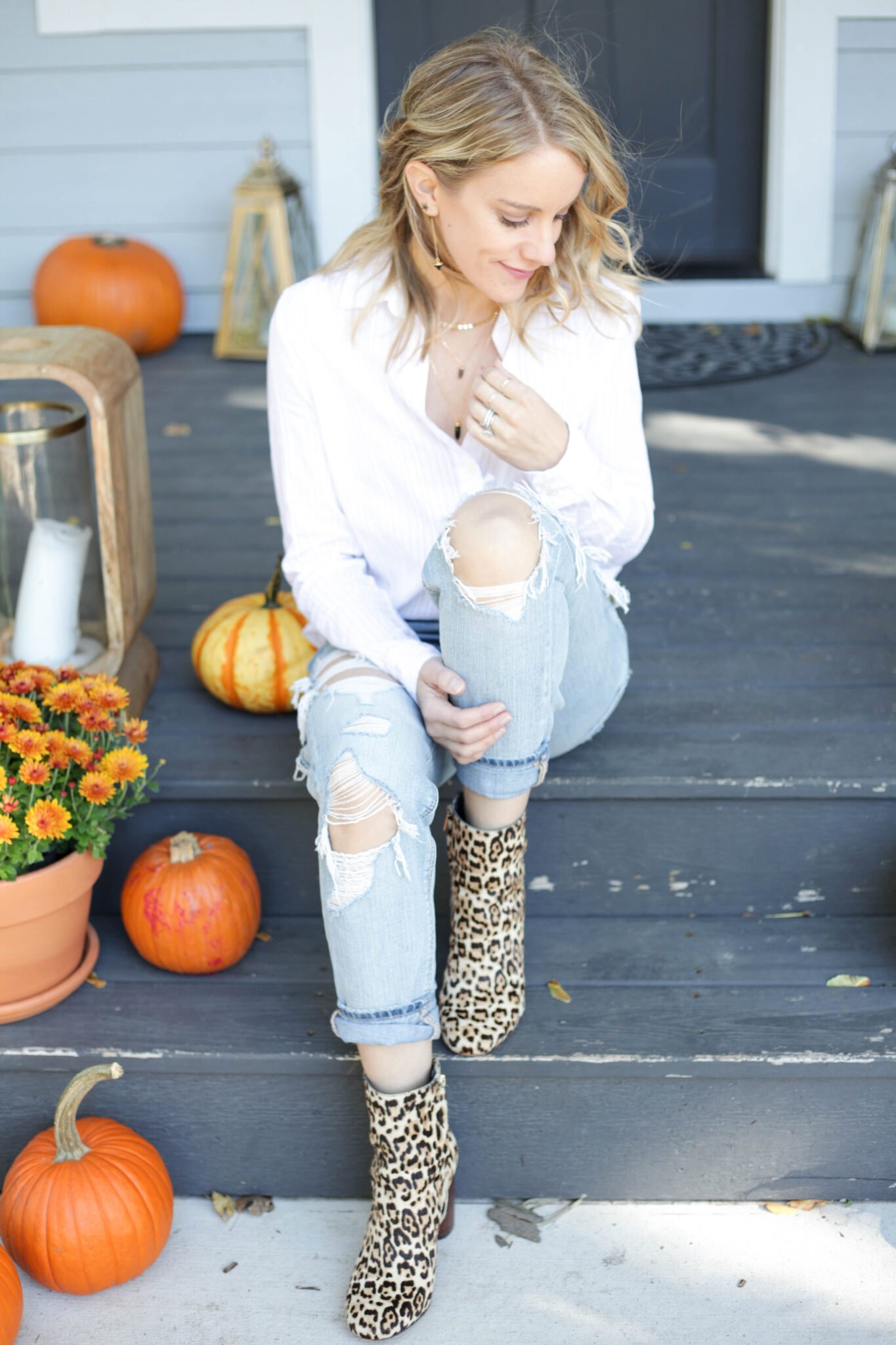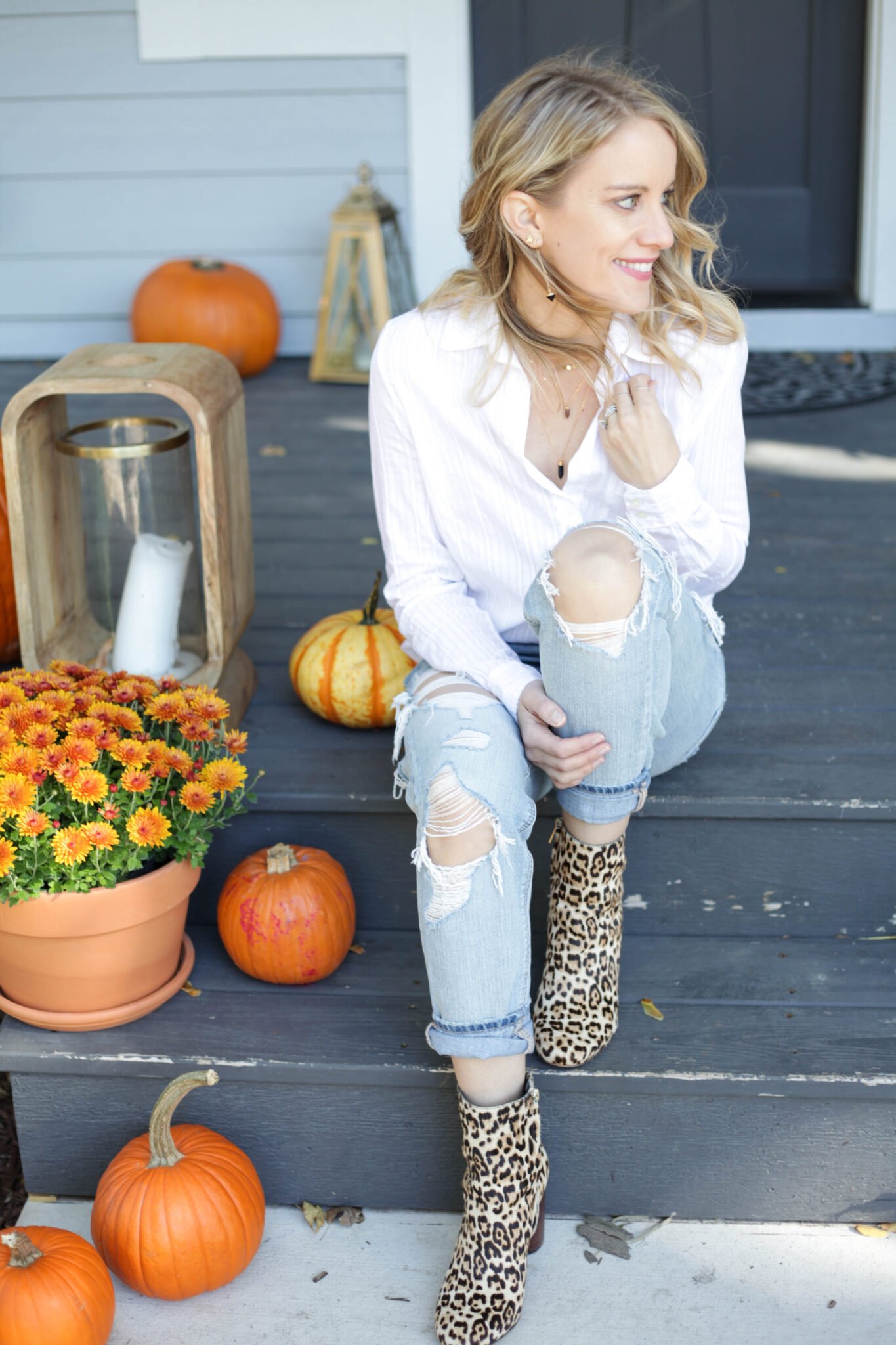 Colored Jeans + Vest + White Button Down Shirt
The last way I wore my white button down shirt was with colored jeans and a vest. I love burgundy pants and have a couple different pairs. I'm also a firm believer that everyone needs a military vest in their life – they're amazing! You could literally pull off this outfit with any color jean!
How you can replicate this outfit:
Pants – If you're not a fan of burgundy, wear any color jean that you love! It can be a dark green, burnt orange or even camo.
Vest – What you pick on the bottom will ultimately influence what you wear on the top. You can go with something neutral like denim, black or grey or jazz it up with a furry vest or even something printed.
Shoes – I love these casual booties (sorry they're sold out everywhere!) but you would wear something heeled or wedges like the Linea Paolo ones from my first outfit.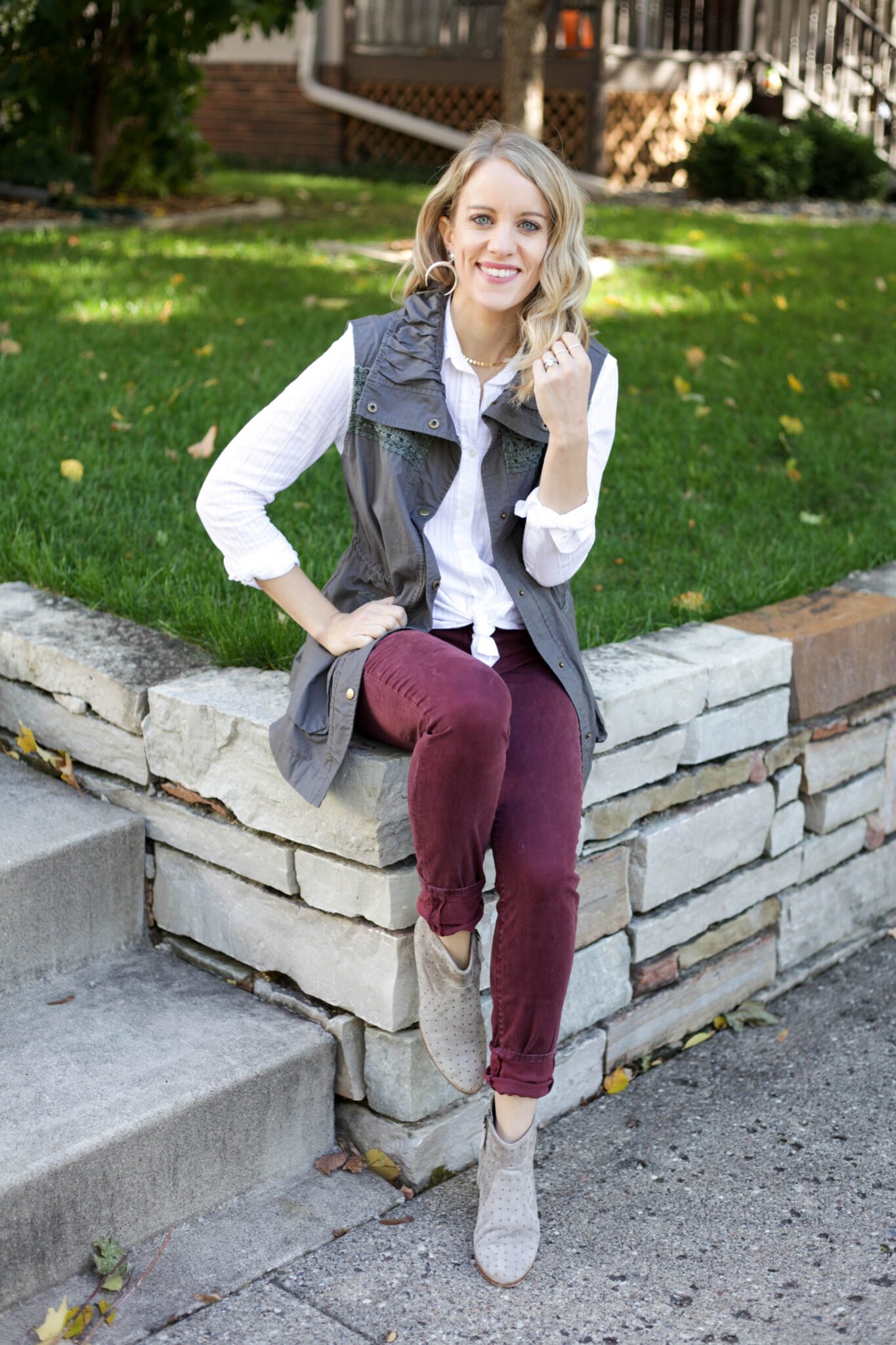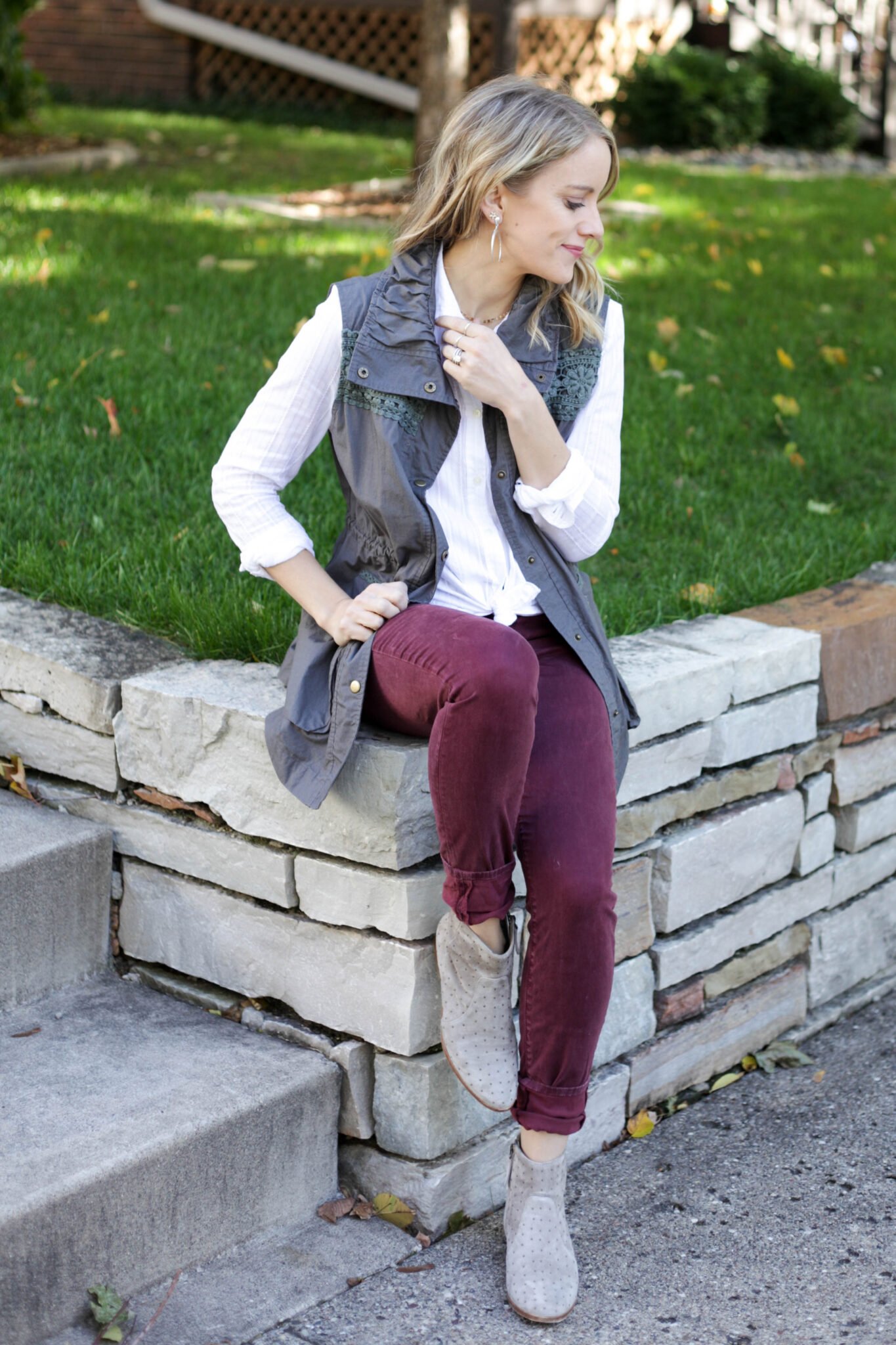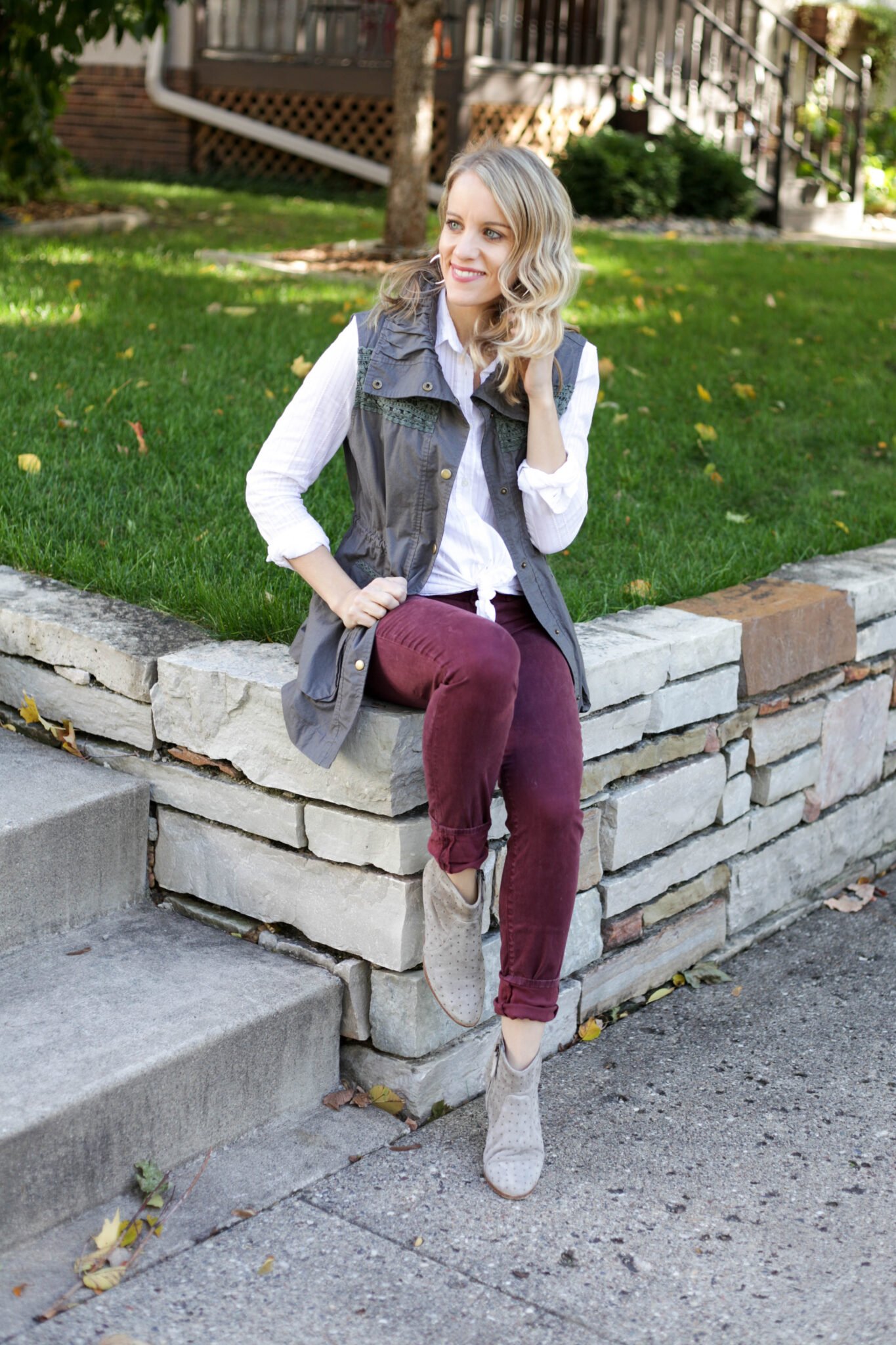 Being able to style the clothes in your closet in more ways than one makes keeping them a much easier decision! I hate having articles of clothing that can only be worn one way. Hopefully you have a few more ideas for how to wear you white button down shirt after checking out this post! 🙂
Don't forget! You can get my FREE Fall Style Guide right here!
Find other style ideas like my multiple ways to wear leggings or outfit ideas for over the knee boots here! And here are 4 ways to tuck in your shirt!
As always, thanks so much for reading!
With love,
Jen