Black jeans are a staple in most women's closets. They're chic, slimming and incredibly versatile.
But like most things, it can be easy to get into a rut with how to style black jeans! Are you constantly grabbing the same shirt and same shoes every time you pull on your black jeans?
Today's post is all about helping you get more looks and more wear out of your black jeans. Before we get going on the outfits, I wanted to share my 3 favorite black jeans!
Best Black Jeans
Paisley + Sparrow is a participant in the Amazon Services LLC Associates Program. This post may include affiliate links which means I may earn a small commission if you shop using the links below at no additional cost to you. 
Both my sister and I own the Democracy Absolution Jeggings Jeans and we love them! They have great stretch but don't lose their shape.
The Levi's are a classic high waist jeans that I own in countless washes. Their inexpensive, last forever and a great option.
Lastly, if you're looking for a more high end jean that you'll reach for day after day, check out Good American's Good Waist denim! I have so many different pairs of Good American jeans and love every single one. You will fall in love with these jeans and how amazing they make your legs and waist look!
Ok, now on to what to wear with your black jeans!
What to Wear with Black Jeans 15 Different Ways
1. Denim Shirt With Shacket and Black Boots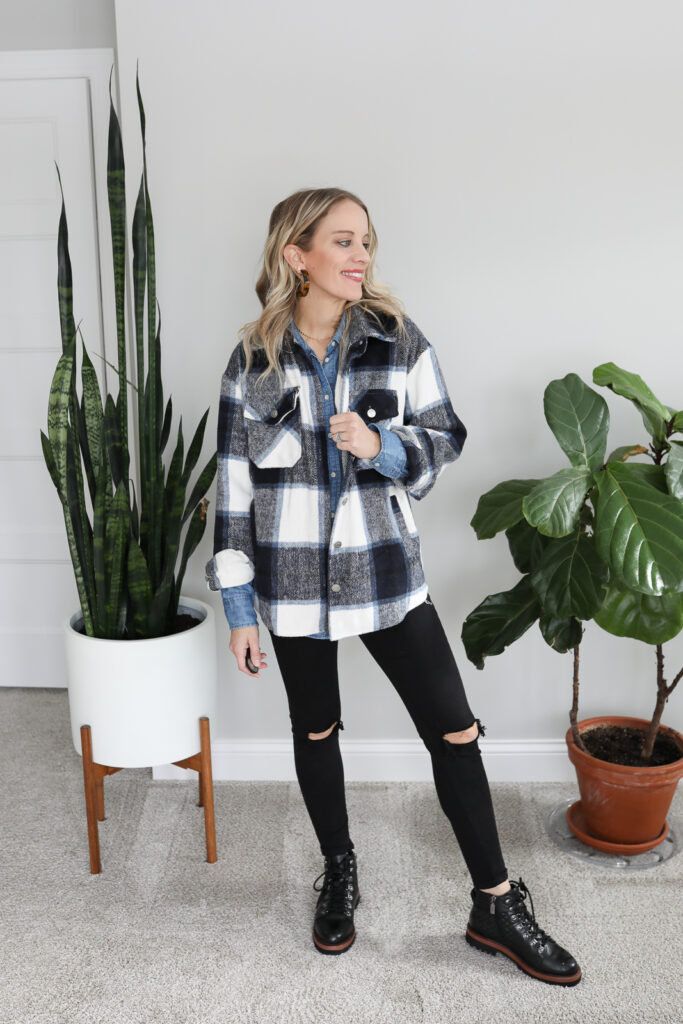 Shop the Outfit: Denim Shirt (Mine is super old – this one is similar) | Pants | Shacket | Boots
Let's start with a fall look for styling your black jeans. Go for a layered look! This one is super easy to replicate. Grab any chambray shirt in your closet, layer an oversized shacket over it. Pull on distressed black pants and black boots.
Check out more chambray outfits here!
2. Black Boots with Denim Shirt and Vest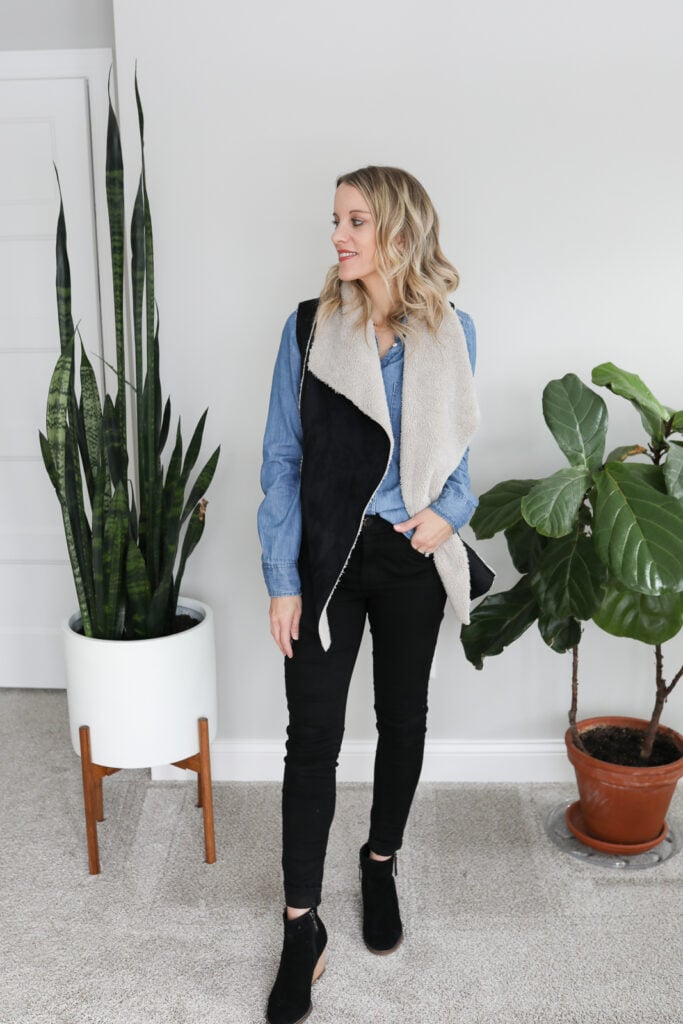 Shop the Outfit: Denim Shirt (Mine is super old – this one is similar) | Pants | Vest (sold out – similar here) | Boots
Tie in the black jeans with a black vest! Vests are a great transitional piece for spring and fall! I love the different textures of this sherling vest and how the blue shirt pops underneath.
The black boots and black denim jeans gives everything a cohesive look and feel.
3. All Black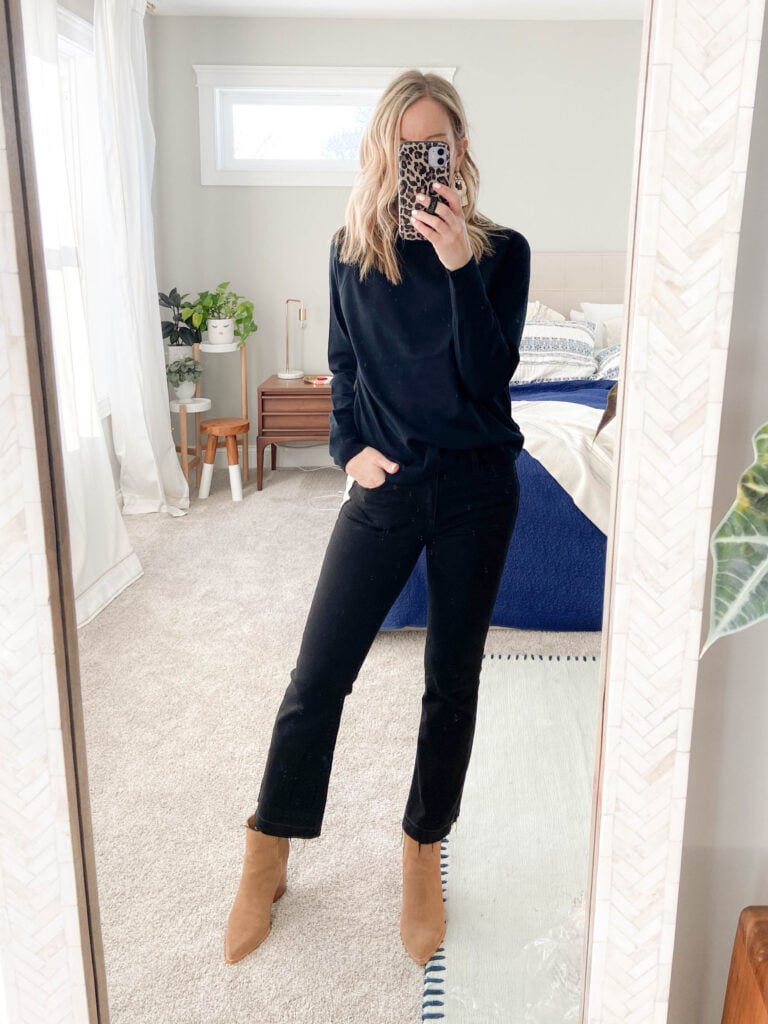 Shop the Look: Sweater | Boots
One of the most simple yet classic outfits to wear is all black! But don't wear all black from head to toe. Give it a pop of color in you bootie. I love the look of a sleep black sweater or black top paired with black jeans accented with tan or printed boots.
You could wear brown boots with gold jewelry like I did here. Or you can pair your black on black with a printed boot (think snake skin or leopard boots). The pop of color in your shoe will have you looking like quite the fashionista!
As a general rule, cropped pair of jeans look great with a tall boots (as opposed to the shorter ones) so your legs don't look extra short).
*Find more cropped jeans outfit ideas here!
4. Black Skinny Jeans + Denim Jacket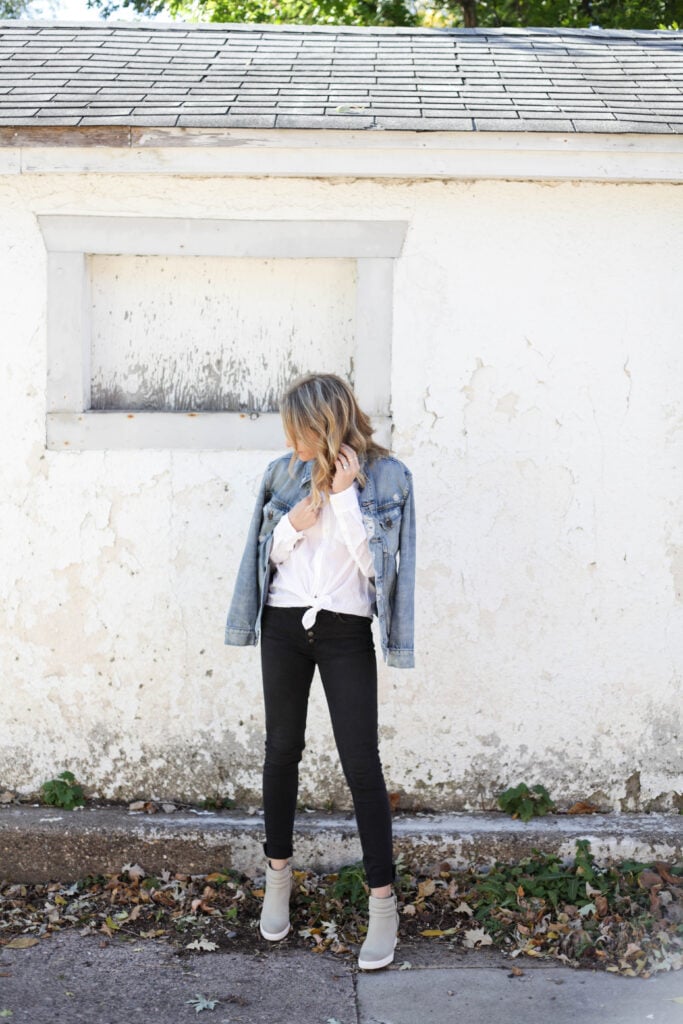 Running errands but still want to look good? Here you go! These black skinny jeans paired with wedged boots makes my leg line look extremely long (news flash – I'm actually really short!). I cuffed them twice to make them the right length and not bunch up on top of the boots.
Knotting a white button down gives it a more casual look to it and a denim jacket is the perfect completer piece, giving you that fashionista vibe.
*Get more wear out of your denim jacket with these outfit ideas!
5. Black Jeans + Oversized Sweater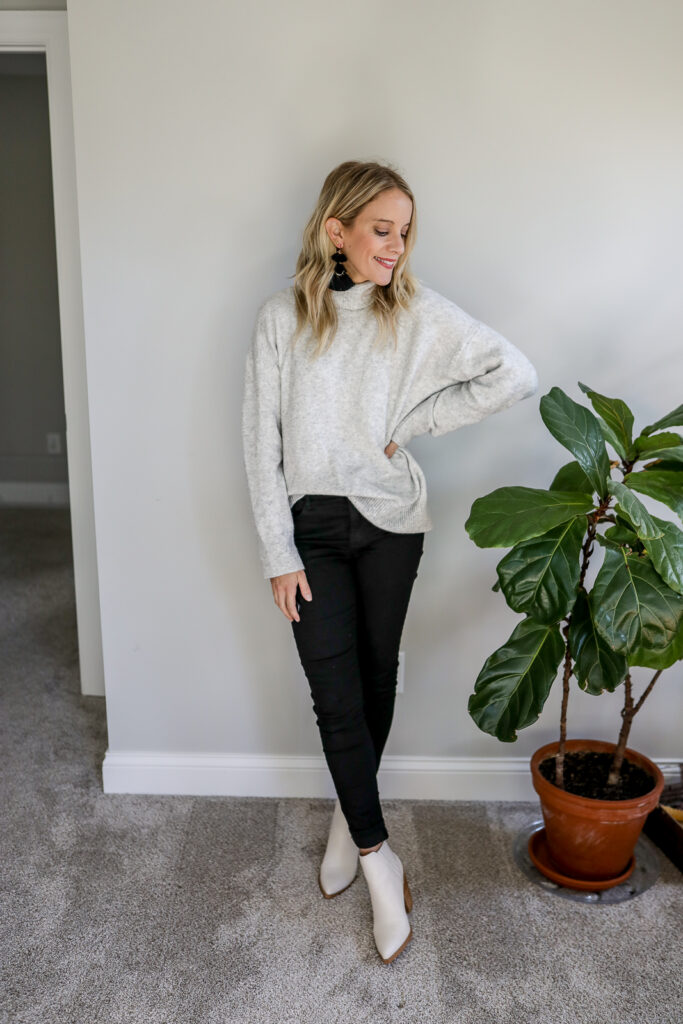 Black Jeans | Sweater (similar here) | Boots (Macys / Nordstrom)
If you're looking for more minimal outfits, this is a perfect one! Black jeans and an oversized sweater in just about any color is a great base for adding in the white detail of a white bootie.
6. Black Jeans + Denim Shirt + Jacket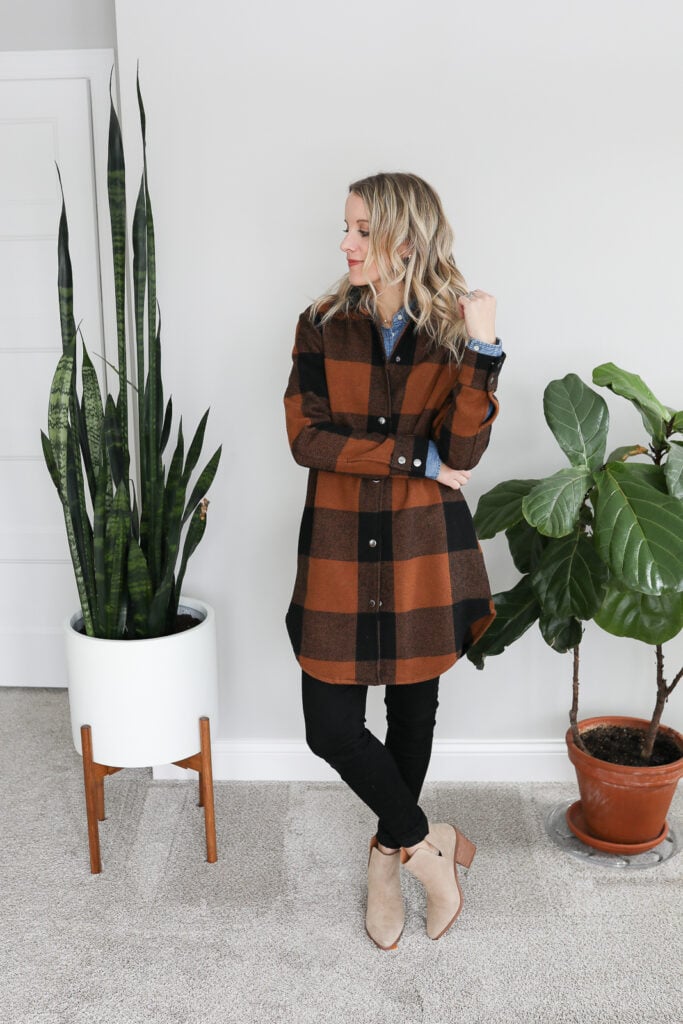 Shop the Outfit: Denim Shirt (Mine is super old- this one is similar)| Pants | Jacket | Boots
Another favorite layered look is this one! This outfit is especially perfect for fall or spring when you don't need a heavier jacket yet.
Be sure to choose a jacket that falls past your denim shirt or tuck in your shirt.
7. Layered Under a Sweater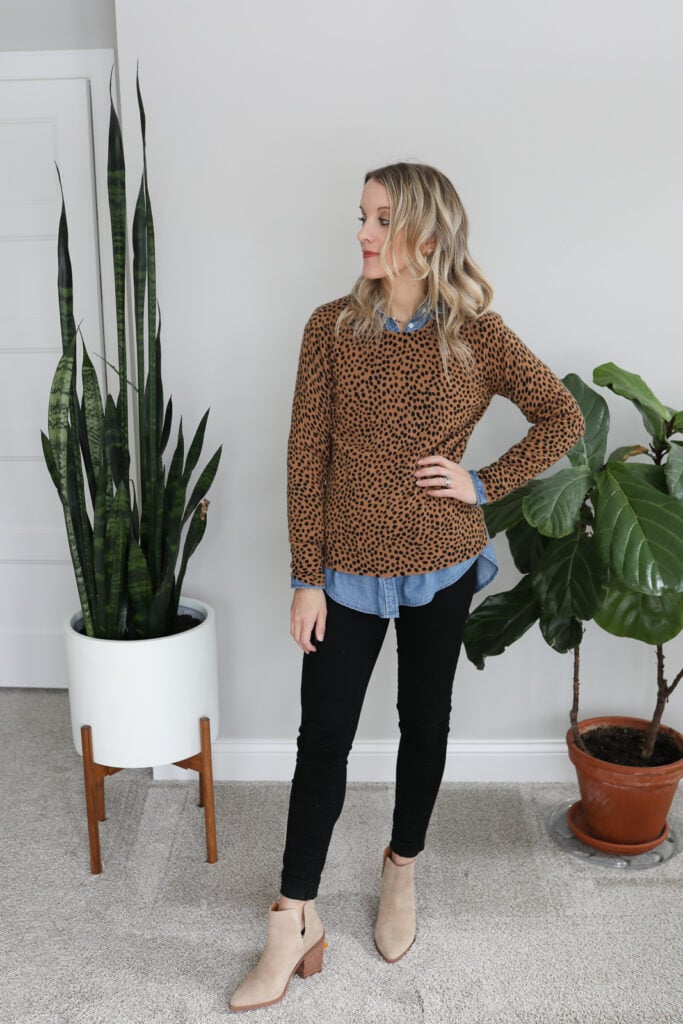 Shop the Outfit: Denim Shirt (Mine sold out – this one is similar) | Pants | Sweater (Mine is sold out Similar Sweater) | Boots
This is one black jeans outfit that you can 100% wear to the office. It's professional yet pretty!
During colder months layer a chambray top under a sweater! The best way to pull off this is to have your denim jacket peaking out at the bottom of your sweater and at the sleeves.
The texture of a denim shirt along with the texture of a sweater gives you such a stylish appearance! You can pair this with a more fitted sweater like I have one or a cozy, oversized sweater!
8. Black Jeans + Black Top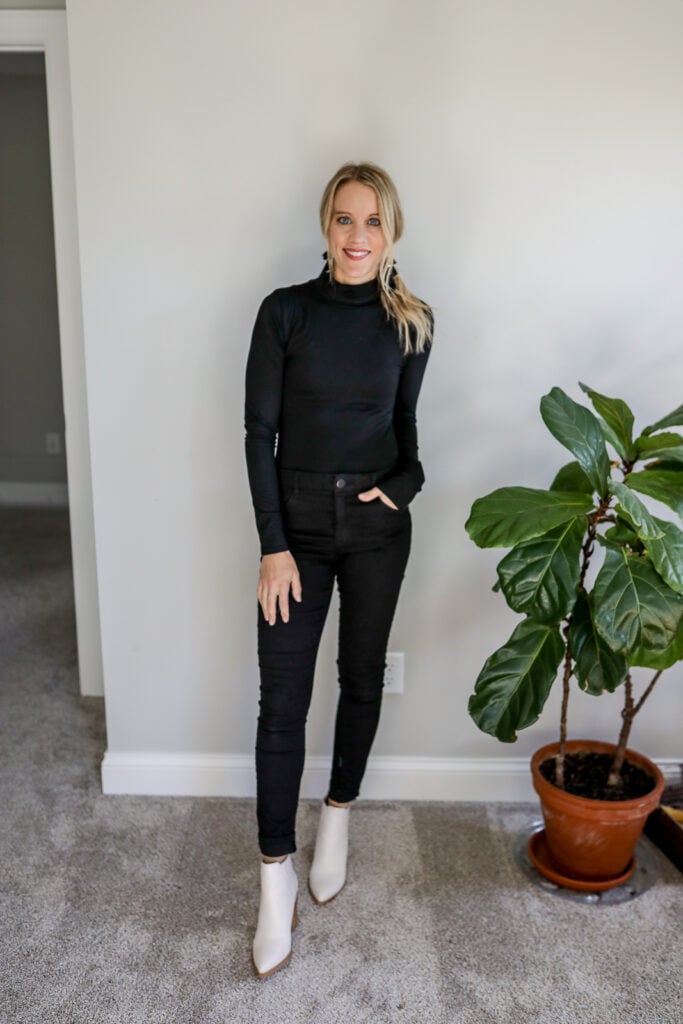 Black Jeans | Bodysuit | Boots (Macys / Nordstrom)
If you want a more monochromatic look , try black on black! In my opinion, black on black is one of the best options you have to try out a new trend!
All black is simple and classic and a great start for adding in a white boot too whether they're a classic ankle boot or more of a tall shaft bootie like mine.
Find more white bootie outfit ideas on this post.
9. Wintery Layered Look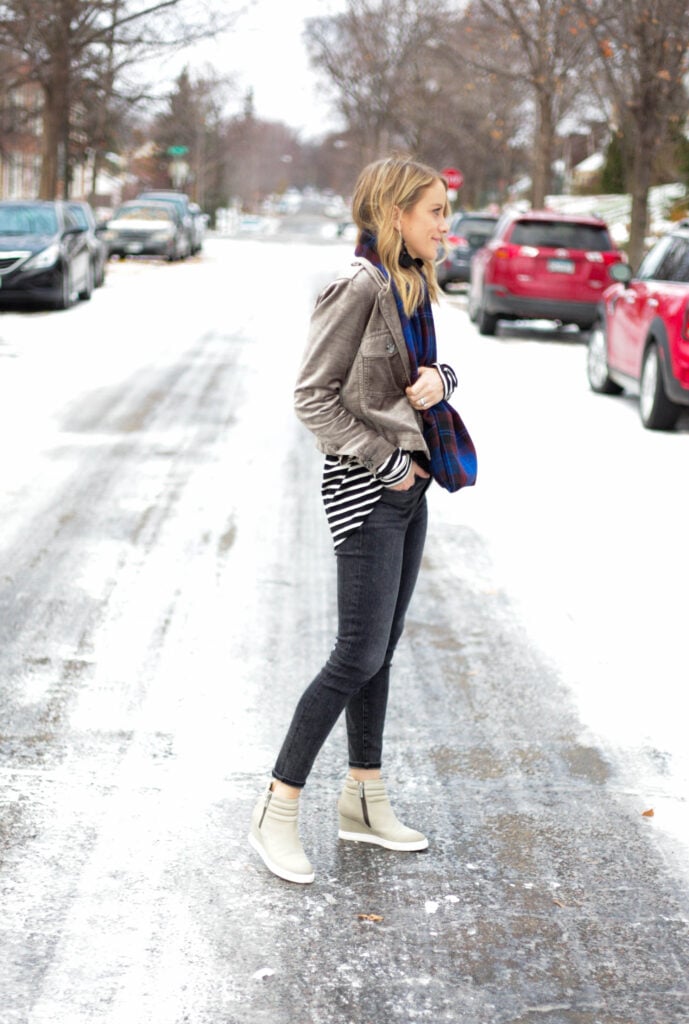 If you're wearing ankle booties in the winter, chances are you're going to want to layer up your look a bit! Having a solid neutral base – darker wash jeans (these are more of a dark grey but you can get the same look with black jeans!), a longer black and white top and grey jacket is a great way to set the tone of your look.
Adding a scarf with a bit of a pop of color gives you that boho feel to it and a bit of life to an otherwise muted palate.
You'll notice that these jeans needed just one tiny cuff to make the perfect length for my booties.
*Check out other ways to wear ankle booties on this post!
10. Red Cardigan and Gold Accents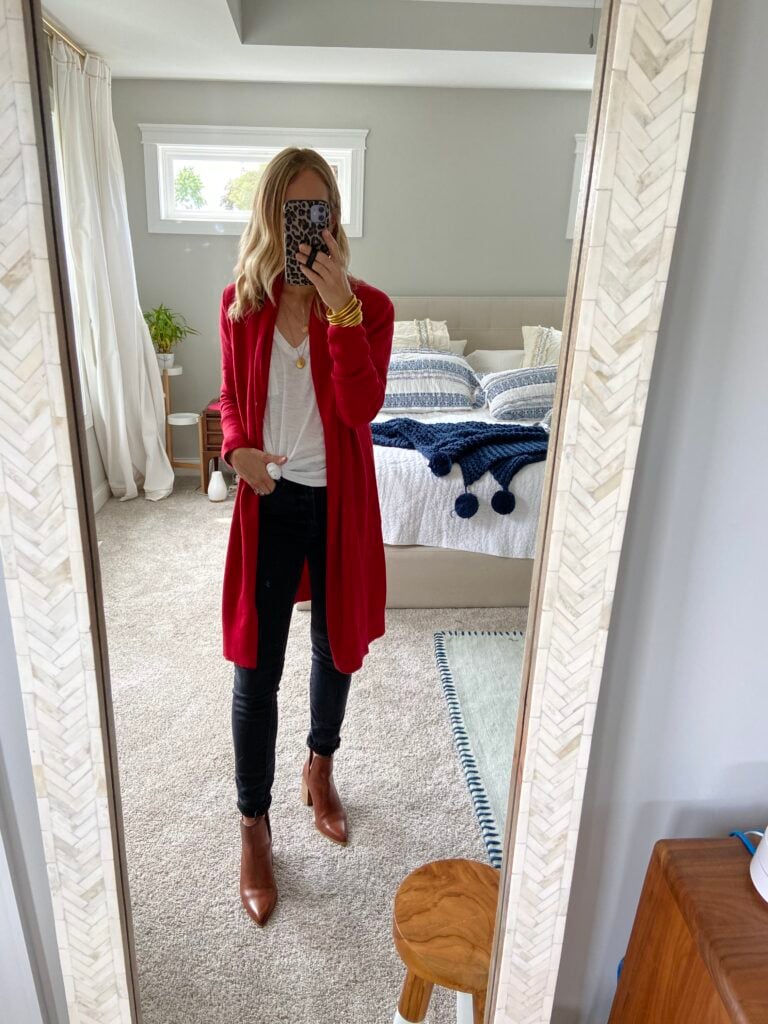 Add some color to your black jeans! Can you mix brown and red? Heck yes! I love the look of brown and red together (this is just my personal preference – you can totally disagree!) and love the look of this outfit.
A knotted white tee gives you a solid base for some simple gold necklaces which pull in the gold bangles. The brown cut out of the boots give them a fun look and the red cardigan is a beautiful completer piece!
*Find 4 easy ways to tuck in a shirt here!
11. Black Jeans and Chambray Top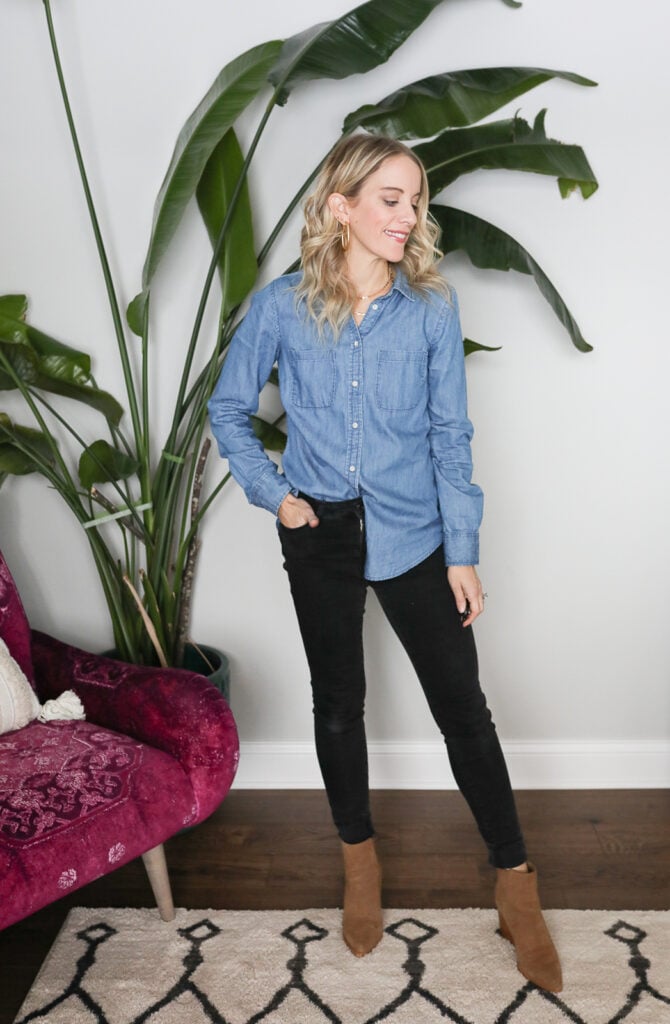 Shop the Outfit:Denim Shirt (Mine is sold out – this one is similar) | Pants | Boots
Black skinny jeans paired with a light denim shirt is easy, timeless and a perfect option. It always looks chic whether you knot your top or tuck it in!
Pair it with a some tan booties, add some bracelets and a chunky necklace and you're good to go!
12. Black Jeans + Denim Top + Cardigan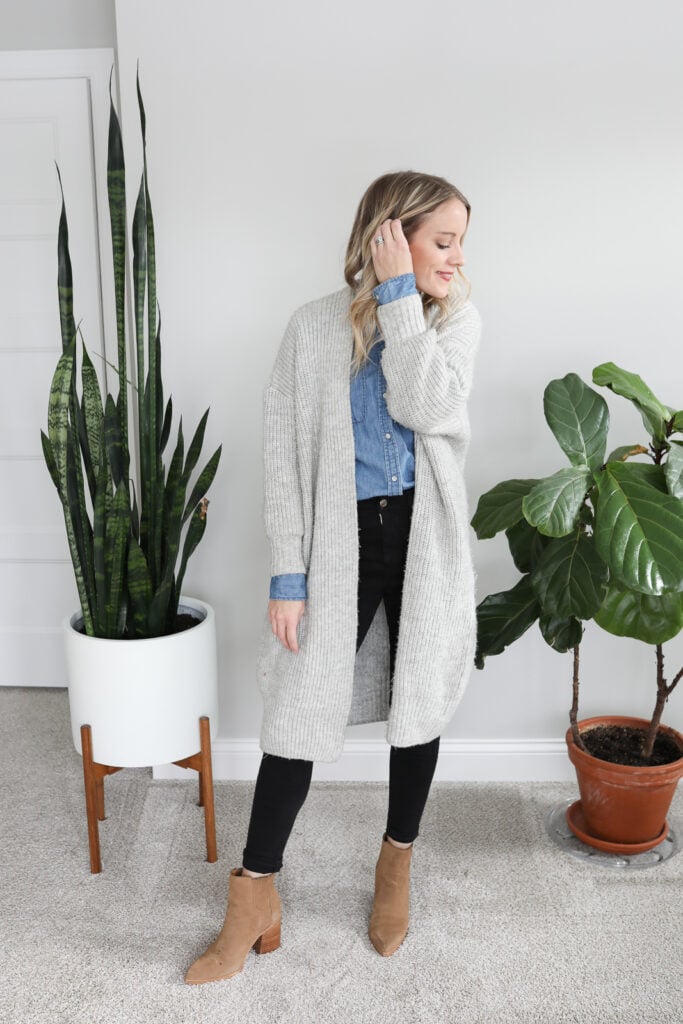 Shop the Outfit: Denim Shirt (Mine is super old – this one is similar) | Pants | Cardigan (Old, similar here) | Boots
Colder day? Add a cardigan over the outfit above this one! Just make sure that your cardigan sits lower than your chambray shirt.
Knot or tuck the shirt to give your waist some definition, throw on a pair of heeled brown boots and away you go!
13. Black Jeans and White Cardigan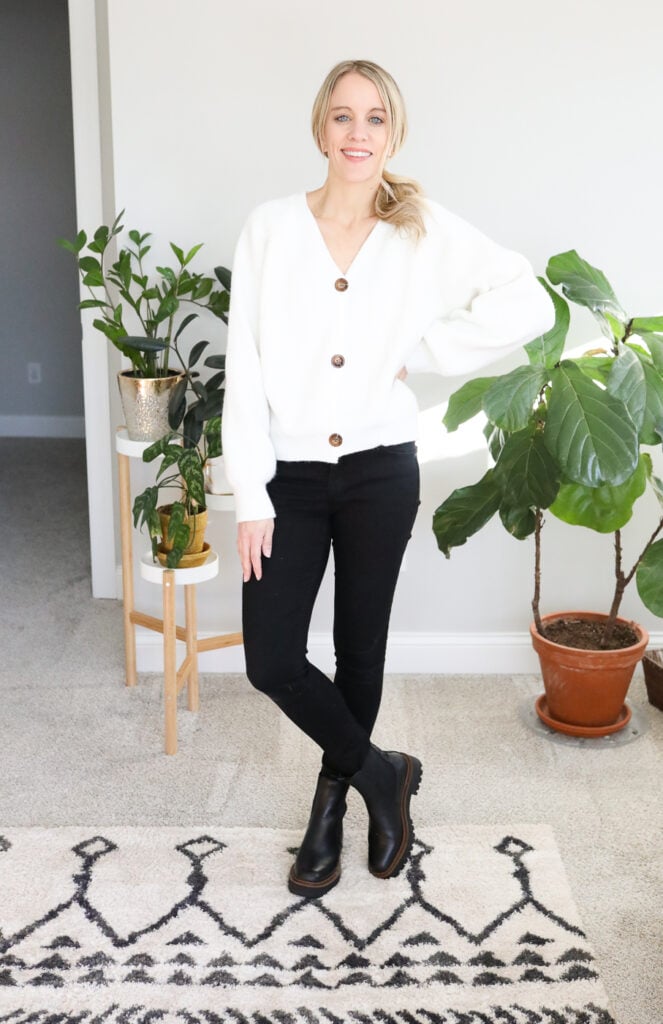 Shop this outfit: Cardigan Sweater | Pants | Boots
Love Chelsea boots? Me too! One of the simplest and most classic way to wear your black leather Chelsea boots is with black jeans! This white button down cardigan goes with just about everything and I love it paired with a pair of skinny jeans and a pair of boots!
Depending on your own personal style, you can fold your jeans up so they hit right at the top of the boots or add a pair of cozy socks and pull them up over your pants!
Find other Chelsea Boot outfit ideas here!
14. Black Skinny Jeans and a Blazer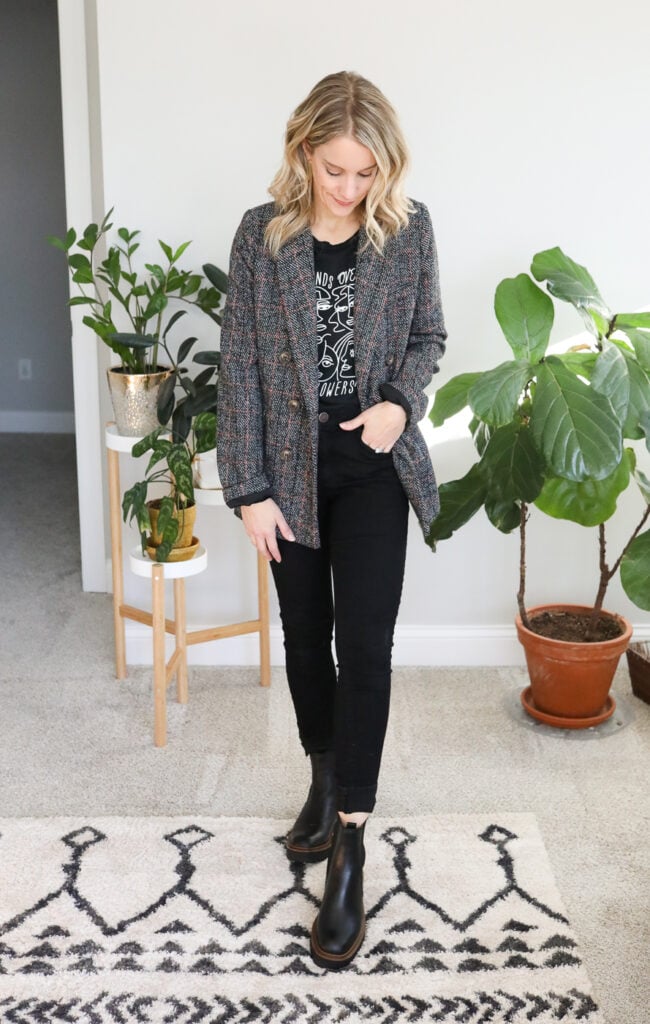 Shop this outfit: Blazer (sold out, similar here and here) | Graphic Tee from Dazey LA | Pants | Boots
Black jeans and blazers go together like peanut butter and jelly! Blazers are a modern look that's back in full force.
Pair it with a graphic tee like me for date night or drinks with girlfriends or swap the graphic tee for a simple white t-shirt for a cool casual look.
Need to go to the office and can't wear jeans? Simply swap the jeans for work pants and away you go!
15. Black Jeans + Hooded Sweater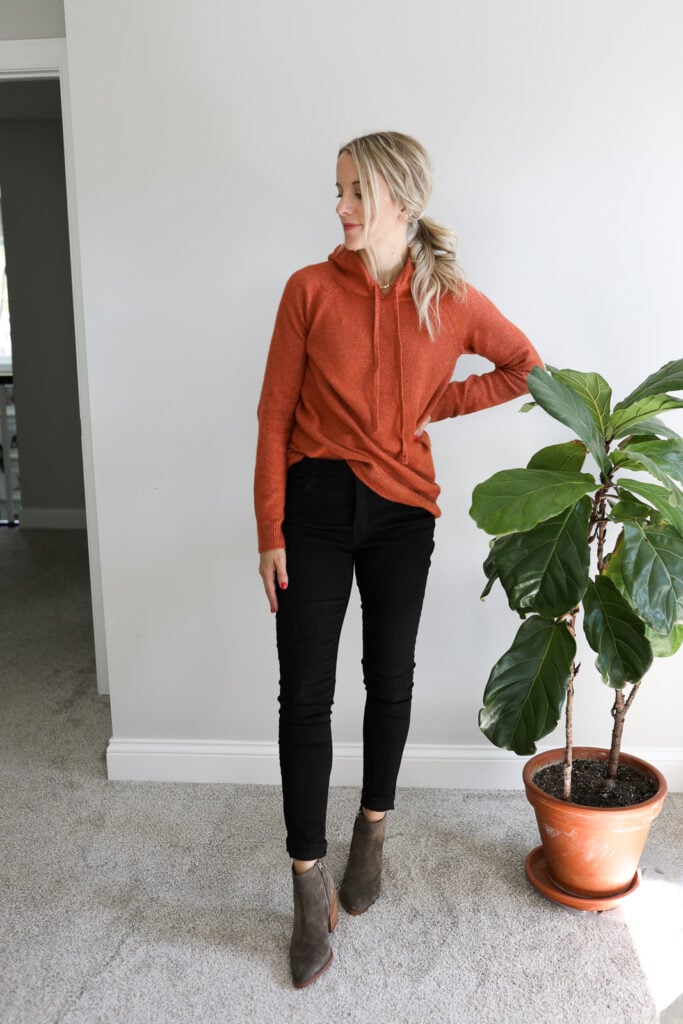 Shop the Look: Sweater | Jeans | Boots
Don't be afraid to add some color to your black jeans! This fun hooded sweater is the perfect way to step out in some color.
Pair it with a muted color bootie and you're ready for the day!
16. Black Jeans + Hooded Sweater + Denim Jacket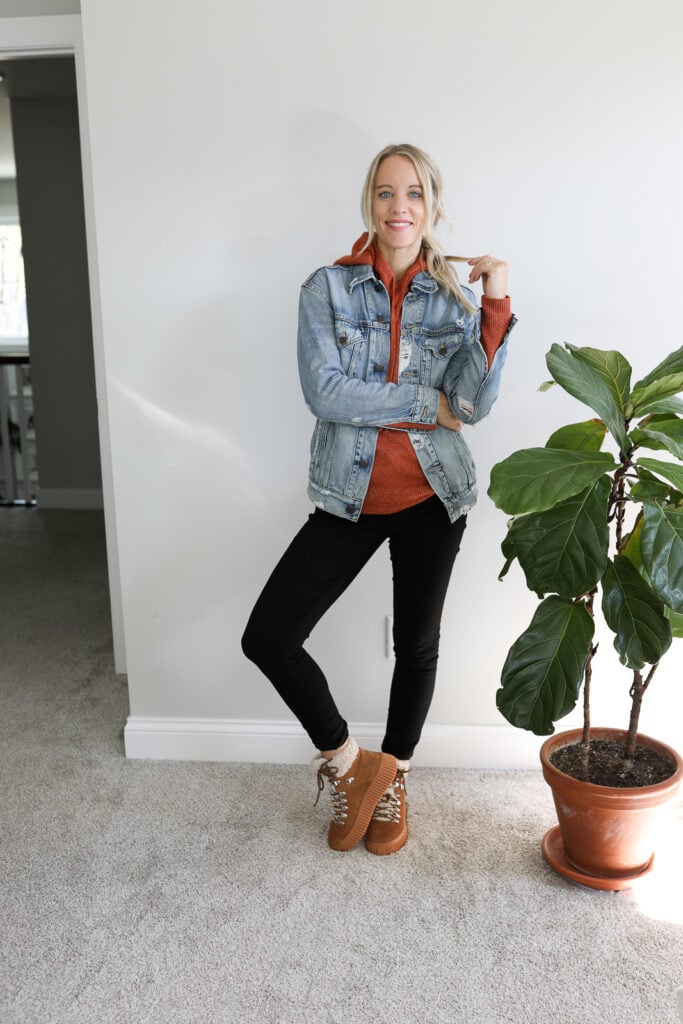 Shop the Look: Jacket | Sweater | Jeans | Boots
Another simple black skinny jeans outfit is this one! The key to this one is ensuring that the bottom layer is very thin. You don't want a thick sweatshirt or sweater underneath your denim jacket or that will make you look much heavier than you are!
I absolutely love this hooded sweater that I found on Amazon. It's soft, comes in a ton of different colors and is great for layering! Add in boots with a bit of sherpa detailing and your ready for fall or winter!
17. Leopard Print Jacket + Black Jeans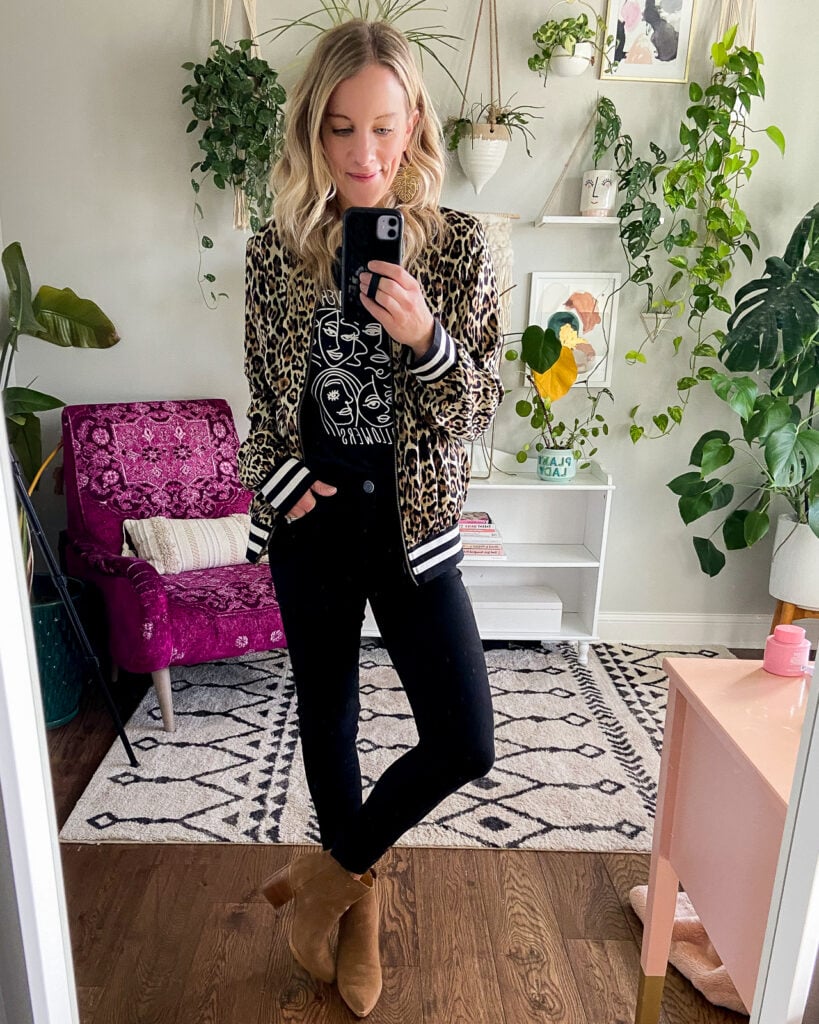 Shop this outfit: Jacket | Graphic Tee from Dazey LA | Pants | Boots
Yes, you can wear leopard print and still look chic! This outfit is proof! Keep it chic with a black t-shirt (a graphic tee with just one other color works great!) and brown booties.
Want more outfit ideas? Check out one of these!