Welcome to week 2 of our 6 week declutter and organizing challenge! This week we're going to be tackling how to organize your clothes – arguably one of the most involved and daunting weeks of our challenge.
New here? Check out the intro to the #6bagsfor6weeks challenge and last week's how to declutter and organize your kitchen.
Ok let's talk about your clothes. First of all, I don't want you to freak out! We're going to go through this slowly, day by day and just remember, if it takes you longer to complete this week it's ok! You can always pick it up later on during the challenge if you fly through other areas of your home.
Another thing to remember is you can make money off the clothes you're getting rid of! I have this post with 11 different places to sell you clothes for cash along with tips for success! This might help motivate you to keep going when you hit a bump in the road.
Ok let's talk specifics on how to declutter, organize and purge your clothes.
How to Organize (+ Purge) Your Clothes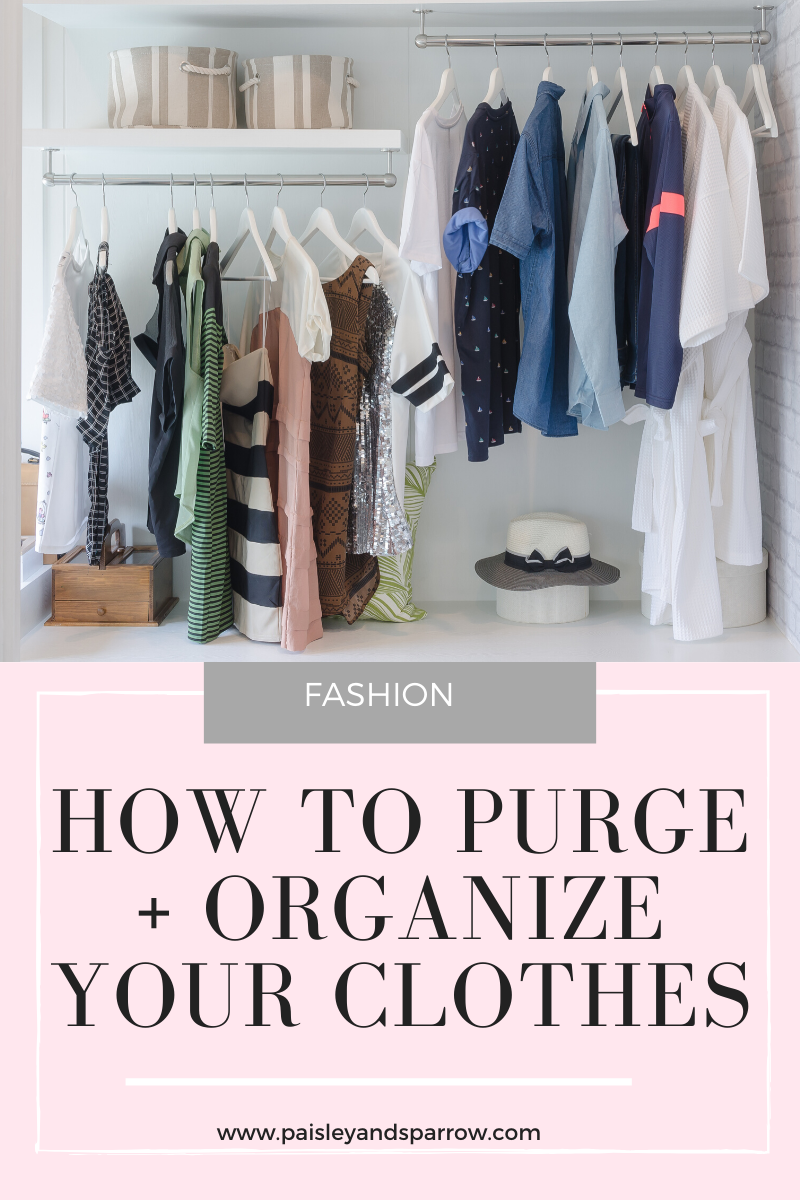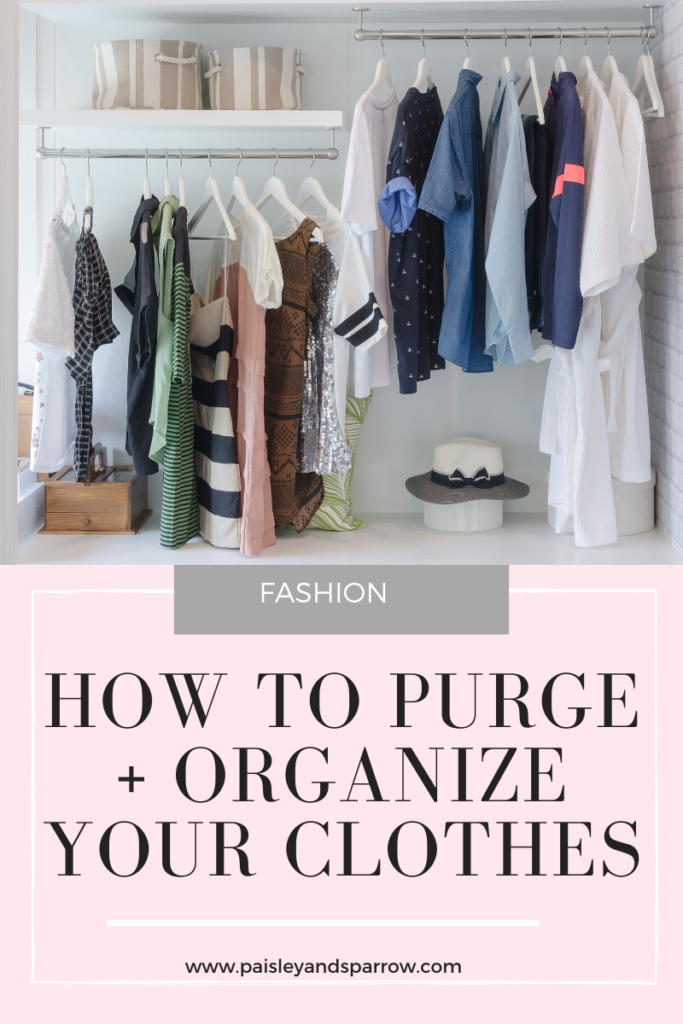 *this post may contain affiliate links which means I may earn a small commission on something you purchase at no additional cost to you. Thank you for helping me support my family through Paisley + Sparrow!
1. Make a pile with all your items
Take everything from the category you're working on out of your closet, drawers, etc. and put them on your bed (or floor).
So walk through the first day. For day 1 we're working on our pants. You're going to take all of your pants and shorts out and create a pile of them all.
2. Go through each item
One by one, go through each item. Try on every single item and ask yourself these questions:
When was the last time I wore it?
-If it was over 6 months ago seriously consider why you're keeping it (unless, of course, it's a seasonal item).
Do I feel good in it?
-If yes, keep it. If no, get rid of it.
Does it fit well?
-If no, get rid of it OR immediately bring it in to the tailer to get altered.
Can I wear it to more than one place?
-If no, why are you keeping it? Maybe getting rid of that sequin dress (I'm talking to myself now…) would open up space for a new dress that could be worn more often!
A few things to note when you're doing this step. If something is too small or too big and you've been keeping them because your weight fluctuates, ask yourself if that's a good thing to do. I personally kept a stack of jeans that were too big while we were still having children so I could wear them in early pregnancy as well as postpartum. Now that we're done having children I've donated all of those pants.
If you have clothes that are too small that you hope to fit into again, is it realistic that this will happen? Is it just one size or is it 5 sizes smaller? And better question is would you still like those clothes when you get down to that size? If you're holding on to things you used to wear 10 years ago when you were a smaller size, you may not actually like that style if you got down to that size again! If you're on a weight loss journey it may be good incentive to buy new clothes again when you drop sizes!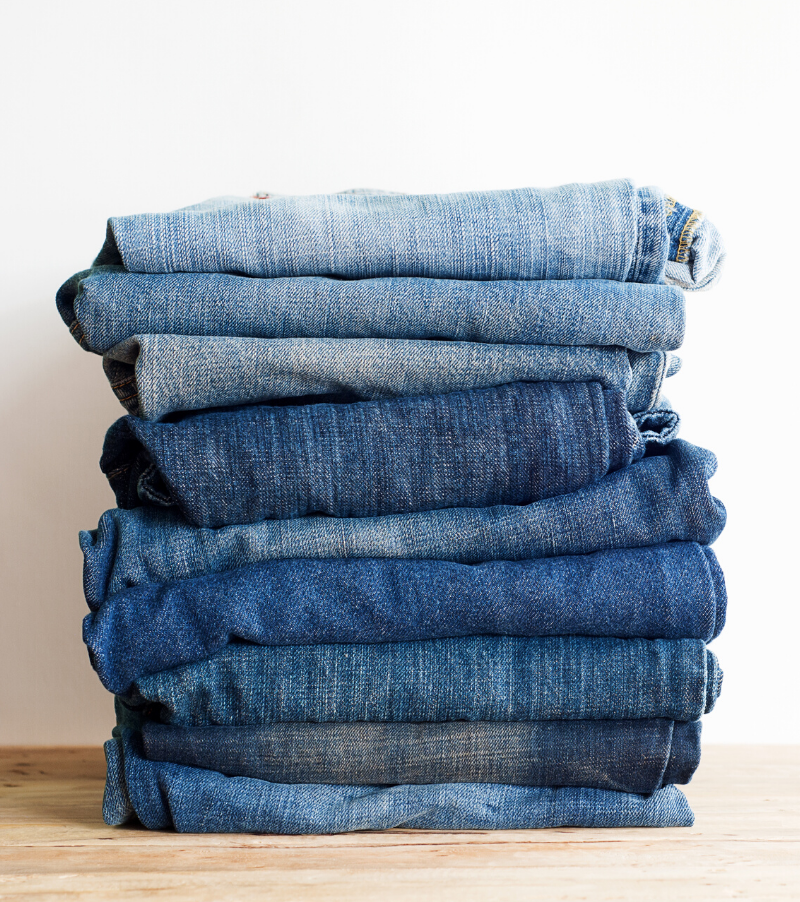 3. Put things into 4 piles
Keep
Donate/Sell
Fix/alter
Throw away
If you're keeping the clothes, great! We'll get to organizing them in a minute.
If you're donating or selling them, set a goal to them posted on a selling app. If they haven't sold in 4-6 weeks, donate them. In my experience if they don't sell in the first few weeks of being listed, there's a slim chance they'll sell and even if they do you likely won't make much from it.
If you're fixing items or altering them, set up an appointment at a tailor right away. It's too easy to create a pile of clothes that need to be fixed and never actually bring them in to get them altered. Put an alert in your phone for a cut off date. If they haven't been brought in by then, off they go to a donation center!
Throw away. I try to not throw away clothes unless they're severely stained or in bad shape. You could always use old t-shirts for cleaning rags! But there's some things (especially kid clothes) that just can't be salvaged.
4. Put them away
When you get to the point of going through all your items and you're ready to put them away, here's a few pointers.
Organize by color.
You might think I'm crazy but my entire closet and dresser is organized by color. It honestly makes it so much easier to find items and get dressed in the morning by doing this! If I know I want to wear green, I just go to the green section in my closet! Then I'm not sifting through all of my clothes trying to find one thing, just the green ones.
Put like with like.
In addition to organizing by color I also organize by style. That means I put all of my tshirts together, all of my cardigans together, all of my skirts together, etc. This just makes it that even easier to find things.
Back to wanting to wear something green. If I know I want to wear a green sweater, I go to the sweater section in my closet. The easier you make it to find clothes, the better your mornings will be. Trust me!! Yes, it will take a bit longer to put everything away since you're not just throwing things into drawers but you'll quickly get into the habit of doing it this way and you'll love how much easier it is to find things!
Be sure to check out this post with all of the places to sell your clothes.
Who's the guest blogger?
This week we're so excited to introduce you to Lyndsay Almeida Lyndsay is an amazing photographer in Florida and shares all things lifestyle on her blog and instagram. Her motto is "Life is Messy. Life is Beautiful.". She's a rockstar thrifter, has fantastic style and shares the good, the bad and the wonderful. Be sure to check out her Instagram and her blog!
Giveaway
Now on to the fun part! This week we're giving away a reed diffuser from Alora Ambiance and a Target gift card!
Alora Ambiance is one of my absolute favorite companies created by 2 sisters. You can read all about their story here but out of all the reed diffusers and candles I've tried in my life, these are by far the most amazing! I have no idea how they do it but they've perfected their fragrance to lightly fill a room without ever being overpowering.
How do I win?
Arin and I will both be sharing posts on Instagram today reminding everyone about the focus for this week. When you've completed every area for the week, head to either post and comment "done". You'll also need to follow Branch Basics, Style and Dwell and Lex from Restoring Radiance to be entered to win.(Direct tags to each of these accounts will be on our post!)
You can get a BONUS entry each time you share your progress and tag both @arinsolange and @paisleyandsparrow with the hashtag #6bagsfor6weeks on your stories!
Another way to get a BONUS entry is to tag a friend on our posts to encourage them to get involved!
If you want more organizing tips be sure to continue following along here and on Instagram for the rest of our challenge and check out the posts below for even more organizing tips!
AND be sure to check out Arin's post for some great items to use when organizing your closet!
Entryway Drop Zone Organization
7 Genius Home Organization Hacks
7 Kitchen Pantry Organization Ideas