Looking to finally master a fishtail braid? It's one of the most simple braids to do that looks super complex! how to do a fishtail braid for beginners so I finally shot a tutorial for you!
If you've hung out in my part of the Internet for any length of time, you'll know I love a good fishtail braid. They're super easy to do on yourself (but look complicated) and always help me feel a bit more styled!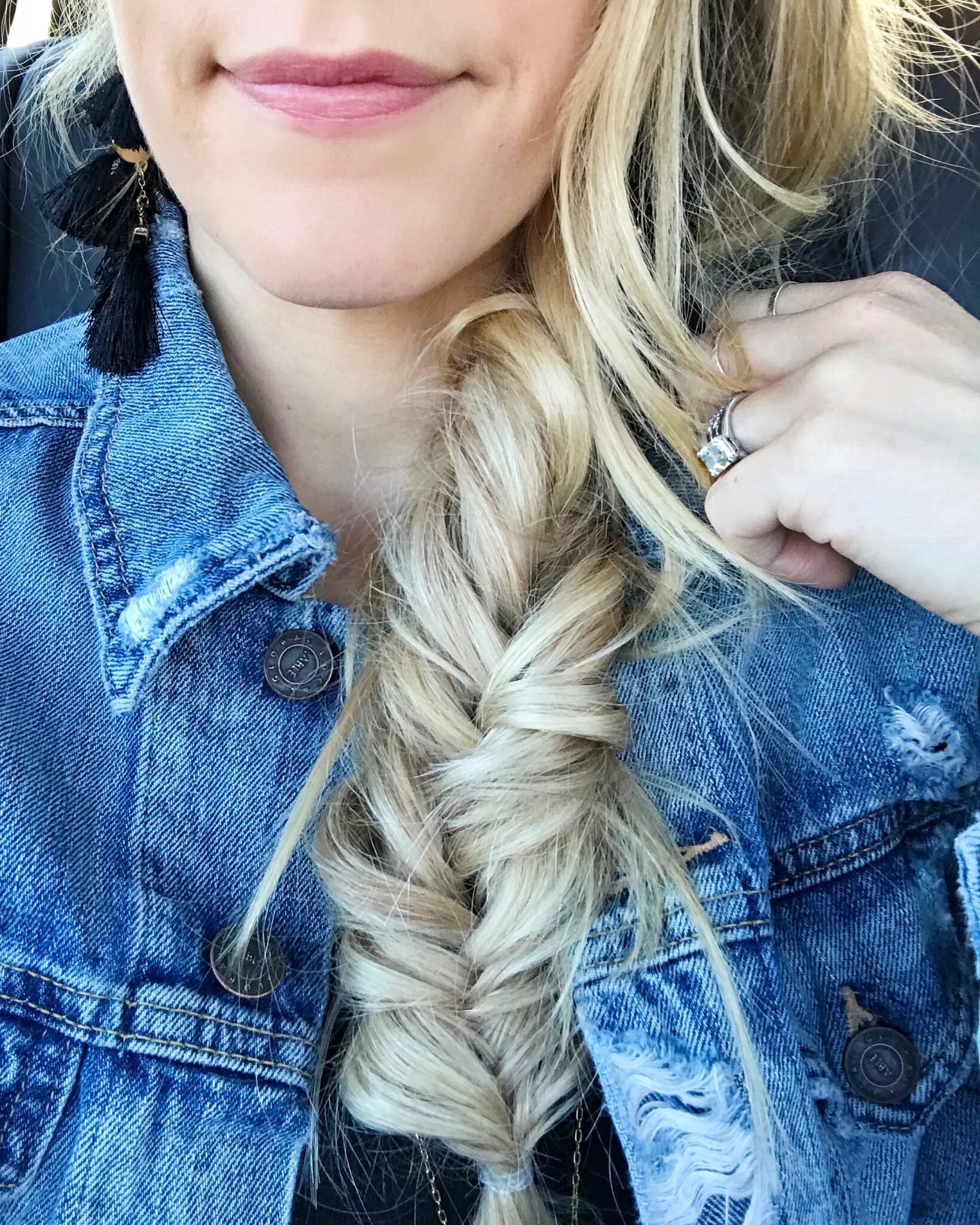 I've been air drying my hair a lot lately to save it from all of the damage that drying and curling my hair causes. This is the perfect hairstyle to do on air dried hair.
It's also perfect for 2nd or 3rd day hair to cover up greasy hair. You can apply some of these dry shampoo tips for this hairstyle (specifically number 5!).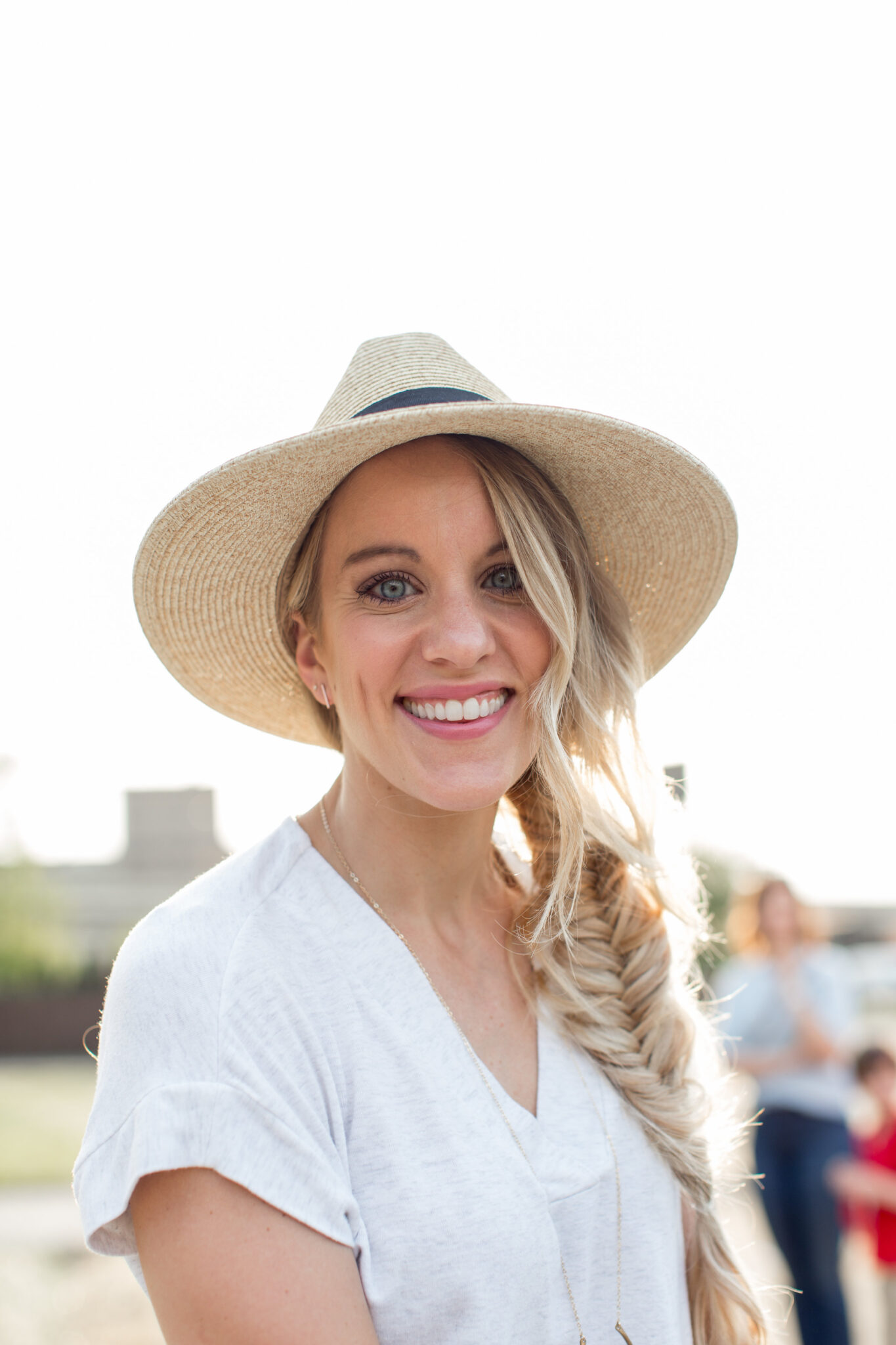 Doing a fishtail braid on yourself takes a little practice but it's totally doable!
Just check out the video below or scroll past for step by step instructions for how to do a fishtail braid and practice, practice, practice!
How to do a fishtail braid for beginners, step-by-step:
1. Separate your hair into 2 equal sections.
I typically always pull my hair to the side for more of side fishtail braid but this can be done in the back too.
Pulled to the side is a little easier as you learn since you can actually see what you're doing rather than trying to do it behind you. If you're new to fishtails start with that!
If you do choose to do it the side just make sure to pull it tight from the beginning. So if you're pulling it over your right shoulder do your best to pull the left side taught!
2. Take one small section from one side and cross it over to the opposite side.
The smaller the chunk, the more intricate the hairstyle will be! It will also take a bit longer. On the flip side, if you take bigger chunks you'll be done faster but will look more braid like. I love the look of smaller sections but don't always have the time for it!
3. Do the same thing on the other side!
Take a small chunk of hair from the other side and cross it over to the first side. One thing to note, try to take the same size of chunk from top to bottom so it has a similar look.
4. Keep going!
Repeat steps 2 and 3 all the way down your hair, pulling it tight as you go.
5. Loosen it up.
Before you put your hair tie in, loosen it up! Start from the bottom and start tugging on the outside of each loop. Don't pull out the entire section of hair, just the outer side. This will help keep your braid in tact but make it look more full.
For a wild boho look, like I typically do, loosen it up a TON. Keep going and going and going! 😉
For a cleaner look, gently pull the outside of the braid to "thicken" it up. Just remember, to take your time with loosen in it up because you can't tighten it up after you loosen it! 🙂
6. Add your hair tie.
I really like these clear hair ties so they don't detract from the braid. You can also wrap around a little bit of your hair around the elastic to cover it. Either tuck it under the elastic or secure with a bobby pin.
And you're done!
I hope this simple how to do a fishtail braid for beginners tutorial was easy to understand so you can do your own fishtail braids! Let me know what other tutorials you want and as always, thanks for reading!
Check out my Barefoot Blonde Hair Extension review here!