Looking for a bubble ponytail tutorial? You've come to the right spot! I've loved doing bubble ponytails on my own hair for years (both with and without my extensions) and now get to do them on my daughter's hair!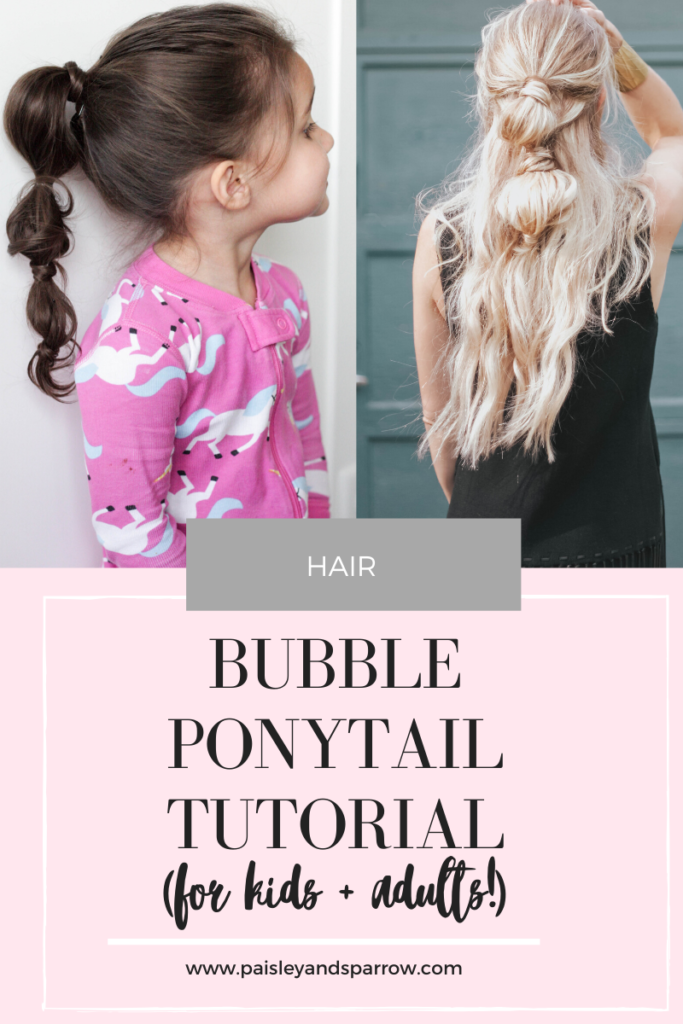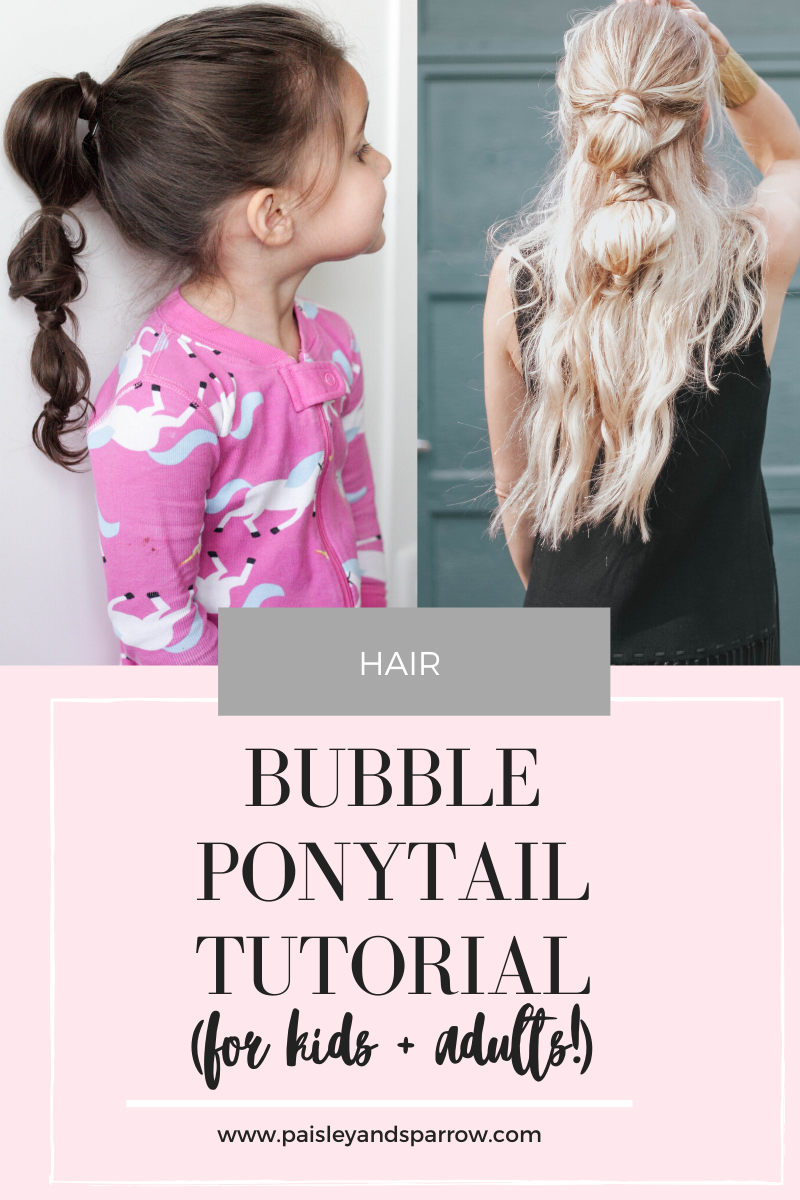 Today I'm going to walk you through a step by step bubble ponytail tutorial. I first found this ponytail through one of my absolute favorite hair bloggers – Amber Fillerup of Barefoot Blonde and loved it!
The first time I did it, I was heading to my 10 year old niece's basketball game so I decided even if it looked crazy I would be surrounded by 10 year old's who maybe wouldn't know the difference. 😉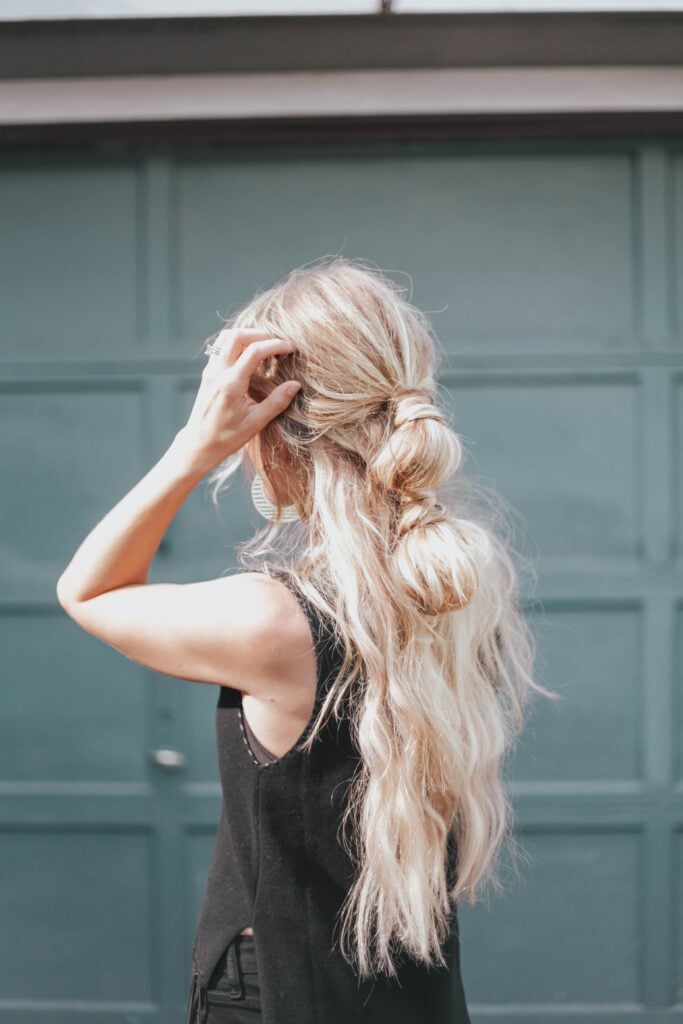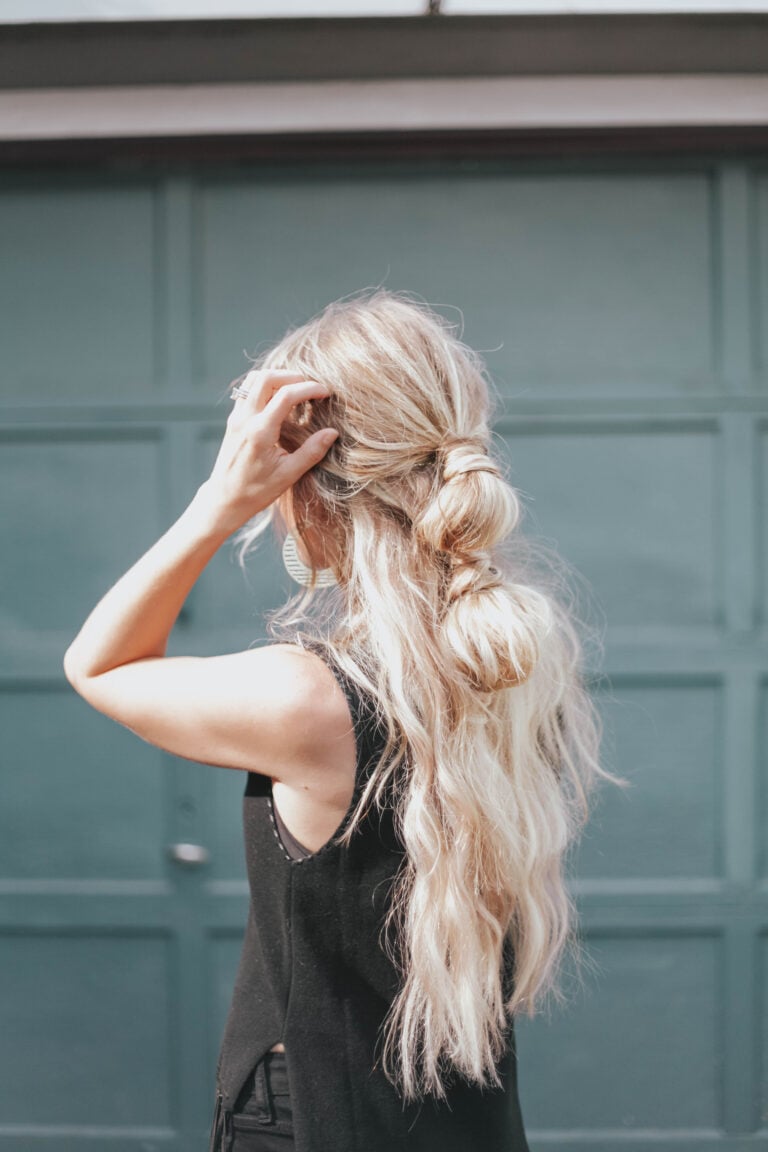 I was surprised when a few of the mom's complimented on me on my cute hair! Winning!! (Scroll to the bottom for that one!)
Since then I've done tons of different variations including a simple half up bubble ponytail tutorial. This simple hairstyle will create endless options for you!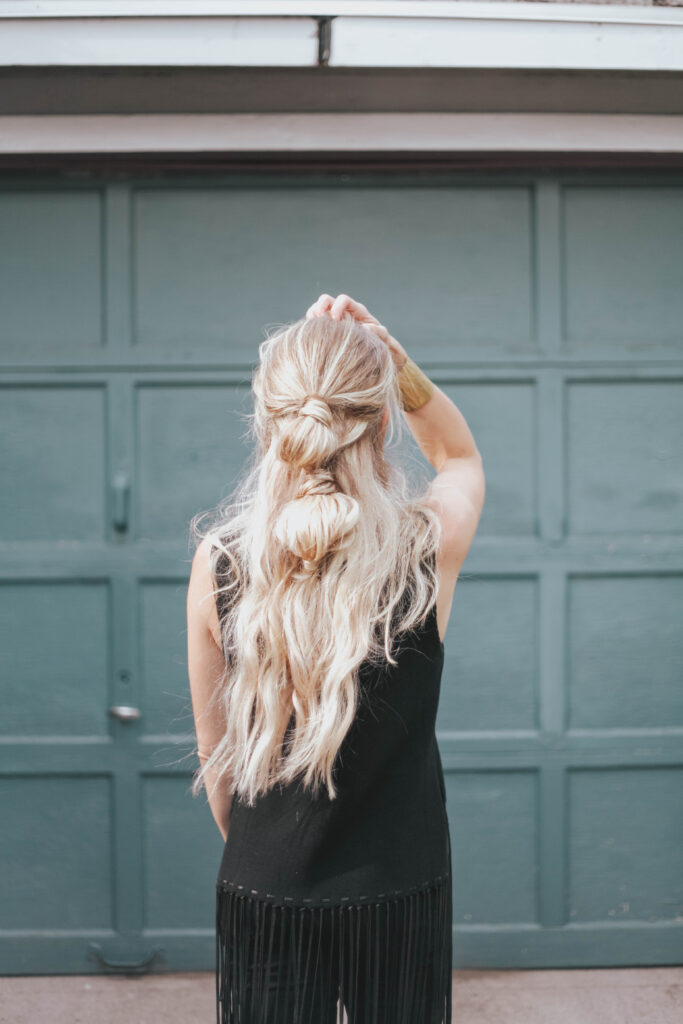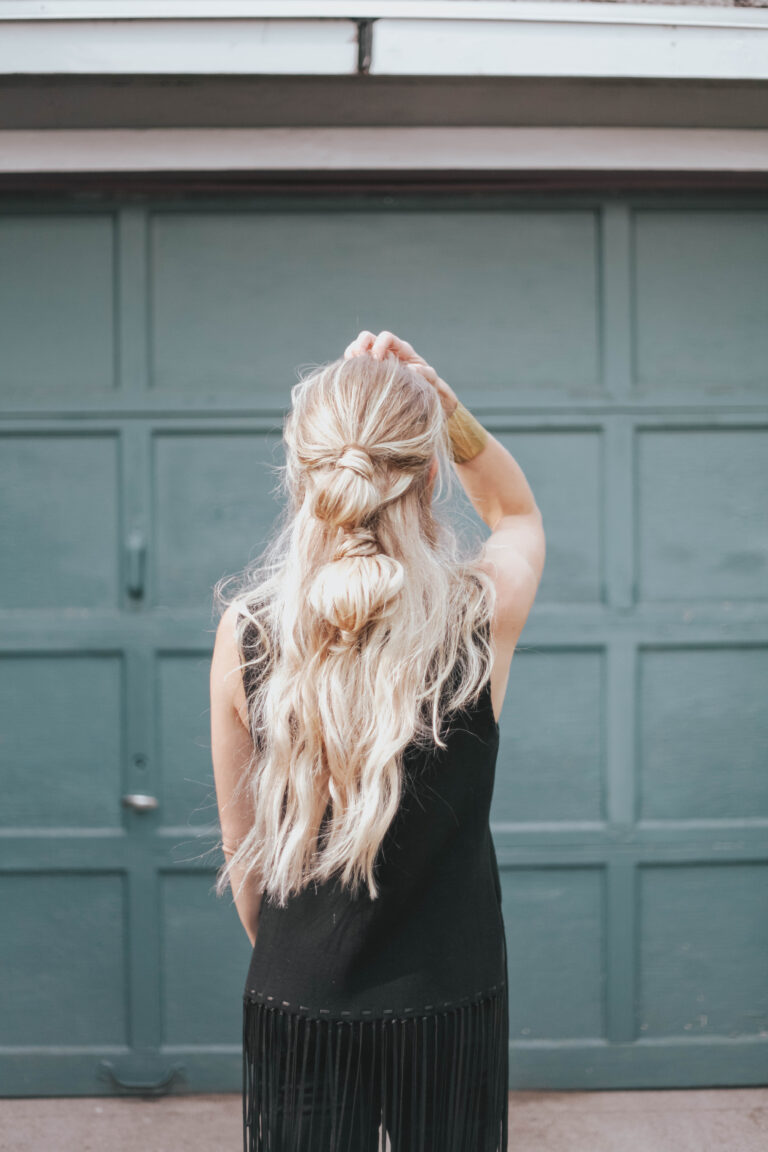 This is legitimately one of the easiest hairstyles to do. I've literally put it up in 5 minutes while running around the house getting Penelope in her carseat and Roy's shoes and jacket on, right before I've left on a date night and while P finished up breakfast!
Check out the full tutorial, I hope you try it too!
Bubble Ponytail Tutorial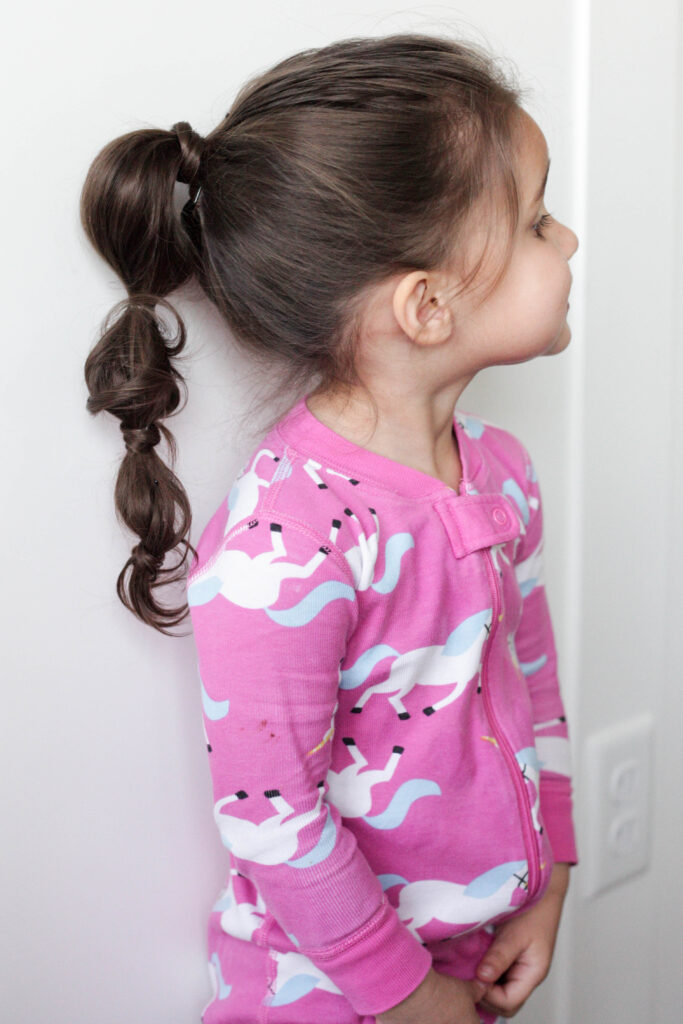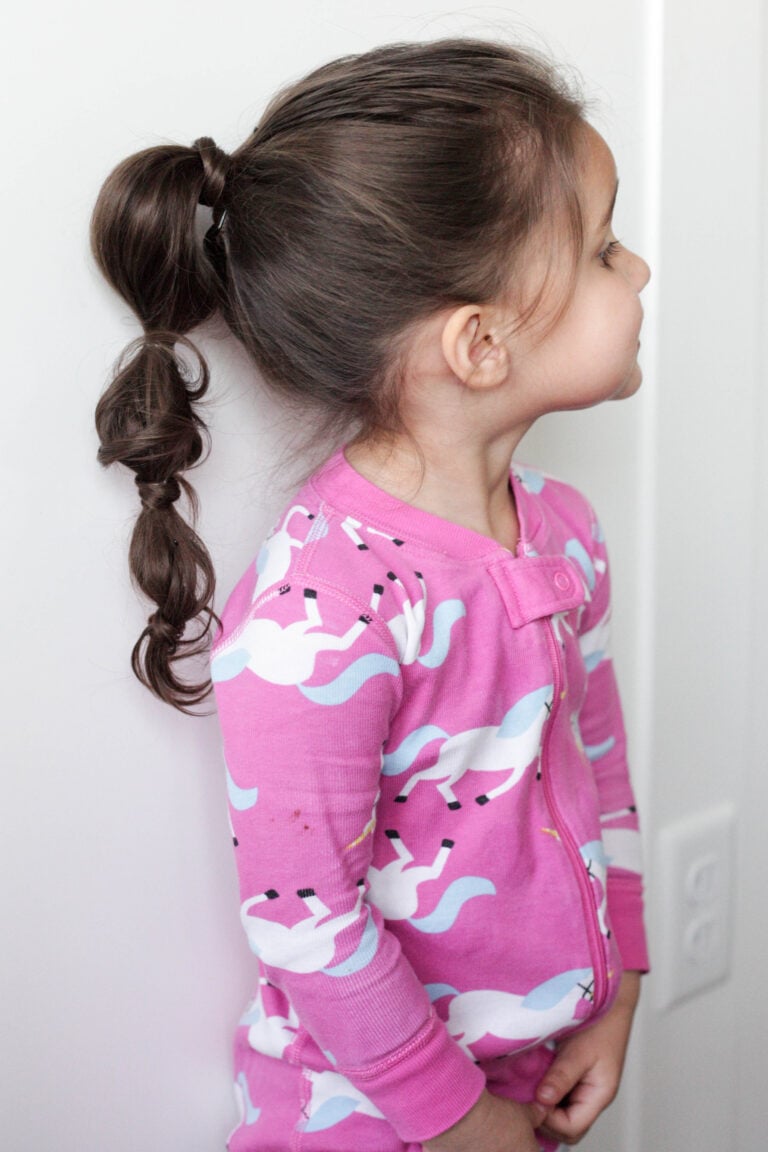 Now that Penelope is old enough to sit for a few minutes, I've tried to do some fun hairstyles on her hair.
Since she's only 2 I don't get too crazy on her hair and it's far from perfect but it stayed in for most of the day – even through a nap!
Things You Need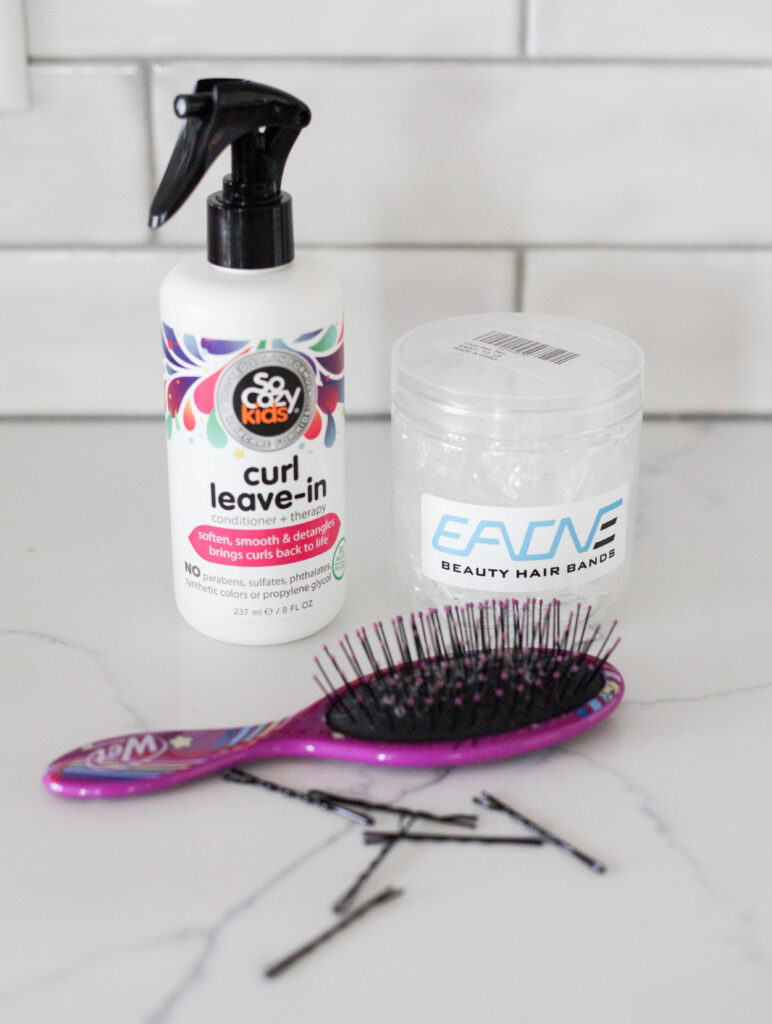 a brush
detangle spray (more necessary for kids than grown ups)
bobby pins
Here's how to do it.
1. Brush out the hair.
I know, this kinda seems like a no brainer but it's worth mentioning. If you start with tangled hair it'll make the ponytail look funny and it make it so hard to work with.
I love this detangle spray from Amazon! It's meant for curly hair (which P doesn't really have) but it works so well. Spray it on, brush it out and step 1 is done.
2. Put the hair in a ponytail.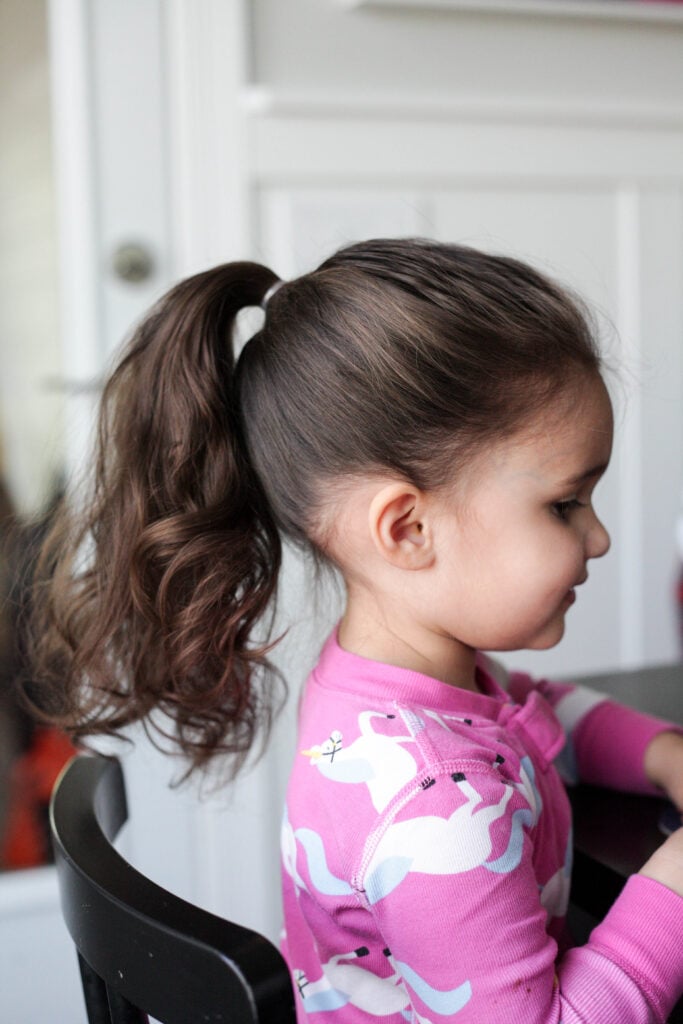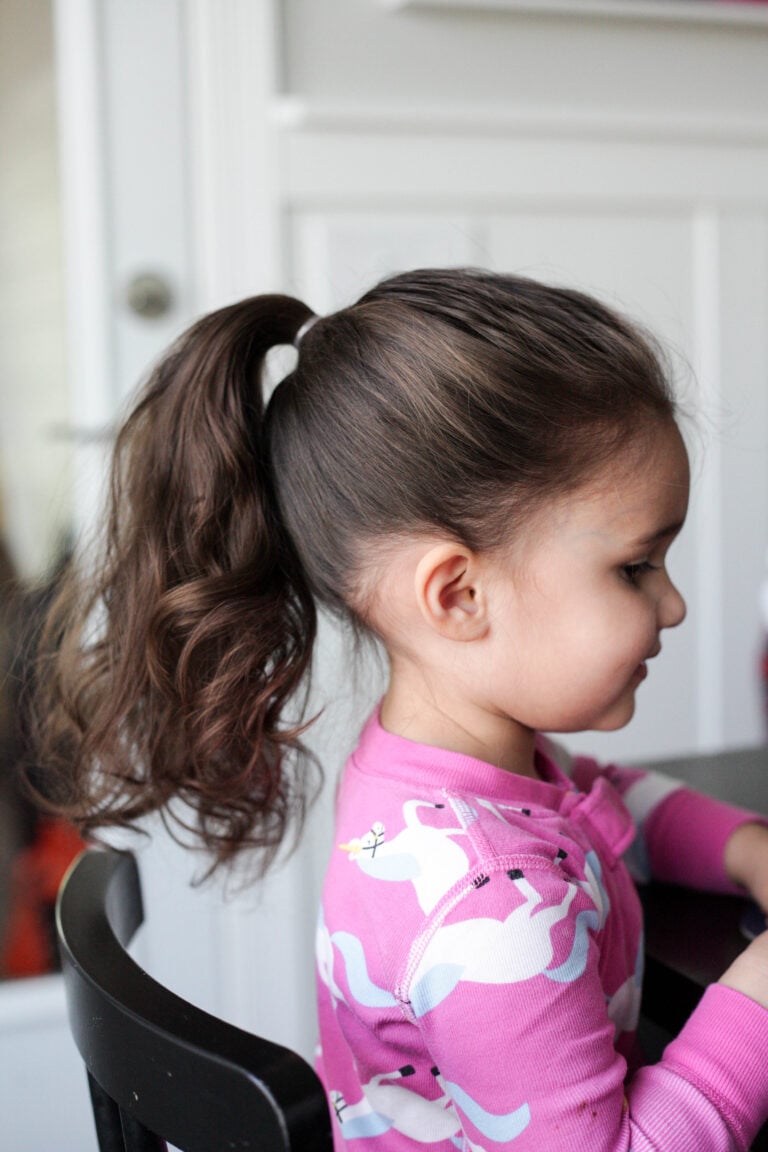 Obviously there are a ton of varieties of this ponytail but for the most basic and beginner style, this is the easiest way to do it. When you get more advanced you can add in 2 ponytails or do a "french" bubble ponytail.
3. Wrap hair tie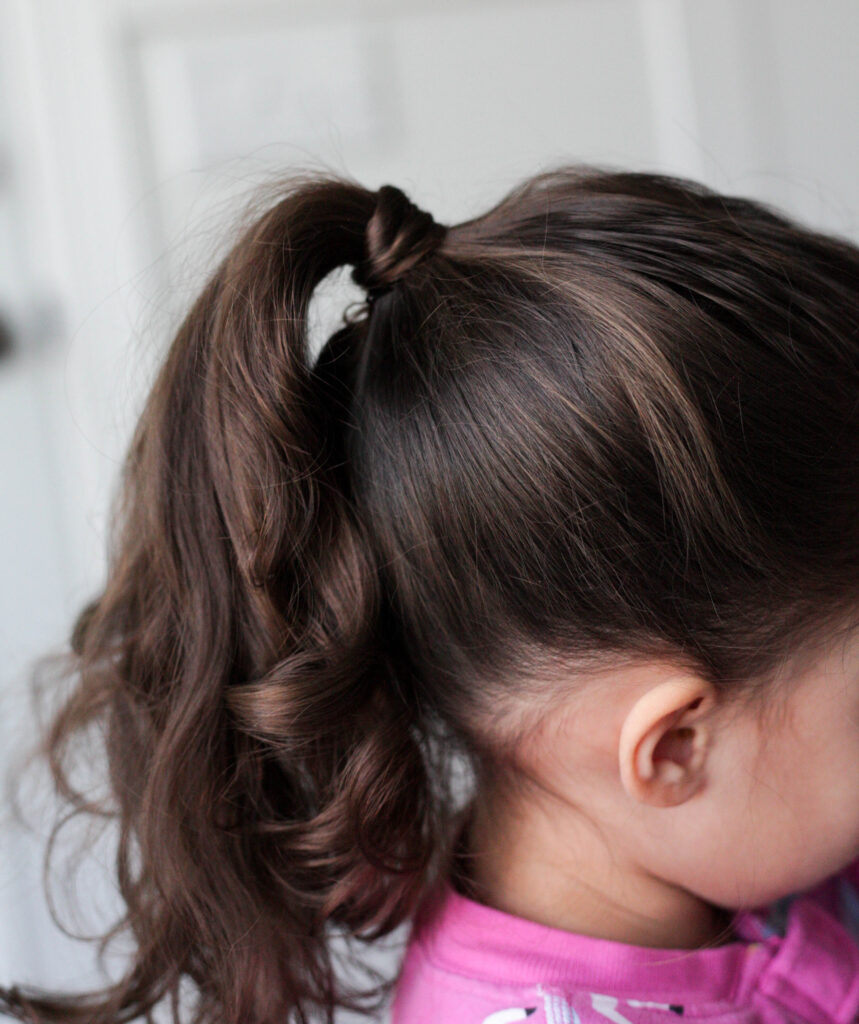 This part is totally optional! If you do it, simply take a small chunk of hair from underneath your ponytail. Wrap it around your hair tie until there is a small tail left underneath the ponytail.
Using a bobby pin, pin the tail under the base of the ponytail. Easy peasy!
2. Tie another ponytail slightly below the first.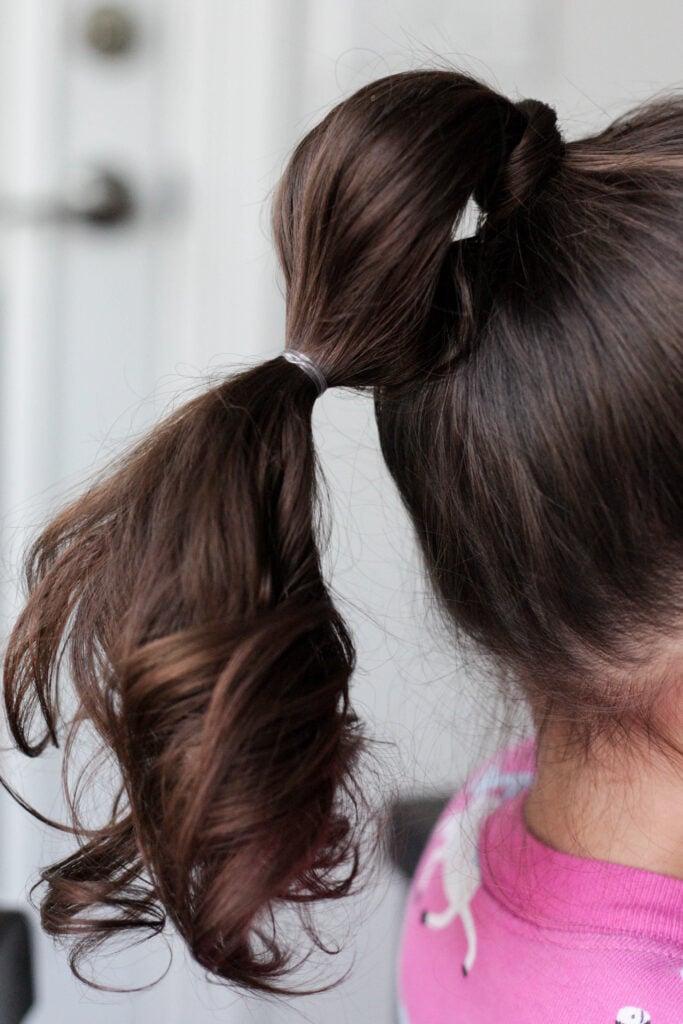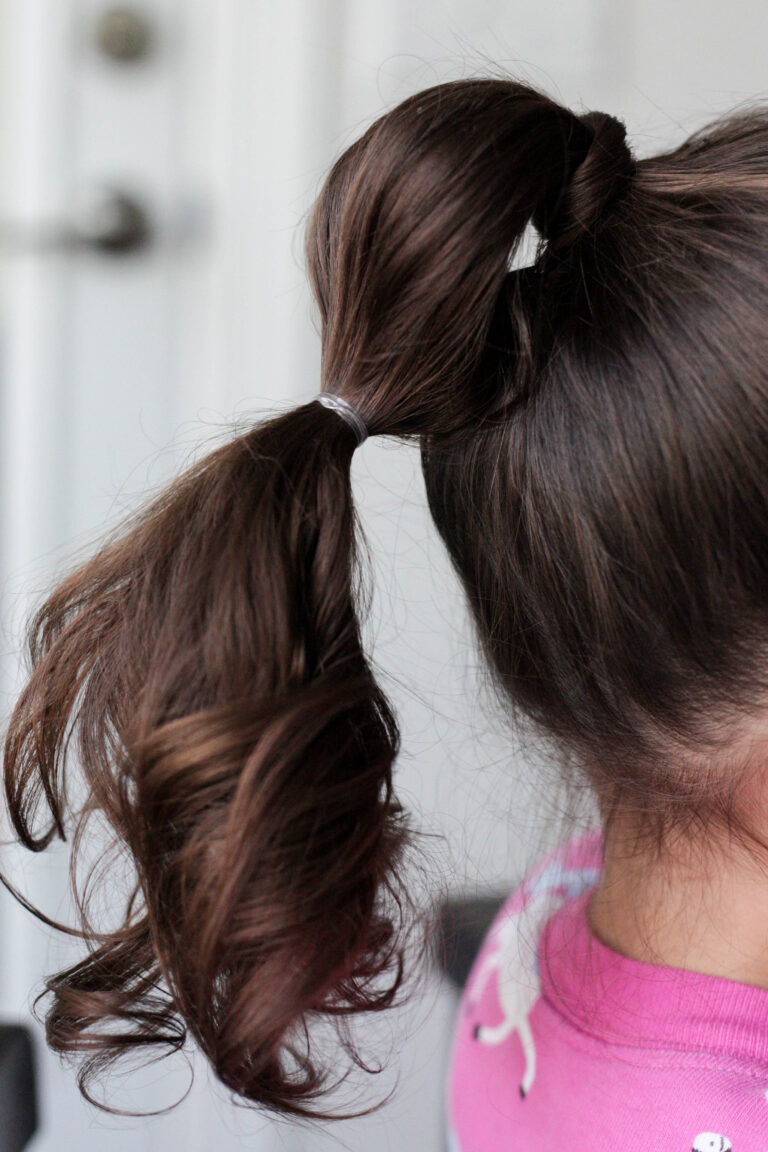 You can use make this as big or as little of a gap as you want. This will depend on how much hair you have and how
3. Wrap hair around hair tie.
Again, a totally optional step. You can either tuck the hair inside the hair tie itself or use a bobby pin at this point.
4. Repeat the process until you're all done!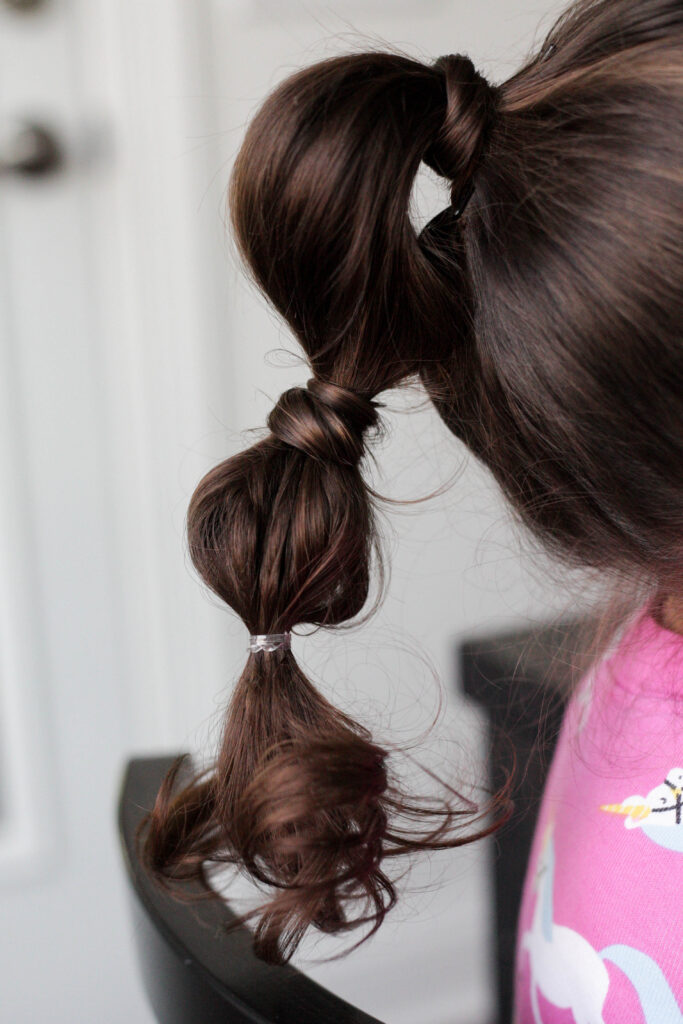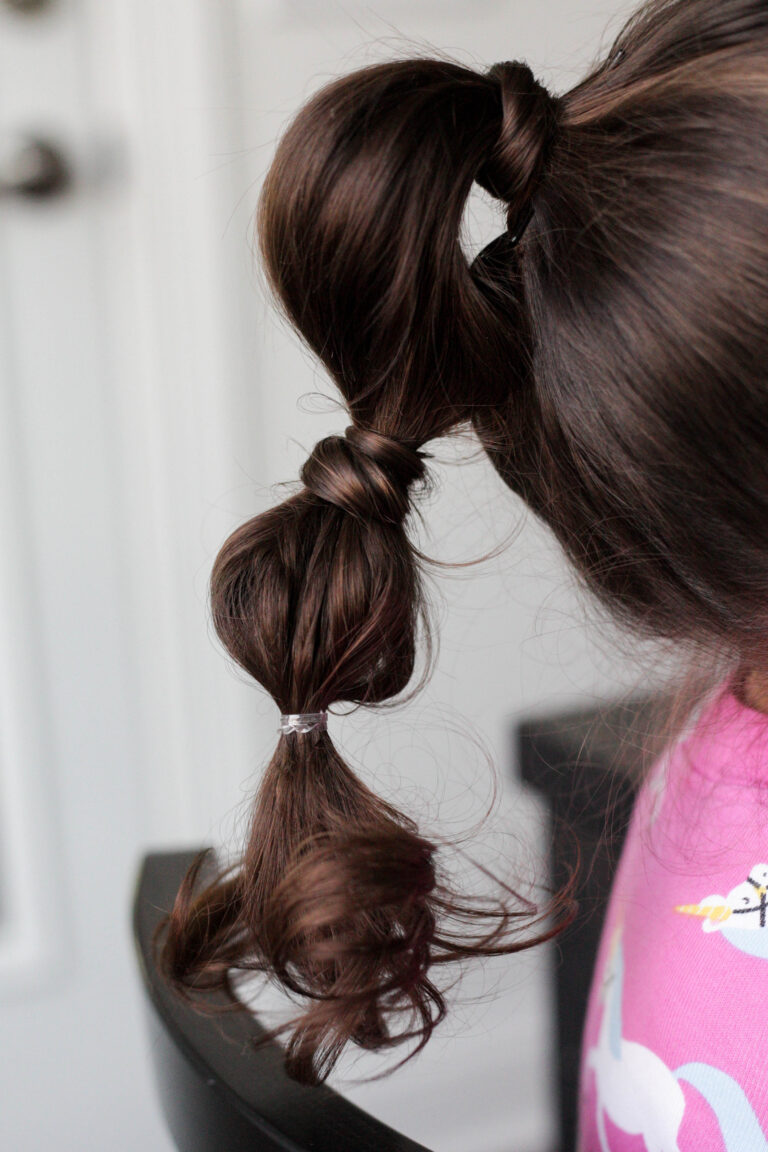 For both me and Penelope I create 3 "bubbles". She absolutely loved this hairstyle and even more loved that it was super quick!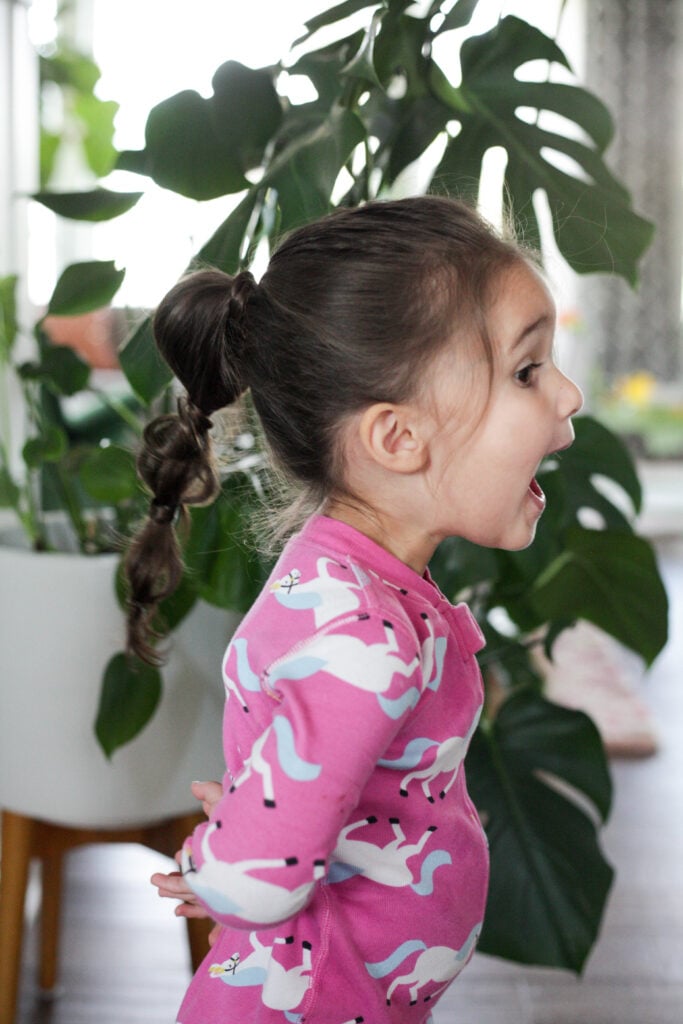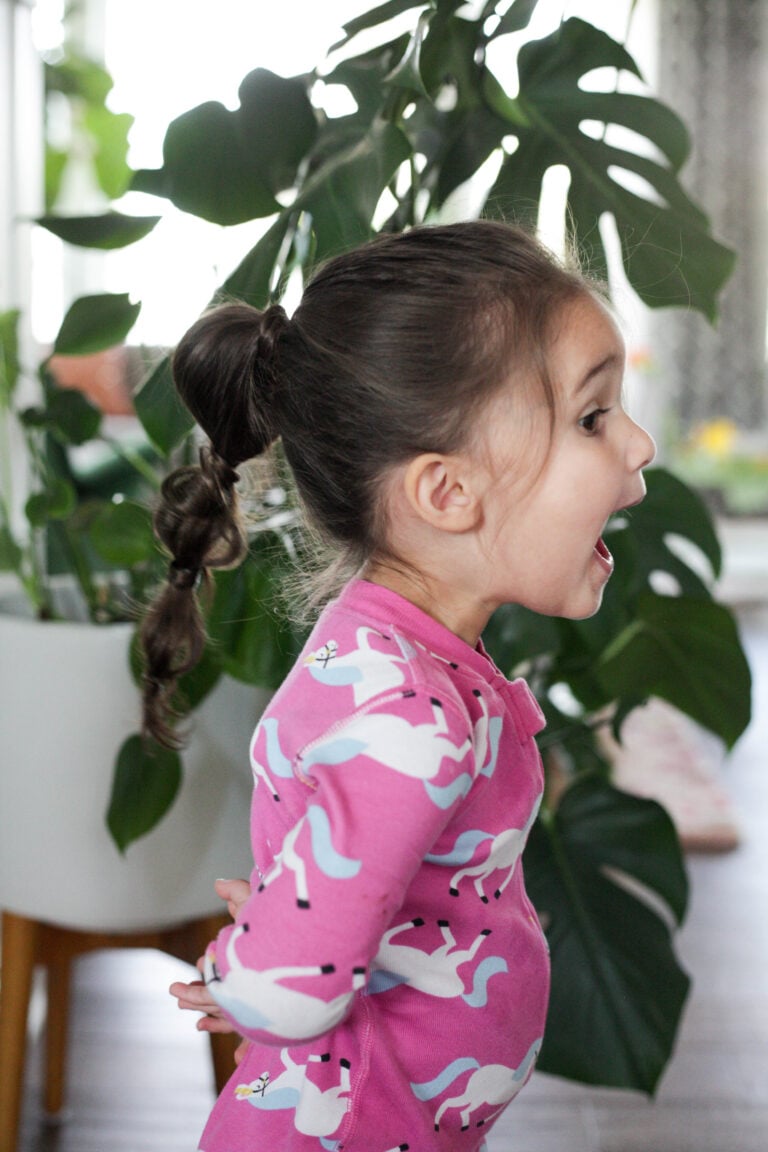 Bubble ponytail Tips
If you're looking for a few additional tips to make this work for your hair, here's a few!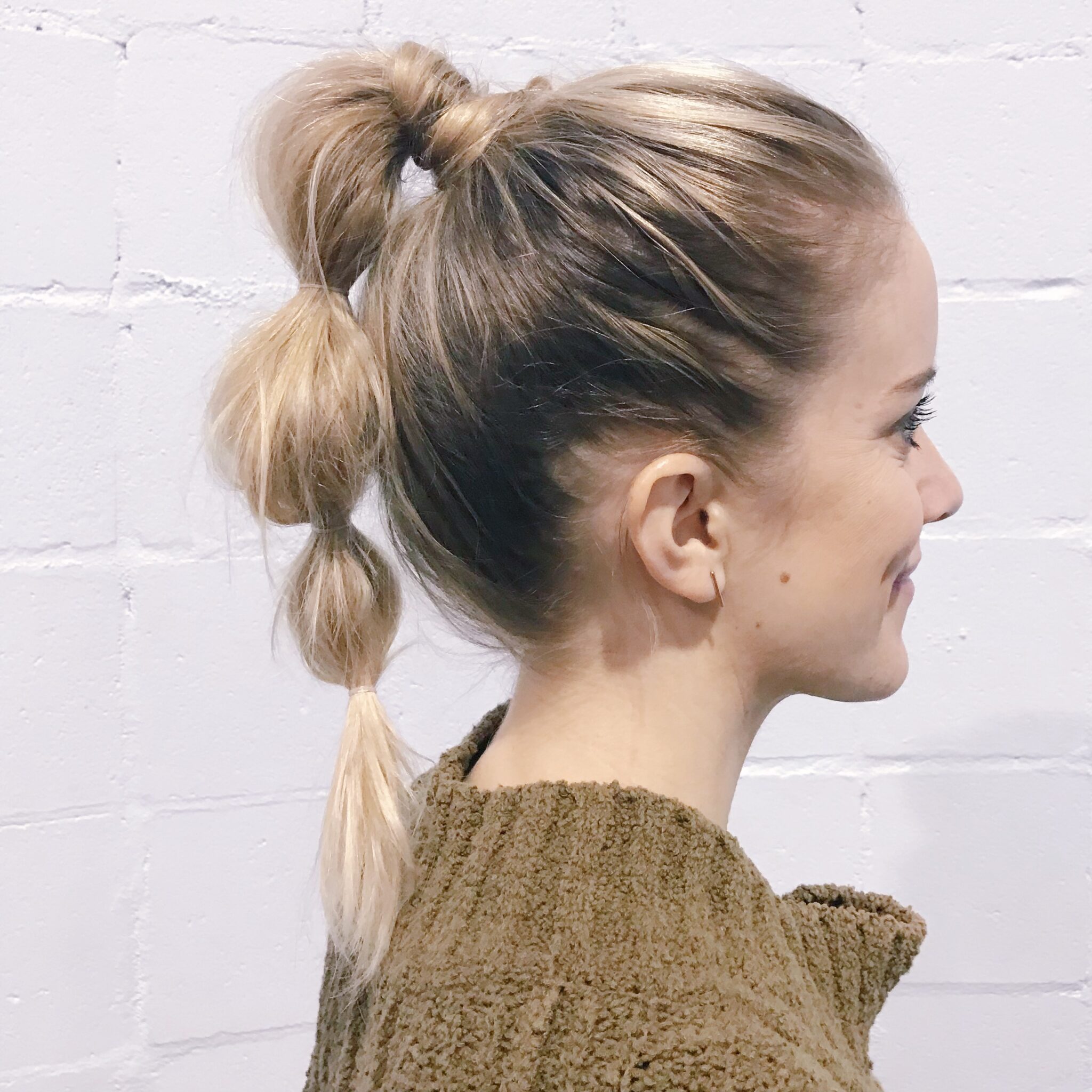 1. I teased my hair in sections. When I did P's, I didn't tease it but I always tease mine. I have way less hair than her!
The easiest way to do this is to pull up half of my ponytail and tease that and then do the underneath section. My hair isn't super thick so this helped it thicken up a bit.
2. I didn't wrap my hair around the middle sections. Again, because my hair isn't super thick I wanted to make sure the bottom sections filled out! However, with Penelope's I did because she had enough hair.
3. I used Oribe Texturizing Spray to help everything hold better in my own hair. My hair was freshly washed so this kept everything filled out and the elastics in place. (I only wrapped the elastics around once since they're so tiny!)
And there you have it! A super simple Bubble Ponytail! What do you think?
Be sure to check out my fishtail braid tutorial next! It even includes a video!