There is nothing better than a 2-in-1, which is why investing in a good flat iron to give you straight and sleek hair one day and curly and flowy the next will save you on any kind of hair day!
Flat irons aren't just for straightening your hair! You can also curl your hair with them! Using the right size and type of flat iron makes curling hair easy.
Here are 15 of the best flat irons in several categories for all hair types and needs, but especially for curling!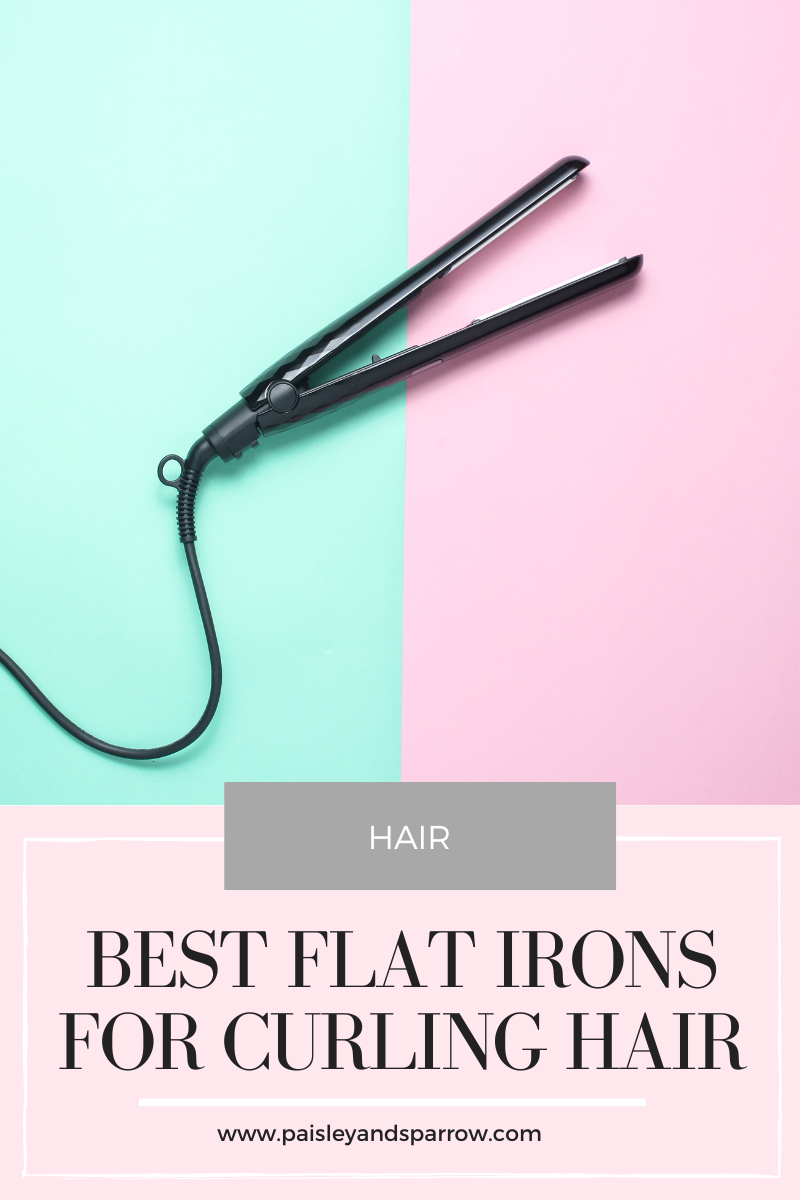 Paisley + Sparrow is a participant in the Amazon Services LLC Associates Program. This post may include affiliate links which means I may earn a small commission if you shop using the links below at no additional cost to you. 
Why Use a Flat Iron vs. a Curling Iron
Deciding whether you want to use a flat iron or a curling iron to curl your hair will depend on the type of curls you're trying to achieve. If you want small tight curls, a curling iron is best.
You can wrap your hair more tightly around a curling iron, and you do have a few different sizes of barrel (or sometimes interchangeable barrels) to choose from.
Curling irons are also great for beginners, since they're made for curling hair, have a clamp to hold hair in place, and shouldn't cause creases like a flat iron might. You might also prefer a curling iron if you have fine hair and want to avoid heat damage.
Curling irons only heat hair from one side (compared to flat irons, which heat from both sides since they clamp down on your hair) and may have more temperature options.
Flat irons may be best if you want larger curls or beachy waves. If you don't want to invest in a bunch of different hair tools, you can choose a flat iron that can curl hair, and then you have one tool in the place of two.
Flat irons can heat hair from both sides, which can help curls last longer, too, so if you have hair that won't hold curl, you may want to try a hair straightener!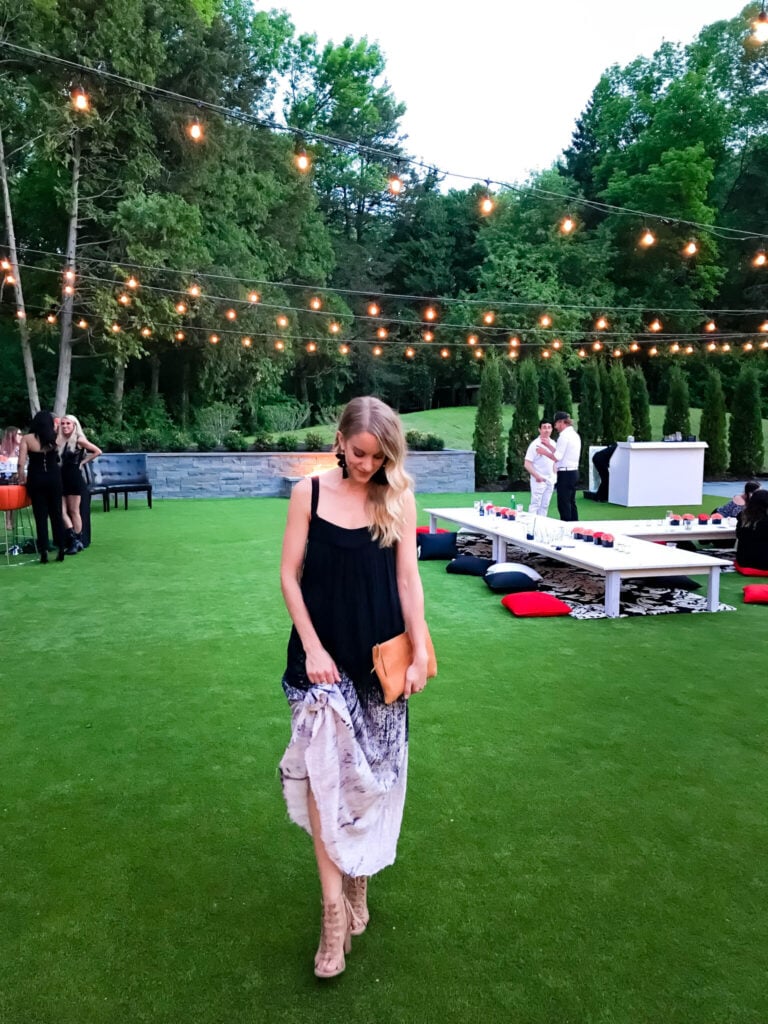 How to Choose the Best Flat Iron
If you're planning to buy a flat iron that will be good for straightening and curling hair, you'll want to keep a few things in mind.
Size of Plates
While a wide flat iron is great for straightening your hair quickly, it's not ideal for for curled hairstyles. If you buy a straightening iron with large plates to wrap your hair around, you'll end up with curls so large, you won't really be able to see them.
So go for flat iron plates that are 1 inch to 1.25 inches. A smaller styling iron is best for shorter hair for the most impact, but even if you have long hair, you'll get better curls with a small flat iron.
Curved Plates
The shape of the plate on your flat iron is also important for the best curls. An iron with very sharp square edges can create dents or flat areas in your waves.
A rounded plate will give you the best gentle curls.
Heat Protection
You don't want to add frizz or damage to your curls, so the best hair straighteners will be made of a material that protects your hair from heat and prevents frizz.
A ceramic flat iron works well to style with minimal damage to hair. A titanium flat iron can smooth coarse hair but is more damaging than ceramic. Tourmaline is supposed to smooth your hair and make it shiny.
Automatic Shutoff
As with any hair tool that uses heat — straightening iron, curling iron, crimper, waver — you want to make sure you're getting one that is safe, especially because it uses high temperatures. One key feature for the best flat irons is an auto shutoff to keep the fire risk low.
Do You Need Gloves?
It definitely takes some practice to get the hang of curling your hair with a hair straightener. You'll want to read or watch several tutorials and protect your hands while you learn.
It might be a good idea to buy a flat iron that comes with accessories to protect your hands from heat and burns. Or if you choose one without gloves or other hand protectors, it's a good idea to purchase gloves separately, especially if you're a beginner.
Regular gloves won't protect your hands and could potentially melt onto your flat iron. You definitely won't get your best hair with a gunky iron or a burnt hand!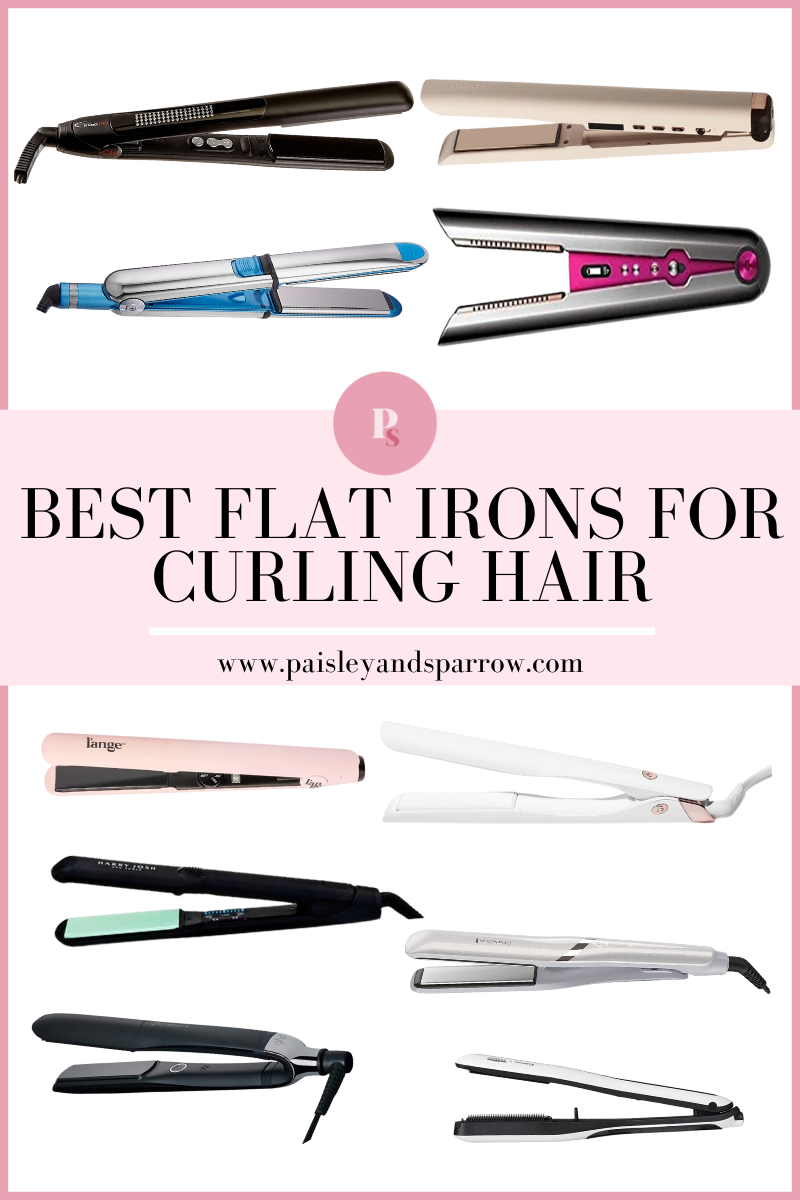 Paisley + Sparrow is a participant in the Amazon Services LLC Associates Program. This post may include affiliate links which means I may earn a small commission if you shop using the links below at no additional cost to you. 
15 Best Flat Irons for Curling Hair
If you've decided that a flat iron will be best for curling your hair, I've rounded up my top picks for a hair straightener to add to your beauty arsenal.
Best Ceramic Flat Iron
British-owned, this GHD (stands for "good hair day") flat iron, comes in a chic black or white color. It is designed with a wishbone hinge, and the reason this is cool is because it creates alignment between the plates so there is more control and evenness while styling.
It presets safely to 365 degrees, and the ultra-zone technology does the coolest thing while you style. The predictive technology maintains a steady heat, so the plates do not overheat while using. This is a safer temperature for all hair types and won't leave hair too damaged or dry.
Pros:
Color protection
Universal voltage
Maintains even heat temp with predictive technology
Automatic shut-off
Cons:
Makes funny sounds according to reviews
Ceramic flat irons are usually the most affordable irons on the market, and they are also more gentle on the hair, and especially good for thin and fine hair. The ceramic plates heat up more evenly, and this one also comes with rotating plates, which makes curling hair effortless.
Pros:
Rotating plates
1 hour automatic shut off
Adjustable heat settings
Dual voltage
Cons:
Best Anti-Static Flat Iron
An ionic straightener like this one helps to create shine and smoothness, which is especially helpful for frizzy or staticky hair. The particles from the ionic technology create a balance between the heat and your hair so it will look healthier and smoother. This CHI straightener is one of the most popular and highly rated irons of the CHI brand and is worth the price tag according to most users.
Pros:
Perfect for frizzy hair
Effective in heat and humidity
Cons:
This more affordable flat iron is made with ceramic plates, and as mentioned before, ceramic plates heat up evenly, and this helps manage smoothness when styling hair. The floating plates help with style control while curling or straightening.
Pros:
Affordable
Floating plates
Cons:
Some reviews have reported iron not heating up properly
Best Professional Flat Iron
I could not make a blog about flat irons without mentioning the Dyson! It comes with quite the price tag, however, there is a reason no one can stop raving about it.
It regulates heat 100 times per second, so you can be assured your curls will have even heat distribution, which creates more natural looking and long-lasting curls. I
t's cordless which makes it even easier to use and is perfect to take while on-the-go or traveling. It's designed for all hair types! These features make it an extremely easy and effective hot tool.
Pros:
Cord free
Automatic temperature regulation
Automatic shut off
Perfect for travel
Cons:
This flat iron is a more affordable professional option compared to the Dyson. It has great features, like floating ceramic plates that are extra wide to provide more control and betters curls, and it heats up quickly and shuts off automatically after an hour.
Pros:
Extra wide plates
Auto shut off
Heats up quickly to perfect temperature
Universal voltage
Cons:
Not the best for thick hair
Best Titanium Flat Iron
The titanium plates of this hot iron hold an even distribution of heat to help you create the perfect waves or curls. It works best for thicker hair types.
Pros:
Great for thick hair
4-year warranty
Cons:
Some reviews report hair getting dried out from use
Could damage extra fine hair
This is a solid titanium iron, that comes with all the great features you need to create straight, wavy, or curly styles. It also uses ionic technology which I explain more at the end as to why ionic irons are good for your hair!
Pros:
Great for thick hair
Mid-price point
Auto shut off after 30 minutes or after no use
Cons:
Some reviewers have said the iron shuts off sooner than 30 minutes
Best Budget
I've chosen a couple different irons for budget-friendly picks. The first one is on the higher end of a budget-friendly flat iron, and it's this ceramic iron from L'ange. Another fantastic ceramic pick with all the features that come with ceramic plates, as well as rounded edges for smooth curling.
Pros:
Ideal for fine hair
Heats up quickly to desired temperature
Auto shut off after 60 minutes
Dual voltage
Cons:
Wand is thicker in size so not best for small hands
For the second option with budget in mind, this flat iron is $30 with fantastic 5-star reviews. The ceramic plates are infused with antioxidants to support natural shine and smoothness. And the slim wand size allows for versatility so it can be used as a straightener or a curler.
Pros:
Antioxidant-infused plates
Protects against heat damage
Cons:
May give off a chemical smell for the first few uses
Best Cordless/Travel
This is an amazing cordless flat iron that offers up to 60 minutes of battery power in one charge. Made with titanium plates, this iron will give you versatility to create any style. A must-have for travel.
Pros:
60 minutes of power
Great for long hair
Cons:
Best for Thin Hair
This flat iron emits a cool mist as you style, which helps to prevent heat damage and frizz. When you have thin hair, heat damage from hot styling tools is always a concern. This built-in cooling mist technology conditions hair as you style.
Pros:
Floating plates
Heats up in 15 seconds
Cooling mist
Cons:
Isn't as effective on thick hair
Best for Frizz
This iron comes with a steam feature and water tank. This smooths out frizzy and coarse hair, and the built-in comb on one side of the plates offers even more sleekness as you style.
Pros:
Steam feature
Built in comb
Lightweight
Cons:
No automatic shut off
Requires an extra step to fill tank with water
The ingenious curved ceramic plates curl and smooth as you style. This iron also has very fine combs on the sides of the plates to help detangle as you curl and prevent frizz.
Pros:
Great for thick and thin hair types
High quality
Swivel cord for easy styling
Cons:
Combs can tug on hair too much if you're not careful
Curved plates may take some getting used to
Best Overall
For a flat iron that has it all in almost all categories, this is a top pick with amazing reviews. It's a mid-price point, with ceramic plates, automatic shut off, dual voltage for travel, and best of all, it works for all hair types and hair styles. This is a solid flat iron that checks off most boxes.
This is the flat iron I own and I love it! It works amazing, heats up quick and keeps my hair healthy and beautiful.
Pros:
Perfect size and easy to hold
Longer plates for better styling
Auto shut off
Controlled heat settings
Cons:
The customizable buttons may be a learning curve
How to use a flat iron to curl hair
Wash and condition your hair. That way you can start with a clean slate for your curls.
Use a styling product or heat protectant spray for added texture and shine. This is especially helpful if you have fine or thin hair. It will help prevent damage from the high temperature and give you some texture to help hold the curls.
Make sure your hair is completely dry. It's not recommended to use a hair straightener on wet hair; it will cause more damage and breakage of your hair.
Part hair as desired.
Section back parts of hair.
Take each section at a time and begin curling with your flat iron.
To curl, take part of the sectioned hair and begin nearest to your head. Clamp the flat iron on the hair and turn it back toward you.
Don't start at your scalp – 2-4 inches below your scalp is a good place to begin curling. You don't want to burn your scalp.
Twist your flat iron as you bring it down your hair
You can bring it down to the very tips, or stop before you get to the end for a more wavy look
Do this with each section of hair until you've done your whole head
Spritz some hairspray or finishing mist on styled hair for extra hold
FAQ
Do you need a special flat iron to curl your hair?
Most flat irons make curling easy, but the one thing you want to avoid in flat irons for curling are wide plates. You want to opt for a wand that is 1"-1.25" for effortless curling.
If the wand and plates are too wide, it makes twisting and curving much harder and won't give your strands an even curl.
What is the difference between titanium and ceramic flat irons?
The difference between titanium and ceramic is mostly in how they heat up. Titanium heats up within seconds and can get very hot. This is why titanium is most suitable for thick and coarse hair. Titanium will also curl your hair faster.
Ceramic plates are more gentle and have better heat distribution. If you have fine or thin hair, ceramic plates are your safest option for the health of your hair. Ceramic irons also take a bit more time to heat up and may take a little bit longer to style with. However, they are not as damaging to the hair as titanium could be.
Which is better – ceramic, tourmaline, titanium, or ionic?
The kind of metal or stone plates you choose in a flat iron depends mostly on your needs and hair type.
Ceramic is best for fine hair types and for hair that could be prone to damage and dryness. Ceramic is a man-made stone material.
Tourmaline is a natural stone and is a great everyday pick for normal to coarse hair.
Titanium comes from strong and shiny metal. It is most suitable for coarse, thick, hard to manage hair. It makes even the frizziest hair smooth and shiny.
Ionic flat irons are made with negatively charged ions. Our hair is usually consisting of positively charged particles, so when a hot ionic flat iron with negatively charged particles makes contact with your hair, the positive and negative neutralize each other. The theory is that this restores electron balance and promotes hair health. Who knew styling one's hair could also be a science lesson?
Looking for more tips on hair tools? Check out the best hair crimpers, best hot rollers, and best flat irons for fine hair.