Hot rollers are no longer something just for grandmas to use! Now, hot rollers are all over Instagram and Tiktok as people begin to realize just what a great option they are.
This classic hair tool has taken off as a modern trend because of its amazing benefits and ease of creating perfect curls.
If you're ready to make the switch to hot rollers or are considering if they'll be right for you, I'm breaking down everything you need to know to find the best set of hot rollers for your long hair.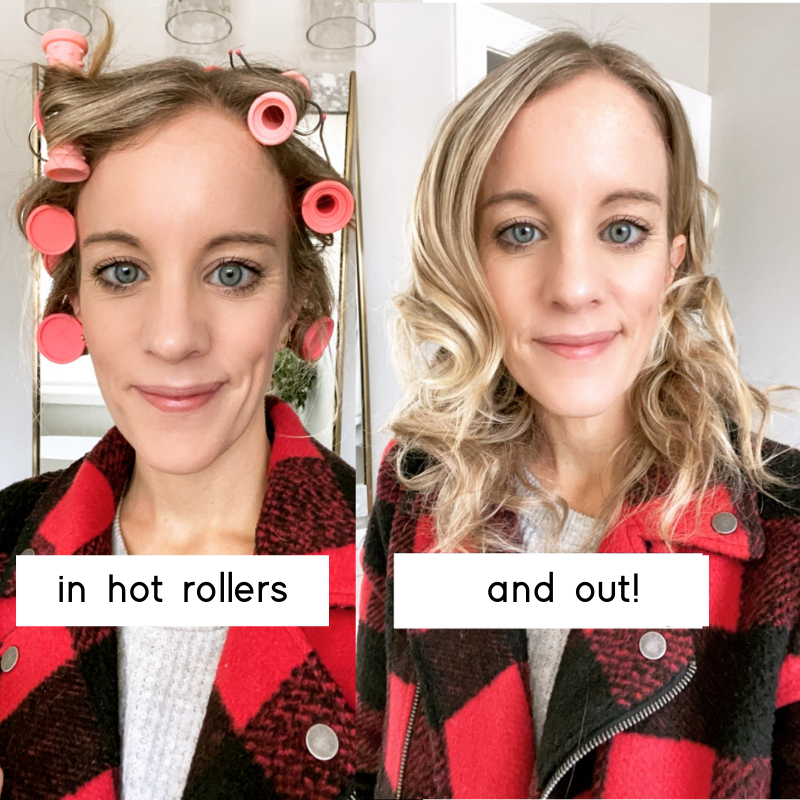 Benefits
Why did hot rollers ever go out of style? Hot rollers not only create beautiful curls, but they also can be a way to add incredible volume. They work well for any hair length and type.
Plus they cause less overall heat damage and are great for holding a curl in fine hair. Not to mention how easy they are to use! Unlike a curling iron where your time is spent curling, you just throw your rollers in and go about the rest of your routine hands-free!
Things to Consider When Buying Hot Rollers
Curl Type
First, you'll want to decide what type of curl you're going for. Generally, bigger rollers are best for longer hair. This size will create natural-looking curls and boost volume at the roots. Smaller rollers, on the other hand, will create tighter curls.
Look for a set with rollers of the same size if you are wanting to achieve a uniform style of curl or sets with a variety of sizes for a mix of curl types. You may also want to look at how many rollers you get in your set. If you have thick hair, you'll need more rollers than someone with finer hair.
*If you have fine hair, here's some tips for getting your curls to last!
Material
Next, you have some choice in the type of material. Ceramic rollers use less heat and are best used on naturally wavy hair. These are not heat invasive and emit ions, which helps to produce shiny hair.
Wax rollers work best on curl-resistant fine hair as well as long, thick hair. They retain heat and produce longer-lasting curls.
Finally, sponge rollers will also help to create curls that last longer by retaining moisture.
Heating Method
When deciding on the perfect hot roller set, you may also want to consider how fast it takes to heat up. Generally, hot rollers heat up pretty quickly, but there are three different types of heating: conduction, induction, and steam.
Conduction rollers all have a slot and are heated at the same time. Induction is fast heating, as in 10 seconds, and you're ready to start styling! These two, known as dry heat, tend to have multiple heating settings.
Your other option is steam heating, which is also called wet heat. It requires water and some patience. However, this heating option produces longer-lasting curls.
How Do You Use Hot Rollers?
Hot rollers aren't complicated to use. You'll want to start with dry hair and add a heat protectant before you begin. Then, you're ready to heat up the rollers and divide your hair into sections.
Start rolling from the front to the back. Place the roller underneath your section of hair, wrap the hair, roll up and back toward your head, and then secure with a clip or pin. And that's it!
Keep the rollers in for 20 to 30 minutes until the rollers are fully cooled. Finish with hairspray or a texturizing spray, rake your fingers through your hair, and you're set!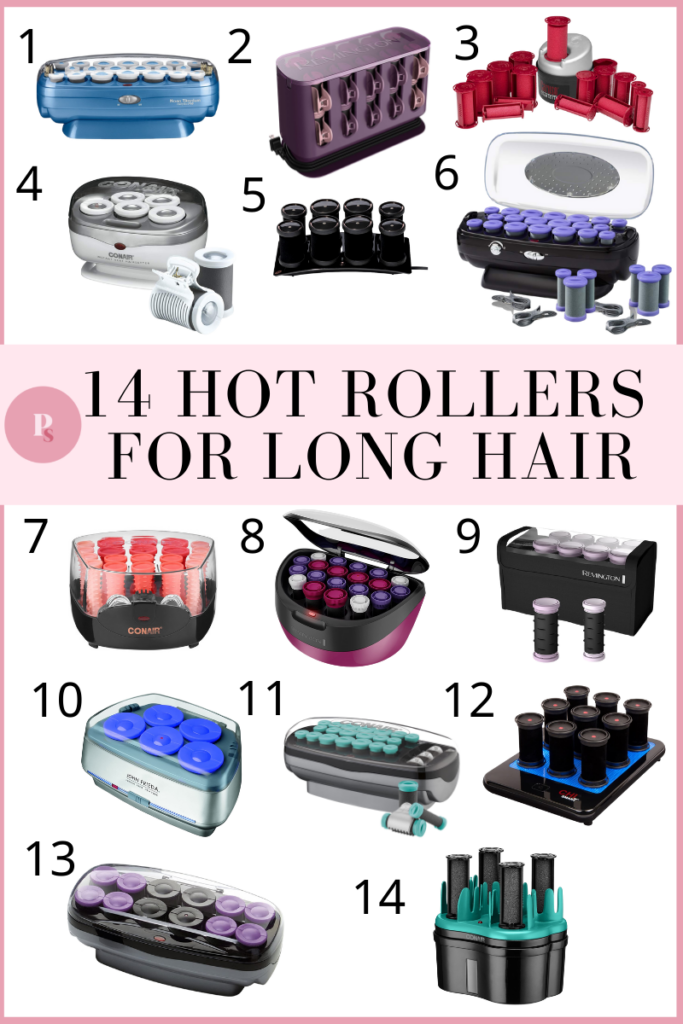 Paisley + Sparrow is a participant in the Amazon Services LLC Associates Program. This post may include affiliate links which means I may earn a small commission if you shop using the links below at no additional cost to you.
Best Hot Rollers for Long Hair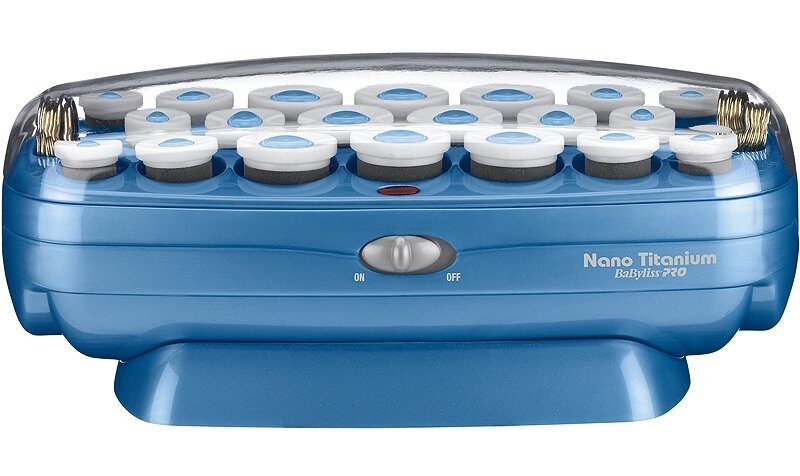 This 22 set of rollers is one of the top-rated out there! The set comes with various-sized rollers to create different types of curls.
The rollers heat up quickly and change colors to indicate that they are ready to use. This set includes butterfly clips and color-coded metal clips to secure the rollers in place.
Pros:
3 different sizes
Good grip
Cons:
Large size rollers take longer to heat up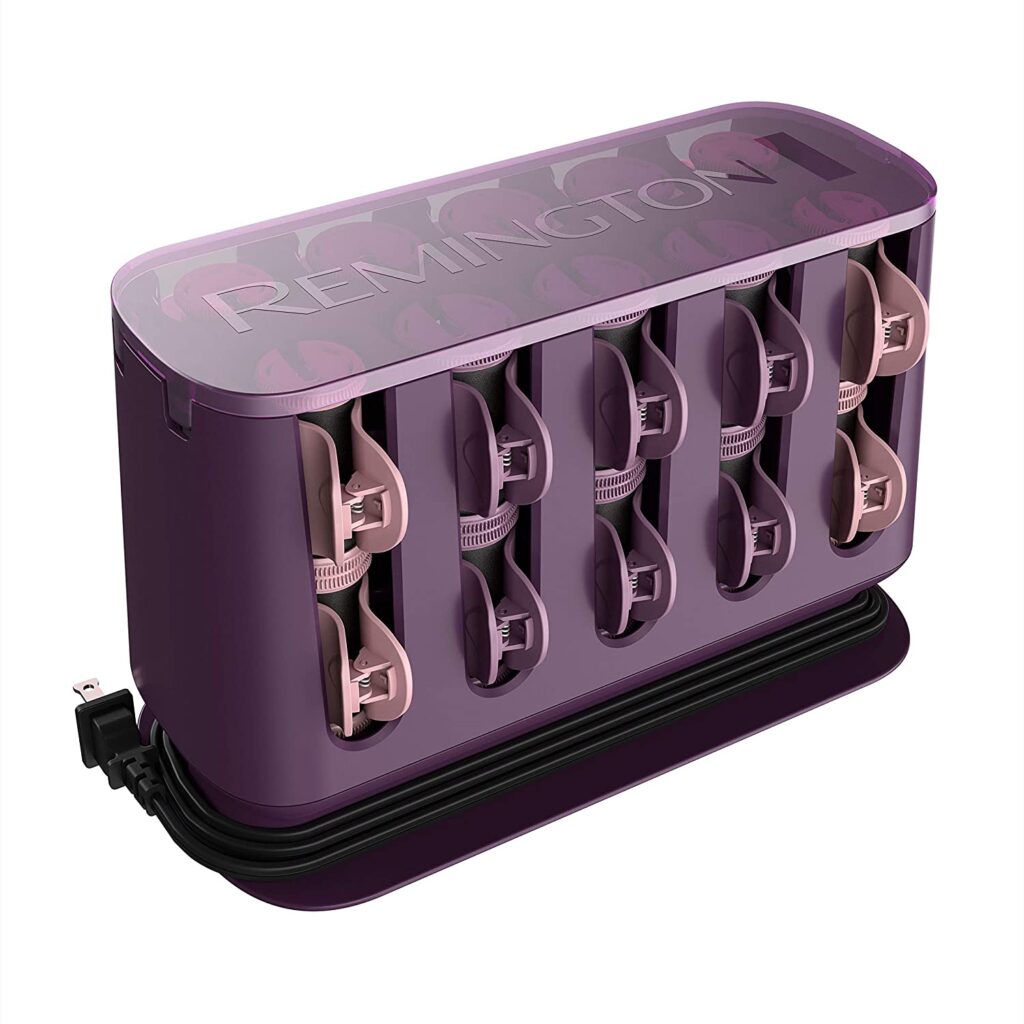 These salon-quality rollers are amazing for long hair. The set comes with 12 large and 8 medium ceramic rollers and heats up in 90 seconds. There are clips included that heat up, too, so your hair will be heated both internally and externally.
Pros:
Quick heat up
Vertical design for easy storage
Cons: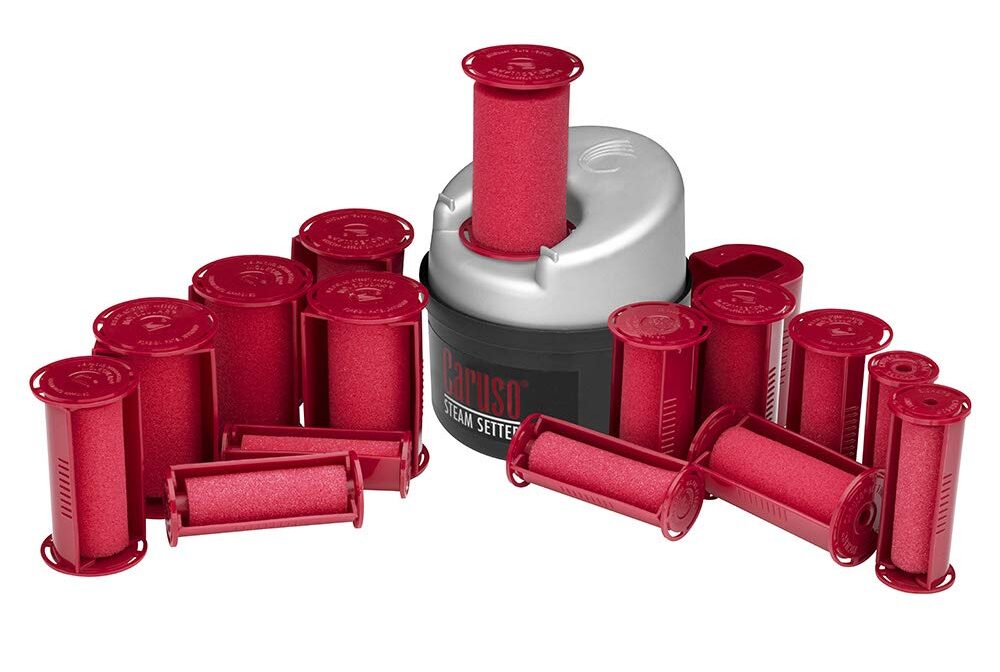 Here's a great set if you have thin hair or live in a place that has a humid climate. These foam rollers work by dipping a roller in a steam dispenser for about 30 seconds. The steam traps moisture into the hair and prevents humidity from messing with your style!
Pros:
Good for thin hair
Easy to travel with
Cons:
More time-consuming compared to other rollers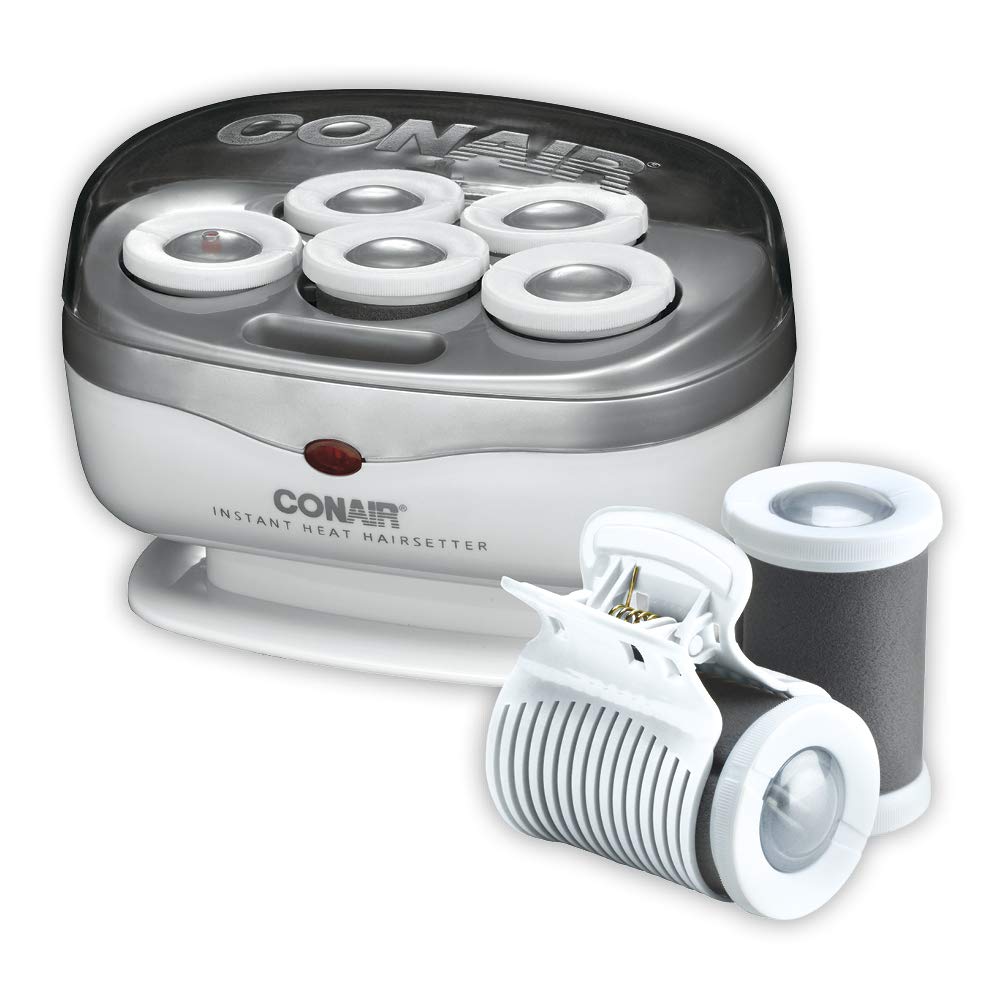 This easy-to-use set includes 5 jumbo rollers and clips, making it a great choice for long hair. It's convenient to travel with if your schedule has you always on the go. The set heats up in about 2 minutes and will take no time at all to put in your hair.
Pros:
Affordable
Includes super clips
Cons:
Only 5 rollers, may not be enough to cover all of your hair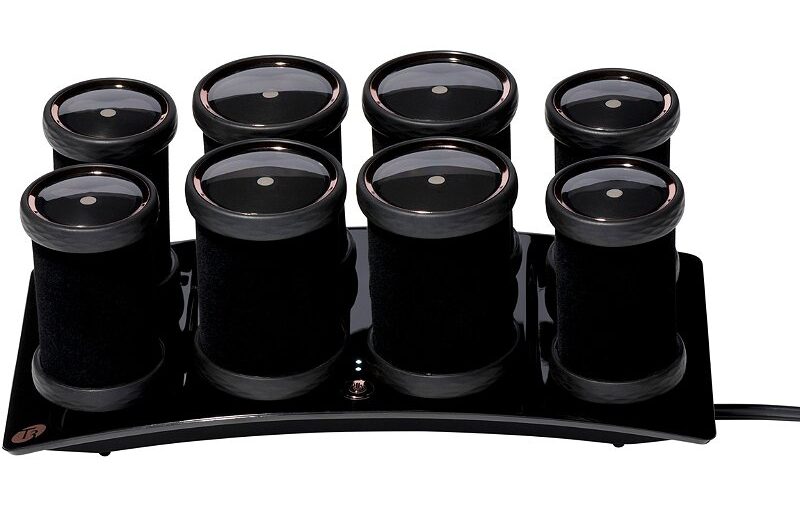 These jumbo rollers have two heat settings and work great with long hair. The larger rollers will create a natural look, add volume, and make your hair shiny. The included clips are crease-free, too!
Pros:
1 hour auto shut-off
2 heat settings
Cons:
*Check out my T3 curling iron review here!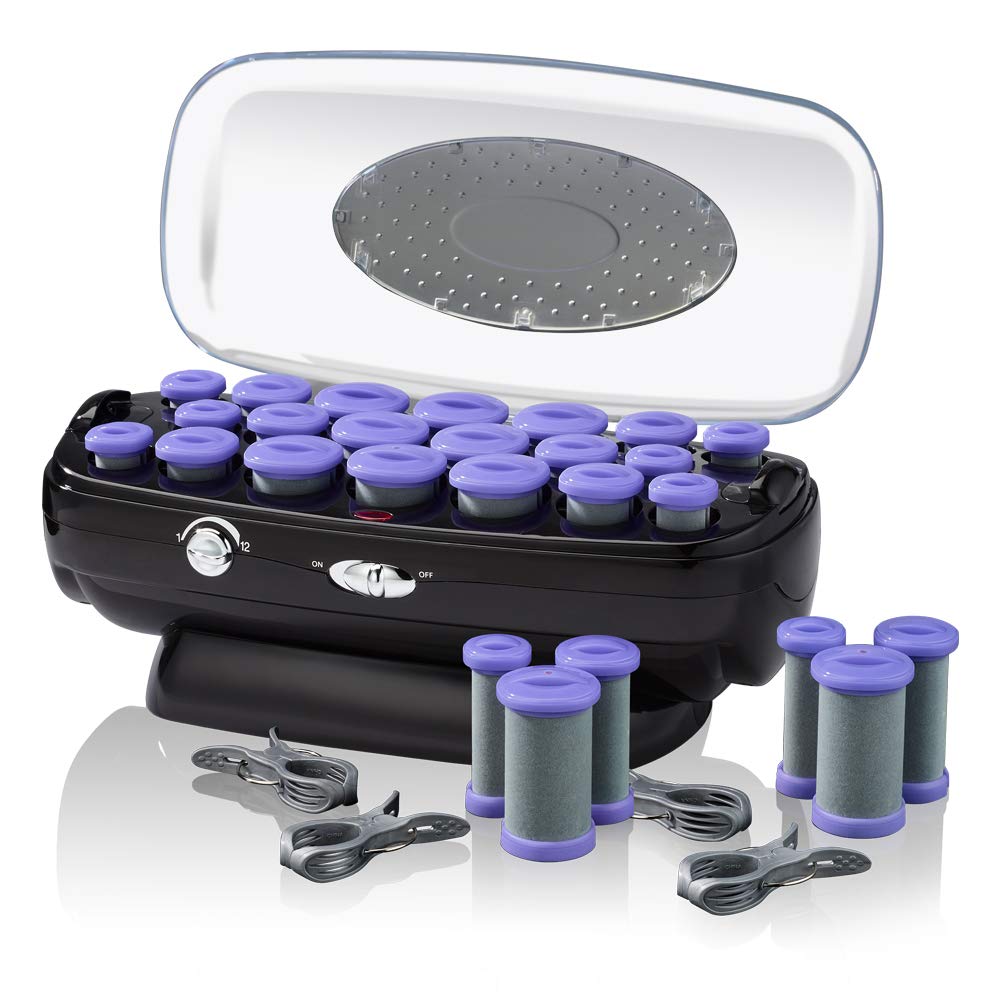 This set includes all sizes of rollers, so you can really create the look you're going for. Use big rollers for bouncy curls or smaller rollers for tighter, defined curls. Another plus with this set is its ceramic material, which will help combat frizz.
Pros:
Heat ups in 85 seconds
Argan oil treatment included
Cons: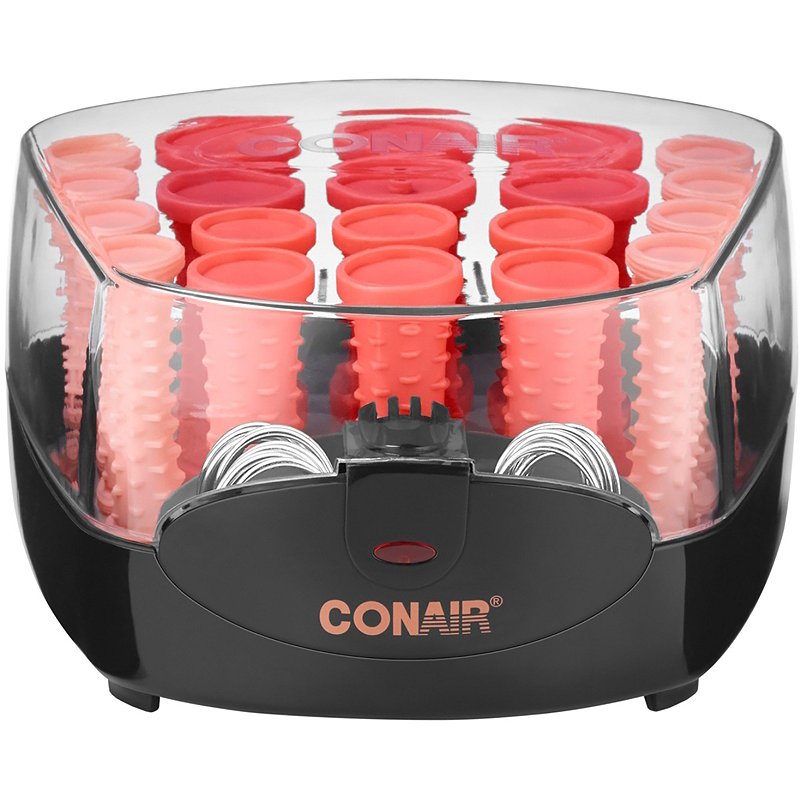 This affordable set of 20 rollers includes all sizes of rollers. You'll love that these rollers have grippers to help hold your hair and decrease tangles.
Pros:
Affordable
Quick to heat up
Cons: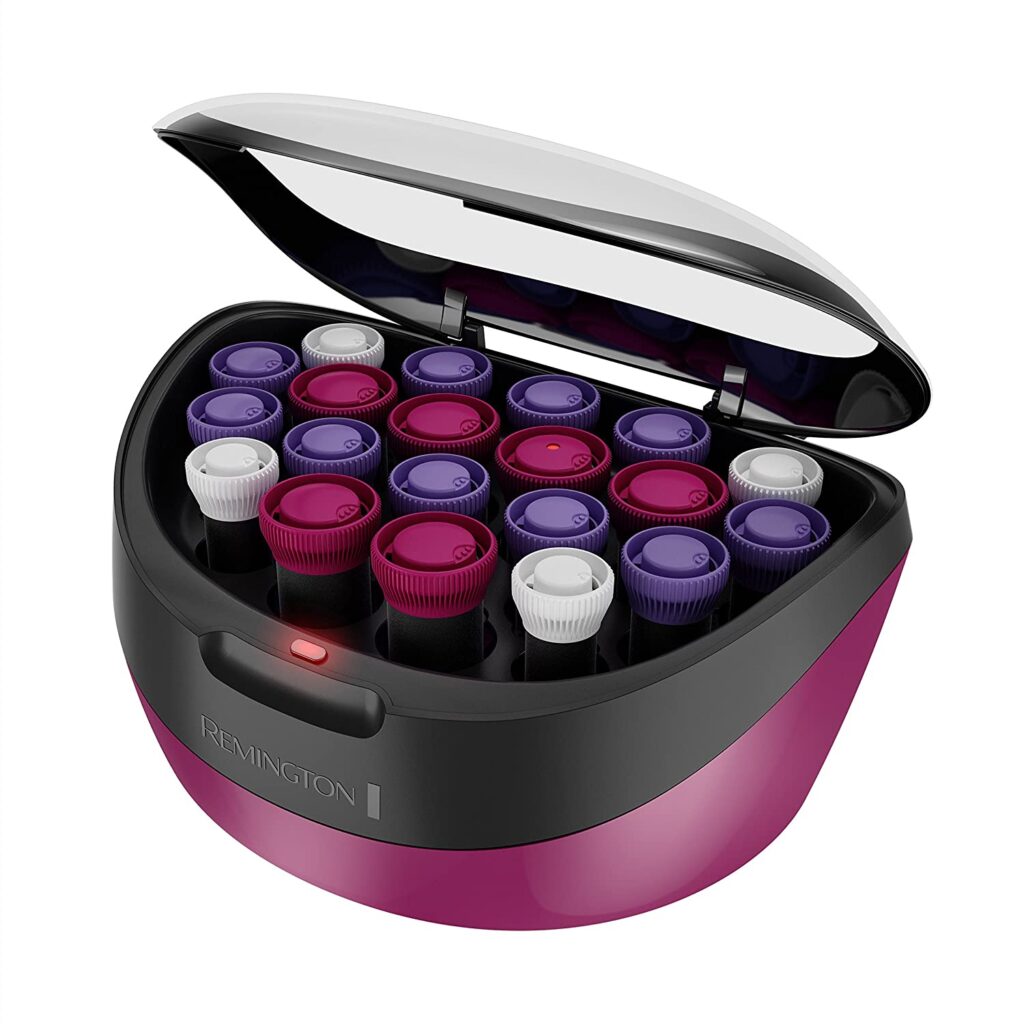 Another set with a variety of sizes! These have a wax core, which helps them to create a longer-lasting curl. They also have ionic conditioning, which adds shine and smooth your hair.
Pros:
Added benefits for hair
Easy to handle
Cons:
Not a lot of the small roller size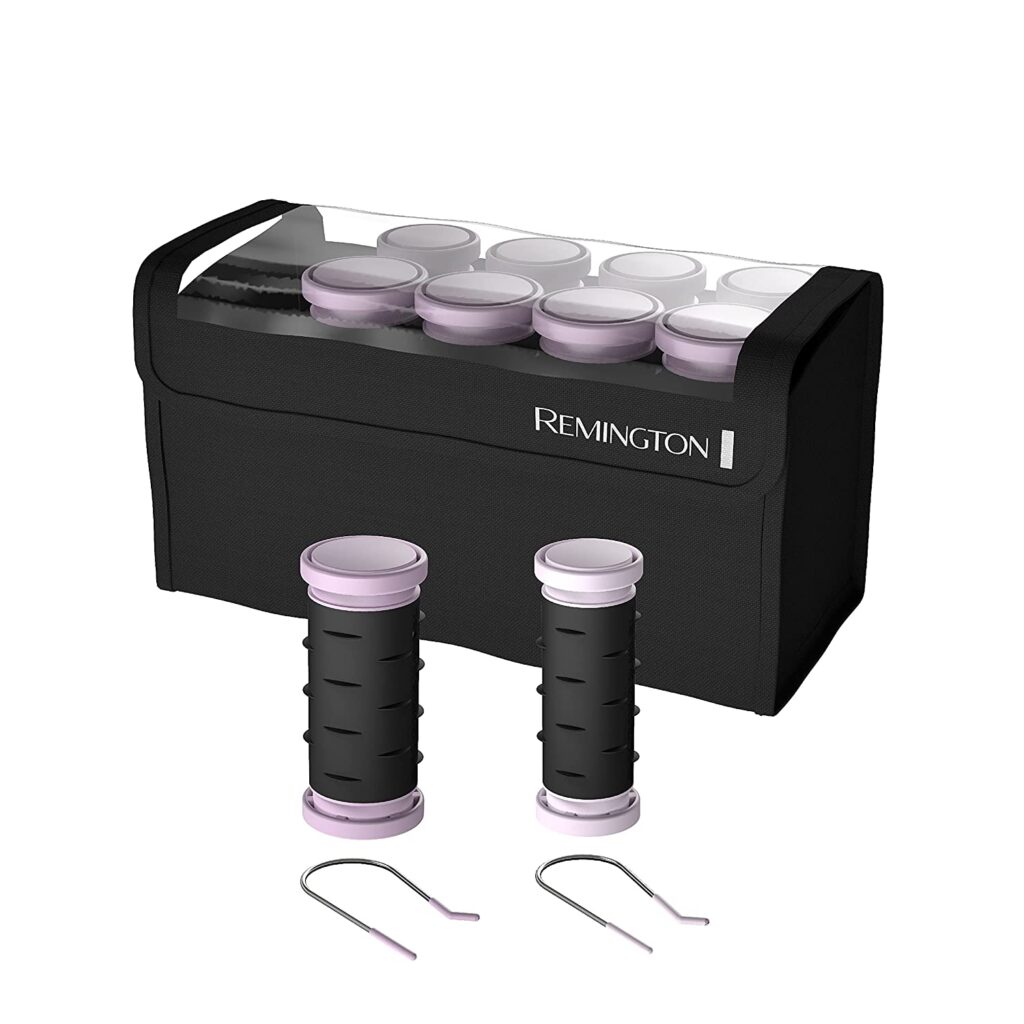 If you have thin or fine hair, this set is great for you! These have a smaller diameter and use ionic and ceramic technology to create the perfect curl.
Pros:
Easy to travel with
Affordable
Cons: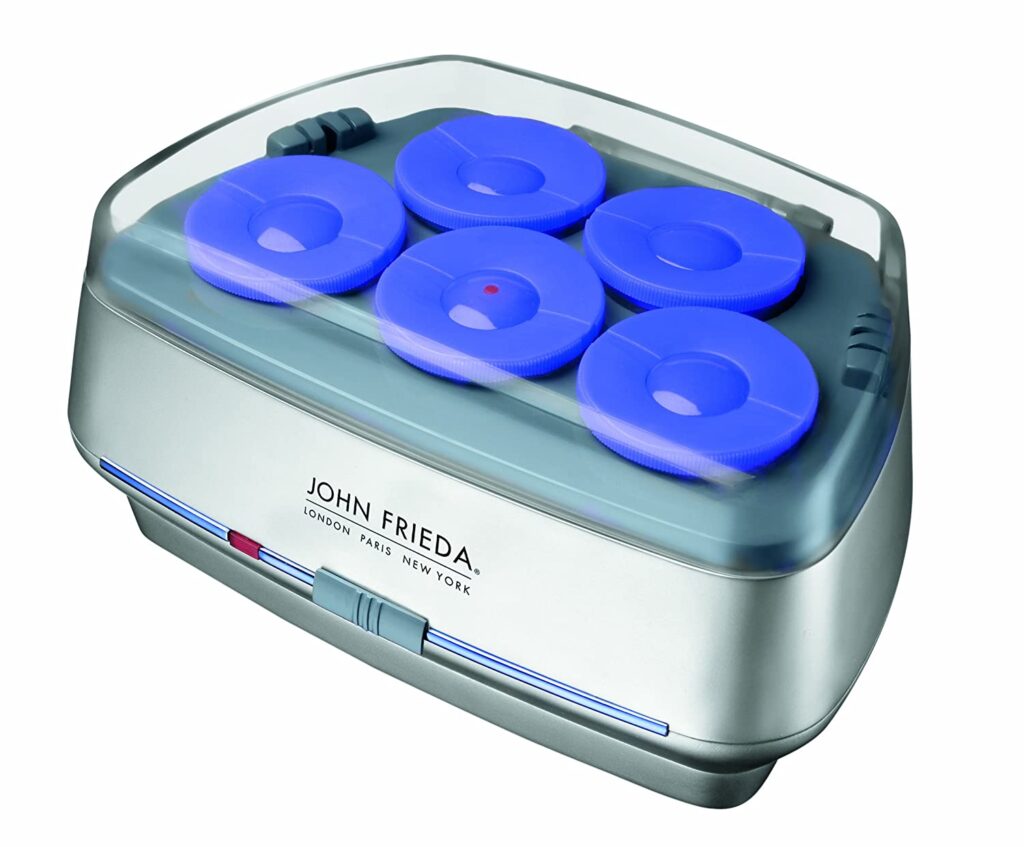 Are you looking for loose waves over volume? This set of five jumbo rollers will help you accomplish that look. It also has 3 temperature settings and won't cause heat damage.
Pros:
Ionic technology cuts down on frizz
Includes butterfly clips to secure
Cons:
Only one size roller so you are limited in the styles you can create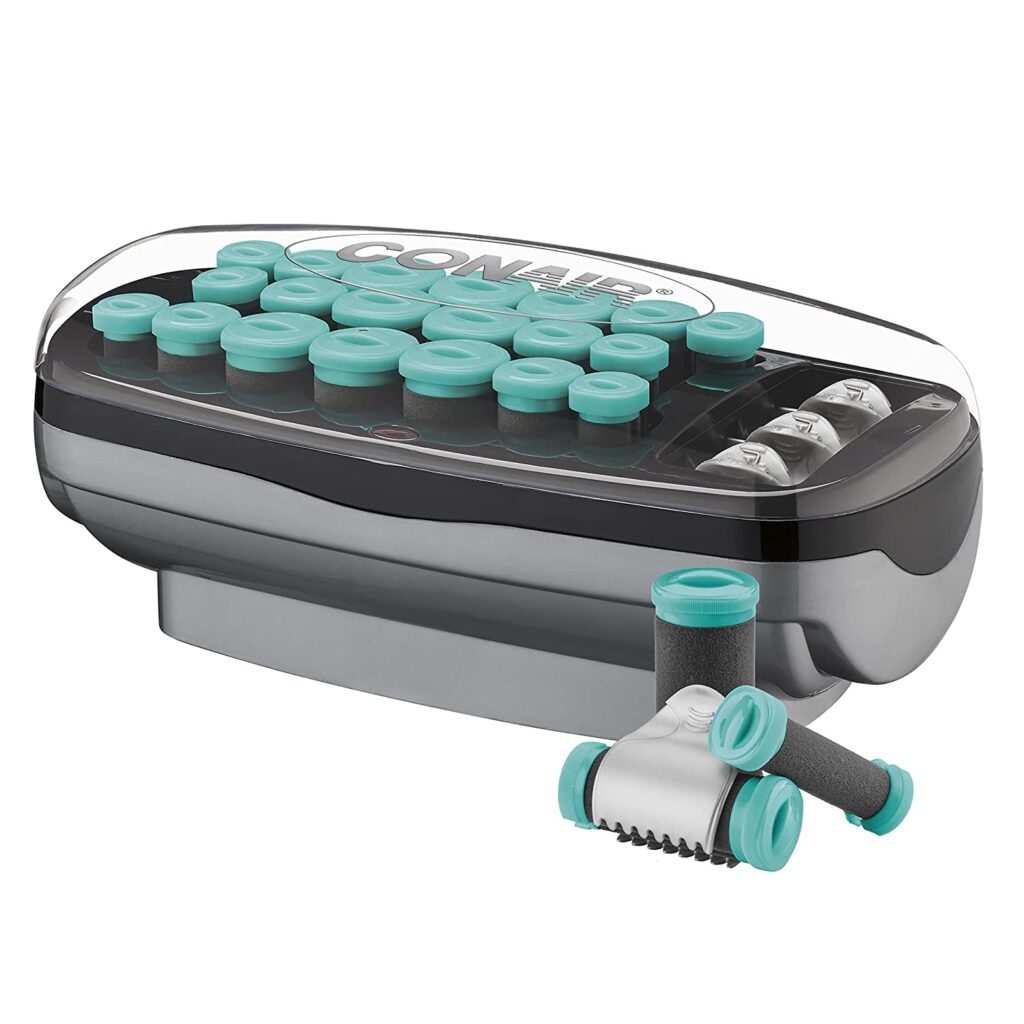 This set is perfect for creating voluminous curls that will last. It uses ceramic technology and an aluminum heating core to heat up quickly and have even heat distribution.
Pros:
Includes 12 super clips
Heats in 85 seconds
Cons: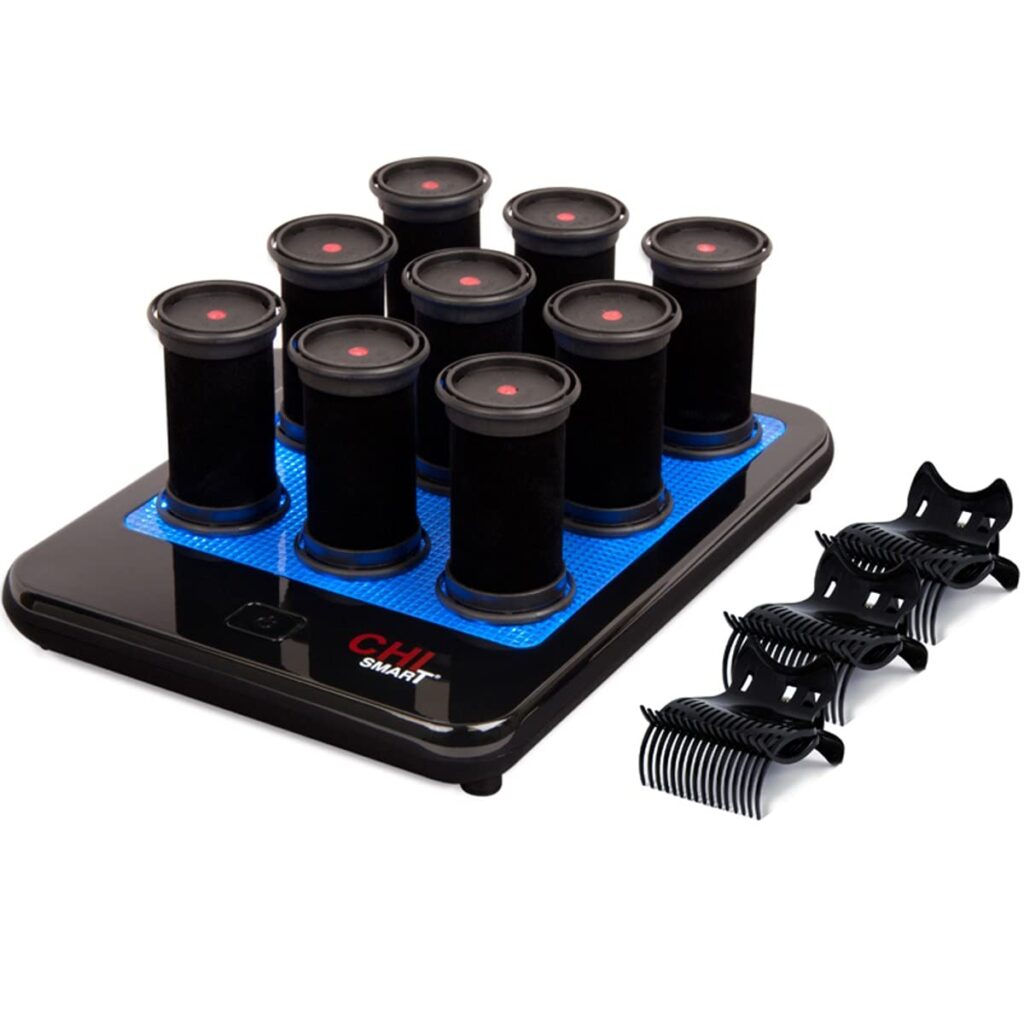 These are fantastic for long and short hair because of the selection of barrel size. You have the option between two sizes for the entire set, small or medium. The rollers heat on an LED platform base. They also come with clips and a zip-up carry case.
Pros:
Heats up quickly
Creates sleek, bouncy curls
Cons:
Only 9 rollers
All rollers are one size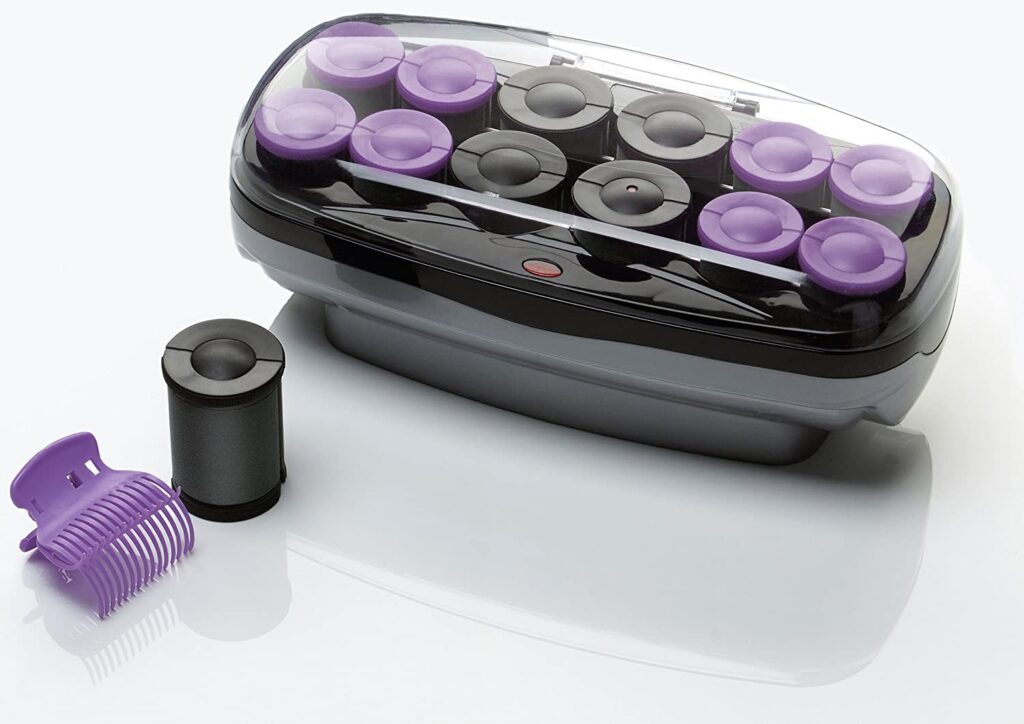 These jumbo rollers will help you create full, voluminous, bouncy curls. The set includes four 1.75 inch rollers and eight 1.5 inch rollers, making them best for long hair. They heat up quickly and include clips.
Pros:
Heats up in 85 seconds
Velvet coating to prevent heat damage
Cons:
Only includes large size rollers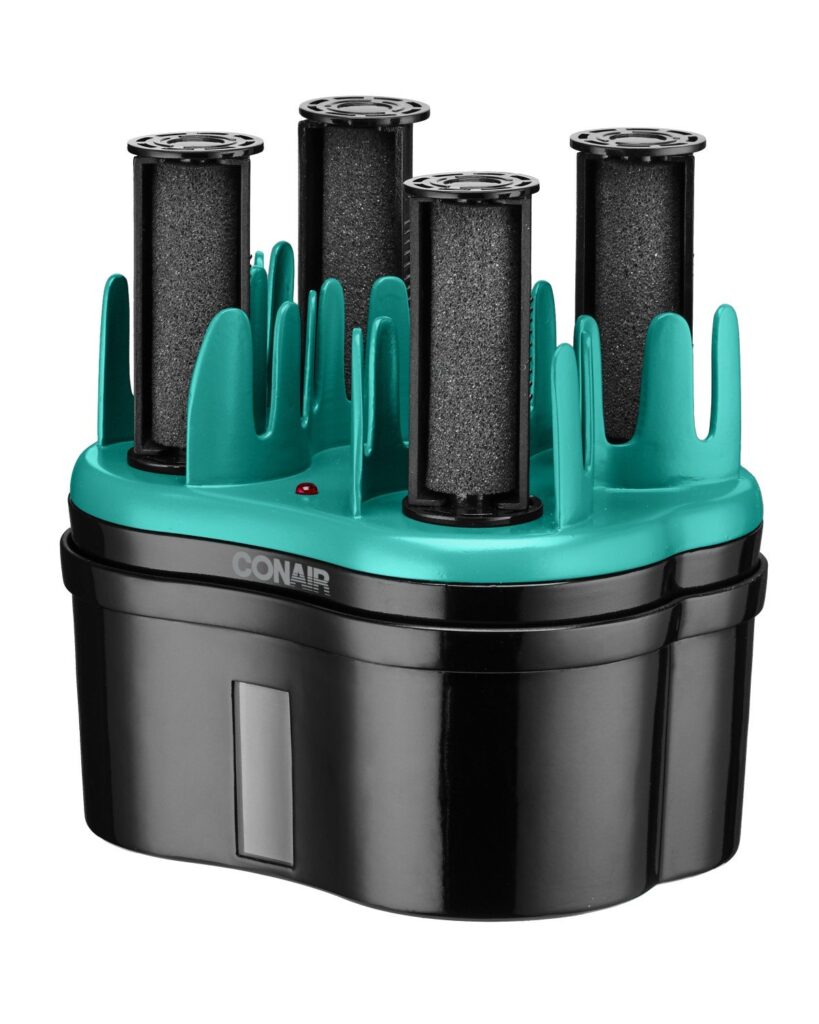 Steam rollers offer you protection against dry heat and are great on all hair types. This set includes twelve ¾ inch rollers and can heat four at a time, making the process a little bit quicker. The steam will last for 30 minutes of use as well.
Pros:
No heat damage
Heats multiple rollers at one time
Cons:
Takes longer to heat up
Only one size of roller included
FAQ
What size hot rollers should I use for long hair?
The size depends on the type of curl you want! If you want ringlets, a small roller and small sections of hair are the way to go.
For bouncy curls, opt for a larger roller with large sections of hair. For added volume, go with a roller that is at least .5 inches wide. Generally, longer hair equals a bigger roller.
Are hot rollers better than a curling iron?
Hot rollers are better when it comes to heat damage. Due to a curling iron's high heat, it poses the risk of more heat damage.
Both hot rollers and curling irons are great for curling hair in their own way. Hot rollers make loose curls with less effort, where curling irons give you more control and create tighter, defined curls. No curl is better than the other, so it comes down to your personal preference!
How long should you keep hot rollers in your hair?
The best rule of thumb is to keep your rollers in your hair until they have completely cooled down. Each roller has various cooling times, but the average is about 12 minutes.
The good news is you really can't leave them in for too long. They won't damage your hair!
How long do curls from hot rollers last?
It depends on your hair type, the size of the roller, and the type of roller! Here are a few tips to help make your curls last longer no matter which option you go with.
First, definitely make sure your rollers have completely cooled before you take them out. You can also spray hairspray before taking the rollers out.
Then, slowly let the curl unravel from the roller. Finish by gently brushing with your fingers or a comb, adding a little more hairspray, and then your curls will be ready to take on the day!
Hot rollers are a great way to achieve an effortless curl. They're easy, take no time at all, allow you to multitask while your curls are setting, and won't heat damage your hair.
Don't wait to get the hair of your dreams! There is the perfect roller set for every hair type, length, and curl goal. Happy rolling!
Looking for more tips on getting great curls? Read how I get my curls to last and my 7 recommendations for curling irons for long hair.