Let's face it. Styling fine hair is hard. Very hard. While a range of hairstyles and hair tools do complement our fine or thin hair and make us look classy and elegant, they usually cause hair damage.
So, what should we do? Should we just put our hair in a ponytail and call it a day?
No, ma'am. Like Chris King said, "Mama Didn't Raise No Quitter."
Fine hair is more susceptible to damage, but with the right products and tools, you can straighten and style your hair with ease and with little to no chances of damage.
Finding the right flat iron for the job, however, can be tricky. To save you the hours of research, I'll be sharing reviews of flat irons I've personally used as well as ones friends, family and my hair stylist use or recommend. Read on to learn more!
Flat Irons and Fine Hair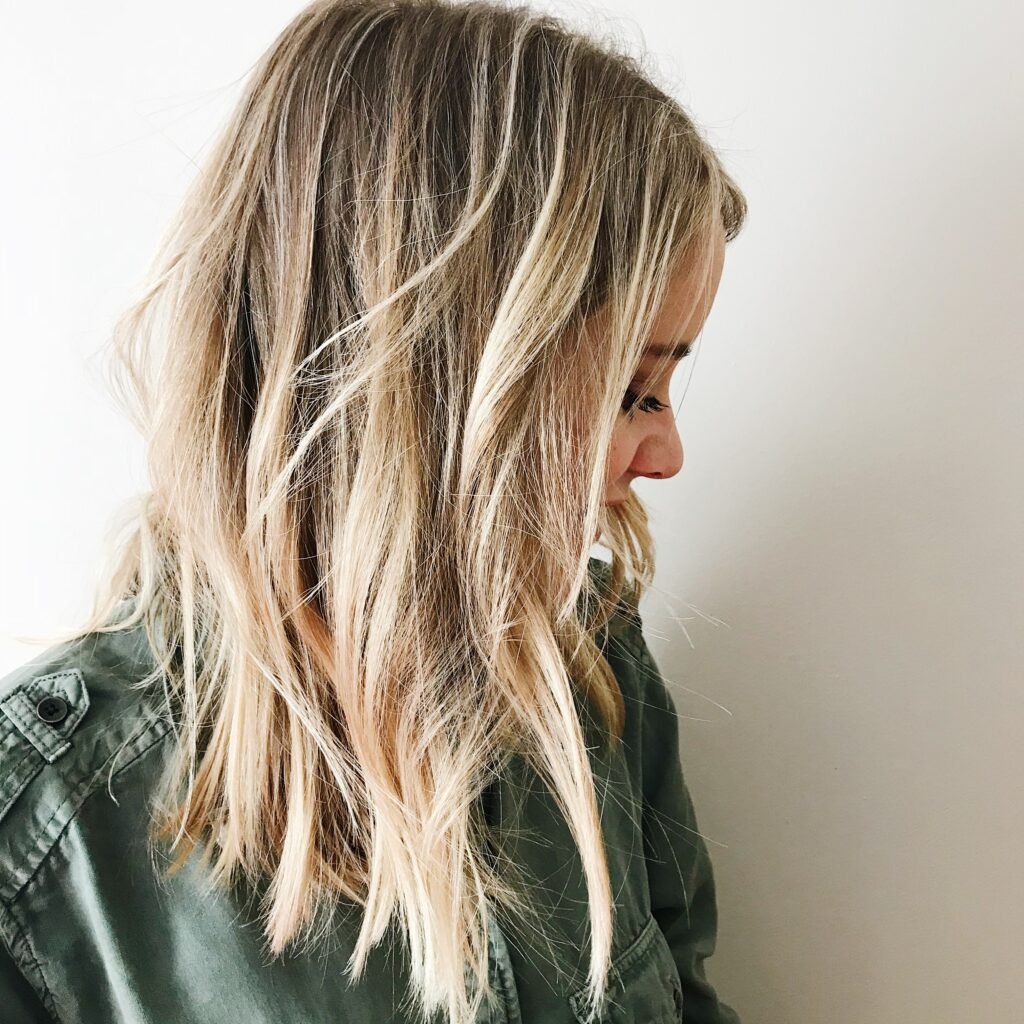 With so many products spread across different brands, finding a flat iron for your fine hair is quite the task.
Here are some important things to look for.
Look for ceramic plate flat irons. They distribute heat evenly without causing hair damage. A ceramic plate and tourmaline combo may also help deal with your wavy or curly hair woes.
Whatever plate material you go with, always keep the temperature to the lowest possible setting. A lower temperature will ensure less damage to your hair while high temperatures will do maximum amount of damage!
Use heat protection sprays before and finishing products after to give your hair maximum protection from damage.
What to Consider When Buying a Flat Iron
Weight
Do you plan on using the flat iron occasionally or are you the kind that wants to look your impeccable best at work every day with every strand in place?
Either way, the lightweight flat iron certainly seems a better choice compared to a complete powerhouse that causes arm fatigue five minutes in. It's convenient to use, especially when you're dealing with extremely stubborn hair that takes a long time to tame.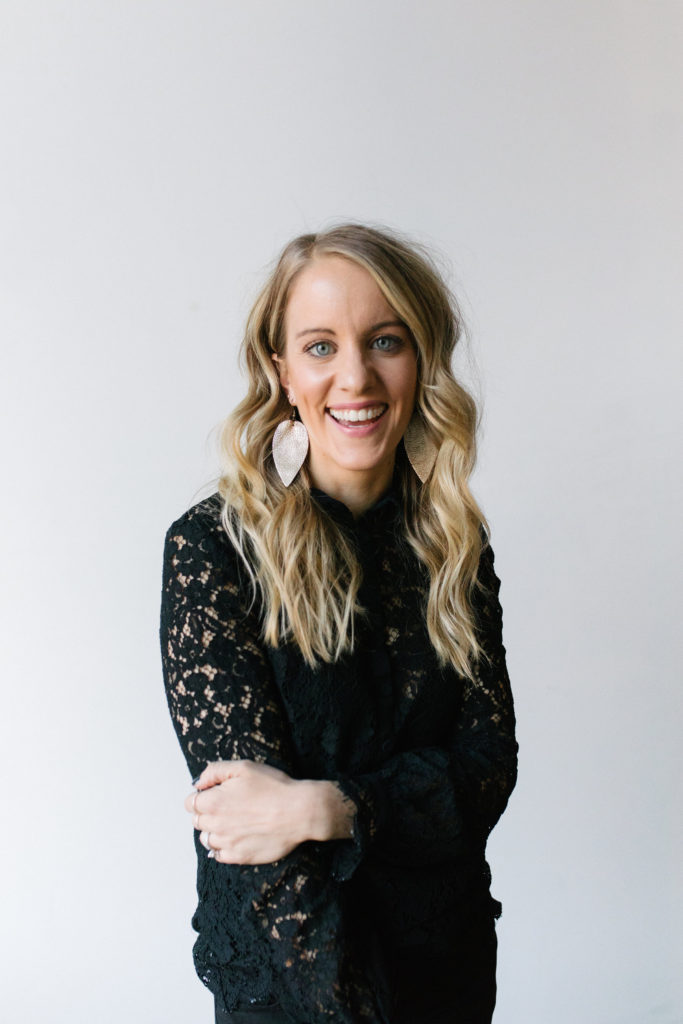 (I use my flat iron to straighten out the ends of my hair when I curl it and smooth the pieces near my face!)
Plate Size
The size of the plate is the one deciding factor most people have trouble with. If you have short, thick hair or fine hair that requires you to start close to the scalp, a smaller plate is best as it offers precision, slow movement, and even heating. These plates are sized between 0.5 and 0.75 inches.
If you have very long hair, a large-bodied iron is likely to get you through the process faster. Large plates range from 1.25 to 2.5 inches.
For casual, everyday use, the regular hair iron with a 1-inch plate should do.
Material
The plate's material plays a crucial role in delivering results. Flat irons made with ceramic offer faster results in less time and even heat distribution. This minimizes the risk of hair damage. It's one of the reasons why ceramic is often touted as the best plate material for fine hair types.
While ceramic irons generally tend to offer better results on thin and fine hair types, if they come with mediocre controls and safety features, please look at other options. You may consider using titanium and ceramic tourmaline plates flat irons. These are great for damage-prone hair and great styling.
Controls and Safety Features
Some hair straighteners are easier to use than others. For example, features like non-slip handles and greater accessibility of controls serve to make the straightening process easier.
Non-slip handles offer a secure grip, greatly reducing the chances of the hair straightening tool slipping off your hand and causing burns. Great control button placement, on the other hand, ensures you don't accidentally press incorrect buttons while using the flat iron.
11 Best Flat Irons for Fine Hair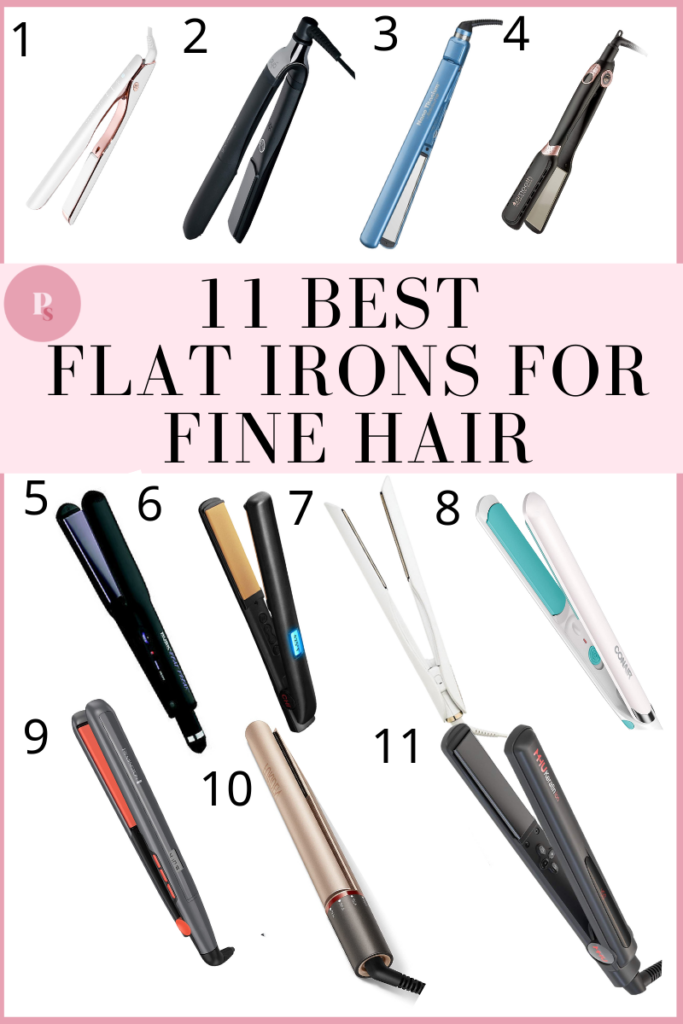 Paisley + Sparrow is a participant in the Amazon Services LLC Associates Program. This post may include affiliate links which means I may earn a small commission if you shop using the links below at no additional cost to you. 
Let's check out some of the best hair straighteners on the market!
T3 Lucea 1" Professional Straightening Styling Iron
Smart, personalized heat. Beautiful results. T3 HeatID intelligently personalizes 9 heat settings to your hair type with a touch of the screen ensuring optimal heat for smooth styles in one pass. Heat just got personal.Voltage: 100-240V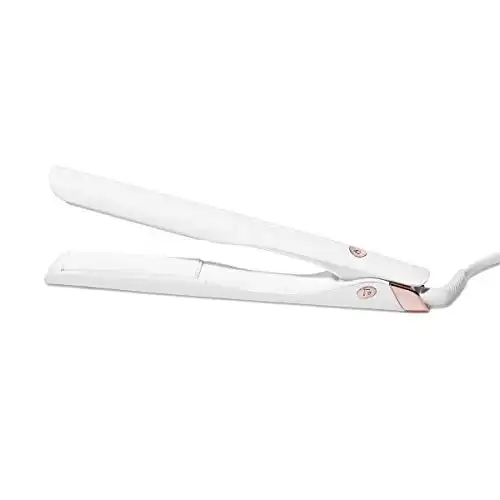 We earn a commission if you make a purchase, at no additional cost to you.
I own so many T3 products (including this flat iron, curling iron trio – review here!) and love them all! T3 is well known for making amazing products that not only do the job intended but also keeping your hair healthy and beautiful.
This flat iron as an automatic heat setting personalization – it personalizes 9 heat settings to give you the smoothest, sleekest look with just one pass of your iron.
Input your texture, length and if it is color treated for your flat iron to customize the heat specific for your hair. It's magic!
I've been using mine for over a year on my fine hair and it keeps my hair nice and healthy. It's a great choice!
Pros:
2 Year Warranty
Refresh mode (uses negative ions to refresh your style)
9 Heat settings
1 hour automatic shut off
Cons:
Price
Adjusting temperature can be confusing
ghd Platinum+ Styler - 1" Flat Iron
No more guessing the correct styling temperature. All of our stylers are pre-set to the optimal styling temperature of 365°F. ghd's ultra-zone™ technology monitors heat 250x a second to maintain the healthiest temperature without extreme heat damage. Enjoy 70% stronger hair,* 75% more shine,** and 2x more color protection.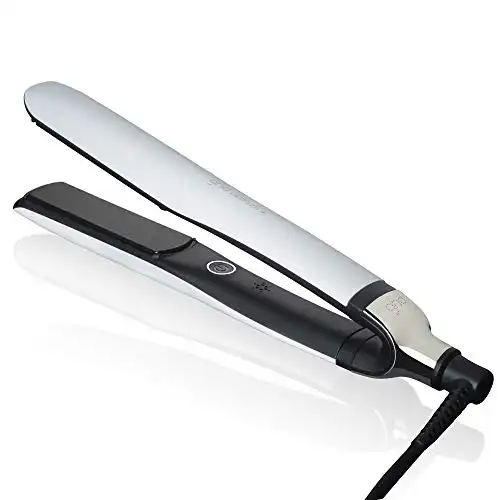 We earn a commission if you make a purchase, at no additional cost to you.
This flat iron is recommended by my own hair stylist! ghd Platinum Professional Performance Hair Styler uses ultra-predictive technology to straighten sections of fine tresses while maintaining consistent temperatures on both plates. It also monitors the temperature 250 times/second but has only 1 temperature to its name—365° Fahrenheit.
The ghd hair styler uses ceramic floating plates paired with advanced technology to offer 2x protection while making your tresses 20% shinier and 70% stronger. It also recognizes the speed of your styling and adapts to your hair's thickness.
This hair styler runs a bit on the expensive side but with its unique set of features, it's definitely worth every penny.
Pros:
Beautiful design
Uses advanced technology to straighten locks
Offers protection against hair damage
Cons: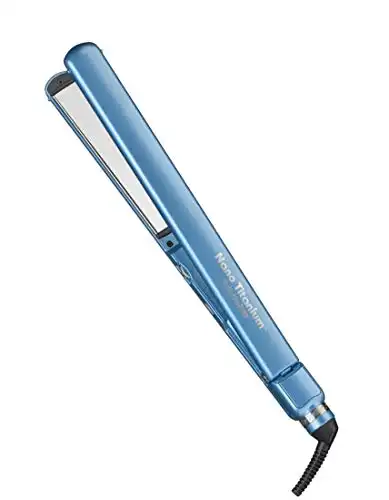 We earn a commission if you make a purchase, at no additional cost to you.
Another one recommended by my hair styles is the BaByliss Pro. The BaBylissPro Nano Titanium Straightener uses the latest technology to make styling super fun and easy.
It is sleek, durable, and is designed with ultra-thin corrosion-resistant titanium plates to offer even heat distribution quickly and efficiently without damaging your hair.
With 50 heating settings that can go up to 450° Fahrenheit, this titanium straightener is a complete powerhouse. You can easily select the lowest temperature to style your fine hair without the risk of overheating.
BaBylissPro has an ergonomic, ultra-thin design that makes it easy to hold and use for long periods. It's also incredibly versatile. You can use it to create a range of hairstyles, right from curls to beach waves.
Pros:
Comes with a three-year warranty
Uses corrosion-resistant titanium plates for even heat distribution
Ergonomic and compact design
Cons: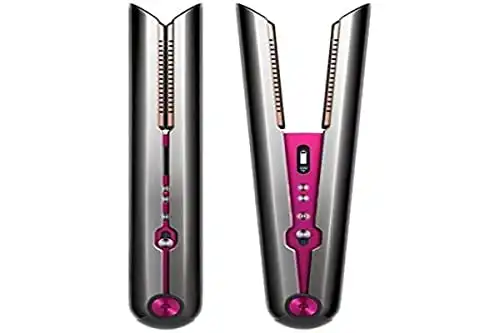 We earn a commission if you make a purchase, at no additional cost to you.
The Dyson Corrale is the best of the best when it comes to flat irons. There's no cord – it has a charging station, it has intelligent heat controls which changes the temperature based on the length, texture and thickness of your hair.
One really cool thing about this flat iron is that it has manganese copper alloy plates that allow the plates to flex, allowing the hair to glide through them with ease. This small detail is super important to fine hair gals because it flattens your hair in less strokes which means less heat on your hair!
Pros:
Cons:
NuMe Megastar Hair Straightener
The Megastar is a versatile hair styling tool that will give you the results you crave, without the damage!
*Use the code Paisley for 10% on Nume's website!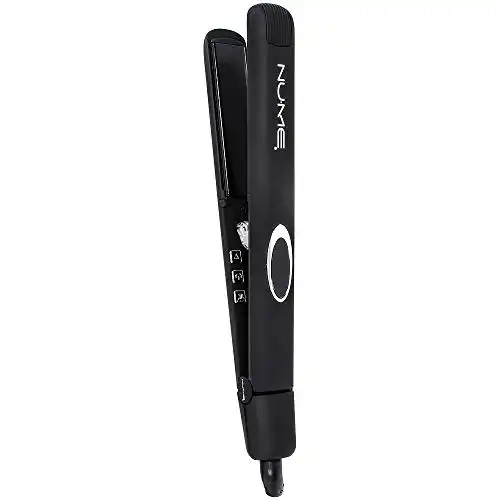 We earn a commission if you make a purchase, at no additional cost to you.
Made with tourmaline ceramic, this flat iron uses ion conditioning technology for added shine and floating plates for easy hair styling. It shuts off automatically after 60 minutes, uses dual voltage, and comes in three different color choices on Amazon. You will get salon-quality styling with this ceramic flat iron.
I own this one and let me tell you, it's magic! It gives you the most flawless finish, has kept my hair healthy, and heats up quick.
Pros:
Ion conditioning technology
Infrared heat
Dual voltage
Floating plates
Automatic shut-off
Cons:
CHI Original Digital Ceramic Hairstyling Iron
Ceramic heater with advanced technology and 60 second heat up for faster styling
1″ Ceramic Curved Floating Plates for Better Grip
Digital LCD Display
Heats up to 425°F (218°C)
9 ft. (2.9 m) professional swivel cord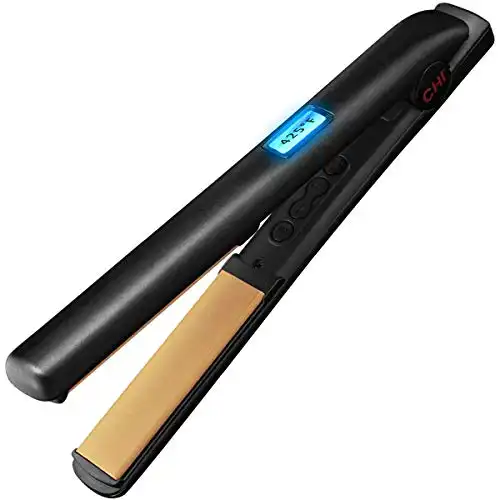 We earn a commission if you make a purchase, at no additional cost to you.
My sister-in-law has used the older version of this CHI for years (hers is photographed below!) and years and swears by it! CHI Original Digital Ceramic Iron heats up in only 60 seconds.
Made with 1-inch wide ceramic curved floating plates, the CHI Ceramic flat iron offers a smooth glide and snag-free straightening experience and a classy finish few flat irons can measure up to.
The CHI flat iron has a dual voltage feature to its name and has different temperature settings with different heat levels for fine, medium, and thick hair.
The device is lightweight, easy to use, sports an ergonomic design, and comes with a 1-hour auto-shut-off safety feature.
Pros:
Heats quickly with the help of advanced ceramic heated technology
Full customization options are available
Lightweight
Cons: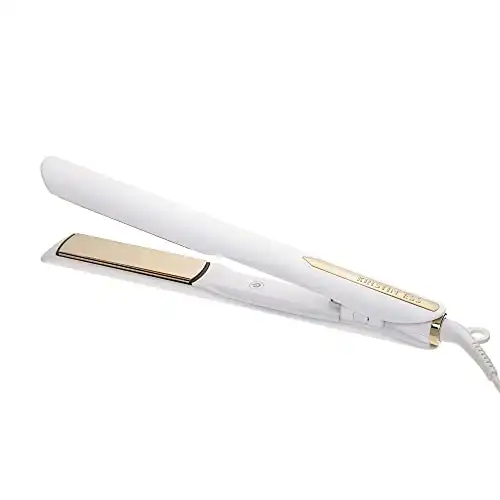 We earn a commission if you make a purchase, at no additional cost to you.
The flat iron that my sister, who also has very fine hair, uses is Kristin Ess! We have very similar hair types and she had very short hair for quite a long time and used this flat iron for both her short and long hair.
This flat iron has titanium plates that heat up quick and deliver even heat throughout. It has negative ions with help with keeping in moisture which prevents your hair from getting frizzy. It also increases the shine in your hair.
This flat iron has a digital display along with 4 preset temperatures and an automatic shut off after just 30 minutes!
Pros:
Shut off after 30 minutes
Heat resistant cap
9 foot swivel cord
Cons:
No dual voltage
Some people report it snags hair
Conair OhSoKind For Fine Hair Flat Iron 1-inch
Kinder 1" Flat Iron For Fine Hair: 3 fine hair friendly heat settings safeguard thin, easily damaged hair and add shine; Heat ranges from 295F to 375F providing gentle heat with Auto Off
Gentler 1" Flat Iron For Fine Hair: Rounded edges on the ceramic coated flat iron plates won't pull or snag, thus no breakage
Smarter 1" Flat Iron For Fine Hair: Almond and aloe vera infused, ceramic coated straightening plates fight frizz, minimize damage, and maximize shine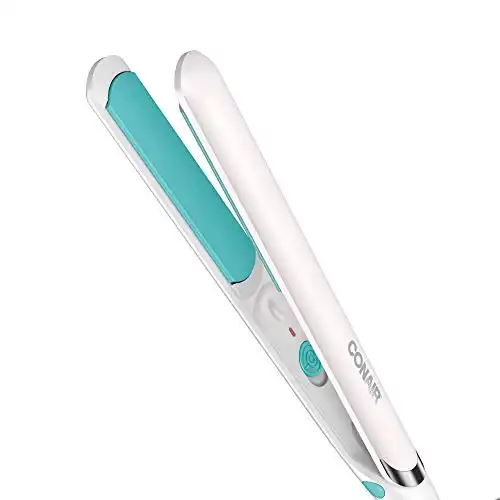 We earn a commission if you make a purchase, at no additional cost to you.
The Conair OhSoKind Flat Iron, designed with one-inch ceramic-coated iron plates, straightens your hair effectively with minimum breakage. This innovative ceramic flat iron is infused with almond and aloe vera that hydrates your hair and adds maximum shine to your straight hair.
The OhSoKind Flat Iron has 3 different heat settings with the lowest setting (295° Fahrenheit) being the most suitable for fine hair. The highest setting works beautifully with thick hair. The hair-friendly heat settings protect thin, flyaway strands of hair to help you create frizz-free hairstyles quickly and effectively.
The rounded edges of the OhSoKind Flat iron help prevent snagging and complement its beautiful overall design of turquoise and silver details against a white background.
Pros:
Adds luster to your hair
3 hair-friendly heat settings
Prevents snagging and breakage
Cons:
Made with cheap materials
Remington S5500TA 1" Anti-Static Flat Iron with Floating Ceramic Plates and Digital Controls
Anti-static technology - The technology in this flat iron delivers 50% LESS static and fewer flyaway
1" Long Ceramic plates - The long, thin plates are perfect for detailed styling and control, with a smooth glide that's comfortable for straightening or curling.
2x more Tourmaline - Tourmaline is a semiprecious gemstone that, when heated, aids in reducing static and frizz while styling.
410 Degree high heat - High heat works quickly to straighten hair with each pass, helping to prevent overexposure to heat.
Digital controls - Easily find the right temperature for your hair type with the digital controls and LCD screen.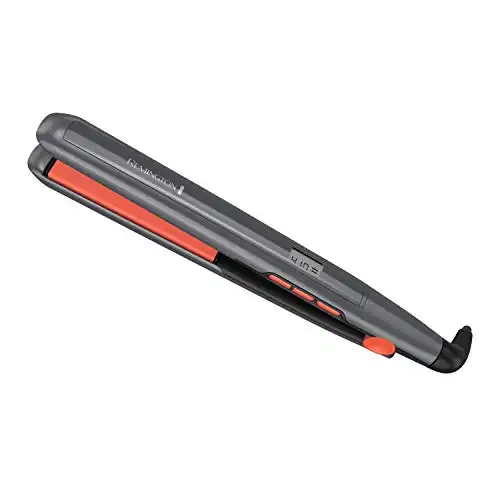 We earn a commission if you make a purchase, at no additional cost to you.
The Remington S5500 Anti-Static Flat Iron, true to its name, is designed to give you less static and flyaways. It does that by minimizing the amount of negatively charged particles by 50%.
The ceramic plates of the anti-static flat iron come with a titanium coating which, in addition to offering controlled and quick heating, gives a smooth styling effect.
Remington's digital controls and LCD screen allow users to manipulate the 6 different heat settings (up to 410° Fahrenheit) with ease. It also comes with a turbo boost function that allows you to skip to the highest heat quickly.
The hair tool also features 1-inch wide floating plates that make styling a breeze. The thin, long plates can also be used to create curls and waves.
Did we mention that it has a 60-minute auto-shut-off option and a 30-second heat-up time? Talk about maximum safety protection. It's easy to see why it's one of the bestselling flat irons on the market today.
Pros:
6 heat settings
Digital controls
Heats fast and has an even distribution of heat
360° swivel cord for easy use
60-minute auto shut-off
Cons:
Not dual-voltage
Low-quality plastic cover
Hot Tools Pro Signature Steamstyler
30% LESS HEAT*: Steam gently wraps hair for quick styling, long-lasting hold, and shiny styles
STEAM OPTIONAL: 3 settings (off, low, high); water reservoir lasts 1-3 styling sessions**
FOR ALL HAIR TYPES: 6 heat settings reaching up to 450˚ Fahrenheit
STYLE ON-THE-GO: Designed with dual voltage for travel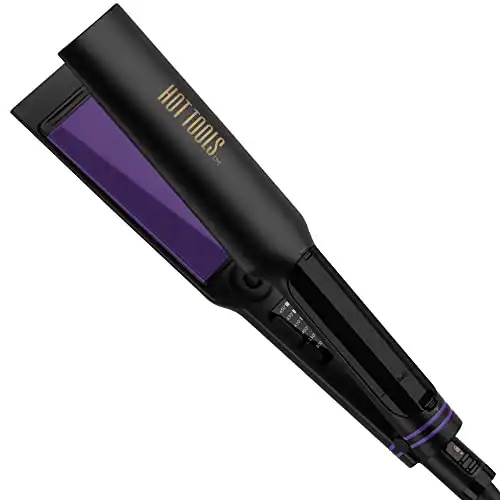 We earn a commission if you make a purchase, at no additional cost to you.
The Hot Tools Pro Signature Steamstyler is a unique flat iron that uses less heat to straighten the hair. It actually uses 30% less heat and actually uses steam (as the name suggests!) to flatten your hair.
The steam surrounds your strands and evenly heats your hair and helps keep it straight for longer. It has 6 different heat settings, an automatic shut off and charcoal ceramic plates.
Pros:
Works well for all hair types
6 Heat Control Settings
Reservoir is big enough for 1-3 styling sessions
Cons:
Shorter cord than others
Less technology than others
Usmooth Professional Styling Iron, 1.5 Inch
Smooth or style with this versatile, lightweight, ergonomic styling iron. The chic design with built-in technology makes usmooth's 1" Styling Iron stand out from other typical hairstyling flat irons in the market.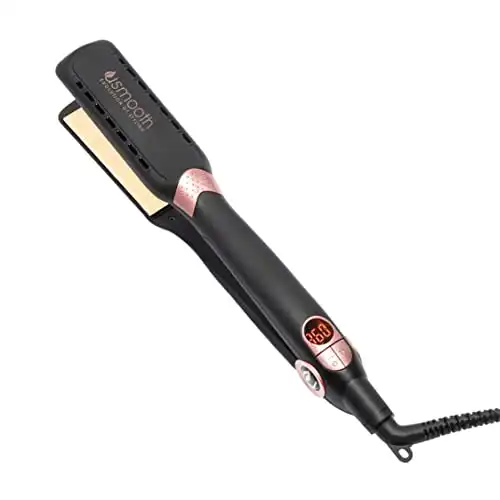 We earn a commission if you make a purchase, at no additional cost to you.
Another recommendation by my hair stylist is the Usmooth Professional Styling Iron. It has titanium coated plates that will smoothly glide through your hair with ease and infrared technology that does the job in one swift glide.
It boasts 4 temperature settings up to 450 degrees Fahrenheit that is great for all hair types! This flat iron heats up quickly – to 290 degrees in 30 seconds and maximum heat in 60 seconds.
Pros:
Shuts off after 60 minutes
Tangle free cord
No slip grip
Cons:
5 Tips for Using a Flat Iron on Fine Hair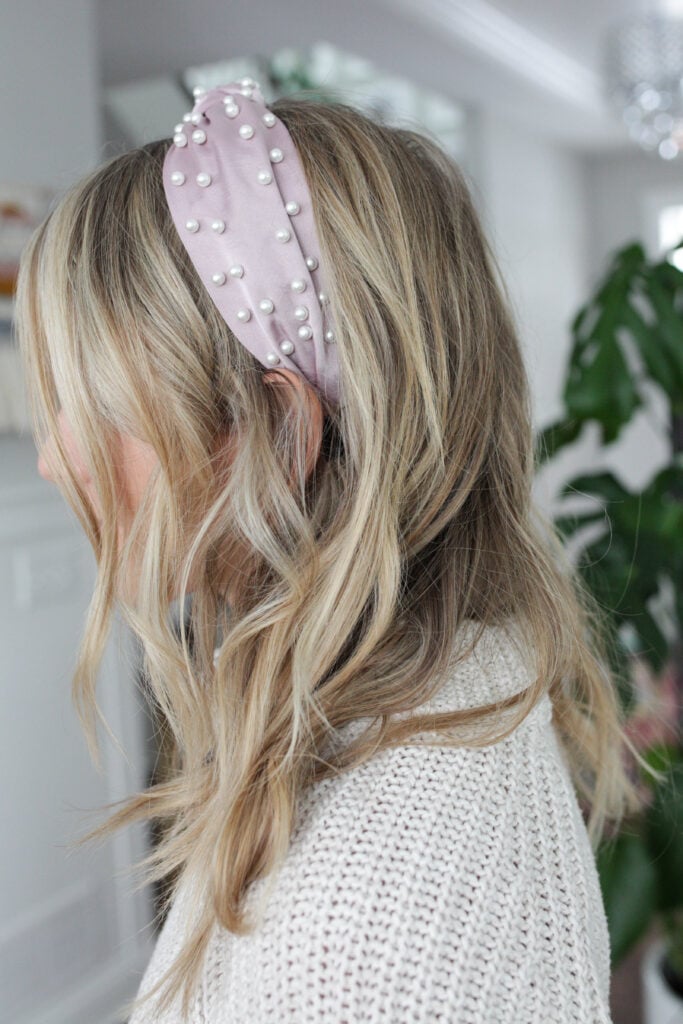 1. Invest in A Good Flat Iron
A good flat iron, particularly one with ceramic plates, will offer even heat distribution, minimize risks of hair damage, and hold up to 5 to 10 years. So if a flat iron meets all your requirements but runs on the heavier side, don't hesitate to make that investment.
2. Take Your Time
Straightening your hair to give it a salon-like finish is appealing to everybody, but the time and effort? Not as much!
However, it's always best to take time with the process. Even if your device has 3 heat settings, make sure to use the one that is recommended for your hair type to minimize the risk of breakage and damage. Remember, slow and steady wins the race.
3. Split Your Hair Into Small Sections
Splitting your hair into manageable sections gives you more control by helping you monitor how you use your device on specific parts of your hair. For example, you would be more cautious when you're ironing the strands of your hair near your ears than you are with the strands at the back of your head.
4. Apply A Heat Protector
A heat protector, like Bumble and Bumble's Hairdresser's Invisible Oil Primer, can help protect your hair against damage. Make sure to apply it to your hair, not your scalp. The latter would only serve to make your hair look greasy.
Just spray throughout your hair in layers and brush it in before styling. It works like a charm.
5. Use Finishing Products
Our hair gets exposed to chemicals and is stripped of its natural oils when we straighten it using a flat iron. Using finishing products after the hair straightening process may offer protection against hair damages.
When looking for finishing products, make sure to check the ingredient list. This can help you determine whether the product will offer hair health benefits or make your hair look greasy and cause buildup.
I personally love Bumble and Bumble Brilliantine or Ouai Finishing Creme.
Wrapping Up
With the tools and tips discussed above, finding and using a hair straightener for your fine hair should be easier than ever.
While the recommendations all focus on styling your hair perfectly while protecting it from damage due to heat, you should still do your research and weigh in your options before you make a purchase. After all, nobody knows your hair better than you!
If you love hair powders, be sure to check out the best hair powders for volume and texture!
Want more hair fun? Here's some tips for getting curls to last in fine hair or the best blow dry brushes for fine hair!