Eighties and nineties fashion has made a comeback, which means old hairstyles are popular again! With it brings crimped hair and today's modern twist: beachy waves.
Even if you aren't looking to have a full crimped style, crimpers can also help to add volume and texture to your hair.
While you may not want to relive your youth of styling your hair into tiny flat crimps, you can create several different hair styles with a hair crimper, none of which will make you feel like you should be wearing leg warmers!
Want to know what the best hair crimper is? Look no further! I'm sharing all you need to know about the best hair crimpers for all budgets, hair types and more.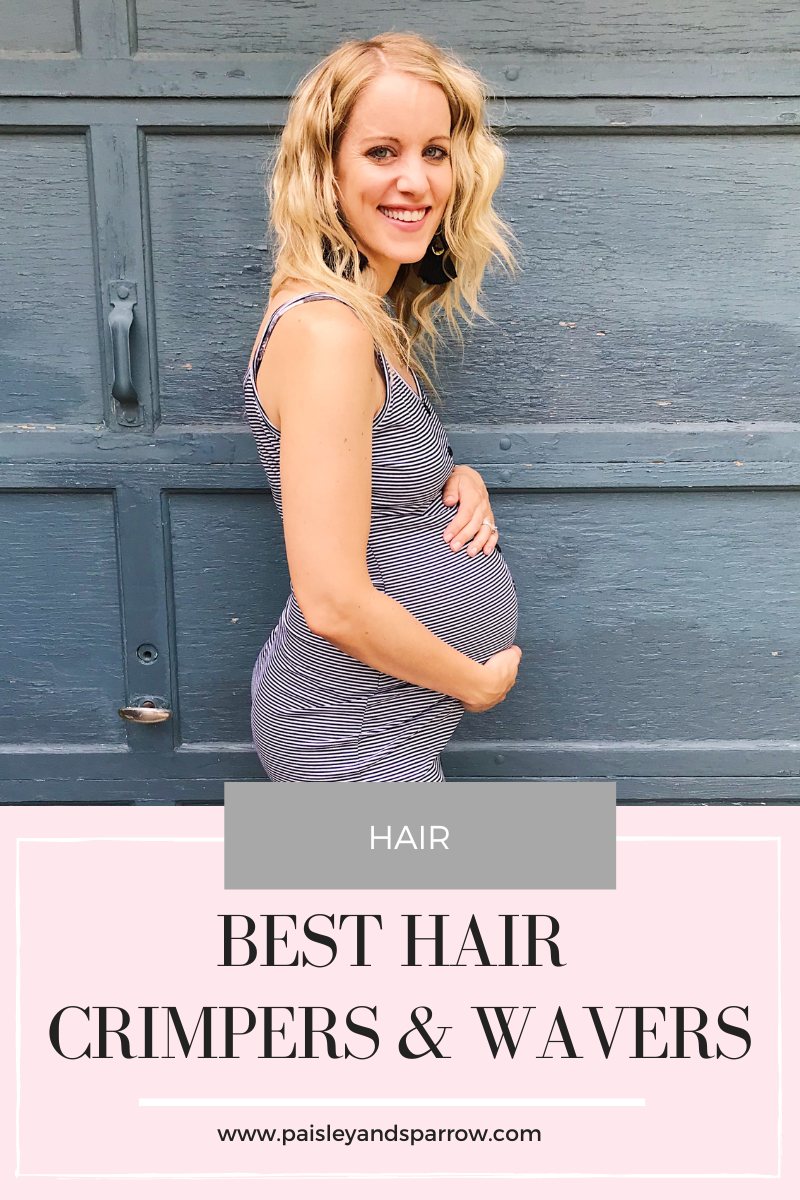 Paisley + Sparrow is a participant in the Amazon Services LLC Associates Program. This post may include affiliate links which means I may earn a small commission if you shop using the links below at no additional cost to you. 
What Is the Difference Between Hair Crimping and Curling?
The main difference between crimping and curling is that hair crimpers and wavers style your hair in a back-and-forth manner, and a curling iron sets your hair in just one direction.
A crimping tool uses a ridged or wavy plate to give your hair small waves, looking like a zigzag type pattern (or bigger waves depending on the hair crimper size). Think of it like a flat iron with ridges. A waver may also look like 3 curling iron barrels all together.
A classic curling iron will just have one barrel and will leave your hair with cylinder ringlets or one big curl.
Both give your hair life, just in different shapes! You can use a curling iron to create waves, but it'll take a lot longer than a waver or crimper tool. The best hair crimpers will take just a few seconds to create several waves in a section of hair.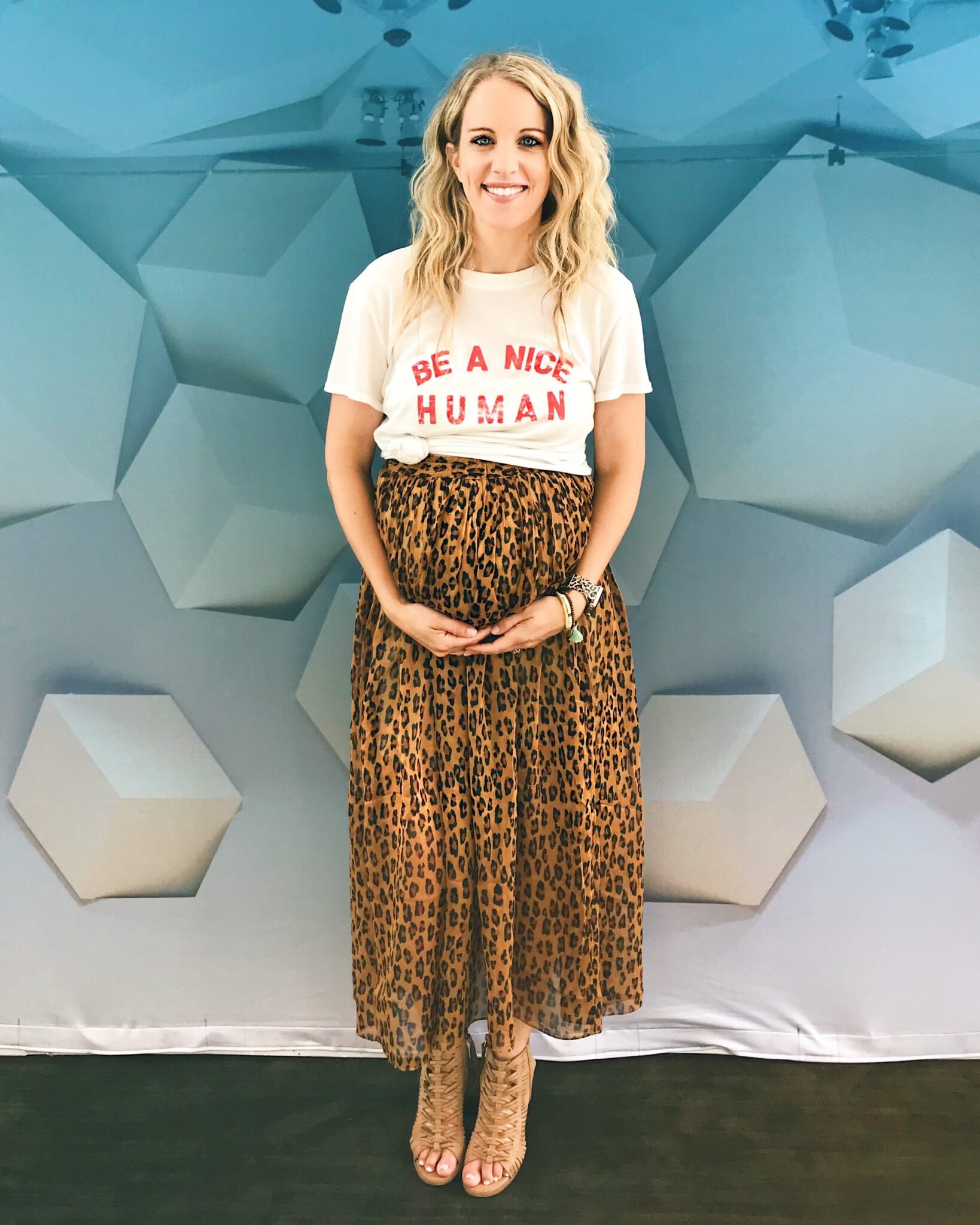 Considerations for Your Best Hair Crimper
Before purchasing your crimper, there's a a few things you'll want to consider so that you get the best one for you!
First, you'll want to consider the temperature settings. If you have longer or thicker hair, you'll need a hair crimper that can reach a higher temperature.
You will also need to decide what kind of hair style you are going for. If you want texture or more tightly packed crimps, go with a mini crimper. A wider crimper will give you waves.
Also think about your hair length. A mini crimper will be better for short hair, while a wider crimper will work best for long and thick hair.
Additionally, look to see if your crimper has an auto shut off feature and multiple heat settings. Those are great bonuses to have with whatever crimper you go with! They'll keep your hair crimper from becoming a fire hazard and give you options to prevent heat damage.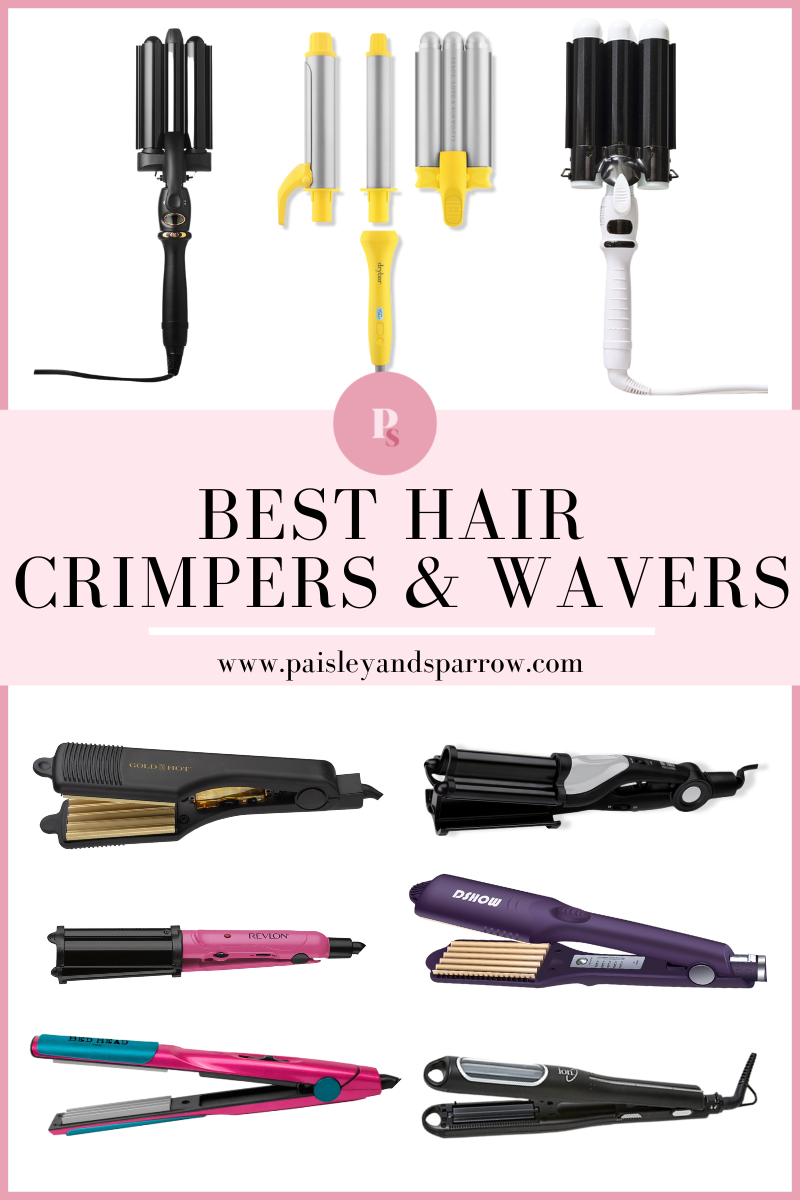 Top Hair Crimpers
No matter what crimp style you're hoping to achieve in your hair, there's a perfect hair crimper out there for you. I've rounded up my top picks for various styling, budget, and hair type options. I hope you'll find your new favorite hair tool in this list!
This is the crimper that I personally use and love! Great for natural hair (or any hair type!), this high tide deep waver is a curl enhancer, volumizer, and cuts down on frizz. It won't leave marks in your hair and is very easy to use.
Pros:
Shuts off after 30 minutes
Keeps hair looking smooth
Cons:
This drugstore waver will fit right within your budget! It has a ¾ inch barrel that will help to create beautiful waves in your hair. It's great for all hair types and heats up to 430 degrees.
Pros:
30 heat settings
Ceramic coating to prevent heat damage
Cons:
Takes a long time to heat up
Fine hair can be crimped, too! This ceramic iron is great because it automatically feeds hair between the barrels, which will significantly cut down on your styling time!
Pros:
Auto shuts off in one hour
Two temperature settings up to 420 degrees
Cons:
Takes a long time to heat up
What about those with thick hair? This wide 2″ iron is perfect for you because it can crimp more hair at once. It's quick to heat up, making the whole styling process very quick!
Pros:
Heats up in 60 seconds
Works quickly
Cons:
This 4-in-1 ceramic crimper with interchangeable plates is perfect for all hair types, but is great for those with curly hair! One of the plates works as a straightener, while the others have different amounts of plates. Straighten your hair first, then make your crimping dreams come true!
Pros:
Heats up in 30 seconds
5 temperature settings
Cons:
The plates can be difficult to take off
Designed to make tight beachy waves, this crimper would work best if you have short hair. It has multiple heat settings to work well with all types of hair!
Pros:
Dual voltage
Heats up quickly
Cons:
Waves hair more than it crimps it
This three-barrel beach waver will make you look like you've spent the whole day by the ocean! The three barrels definitely help to speed up the process, making it great for longer hair.
Pros:
Heats up quickly
Velvet handle and cool tips to prevent burnt fingers
Cons:
Creates beachy waves, not so much crimps hair
Get wider frizz-free waves no matter how long your hair is with the Bondi Boost Wave Wand. This wave hair crimper has three crystal powder tourmaline barrels, each extra large for fun mermaid or boho waves. The material creates shiny waves in just a few seconds.
Pros:
Adjustable temperature
Instant heat up
Cons:
A bit heavy
Easy to accidentally turn off while using, but has a lock button to keep it on
Go from damp hair to waves in a matter of minutes! No more blow drying then styling. Use on either dry or wet hair; there's a setting for both and it won't damage your hair.
Pros:
Heats in 30 seconds
Auto shuts off after one hour
Cons:
Some noticed it made their hair frizzy
With three different parts, you'll be able to create defined waves, classic curls, or beachy waves. This wand is great for all hair types and textures. It's truly worth the investment!
Pros:
Ability to create a variety of styles
Auto shuts off after an hour
Cons:
If you're looking for a classic crimped look, then this is the best hair crimping option for you! You'll get texture and volume, or crimp all of your hair for an eighties style.
Pros:
Heat dial that goes up to 430 degrees
8 foot cord
Cons:
This micro-crimper will help you add some extra volume to your hair– especially if you have thin hair. Forget teasing your hair, this crimper will lift your roots without frizz or damage.
Pros:
Five temperature settings
Heats in 30 seconds
Cons:
Can get very hot (up to 455 degrees)
Create beautiful, frizz-free, mermaid-style beach waves with this easy-to-use crimper! You can lock and unlock the barrel to make either wavy curls or big curls depending on your preference. This makes it great for all hair types and lengths!
Pros:
Reduced frizz and dryness
Shuts off after 60 minutes
Cons:
On/off button located in an inconvenient spot
Try out this triple barrel waver if you're going for more of a beachy look! It'll leave your hair with salon-quality waves in a matter of minutes and is very easy to use.
Pros:
Heats up very quickly
Reduces frizz and adds shine to your hair
Cons:
Not great for shorter hair
At only $30 and very easy to use, this wand makes a great choice for beginners. It works quickly, is great for all hair types and lengths, and the ceramic helps to prevent frizz. Practice with this easy crimping wand to see if you like the look before investing in a more expensive version.
Pros:
Heats in 60 seconds
Works as both a crimper and waver
Cons:
Some say it left their hair smelling bad
At $26 on Amazon, this isn't a bad price for a good crimper! This ceramic tool is a one inch size, which means it'll create a small amount of texture. You can also use it on your roots for extra volume.
Pros:
Heats to 400 degrees
Heats within 30 seconds
Cons:
Doesn't reach the highest temperature
All hair types can enjoy beautfiul waves with this waver. The nano ceramic technology will help to prevent overheating and hair damage. Plus, your hair won't be left looking frizzy after crimping!
Pros:
Heats fast
Cool tips for easy handling
Cons:
Does not automatically shut off
How To: Top Tips for Hair Crimping
If you're used to curling or straightening your hair, it shouldn't take much time to get accustomed to using a hair crimper. Clean, dry hair works best for crimping, and if you have fine hair, you may consider blow-drying or using a texturizer to create texture to hold the crimp best.
It's also smart to use a heat protectant to prevent as much heat damage as possible. If you have thin hair, try the lower heat settings on your hair crimper first to see if they create the style you want before trying a higher temperature. Thin hair is more easily damaged by high heat.
After your crimper has heated up, take small sections of hair and clamp it in the hair crimper for a few seconds at a time. Smaller sections will create deeper, more uniform crimps. If you want a looser look (or are short on time), you can do larger sections.
Start with the bottom sections and work your way up. When you're done, use a light hairspray to hold your crimps.
FAQ:
Are crimpers bad for your hair?
Any time you use heat, it isn't great for your hair. Put some heat protectant in your hair before you start crimping to cut down on any heat damage.
How long do hair crimps last?
Crimped hair should last you through the day. Once you go to sleep, your crimps will loosen and will need some touching up if you want to keep that look in the morning. It is not a style that is meant to last for days.
How do you make crimps stay?
Hairspray is key! Keep your hairspray on hand during the styling process and spray each section of hair before and after it's crimped for the best results. Then, spray your whole head once all of your hair has been crimped to lock in your style and help it stay intact throughout the day.
How can I crimp my hair without it getting frizzy?
Definitely apply a heat protectant and a styling product to your hair. If your hair is already frizzy to begin with, apply a small amount of anti-frizz serum and you should be good to go!
Find out the best hairsprays to hold curls and my other tips to make curls last in fine hair. Or if you're straightening your hair, check out the best hair straightening products and flat irons.