It's finally spooky season, which means it's time to go all out on Halloween decorations, costumes and overall scary vibes. Whatever you plan to do for actual Halloween day, you can get in the holiday spirit with your next manicure.
There are so many fun nail designs you can do at home or take to the nail salon so you're ready for that Halloween party, trick-or-treating, or just watching scary movies at home. Here are my favorite Halloween nail ideas for this creepy time of the year!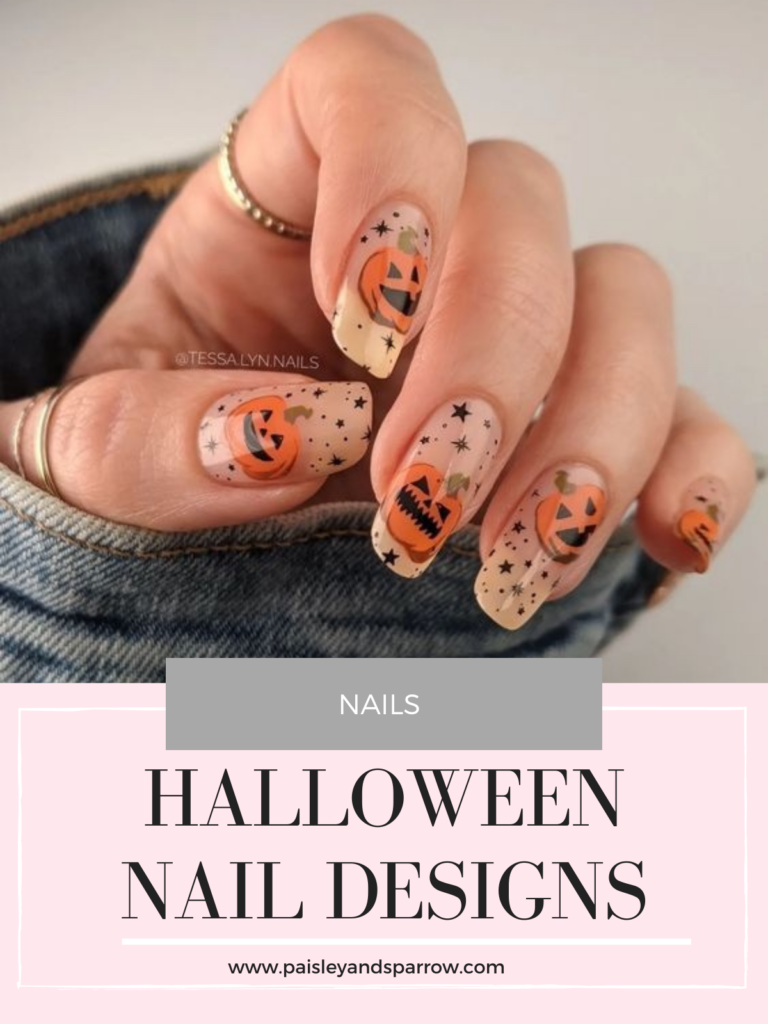 Best Halloween Nails
1. Boo Ghost Nails
Image via @estheticsbyjayde
If your favorite part of the season is the ghosts everywhere, this is the Halloween manicure for you. These adorable sheet ghosts will delight you all month long. The little "boo"s top off these cute Halloween nails.
2. Cat Nails
image via paintbynaptime
Every girl has gone as a black cat for Halloween at least once, right? Honor those fun but easy Halloween costumes with these sweet black cats peeking out from your fingernails. Black accent nails top off the look (and I love how the cat on the tip of the nail gives a funky French manicure vibe!).
Colors are: Where's the soirée and It's All in the Attitude by Color Club Nail Lacquer, Base is BEB by Olive and June
3. Spooky Nails
Image via @estheticsbyjayde
Don't choose just one spooky look for your nails. Try a different design on each one to really complete your outfit. Skeletons, vampires, ghosts, and spider webs are the perfect combination for these autumn days.
4. Black Cat Nails
Image via @tessa.lyn.nails
Nothing screams Halloween more than the orange and black color combo and some black cats! You could even just do the simple design without the cats. These Halloween color French tips are to die for.
5. Black White & Gold Halloween Nails
Image via @estheticsbyjayde
Your holiday-themed manicure can still be chic! Just stick with black, white and some gold glitter! Cute ghosts, white pumpkins and a dancing skeleton take these Halloween nails to the next level.
6. Halloween Mix & Match
Image via @tessa.lyn.nails
You can't go wrong with a matte finish — it really adds a cool element to any manicure. I love these different options for small-scale Halloween nail art ideas. Do a bunch of tiny ghosts on a nail, little flying bats, and even a subtle design of stitches, giving Frankenstein vibes.
7. Mummy Nails
image via paintbynaptime
If you don't have a lot of time to do a complicated mani, this easy nail design is such a fun option! Pick whatever base colors you want (it doesn't have to be "Halloween colors") and then use white polish to create some mummy wraps. Two little polka dots complete the look!
8. Ghost Nails
image via paintbynaptime
For you ghoulies that want a more neutral, simple halloween nail design, just add some easy ghosts to the corner of each nail. Use a neutral base and then white nail polish with three black dots. Done!
9. Jack o' Lantern Nails
Image via @tessa.lyn.nails
This look really captures the spookiest night of the year and the whole Halloween season for me. It feels like walking down a street under the stars trick or treating, passing all the different scary jack-o-lanterns! This one seems a little tricky, so you may go with a professional nail artist to achieve this look.
10. Black & Orange Nails
Image via @estheticsbyjayde
This little skull feels very Jack Skellington to me! Get your Nightmare Before Christmas nails with an easy skull, the stripes like his suit, and some other Halloween Town-feeling elements like spider webs and jack-o-lanterns.
11. Boos at the Ball
Image via @tessa.lyn.nails
Not everyone loves a scary Halloween theme, but ghosts can be sweet too! Give yourself some glittery purple nails and add some cute halloween nail art with these fancy spirits.
12. Scream Nails
Image via @estheticsbyjayde
What's your favorite scary movie? If it's Scream, than these themed nails are right up your alley!
You can capture the Halloween spirit, even if your style is more glittery pink than orange, blood and gore. Paint blood drips in black, grab some pink glitter if that's your thing, and add a little tongue-in-cheek reference to this horror classic.
13. Black and White Scream Nails
Image via @nailsby.hails
Classic black and white manicures can look scary while still feeling sophisticated.
14. Mushroom and Butterfly Nails
Image via @tessa.lyn.nails
Choose fall nail designs that can last the whole season if you are worried about being too Halloween specific. Try orange and black with nature elements like mushrooms and moths and stars.
15. Drippy Eyeball Nails
Image via @nailsby.hails
I always feel like somebody's watching me! Not only does this manicure feature such a fun and creepy eyeball, but I am digging the smoky effect!
16. Dancing Skeleton
Image via @estheticsbyjayde
Skeletons don't have to be too detailed or perfect! You can make most of the body with just straight lines and the skull doesn't need to be just right. In fact, the more wonky, the creepier!
17. Halloween Nails
Image via @nailsby.hails
Eek! Look at these adorable gnomes! Combine them with a smattering of other Halloweeny things — stars, pumpkins, ghosts, moons and bats — for a fun nail set.
18. Mini Pumpkin Tips
Image via @illustrated_nails
This is a simple concept: super glossy black nails with tiny jack-o-lanterns on the accent nails! Slick and spooky.
19. Neutral Halloween nails
Image via @nailsby.hails
This neutral base manicure has cute but spooky vibes. Choose one accent nail to add all your Halloween elements and then just add one or two to other nails for a cohesive look.
20. Black Snakes
Image via @nailsby.hails
Go creepy-crawly (but so cool) with these black snakes. The pearlescent opal base adds a little something extra to the black polish.
21. Ghosts and Stripes
Image via @tessa.lyn.nails
Give your ghosts some little rosy cheeks, then tie the color through your manicure with accent stripes and solid nails.
22. Orange Spiderweb
Image via @estheticsbyjayde
Give your French manicure a twist with these white, black and orange wavy tips. Add some spider webs, stars and small dots to complete the look.
23. Abstract Halloween
Image via @tessa.lyn.nails
I love this abstract nail style, and there's no better color to add to your Halloween line-up than pink! It adds a sweet, feminine energy to the mani. Use your nail tools to create simple designs like a spider hanging from a web and little bats.
24. Abstract Candy Corn
Image via @tessa.lyn.nails
There are two types of people: those who like candy corn and those who don't. Whether you like to eat it or not, you'll still enjoy creating the pattern on your fingernails. Create some rugged brush strokes to give the manicure a bit of interest.
25. Halloween Treats
Image via @tessa.lyn.nails
We all know the best part about Halloween growing up: the candy! Add candy stickers and chunky glitter to get the tastiest mani on the block.
26. Black and White Boo Nails
Image via @tessa.lyn.nails
A matte black and white manicure is so cool (and great if orange isn't your color). I These cloudy sky scenes take me straight to a brisk All Hallow's Eve going door to door in costume!
27. Orange Tip Halloween Nails
Image via @always.manicured
A slant on the French tip manicure, this orange tip set is easy to achieve and lets you add your favorite Halloween symbols.
Colors: Olive and June you're a 10, EM, HD
28. Pink Halloween Nails
Image via @nailsby.hails
You can never have too much pink, even for Halloween! I love the combination of spooky and sweet symbols on this fun manicure.
Many of these nail designs are created using Olive & June nail polish. Check out my review of O&J here!
Need more manicure inspiration? I've got lots! Try these brown nail designs, bright manicures, or black and blue ideas.