Denim jackets are a girls best friend! If you need some style inspiration to help you know ways to wear a jean jacket, this post is for you!
Let's back up a bit. Sometimes I see something I love and it takes me FAR too long to purchase one. A good denim jacket was one of those things.
I bought a few not so great quality ones but then never ended up wearing them but always loved seeing outfits styled with them. Being in MN where the weather is cold about 90% of the year (I kid, I kid), I'm starting to finally invest in some good outerwear!
Are denim jackets still in style?
Heck YES!! One look at a magazine or Instagram and you'll see beautifully style denim jacket outfits all over the place.
Last spring I picked up this jacket from one of my favorite brands that give back and it was literally the best thing I ever did. It is so comfy, fits like a dream and it's purchase helps marginalized women have a good job! That's a win, win, win if you ask me!
If you've been hesitant to get a denim jacket for yourself, or have one and are unsure how to wear it, here are a few different ways you can style it.
And trust me when I say, investing in a good denim jacket is like investing in a good pair of jeans. Once you get a good pair you'll understand why they're worth the investment!
How to wear a Denim Jacket 3 ways
This post may include affiliate links which means I may earn a small commission if you shop using the links below at no additional cost to you. Thanks so much for supporting me and this blog!
Casual over a Graphic Tee
The easiest way to wear a denim jacket is thrown over a simple tee and jeans! It's the perfect layering piece.
I have this cute coffee tee that I pretty much live in! It's so cozy and I love the variety of colors. I like the dark denim in this outfit to mix things up a bit.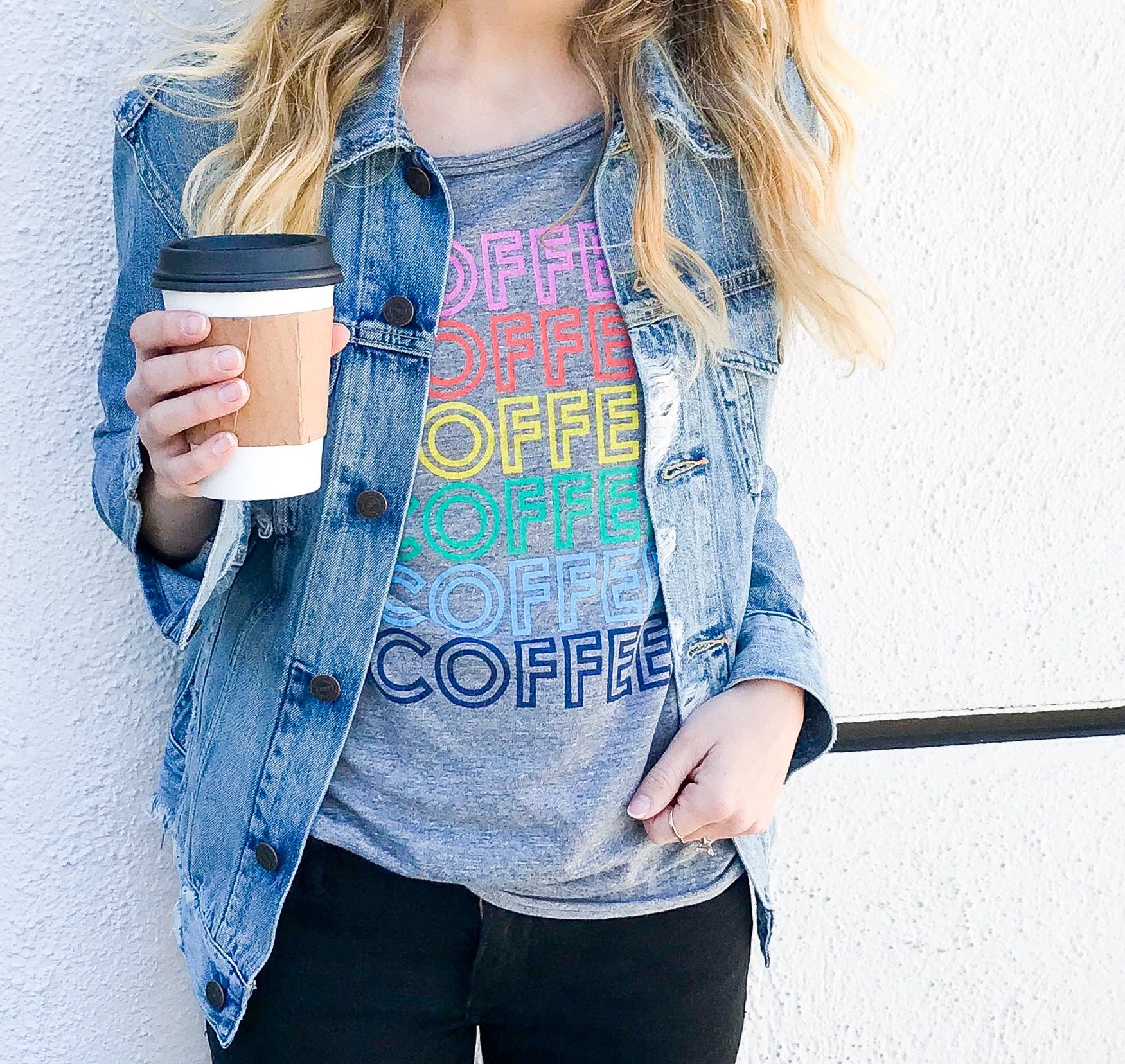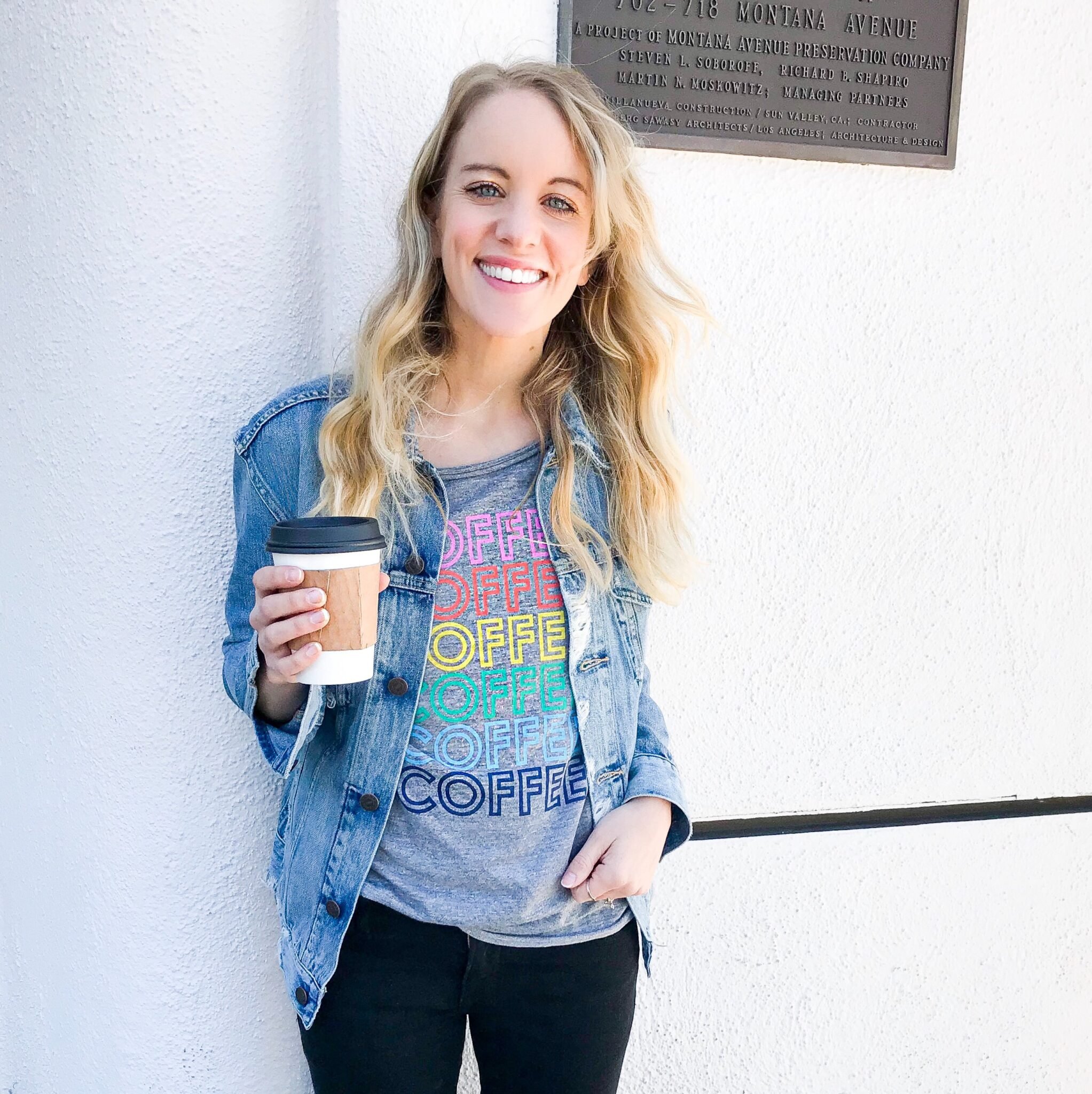 Denim Jacket Layered Over a Dress
I recently brought it with on our trip to the west coast and I am so glad I did. The weather was much cooler than I had anticipated and the denim jacket I had was perfectly paired with the dress I brought.
Denim jackets over dresses are my new favorite! They dress down a more fancy dress to allow you wear it to more than fancier occasions. This dress is actually an off the shoulder dress so by adding the denim jacket it keeps it more "brunch appropriate" and not too over the top.
Dresses with a defined waist are the best option when you go this route. It will help you from looking like you don't have a waist (which can make you look heavier than you actually are, especially with a jacket on top).
I felt so comfortable in this outfit and loved how it looked! I'll definitely be wearing this combo all through fall and just switching my sandals for booties.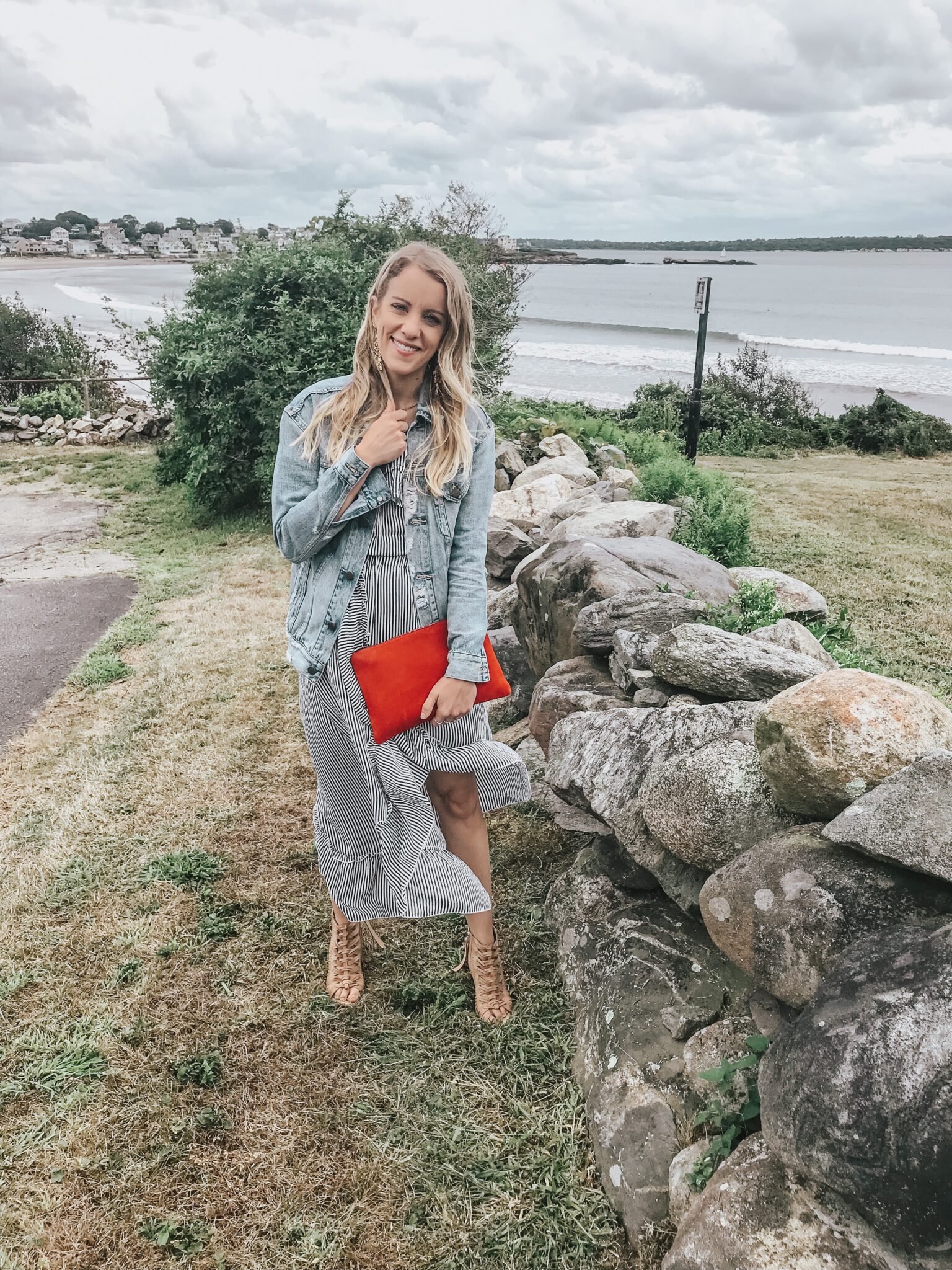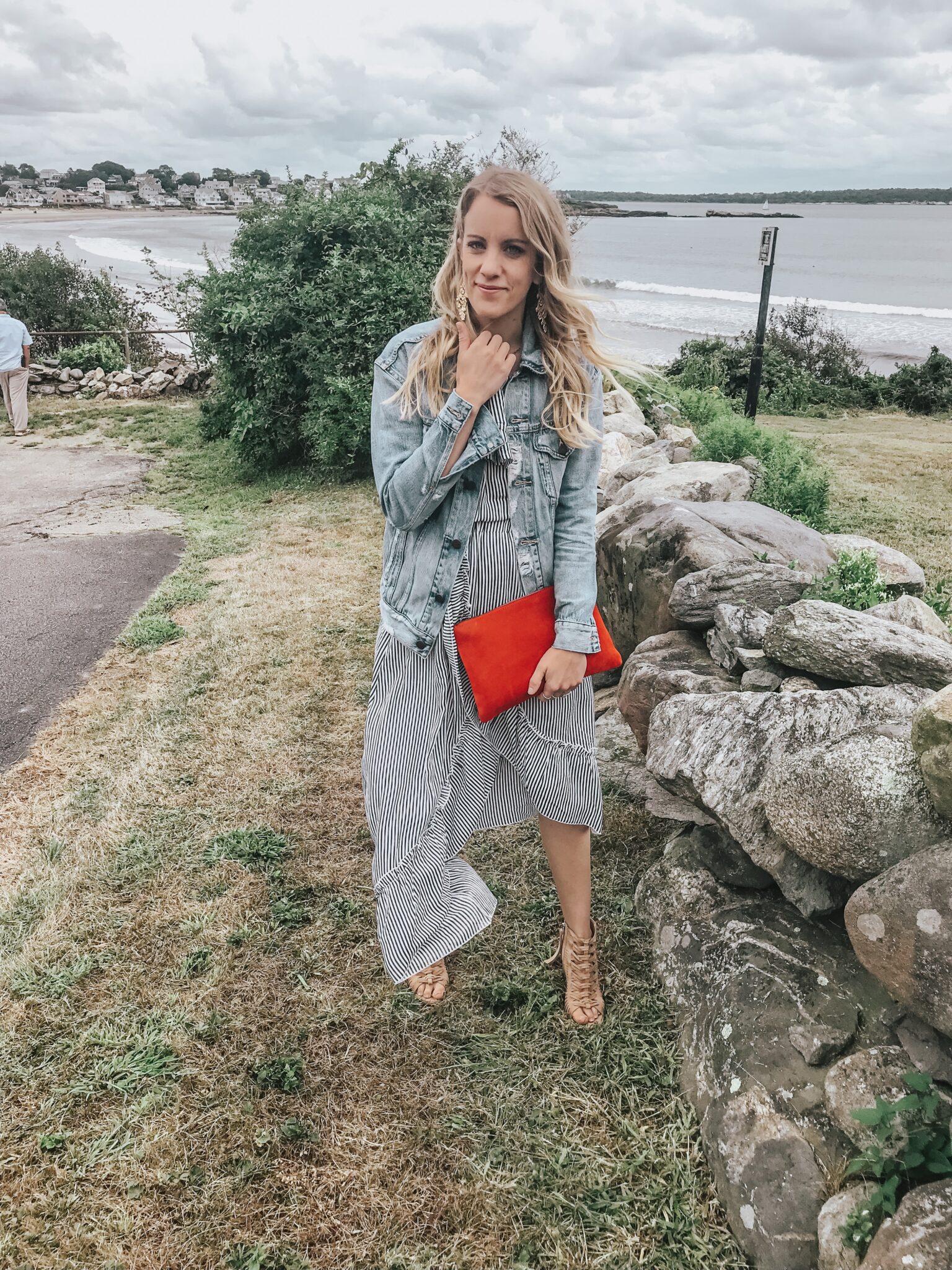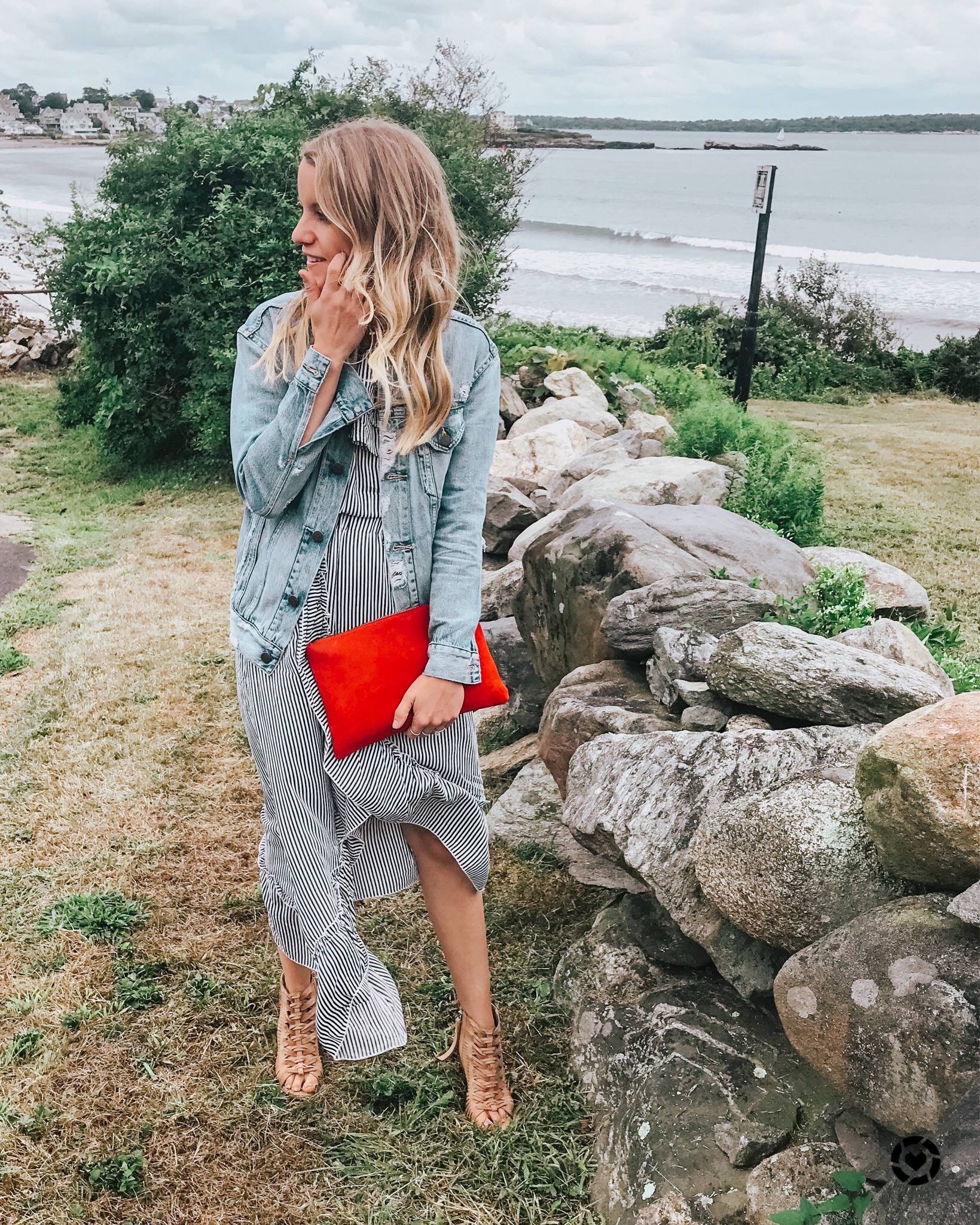 This dress is from Carly Jean Los Angeles. Check out this post for my full review on them!
Denim Jacket on Denim

Jeans
This is also referred to as the Canadian tuxedo. 😉 One way to do this well is is to break it up with a color! Add a bright colored graphic tee, sweater or button down shirt (as shown below) underneath.
I also love the bright pop of red in my hat so it's not too mundane. You can add a flashy pair of earrings or a bright colored boot to get the same effect.
Also, wear a top that's longer than your denim jacket to help break up the denim on denim look! This will also help if your denim is similar colors so there's not too much denim all over.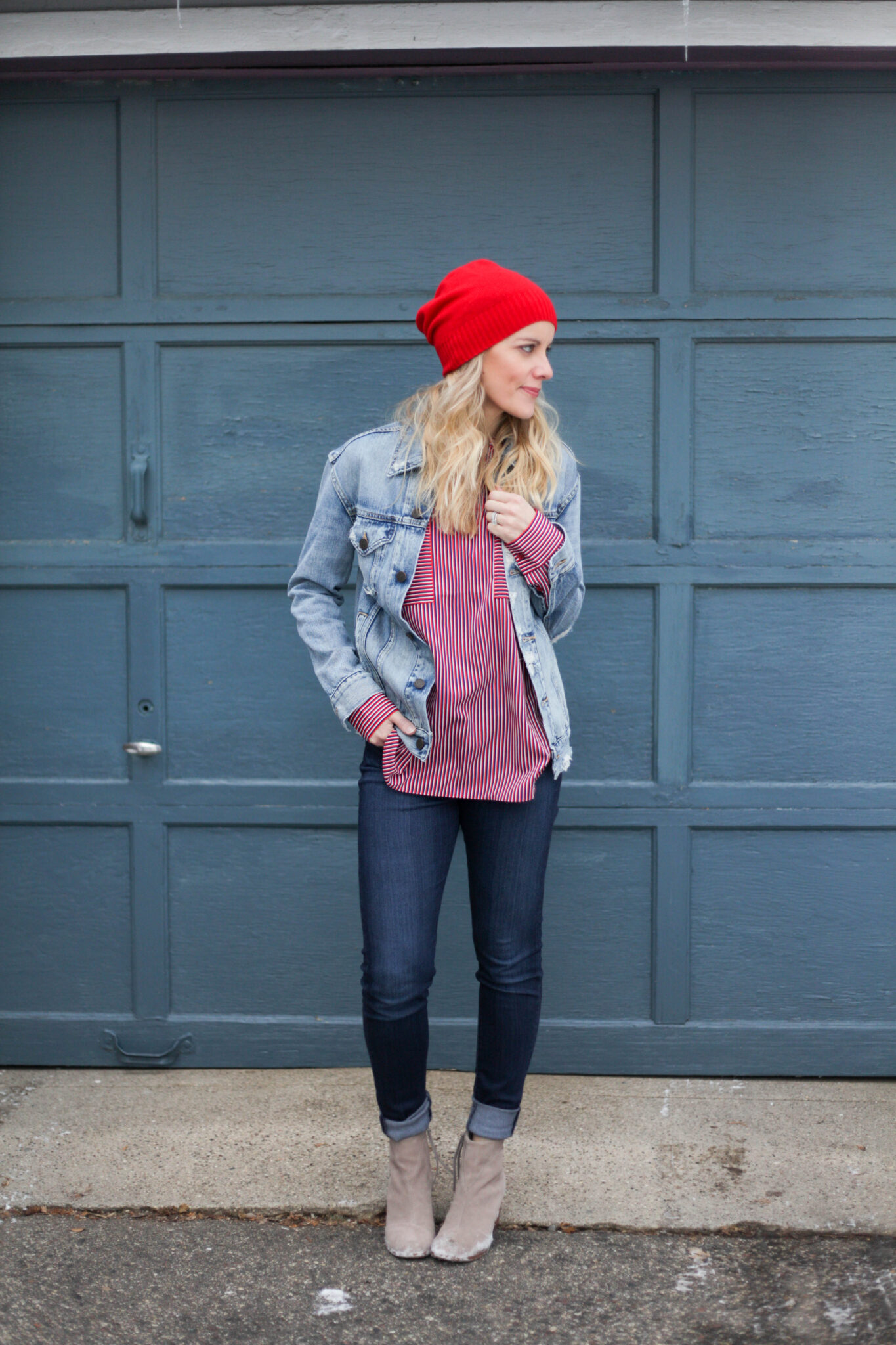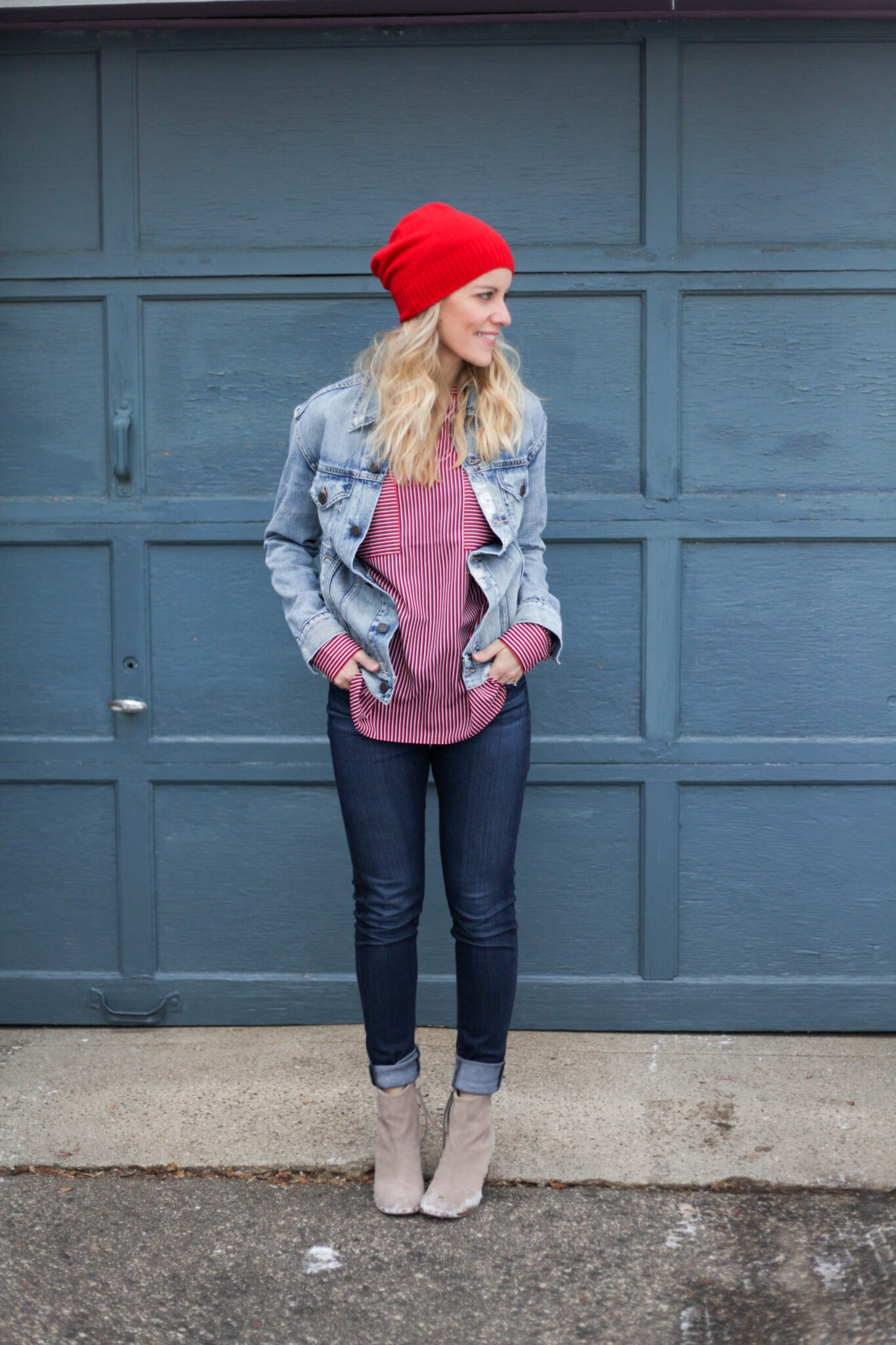 I promise when I say that once you find a good quality denim jacket that fits you well, you'll catch yourself throwing it on every day! They're such a fun transition piece between seasons and especially great for those cooler months.
Are you a denim jacket fan? What's your favorite way to wear yours? I hope this post helped inspire you with new ways on how to wear your jean jacket!
Find even more style tips for your denim jacket over on my Spring Style Guide or see 3 different ways to wear a blazer!
As always, thanks so much for reading and sharing!
With love,
Jen