*This post is sponsored by Schuler Shoes but all opinions are my own!
When it comes to jeans, you can never have too many different styles. From skinny jeans to mom jeans, to flare jeans and straight leg jeans.
It seems that there's enough denim love going on right now that you can get away with wearing any style of denim (yes, even skinny jeans!).
If it's been 15+ years since you last pulled on a pair of flare jeans or if this is your first time, welcome! I love a good flare Flare jeans are back and I couldn't be more thrilled! They're a super flattering jean that can make your legs look super long when worn the right way.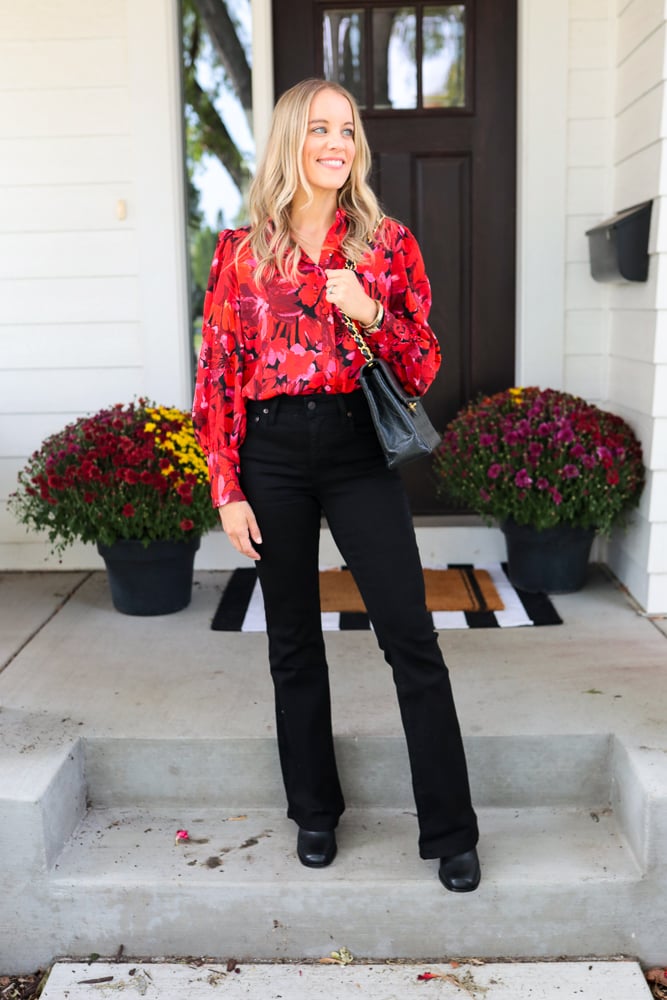 But with new trends come challenges. One challenge is what kind of shoe should you wear with flare jeans?
While in my personal opinion, there's no right or wrong way shoe to wear but there is a better type of shoe to wear.
I've teamed up with Schuler Shoes to share 3 simple options of shoes to wear with flare jeans. Schuler Shoes has been family owned since 1889! My entire family has shopped at Schuler for years – it was my grandma's favorite shoe store and the Schuler Shoes in Maple Grove MN literally saved my dad's Christmas last year.
They have an extensive selection of styles, sizes and widths for both outdoor use, activewear and my favorite – just for fashion!
You can shop online if you're not local to MN but if you are local I highly recommend heading in to a local store. The staff will help measure your feet and get you in the correct size shoe, find you the perfect style of shoe and just be overall incredibly helpful.
So without further ado, here are 3 different types of shoes to wear with flare jeans!
3 Shoes to Wear with Flare Jeans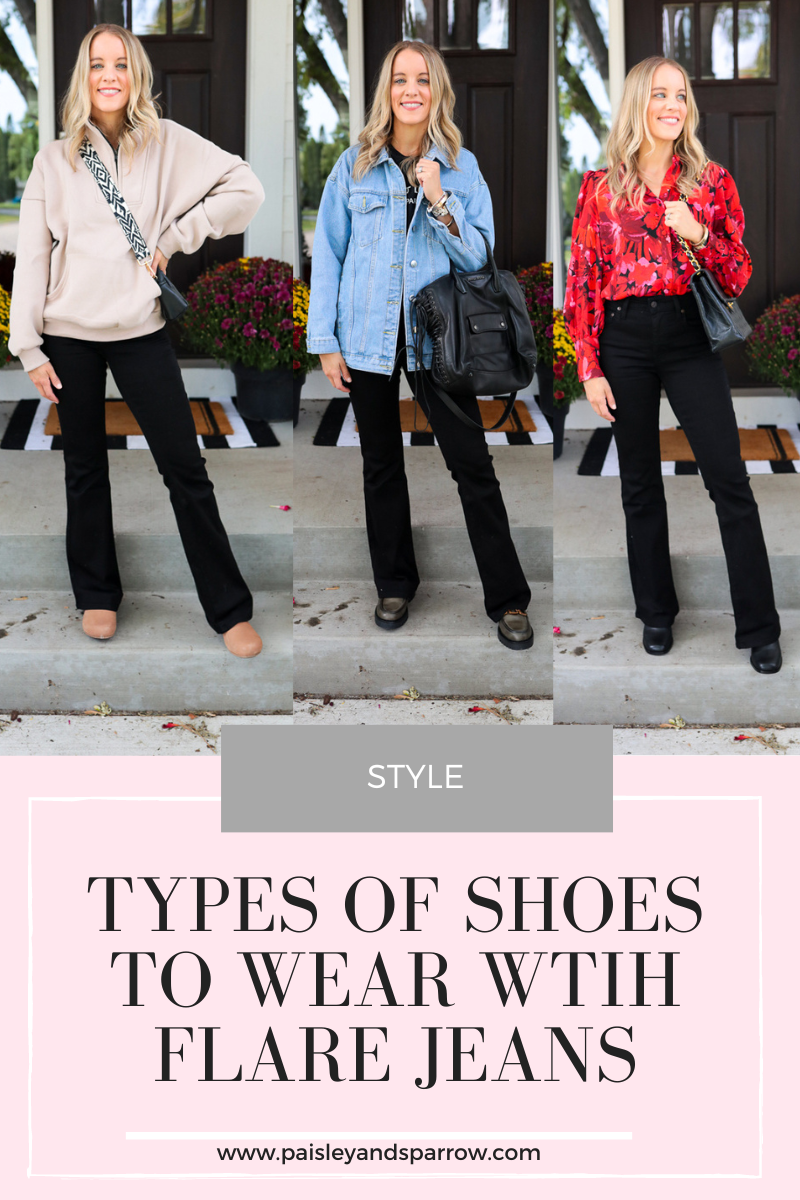 This post contains affiliate links.
1. Clogs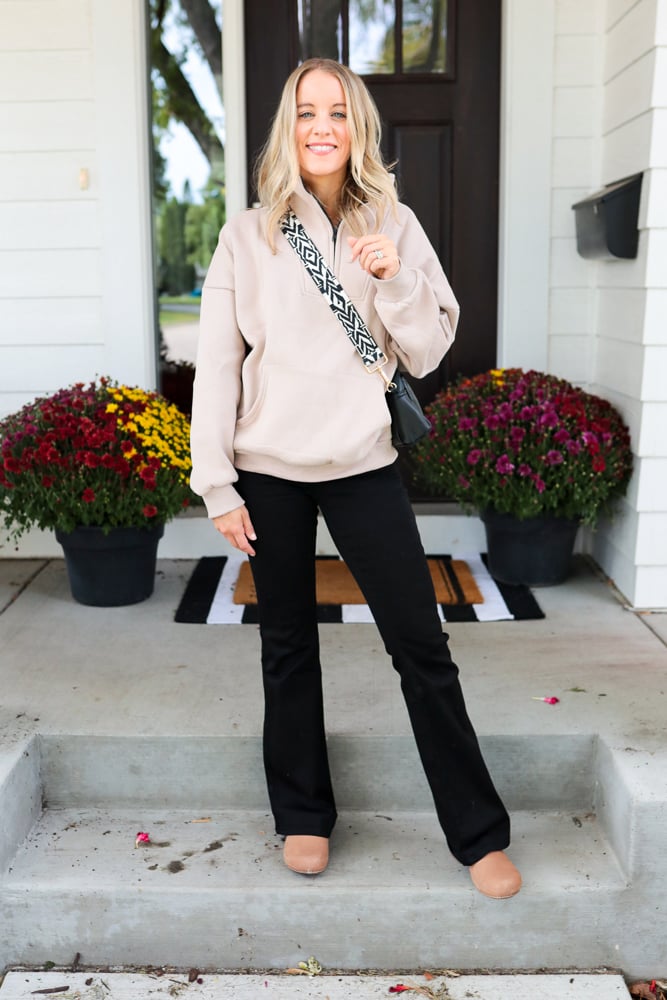 Shop the Look: Jeans | Sweatshirt | Clogs | Bag | Strap
While flare jeans can oftentimes take a more fancy look, they're also great worn casual! A fun, simple clog is a great on trend option for flare jeans.
These Dansko Talulah mules and sleek and stylish with a memory foam footbed to make it possible to wear these all day no matter if it's out at an apple orchard or running errands. They come in 2 different colors and are a great transition shoe from summer to fall!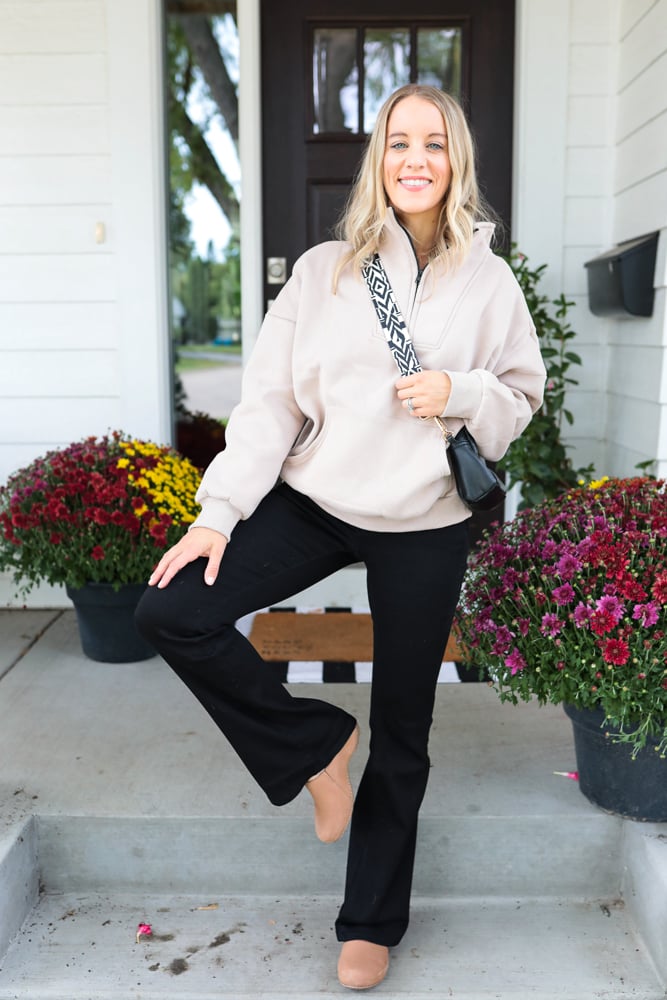 I absolutely adore this cozy sweatshirt from Amazon! It is super affordable and comes in a ton of different colors. I am wearing a size small in the color Coffee Grey.
When you're out running errands or just looking for a casual vibe, use a crossbody bag! This bag has become a staple of mine – I own it in 4 different colors! I love swapping out the strap to match my outfit too. This black and white one is a great classic one that goes with just about everything.
So there you have it! Flares + Clogs + Sweatshirt. The perfect causal day combo!
2. Platform Loafers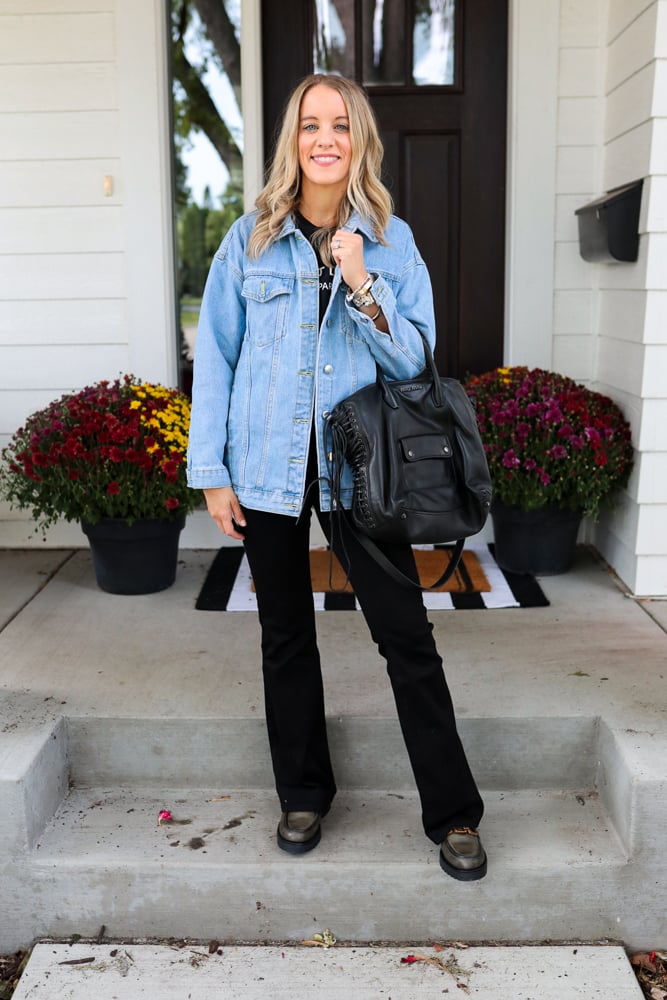 Shop the Look: Jeans | T-Shirt | Jacket | Loafers
These chunky loafers are a statement in themself! Loafers are on trend right now and when paired with a flare you'll be the chicest gal around.
These Pikolinos loafers take it up a notch with the super chunky bottom and the fun gold detail on the top. These come in both this aloe green color as well as black.
Since the shoes are a fun statement, I didn't want my outfit to detract from them. Because of that, I threw on a simple black graphic tee and tucked it into my jeans. A black base (jeans + t-shirt) helps create a grounded look that let's the shoes have their well deserved moment.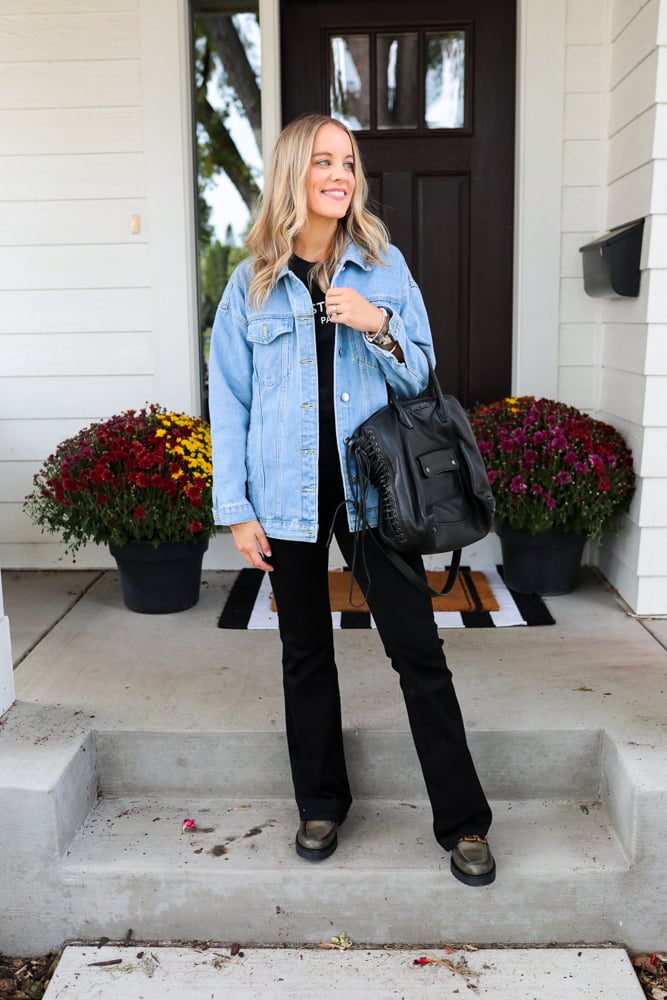 I love a good denim jacket and this oversized one is perfect for cooler days. It fits oversized which is great for layering over sweatshirts or sweaters when needed.
I decided to pair it with a designer Balenciaga bag in black. The black ties in the black base of the look and works great with the oversized look of the jacket!
3. Heeled Boots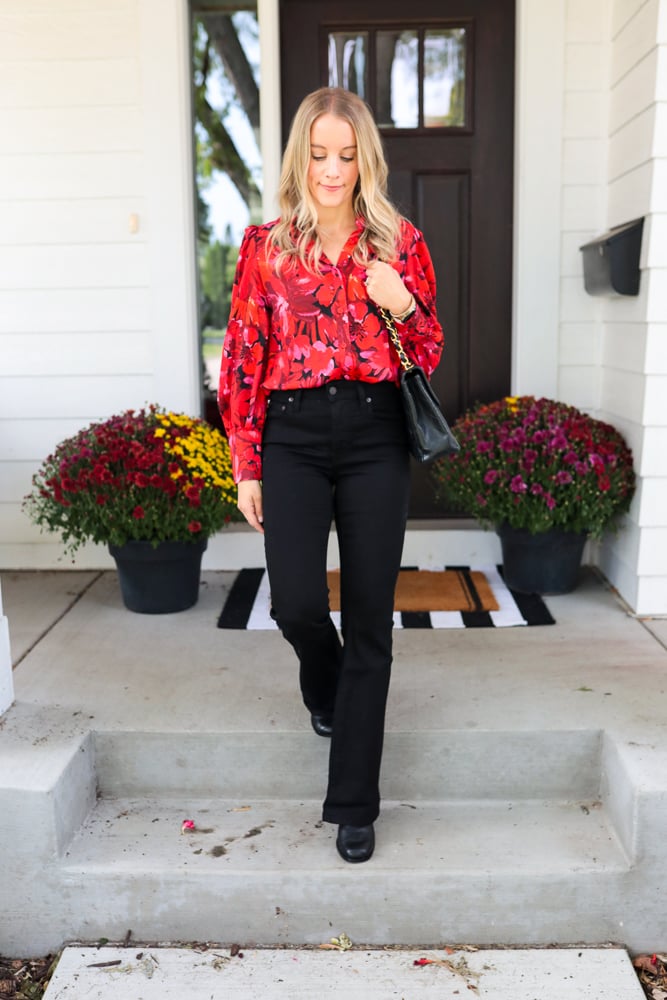 Shop the Look: Jeans | Button Down Top | Boots
This might be one of my new favorite outfits! These Sofft heeled leather boots are so soft and stunning – I wish you could feel them through this screen! They're made out of Italian leather and super luxe.
I love how they immediately dress up this look that could be worn for a date night or even the office. They have a 3 1/4″ heel which seems high but trust me, when you wear them you wouldn't even realize they're that high.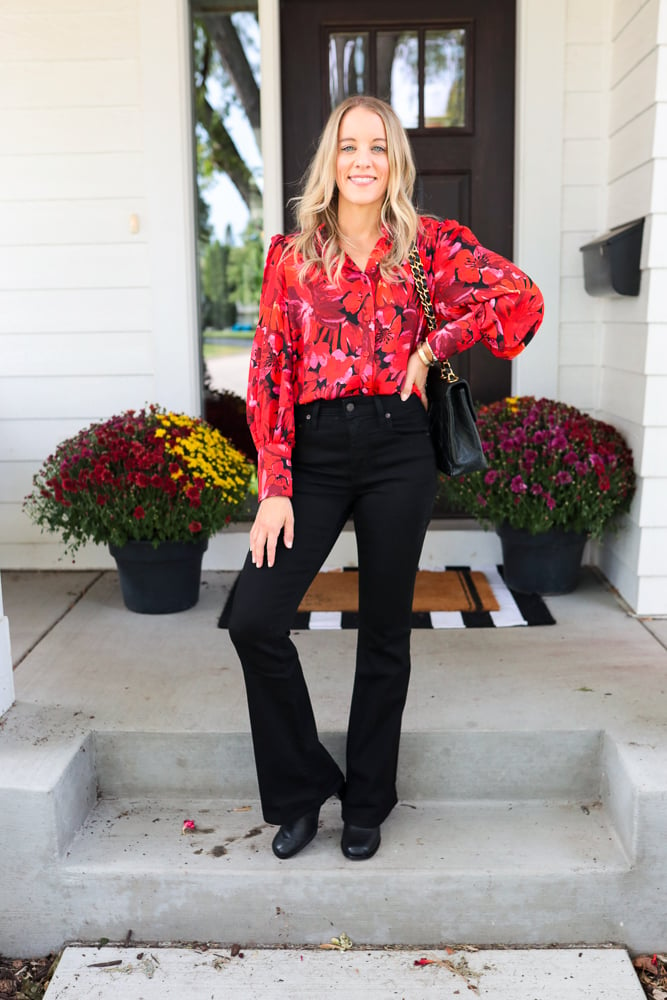 These shoes are super easy to walk in and super comfortable with the leather-lined footbed, cushioned ball and built-in arch support.
This bright colored flowy button down has puff sleeves to add even more flow and movement to this top. Add a classy black bag and you're set!
There you have it! Three different types of shoes to wear with flare jeans. Be sure to head over to Schuler Shoes to shop online or head in to a local store and tell them I sent you!