Move over skinny jeans! Mom jeans are finally back in style.
"Mom" jeans are a high-waisted style of denim jeans that are a classic. They were extremely popular in the late '80s and early '90s, and are rapidly coming back in style! You'll see them on the most fashionable celebrities, all over social media, and at school pickup!
Because the silhouette of mom jeans can give the illusion of wider hip and large calves, they fell out of style for a while in favor of more slimming styles. But they are back and making us look and feel good!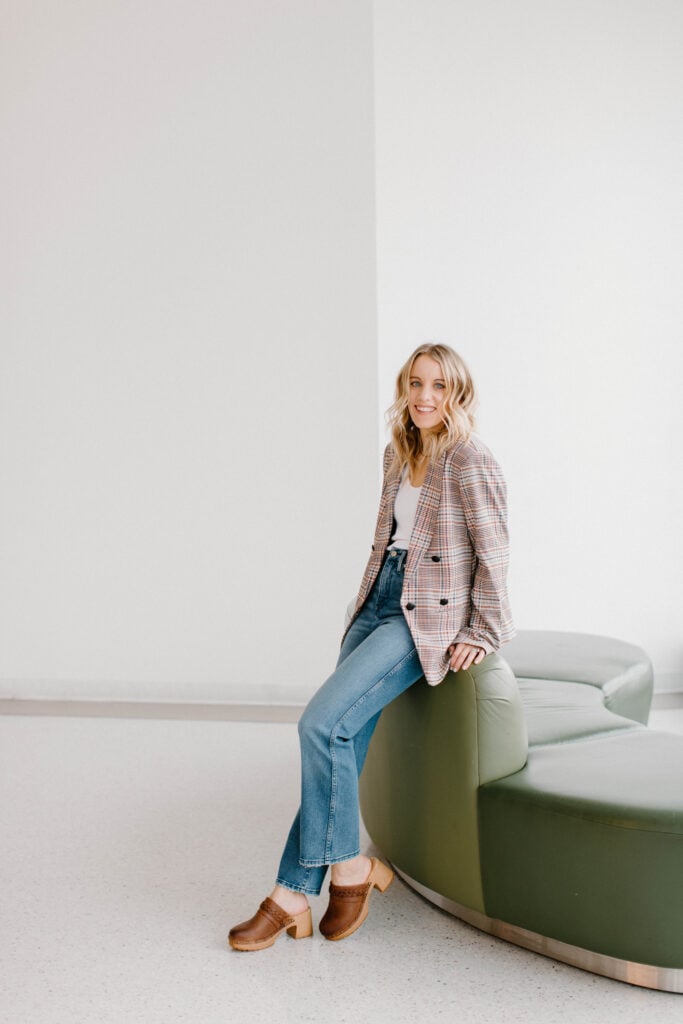 You can style mom jeans to be perfect for a casual look, running around town doing errands, or dress your outfit up if you want a more chic style. A lot of the styling comes down to the shoes!
So what shoes do you wear with mom jeans? Luckily for you, plenty of the shoes in your closet will work perfectly!
Need some inspo on how to style your mom jeans? Here's a list of some of the best shoes to wear to suit the silhouette of your favorite pair of mom jeans!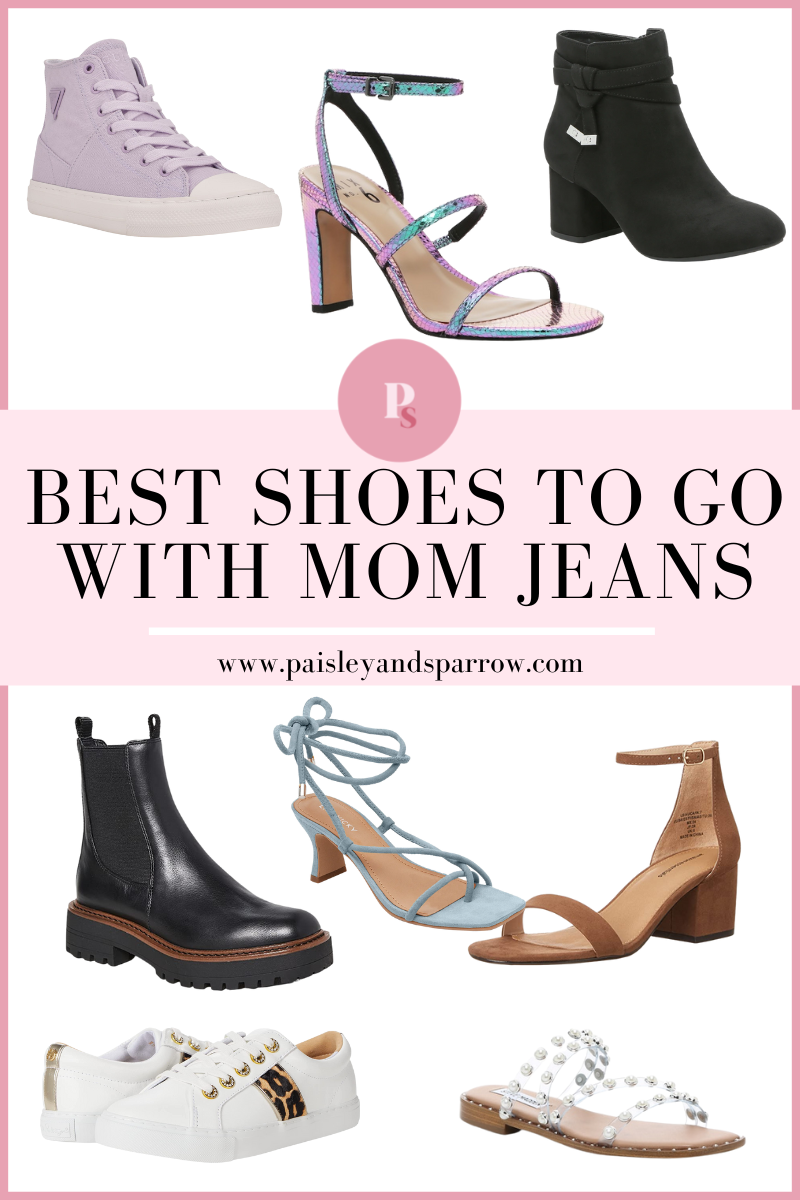 Paisley + Sparrow is a participant in the Amazon Services LLC Associates Program. This post may include affiliate links which means I may earn a small commission if you shop using the links below at no additional cost to you. 
Best Shoes to Wear With Mom Jeans
Mom jeans may feel a little trickier to style than the skinny jeans you're used to, but they're actually just as versatile (and comfortable!). The best shoes to wear with mom jeans are the ones that complement your style and lifestyle best! So don't be shy, and pick your favorite pair — mom jeans go with almost any of them!
Chunky Boots
Chunky boots, also referred to as "combat" boots, are a staple shoe option! They're the perfect way to toughen up a look and add an awesome rocker vibe when wearing mom jeans!
With a thicker sole and heel, they're extremely comfortable for all day wear! Combat boots are great paired with your favorite concert tee for a casual feel or with a leather jacket for a night out. Or if you are feeling the '90s fashion, you can get a slightly grunge look with an oversized flannel shirt.
Crown Vintage's Telinda Combat boots are perfect if you're going for a classic rocker look! It has a clean silhouette, stops slightly above the ankle, and has a chunky short heel. If black leather is not your thing, it's available in a beautiful taupe suede!
Don't want to be bothered with laces? Sam Edelman's Chelsea Boot is the perfect chunky boot to slide on and go! It has a 1.5″ heel that's easy to manage, a comfortable chunky platform, and a nice rounded toe.
Gotta have it now? It's available as an Amazon Prime item so you can get your pretty little hands on it with quick shipping!
Find more Chelsea Boot outfits here!
Get that street-chic look with these fabulous Converse lace-up boots! The chunky heel make these platform boots easy to wear and the adjustable strap and hook-and-look closure amplify the grungy industrial vibe!
Looking for a unique piece to add to your shoe wardrobe? These leather khaki chunky boots are sure to turn heads! It has an almond-shaped toe, chunky sole, and a nice zip-side closer that comes up to the lower calf.
With a stunning piece of footwear like this, it's always boots season!
Ankle Boots
If you have shorter legs, opt for a boot that ends right at the ankle, so you don't cut your leg line! Ankle boots are the best shoes for autumn (in my humble opinion), and most any pair can be dressed up or down depending on where you need to go that day.
I like ankle boots, mom jeans and a sweater or a long coat. You can make it extra flirty and feminine or style it as a chic simple look.
Here are my top picks for some cute ankle boots!
This gorgeous Kurrt Ankle Boot style is perfect if you want the chunky boot style without the heaviness of thick soles! They come up right at the ankle so it won't cut your leg line.
It has traditional lace up design with a zipper on the side for extra secure fit. They're also available in a classic white!
Public Desire's Fuzzy Chunky Heeled Ankle Boot is great if you're looking for a simple ankle boot for everyday! It has a clean silhouette without laces and frills so it will work with anything! The elasticized panels and pull tab makes it easy to take on and off while ensuring a comfortable and secure fit!
Looking for something a bit more sophisticated? Kelly & Katie's Takiso Bootie has a classic round toe, 2.5" block heel, and a charming bow accent for a tailored and perfectly polished look!
It's also available in a rich burgundy and neutral grey!
Looking for some drama? Add some glamour to your sashay with Steve Madden's Perlina bootie! It's made of a high shine black leather and comes to a dramatic pointed toe. The chunky gold chains looped around the boots will add that extra sparkle and glamour you're looking for!
White Sneakers
Whether you're running after the kids or dashing around town, clean white sneakers are perfect to pair with your mom jeans! They're easy, simple, and should be staple in your shoe collection!
Pair your white sneakers and jeans with a graphic tee you like for basic errands, and throw a blazer over it if you want to jazz it up a little more.
If you love the chic-street or athleisure vibe, then you can't go wrong with Nike's classic Air Force 1 sneakers! This sneaker has a simple design with Nike's signature Swooshes and its platform will give you some nice height!
Love white sneakers but tend to go through them quickly? Amazon's Shelly sneaker might be the perfect fit for you. It's a classic white sneaker design with a comfortable rubber sole and a breathable 100% cotton canvas. A great staple shoe, its lower price point won't leave you feeling guilty when it's time to part ways!
Looking for a pair of sneakers that's easy to slip on and off? These low-top Converse sneakers are a classic fashion piece, and perfect for busy ladies that are always on the go!
Want to add a little spice to your plain white sneaker? Lilly Pulitzer's Lux Hallie sneaker comes with a fun cheetah print across the sides and golden metal hardware that glams up this simple shoe!
High Tops and Jeans Look
Love the sneaker look but looking for something with a bit more edge? High-tops are the perfect way to get that skater girl look while still looking modern and on-trend! It's casual but cool, if that's your fashion preference.
You can wear the same sorts of things with high tops and your jeans as you can with white sneakers. Or try pairing mom jeans and these shoes with a crop top or an oversized sweater!
Converse's iconic high-top sneakers can't be overlooked! The suede texture adds a touch of luxury and glamour to this go-to street style pair of kicks!
Feeling a bit playful? These adorable daisy print high-top sneakers are the perfect way to show a personality with a simple white t-shirt and mom jeans!
If you're into the skater look, Van's Lady Sk8-Hi sneakers are perfect for you! These high-top sneakers feature a flat platform heel, chunky laces, and a bold graphic stitching along the sides. They're the perfect addition for a casual, dressed down look!
Stand out from the crowd with these beautiful lilac-colored high-top sneakers from Guess! They have a simple silhouette that's equal parts sporty and chic. The breathtaking shade of pastel will add a surprising pop of color to any outfit!
Style Mom Jeans With Ballet Flats
Looking for a pair of shoes without a heel that's a more sophisticated option to sneakers? Ballet flats are perfect to dress up your mom jeans while maintaining a casual look.
I like flats best with either a plain white or striped tee for a very simple look (that you can always dress up with jewelry and a leather crossbody bag), or you can make the mom jeans outfit ultra feminine with a ruffled or floral top.
These simple yet sophisticated ballet flats by Journee Collection are the perfect addition to your shoe collection! They're made of faux leather, come to a soft rounded toe, and have an adorable bow to keep you looking cute and chic!
If you're looking for something more elevated, you can't go wrong with Tory Burch's ballet flat! It's made of a cushy leather that comfortable and easy to break in, and has the iconic Tory Burch emblem right above the toe!
These cute flats by Babudog are made of a breathable and stretchy knit fabric that make them great for everyday wear! The soles are lightweight and soft with a nice memory foam insole for the ultimate comfort! It's available in 11 different color options so there's something perfect for everyone!
This cute ballet flat and sandal hybrid is perfect for summer! It comes in 4 beautiful color and the suede design add a pop of playfulness and spontaneity!
Wearing Strappy Sandals With Mom Jeans
It's sandal season, and cute strappy sandals are the perfect way to dress up your mom jeans! A sexy pair of heeled sandals definitely shakes off the old that mom jeans have to be frumpy and boring. They can be fun and stylish, even for a night out.
I feel like you can wear almost any style with strappy heeled sandals. Casual with a t-shirt, business casual with a blazer, sexy with a bodysuit, cute with a sweater. Whatever your favorite style, you can get a slightly dressier version with strappy heels!
This strappy sandal is perfect if you're looking to dress up your favorite pair of mom jeans. These heels have three skinny straps that won't disrupt the appearance of your leg line and have a classic square open toe! Comes in 9 different colors.
Block heels are trending right now, and this pair of strappy sandals by Lisa Vicky are divine! The strappy, tie-leg, and open toe design are perfect for showing off your summer pedicure!
These Steve Madden Skyler sandals are trending right now and for good reason! The transparent jelly straps studded with pearls gives it a whimsical yet elegant look! They're perfect to mix and match with any outfit, and will work perfectly with a pair of mom jeans!
This cute and simple pair of strappy sandals from Amazon are perfect for any outfit! The short chunky heel and secure ankle strap makes them extremely easy and comfortable to walk in!
Shoes to Avoid
Because the shape of classic mom jeans makes hips and calves look larger, it's best to stick to shoes that are ankle length or lower. This will keep your look from being too heavy on the bottom. A taller shoe might make your legs look shorter by cutting your leg line higher up.
And since mom jeans have more fabric than skinny jeans or leggings, wearing knee high boots won't work. Since you'd have to tuck your jeans into the pair of boots, you'd end up with lumpy boots or ballooned jean knees!
Rock those Mom jeans!
Now that you know the perfect shoes to wear, it's time to rock mom jeans with confidence! What are your favorite shoes to pair with mom jeans?
Looking for more fashion content? Check out these posts: