Whether you're a country girl who lives for Stagecoach Festival, rodeos, and country music concerts or just a gal who loves the look of cowboy boots, we see you.
Cowboy boots are having their moment and I am here for it! And these warmer months means shorter hems, and a chance to showcase a great pair of cowboy boots.
Cowboy boots are incredibly versatile. You can wear them with skinny jeans in the cooler months, denim shorts during the warmer months or dresses all year long.
My go-to look when styling my favorite pair of cowboy boots is finding a fabulous dress to accompany it. Depending on your choice of dress, you can easily style boots down, for an everyday look, or up, for a night out or a wedding.
My styling choices tend to depend on my mood, but I have been relentlessly searching for all the best dresses to go with my cowboy boots. If you're looking a cute dress to wear with a great pair of boots, look no further! Here's some a ton of different types of dresses to wear the next time you want to rock a pair of cowboy boots!
Best Dresses to Wear With Cowboy Boots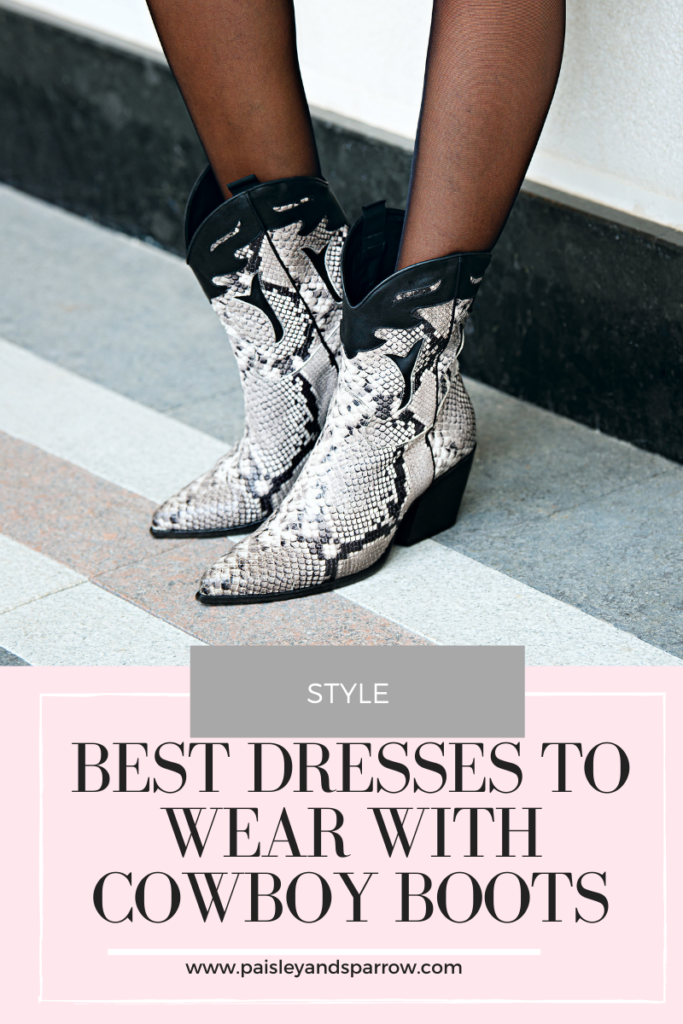 Paisley + Sparrow is a participant in the Amazon Services LLC Associates Program. This post may include affiliate links which means I may earn a small commission if you shop using the links below at no additional cost to you. 
Let's go girls.
1. Little Black Dresses
There is nothing more iconic than a little black dress. The little black dress is a great option for any event. Go for a night out, hit the farmer's market, or head to a cook-out in this dress.
Pairing your little black dress with cowboy boots brings an All-American look to a timeless classic.
---
---
---
---
---
2. Floral Dresses
Florals are a summer staple. They come around every year, yet every time I cannot get enough of them. True to say that my love affair with florals only gets stronger once we add in the right pair of boots.
A floral dress and a pair of cowboy boots adds a sweet touch, making this look irresistible.
---
---
---
---
3. Off-the-Shoulder Dresses
The off-the-shoulder neckline is the kind of dress that screams elegance to me, which is why I tend to love an off-the-shoulder look.
Adding a pair of cowboy boots brings a fun element to any off-the-shoulder dress. It gives and easy-going, summer vibe.
---
---
4. Bright Colored Dresses
When spring and summer arrive I am always ready to bring on the color. Bringing in bright colors to my wardrobe seems to often bring confidence into my life.
Add a pair of cowboy boots, and you have a show-stopping combo!
---
---
---
5. Special Occasion/Wedding Guest Dresses
As a Midwestern gal, not only do I wear cowboy boots for special occasions, I encourage it! It is so easy to dress up a pair of cute cowboy boots and keep you look elegant and formal.
Plus, you tend be be comfier for a night on the dance floor. If you're heading to a western wedding or another special occasion, try out one of these beautiful dresses!
---
---
---
6. Maxi Dresses
Maxi dresses and cowboy boots make the perfect casual look. A long dress and boots make the perfect outfit for a farmer's market and brunch or a date night on a cool summer night!
When fall arrives, just add a denim jacket for a casual look or a leather jacket for an edgy one!
---
---
7. Midi Dresses
You can never go wrong with a midi cut dress. Let's be honest, the midi dress is the perfect dress to wear with any cowboy boots. The cut of the midi dress showcases your boot, unlike a dress-focused maxi cut and leg-focused mini cut.
---
---
---
8. Mini Dresses
Since I live in a place with harsh winters, I soak in as much sun as I can when it is out. That is why I opt for a mini dress when the sun and the heat arrive.
A mini dress doesn't always have to be for a night out, but it is a fun, flirty way to wear your cowboy boots.
---
---
---
9. Flowy Dresses
Do you ever want to look like you are floating into a room? Elegant and feminine, a flowy dress bring an ethereal feel to a summer look. Balancing the femininity with the cowboy boots is a look for the bold, but it never gets old.
---
---
10. Wrap Dresses
A classic silhouette, the wrap dress is a must have for your closet. Add a pair of boots and it just may be your new favorite outfit.
A wrap dress and your cowboy boots make the perfect country outfit.
---
---
---
11. Boho Dresses
Summer is fun and free, and that is what the boho style encompasses. Adding a boho flair is easily one of my favorite twists on western wear. A beautiful boho dress and cowboy boots are the perfect pair.
---
---
---
12. Shirt/Skirt Sets
Matching sets are currently in, and I hope they do not go out of style anytime soon, because I am in love. Sets are easy to style, and the right set will style well with any cowboy boot.
The best part about a set is they can be styled separately, which makes your closet go farther.
---
---
---
13. Boxy Dresses
When it is a hot day and you want that classic, babydoll look, you need a boxy dress. Sometimes you need a little room to breathe in the summer sun, and the boxy dress does that while looking adorable.
Paired with cowboy boots, the boxy dress feels country in all the right ways.
---
---
---
14. Western Dresses
With our country music playing on the radio, sometimes, you just need a classic, western style. You have the boots, now time for country dresses that bring us back to our sweetheart, country roots.
These dresses make me excited to head to a country music concert and a family event.
---
---
15. Denim/Chambray Dresses
Another classic country look, the denim or chambray look will always be a favorite. A denim dress and a pair of cowboy boots is the look of an All-American girl. I would already like to call dibs on this look for Fourth of July.
---
---
---
Ditch the heels and bring out the cowgirl boots. Not only are they comfier, but the outfit options are also endless.
A good pair of cowboy boots can styled up or down, and will bring an element of fun to all of your looks. May we all channel our inner cowgirl and rock our cowboy boots this summer.
If you want more posts like these, check out one of these!