I grew up in a world of navy blue "shoulds" and "shouldn'ts." One day, I came down in a navy blue shirt and black pants, and my mom insisted I change because "those colors don't go together." Since then, figuring out what colors go with navy has seemed a little intimidating.
Navy blue is a closet staple, but it's hard to know which color is the perfect match for it. The good news is that personal style trumps those unofficial rules! Playing with color, even if it means breaking some rules, is what makes an outfit personal and eye-catching.
I've rounded up 35 shoe options in different colors that will look great with navy!
With wedding season coming up, you might be eyeing some navy dresses. They look great on every skin tone, can be styled for more formal events or for a casual look, and are appropriate for all seasons.
Navy is also an excellent choice if you want a dark color but don't want to wear black — it used to be considered a faux pas because black at a wedding was seen as bad luck! (Don't worry; you can definitely wear black to weddings these days!)
How to Choose Shoes for a Wedding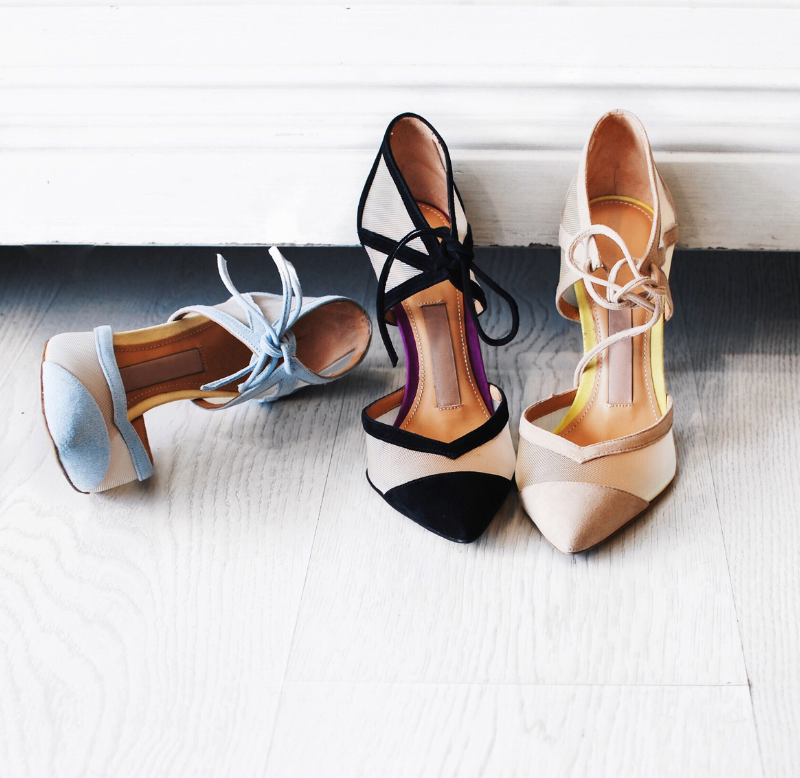 So what are the best color shoes to wear with a navy suit or dress at a wedding? That depends on your style, the style of the dress and the dress code! You'd wear a different shoe to a formal occasion than you would with a casual frock.
Dress Code
The first consideration when you're picking out shoes to wear to a wedding is whether there's a dress code. If the invitation says black tie, you need to go fancier and more classic in your footwear (and your dress, for that matter!). A navy evening gown is great for a black tie occasion, but for your shoes, you'll want to stay away from bright colors, flats and anything that reads more casual.
Location
You also need to consider the location of the wedding. You need much different footwear for an outdoor wedding in a backyard, field or beach than you would in an upscale hotel.
If a wedding is outdoors but you're not sure what the ground will be like, go for a flat, wedge or a chunkier heel so your stilettos won't sink if there is grass or mud! They'll also make it easier to walk on uneven ground.
Comfort
Weddings are long events, and you might be on your feet a lot, from the cocktail hour to standing in line for cake to dancing to the send-off at the end of the night. That means you need to either choose comfortable shoes that won't keep you from having fun, or you need to bring some backup flip-flops or flats in your bag for later in the evening.
Versatility
For me (and probably a lot of you!), it's also important to choose shoes that can be worn more than once. Don't buy an expensive pair of designer heels if they don't go with anything else in your closet. Pick something that suits your style, your budget and your lifestyle.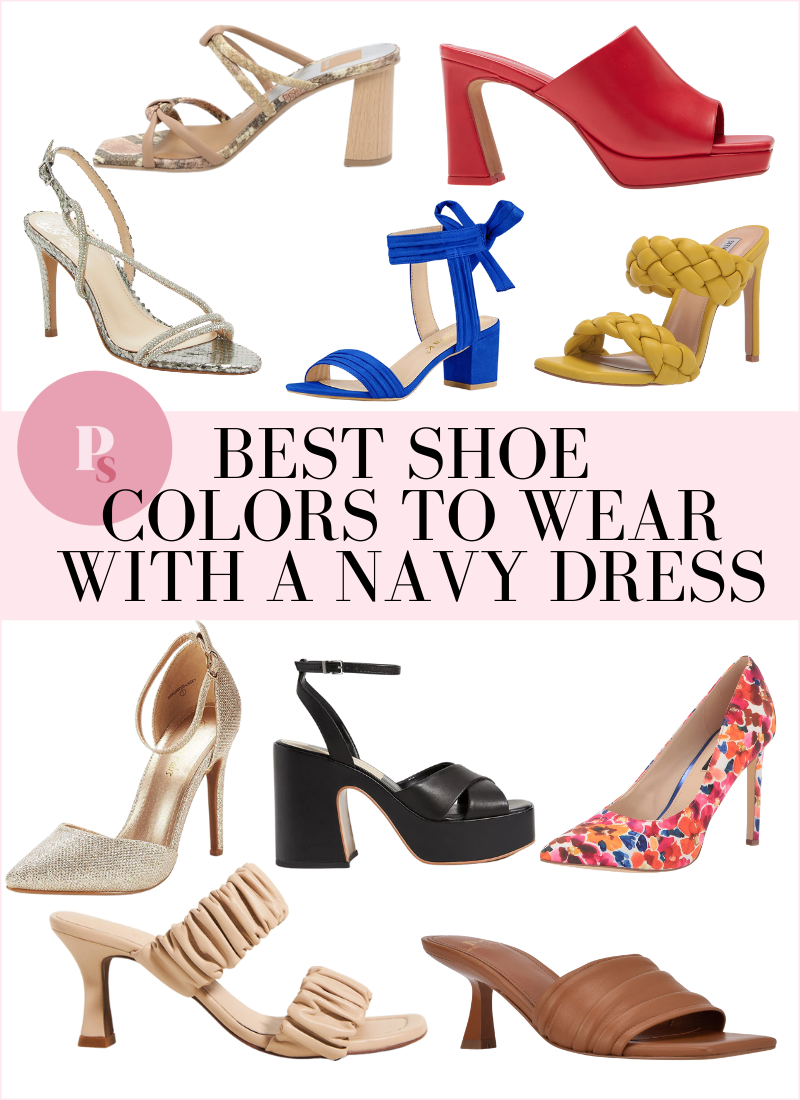 What Color Shoes to Wear With Navy Blue Dress
To help you figure out your best bet, I've rounded up shoes in a variety of colors to find the right shoes to wear with your navy dress as a wedding guest.
Whether you are looking for good color combos from your own closet or want to purchase the perfect pair for the special event, you're sure to find some inspiration here for what color shoes you can wear with your navy blue dress.
Nude Shoes
You can't go wrong with a nude shoe when it comes to styling navy blue. Neutral shoes allow the navy piece to make a statement and bring an effortless elegance to your look.
I think this is a great choice if you don't know the wedding color scheme and don't want to stand out too much (like if you're a plus-one at a wedding where you don't really know the bride and groom!).
Nude shoes will also get a lot of future use since they go with everything, so they're a great investment to add to your shoe rack.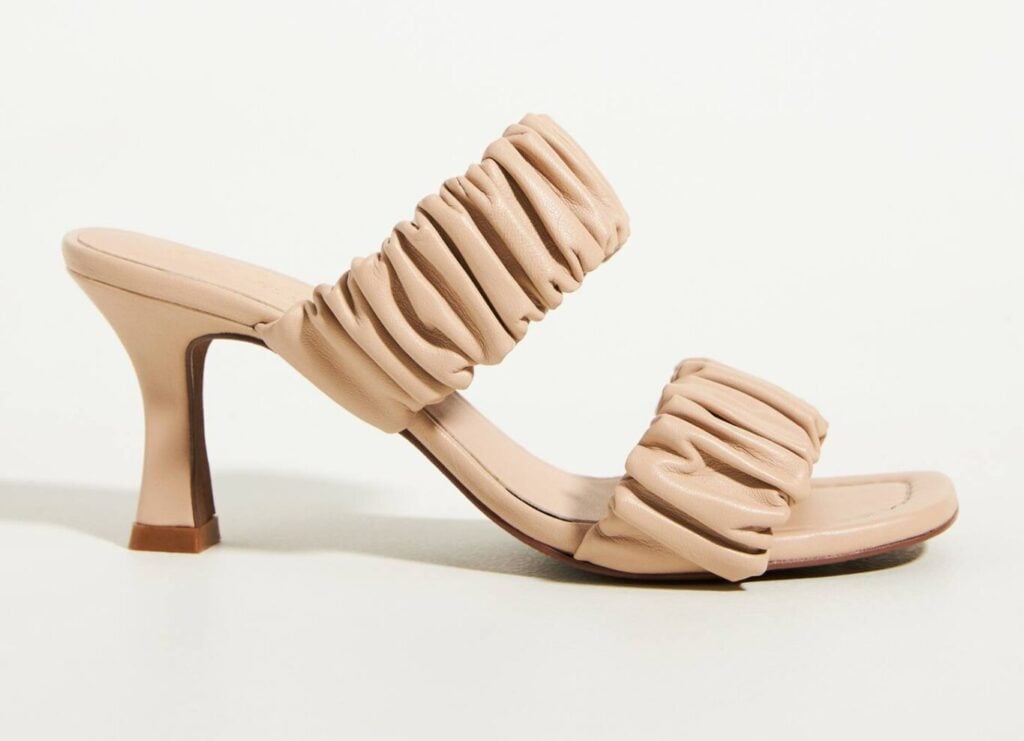 Elevate your nude by picking a shoe with fun detail. I love this mule heel because of its ruffled texture! The heel height is dressy without being dangerously high.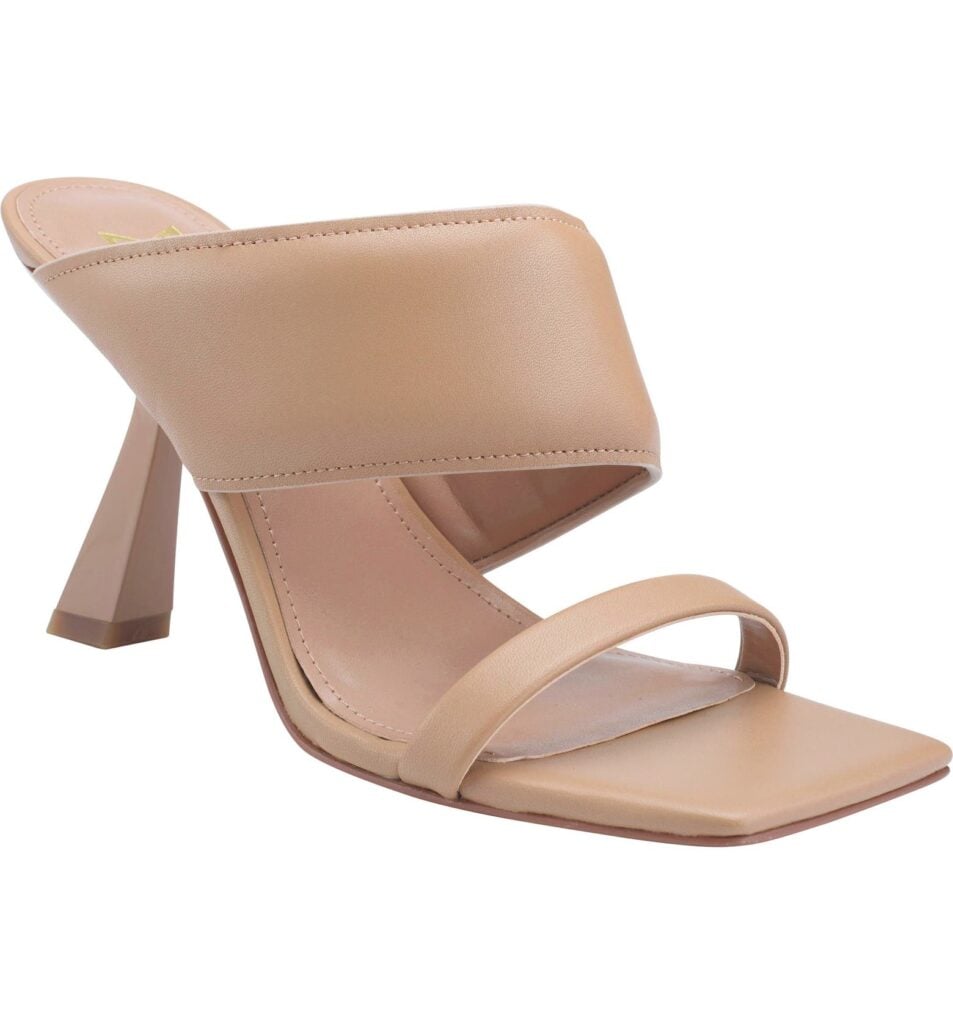 This nude sandal brings a quirky architecture in the heel and asymmetric strap. It comes in two natural shades to better match your skin tone.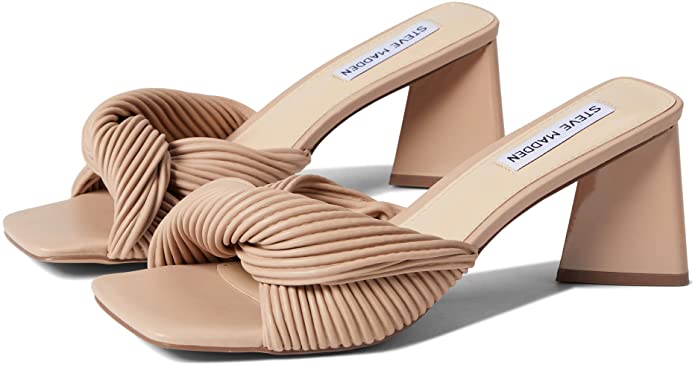 I love the textured twist on this sandal, and the chunky triangular heel gives it just a little more interest.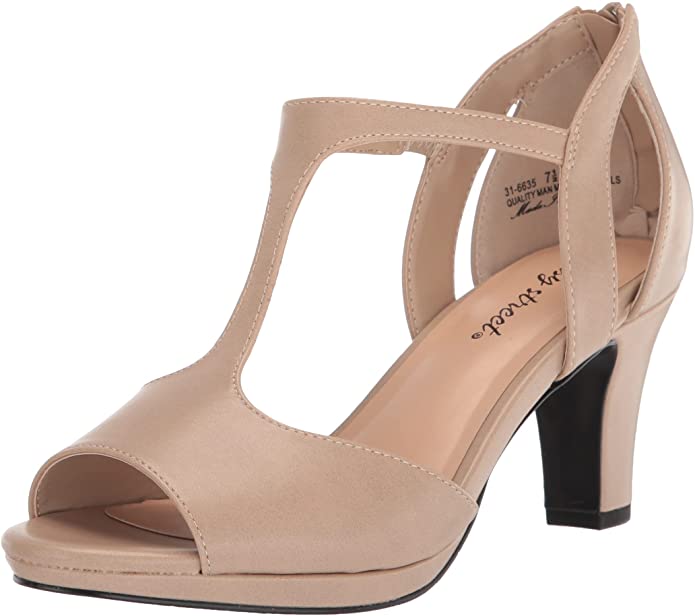 Wear this simple but sophisticated heel to a wedding with your navy dress, and then wear it to the office with no problem!
Gold Shoes
Gold is basically a shiny neutral! Some golden shoes might be a little too flashy for a wedding — use your judgment — but gold can be a perfect choice for navy clothes. Gold shoes can range from very yellow to a champagne color, so choose the shade that you think fits your style best and you'll get the most use out of.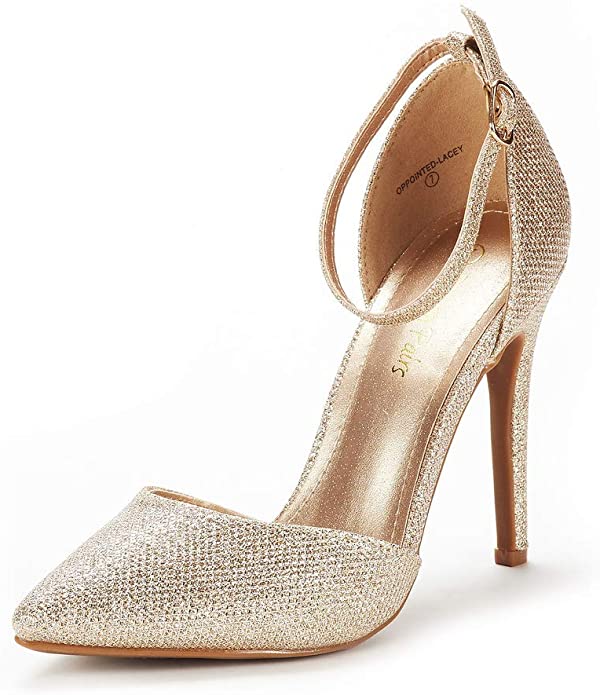 With your dark blue dress in mind, this timeless gold pump adds the perfect subtle twinkle. The heels are about 4 inches, so it'll lengthen your legs but make sure you're comfortable walking (and dancing) in high heels!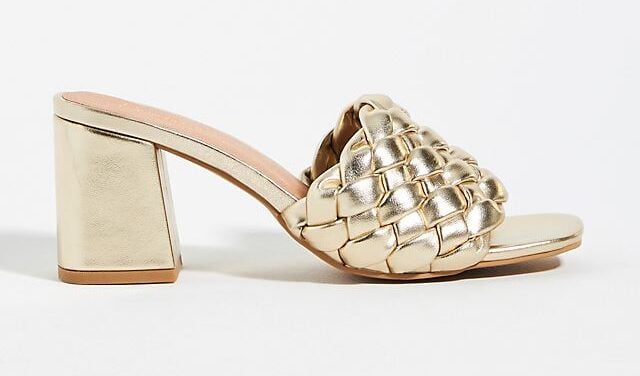 This gold sandal makes a statement with its chunky weave, but the style brings a hint of casual to the look. I think you could wear these all through the spring and summer with all kinds of outfits.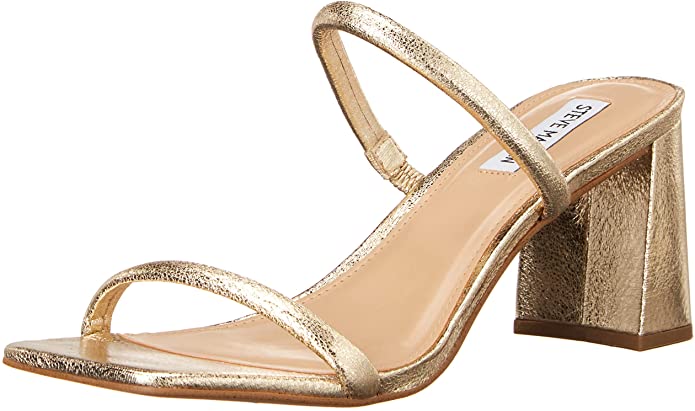 These strappy sandals are super comfortable, have chunky 3-inch heels and come in a wide variety of colors. I won't be surprised if you want the gold version and a couple others!
Black Shoes
Repeat after me: "We are allowed to wear navy blue and black together." Now that we have accepted that fact, we can finally appreciate the refined look black brings to navy.
Navy and black together can look incredibly chic and modern, and chances are you already have some black shoes you love.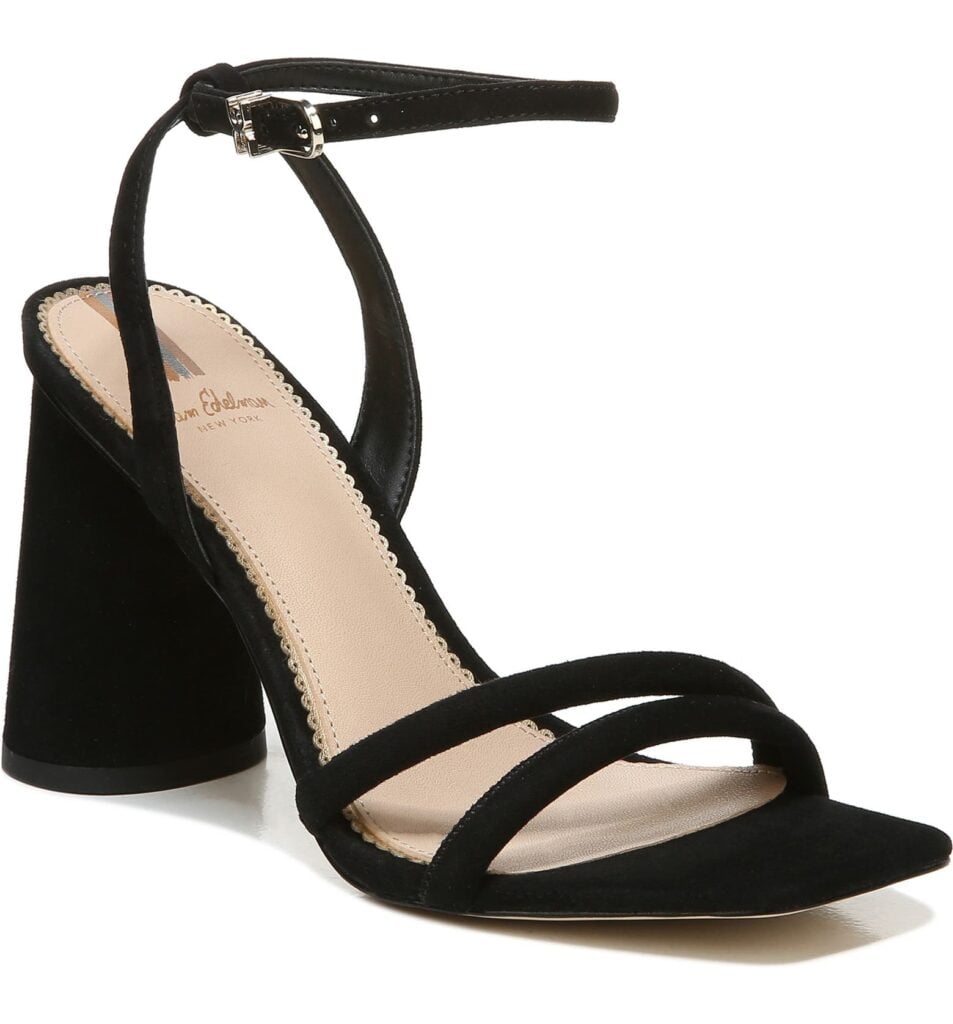 My first choice are these black heels with a delicate strap, chunky heel (making it easy to walk in) and minimalist look. They're incredibly versatile and can be worn for the wedding and also for date nights with a pair of cute mom jeans!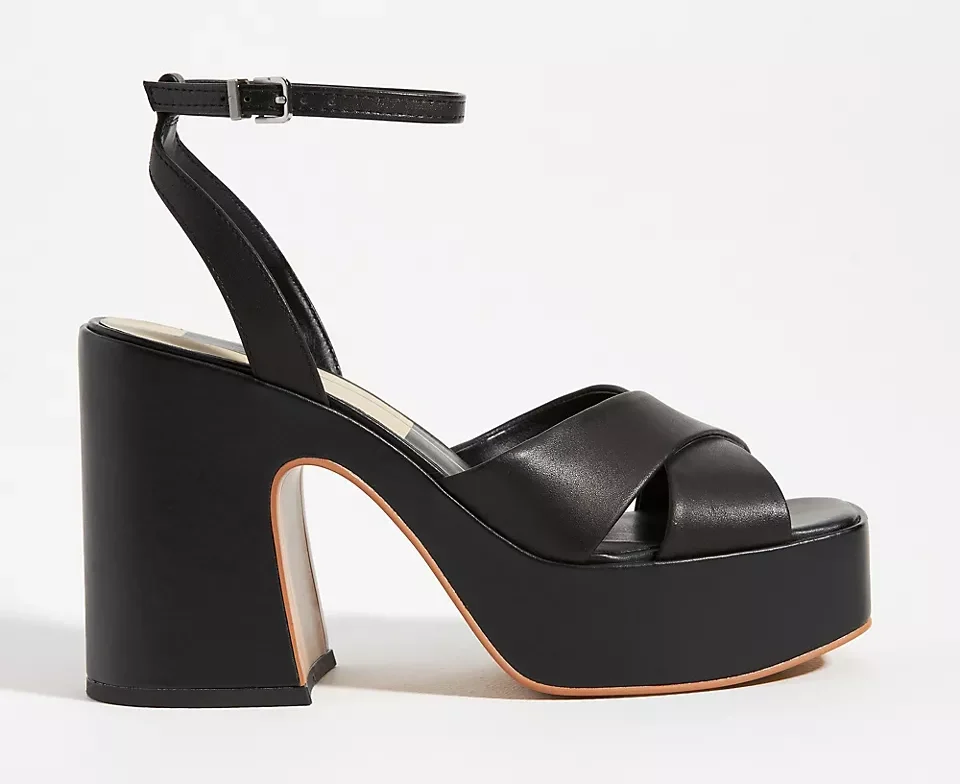 This platform heel brings a little extra oomph to your black and navy outfit. I'm crazy about the tiny detail of brown piping around the bottom and heel. These are perfect if you want a black shoe that's just a little more fun and funky!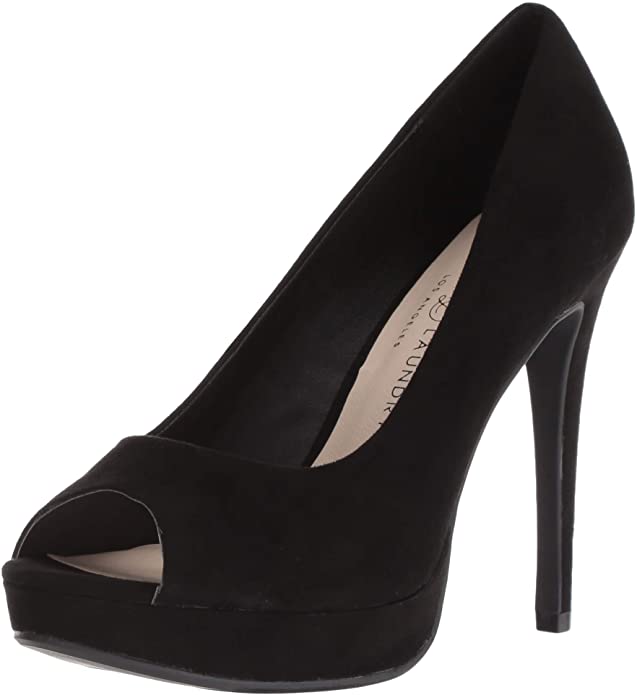 If you're looking for a classic suede pump with a high heel, these Chinese Laundry shoes are a great option! They have a peep toe with a bit of a platform.
Silver Shoes
In high school, I wore silver heels with a navy blue dress to prom, and it has been my favorite prom look to date. Silver complements the cool tone of the navy, and the combination oozes elegance.
These two pairs would be perfect shoes for a chic look at a special occasion. Both feel elegant, but with a twist. The slingback heel brings a sexy element, while the appropriately named "Sassy Sandal" adds glitz and fun with the disco ball heel.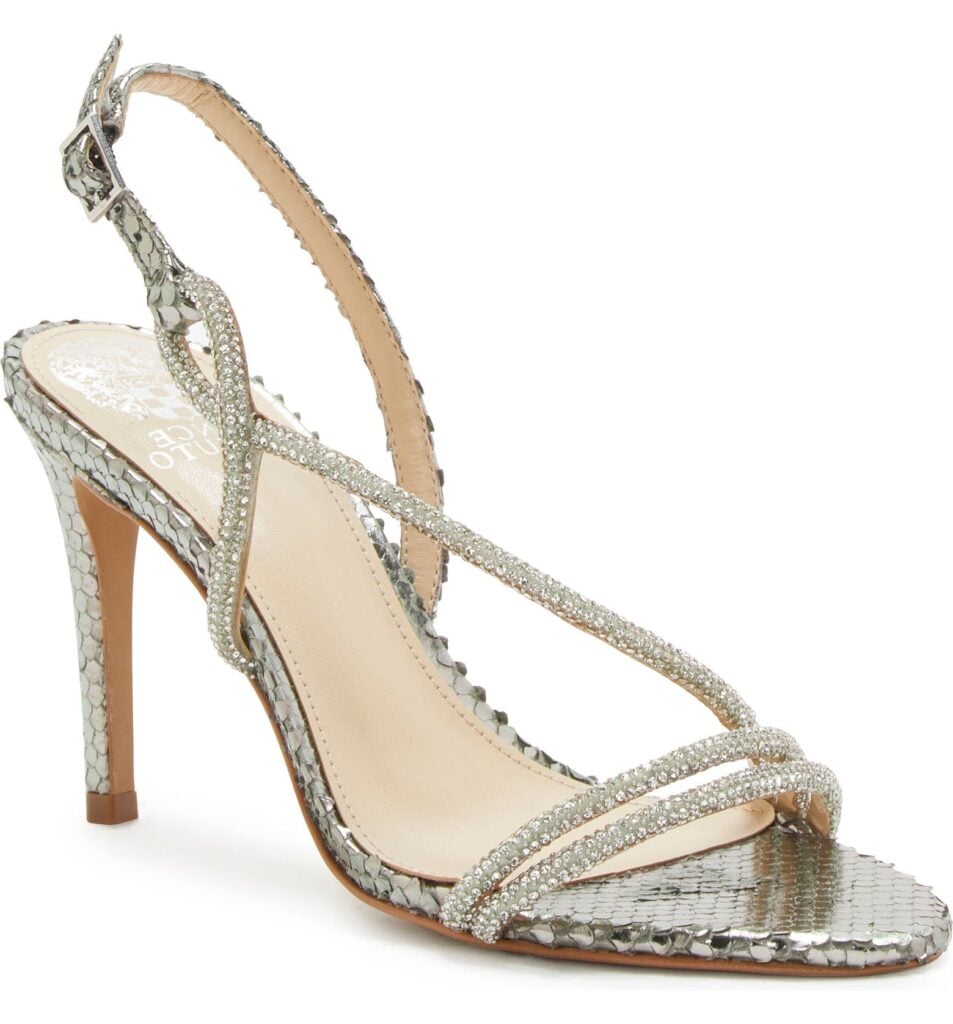 This pair would be perfect for a chic look at a special occasion. It's classy but sexy.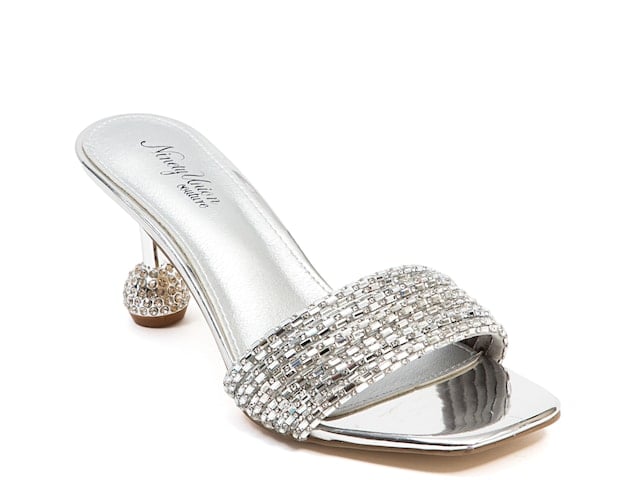 I love the disco ball heel on this sandal! It will definitely add a little glitz and fun to your navy blue dress.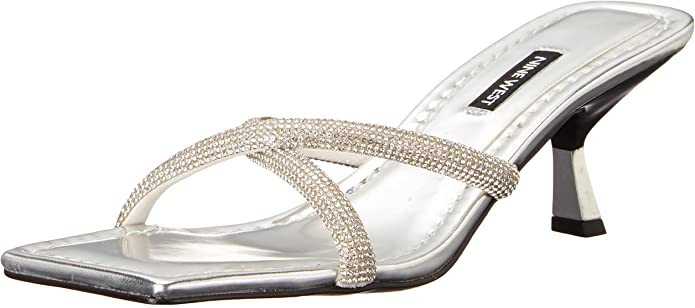 Square toe sandals came back into style last year, and I think the shape is so flattering! The sandals have a short heel and a little bit of sparkle on the straps.
White Shoes
The contrast of white and navy blue will always be a clean classic style. There's a bit of a nautical feel to the combo, but the two add a contrast I love to play on.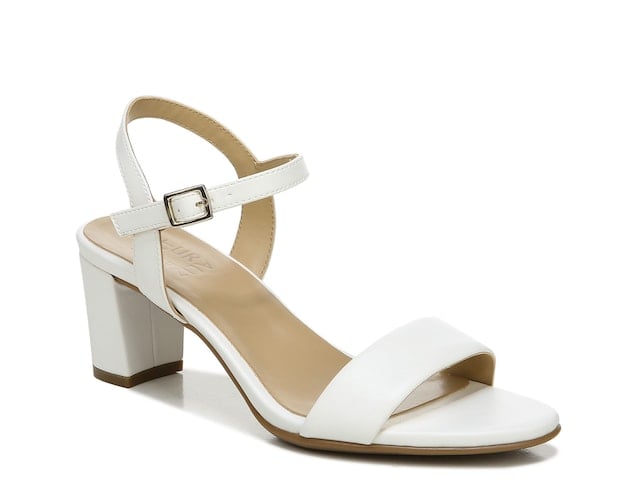 My first pick is a classic, chunky heel that brings a simplicity and a timelessness to the color pairing. Naturalizer is known for comfort, so you won't need to take these off before the night is over.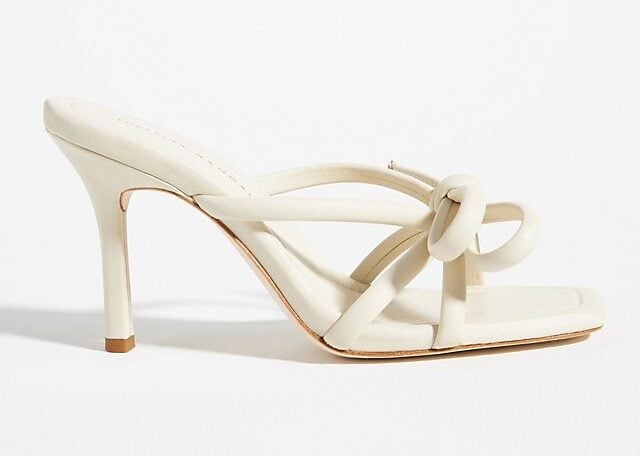 This choice has a sweet bow and a more slender heel. I love the dainty look of these and the modern square toe.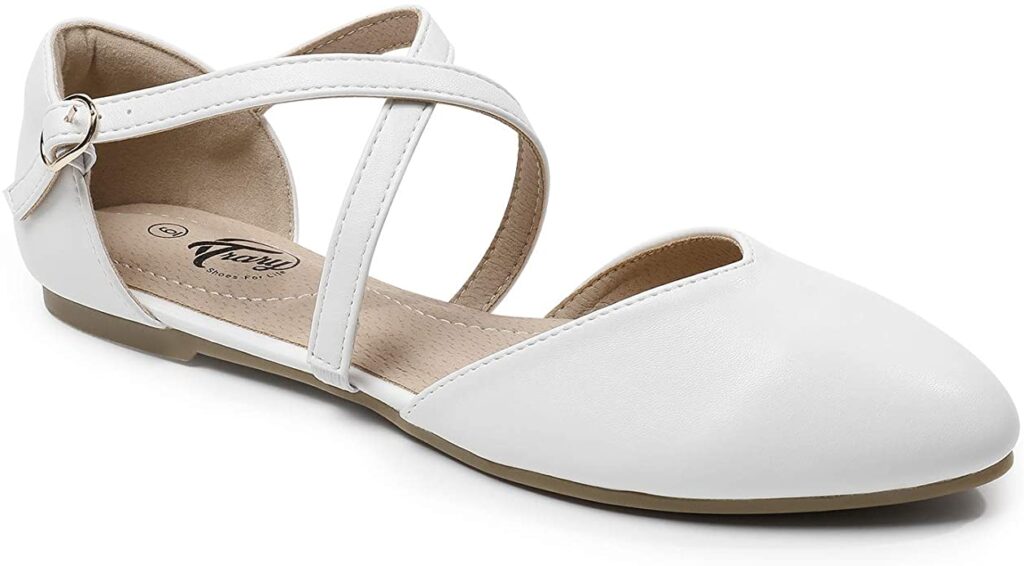 If you're wanting to wear flats instead of heels with your navy dress, these ballet flats are a good choice. The criss-cross strap adds some extra interest and keeps them securely on your feet.
Navy Shoes
Monochromatic looks are in, and I don't see them going out of style any time soon. Don't get too caught up in getting the match just right — different shades of dark blue look great together. You can go with a dress and shoes both in deep navy blues or choose a shoe in a more bright blue color.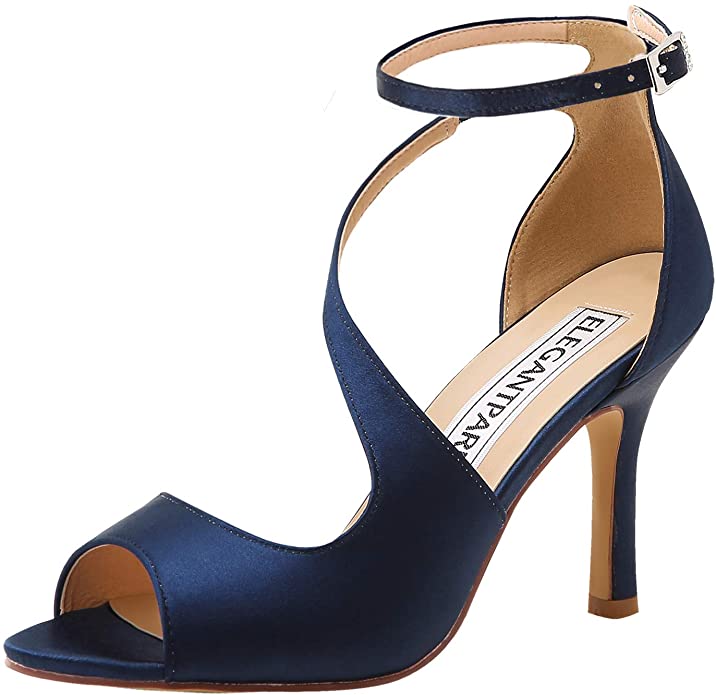 This classic pump has an ankle strap and wrap detail that brings sophistication to any outfit. (And it comes in a bunch of colors if you don't want to go navy on navy!)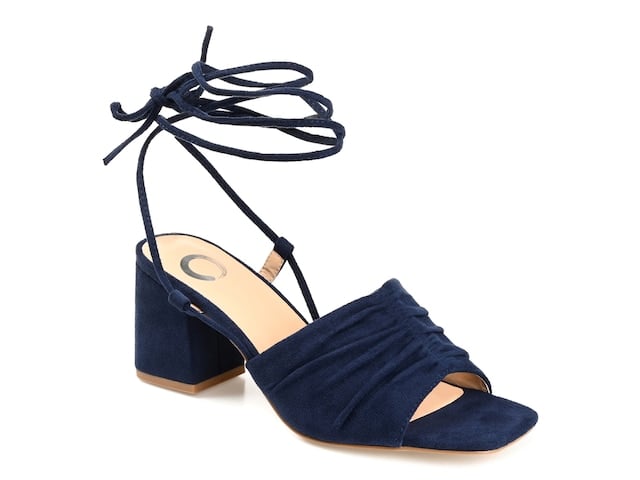 The wrap-around lacing and square toe of this vegan leather sandal add a bit of sex appeal. This pair can be dressed up a little or worn with a casual outfit, so you'll get lots of wear out of it.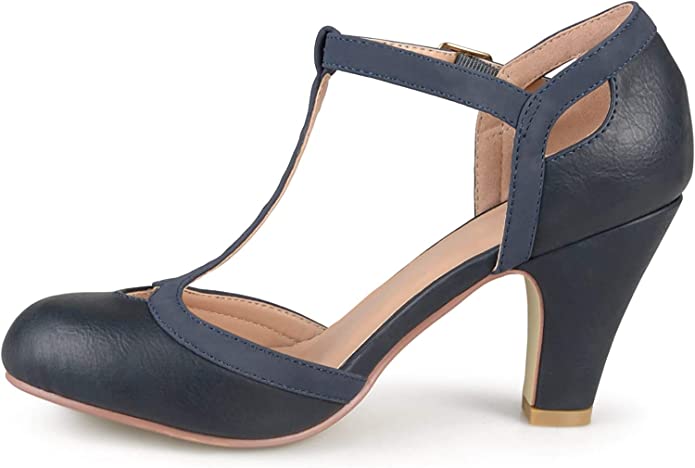 I think these Mary Janes would be so cute with a tea length navy dress or someone with vintage style!
Brown Shoes
I love a brown and navy moment. Pairing the two seems to ground any outfit.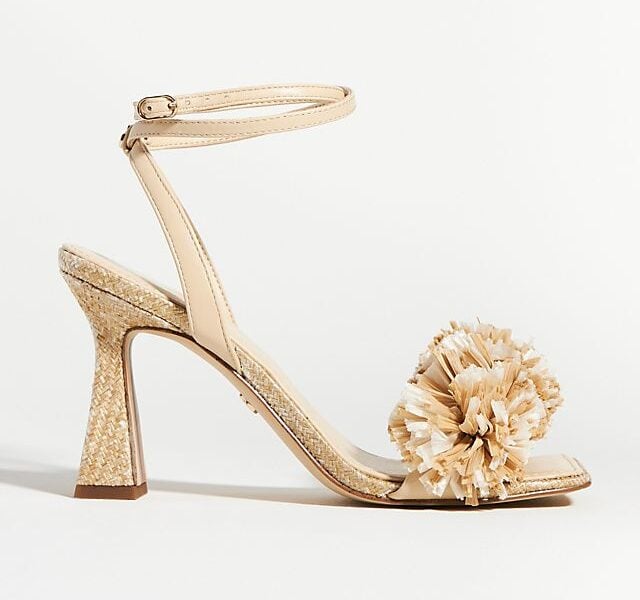 Topped with pom-pom embellishments, this light brown pair adds flair to any classic look and navy dress. I also love the red version!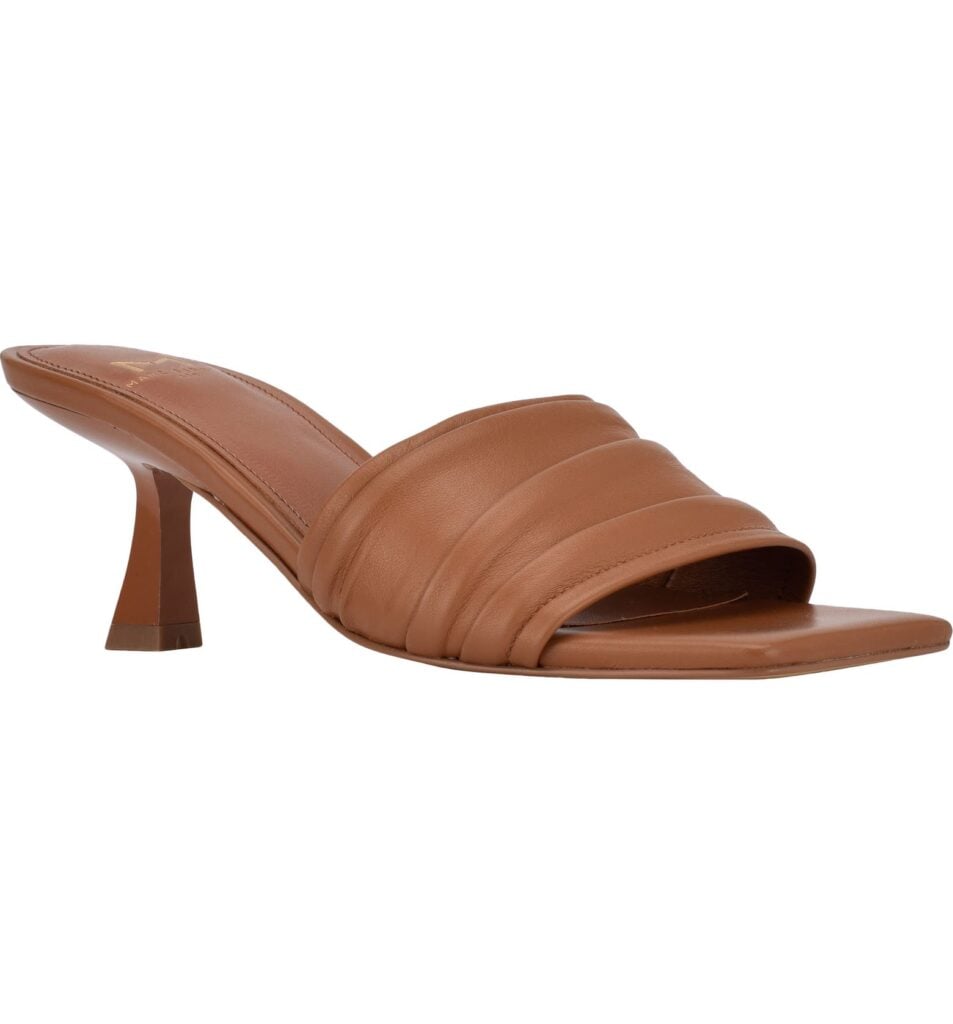 The minimalist kitten heel is a beautiful brown that will add a casualness to your outfit. Very comfortable and versatile.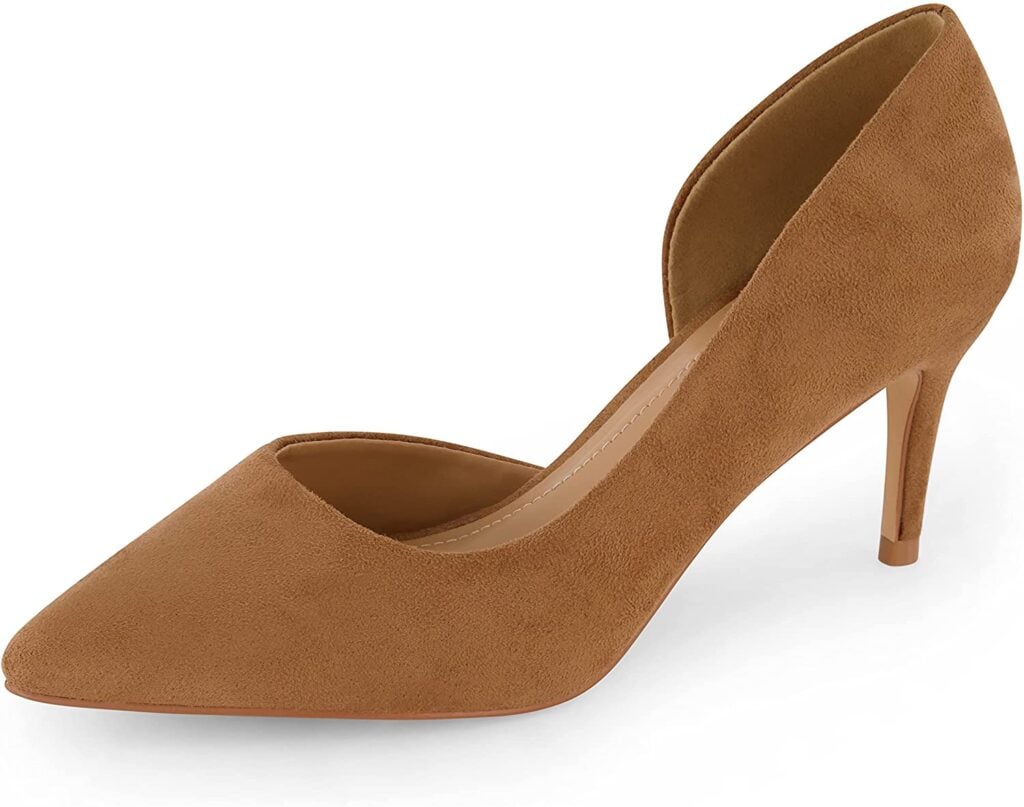 With memory foam insoles, you won't have to kick off these vegan leather pumps to dance all night! These shoes can be worn to the office, on a date or to special events.
Red Shoes
Choosing the right shoe in red can make all the difference, keeping the look from being too 1950s pinup. That's why I went for modern, fun looks when pairing red to navy.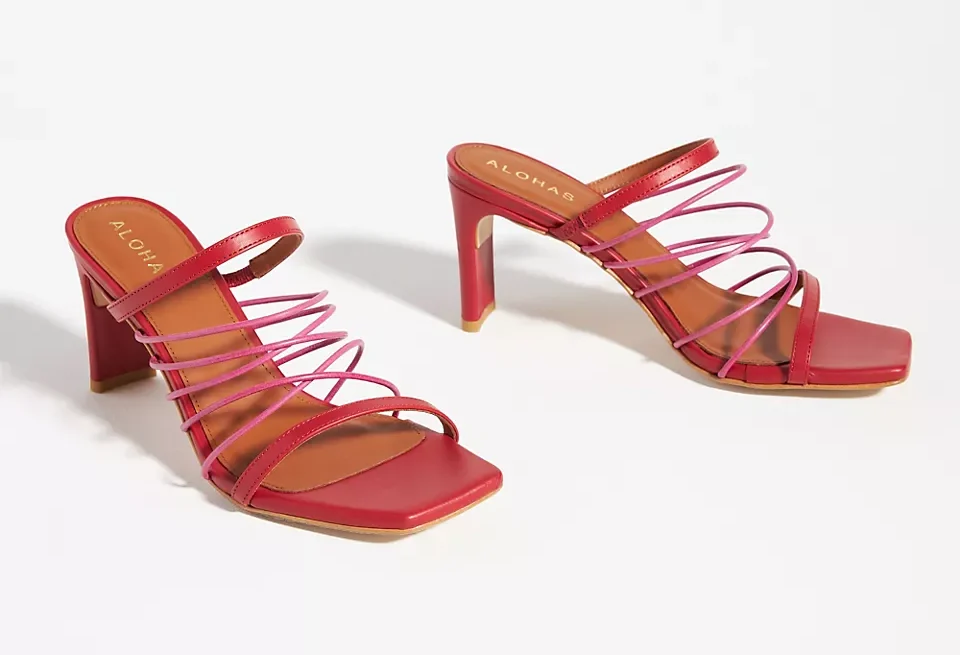 The strappy heel brings a hint of sex appeal to the stability of the navy. The bit of pink gives it a youthful, springtime look but the square toe keeps it modern.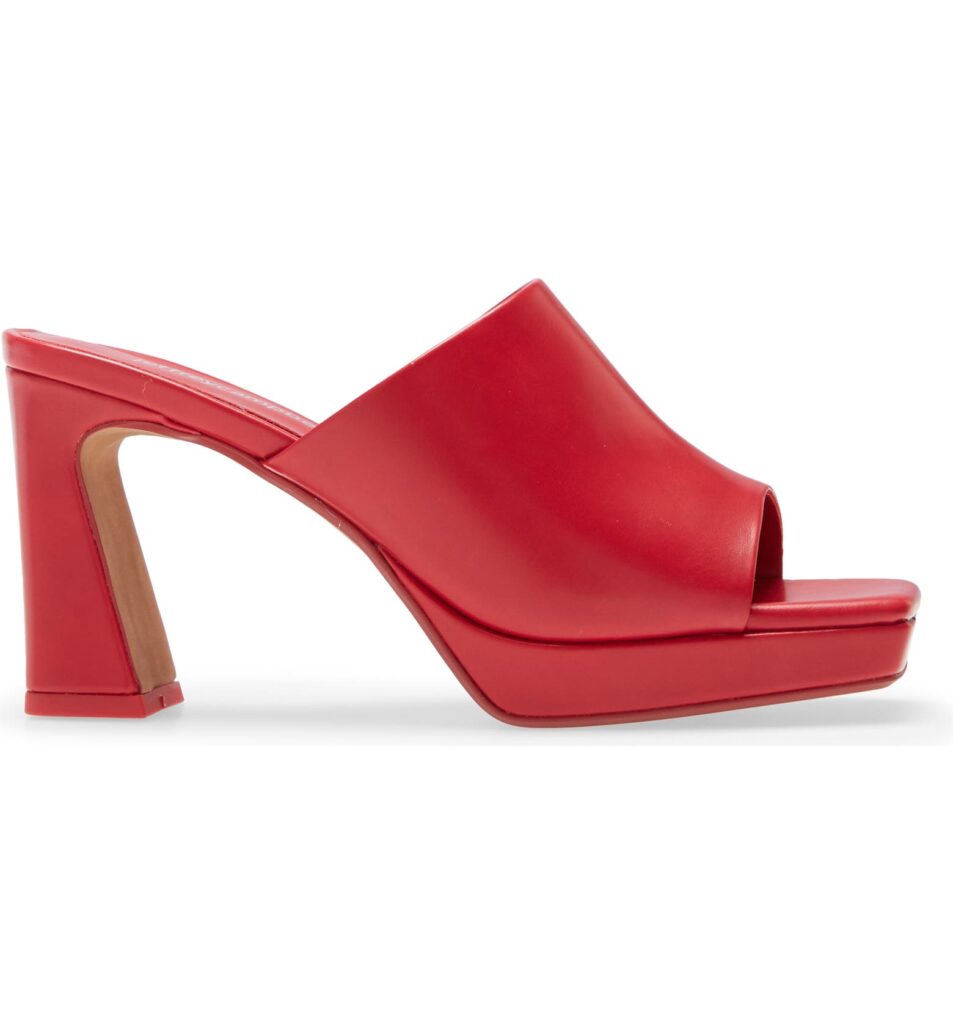 This chunky mule is a trending shape I love, and the red is a perfect shade to go with navy dresses. They are high-quality soft leather and will keep your feet comfortable all day. Lots of other colors are available too if you fall in love with the style!
Bright Colors
Navy dresses can feel a little somber and serious, so they're just begging to be brightened up with your shoes! This won't work for a black tie or very formal event, but for other weddings, bright shoes are perfect.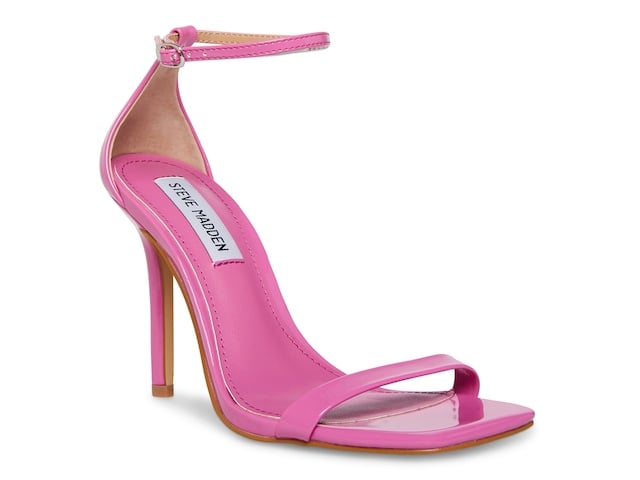 Pink is one of my favorite color options to go with navy dresses. It's feminine and fun, and these elegant heels keep the look chic!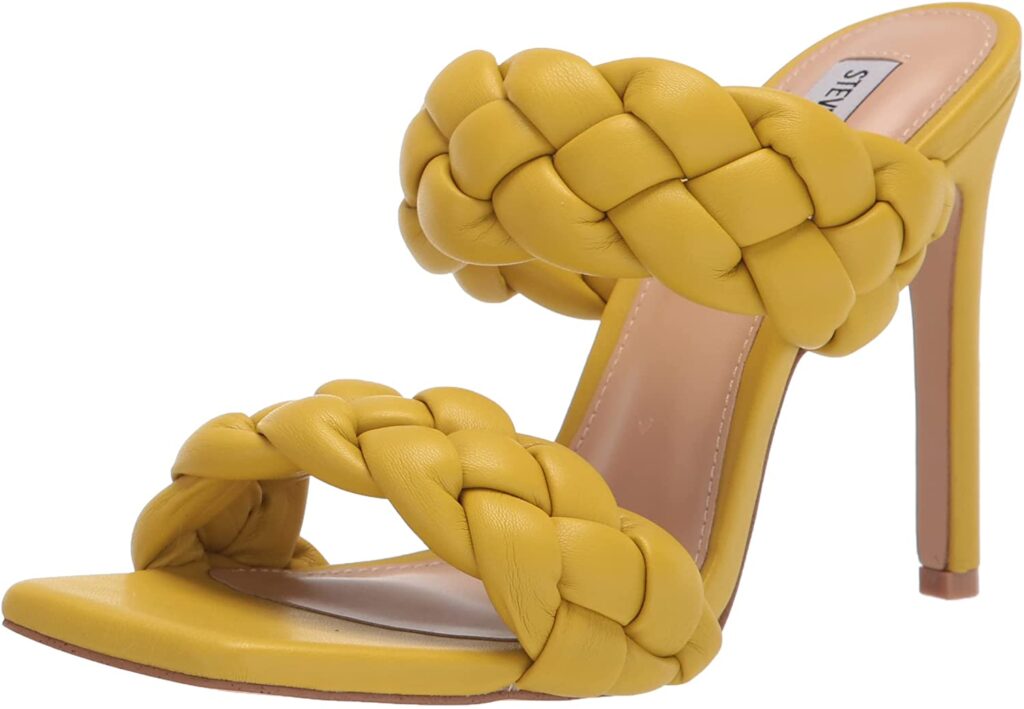 I love this yellow heel! The chunky woven straps are in style, and the 4.5-inch heel keep it a little fancier than a lower sandal.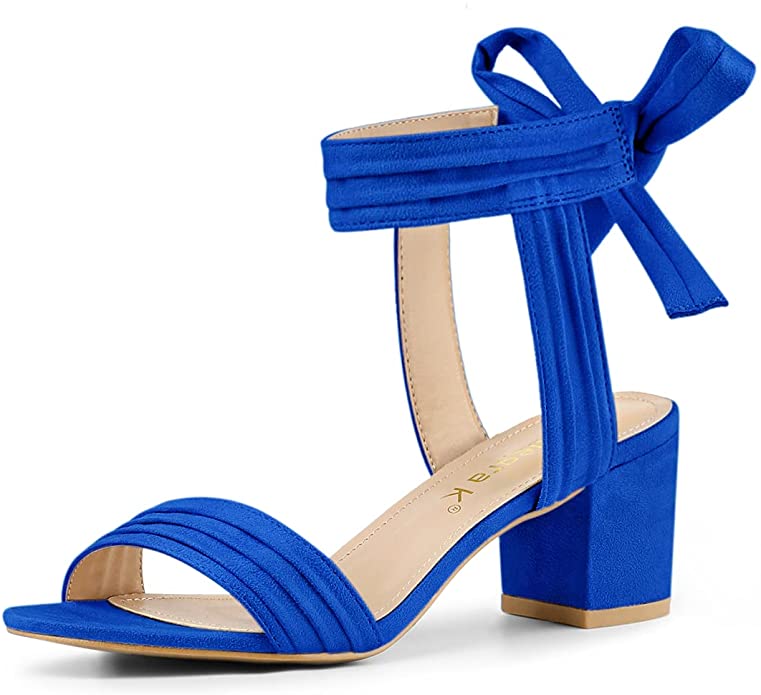 The perfect balance between a navy and a different colored bright shoe is a bright blue pair of shoes! You won't have to worry about mismatched navy shades or whether your shoes are distracting.
Jewel Tones
For more formal affairs, it's appropriate to keep your footwear in a darker shade. If you want something a little different than navy or black, jewel tones are a great choice.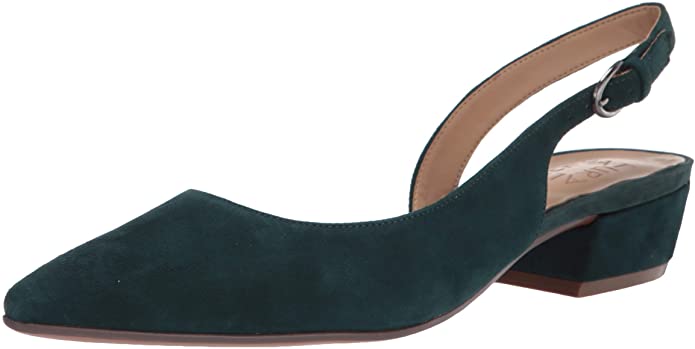 These deep green pumps have a low heel and slingback, so you'll be comfortable for the duration of the wedding. You can wear them to a formal event, work or just out on the town with jeans!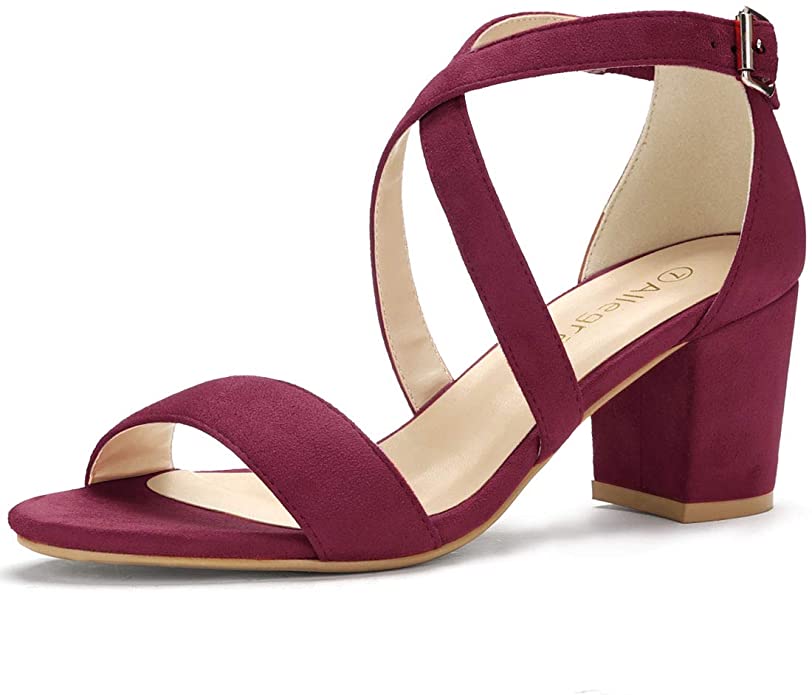 Burgundy is a good compromise between a dark shoe and a bright red shoe. It reads more formal but still adds a little pop to your outfit.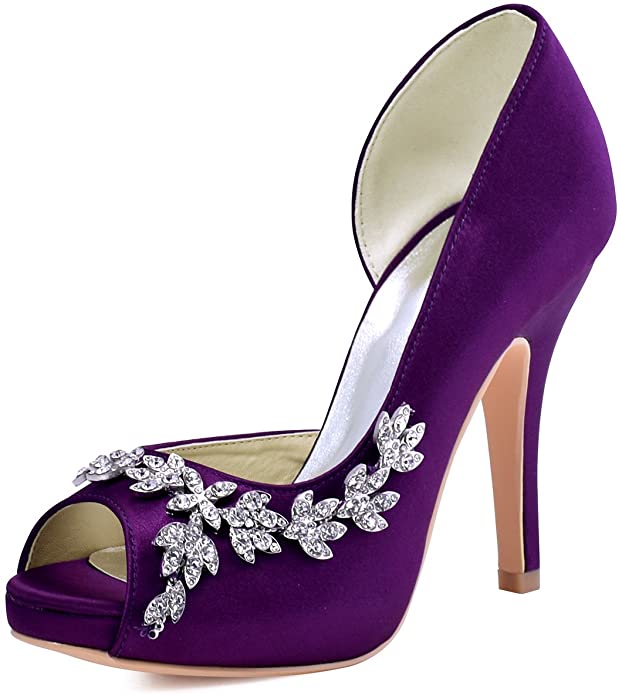 If you want fancy high heels, these beautiful deep purple platform heels will make you feel extra special. They've got 4-inch heels and rhinestone flowers.
Animal Print
Nothing can make a first impression like animal print! A beautiful animal print shoe can be hard to find and can be even harder to style. My picks bring animal print and elegance together.
These can be great with both a navy or a black dress!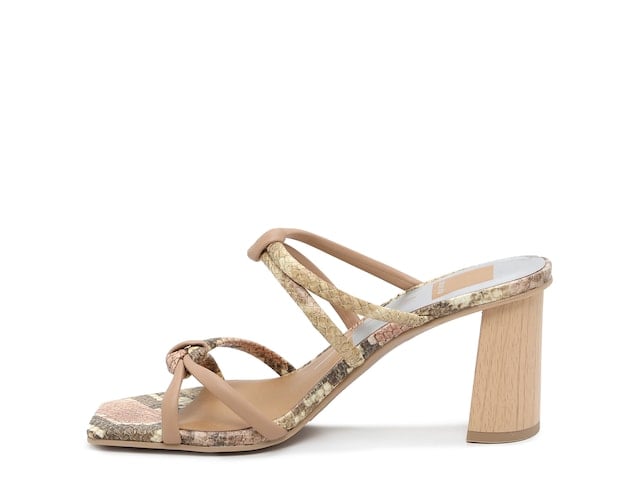 This option brings in a subtle beige with the snake print, which allows this strappy sandal to easily blend with the navy blue.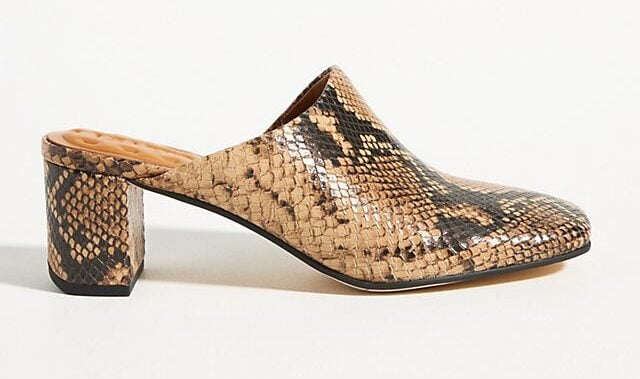 These mules can be dressed up or down and worn with lots of colors.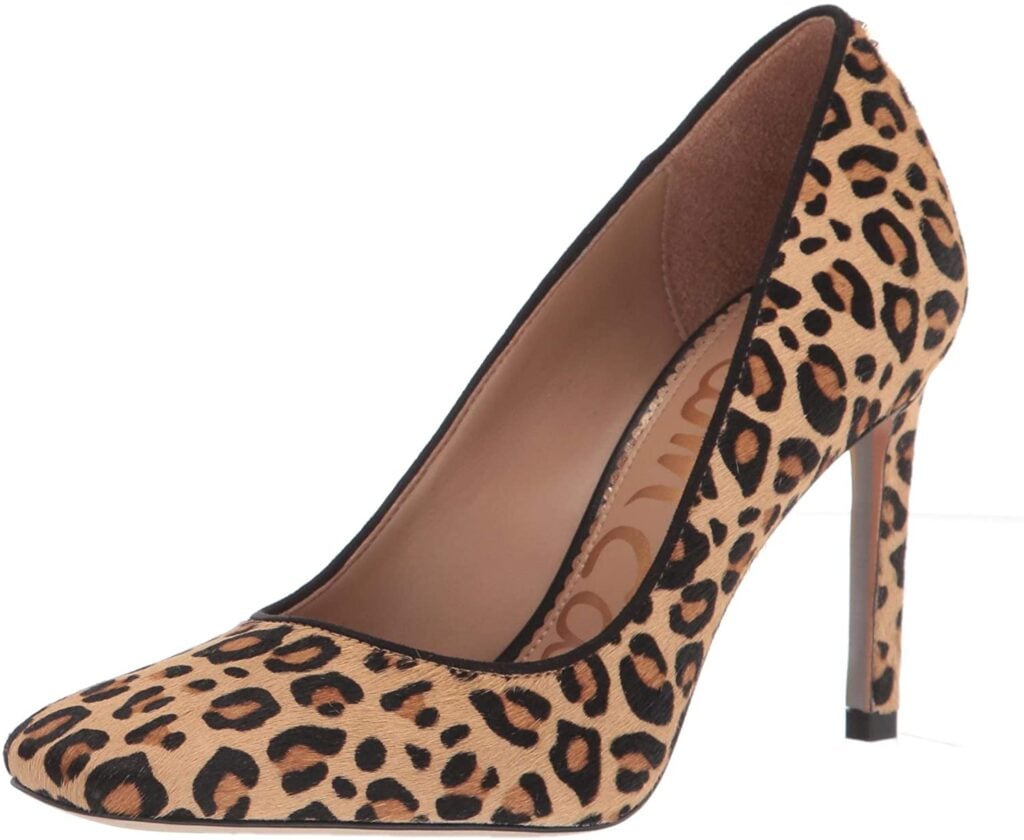 You just can't go wrong with leopard print pumps. I think they go with so many types of outfits, and make a statement even with a simple dress.
Patterns
Add excitement to any outfit, especially a navy blue dress, by adding patterns to your styling. A good pattern and color will easily change the direction of your outfit.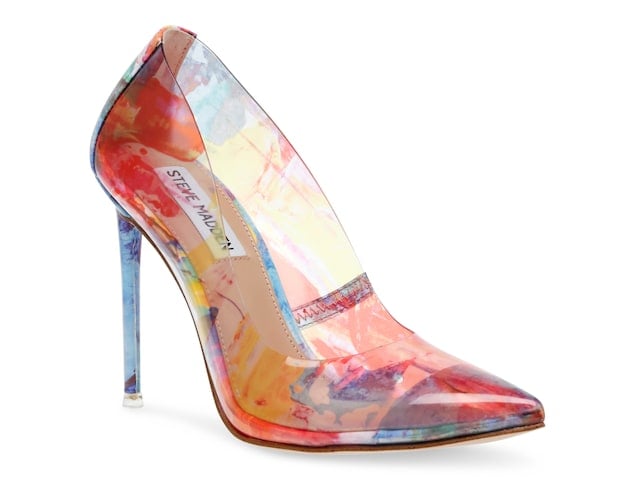 My first pattern pick is an abstract print pump with reds, blues and yellows, which will elevate your navy blue.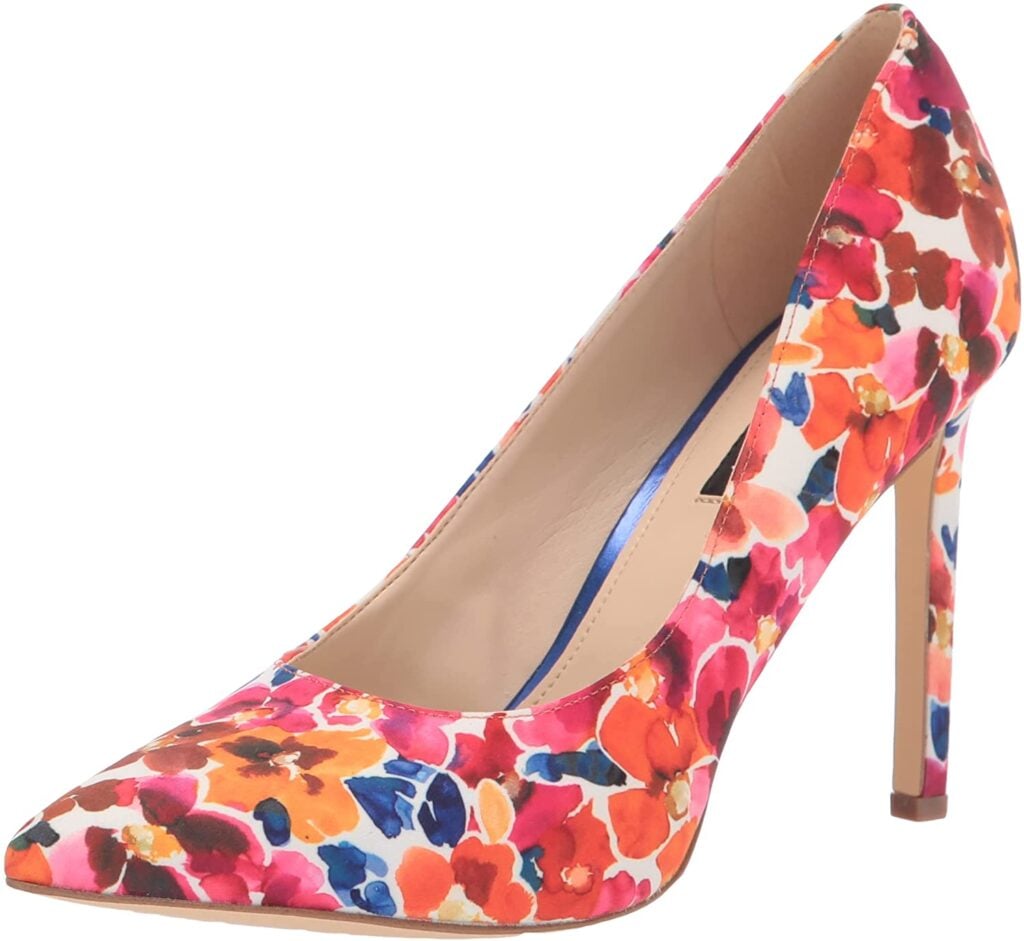 For my second pick, I could not resist the florals. The neutral base with blue and red accents will add a feminine charm to your navy dress.
Whatever your style and whatever the event, you can find the perfect shoe to wear with your navy dress. Just forget any "rules" you think you have to follow! If it makes you feel good and doesn't take any attention away from the special day, it's a great choice!
Find the perfect navy dress as a wedding guest in this post!
Looking for shoes for work? Whatever your job, I have suggestions for you!