For the past several years, the skinny jean has been a top choice amongst the majority of young women. Fashion is constantly changing and evolving, with old trends re-emerging and new styles pervading the market.
Two denim trends that have been spiking in popularity in recent years and becoming wardrobe staple pieces are the mom jeans and the boyfriend jeans.
With an untrained eye, it can be difficult to spot what makes these two pieces different from one another. Let's take a look at their distinct features and what makes each style unique, so you can confidently make the decision on which style is right for you!
Before I get into specifics, here's the cliff notes version of these 2 jeans. The main difference between the two jeans are in the zipper area. Mom jeans are high rise with a fitted cut that tapers in while boyfriend jeans have a straight cut at the waist and they sit lower on the waist.
Keep reading to learn more and to find out which is the right fit for you!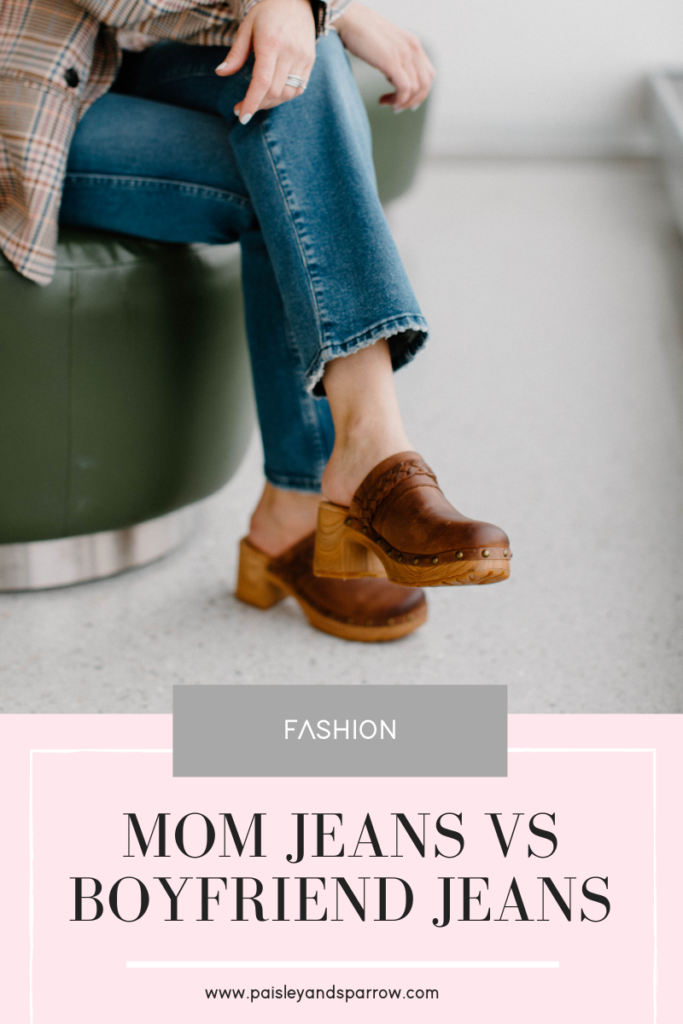 This post contains affiliate links.
What Are Mom Jeans?
Mom jeans were a fashionable choice for women during the 80's and 90's, though they have recently re-gained popularity with girls and women of all ages. Gen Z has flocked toward the aesthetics of the 90's, recreating the famous 'blast from the past' trends once seen on the covers of Teen Vogue and Cosmopoliton.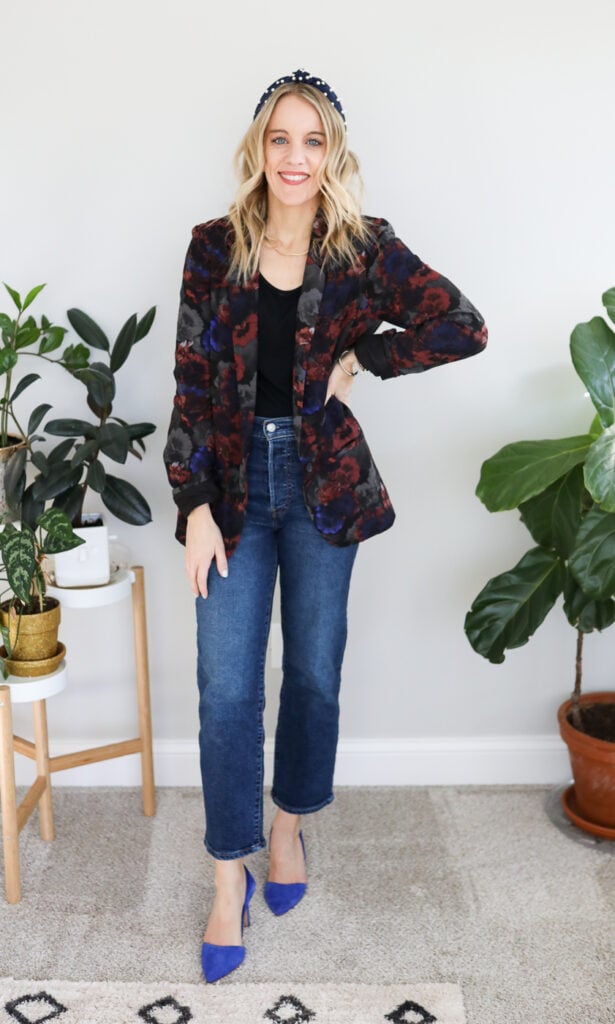 Millennials and Gen X are finally embracing this silhouette that had once been considered old fashioned, setting their skin tight skinny jeans to the side from time to time.
The easiest way to spot mom jeans is by their high-rise waist with a slightly baggy, loose-fitting leg. Similarly to the skinny jean, they typically are designed to have an inseam right above the ankle.
The mom jean has evolved since its earlier days where it was more wide cut and is now meant to be more tailored and fitted than its original blueprint.
Mom jeans are a classic staple piece that everyone should have in their closet. Their versatile, relaxed fit can be worn with your favorite heels for a chic, out on the town look, or with a pair of white sneakers to achieve that "model off duty" look. See the options below for the iconic mom jean.
3 Styles of Mom Jeans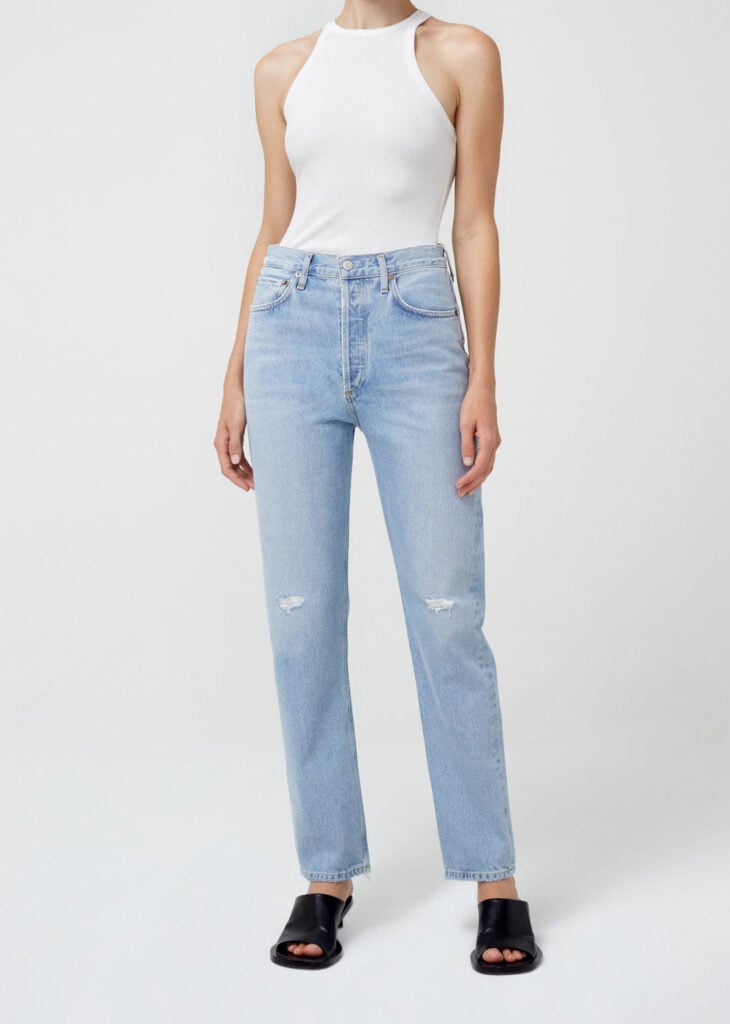 Agolde is famous for their high fashion denim and has risen to the occasion to create more modern denim jeans. The Pinch Waist jean offers a 90s nostalgia, vintage flair while maintaining its modern appeal.
They offer a slimmer fit than other mom jeans on the market, and are made using non-stretch denim material. Many consumers prefer a stiff denim fabric to prevent jeans from loosing their shape, making this the perfect pair for all day wear.
These come in a variety of colors from light blue to dark blue, to white, dark grey or even black.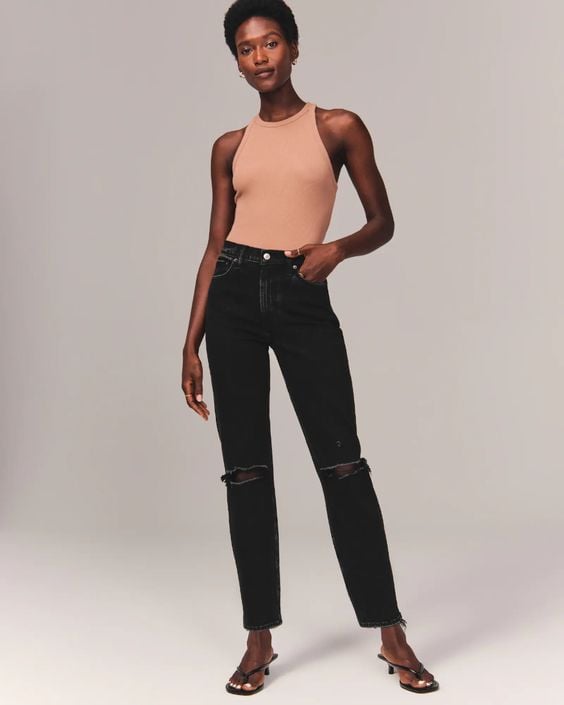 With a new CEO in charge, Abercrombie has come a long way from their dated brand tees and low waist jeans. Their denim is higher quality, and is made to fit a variety of body types.
Abercrombie's new High Rise Mom Jeans are created with the signature A&F All Day Comfort Stretch material, and come in a variety of washes, from a light wash to ripped black. Sizes offered range from 23W-37W.
Abercrombie has truly revolutionized catering to women of all sizes and heights; providing the option of purchasing a pair of jeans in extra short, short, regular, or long.
Reviewers claim that they are the ideal combination of comfort and style; not nearly tight enough to be a skinny jean, but not ultra baggy. If you're looking for a comfortable fit with a flattering shape, these are a great option!
Although these jeans have zero stretch, they are still a perfect everyday option that can be dressed up or down. This pair of denim gained popularity via TikTok, convincing users that these are an absolute must have. The fit hits slightly above the ankle with a tapered look. Sizes range from 25-32; Zara suggests ordering one size up if in-between sizes.
What Are Boyfriend Jeans?
Boyfriend jeans are a contemporary denim choice that embrace the androgynous high fashion look that is currently emerging in mainstream world. These type of jeans were made popular in the 1960s by Marilyn Monroe when she wore the on The Misfits.
They're also a much-loved style of celebrities like Katie Holmes, Jennifer Aniston, Victoria Beckham, Selena Gomez and more!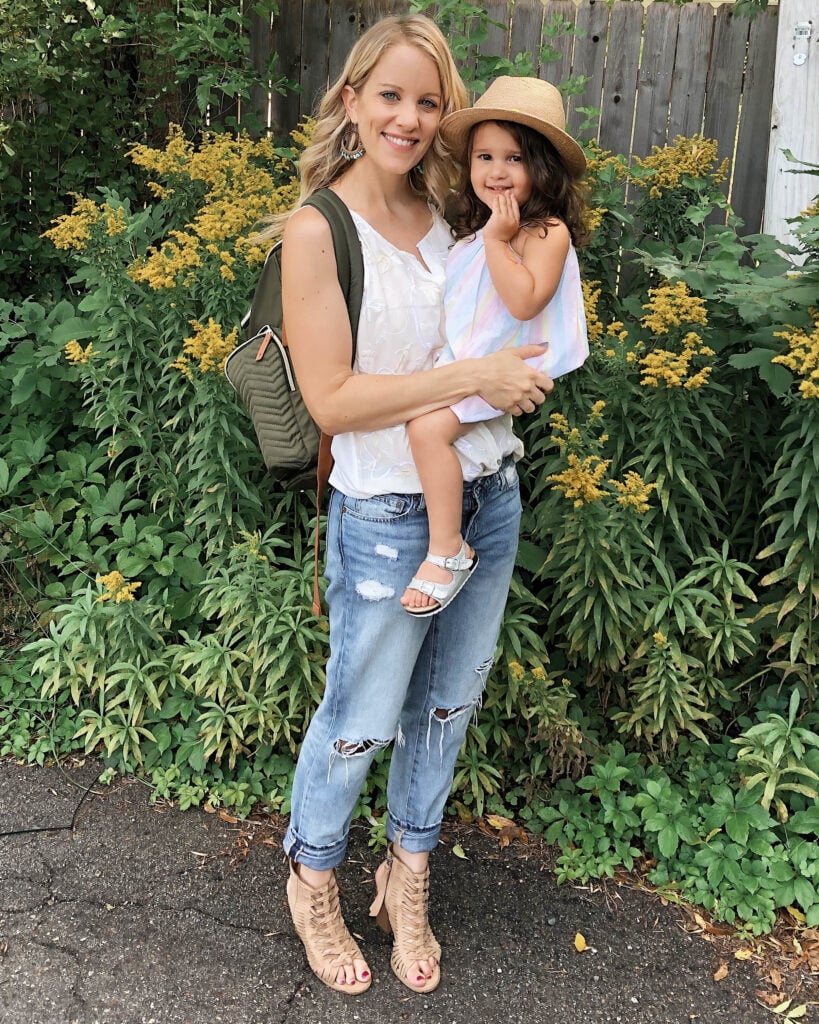 The boyfriend jean look has a more baggy, casual look than other denim choices made for women.
In contrast to the mom jean, this fit sits at the waist and has a very roomy leg silhouette. Although the boyfriend jean does have a very casual, taken-from-your-boyfriend look, they can still be dressed up with a pair of pumps and a fitted top or tailored blazer.
Girlfriend jeans have a similar fit to mom jeans; however, they have a more sculpted look and sit at, or slightly above the waist.
3 Style of Boyfriend Jeans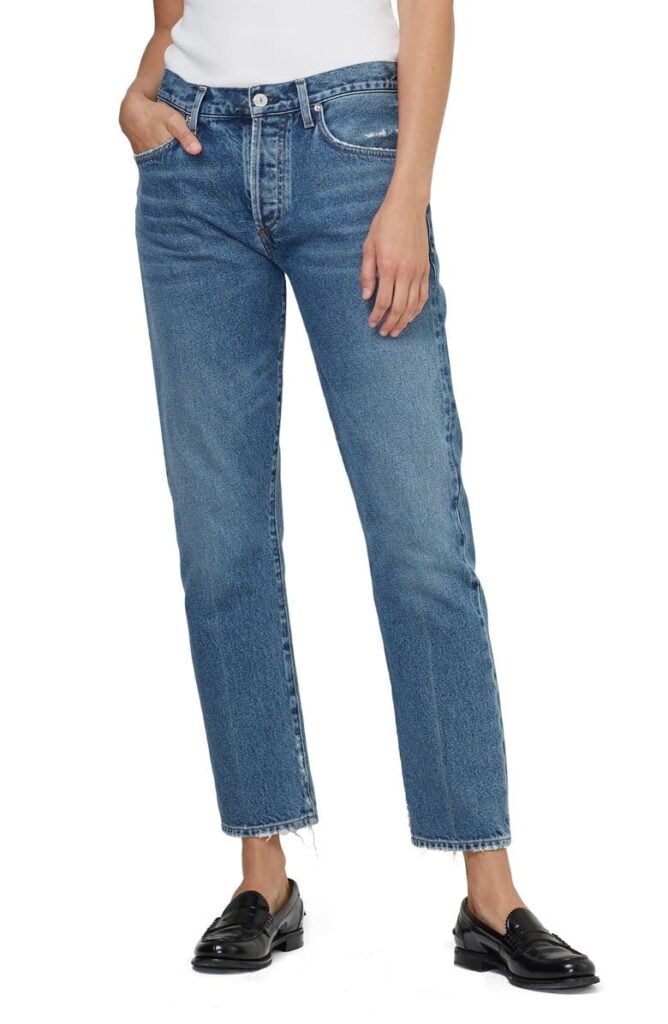 The Emerson Ankle Slim Fit offers a twist on the classic boyfriend jean with a slimmer leg. These jeans fit right at the ankle and are the perfect style jean to dress up or down. Though they are a slimmer fit, these jeans still have a bit of extra room in the legs for comfortability.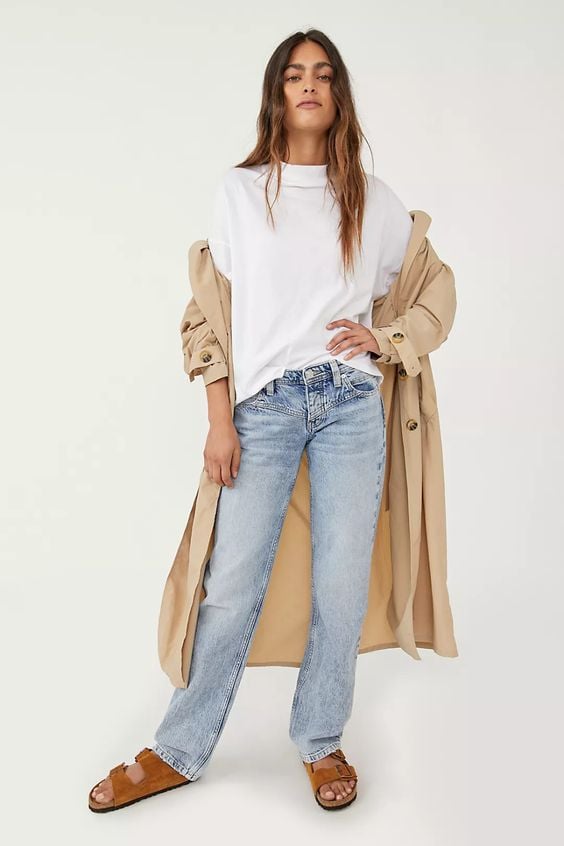 The Shelby by Free People is your classic, loose fitting, low-rise boyfriend jean. Its silhouette helps create the illusion of longer legs, giving you a right off the runway look.
This pair of denim embodies the cool, chic vibe that many celebrities and models emulate. Add this classic staple to your wardrobe for under $100 dollars!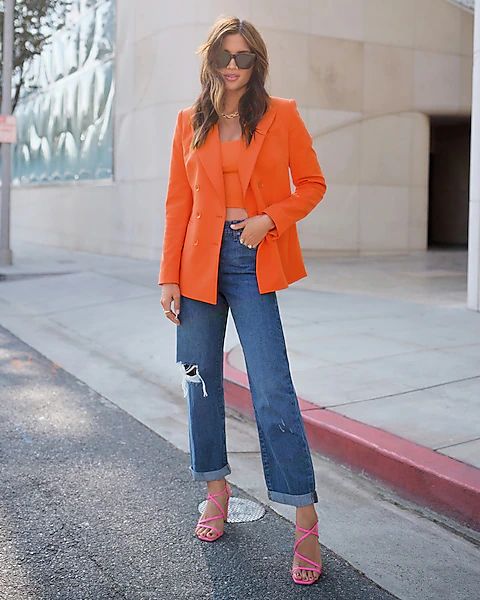 This pair of boyfriend jeans stands out from the others with its mid-rise fit and optional cuffing. The mid-rise silhouette takes the original boyfriend jean and creates an option for women with curves, or those who simply feel more comfortable in a mid-rise fit.
These jeans can be worn to cover your ankles, or can be cuffed for a more casual and contemporary fit.
Which Style is Best For You?
Determining which denim style is best for you is dependent on your body shape, as well as your personal preference. Mom jeans with their high waist tend to look best on women with wider hips and an hourglass shape. The high-waisted fit accentuates your figure, while providing the illusion of a smaller waist and long legs.
Boyfriend styles are most popular amongst women with an athletic figure or women with a rectangular shape. Their relaxed cut helps create an allusion of a fuller figure.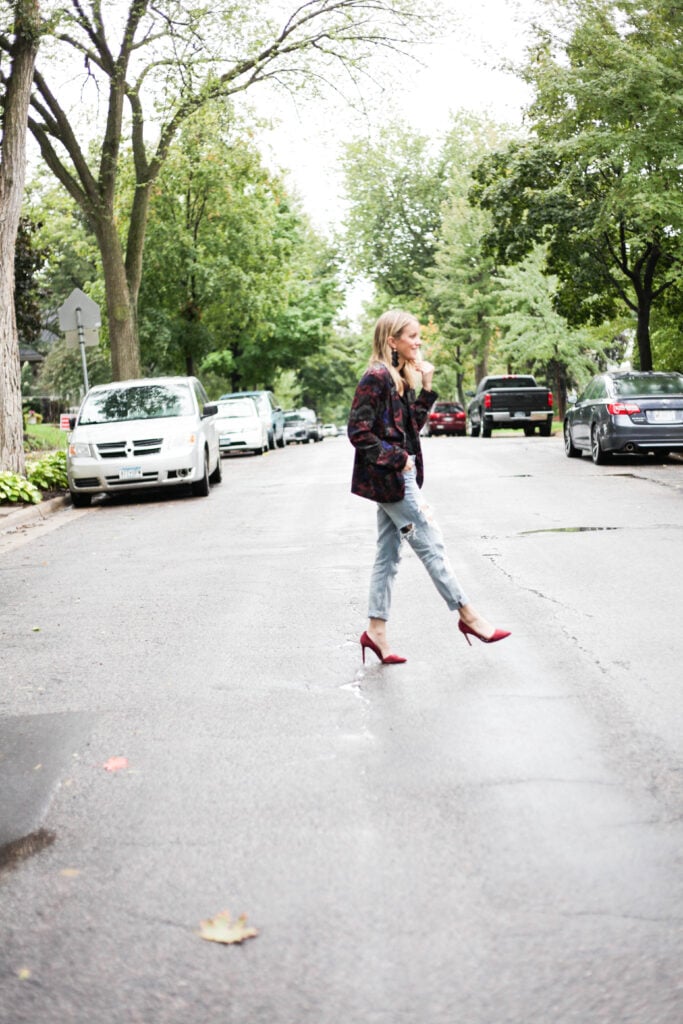 However, the boyfriend jean is constantly evolving and many contemporary brands are designing mid to high waisted boyfriend jeans. The higher waisted style is more suitable than their counterparts for women with round or hourglass shaped figures.
How to Style Mom Jeans
Mom jeans tend to have a more tailored silhouette, some even may be constructed like your favorite pair of dress pants. Because of this, they are an obvious choice for an elegant yet casual finished look; whether it be a date night or night out with the girls.
Mom jeans look great with a classic pair of black ankle boots and an oversized knit sweater. Depending on the silhouette of the mom jean, you may be more inclined to style a more laid back look.
A crisp white tee and chunky trainers can be combined with almost any style of mom jeans and you'll feel chic and put together.
How to Style Boyfriend Jeans
Comparably to the mom jean, boyfriend jeans are also stylish and versatile. The prototypical way to style boyfriend jeans usual includes classic top and a pair of pumps. The juxtaposition of the casual, baggy look paired with high heels creates a polished "cool girl" look.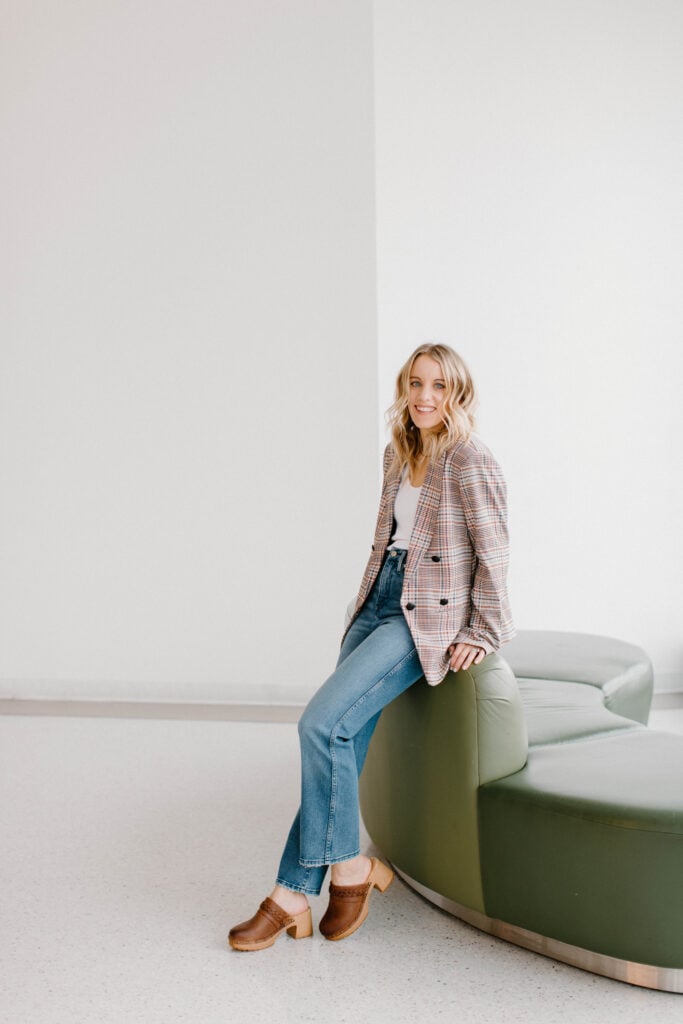 Another great option for styling boyfriend jeans includes pairing them with an oversized blazer and crop top or even feminine blouses and fancy flats.
A slim legged boyfriend jean also pairs well with a white sneaker, if you're going for the carefree, model off duty look.
So there you have! I hope this helps you know the difference between boyfriend jeans and mom jeans and most importantly have fun with your personal style!
If you want more outfit ideas, be sure to check out my post with multiple ways to wear your denim jacket, how to style Chelsea boots and how to wear ankle boots with jeans!