I get a lot of questions about the round Anthropologie coffee table in my living room and I wanted to share a round coffee table round up with all of you so you have a few more options!
When Roy started walking we need a safer option since our previous coffee table was from an antique store and had about 20 sharp edges all around it just waiting to poke an eye out (jk).
We ordered this one during one of Anthropologie's big home sales and after a few months (it was backordered unfortunately!) it finally arrived.
We LOVE it! It's definitely a splurge item but we knew it would be a good option for a family with kids so we didn't have to worry about sharp edges with kids who are new to walking.
Since I get so many questions about our Anthropologie coffee table, I wanted to share not only the exact one we got but also a few other round coffee table options that are of different price points and styles!
I also noticed the Anthro coffee table is out of stock! It seems to go back in stock from time to time. If you need a good Anthropologie coffee table, here 5 other options that I really love.
7 Best Anthropologie Inspired Coffee Table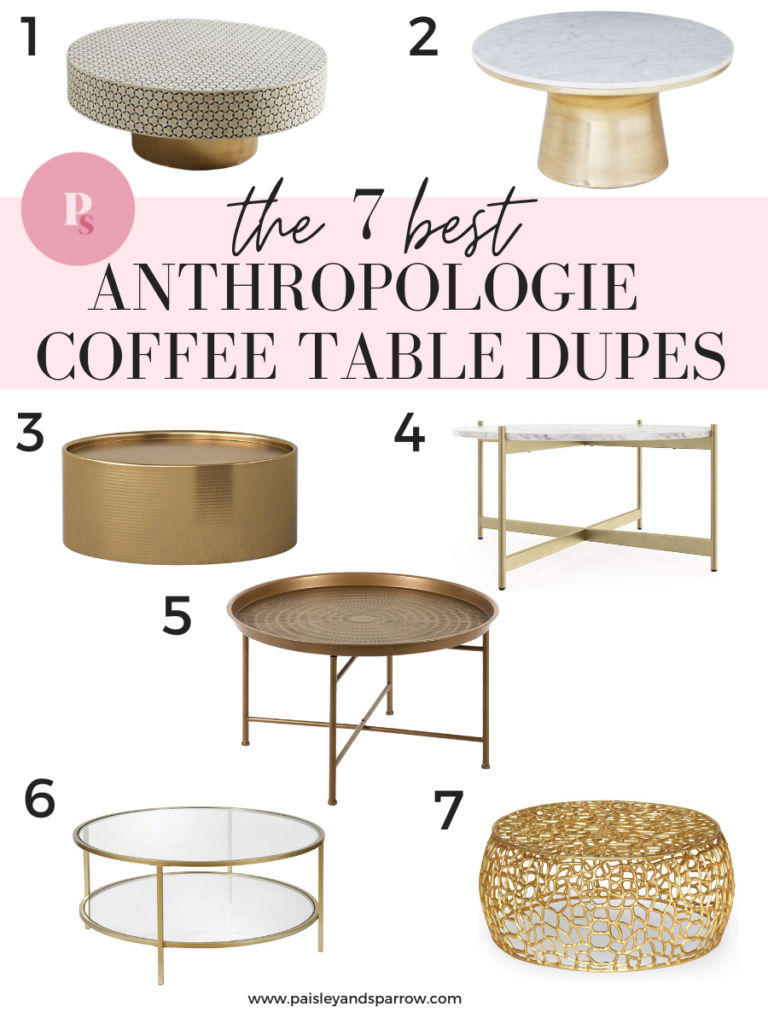 This post contains affiliate links.
This is our coffee table (and living room). 🙂 We absolutely love the beautiful hammered brass base and bone inlay top.
This Anthropologie coffee table is super easy to clean and it's super unique. It'll make a statement in your living room and be the talk of anyone who walks into your home!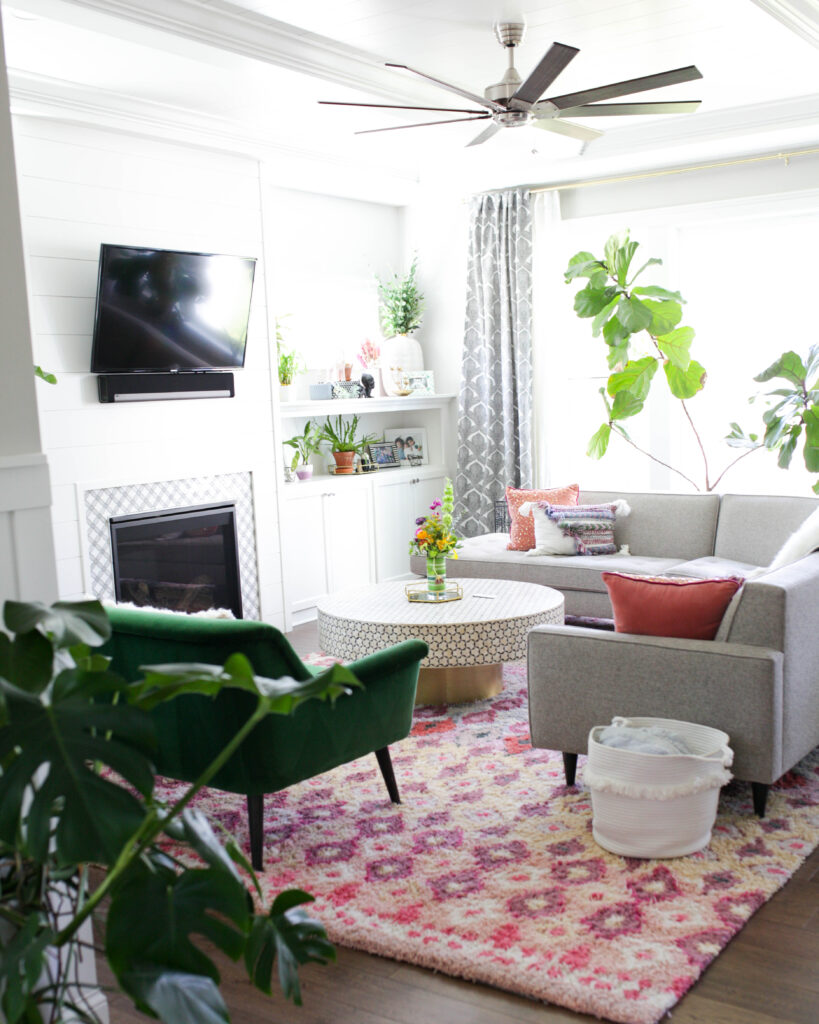 This a really close style of our coffee table! The base is made out of metal with an antique brass finish. The top is a carrara marble top.
I love the size of this one for slightly smaller spaces.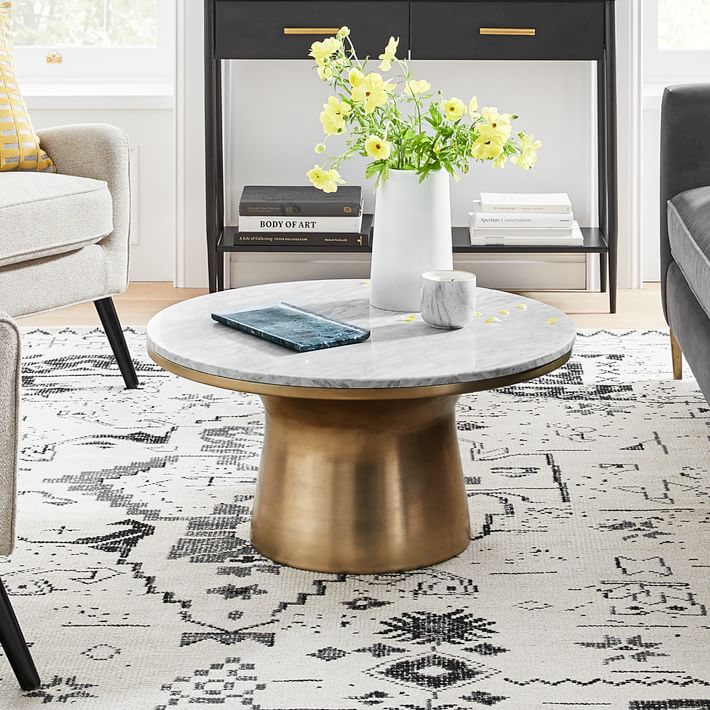 Brass finish and hammered texture makes this a really fun option! It's not a pedestal style making it a bit more safe if you have kids who like to climb at all. 😉
It's lower and round which makes adding plants or other decorative accents easy!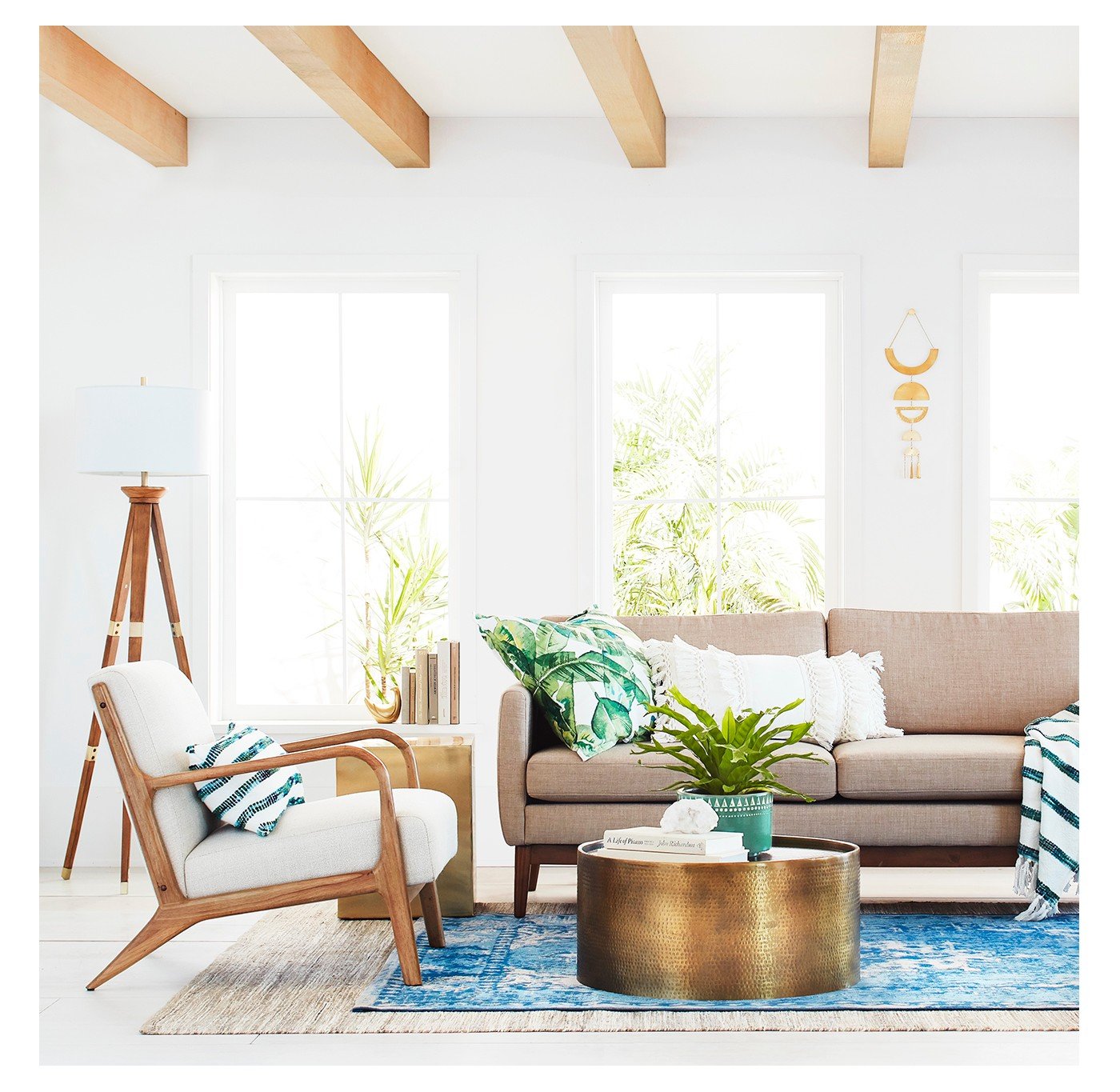 This beautiful Nathan James Piper coffee table is a sleek and modern design that's perfect for a modern looking living room.
It features a criss cross frame which keeps it nice and sturdy and the beautiful faux marble top adds a touch of elegance.
Easy to assemble and comes with a lifetime manufacturer warranty!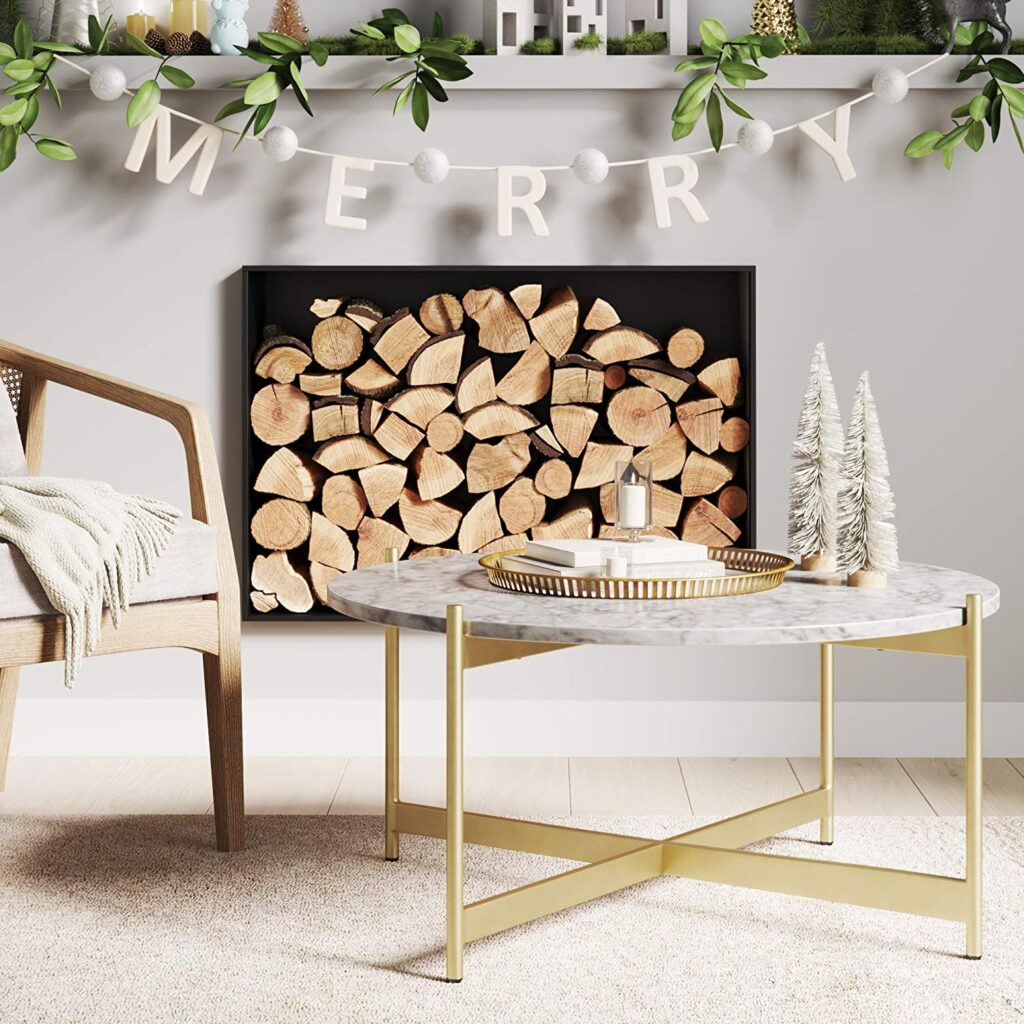 If you're looking for something extra unique, check out this one! The top is a hammered metal formed in a tray style! It's more rare to find a tray style coffee table and this one is extra stunning with it's dark metallic gold finish.
This is the perfect coffee table for a more boho chic living room or one with a more global vibe.
The top is securely fastened and it comes in a couple different sizes to fit your space!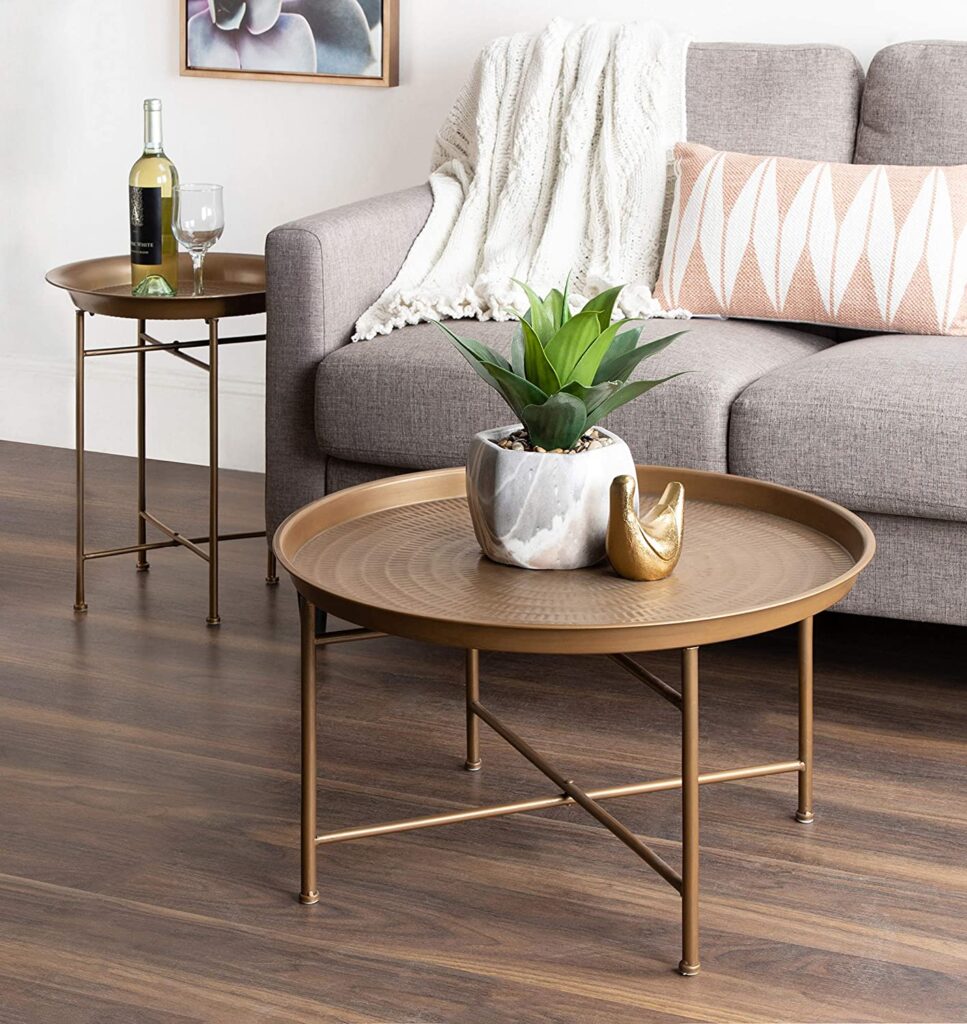 Have a lot of coffee table decor? This might be a good option for you! The double decker style of this round coffee table makes showcasing gorgeous coffee table books or other accents a breeze!
You could even put plants on the bottom shelf since they'll be able to get some ample sun. 😉 This coffee table is a classic, elegant choice for any living room.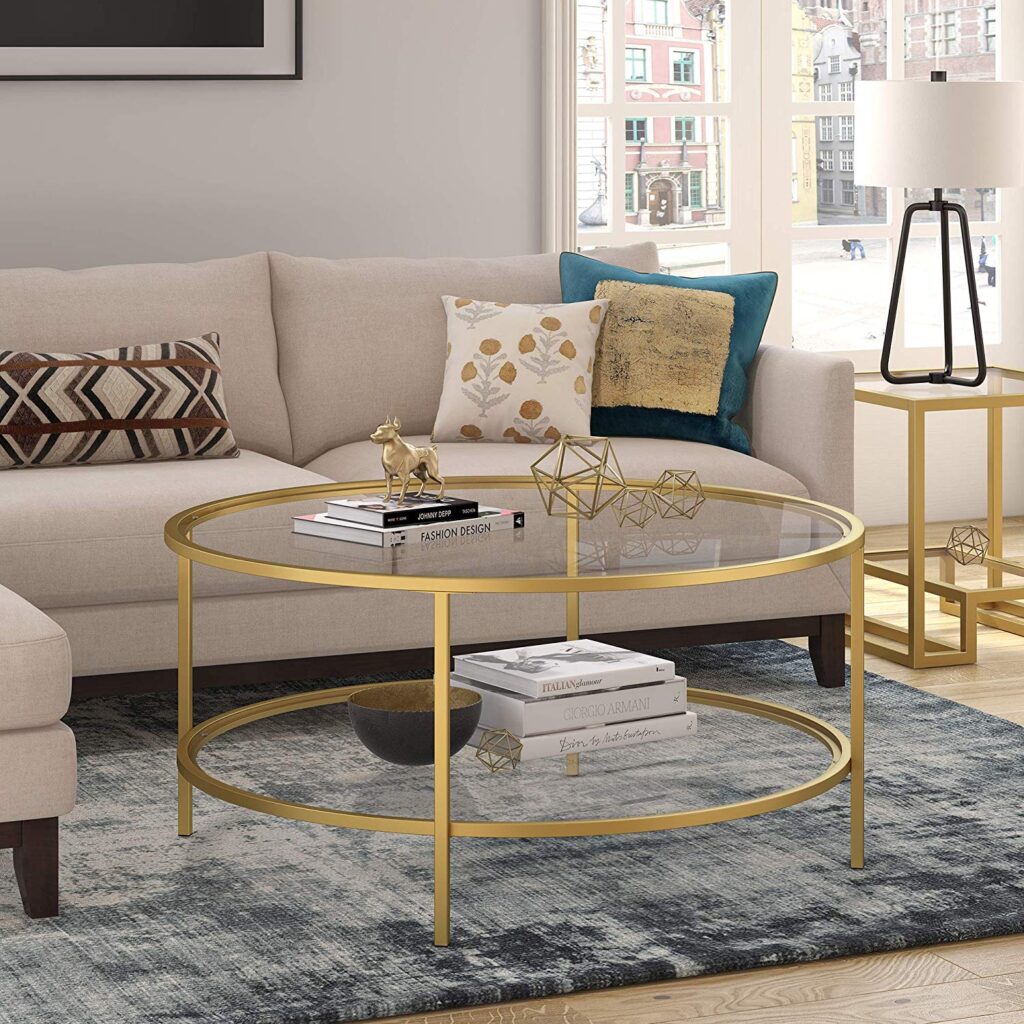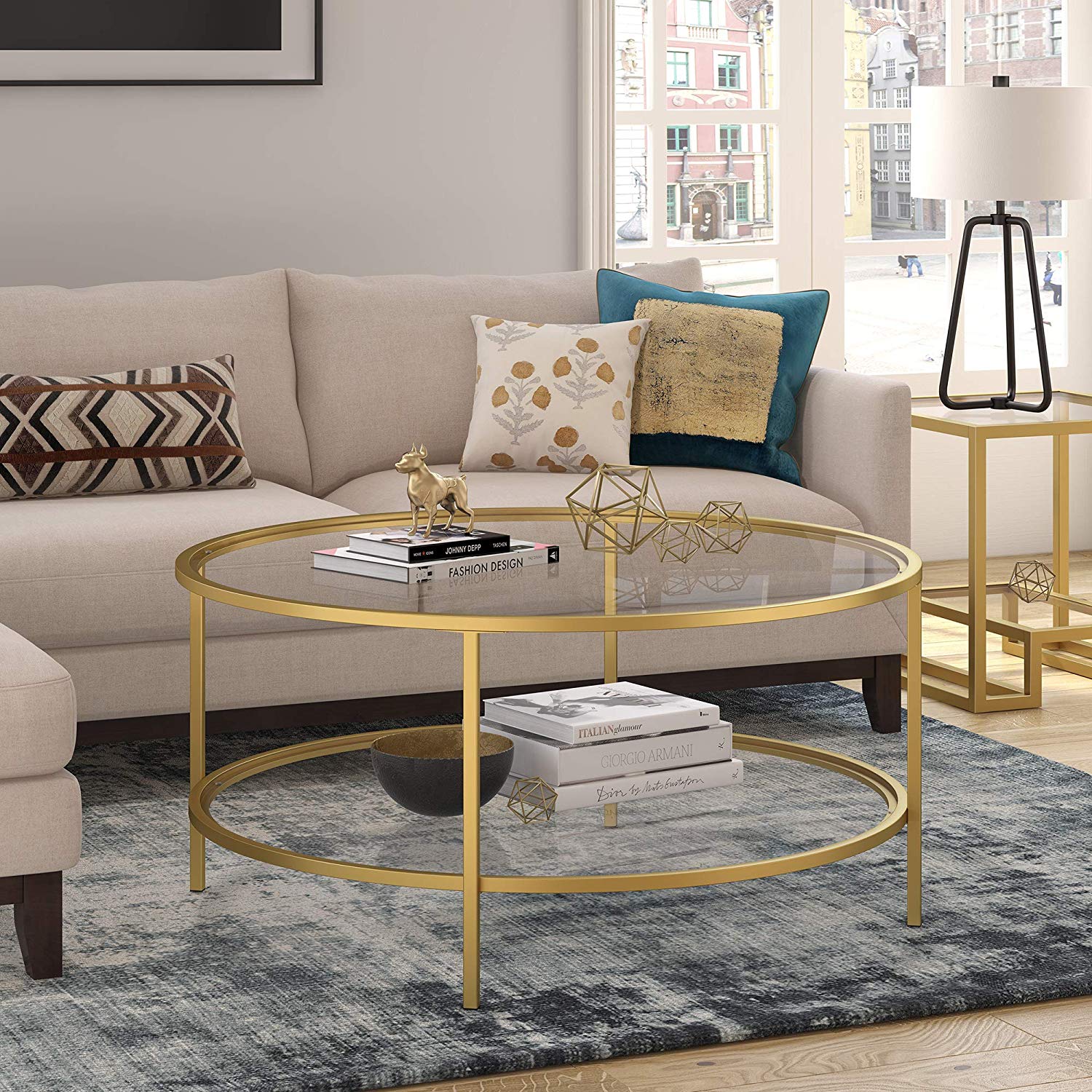 Want a statement coffee table? I've got the perfect one for you. This Carrie Modern Aluminum Mesh Coffee Table is just the statement piece you've been looking for!
It's a mix of luxury plus modern and would make quite the statement in any home! It's super unique with it's brilliant gold finish and unique texture.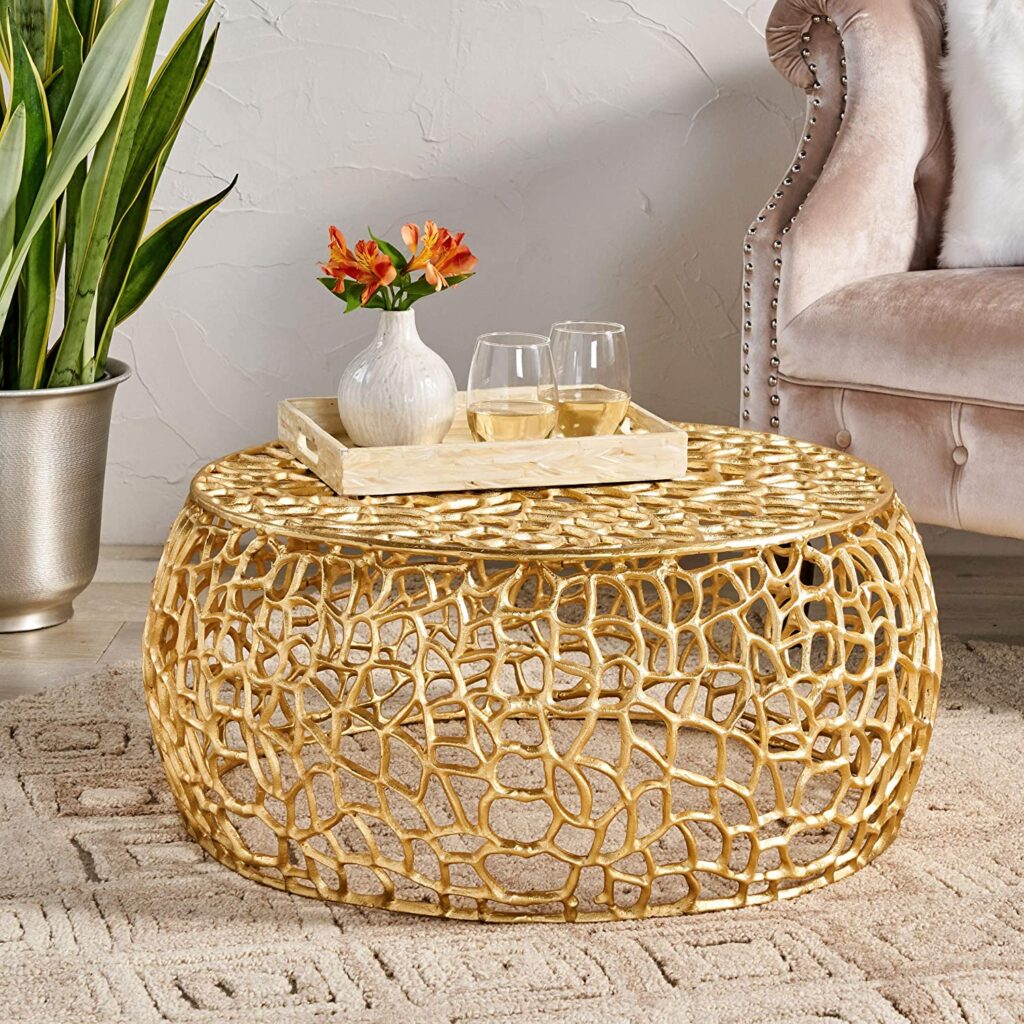 Want more Anthropologie saves? Head here to see my Anthropologie Inspired Mirror round up!
Be sure to check out my 5 tips for decorating your living room for even more design inspiration!
Thanks so much for reading!