A nod to the '80s and '90s, mom jean shorts are a high-waisted jean short with a looser fit around the upper thighs. They are the denim shorts version of the iconic mom jeans.
Usually cut off at the bottom with a fray, or often seen rolled up, you can go for a clean or distressed look with mom jean shorts, making it a versatile closet staple.
Mom shorts are perfect for any casual spring or summer look, but depending on the cut, color, and style, you could dress it up a little depending on the top and accessories you pair them with. The options are limitless and fun!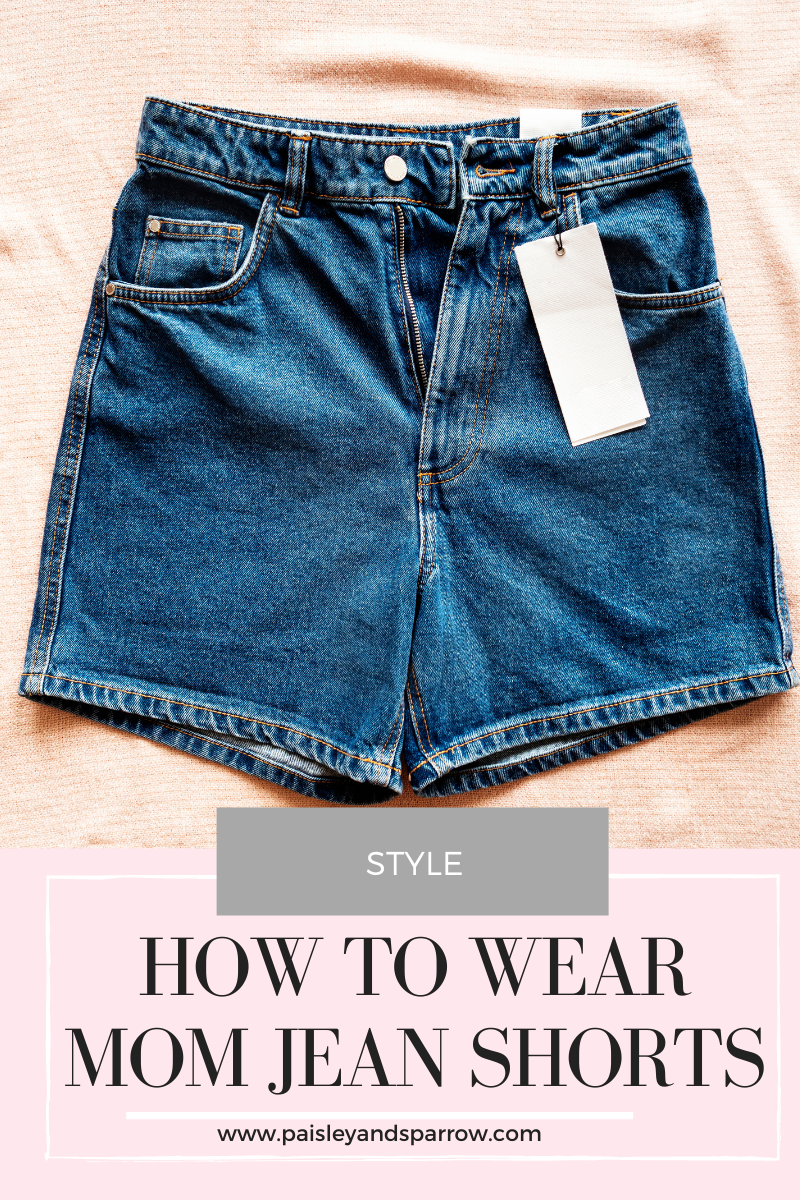 Paisley + Sparrow is a participant in the Amazon Services LLC Associates Program. This post may include affiliate links which means I may earn a small commission if you shop using the links below at no additional cost to you.
Like many trends throughout the eras, mom jeans and mom shorts became unpopular for a while, but they are now making a big comeback. The mom jean and mom denim short are cycling through our runways and closets again. And with they're loose fit and relaxed high-waist, who's complaining?
I've put together an extensive list of some of the hottest mom jean shorts this season, ranging from classic to grungy, cheeky to long, denim wash to bright pink.
There are so many styling options when it comes to mom jean shorts. Let's have a look!
23 Mom Jean Shorts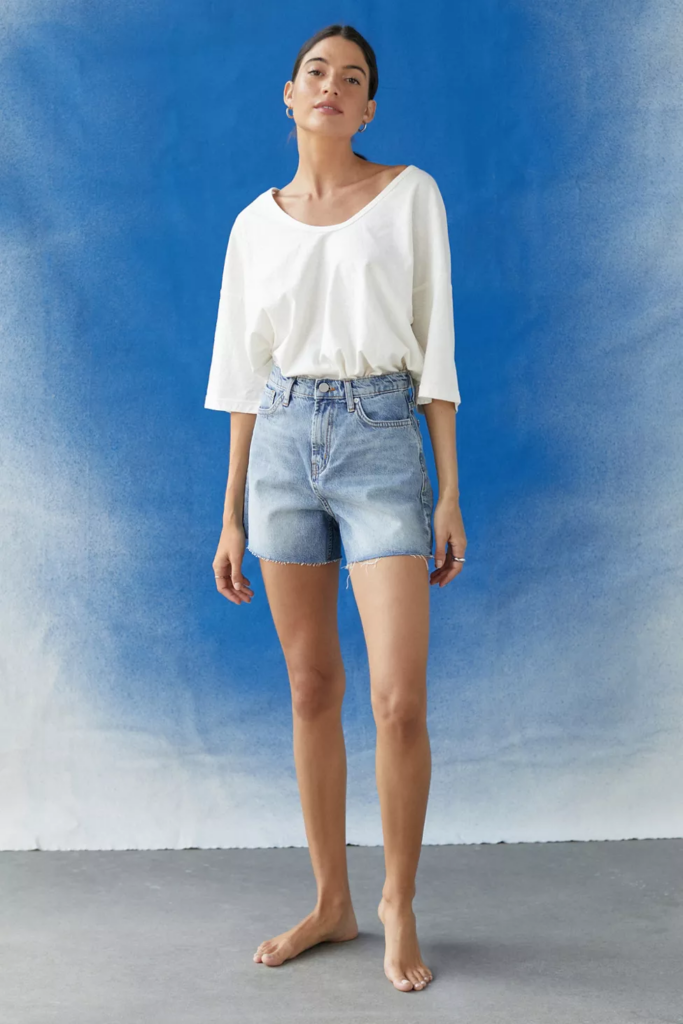 These are a classic denim mom short. Their flattering A-Line denim short shape and cutoff hems give a relaxed and cool look. It comes in several different denim colors to choose from, including Black and Mustard.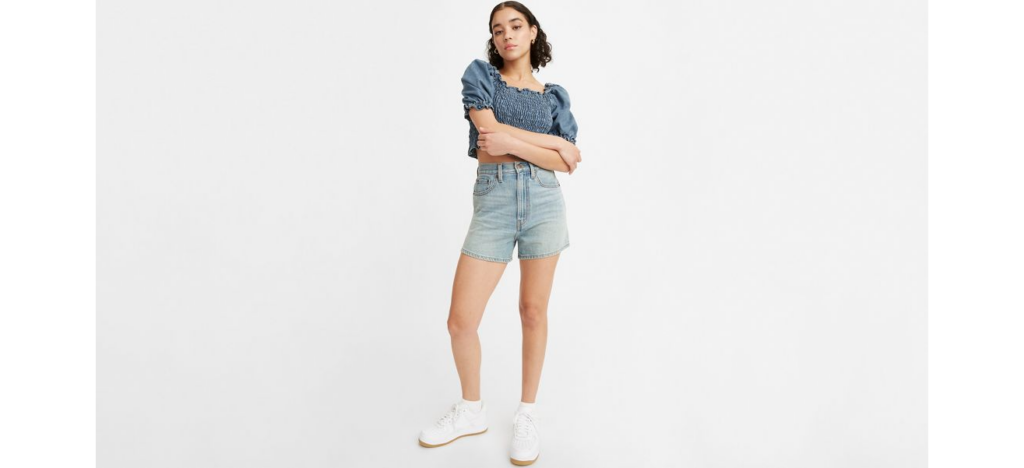 Another great staple and classic is this pair from Levi's. It has the perfect retro washed denim color, and the high waist and loose fit are sure to flatter any body type.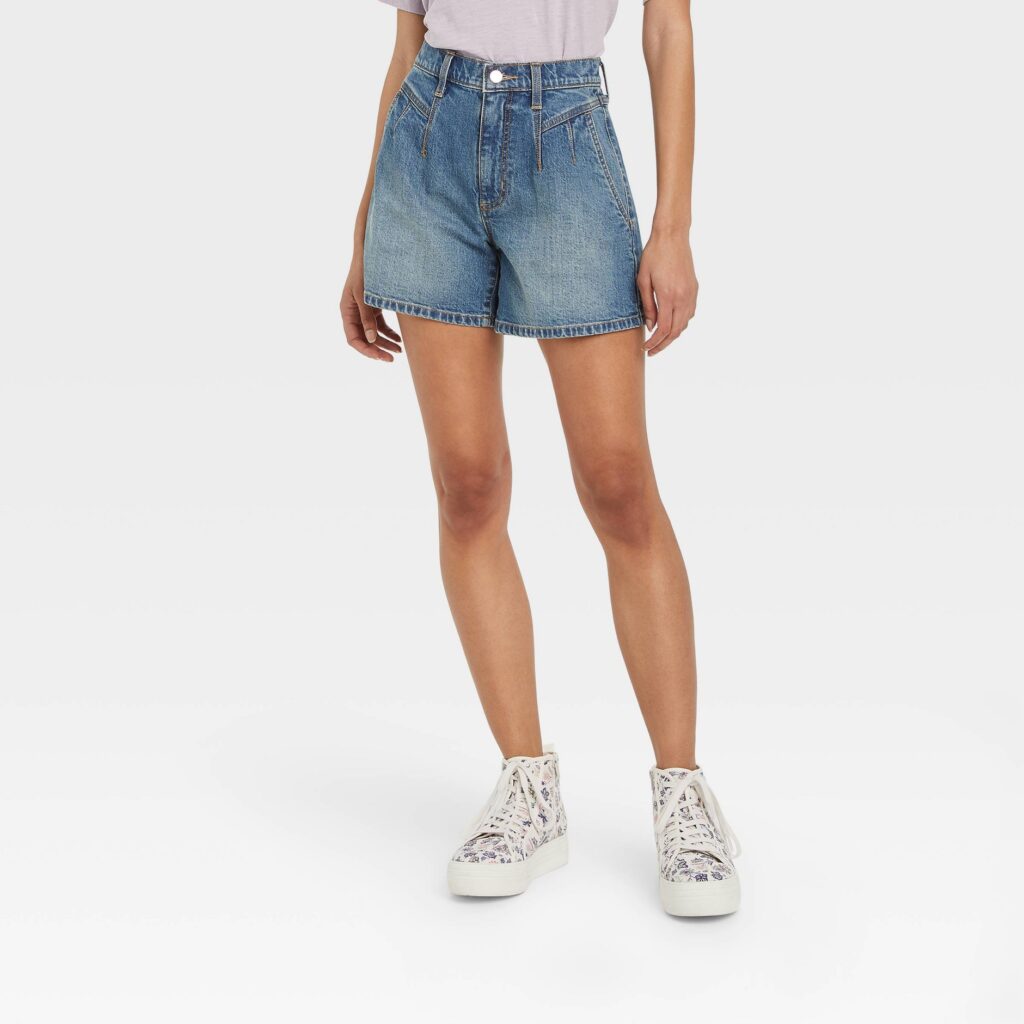 If you are looking for an affordable option, this pair from Target is the perfect A-Line with adorable front and back pockets. It comes in four colors — Medium Wash, Berry Purple, Black, and Olive Green.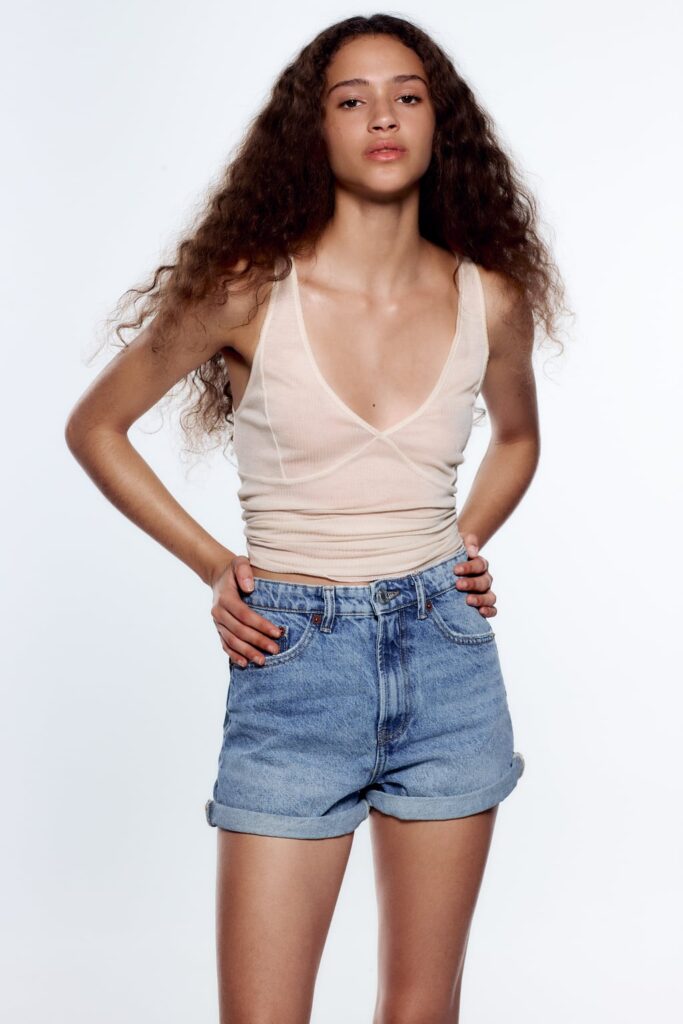 Another name for mom jean shorts are roller shorts. These shorts are a fun option from Zara with the hems cuffed, which can give a dressier look to your outfit, if you're going for that. This pair comes in two different denim colors — Blue and Light Blue.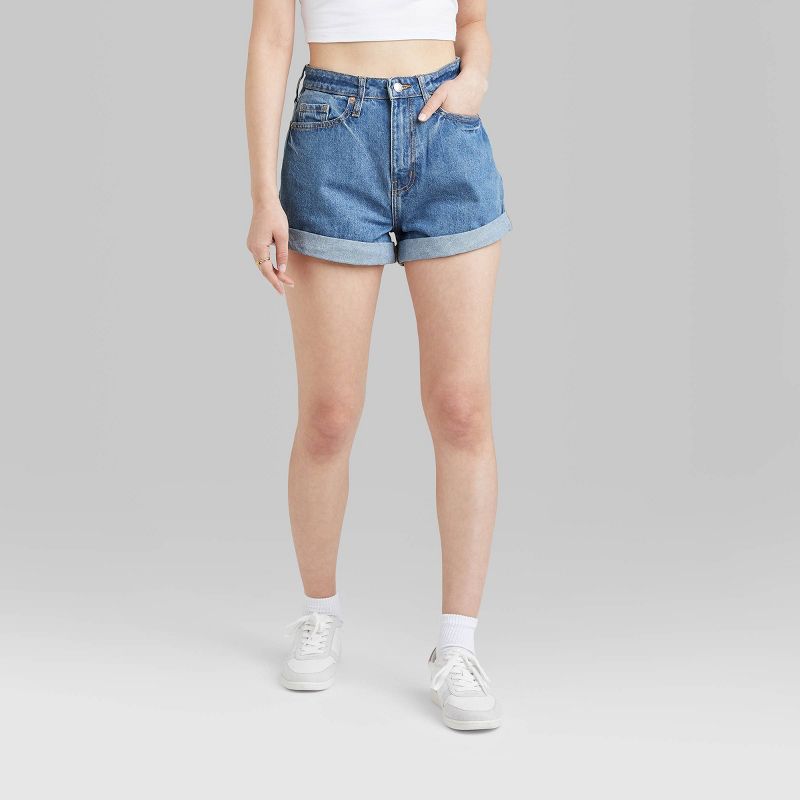 This pair is a steal at Target for $15! Much like the last pair, the hems are also cuffed. However, there are lots of fun colors and patterns to choose from in this pair, which makes for creative styling.
There's the classic Medium Wash, Black, Light Blue, Orange, Pink, Sage Green Chalk, and White. You could do a lot of fun things with these colors!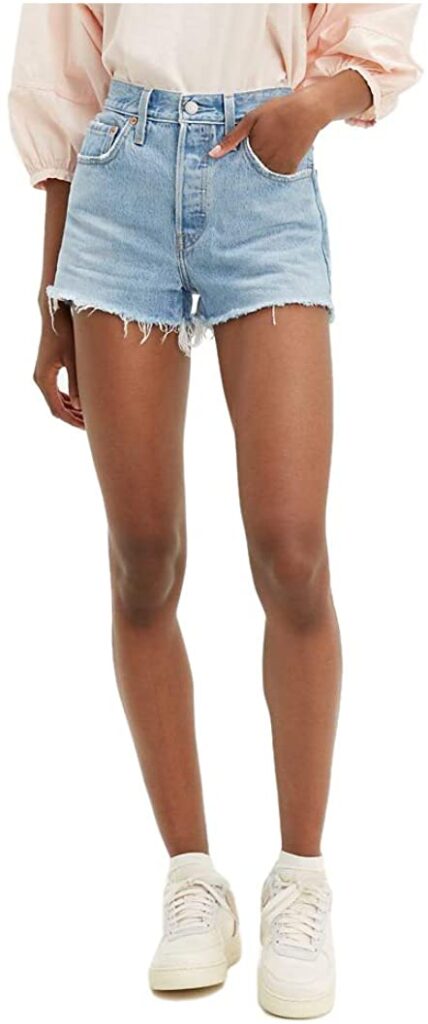 Levi's offers so many different color variations in this pair. The look itself is an effortless ripped hem look with a comfortable high waist. The pair is on the shorter side, almost cheeky style, and can be styled in so many ways.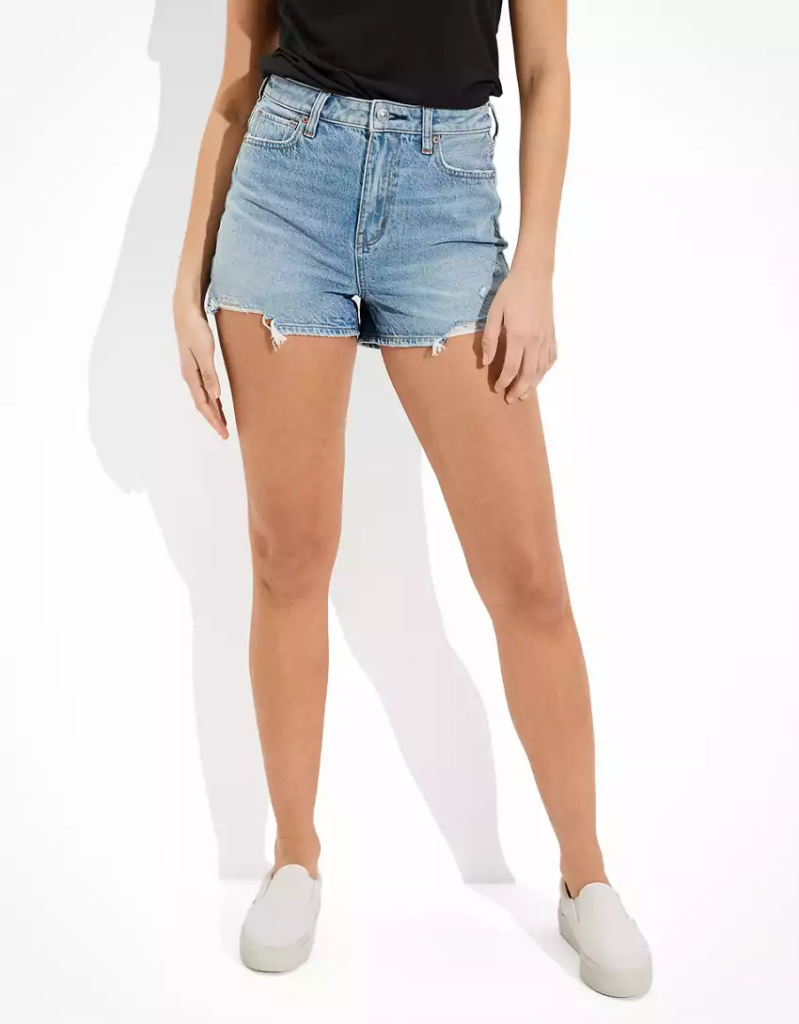 These American Eagle mom shorts give you 10 different denim options. They are frayed at the bottom, and some color options have denim floral print, delicate embroidered flowers, pinstripes, large pockets, and lots and lots of fray. Another comfortable high waist option.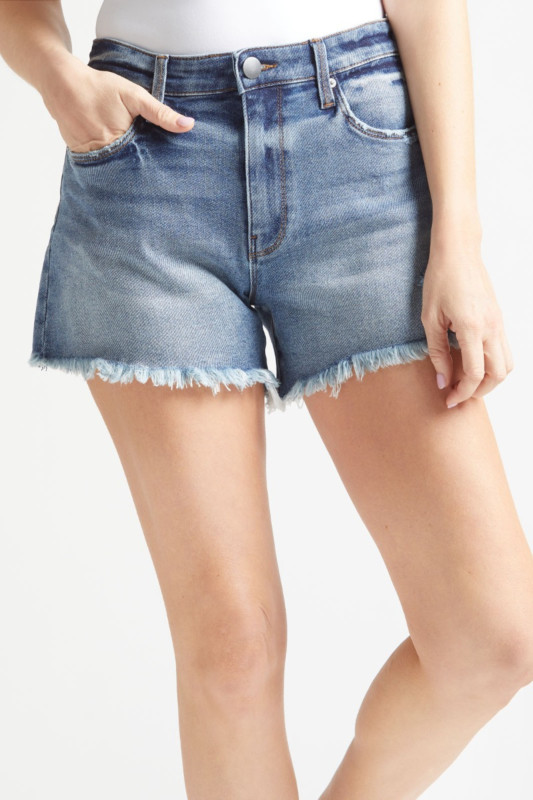 If you are shopping for a classic staple, this pair from Evereve comes in a versatile denim wash color, which is great for easy styling, and the touch of fray at the hems adds just the perfect touch.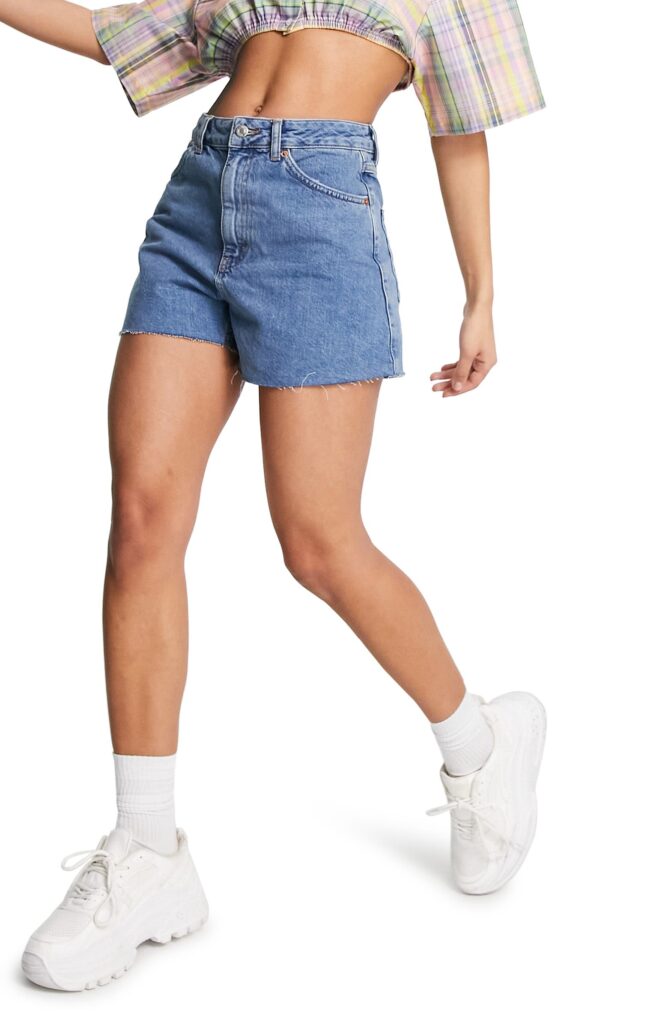 This pair has the '80s written all over it. This is what often comes to mind when you think of mom shorts, and I am here for it!
It's got that classic denim jean color and subtle cutoffs at the end, giving the effect that you could have fashionably DIYed these shorts yourself from a pair of old mom jeans.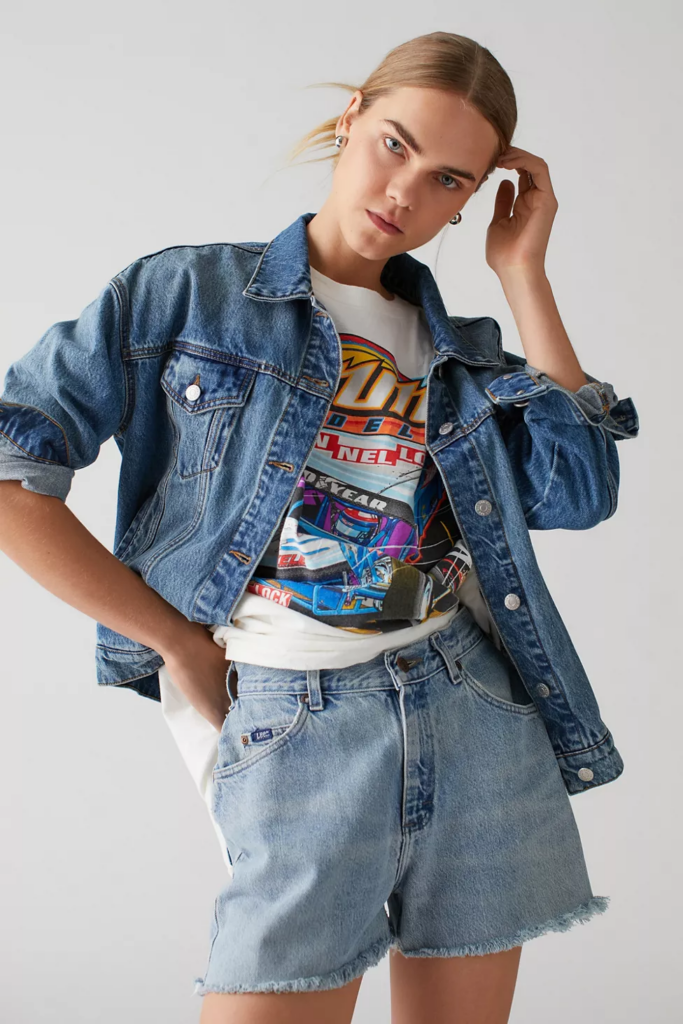 Speaking of DIY, this pair has actually been recycled into mom cut-off shorts from a pair of vintage Lee jeans through Urban Renewal. How cool is that! Not only will this pair give you style, but you can feel great knowing a previous pair of jeans has not gone to waste, and instead, has been recycled into a fantastic pair of shorts.
Read on to the end of this article to learn how you can make your own mom jean shorts!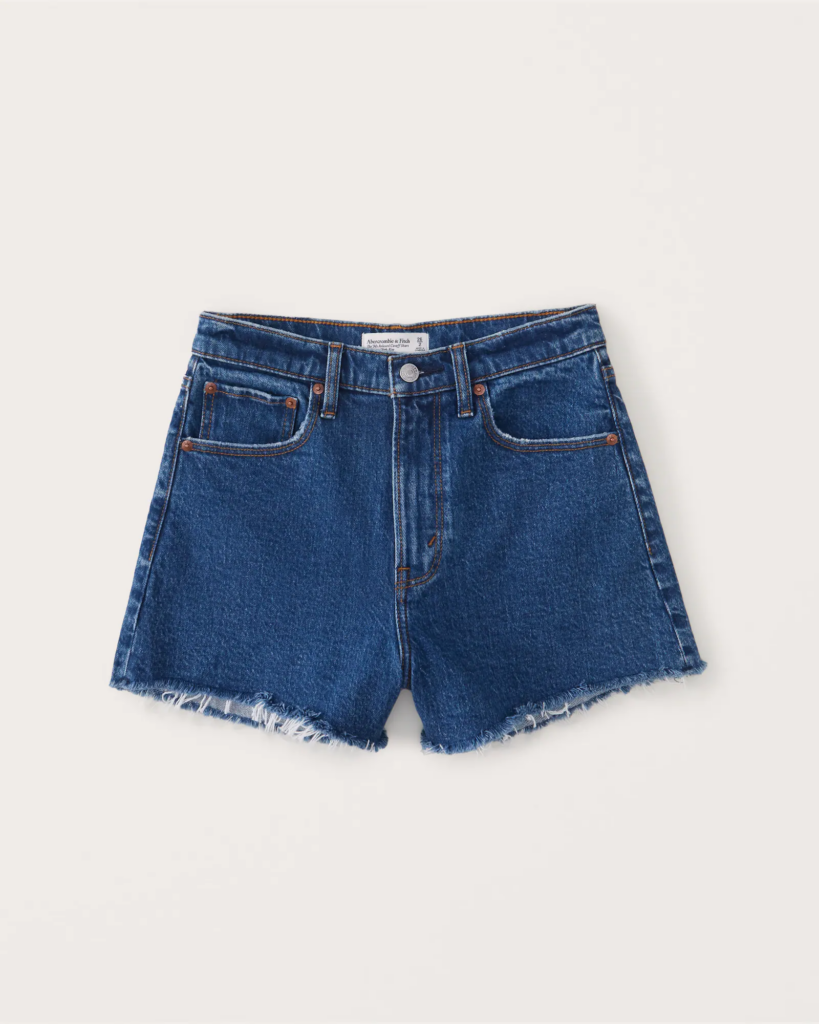 This cutoff denim short will surely give you that retro look if that's what you want. It's a quintessential high-waisted denim short with five different denim options. Works perfectly for any '90s look you're going for.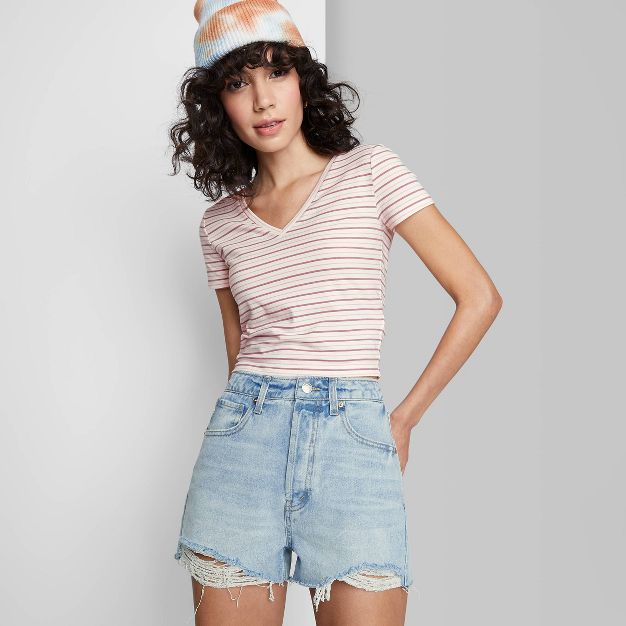 If you like a grungier jean short look, go for this pair. There are several colors to choose from, and they all have frays and rips. You'll feel like you're in a girl punk band!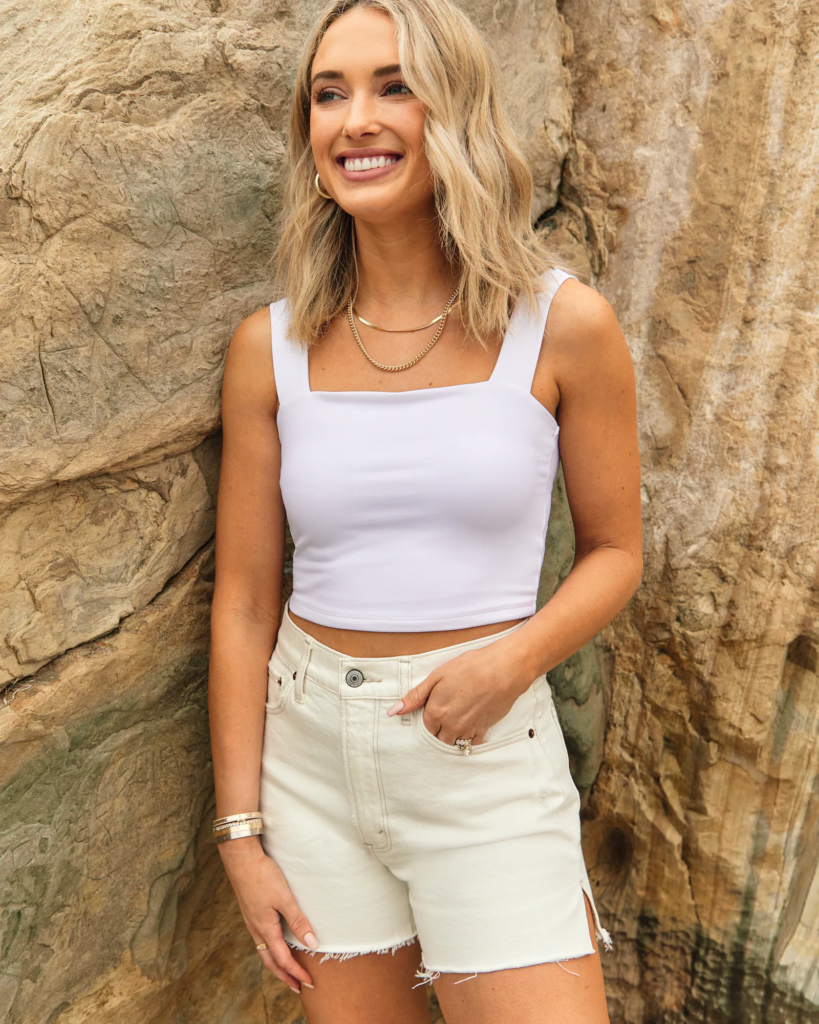 Here is another pair of fun ripped mom shorts. There are three denim color options with frays, giving a distressed look. Made with stretch denim fabric, these will be a comfortable fit.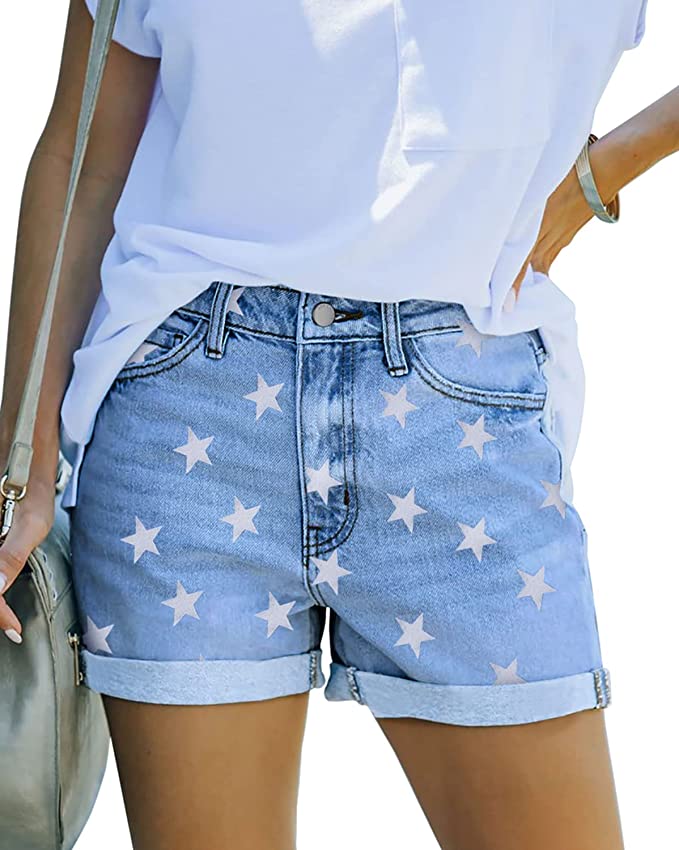 You will get over 45 options with these pairs! Some hems are cuffed and some are ripped. Another classic mom jean short to shop for.
The pair with stars is the perfect pattern for 4th of July and all your other summer barbecues.
The cinched elastic waist band on this pair is adorable and gives a slightly different effect from other pairs. It has a very washed denim color, with cutoff hems and small slits on the sides. It's all the subtle details of this pair that make it so unique.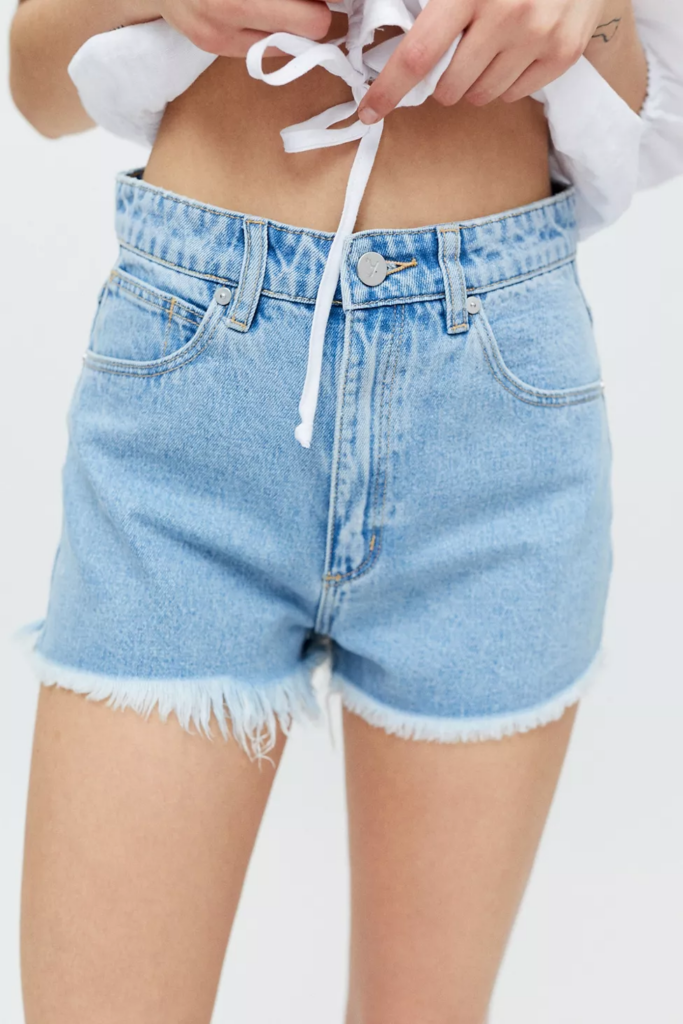 This cheeky denim short is perfect for hot days. The frayed hem gives a relaxed and cool look. And the high waist pulls it altogether. A definite yes if you're looking for a cheeky fit.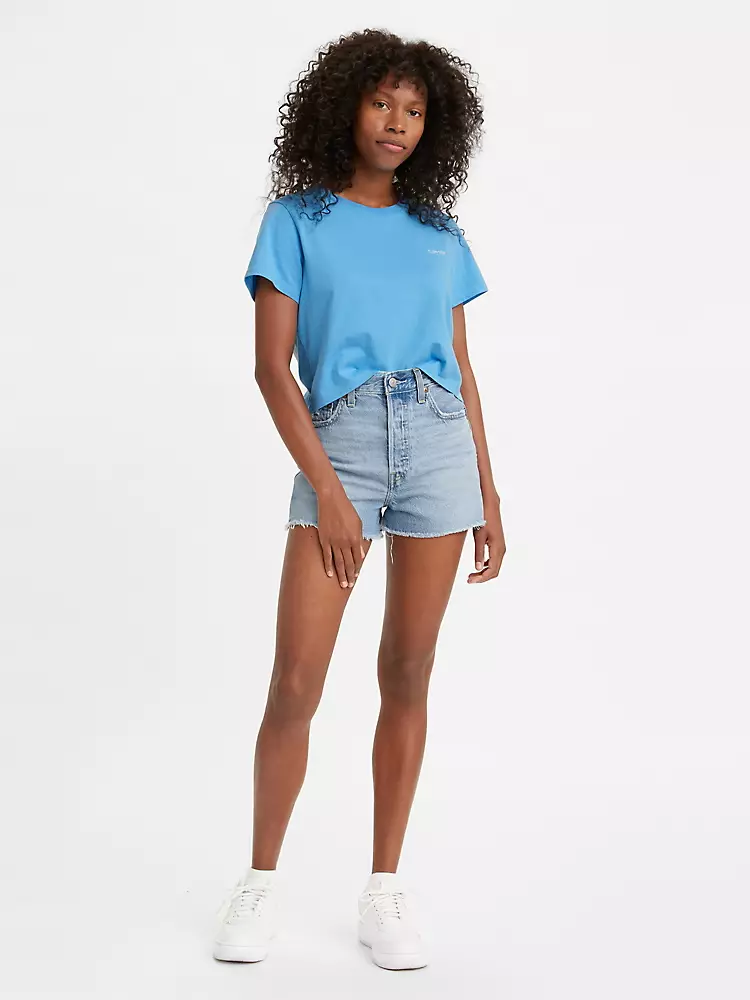 If you're looking for more denim color options in a cheeky denim, Levi's will never let you down. This pair comes in six different colors.
Read my review of Levi's popular Ribcage Jeans!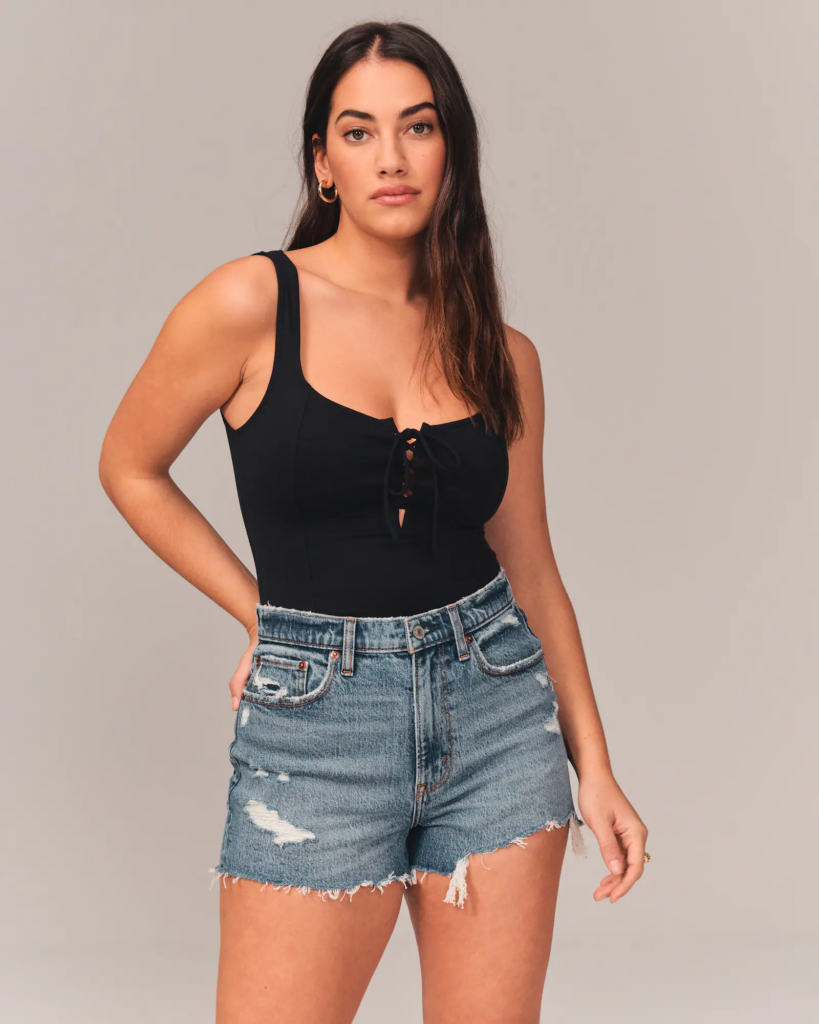 This is the perfect cheeky fit for curvier bodies. It has an extra 2 inches through the hip and thigh for a comfortable fit. Mom shorts are supposed to be a looser fit and not as tight around the thighs as other jean shorts, so this is a great option.
Comes in several denim colors for lots of style options. There is also a touch of fray on these shorts, which adds a relaxed look.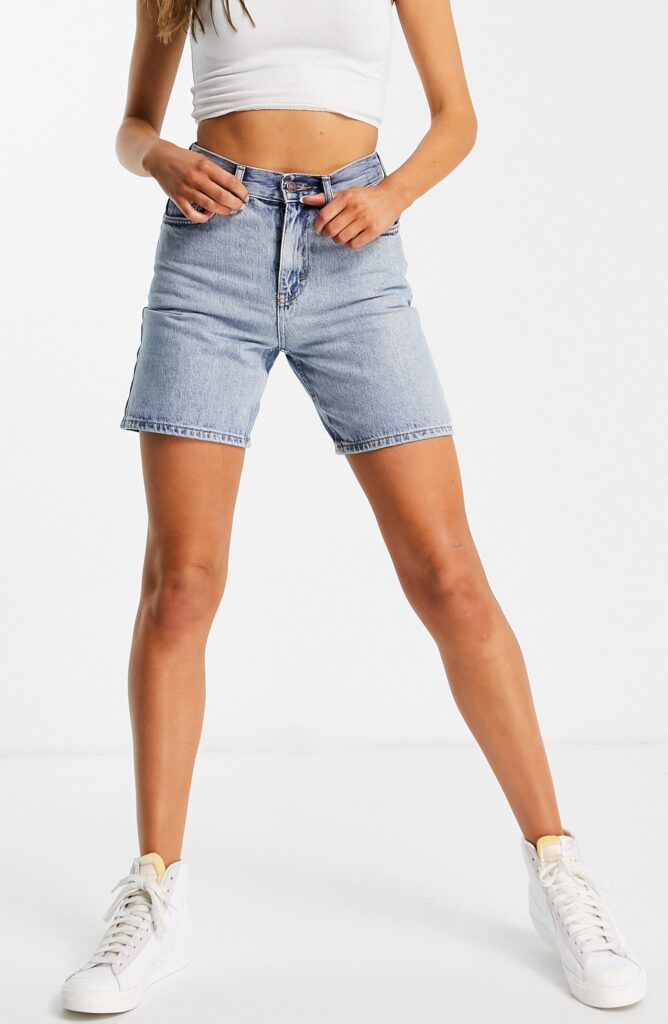 If short and cheeky lengths are not your cup of tea, mom jean shorts come in longer options, like these Bermuda-style denim shorts.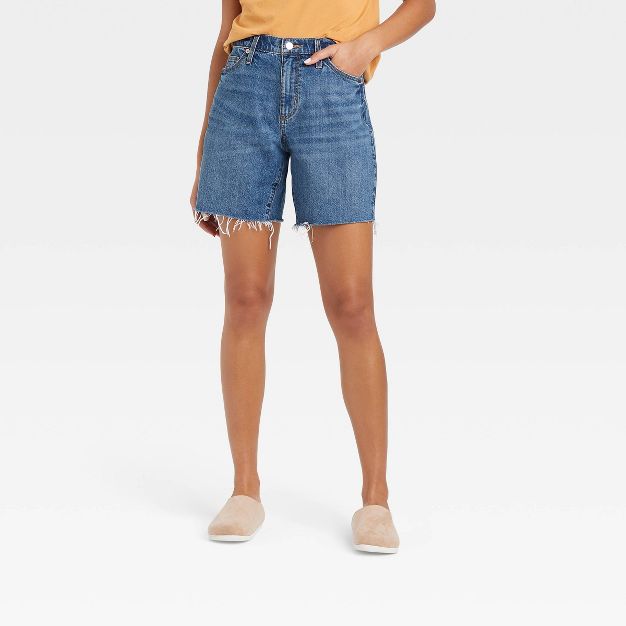 These pairs from Target are a great and affordable option for Bermuda mom shorts. These pairs also come in several colors, including a fun Teal Green.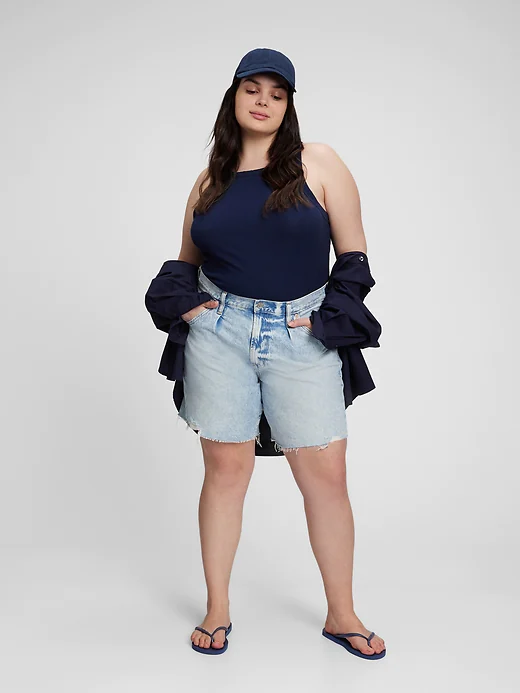 These are long and loose, which makes for a very comfortable and relaxed look! The light color is great for hotter days. There are tall, regular, and petite sizes to find the perfect fit.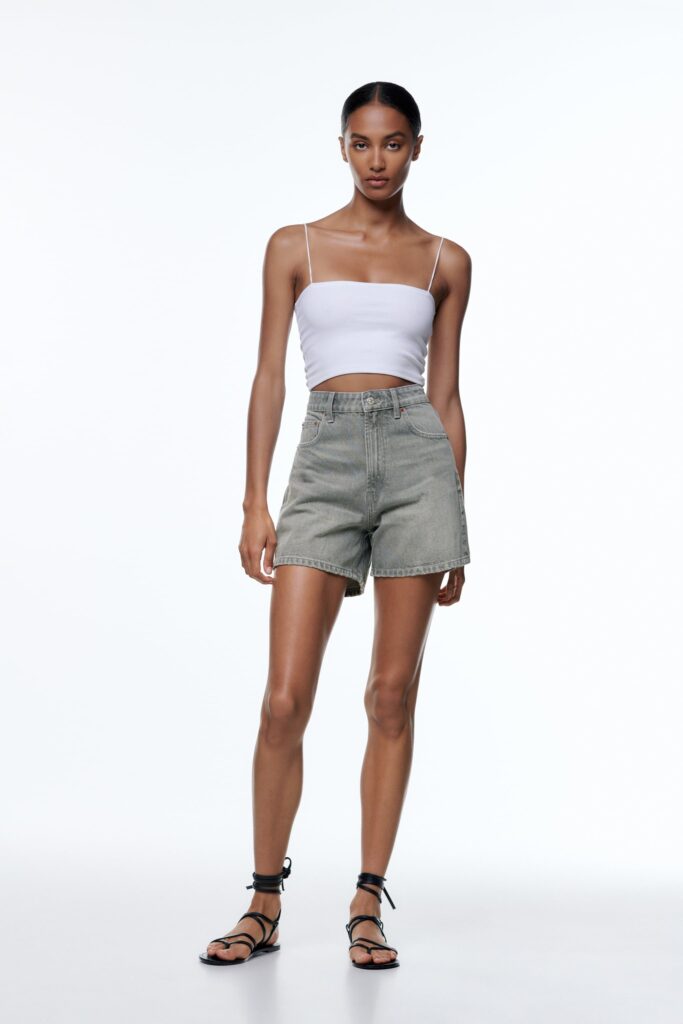 The color options are what make these Bermuda shorts so fun! They are a high-rise A-Line long mom short. Super loose and fun to style. You can't go wrong with these ones.
What Can I Wear With Mom Denim Shorts?
Mom shorts are so easy to style, which is why they are quickly becoming so beloved and popular. Since they're denim, almost any color top and accessories pairs well with them.
Mom shorts look great with crops, tanks, tees, button downs/button ups, short and long sleeve blouses, puff sleeves, camis, sweaters, hoodies, and cardigans.
If your personal style is boho, coastal, trendy, retro, grungy, or classic, mom jean shorts work really well with all these styles.
You can style a very casual look with just a simple tee, or you can dress it up more with a loose button down/button up or nice short sleeve blouse. You can easily wrap a sweater or hoodie around the waist if you anticipate cooler weather later, and it still looks great with the whole look.
The secret to making any styling look good paired with mom jean shorts is to go for a relaxed style, whether it's casual or more dressed up. The point of mom jean shorts is a laid back yet effortlessly stylish look, no matter your personal style.
Keep this in mind when putting your outfit together. Make comfort your objective, and you can't go wrong when styling mom denim shorts!
How Do You Make Mom Jeans Into Mom Shorts?
If you're crafty or just being frugal, you can totally DIY your own mom jean shorts at home from a pair of pants! Here's how.
What You'll Need:
Fabric Scissors (or any sharp scissors)
Marking Pencil/Pen
Pair of Shorts for Reference
Pair of Mom Jeans
Seam Ripper
Take your mom jeans and lay them flat. Then take a pair of shorts and line it up with the jeans.
You'll be using the shorts as a rough reference for measuring where you'll cut. It can be as long or as short as you'd like.
Take a marking pencil and mark where you'll be cutting. Then take your scissors and begin cutting. If you want to add a fray at the end, take a seam ripper or some tweezers and pull out the bottom threads at the hem.
And voila! You've just made your own pair of mom jean shorts.
Happy styling! Let me know your favorite ways to wear mom jean shorts!
Want more fashion tips? Learn 4 easy ways to tuck your shirt, find the best pairs of bike shorts, and get advice on finding the right pair of jeans!