Finding the right pair of jeans can be frustrating, disheartening, and some might even say a pain in the behind.
When you find that perfect pair of jeans, it can boost your confidence, and that mood boost can help you feel like you can take on the day. Denim can enhance your natural features (hello, booty!) and help you feel fabulous.
Getting a new pair of jeans with a flattering fit and color should not be hard work, but it sometimes feels that way. That is why I'm breaking down the rise, the fit, and which ones go best with which body type.
I'm taking the guesswork out of it because shopping should be fun, not frustrating.
And remember, if YOU feel best in a pair of jeans, then those are the right jeans for you, even if they don't follow these guidelines. These are just to help get you started!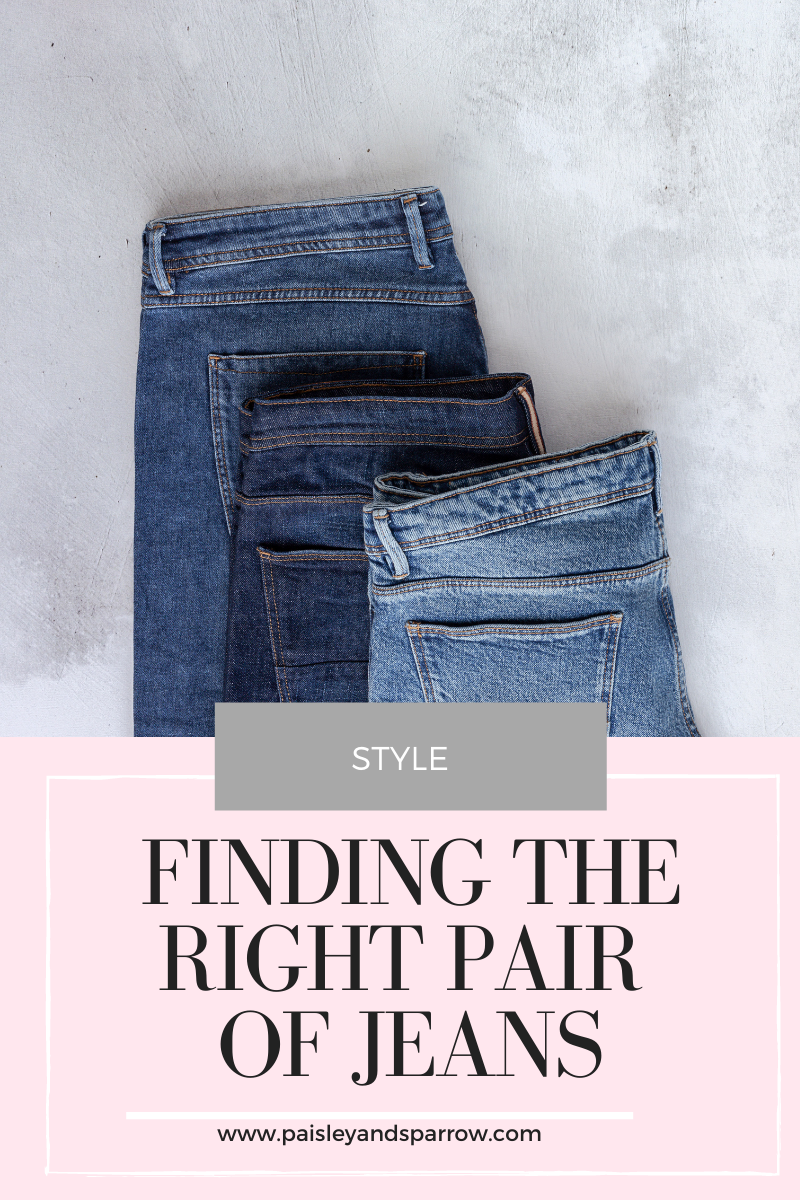 Paisley + Sparrow is a participant in the Amazon Services LLC Associates Program. This post may include affiliate links which means I may earn a small commission if you shop using the links below at no additional cost to you. 
What Do the Style and Fit Options Mean?
Before you shop for blue jeans, especially if you're shopping online, you need to know some of the common terms used to describe the fit of jeans.
The rise of the jeans is used to describe the distance from the crotch to the top of the waistband. Jeans usually fit into one of three categories: low rise, mid-rise, and high rise.
Low-rise jeans sit about 2 inches below the belly button. Mid-rise jeans will hit just below the navel. High-rise pants come up to or above the navel.
The inseam is the leg length of the pants. This is measured from the crotch to the foot of the jeans.
A good way to judge whether a pair of jeans is the correct length is to try them on without shoes. The front hem of the pants should touch the top of your foot and the back should almost touch the ground.
Factor in a tiny bit of shrinkage too, just to be safe. If you have long legs, you'll want a longer inseam.
The cut of the jeans will give you different types of fit. Skinny, bootcut, and flare are common styles. This can be different across brands too.
What one brand considers a "regular fit" can be another brand's "slim fit." The best way to find this out is to try the jeans on.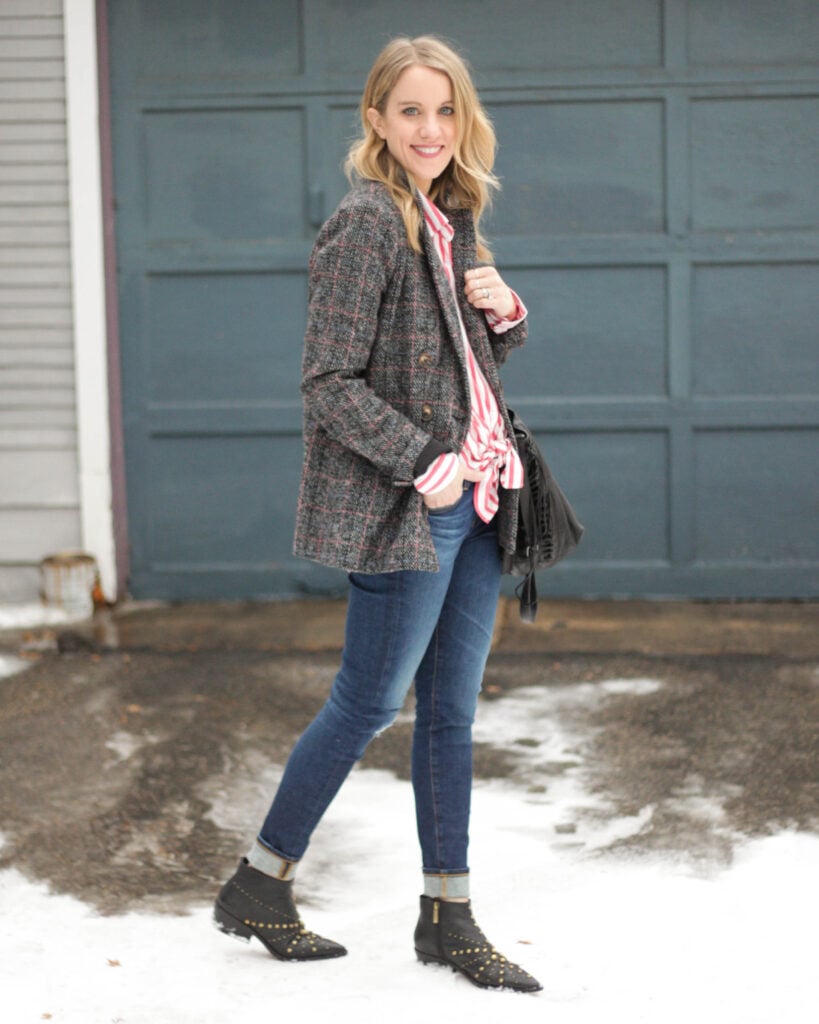 Since that is not always possible, measuring a pair of jeans you already have is a good way to compare it to the potential new pair. Hopefully, this will give you an idea of how it will fit.
If you're shopping online, reading reviews from other people who have bought the jeans can give you an idea of how the different cuts fit between brands.
Denim can come with or without stretch. Having a bit of stretch can make the jeans more comfortable, especially with skinny jeans. Denim without stretch usually holds its shape longer and is recommended for regular and relaxed fit jeans.
Best Jeans for Your Body Type
Jeans are not a one-size-fits-all kind of clothing item. Different styles tend to look better on different body types. There are different rises, cuts, and washes to consider when choosing which pair will be the perfect jeans for you.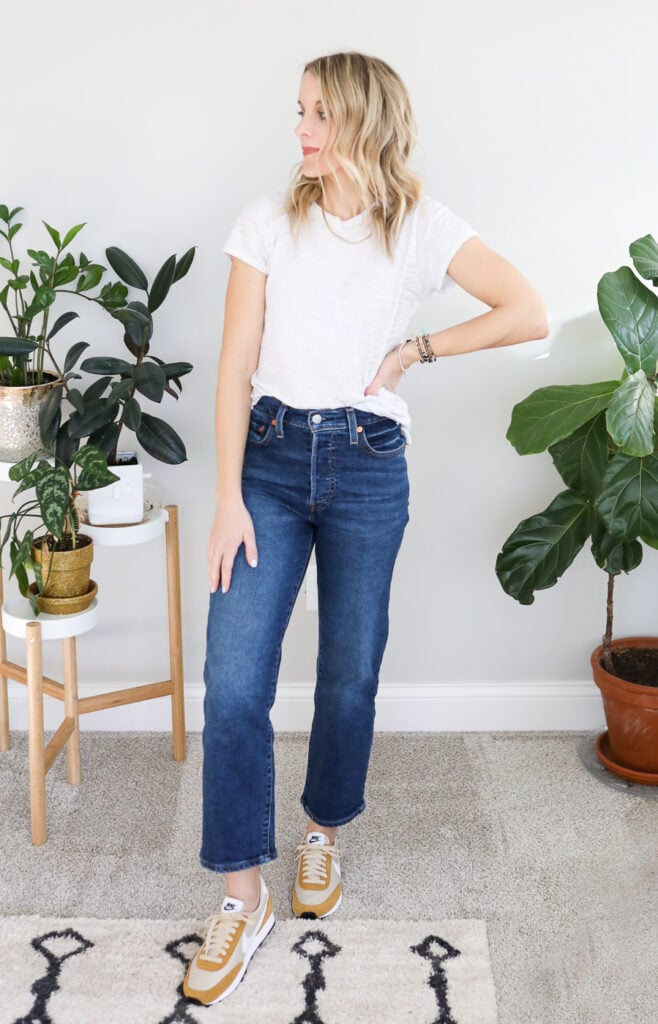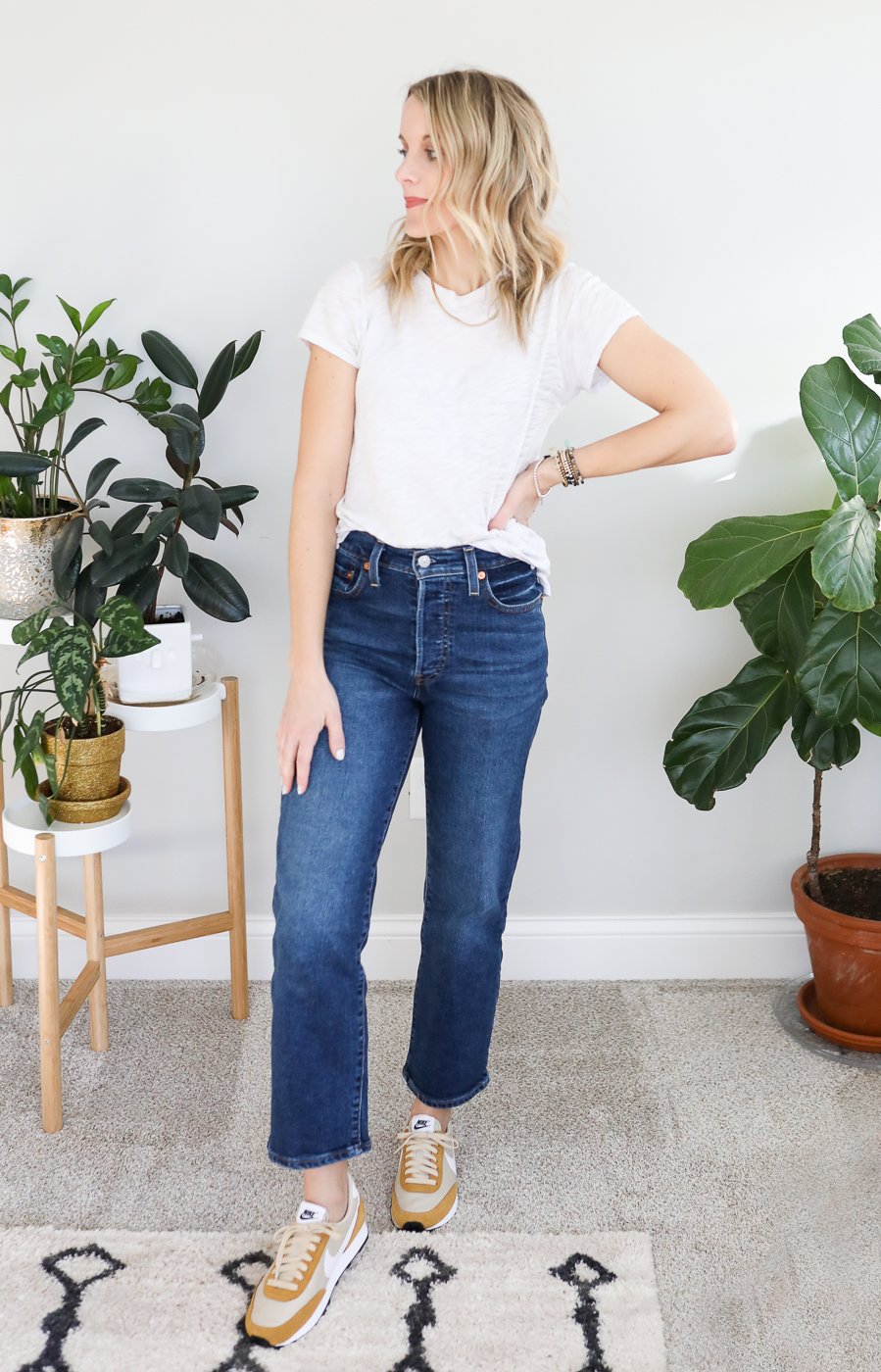 Find cropped jean outfits here!
The Rise
Low-rise jeans are great if you want to show off your curvy hips. This works well for people with an hourglass figure or athletic build.
They should fit snugly at the hips. This will prevent the issue of having a material gap at the waist. From personal experience, that problem is a real thing and makes for an uncomfortable pair of pants. A fitted style with a small amount of stretch is the best bet in terms of being comfortable.
Mid-rise jeans are considered the most figure-friendly rise. They are comfortable for most body types.
They add a bit of structure around the midsection and work with just about any style of top. Versatile and comfortable? Yes, please!
High-rise jeans are classic. This is a great choice if you want to pair them with a crop top or tuck in your shirt. High-waisted jeans can accentuate smaller waists and add some structure to the midline.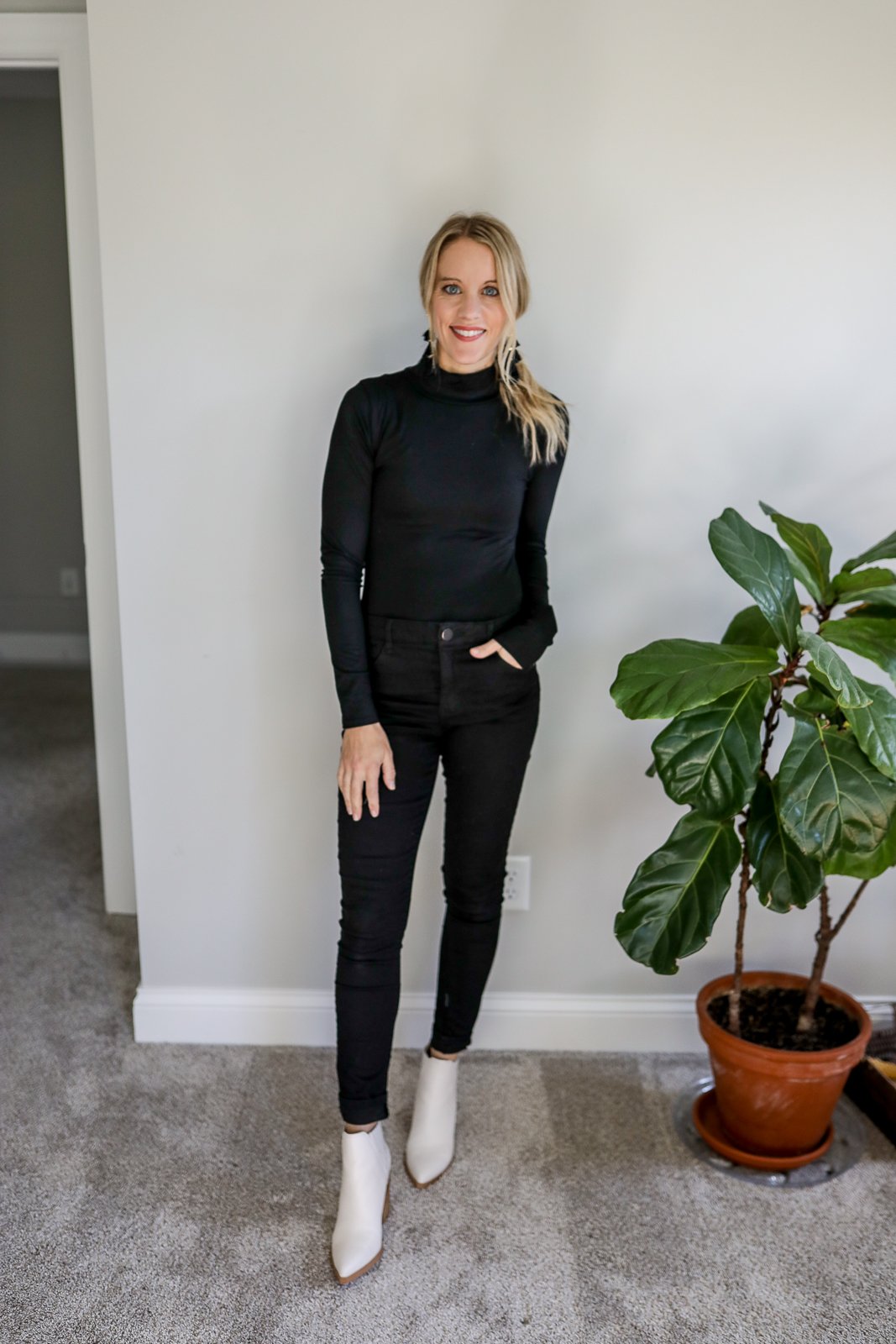 *Find more white boot outfits here
Sometimes called mom jeans, high waist jeans were out of style for a while, maybe because they can give the appearance of wide hips, but they are definitely popular and trendy now! So if you love the look of a higher rise, go for it!
The Cut
Skinny Jeans
Skinny jeans have been the main style for what feels like forever. They are snug on your legs all the way to the ankles. A pair of skinny jeans can be flattering on all body types, but the wash of the jeans will make a difference.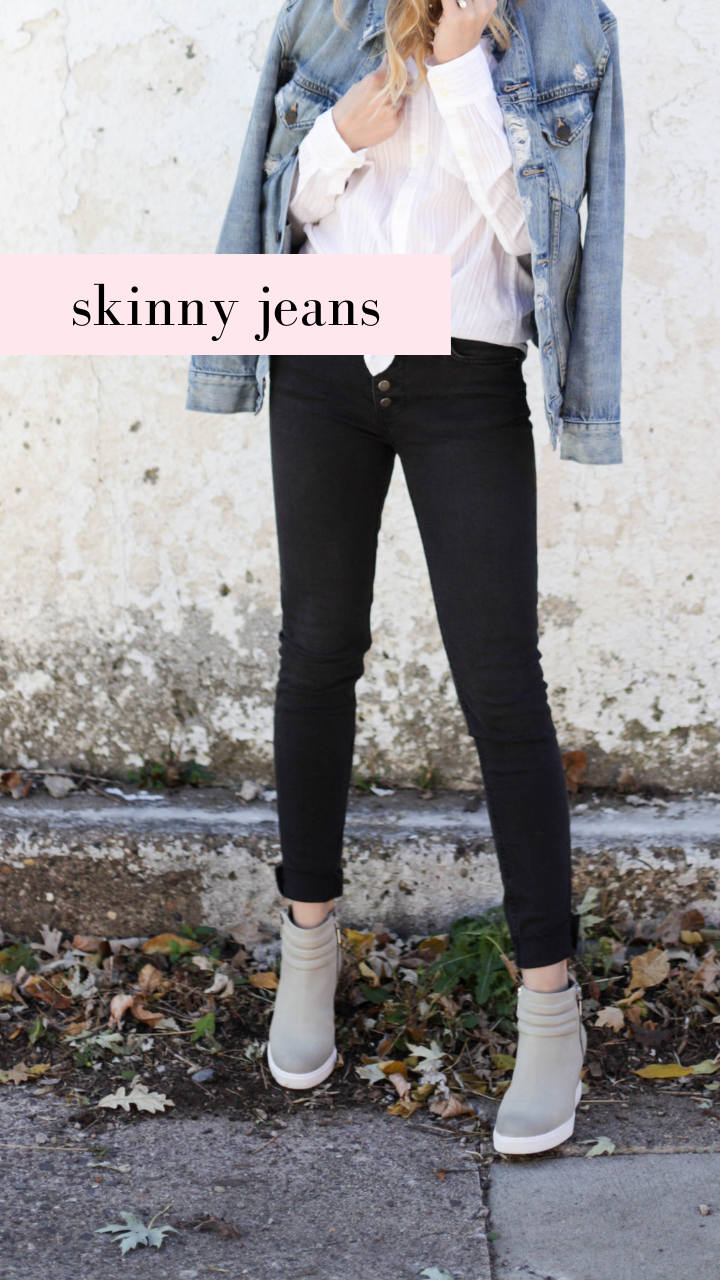 Dark wash skinny jeans will flatter people with pear and hourglass shapes. Lighter washes are more flattering for people with apple and athletic figures. You can pair them with loose, oversized tops or form-fitting tops.
Straight Leg Jeans 
Straight leg jeans are similar to skinny jeans but have a more relaxed fit. If skinny jeans make you feel like your legs are suffocating, maybe a straight leg is more your style.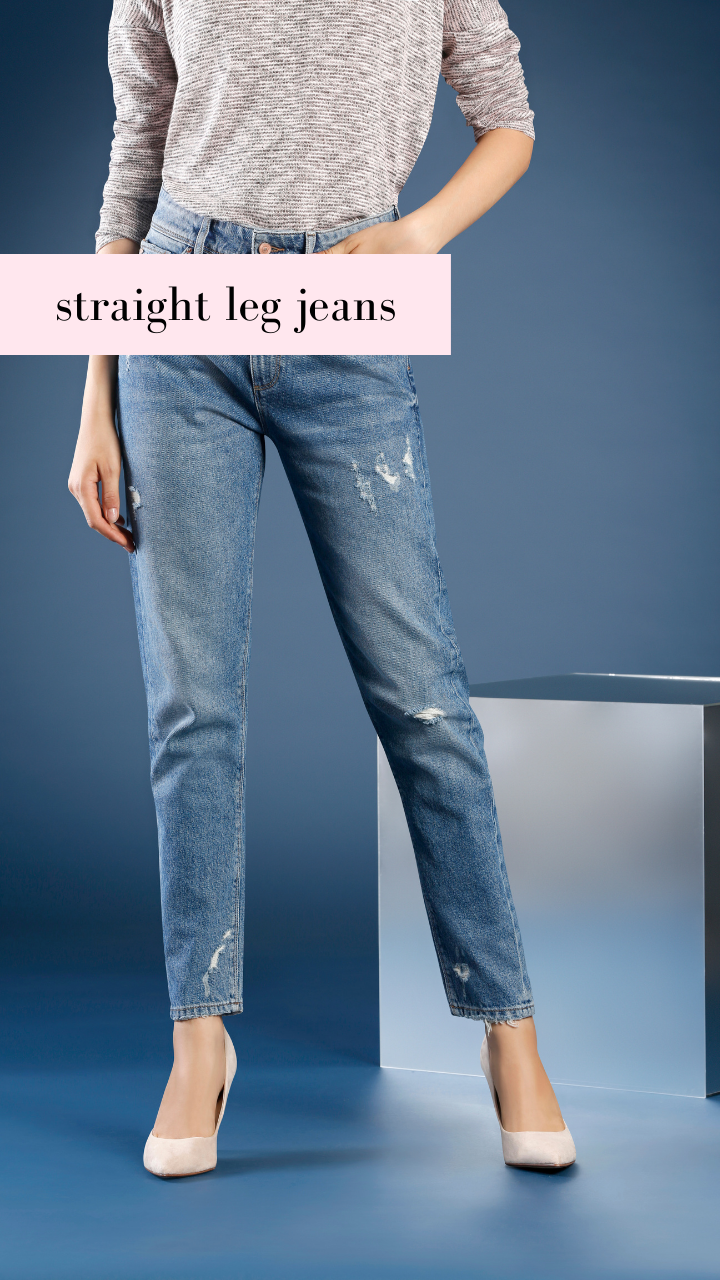 They flatter people with hourglass, apple, and athletic body types. This style of jeans can be dressed up with ballet flats and a blazer or worn as a casual look with a t-shirt and sandals.
Bootcut Jeans
Bootcut jeans will have a small flare at the bottom. This makes them perfect to wear with — you guessed it — boots.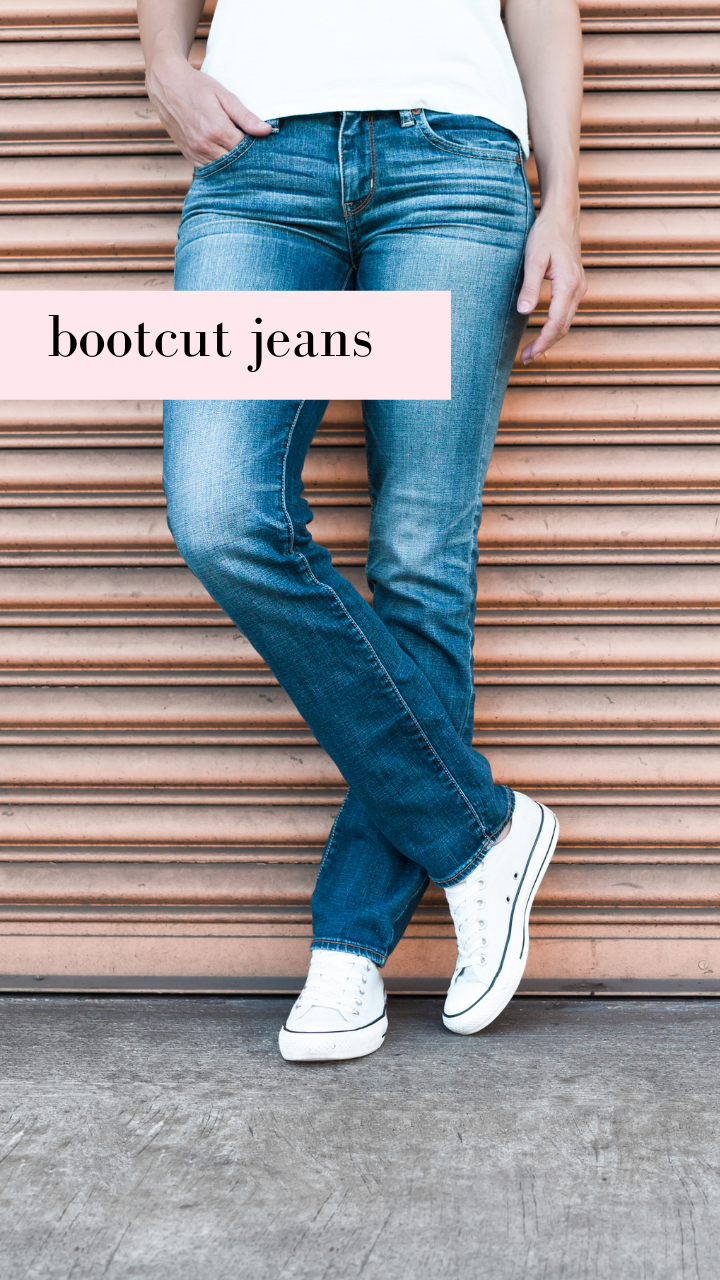 They look great on people with hourglass and pear-shaped bodies and you can wear them in many different styles. My personal favorite is a pair of bootcut jeans with a pair of low-heeled black boots and a leather jacket.
Flare Jeans
Flare jeans have more room around the calf of the leg. The flare can range from small to real funky bell-bottoms. This style is great for pear and hourglass shapes.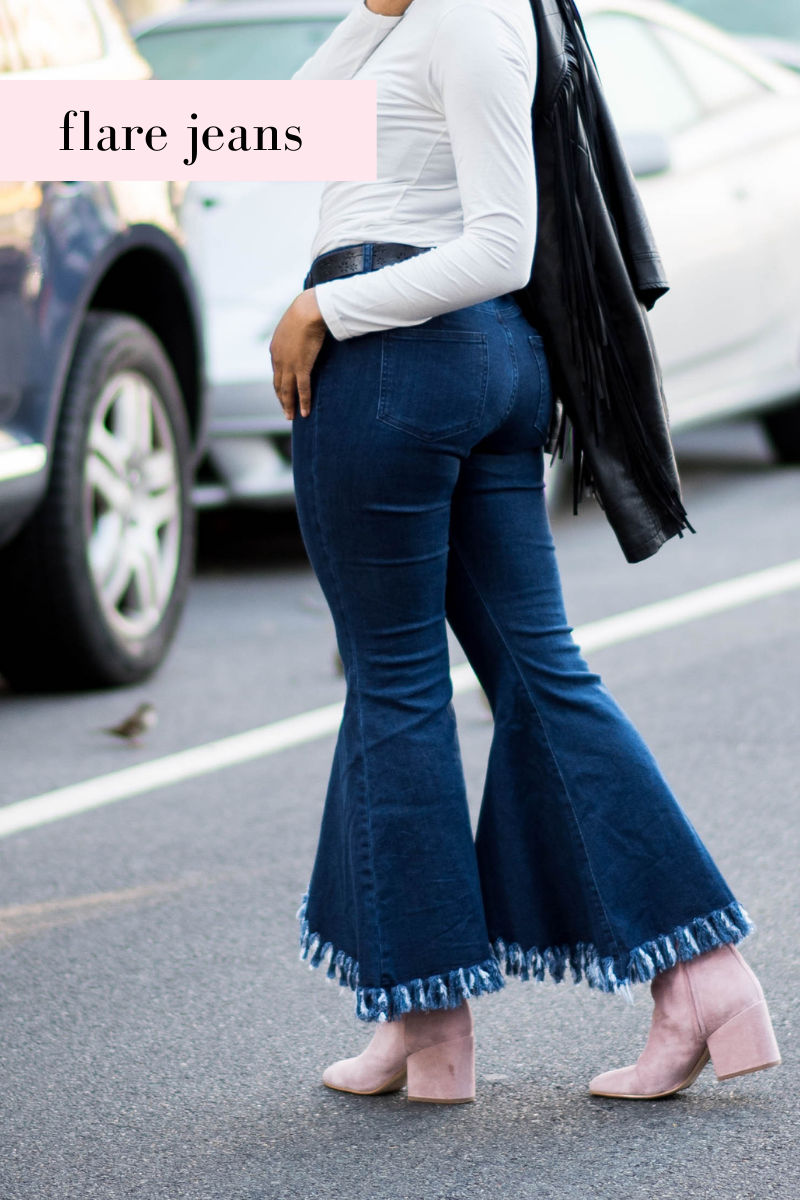 Flares usually run longer, so check the inseam length to make sure you get the right fit for your body. You want the bottom of the pants to graze the floor when you are barefoot, but you don't want to step on them.
If you want a retro vibe, pair these pants with a funky oversized top. If you want to show off your waist, they also look great with form-fitting tops.
Boyfriend Jeans
Boyfriend jeans are the most relaxed fit of all the styles. Someone originally described them to me as "jeans that look like you stole them from your boyfriend."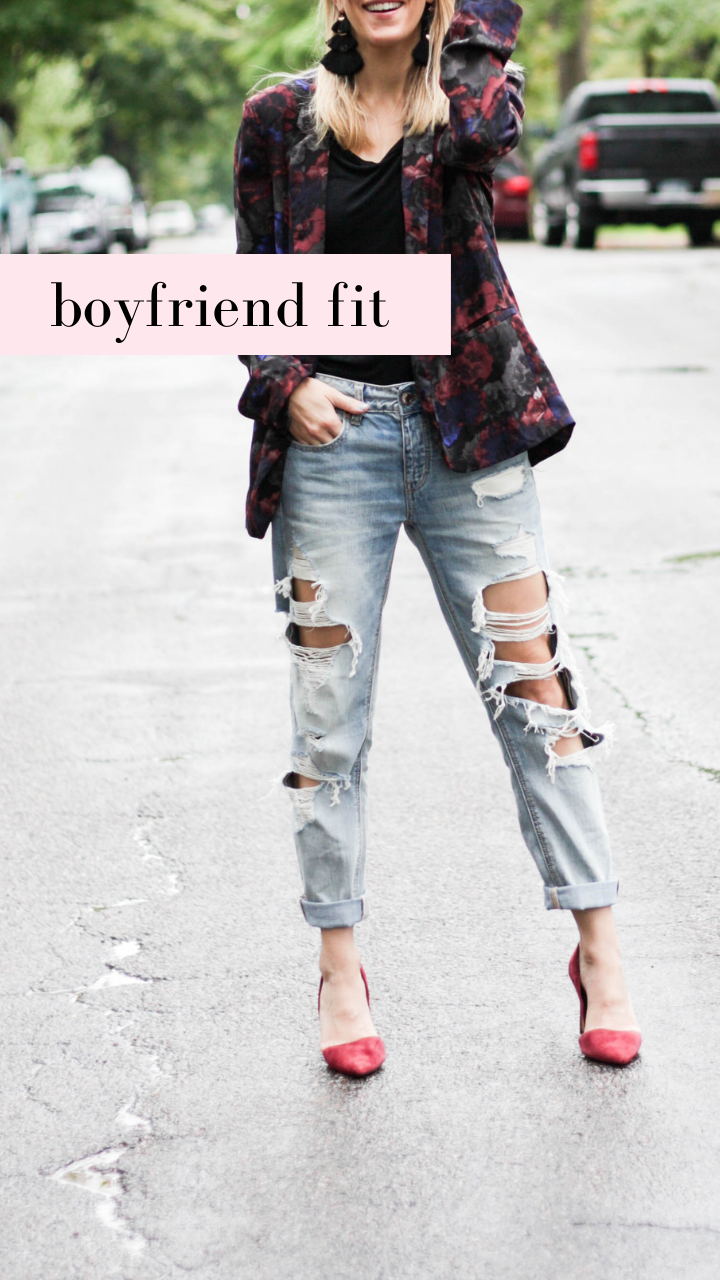 They come in a variety of different fits, but they are supposed to be a looser fit than other jeans. They look great on people with apple and athletic body types. These relaxed-fitting pants pair well with fitted tops.
*Find the difference between boyfriend jeans and mom jeans here!
The Wash
Dark wash jeans are flattering on just about everyone. They are a great staple to have in your closet. They can fade if not washed correctly, so that is something to be aware of, especially with black jeans.
Light and medium washes are great for more casual outfits. The lighter the wash, the more casual the look will be.
Other colors of denim are out there and are great to wear according to the season. Burgundy and olive colors are great for fall and winter while lighter colors are perfect for spring and summer.
Stretch
The amount of stretch will vary between pants. The more stretch, the more relaxed and casual the pants will look. Jeans with less stretch will be sturdier and usually look dressier.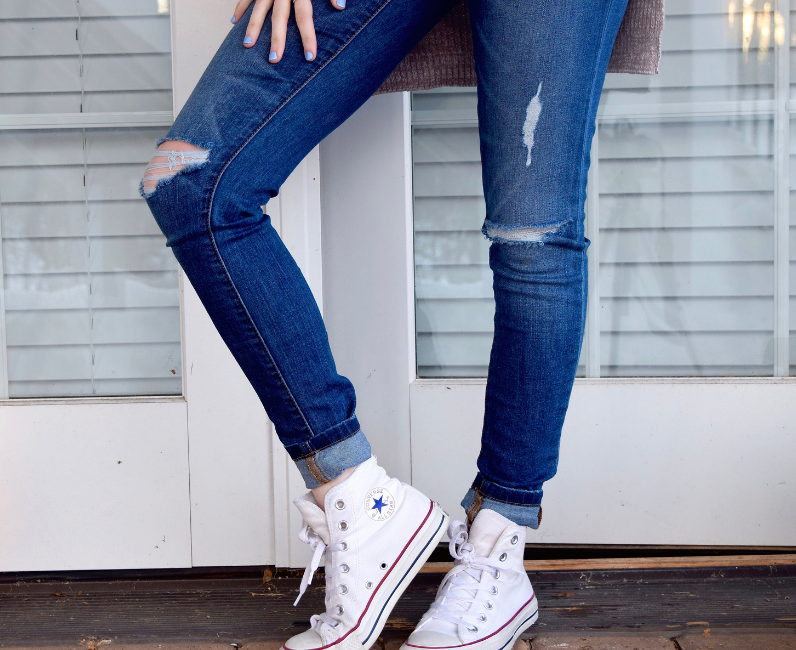 How Do I Find the Right Size Jeans?
If you have ever ordered jeans online thinking they were going to be perfect because they are the same size as another pair of pants only to have them be dramatically wrong in size, you are not alone. I have even ordered jeans in the same size, from the same brand, but they did not fit. This is a common problem that one of my girlfriends and I have complained about more than a few times.
So, how do we prevent this problem from happening again? I'm glad you asked. Follow me, friend. Let's get you in the perfect pair of jeans!
Measure Your Favorite Pair of Jeans
If you already have a pair of jeans that you love, measure them so you can order pants that have the same specifications. This will give you a great guide when shopping for a new pair.
Lay the jeans on a flat, stable surface to get accurate measurements. Measure across the top of the waist with the jeans buttoned and zipped. Double this number for your waist measurement.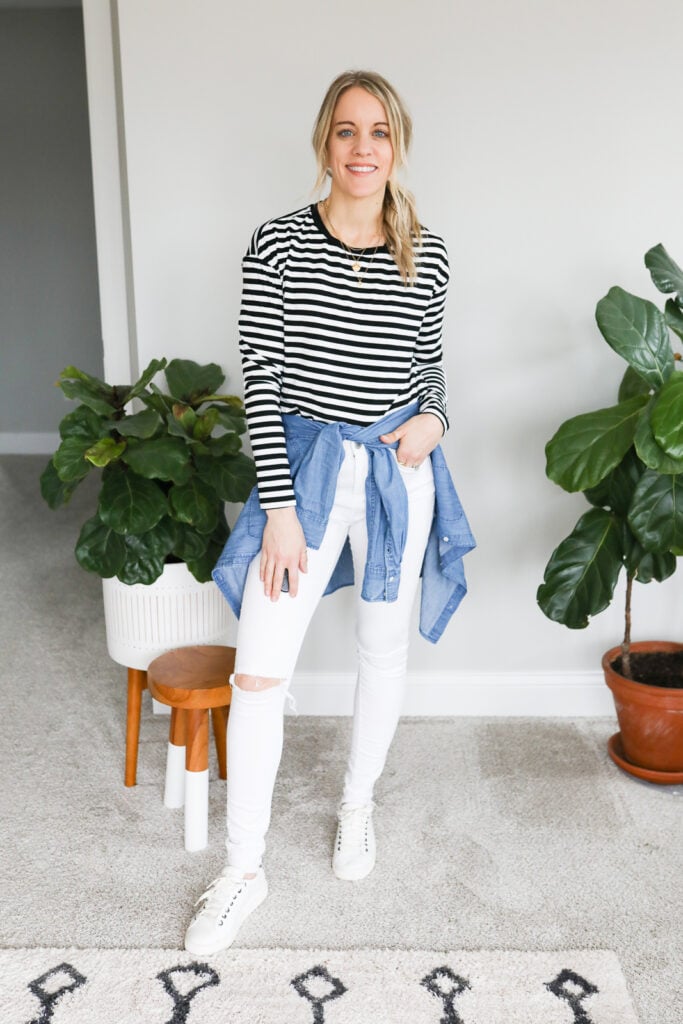 *Find white jean outfits here!
This number will be different for the different rises. Low rise jeans and high rise jeans will have dramatically different waist measurements.
Next, measure the inseam. This is the length of the leg from the crotch to the hem at the ankle.
Take the thigh measurement two inches below the crotch. Double this number and that is your thigh measurement.
The final measurement is the rise. Pull the waist tight and measure from the crotch to the waistline of the pants. Low rise jeans will usually be about seven or eight inches, mid-rise is eight or nine, and high rise is nine or 10 inches.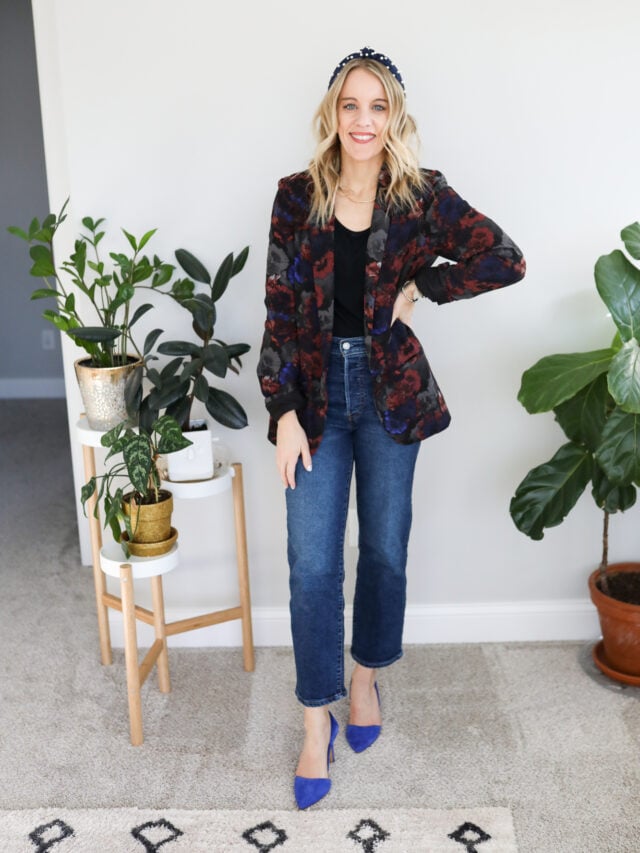 Pick Your Rise
This is mostly about personal preference. The best way to find out which rise you like the best is to try them on and see which ones make you feel the most confident.
Certain rises do flatter some body types more than others, but mid-rise jeans are almost always a safe bet. You can measure the jeans you already have to see the rise you are drawn to the most and go from there.
Low-rise jeans sit 2 or more inches below the navel. These can be a great choice for a night out on the town, but they might not be a good idea for work. They do not offer a lot of backside coverage when it comes to bending, sitting, or even walking.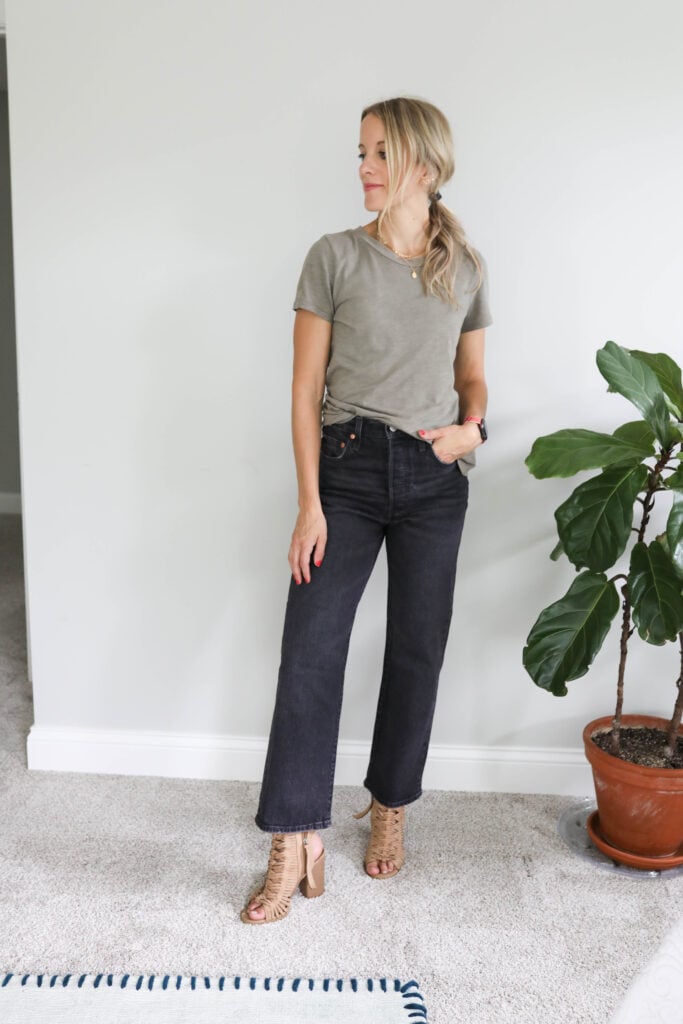 Mid-rise is the most common fit among all the styles of jeans. You can find skinny, bootcut, flare, and other cuts in mid-rise jeans.
High-rise jeans are making a comeback, so if you have been rocking this style for years, keep doing your thing. Feeling comfortable in your clothes can boost your confidence, so find the style that is comfortable for you and own it.
Measure Your Waistline
This sounds pretty straightforward, but the rise of the pants will determine what part of your body you should measure. You should take measurements of your natural waistline at the natural crease or the place where you bend at the waist.
However, when you are looking for jeans, take the measurements from the place where the pants will be sitting. For low-rise jeans, measure about two inches below your belly button. Measure for mid-rise and high-rise denim right around the navel.
For the most accurate measurements, do not take these measurements over loose-fitting clothes. Leggings and other tight-fitting clothes are fine. Avoid pulling the measuring tape too tight around your waist. The idea is to find the most comfortable jeans, and I don't know about you, but I hate having jeans that pinch my stomach or hips.
Measure Your Inseam
The inseam will tell you how long the pant legs should be. Many brands offer length options such as short, regular, and long.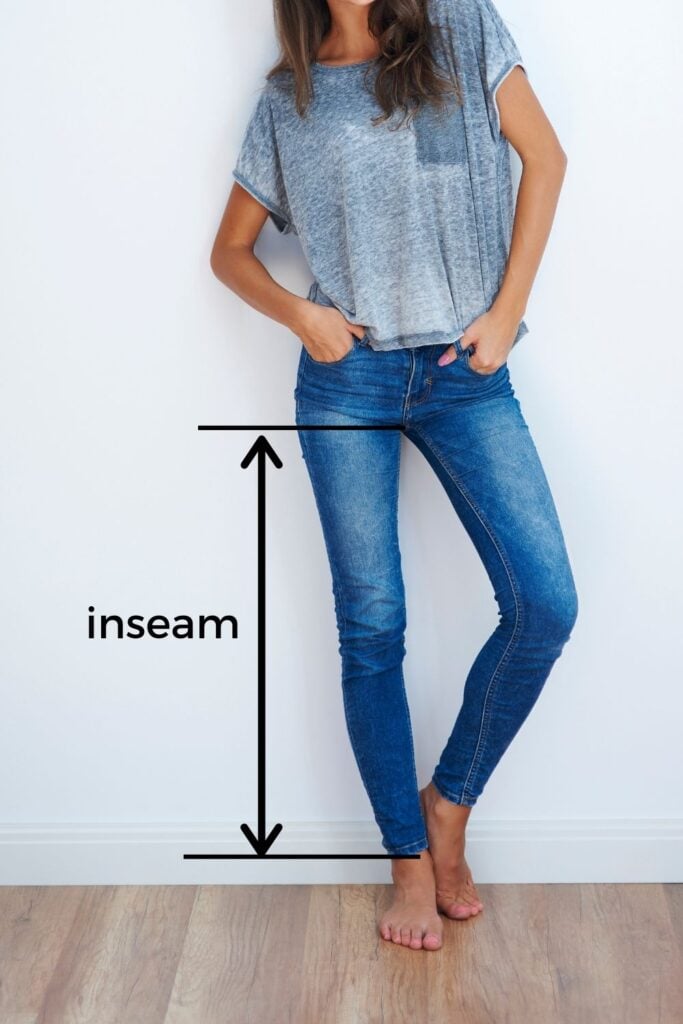 Take this measurement from your crotch to your ankle. It can be a bit difficult to measure this by yourself, so it is not a bad idea to have a friend help out. The easiest way to do this is for you to hold the measuring tape on the inside of your leg at your crotch and have the other person pull the tape firm down to the instep of your foot.
Again, it's best to take this measurement while wearing close-fitting clothes to get the most accurate length.
Refer to the Size Chart
Size charts are key when shopping online. There are not any standard sizes in the fashion industry, so each brand makes its own decisions when it comes to sizing labels. Some companies use inch measurements while others use numbers.
Some companies use vanity sizing, which means you may wear a "smaller" size in those jeans. Other companies may size their pants in the other direction.
The main takeaway here is that the number does not matter as much as the fit and comfort of the clothing. The numbers placed on clothing are arbitrary. Knowing your body measurements and then comparing them to the company's size chart is the best way to make sure you are getting a pair of jeans that will fit comfortably.
Your ideal size could change dramatically from one brand to the next, so try not to focus on the number. Your value as a human does not change whether you are wearing a size zero or a size 30, so rock the jeans that make you feel the best!
Need ideas for how to style your jeans? Here are ideas for wearing white jeans, cropped jeans, and ankle boots with jeans!
Still confused about boyfriend jeans and mom jeans? Figure out which one is right for you.