Facial oils and gua sha go hand in hand. The right oil will give just the perfect amount of slip for the gua sha stone to slide over your skin without any tugging or pulling.
But with so many face oils flooding in the market, it is easy to get overwhelmed. Finding the right facial also requires you to know your skin type so you can stay away from oils that may react badly with your skin.
We have compiled this comprehensive guide so you can select the best facial oil you can use for gua sha.
You can find them all below, or if you just want ideas right now, here are the top 3 facial oils!
Top 3 Facial Oils
This post contains affiliate links.
Let's start with a review of what a gua sha is and the benefits of gua sha!
What Is Gua Sha?
A form of traditional Chinese medicine, gua sha works on the principle of healing your skin through scraping it with a massage tool. The process encourages proper blood circulation and lymphatic drainage and is said to be good for various musculoskeletal problems.
You'll also get a beautiful dewy glow from this daily practice! People are even saying it's better than Botox! Yes, please!
You use a smooth-edged tool, usually made out of Nephrite Jade or rose quartz, to stroke the face.
Benefits of Using a Gua Sha
Softens fine lines and wrinkles.
Removes the puffiness and dark circles under your eyes.
Stimulates circulation and facilitates blood flow.
Helps reduce acne marks and pigmentations.
Brightens skin.
Releases tension and tightness.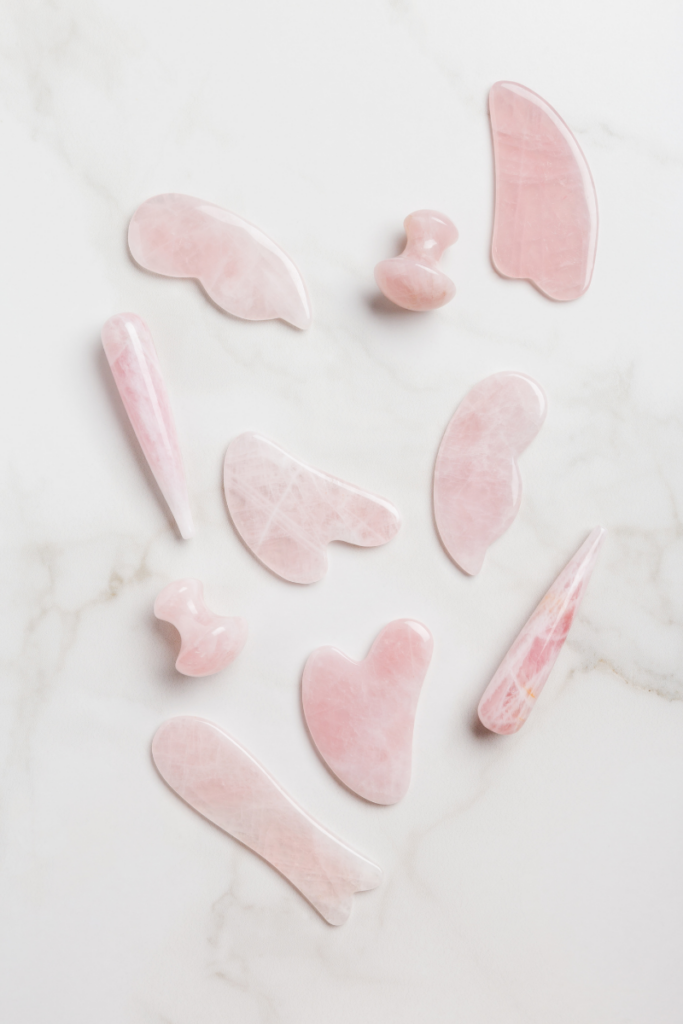 Importance Of Using A Facial Oil When Doing Gua Sha
Gua sha is an ancient Chinese facial massage technique that offers a lot of benefits for the skin. Since this technique involves using a smooth-edged tool to massage your skin, it's important to ensure that you're not inadvertently damaging your skin.
Using facial oil can help the gua sha to glide smoothly over your skin without pulling at it. This will help avoid any irritation, especially for those with particularly sensitive skin.
You can also select your facial oil to target specific skin concerns like dryness or dullness.
Different Types Of Facial Oils
There is a wide variety of facial oils you can use depending on your skin concerns. Here are some of the best facial oils that you can consider for gua sha.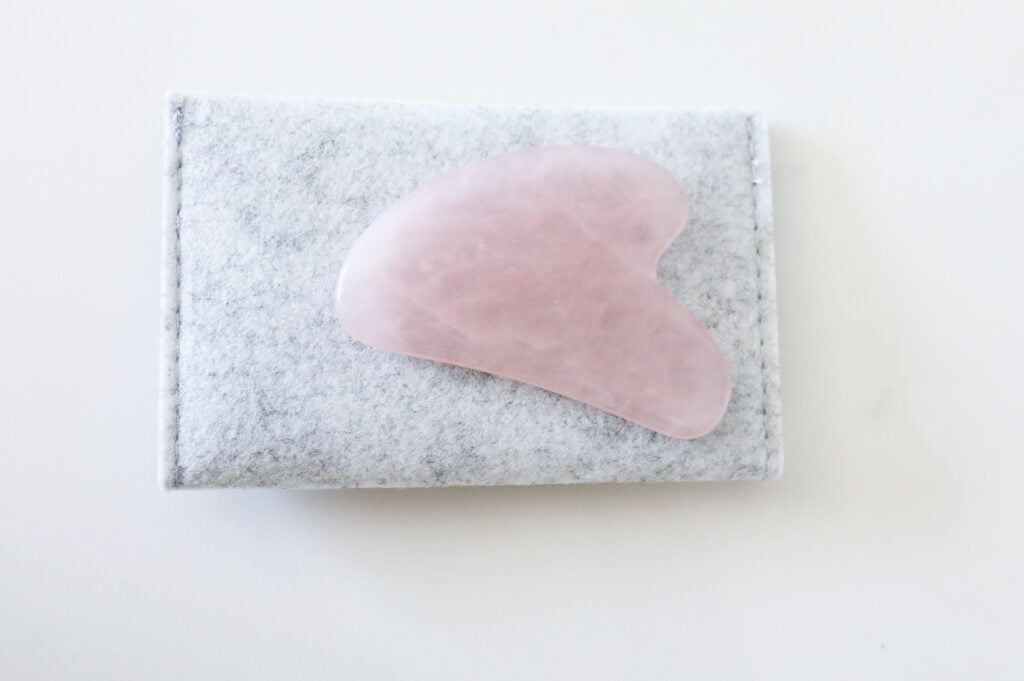 Rosehip Oil
Rich in antioxidants and essential fatty acids, rosehip oil is the best choice when you want to target wrinkles, dark spots, and skin pigmentation. It also has acne-fighting properties that can treat blemishes.
Argan Oil
With high vitamin E content, argan face oil helps reduce pigmentation and regulate sebum production while hydrating your face effectively. It can also help stimulate hair growth and makes both skin and hair softer.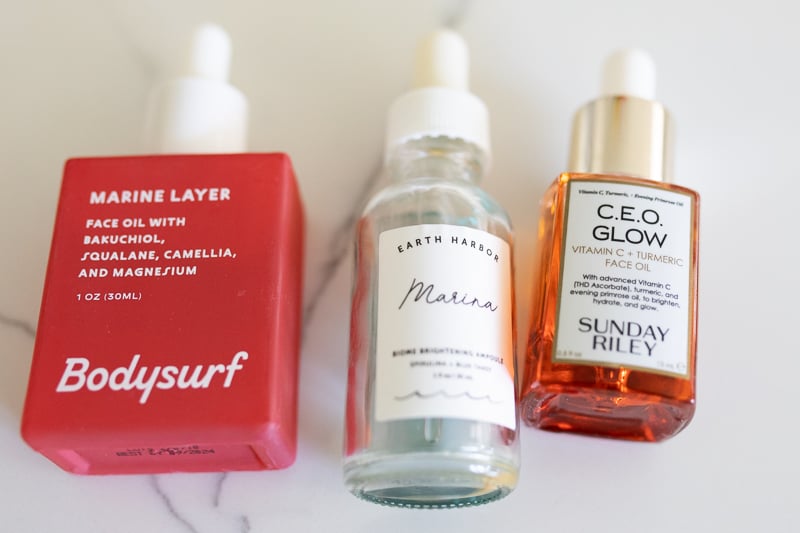 Grapeseed Oil
This lightweight oil is perfect for oily-skinned beauties. You can either use grapeseed face oil as is or along with your daily moisturizer. It helps prevent oil while keeping your skin moisturized.
Hemp Seed Oil
Hemp seed is the best skin food for dry, rough, and flaky skin. It does not clog your pores and retains moisture on your face, making your skin look supple, glowy, lively, and hydrated.
Jojoba Oil
Jojoba oil is known for its healing properties and can treat skin issues like eczema and psoriasis. It mimics the skin's natural sebum and thus balances out your skin's oil production. It is lightweight and moisturizes your face without feeling too heavy.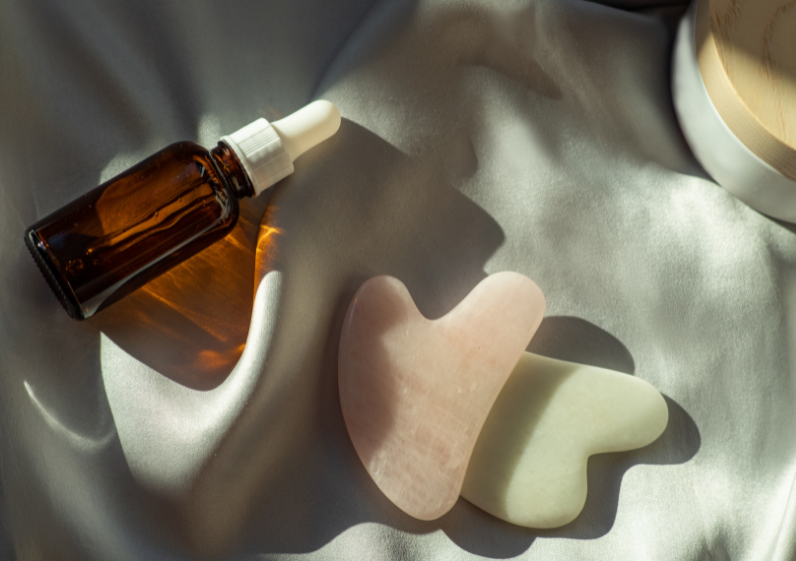 Sweet Almond Oil
Rich in vitamin E and vitamin A, sweet almond oil is intensely hydrating — a great choice for those with excessively dry skin. It can help reduce fine lines and wrinkles as well as fight off acne.
Squalene/Squalane
Squalene, typically made from shark liver oil, is used in a lot of skincare products for its benefits. Squalane is a derivative of squalene and is often made from olives and rice bran. Squalane has quickly become a more popular choice than squalene. It is lightweight, hydrating, helps reduce skin inflammation and fine lines.
17 Best Face Oils Available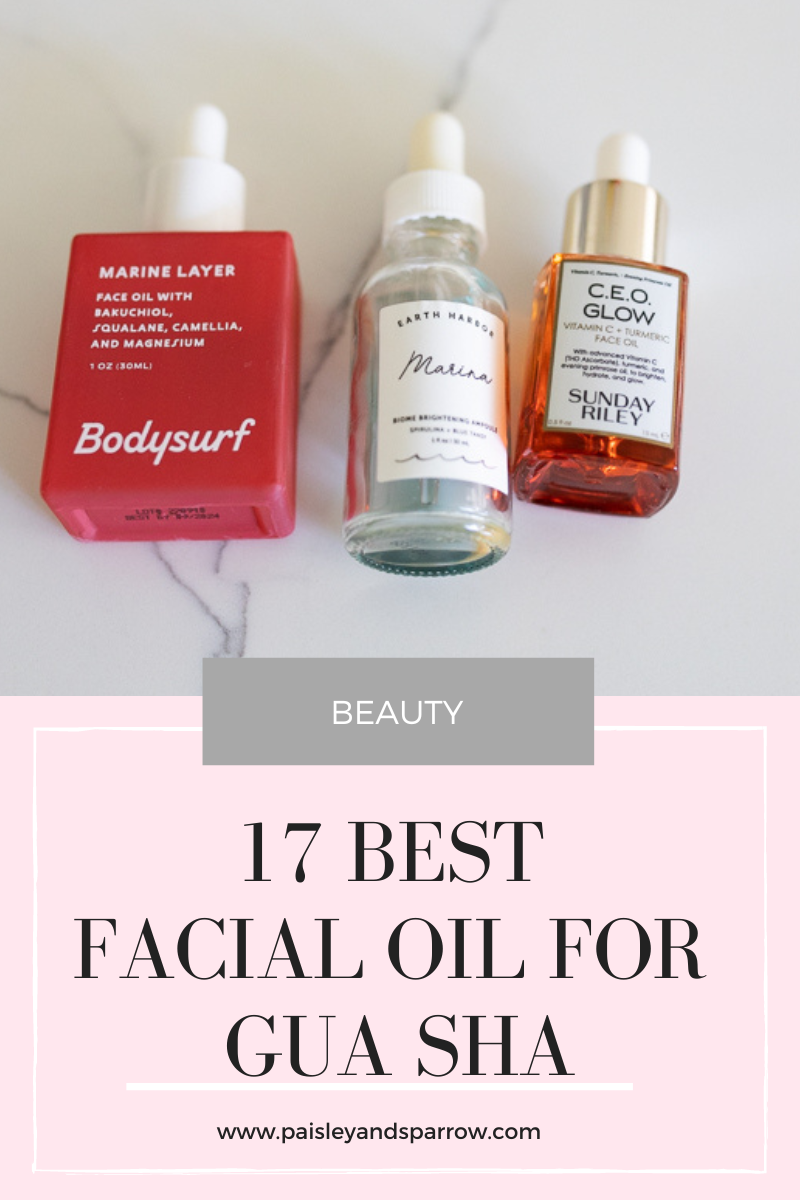 Here's a curated list of some of the best oil and oil blends available for different skin types that are hydrating and provide enough slip for your gua sha massage. Its a good idea to pick the right kind of oil based on your particular skin type.
Best Facial Oil For Oily Skin
A fantastic oil blend combing rosehip, sunflower, argan, and jojoba oils, this oil will nourish your oily skin and restore its natural, youthful glow.
A soothing blend of jojoba, apricot, and avocado oil, this oil is suitable for all skin types. It can help repair dull skin and improve its appearance.
Best Facial Oil For Acne-Prone Skin
This rich face oil by MAELOVE is made with potent ingredients that have anti-acne properties. The amalgamation of 31 botanical extracts and essential vitamins helps to hydrate your skin and protect them against acne.
Maelove is one of my favorite brands. I've loved everything I've ever tried from them!
Containing around 1.5 percent salicylic acid, milk thistle, cucumber seed oil, chamomile, and neroli, the U.F.O is an iconic facial oil. The ingredients help in making your skin blemish-free, wrinkle-free, and healthy.
Best Facial Oil For Dry Skin
This facial oil contains pro-vitamin A, linoleic acid, and linolenic acid that preserves your skin against aging, wrinkles, and other issues related to dry skin. It's created without heat, only cold pressed. This keeps the oils in their best state.
Best used in the evenings.
This facial oil is a great option for dry skin. It's plant based, small batch made with no GMOs. It's a natural source of Beta Carotene and Sea Buckthorn Berry Oil which helps repair your skin from the inside out.
It also has Vitamin A, Vitamin C and Omega 7 to make your skin look absolutely amazing. I've use and love this oil!
If you're dealing with dry, itchy, and persistently irritated skin, this Marula Oil by Facetheory can be your skin savior. It's free of parabens, silicones, and mineral oils.
Best Facial Oil For Combination Skin
A beautiful blend of squalane, Vitamin c, and Damascus rose extract, this popular vitamin c oil from Biossance helps your skin become brighter, firmer, and more hydrated. The oil also helps improve your skin's texture and tone.
For youthful skin that is moisturized and glowy, this 100% vitamin E oil is a great option. It can help with scars and dark spots while hydrating your skin.
Best Facial Oil For Anti Aging
10. Bodysurf Face Oil
This facial oil is a blend of potent organic ingredietns such Seabuckthorn, Bakuchiol, Jojoba, Avocado Oil, Astaxanthin, Niacinamide, and Rose Hip that all help hydrate and provide anti-aging benefits to your skin.
It's a beautifully designed formula that sinks into your skin without making it greasy.
This oil is a splurge but if you want something with serious anti-aging benefits, it's worth it! It's a combination of ferulic acid and pure vitamin C and E to both protect your skin and improve signs of aging.
It has 15% pure Vitamin C, 1% Vitamin E and0.5% Ferulic acid.
Best For Sensitive Skin
This cruelty-free, fragrance-free, plant-based face oil is highly recommended for sensitive skin. It makes your skin radiant and glowing without any irritation or damage.
I've used this in the past and quickly fell in love with it. It's nourishing and makes your skin look absolutely amazing.
This anti-aging CeraVe Gel Oil is perfect for sensitive skin. It contains sunflower oil and five ceramides that help soothe and renew your skin.
Best Facial Oil For Morning
Recommended for all skin types, the Noni Glow Face Oil has received various accolades and praises for all the many skin benefits it provides. Nourish, smoothen, and brighten your skin by including this oil in your morning skincare ritual.
The highly raved B Oil by The Ordinary is a blend of squalene oil, argan oil, brazil nut oil, rosehip oil, and several other oils. Each ingredient enhances your skin, making it look fresh and glowing.
Best Facial Oil For Evening
Another popular product by Sunday Riley, this lightweight face oil is ideal as a quick skin fix in the evening. Regular use with your gua sha can help remove visible scars, acne, wrinkles, and uneven skin tone and texture.
Evening primrose oil is highly effective against acne scars, pigmentation, skin inflammation, dryness, and redness. It helps reinforce the skin barrier and protects against moisture loss.
Conclusion
Adding gua sha massage paired with a good face oil to your skincare routine is one of the best ways to up your skincare game. Not only is it therapeutic but also provides various benefits to your skin.
I hope this helps your narrow down your search to find the best facial oil for gua sha for you and your skin type!
If you want to learn more about gua sha head to this post. If you're interested in trying out a jade facial roller, check it out here!
Are you washing your makeup brushes often enough? Find out here.