Trying to figure out why all of your pants never seem to fit the same way? One is cute cropped denim and one is flowing on the floor? That's why you need to know your inseam!
Knowing your inseam will help you find the perfect pair of pants every time – and know where they should be hemmed to! Let's dig into what is inseam and why you should even care.
Let's start with the facts. What is Inseam?
What is inseam?
Your inseam is the length of the seam on the inside of your pants. You measure it from the top of your thigh (your crotch seam) to the bottom of the leg.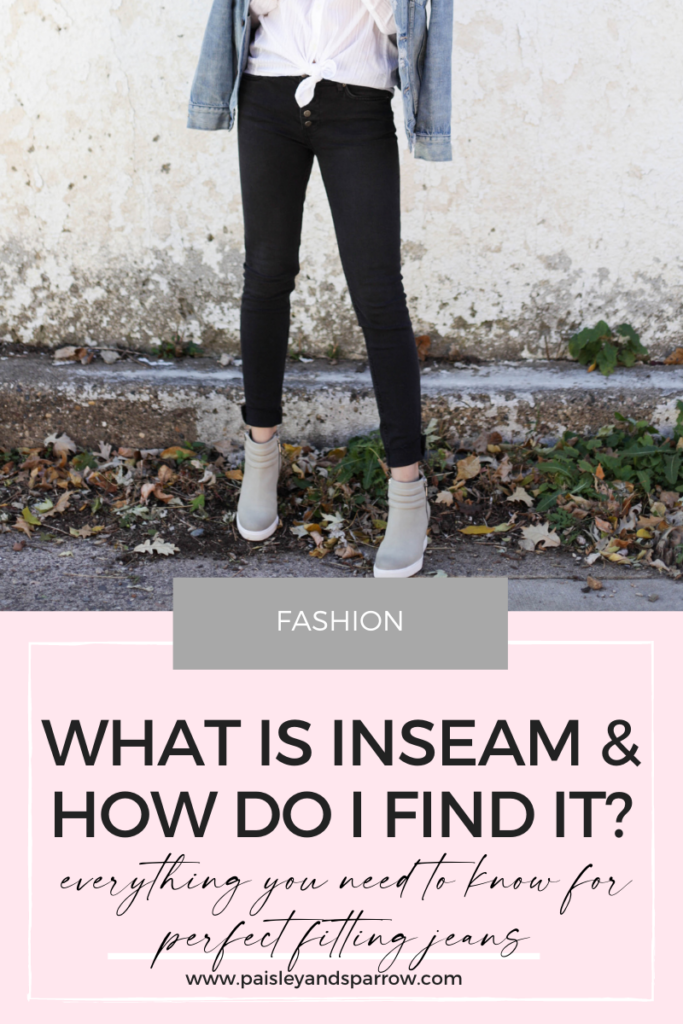 Paisley + Sparrow is a participant in the Amazon Services LLC Associates Program. This post may include affiliate links which means I may earn a small commission if you shop using the links below at no additional cost to you.
How do I measure my inseam?
There are 3 simple ways to measure your inseam.
The first is to measure yourself!
First you'll want to find a tape measure (your best option is getting a tape measure like a seamstress uses!). You'll always want to find a friend to make this a little easier!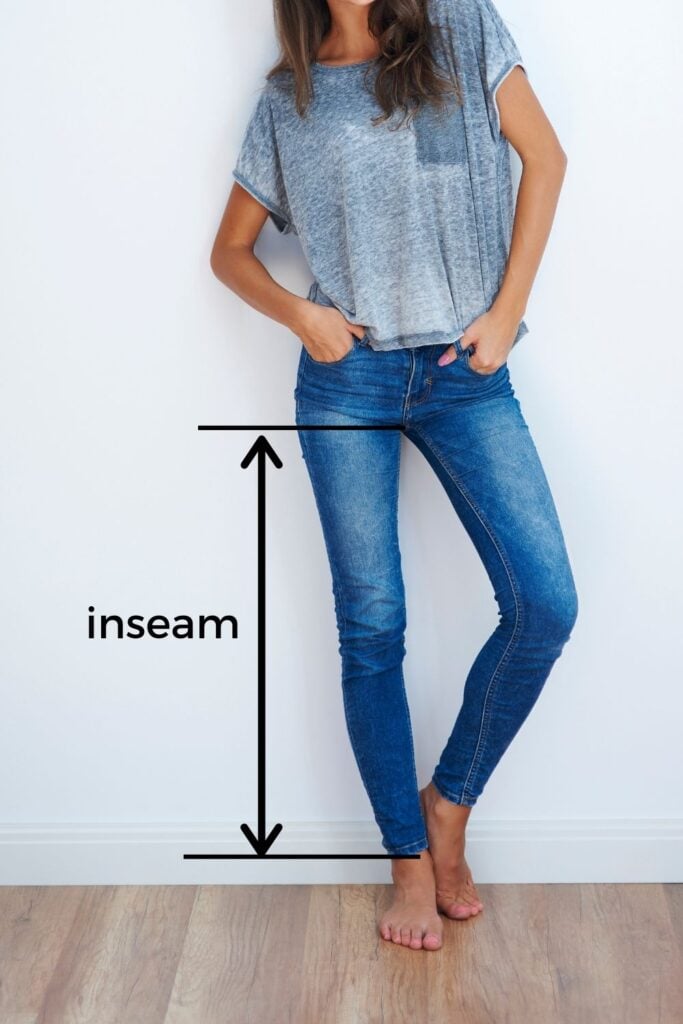 Take the top of tape measure and put it at the top of your thigh. Next measure down your leg to just below your ankle. This number gives you a great idea of what your inseam length is.
The second way to measure your inseam is by measuring a pair of your pants. Pull out your favorite, best fitting pair of denim and lay them on the ground.
Just like before, take your tape measure and measure from the top of the thigh (right at the crotch) all the way to the bottom of the denim.
The third way is to put on your favorite pair of paints and cuff the bottom up so they sit right below your ankle. Take them off and measure from the top of the thigh to the bottom of the cuff.
There you go! You've found your inseam number.
How to use your inseam length
Your inseam length is the best starting point for you as you look for a new pair of denim. However, you'll need to adjust that number based on the type of pants you get.
For example, you won't want to use your exact inseam for a pair of capri jeans since those are meant to sit above the ankle or for flare jeans since those are meant to run a tad longer.
Knowing your inseam length will give you insight on whether or not your pants will be capris (when they're not meant to) or in need of hem!
What about different types of pants?
There are some pants that are best shorter than your inseam length or longer than your inseam length.
If you're looking to pick up a pair of bootcut jeans or skinny jeans, for example, the numbers will be different. Here is a look at how each type of denim should fit.
Skinny Jeans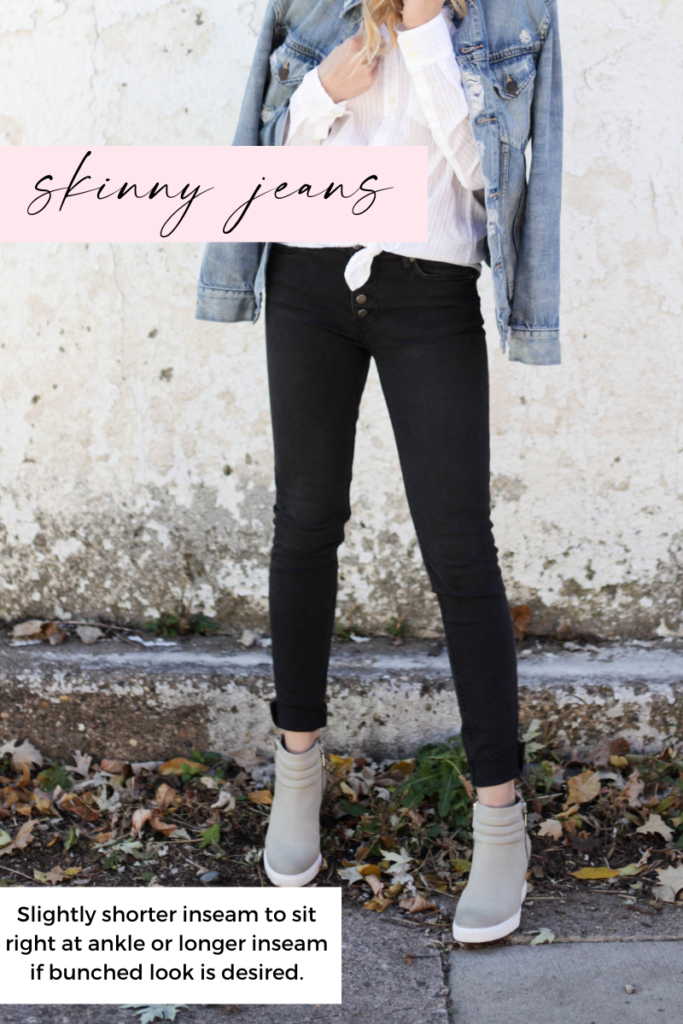 We'll start with my personal favorite, skinny jeans! The inseam you want for your skinny jeans depend on whether you want them to sit right at your ankle or to bunch up a bit at your ankle.
If you want them to sit right at your ankle you'll want a shorter inseam. If you want them to bunch up a bit below the ankle, look for a longer inseam!
Shorter length inseams skinny jeans are a perfect option for over the knee boots while longer seam skinny jeans look amazing with heels or when cuffed, with booties!
Boyfriend Jeans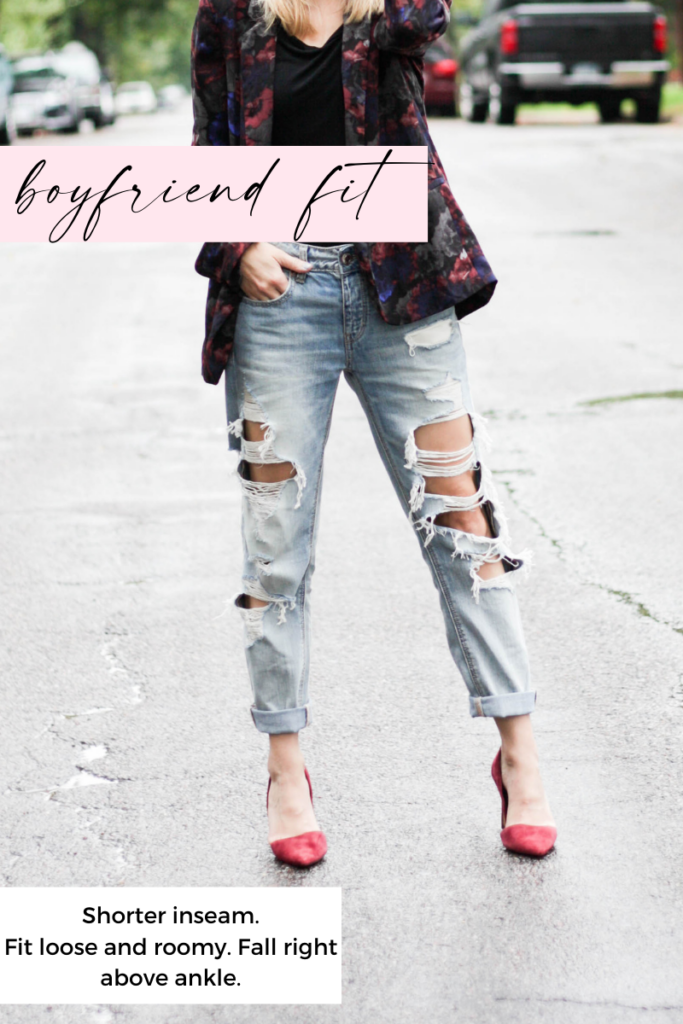 Boyfriend jeans are meant to feel loose and roomy and stop a bit above your inseams making them cropped. Most boyfriend jeans are meant to be cuffed so as you look for this type of denim, expect to show a little skin as your inseam length with be shorter.
Boyfriend jeans look extra cute with a fun pair of sneakers for a causal day or an adorable block heel for a more elevated look. Both these style still give your ankle a bit of space to breath.
Here's a closer look at boyfriend jeans vs mom jeans!
Straight Leg Jeans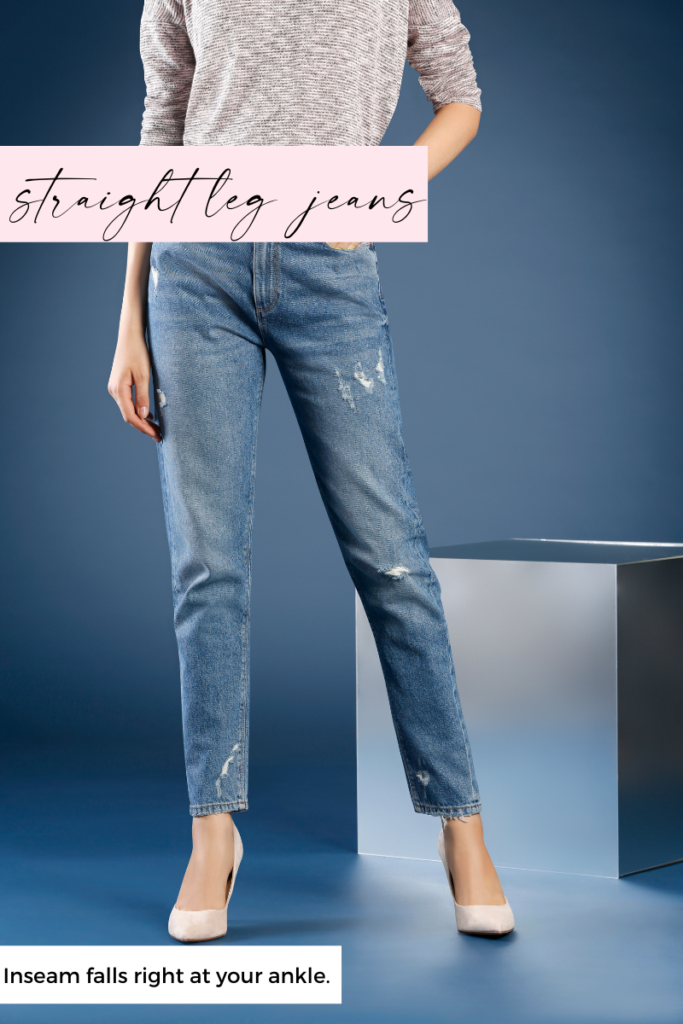 Straight leg jeans are made to fit right at your ankle. That will make the inseam length around or just slightly shorter than your inseam length. These are the most versatile, universal fit jeans so we're sure you have a pair or 2 of these in your closet!
Bootcut & Flare Jeans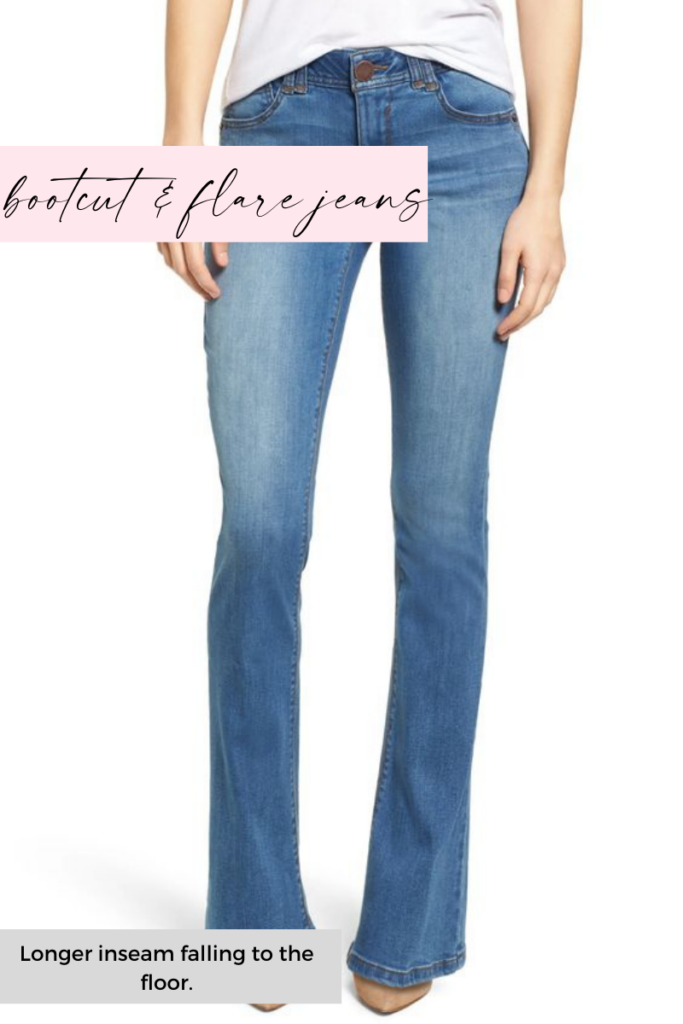 Both bootcut jeans and flare jeans have a much wider opening at the bottom. Because of this, they're meant to have a longer inseam and should typically go all the way to the floor.
Both bootcut and flare jeans look amazing with a cute heel to peek out at the bottom!
Cropped Bootcut & Flare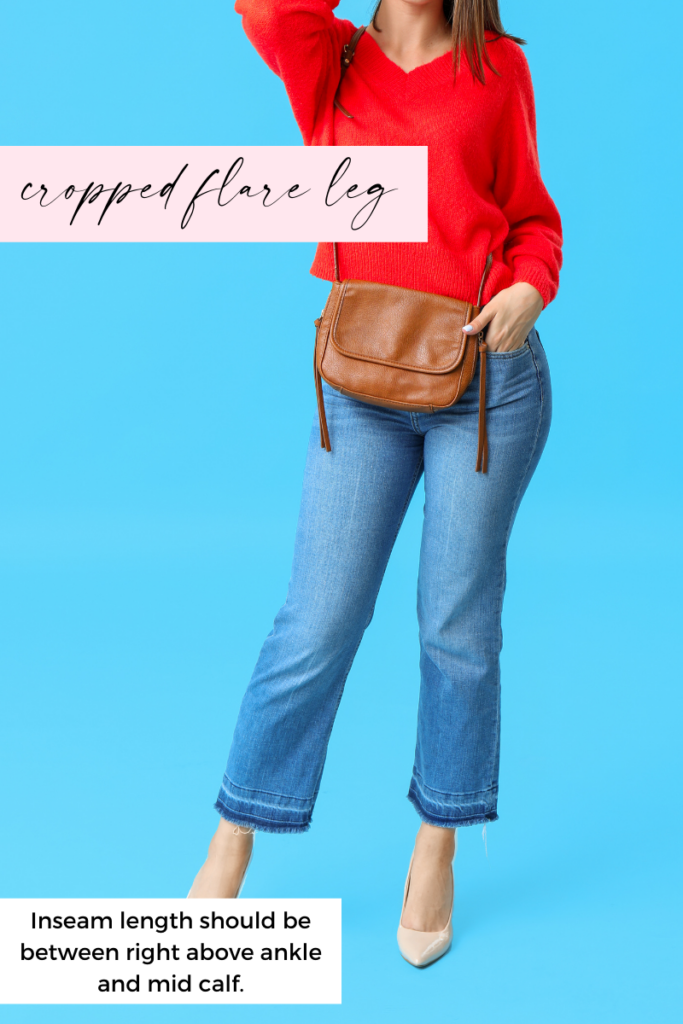 Yes, I know, we just said that bootcut and flare jeans should have a longer inseam however, we all know that cropped bootcut and cropped flare jeans are in right now! And yes, they can look chic and stylish.
When you're looking for a cropped bootcut or cropped flare you want this to be shorter than your inseam and hitting between mid calf to slightly above your ankle.
This type of jean looks amazing with heels or booties!
Cropped Wide Leg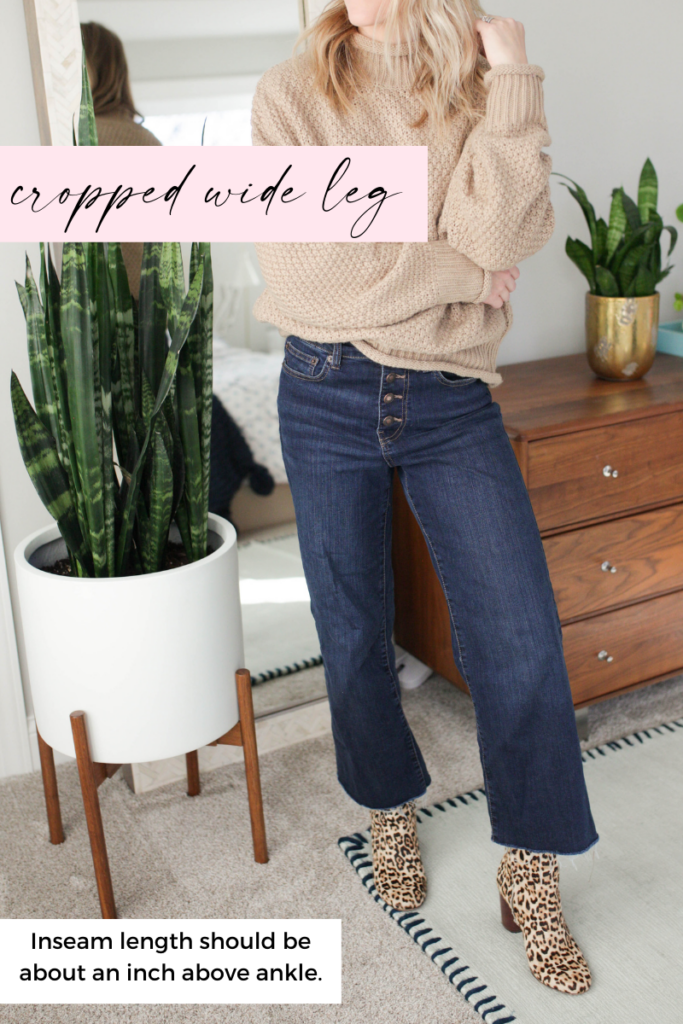 If you're not ready to try the cropped bootcut or cropped flare, the cropped wide leg is the perfect place to start! You'll want these to fall about one inch above your ankle (making this a shorter inseam).
Cropped wide leg pants look best paired with a more fitted top and heels to elongate your legs.
Head here for style tips on how to wear cropped jeans!
Ankle Jeans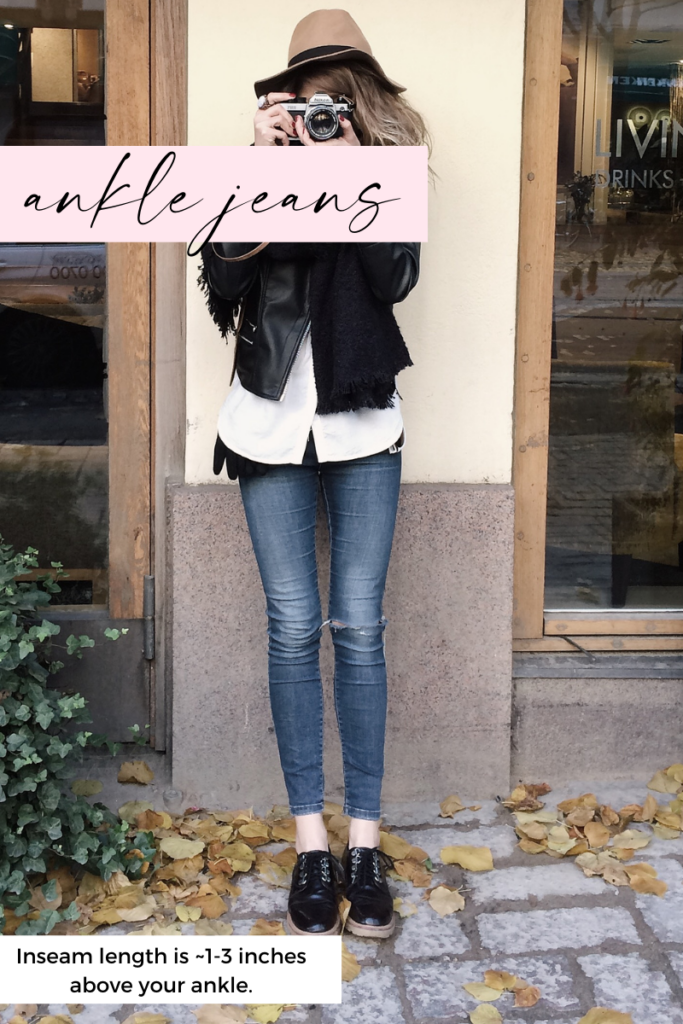 Ankle jeans are a fun way to show off your newest pair of ankle booties! These are a super versatile denim. You'll want your inseam to be on the shorter side, landing about 1-3 inches above your ankle.
Capri Jeans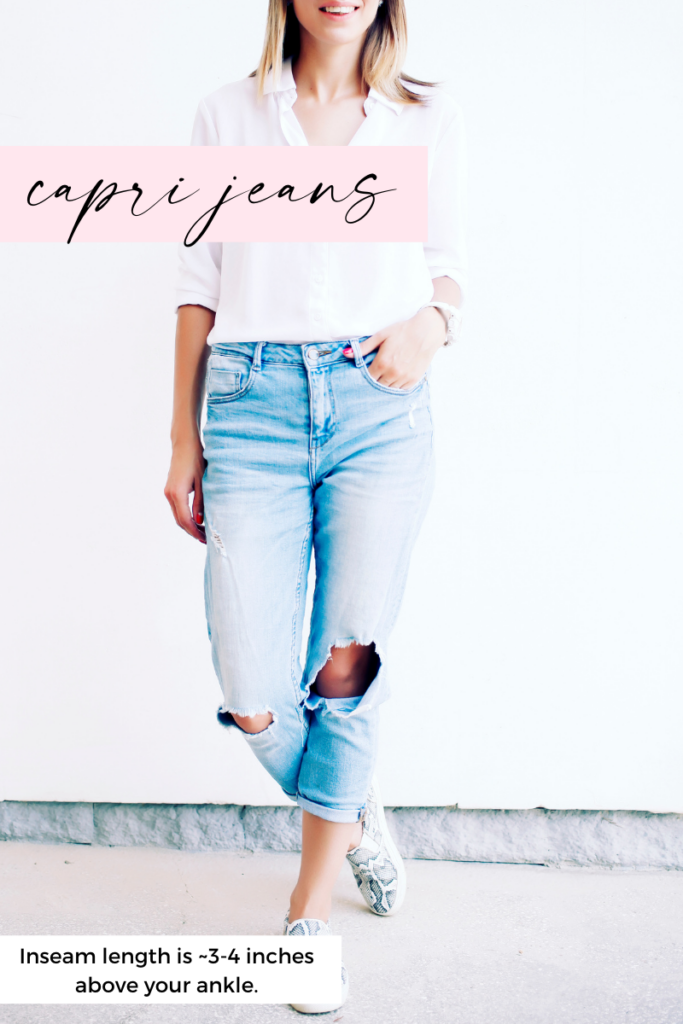 For those warmer days or just when you need a bit more breathing room, try a capri jean! Capri jeans typically fall about 3-4 inches above your ankle bone making this a much shorter inseam length.
Can inseam be altered?
Yes! Often times you'll need to alter your inseam in order for them to fit right. The best way to do this is to bring your pants in to a seamstress to get the professionally hemmed.
If you need a shorter inseam you'll want them to shorten the pants a bit and hem them.
If you need a longer inseam, this can oftentimes still be done since most pants have an existing hem stitched in place that can be let out if necessary!
Knowing your inseam length will help you in determining how much you'll need to hem you pants by to make them fit the best way possilbe.
I hope knowing what inseam is helps in finding the best pair of pants possible!
Now that we know about how to find our inseam and what it is, let's talk about types of necklines! We talk about 23 types of necklines and what you need to know about on this post. Let's learn more!
Want more fashion fun? Check out these post!