There are many things to consider when shopping for a purse that will fulfill all your mom needs. As a mother, we have to be prepared for anything and everything, and our purses are our secret superpower. Sometimes I feel like I'm carrying an entire drugstore in my bag!
We need a purse that will be versatile and durable, while also not skimping out on style, of course! I've put together over two dozen amazing options to find that perfect Mary Poppins bag!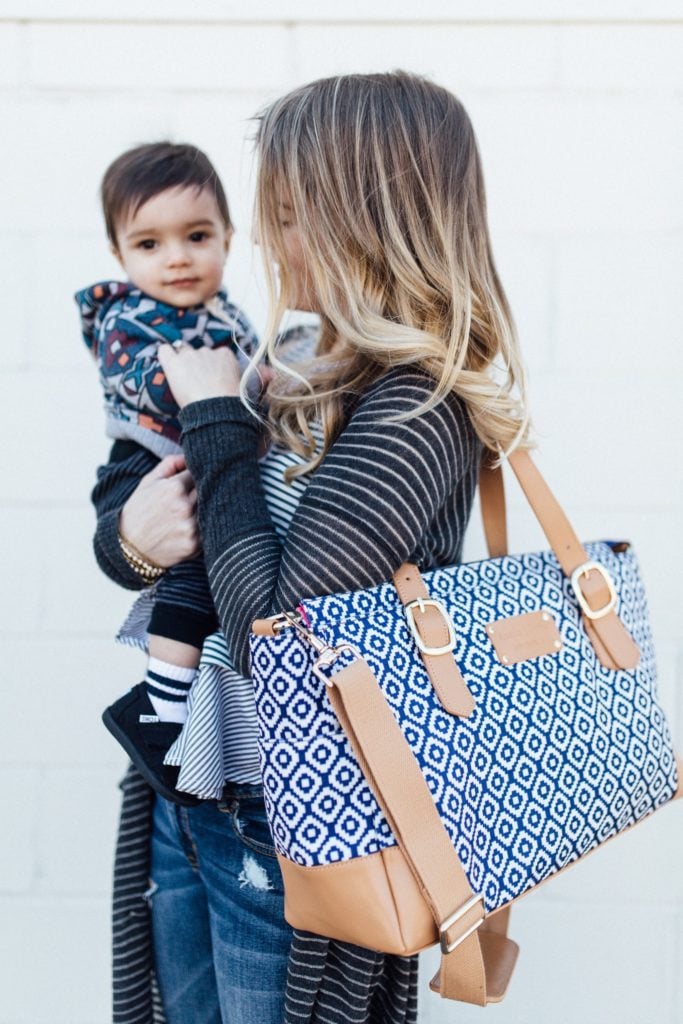 28 Best Purses for Moms
So what do you need to look for when finding the perfect purses for this season of life? The top priority of most moms is to make sure they can carry all the essentials and keep them organized.
For babies, you might need to bring your breast pump with you, extra diapers, and bottles in an insulated pocket. Once you hit the toddler stage or have preschool kids, you will probably need to carry snacks, wipes, sippy cups and maybe even a tablet for travel!
You can find purses for moms in whatever style you love most. Whether you want a crossbody bag, shoulder bag, belt bag, tote bag, backpack or something else, you can find a cute version that's perfect for mom life.
Best Crossbody Bags for Moms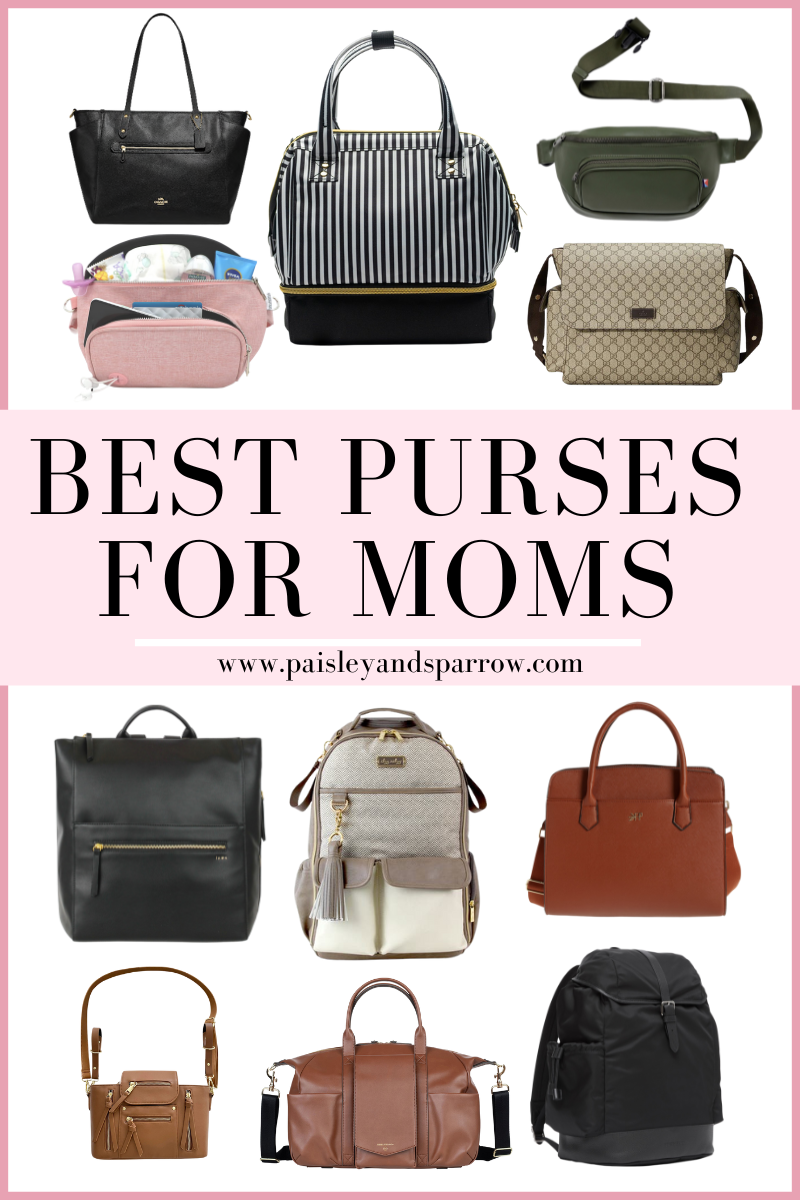 Paisley + Sparrow is a participant in the Amazon Services LLC Associates Program. This post may include affiliate links which means I may earn a small commission if you shop using the links below at no additional cost to you. 
A mom purse can be a full-size diaper bag or as small as a diaper clutch bag (and it of course doesn't have to be made for moms!). Whatever works for you is a great option!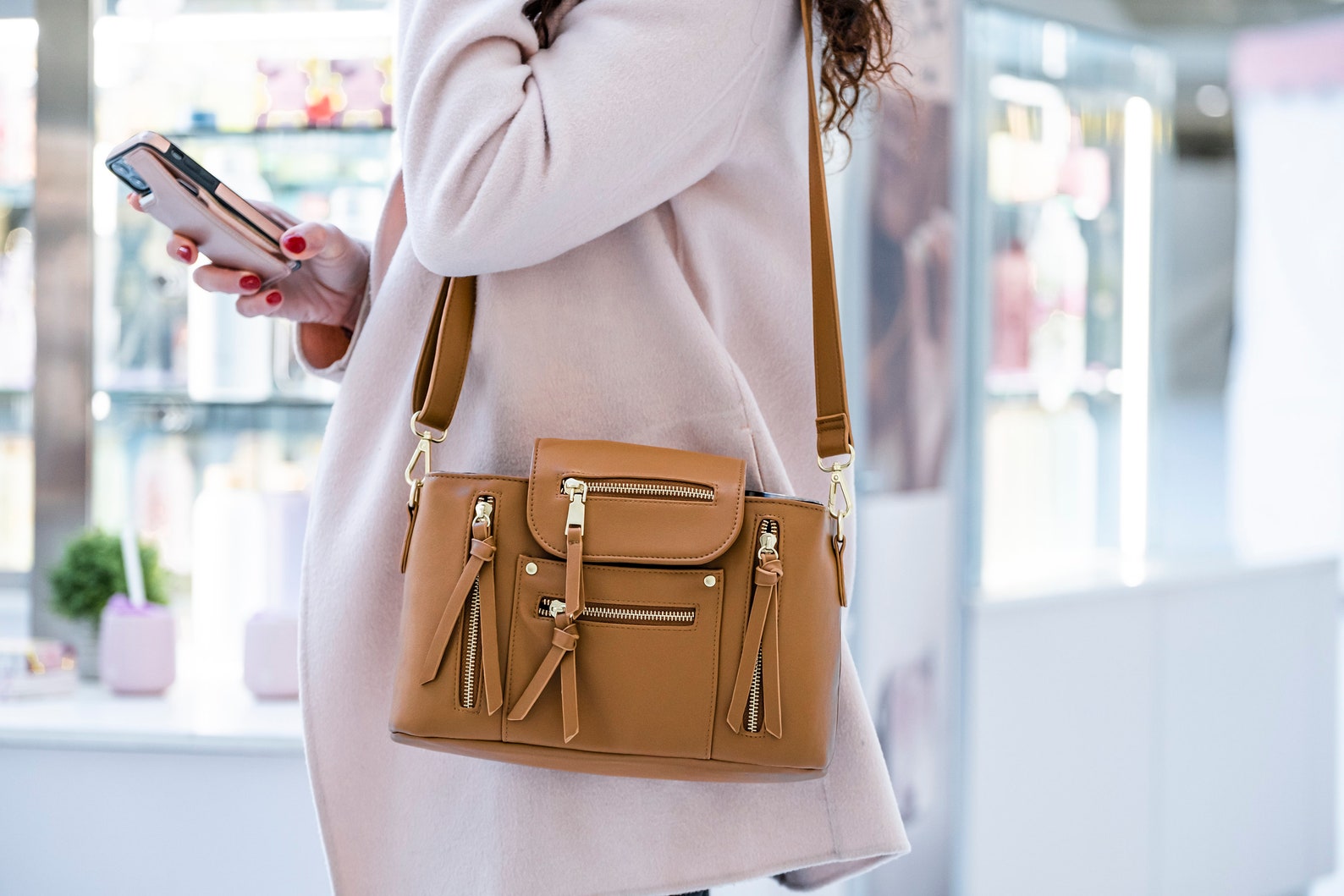 I love this one because of how compact yet versatile it is. It has insulated pockets to tote your water or baby bottles, lots of pockets to keep everything you need, and it has adjustable straps to hook to a stroller.
Made with vegan leather, this stylish bag will match most outfits.
CleverMade Crossbody Diaper Bag Tote and Baby Bottle Hip Pack - Stroller Organizer with Adjustable Strap and Multiple Storage Pockets for Diapers, Wipes, Burp Cloths, and Other Essentials - Brown
MOM'S BEST FRIEND - Can be worn as a belt bag around the waist for a trip to the park, running errands, or an afternoon walk - Wear as a cross-body pack sling to go hands-free during a hike, walk or just to chase your toddler
MULTIPLE ORGANIZER POCKETS - Small insulated pocket to keep baby bottles warm or cold, back zip pocket to store extra diapers, wipes, and other baby products, front pocket and magnetic closure for phone and credit cards, and open storage inside for other personal items
CONVENIENT ALTERNATIVE - The perfect accessory to use when a diaper backpack or purse is too much, the fanny hip pack is the perfect solution to stash all of your must-haves for travel and activities like day trips, shopping, or a play date with friends
STROLLER ORGANIZER: Throw it in the car along with other baby essentials for on-the go adventures; Pair with stroller straps to clip onto your stroller for quick access your keys, sippy cup, baby bottle, and your wallet when pushing your child around
FUNCTIONAL AND STYLISH - These diaper hip packs are made with a durable vegan leather material to hold up to everyday use by parents; can be wiped clean with a wet cloth; Product dims are 11.5"L x 3.25"W x 7.5"H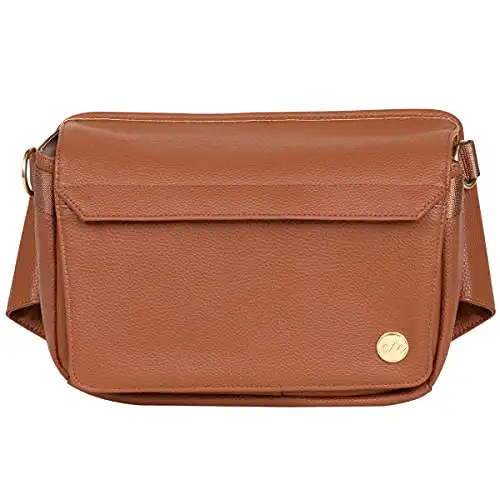 We earn a commission if you make a purchase, at no additional cost to you.
This is such a great option if you're looking for compact purses! When a big bag is too much — maybe you're just running a quick errand or you know you can run home if you have any problems — try this crossbody for your lighter needs.
There are three small main pockets; one of them is insulated for baby bottles. It can be worn as a crossbody bag or as a belt bag.
Top Backpack Purses for Moms
Freshly Picked Convertible Mini Classic Diaper Bag Backpack, Fig
Features 10 pockets, a spacious central compartment for larger items, easy access magnetic front flap, a grab-and-go top handle and an electronics sleeve
Use this diaper bag as a backpack, crossbody bag or purse
Premium quality vegan leather with a wipeable and stain-resistant nylon interior lining and nylon changing pad
Premium easy glide YKK zippers and custom matte gold hardware
Features metal feet on the bottom, so the bag stays germ free and never touches the ground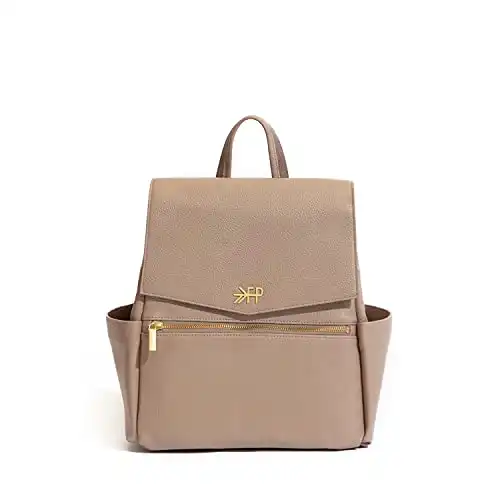 We earn a commission if you make a purchase, at no additional cost to you.
With 10 pockets in one bag, and convertibility as a backpack, crossbody, or purse, it's no wonder this is a popular purse for mom. The bag is made with vegan leather, which makes spot cleaning easy peasy, something that's essential with a baby around.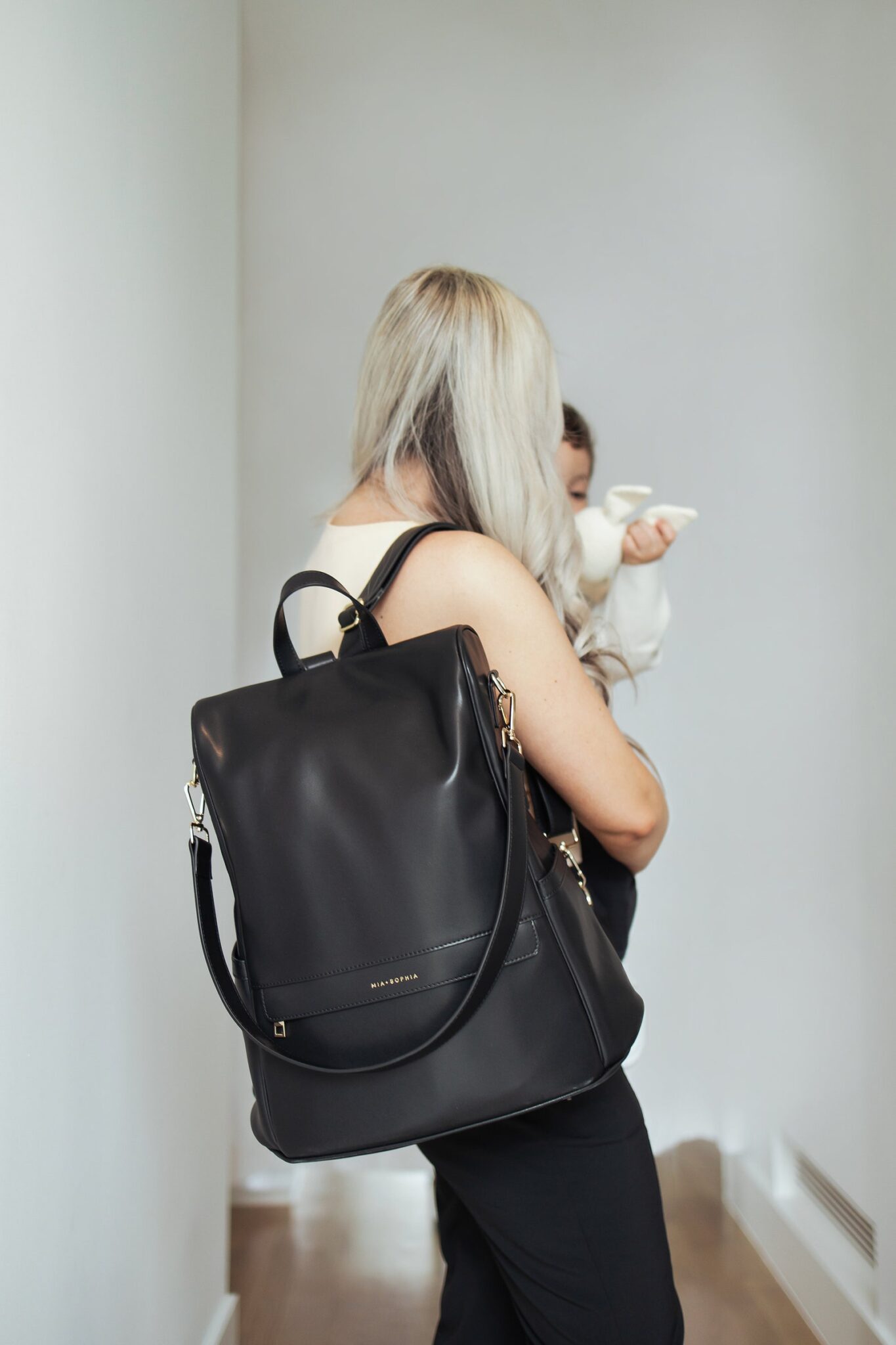 With 13 pockets total, an insulated bottle holder plus four insulated pockets built-in, changing mat, built-in USB charging port, and straps to attach to stroller, this backpack purse is the best to cover all your needs.
Fashionable gold hardware adds a flair of luxury and elegance.
Skip Hop Diaper Bag Backpack: Mainframe Large Capacity Wide Open Structure with Changing Pad & Stroller Attachement, Black
Who has time to hunt through your jam packed bag for diapers, snacks and other necessities
Not the busy moms we know
Our Mainframe Wide Open Diaper Backpack makes it easy to access everything that's packed inside thanks to a structured frame that opens wide and stays put for a clear view
An innovative combination of soft fabric and sleek structure, the sporty, lightweight design features a large main compartment with a secure zip closure, plus lots of pockets for essentials like your phone and water bottles
Easy grab double top handles and adjustable backpack straps make this user friendly look the ultimate in hands free ease
Life beyond baby: fits a laptop
Built in stroller straps to easily attach bag to stroller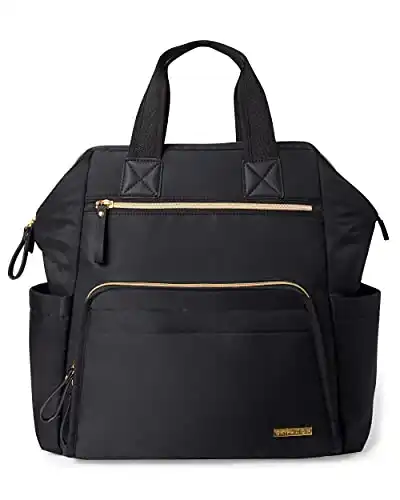 We earn a commission if you make a purchase, at no additional cost to you.
Its main pocket is large and wide — great for an extra set of clothes or two, room for bottles in insulated pockets, and all your diaper needs. Straps are easily adjustable and there are built-in straps to attach to your stroller.
I love all the additional pockets for everything else mom needs for herself! Comes in four lovely colors.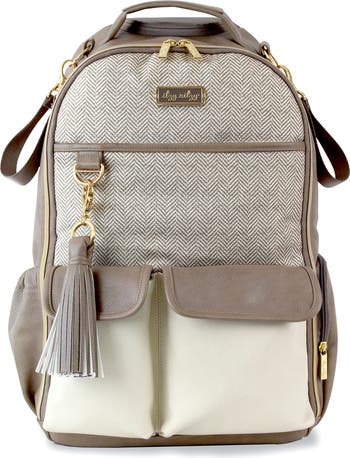 No details were missed in this bag. Every part of the design is stylish. Several compartments for bottles, a changing mat, and a wrap-around zipper to provide easy and wide access to the main compartment.
The rubber feet on this bag are especially nice and keep the bag clean. The material is water-resistant, so no need to fret over spills or leaks.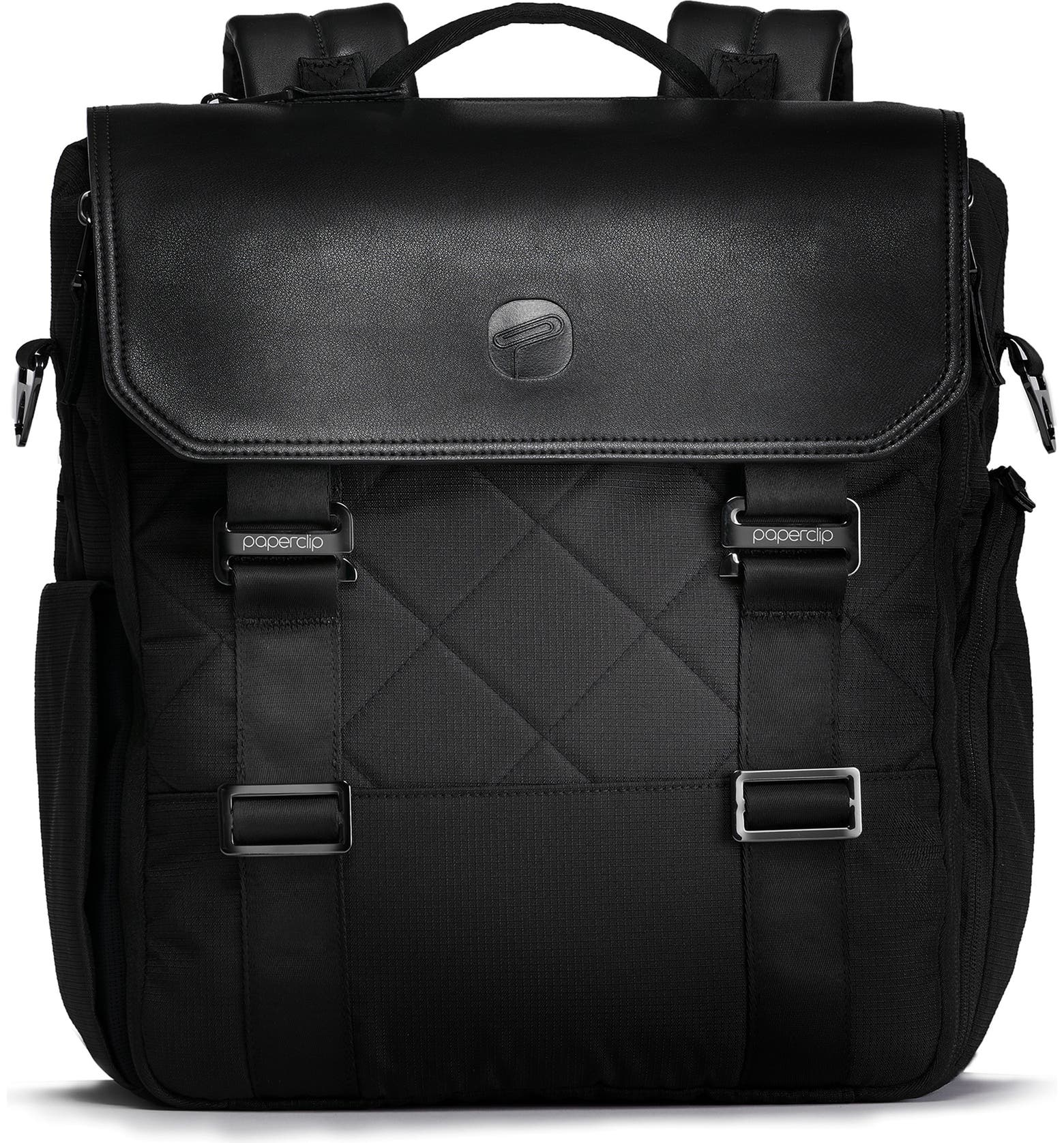 I love a good eco-friendly option! And this backpack bag is perfect for anyone looking for something that meets all their mom needs but is also a positive choice for the environment.
Made with recycled material, this bag has a large main compartment, bottle pockets, a wet-bag pocket, and a roll-out changing pad. So good for travel!
Want more backpack style diaper bags? I have a list of 19 best diaper bag backpacks to choose from!
Best Shoulder Bags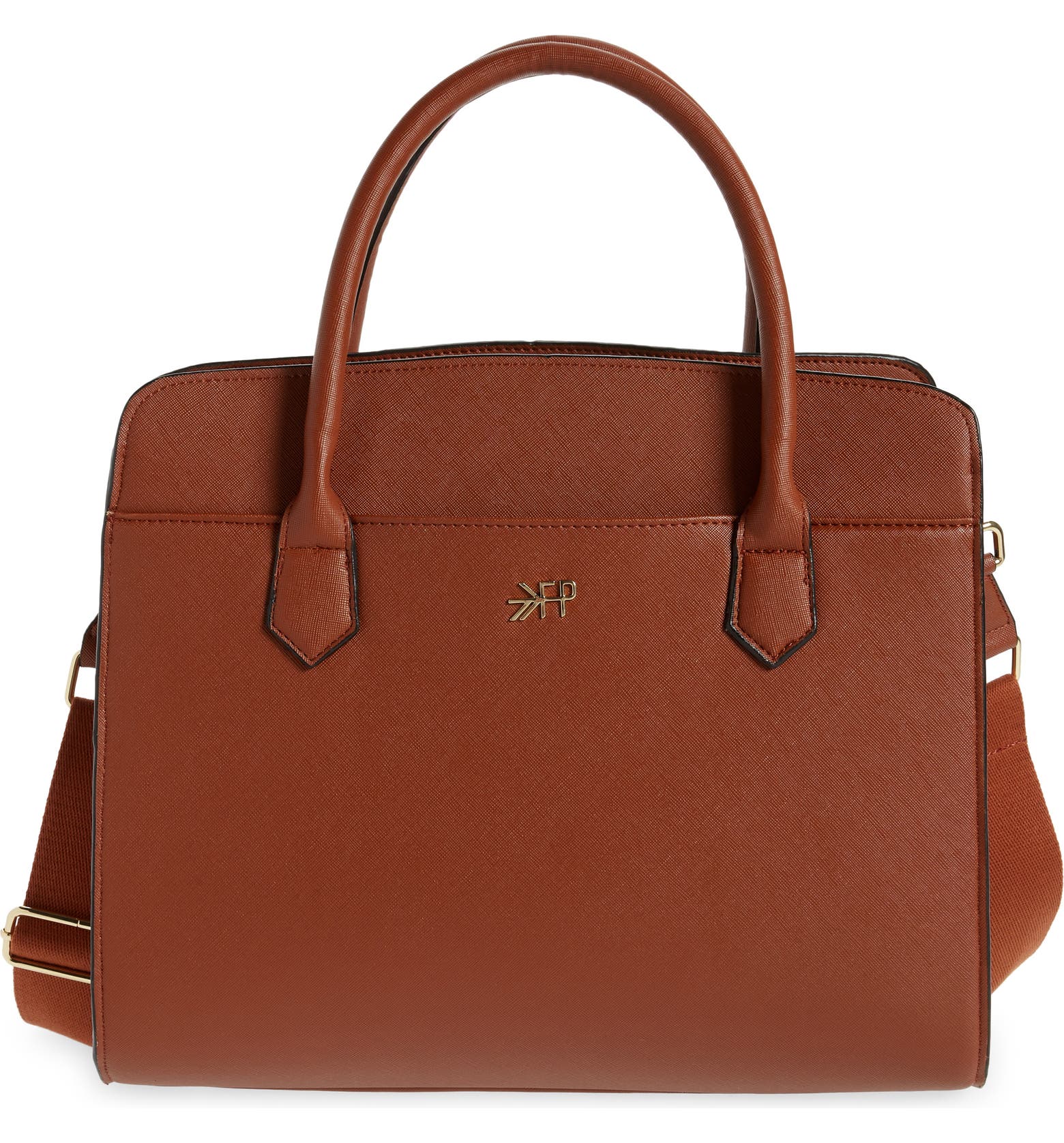 You would never know walking past it that this is actually a diaper bag. Super chic and timeless, this is such a great staple for your closet, mama!
Faux-leather material with seven pockets and a sleeve for a laptop, it's perfect for busy working moms always on the go.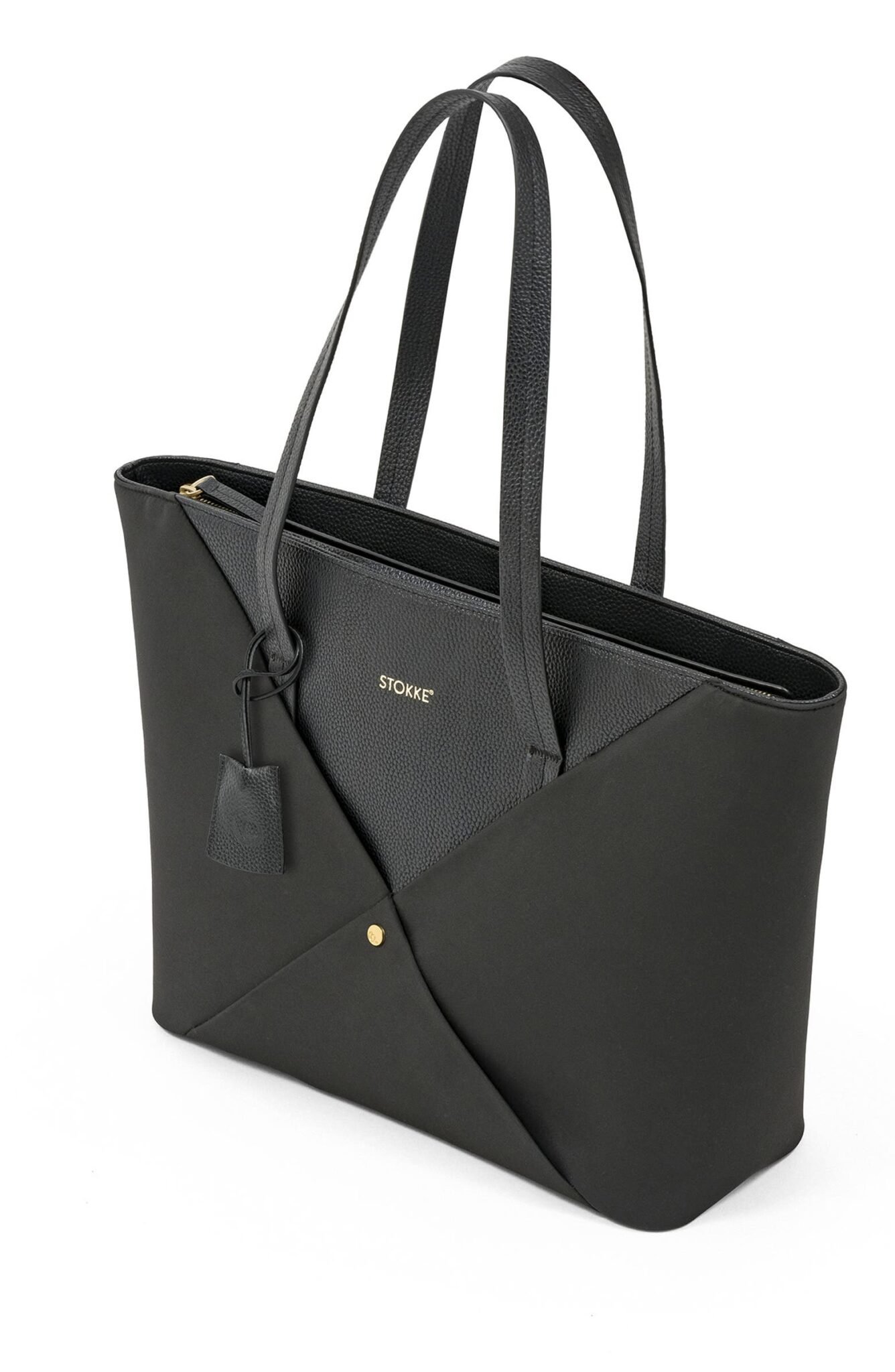 This is a diaper bag without looking like a diaper bag. Its chic and classic design works with most styles and outfits, which I love! Comes with straps to attach to your stroller, and a washable changing mat.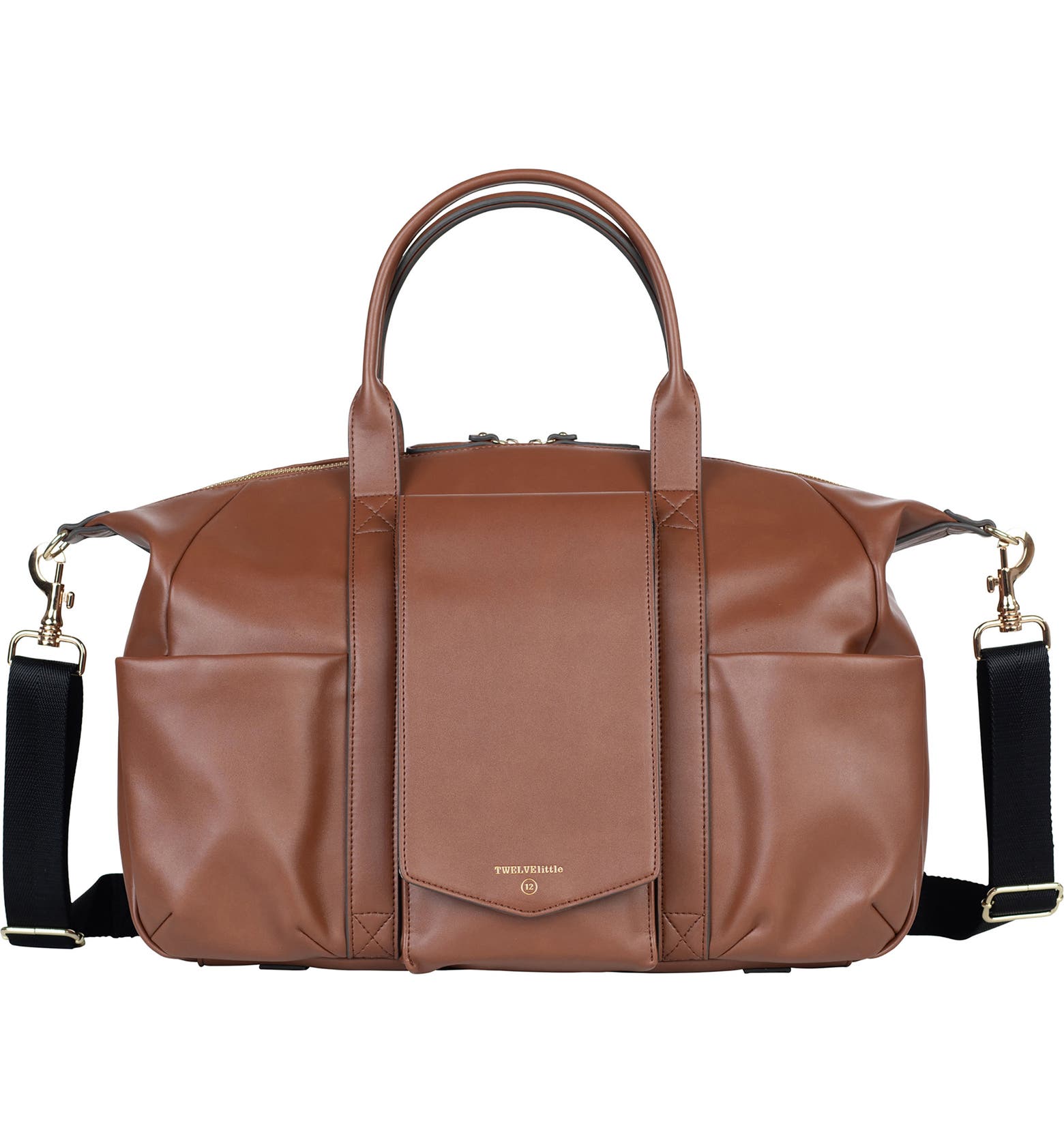 Every mom bag needs durability, so this large satchel made with water-resistant material is sure to last for years and withstand lots of love.
Its large compartments and big pockets are great for when you need a bag with lots of storage and organization options. Included is also a changing pad, which is so convenient!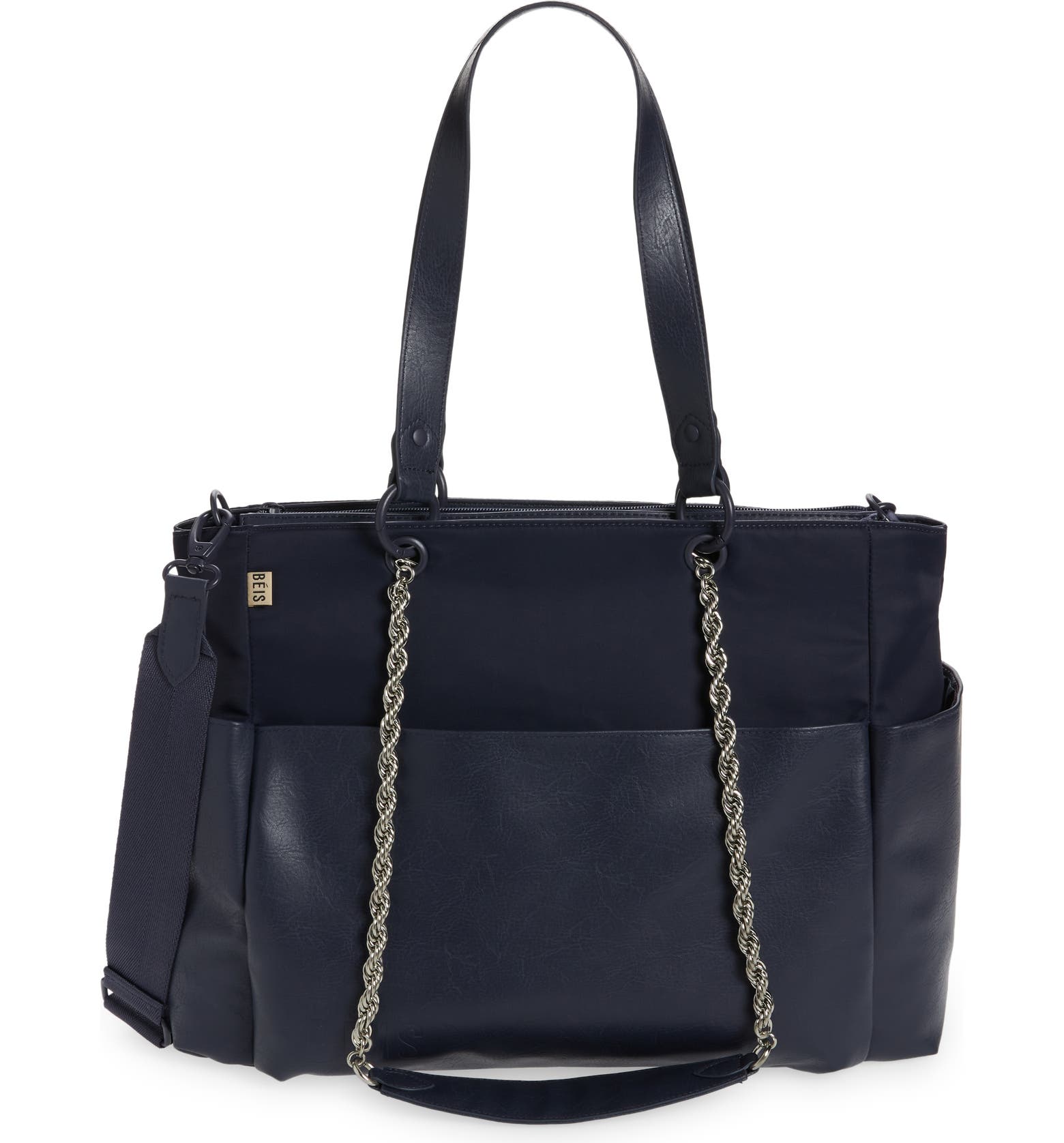 If you're like me, you like things more on the "extra" side, and that includes a diaper bag! If "style" is your middle name, this is the bag for you.
There is endless amounts of room, straps to attach to your stroller, pacifier pouch, changing mat, and an odor-proof bag. This bag has all the bells and whistles!
Comes in three beautiful colors — beige, navy, and grey. The accented silver chain on the strap pulls the whole thing together effortlessly.
Best Belt Bags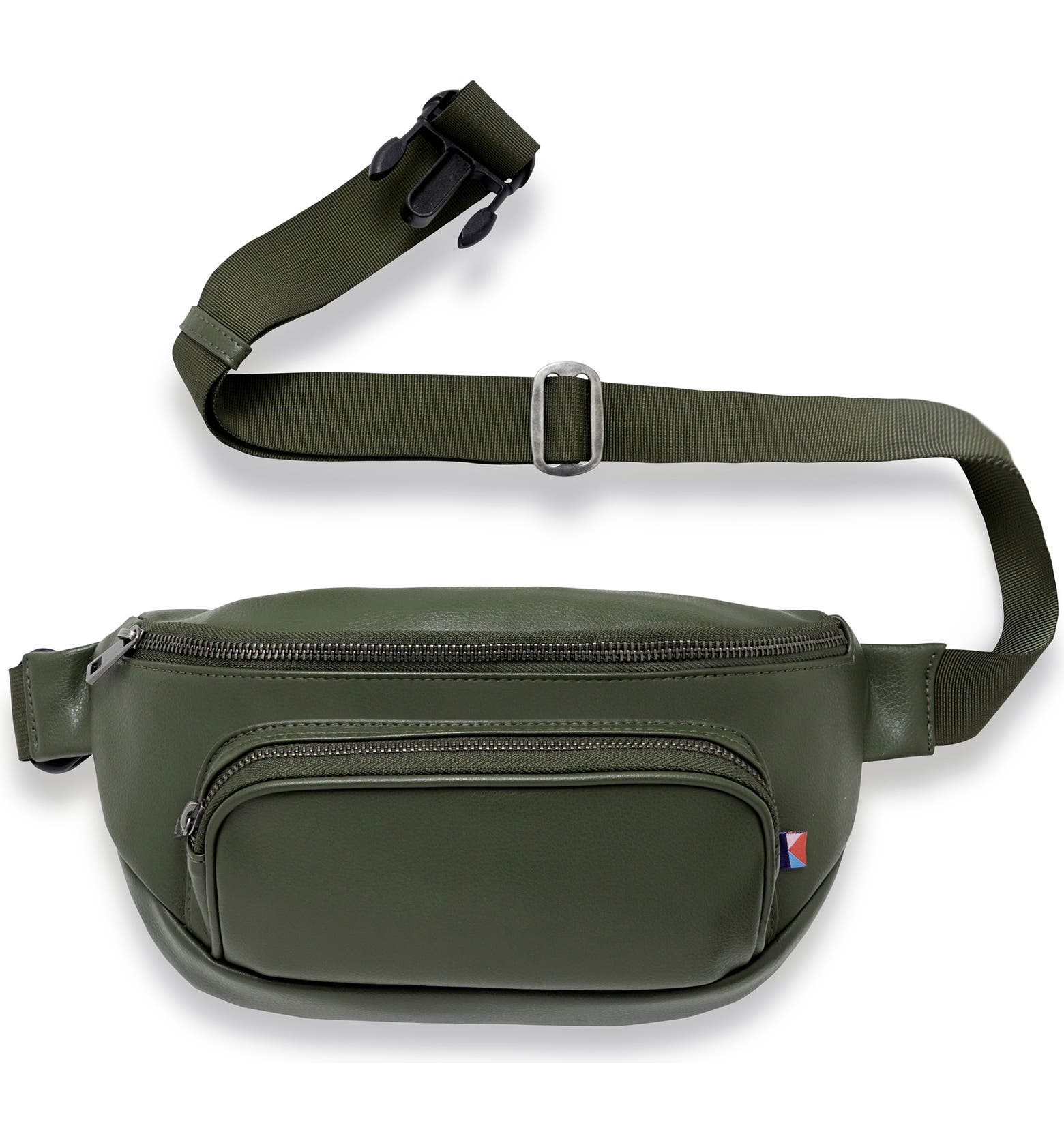 Belt bags and fanny packs are so great for on-the-go. They may seem small, but a well-designed one will create room for all your basic necessities without getting bulky. You can wear this one comfortably around your waist or sling back across your chest.
Included is also a waterproof pocket for wipes, which is awesome for packing just a few and not a whole pack of wipes.
In the front pocket are compartments for credit cards and other important small items. The back flap unfolds and turns into a changing mat. Definitely a cool and ingenious feature!
Suessie Fanny Pack Diaper Bag - Baby Changing Pad & Waterproof Wipes Pocket - Stroller Organizer with Universal Stroller Hooks - Mom Small Crossbody Bags - Waist Bag for Women - Dad Belt Bag
FANNY PACK - Lightweight and the perfect size to wear on your waist or as a crossbody bag. Keep it simple and only carry what you and your little one really need.
DIAPER BAG - Leave your big diaper bag at home thanks to the detachable changing pad and built in waterproof wipes pocket. It easily holds 20+ of your wipes rather than a bulky wipes pack. Diaper changing on the go just got easier!
STROLLER ORGANIZER - With the included bonus universal stroller hooks it easily hooks to your stroller so you can be more organized and hands free. It's compatible with everything from ultra compact mini strollers to full size travel systems.
HIGH QUALITY - Durable exterior polyester fabric and premium interior nylon lining are easily wipeable and built to last. The adjustable strap measures 33-49inch/84-125cm while the overall size of the bag is 11x4.5x6inch/28x12x15cm.
MONEY BACK GUARANTEE - If for some reason you aren't happy we'll give you your money back, 100% guaranteed.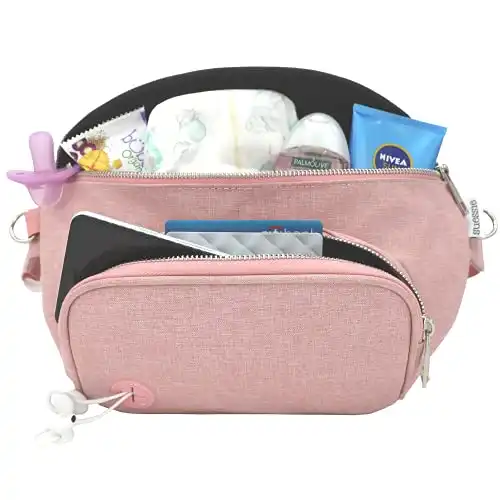 We earn a commission if you make a purchase, at no additional cost to you.
This is a similar style to the last one, but a more economical pick. It also comes in pink — who doesn't love that?
It's a durable option with waterproof pockets and a changing mat built in. The front pocket has a convenient opening for headphone or ear bud cords.
I also like the key hook inside the main compartment. There is nothing worse than losing your keys at the bottom of a loaded bag! The interior fabric is washable as well.
TOKKIE BABE Baby Carrier Extension Storage Pouch - Fit All Essentials for Diapers, Changing Pad, Wipes, Pacifiers, Smart Phones and Wallets Compatible with Lillebaby, Tula and More (Black)
TAKE ESSENTIALS WITH YOU - Baby wearing is great way to get around, however it is just inconvenient to carry around bulky diaper bags everywhere. TOKKIE BABE extra storage pouch helps to make your walks around town, trips to the airport, and shopping excursions easier! Have essentials like your phones, wallets, diapers, wipes or small snacks that you and your baby need in one easy spot with your favorite babywearing carriers.
UNIVERSAL FIT - Broad velcro straps for better support & stability and stays securely in place on babywearing carriers. TOKKIE BABE extra storage pouch is comparable with most of soft structural babywearing carriers in the market such as LÍLLÉbaby, Tula and much more. You can attach it on the front and the side anywhere you feel comfortable. All you have to do is slide the TOKKIE BABE pouch velcro strap over your favorite carrier waist strap.
STYLISH AND FUNCTIONAL - Trendy Heather grey color gives sharp look and fits well with your carrier. Polyester inside material makes it easier for you to clean or wipe dirt easily. This very convenient and portable pouch will make diapering hassle-free.
BUY WITH CONFIDENCE - As parents, we custom designed and tested multiple design and material for baby carriers pouch. We tested for practicality, ease of use and durability. We are confident that you will love TOKKIE BABE extra storage pouch.
UPDATED FEATURES - TOKKIE BABE Pouch now has structural rim that prevents the pouch from sagging. It also has an additional zipper on the large section of the pouch so it is easier to open and close from either side of the bag.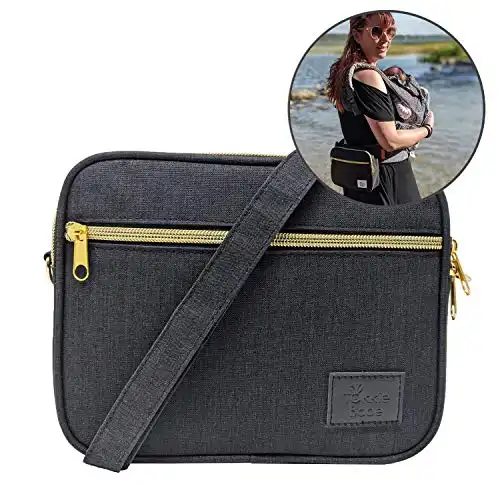 We earn a commission if you make a purchase, at no additional cost to you.
Another great belt bag option, this one fits all your essentials and also comes with a changing pad. To keep it from sagging, there is a structured rim that prevents the bag from hanging low when it's loaded. A very comfortable fit around the waist.
Best Designer Bags for Moms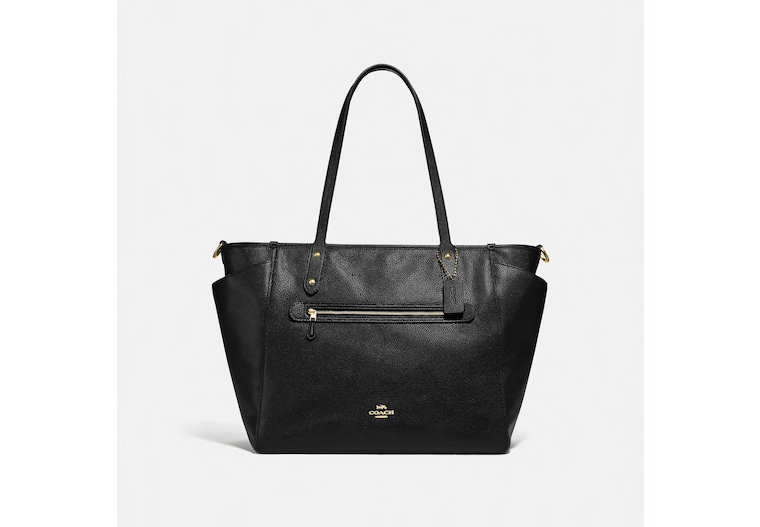 If you love luxury hand bags, you don't have to give that up just because you have kids. And designer brands know that what you need has changed but your tastes haven't! The Coach Baby Bag is a gorgeous leather tote with shoulder straps and a long strap for options to wear as a shoulder bag or crossbody.
This is one of the best purses for moms because of all the interior pockets perfect for holding a bottle, toddler snacks, wipes, diapers and more! All the functionality without sacrificing style.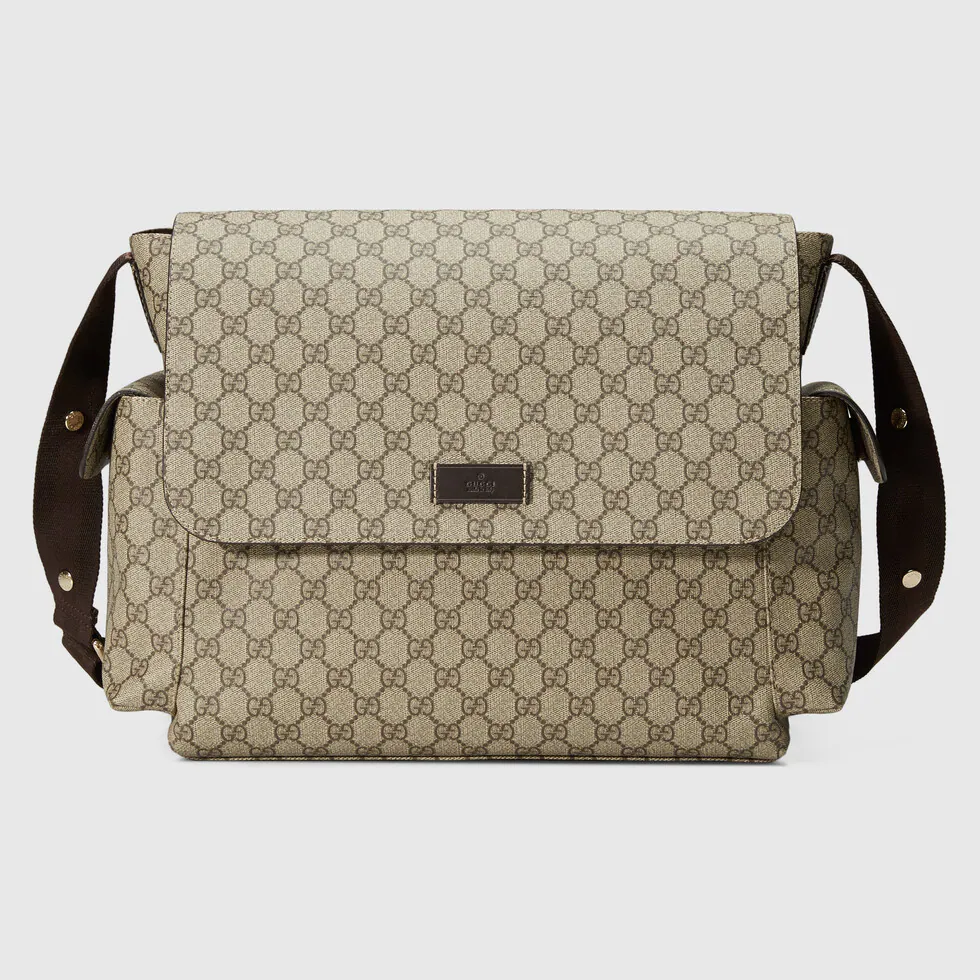 The best purse for Gucci loving moms, this chic and pricey luxury full diaper bag can be worn as a shoulder bag or crossbody bag. It has the features you need, like a foldout changing pad and a pocket on each side, and the style and quality you want.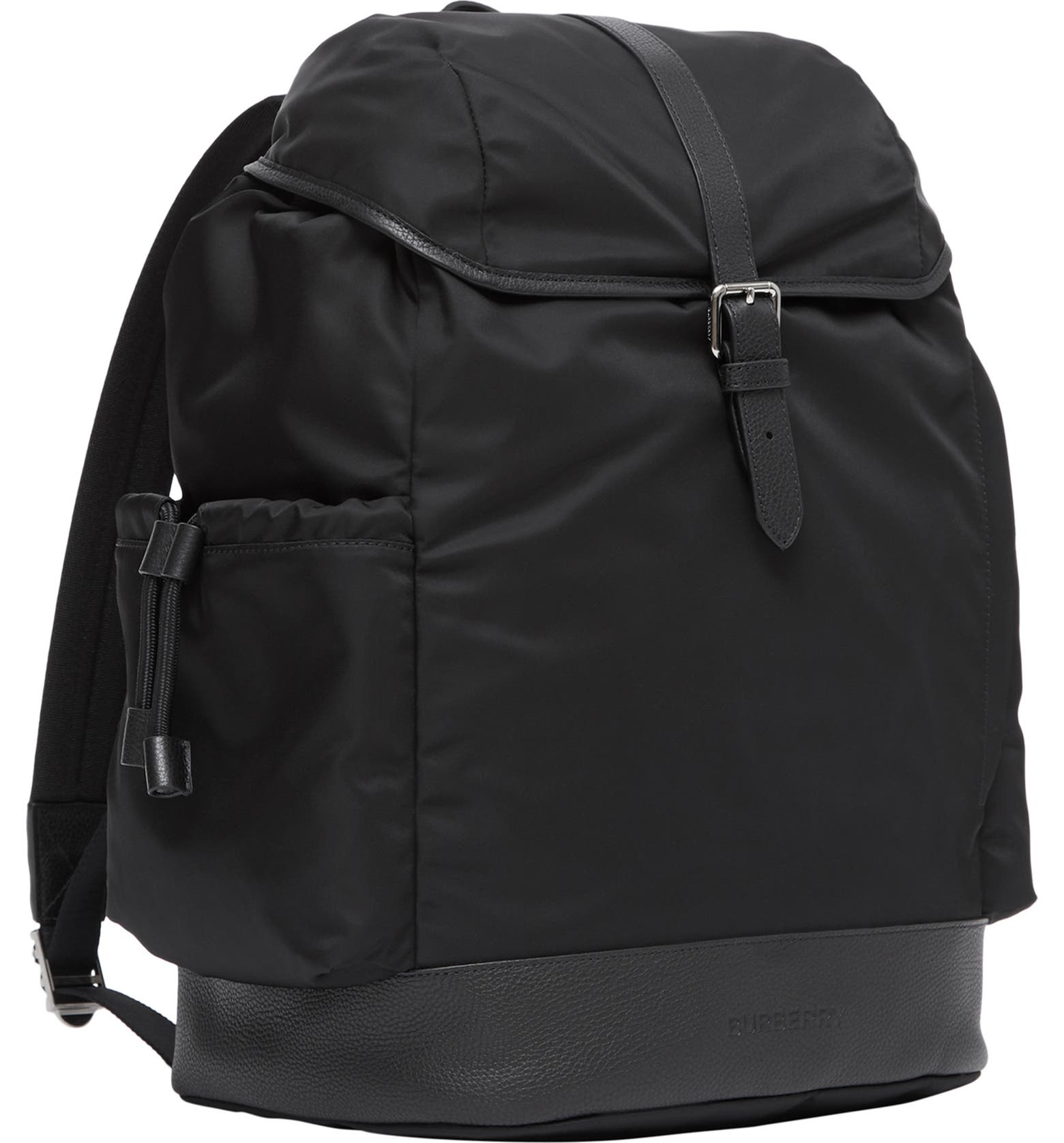 Burberry has a more classic diaper bag in the signature plaid with a flap closure and adjustable strap, but if you're looking for the best diaper bag backpack, this option is top notch for moms who want their hands free. It comes in a sleek black with leather trim with a more subtle nod to the branding with a Burberry checked interior.
You've got elasticized pockets on the inside, drawstring and magnetic closures, and a changing pad — all the necessities of a great mom bag.
Large Main Compartment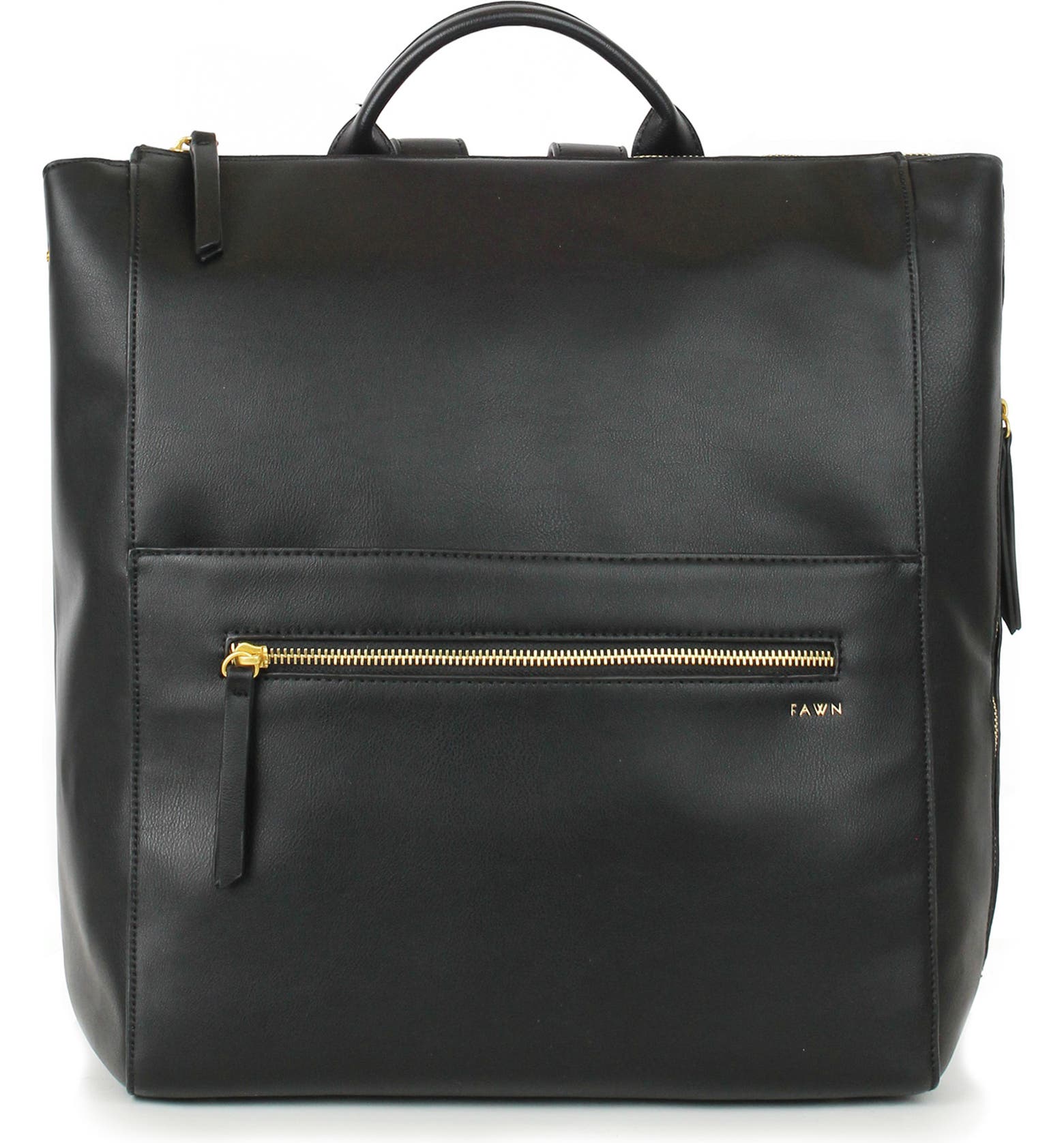 I love this one because of all the inner compartment and pocket options. The main compartment is wide and deep, ideal for diapers, pairs of clothes, bottles, toys, snacks, laptop, books, you name it! It's large enough to carry more than just the basics.
The exterior is a faux leather, with two versatile color options in beige or black. Can be worn as a shoulder bag or converted into a backpack.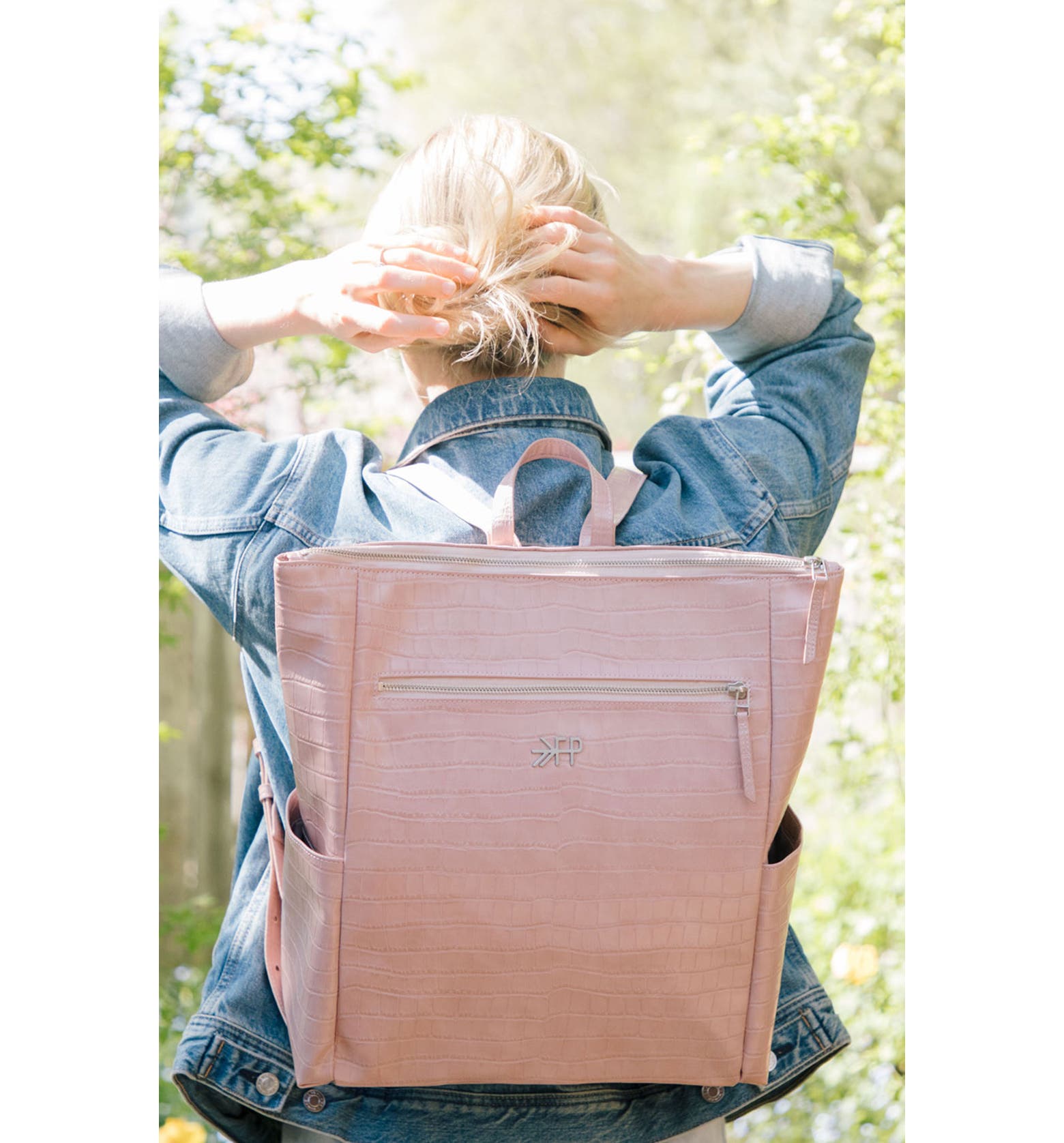 This durable backpack purse comes in the prettiest rose pink. The long, gold zipper across the top creates wide access to its large main compartment, and there's another large front pocket for even more storage. On the sides are two pockets for either bottles or anything else you'd like.
The material is water-resistant so this bag is sure to last long and stay in good condition.
Skip Hop Diaper Bag Backpack: Greenwich Convertible Multi-Function Baby Travel Bag with Changing Pad and Stroller Straps, Vegan Leather, Portobello
Offering two timeless looks in one, this fresh addition to the Greenwich Simply Chic collection can be worn as a diaper bag backpack to a messenger diaper bag thanks to a clever convertible strap
Crafted in luxe vegan leather that easily wipes clean, the sleek design also features lots of pockets for diaper bag essentials, including two insulated side bottle pockets and a large main compartment with a secure zip closure and a magnetic flap overlay
Large main compartment with secure zip closure holds diaper bag essentials; Exterior front zip pocket and back slip pocket; Two insulated side bottle pockets; Five elasticized interior slip pockets
Cross-body strap adjusts from approx. 30" to 58" and converts to backpack straps
Easily attaches to stroller with included stroller straps & includes machine washable cushioned changing pad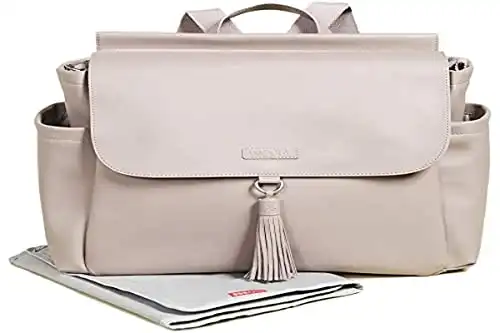 We earn a commission if you make a purchase, at no additional cost to you.
Wide but not deep, this backpack bag has ample room for all of mom's needs and can easily be converted into a shoulder bag.
The two side pockets are insulated to keep your bottles cool. The magnetic flap also has a cute tassel on the front which makes this bag all the more stylish and fun to wear.
Washable Tote Bag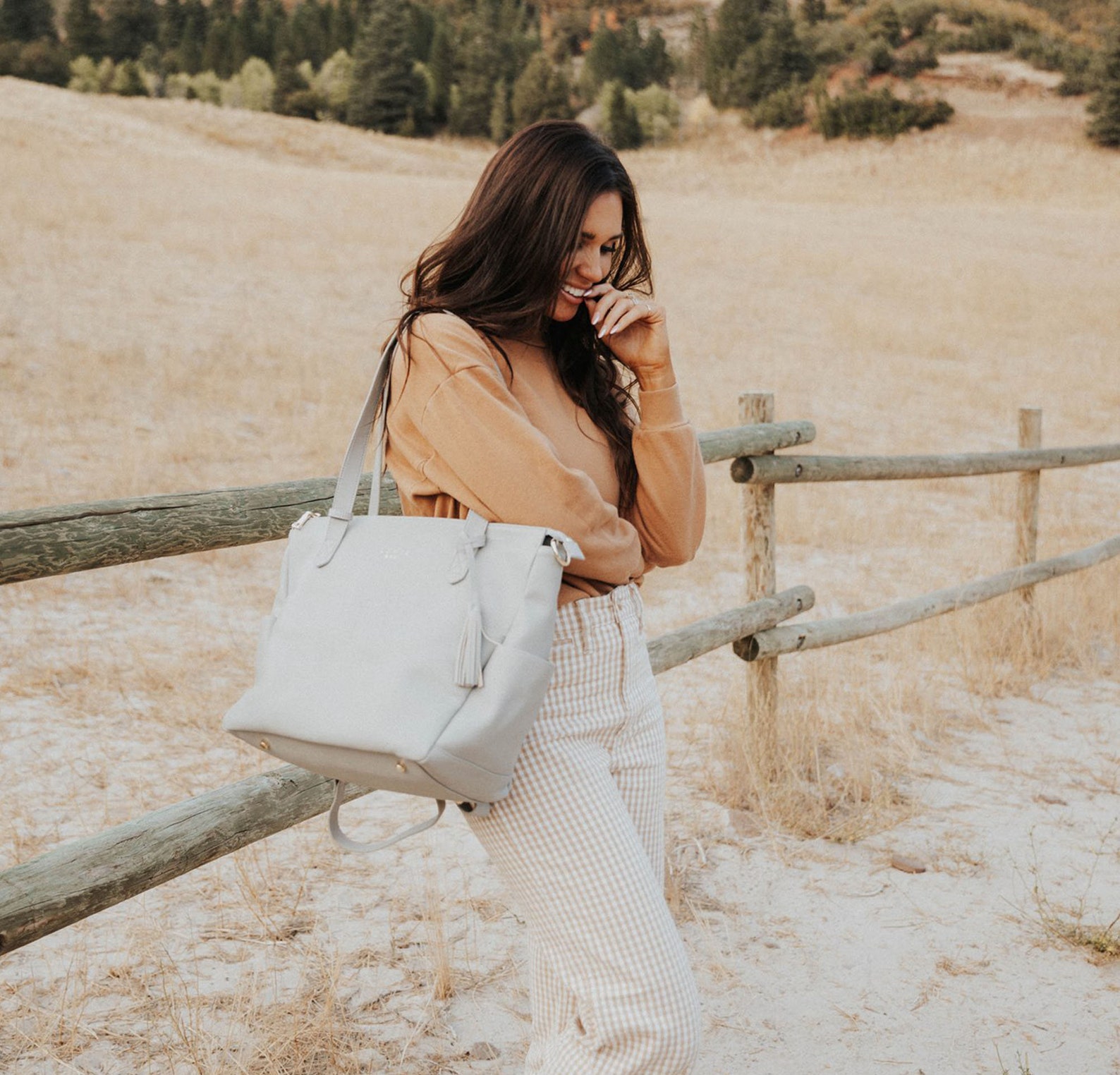 A hard to clean purse is not a good purse for a mom!
This is a very multi-functional purse with several features I know you'll love! Firstly, it looks amazing, and one of the cool features is being able to choose the pattern of the interior lining.
The other great thing about the interior lining is that its removable and machine washable. You won't ever have to worry about sticky or dirty messes inside your purse again!
Best Mom Bag for Baby Bottles
22. Crossbody Mom Purse
Crossbody Diaper Bags,mini diaper bag by miss fong, Diaper Bag Purse,Diaper Clutch with 7 Diaper Bag Organizers,2 Insulated Pockets and Adjustable Shoulder Strap(Brown)
❤【Design Concept & Dimensions】Our wide zipper closure mini diaper bag makes it easy to access everything that's packed thanks to light color lining get clear view inside.【Dimensions】11.5"x7.5"x7(LxWxH). Bottom Width:7", Top Width:5".Adjustable shoulder strap:21.5"-23.5".Weight:1.53 LB. Insulated bottle pockets can hold most of wide neck or tall milk bottles.This crossbody diaper bags make it easier to leave your large changing pad bag at home, only carry what you and your little one really need.
❤【Stylish & Practical】miss fong Diaper Bag is a combination of fashion and function. This diaper bag is made of ECO PU Leather,lined with 100% Waterproof Nylon,you can easily clean the outside and inside of the diaper bag with a wet towel and durable for everyday use.PU Leather adjustable shoulder straps ensures to reduce fatigue and offer you comfortable carrying. Zipper & Brand badge-18K Gold.Bottle warmer: thermal insulation material to keep your drink/food at right temperature.
❤【9 Pocket Design of Diaper Bag Purse】Inside & Outside are designed with many pockets with different functions to store various items.4 Outter pockets-1 front & 1 back magnetic buckle for common items, phones, coins, etc.1 Back zipper pocket & 1 two-way zip pocket fit wallet, passport.5 Inner pockets-1 zipper pocket fits phone & cards.2 open pockets keep earphones, and wipes.2 Insulated Pockets to keep your drink bottle & baby bottle warm/cold.Multi-function diaper bags for moms and dads.
❤【Delicate Gift】This small and beautiful crossbody bag makes the perfect gift for any occasion like Christmas, Valentine's Day, birthdays, and anniversaries. This is truly the one gift that will be enjoyed. It's the essential bag to take shopping, to work. It is the perfect take this compact and lightweight go-to bag with you wherever you go.
❤【How to Wash Crossbody Diaper Bags】You can try to wipe it off with a wet towel and spray some lemonade to remove the smell when you spill over like milk, or juice in your bag. After that, please hang it to dry and don't put it in the cloth dryer.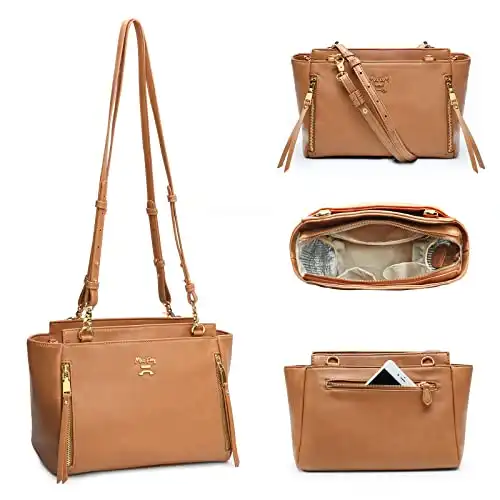 We earn a commission if you make a purchase, at no additional cost to you.
This is a very stylish crossbody with two insulated pockets on the inside for baby bottles. In addition, there is plenty of room in the main compartment, as well as several zipper pockets.
The straps are also adjustable for long or short strap wear. Comes in brown or black with lovely gold hardware accents.
DEBUG Baby Diaper Bag Backpack With Changing Station for Boys Girl, Baby Registry Search Must Haves Shower Gifts Baby Stuff Newborn, Women Pink Large Travel Waterproof Diapers Bag with Stroller Straps
【Large Capacity】This diaper bag backpack includes 18 convenient pockets to make storage organized and easy to access, including insulated pockets for bottles, a large compartments for laptop, anti-theft back pocket and diaper organizer. If you're always on the go with your baby, especially if you have multiple children with different needs. You can easily and securely carry all you and your baby's essentials on your back, leaving your hands free to do tasks or to carry your child.
【Special Features: Diaper Bag with Changing Station】The most exciting feature of this diaper bag is the expandable crib/changing pad area. Soft mattress makes baby nap time on the go easy and comfortable, shade curtain protect baby's eyes and skin. Spacious clean comfortable area prevents rolling away during diaper changes. Making it convenient to change your baby's diaper while on the go. The upgraded version baby bag is easier to assemble, quicker install and remove with the 2 foldable rods.
【Convenient & Comfortable】The diaper bag that can easily contain all your baby supplies without putting strain on your shoulds, back or neck when you carry the bag. Because the bag comes with thick shoulder straps and back support to provide you comfort while on the go. It has easy-grab handles and custom D-rings, so you can carry it by hand or hang it from your stroller if you don't want to wear it.
【Well-made Durable & Easy to Clean】 Diaper bag is made from tear resistant Oxford to ensure it's durable and strong enough to withstand the weight of all you need to carry. Smooth zip is glide conveniently for open and close. From milk spills to spit-ups, your diaper bag will inevitably come across many stains.This outer coating of diaper bag backpack is crafted from waterproof fabric, makes cleaning stains and spills a breeze. Baby bag is environmental friendly, no pungent smell and BPA.
【Stylish Unique Design】The gender-neutral style is suitable for both moms and dads, and it comes in several colors, so there's a style for just about everyone. If you're looking to get a lot of bang for your buck, this stylish diaper bag is for you. It is also a good choice as a baby shower gifts.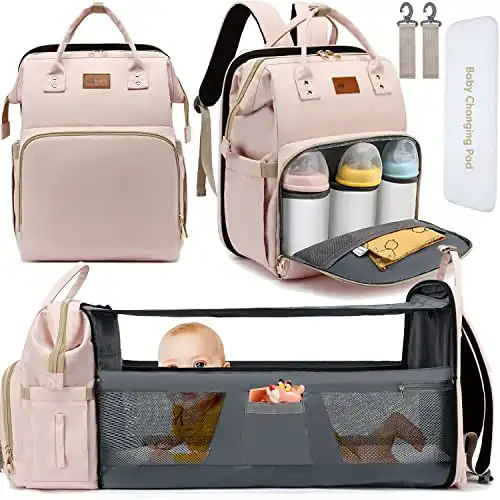 We earn a commission if you make a purchase, at no additional cost to you.
Most of the bags I've listed today have room or pockets for baby bottles. But this is the first one I've found that has more than two pockets for bottles. This backpack bag has three built-in insulated bottle pockets, situated in the front pocket flap for easy access. SO great for on-the-go with a hungry little one.
One of the other unique features of this diaper bag is an expandable crib and changing pad. This extends from the back. It's a feature I haven't come across in a mom bag, and I really like this option.
Mia + Sophia Leather Diaper Bag Backpack with Changing Pad, Stroller Straps, Bottle Holder (Brown Olivia)
PREMIUM MATERIALS - Unlike other brands, this newly redesigned diaper bag offers the highest quality YKK zippers, luxe gold hardware, premium vegan leather, easy to clean nylon interior, and reinforced straps for longer durability and comfort
STYLE AND FUNCTION – This design is a true crowd pleaser with its luxurious style and discrete appearance; includes 1 changing pad, 1 insulated milk bottle holder, 2 stroller straps, and 1 shoulder strap; can be worn as a backpack, crossbody or purse
BUILT-IN USB AND POWER CABLE - Allows for instant charging of your mobile devices while on the go such as your cell phone, tablet, or bottle warmer; portable battery must be purchased separately
LARGE CAPACITY – This multifunctional bag offers 15 pockets, 10 internal, 5 external, 6 insulated; large center compartment with plenty of room to carry your laptop and breast bump; key leash also included
100% SATISFACTION GUARANTEED – Rest assured, our customer support and product quality are unrivaled; if you are unsatisfied for ANY reason, contact us and we will be sure to put a smile back on your face; VIP members receive a 1 yr extended warranty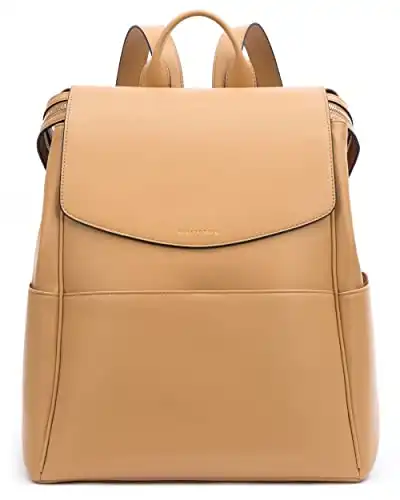 We earn a commission if you make a purchase, at no additional cost to you.
With its effortless minimal design, and durable leather fabric, you can't go wrong with this one.
The compartments are large with 15 pockets total. There's also an insulated holder for a bottle and a changing pad.
Even better, there is a built-in USB and power cable, which is so convenient for easy charging on-the-go! A charged mama is an empowered mama!
Mom Purse to Hold a Water Bottle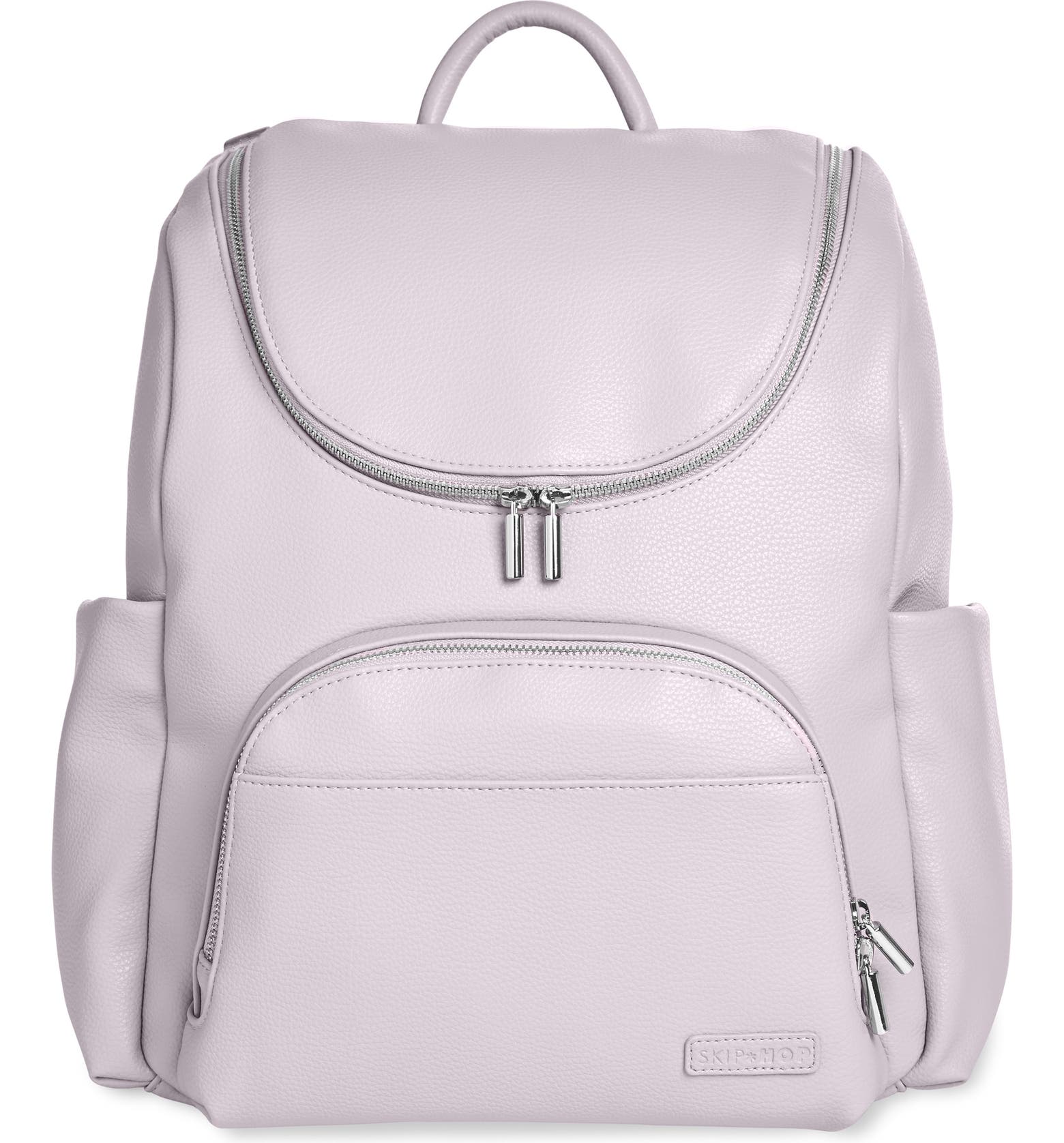 I am living for this purple! This one has a pacifier pocket for easy access. How cool is that?
Also included is a large main compartment to fit several or big items. The side pockets are perfect for carrying adult-sized water bottles.
This backpack bag is so versatile that it can last years beyond your mothering needs. It makes a great laptop bag as well.
Breast Pump Bags
mommore Breast Pump Bag Diaper Tote Bag with 15 Inch Laptop Sleeve Fit Most Breast Pumps like Medela, Spectra S1,S2, Evenflo (brown)
Large Capacity: 26L, Total 12 pockets including 3 insulated pockets, 15" laptop pocket, breast pump pocket, mommy pocket etc.
Side Opening Design for Breast Pump: The one side pocket open into the main bag are specially designed for breast pump like Spectra S1, S2, Medela, Evenflo and so on. The other side pocket is a separate pocket can keep your pumping parts stay on one side.
3 Insulated pocket& Laptop Pocket: 3 insulated pockets can hold breast shields, milk bottle, wipes. And laptop pocket specially designed for tablets or laptop up to 15''.
Durable& Stylish: made of water resistant material, tear resist and easy to wipe clean; Stylish & elegant in design with smoothly metal zippers.
Comfortable on the Go: Come with a removable padded shoulder strap( 28''-54''). It can converts from a shoulder bag to a cross-body style with ease. The back strap allows you to fix bag on your luggage when you travel.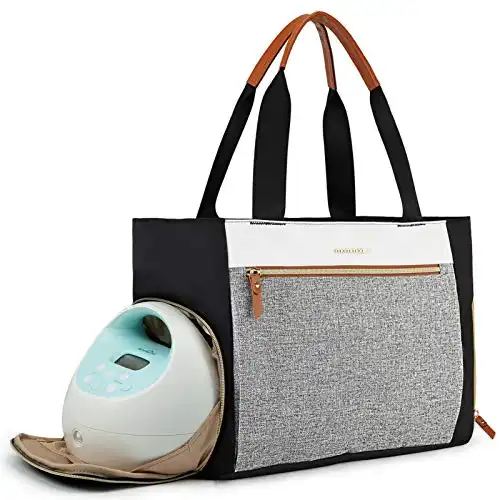 We earn a commission if you make a purchase, at no additional cost to you.
This breast pump bag comes highly rated! It's large and has two strap length options. Three insulated pockets and other compartments for easy organization.
There are two large zipper pockets on the sides, big enough to fit a breast pump. This way you don't have your breast pump showing in the main compartment with everything else you store. It's discreetly tucked away in the side pocket.
It's a stylish and cute design and great for on-the-go!
Damero Breast Pump Backpack with Compartment Compatible for Spectra S1, S2 and Cooler Bag, Travel Pumping Bag with Padded Laptop Sleeve for Working Moms, Black, Patent Design
UNIVERSAL: The Laptop Breast Pump Backpack fits for most breast pump (Such as Spectra S1, Spectra S2 and Medela) and cooler bag. NOTE: No Breast Pump and Cooler Bag Included.
UNIQUE DESIGN: A padded compartment with the magic tape can fit the laptop. Front zipper opening design for breast pumps and cooler bag in and out easily.
MULTIPLE POCKETS: This large breast pump bag have many pockets to keep your item in place. Inner mesh pocket for your breast pump parts, side pockets for your breastfeeding bottles and baby wipes. The front and back zipper pockets is ideal to store keys, phone, wallet, etc..
TWO-WAY TO CARRY: The top handles and adjustable wide shoulder straps are comfortable and give you two options to carry. Perfect for working moms, professionals, executives and moms on the go!
DIMENSION: L12.5" x W8" x H16.5". This portable breast pump tote bag is made of high quality nylon material. Elegant and suitable for many occasion like shopping, working or traveling.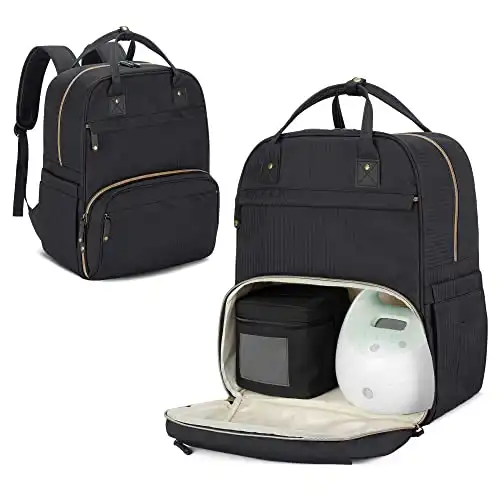 We earn a commission if you make a purchase, at no additional cost to you.
This is a similar idea to the breast pump bag, but in backpack form. There is the large main compartment for your items, and the front pocket is for breast pump storage.
It also comes with a small insulated cooler bag for breast milk.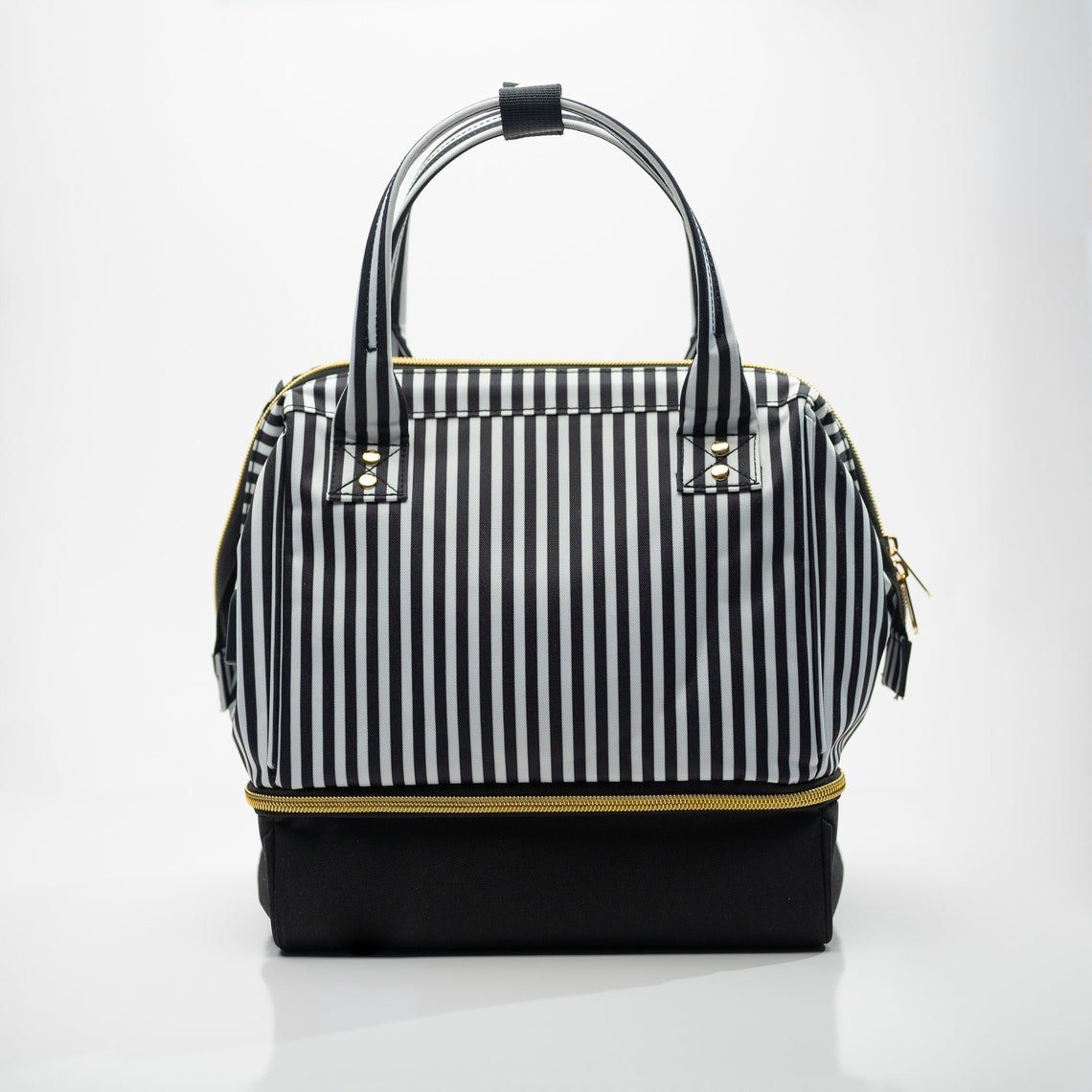 If you're looking for a smaller breast pump bag, this is the perfect option. It can be worn as a handbag or as a backpack.
There is just enough room for all your breast pump supplies + your essentials. There is a built-in USB charge port, and 5 pockets, 2 of which are insulated. It also comes with an insulated lunch bag. The perfect purse for working mothers!
Looking for more crossbody bags? Check out this post for more than 25 options. Or find backpack diaper bags and backpack purses that will fit your style!
Find tips on designer bags, from Louis Vuitton to Chanel.
Love coordinating with your little one? Here's the best places to shop for mommy and me outfits!