A diaper bag is one of the most essential parent gears. They're a necessity no parent can do without.
And every parent has faced the awkwardness of carrying bulky, often hideous-looking diaper bags to dinners and movie nights. Not only can these bags look unappealing but some of them don't even fulfill their purpose.
But, what if we tell you that there are some excellent backpacks that make for efficient diaper bags too?
I used a traditional diaper bag – one with one strap shoulder bag after I had my first baby. And while it did the job, it wasn't my favorite. It also wasn't my husband's favorite either!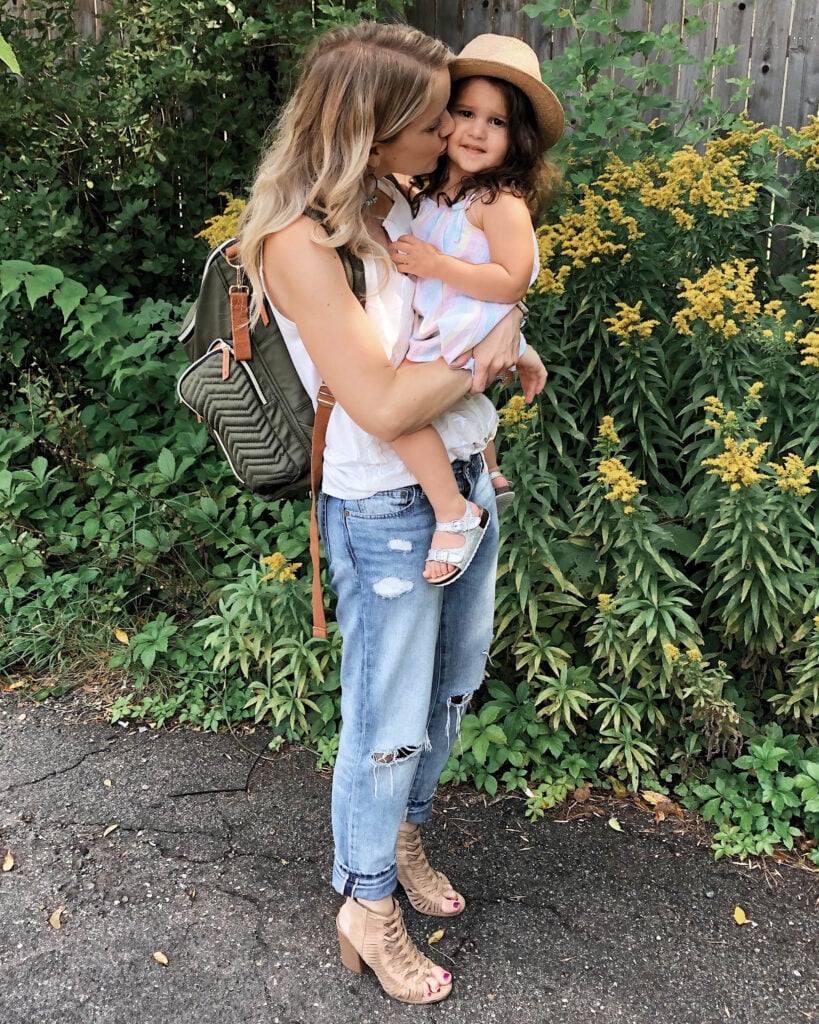 We had our first 2 kids 18 months apart so I was oftentimes carrying a carseat and an 18 month old at the same time which left little room for a messenger bag as my diaper bag. I needed a backpack. And quick.
I actually immediately put all of my diaper diaper bag essentials in a backpack I already owned (a Lululemon one) and quickly realized that backpack diaper bags was WAY better than a one strap diaper bag!
Once I realized that I quickly started looking for a backpack that was actually a diaper bag rather than using the backpack I had. Diaper bag backpacks have the necessary organization you need in a diaper bag like bottle pockets, insulated pockets, and more.
Why A Backpack Is The Best Type Of Diaper Bag
Compared to regular diaper bags, diaper backpacks offer several benefits, making them a popular choice for carrying baby necessities.
If you are someone who likes being prepared for baby emergencies when out and about whether you're heading out to dinner or going to a play date (and trust us, there will be many) and thus carries your whole world inside a bag, a backpack is a perfect choice.
Here are a few more reasons why a backpack should be your diaper bag of choice.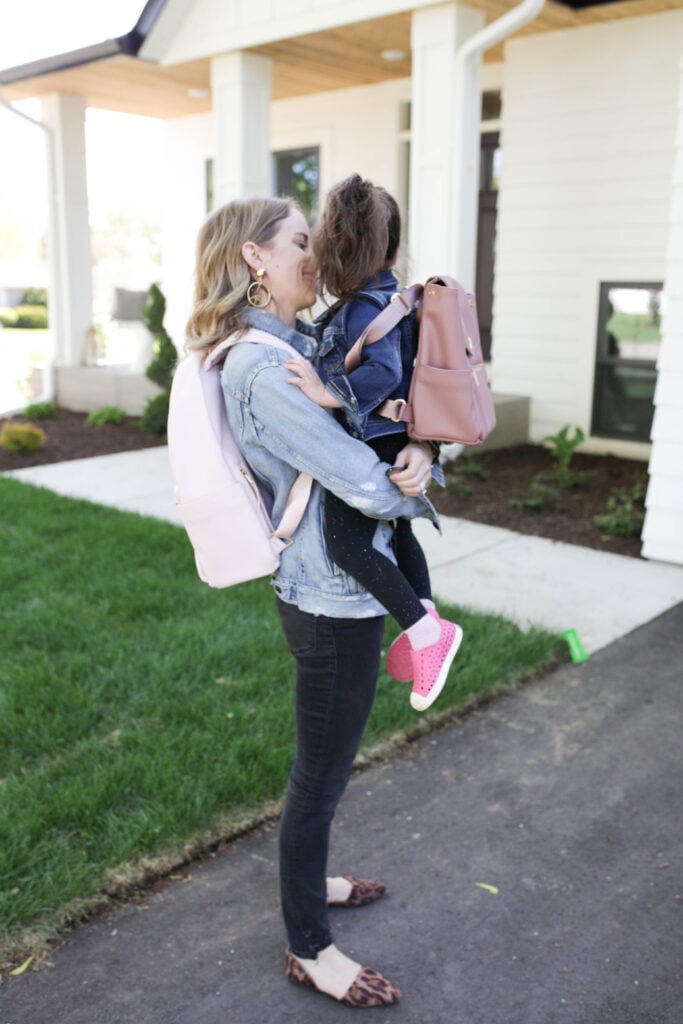 Versatility
Diaper backpacks come in diverse shapes, colors, and sizes. That means you don't have to use the bag only for carrying around baby necessities.
Whether you have to pack for a weekend getaway or go out for a quick shopping trip with your kid, a backpack is a versatile bag that can be used for every occasion.
This also increases the longevity of your bag! I have several backpack diaper bags and since my youngest is 2.5, I don't need quite as much stuff every time I leave the house. But these backpacks still are in heavy rotation from weekends to the cabin or even carrying my work stuff!
Bonus – my husband loves them too!
Comfort
Standard shoulder diaper bags can put excessive pressure on your shoulders and arms because of uneven weight distribution. That's not the case with diaper backpacks.
Diaper backpacks are efficiently built with padded straps and some with a padded back, so they do not put a strain on your neck or body. Sling them comfortably on your back, and they leave you hands-free to do other things (like carry carseats, babies, etc.!
Efficiency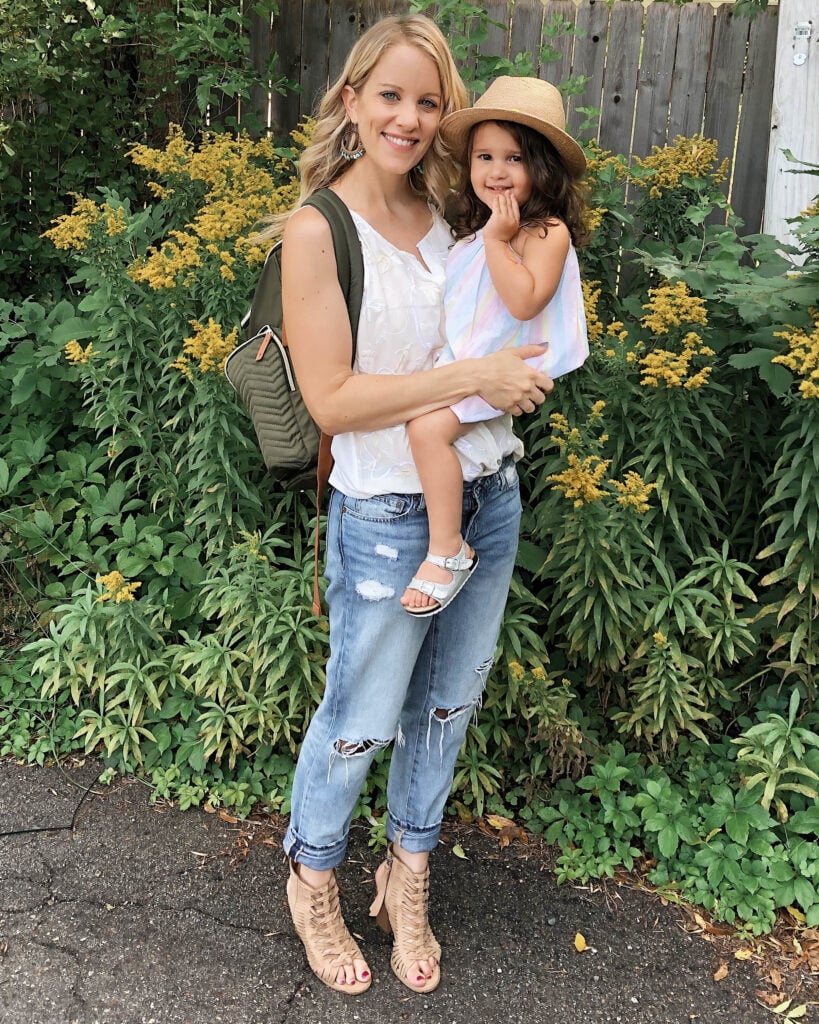 Efficiency is a major factor to consider when purchasing any baby bag, and this is the highlight of a diaper backpack. Not only does a diaper backpack leave you hands-free, so you can carry your baby or engage in different tasks, but these bags also have multiple compartments and plenty of space to organize your baby's essentials along with a few personal items.
You don't want to be digging through one giant compartment for that lost pacifier when your child is screaming during the middle of dinner. Some of the best diaper bags on this list of special compartments for all of baby's necessities.
Universal
Diaper backpacks look quite different from standard diaper bags. They often have a unisex design, making them ideal for moms and dads alike.
Things To Consider Before Buying A Backpack
Before you invest in a good diaper bag, there are a few factors that you should take into account:
● The bag should be large enough to hold all the essentials without creating clutter.
● The bag should be adaptable for both men and women.
● There should be multiple compartments and pockets to ensure optimal organization.
● The interiors should be insulated for storing milk or food.
● The straps of the bag should be comfortable, and the design of the bag should be ergonomic so that it does not strain your shoulders or back.
20 Best Backpack Diaper Bags for Mom & Dad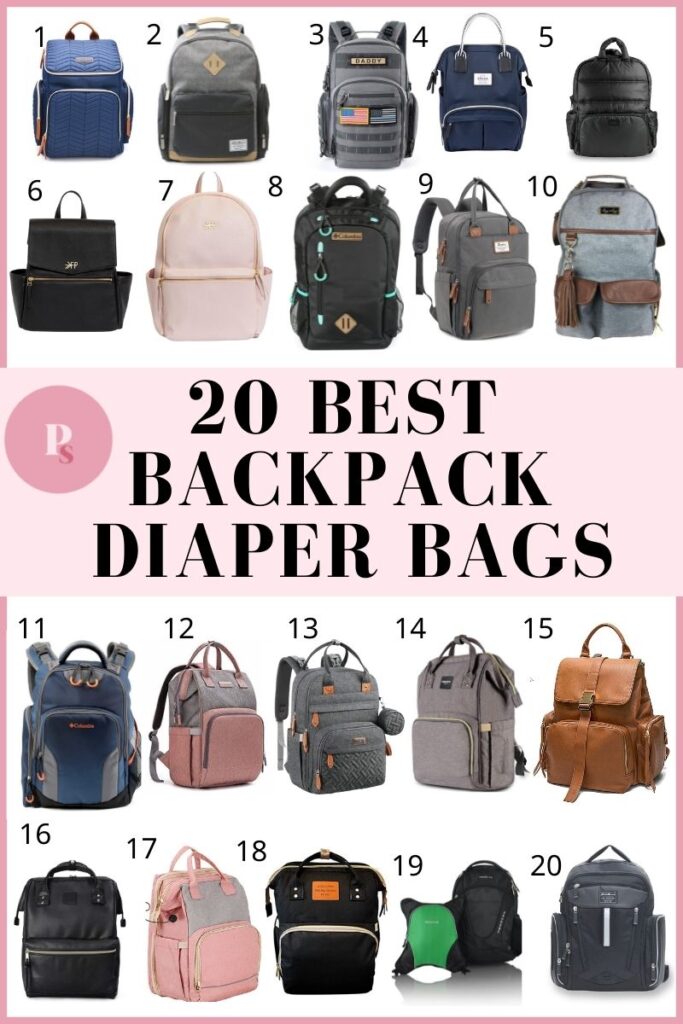 Paisley + Sparrow is a participant in the Amazon Services LLC Associates Program. This post may include affiliate links which means I may earn a small commission if you shop using the links below at no additional cost to you.
Finding a bag that meets your personal preferences and requirements can be challenging. To make it easy, here's a curated list of the 20 best diaper backpacks for you to pick from.
Best Overall Backpack Diaper Bag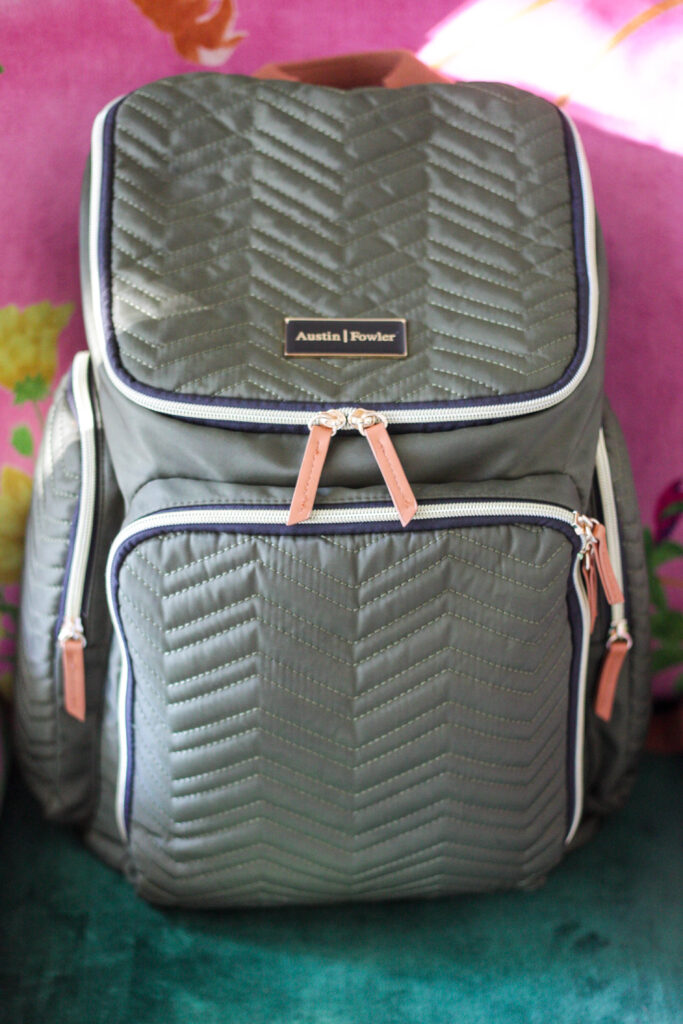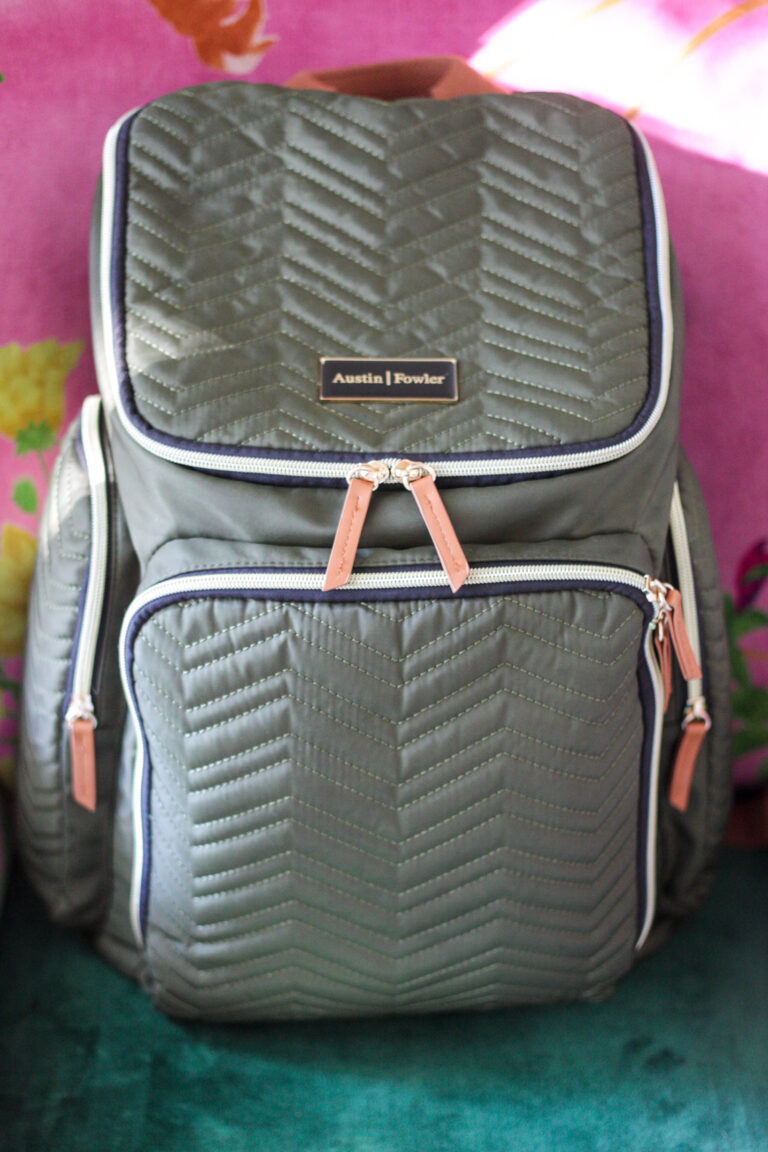 Offering all the features expected in a good diaper backpack, the Austin Fowler backpacks top our list. This is the one that I've personally used for over 4 years!
Austin Fowler was created by a mom of twins who wanted more organization. You know a good product when it was created to solve someone's own problems!
This backpack comes with two insulated pockets on the outside, six separate pockets inside, a zipper pocket to secure smaller items, and two luggage sleeves that help to attach the bag to a stroller. It's a sturdy bag that can accommodate all your baby supplies while looking absolutely stunning!
Best Backpack Diaper Bag For Dads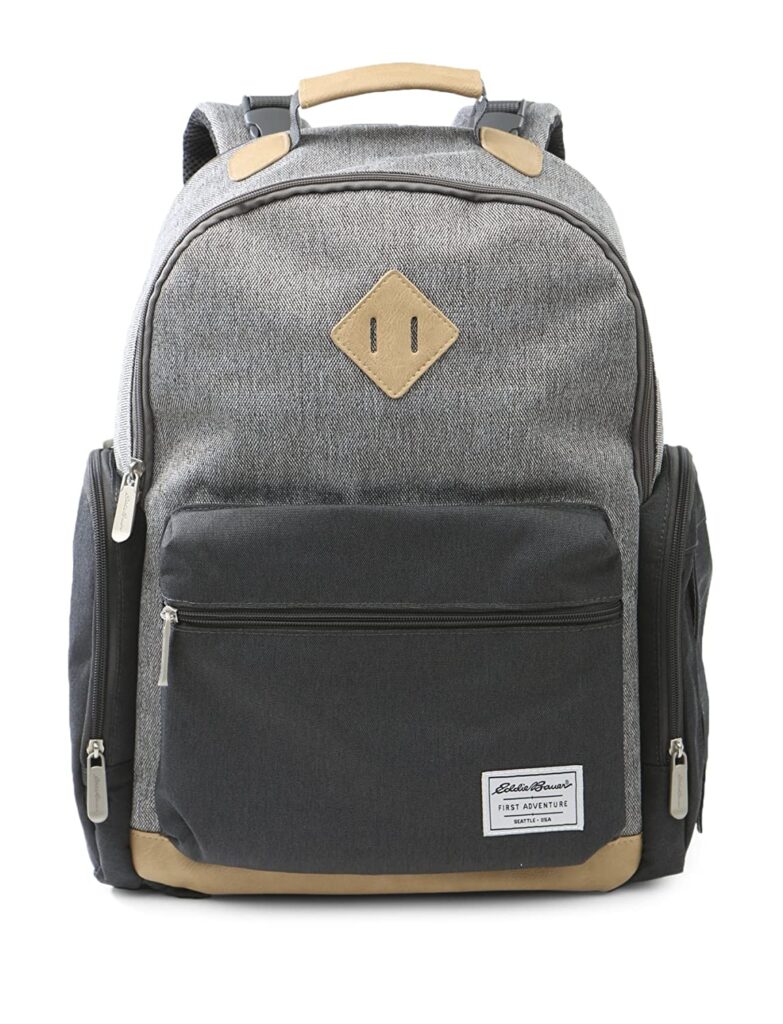 Why should only moms get their pick of stylish and functional diaper bags? The Eddie Bauer diaper bag is a perfect fit for all the dads out there. Made from 100% polyester, this diaper bag is available in three different colors — black, gray, and gray/tan. It is incredibly spacious, has seven pockets to stay organized, 1 outside and 2 interior insulated bottle pockets and is highly durable.
There is a removable changing pad and side pocket for holding wipes to make them easily accessible!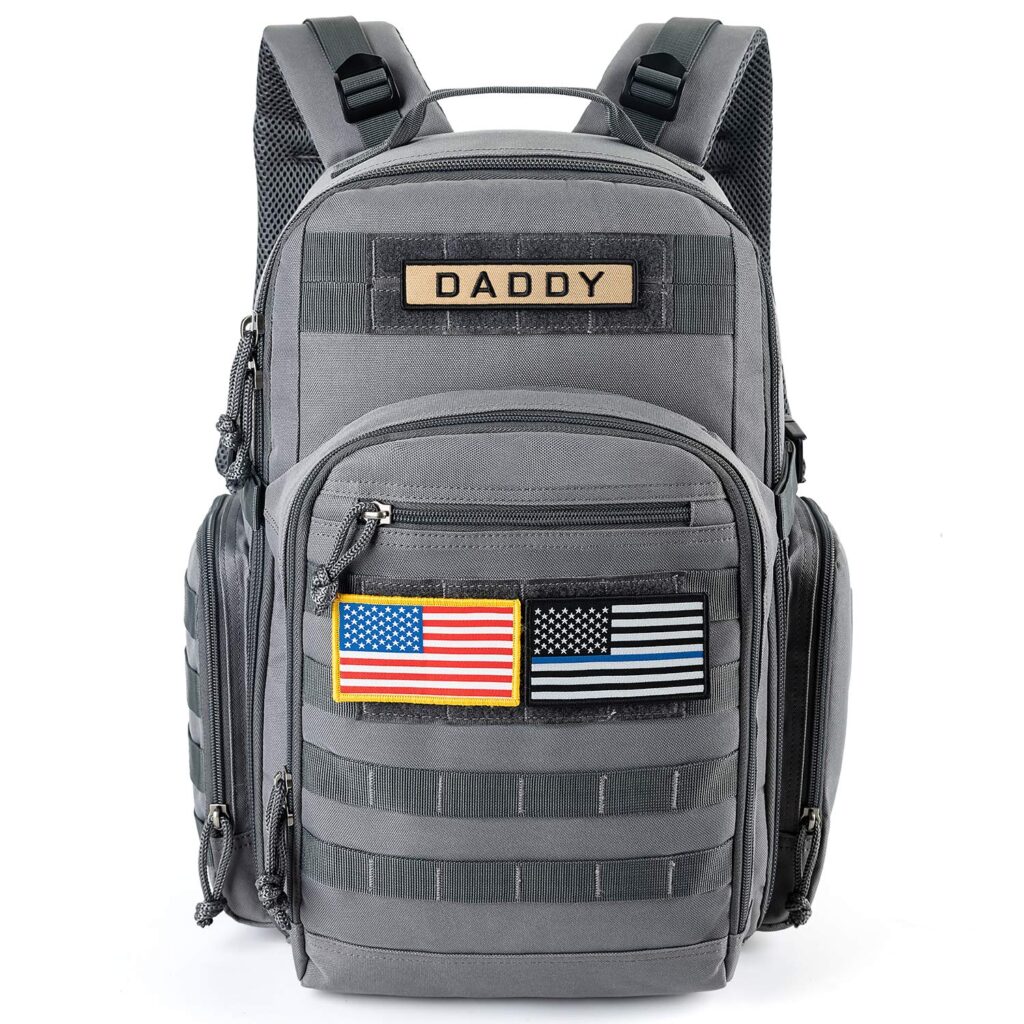 A multifunctional diaper bag that's stylish, efficient, and great for traveling. This MIRACOL diaper bag is made out of 100% polyester and is built with 12 pockets and 4 large compartments — large enough to accommodate all baby essentials in an orderly manner.
There's also 2 insulated pockets for baby bottles, a side pocket for wipes and even a special insulation layer at the back to store wet clothes! They've truly thought of everything!
It comes with a removable flat and "DADDY" velcro to use if you want or leave off if you don't!
Best Backpack Diaper Bag For Travel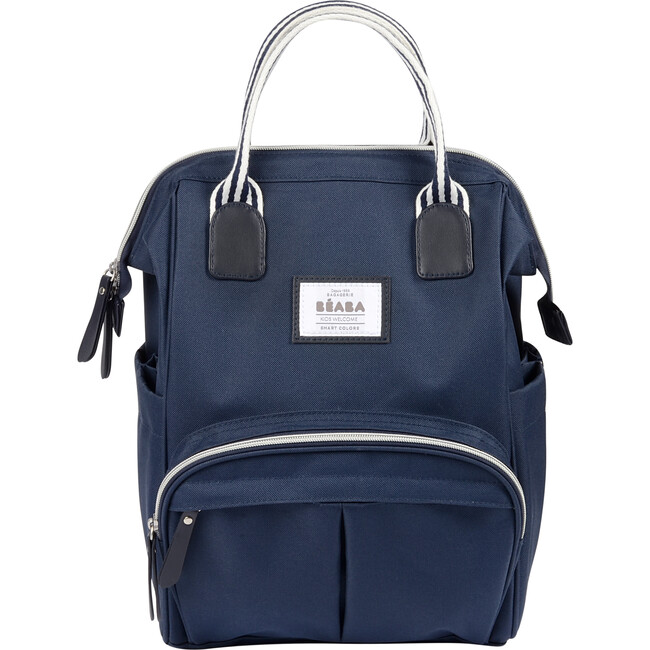 Hands down the trendiest and the most convenient backpack for avid travelers! A dream for organizers, all the items placed inside the Wellington diaper bag are easily accessible. No more rifling around in the bag to find what you need!
There's a large opening on the top (like a doctor's bag) making it incredibly easy to access everything inside. This diaper bag has an isothermal pouch, padded changing mat and stroller straps. It's also water-resistant!
Traveling requires you to do extra packing, for which you need a bag big enough like the Wellington backpack. Its ample storage space will keep your travel blues away.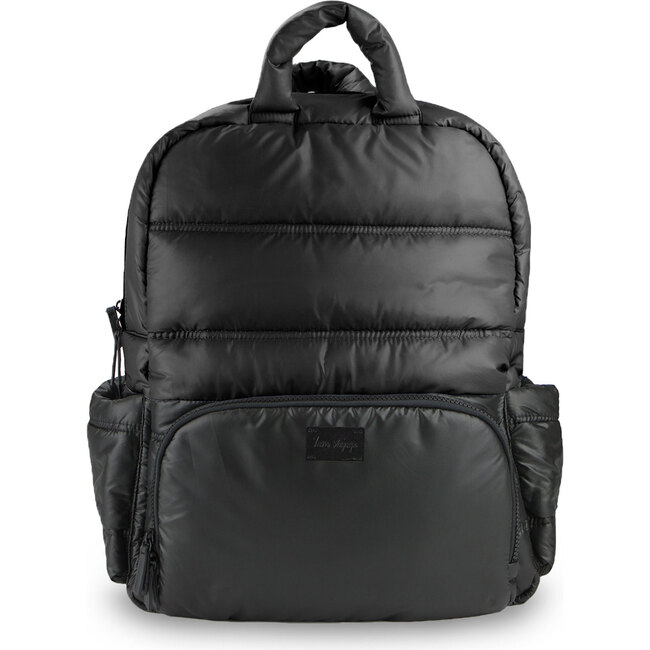 Want to be stress-free and hands-free while on a trip with a kid? The 7AM Enfant diaper backpack is just what you need. It is a lightweight, machine-washable sturdy travel companion.
With three exterior pockets, seven interior pockets, adjustable shoulder straps, two stroller straps, cushioned pads, a wallet pocket, a laptop sleeve, and a suitcase handle, the bag offers an endless list of features that are excellent for traveling.
Best For Stylish Moms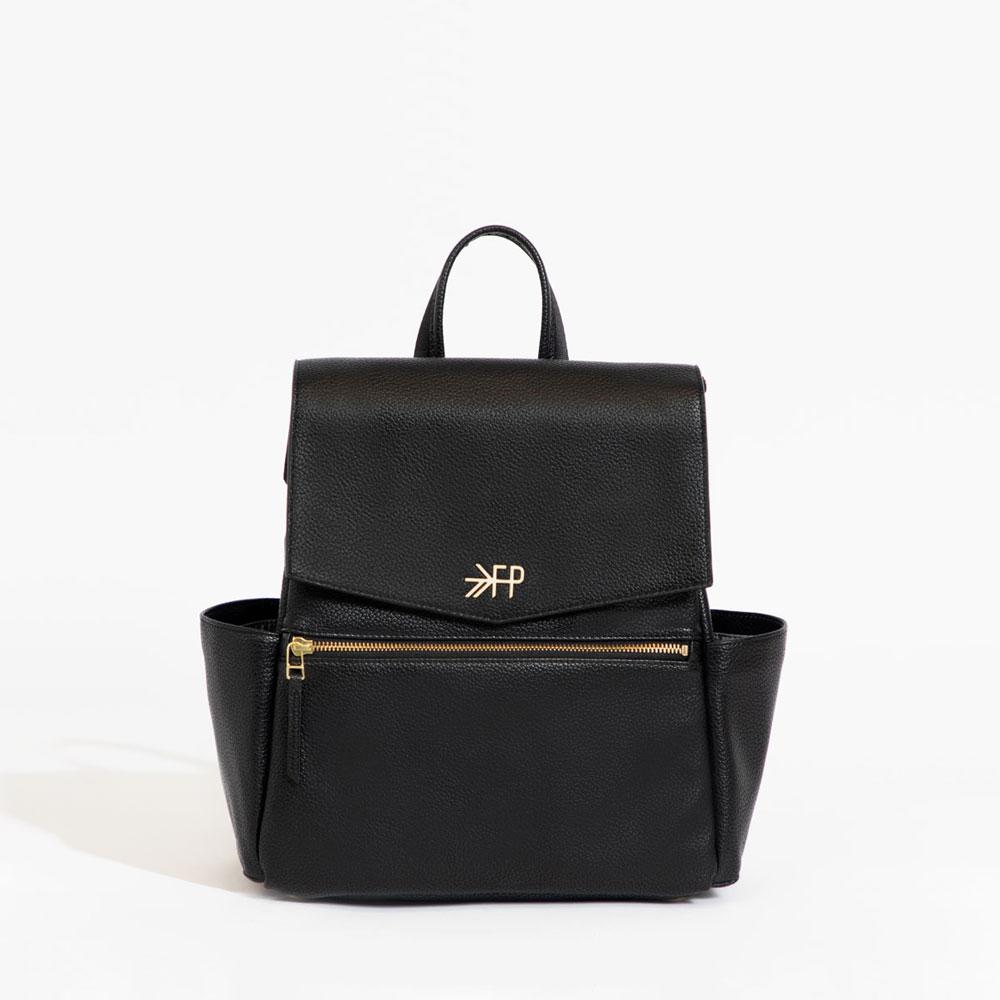 The Freshly Picked's Mini Classic bag II is perfect when you are out for lunch or dinner with your kids. Super cute and compact, the bag has an insulated interior pocket, bumped out side pockets is spill-proof, water-resistant, and helps you stay organized.
It also has adjustable straps so you can wear the bag comfortably any way you like and "grab and go" top handle to easily toss it in the car as you head out! This is a great bag for everyday use even long after it's a diaper bag!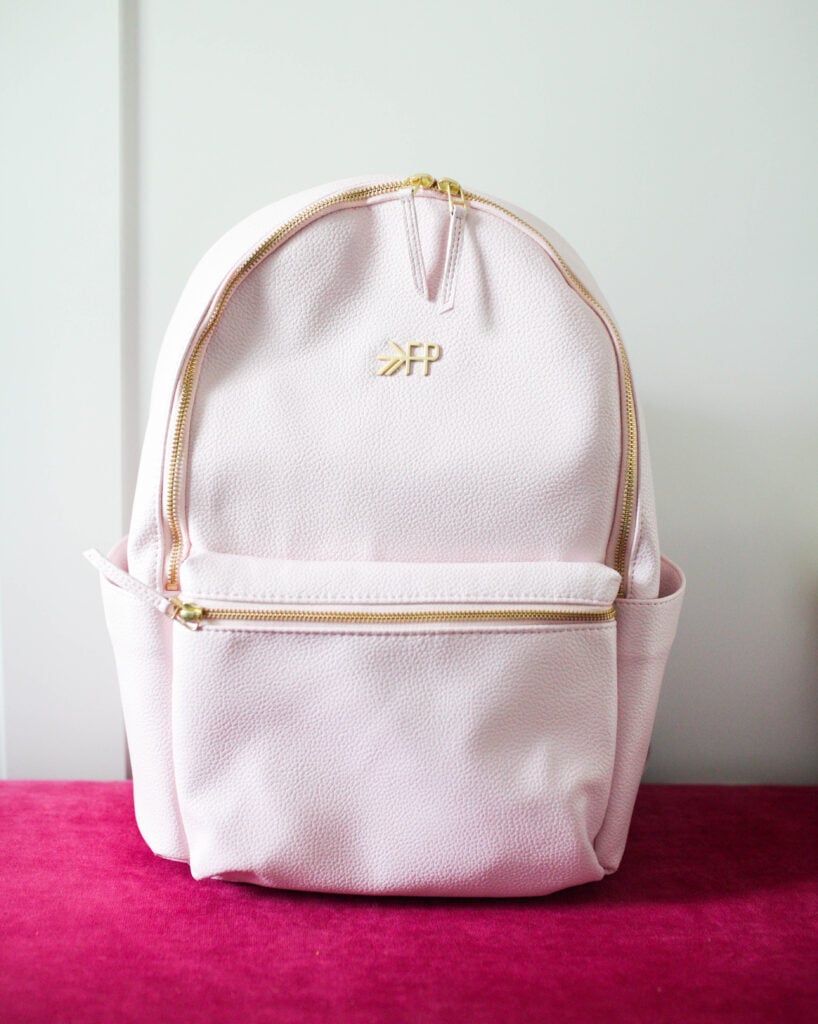 Another excellent pick from The Freshly Picked is their Classic City Pack II. Made out of vegan leather, the bag also doubles up as a laptop bag, travel bag, and work bag. It has an insulated pocket inside where you can safely keep your eatables. And the padded shoulder pads make this pretty bag immensely comfortable to put on.
It comes in beautiful colors (like blush pink!) and is a great option for a backpack diaper bag!
Best Backpack Diaper Bag For Hiking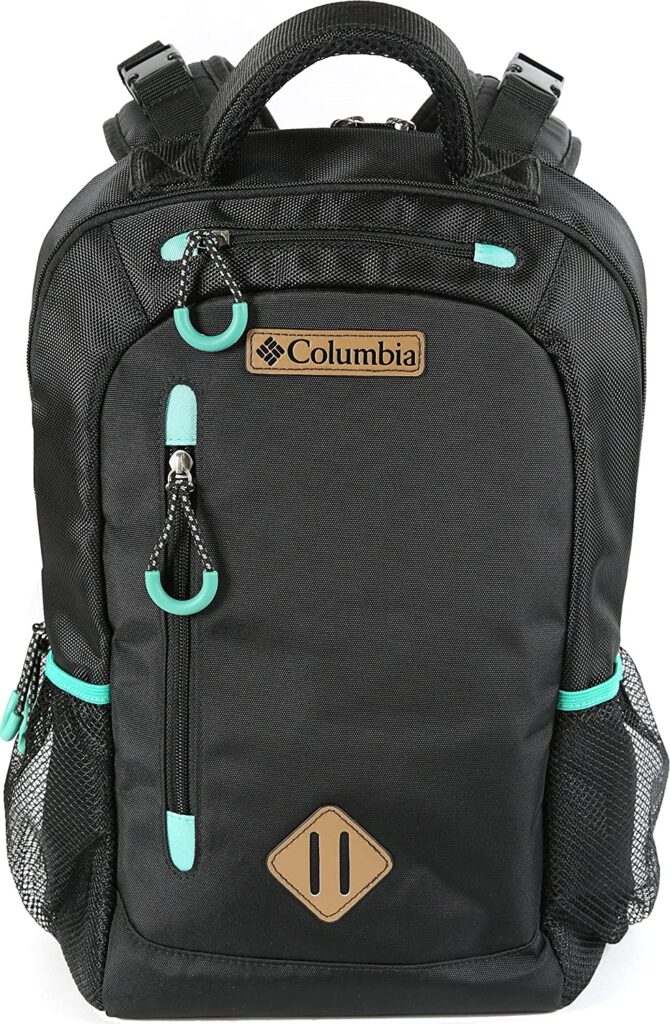 When you're on a hike, you want a bag that's sturdy and won't keep your hands engaged. The Columbia Baby Diaper Bag is a functional bag that'll provide the best hiking experience for you and your kid.
Available in two colors, black, and rust, this bag has multiple pockets and compartments that are insulated and padded for ease of use. A durable bag perfect for the outdoors!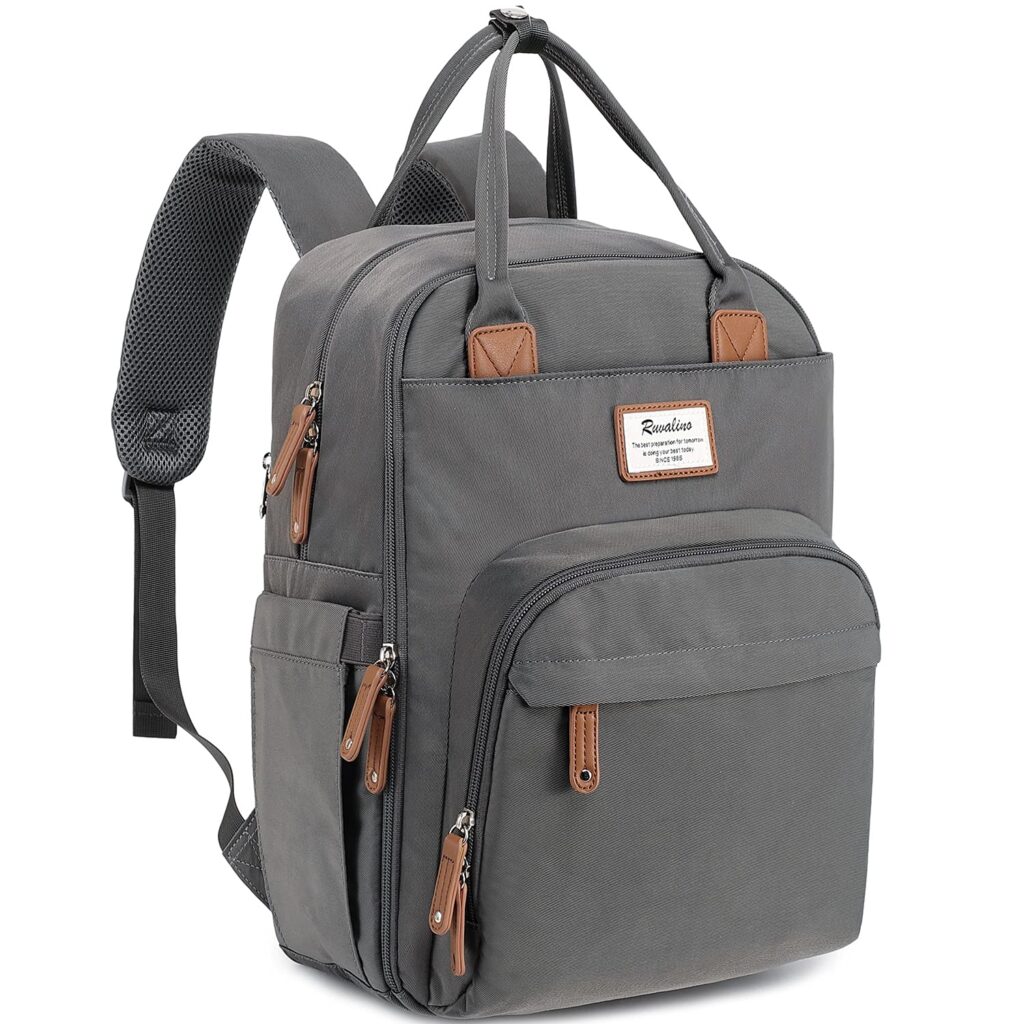 The RUVALINO travel backpack is spacious enough for all your baby's requirements — sixteen compartments, multiple pockets, and, best of all, an in-built changing pad. There's a "mommy pocket" to put your keys and wallet so you don't have to put them with all the baby gear and a convenient mesh diaper organizer! It's opens up extra wide to hep you find what you need quickly and easily!
With the padded shoulders of this backpack comfortably held on your back, hiking becomes effortlessly convenient.
Best Organized Backpack Diaper Bag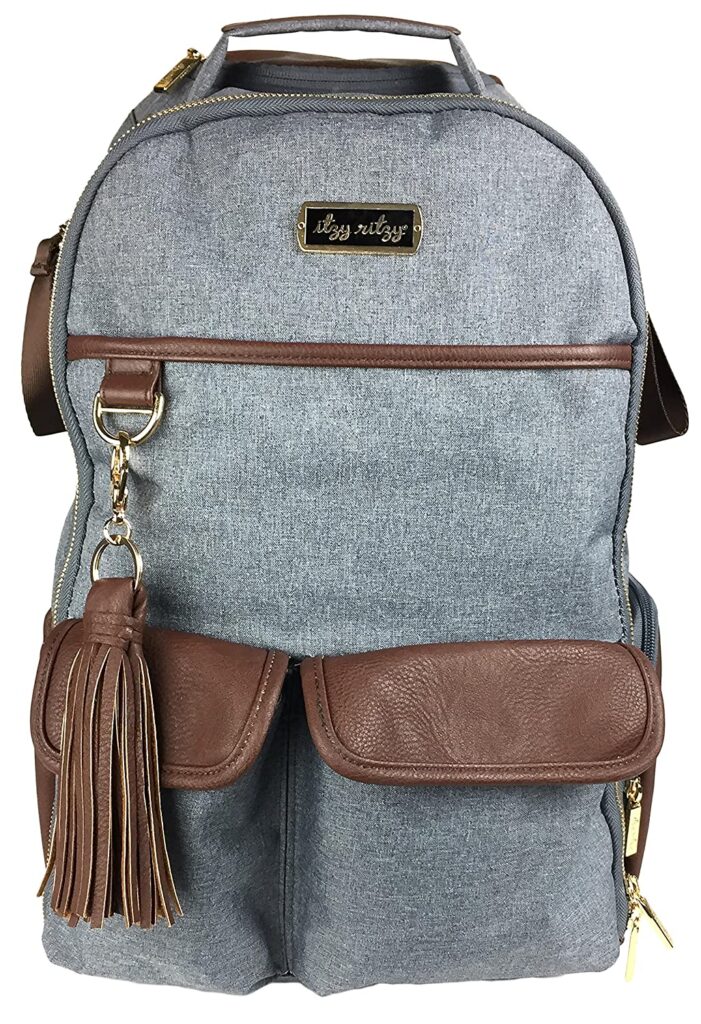 When you are on the go and running out of time, the Itzy Ritzy diaper backpack works wonders to keep you organized. With a total of 17 pockets, 7 outside and 10 inside, you can put all your baby necessities in one bag without juggling multiple items.
It even includes a felt lined valuables pocket and "parent pocket" for you cell phone and credit cards! The adjustable straps and the rubber feet on the bottom of the bag are bonuses!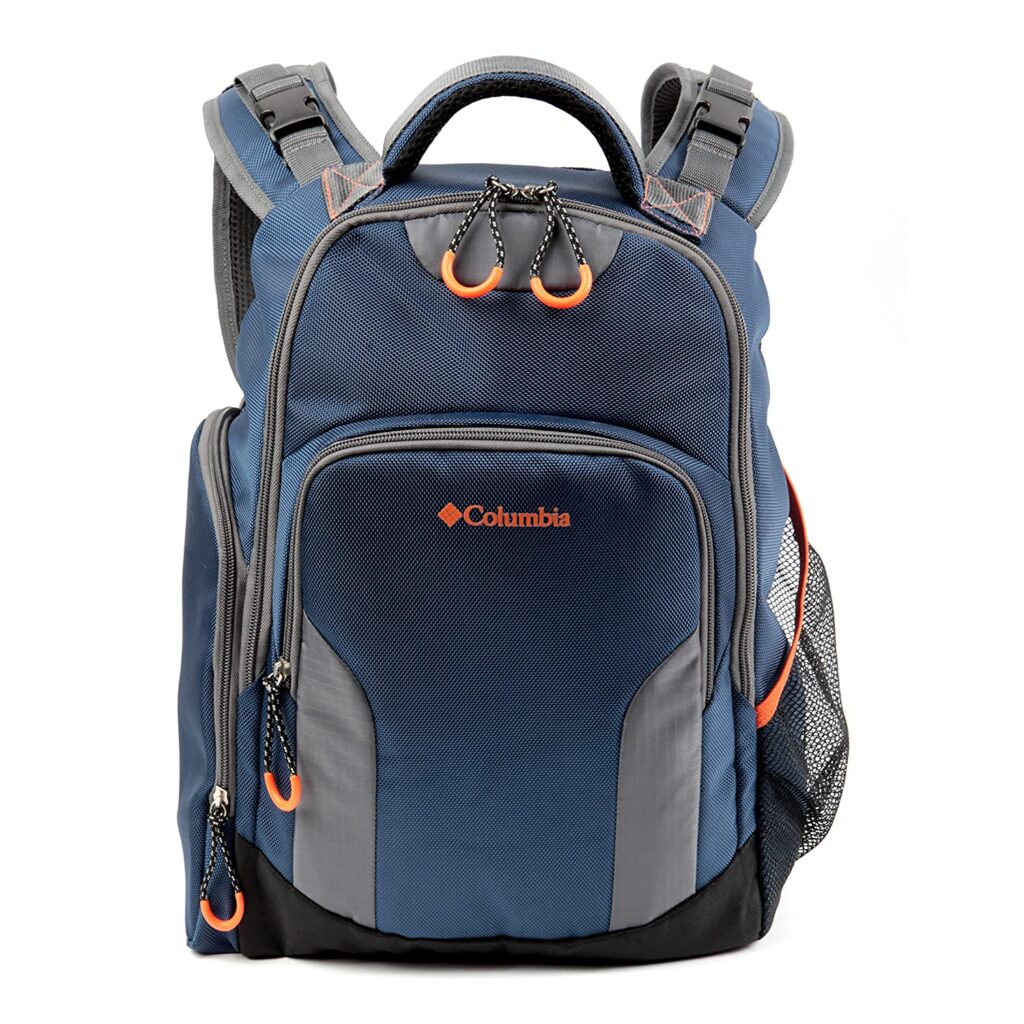 Stylish yet heavy-duty, the Columbia Summer Rush backpack provides easy access with multiple accessory pockets. You can not only place your kid's essentials securely but also store your gadgets safely.
It even has a thermal bottle pocket and a portable changing mat, making it a great multi-functional option.
Best Backpack Diaper Bag For Strollers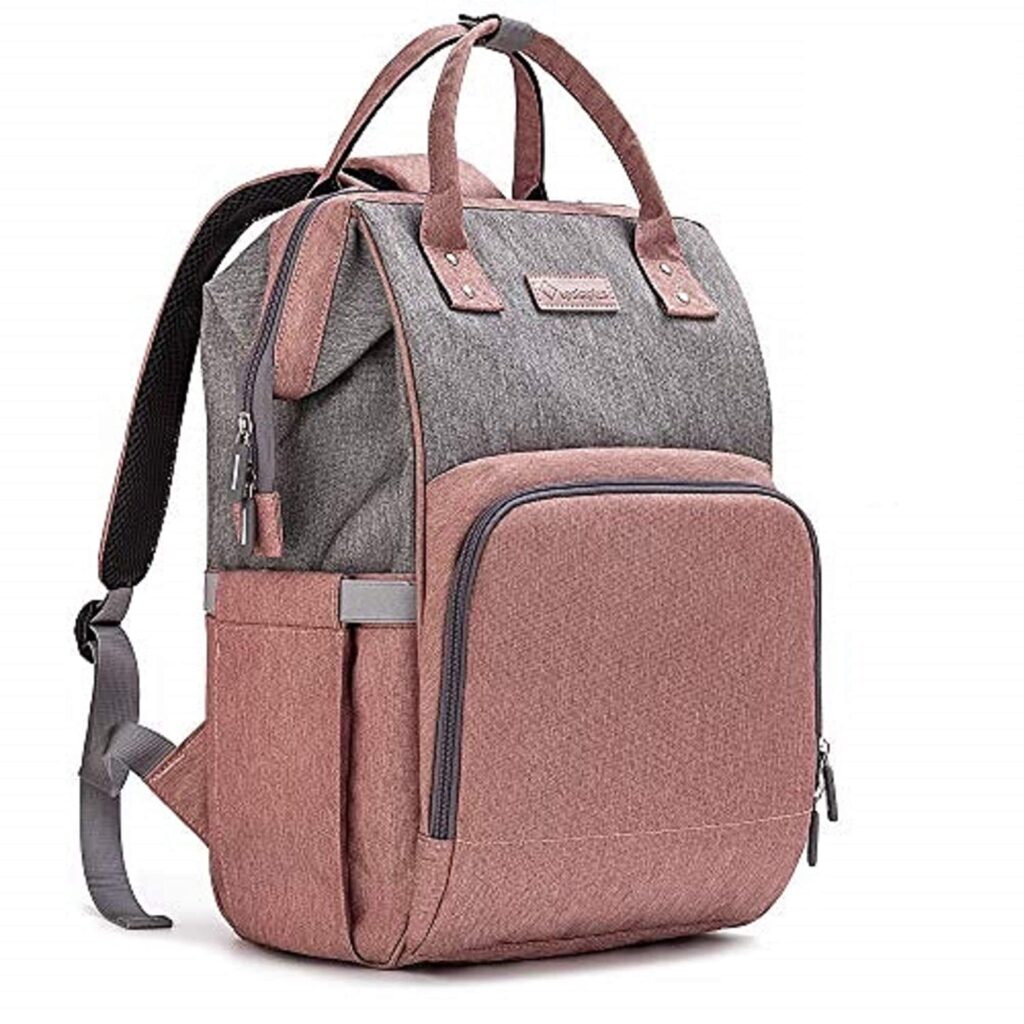 What's better than a backpack that can be carried on your shoulders? A backpack that can be easily attached to your baby's stroller! The Upsimples diaper bag is comfortable, stylish, and functional. It comes with two detachable straps that can be attached to the stroller. The bag also has a USB charging port so you can conveniently charge your devices using your power bank on the go.
There's also an antitheft zippered pocket to keep your valuables secure!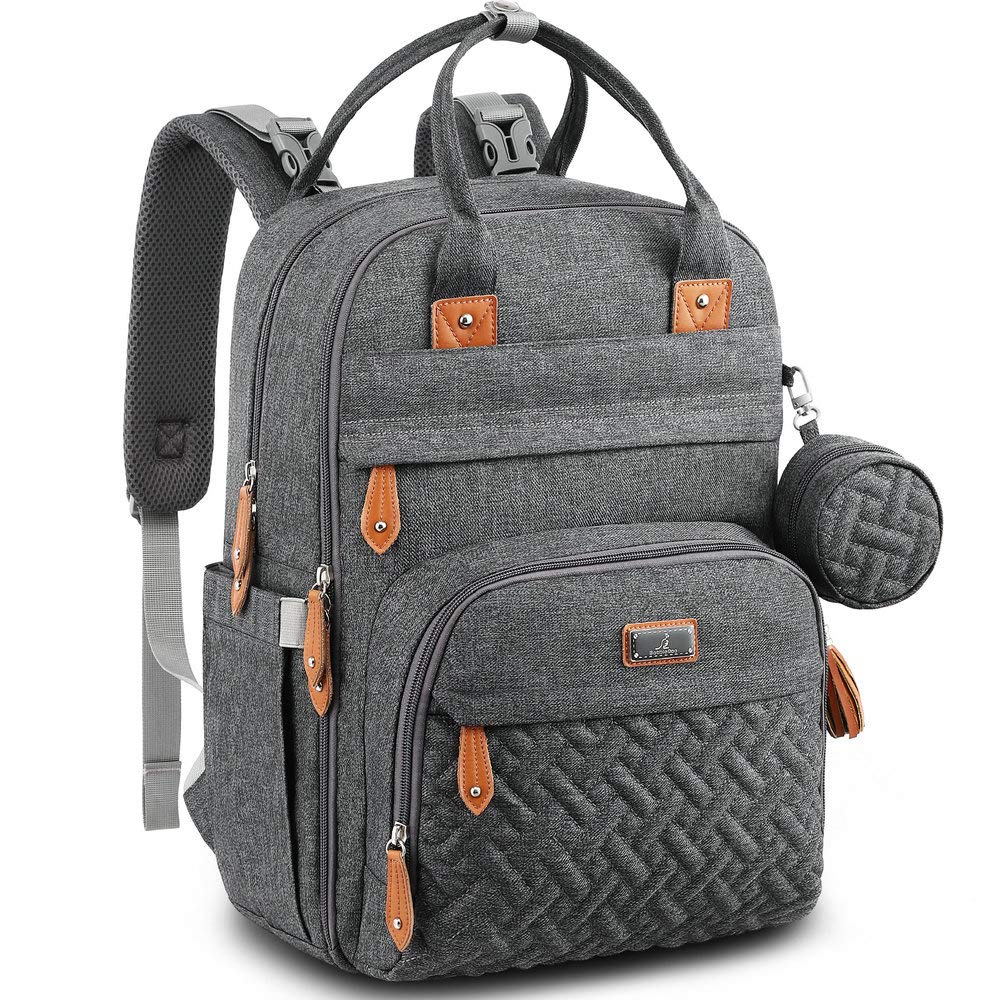 Generously spacious with multiple pockets, the BabbleRoo backpack includes a foldable changing pad, a separate pacifier holder, as well as stroller straps.
The bag also has stroller clips that make attaching the backpack to the stroller even more convenient. The shoulder straps are also cushioned to provide optimum comfort.
Best Budget Backpack Diaper Bag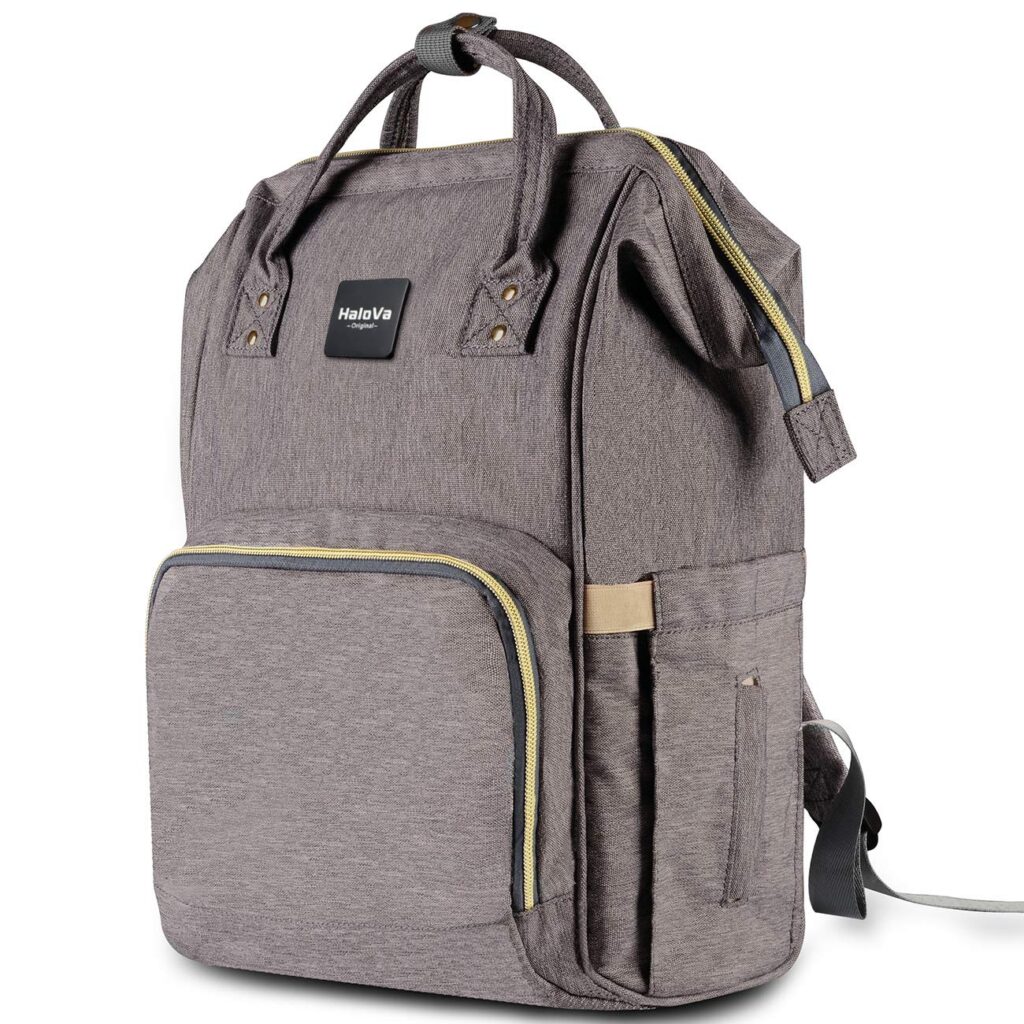 If you want a lightweight bag, comes in an array of colors and styles, can hold sizable items, and is budget-friendly, the HaloVa Diaper Bag should be your first choice. This sturdy bag can hold up to 40 lbs of weight without damaging the fabric. The bag is made of oxford fabric that is odor-free, resistant to damage, and can be both hand-washed and machine-washed.
Best Leather (& Faux Leather) Diaper Bag
15. Diaper Bag Backpack By Mominside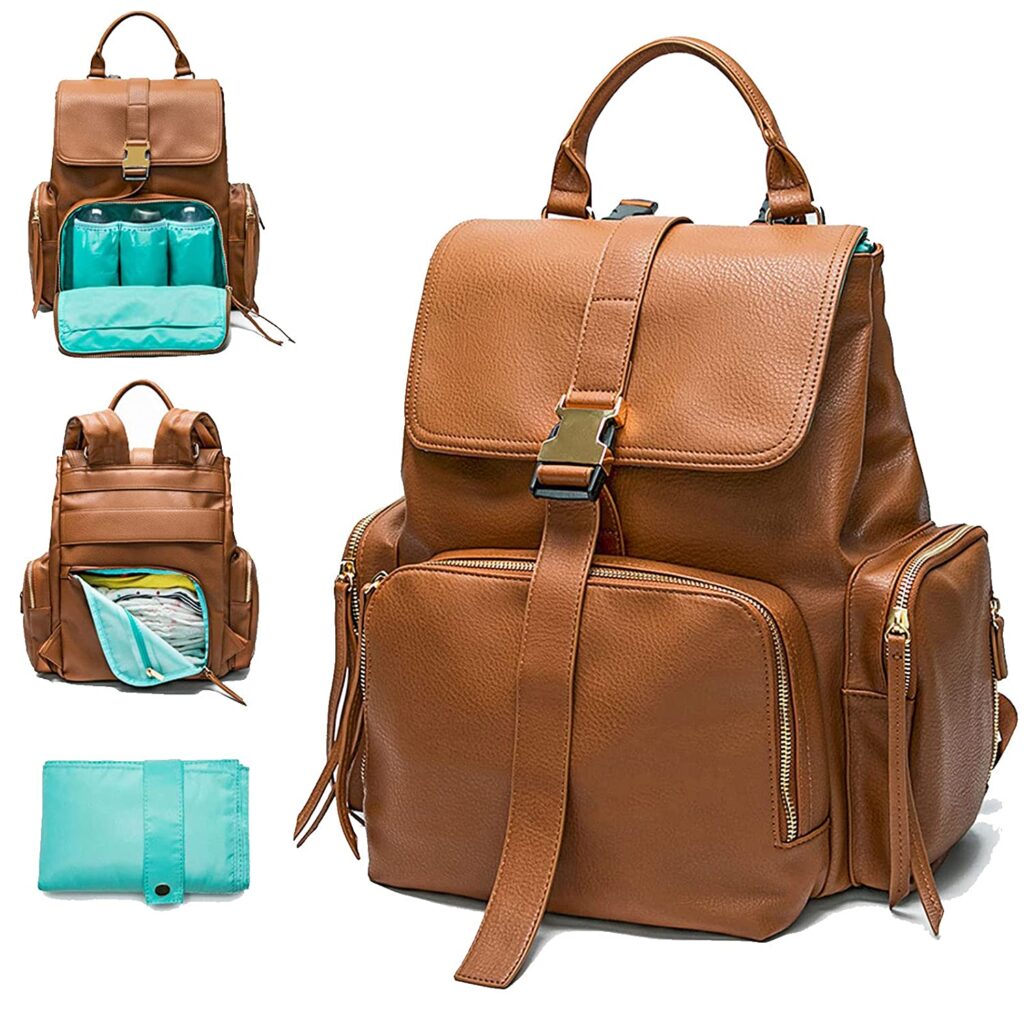 This exquisite leather backpack by Mominside is as stylish as it is comfortable. The bag comes with insulated pockets for easy food storage and is easy to clean.
Considering how compact and beautiful the bag looks, you would be surprised to know that it comes with 15 pockets to store all your baby items in an organized manner.
16. Kah&Kee Faux-Leather Backpack Diaper Bag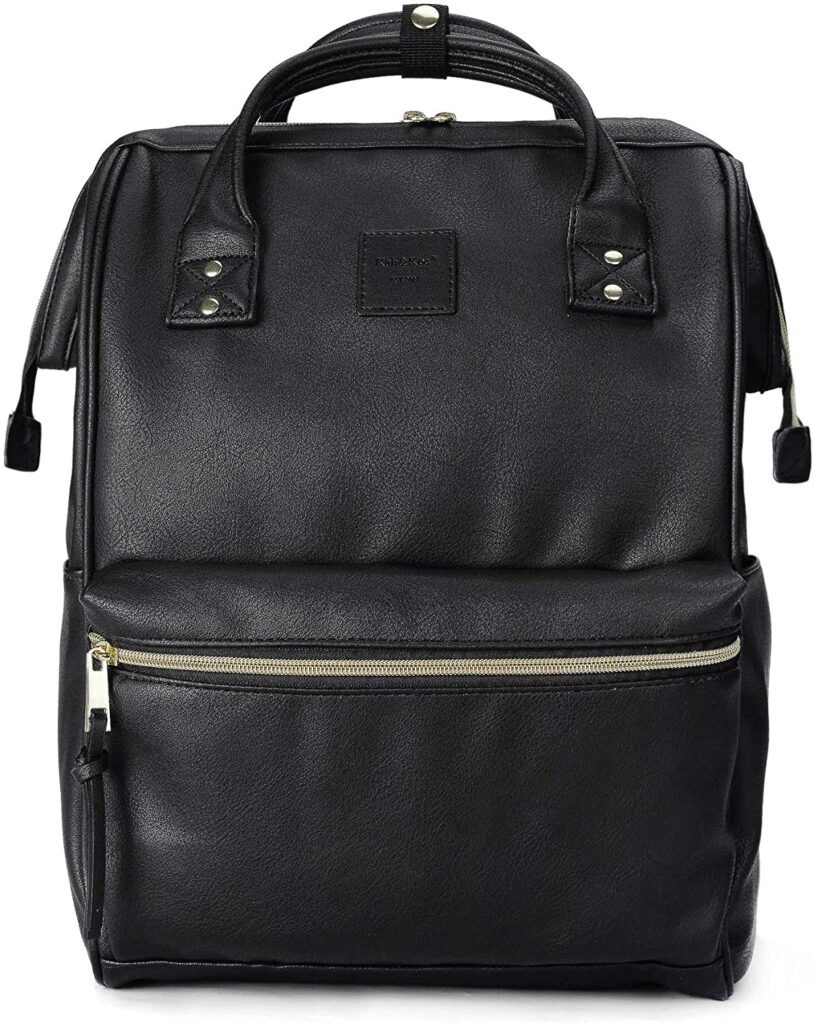 This faux leather diaper bag is one of the cutest diaper backpacks you will ever own. It looks nothing like your conventional diaper bags yet offers the same, if not better, features. Available in a variety of colors, the bag is quite spacious and can even be used as a laptop bag.
Best Multipurpose Backpack Diaper Bag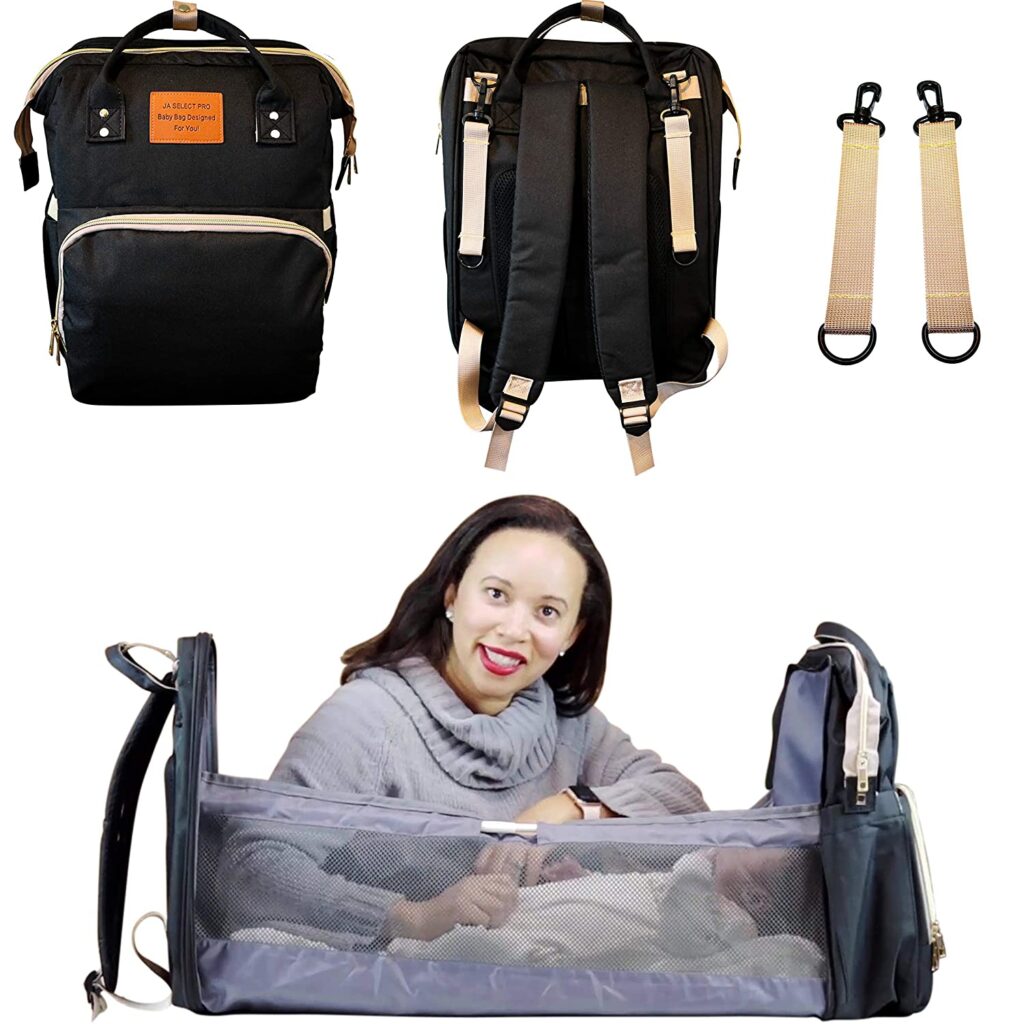 Made of high-quality, durable oxford material, the JA Select Pro Diaper Bag is a stunner. With multiple pockets and compartments, a stylish exterior, and an ergonomic design, this bag qualifies to be among the best multipurpose diaper bags.
Not only is it used as a diaper but it doubles as a baby travel bed! Use this at the beach or on vacation, it's such an amazing feature.
This bag can also be used as a shopping bag, a travel bag, a stroller, or a standard backpack.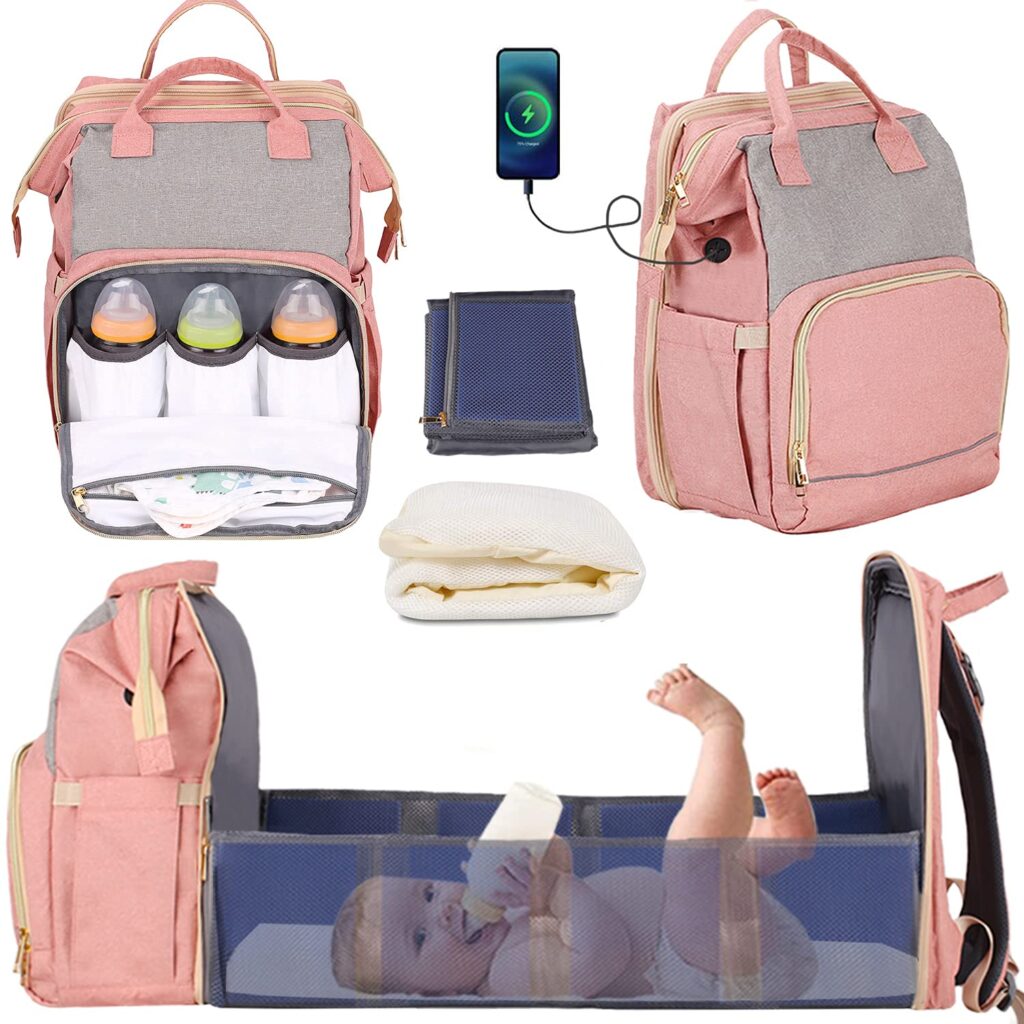 If you are looking for a backpack that can also be used as a changing station, a foldable baby bed, as well as a diaper bag, then you need the Manrany 3-in-1 diaper backpack in your life.
Along with all these multiple features, the bag is also waterproof, provides ample storage space, and is light and convenient to carry around.
Best Cooler Backpack Diaper Bag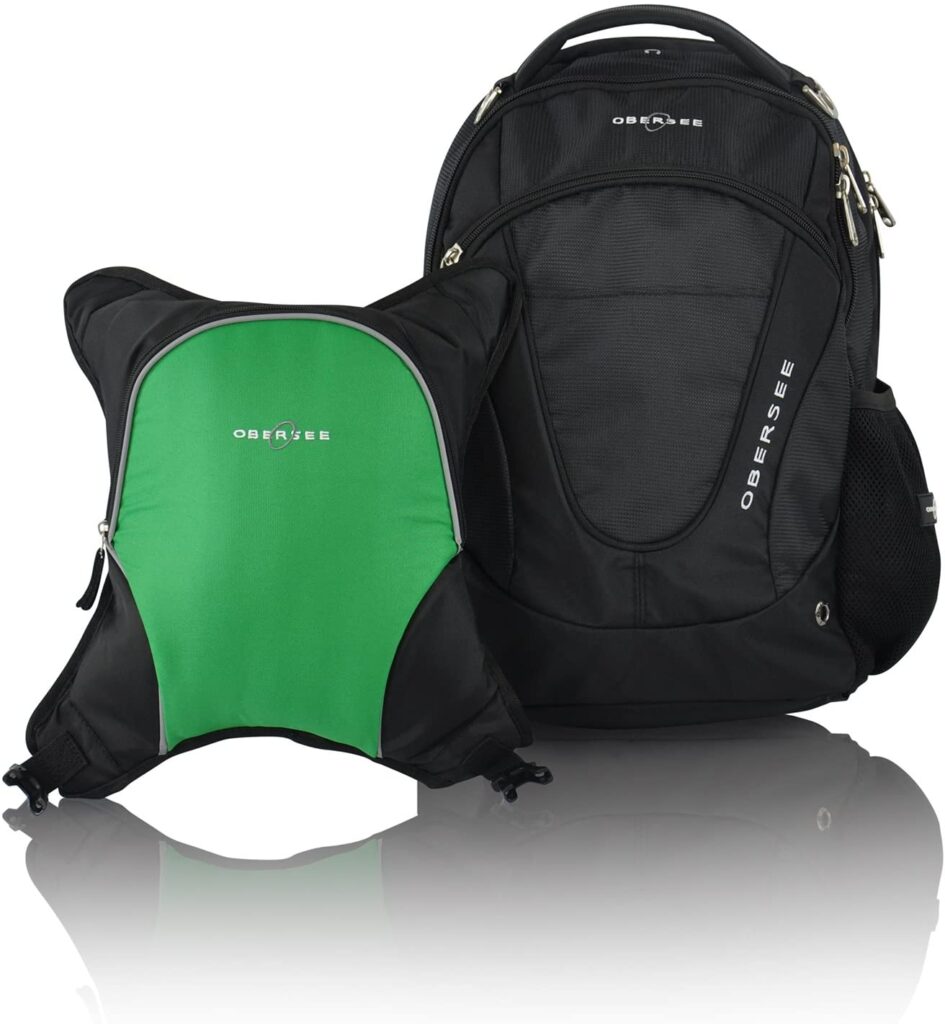 This one-of-a-kind backpack wins on both practicality and looks. Made of pure polyester material, the bag provides enormous storage capacity. It has a detachable cooler pouch that is insulated and can easily accommodate a couple of bottles.
It has an included changing pad with a dedicated pocket for baby wipes and the large main pocket has enough space for a diapers, wipes, a change of clothes and all the items that baby needs! It's a great bag to take along on a summer getaway when you want your child's food and drink to remain fresh and cool.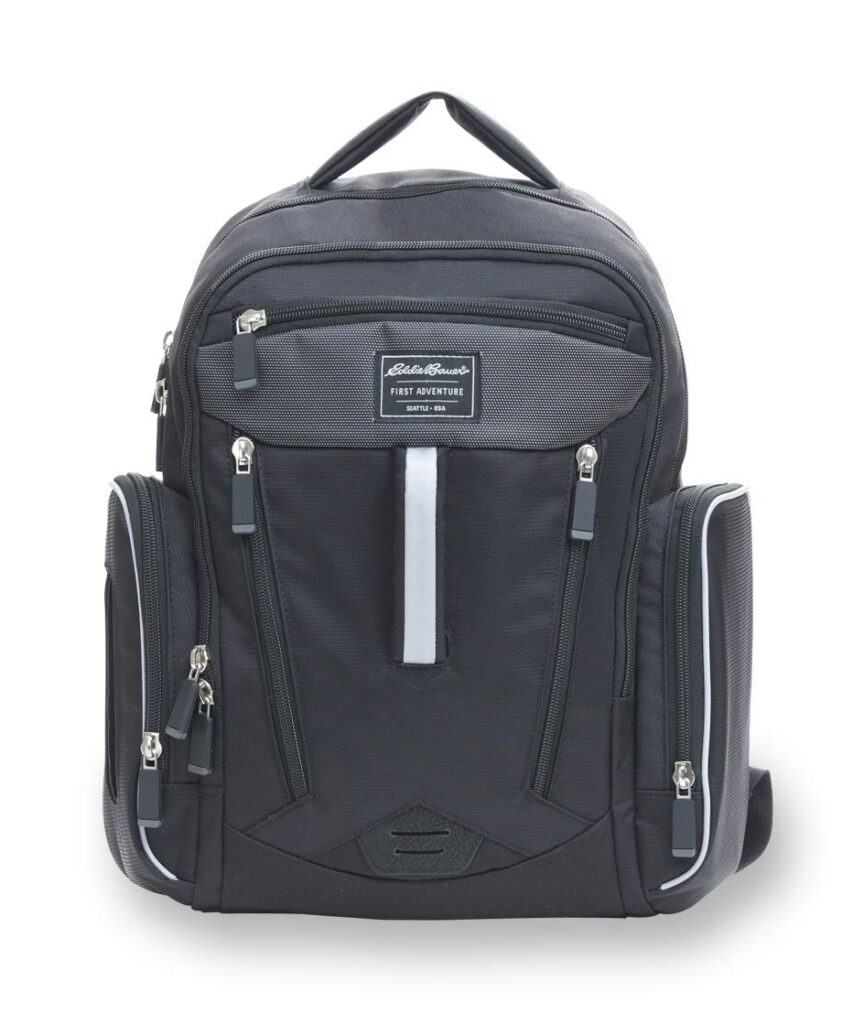 Be it convenience or fashion, the Eddie Bauer diaper backpack stands out in all areas. Not only does it have multiple features, but the bag can also be carried in three different ways on your back with the backpack straps, by hand using the top handle or attached to your stroller with the stroller loops.
It has 11 pockets, out of which 2 interior and 1 exterior bottle holders are insulated so you can keep your baby's milk and other edible products safe for a long time.
Frequently Asked Questions
Is A Diaper Bag Necessary?
If you have a baby and want an easy way to carry all your baby's products, diaper bags are a necessity. From wipes and towels to baby food, sippy cups, pacifiers, milk bottles, and of course, diapers, all these supplies can be easily stored in a diaper bag.
Can You Use A Regular Backpack For A Diaper Bag?
Yes, you can. While regular bags are not designed for your baby's necessities, they can double as diaper bags. What you need to ensure is that the bag is made of durable material, can withstand weight, and preferably has multiple compartments, which most regular bags do not offer.
Most diaper bags also come with insulated pockets and are made of easy-to-clean materials to soak up spillage.
How Do You Organize A Diaper Bag?
While organizing your diaper bag, the major concern is avoiding unnecessary clutter. You should be able to easily access what you need without having to rummage around.
Try to use sample-size products that you can restock every time you head out. Some essential items that you must have in your diaper bag are diapers, creams, towels, wipes, milk bottles, pacifiers, an extra pair of clothes, small toys, and snacks.
How Long Do People Use Diaper Bags?
You can carry a diaper bag for as long as it is convenient for you. If your child is potty trained and you don't need a separate bag to carry their essentials, you can stop using a diaper bag.
And if you find a diaper bag convenient for carrying essentials like clothes, food, or wipes even after your kid is potty trained, you can continue using a diaper bag.
Final Words
Diapers, baby cream, water bottles, food, wipes — there's so much you need to carry with you when you're out and about with your baby. A diaper backpack is not only a convenient organizational tool but also a very comfortable option for parents on the go!
I hope this list of some of the most popular diaper backpacks available today helps you pick the best backpack diaper bag for your needs!
I bet you're dying to know what you actually need to put inside your diaper bag! Check out this post for my diaper bag essentials!
Love coordinating with your little one? Here's the best places to shop for mommy and me outfits!