For many, backpacks are an accessory that's often forgotten after the days of having to lug your textbooks across campus or only thought about as a diaper bag. But these bags aren't just for students or moms anymore. Backpack purses allow you to carry all of your essentials hands-free!
A backpack purse is perfect for a variety of reasons. Maybe you're an avid traveler who needs both hands to carry luggage. This allows you to have two hands for luggage and gives you a purse option after you arrive at your destination rather than having to bring a travel backpack AND a purse!
Or maybe you're a mom with little kids and needs two hands to hold on to your little one's hands or carry a baby. Having a backpack purse gives the freedom to keep your kids secure while carrying your essentials.
Types of Backpack Purses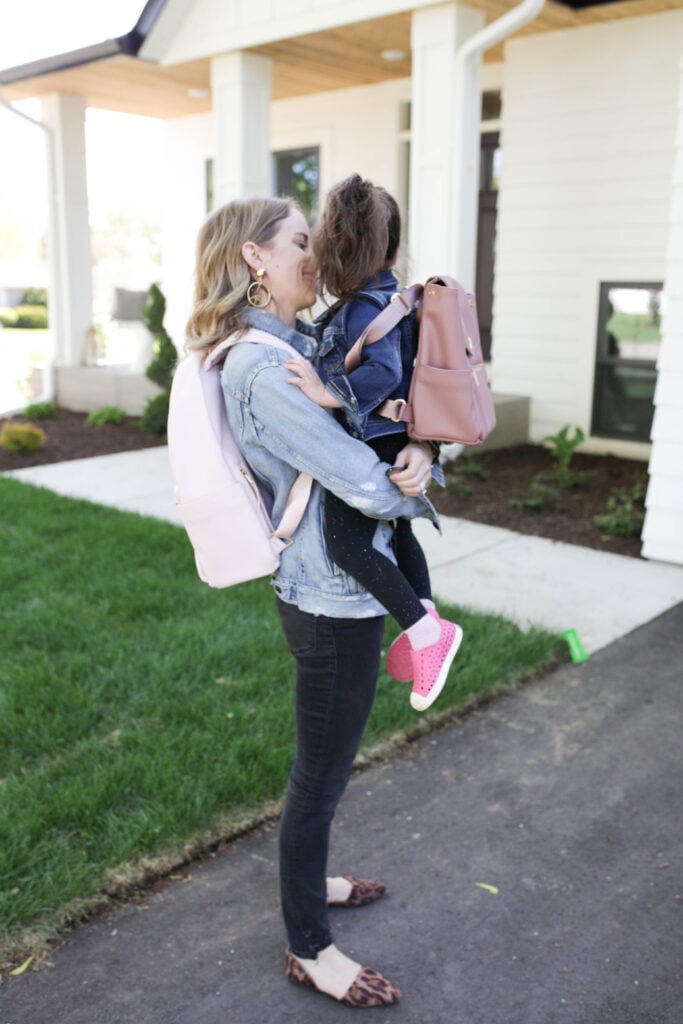 There are a variety of different types of backpack purses for women, not just your standard backpack! Here's a few of the most common types so you can pick which one is right for you.
Basic Daypack
This is your standard backpack without all the bells and whistles. It's typically just one large main compartment, one front zipper pocket, shoulder straps and a handle.
Tote Backpack
As you may have guessed, this is a tote bag with straps to make it into a backpack. The look like a tote bag with a top zipper but has 2 straps that converts it into a backpack.
Drawstring Backpack
If you don't need secure closure like a zipper, a simple drawstring backpack is a great option! These lightweight bags have a drawstring closure on the top with shoulder straps. They're usually on the smaller side and allow easy access to what's inside.
Mini Backpack Purse
These mini backpack purses are quite small, usually holding your essentials and not much else. These are great options for replacing a crossbody bag or shoulder bag.
Rucksack
Rucksack backpacks have an external flap covering the top interior pockets. The flap oftentimes has a magnetic snap, Velcro or another way of securing the flap down.
What to Look for In a Backpack Purse
As you choose a new bag, here are few things to keep in mind.
Adjustable Straps
Depending on your height, having the option to adjust the straps to make it longer or shorter could be helpful.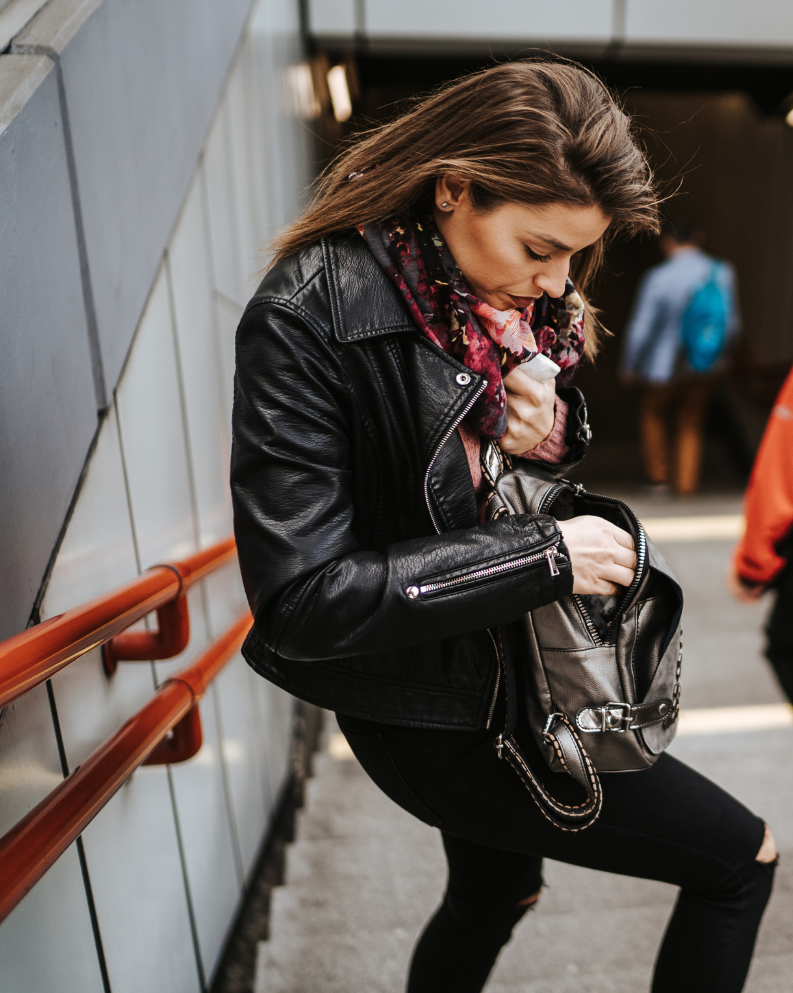 Comfortable
Will you be wearing this all day while exploring a new city? Or simply carrying it through your next Target run? How long you'll be wearing it will have an impact on how comfortable your shoulder straps need to be.
Organization
If you're using your backpack purse to go to the gym, organization may not be big deal. However, if this is going to be your diaper bag or purse for daily use, you might need something that's a bit more organized.
16 Best Backpacks on Amazon (2023)
This post may include affiliate links. This means I may earn a small commission if you shop using the links below at no additional cost to you. Paisley + Sparrow is a participant in the Amazon Services LLC Associates Program.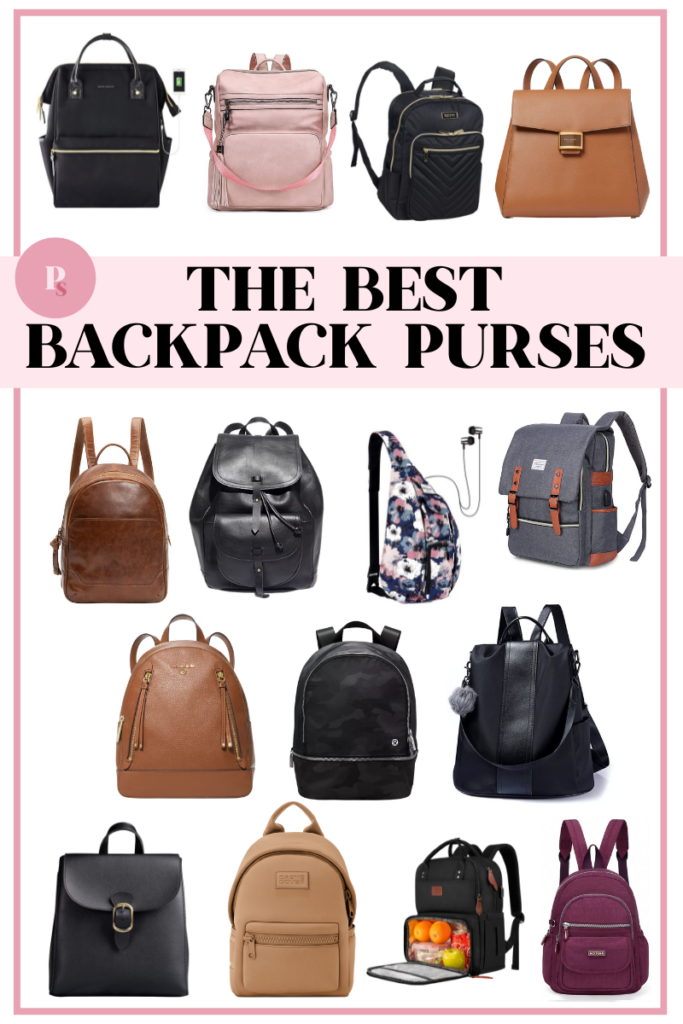 In this list, we've compiled some of the most stylish backpack purses for women that Amazon has to offer. From a stylish mini backpack to innovative convertible styles, there's a backpack purse for everyone! Let's take a closer look:
Coming in dozens of different colors ranging from natural to bold, this convertible backpack is perfect for just about every woman. With its convenient long strap, this bag easily turns into an easy-to-access crossbody purse that can fit your laptop, tablet, phone, and then some!
Leather or vegan leather is also a great choice for those looking for a chicer look out of their backpack. It never goes out of style and gives a look of rustic elegance that works well for almost every scenario.
This PU leather backpack purse for women has adjustable shoulder straps in addition to the long strap making it the perfect bag to wear in different ways!
Promising Amazon Review:
"This bag is gorgeous. I've gotten lots of compliments on it. It's a soft vegan leather and the color is very pretty. Lots of pockets, spacious and durable. I love how versatile this bag is. I use this for college and carry a ton and it all fits nicely. Im also able to transition to a purse and diaper bag. It does come with a messenger strap so you're able to wear this over the shoulder which I love. It's perfect for what I need. Great quality for the price.
My only wish is that the lining was lighter, to make it easier to see items that are at the bottom of the bag. Other than that I highly recommend this bag." -Veronica
Many travelers know the annoyance of pickpockets and thieves while traveling. There's nothing more irritating than opening your bag and realizing that your valuables are missing. Thankfully, there's a solution with the PINCEL Anti-Theft Bag.
This pack is unique in that it's only accessible from the back; this makes it a great backpack purse for women who like to travel. As long as you're wearing the bag, you won't have to worry about anyone unzipping the main compartment and removing any belongings. This peace of mind makes this backpack ideal for walking through crowded cities and using public transportation.
Even better, this bag is also convertible into a stylish crossbody! What more could you ask for? This truly the greatest backpack purse.
Promising Amazon Review:
"I love this backpack purse. It has a great feel to it. It's very spacious, and it's overall beautiful. I love being able to carry it around my shoulders, and as well as a backpack. I bought the beige bag and will definitely order the black one as well. I highly recommend this item. Besides being practical its very beautiful and trendy. (main zipper picture includes – wallet, planner, utensil case, pens, nintendo switch) (side pocket picture includes make up bag, keys, gum, headphones, body spray)" – Cindy
Our first backpack on this list is one that proves these convenient styles aren't just for students. With its sleek, streamlined black exterior and modern shape, this bag is a perfect option for every style and will instantly add a sophisticated look to your outfit.
Like most of the others we have listed here, this one also includes plenty of spacious compartments and even has a USB port feature giving you the option to charge your cell phone or other items, making this the ultimate bag for traveling, work, and more.
It has side pockets, zippered front pocket and a laptop sleeve that fits a 15.6-inch laptop.
Promising Amazon Review:
"Took a chance on this and not a single regret! Had an old backpack but hated how bulky it looked so wanted something with the handbag handle option but same space as backpack.
Have had so many compliments and it's huge and it's pockets are great but really compact when all closed up. Love it." -Shar
If you're looking for something simple with a twist, this quilted backpack from Kenneth Cole is a stylish choice with just the right amount of detail. This bag is a great professional choice that even features a water-resistant exterior, meaning your valuables will be safe and sound come rain or shine.
It has a padded pocket that fits up to a 15-inch laptop and 2 exterior pockets. It's the perfect carry-on bag because it's designed to fit perfectly under an airline seat!
Promising Amazon Review:
"This bag is exactly what I wanted in a school bag. It's super girly without being pink and gawdy. It's more professional looking for my doctorate studies. Has a compartment for a laptop (I use my 12.9 ipad pro in it though) and one inside for a smaller tablet (I use that for composition notebooks). Holds a couple of notebooks and a couple of full size books. Plus plenty of other pockets and zippers for chargers, chapstick, pens, and headphones.

I've had it for a month, used every day, and it still looks great because of the dark and durable fabric." – Tes
Sometimes simplicity is the way to go, as proven with the Sunlight Leave Vegan Leather Day Pack. This style is clean, simple, and chic with its vegan leather material and versatile neutral color.
The small size allows for ease of wear and the buckle detail adds the perfect amount of sophisticated style. If you're looking for something timeless and stylish for everyday wear, this one is sure to pair perfectly with any outfit.
Promising Amazon Review:
"Not too big and not too small. Fits an ipad mini perfectly, along with an A5 notebook and all your other everyday essentials, it has plenty of room! And the quality is AMAZING. it does come with a detachable wristlet and the fact that you can wear it as a crossbody or a backpack is pretty cool. I will be purchasing the brown one later. I loved it!" -L
I have this bag and highly recommend it! It's so cute that I can take it when I go out with friends, but it works for carrying kid stuff on errands.
This is a great vegan leather backpack purse for moms — it's actually built to be a small diaper bag, so you know it has the storage you need! In fact, it has 10 pockets plus a large main section.
Promising Amazon review:
"This bag is a total Mary Poppins bag in that it holds so much more than expected. It's the perfect size to transition from toddler years to bigger kid years. Not to mention… it's also gorgeous! 👌🏼" – Gagan
You can't go wrong with a Dagne Dover bag. People rave about their Dagne Dover bags — they're chic, high-quality and prove that you don't have to go with a leather bag to get a high-end look.
This 100% vegan backpack purse is made from neoprene and is water resistant and hand washable. It has a mesh pocket for your tablet and several interior and exterior pockets for all your everyday accessories
Promising review:
"High quality, takes care of all my work material including laptop, headphones etc. as well as personal travel needs. Love the deep blue color as well. Got my wife the camel colored version and she takes it everywhere." – David
If you want a backpack that can handle your daily commute but still looks sophisticated and stylish, this leather Madewell rucksack is the perfect choice. It's large enough to carry everything you need on the go but looks perfectly put together.
Promising review:
"I bought this bag back in 2016. I've gotten so many compliments and 'where did you buy this?'s that I decided to check to see if Madewell still sells it and voilà! It's my go-to travel bag. Fits so nicely as my under-the-seat bag. It really does expand to fit a lot, but isn't too large for every day use. Over the last six years it's developed a lovely lived-in patina. I actually think I like the look of it now even more than when it was new! Definitely the best investment piece I've ever purchased from Madewell." – LJ
For an easy sporty look, this Athleta bag checks all the boxes. It's lightweight but roomy enough to carry what you need for travel, hikes, or just errands in your day-to-day life. The material is recycled polyester, which is both sustainable and easy to clean!
Promising review:
"I love this little pack and may even start carrying it rather than a purse. It's light but roomy and has great little compartments to keep things organized." – Anonymous
Lululemon is known for creating fan-favorite bags that are both casually stylish and functional. This Mini version of their City Adventurer backpack will be your new go-to bag. The fabric is water-repellent, the interior pocket is designed to keep your water bottle in place, and the size will hold your essentials as you run errands or head to a workout.
And if you want an even smaller backpack-style purse, there's also a Micro version.
Promising review:
"I love it. I bought the gray and the color is beautiful, I think the size is perfect.. not too big to be bulky but not to small that wouldn't have enough space. I'm enjoying it a lot as my everyday bag. and I am sure its perfect for traveling too." – Paty
This chic leather backpack purse will make you look put together no matter what you're wearing. And since it's Kate Spade, you know the quality is excellent.
I love the structured look to this bag compared to some other backpack purse options. It has a magnetic flap closure, interior zipper and slip pockets, adjustable shoulder straps, and fits a current iPad.
Promising review:
"Well made, rich colour, well-structured & sturdy, spacious. It looks incredible with formal & casual outfits." – Belinda5
Everyone knows Michael Kors for their chic and classic styles, and this bag is the perfect way to add a bit of luxury to your casual style. Since backpacks are becoming a more and more popular choice for the everyday woman's bag, many women are ditching their tote bags for more practical styles.
However, the Michael Kors Brooklyn Backpack provides you with both functionality and style. The pebbled leather looks very high-end but it's casual enough for everyday use.
Promising review:
"Perfect size backpack for on-the-go mom. I get so many compliments on the color and style." – Jen in Maryland
Although many of these styles will work perfectly for professional wear, the MATEIN Lunch backpack takes multitasking to the next level. This pack is not only sleek and modern in appearance, but it features a built-in lunchbox!
This means you'll have fewer bags to keep up with during your day, leaving your hands free for any other essentials. And naturally, this feature also makes this bag a great choice for traveling, school, and even a picnic in the park!
This backpack has adjustable straps as well as a card pocket on the shoulder strap to keep your credit cards or other important things close.
Promising Amazon Review:
"I absolutely LOVE this bag. I am a teacher and this has been a total lifesaver. There is plenty of space for my laptop, papers, correcting pens, and lunch! There is a clip at the top I use to attach my badge so I'm not constantly losing it and a little pocket that is perfect for my phone. It is seriously a life saver for someone that is on the go all the time. I can imagine it would also make a great diaper bag since it has the cooler pocket built in. It is very well made and sturdy. Nothing cheap about it (except the price)!" – Roseann
If you find normal backpacks to be a bit too bulky, a sling backpack is a great alternative. This style can be worn around the body or over the shoulder for convenience and comfort.
Although it's not as large as a standard backpack, don't let the smaller size fool you – this sling bag still has plenty of smaller pockets and storage space for everything you'll need. Due to their more streamlined design, these make for a comfortable and stylish accessory.
Promising Amazon Review:
I LOVE this bag. I was a little skeptical after reading a few reviews about how unwieldy and awkward-fitting it was, but I went ahead and purchased it anyway because I loved the pattern so much. I filled it up with my stuff and tried it on, and I personally find it super easy to access my stuff. I thought I would have to remove the backpack to get to everything, but wearing it crossbody like I've pictured, all I had to do was pull it up from under my arm, and the pockets are all right there where I can easily see and reach everything inside—and they are facing upright so nothing will fall out. So much better than I expected. This has turned out to be the perfect bag that I didn't even know I was looking for.
Besides this, it's super lightweight, as others have mentioned, super comfortable, and looks really durable. The beautiful pattern is totally what sold me on it, but all the colors are great!
I'm so happy I gave this bag a try.
If modern style isn't your thing, never fear – the Modoker Vintage Laptop Backpack combines modern functionality with a fun, classic vintage style. The contrasting accent buckles give this bag that timeless satchel look and the top flap is useful for anti-theft purposes.
There is ample space in the main compartment as well as a zippered pocket under the flap and a front zipper pocket below the flap. You can also two side pockets for your water bottle.
Promising Amazon Review:
"Get this bag. It's seriously awesome. I travel a ton for work and play and recently got this bag to hold all my gadgets when traveling. Super happy with the magnetic closures on the front and all the little pockets on the inside." -Lauren
The AOTIAN Mini Backpack combines that compact and convenient shape of a mini backpack with the sporty style and durable materials that's perfect for outdoor excursions.
Despite its small size, this pack can fit a tablet, gym clothes, water bottle, and mor. It has 4 zipper pockets (one on the back!), a top handle, side elastic pockets and gets close to 8,000 positive reviews on Amazon!  
Promising Amazon Review:
"I absolutely love my little backpack!! My best friend and I each bought one and we took it all over Ireland and to Amsterdam and it was perfect for the amount of things we carried which included: a Polaroid camera, water bottle, wallet. cell phones, note book, postcards, etc. We are obsessed and cant wait to take it on more adventures!" -La Rosa
As you can see, no matter what type of backpack you're looking for, there are plenty of options out there! They're are no longer only for school and the outdoors – with more and more brands offering luxe materials, unique details, and high-tech features, there is a choice for every lifestyle.
Next time you find that your laptop bag or work tote just isn't cutting it, consider picking up one of these stylish and functional options.
If you're looking for a backpack diaper bag, check out my review of Austin Fowler! It's my favorite backpack diaper bag around.
Love crossbody bags? Check out the best crossbody bags here or the best design crossbody bags here!