Looking to buy a new bag? When you think about designer bags, one common question arises each time – how much do they actually cost? We all know that luxury goods are an investment piece and often times the prices reflects that.
Well there's many designers out there – Prada, Louis Vuitton, Miu Miu, but today we're going to focus in on Chanel. How much is a Chanel purse? Let's investigate.
Chanel bags were created by the legendary Coco Chanel. Coco was born, Gabrielle Bonheur in 1883. And no, she wasn't born into a life of luxury. The opposite is true. She was born into a life of poverty.
When Gabrielle (or Coco as we know her by) was born her mother was in hospice and her father had already abandoned her and her mother. She ended up being raised by catholic nuns at the Sister of the Sacred Heart.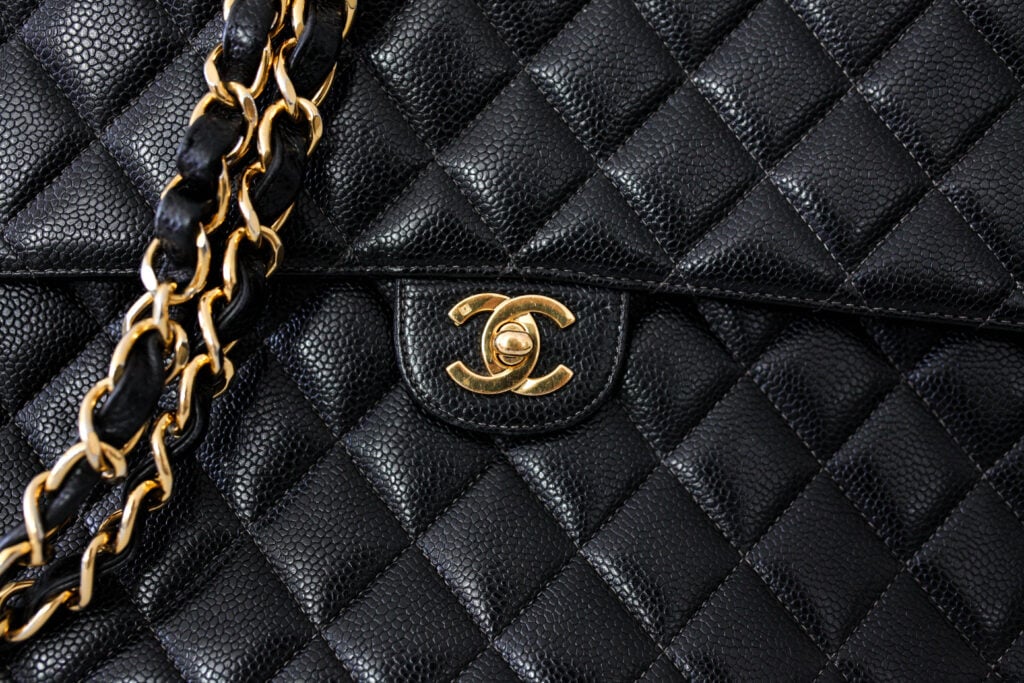 The nuns all wore black and white and also taught her how to sew her own garments which is what got her interested in fashion! After she turned 18 she worked as a sales assistant at Maison Grampayre while also pursuing singing.
She met Etienne de Balsan while singing and moved in with him in his castle. He's the one who financed her start in the fashion industry. She started with hat designs which quickly caught on and she moved into apparel after a couple years opening up her shop, her flagship shop is still open at Rue Cambon in Paris.
Eventually she wanted to balance her clothing out by creating complementary accessories – enter the Chanel bag! She launched the Chanel 2.55 which has become one of the most copied bags in the world.
Let's look into how much the most popular Chanel bags cost.
Price of Chanel Bags (& How to Save!)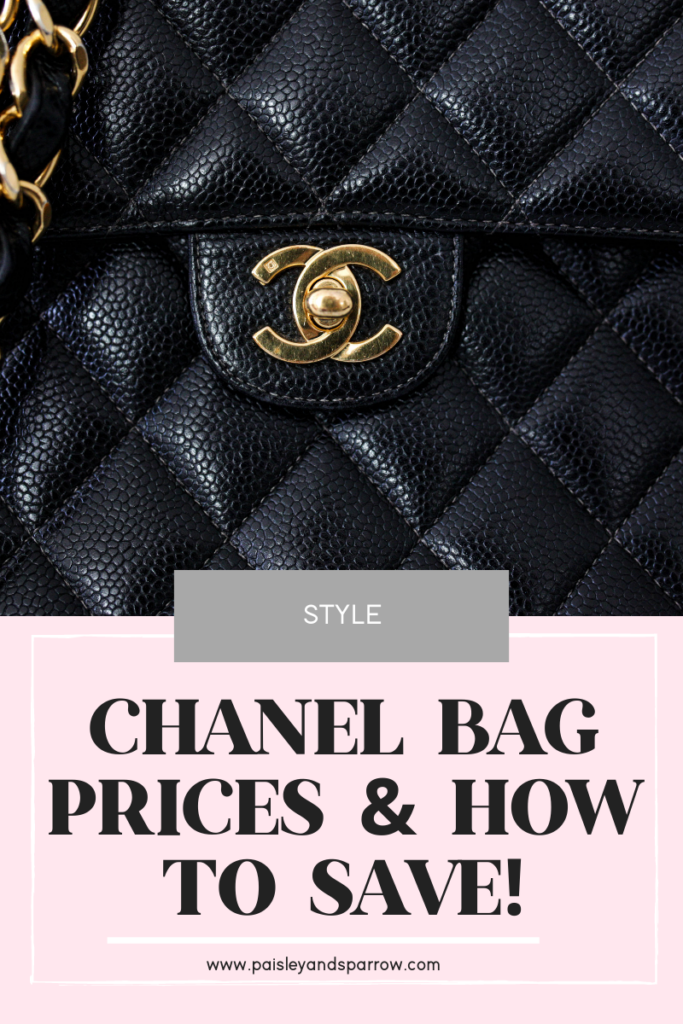 This post contains affiliate links. Thanks for supporting Paisley + Sparrow!
*Just a note – these prices are what we found on Chanel's website for the United States at the time of publication. It's possible that prices will be different in Chanel boutiques. Also keep reading for some tips on getting your new Chanel bag for less money!
1. Chanel 2.55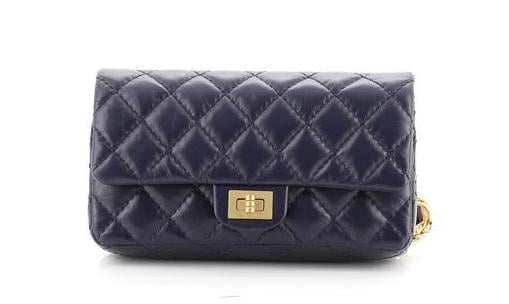 Shop this 2.55 reissue bag on Rebag (image via Rebag)
The first over the shoulder bag is the Chanel 2.55. The shocking thing about this bag, that was created in 1955 (where the name comes from), is that it was the first women's bag to have a shoulder strap! Gabrielle Chanel was always a bit rebellious and this bag was a nod at that.
Now women were able to do whatever they wanted, including putting their hands in their pockets (gasp!) with their 2 free hands now that their bag laid effortlessly over their shoulder!
This bag has a chain strap, a back pocket for cash, a central compartment and a hidden zip pocket. The chain strap was inspired by the chains used to weight the hems of her suit jackets with and the hidden pocket was where Coco herself hid love letters while in the middle of an affair.
This is the most popular classic bags that celebrities (think SJP and Blake Lively) carry as well as everyday women!
Fun fact – a 2.55 flap bag retail price in 1955 was only $220! Clearly things have gone up from them, by quite a bit.
The 2.55 handbag with the Mademoiselle lock comes in a variety of sizes, therefore a variety of prices. Here's what we found:
Chanel 2.55 Card Holder $425
Chanel 2.55 Pouch $1,200
Chanel Mini 2.55 $4,000 – $4,400
Chanel Medium2.55 Size $6,800
Chanel Large 2.55 Handbag $7,400
Chanel Mai 2.55 Handbag $8,000
2. Chanel Classic Flap Bag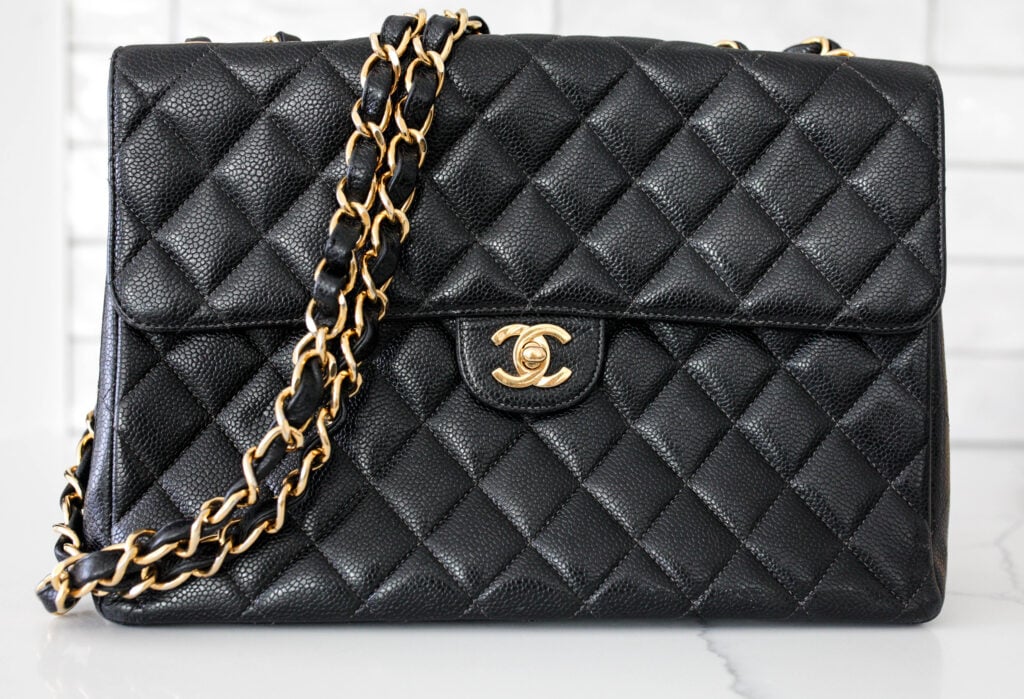 This is the first Chanel bag that I got! The Chanel Classic was somewhat of a Chanel reissue after Karl Lagerfeld redesigned the classic Chanel 2.55. This was launched in the 80s with 2 identifiable changes to Chanel's original bag.
One is the addition of leather to the chain strap. The other is the change of the clasp. Gone is the Mademoiselle Lock (it gets this name because Coco never married) and the new clasp on this bag is the CC lock – something you will undoubtedly recognize!
These bags come in lambskin leather and caviar leather. If you're extremely careful with your handbags you can opt for the lambskin while caviar is a bit more tough and durable. The price on these bags depends on the size.
Here's what we found:
Chanel Small Classic Flap Bag $6,200
Chanel Medium Classic Flap Bag $6,800-$9,100
3. Chanel Boy Flap Bag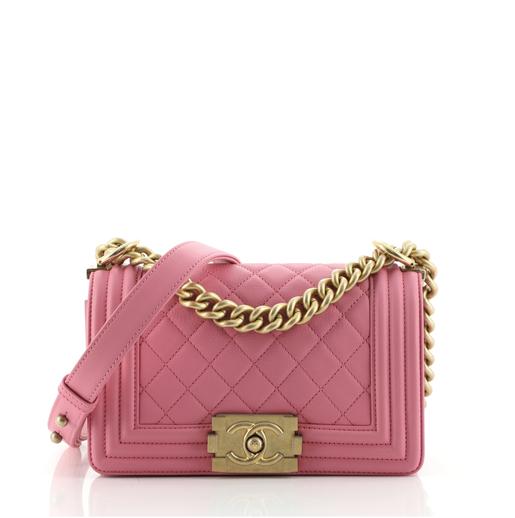 Photo credit and shop this exact bag from Rebag
Chanel was well known as being a tom boy so the Chanel Boy bag, another Karl Lagerfeld creation in 2011 was a nod to that. It was also a nod to Coco's longtime lover, Boy Capel, a polo player!
The Boy bag has a thick heavy chain and a much more rock 'n' roll feel. It has a boxier look to it that comes in a variety of sizes from mini to much larger bags.
Again, prices vary depending on size and type of material but this is what we found:
Chanel Small Boy $3,900 – $6,100
Chanel Regular size $5,300
4. Chanel Grand Shopping Tote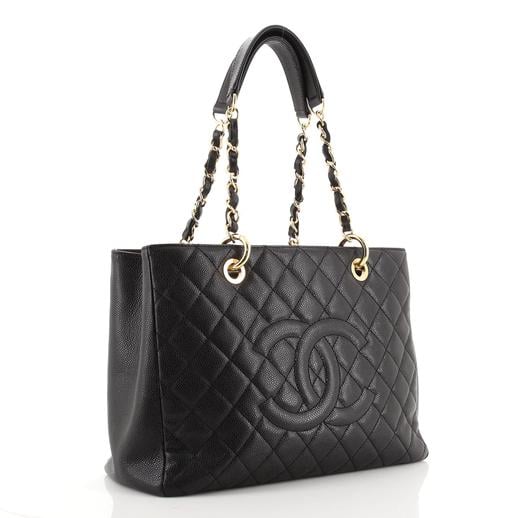 Photo cred & Shop this Grand Shopping Tote Quilted Bag on Rebag
One bag that is a celebrity favorite is the Chanel Grand Shopping Tote (or GST for short). The only bummer thing about this is Chanel discontinued it back in 2015 along with the Petite Shopping Tote so you won't be able to find it in stores anymore.
You'll have to get this second hand from a retailer (such as RealReal) for about $2,200.
5. Chanel Gabrielle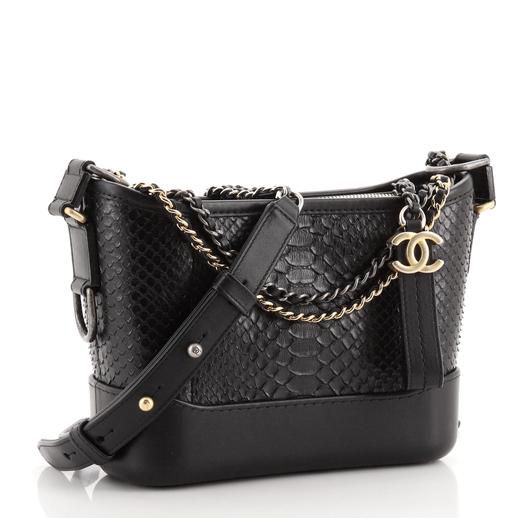 Photo cred and shop this exact bag on Rebag
As mentioned, Coco Chanel's given name is Gabrielle. The Gabrielle bag was launched in 2017, another creation by Karl Lagerfield, playing homage to the designer herself! It was introduced as a unisex bag becoming an instant classic.
It features a light body on a stable base with a double metal chain. You can get a gold chain silver chain or ruthenium chain. It looks a bit slouchy but still has a good amount of structure to it. The stitching is finished off in a diamond pattern.
This is on my wish list!
Gabrielle Chanel bag prices:
Chanel's Gabrielle Small Hobo Bag $3,800 – $6,300
Chanel's Gabrielle Medium Hobo Bag $4,600 – $4,700
Chanel's Gabrielle Large Hobo Bag $4,700
Those are the top 5 most popular styles. As you can see, many of these come with a hefty price tag! They're amazing investment pieces and worth every penny are still expensive!
Tips to Save
I've wanted a Chanel bag for as long as I can remember. But I've learned that second hand can be just as good as buying new! Sure, you won't the experience of going to an actual Chanel boutique to purchase a new bag but you'll likely save yourself thousands of dollars.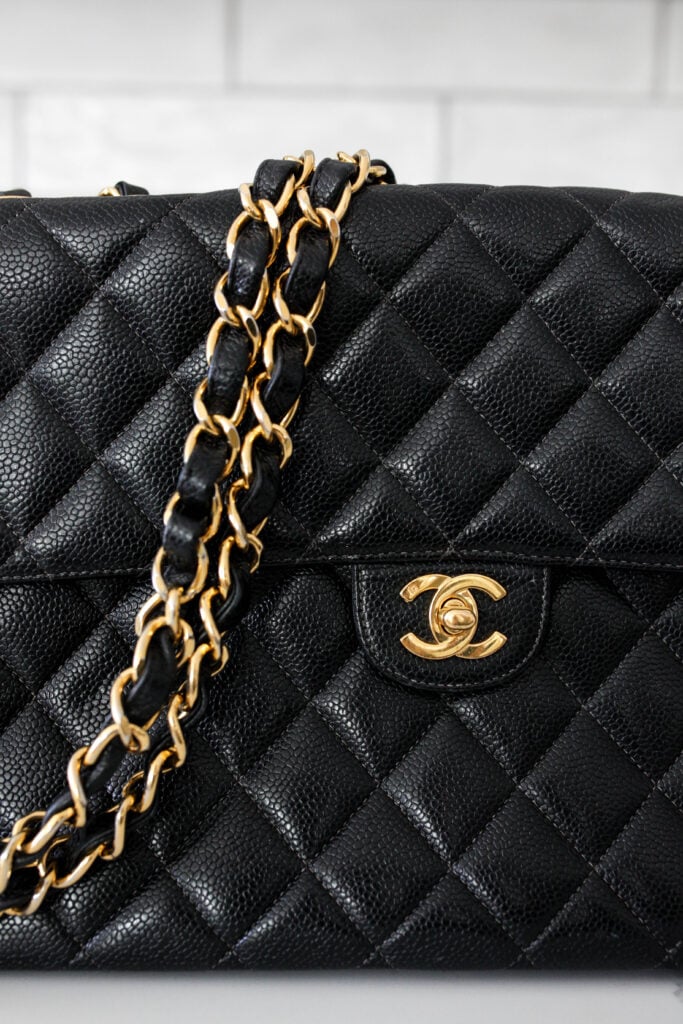 There are plenty of great options for second hand luxury goods out there! One that I've found that has a great selection and great option is Rebag. You can get a like new Chanel bag for thousands off of the retail price. You can also find retired pieces like the GST tote there!
I've also purchased bags from the RealReal and have had mostly good experiences there. In full disclosure the first bag I ordered from them got lost in the mail (yikes!) but they ended up refunding me my money to purchase a new one.
As you head out to buy your new Chanel bag, I hope this tips and this post helps you in knowing what bag to buy and where to get it!
Happy shopping!
Want more Chanel fun? Check out some of my favorite Coco Chanel quotes here or ways to spot a fake Chanel here!!