Whether you're looking for coordinating outfits for family photos or a special matching mommy and me outfit, it can be overwhelming to know where to start.
But lets be real – there's few things more special for a kid than dressing like their mom! It makes for cute photos, whether professional pictures or just snaps on your iPhone at home, and can make a little girl (or boy!) feel like a million bucks!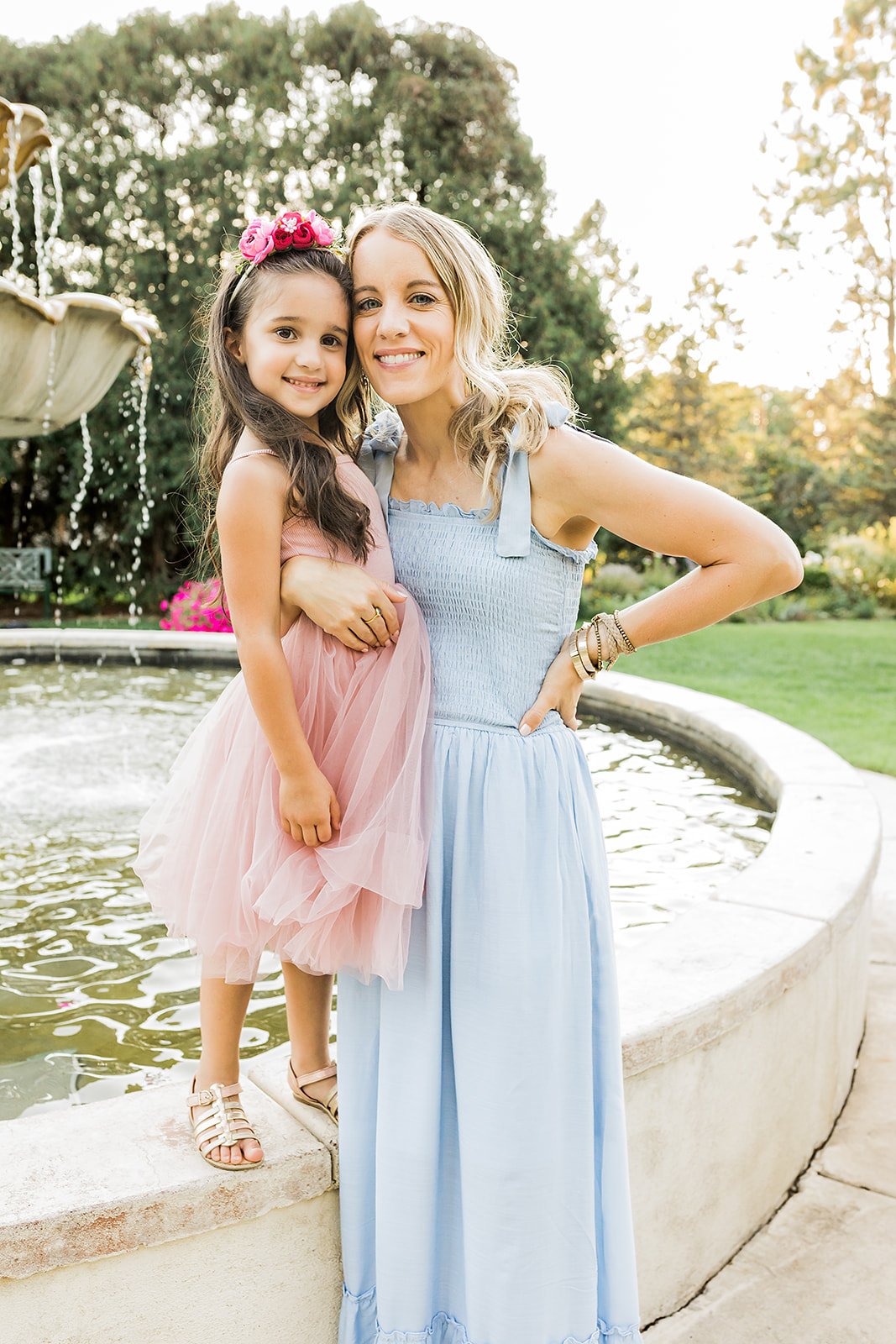 Shop my dress and shop my daughter's dress (both from Amazon)
As a mom of 3 kids, I know both the struggle to find cute coordinating mommy and me outfits as well as the joy on my kids' faces when I pull out matching or coordinating outfits.
When my oldest started preschool he was incredibly nervous. We both had matching Rolling Stones shirts and he asked me if he could wear his shirt to school and if I could wear my shirt for drop off and pick up. Knowing that we had matching shirts gave him an extra boost in confidence for his first day.
If you're in a hurry, here's a snapshot of the brands I'm going to share!
The mommy-and-me fashion has been around since the early 1900s. The trend, in fact, keeps popping in and out from time to time, with brands creating their own lines of mommy-child twinning sets.
Some brands are perfect for big girls, some have infant and toddler sizes too, and you can even get Dad in on the act, with many coordinating family outfits that are perfect for family photos!
If you are looking for places to get you and your children some adorable pieces based on your needs (and personality), from swimwear to boho, here are 19 of the best brands out there.
19 Best Places to Shop for Mommy & Me Outfits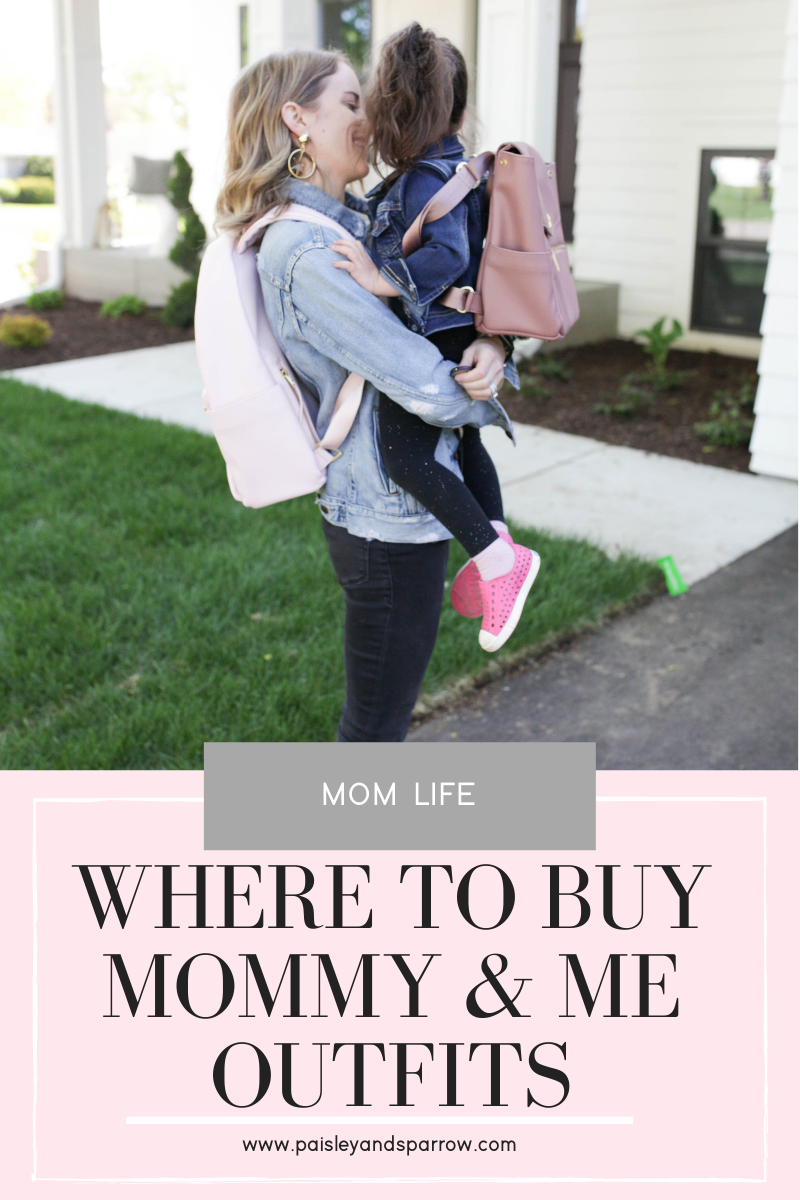 This post contains affiliate links.
1. Best Current Fashion for the Whole Family: Old Navy
Cute doesn't have to be expensive, and Old Navy has a wide variety of coordinating mom and me outfits. Whether you need cute dresses or gender-neutral hoodies, Old Navy carries it.
What makes Old Navy's collection stand out — apart from the price and quality — is that they offer coordinated attire, not exactly cloned outfits. This is for moms who don't like their children to be a "mini me," but look cute wearing a matching style, texture, and motif.
I have a friend who's a family photographer and if anyone asks her for outfit ideas she tells them to go to Old Navy!
2. Best Classic Fashion for the Whole Family: Gap
3. Largest Selection of Matching Clothes: Amazon
Amazon has a gargantuan collection of mom and me outfits. You can find a casual and cute T-shirt for yourself with a matching onesie for the baby.
The coordinating dresses available on the site are pretty pieces perfect for summer or fall. From floral printed to matching outfits for the whole family, so Dad and baby brother can join in on the fun.
If you're on the hunt for sleepwear or loungewear, Posh Peanut is the hub for you and your stylish baby, toddler, or small child's matching PJs.
Gush at Posh Peanut's collection of gorgeous robes that come in pretty prints and lush solids perfect for the new mom. Get a robe and a matching swaddle for beautiful newborn pictures in the hospital or when bringing baby home.
Their pajamas come in various designs, from short bottoms to short sleeves. The prints are really posh, especially ideal if you need the perfect sleepwear for photo sessions.
Use the code PaisleySparrow20 for a discount!
5. Best Customizable: Etsy
For mommy shirts and baby shirts, to customizable shirts, Etsy is a great place to scour for cute mom and me options. What's great about Etsy is the huge selection and the wide variety.
If you're going for rugged chic, want a funny joke or reference to a favorite movie, or are more into a princess vibe to fulfill your child's royalty fantasies, they have it.
If you're scouting for lacy dresses, sparkly gowns, statement onesies, knitted sweaters, and even sportswear, they have it. They also have family matching sets or identical hair accessories for mother and daughter.
If you've been on Instagram during the holidays, you're familiar with Hanna Andersson. This brand is a favorite for their adorable, high-quality pajamas in timeless patterns. To prepare for the cozy season of fall, browse through their collection of fall sleepwear.
They don't restrict their apparel to just mom and baby alone. They are pretty diverse, including whole-family matchy pajamas, to even daddy-and-child twinning sleepwear. The prints range from festive to sailor to superhero, and the pieces can also be perfect holiday gifts.
If you're looking for trendy, chic style for you and your little, Maisonette is a great option! They have vintage inspired dresses, stunning tops and unique patterns and styles.
If you and your kid enjoy wearing bracelets, Maisonette sells a pair of lovely rainbow heart bracelets that symbolize a mom-and-daughter bond.
Cute text tees, shorts, boxy pullovers, Rylee + Cru offer twinning pieces for the easy-going, laid-back, and casual style for the modern mom and kid. Statements like "peachy," "bloom" or "choose happy" are scrawled across T-shirts, which evoke a cool, modern look.
Another brand for the stylish mom who wants the same look for her kids, Little Mia Bella offers an assortment of apparel that are fit for any type of occasion. Be it a fuzzy matching fall cardigan, or a tie-dye twinning maxi dress, or a flowy polka-dot maxi dress, they have it.
Little Mia Bella has bright light rompers and dresses for summer warm, comfy sleepwear, hooded plaid vests, and pullover sweaters for fall. So whatever season or state you're in, you can find something adorable for your mom and me look!
10. Best for the Fashionista: Pink Lily
If you're looking for on trend coordinating mom and me apparel, Pink Lily is full of great options! Their selection is always following current trends and holidays and they steer clear from the "cutesy collections" and strive for more on trend items that both mom and mini want to wear.
11. Best Holiday Themed Outfits: PatPat
PatPat is an online shop for sweet mom and me outfits, holiday themed clothes and party attire.
They have tons of fun holiday themed clothes from Halloween to Christmas and more! There's also things like coordinating denim jackets, matching t-shirts and so much more. Most of their designs are completely identical, so PatPat can be a fun place if you're looking for clone outfits.
The fabric that Roller Rabbit uses for their collection of mommy and me apparel gives them an edge over the competition. With the fit and flow of their dresses and tops, the brand has a whiff of sophistication and femininity.
Wear these pieces to barbecues or a garden party or your family photo shoot. Friends will compliment you on the clothing line's use of gorgeous pastel colors and dainty prints. They also sell cute identical pajama sets for parents and children.
13. Best for Bold & Vibrant Colors: Lilly Pulitzer
When it comes to dresses, Lilly Pulitzer has plenty of choices for anyone who loves vibrant colors. Mom and daughter (and even baby!) will delight in the bold colors and prints the brand is known for! You can get matching dresses in almost any style — shift dresses, tunic dresses, stretch dresses, maxi dresses, and halter dresses.
Lilly Pulitzer's fun twinning apparel also extend to rompers, tops, shorts, and leggings. All sharing the same vibrant exotic blooms. They also have a collection of similarly printed knotted headbands.
Something Navy offers lovely twinning and coordinated pieces for mom and daughter. They have tons of perfect casual basics from sweatshirts to t-shirts to coordinating sweatpants and sweatshirts.
Their shop is ever evolving with coordinating shoes, dresses and more.
15. Best Sophisticated Dresses: Ivy City Co.
Find sophisticated dresses galore in Ivy City Co.! What's exciting about their mom-and-me collections is the quality. A mix-and-match of bohemian city girl items, the pieces at Ivy City Co. delve into the feminine sensibilities of a stylish mom who wants to look great with her daughter.
They have stunning eyelet dresses that can cause a double-take when mom and daughter are out in the city. Find the perfect matching outfit for your Sunday best, special occasions, photos or a big trip!
16. Best Designer Outfits: Nordstrom
Nordstrom's Matching Family Moments collection has a wide selection of dresses, skirts, rompers and more! The patterns and colors are constantly changing for the seasons so you'll always find something new.
You can also find coordinating workout clothes through Nordstrom's brand Zella! There's few things cuter than a mom and kid coordinating for their daily walks.
17. Best for Casual Classics: Roolee
Roolee was started back in 2013 in Utah when Kylee purchased her college employer's boutique with the chance to make her own boutique come to life. It is full of classic, beautiful clothing for both mom and kids!
Roolee strives to be a "world of sisters" coming alongside women everywhere to treat one another as sisters!
You'll find the most adorable dresses, shirts, lounge sets and more inside Roolee. I know you'll love it!
Auguste The Label is a chic choice for family photos. Their mom and me apparel range from knitwear to gorgeous dresses that remind you of peaceful, sunlit strolls among flower fields.
The chief look of their dresses is floral prints in earthy hues. Peasant dresses, maxi dresses, and even ruffled dresses — all bearing an ultra-feminine, delicate vibe. Perfect for sunset walks, beach strolls, and trips to the barn. The Auguste Label has that rustic vibe about it.
19. Best Boho Style: Joy Folie
Joy Folie is a boutique clothing brand for women that caters to moms who go for "desert glam," i.e., stunning bohemian dresses and feminine swimwear. This boutique is a treasure trove for the best mom and daughter clothes that project a distinct personality.
The best thing about Joy Folie is that the mom and me outfits are merely coordinated. If you just want your daughter to wear the same color and fabric as yours, but want the cut and design to be different, then this is the place to be. They also sell accessories, like hats and boots!
Mommy and me outfits are timeless. It's a fun way to dress up and build on that special mother and daughter bond. And you better start now before your kid gets strong opinions about their personal style!
These options will make for lasting memories and potentially some of your favorite family photos.
If you're looking for ideas and help when choosing clothes for family photos, head here! I have a whole post dedicated to family photo outfits to help take away any stress!
Want more mom life fun? Head to one of these: