One of my long time friends from high school is adopting a baby in just a couple months and I'm so excited! When I was pregnant with Roy I had my sister-in-law take me shopping to register for all of the necessary baby things I was going to need. It's always so much more helpful to get the advice from someone who's been there before and knows what is actually necessary! 🙂
Now after 2 kids I feel like I have a pretty good handle on what parents need for their new baby so here's my ultimate baby registry list! Obviously all parents AND kids are different so what works for me may not work for you but hopefully this helps you get started!
Baby Registry Checklist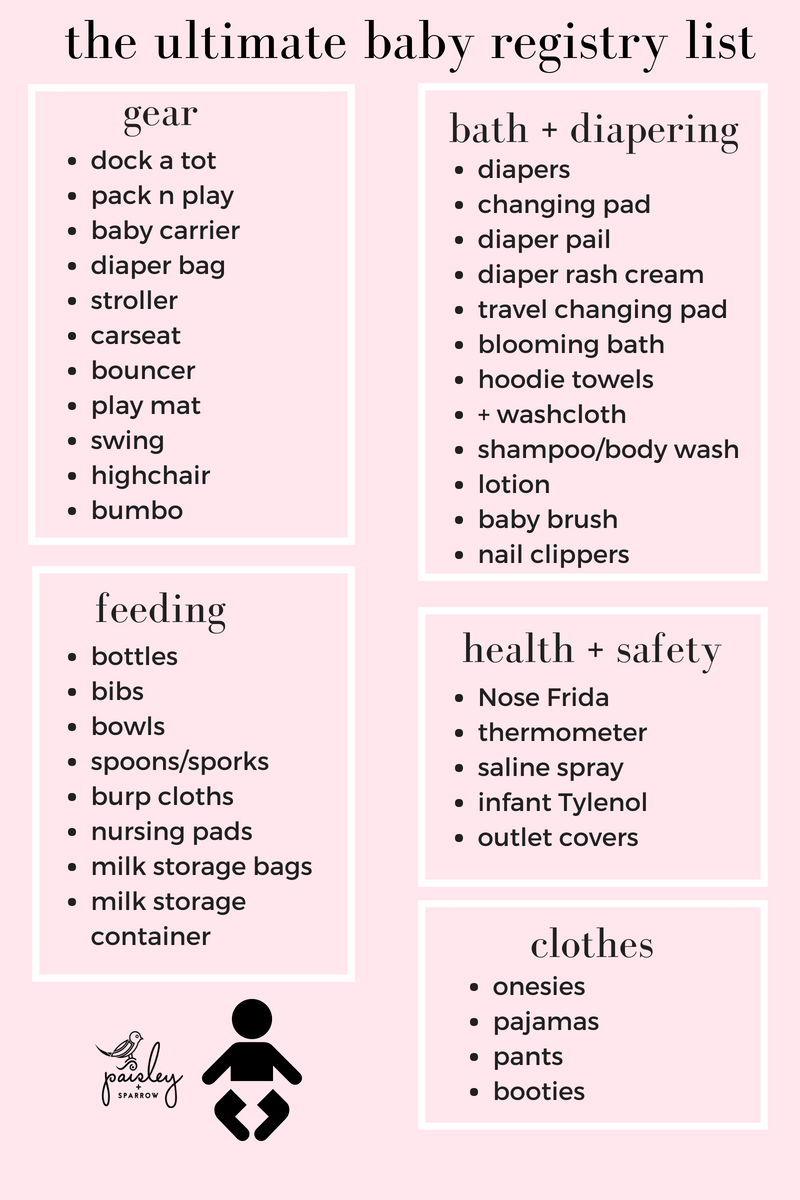 Gear
1. Dock A Tot
Find my full review here. I'm obsessed with this thing!
2. Pack n play
We used our dock a tot until our kids outgrew them when we slept at other people's houses but eventually a pack n play is necessary.
3. Baby carrier
I'm big fans of the Baby K'tan (find my review here) and the Infantino carrier.
4. Diaper bag
To be totally honest right now I use a Lululemon backpack because that's what works with my situation but I also love Austin Fowler and Fawn Designs.
5.  Stroller
We love our Uppa Baby Vista, even more now that we have 2 kids!
6. Carseat
We're Nuna fans and have the infant one and the next size up. Rishi did a ton of research on the best carseats prior to Roy being born so you can know for sure that they're the best. 😉
7. Bouncer
Both my kids LOVED this bouncer (side note – it's not the cutest thing in the world but when you're kids love it you disregard the ugliness ha!). Penelope still uses it and is so happy when she's in it! 🙂 Ours is not the cutest but I love this one!
8. Play mat
Before they fit in the bouncer having a play mat is awesome for kiddos. It gives them something to look at and play with when they can't do a whole lot. Or something like this is great too so you can use it with your Dock A Tot!
9. Swing
My cousin let me use this swing with Penelope. We loved the small footprint! We also used one like this in our basement which is what we had for Roy and loved that one too. 🙂
10. Highchair
We're big fans of this one because it grows with your child (even adults can use it!).
11. Bumbo
This little seat can be used all the time! Feeding time, play time, bath time – it's a multi purpose seat!

Bath + Diapering
1. Diapers
We use Honest diapers. Truthfully, I love these the most because a. they are delivered right to my door (with 2 under 2 I have zero room for just about anything in my cart) and b. their prints are adorable. 🙂
2.. Wipes
A necessary evil. 🙂 We use Honest (because they come our shipment).
3. Changing pad
We had a "standard" changing pad prior to the Keekaro changing pad. Without going into detail, this one is so much better for cleaning when the inevitable happens! Seriously worth every penny.
4. Diaper rash cream
We didn't have to use that as much with Roy as we did with Penelope but it's so good to have on hand!
My sister used this back in the day when her kids were little and it's genius! Instead of having to take the entire diaper bag to the bathroom when you're out and about, just grab the pack that includes pockets for diapers/wipes/diaper cream and is big enough to lay your baby down!
My favorite thing ever for bath time! Put your baby on something soft while bathing and not have them slipping and sliding all over the place. 🙂
7. Hoodie towels and washcloths
Perfect for newborns and toddlers alike. I'm obsessed with this one for Penelope and this one for Roy.
8. Shampoo/body wash and lotion
I love the smell and the pump style bottles of Burt's Bees. Trying to squeeze body wash on your hand and washcloth while holding a tiny baby in water is NOT easy. 🙂
9. Baby brush
We needed these from day 1 with our kids. 🙂 Any kind will do! If your little one happens to have cradle cap I highly recommend this brush/comb duo.
10. Nail clippers
There's nothing scarier than clipping your baby's fingernails. Trust me.
11. Diaper pail
We started out with the diaper genie but always dealt with a ton of stink. When I was helping my cousin register for her baby we discovered the Ubbi. I bought one and we've never looked back. It's the BEST. No special bags, no pushing diapers down, just open – drop – close – done.

Feeding
1. Bottles
Each baby is different on what kind of bottle they'll take but we found that Dr Brown bottles worked really well for both of our kids.
2. Bibs
We have a drawer full of your "typical" bib but getting a couple Aden & Anais burpy bibs is totally worth it. Bibs that snap are great so your little one can't pull it off and they can also be used for burp cloths!
We also have a handful of these that I love for when they're a little older!
3. Bowls
I'm a big fan of these bowls especially when your kiddos are just learning how to eat by themselves. They suction to the table to prevent at least a couple spills!
We love these for when you're first starting solid food. After Roy started feeding himself we started using these. They're perfect for little hands!
5. Burp cloths
You can never have too many burp cloths. Get a few cute ones (try etsy or amazon – these are cute) and also get a pack or 2 of cloth diapers to be used as burp cloths.
if nursing
6. Nursing pads
I loved these reusable ones! I tried a few different brands and these were the best.
7. Milk storage bags
I tried the Medela's and spilled so much milk it almost made me cry. Get these instead.
8. Milk storage container
It sounds dumb and seems unnecessary but I finally broke down and bought this with Roy and it was a game changer to keep track of all the milk I was pumping.

Health + Safety
1. Nose Frida
So gross and your kid will hate it but get it. It's so necessary.
2. Thermometer
We have this ear one and this forehead one. The forehead one is so great for when they're tiny and Roy thinks it's so fun so it makes taking temperatures easier!
3. Saline spray
Another necessary evil that your kid will hate but will be so helpful for stuffy/runny noses.
It's better to have it on hand than to have your baby get a fever and not have it.
You won't need these for a while but you will eventually so you might as well put them on your registry!

Clothes
1. Onesies
Our kids basically lived in generic white onesies and swaddles for the first few months.
2. Pajamas
Zipper pajamas are the BEST especially for middle of the night feedings.
3. Pants
When they're not in pjs during the day you'll likely want pants on them even in the summer.
4. Booties
Socks never stay on babies – I love these for keeping those toes nice and warm!
I hope this helps you get started on your baby registry, picking something up for a friend or getting something you missed for your new baby! Be sure to print off the baby registry checklist above to bring it to the store with you!
If you're a mom what did I miss? What's on this list that you never used?
Thanks so much for reading and sharing!