DockATots are one of those baby things that you always wonder if they're as amazing as everyone says. Since they're one of the pricer baby items, I wanted to share my full DockATot Deluxe Review for you after using it with Penelope!
For the most part we didn't get a lot of new things for Penelope when she was born. Since we had Roy 16 months earlier, everything was still in good working order (with the enhancement of a few blow out stains here and there ;)).
And just like I was smarter about what to bring to the hospital, I had a good grasp on what we would and wouldn't use for baby #2. One thing we didn't have with Roy was a DockATot.
I saw them all over Instagram and debated about getting one but never did. We made do with our swing, rock n play or blanket on the floor. But when I got asked if I wanted one to review, I jumped on the opportunity!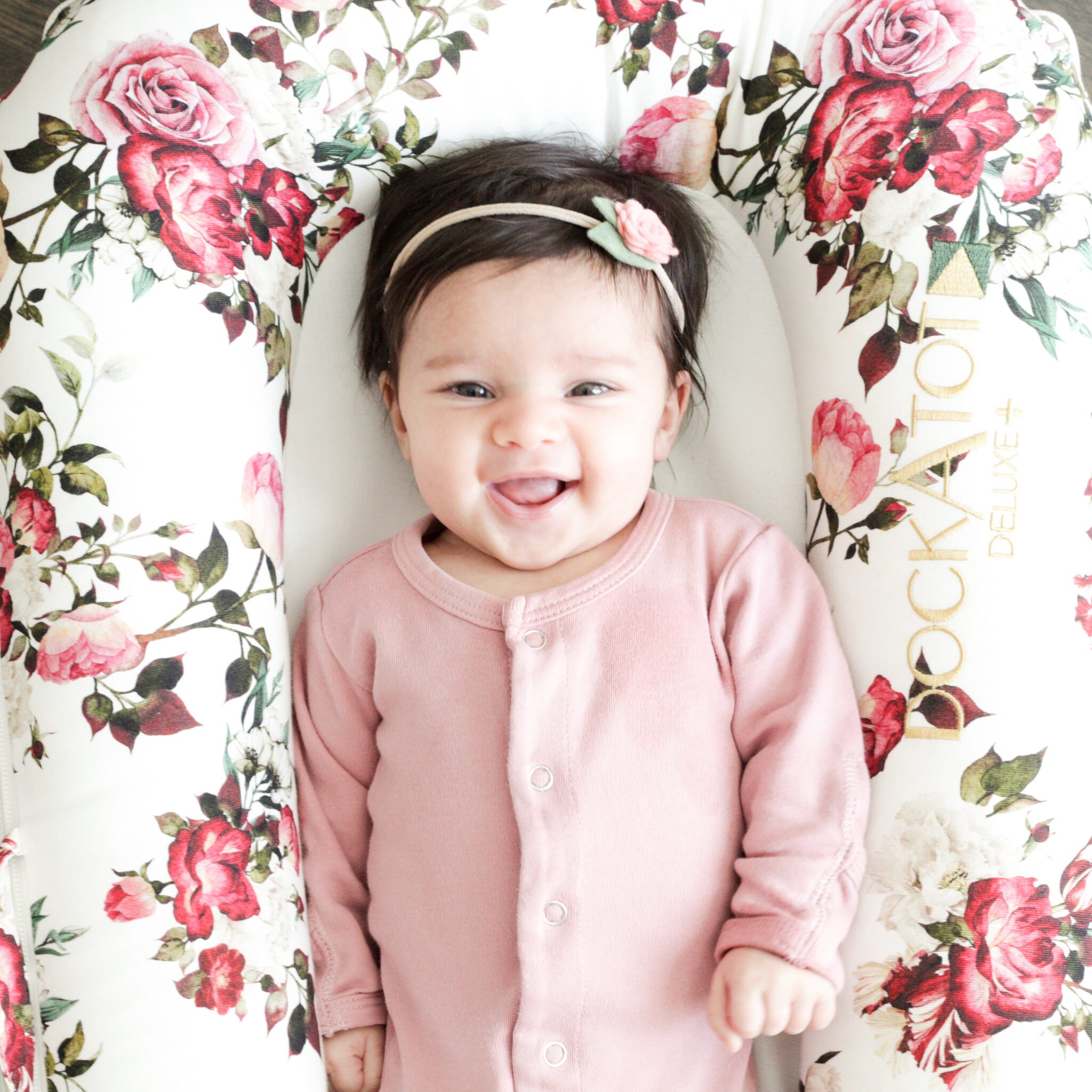 This post contains affiliate links.
What is the point of a Dock A Tot?
A DockATot is a docking station for babies age 0 to 8 months old. There are ton of uses for a DockATot! They're great for tummy time, for having a safe place to set your baby down when you can't be holding them, or for supervised naps on the go.
To be honest, I literally use my DockATot every single day all throughout the day. No joke!
I use it ever morning after Penelope's done eating. She gets to hang out in her Dockatot in our living room (which is connected to our dining room – we have an open floor plan) while I get Roy up and get his breakfast made.
She'll typically take at least one nap in it during the day while Roy and I are playing. I like to encourage her to nap through noise and in different environments to hopefully make her a good sleeper as she grows! Whenever she naps in it she's in the room where we're at and we're in sight of her to ensure it's a safe sleeping environment.
I'll actually even use it to change diapers too! I put a changing pad down and get after it rather than going all the way upstairs to change one of a million diapers or doing it on the floor. Although since I rarely reach my move goal of 250 calories a day maybe I should rethink this one. 😉
And to be totally honestly, it's really the perfect spot to put her when I need to tend to Roy or get something done around the house when she's not napping in her crib.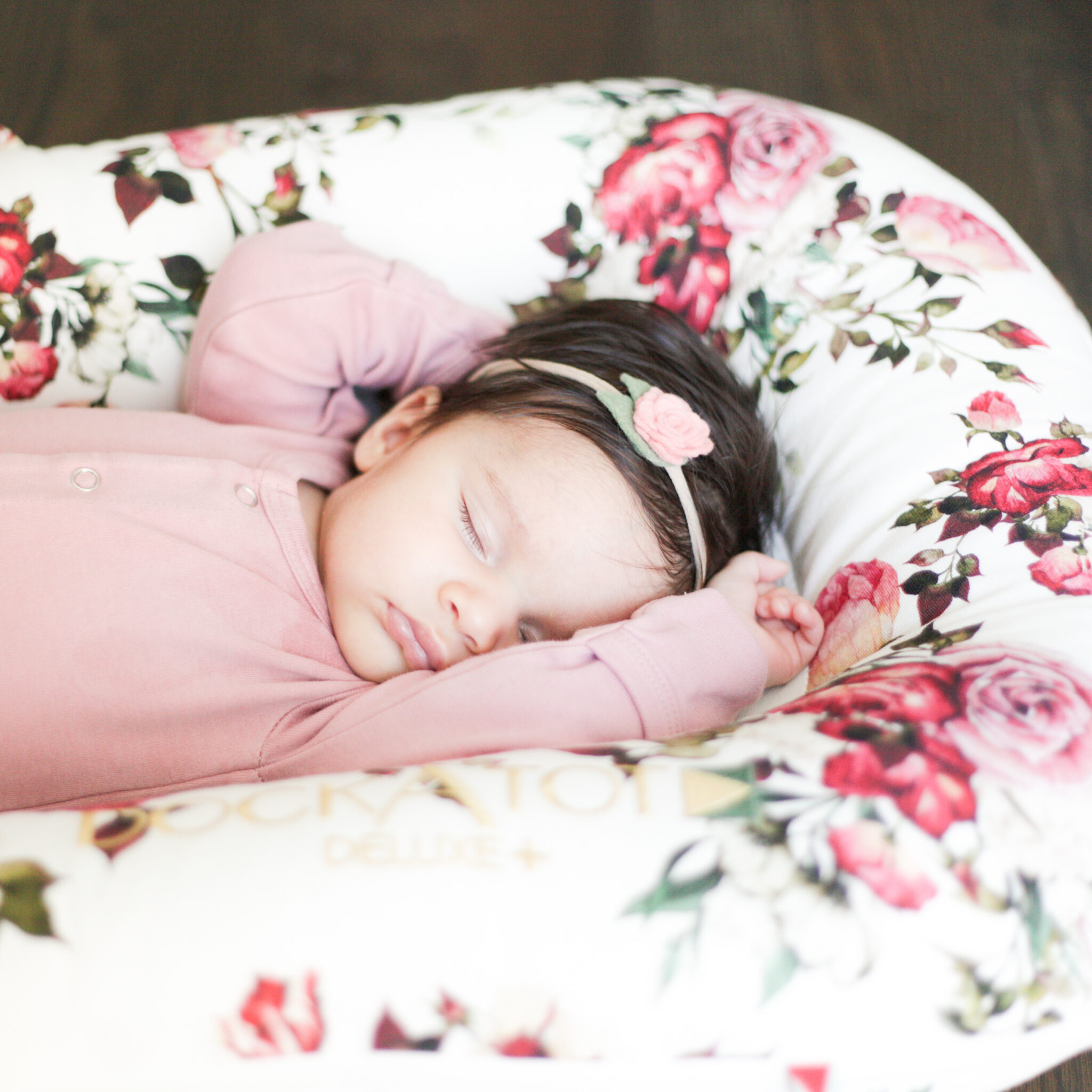 Tummy Time for Baby
The DockATot is a really great option for tummy time! The sides of the DockATot are rounded and you can put your (awake) baby's arms over the sides to work on their neck strength.
All of our babies have been fine with doing tummy time on the ground but so many babies don't love it! Starting on the DockATot will help your baby get used to this position and practice lifting their head.
Perfect For Travel
One of the favorite things about it is how easy it is to travel with!
With our oldest, we brought our rock n play or pack and play everywhere. Both of these options are great to use but they're both big and take up a bunch of space!
Now that we have 2 kids worth of stuff to lug everywhere, the smaller the better. Now when we're going somewhere and I need P to sleep, I bring the DockATot! It's so easy to just throw the DockATot back in it's plastic carrying case and throw it in the car.
I'll also throw in a few toys she can use while hanging out! The carrying case is perfect for bringing a few extras with you.
It's super convenient to put on a bed or the living room floor for Penelope to nap (supervised – safety first please) in at other people's homes. I like it better than in her car seat or another makeshift bed.
At Christmas when our daughter was 2 months old, she napped in her DockATot in my parent's living room in between their coffee table and a chair and it was perfect! I've actually even seen people bring it on planes for the baby's to use to nap.
You can even bring it the beach or camping or just hanging out outside. You can purchase a Cabana Kit Deluxe which will keep your little one protected from the sun.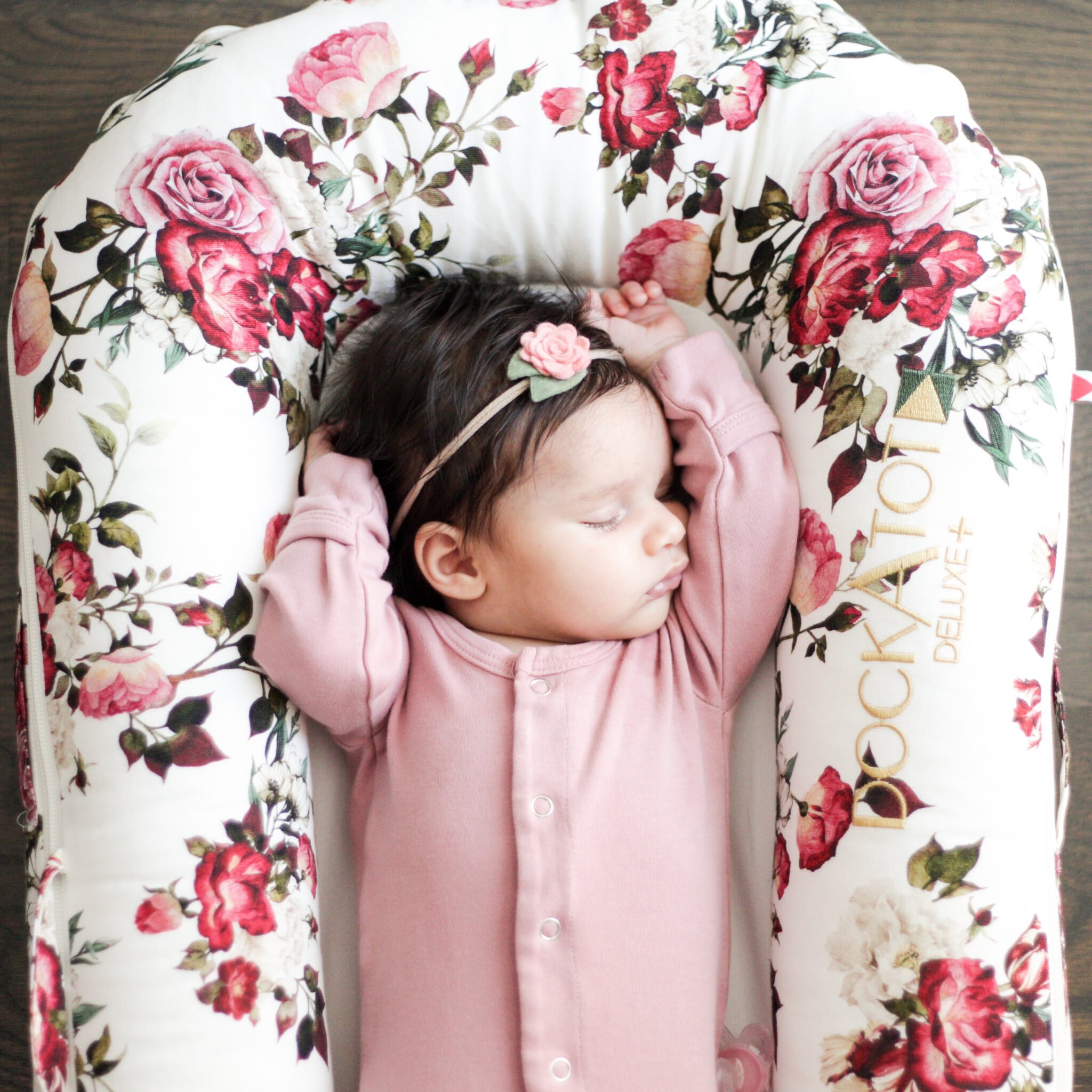 Pros
Easy to travel with.
Removable, washable cover.
Great for families with multiple kids.
Well made (and lots of fun designs!)
Creates a spot for infants to nap or sleep.
Great option for tummy time!
Multiple sizes – the Dockatot Grande is for kids older than 8 months
Cons
Can't collapse or fold.
Cost.
Child should be supervised if napping in it.
Should You Get One?
After I posted a photo of P in her Deluxe on Instagram I had a ton of moms ask if you should get it. I feel like everyone's situation is different but I am so glad I have one.
Here are some questions to ask yourself:
Are you someone who travels a lot or spends a lot of time not at your home? The Deluxe is a great solution for where your baby could sleep.
Are you someone, like me, who has a crazy toddler running around and you need a safe place to put your baby? Then I highly recommend it!
Is it in your price range? If not, don't get one! 😉
Where to Shop
FAQ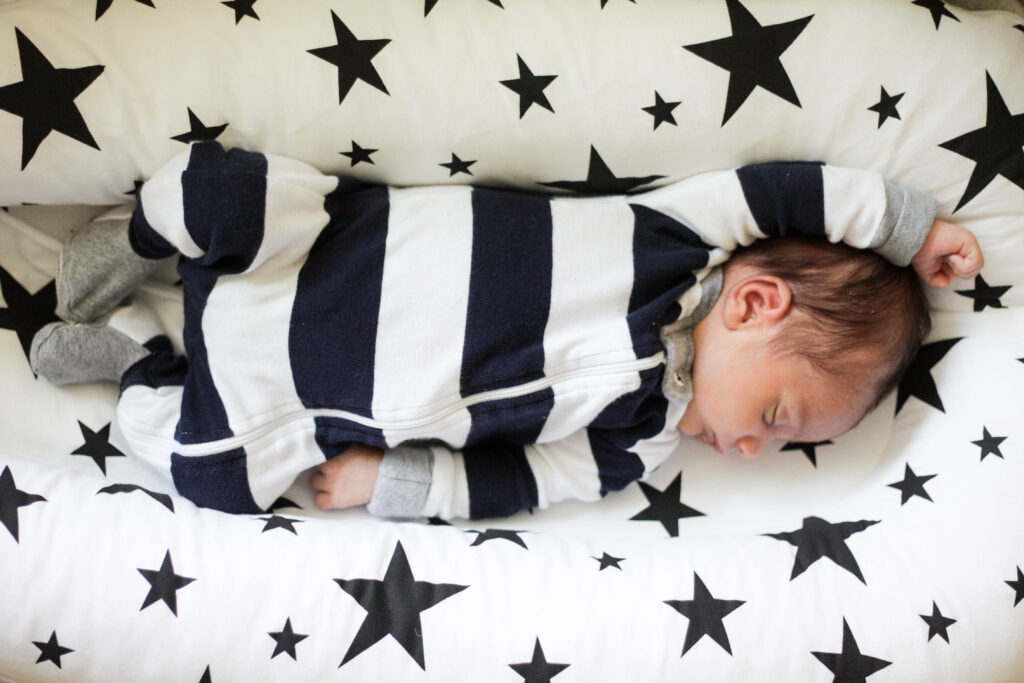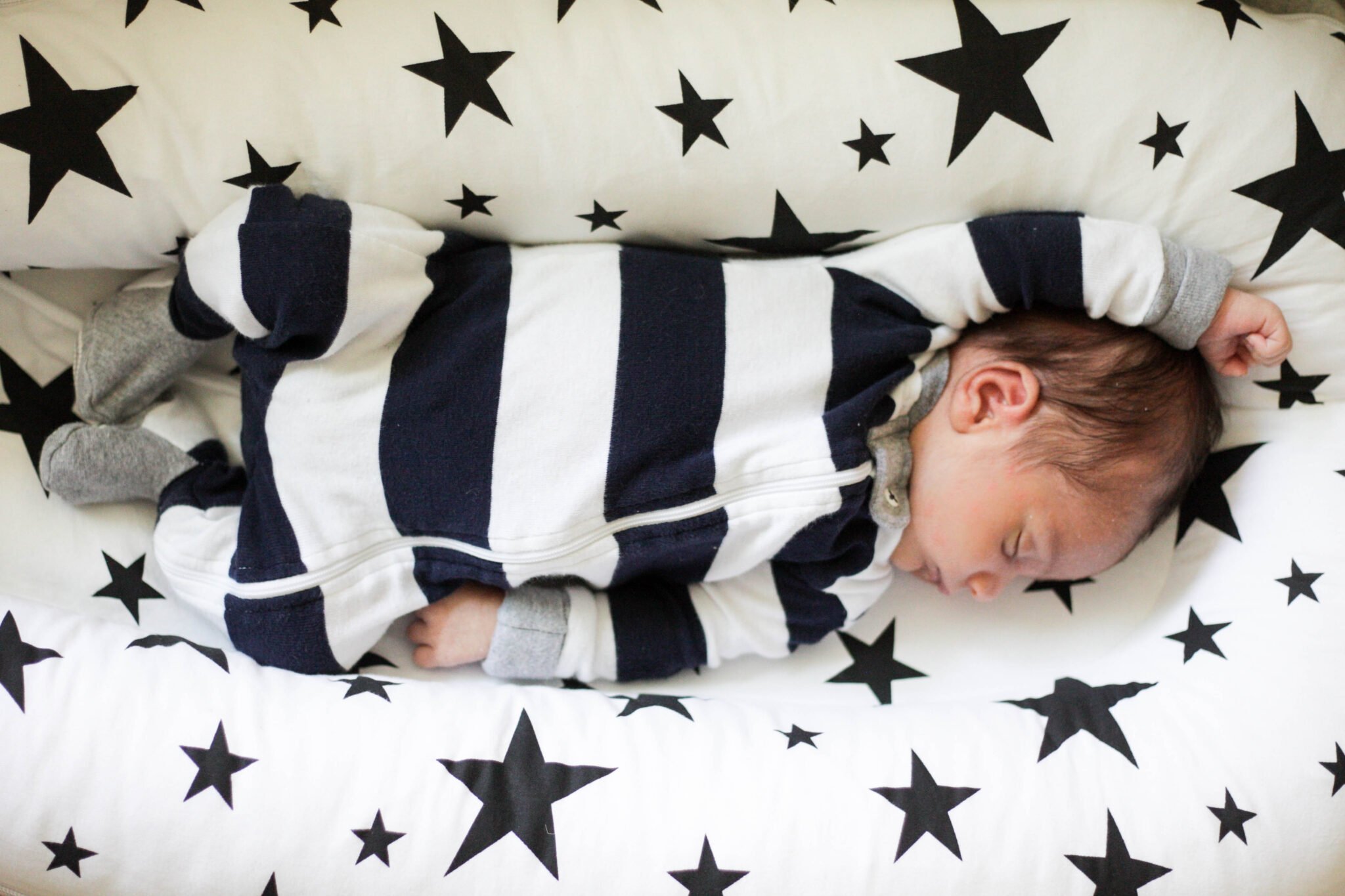 What is Dock A tot used for?
A DockATot is used as a docking station for babies! It can be for play time, supervised napping, tummy time and more.
Can baby sleep in DockATot at night?
A Dock A Tot is not meant for babies to sleep in at night. It's not supposed to be put in a crib, bassinet, or other contained area per the warning label on the DockATot.
Is DockATot worth it?
In my opinion, yes! It's especially good if you have other young kids so you can safely put down your newborn while tending to other children.
Do you own a DockATot? Have any other questions about them? I'd love to know! I hope my DockATot Review helped you!
Be sure to check out my Baby Registry Checklist – Your Go To Guide For Your New Baby post!
You can also find a DockaTot Grand Review here!
Thanks so much for reading!