I love a good party and even more a good party theme! Our son just turned 4 and choose to have superhero party to celebrate which turned out to be such a fun theme! If you're looking for some ideas for you own superhero party, keep reading!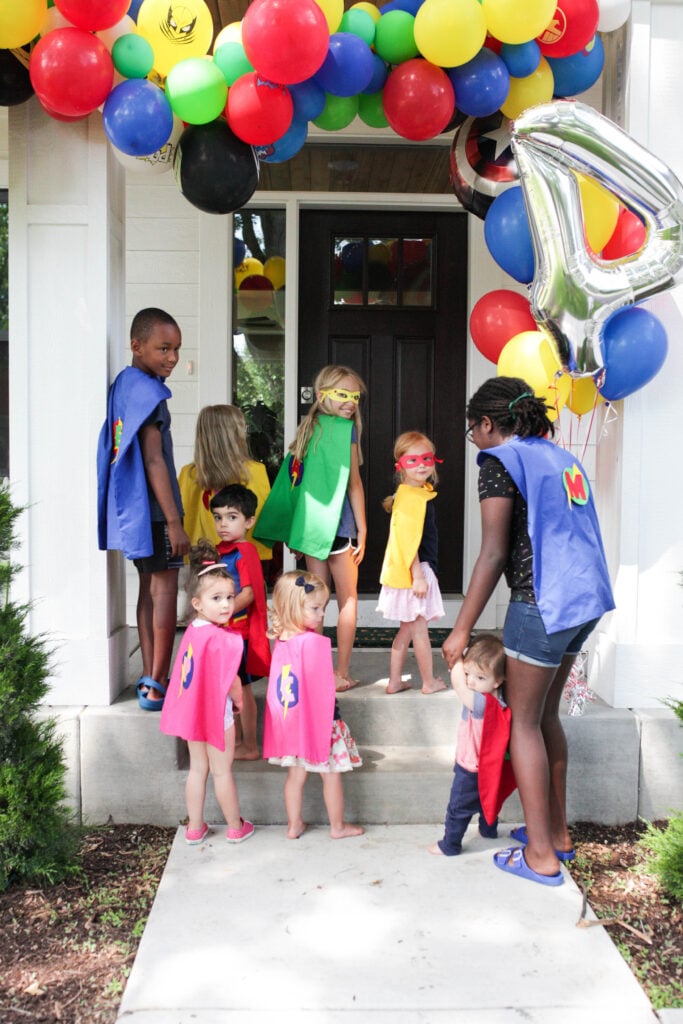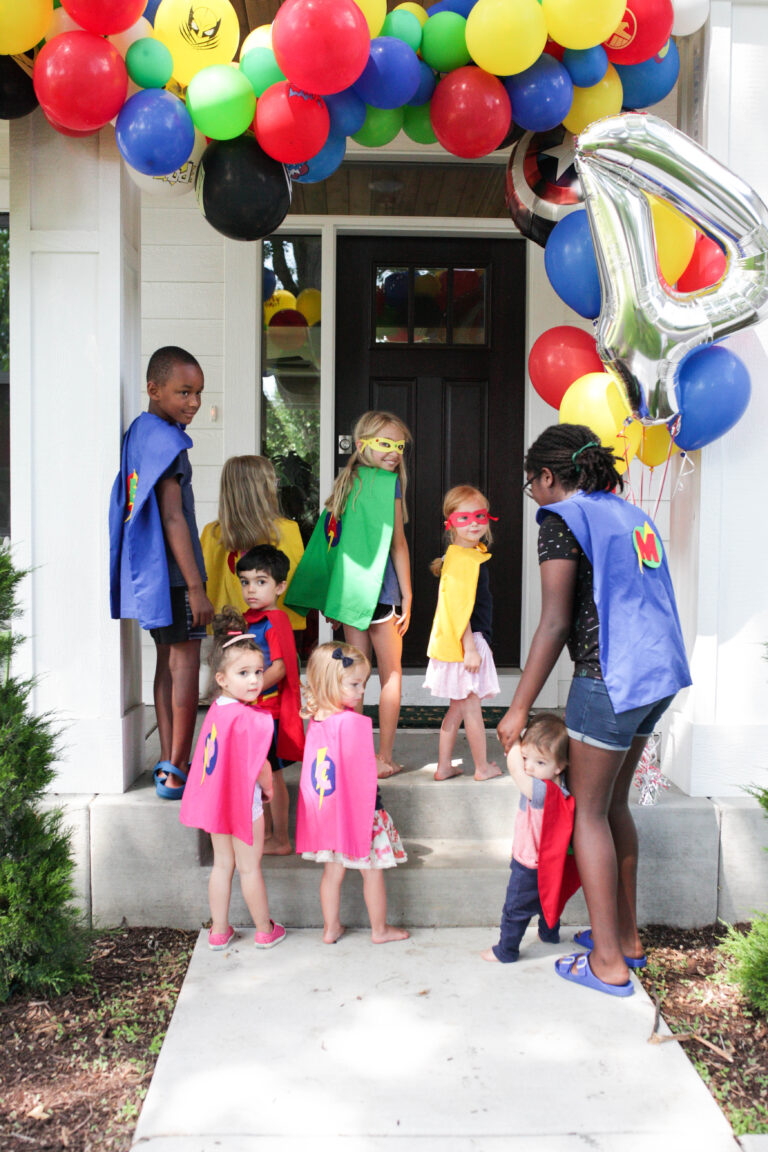 I have the bulk of the things I used listed below which you'll see in the photos below. All of these are found on Amazon!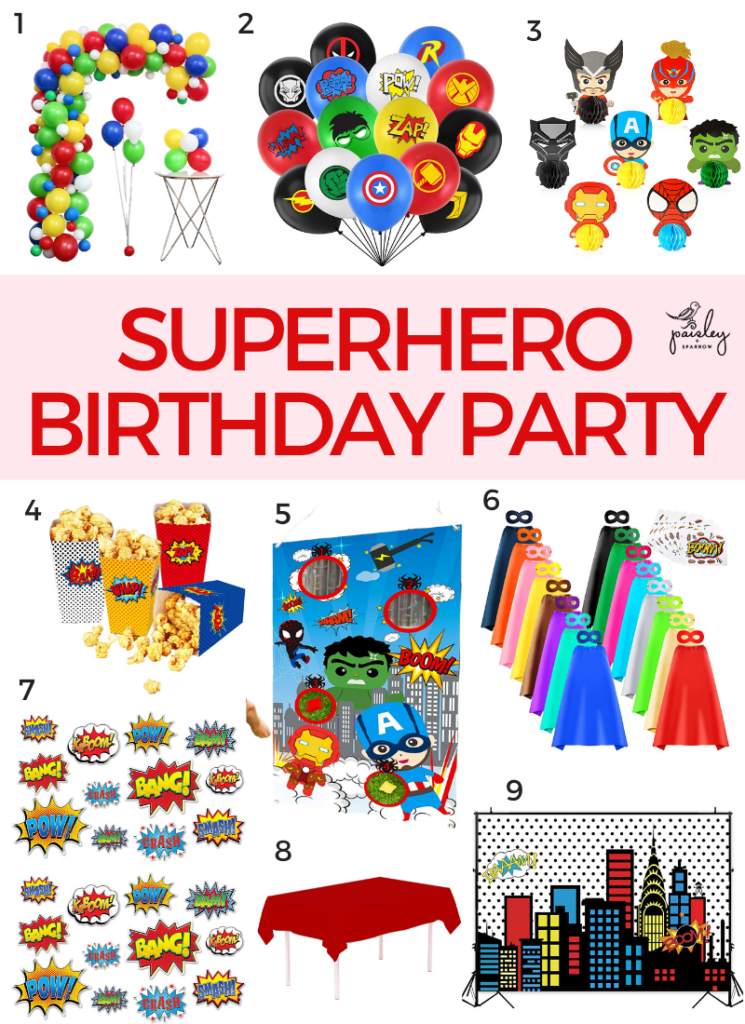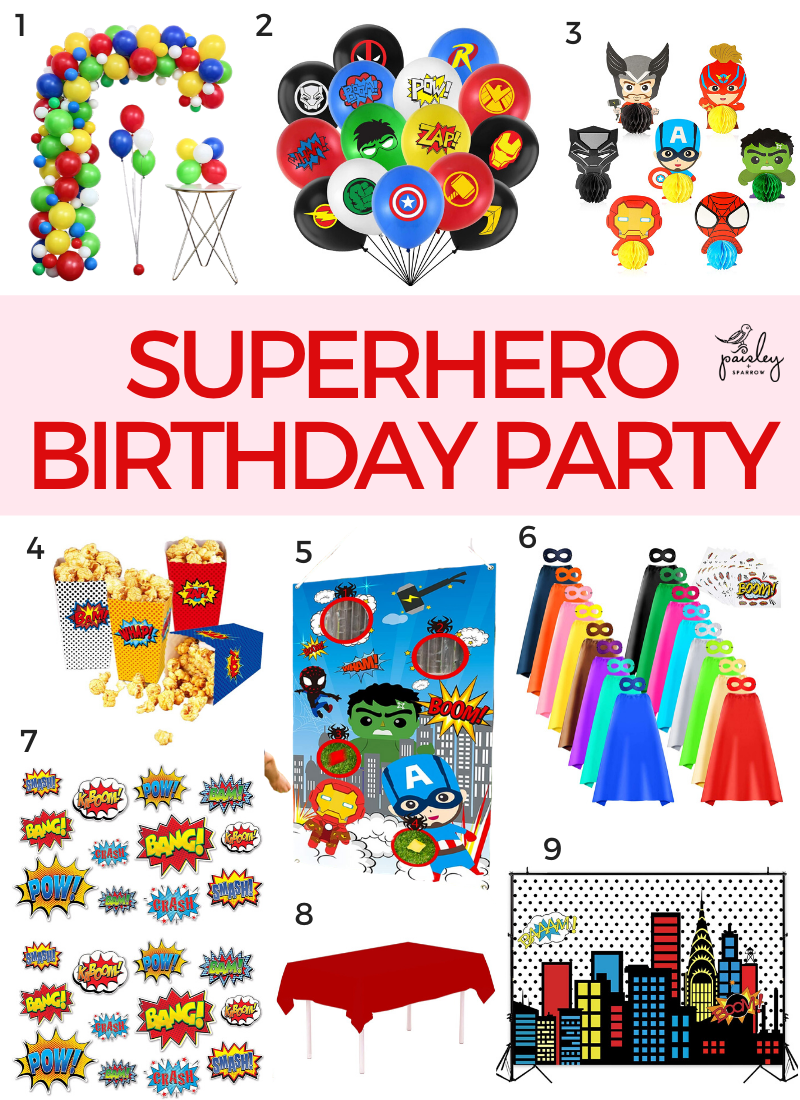 *this post may contain affiliate links which means I may earn a small commission on something you purchase at no additional cost to you. Thank you for helping me support my family through Paisley + Sparrow!
1. balloon garland kit | 2. superhero balloons | 3. superhero honeycomb centerpieces | 4. superhero popcorn boxes | 5. superhero game | 6. capes | 7. red plastic tablecloth | 8. superhero cut outs | 9. fun backdrop
Balloon Garland
If you know me, you know I love a good balloon garland so of course we started with that! I've been trying out using kits so I picked up this balloon garland kit from Amazon and added in some superhero balloons.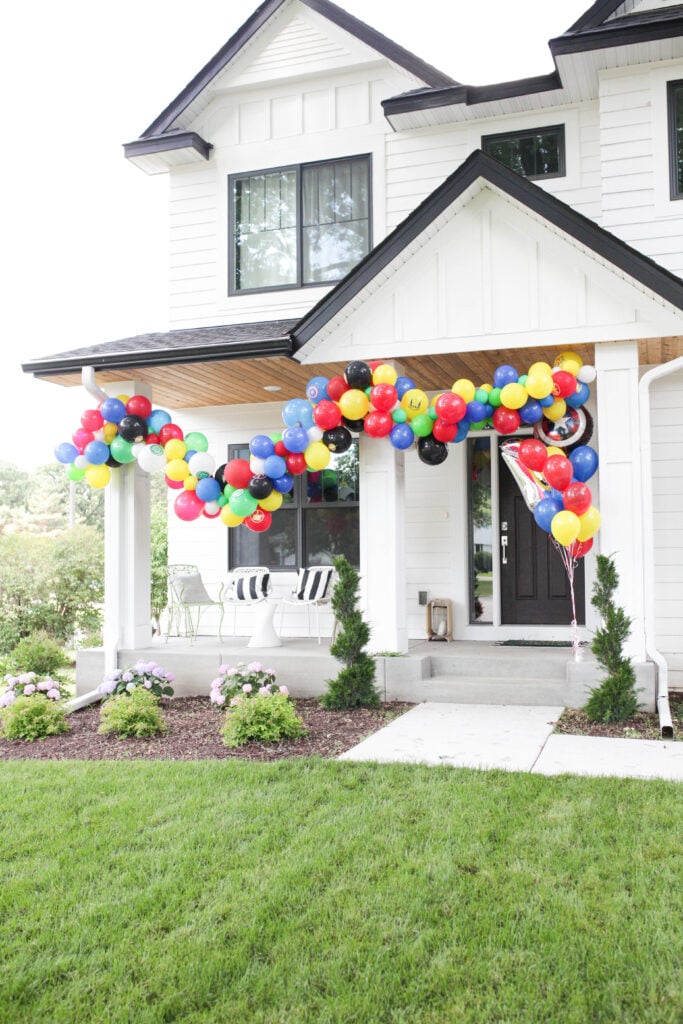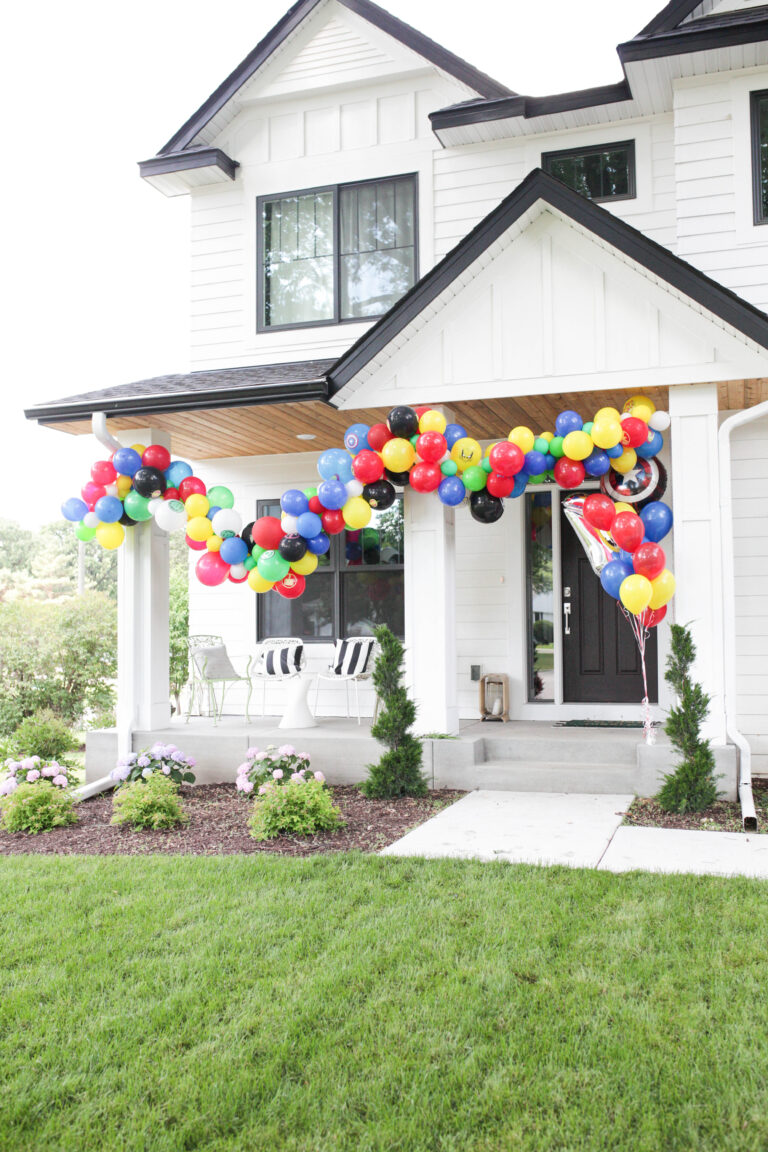 *Find a full balloon garland tutorial with tons of tips here!
I've learned from past experience that it's good to supplement with additional balloons, especially if you want an extra long one or if you plan on making it a couple days in advance.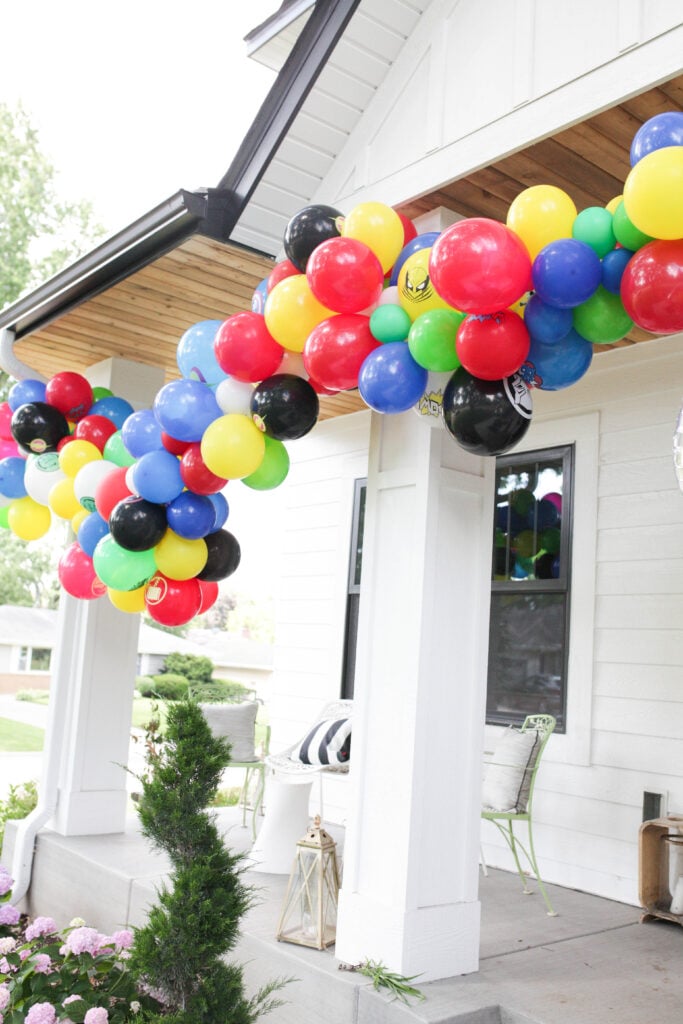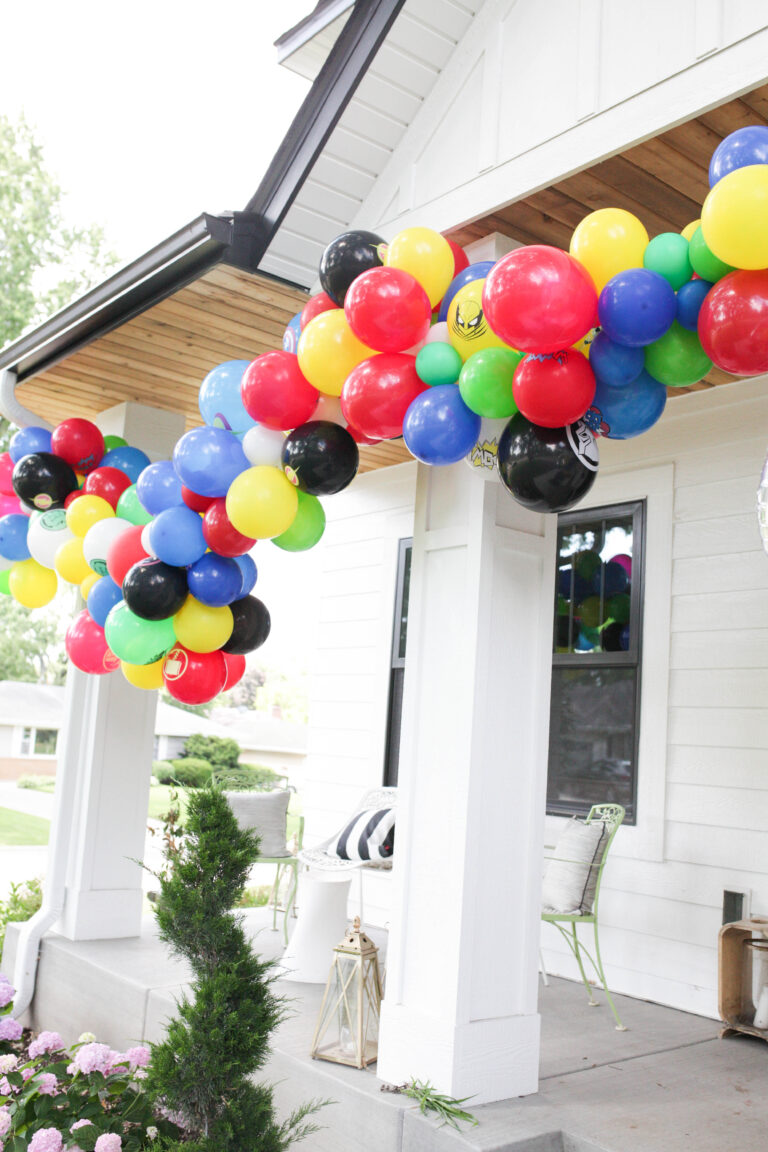 I knew I wanted to add some superhero balloons but I didn't want the entire balloon garland to be full of those since they cost a lot more than solid color ballons! For this balloon garland I used the balloon strip that it came with as well as a bit more of another one (you can get just the balloon strip on Amazon!).
This was the first time I put a balloon garland outside our house but I love how it welcomed our party guests! It was a great spot to take our traditional cousin photo as well.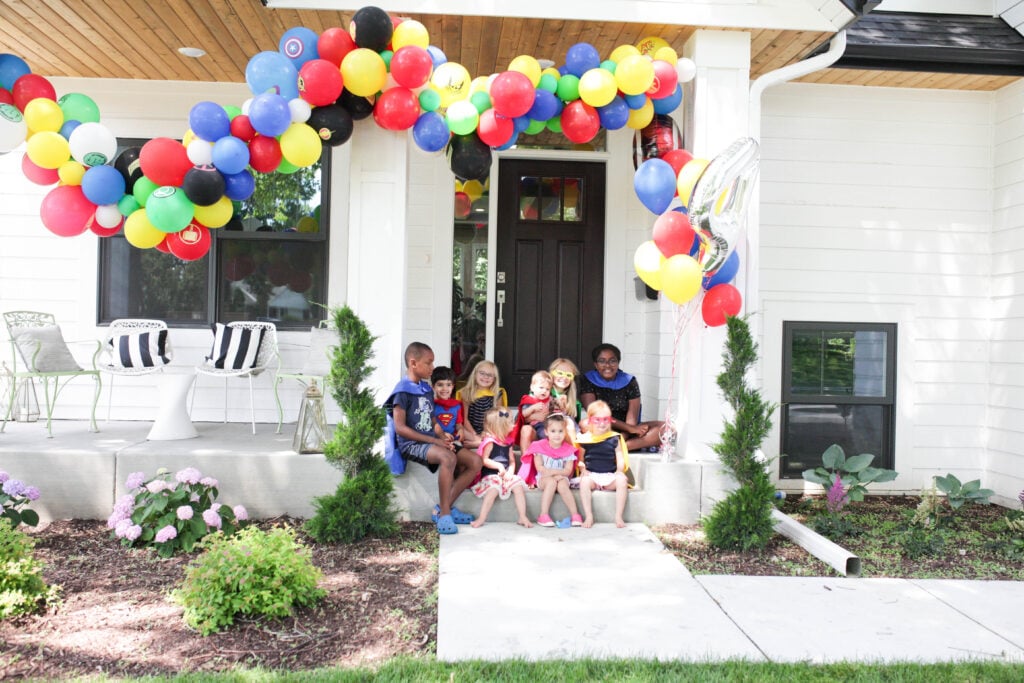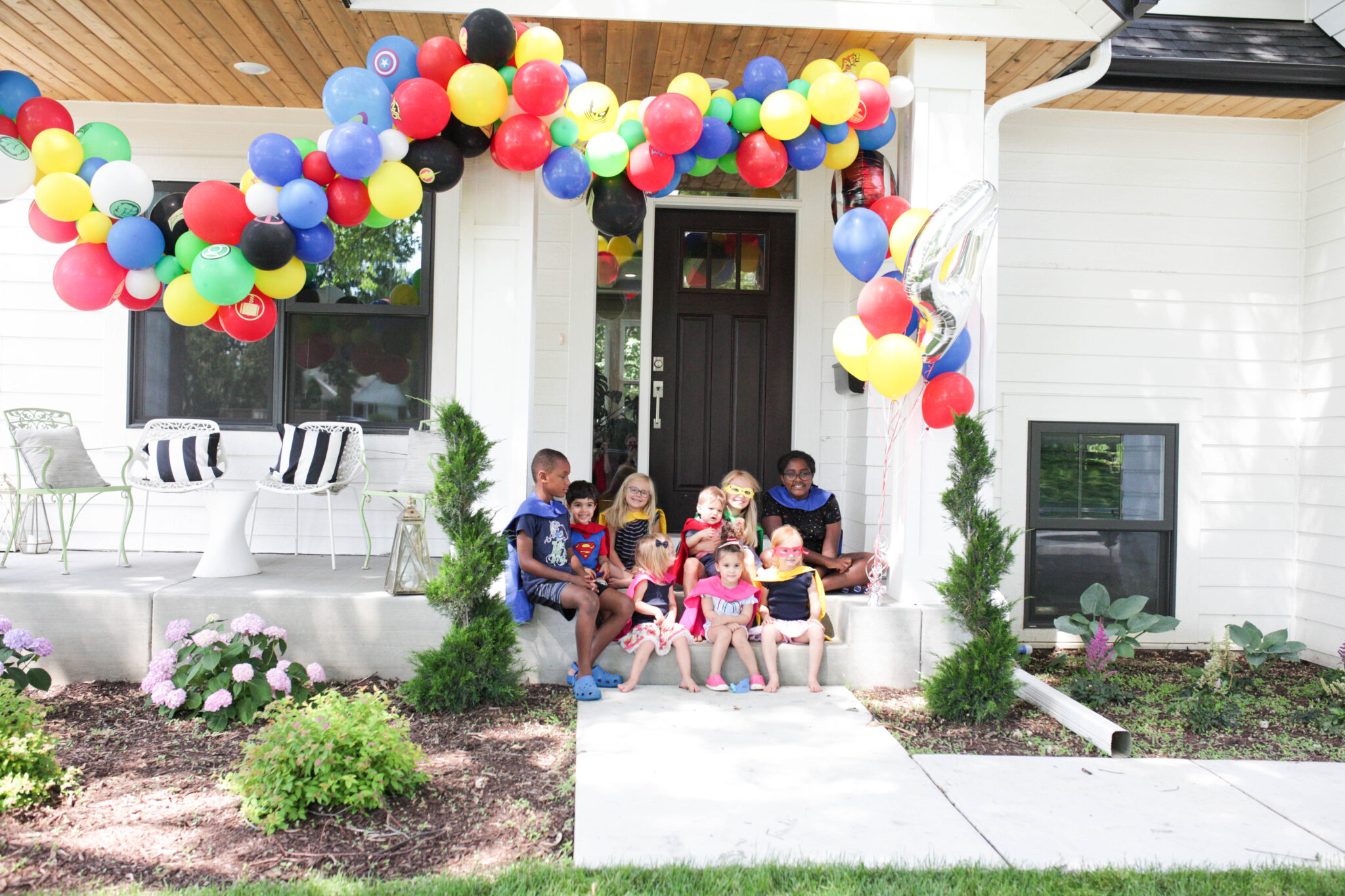 Side note – I love having balloon garlands for my parties because they add such a statement that you can go pretty minimal for the rest of the decor!
We also got a fun balloon bouquet from Sprinkles & Confetti with a superhero balloon and a giant 4 for Roy's 4th birthday!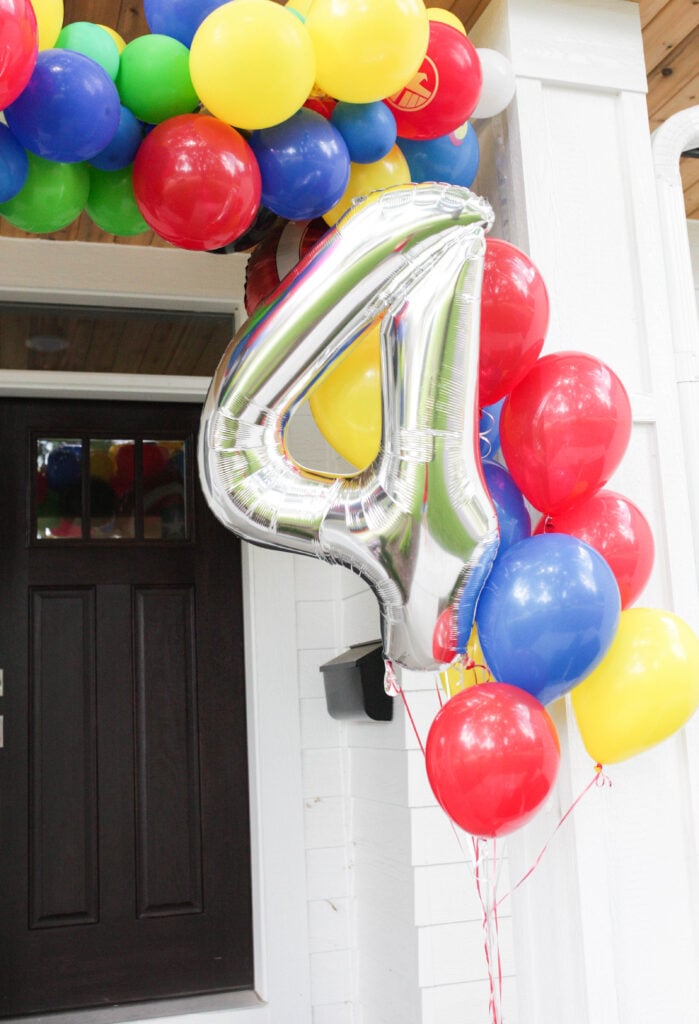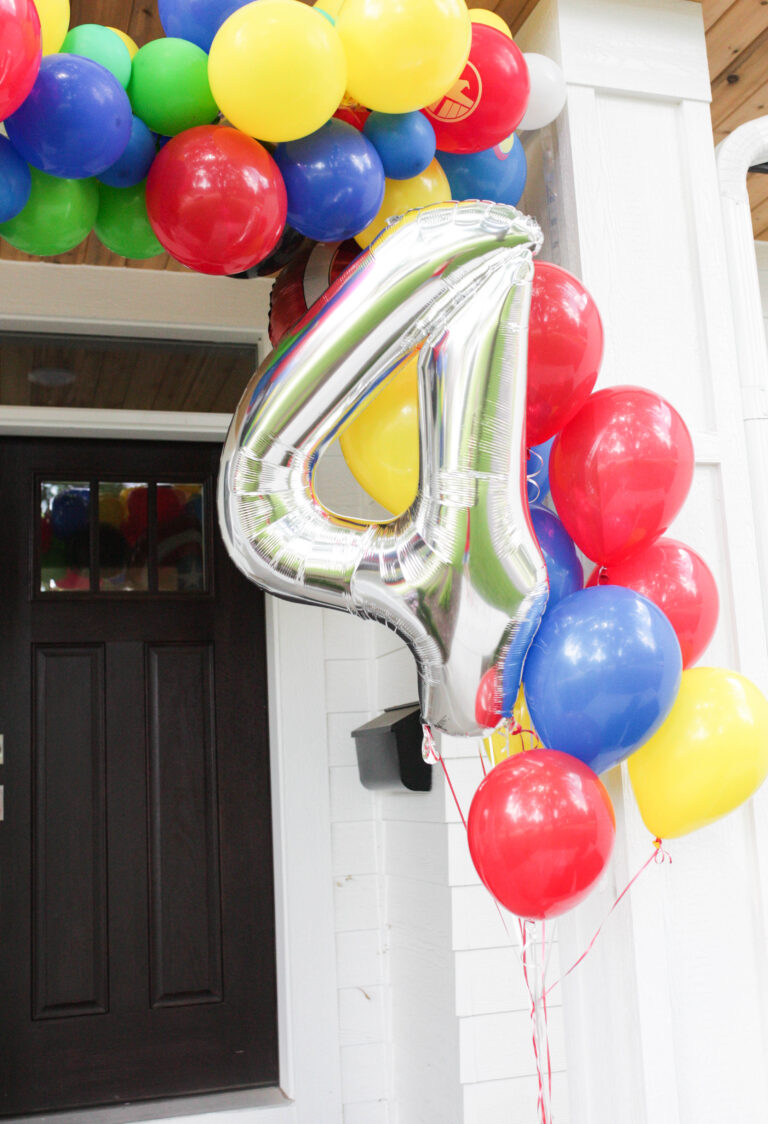 Superhero Capes
What's a superhero party without superhero capes? I had the lofty goal of making all of the cousins capes and it actually worked! I created my own pattern for the cape and decals for the back.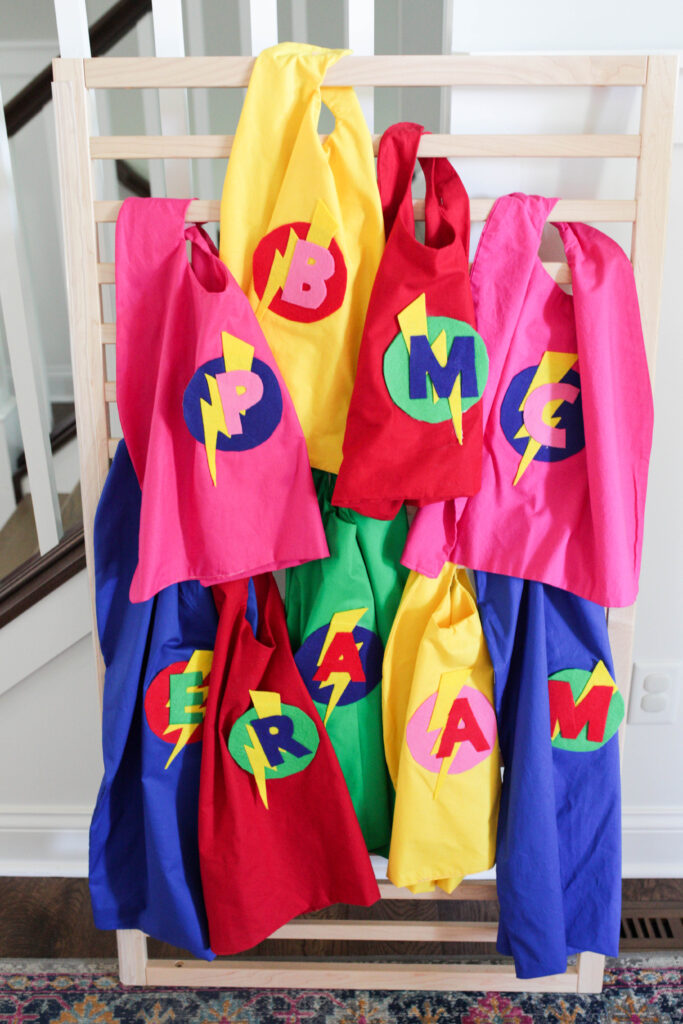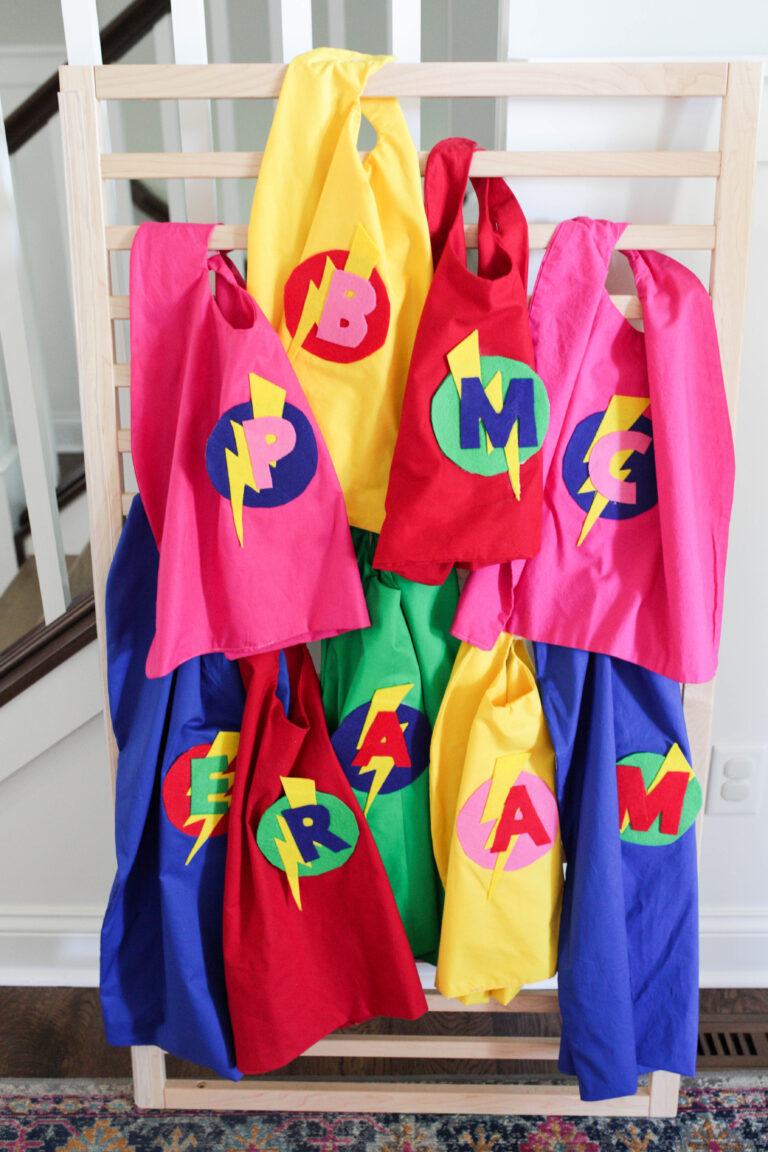 It was fun to be able to coordinate the different colors and personalize each cape for each cousin. They all loved them and had a blast running around in their capes all day!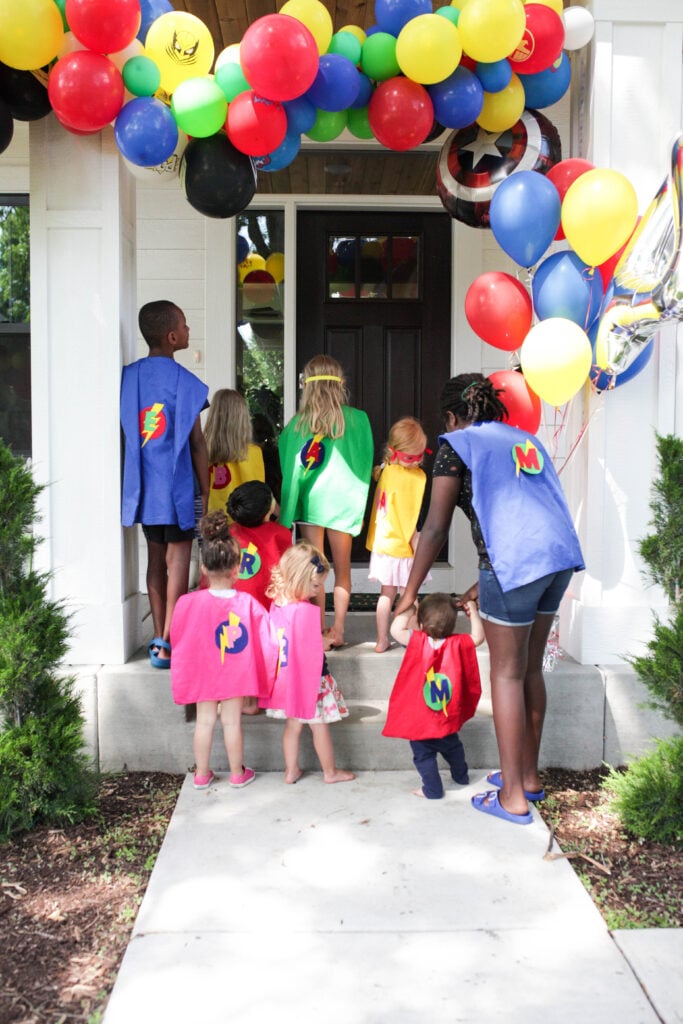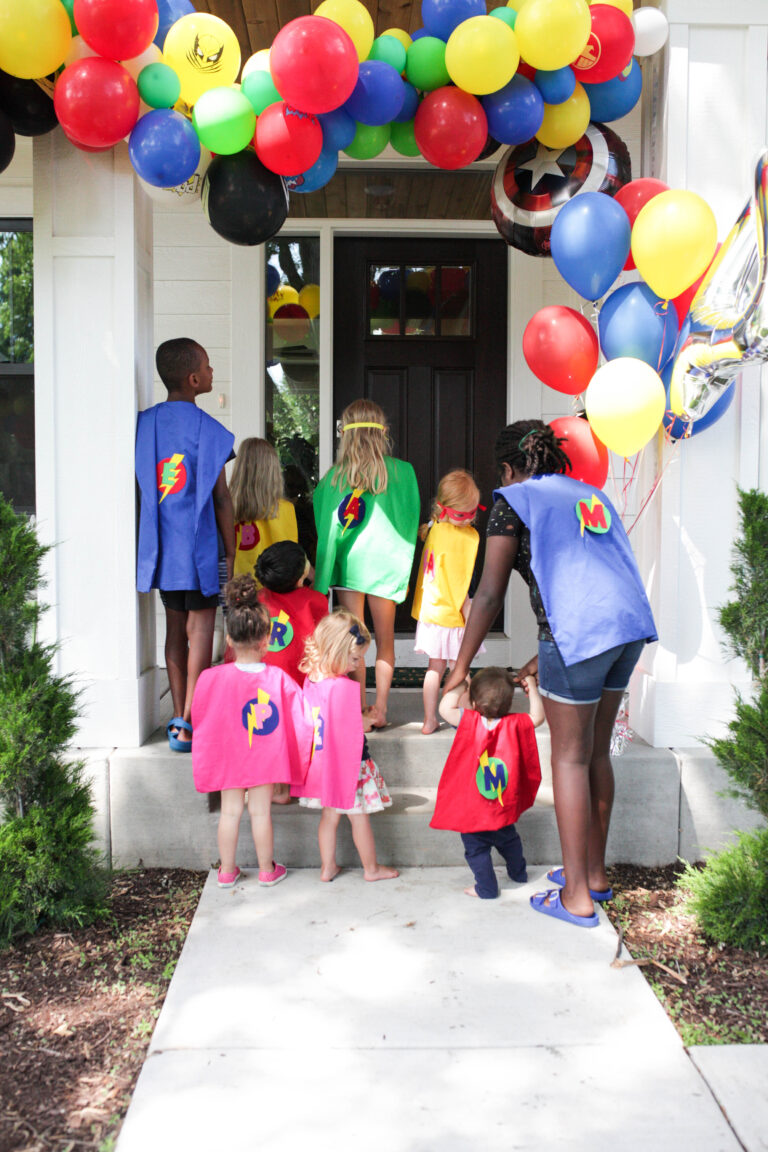 If you don't want to make your own, you can always buy some! I found some really cute ones on Etsy and some fun, simple capes on Amazon!
Superhero Masks
Like capes, you have to have superhero masks at a superhero party! I decided to create a kid and adult template so both the kids and grown ups could make their own masks!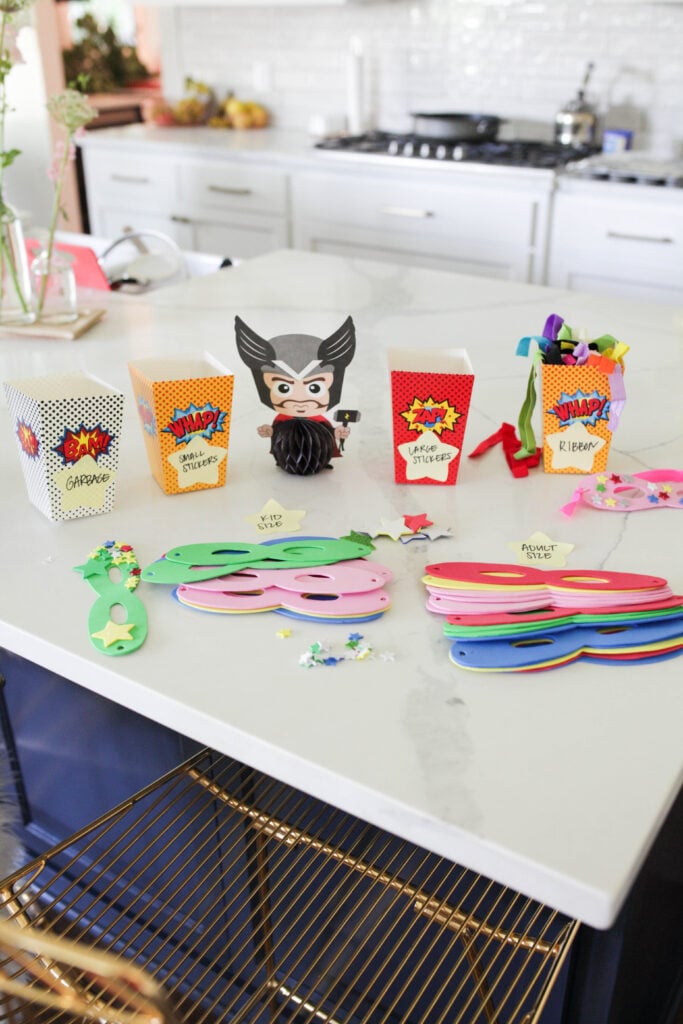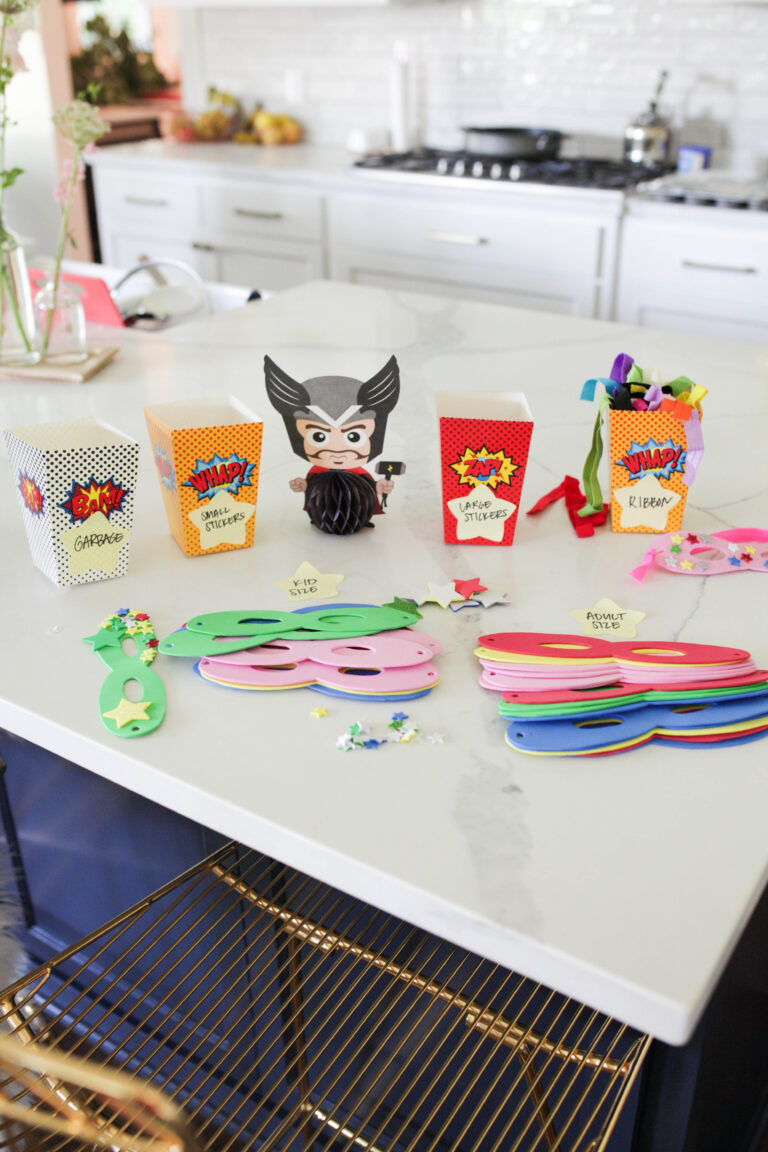 I made a little "mask making station" for everyone to decorate their masks and it was a hit! I had both small and big stickers and a variety of elastic ribbon for everyone to make their mask their own.
It was fun for all the kids from 2 to 12! I love having little activities to do that aren't too involved. A few kids only added a couple stickers while others covered their masks!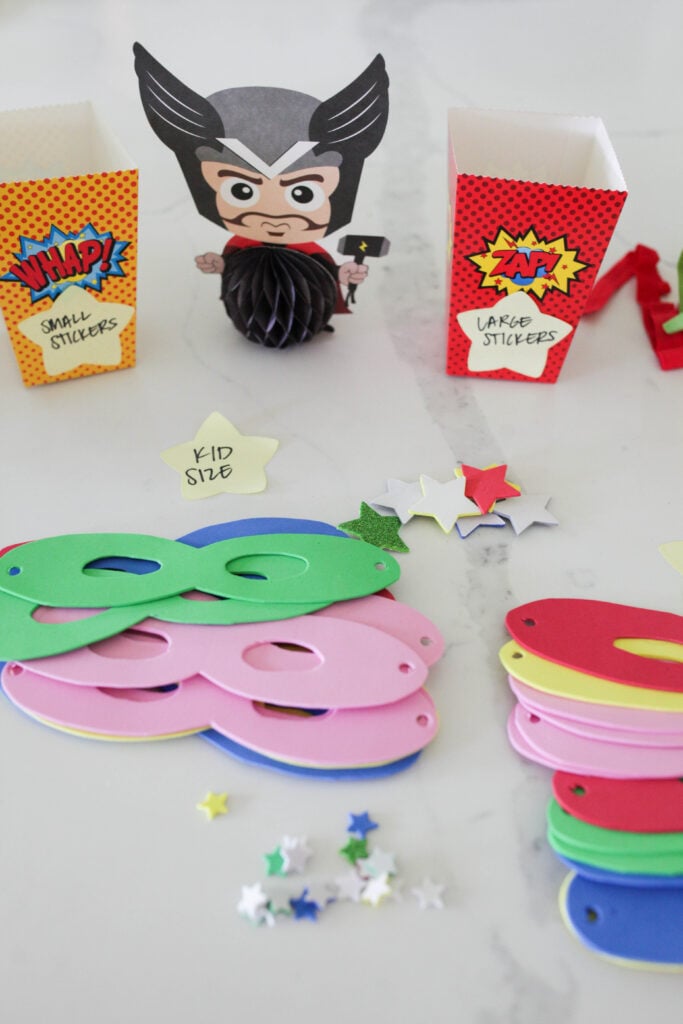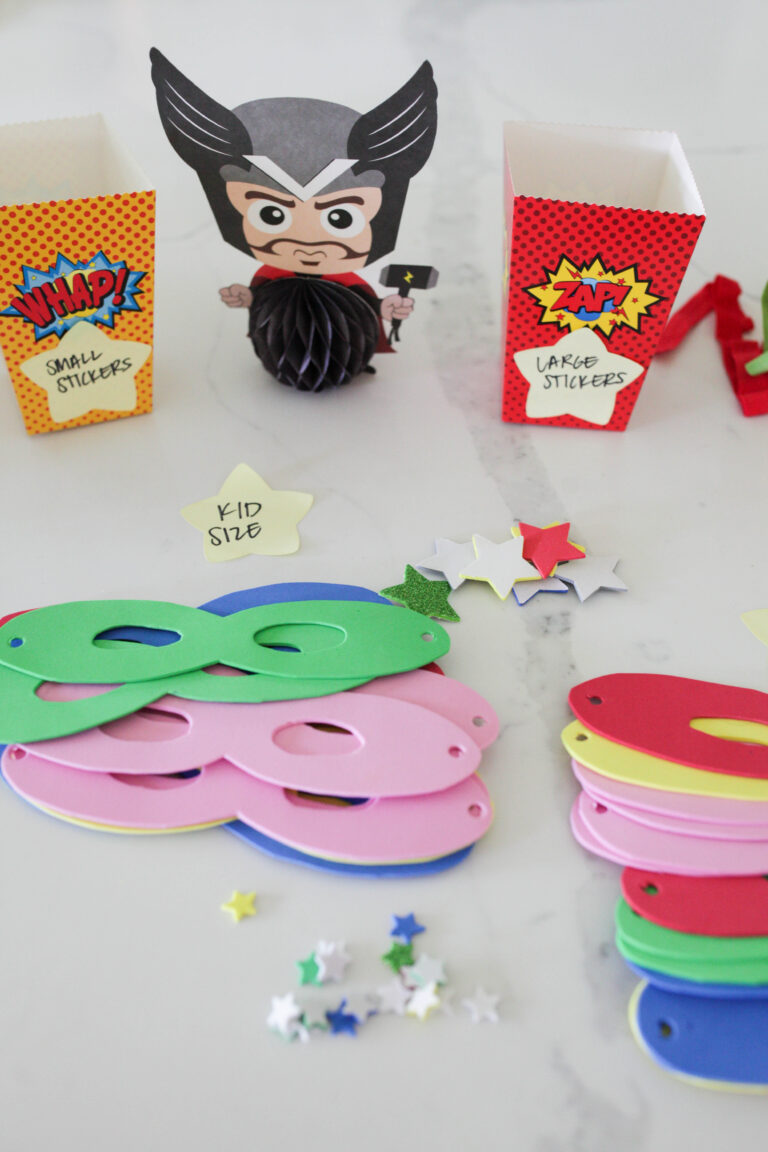 It also made my life easier since that meant I didn't need to decorate everyone's masks prior to the party! I had extra cut out masks too and sent them home with all of the kids to make more masks at home.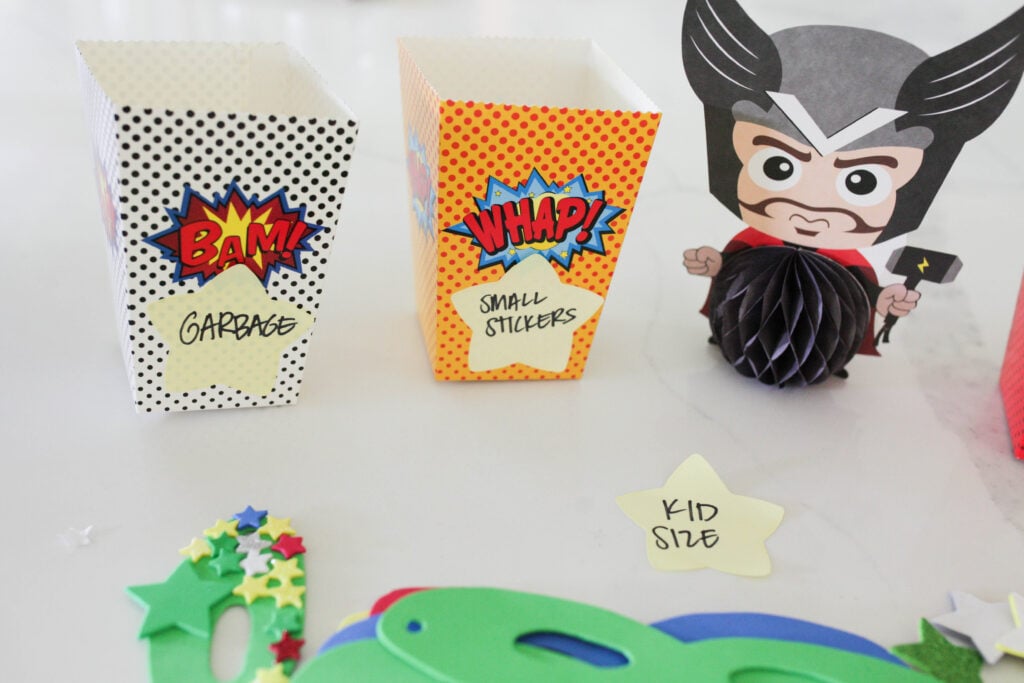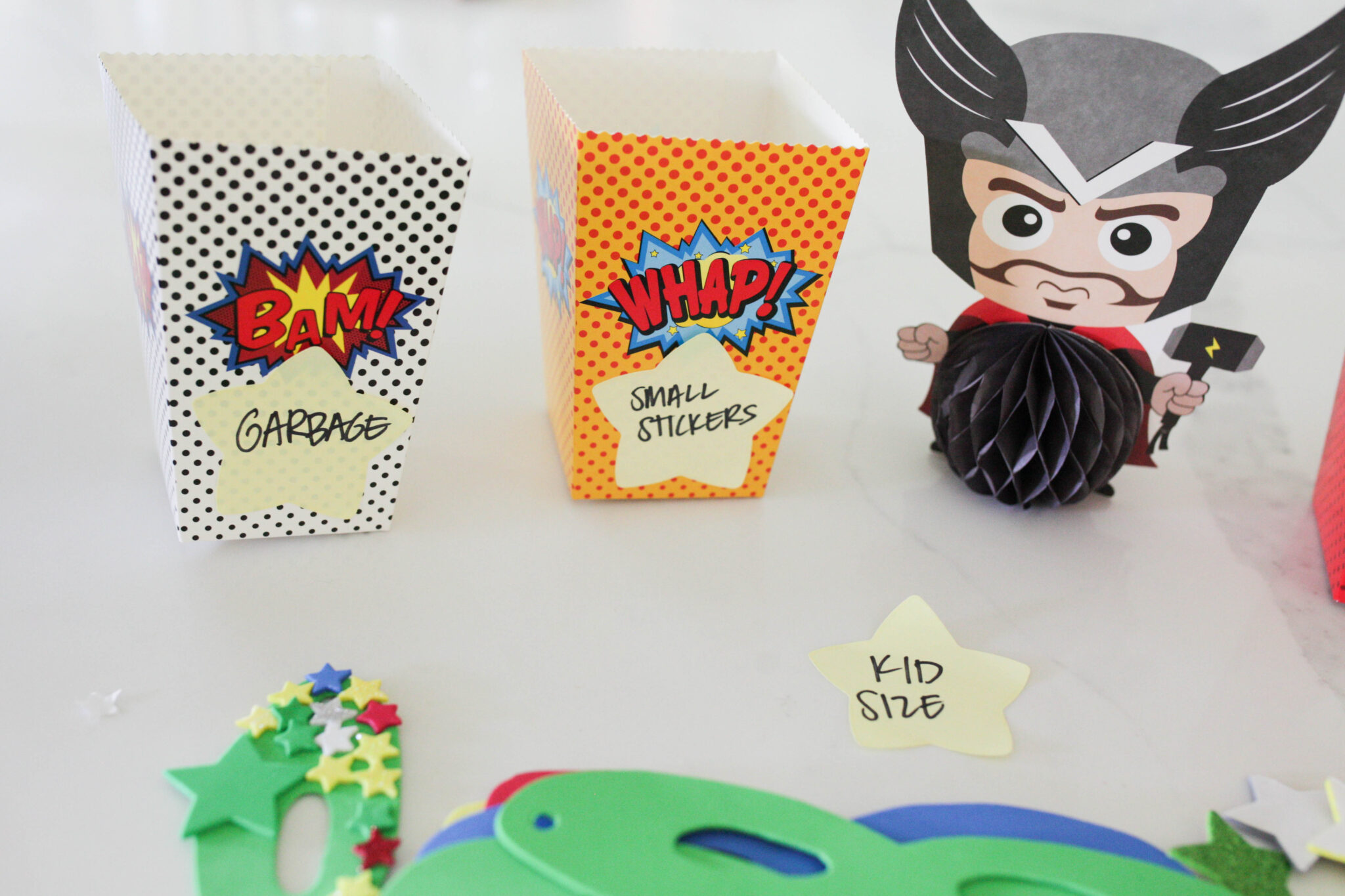 If you want to make your own superhero masks, I have the FREE template and full tutorial over on this Superhero Mask post! It's super easy to do and can be used with either the foam paper like we used or even simple computer paper!
Superhero Decor
Lastly, I just did some fun, simple superhero party decor. I actually ended up getting the majority of our party decor from Amazon which made it super easy.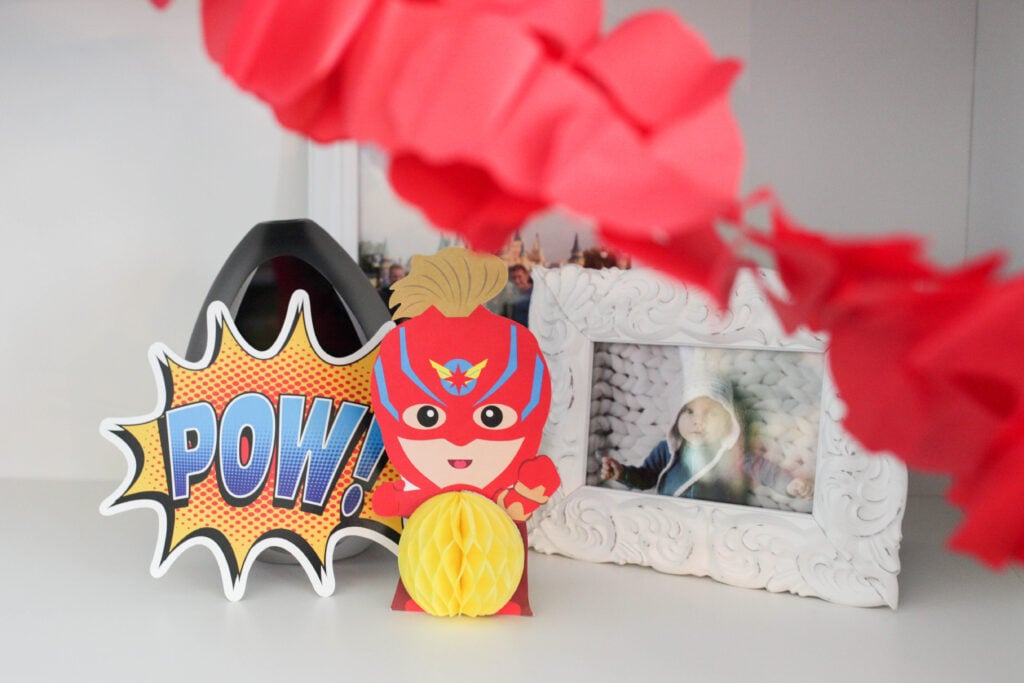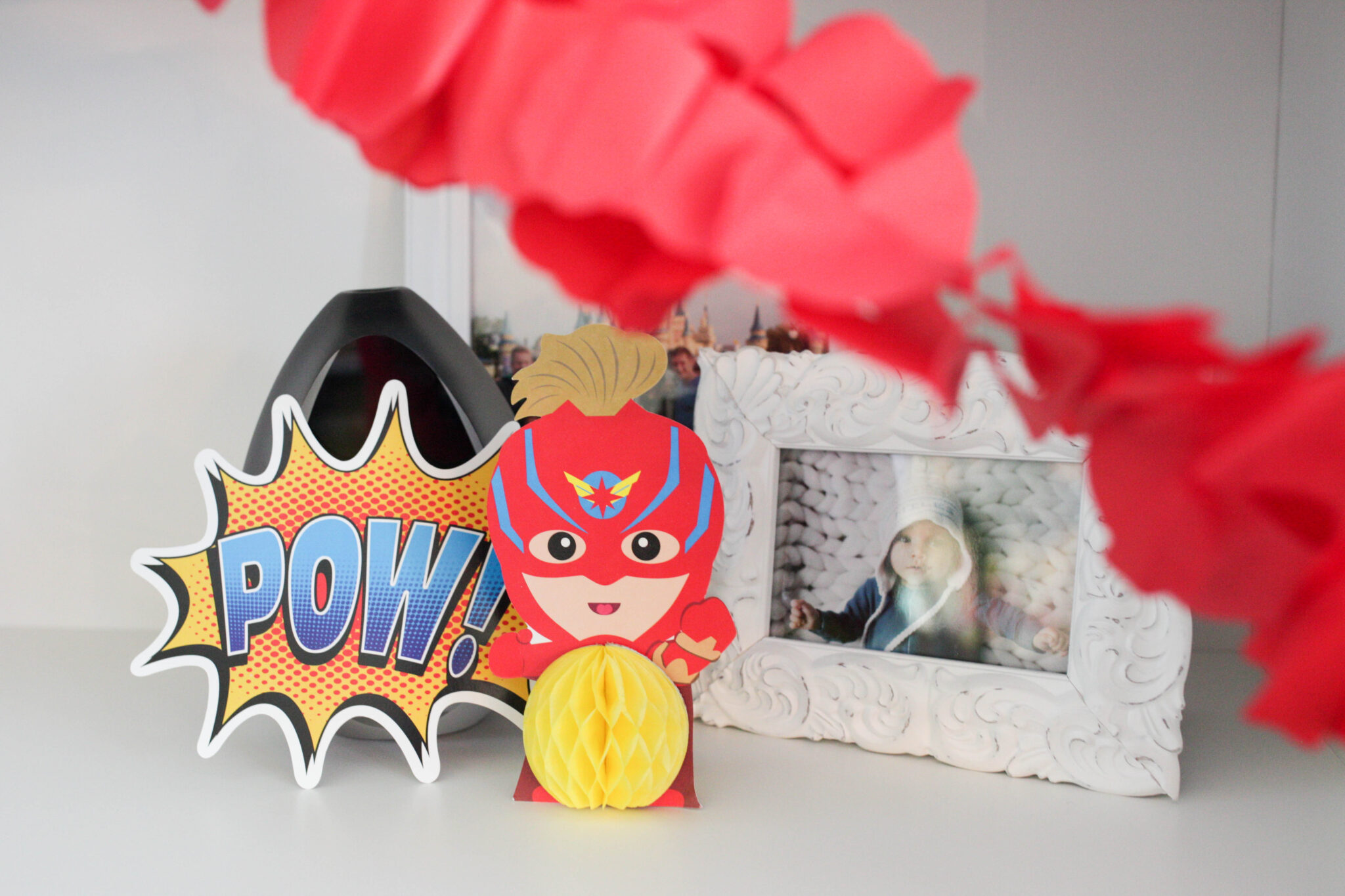 These fun superhero honeycomb centerpieces were a fun addition to the party! I put them on the console table for people to see when they walked in, next to the mask making station and even on the bookshelves!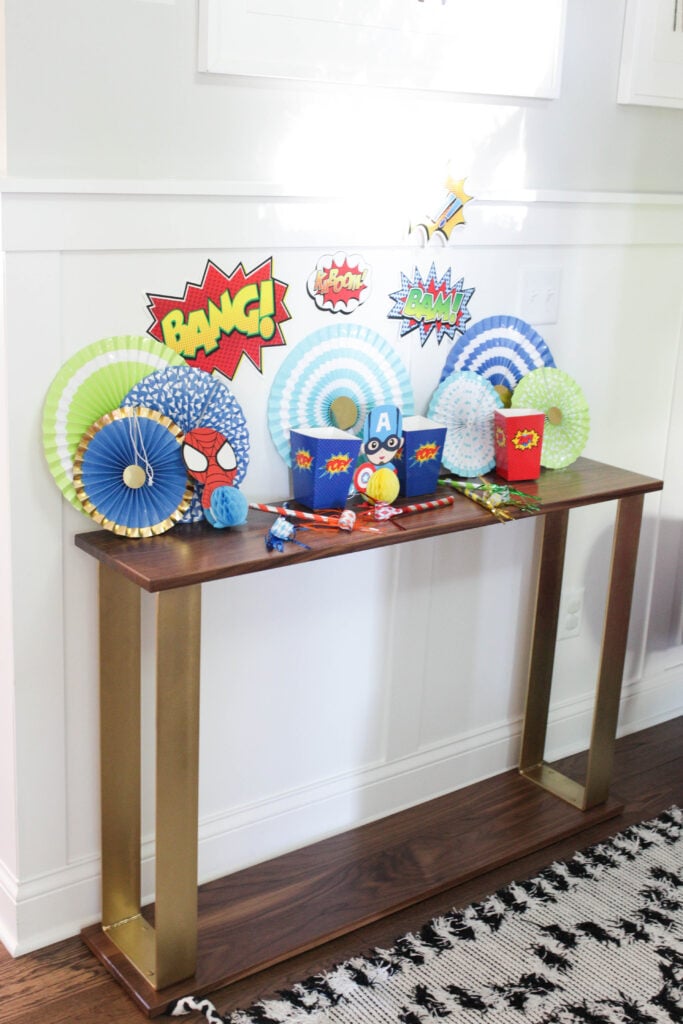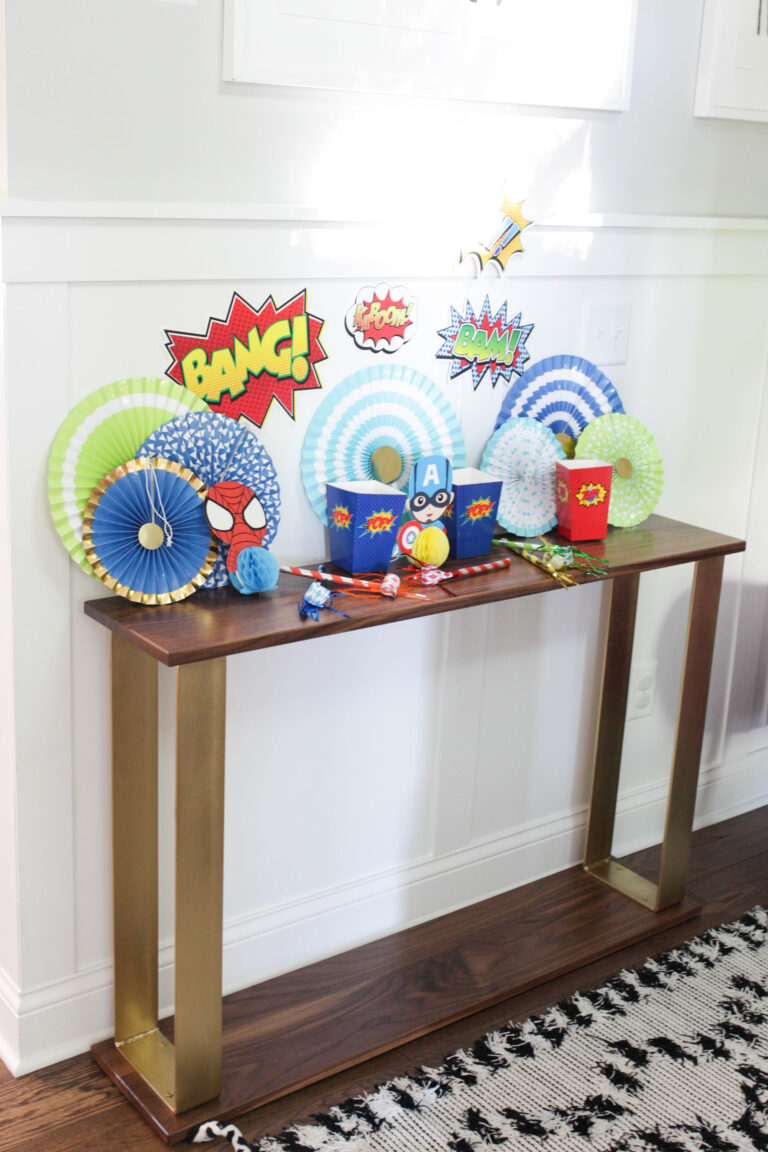 I also picked up these fun superhero cut outs! I put these literally everywhere – on our entryway table, on cupboards, on shelves, etc.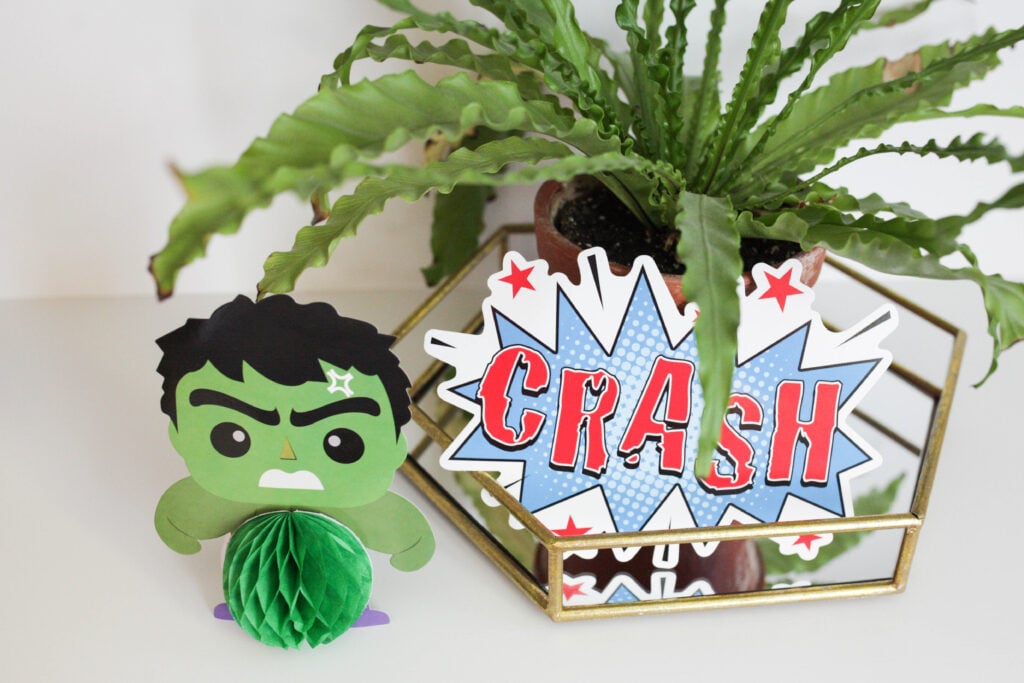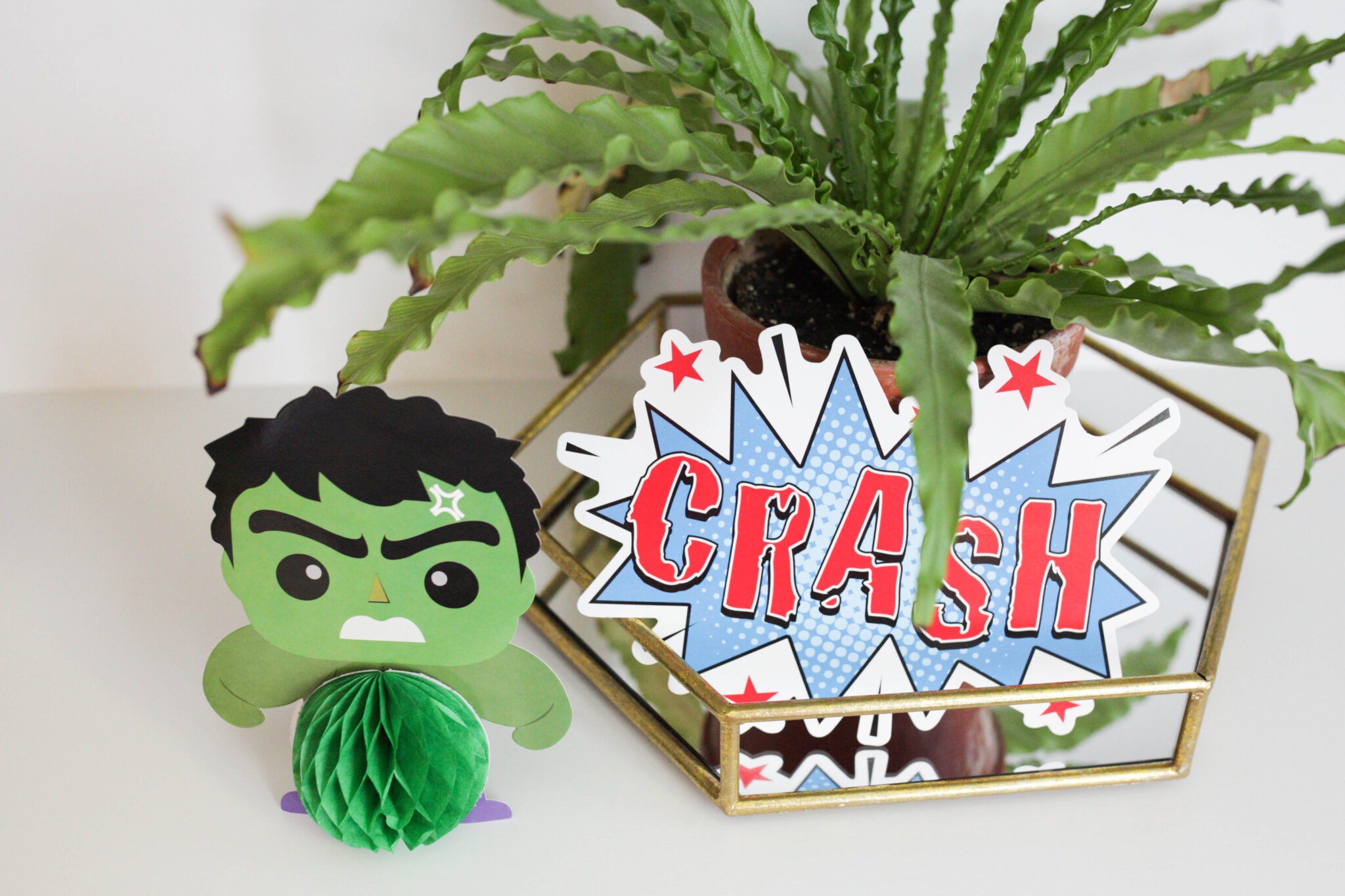 The kids loved them, had fun trying to figure out which superhero was which and it was a fun, easy way to add superheroes to the space.
I also love these superhero popcorn boxes that shocking, I didn't actually use for popcorn! I used them for a few different things – stickers for the mask making, snacks for later on in the party and also as the center piece on our table. I also got a red plastic tablecloth for both easy cleanup and to bring in a festive feel.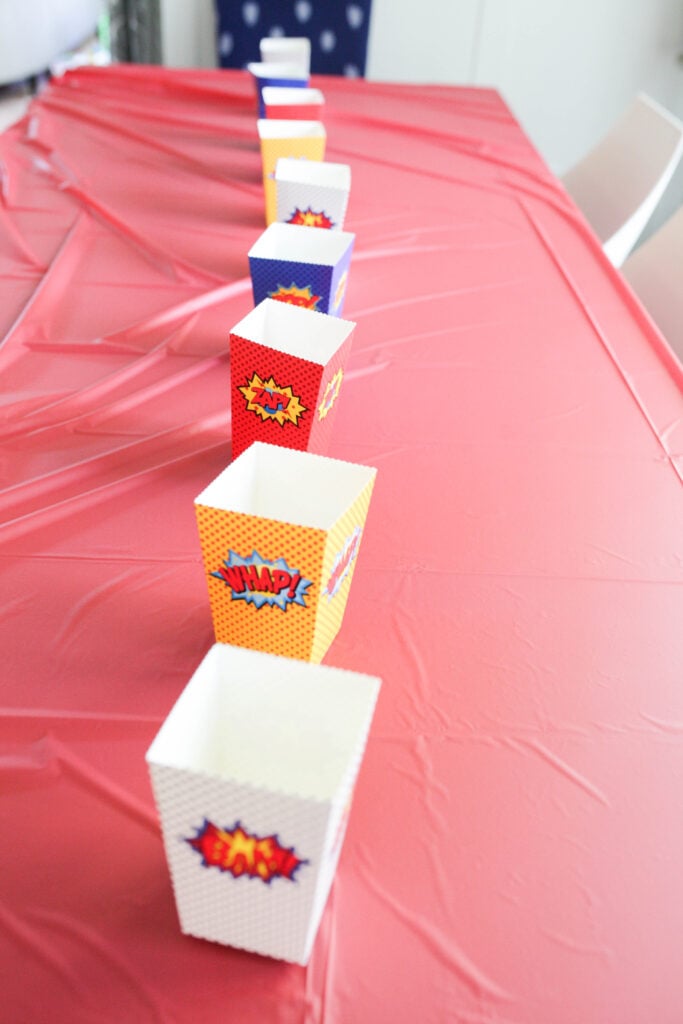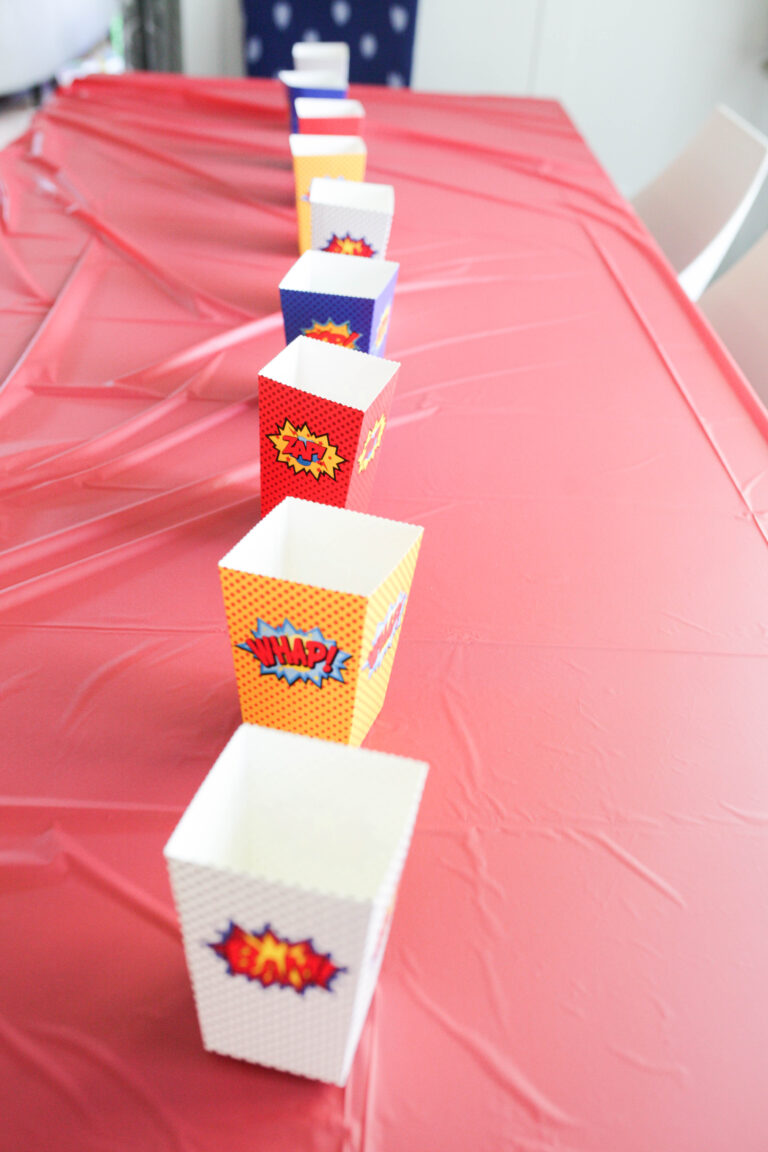 Sprinkles & Confetti also gave us superhero plates, cups + napkins! I think little touches like this are a great addition to any party! You can get a ton of stuff in a variety of themes from Sprinkles & Confetti!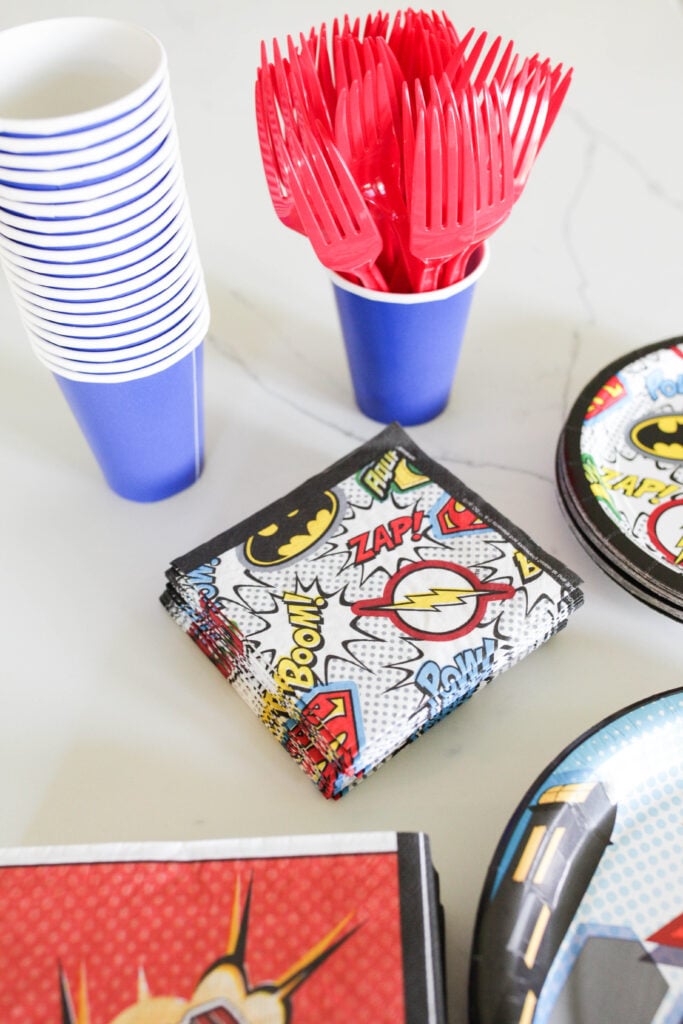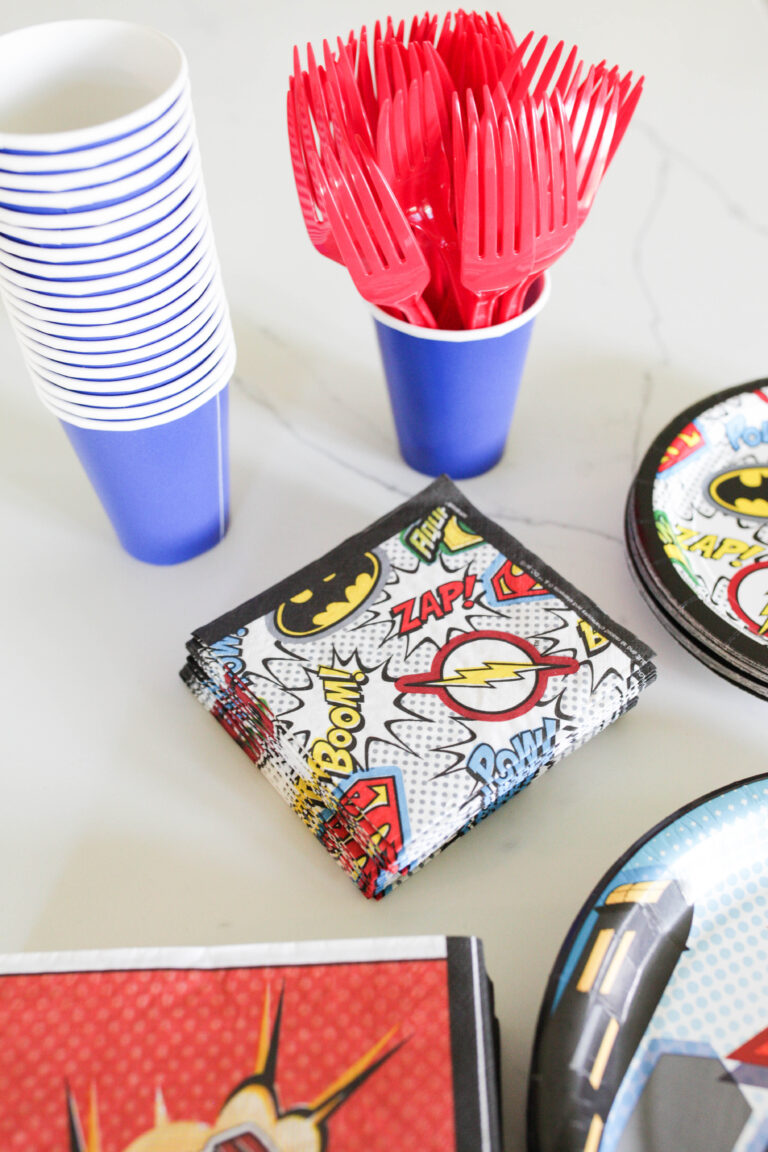 I found this simple superhero game that I ended up tying around a tree for the kids to play.
I had also bought this fun backdrop that I actually totally forgot to use! It always happens that way, doesn't it? You always miss one thing at a party whether it's a decor left in a box or some food forgotten in the fridge.
Have fun!
Regardless I'm all about having a fun party and not stressing too much! It doesn't need to be perfect – your guests aren't expecting that. Serve some decent food (store bought is just fine!), turn on some good tunes and enjoy yourself.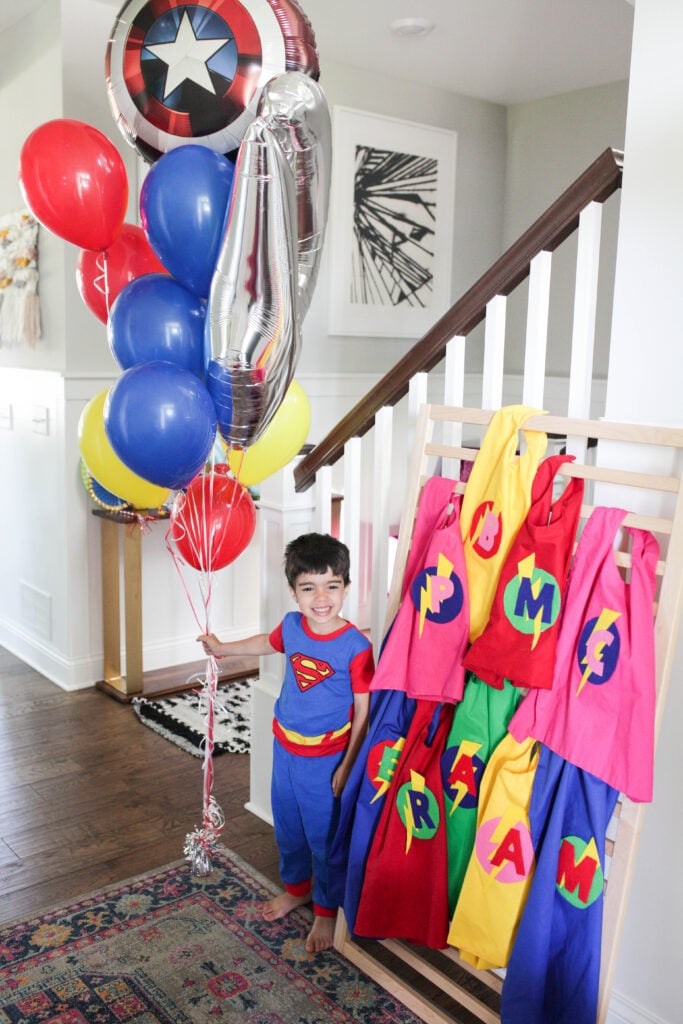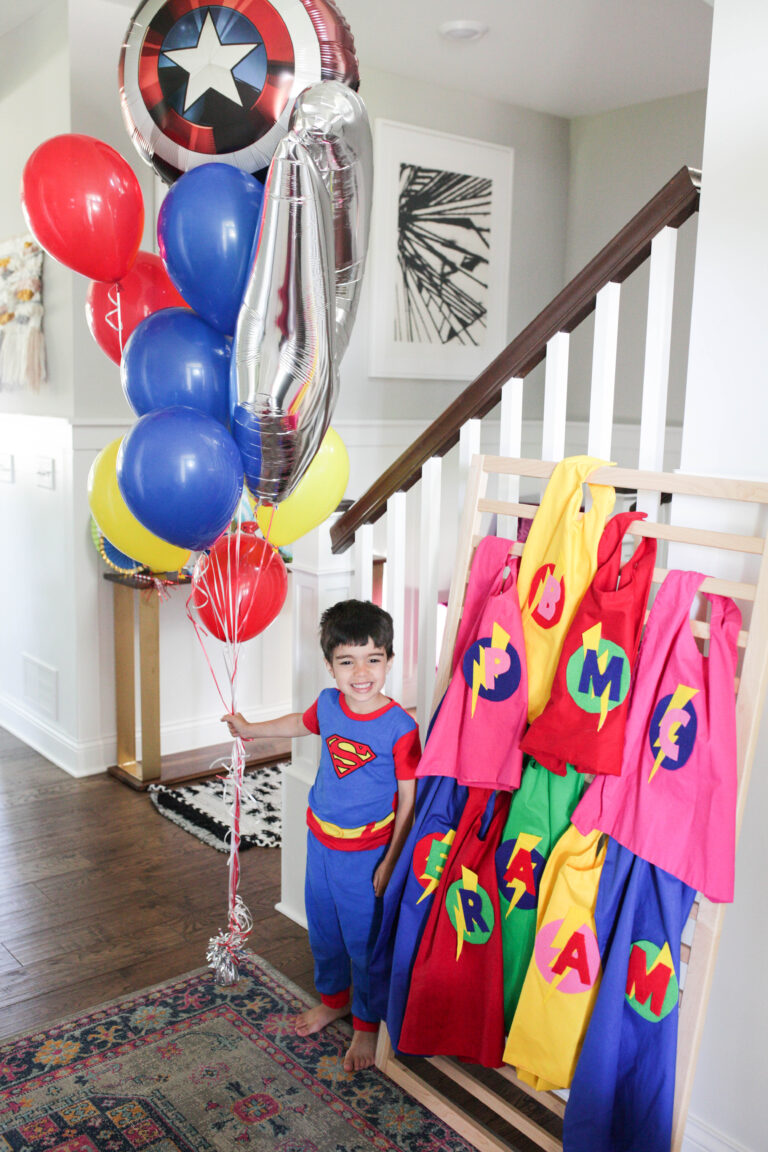 I hope this superhero party post helps you plan your upcoming superhero party with sucess!
Be sure to check out my other party posts here:
Minnie Mouse Party for a 2nd Birthday
Mickey Mouse Party for a 2nd Birthday
Ways to Celebrate your 2 Year Old + 11 2 Year Old Party Themes