A balloon garland is a super easy way to make a big impact for any kind of party! They're actually incredibly easy to make by following this tutorial.
If you've been around my world for any minute of time you know I LOVE balloon garlands. I was so intimidated by them before I ever made my first one because they seem so difficult! In reality, they're one of the easiest things you can make which is why I wanted to share this balloon garland tutorial.
I've made balloon garlands pretty much every party I've thrown in the last 3 years. I'm now known as the official party thrower in my family because I love making them and everyone loves having them! Here's a few that I've made over the year:
I made a red, white and yellow one for Roy's Mickey Mouse birthday party.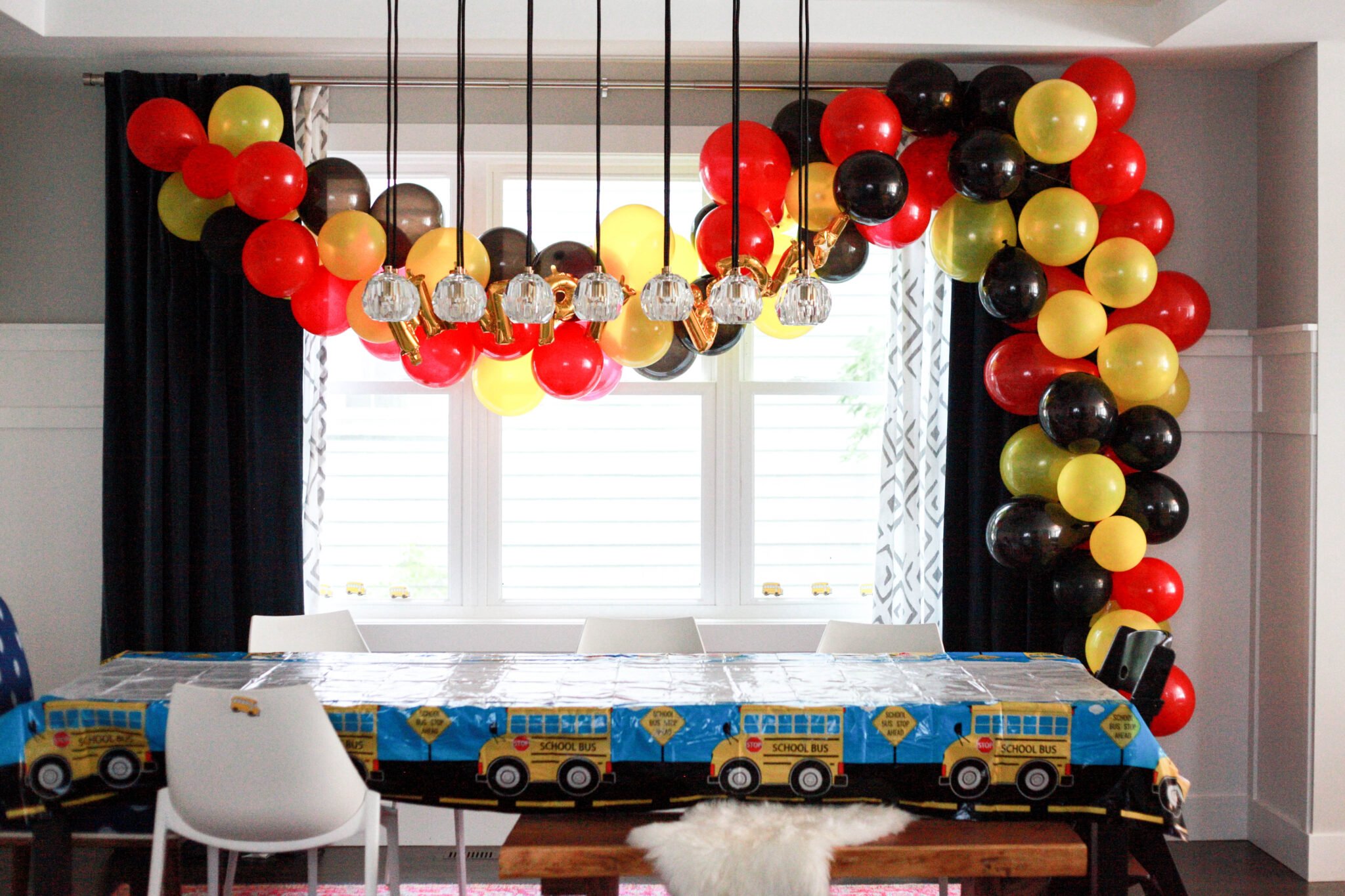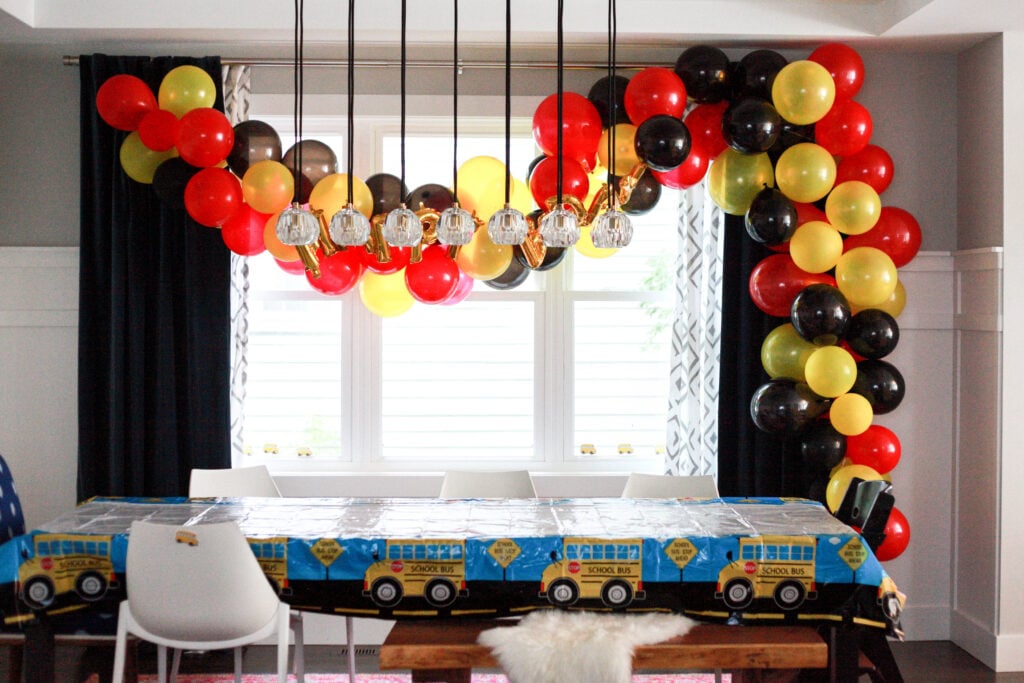 I did a simple pink and white one for Penelope's Minnie Mouse party. I used this kit from Amazon for that one. If I buy a kit again, I'll be sure to check exactly what's included. I didn't realize only a few gold pieces were in the kit so I would've bought an additional pack of gold or just bought all of them separate!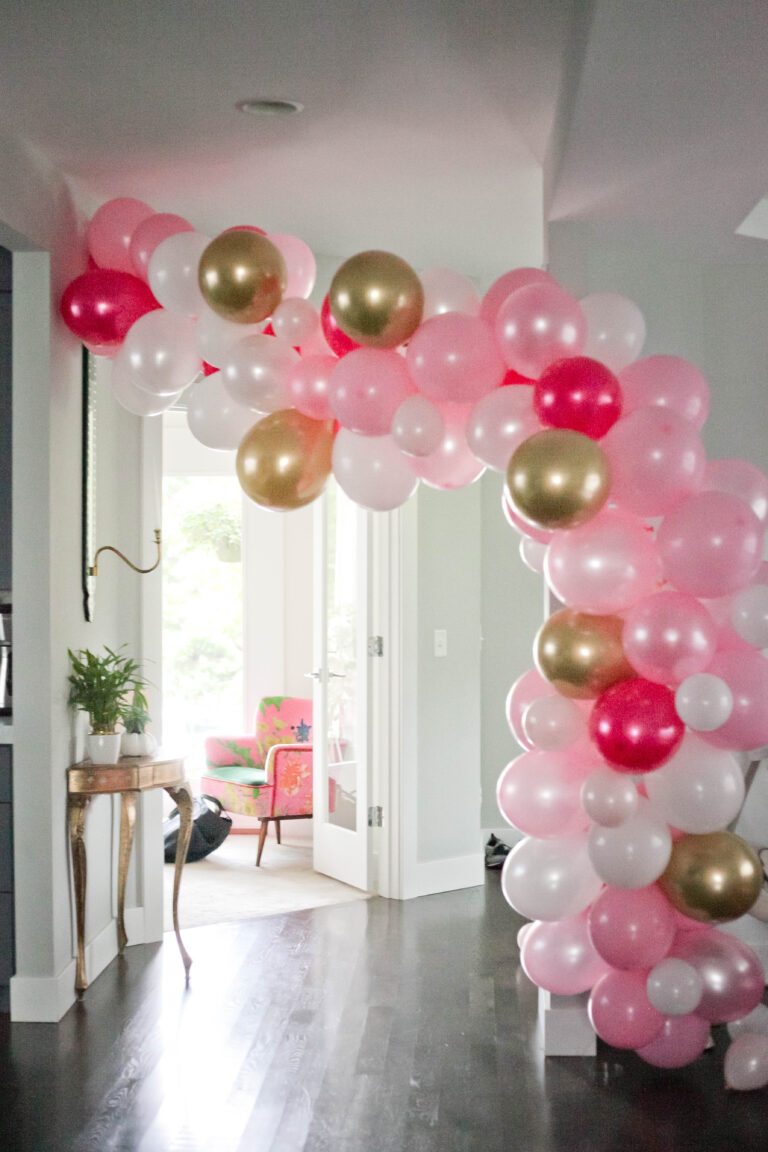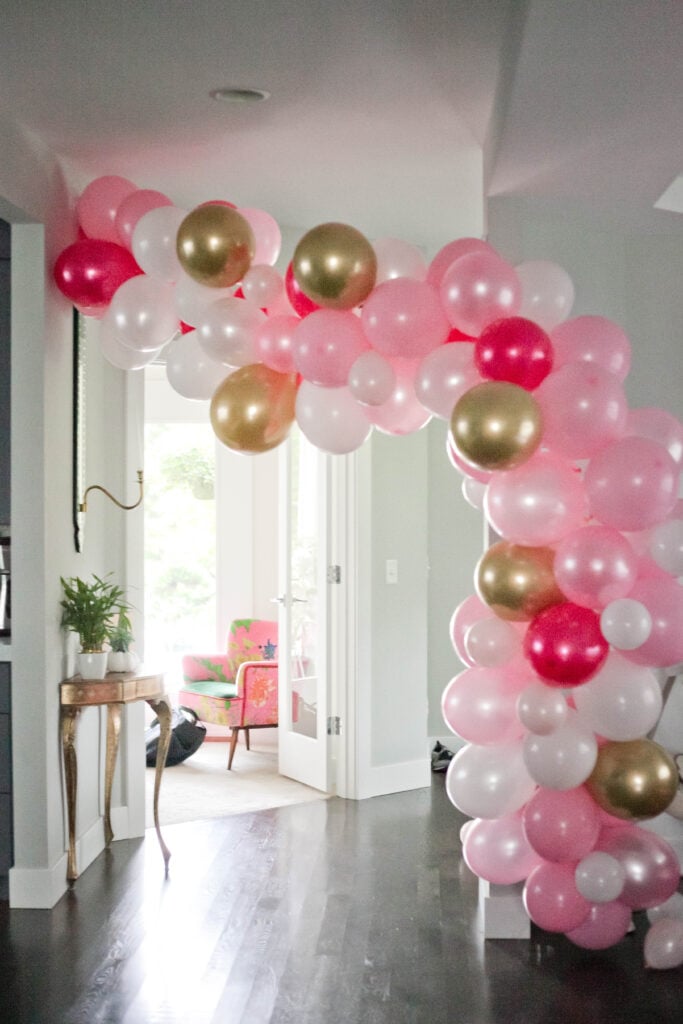 I've also done a few for baby showers and events at my church!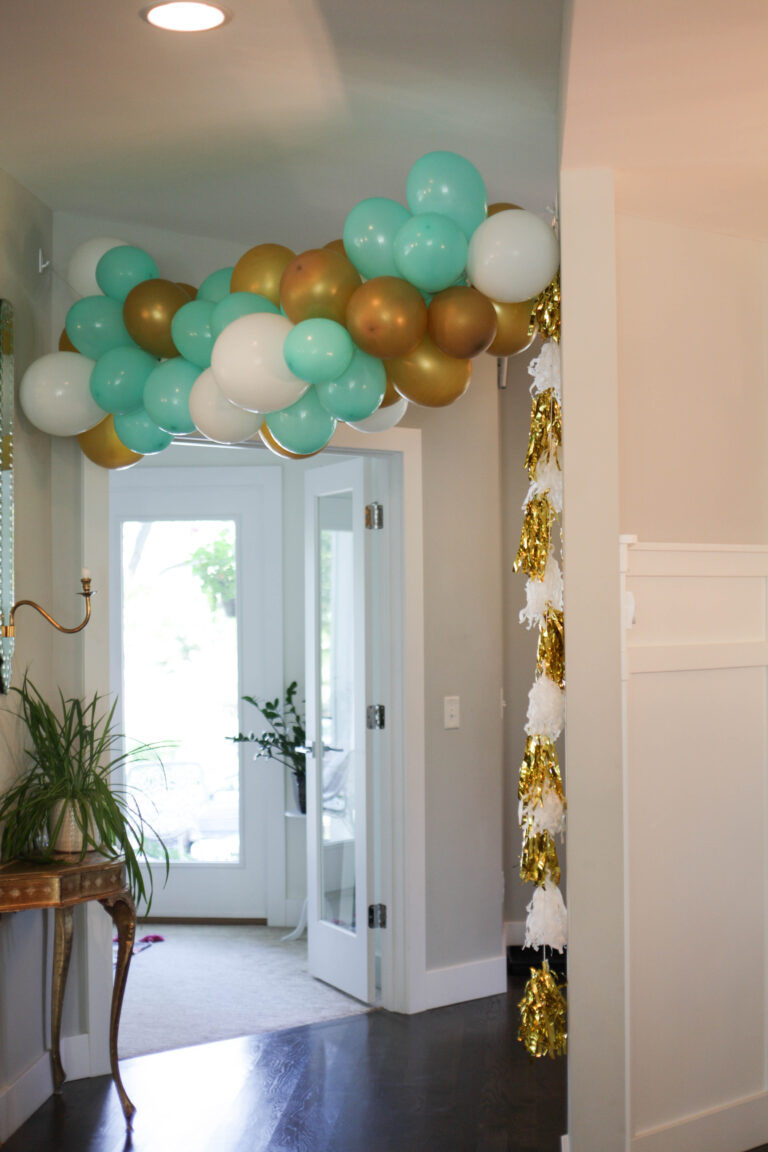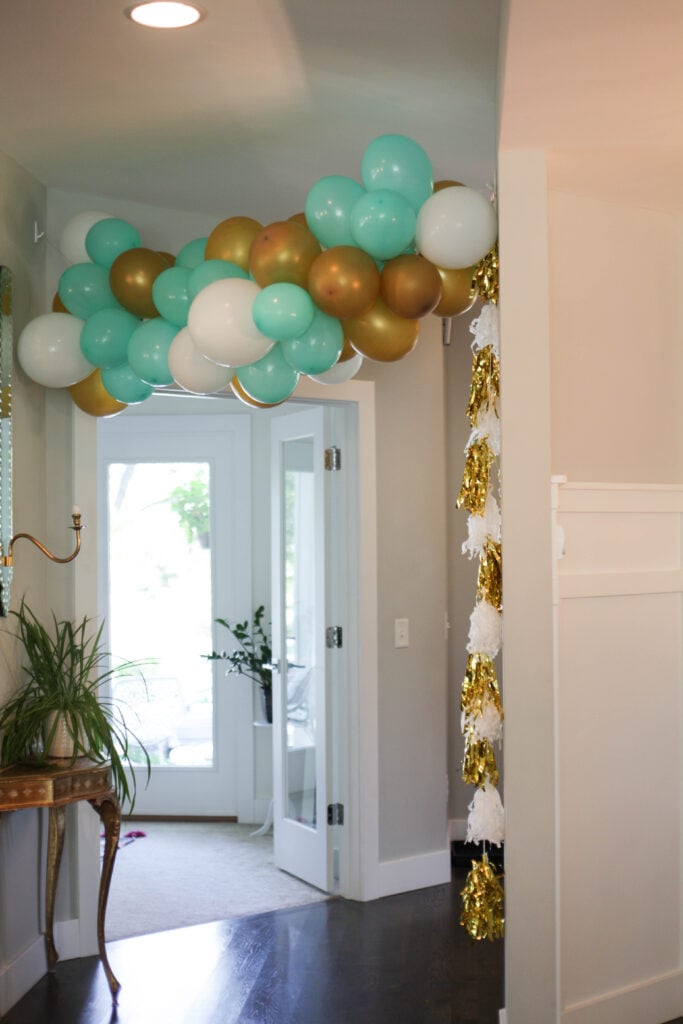 As you can see, it's super easy to make a big impact with balloons! One fun option that you can see in the last photo is using a tassel garland hanging down from one end of the balloon garland. If you're low on balloons or just want something different, this is a great way to add some additional fun to your balloon arch!
How to Make a Balloon Garland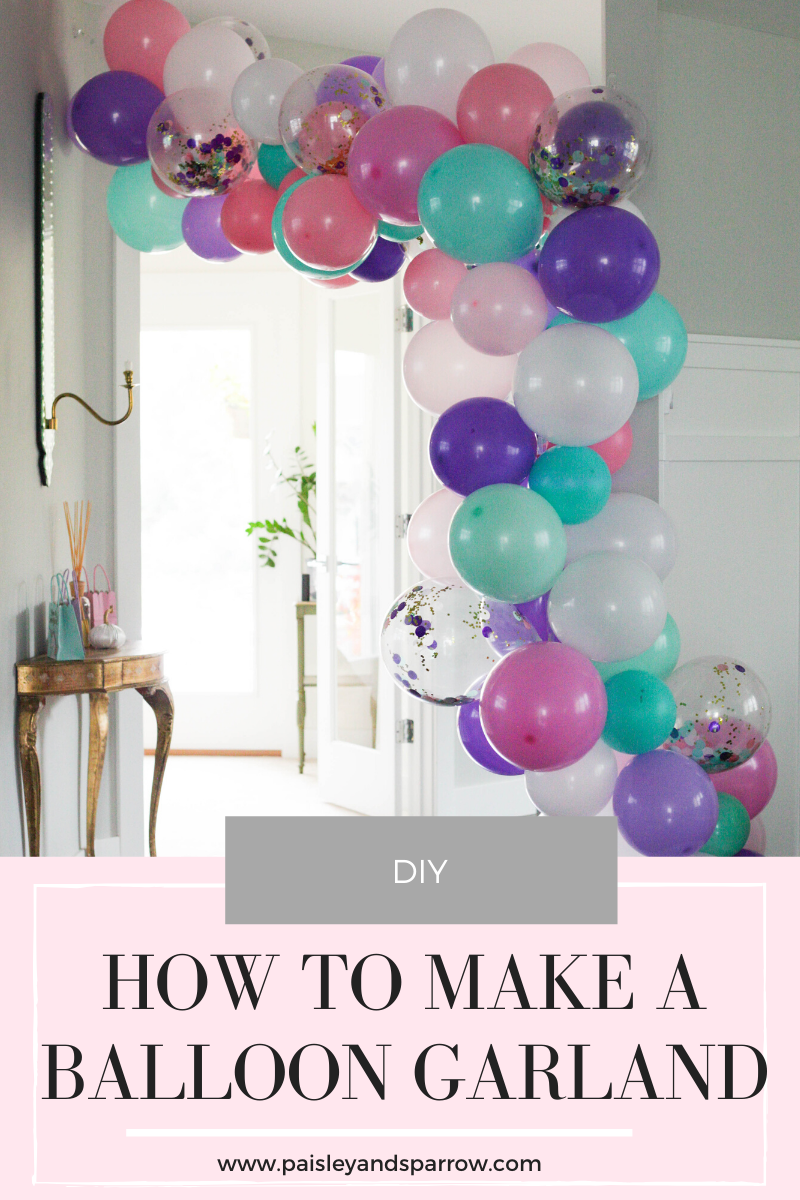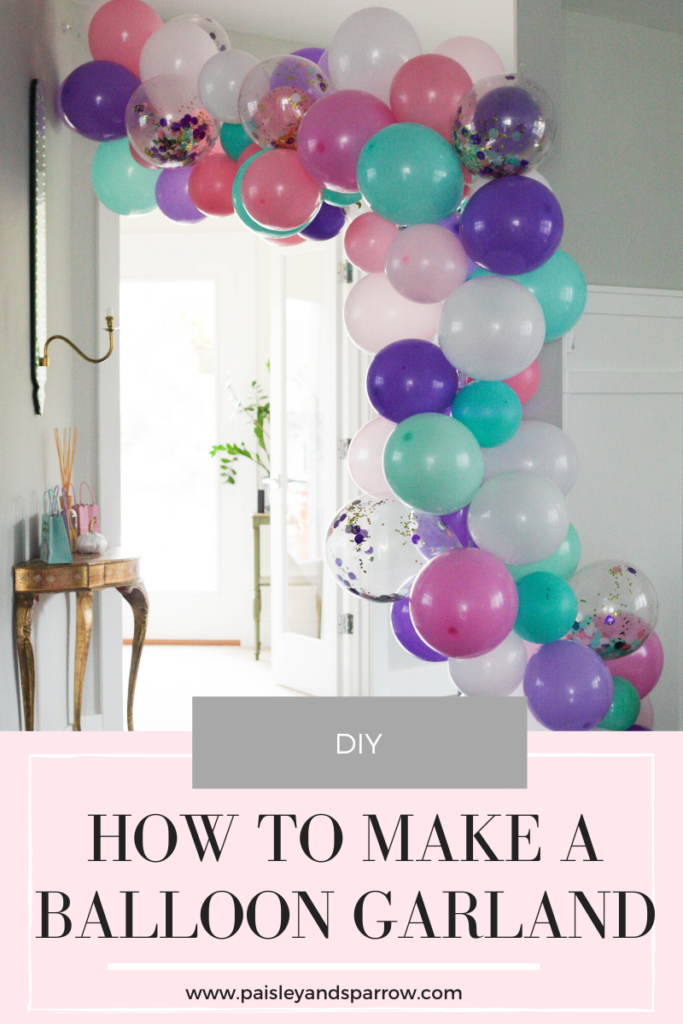 *this post may contain affiliate links which means I may earn a small commission on something you purchase at no additional cost to you. Thank you for helping me support my family through Paisley + Sparrow!
There are a few ways to make a balloon garland.
You can tie each balloon onto a LONG piece of twine. You can "sew" your balloons together by using a needle and thread and pushing the needle through the bottom of each balloon. Or you can do it by using a balloon decorating strip!
I'm convinced that a balloon decorating strip is by far the easiest way to make a balloon garland so let's chat through the steps of doing that.
Firs of all, you'll need the following items: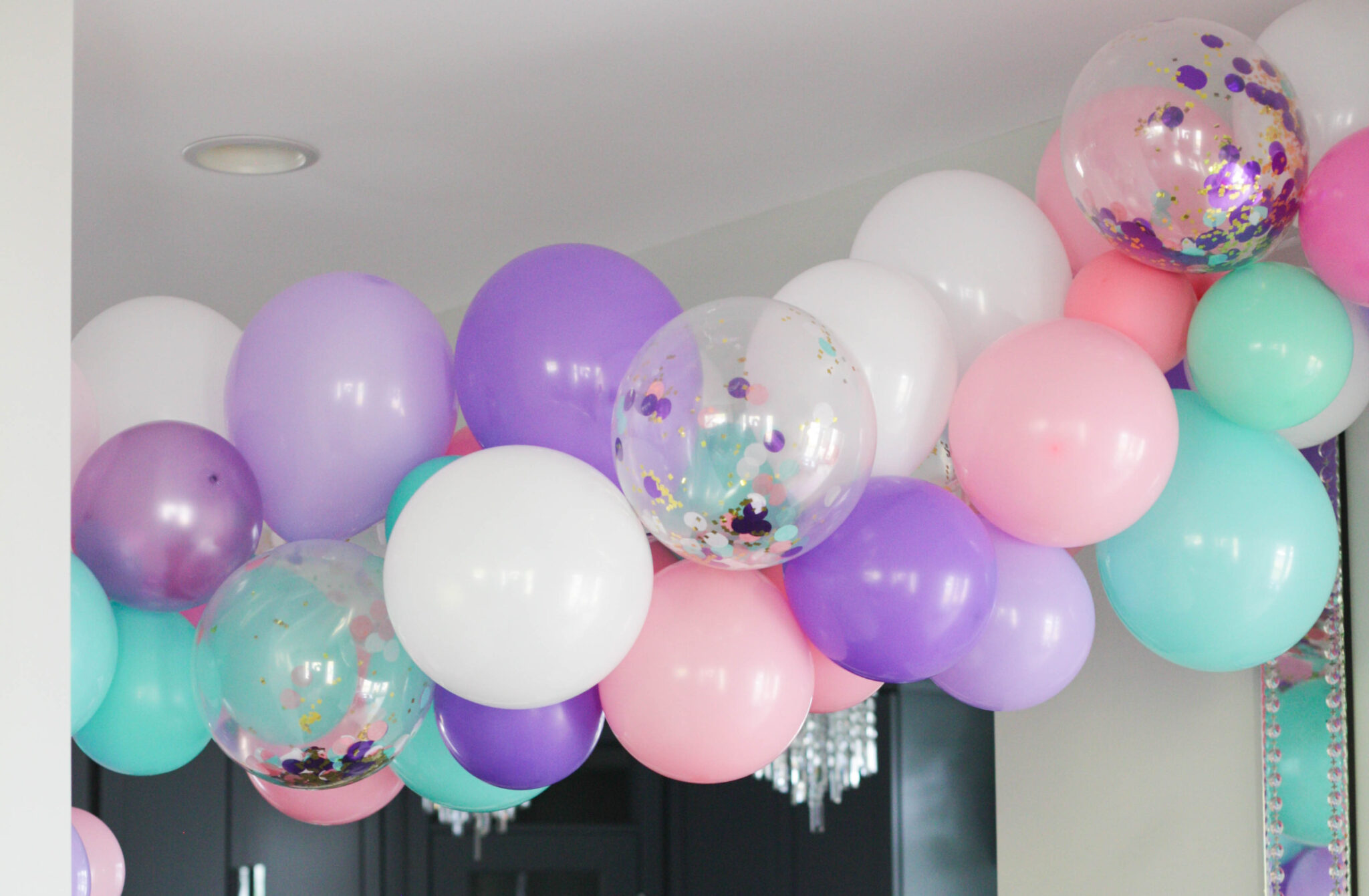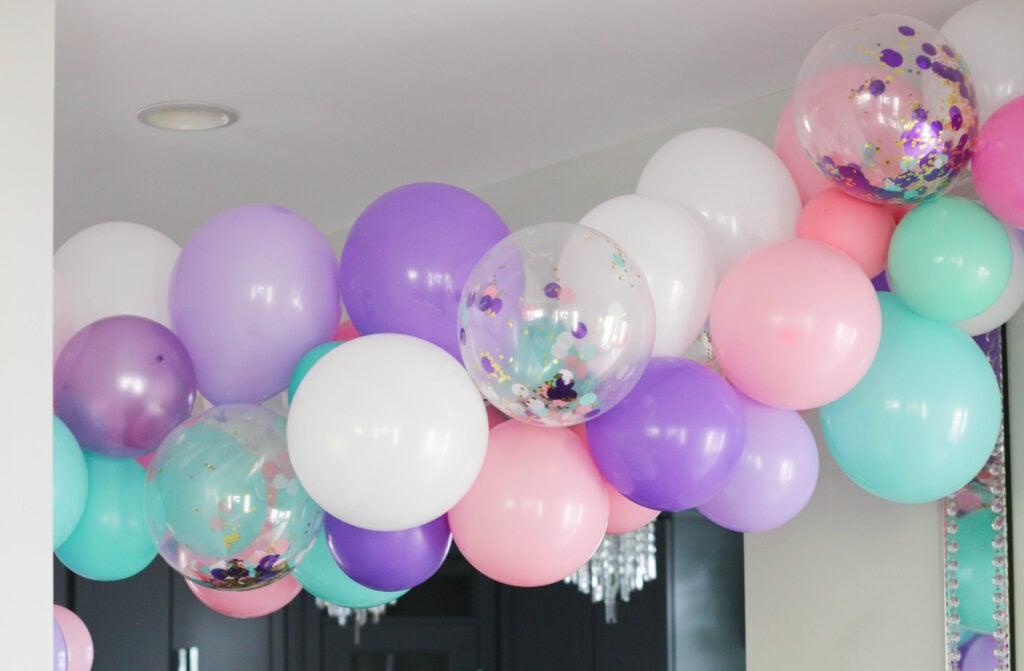 Instructions
1. Blow up balloons using the electric balloon inflator. If you have balloons of different sizes then just blow them up to their intended size. However, if you buy balloons that are all the same size, blow them up to different sizes! This is a super easy way to make a big impact.
2. Using the balloon decorating strip, push the end of each balloon through the hole to attach, leave ~6 inches at the beginning of the strip and end of the strip (to attach it to the wall easier).
3. Continue this process until most of the balloons have been used (leave 5-10 out for filling in gaps) or the garland is as long as you want.
4. Put command hooks (or nails) on the wall where you want your balloon garland to hang.
5. Attach your balloon garland to the wall by putting one of the holes of the ballon strip through the hook of your command strip.
6. Once it's up, use balloon glue dots to attach leftover balloons into spaces with holes.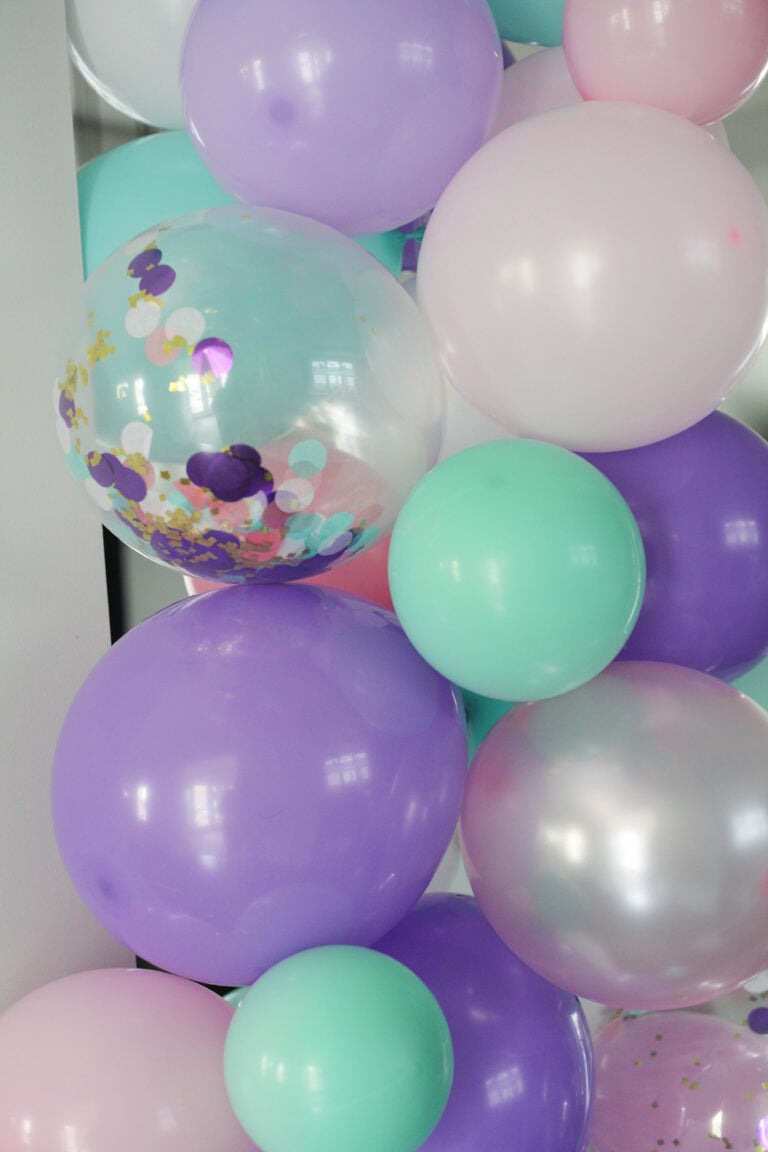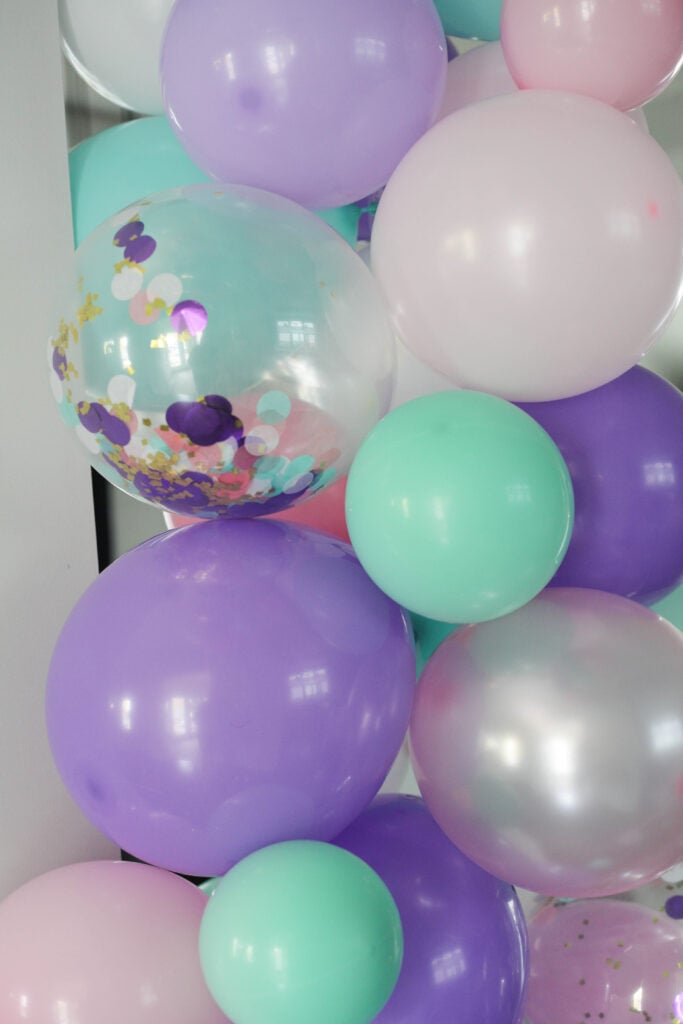 Other tips
A few additional tips:
1. If you're having trouble attaching the balloon arch by using the strip, attach some bakers twine (or fishing line or something similar) to the end of the strip in a loop and attach the loop to the hook.
2. When attaching balloons using the glue dots, be sure to place it correctly the first time. I've popped numerous balloons by trying to remove them and put them in a different spot! It's best to just leave them where they are.
Here are a few common questions asked about balloon garlands: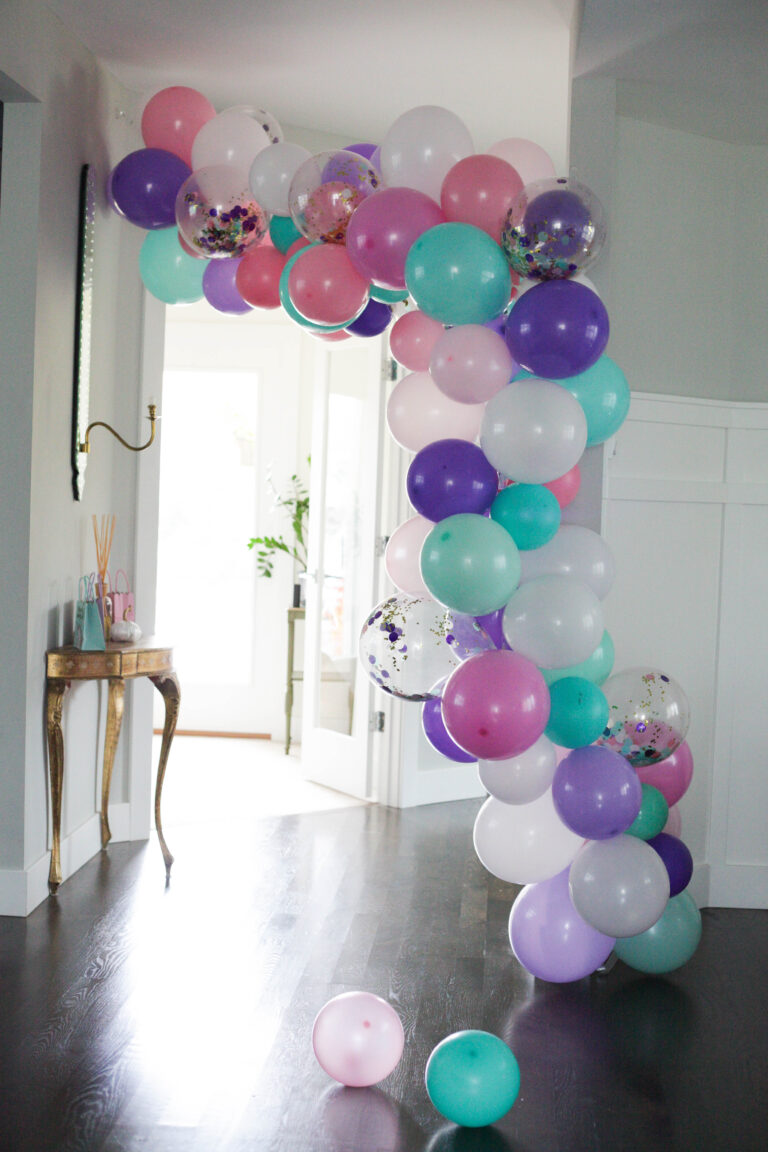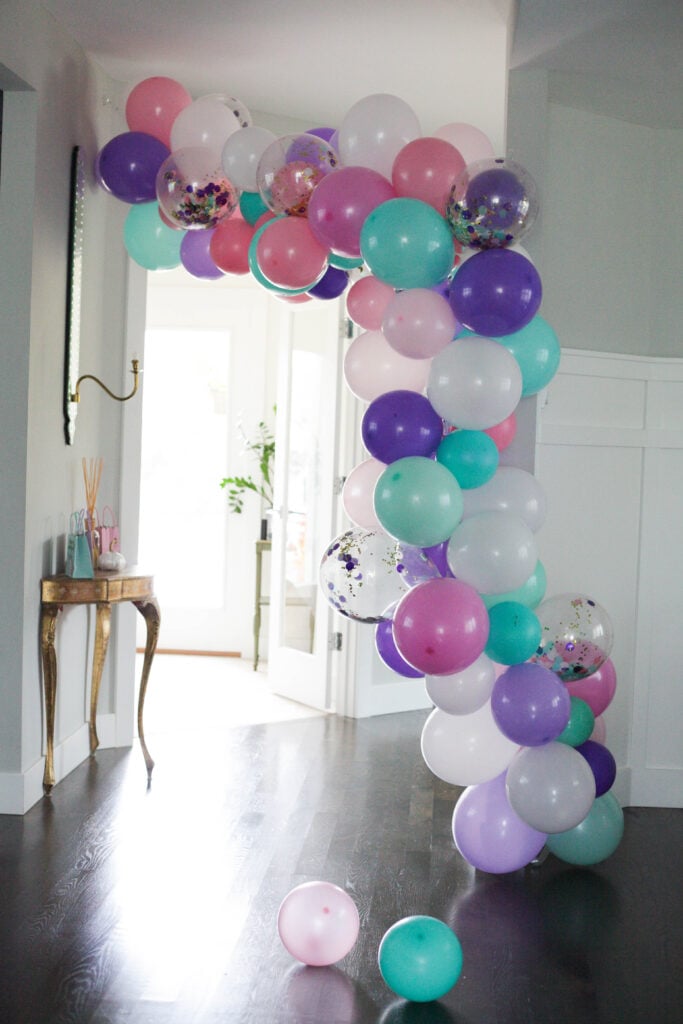 How many balloons do you need?
This is totally up to you and the space that you are decorating. To do the entryway at my home, I typically use around 100-120 balloons. I always err on the side of too many than not enough, especially if you're planning on making these for other parties!
Do you need helium for balloon garlands?
No! That's the beauty about these, they don't use any helium.
How far in advance can I make a balloon garland?
I typically make mine the day or 2 before a party. It typically lasts and still looks good for up to a week! Honestly most of the time when I make these I post them on our neighborhood app to see if anyone else could use them so others are able to use them.
We also typically use our balloon garlands for photo opps! We pulled down the unicorn style balloon arch for Penelope and my niece's first birthday party as the back drop. It's an easy way to remove all the clutter from the birthday festivities behind the kids!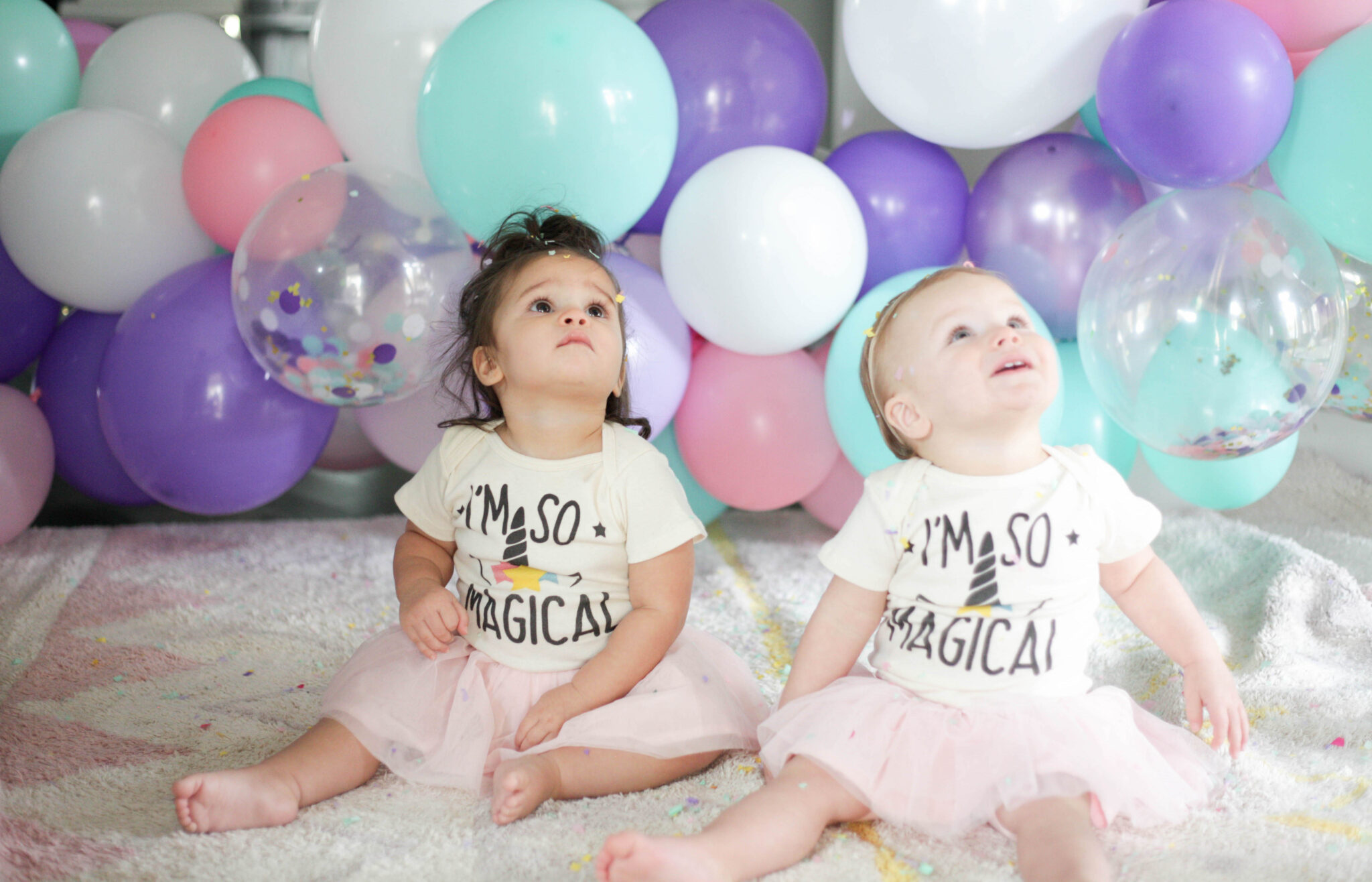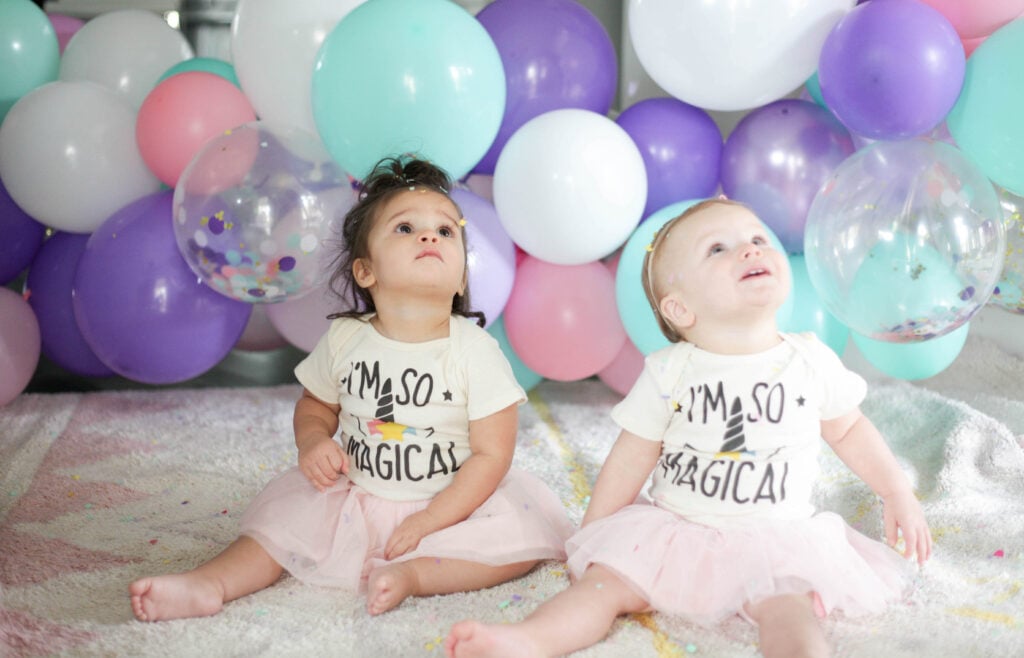 We've also even brought them outdoors for family photos. There's so many fun things to do with balloon arches!
I hope this simple how to make a balloon garland tutorial helps you wow the guests at your next event! And check out this post for inexpensive things to do for a kid's birthday!