Penelope turned 2! We've survived another round of 2 under 2. I love a good themed party and there's nothing better than a 2 year old birthday party because you still have control over what you do for it!
Penelope has a cousin, Claire, who is 3 weeks older than her so we always have joint parties together. Both girls love Minnie Mouse so it was a perfect party theme for our girls!
Miles wasn't even 2 months old when we had this party so I did almost all my shopping via Amazon. I didn't have the time or energy to put too much effort into this and Amazon makes everything so easy!
I also woke up with bronchitis the day of her party so the photos are minimal and the decor was even more minimal! But here's how it turned out if you need some 2 year old birthday party or Minnie Mouse party inspiration!
Minnie Mouse Outfits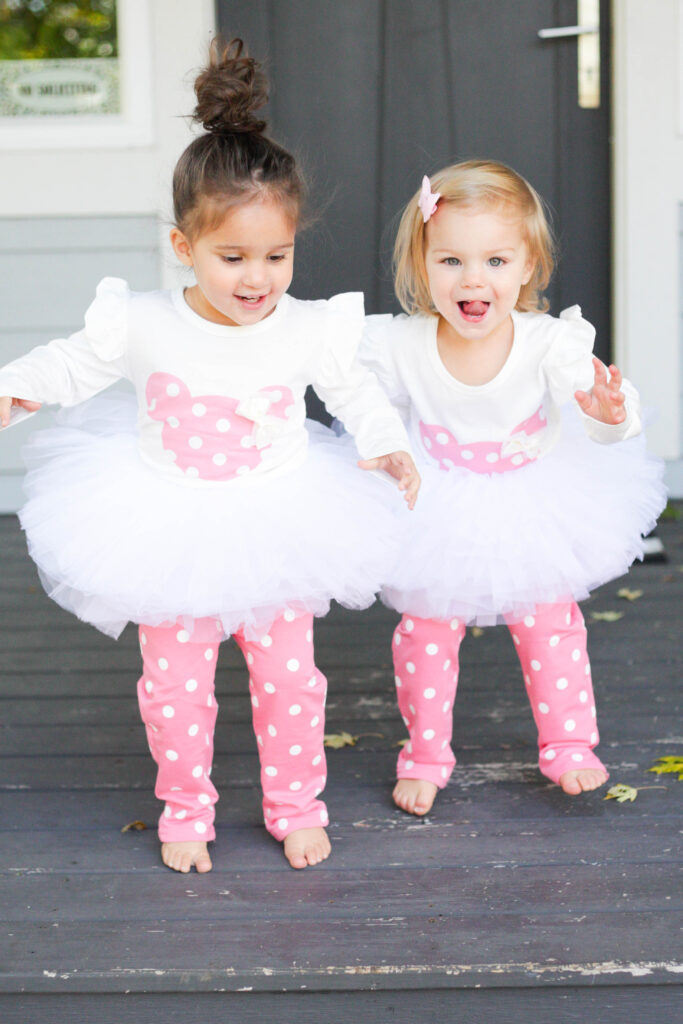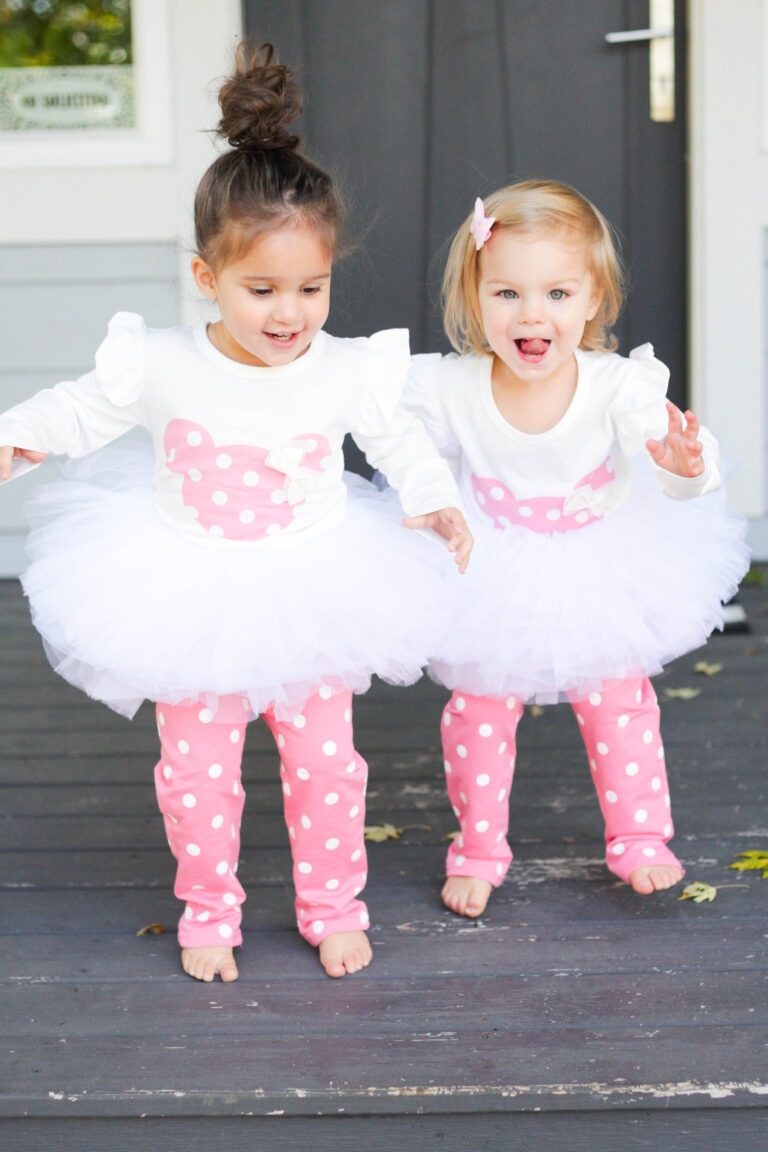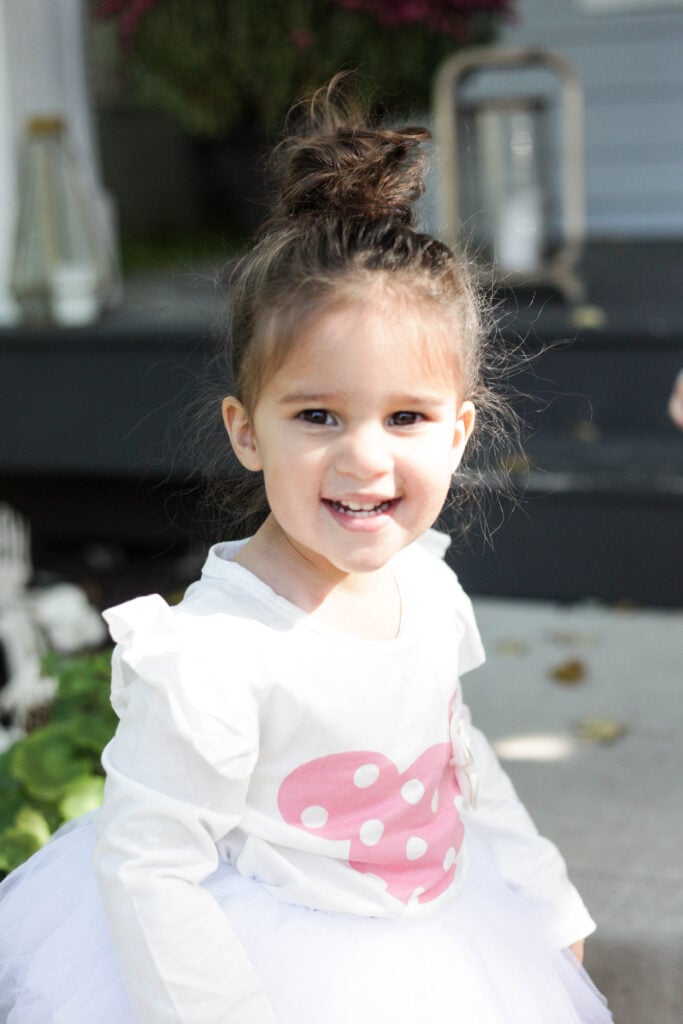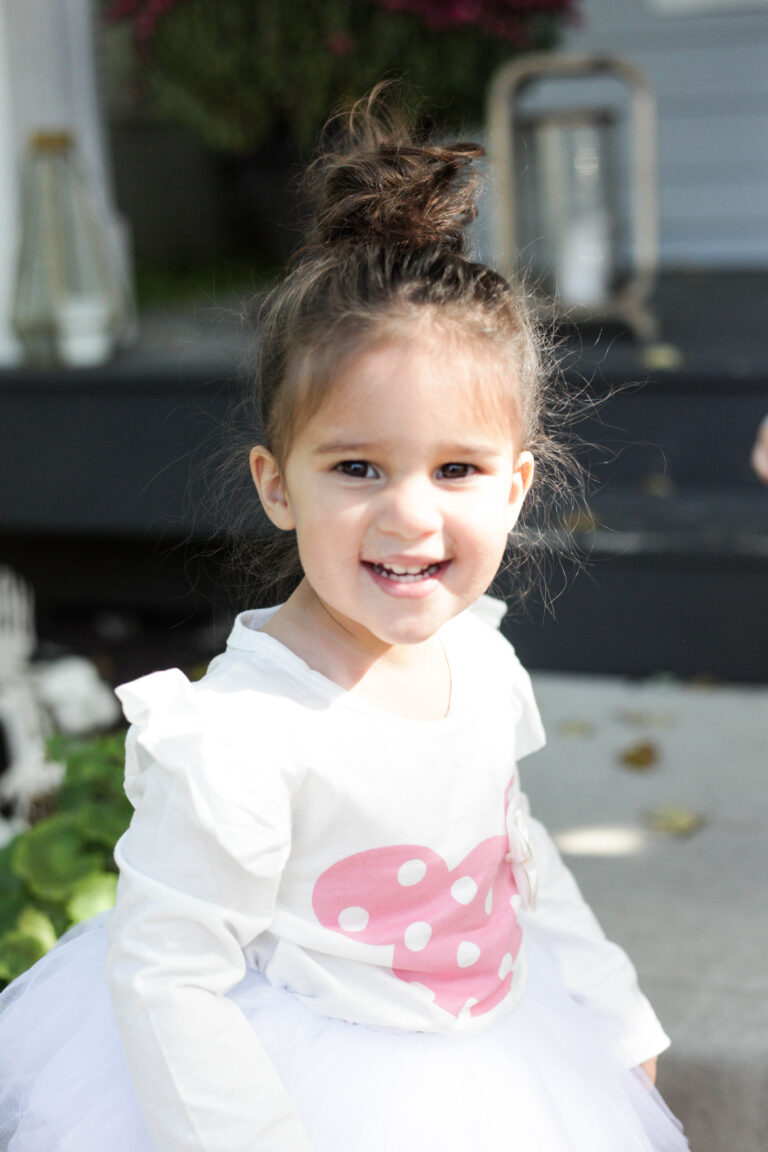 Paisley + Sparrow is a participant in the Amazon Services LLC Associates Program. An affiliate advertising program designed to provide a means for sites to earn advertising fees by advertising and linking to Amazon.com.
We love doing matching outfits for our girls! Last year we had a unicorn theme and got fun unicorn onesies for the girls. This year we wanted to do fun Minnie inspired outfits (that weren't costumes).
Penelope and Claire's Minnie Mouse outfits were Amazon purchases! The quality is really nice and I loved how they weren't too crazy with the Minnie theme. The polka dots were perfect!
I also bought the girls a fun little white tutu. I'm picky about my tutus because I want them to be nice and full and these were perfect! I originally got it for Penelope's Halloween costume but it's so nice it'll be great for any type of outfit. (The tutu comes in a ton of colors so be sure to check them out if you need tutus.)
Food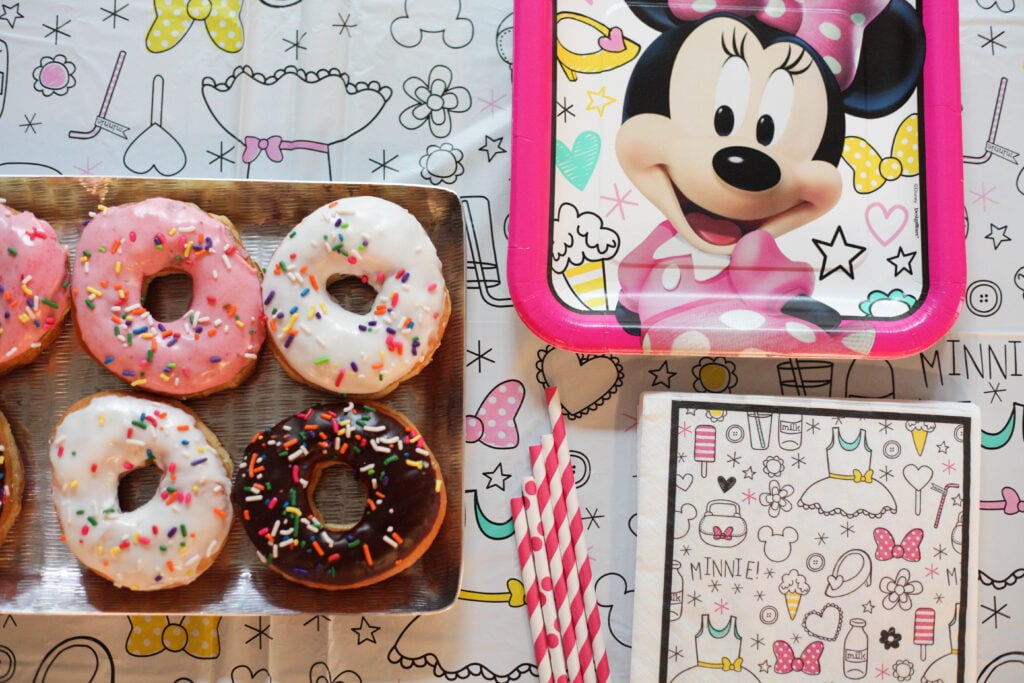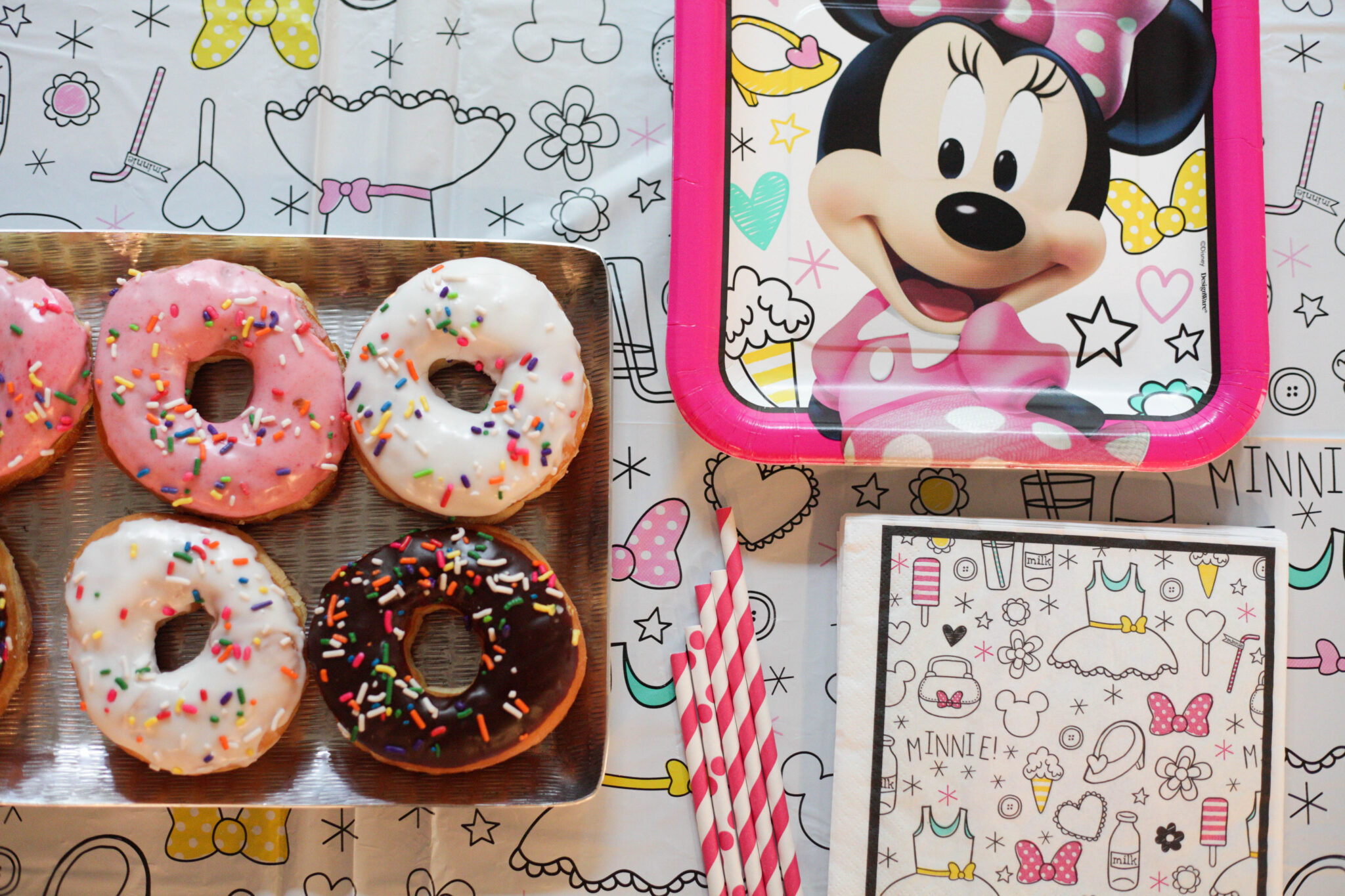 We did a brunch party so of course we had to have sprinkle donuts for the kids! We also had a few egg bakes and fruit to keep the adults satisfied too.
I had originally bought this adorable glittery Oh Twodles cake topper for the cake. However, we ended up doing cupcakes for dessert to make it easier for each kid to grab their own! Since we didn't do a cake I picked up these super cute glittery Minnie Mouse ears for each cupcake!.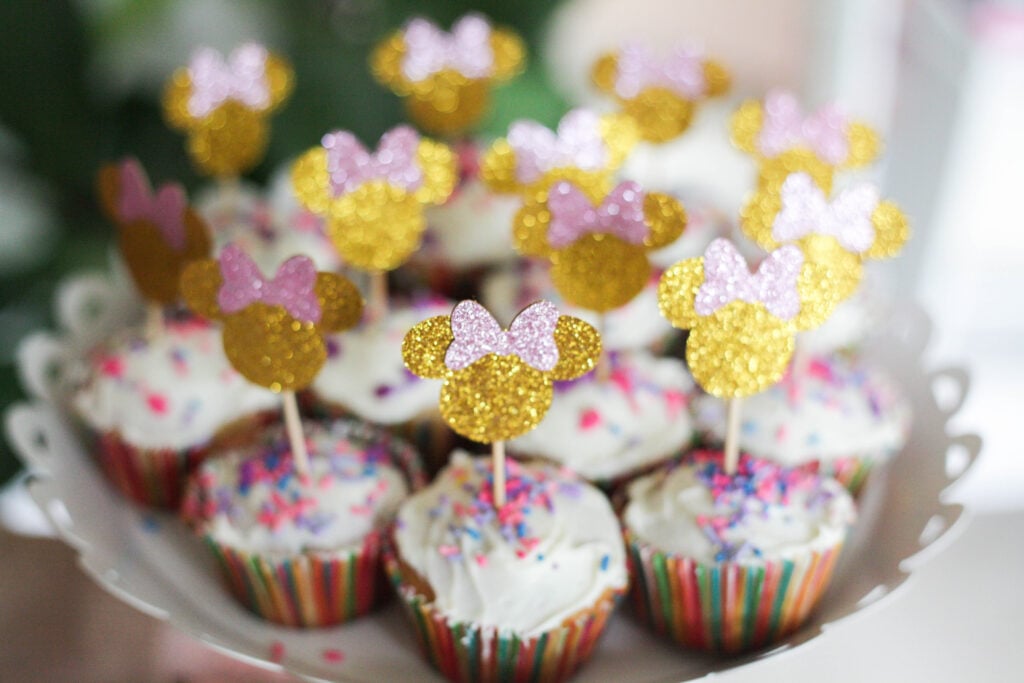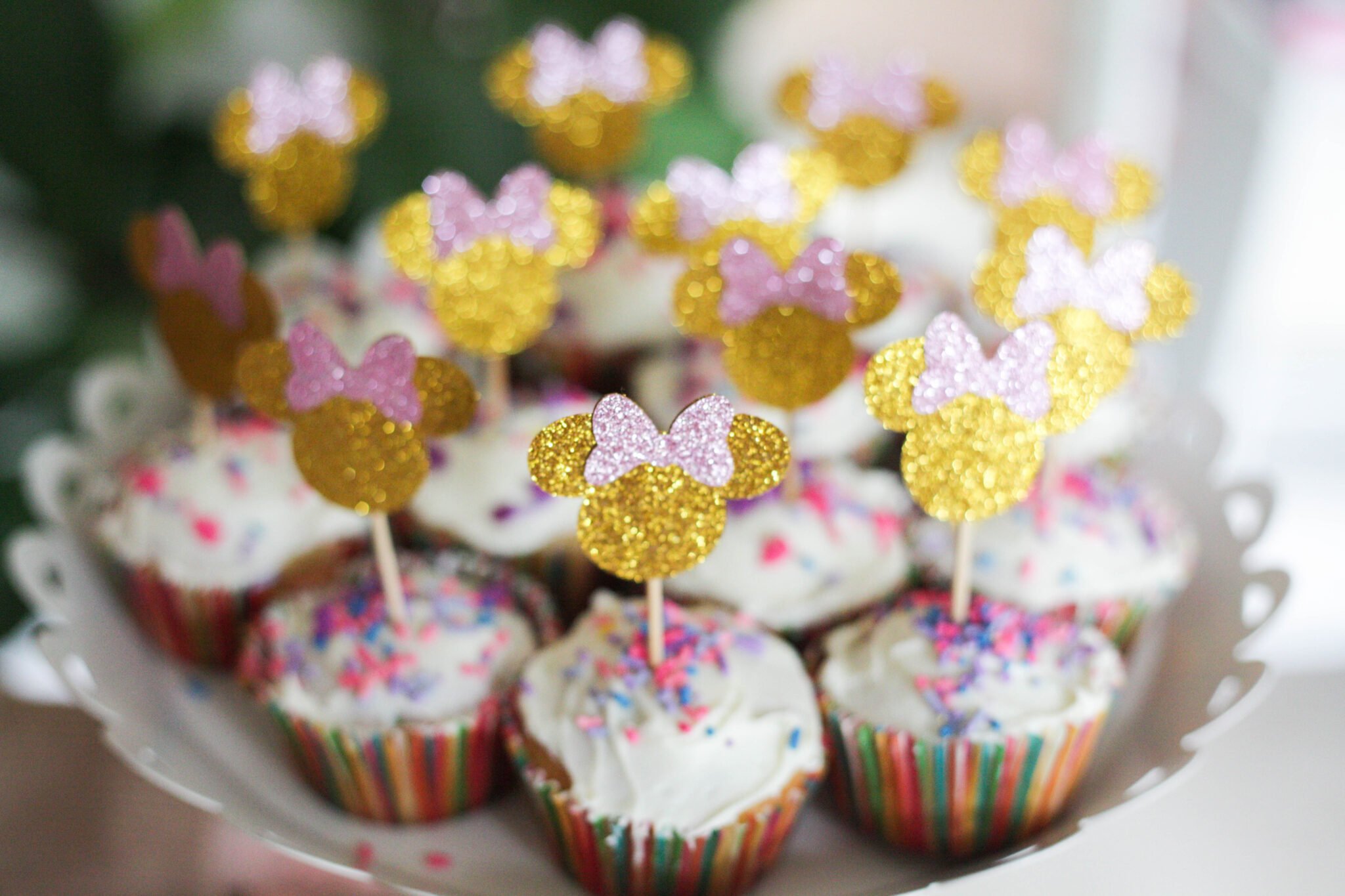 Amazon saved me for this party because I got pretty much all of my decor, plates, etc for there! They had this plate, napkin, tablecloth and straw set that I picked up and it was perfect! I've started doing fun plastic tablecloths for birthday parties. It makes life so much easier because all you do is throw it away at the end of the day! The mess and clean up is so much more minimal doing it that way. They're also so festive and fun!
Balloon Garland Arch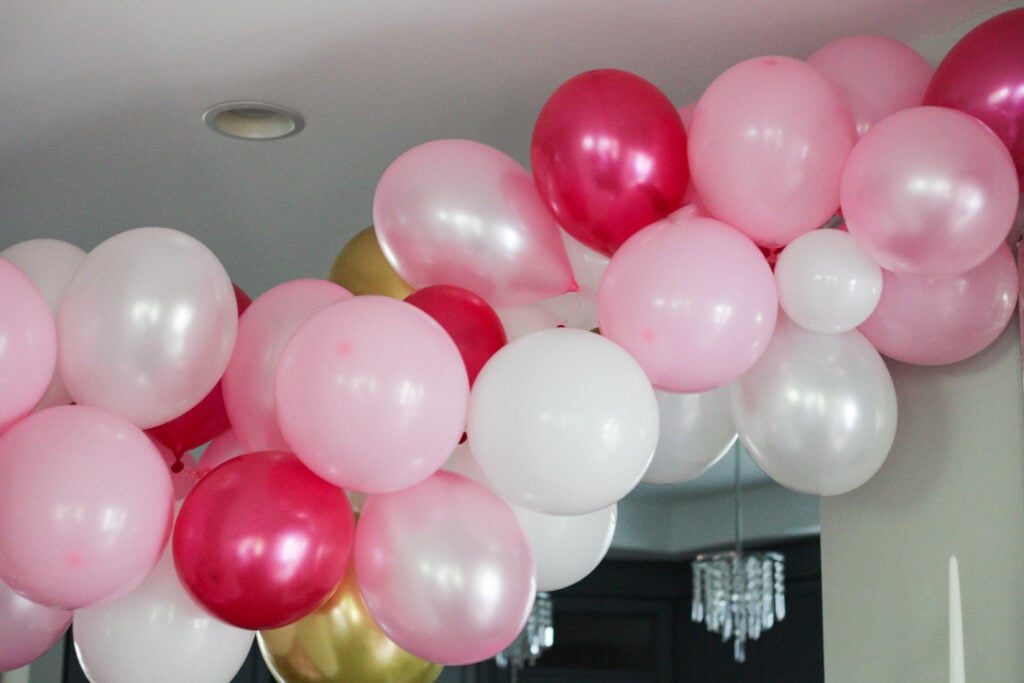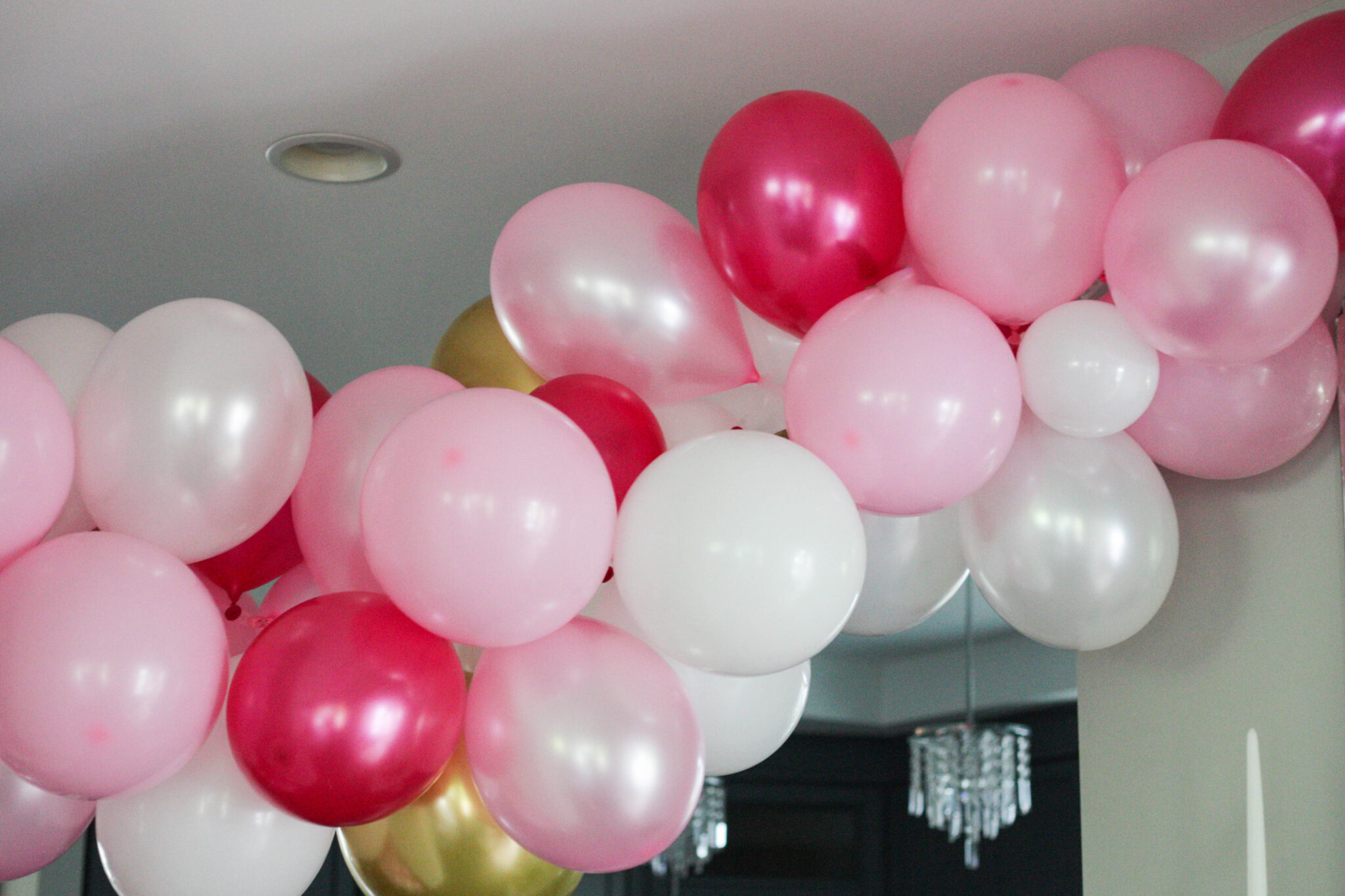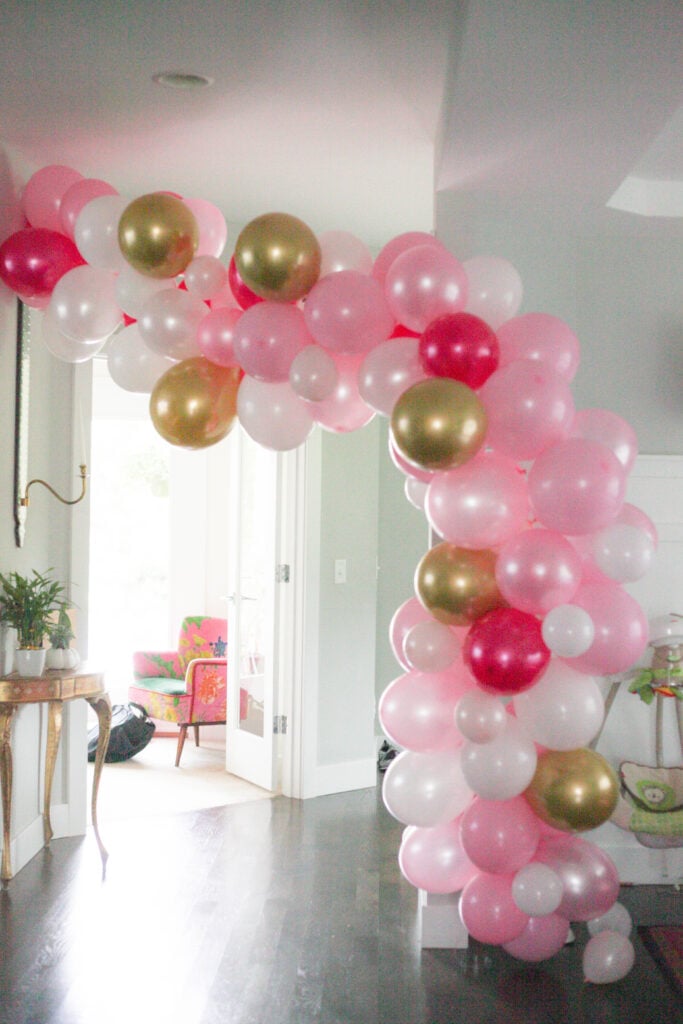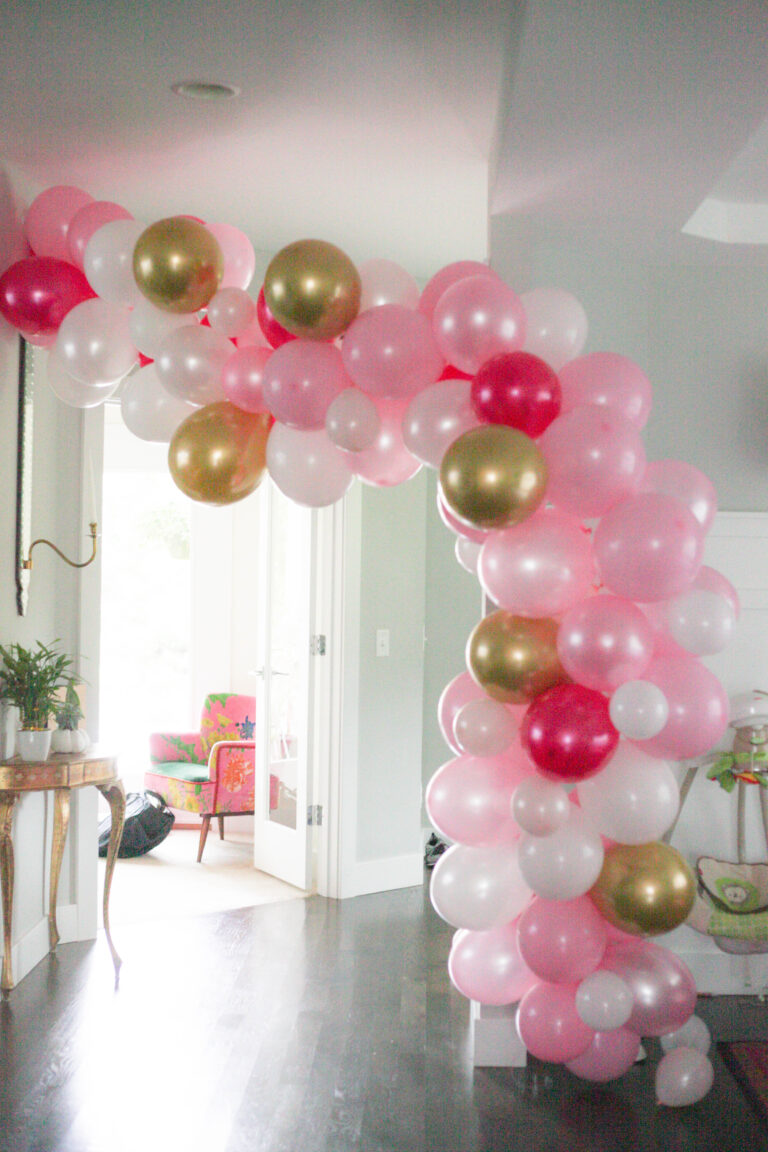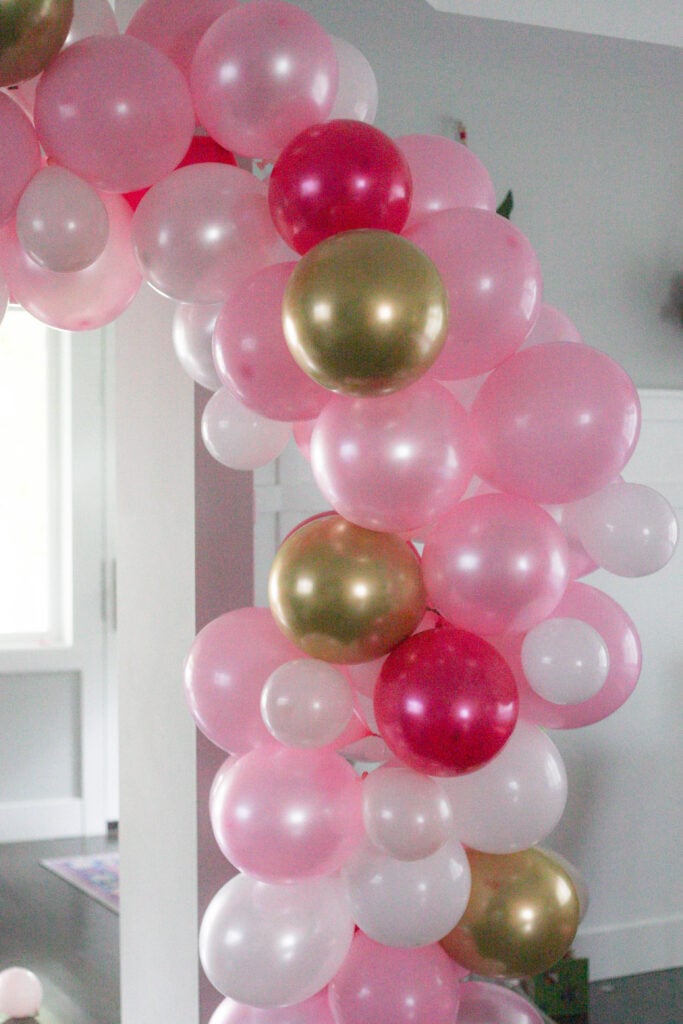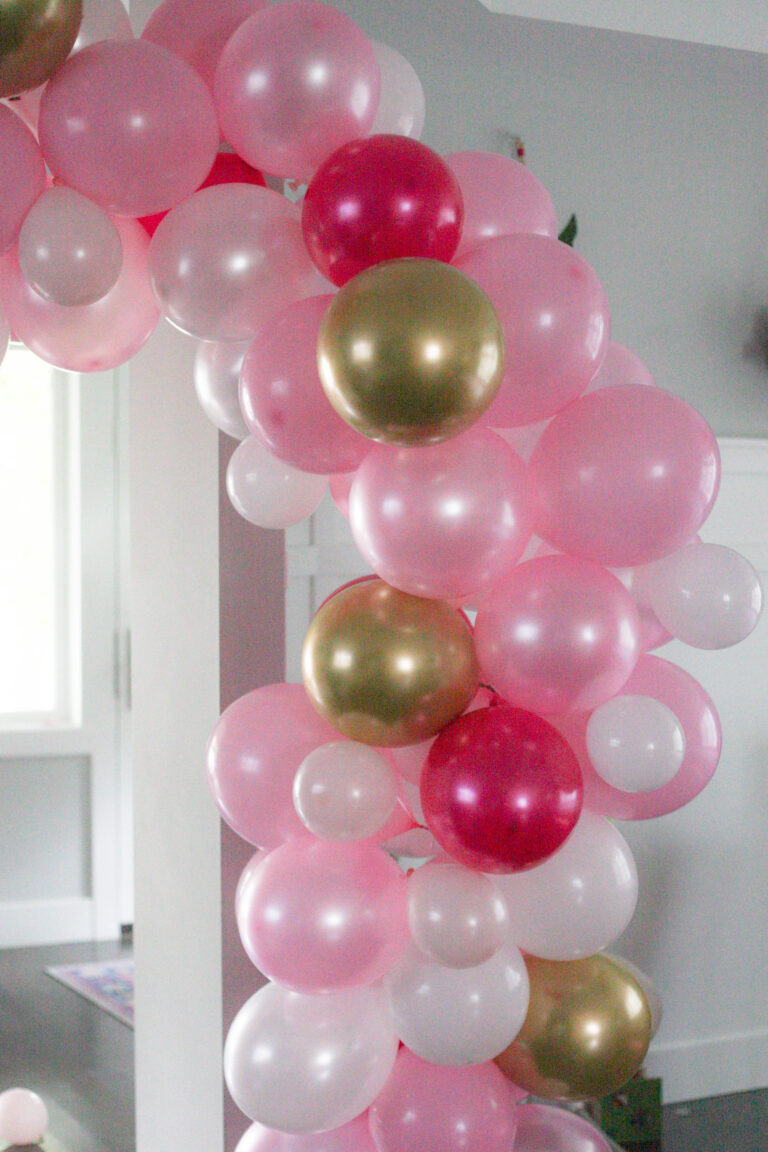 Check out my how to make a balloon garland post for a full tutorial on making one of these! Or keep reading for a few tips on how I did this one.
I bought a balloon arch kit from Amazon and it came with everything you could possibly need for your own DIY balloon arch which made it incredibly easy. Balloon arches are actually so easy to make, it just take a bit of time!
If I was going to do this again, I probably would've bought the balloon arch kit but then also supplemented it with a few additional gold balloons. I loved that the kit came with everything you need but there was only a few gold balloons and a few of them popped before the party even started. If this is the first time you're doing a balloon arch, though, I would totally start with a kit like this! It takes the guess work out of it!
I highly recommend buying an electric balloon inflater which will save you so much time (and cause you to not pass out!). This is my 4th balloon arch and I didn't have it for my 1st and it took me FOREVER to get all of the balloon blown up!
And that was about it! We didn't go too overboard for this party since we have a newborn and I was so sick but I loved how it turned out and Penelope had a great time!
Be sure to check out Roy's Mickey Mouse birthday party or all of my ideas for how to celebrate your 2 year old on their birthday!
Want even more Disney fun? Be sure to check out my other blog, Disney With Dave's Daughters for all things Disney!
Thanks for reading!
Jen