Roy turned 2!
His actual birthday was a ton of fun with a visit to the fire station and his favorite park and of course donuts with Grandpa and pizza. 🙂
I shared all about things to do for a toddler on their birthday here if you need some ideas.
A School Bus + Mickey Mouse Birthday Party Theme
He has been pretty obsessed with Mickey Mouse and school buses so I decided to do both for his birthday. (Random, I know but whatever, he's 2.) Because I don't like to buy too much decor that is specific to one theme, I decided to do a ton of red and black and yellow. Those colors are perfect for a school bus and Mickey Mouse birthday party!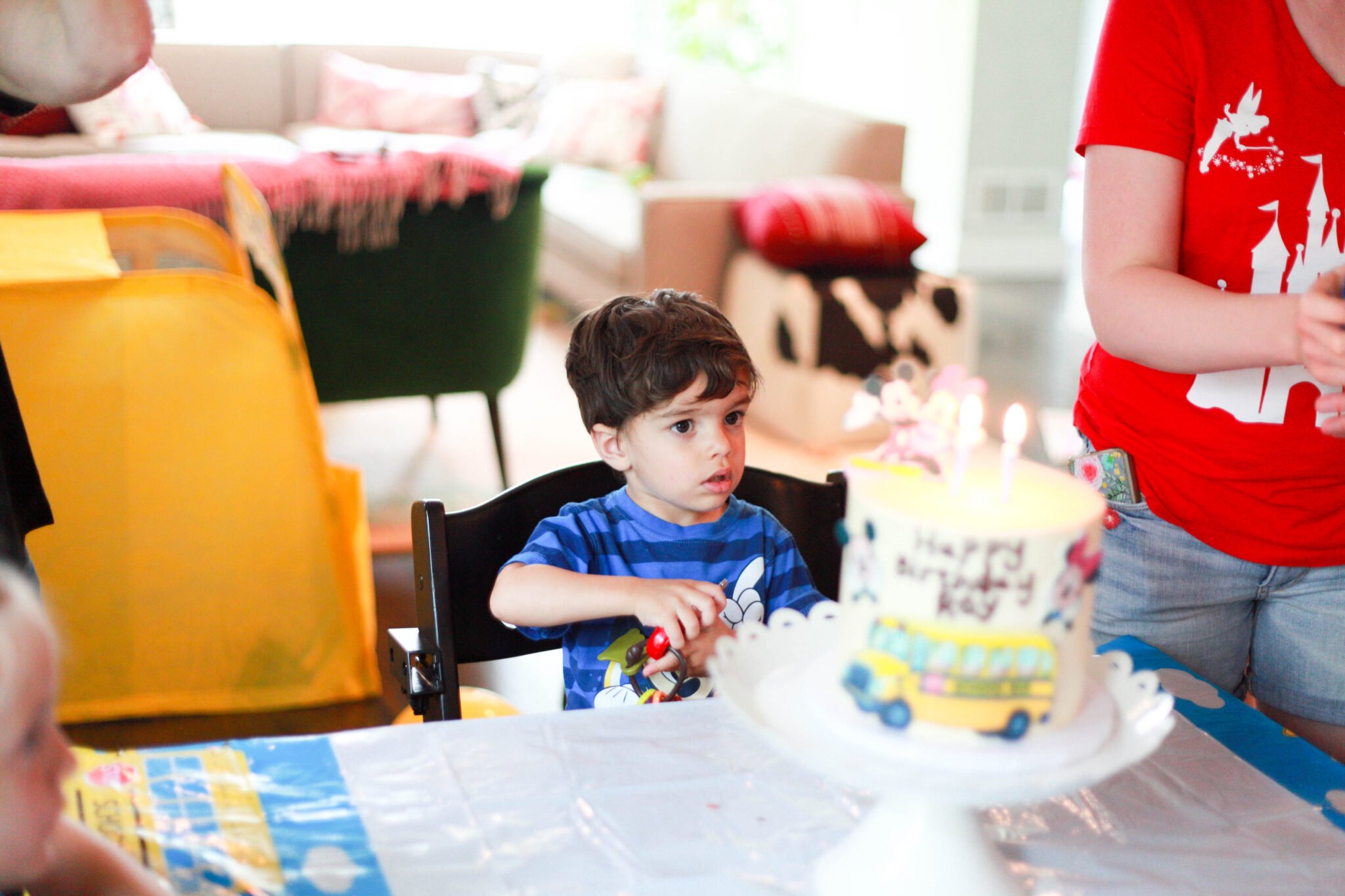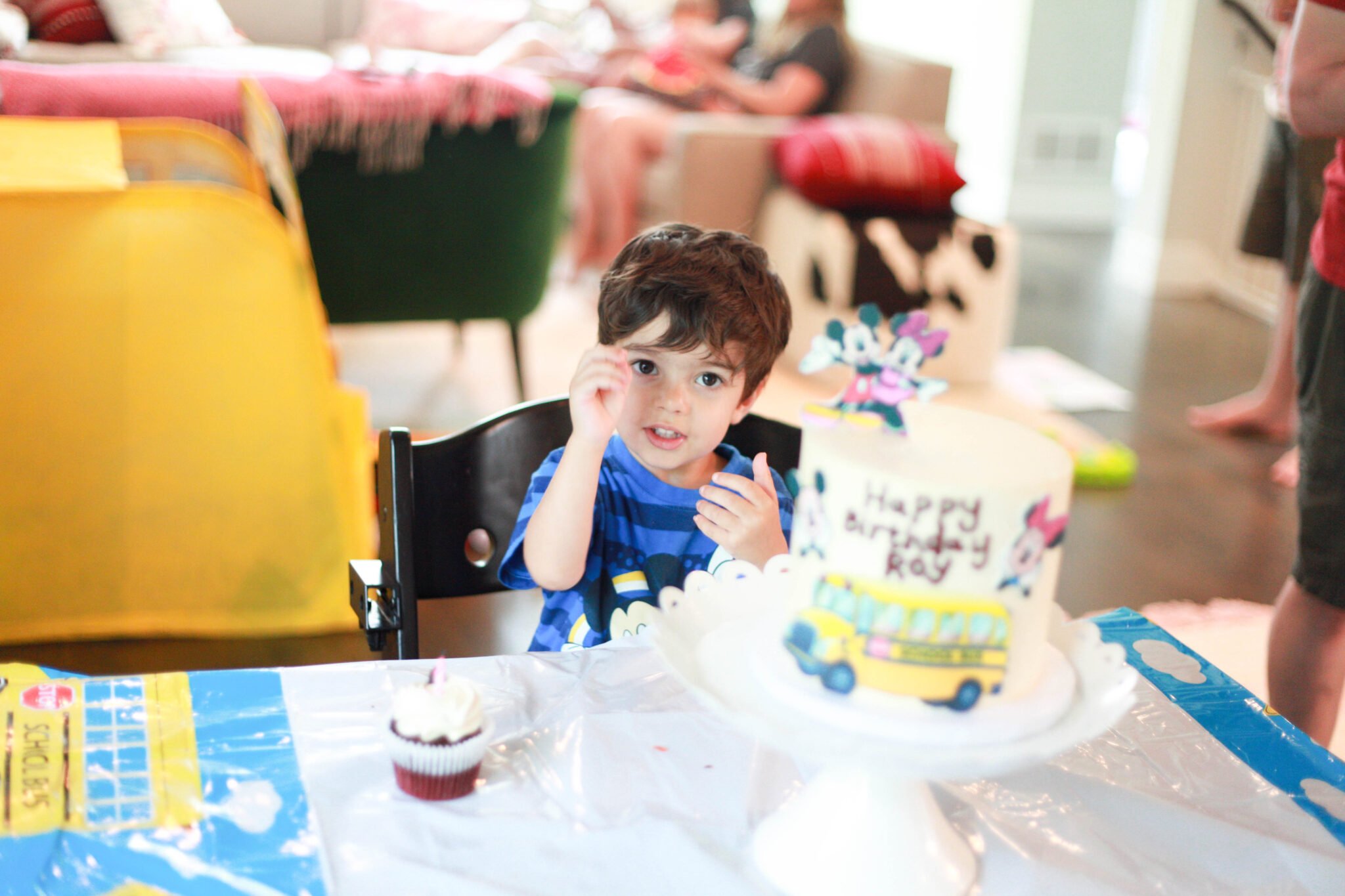 A DIY Balloon Arch
I found some easy tutorials for balloon arches and my nieces volunteered to help out so I decided to make one. This party was for a 2 year old, after all, so who cares if it looked crazy. 😉
Turns out, it was super easy! I picked up this balloon decorating strip and a bunch of balloons. When my sister and brother-in-law dropped off my nieces and nephew, I convinced them to blow up a bunch of balloons to speed up the process. An hour later, the arch was done! We all decided it was amazing and all birthday parties from here on out will include one (assuming I have help blowing up the balloons).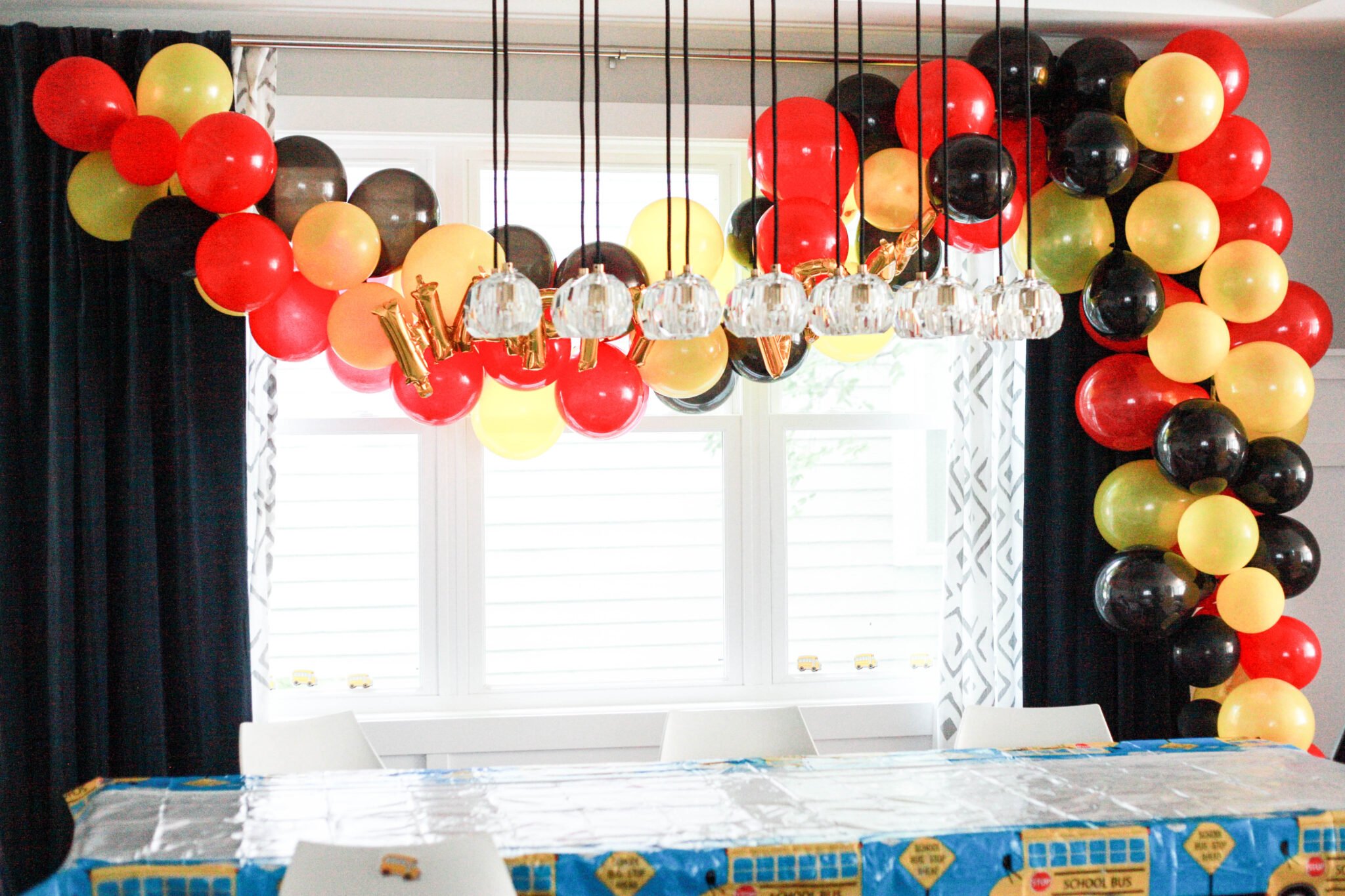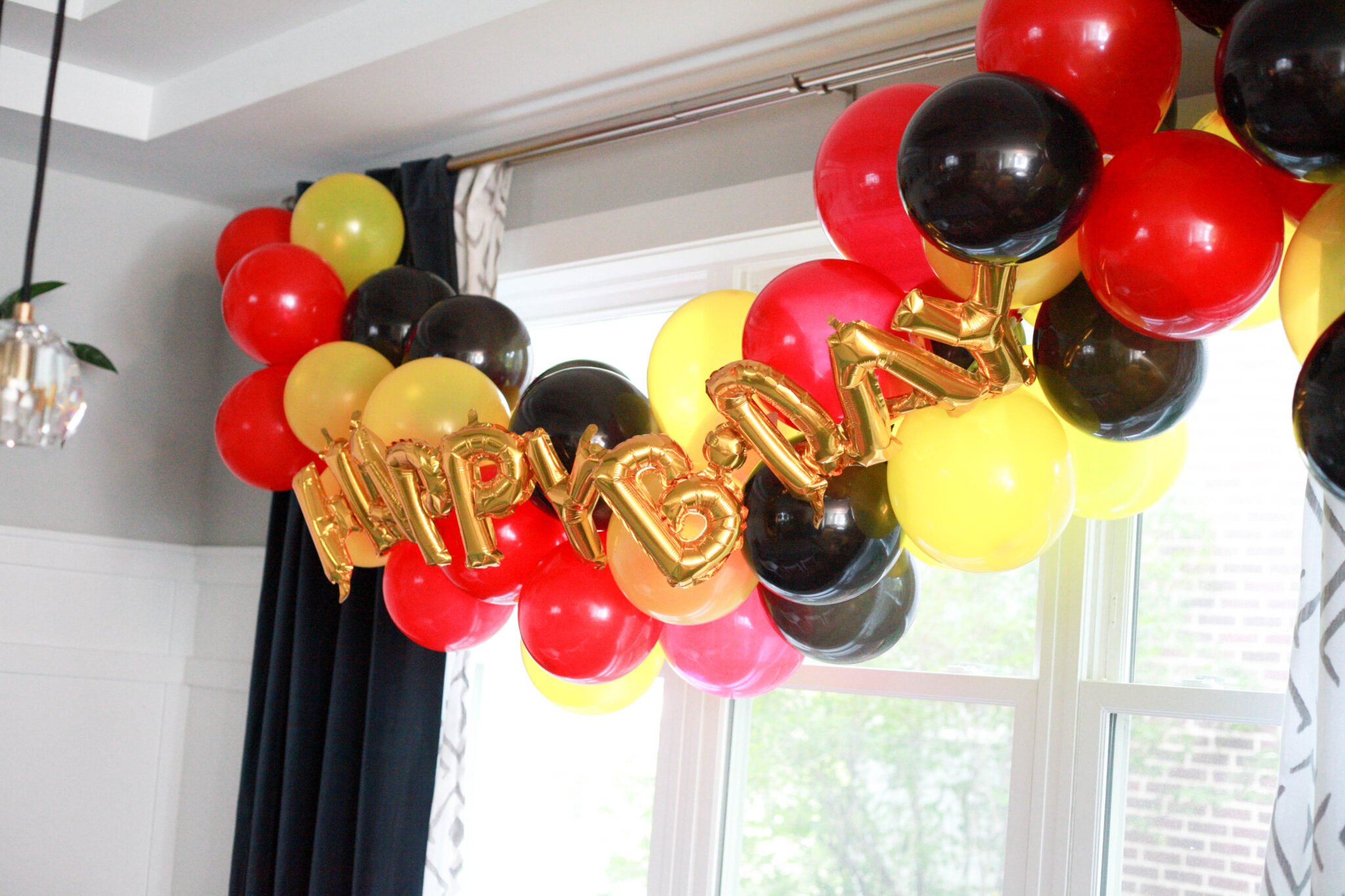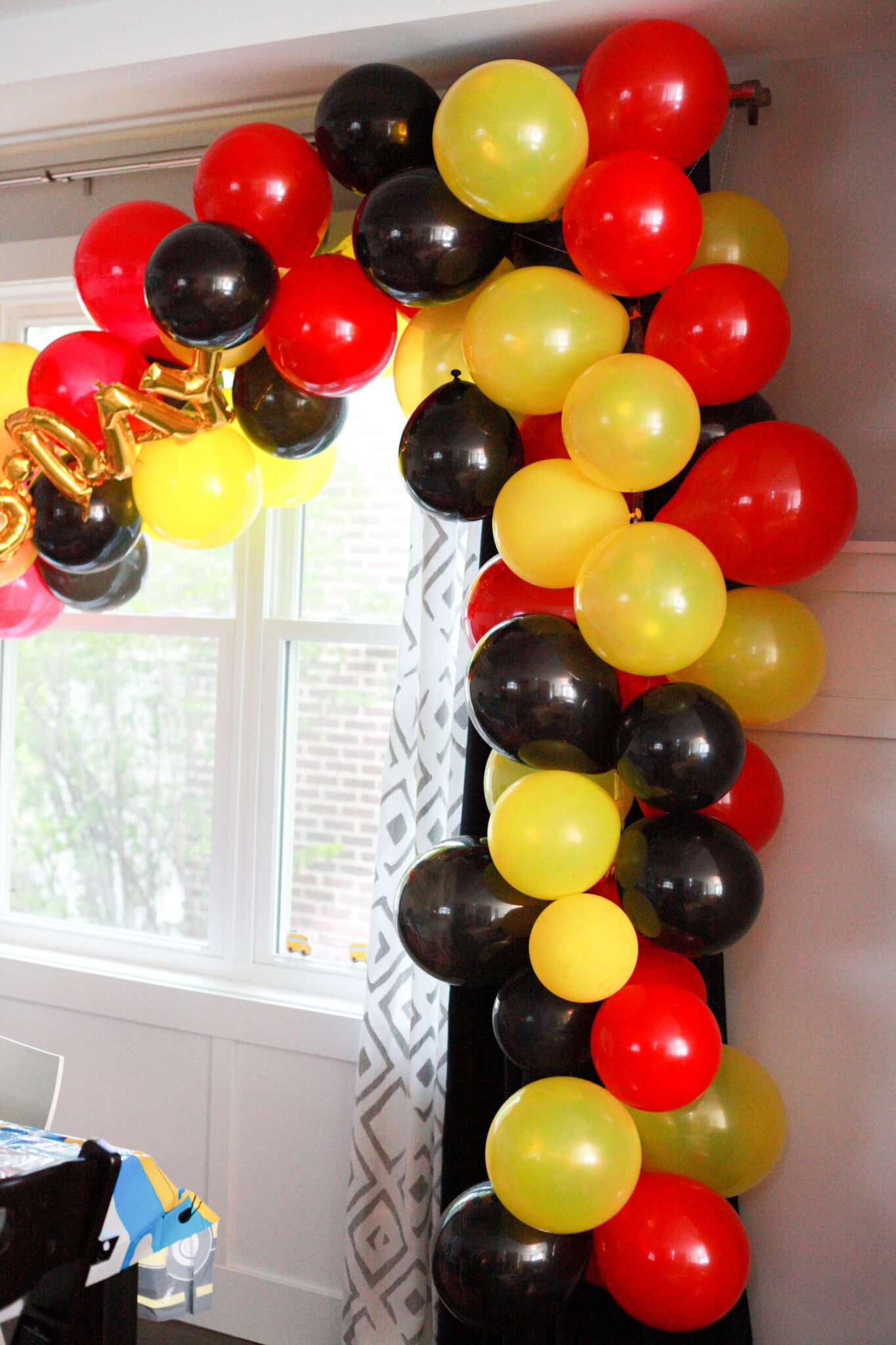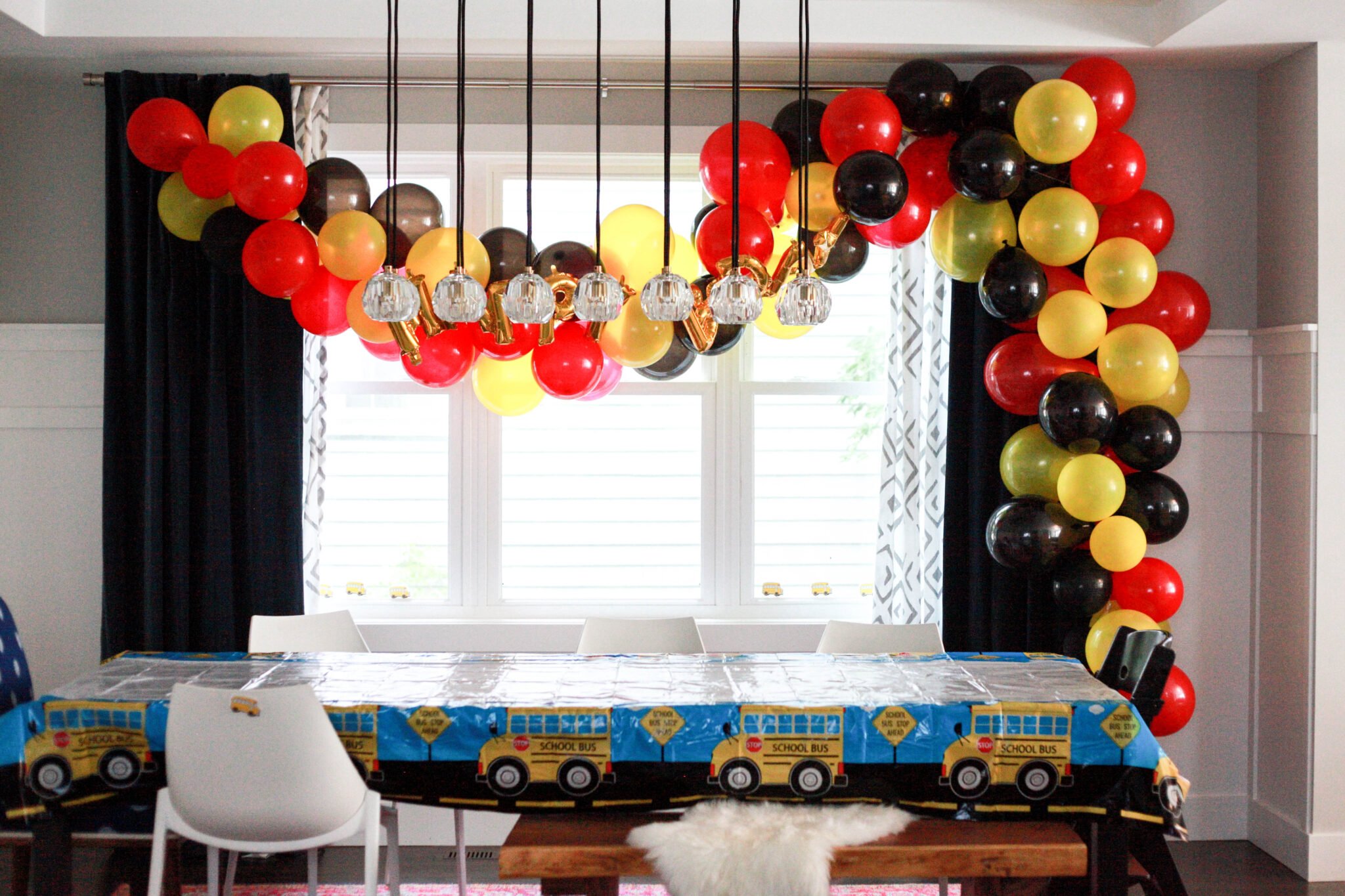 More Decor
I let my nieces and nephew decide where pretty much everything went. (When you have free help you disregard them messing up any "Instagram worthy" photo and give them free rein.)
Streamers and signs were hung, banners were strung and school buses were placed pretty much everywhere. (I found these little buses on amazon and my nieces and nephew had a blast putting them all over the house.)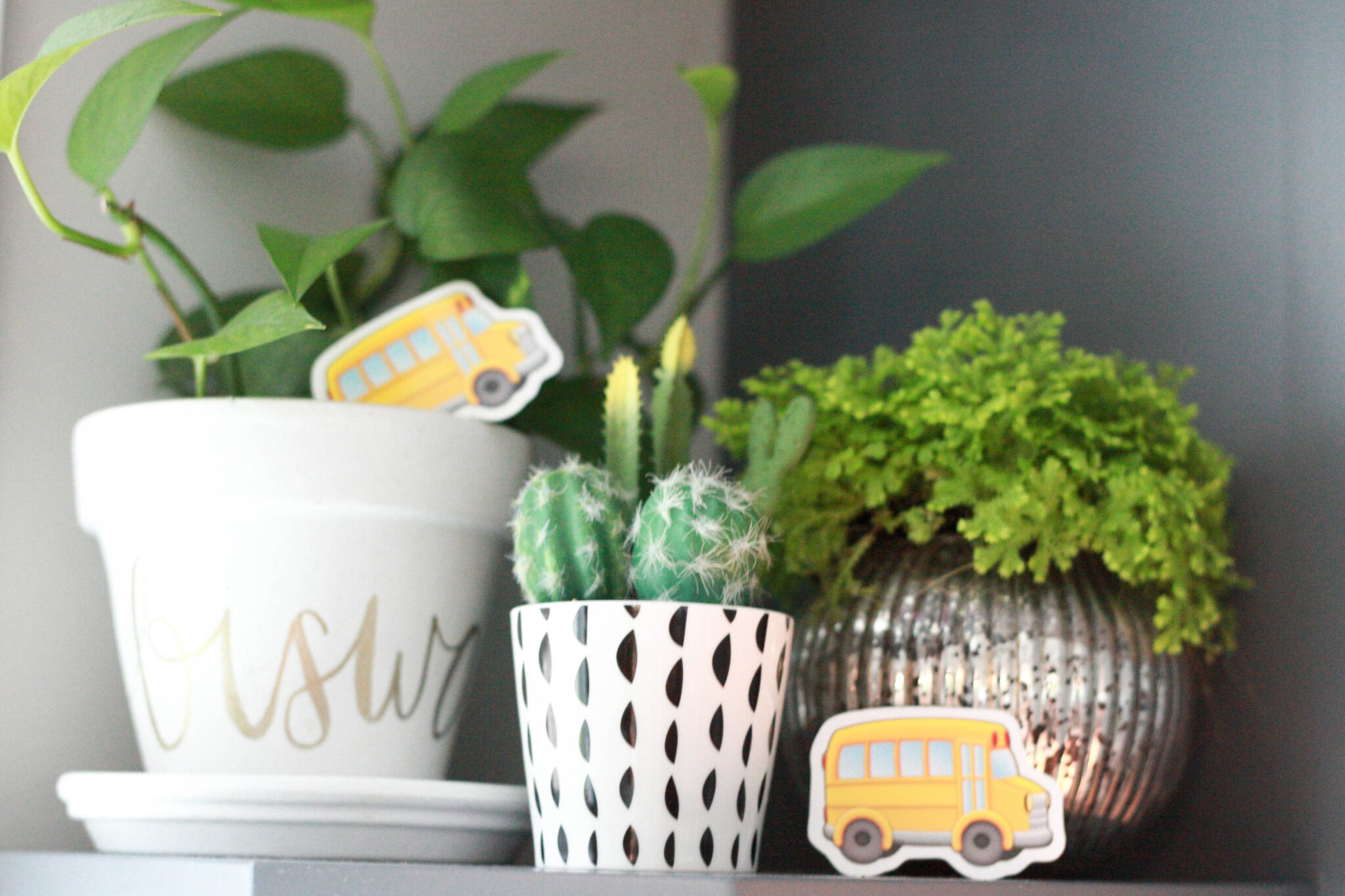 The Food
Roy loves pizza so we went the easy route and order a bunch of pies for the party. We definitely ordered too much but better have too much than too little, right?
For dessert we had a birthday cake with Mickey Mouse and a school bus on it. We also had cupcakes and a build your own ice cream sundae bar.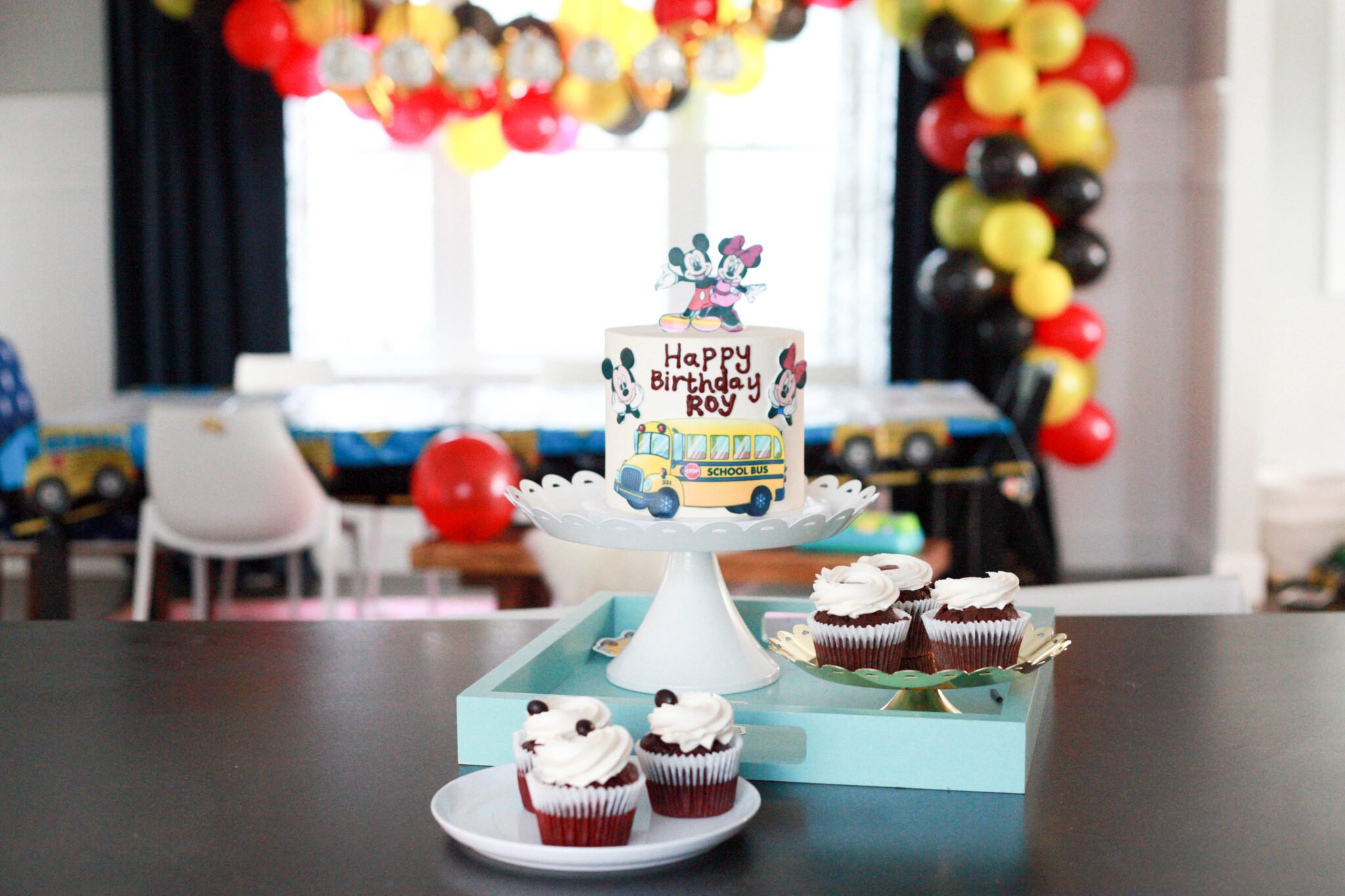 Photos
My parents birthdays are within a few days of Roy's so we always include them in the celebration. Admittedly it's heavy on the Roy celebration and not so much my parents (sorry Mom and Dad!). But since my whole family gathers together, we did a bunch of fun family photos with the whole crew!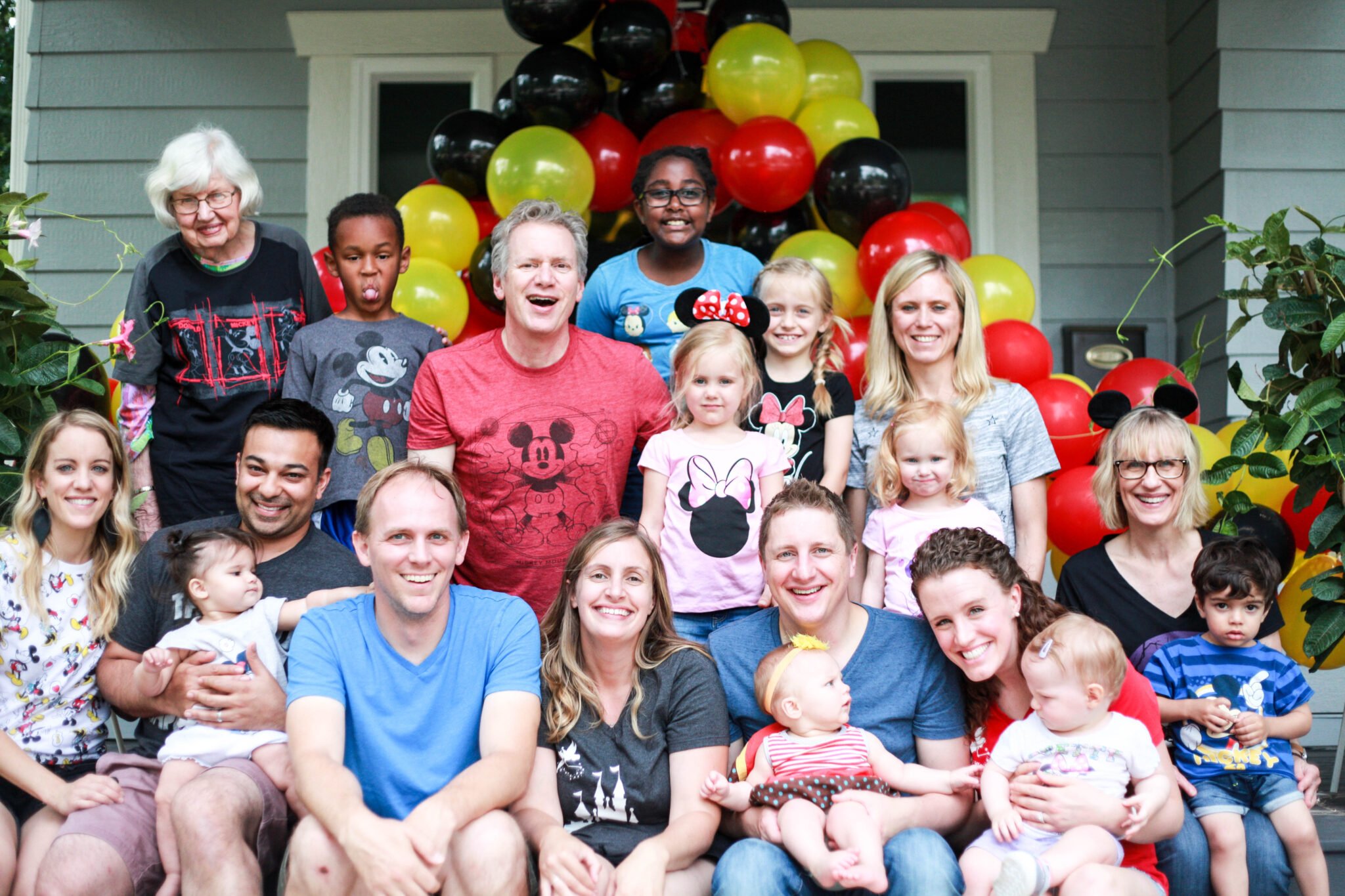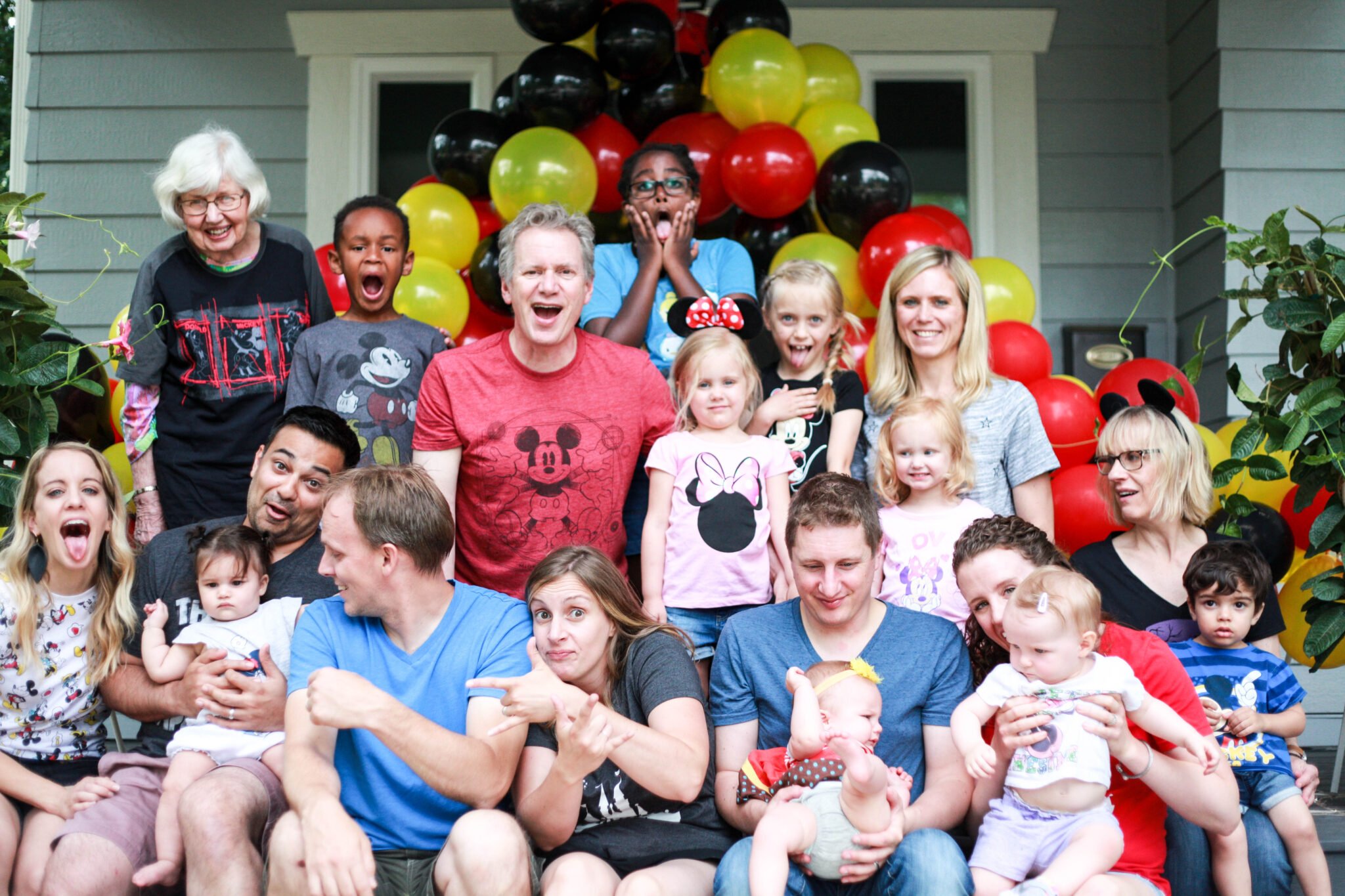 If you want to do your own Mickey Mouse birthday party, here are a few tips!
1. Use red, black and yellow decor.
Streamers, banners, balloons – they all scream Mickey Mouse and you can reuse them for other parties!
2. Pick up some Mickey ears.
Mickey (and Minnie) ears are fun for photos and also for dress up through the year.
3. Get the whole family Mickey tees.
I know, I know, character shirts are silly. But kid birthdays should be silly. And the photos above are always fun when you all get into it!
4. A few small Mickey decor items can go a long way.
I bought just a few Mickey specific things that really helped tie in the Mickey theme.
There you have it! A school bus and Mickey Mouse birthday party. What do you think?
Thanks so much for reading!